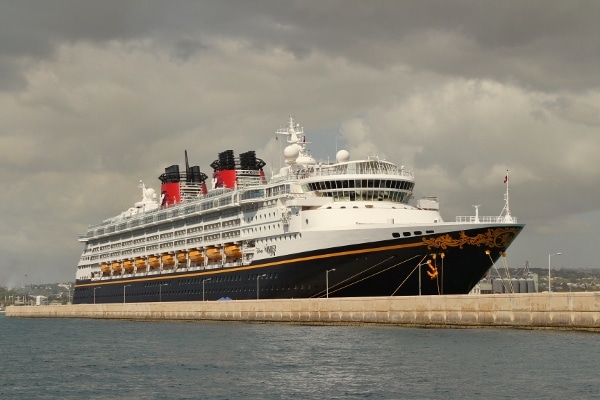 The second port of call on our Disney Southern Caribbean cruise was Barbados. In comparison to Grenada, it's much flatter with less of the lush vegetation we grew to love the previous day. The port itself houses a large shipyard for cargo. It's not the most picturesque welcome, but there's always more than meets the eye.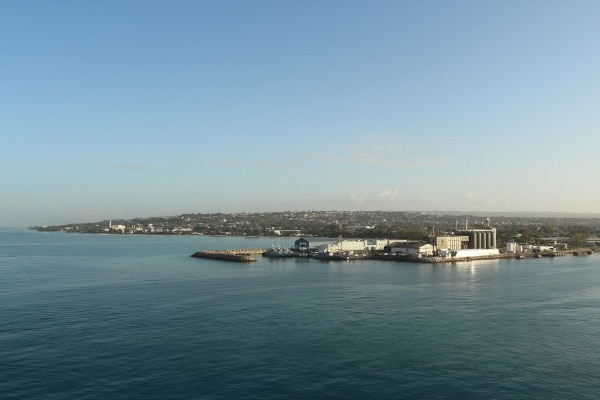 We hadn't planned a typical land tour on Barbados, but instead booked a catamaran cruise aboard Cool Runnings. Although there are many similar catamaran cruises in Barbados, Cool Runnings was recommended to us by a fellow cruiser who booked with them on a previous cruise. The reviews were great, and the price was considerably reasonable for all it includes. A five-ish hour daytime cruise with three stops, food and unlimited booze is currently priced at $90 for adults and $45 for children ages 4 to 12. The sunset sail makes one less stop and is slightly cheaper.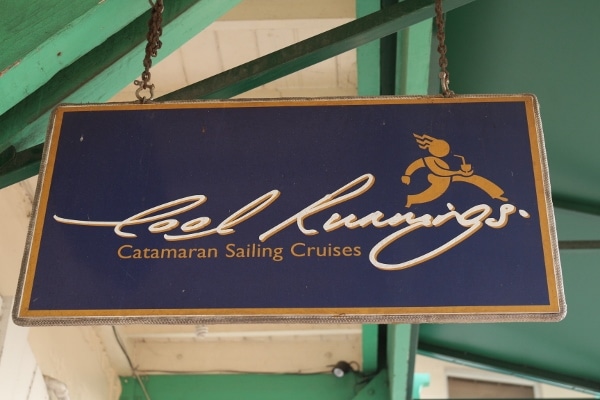 There was a fairly large group of us from the ship who independently booked with Cool Runnings. They have several catamarans in their arsenal, which they never pack to capacity allowing for a calmer, less crowded experience for all. Buses picked us up from the port and took us to a nearby wharf to check in for our catamaran sailing.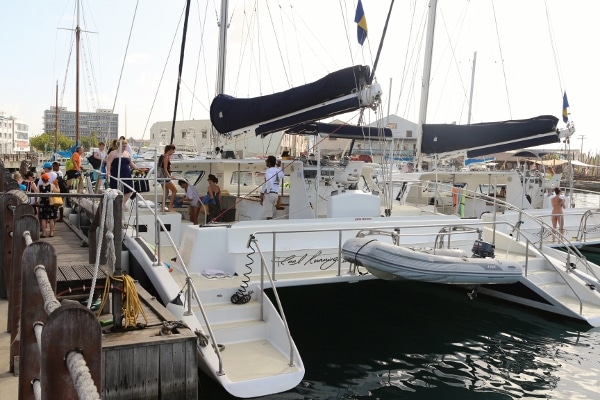 Then we boarded Cool Runnings III and started sipping our first of many cocktails aboard: rum punch. We're on island time. It's totally acceptable at any hour!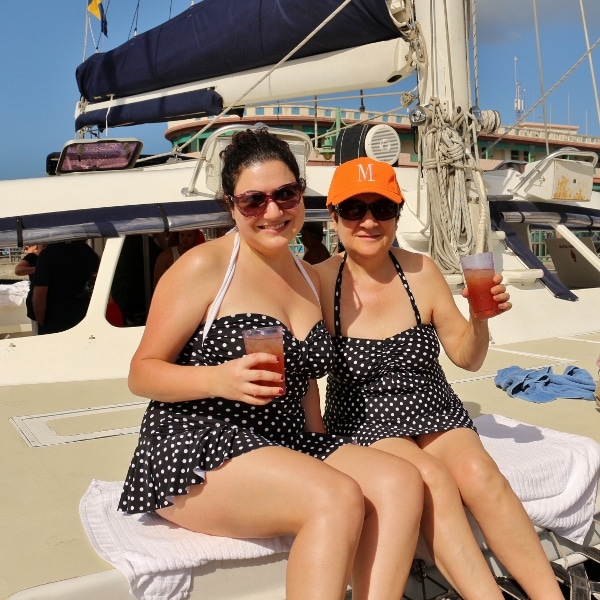 After meeting the crew and settling in, we set sail for Carlyle Bay where we anchored first. This was our sea turtle hot spot, which was evident by the other catamarans on similar sails anchored in the area. Although our boat itself wasn't overcrowded, I found that the water was more crowded than I'd hoped as we clustered around the same areas to view and snorkel with these majestic turtles.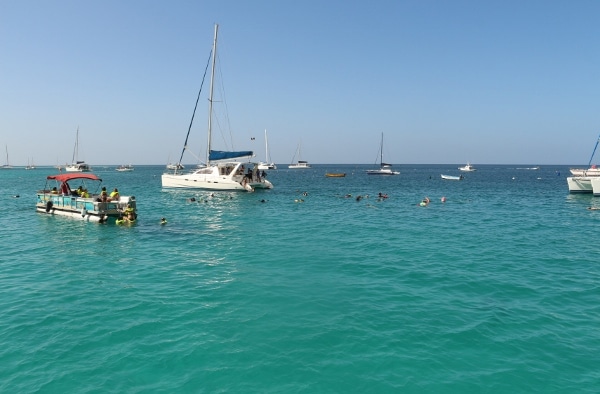 We saw several turtles, and a couple of our crew members joined us in the water with food for the turtles to help engage them to come closer. It was a really cool experience!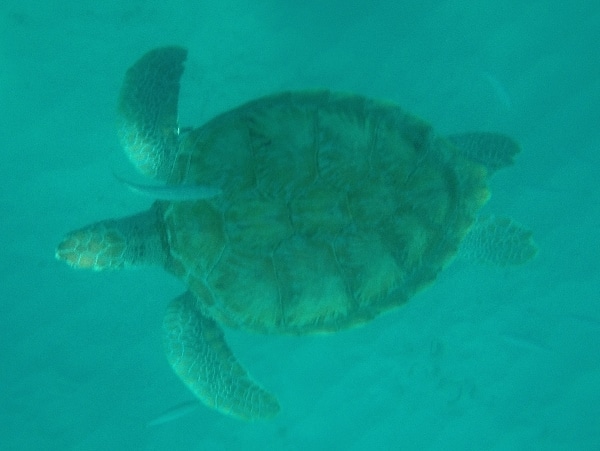 I wish we could have spent more time with the turtles with a bit less of a crowd. I feel like an idealist saying that, and I'm not technically complaining because it's expected when groups of any size converge on the same area to look at the same things, but it made for a slightly louder, splashier experience than I expected.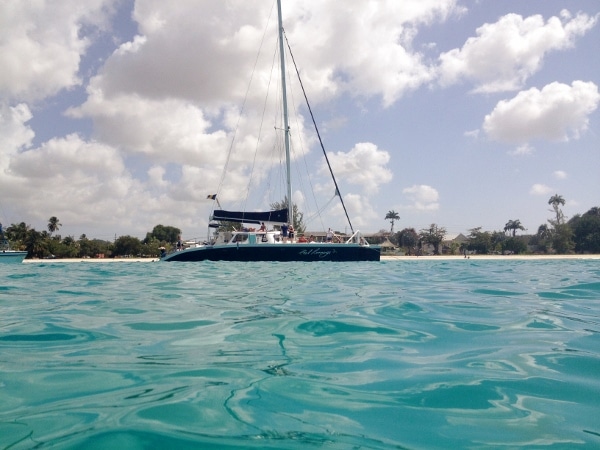 After swimming with the sea turtles, we headed back to the catamaran to sail to a different part of Carlyle Bay where we would snorkel through a couple different ship wrecks. Here again, we converged with other groups doing the same thing.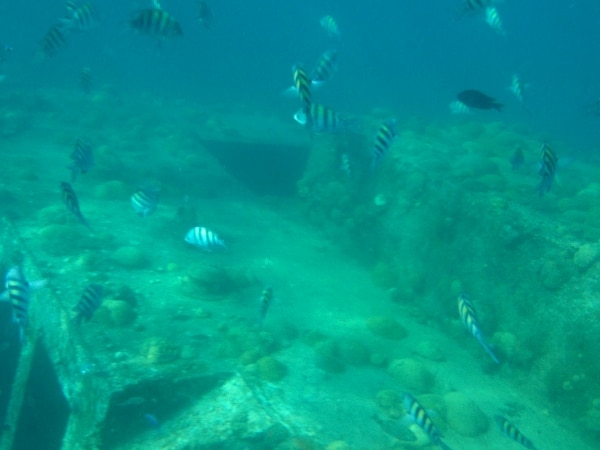 The ship wrecks were really cool to explore, but I felt slightly rushed and confused as our group was directed from one ship wreck to the other. I would have liked more time to calmly snorkel and explore before it was time to swim back to the boat, but I realize we were on a schedule.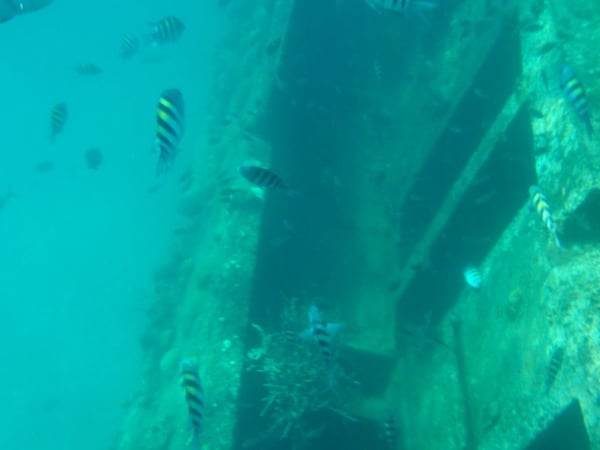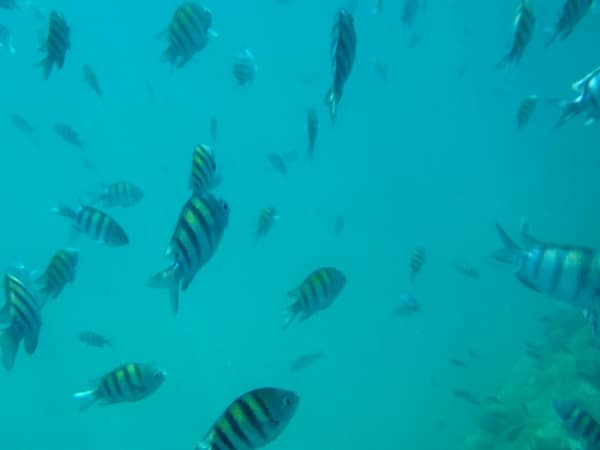 After boarding the catamaran again, one of the crew members came around with a basket of banana bread to help satiate our post-snorkeling hunger.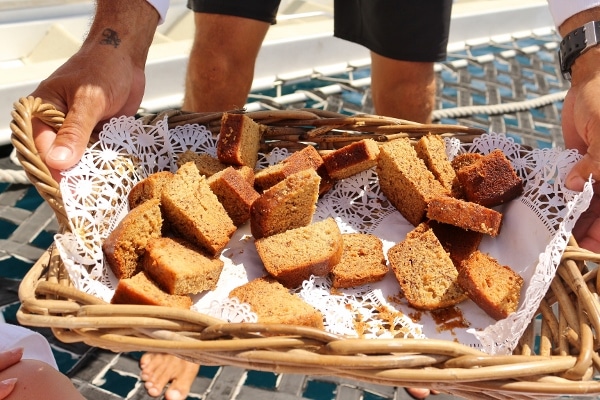 I must say, I was a big fan of the music on board. It ranged from 80's classics to current hits. It blasted from the speakers as we sailed north toward Paynes Bay where we would anchor near a beautiful beach and enjoy lunch and relaxation.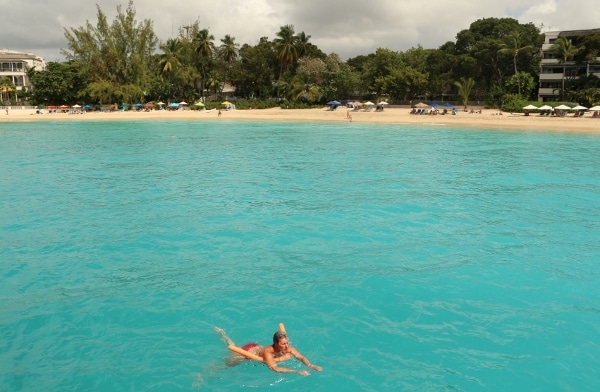 What Barbados lacks in mountains and green landscapes, it makes up for with the bluest blue water and pristine beaches. Although we were looking at the beach from the water and not from the sand, I will say it was a really gorgeous beach! I'd happily visit it on a future trip to Barbados.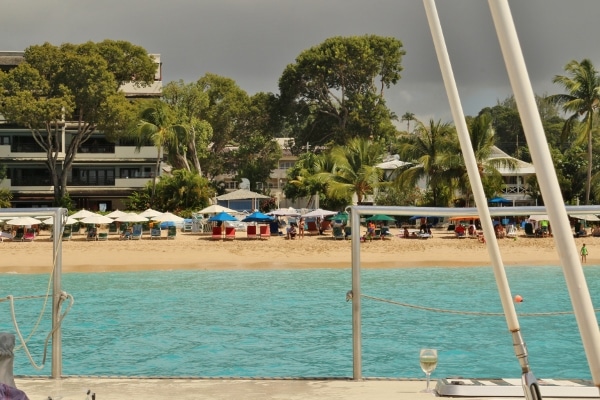 There's actually a really nice luxury apartment complex right by the beach, which I'm told is where Rihanna stays when she visits the island.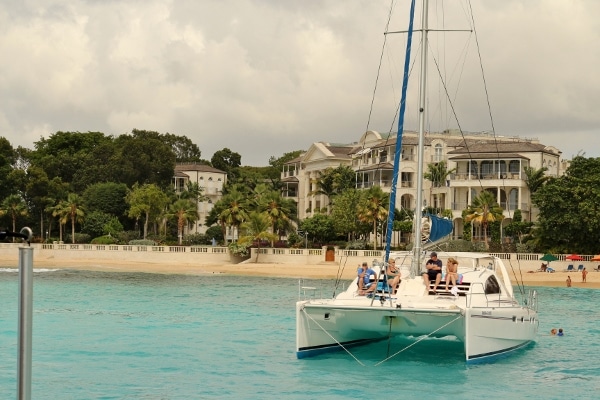 Once we anchored at the beach, the crew set up our lunch buffet, consisting of salad, potato salad, baked pasta, rice and beans, veggie gravy for the rice, chicken, and fish.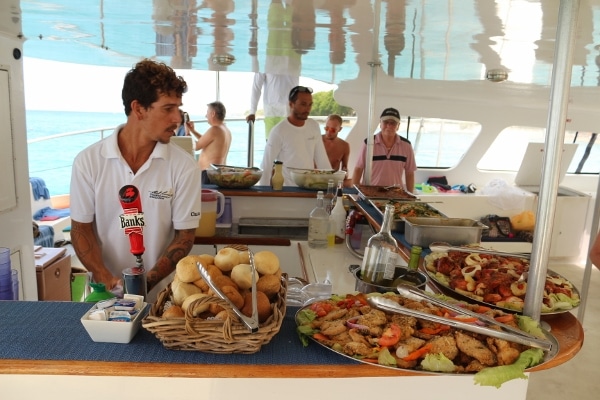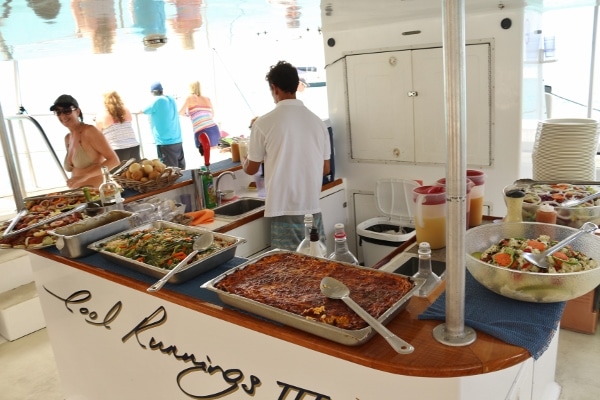 I sampled most of the items, minus the salad. In particular I enjoyed the rice and beans with the unique veggie gravy (that's what it was described as, at least), and the baked pasta, which was nice and crusty along the edges.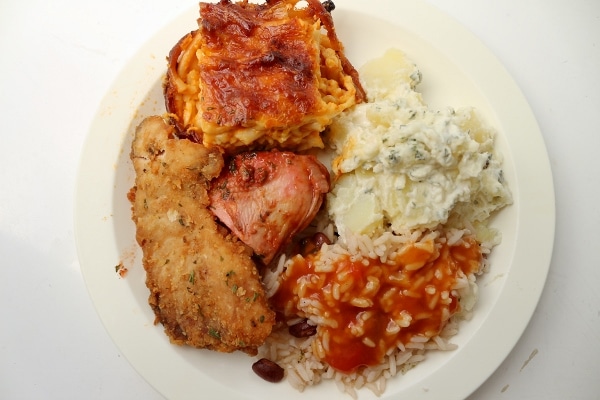 With my go-to drink of the day (pink lemonade with coconut rum), I found a spot with a view and enjoyed my lunch in paradise.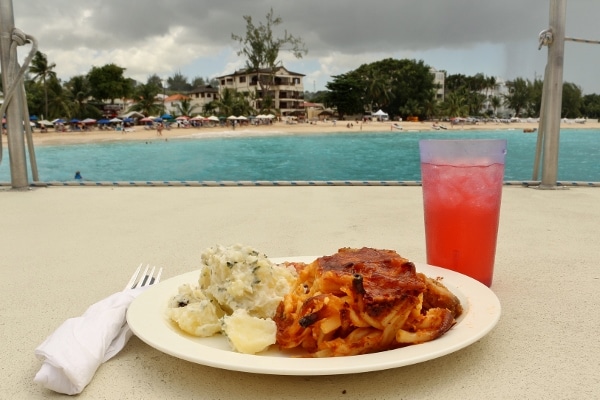 We stayed anchored here for a little while, and guests were able to swim in the area or lay out in the sun (or even nap!).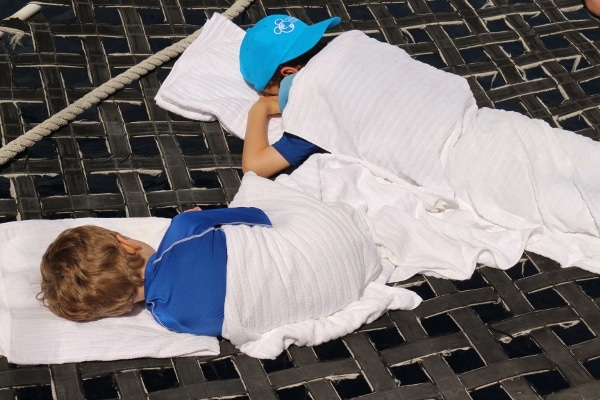 Dessert was carrot cake (sorry, I didn't get a picture) passed around in a basket similar to our morning banana bread. We sailed back to the wharf and enjoyed more sun, music, and fun as our afternoon progressed. At the tail end of our cruise, the music got pretty loud so please just beware of that if you book one of these sailings in the future. It's meant to be a party!
Check out the video below of crew member Adam giving us a show 🙂
I met a couple different people on our sailing who were not from our cruise, but rather were staying on the island. One of them told me it was her 11th time visiting Barbados, and informed me that there are other parts of the island (further inland and the opposite coast) that feature very different landscapes than the parts of Barbados were saw. She suggested an ATV style island tour would expose us to a totally different side of the island than what we saw that day.
The other person I met had visited Barbados over 20 times in the past, and was currently staying there for 2 ½ months. I asked him, "why Barbados" because even though I really enjoyed my day, I wasn't overly impressed by the island itself. His reply was "everything you need is here; you don't need to look anywhere else." He also pointed out that the locals are really great to the tourists, which isn't always the case on other islands. I must say, after speaking with these other travelers, I'm intrigued to see more of Barbados someday, the Barbados that keeps them returning over and over again.
Our sailing with Cool Runnings was a lot of fun, and definitely an unforgettable experience, but if I ever return to to Barbados, I'd definitely be open to exploring different highlights of the island and discovering why so many people keep coming back here in particular (other than the bluest blue water and super fun catamaran cruises).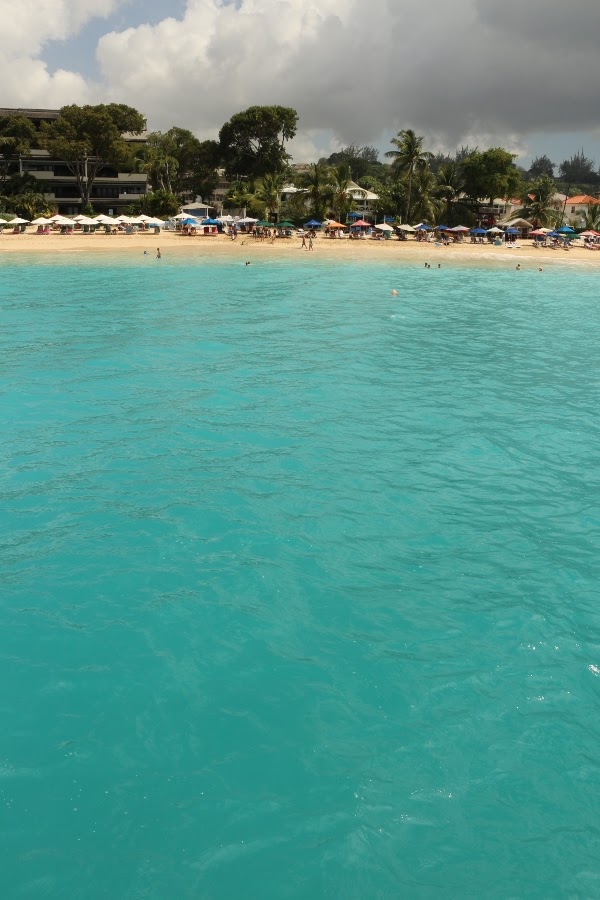 I needed a little snack after boarding the Disney Wonder, something to hold me over until dinner. I headed to Pinocchio's Pizzeria for a cream cheese-stuffed pretzel. I had heard rumors of these for some time, but hadn't tried one until this trip. It was chewy and sugary with warm cream cheese inside. What a fantastic snack! I really wish I had discovered these sooner.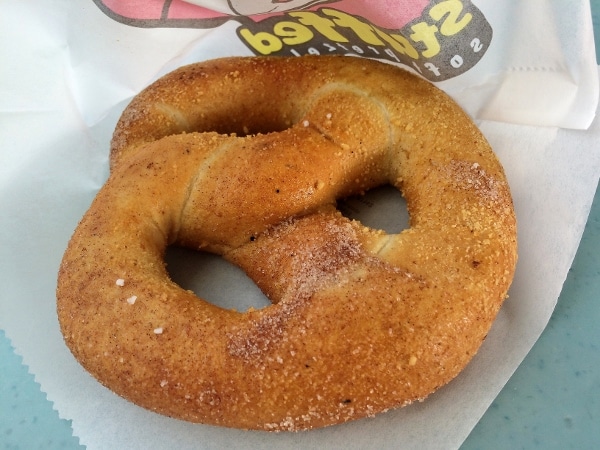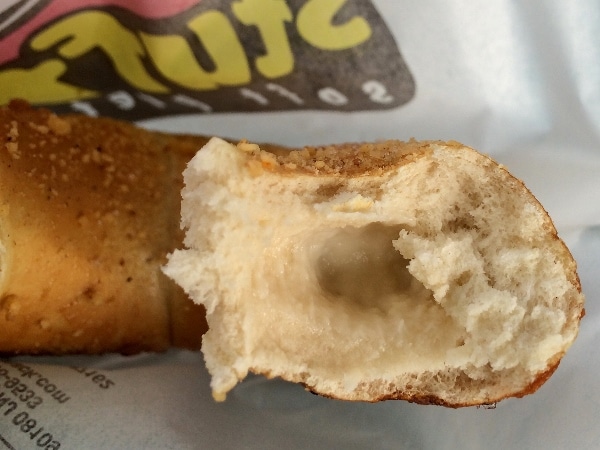 After setting sail that evening for our next port of call, the adults in our group dined at Palo, the adults only Venetian-inspired restaurant aboard the Disney Wonder. I've previously discussed both brunch and dinner at Palo, which features a supplemental fee of $30 per person, but totally worth it.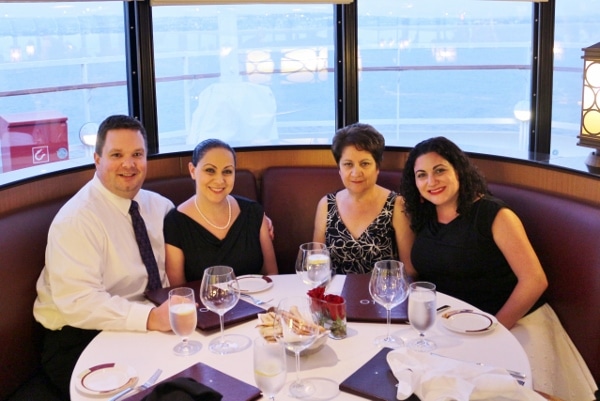 Since I've discussed Palo at length in the past, I'll focus more on the food than the entire experience. The meal began with a selection of delicious breads and an antipasti plate assembled table-side by our awesome server David from Hungary. I absolutely love the Parmigiano-Reggiano drizzled in 8-year-aged Modena balsamic vinegar. Heaven!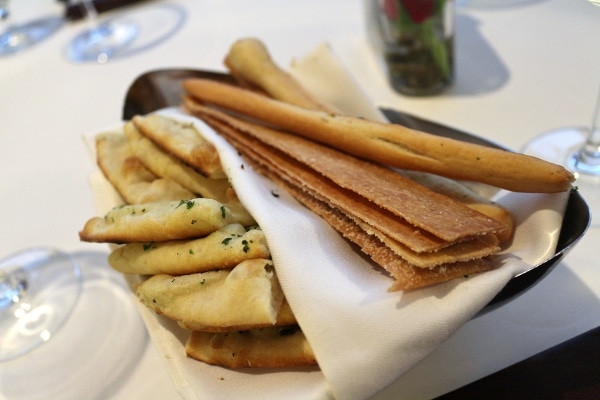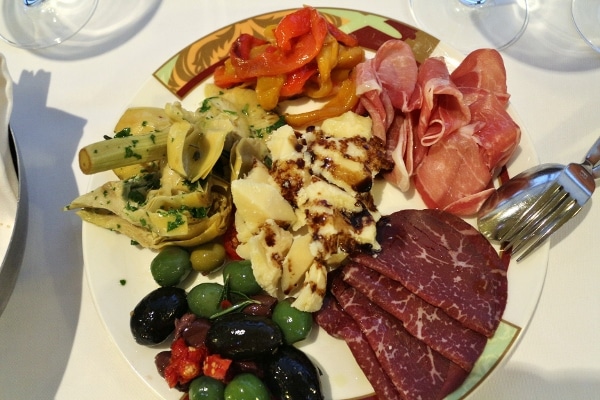 We decided to get an order of Calamari for the table to share. Calamari with deep-fried cherry peppers is offered as a single-serving starter, but they made a larger platter for us all to share. Delicious!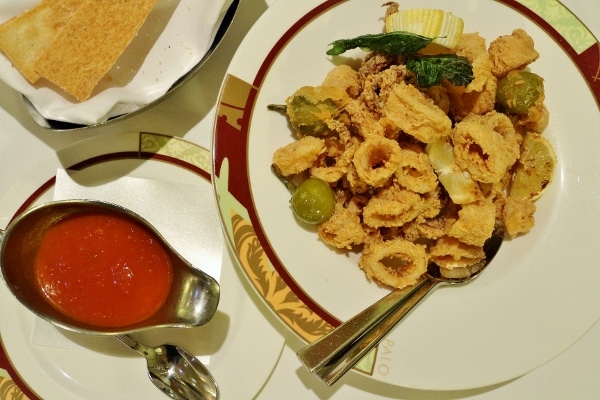 My appetizer for the meal was the Cioppino, a tomato fish stew featuring calamari, clams, shrimp, and halibut, served with crusty bread. The broth was my favorite part, and it was laden with tons of fresh seafood. I limited my cioppino intake to ensure room for my entree...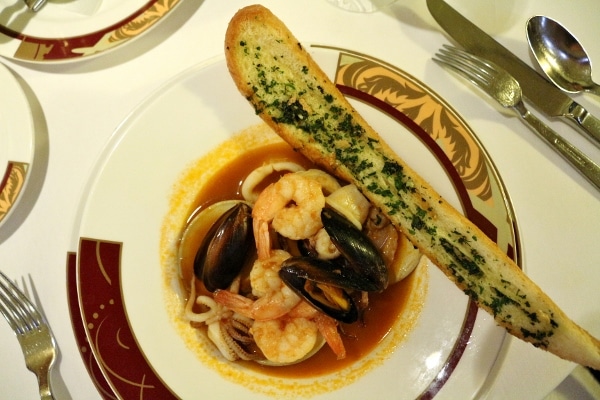 I couldn't resist the Palo Beef Tenderloin, cooked perfectly medium rare with a topping of melted Gorgonzola (optional) and served with a Barolo red wine sauce. This is a classic choice at Palo that stands the test of time.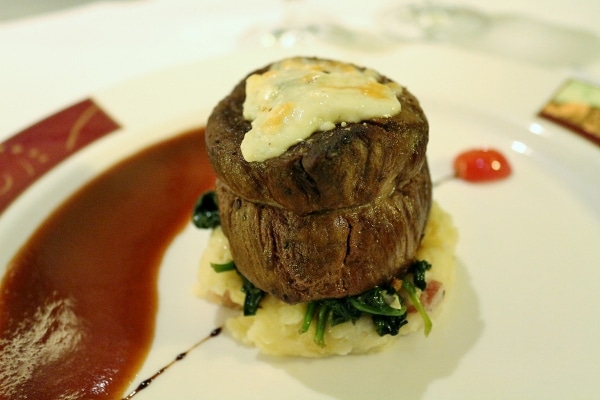 I also ordered a small portion of the Chianti Braised Beef Ravioli "en bordo," served in a red wine reduction with oven-roasted carrots and celery. I've actually noticed that this menu item is no longer featured on the Palo menus on the Disney Fantasy and Disney Dream, so I wanted to enjoy it while I still had the chance! It will likely be exiting the Magic and Wonder Palo dinner menus eventually as well.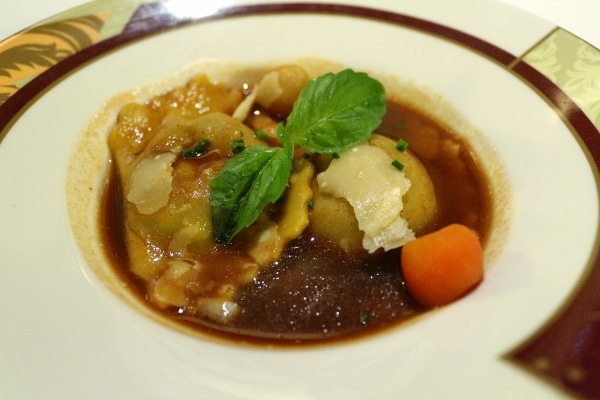 My mom's entree choice was Pan-Seared Turbot on roasted potatoes, porcini, pancetta, and fennel with walnut butter. It looked fantastic, and she really enjoyed it. Like I said, you really can't go wrong at Palo. Everything I've tried on the menu over the years has been delicious, whether at brunch or dinner.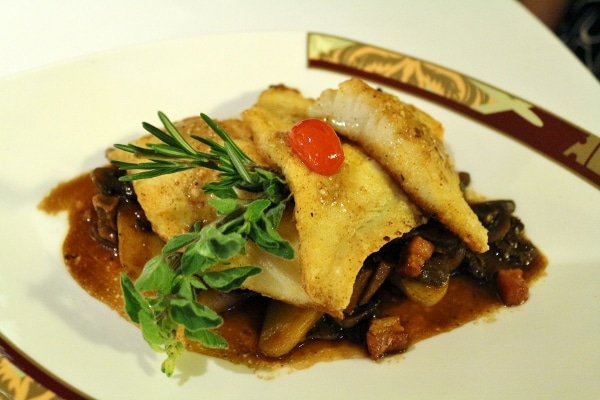 And speaking of delicious, you can't have a meal at Palo without indulging in their famous Chocolate Souffle. I mean, I suppose technically you can, but it would be a major loss if you did. Their chocolate souffles are an institution, arriving piping hot with small pitchers of creme Anglaise (vanilla sauce), and chocolate sauce, both of which are poured into your souffle table-side. Yum!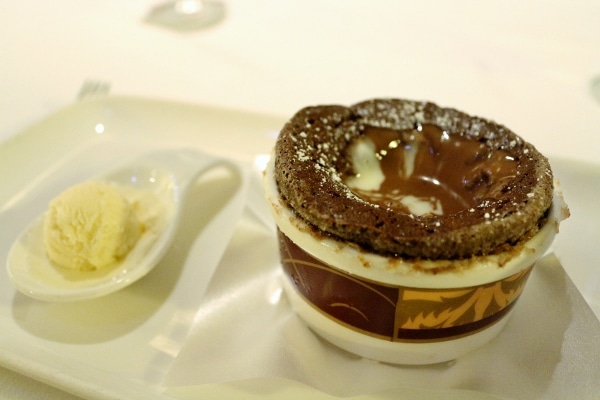 But even Palo can have a slightly off night from time to time. Although our food was fantastic, there was a bit of an error during our meal where our server fired the wrong entree for my brother-in-law. In the delay of having him wait for his food, he asked them not to worry about it, and that he was already pretty full and felt awkward eating his meal after we had already finished ours. To make up for the oversight (and the fact that he never got an entree), the manager of Palo invited us all back--free of charge--for another dinner on our final night of the cruise. That's certainly an invitation we wouldn't pass up, so stay tuned for Palo take 2 in my upcoming blog post for day 8 of our trip.
Disney Wonder Southern Caribbean Cruise (January - February 2016):
Cool Runnings Catamaran Cruises
Carlisle House, Carlisle Wharf, Hincks Street
Bridgetown, Barbados
(246) 436-0911
https://www.coolrunningsbarbados.com/