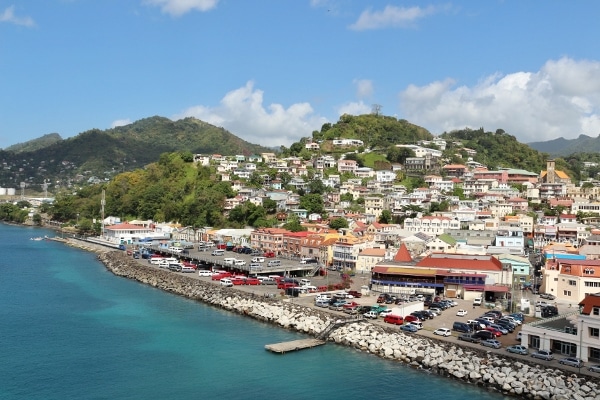 Welcome to St. Georges, the capital of Grenada, the Spice Isle. Grenada was one of our favorite stops on this trip, and you can easily see why. Not only is it stunning with its lush landscape, but here we had one of the most informative and fascinating tours we've experienced on a Caribbean island.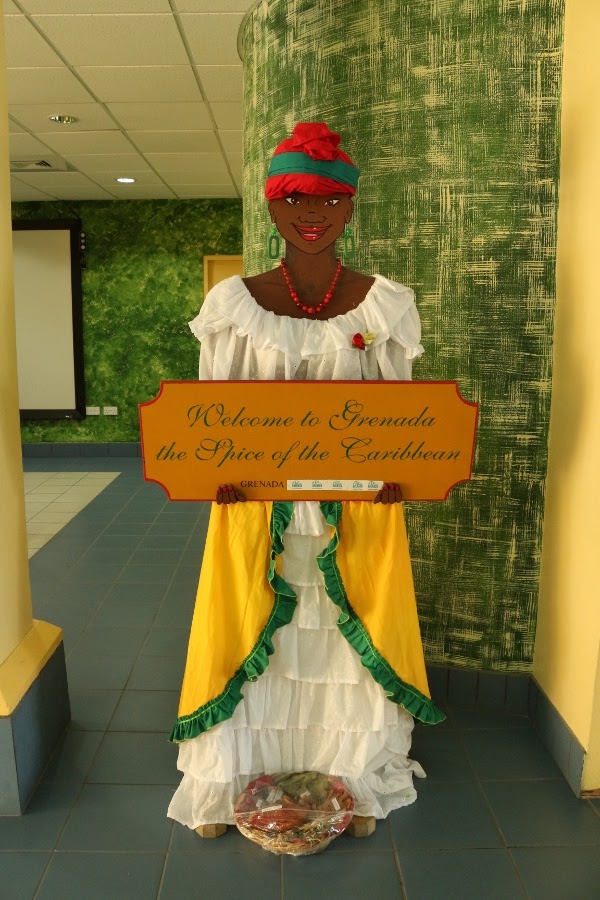 We booked an independent tour online through Mandoo Tours. It boasts great reviews on Trip Advisor, and even offers a cruise passenger discount on rates (at least back when we booked ours; I don't see this mentioned on the website anymore, so perhaps it has changed).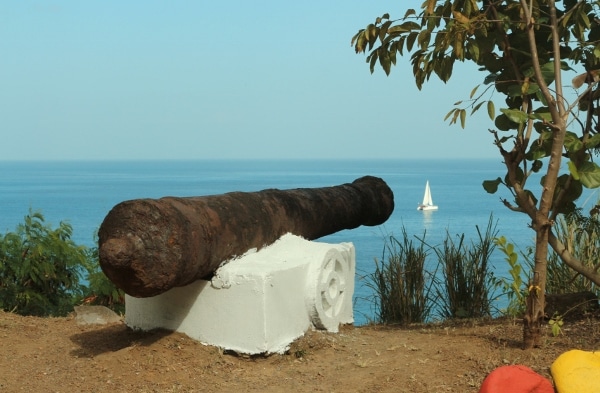 The tour company owner Mandoo was our tour guide, and the small group tour was comprised of our family and two other couples. Mandoo offers several different themed tours of the island, but we selected the Spice Plantation Route tour.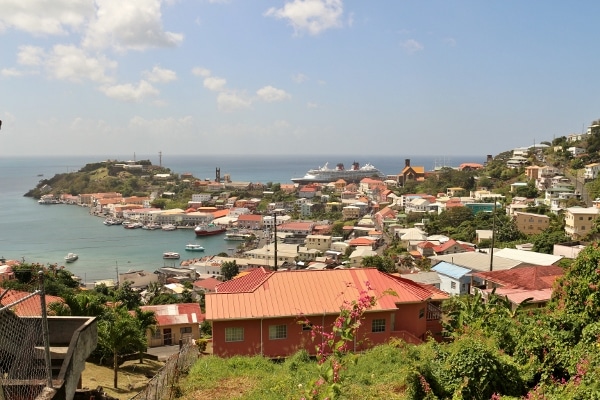 Mandoo drove northbound along the west coast of the island, showing us interesting sites along the way, including a colorful welcome to Grenada from Charlie's Bar.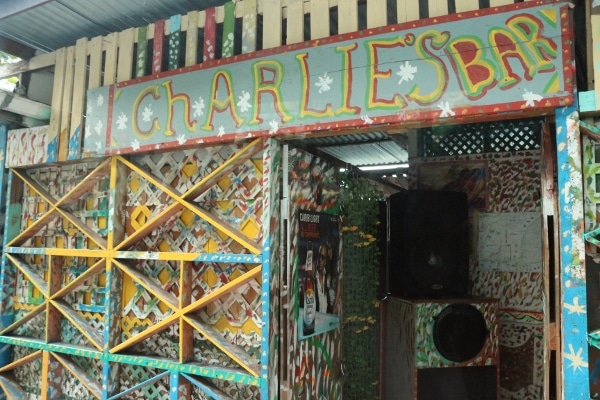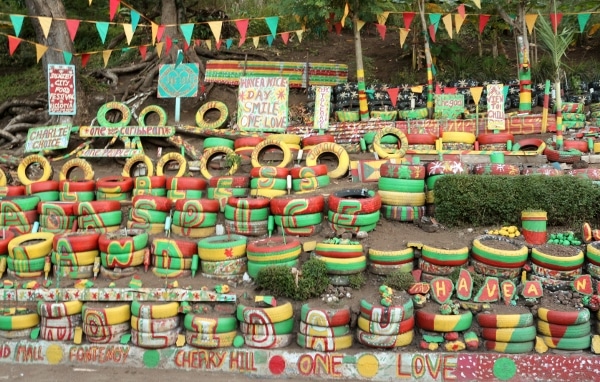 Our first tour stop was Concord Falls, an absolutely stunning waterfall. Concord Falls is technically made of three different waterfalls, but the other two are a hike away, and the main one we visited is the most easily accessible.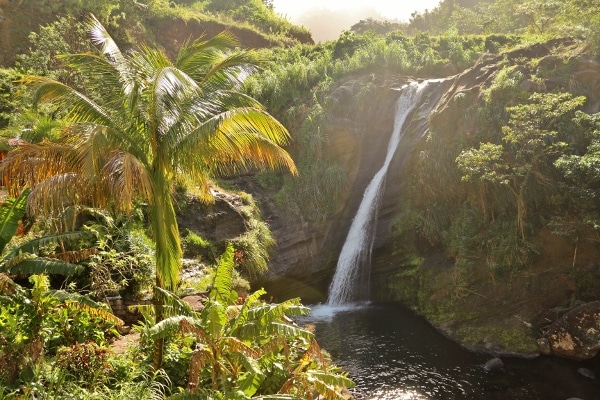 We enjoyed a short stop here, and even got to witness one of the locals jumping off the top of the waterfall for our enjoyment. He did have a box for donations, as expected, but since none of us planned on jumping from the top, this gave us a little additional entertainment at this tour stop.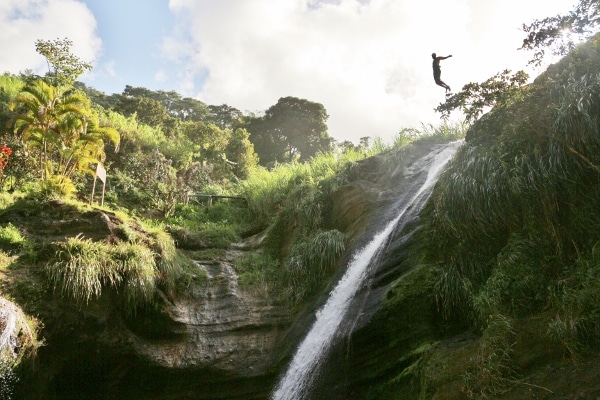 There's also a great souvenir shop at the entrance to the falls. They sell tons of spices as well as other local products. You simply cannot visit Grenada without stocking up on spices. There are wonderful gift sets as well as individual packages of many spices produced on the island, including but not limited to nutmeg and mace (both produced from the same plant), cinnamon, turmeric, bay leaves, cloves, allspice berries, cocoa, and more. Some of these gift sets are even packaged in calabash, an inedible gourd used frequently on the island as bowls.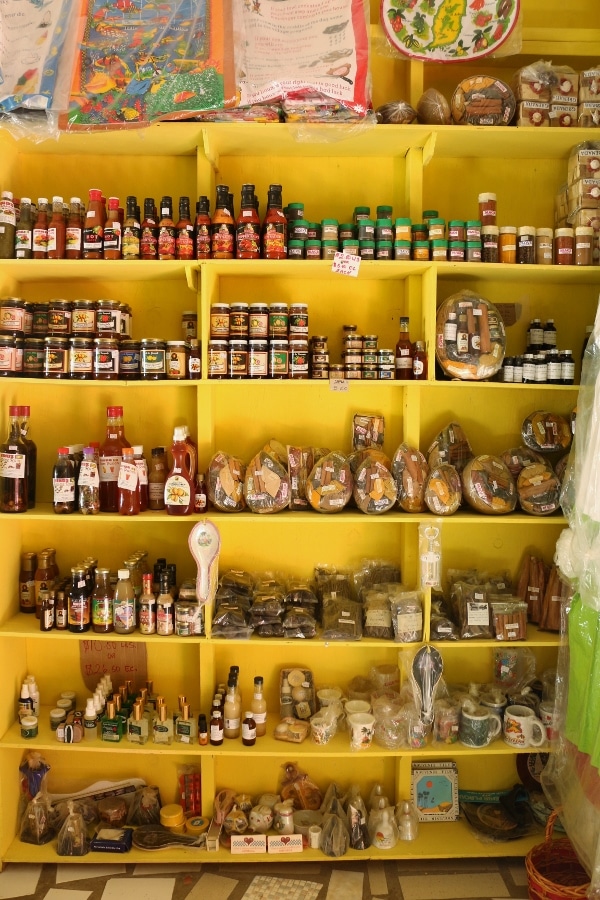 We continued our drive as we headed to the Douglaston Spice Estate for a demonstration on Grenada's many spices.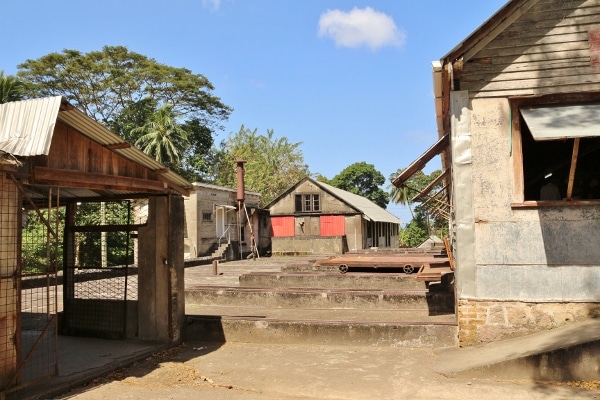 Douglaston Spice Estate
First, Mandoo showed us the sweat house where the cocoa beans are fermented for 8 days under banana leaves.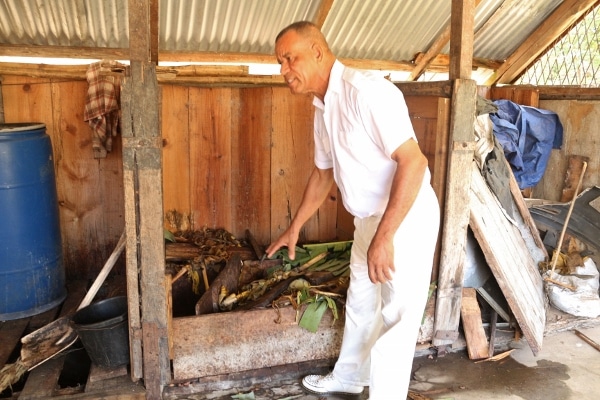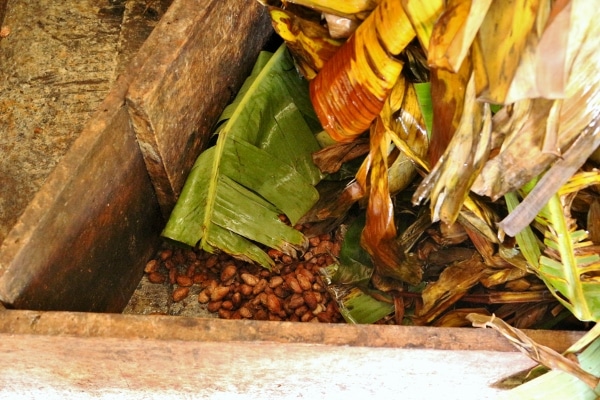 Then they dry out in the sun for approximately 6 days more until they are ready for cracking open and processing into cocoa/chocolate.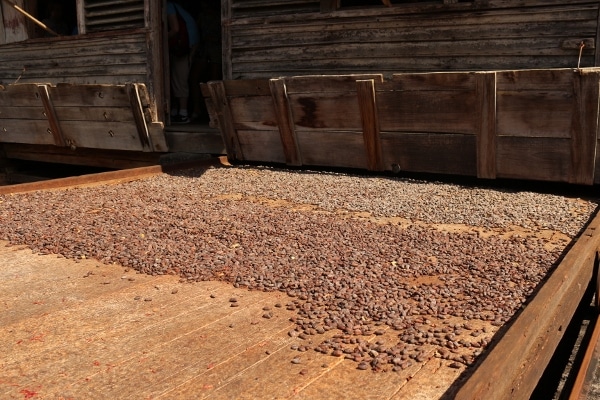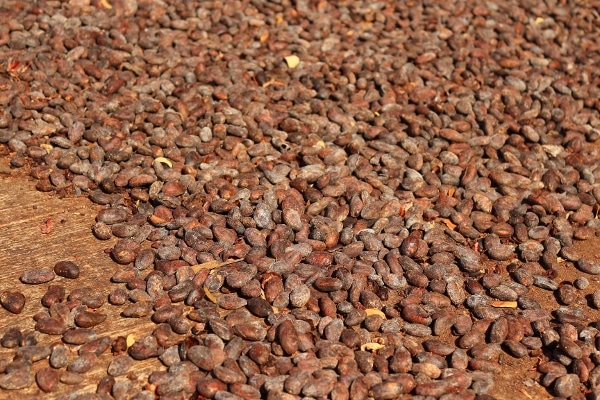 Mandoo then proceeded to give us a full demonstration on many of the spices produced on the island. He allowed us to see and smell the leaves from various spice-producing plants on the island, and it was interesting to see how even the leaves of these plants are reminiscent of the spices they produce.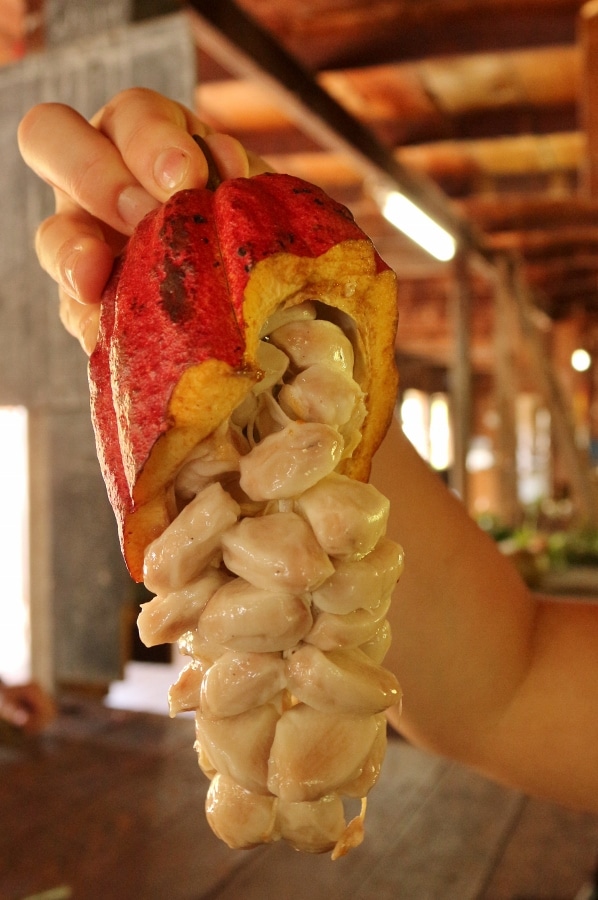 Cocoa beans look slimy and weird before processing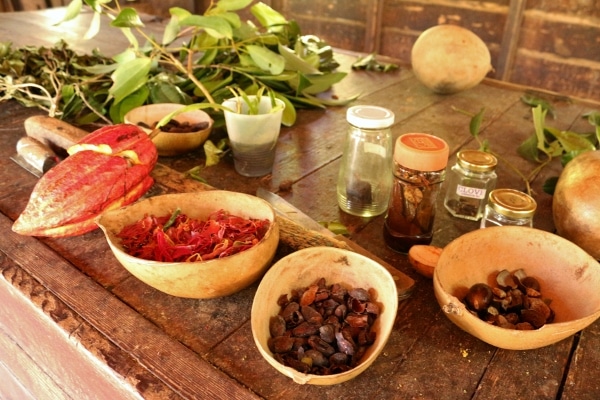 Did you know that nutmeg and mace derive from the same plant? Its fruit resembles an apricot, and when it's ripe it splits open revealing the red mace webbing wrapped around the nutmeg seed. The fruit of the nutmeg is used for jams and syrups, while the mace and nutmeg are sold as spices. Nutmeg is such an important spice in Grenada that it's actually featured on Grenada's national flag!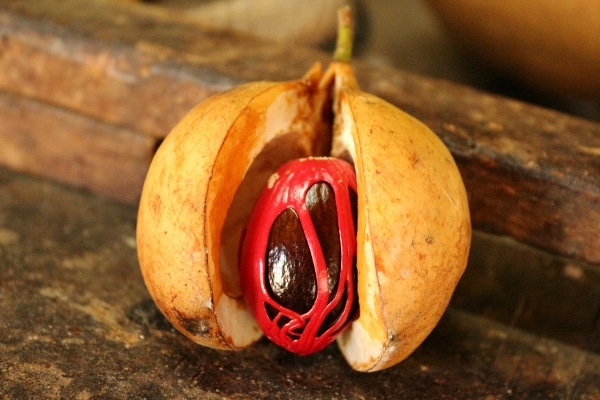 Although the landscapes we explored appeared very lush and full of vegetation, the amount of growth on the island has reduced significantly after Hurricane Ivan in 2004. Even after many years, Grenada still produces only a fraction of the spice exports it once did. Mandoo also pointed out that the average age of farmers on the island is getting older. The younger population lacks interest in farming, so there are concerns that in time there may not be enough Grenadian farmers to maintain these important crops, which will thus impact the economy even further than Hurricane Ivan's wrath.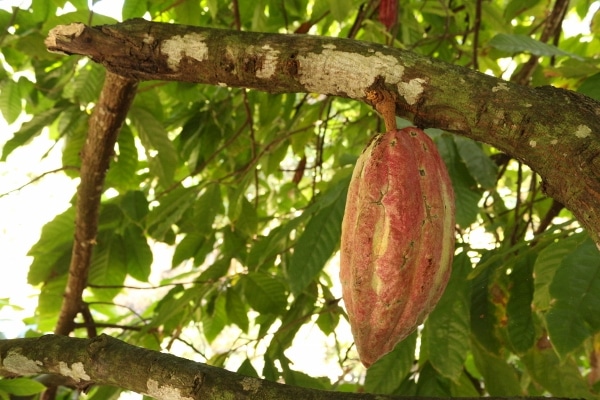 Cocoa tree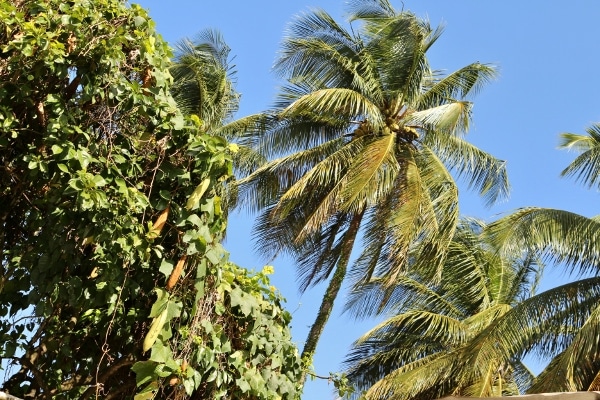 Loofah tree to the left with palms beyond
After additional exploration at the Douglaston Spice Estate, we proceeded with our tour and headed south to Grand Etang National Park.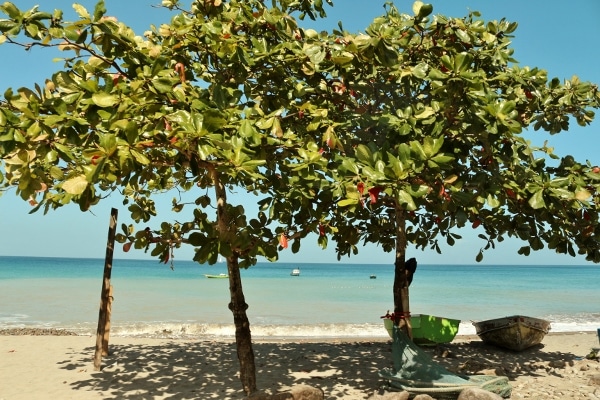 Almond trees on the beach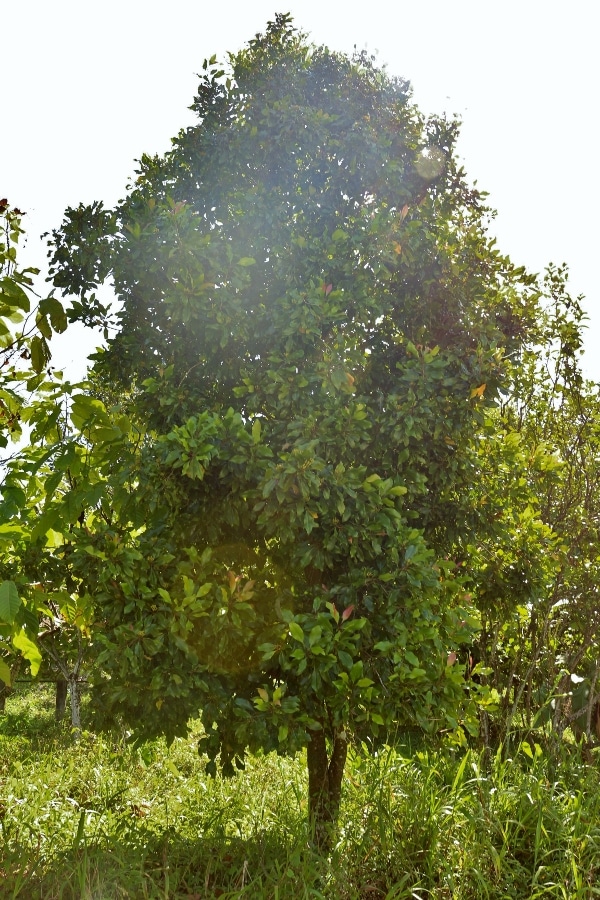 Clove tree. Cultivating cloves is very challenging because farmers must climb the trees to cut off the branches.
On the way, Mandoo pointed out some peculiar sights. Did you know that sticking eggs on a cactus in front of your home will ward off zombies? You're welcome for that little factoid.
An old voodoo trick for keeping the zombies away: sticking eggs on a cactus in front of your house 🙂
Grand Etang National Park is home to Grand Etang Lake and many adorable banana-loving Mona Monkeys. This was a fun spot to learn more about Grenada and also lure monkeys to come sit on our heads and eat bananas.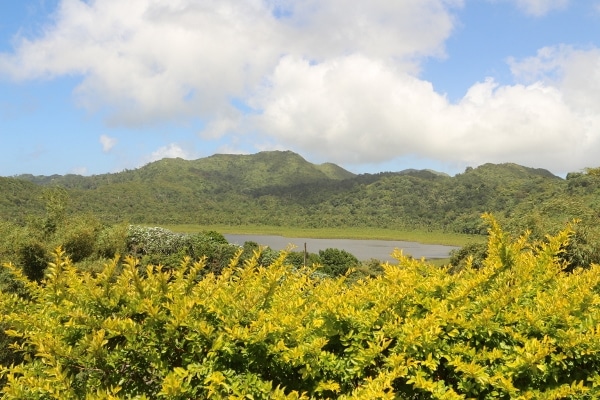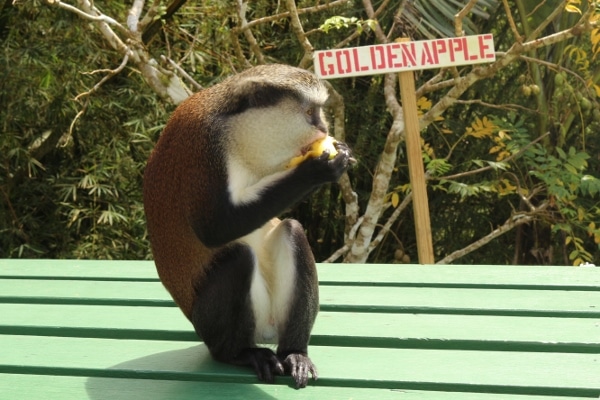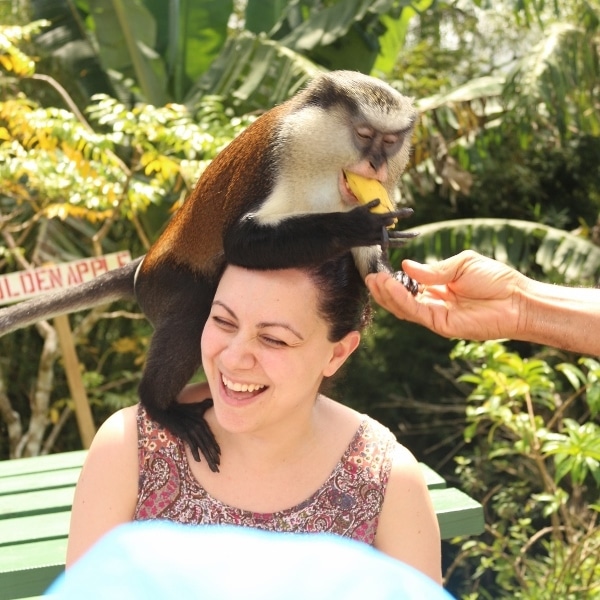 The visitor center at Grand Etang is surrounded by more beautiful vegetation. I simply cannot get over the greenness of this gorgeous island.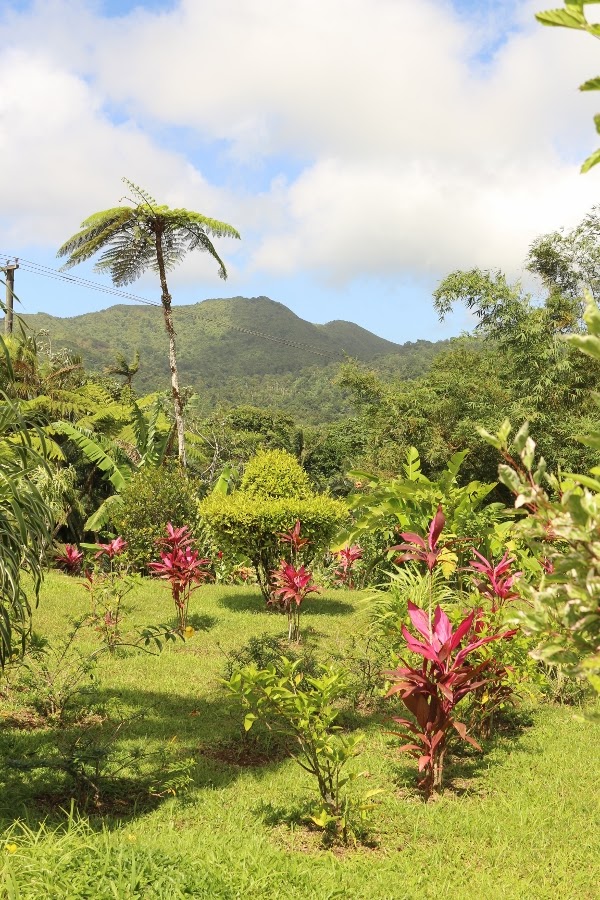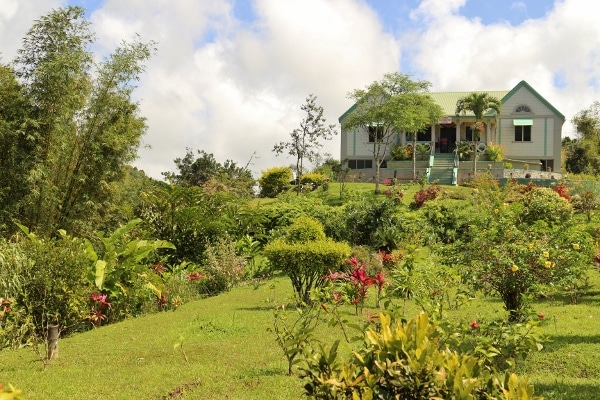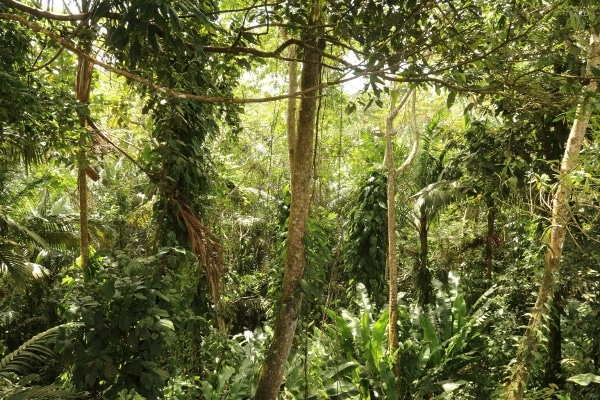 We headed back to the ship, after a busy morning exploring the spicy side of Grenada. We not only learned a lot about where some of our favorite spices come from, but also gained a new appreciation for all the hard work involved.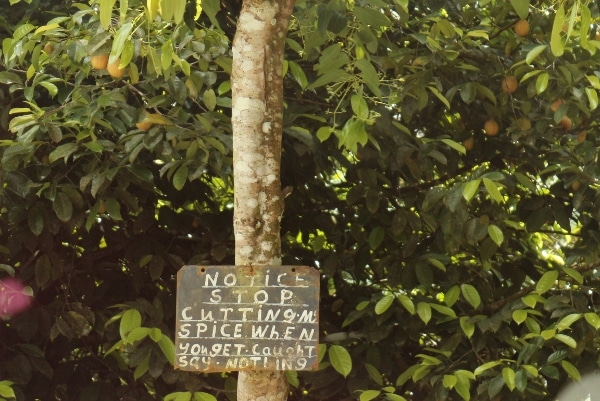 A farmer's sign on one of his many nutmeg trees
We witnessed beautiful vistas of Grenada's lush landscape, including Mount Saint Catherine, and many examples of Grenada's extensive produce including bananas, plantains, callaloo (greens), pineapple, star fruit, nutmeg, almond, cloves, breadfruit, calabash, bamboo, and more!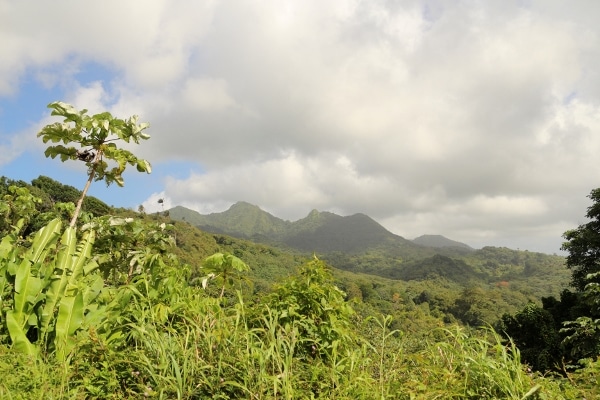 Mount Saint Catherine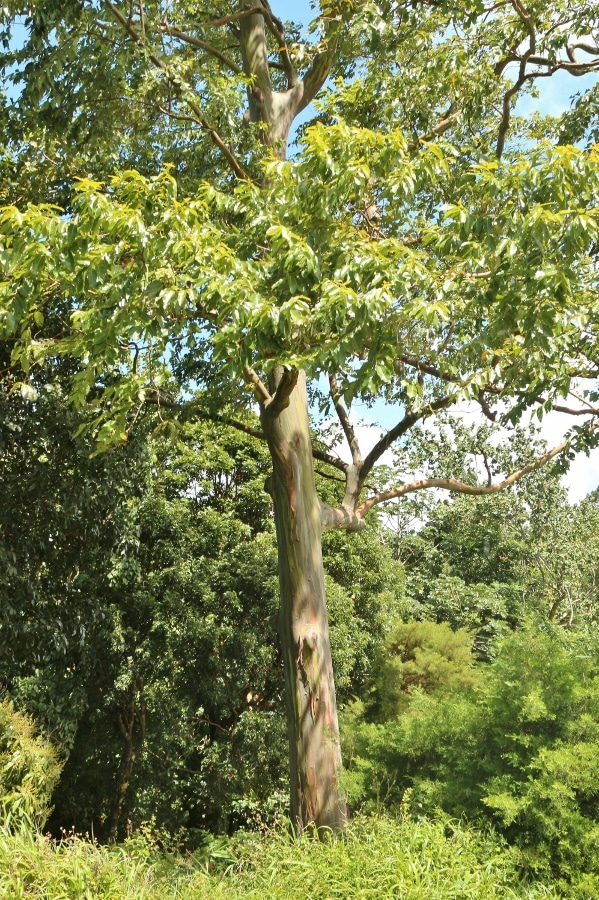 Rainbow Eucalyptus tree
We truly had a wonderful experience exploring Grenada, the Isle of Spice. Thank you to Mandoo for sharing your beautiful island with us. I'd happily return in a heartbeat!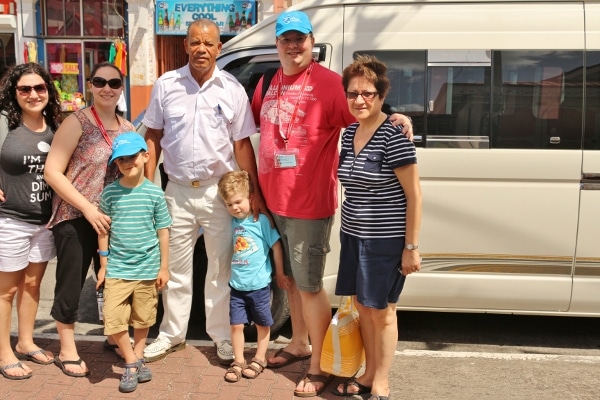 Upon arrival to the ship, we scarfed down some much needed lunch at the Beach Blanket Buffet, which was featuring Italian-themed options that day.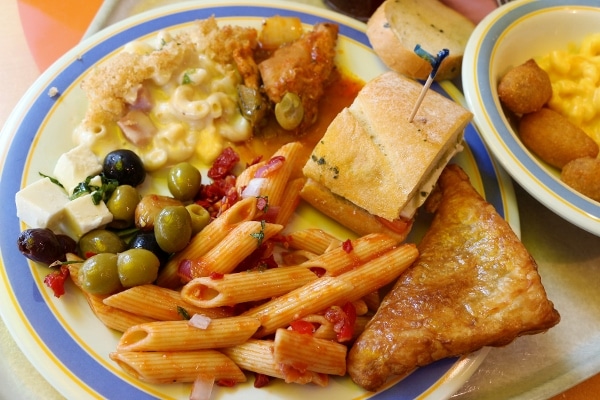 The rest of the afternoon was spent poolside in the adult only Quiet Cove area of the pool deck, soaking in the sun, sipping mango mojitos, and taking in an incredible view of St. George's.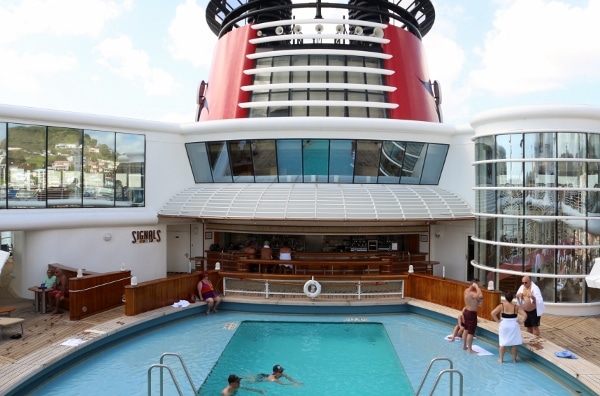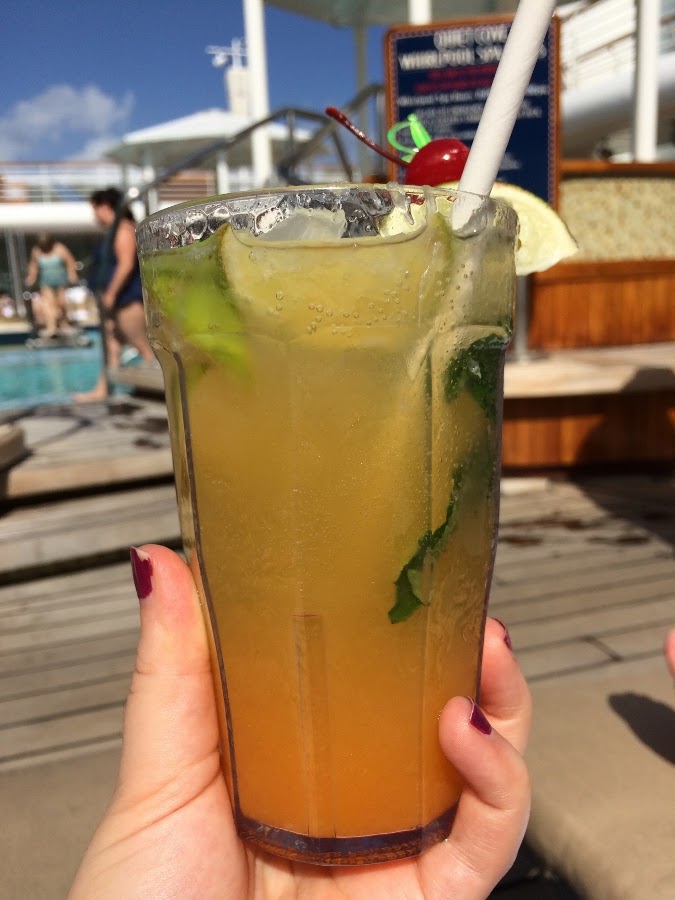 Mango mojito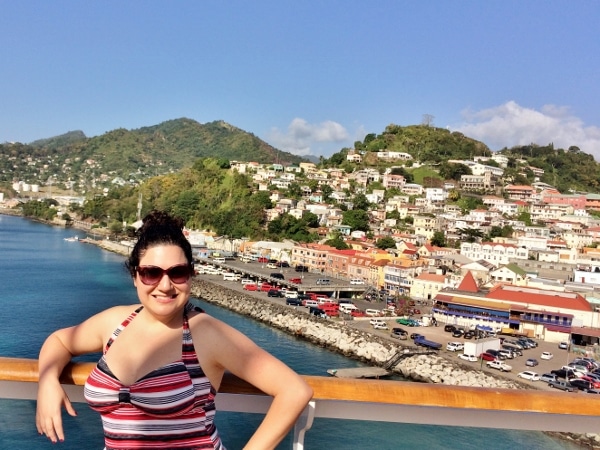 Goofy also paid us a visit. You can't get that on another cruise line!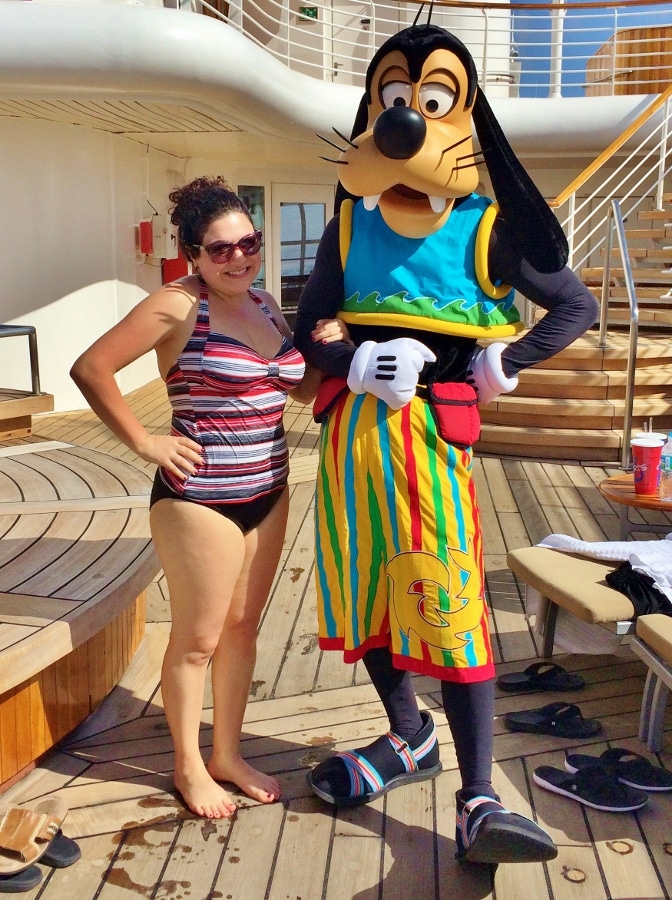 After sailing away from beautiful Grenada, we headed to dinner at Parrot Cay. Historically, it's our least favorite Disney dining option, but I noticed some changes to the menu since the last time we ate here, so I was hopeful there would be an improvement to win us over.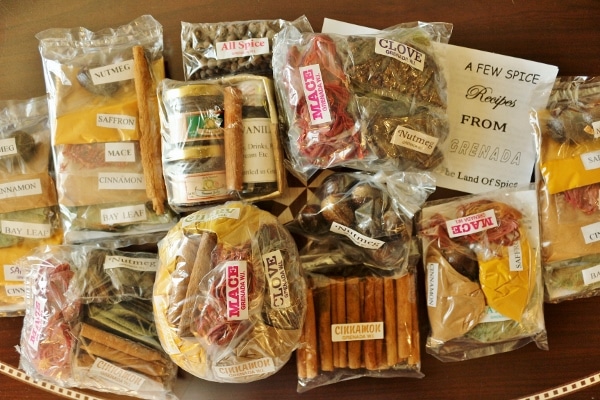 Someone stocked up on spices! 😉
Overall, I was much happier with this dinner than previous meals at Parrot Cay, so I will call it a success! Parrot Cay now features the same ahi tuna and avocado tower from the Enchanted Garden menu on the Disney Fantasy and Disney Dream. It's a solid favorite, and an obvious choice for my first course.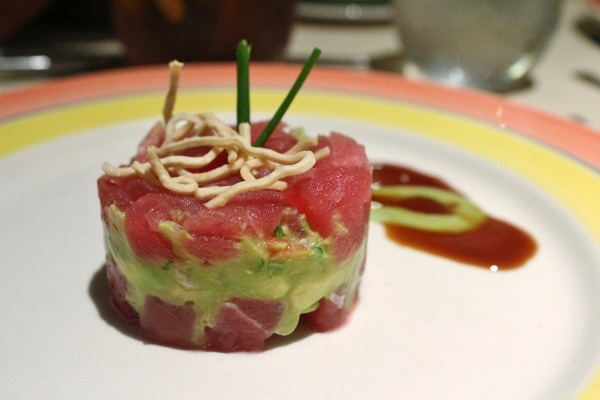 Years ago, Parrot Cay had a grilled chicken tenderloin dish on the menu, but now features fried Jamaican Jerk-Marinated Chicken Tenderloins with crispy vegetables and blue cheese dressing. Although there were no "crispy vegetables" on my plate, I really enjoyed these crispy, spicy chicken tenders. Especially with the addition of blue cheese dressing, these are reminiscent of Caribbean-inspired Buffalo chicken. Not a bad start to the meal.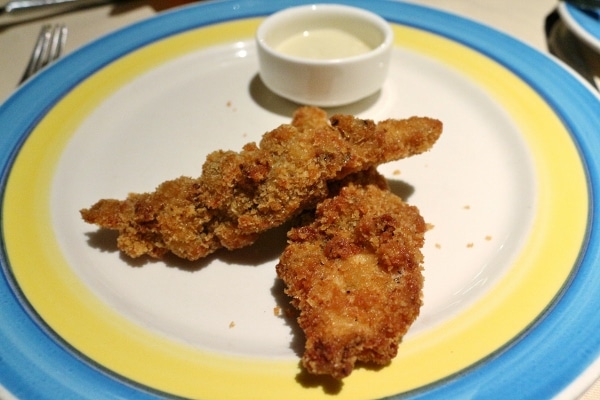 I tried the Creole Crusted Grouper with shrimp jambalaya rice and Cajun slaw as my entree. It was pretty good. Nothing about it blew me away, but it was well-seasoned and cooked properly. Overall, it wasn't a fail which is really a win for Parrot Cay after all these years of avoidance. I'd eat at Parrot Cay again without complaining next time.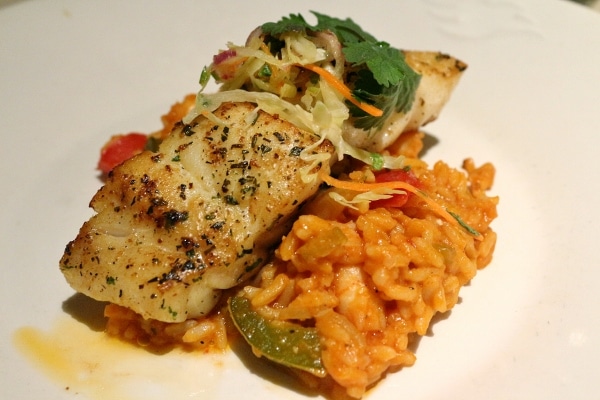 My dessert was a Coconut Pineapple Layered Cake with banana, mango, and passion fruit puree. It was light and tropical, and a nice, not-too-sweet finish to this Caribbean-inspired dinner.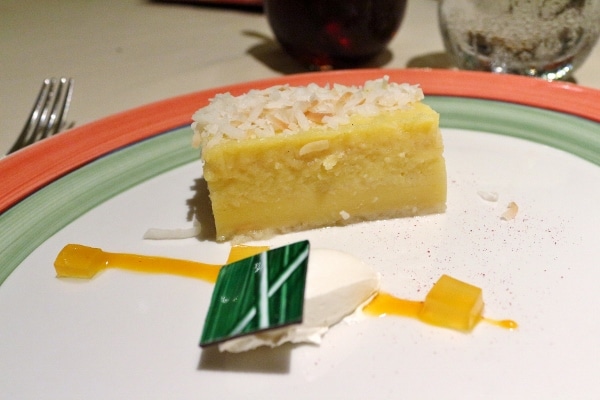 I will say, however, that my brother-in-law tried the Braised Jerk-Seasoned Pork Chop as his dinner and absolutely hated it. He said it was overcooked and inedible. I didn't try it myself, nor do I have a photo to share. All in all, I've forgiven Parrot Cay for it's former lackluster menu, but it's still is not our favorite rotational dining room by any means.
This wraps up day 4 on our Southern Caribbean Disney Cruise. Stay tuned for my next post highlighting the island of Barbados!
Disney Wonder Southern Caribbean Cruise (January - February 2016):
Mandoo Tours
https://www.grenadatours.com/
Trip Advisor