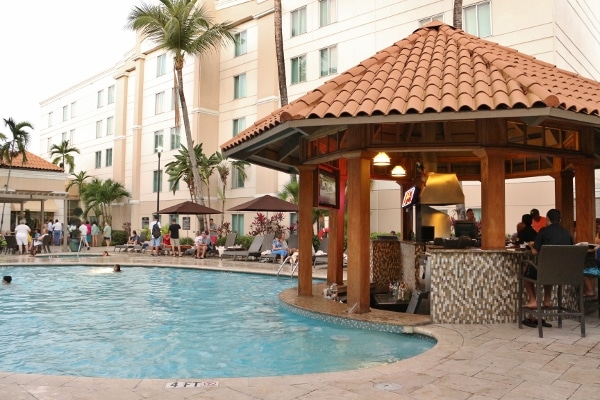 I might be a little obsessed with Disney, in particular Disney Cruise Line. I recently went on my 6th Disney Cruise, and it was very special since it was my first Southern Caribbean itinerary (it's not offered often) and also my first on the Disney Wonder, the second ship in the fleet and the "sister ship" to the Disney Magic.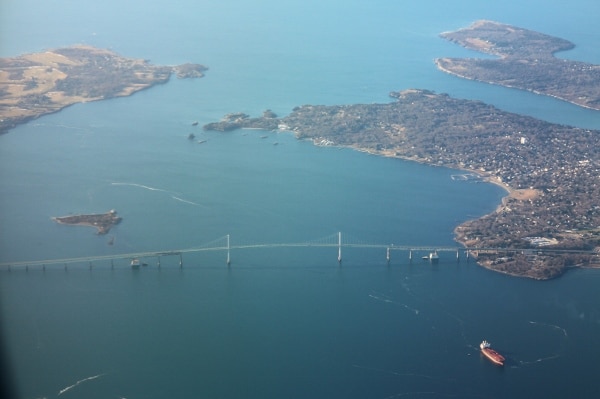 View of the Pell Bridge in Newport as we fly out of Providence, RI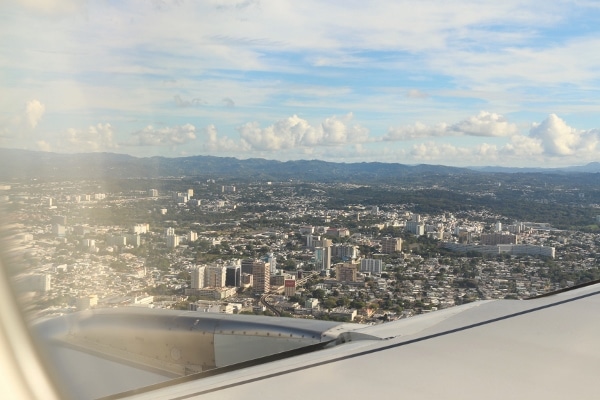 Welcome to San Juan!
Over the next several weeks I will be sharing daily trip logs from my adventure. I hope you're ready for a virtual escape this winter. I know I am! We returned to quite a bit of snow here in New England! We sailed out of San Juan, Puerto Rico, and visited the following islands: Grenada, Barbados, Martinique, Antigua, and St. Kitts. With the exception of Puerto Rico, which I've visited twice, this was my first time exploring each of the other islands. We booked this trip over a year in advance on the day the itineraries were released--vital if you want to get the best price on a Disney Cruise.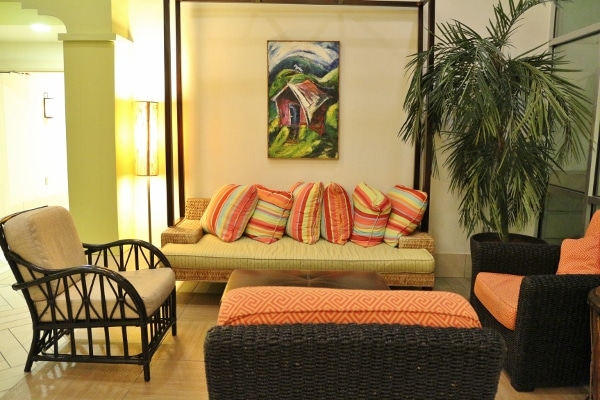 Loved the decor in the lobby of our hotel: Hampton Inn & Suites San Juan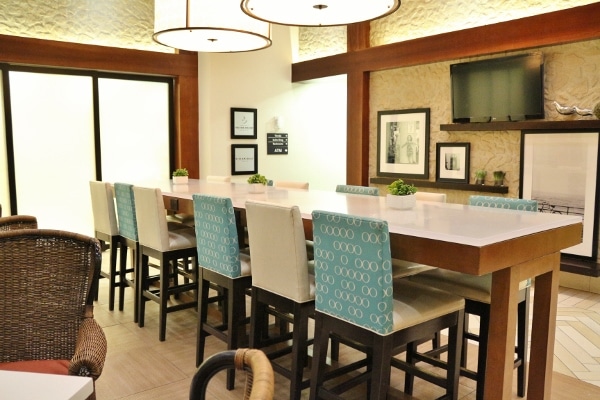 The first day of our trip involved our flight to Puerto Rico, and a bit of relaxation upon our arrival.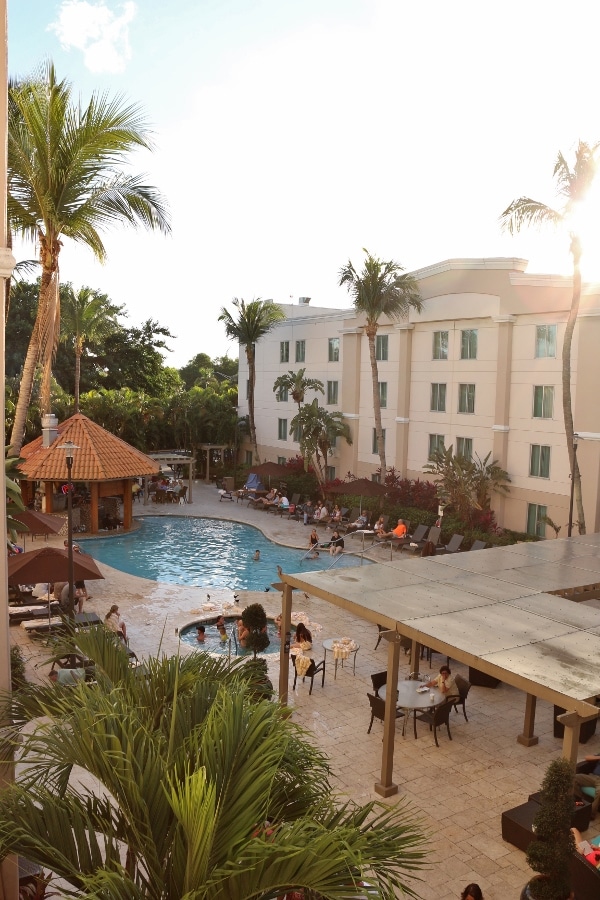 Since we were only spending one night on the island, and had a private tour booked the following day (I'll get to that in my next post), we didn't feel the need to splurge on a really fancy beach side resort since we wouldn't really be spending much time there other than sleeping. We actually got a great deal through a AAA rate for a couple of King Suites at the Hampton Inn & Suites San Juan in Isla Verde.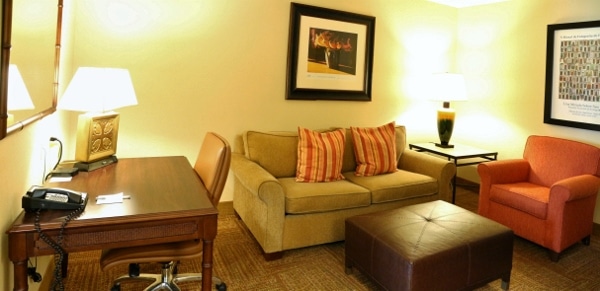 The sofa opens up into a bed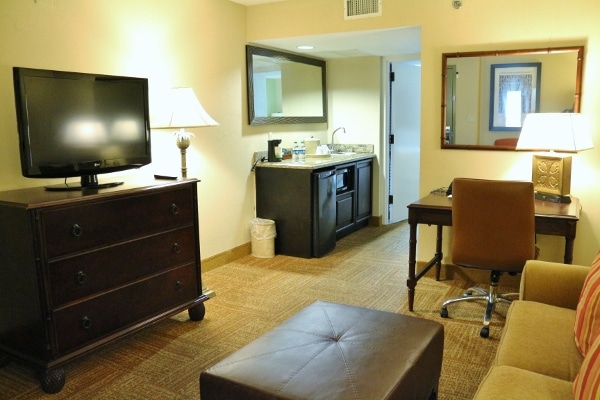 The prices went up a bit since we booked our rooms well in advance, but the location of the hotel is very close to the airport. I mean, it's basically across the street. When you're out by the pool you occasionally hear the deafening sounds of planes taking off, but to be honest I thought it was pretty cool. I couldn't hear anything in my room so the rooms themselves must be well-insulated for sound. It's also really close to the beaches of Isla Verde, one of the most popular beach resort areas in San Juan (which I'm told has fairly calm water compared to the rougher beaches in the Condado area, where I stayed 3 years ago).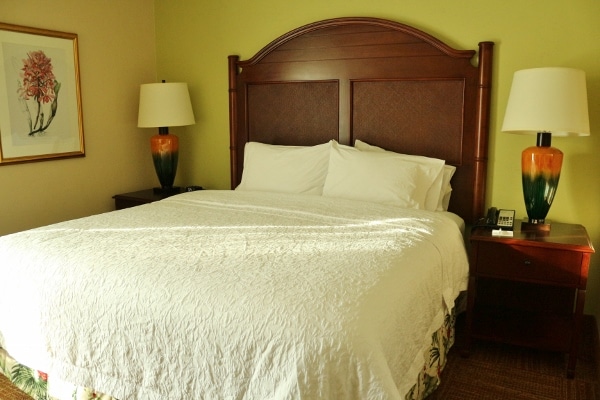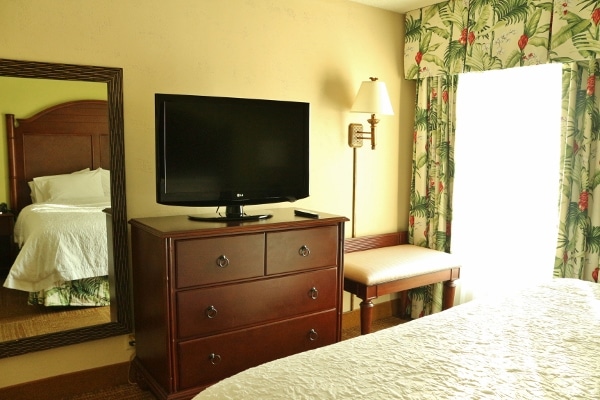 I was quite impressed with the hotel considering it isn't one of the fancier resorts in town. Our rooms were incredibly spacious and well furnished. In particular, I loved the abundance of outlets! In lamps, alarm clocks and more, there were additional outlets for plugs as well as USB adapters to charge your electronics with ease. It may seem like a silly thing to get so excited about, but honestly, it was really useful!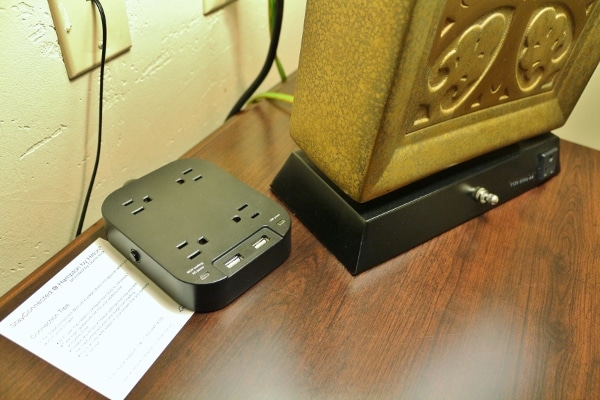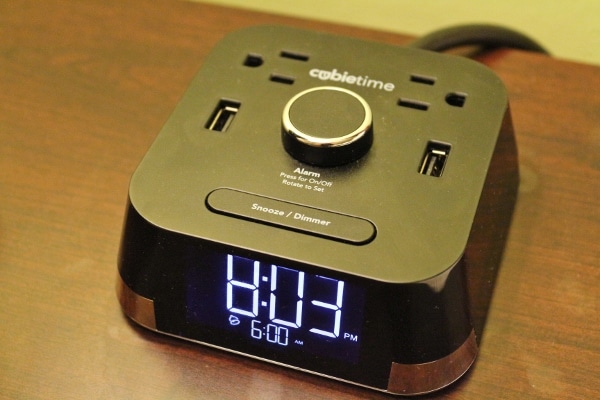 The bathroom was roomy and contained name-brand bath products. The photo below is missing the hand soap, which was already in use when I snapped the photo 🙂 Other toiletries include shampoo, conditioner, body wash, body lotion, mouthwash, and bath soap.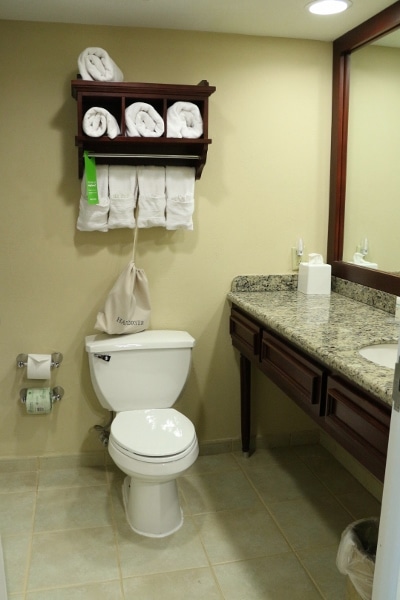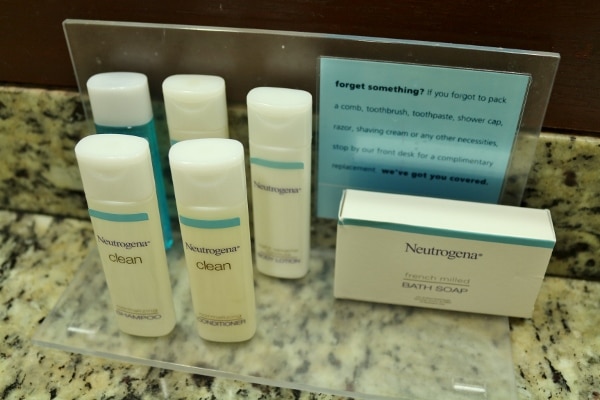 One of the fun perks of the Hampton Inn & Suites San Juan is their poolside Happy Hour Monday through Saturday from 5 pm to 7 pm. Although minimal, there are some free snacks and alcoholic beverages available during this time. When we were there, snacks consisted of pretzels and tortilla chips with cheese sauce. There were several drink options. I tried a pina colada, and later a mango dacquiri. Both were fine but nothing too special. But hey, it's free!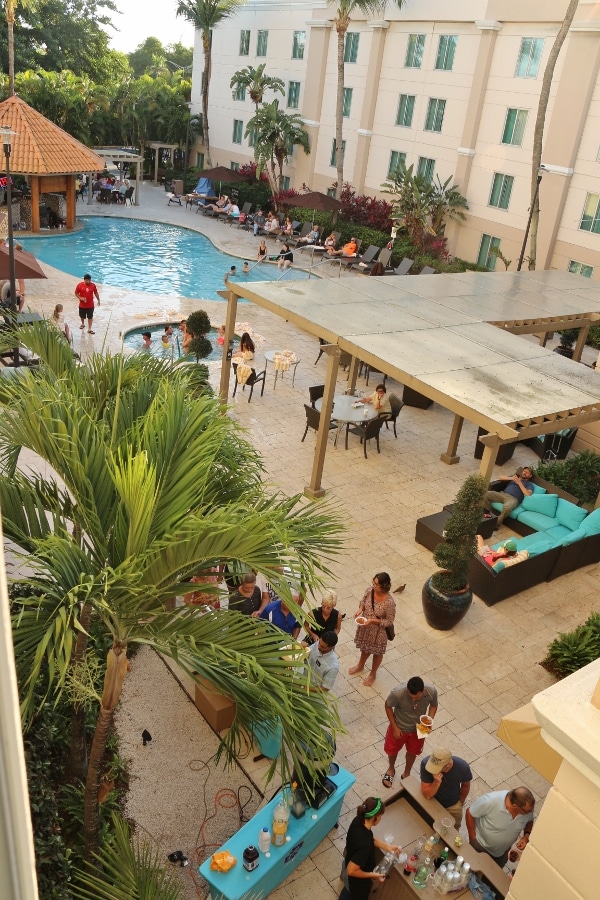 View from our suite. You can see the Happy Hour folks lined up below for drinks!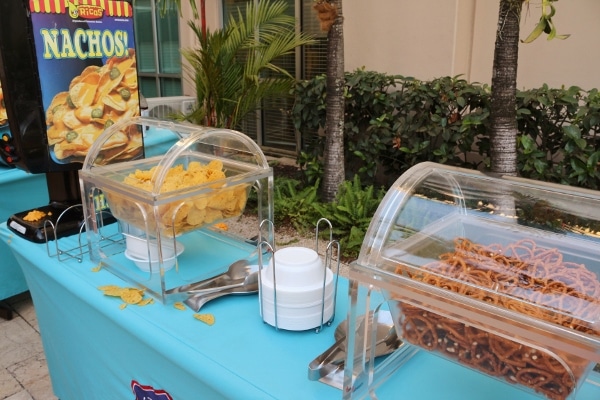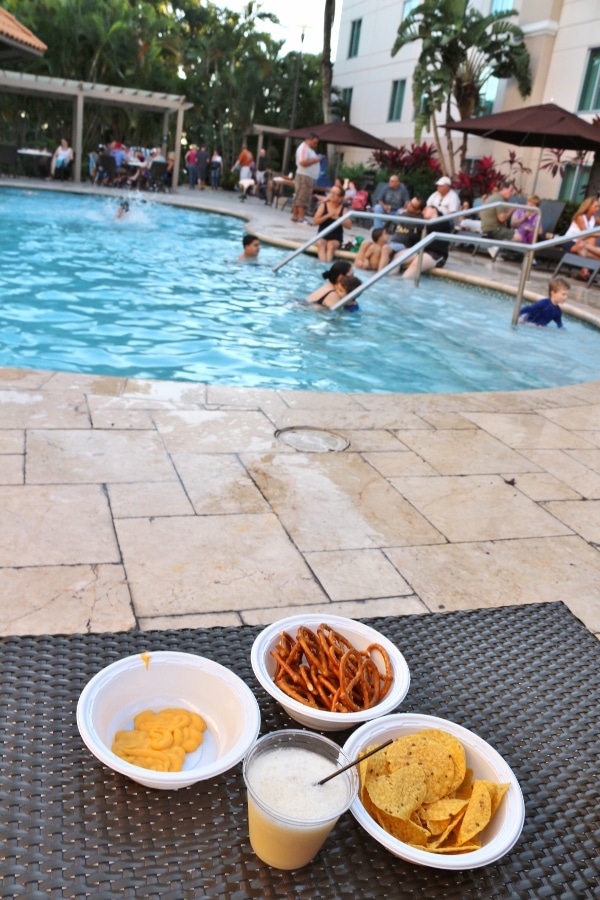 We spent a bit of time at the pool after our arrival (how can you not after escaping winter weather), and then decided to eat at the pool bar, which is actually really well rated. Guacamayo Pool Bar & Grill is well known for their burgers, but honestly everything my travel party tried was delicious.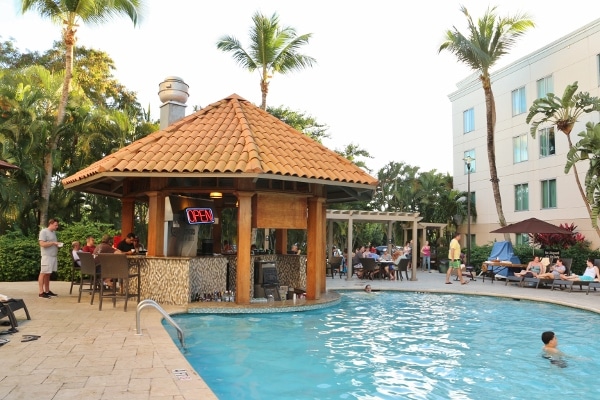 Guacamayo Pool Bar & Grill (includes a wet bar in the pool)

My sister tried the Churrasco Steak, which is grilled skirt steak. Here it's served with grilled potatoes and salad. It's a popular dish in Puerto Rico, and my sister wasn't disappointed with her choice. Who doesn't love a good steak?
Churrasco $14
My nephew got the Chicken Quesadilla, served with salsa, sour cream, tortilla chips, and salad. It's actually grilled, which I think is pretty cool. I didn't try it, but it was a massive portion. I must say, the prices are really quite reasonable for the quality and quantity of food at Guacamayo Pool Bar & Grill.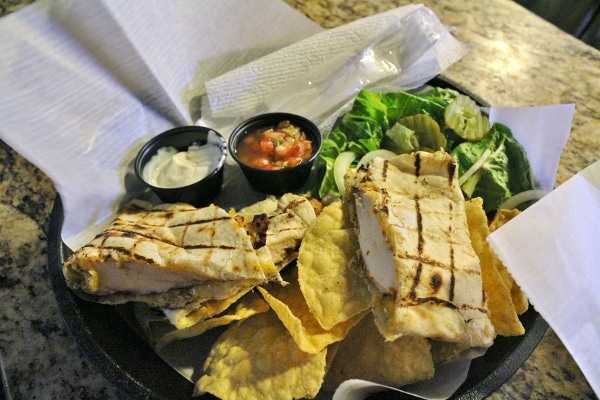 Chicken Quesadilla $10
My mom ordered the Cajun Chicken Sandwich without the bread. She said it was spicy, with lots of great flavor from the spices, but not so spicy that she couldn't eat it. Another winner here, she loved it!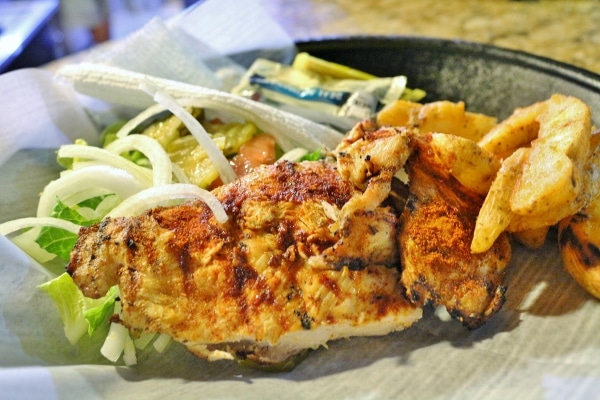 Cajun Chicken $8
Me, I couldn't resist trying one of their famous burgers. The patties are very thick. I was told they are 8 to 10 ounces, but I'm not so sure about that. They are thick, but not super wide across. The way they are thickly shaped definitely helps retain the juices. I had my Cheeseburger cooked medium, and it was so incredibly juicy and flavorful!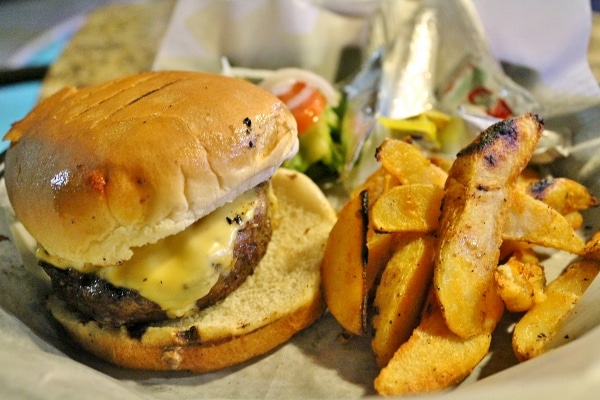 Cheeseburger $8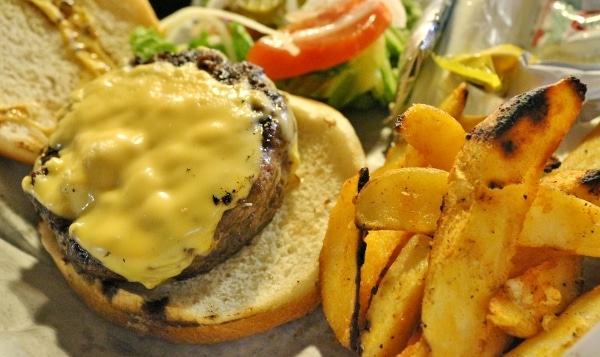 It was topped with a classic slice of American, unwrapped from within a plastic wrapper. Nothing fancy here, and yet it satisfies that burger craving like nobody's business. The bun is fluffy and very lightly grilled. The toppings are all served on the side (same as the "salad" served with many other menu items) and include lettuce, onion, tomato, and pickles. Individual packets of ketchup, mustard, and mayonnaise also accompany your burger.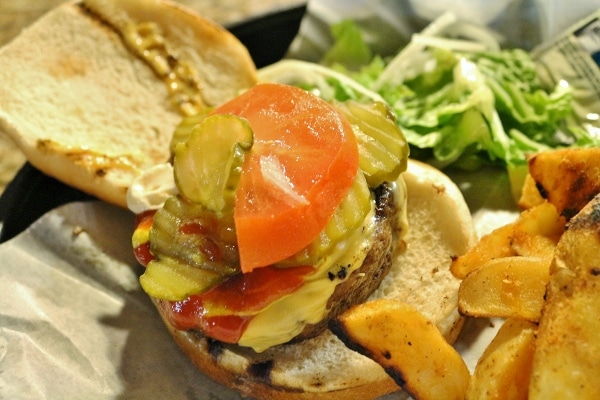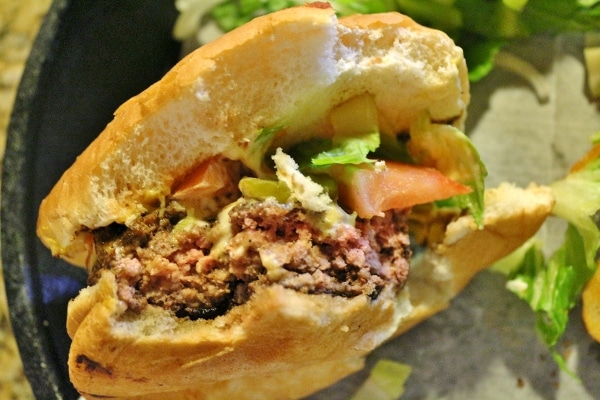 I can't really express how much I loved the burger. Actually I can. It was fantastic! It was so simple, and yet it was one of the most satisfying burgers I've had in a while. I've eaten at famous burger shops like Umami Burger in Los Angeles and left there completely underwhelmed, but this basic cheeseburger here at Guacamayo makes me a very happy girl.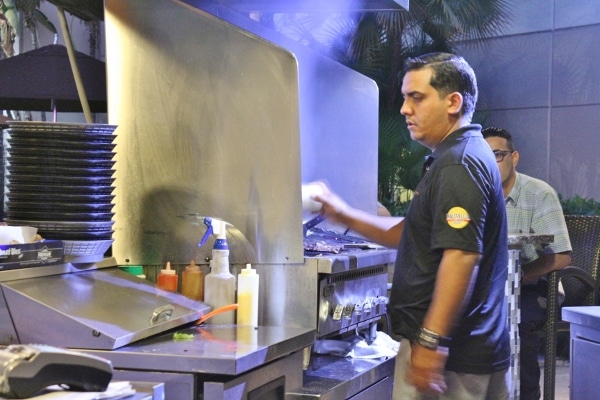 Only one cook, and a small cooking area lead to a bit of a wait for our food. Fortunately we had some free snacks from Happy Hour to hold us over!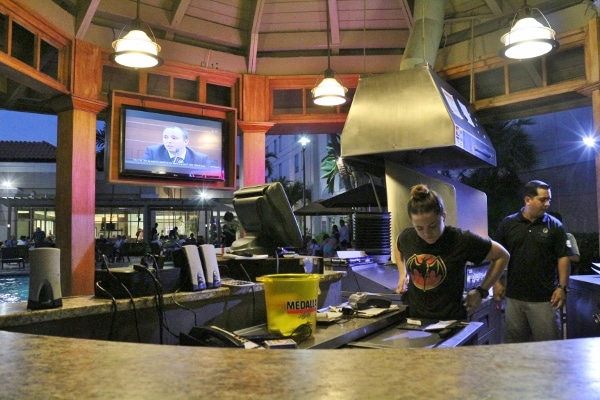 Also of note, the potato wedges served on the side are not fried, but I imagine simply cooked on the griddle, right next to the grill, so they have a bit of char flavor as well. Although we had a bit of a wait for our food (a testament to Guacamayo's popularity, but also a result of only one cook and a small cooking area), I was very pleased with this introductory meal to my super fabulous mid-winter Caribbean escape.
Stay tuned for more posts from my travels!
Disney Wonder Southern Caribbean Cruise (January - February 2016):
Hampton Inn & Suites San Juan
6530 Isla Verde Avenue
San Juan, 00979, Puerto Rico
(787) 791-8777
https://hamptoninn3.hilton.com/en/hotels/puerto-rico/hampton-inn-and-suites-san-juan-SJUHHHX/index.html
Guacamayo Pool Bar & Grill
6530 Isla Verde Avenue
San Juan, 00979, Puerto Rico
https://www.yelp.com/biz/el-guacamayo-pool-bar-and-grill-carolina