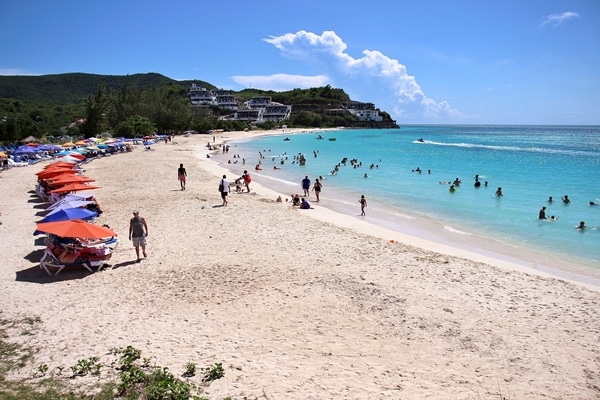 Good morning from the beautiful island of Antigua! Today is the best morning of the entire cruise as it's the only day they are serving Mexican hot pockets on the Cabanas breakfast buffet menu. On our previous cruise, a Western Caribbean itinerary, we got Mexican hot pockets twice! Only once on a cruise that's a day longer is definitely disappointing for me, so I consumed six hot pockets for breakfast this morning (four are pictured, but I went back for seconds). An observation about the hot pockets, the filling seemed to contain a combination of red and black beans this time, where as in the past it was exclusively red beans. I have recreated the Mexican hot pockets in my own kitchen using a scaled down version of the recipe provided to me by Disney Cruise Line in case you are interested. They are delicious 😉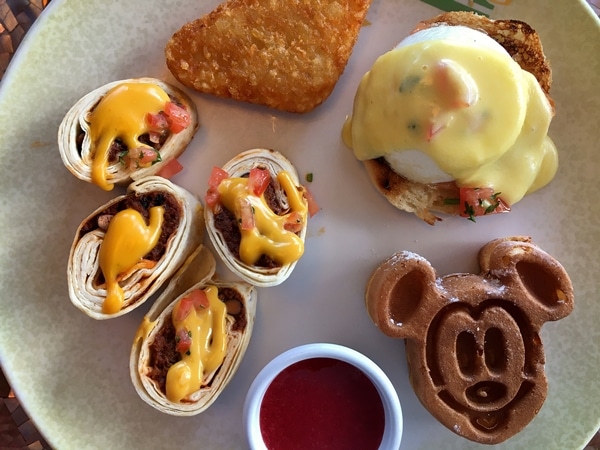 Antigua is the only port of call on this cruise where we booked a Port Adventure through Disney Cruise Line as opposed to something on our own. Antigua has 365 beaches, one for every day of the year, so it's kind of a no-brainer for us to plan a beach day on an island that is best known for its beaches.

On our previous visit to Antigua we booked our own excursion to nearby Runaway Beach. This time we were looking forward to visiting a beach on a different part of the island, so the Beach Escape excursion through Disney (operated by Coral Island Tours) to Dennis's Beach Restaurant at Ffryes Beach on the southwest coast of the island was a good plan.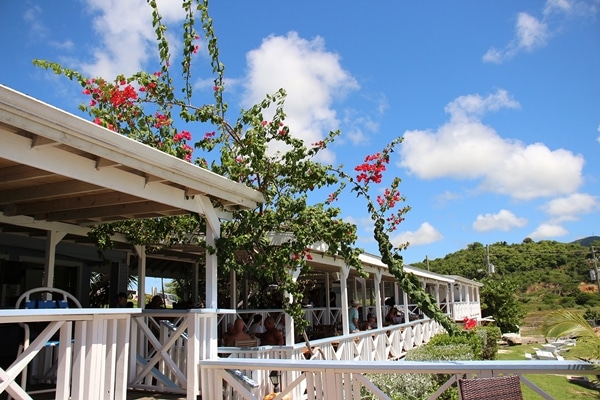 It includes a lounge chair, four hours at the beach, two drink tickets, and a lunch ticket. Umbrellas are available at an additional cost of $10 each payable to the beach staff.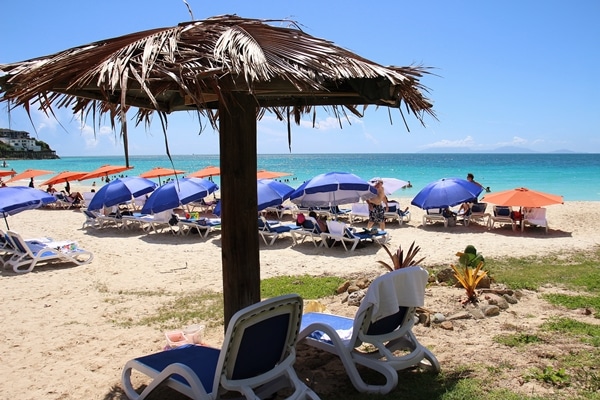 Our driver to and from the beach was Super Al, and he was super awesome. Very funny, a great storyteller, very efficient and professional, we really enjoyed his company that morning and afternoon. We were physically at the beach from 10 am to 1:45 pm with a 30 minute drive each way to and from the port.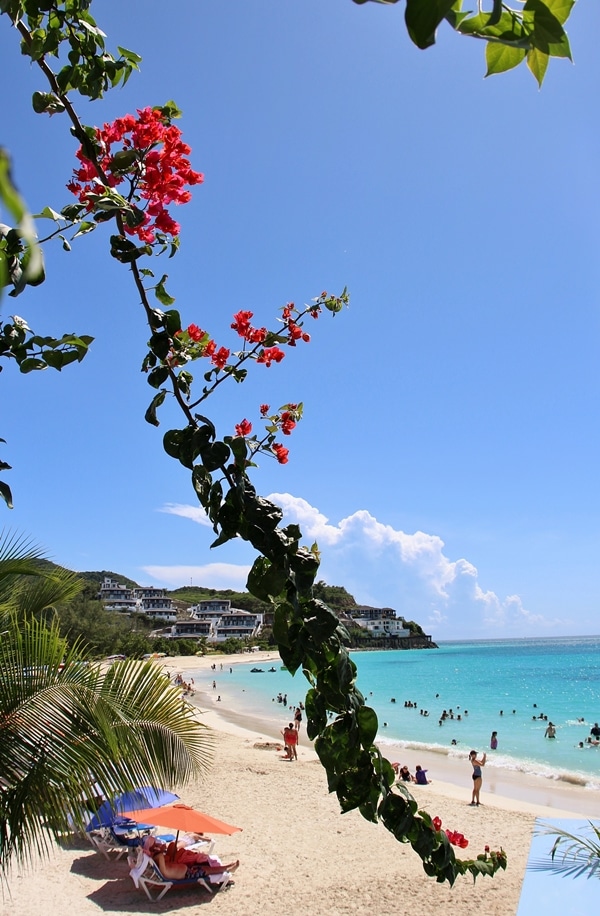 I preferred Ffryes Beach to Runaway Beach, the beach we visited previously in Antigua. It was considerably crowded due to the large number of visitors from our cruise ship participating in this Port Adventure, but the water was an absolutely beautiful shade of turquoise, a great comfortable temperature, and relatively calm with minimal waves. The sand was powdery white, beach chairs were abundant as were umbrellas, and there were excellent dining, drinking, and acceptable bathroom facilities right on premise. This is the perfect type of beach in my eyes.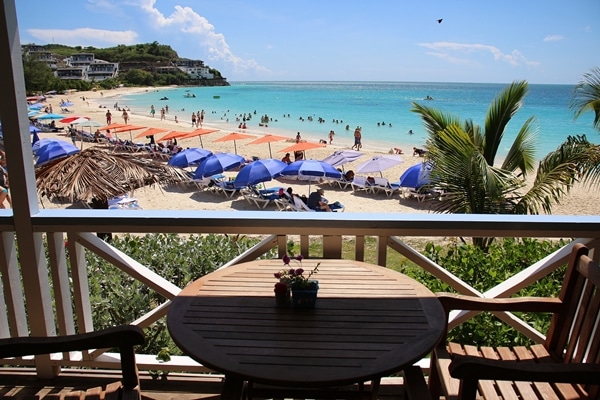 As I mentioned earlier, food and two drinks were included in the cost. Drink options included rum punch, local beer, soda or water. The food menu included barbecue chicken and ribs, rice and peas, macaroni salad, green salad, hot dogs, and hamburgers. I only sampled the chicken, rice and peas, and macaroni salad, along with some rum punch, and overall the food was quite good and satisfying.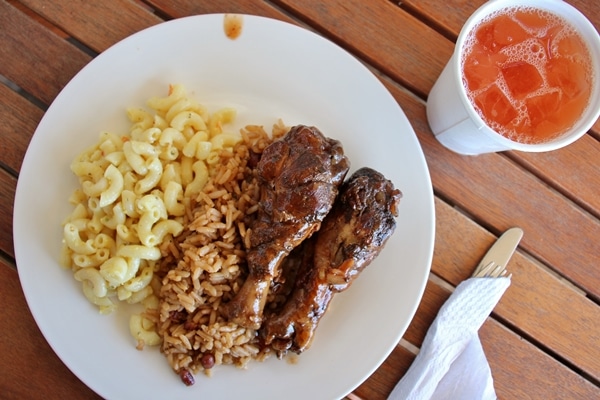 After returning to the ship, I spent some time enjoying the view and wandering around taking fun photos of the ship and port.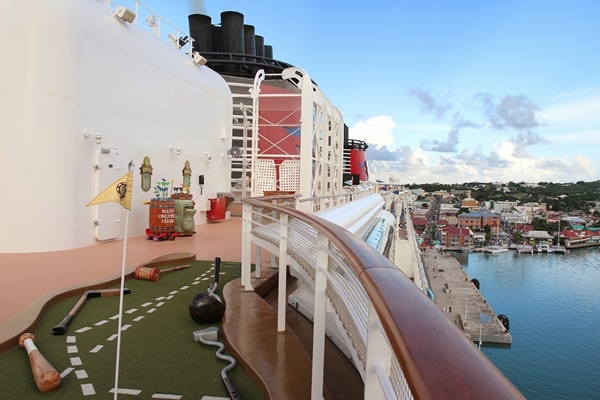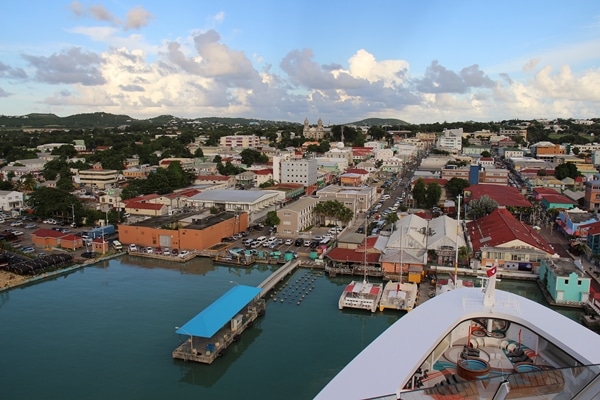 Tonight is the night we officially celebrate Halloween. Although there have been various Halloween activities throughout the week, this one night is dedicated to dressing up in costume, trick-or-treating, and partying it up Halloween style. For all of y'all unfamiliar with The Muppets, I dressed up as the Swedish Chef! Bork bork bork!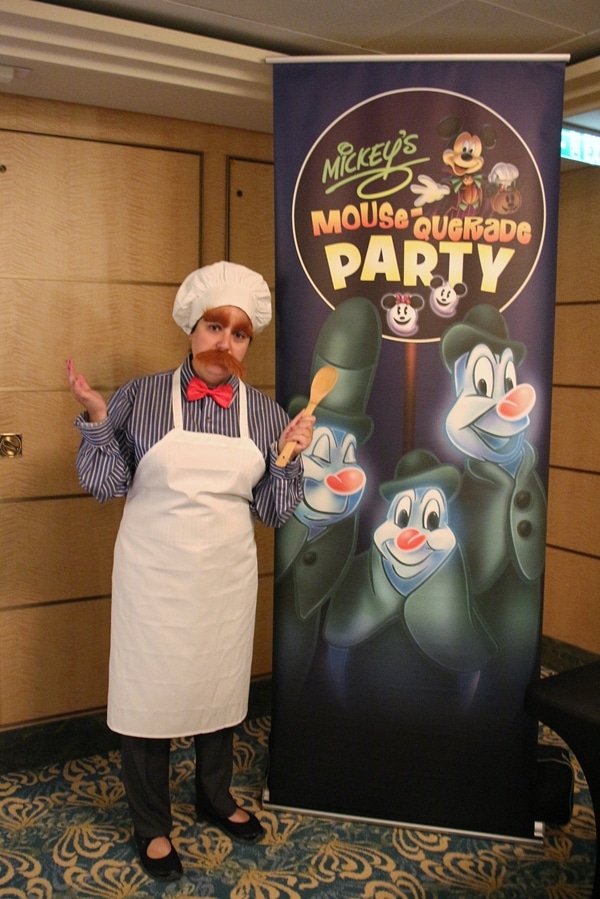 For dinner we are experiencing a special menu. Since this is an 8-night cruise as opposed to the usual 7-night cruise on the Disney Fantasy, there is an additional night requiring a unique menu. The Vista menu is California themed, and is typically offered for cruises of this nature with extra nights.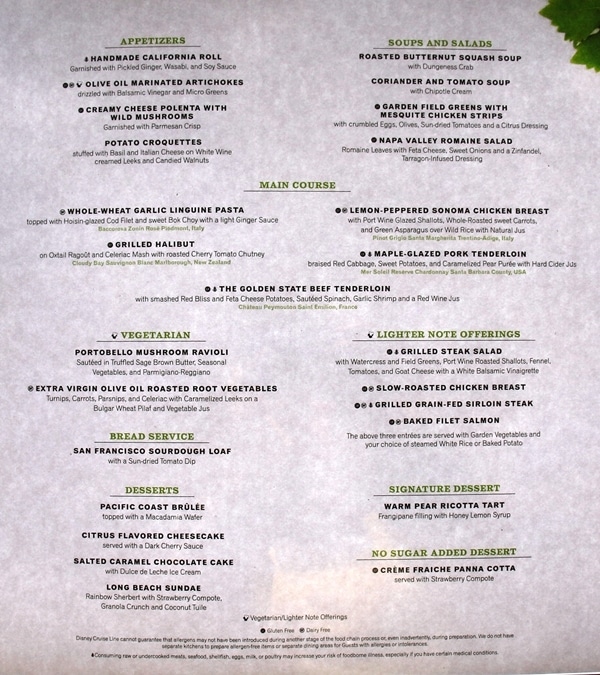 The bread service was San Francisco sourdough with sun-dried tomato dip.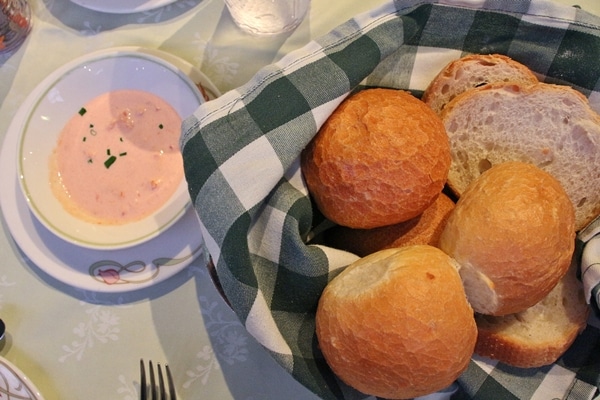 For my appetizer I tried the potato croquettes stuffed with basil and Italian cheese on white wine creamed leeks and candied walnuts. They were very good, although it seemed a little odd to add candied walnuts as opposed to regular walnuts in this case. I don't think the sweetness improved the dish in any way. You could easily get a crunch from regular walnuts here. Otherwise I enjoyed this starter.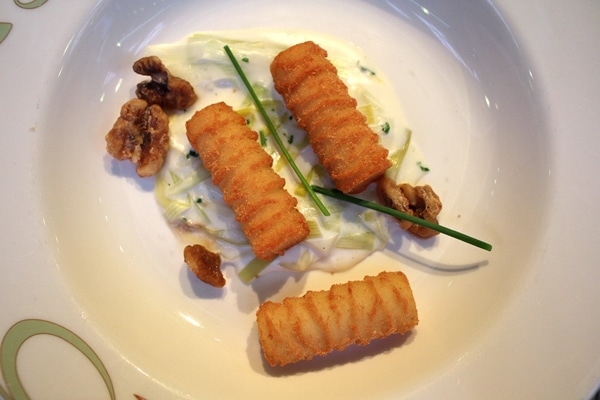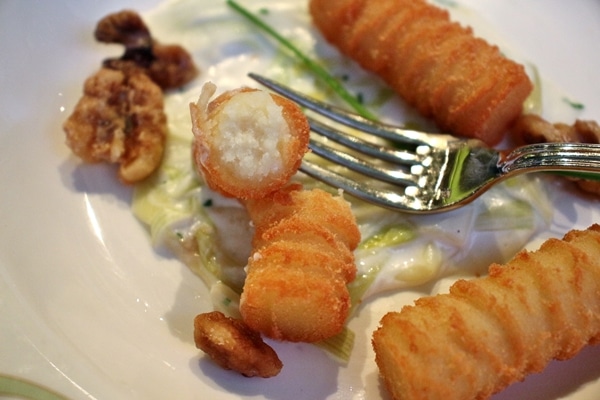 Other family members tried the olive oil marinated artichokes drizzled with balsamic vinegar and microgreens. They seemed to like their choice as well.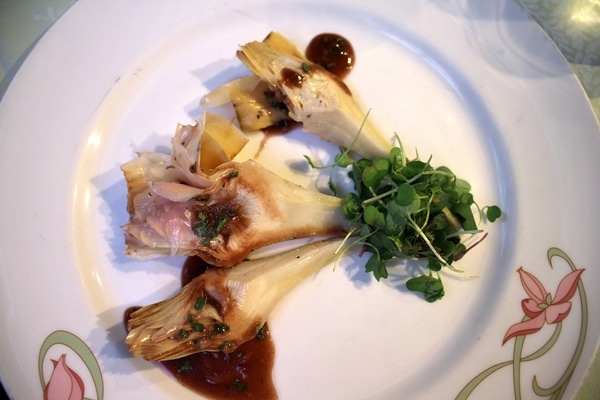 I also sampled the coriander and tomato soup with chipotle cream. It was delicious! Basically the perfect tomato soup.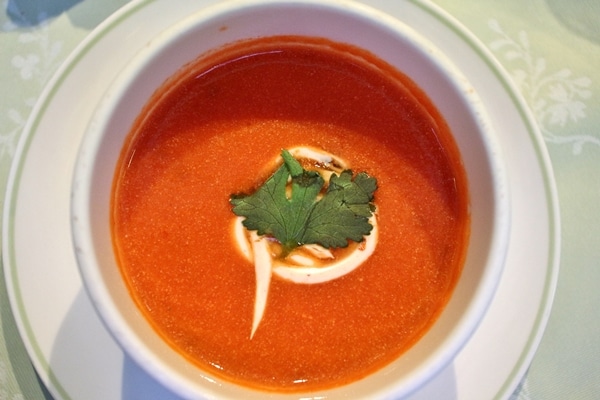 Let's take a look at the main dishes now. My selection was the Golden State beef tenderloin with red bliss and feta cheese potatoes, sauteed spinach, garlic shrimp and red wine jus. The beef was cooked well but under-seasoned, as was pretty much everything on the plate. I also couldn't identify any feta cheese in my potatoes. I'm a little disappointed since lack of seasoning seemed to be an unfortunate theme throughout the week.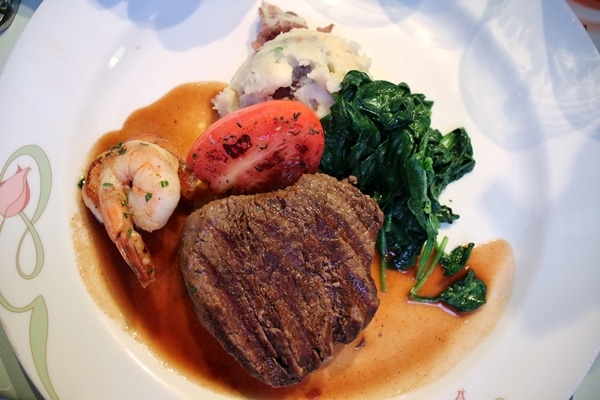 My favorite entree I tasted was my mom's grilled halibut with oxtail ragout, celeriac mash, and roasted cherry tomato chutney. It was well executed and seasoned better than my steak. I would have preferred this choice for myself if I had another go.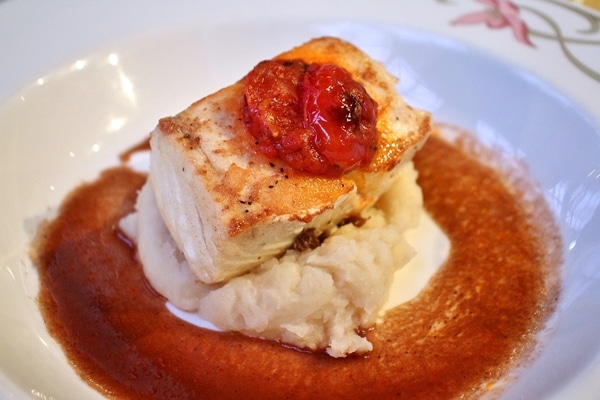 I also tasted my sister's maple-glazed pork tenderloin with braised red cabbage, sweet potatoes, and caramelized pear puree with hard cider jus. This is a great fall dish, and was also quite tasty especially compared to my so-so steak.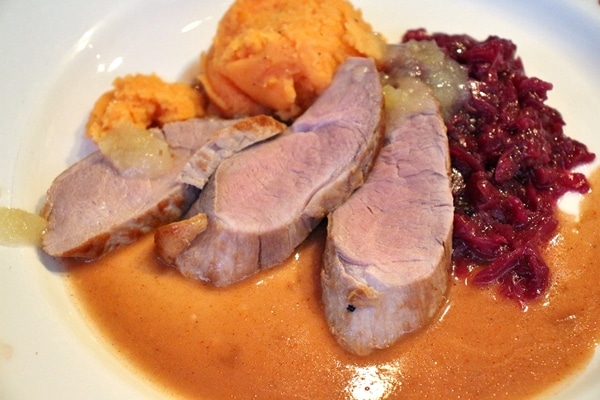 For dessert mom enjoyed the Pacific coast brulee, while I tried the warm pear ricotta tart with frangipane filling and honey lemon syrup, giving it two thumbs up!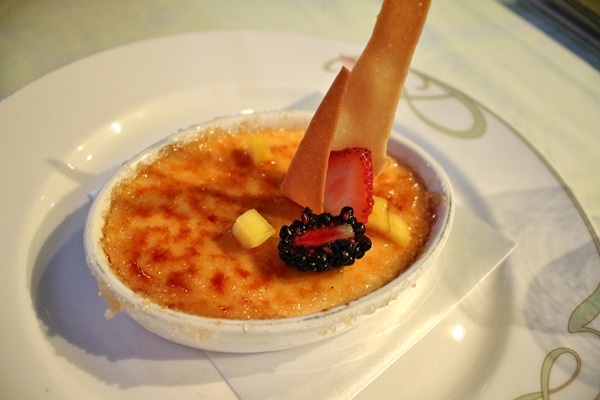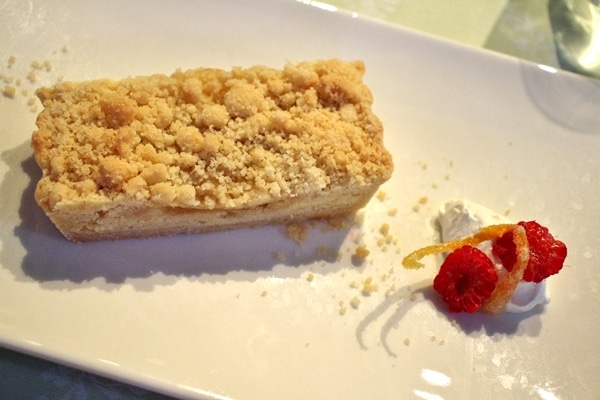 My overall impression of the Vista menu is that it was new to us (score!), an interesting theme (yay!), but not super consistent, and not perfectly executed especially in regards to seasoning. I'd happily try it again, but would likely change some of my choices next time. It was still exciting to try something different after so many cruises with the same general menus from night to night.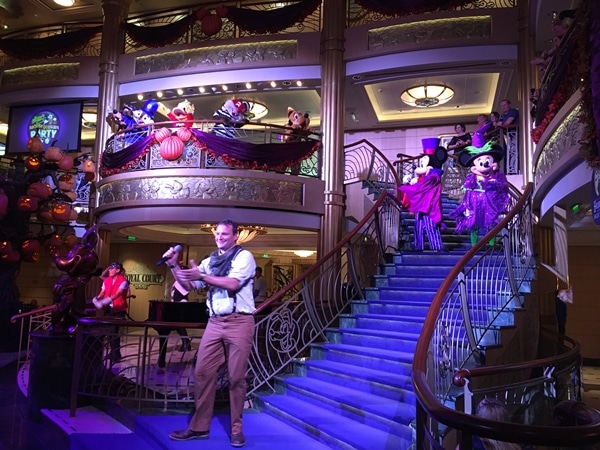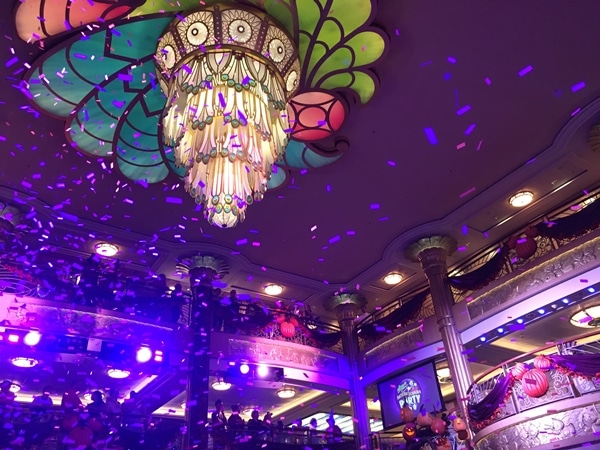 After dinner, the Halloween festivities continued. I was a bit of a party pooper and changed out of my costume because the fake facial hair was uncomfortable and awkward, but I still checked out some of Mickey's Mouse-querade Party in the lobby atrium, as well as the special Sing-and-Scream 4D screening of The Nightmare Before Christmas which culminated in a surprise visit from Jack and Sally themselves. They had a special meet-and-greet after the movie, but the line was long and I was no longer in costume so I enjoyed from afar.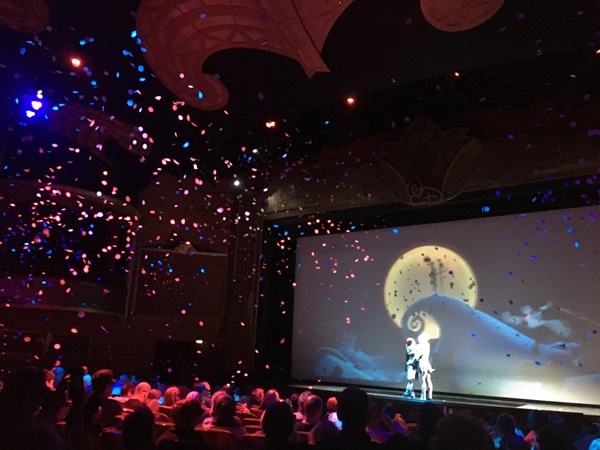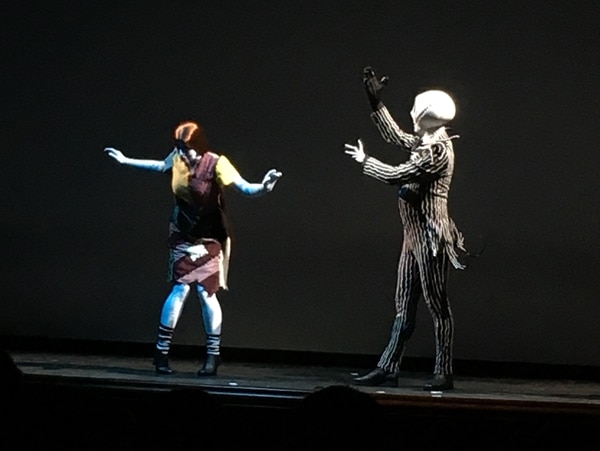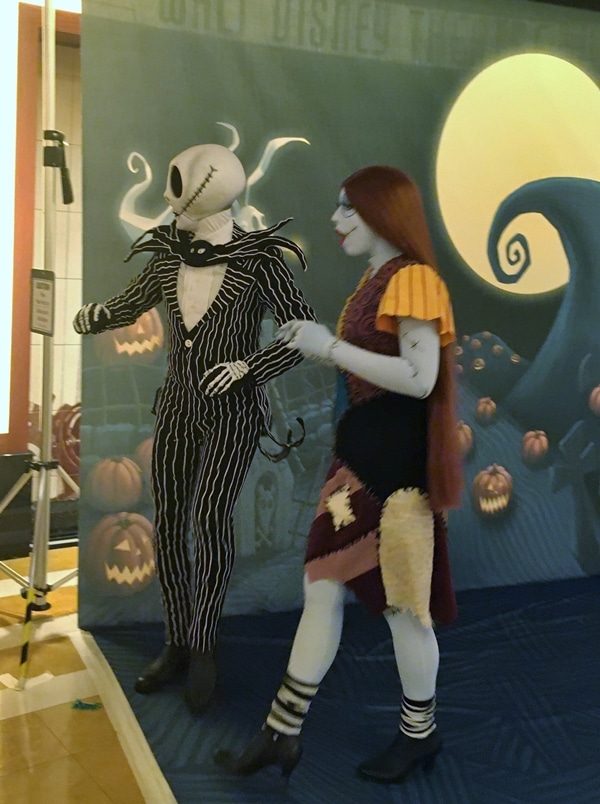 From beginning to end, Mexican hot pockets to Halloween parties, this was a great day! Tomorrow we are headed to San Juan, the capital of Puerto Rico. Meet me there!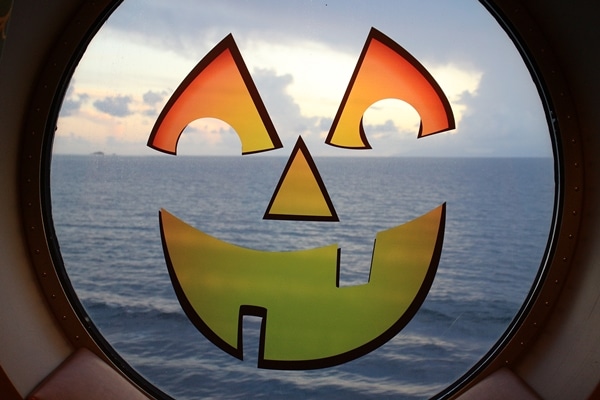 Disney Fantasy Halloween on the High Seas Eastern Caribbean Cruise (October 2019):