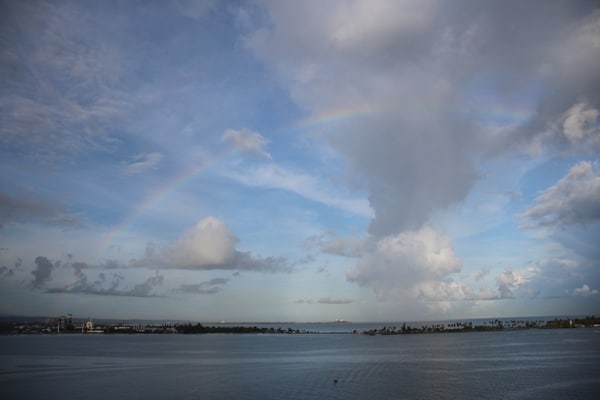 Of all the islands in the Caribbean, I've spent the most overall time in Puerto Rico. I spent five nights in San Juan back in 2013 as part of a press trip for Bacardi's 150th anniversary, and have visited multiple times since then as a DCL port of call, including two nights prior to a Southern Caribbean Cruise originating and ending here.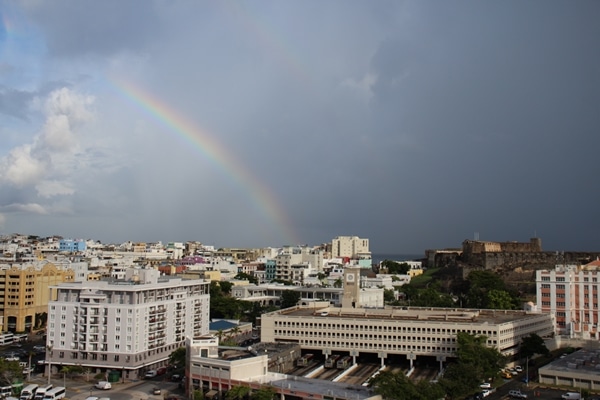 We decided to take it easy today, and simply get off the ship for a short walk through Old San Juan to lunch at a local eatery.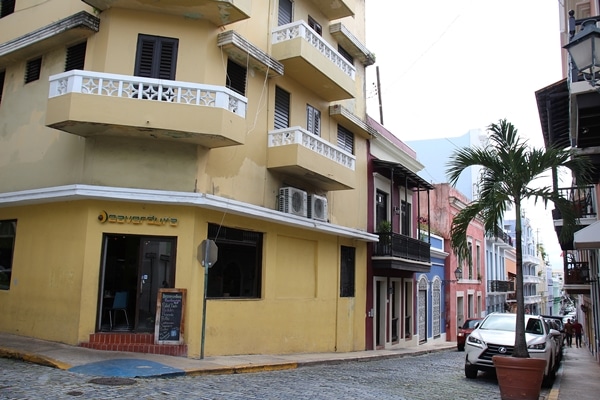 We had selected Deaverdura, which has excellent reviews on both TripAdvisor and Yelp, and seems to be extremely authentic, not purely tourist-driven. It's so authentic and local that our server spoke minimal English 🙂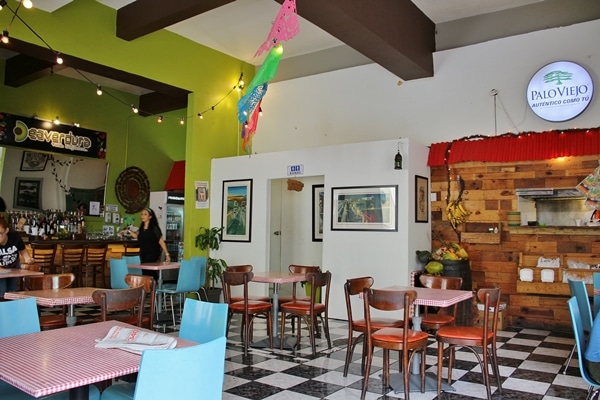 Also, the menu is only listed on a chalkboard (without prices) and shared verbally by the server. It includes a variety of protein options, as well as a Puerto Rican sampler which is sized and priced depending on the number of people sharing it. This seems to be the most popular option, and a huge bargain at about $20 for one person, $30 for two, and an extra $5 per person for additional people (if I remember correctly).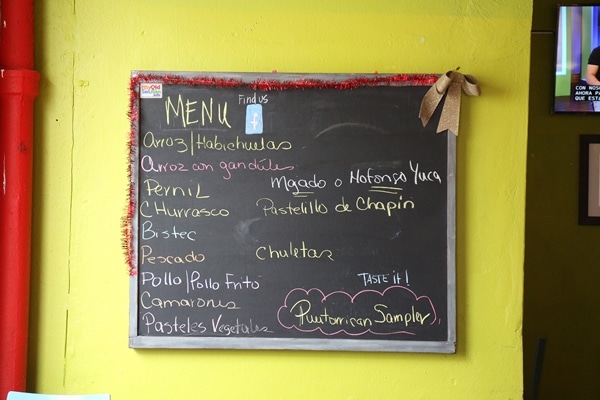 The sampler includes roast pork, rice, and beans (ours had calabaza aka pumpkin in there, but that may be a seasonal addition), as well as a platter of fried goodies arranged on a board shaped like the island of Puerto Rico.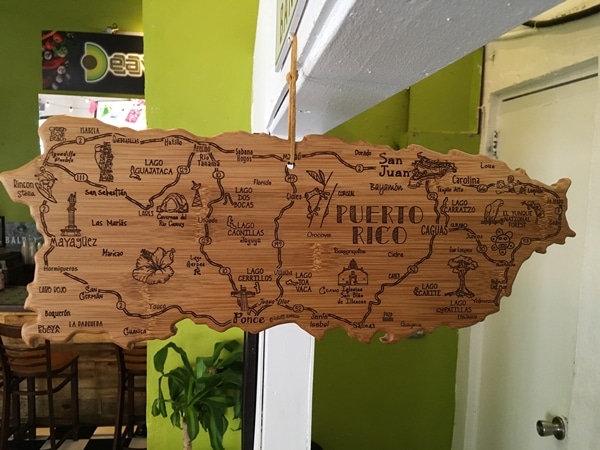 These delights include sweet plantains, ham croquettes, fish pastelitos (turnovers), beef alcapurrias (fritters encased with plantain or yucca dough), sorullitos de maiz (cornmeal sticks), and tostones (pressed and double-fried unripe plantains).
WOW. Every single item was excellent! The beans were so delicious, well-seasoned, and comforting, the pork was super juicy and flavorful, and the smorgasbord of fried treats were worth every calorie consumed (and I'll bet it was an ungodly number of calories). Some of my favorites include the sweet plantains (a perennial favorite), the beef alcapurrias (great flavor and texture), and the crispy and corny sorullitos de maiz, which remind me a bit of hush puppies or the exterior of a corn dog but more crispy and corny 🙂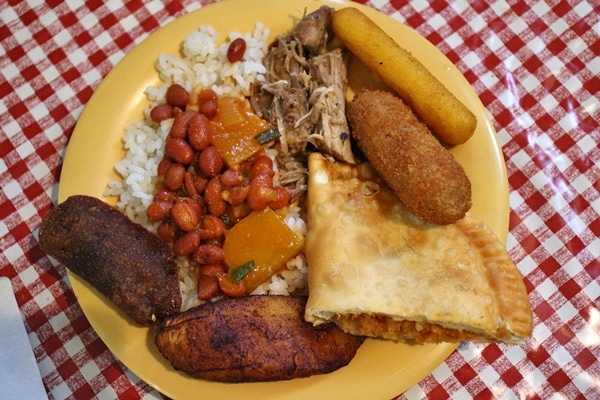 On our walk back to the ship we paused for an equally delicious and unhealthy dessert at El Panadero Artesanal, a small bakery right near the port.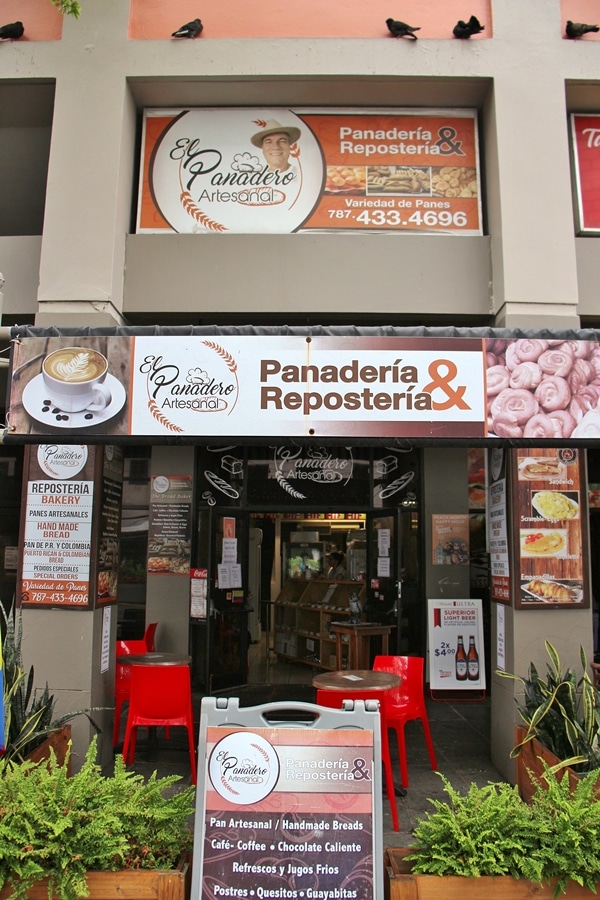 A selection of delectable Puerto Rican pastries had our mouths watering, but we were here with a singular purpose, and that was the guava and cheese turnovers.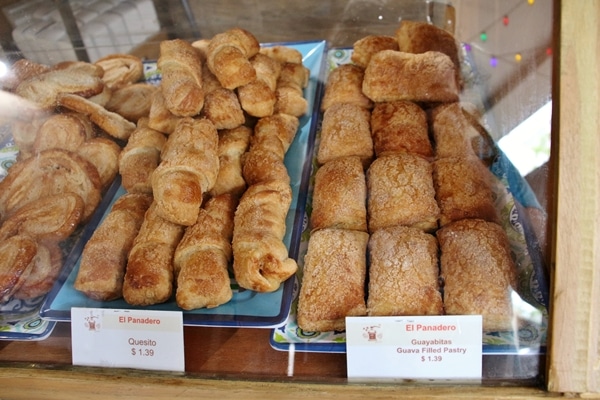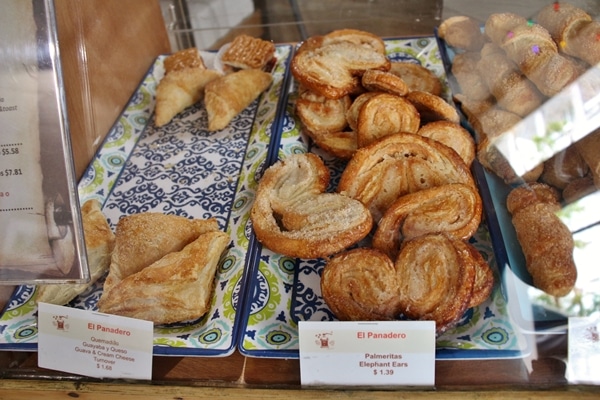 I've made a version of these in my own kitchen before, and regardless of the exact preparation, it's one of my favorite sweets anywhere!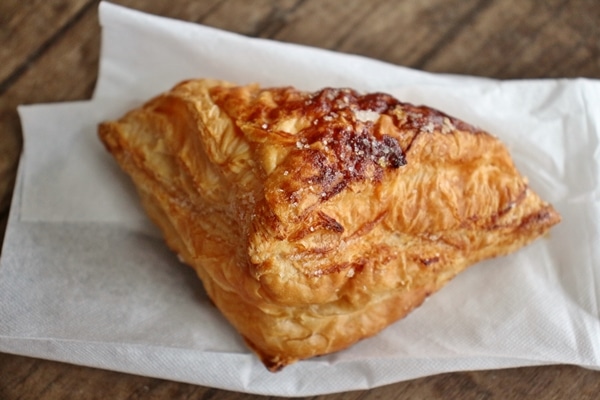 The combination of tart and sweet guava, and creamy, mild cheese in a flaky pastry is universally delicious. What a perfect way to punctuate our time in Old San Juan.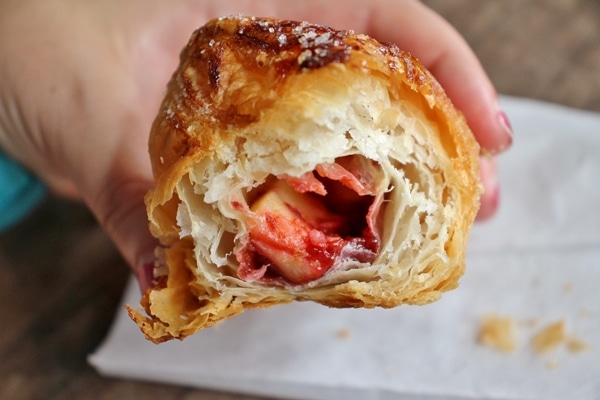 Back on the ship, mom and I headed to a screening of Maleficent: Mistress of Evil (loved it!) which had released just a day before our cruise set sail, while the rest of our family puttered around Goofy's Golf course on the sports deck. We later enjoyed the view of San Juan as we sailed away...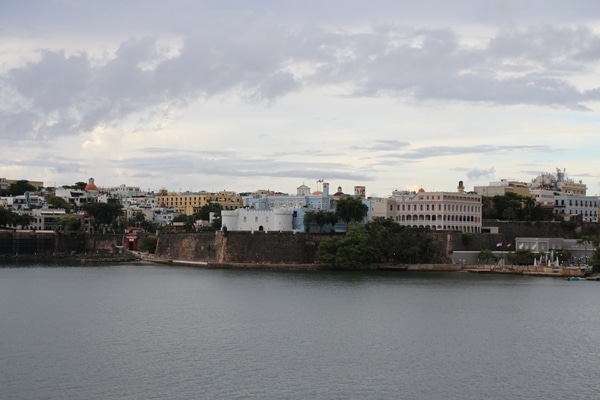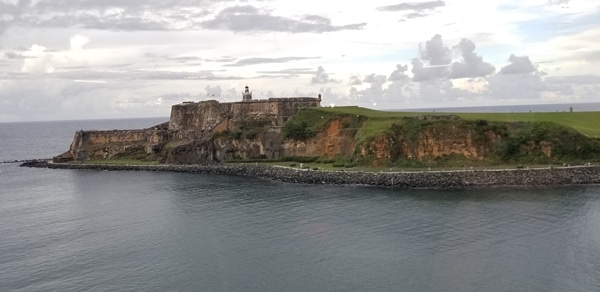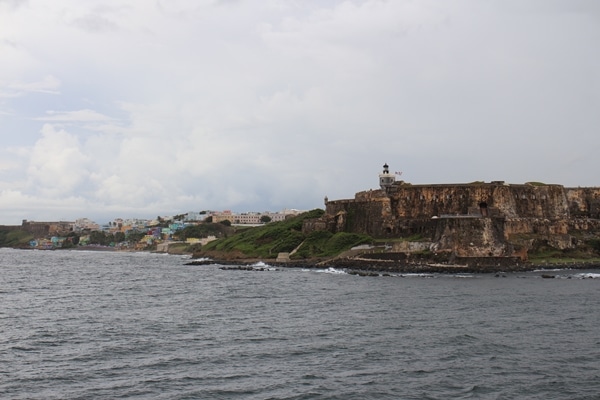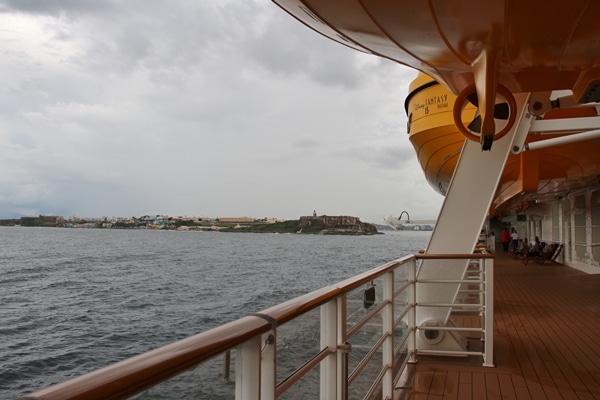 Dinner tonight was the Captain's Gala menu in Royal Court.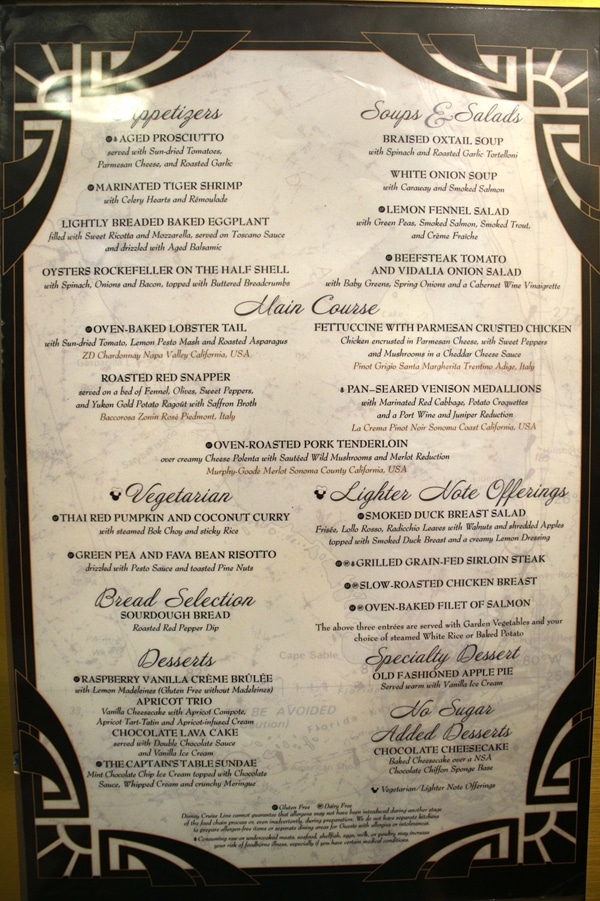 I picked a couple solid options for appetizers, including aged Prosciutto with sun-dried tomato, Parmesan cheese, and roasted garlic, in addition to the lightly breaded baked eggplant filled with sweet ricotta and mozzarella, served on tomato sauce. Both are good choices in my opinion.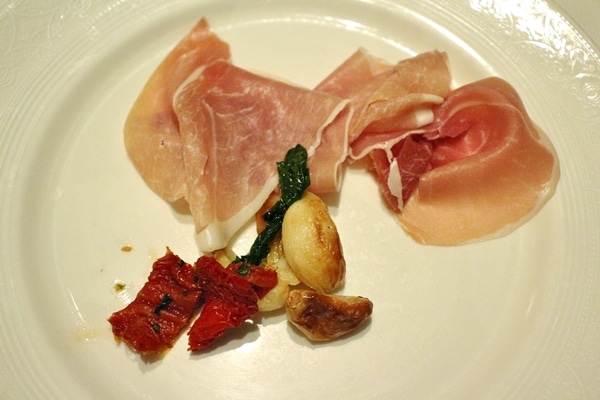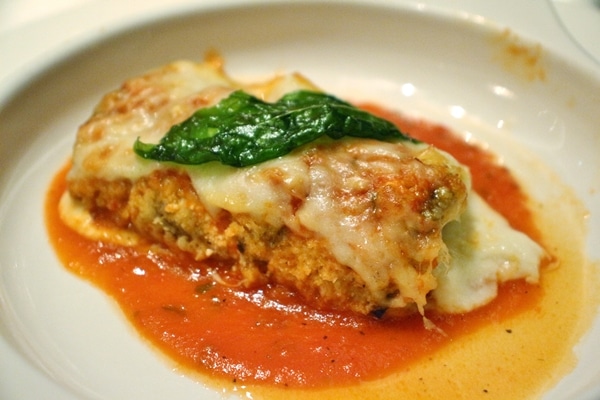 For my entree I went with the oven-roasted pork tenderloin with cheese polenta, sauteed wild mushrooms, and Merlot reduction. I've eaten this several times in the past and it's usually reliable, as it was on this occasion.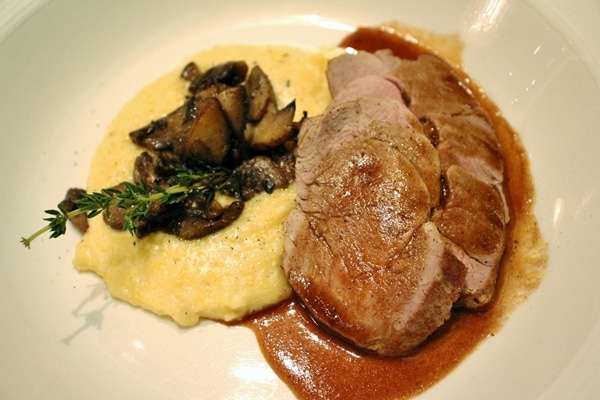 For dessert I tried the apricot trio, which includes vanilla cheesecake with apricot compote, apricot tarte tatin, and apricot-infused cream. It's a nice, light, fruity dessert.
Overall this was a pretty chill day for us, with great food on the island, and excellent entertainment on the ship. Tomorrow is another sea day with yet another beverage tasting, this time Champagne!
Disney Fantasy Halloween on the High Seas Eastern Caribbean Cruise (October 2019):