The final day of our Disney Southern Caribbean cruise was spent in St. Kitts of the twin-island federation of St. Christopher (St. Kitts) and Nevis. After much online research, we selected the very highly rated Island Paradise Tours for a small group tour of the island. There's a wonderful selection of island tours ranging everywhere from a volcano hike at Mount Liamuiga to a basic beach excursion, and everything in between.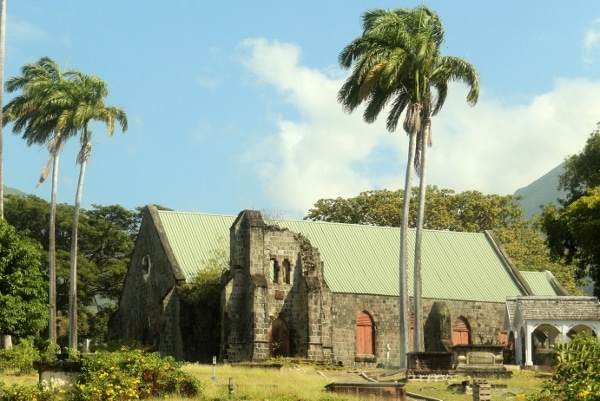 St. Thomas Anglican Church
We went with Rosevelt's Special Best of St. Kitts/Panoramic Tour. It covers many of the key sites and wraps up with a trip to the beach. You can't really beat that! Our tour guide Burt was very knowledgeable and friendly. He shared so much information with us as we drove around the island taking in all the sights.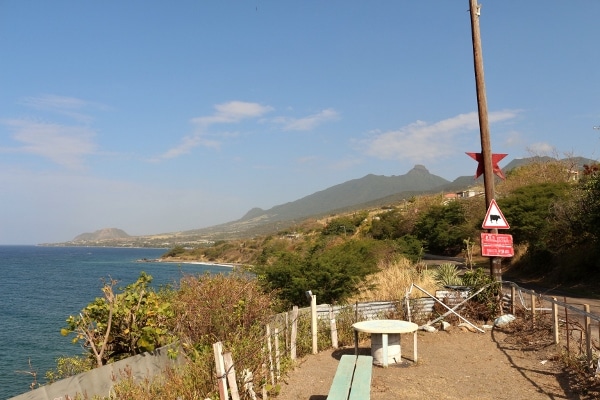 Before we get to the highlights, I want to point out one disappointing thing I noticed about the island. There was a lot of litter in particular as we drove through the capital Basseterre. I noticed garbage in the sand on the beaches and even in the water when we were first driving through the city center. Later when we were at Carambola Beach Club, I noticed some litter in the sand there as well (although it was minimal in comparison). I'm disappointed that such a beautiful and fascinating island would be defaced, if you will, by so much litter. It may not have been noticeable to some other visitors, but once I noticed it, I simply couldn't look away. What a shame.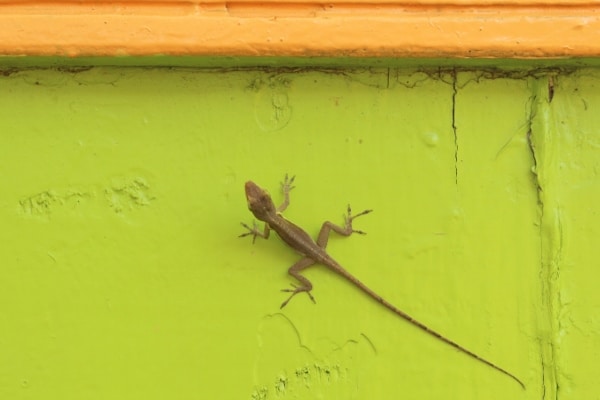 Now back to the fun stuff! As Burt drove us westbound through the many parishes (or administrative divisions) of St. Kitts, he would occasionally pull over to pluck something from a tree and show us native plants from the island.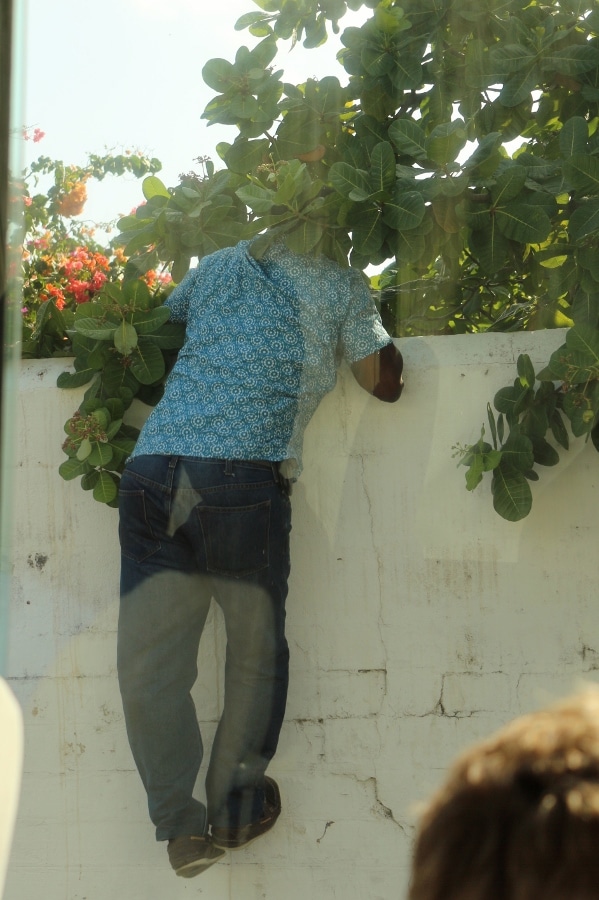 First, he picked a cashew apple, the fruit from which cashews are harvested. It smelled like a cross between bell peppers and stinky feet. I know, weird, right? I'll never look at cashews the same way again. He also picked pigeon peas (fresh and dry), a small pomegranate, and achiote or annatto, the seeds of which are used to provide orange color to things like cheddar cheese, but can also be smudged with fingers and used as war paint on your face or even lip stain. See my bright orange annatto "lipstick" below!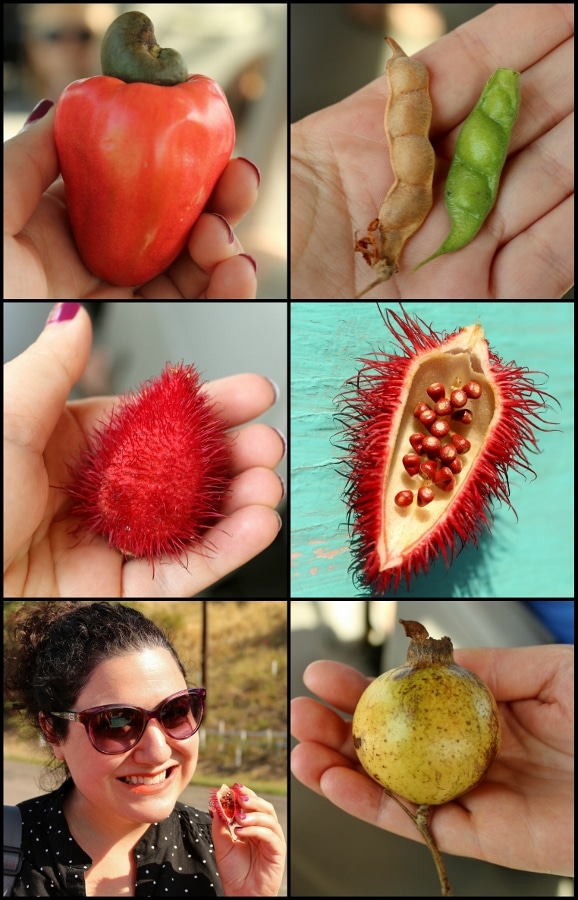 Burt also showed us the old water wells that were used in colonial times (they're still functional now). They had mailboxes built into them to double as wells and post offices at the time. How random and funny is that?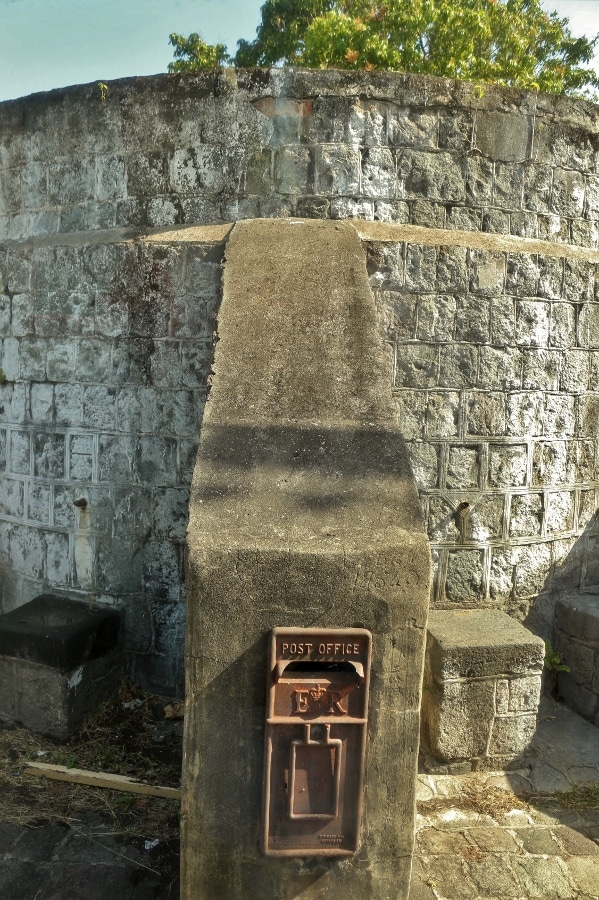 On our way to our first official tour stop, Burt let us check out a small nameless black sand beach. It was my first black sand beach, and it was pretty cool to experience. The black sand is a result of volcanic rock, as opposed to white sand which comes from pulverized dead coral.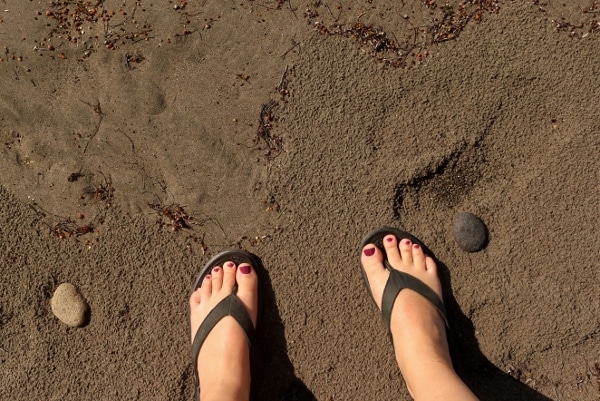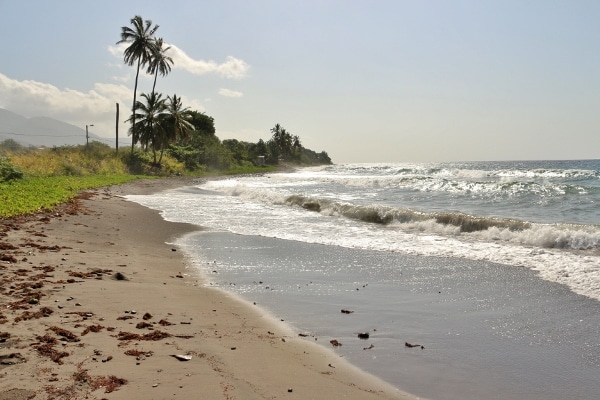 The first big stop on our tour was a visit to Brimstone Hill Fortress, a UNESCO World Heritage Site sitting 800 feet above sea level.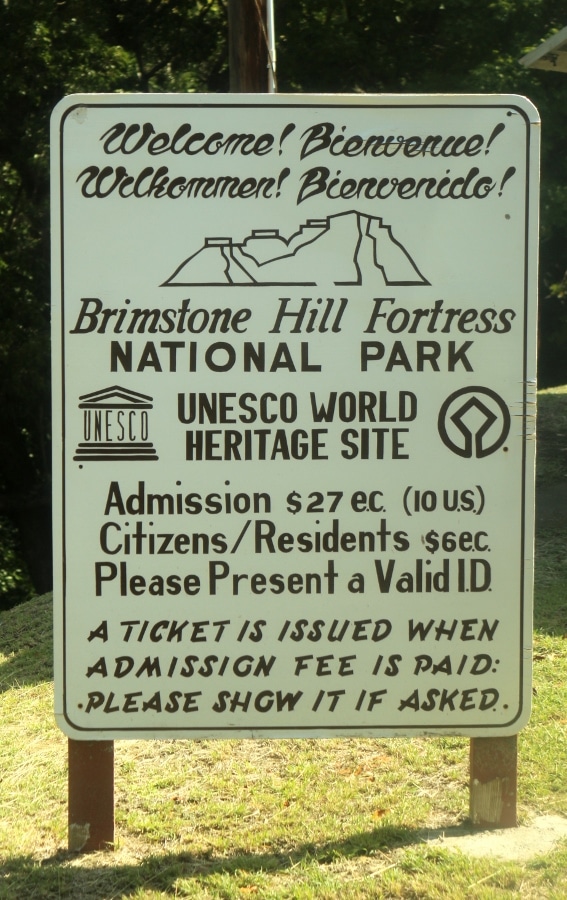 It's one of the best preserved historical fortifications in the Americas. Words are not enough to explain how breathtaking and fascinating this stop on our tour was. Even my photos probably won't do it justice.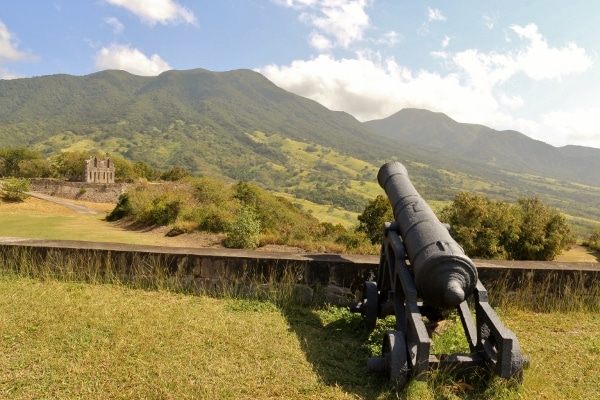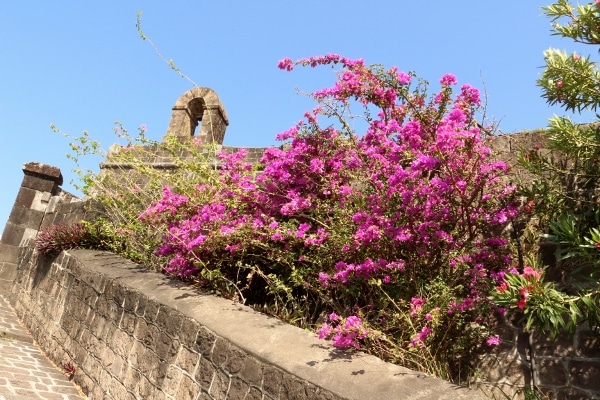 The fort itself is in incredible shape for something that was built over the span of about 100 years starting in 1690. It was known as "The Gibraltar of the West Indies," because of it's proximity to the sea, imposing steepness and height, and apparent infallibility. Many of the cannons were still in excellent condition. The various rooms within the fort were also well kept.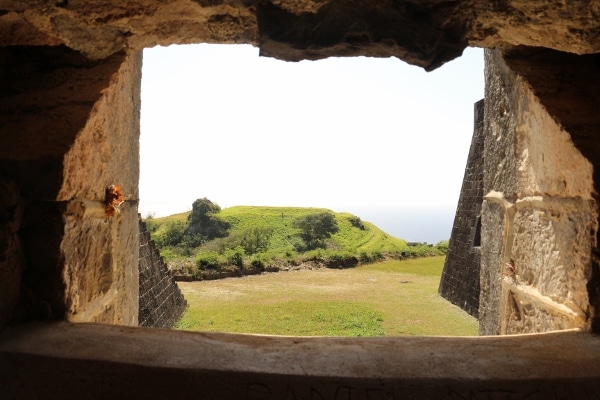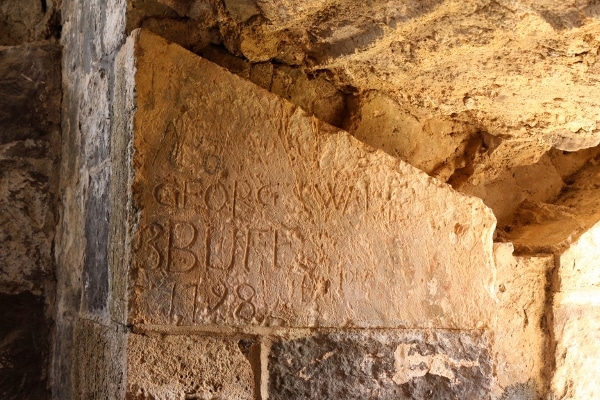 Georg Wale Buff 1798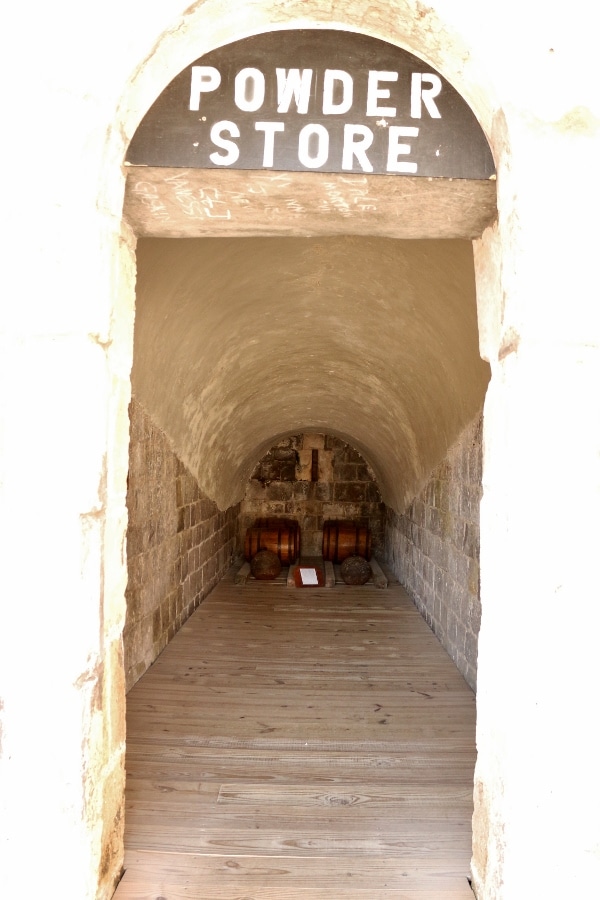 And don't get me started on the panoramic views...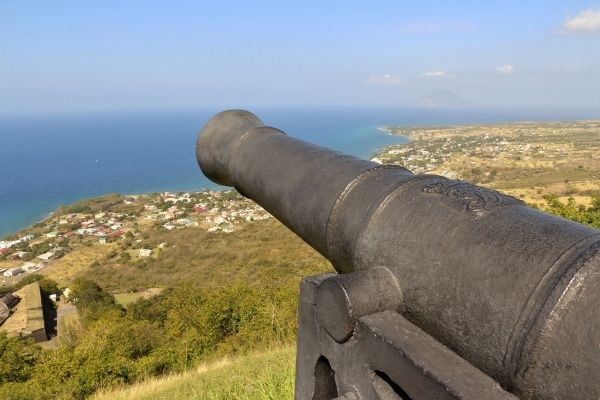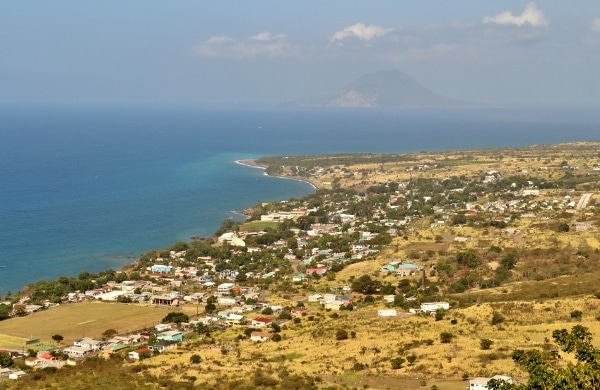 Neighboring island St. Eustatius in the distance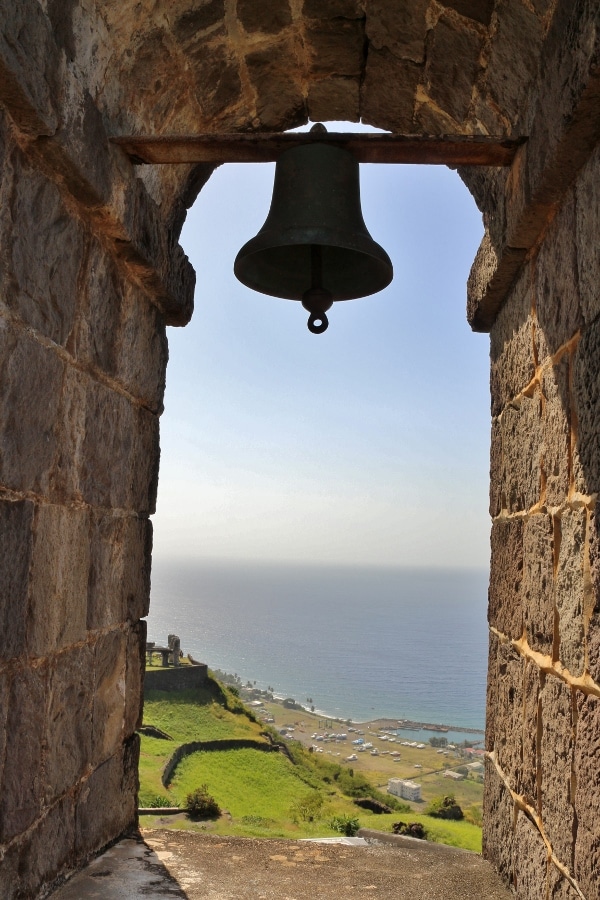 Pretty much in every direction there is something beautiful to see, whether it is green fields beneath the north west mountain range and dormant volcano Mount Liamuiga, the vibrant sea down below, or the volcanic island of St. Eustatius in the distance.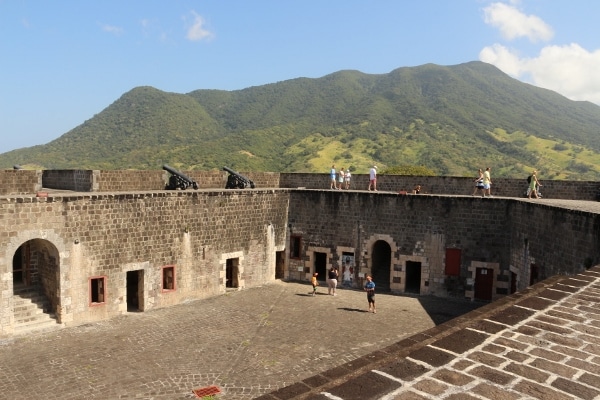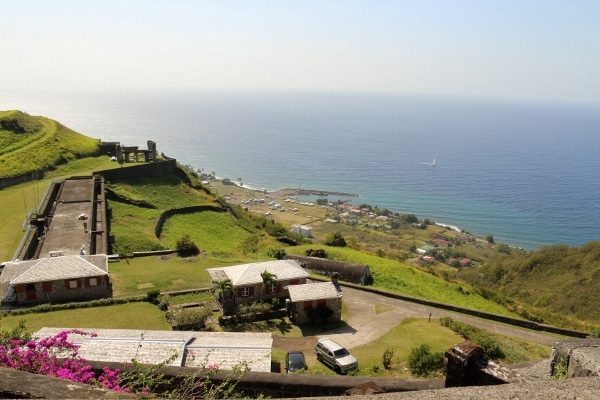 I could have spent hours exploring here, and we did get a decent amount of time to wander and experience this really extraordinary site. I can't imagine visiting St. Kitts without coming here.

After heading back out on the road, we returned eastbound toward our second official tour stop, Romney Manor.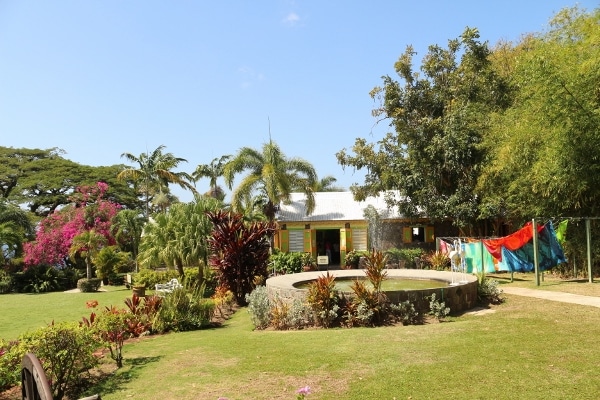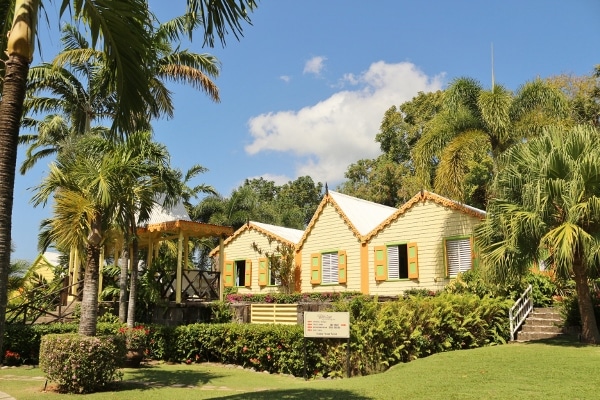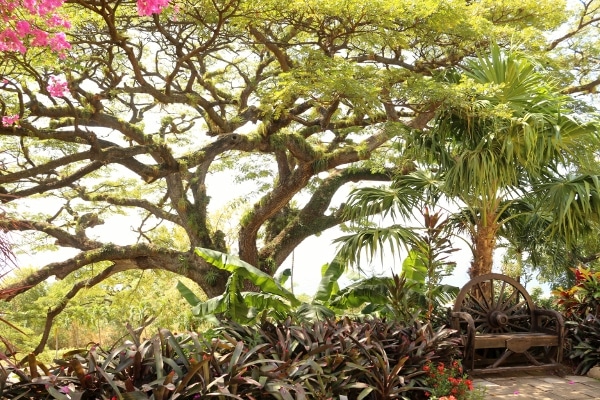 This 17th century sugar estate once belonged to Captain Samuel Jefferson, the great-great-great-grandfather of Thomas Jefferson, the third president of the United States. It has incredible lush gardens featuring exotic flowers, an old bell tower, and a massive 400-year old saman tree.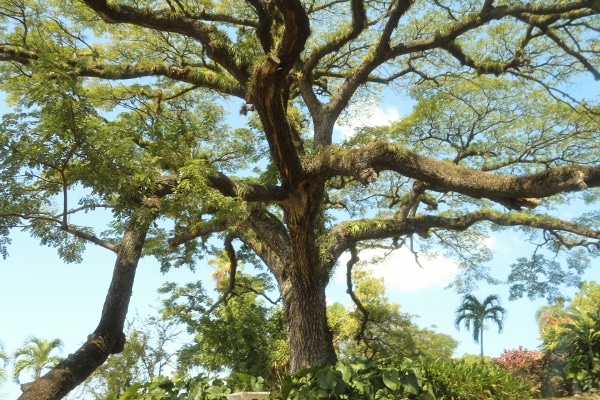 400-year-old saman tree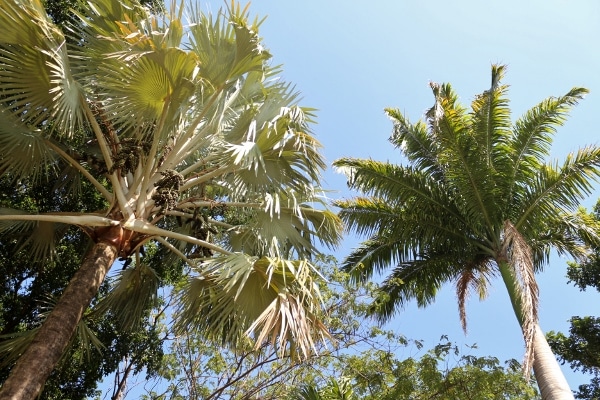 Bismark palm and royal (Caribbean) palm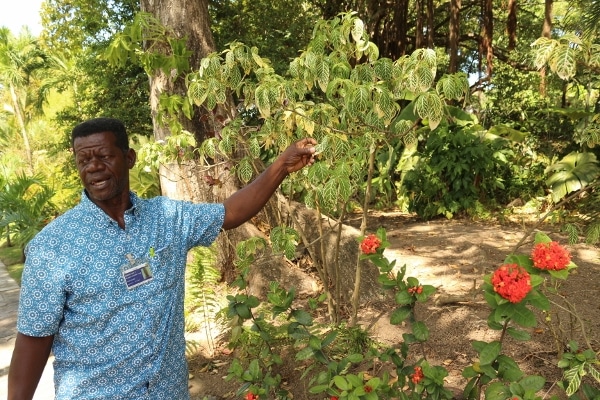 Burt showing us more of the exotic plants at Romney Manor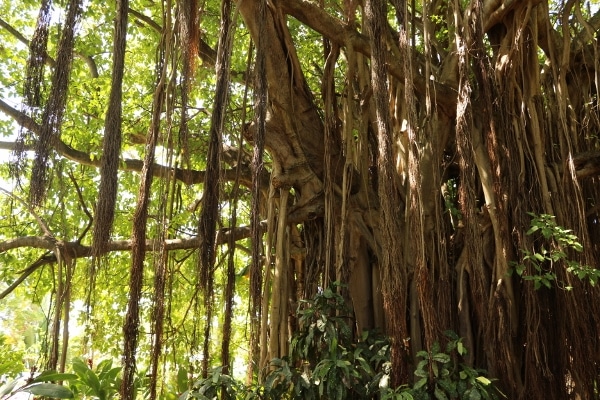 Walking banyan tree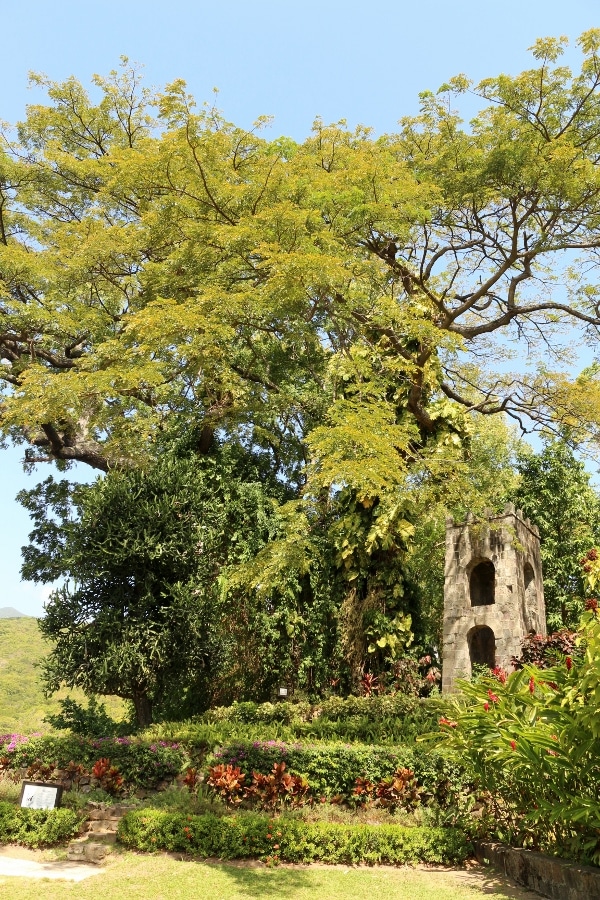 Bell tower
Since 1964, Romney Manor has been home to Caribelle Batik, where artists hand paint and produce incredible fabrics with an ancient wax and dye process known as batik. After receiving a demonstration, you may purchase their creations, from pillowcases to dresses, wall art to wallets. Everything is colorful and beautiful.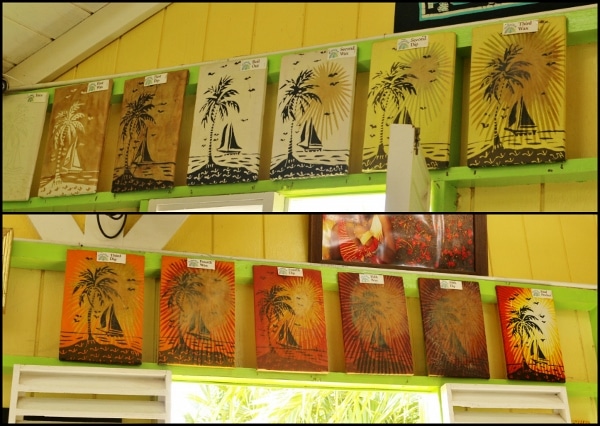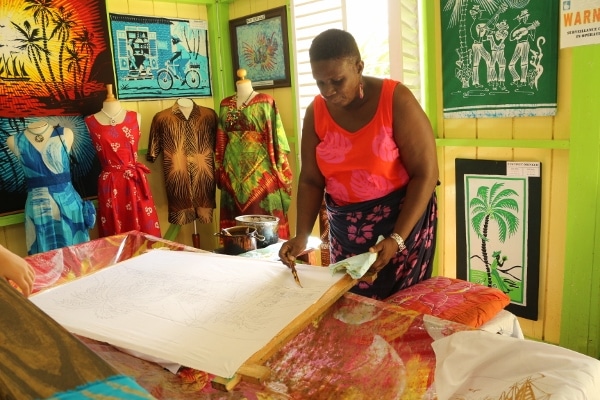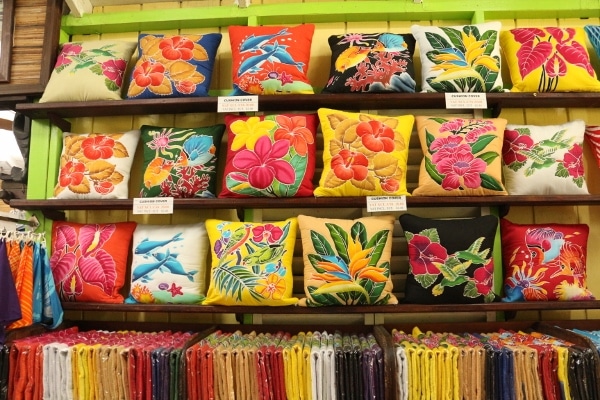 Near Romney Manor is where we also took a moment to meet our new monkey friend, Tommy. He was absolutely precious and was wearing a little monkey diaper. How adorable! Burt pulled over so we could meet Tommy and take pictures with him, and then after we were finished, Tommy's owner asked us for $5 each for taking the photos. I certainly don't mind paying for a photo opportunity, and I absolutely expected to in this case, but I thought the way it was handled was a little unprofessional. We should have been told the price/deal before the monkey was placed on our heads.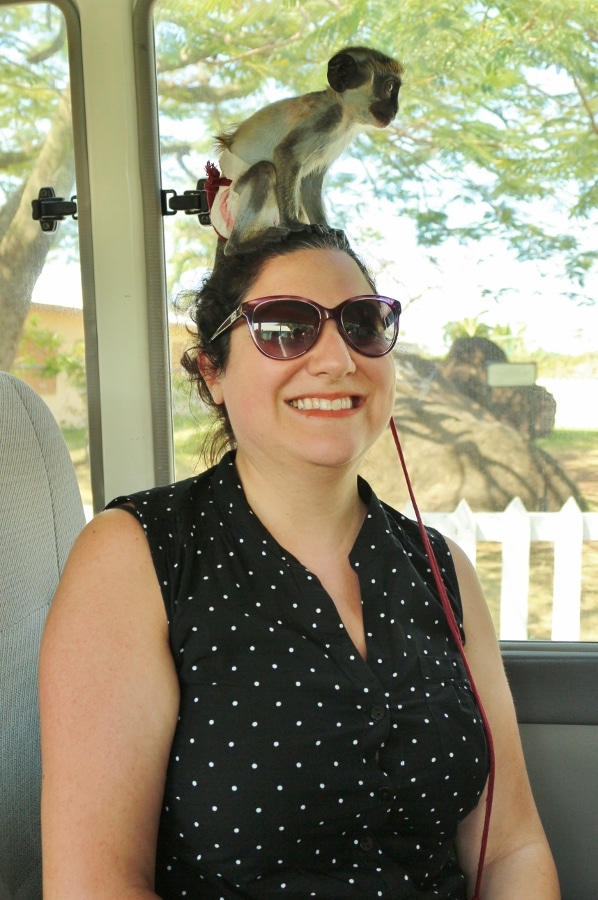 We continue to head southeast and make another quick stop at Timothy Hill, where we experience panoramic views of the Southeast Peninsula where the Atlantic Ocean (left) and Caribbean Sea (right) run parallel, and with sister island Nevis in the distance. Absolutely stunning!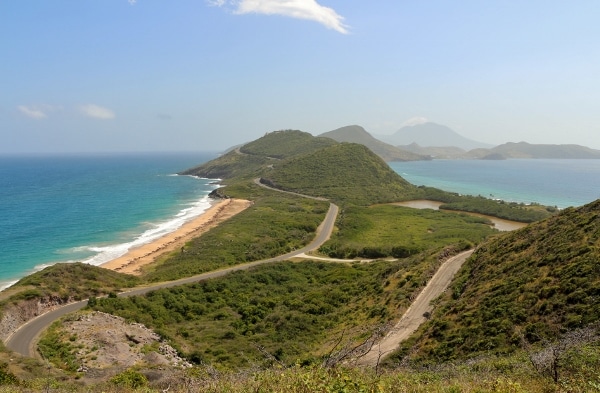 After an eventful day of discoveries, we make it to our final destination of Carambola Beach Club at South Friar's Bay beach. It's a posh beach club with a dining room, full bar, and beautiful beach with clean, modern amenities.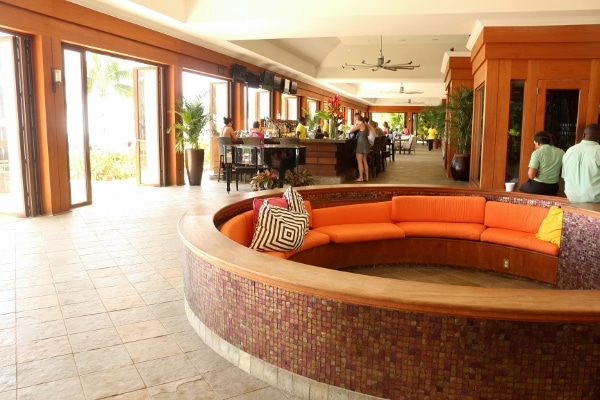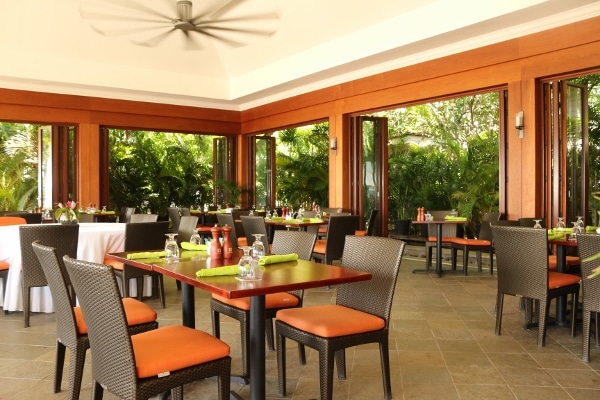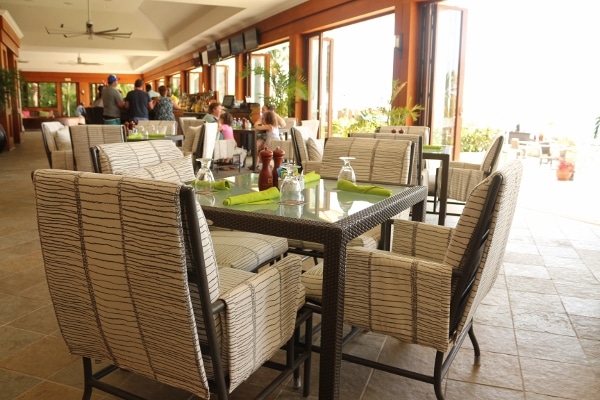 Our first priority at this point is to get lunch. We're immediately seated and enjoy the air flowing throughout the dining room through all the open doors. Ceiling fans help cool us down from the sticky Caribbean heat. The quicker we make our lunch choices, the sooner we can head out to the sun and the sand.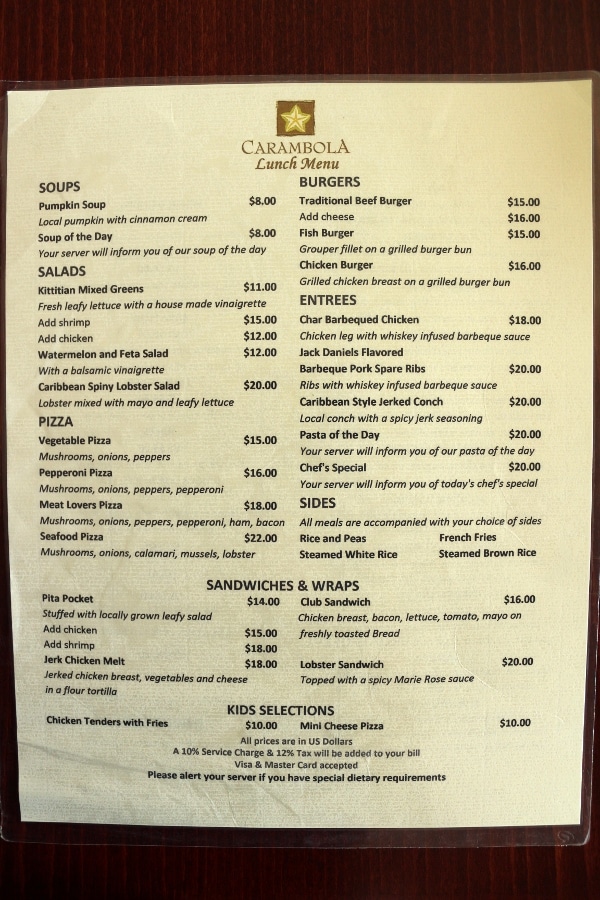 The menu at Carambola Beach Club differs between lunch and dinner, and they also feature a full sushi bar. The prices aren't particularly cheap, but the atmosphere is great, and the food is delicious across the board. My sister ordered the Char Barbecued Chicken with rice and beans on the side. She said it was absolutely delicious! This was an option I considered ordering as well.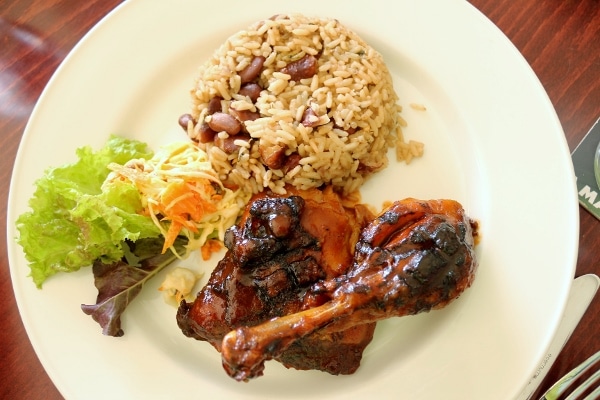 Char Barbecued Chicken $18
My mom had the Chicken Burger (really a grilled chicken sandwich) with fries. Her side of fries was an epic portion, way bigger than the rice and beans option. The fries were also quite delicious, as was the sandwich. Another good choice here.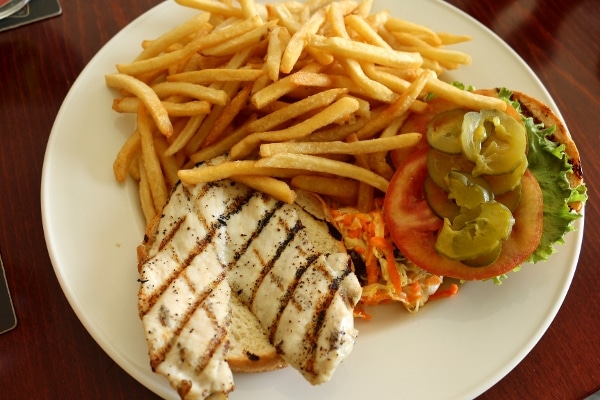 Chicken Burger $16
I picked the Jerk Chicken Melt, featuring jerk chicken breast, vegetables, and cheese in a flour tortilla. I also opted for the rice and beans side, since it felt more Caribbean than the other choices. Although my sandwich looked pretty small, especially for the price (and let's not kid ourselves, it wasn't a big portion), I found it to be quite filling. It was pretty spicy, but totally something a spice-lover such as myself could handle. Overall, I was very happy with my selection. It fit the Caribbean setting perfectly!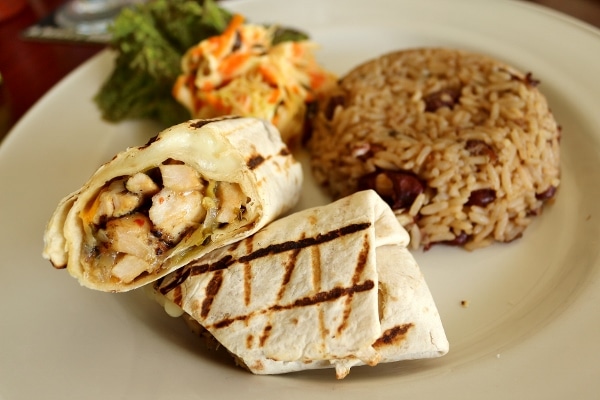 Jerk Chicken Melt $18
Finally, it was time to head out to the beach! Since this was our last port of call, it seemed fitting to end our final island tour beach side. South Friar's Beach (the beach at Carambola Beach Club) is beautiful, and highly rated with views (on a clear day) of sister island Nevis.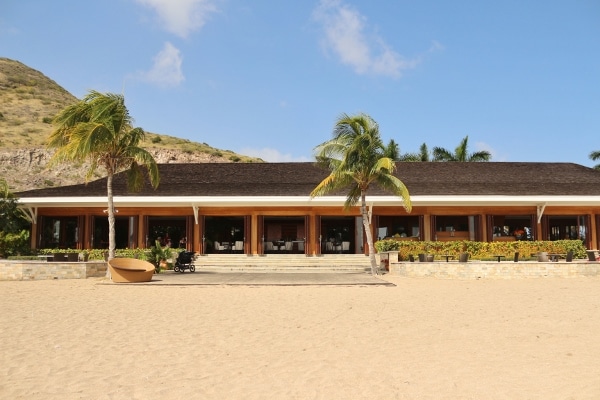 We happened to visit St. Kitts the day after a storm, apparently, which washed up quite a bit of seaweed onto the shore and into the shallows, created ample wind, and also caused for rougher water than is typical in this area. Boo.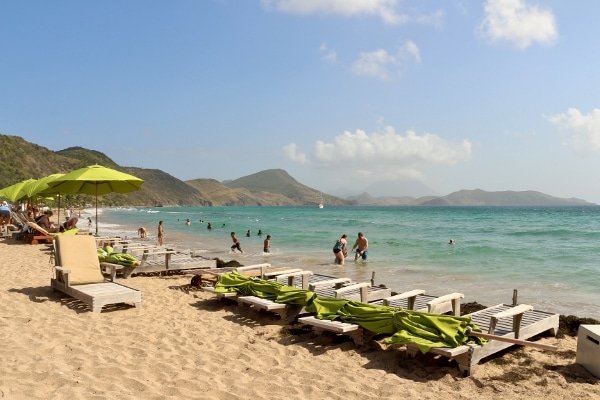 It was also somewhat hazy that afternoon, so views of Nevis were minimal. Double boo. You can see its faint outline in the distance beneath the patch of clouds.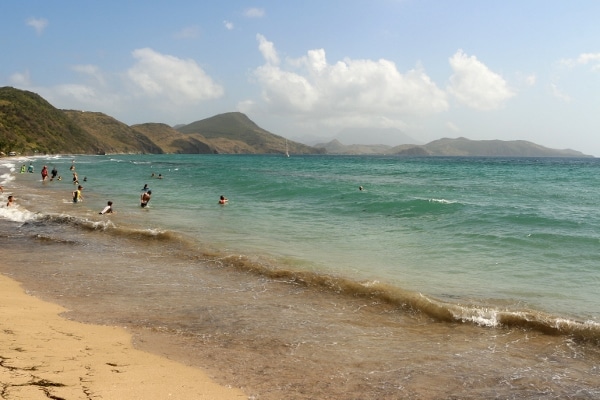 With that said, it's still a really beautiful beach, and we made the most of it. We didn't have too much time before Burt was heading back to pick us up, so with the time we had we soaked in our last bit of Caribbean sun. On a calmer day, I've heard the snorkeling here isn't bad, and maybe in the future it would be worth a try if I ever get a chance to return.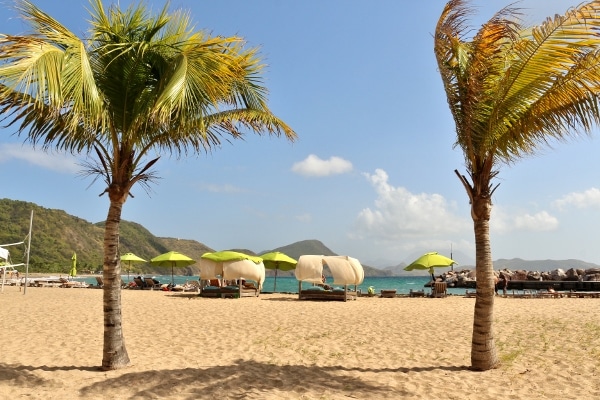 For the final time on this week-long Southern Caribbean expedition, we returned to our home for the week, the Disney Wonder.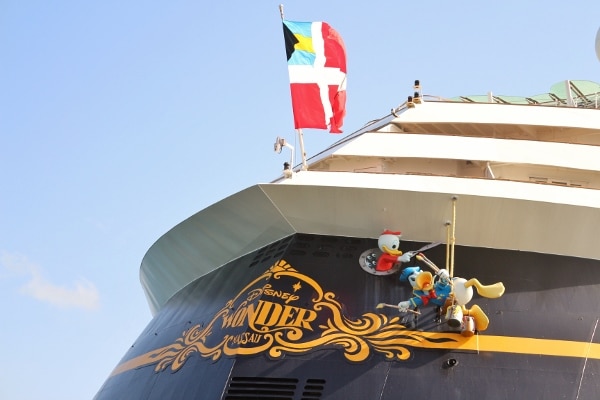 Tonight was the night that we would return to Palo for another dinner, compliments of Disney Cruise Line.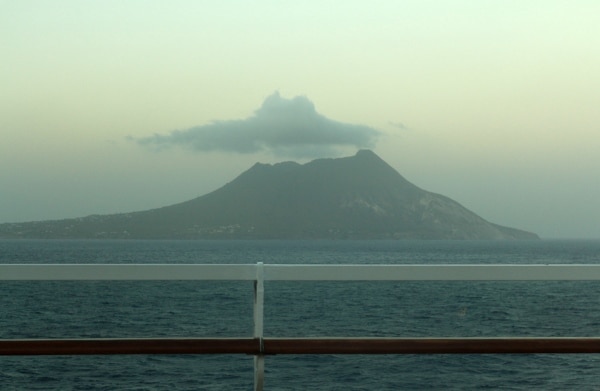 View from Palo sailing by St. Eustatius--I love how you can see the volcanic crater even better from this angle!
David was our server again, and we really enjoyed his company at our farewell dinner. I'll skip over discussions of bread and antipasti, since I covered that in my last post, but I will share a fun little tidbit I learned at this Palo meal for the first time. My brother-in-law and I both ordered iced tea with our dinner, and we had a little table side service of our drinks, complete with frozen iced tea cubes so ice wouldn't water down our beverages. Score!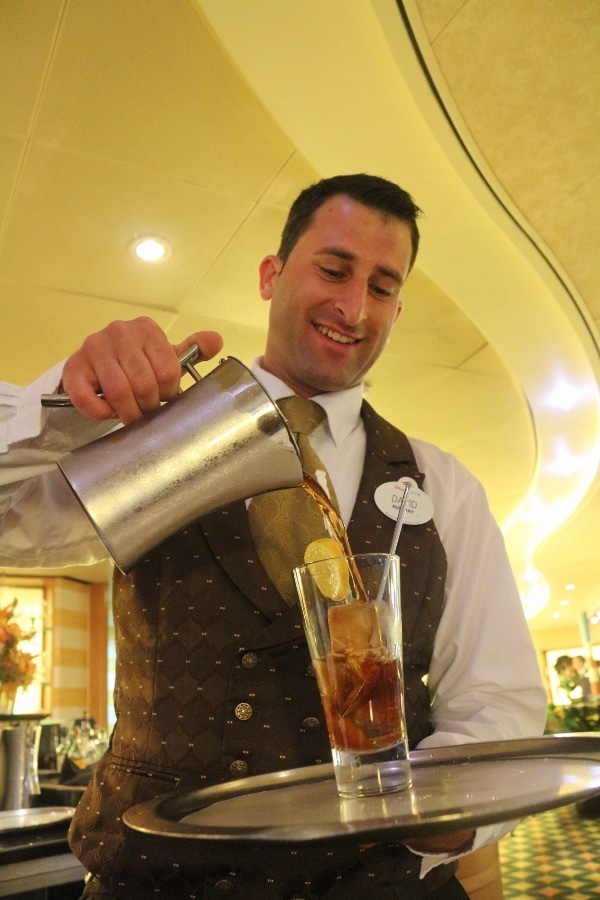 I started with the Tuna Carpaccio with lemon oil dressing. It's topped with a light arugula salad and some capers. This is a very delicate and fresh option that is actually listed in the wine tasting portion of the menu, but you can definitely order it without doing the wine pairings.
For dinner, my brother-in-law finally got his long-awaited oregano and Parmesan Crusted Rack of Lamb! It's served with Sangiovese roasted shallots, olive oil baked Roma tomatoes, potato torta, and herb jus. I've enjoyed this on a previous cruise, and will attest to it's deliciousness. Great choice!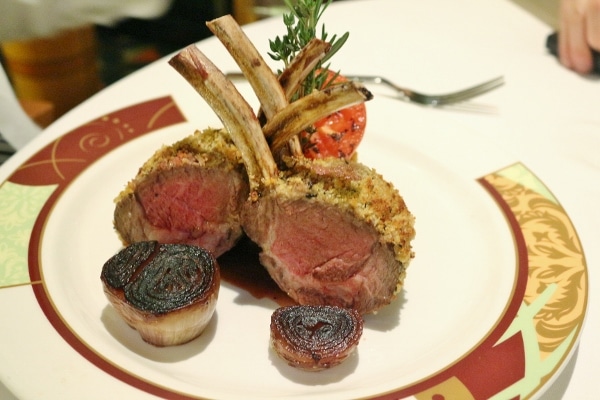 He also asked for a small portion of the Grilled Sea Scallops with borlotti beans and pancetta. I've had my eye on this entree, and I love that since they are scallops Palo can easily plate a smaller portion if you desire.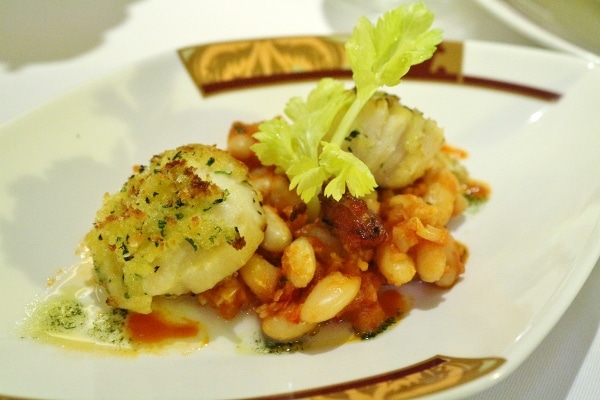 My mom picked her entree off the wine experience portion of the menu. She had the Branzino in Cartoccio, which is branzino (sea bass) in parchment. It's plated table side. Mom loved her choice, even more than the turbot she ate at our previous Palo dinner. This fish was so delicate!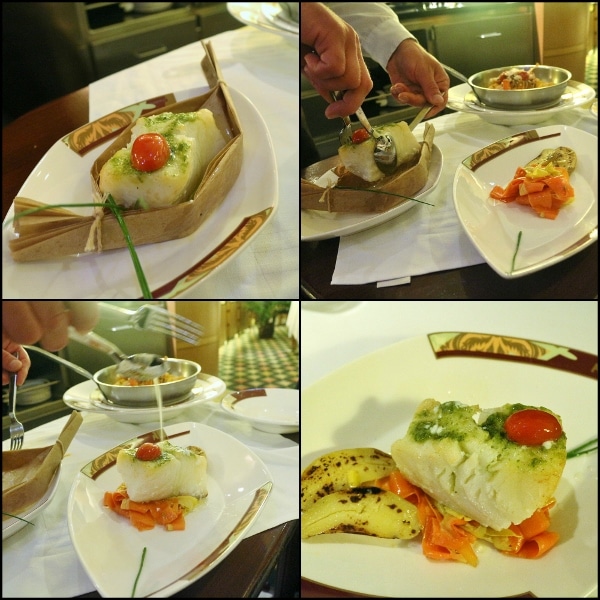 My sister ordered another favorite: the Pappardelle con Aragosta. Lobster, parsley, and fennel are tossed in pappardelle pasta with chili and fresh tomato sauce, resulting in a slightly spicy, but incredibly delectable pasta option. This is also plated table side. I actually requested a small plate of this as a "side" to my entree as well. It's so good!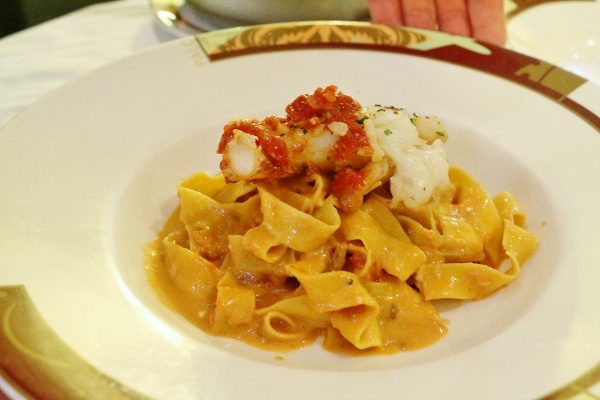 With so many great choices, it's tough to select one (which is why I also got a small serving of the above pasta), but I decided this time around to order another winner, the Osso Bucco. This slow-roasted center cut veal shank is served with gremolata and risotto Milanese. It's fork-tender and oh so wonderfully comforting! Between the unctuous meat and velvety risotto, you can't go wrong here.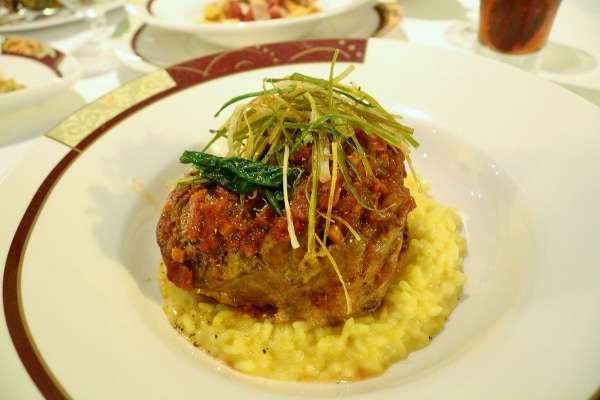 We ordered Chocolate Souffles for the entire table. Honestly, I'm not even sure I've had another dessert here. I always get the souffle and I'm always REALLY happy afterwards, so why change? Yum!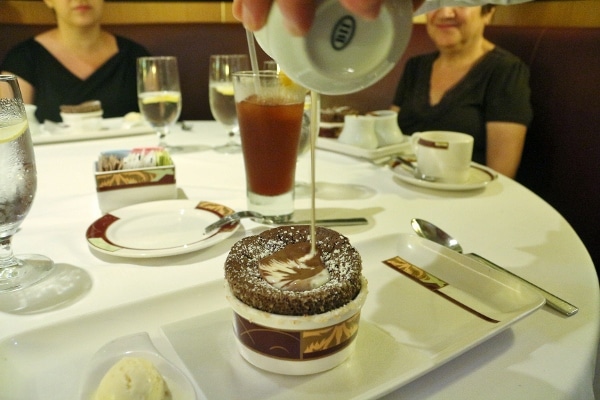 This wraps up our incredible Southern Caribbean cruise on the Disney Wonder! Our favorite ports of call on this cruise were Grenada and Martinique. St. Kitts was also fascinating, and would follow closely behind. Barbados ranks high on our list for it's gorgeous water and awesome catamaran/snorkeling experience, but lacks the lush landscapes I loved on the three previously mentioned islands. Although the beach was lovely, Antigua was the least exciting port for us on this cruise.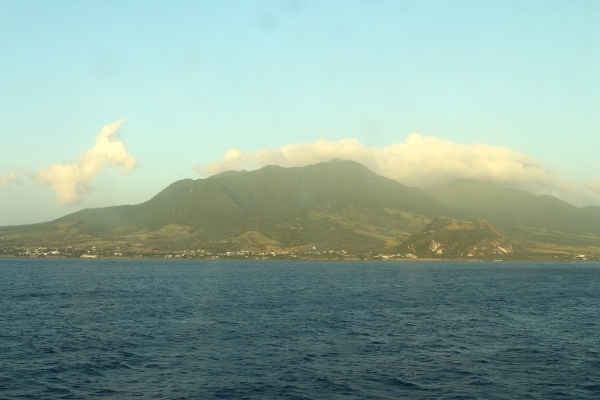 Sailing away from St. Kitts: Brimstone Hill Fortress to the right with Mount Liamuiga beyond
Next year Disney is replacing Grenada with St. Lucia for their April 2017 Southern Caribbean itineraries. My preferred list (based on Southern Caribbean islands Disney has visited in the past and is visiting in the future) would include Grenada, Barbados, St. Lucia (which I have yet to see), Martinique, and St. Kitts. I'd hands down rather visit Grenada over Antigua.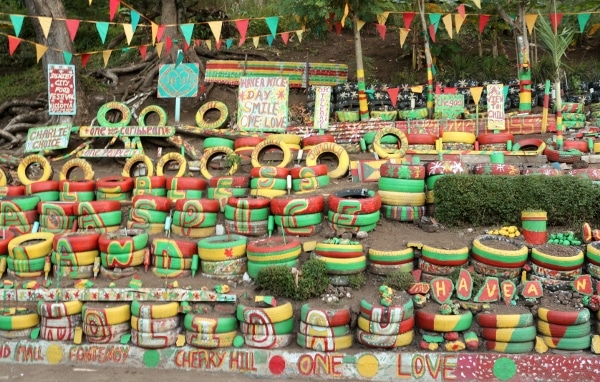 We love you, Grenada!
With that said, we really had such an unforgettable trip! We learned so much at each of these islands. I swear, I get so angry when people say "when you've seen one Caribbean island, you've seen them all." Nothing could be further from the truth. Each island has its diversity, and its own unique character. On a cruise, you may have limited time to explore each port, but you do have the opportunity to notice the differences. I hope my posts were entertaining and informative. Thanks so much for joining me on this adventure!
Disney Wonder Southern Caribbean Cruise (January - February 2016):
Island Paradise Tours
Local: (869) 466-3028
USA: (713) 482-7513
https://www.stkittsislandparadisetours.com/
Trip Advisor
Carambola Beach Club
https://www.facebook.com/carambolabeachclub/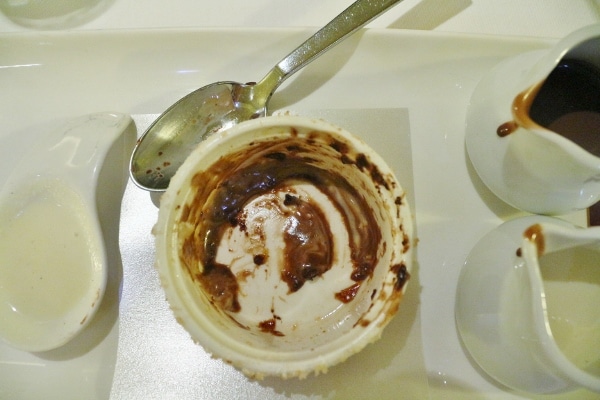 That's all, folks!