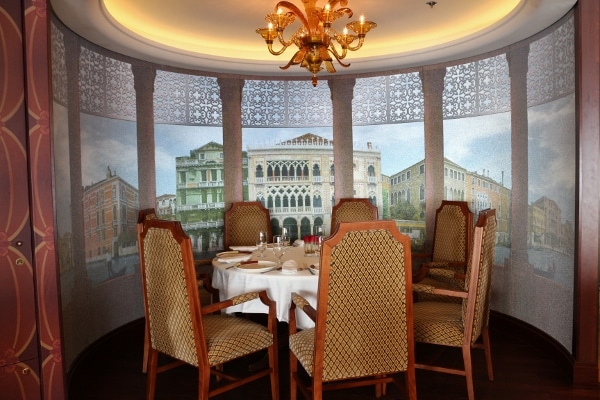 This will be my fourth and final post regarding my recent Disney cruise (but stay tuned because I have a couple that will be featured on the DisneyFoodBlog)! Today I will be discussing brunch at Palo, the adults-only Italian restaurant which can be found on all four Disney Cruise Line ships.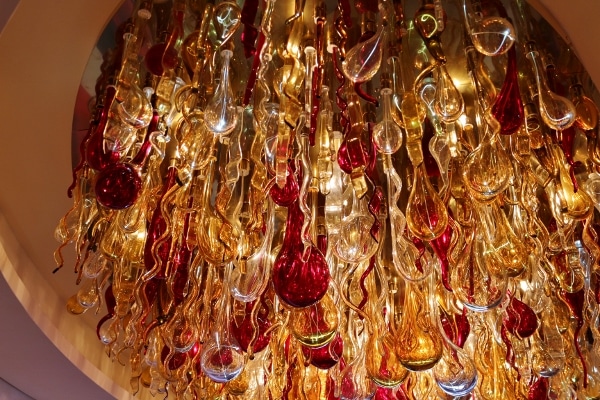 Inspired by the city of Venice, Palo has one of the most beautiful blown glass chandeliers I've ever seen. Ironwork and Italian paintings make up a big part of the decor in this lovely space. It's definitely more upscale in terms of service and food than the rotational dining rooms.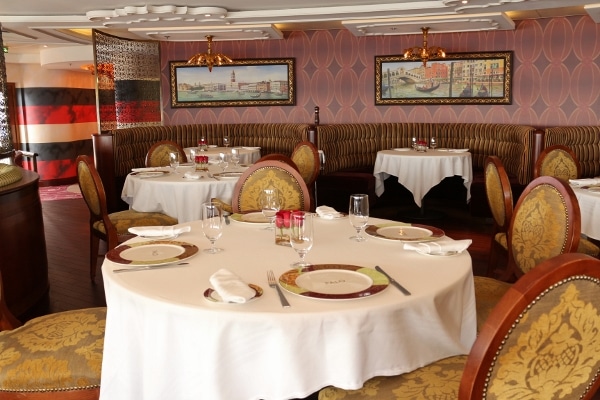 Palo features brunch on all sea days and dinner every night, each for an additional fee of $25 per person. Way back on our very first Disney cruise, we tried both brunch and dinner and both are excellent options. On the most recent couple of cruises we opted for brunch. A complimentary glass of Prosecco or a mimosa is included with the meal.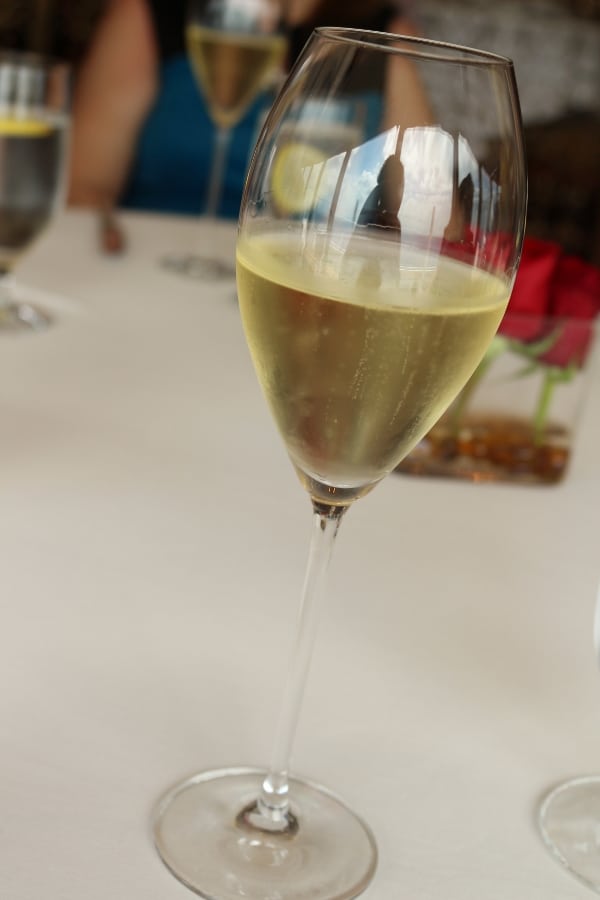 The highlight of brunch at Palo is the cold buffet. There are multiple stations set up with a variety of cold dishes such as shrimp cocktail, king crab legs, virgin bloody mary shooters with shrimp, smoked salmon, caviar, prosciutto and other charcuterie, a variety of cheeses, breads, and pastries and so much more. Here are some photos from the cold buffet as well as some of my personal choices 🙂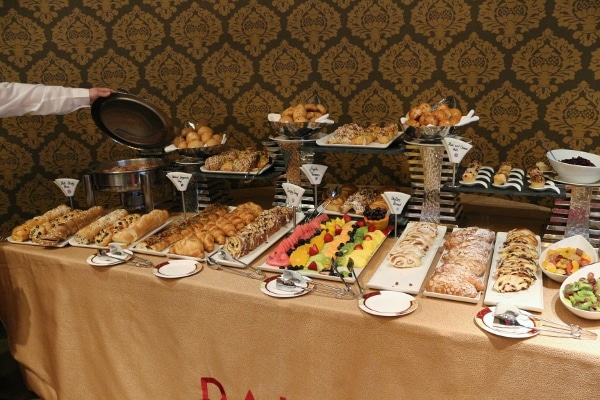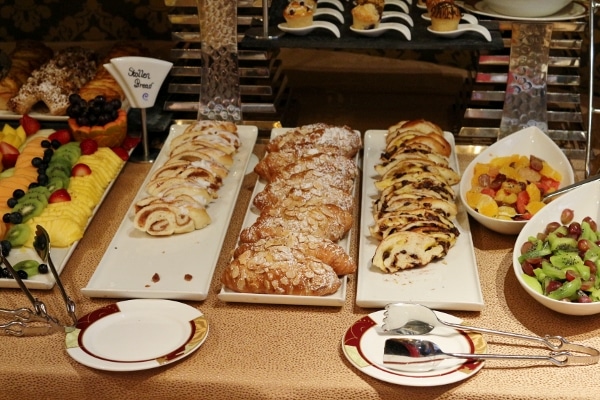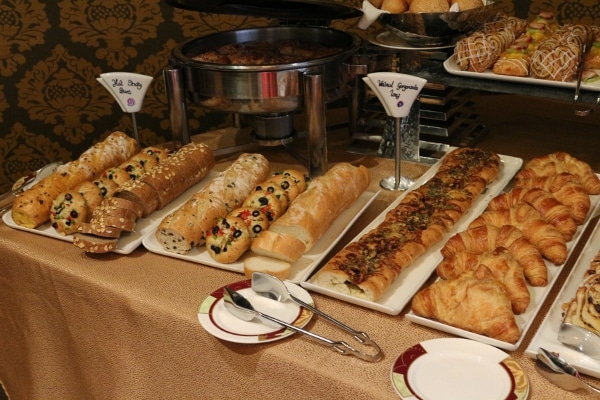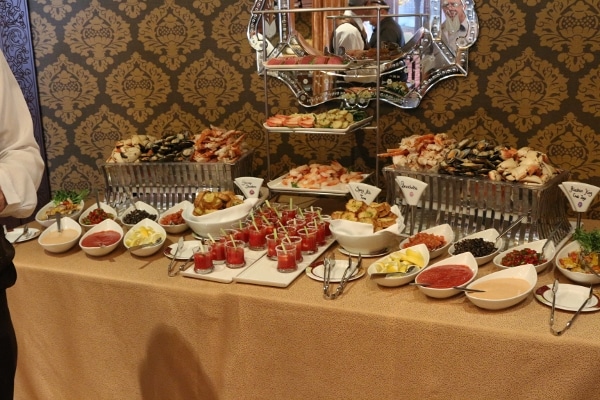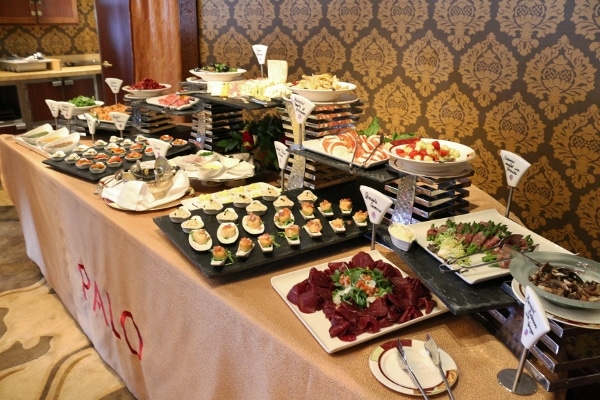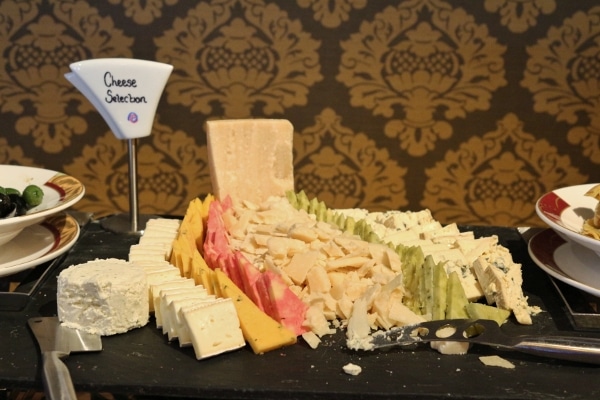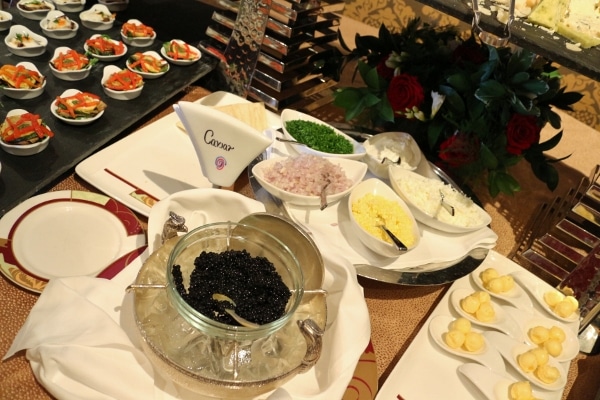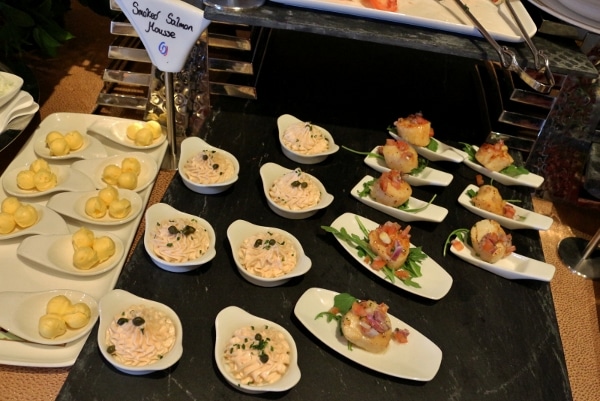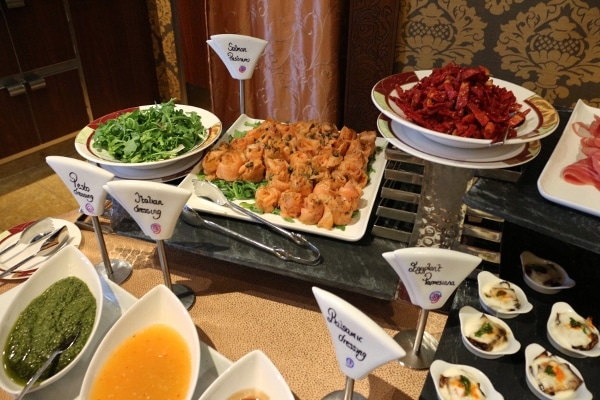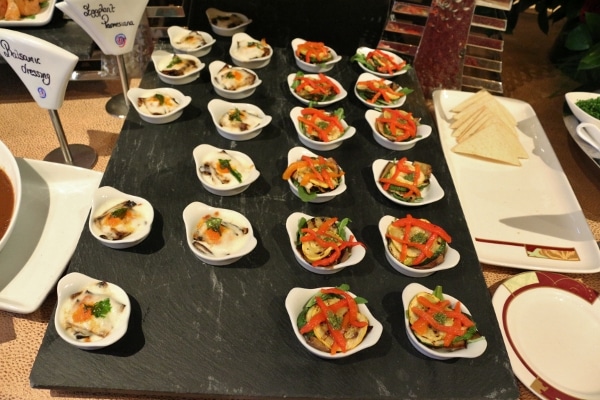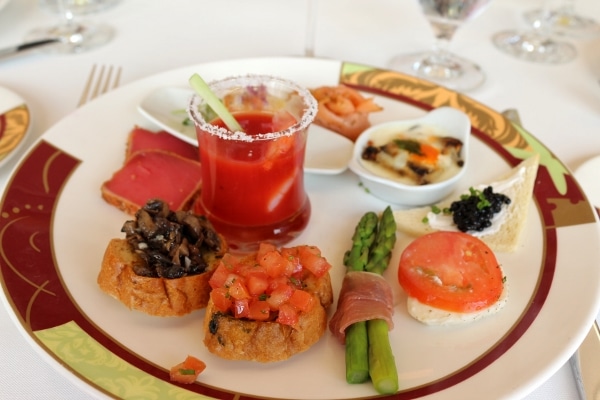 My first round of choices! Some crostini, prosciutto-wrapped asparagus, caprese salad, caviar, eggplant parmesan, smoked salmon, scallop, tuna, and bloody mary shooter with shrimp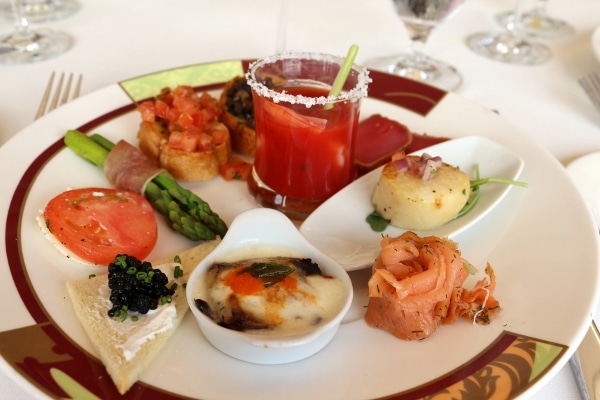 And from another angle...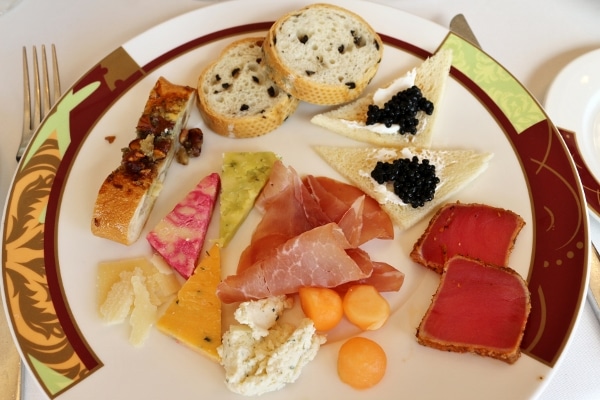 My second round of choices also include prosciutto with melon, olive bread, blue cheese and walnut bread, and a selection of cheeses
There is also a station showcasing the hot, made-to-order options which you can order from your server. They range from breakfast dishes to lunch dishes as well as including a variety of pizzas.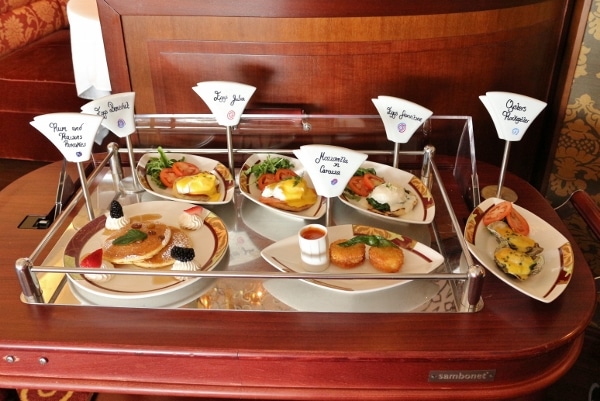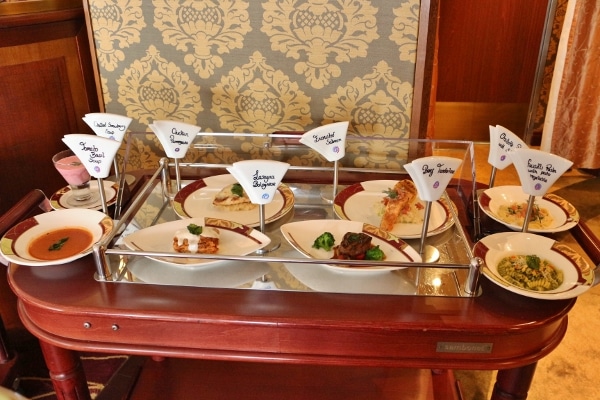 We decided to try a whole bunch of these and share. I have some favorites from past cruises (some of these menu items haven't changed in years), and I'm happy to say the dishes are just as delicious as I remember.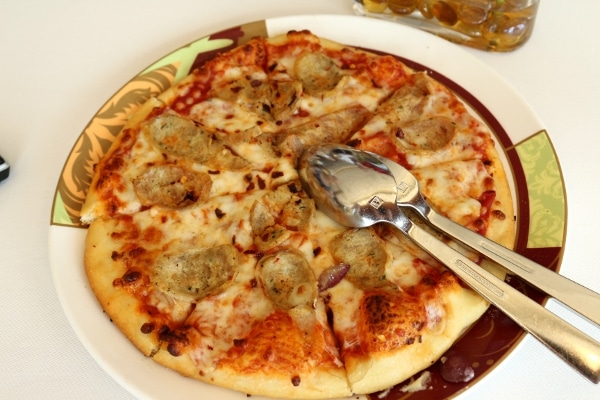 Spicy Italian Sausage Pizza - overall the pizzas are very good, but I felt the crust was a bit on the soft side and could have been cooked a bit longer to get some more flavor and texture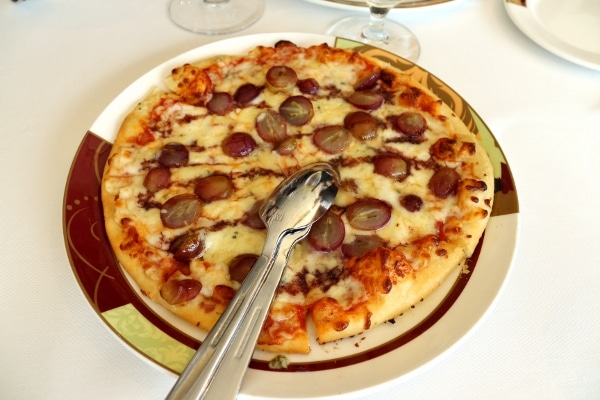 Blue Cheese and Grape Pizza - this also features a port wine reduction... super tasty, but once again, just a bit undercooked in my opinion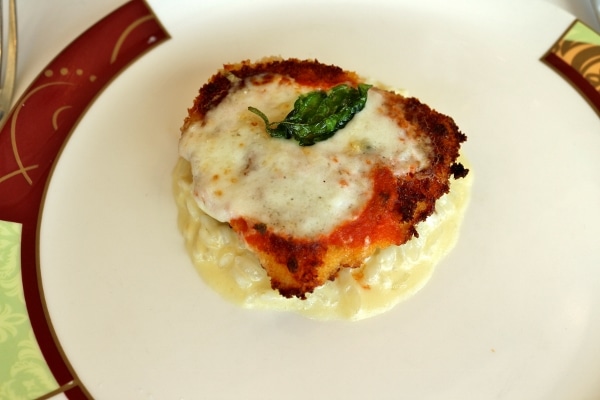 Chicken Parmesan - served over risotto, this is a small but delicious serving of a classic Italian dish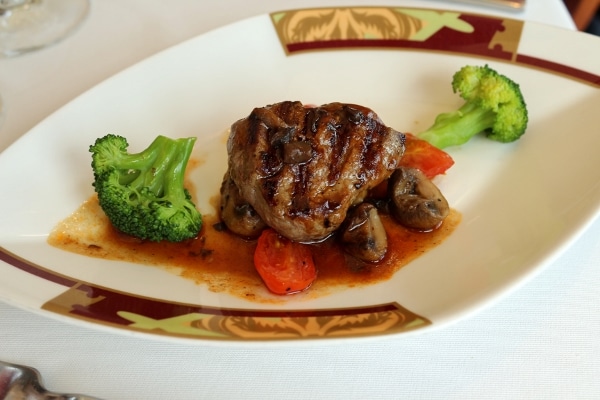 Beef Tenderloin - I didn't get to try this, but both of my parents did and they thought it was tender and delicious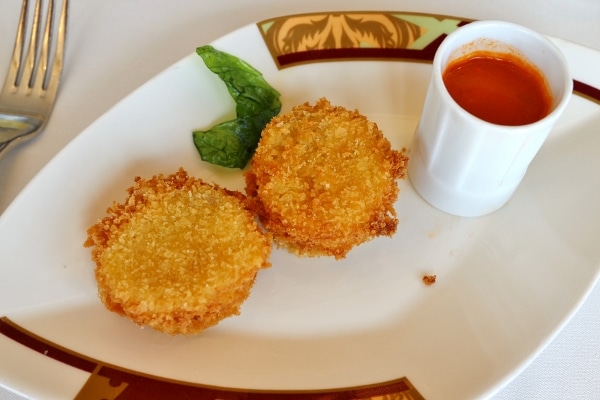 Mozzarella in Carozza - basically this is breaded fried mozzarella, but it's way better than any mozzarella sticks you've ever had!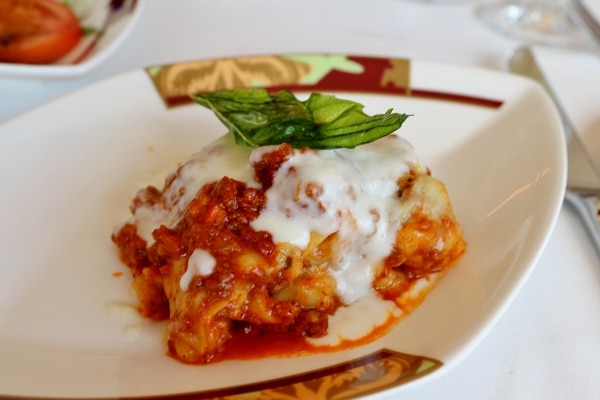 Lasagna Bolognese - perfectly seasoned, delicious meat sauce, nice and cheesy, definitely no disappointment here!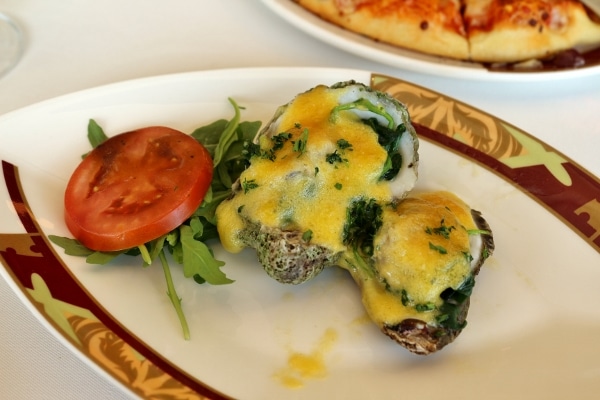 Oysters Rockefeller - another classic dish, not Italian but perfect for brunch... nice and briny oysters with spinach and a rich Hollandaise
After polishing up our huge array of hot dishes (assuming there's still room), there is another display of bite-sized desserts for your dining pleasure. Trust me, it's worth saving room to at least try a few tastes. I can never resist the tiramisu, but our favorites on this trip include the cherry tart with meringue and the chocolate creme pot! YUM!!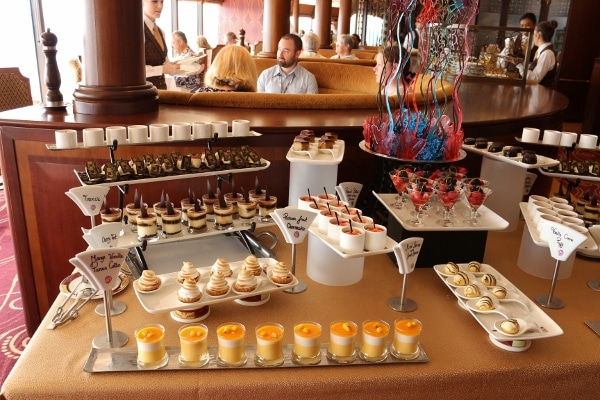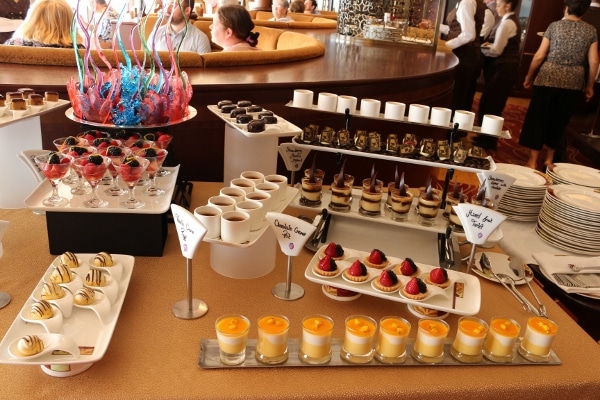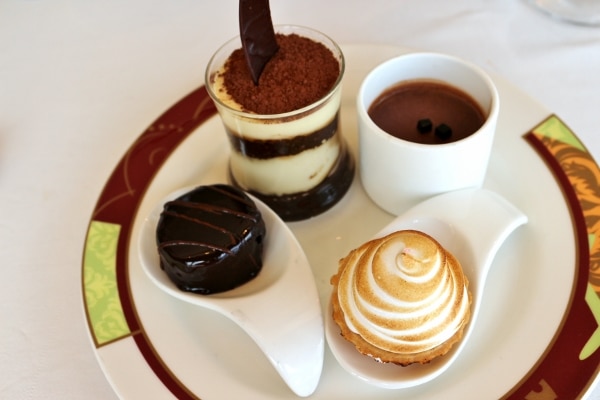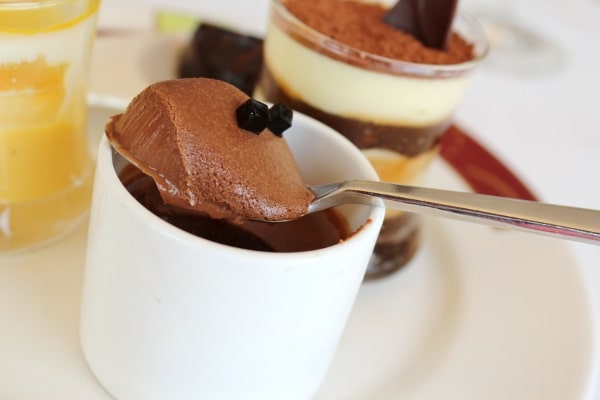 SO DECADENT!!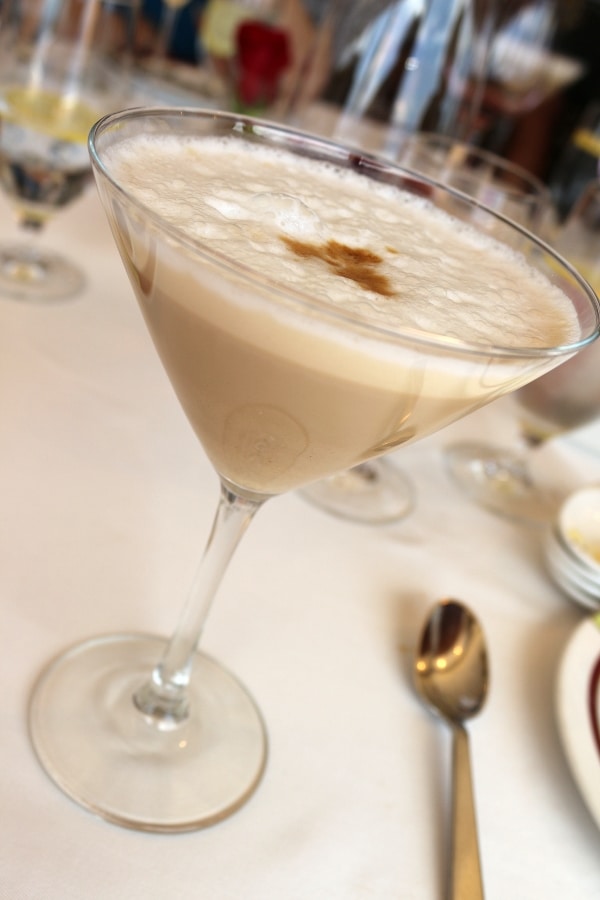 Lattes are an extra charge, but they are delicious and served stylishly in large martini glasses!
What more can I say about brunch at Palo? There's definitely something for everyone here, from the fantastic array of cold items in the buffet to the hot, made-to-order dishes that span from breakfast to lunch with both Italian-inspired dishes and classic brunch options. The desserts will hit the spot for any sweet tooth whether you want something fruity, chocolaty, or somewhere in between. Although there's an extra $25 charge, the quality and quantity of the food is absolutely worth it, the service is top notch, and the meal comes with a glass of bubbly! That's a win win situation 😉