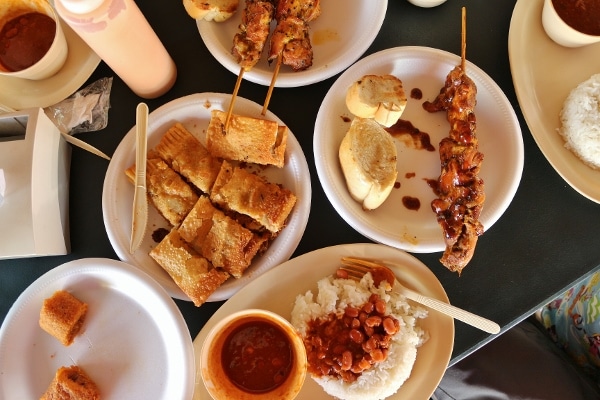 The day after our arrival in Puerto Rico, we awoke before dawn to get ready for a very busy day. As I mentioned in my previous post, we were staying at the Hampton Inn & Suites San Juan in Isla Verde.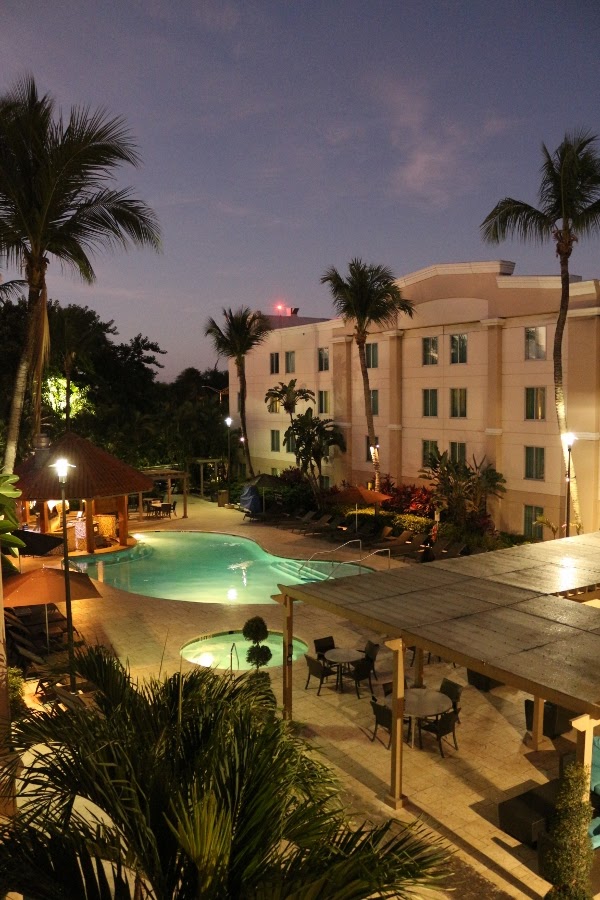 As with other Hampton Inns, free breakfast is included in your stay. I'm not talking a boring continental breakfast, but a hot breakfast with make-your-own-waffles, and many other delicious options.
An array of cereals, fruits, and yogurts comprised some of the cold breakfast items, while a selection of breakfast pastries, bread, English muffins, and bagels (with nearby toasters) supplied a nice carb fix. French toast sticks, scrambled eggs with ham and cheese, and make-your-own-waffles were our hot food options. I tended to sway in this direction.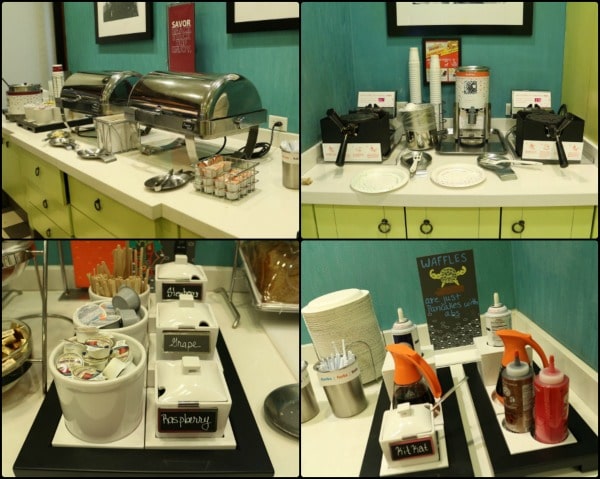 I really enjoyed the scrambled eggs, and found them to be flavorful and soft (not overcooked, thank goodness). The French toast sticks were a bit on the dry side, but overall satisfied my sweet tooth.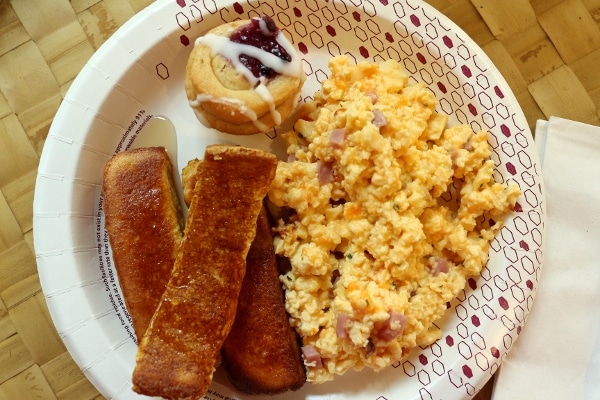 After filling our bellies, we were ready to take off on our private tour booked well in advance with Charlie's Custom Tours Puerto Rico. This is a father and son operation with Carlos and Carlitos acting as the tour operators. Carlitos picked us up in their van Charlie, and we were on our way! He had set up a digital camera on the dashboard, which was hooked up to a TV screen, giving us all a great view of the scenery ahead as we traveled west to Arecibo, Puerto Rico.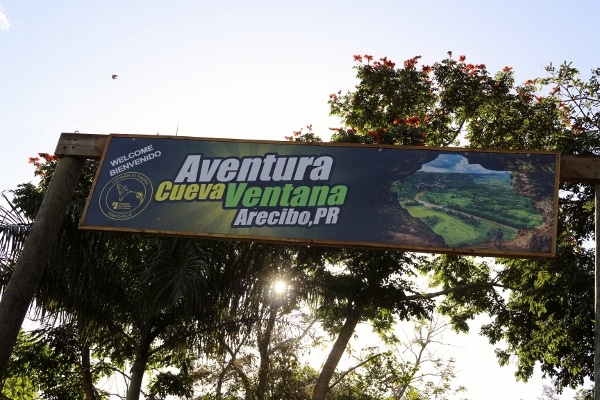 These tours are truly custom and private. It was just our family, and we had predetermined what we were interested in doing on our tour. Throughout the planning process, Carlos was incredibly helpful via email with our plans, offering tips and informative suggestions.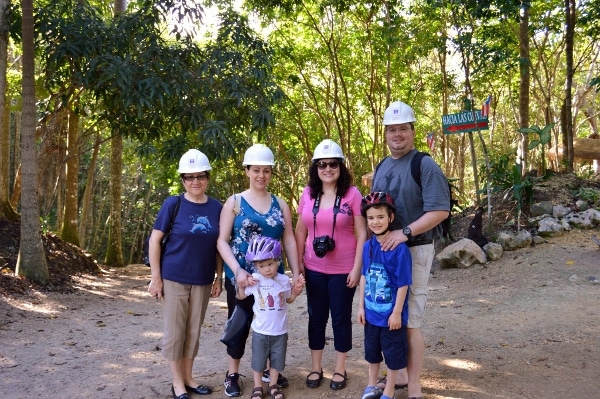 His son Carlitos was not only a friendly, professional, and very knowledgeable tour guide, but he also acted as our photographer throughout our explorations. He went above and beyond to make our day the best possible adventure we could have. He also supplied snacks and plenty of refreshments including cold water and beer (we stuck with water), and gave us some fun and useful Puerto Rican souveniers like tote bags, maps, and small Puerto Rican flags for the kids.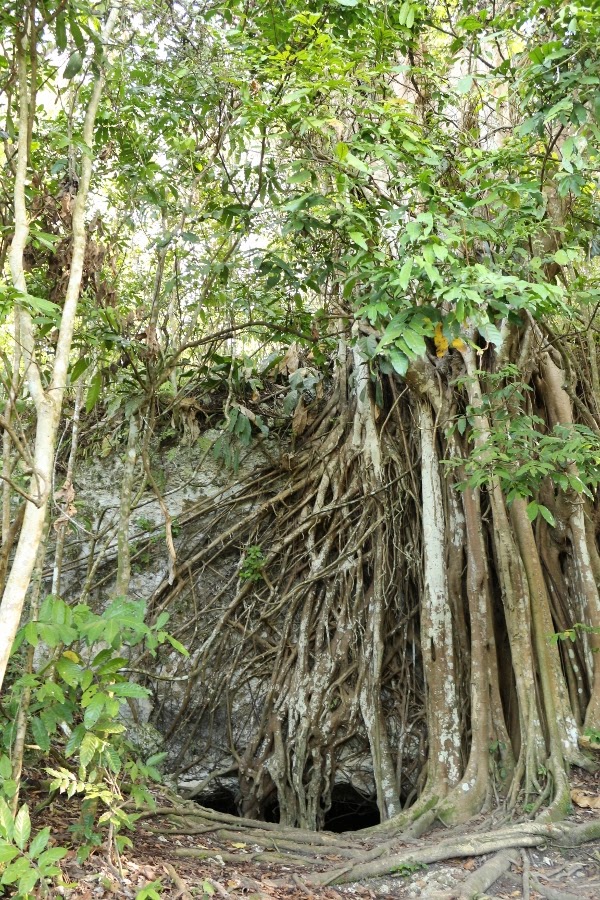 The tours are priced per hour, not per person, with a four-hour minimum. The cost of admission to sites is generally not included in the tour, however we did get the local discount upon our arrival at our first stop, Cueva Ventana or the window cave. We only paid $10 plus tax instead of the standard $20 for admission for non-residents. Please note that for both of the caves we visited on this trip (especially the second one), it's best to wear comfortable, enclosed shoes such as sneakers.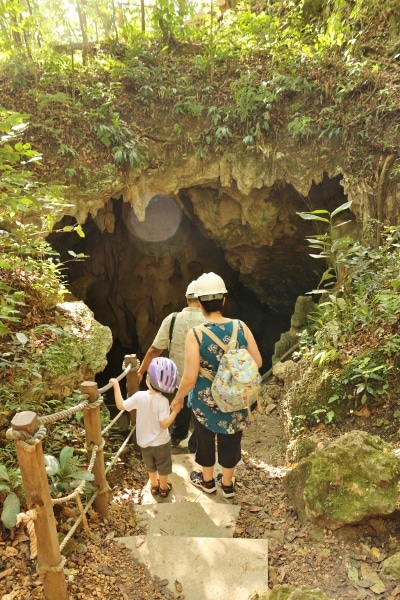 Climbing down into Cueva Ventana
I joked to my nephew that we would be Wilderness Explorers, like Russell from Up! This was the perfect way to start our day of exploring the wilderness. Cueva Ventana is a huge natural cave with a window-like opening overlooking the beautiful Río Grande de Arecibo valley. But getting to that spectacular view does take a bit of work.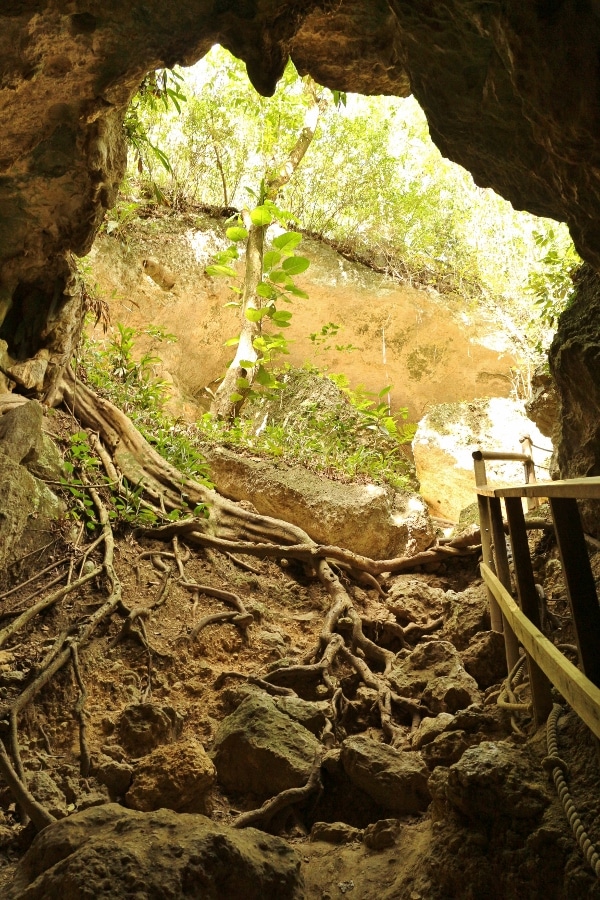 The way back out of the cave
We begin by donning helmets and head to the cave though a lush rainforest. Then we have to climb down into the cave where we receive flashlights. Inside the cave is pitch black (and there are bats!) so you must be very careful and move slowly, pointing your flashlights downward as to not scare the bats. Carlitos used a special flashlight to show us the bats up above. The type of light didn't harm or scare them, like our traditional flashlights would have. We then continued through the cave until we reached the window opening. Many photo opportunities ensued.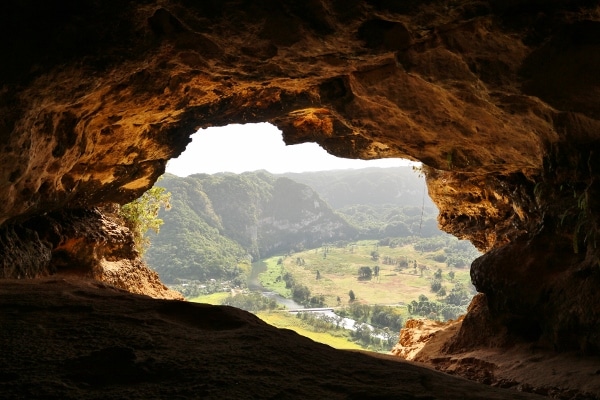 Cave drawing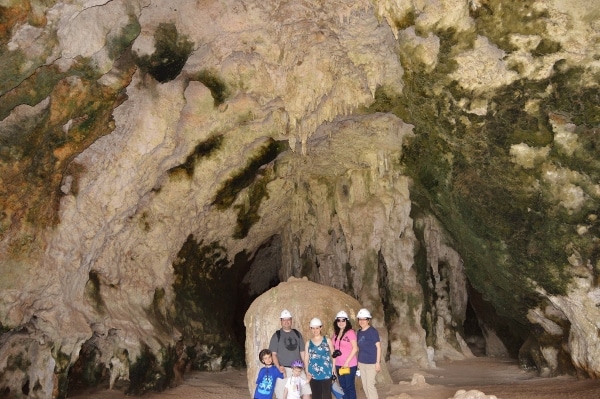 After heading back out of the cave, we returned to the van and drove north toward the shore where we would make our second stop in Arecibo at Cueva del Indio, or Indian cave. This cave has a nominal parking and entrance fee (I believe a few dollars per person), which Carlitos paid.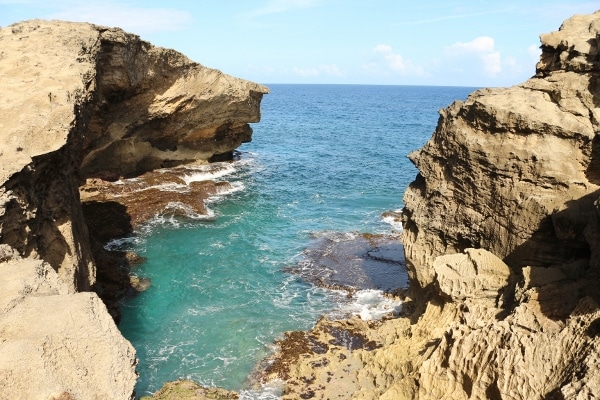 The entire area features several caves you can actually explore, but it requires a bit more effort to climb down into them, so we refrained. Even just climbing to the top to get the epic views requires some effort as the terrain is quite rough, hence why sneakers or other more stable walking shoes are recommended here.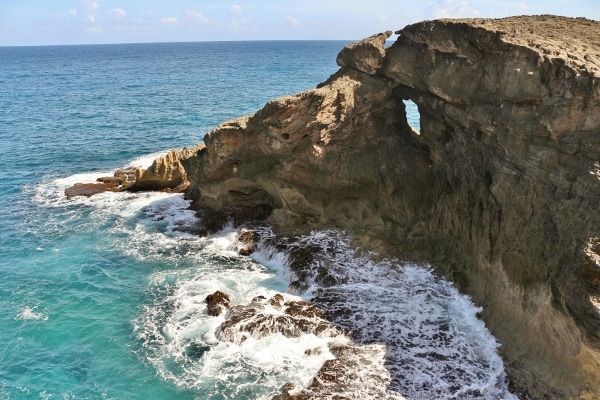 You have to climb across exposed, sharp limestone. Only part of my family climbed up one of the limestone hills to check out the view, and then Carlitos and I were the only two who continued with a bit more of the challenging explorations. We didn't spend too much time exploring, or go into the actual caves since most of our party was sitting this out.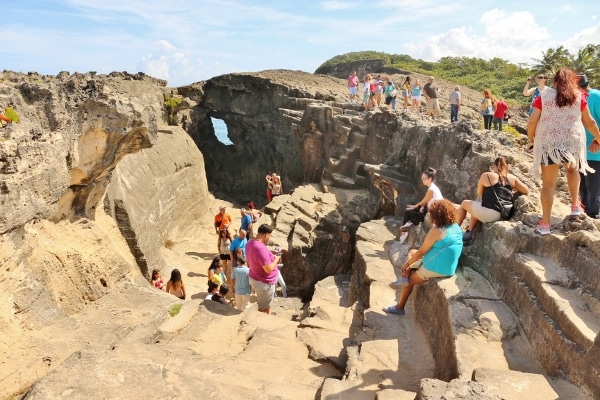 The entrance into the cave is down there
I am really happy, however, that I took the extra steps (literally) to see the incredible views from more than one angle. I got to see the Indian profile in the limestone, which is partially why it was named Cueva del Indio. The actual caves also contain a lot of ancient petroglyphs (cave drawings).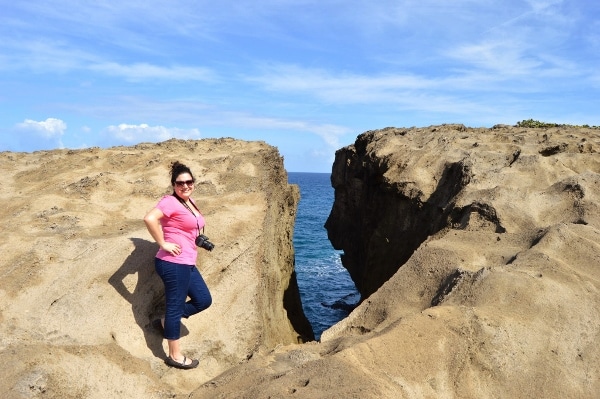 Carlitos and I hiked up the more challenging side of the sharp limestone hill to see the stunning natural arches on the other side.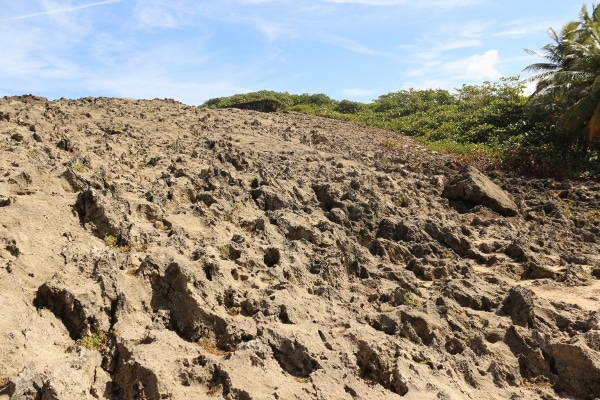 This climb was more challenging than it looks. Very rough and sharp terrain. Must be cautious and slow the entire way up and down.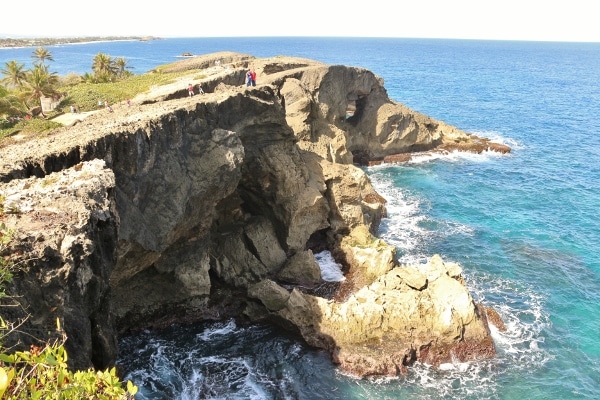 I would have really liked to spend more time here if my family wasn't waiting in the van, and if I wasn't already sweating profusely. It was really such a stunning area, and I can only imagine how much more I would have loved it if I explored more of the actual caves.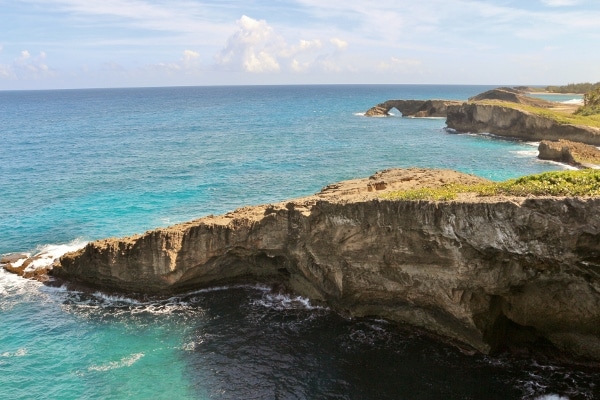 The money shot after all that climbing!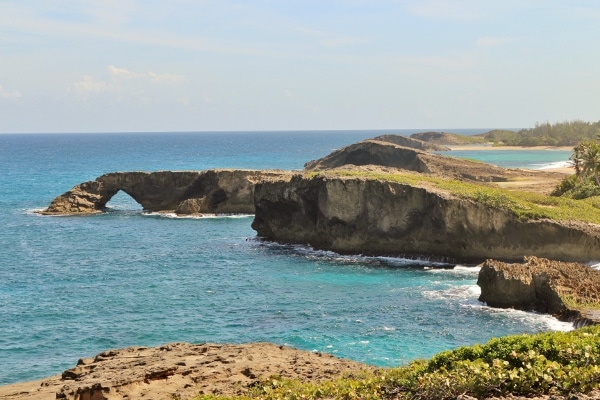 I highly recommend visiting both Cueva Ventana and Cueva del Indio if you are looking for some incredible sights in Puerto Rico outside of your typical San Juan tourist stops.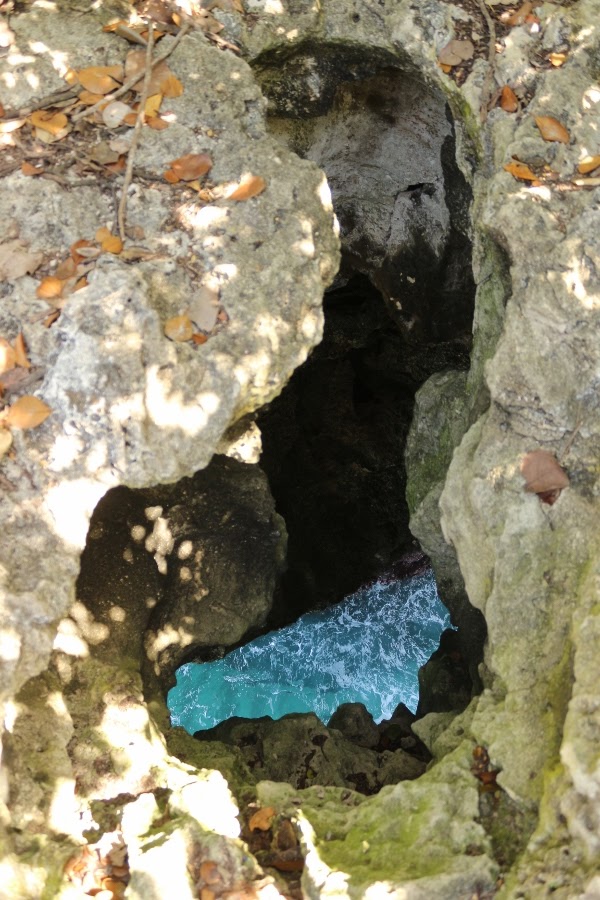 A hole in the limestone at the top of the climb opens up to water below!
After finishing up at the caves, we headed back to San Juan where we stopped for lunch at a spot where the locals eat. Carlitos took us to Donde Olga, which is not too far from the San Juan airport and our hotel, just a bit further northeast.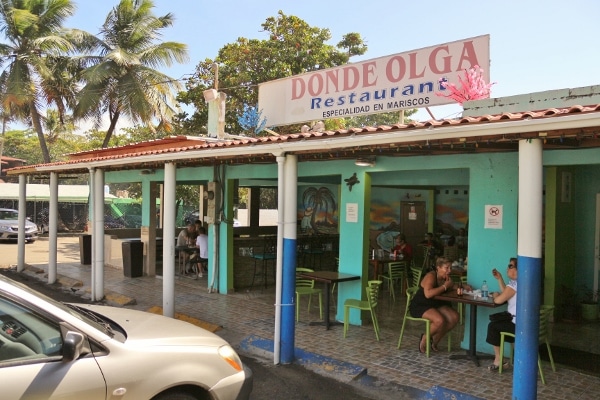 It's an open-air restaurant featuring delicious Puerto Rican fare. Carlitos jotted down what we wanted as we peeked at the display of fried and grilled items, and then the food was brought to our table as it was prepared.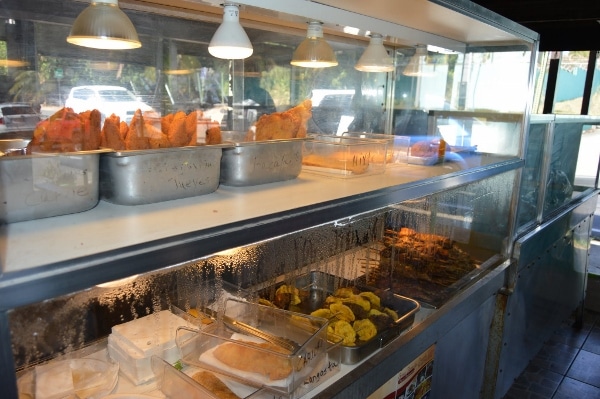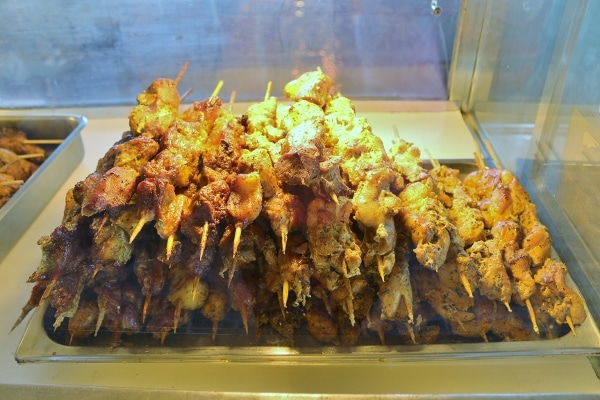 OH. MY. GOD. I mean seriously. Talk about a food orgy. Our table was laden with a variety of delicious dishes, each one surpassing the others in flavor.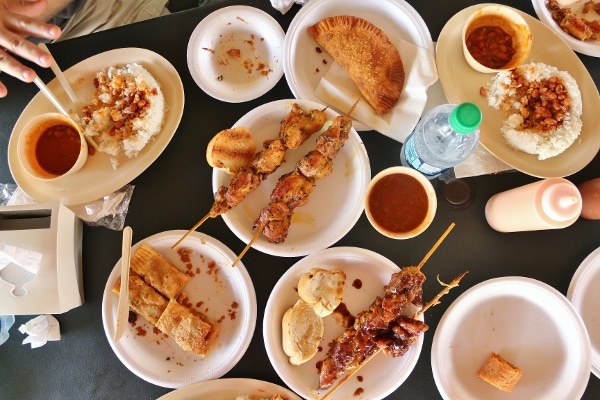 Our selections ranged from crispy empanadas: carne (beef), pollo (chicken), jueyes (crab); alcapurria de jueyes (fried cassava fritters filled with crab); chicken thigh skewers, both plain and barbecue; and arroz y habichuelas (rice and stewed beans--think Louisiana red beans and rice but Puerto Rican).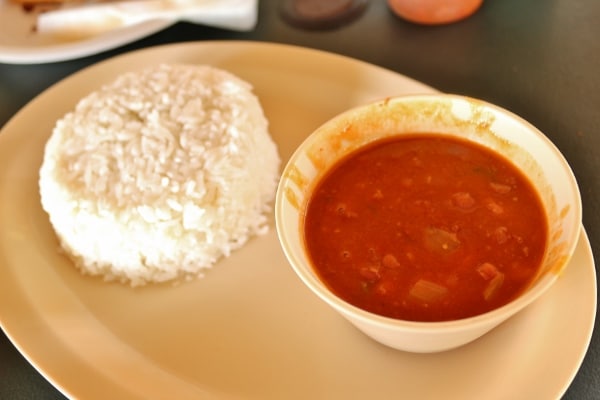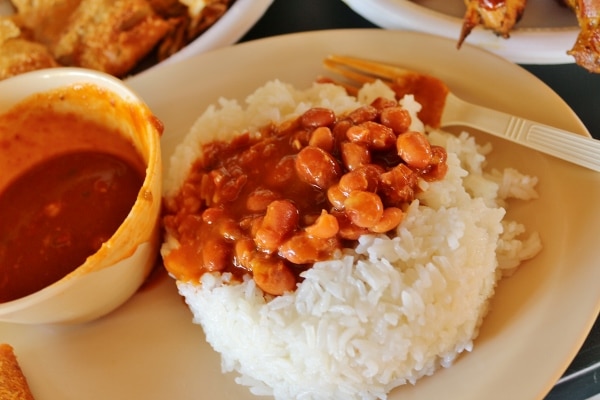 Everything was phenomenal. The empanadas were flaky, each filled with well-seasoned fillings. I was really impressed that the crab filling in both the empanada and alcapurria was almost red in color, and not the stark white you'd expect from crab. Clearly it contains a lot of additional spices that really amplify the Puerto Rican flare you seek in these dishes. The dough for the alcapurria was crispy on the outside, but otherwise soft and tender. Texturally it was a contrast to the empanadas. I loved them all!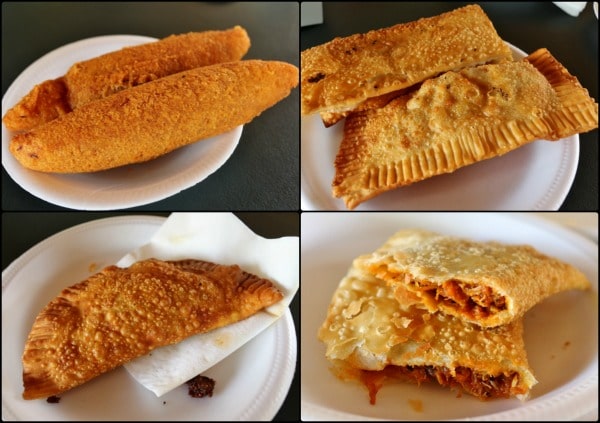 Clockwise from top left: alcapurria jueyes (crab alcapurria), empanada pollo (chicken empanada), empanada jueyes (crab empanada), empanada carne (beef empanada)
The skewered chicken was so flavorful, and tender and juicy. Chicken is often forgettable and boring, but I was absolutely LOVING the chicken skewers. Chicken thighs never tasted so good.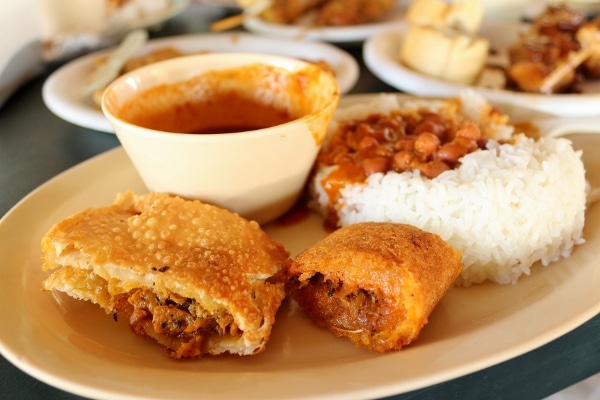 Chicken empanada, crab alcapurria, rice and beans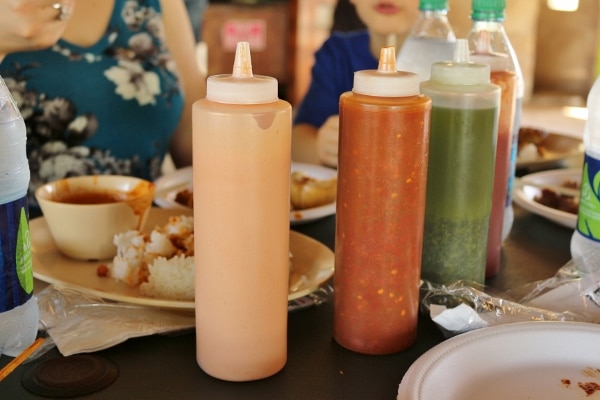 A variety of delicious sauces!
And let's not forget the comfort dish of all comfort dishes, the arroz y habichuelas. It's a rice and beans dish featuring stewed beans and plain rice as opposed to the mixed rice and beans you come to expect as "rice and beans" or "rice and peas" on so many of the other islands. I absolutely loved it!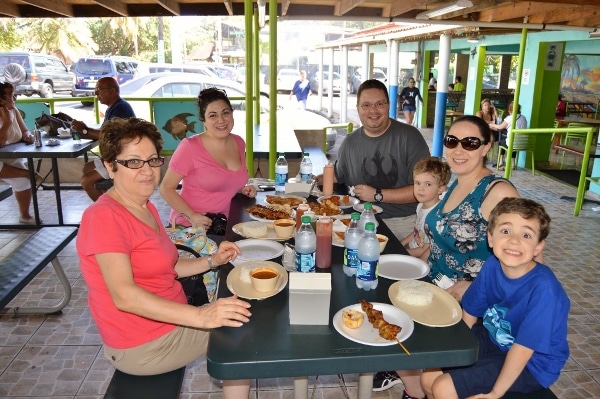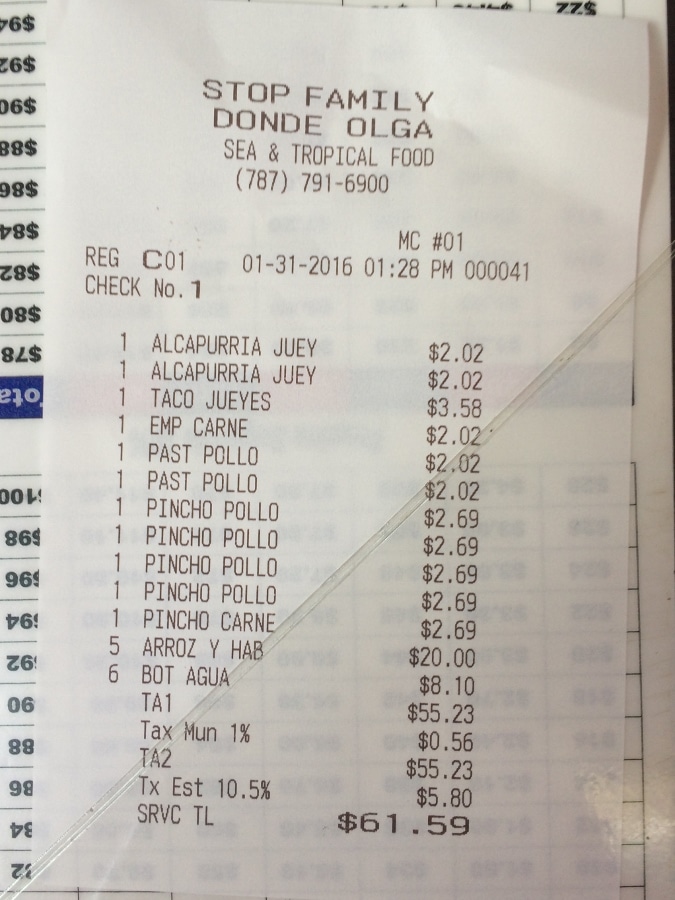 Quite reasonable prices too!
Although we were pretty full at this point, we saved just enough room for a few sweet bites of guava and cheese "quesitos" purchased from a local bakery on our drive back to through San Juan. They were tart and sweet from the guava, with a bit of tanginess from the cheese. We had two different varieties, one more flaky and the other a bit softer and reminiscent of cinnamon buns or Danishes. I preferred the flakier of the two, even though it contained less filling overall. I'm so in love with guava!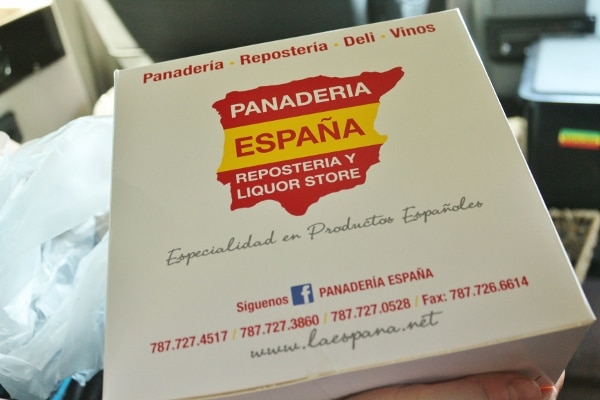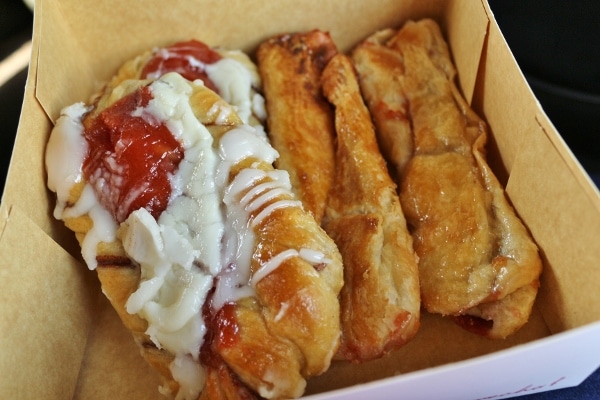 Okay, so believe it or not our day was not yet over! At this point we finally headed to the port to board the Disney Wonder for our Southern Caribbean cruise. This was our first time sailing on the Wonder, the sister ship to the Magic, which we've sailed three times previously.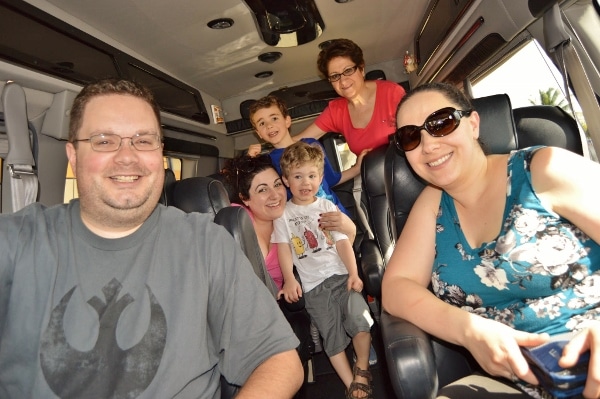 Thanks, Carlitos! We had a great time on our tour 🙂
It's very similar to the Magic, but it does have a few differences including it's bar/adult entertainment area which is called Route 66 and is inspired by its namesake. I thought this area was really fun and I enjoyed the carpeting which is an actual map of the cities surrounding Route 66.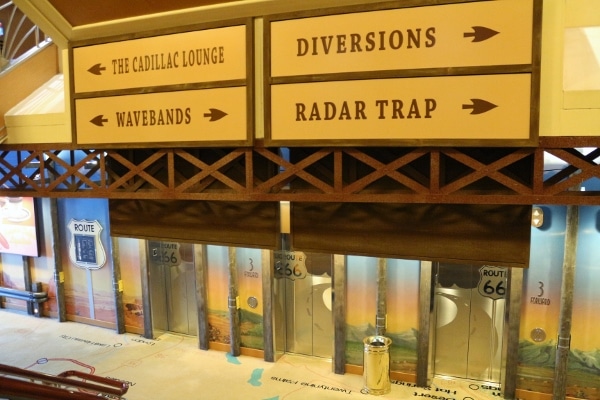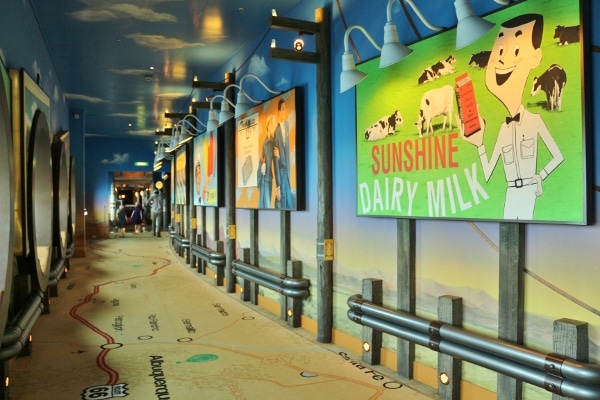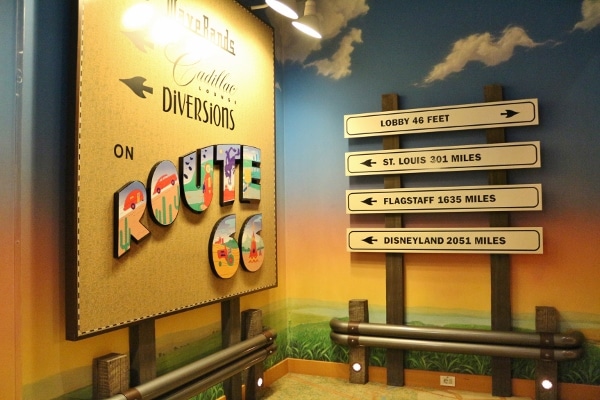 You guys, the lobby is only 46 feet away!
Dining on Disney Cruise Line is rotational, which means you dine at one of three different restaurants each night of your cruise, following a set schedule. Dinner our first night took place in Animator's Palate, one of the three signature restaurants on the Disney Wonder. The other two are Parrot Cay and Triton's, where we actually only ate lunch during our trip because the two nights we were scheduled for dinner there we dined at Palo, the high-end adult only restaurant. More on that in future posts.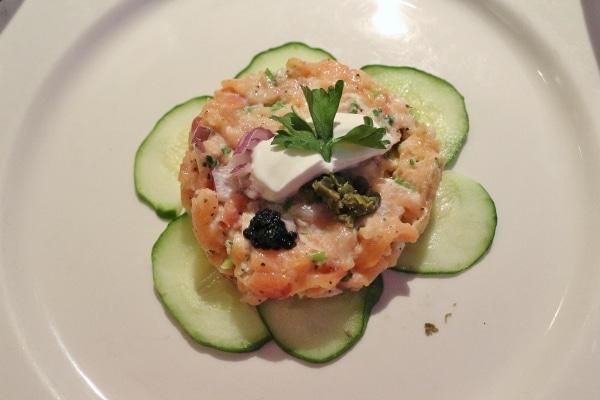 Smoked Salmon Tartare
Animator's Palate is definitely the most Disney of the restaurants. It gathers its inspiration from the colorful history of animation throughout Disney's past. The dining experience in Animator's Palate varies depending on which ship you're sailing on, because the newer ships have a few more bells and whistles in their shows. On the Wonder, you see the drawings around the dining room come to live from black and white to color, and at the end of the meal Sorcerer Mickey himself makes an appearance!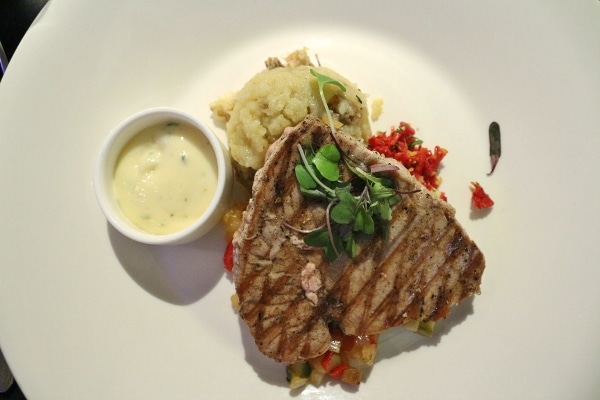 Grilled Ahi Tuna
The menu at Animator's Palate lacks a bit of excitement for me since it's pretty much been the same for years on all of the ships, but on this most recent cruise I selected to start with the Smoked Salmon Tartare and proceed with the Grilled Tuna as my entree. After a very heavy and filling lunch of Puerto Rican food, I felt these options were considerably light. The tuna was not quite as rare as I'd prefer, but it was still tender and well-seasoned.
Not a bad way to start our Southern Caribbean cruise! Stay tuned for more highlights from the trip.
Disney Wonder Southern Caribbean Cruise (January - February 2016):
Charlie's Custom Tours Puerto Rico


Donde Olga
Carretera 187 Km 5
Loíza, Puerto Rico 00729
(787) 791-6900
https://www.yelp.com/biz/donde-olga-lo%C3%ADza
Panadería España Repostería
Centro Comercial Villamar
Román Baldorioty de Castro S/N
Carolina, Puerto Rico 00979
(787) 727-3860
laespana.net