This quick and easy Chicken Saag (Palak Chicken) is the fastest curry you'll ever make from scratch. It's healthy and delicious with a flavor bomb of spices. You'll never need to order Indian takeout again with this recipe in your arsenal.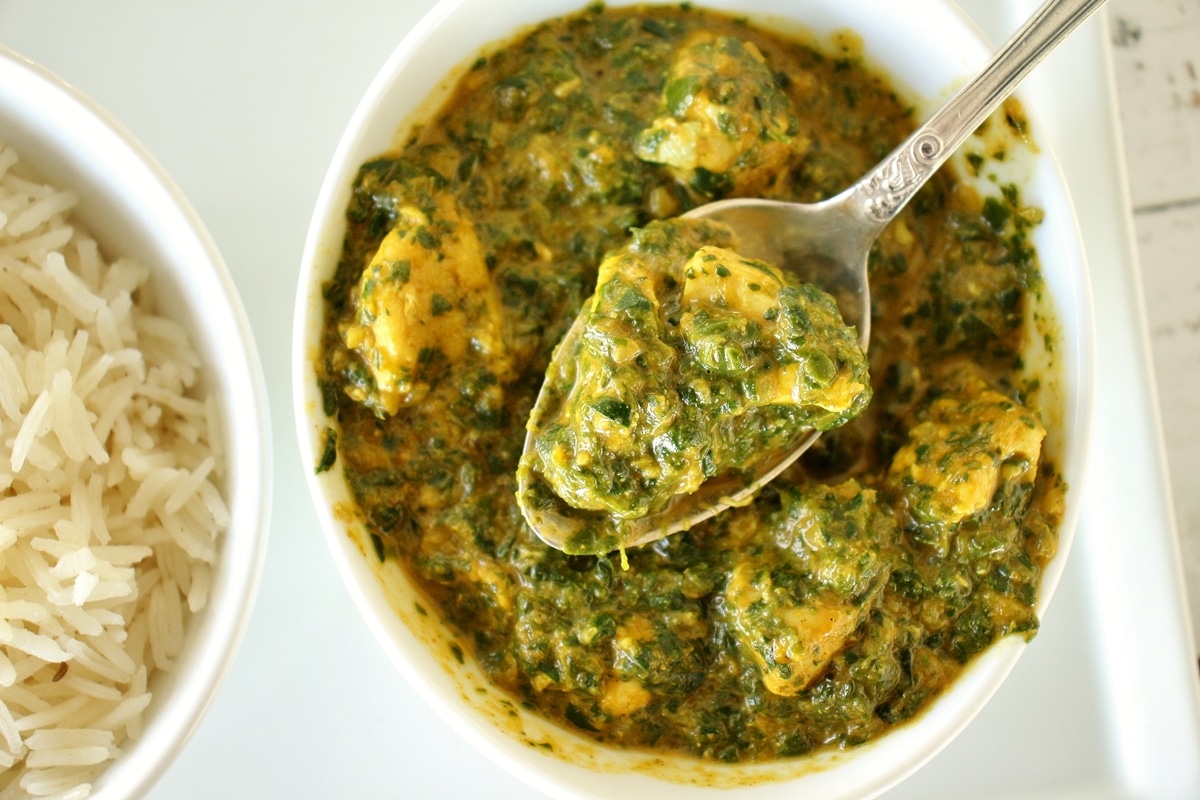 (This recipe was originally published in March 2019, but was updated with new photos and content in 2020).
Since first making this chicken saag recipe, I have made it countless times. I always amaze myself with how easy it is to make, and how it satisfies my craving for Indian food. Although my favorite Indian curries when I go out to eat are chicken tikka masala and chicken korma, I have since fallen head over heels for chicken saag.
This dish can be called chicken saag or palak chicken. "Saag" is more of a broad term for green leafy vegetable curries, and "palak" is specific to curries made with spinach. Both apply in this case, though I've always called it the former so that's what I'll stick with.
If you've never eaten or even seen Indian chicken saag curry, you may be a little surprised by it's appearance. It's a cooked spinach curry, so the color and texture is that of a muted green puree. Take my word for it though, the aroma and flavors of this curry are out of this world! If you like Indian food, definitely give this recipe a try. The taste will speak for itself.
Believe it or not, this recipe rivals the saag at my favorite local Indian restaurant! I may even say I prefer my own heavily spiced concoction to theirs. It contains nearly a dozen spices and aromatics in the pureed spinach sauce.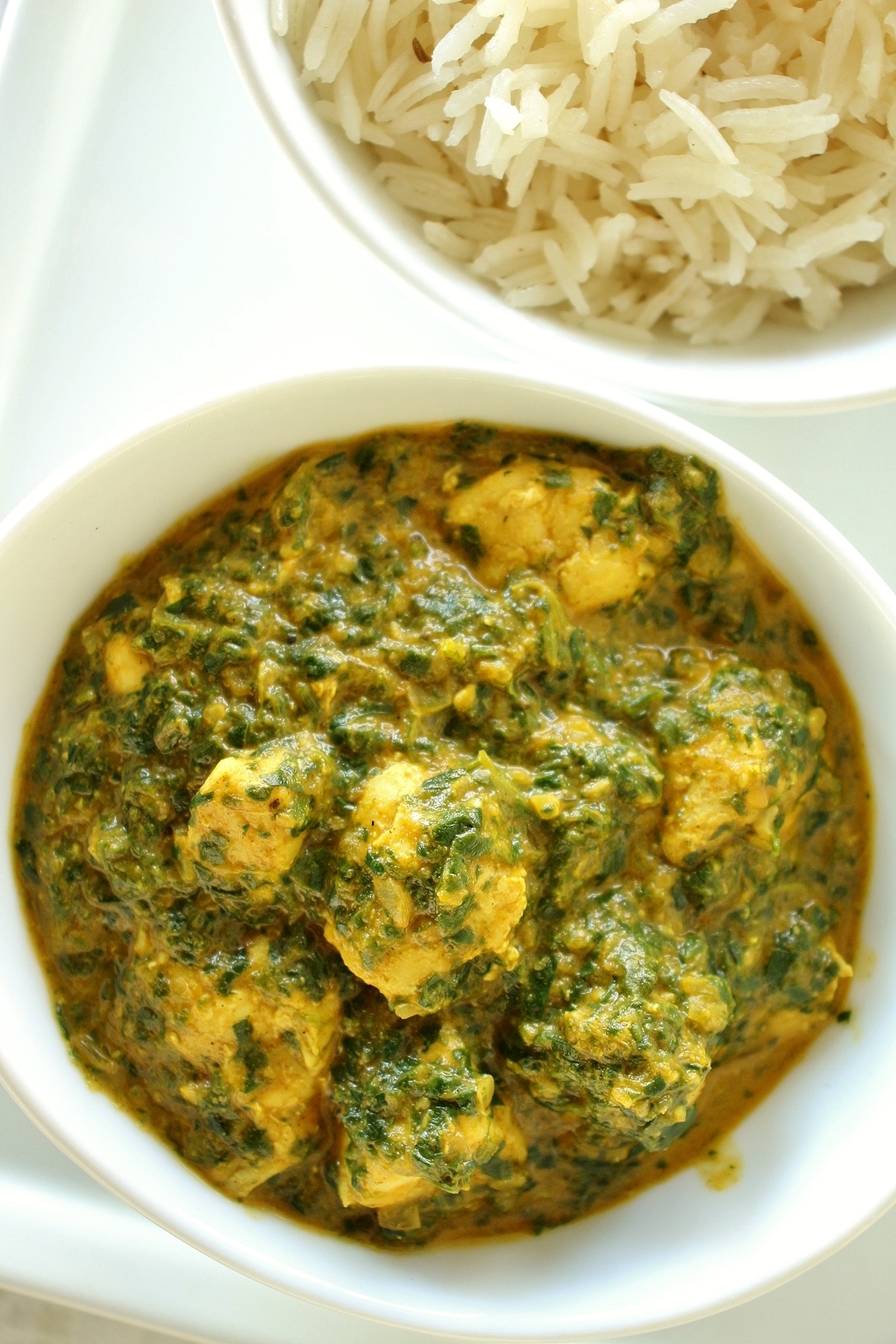 How to make it
The first step in making this chicken saag curry is to make the spinach sauce. Heat a little bit of oil in a non-stick skillet, and add chopped onion, garlic, and ginger. Cook until softened and aromatic.
Add your mixture of spices (salt, ground coriander, garam masala, ground turmeric, ground cumin, ground cardamom, Indian chili powder) followed by tomato paste dissolved in water. Mix until combined, and then stir in the spinach leaves. I prefer using baby spinach, as the leaves are already quite tender, and I don't have to pick through it.
Cover the pan to allow the spinach to wilt. Stir the mixture until all the spinach is wilted, but still vibrant green. Remove from the heat and puree the mixture in your blender or food processor. The sauce is ready!
Next you'll cook cubes of chicken in a bit of oil until cooked through. Pour the spinach sauce over the chicken, and continue to cook so the flavors can meld together. Stir in a big spoonful of plain yogurt, and this healthy curry is ready to serve!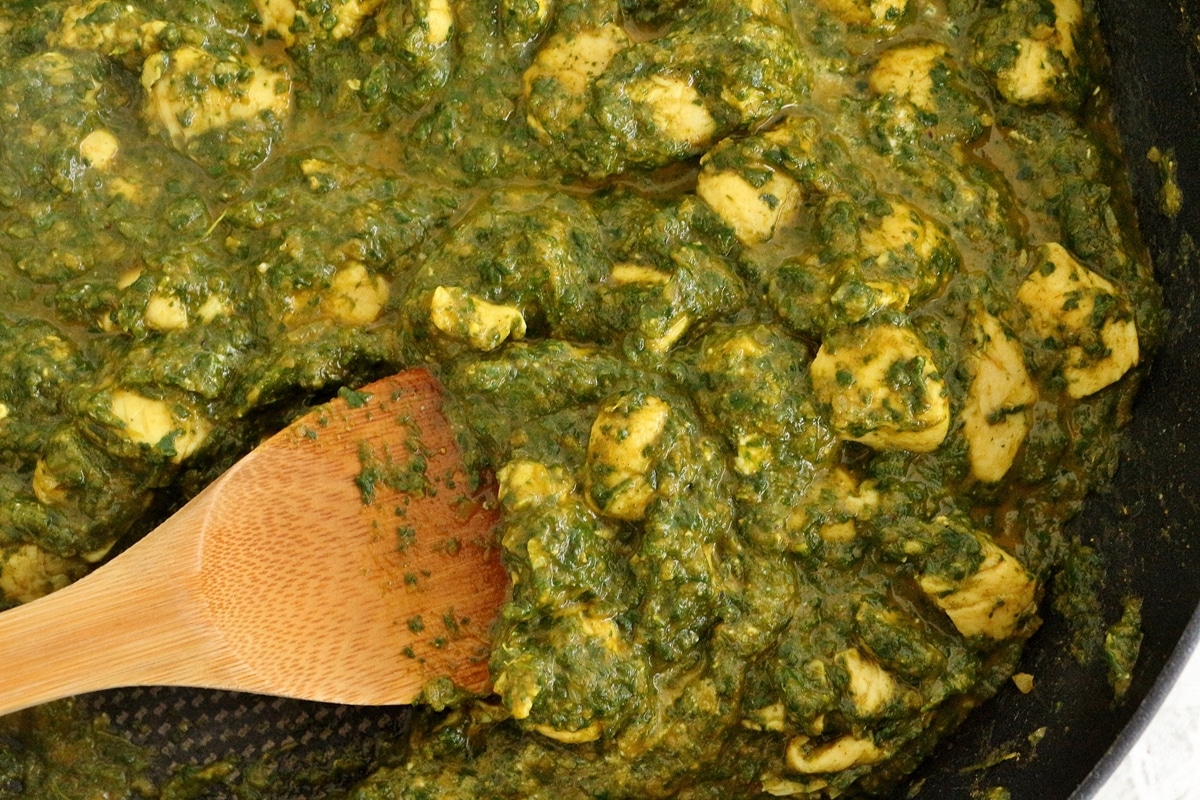 Make ahead options
Making this recipe on a weeknight is fast and easy. You can prep your chicken in advance by cubing it up, and refrigerating it until it's time to cook. You can also measure out all your spices, mix them together, and set them aside. The aromatics are also easy enough to chop, measure, and prep in advance. Then at the last minute, just get cooking.
The saag sauce cooks quite rapidly, as does the chicken, which is cut into bite-size pieces. Your authentic, homemade Indian meal will be ready before you know it!
Technically, you can even cook the spinach sauce ahead of time and refrigerate it, and then finish the dish by cooking the chicken and adding the sauce to heat it through.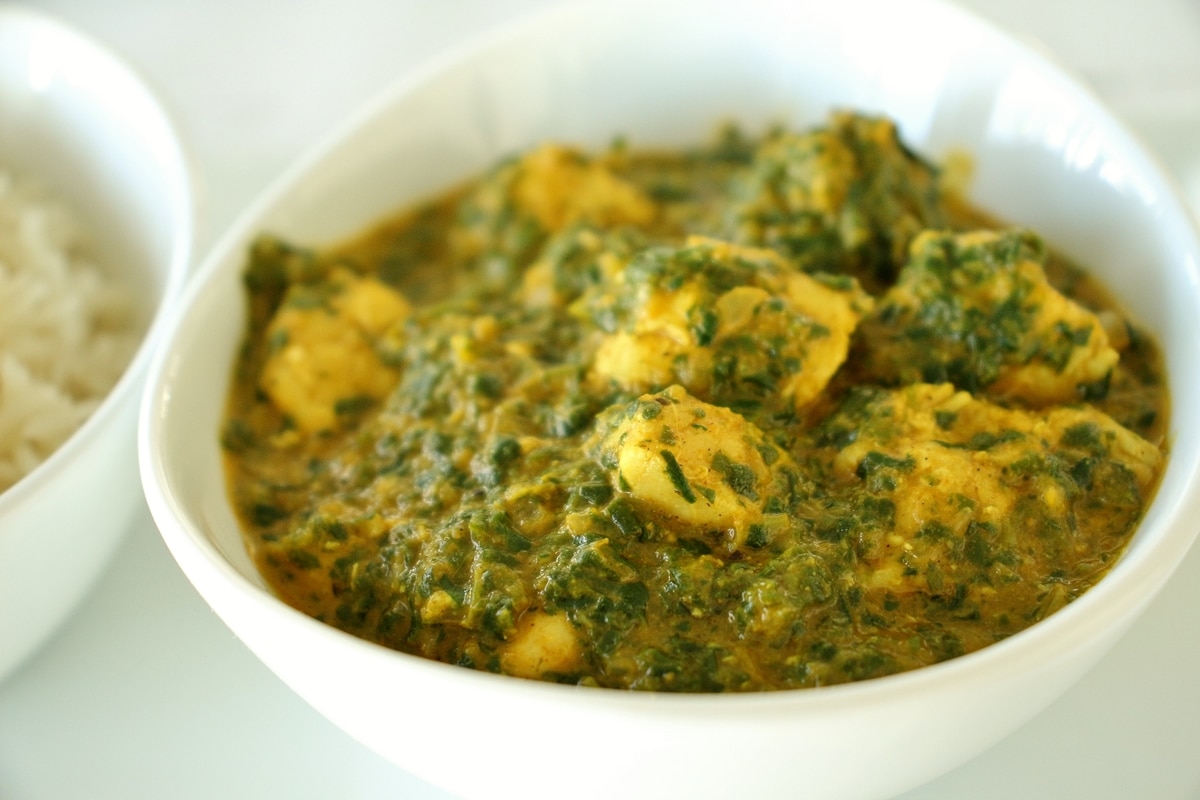 Other recipes you may like
This curry is quite healthy compared to many other curry dishes. The amount of oil is minimal, but can be reduced further if you prefer. You may also use reduced fat or fat free plain yogurt to save a few additional calories. Although you can make this chicken saag recipe with chicken thighs, I prefer white meat which is also leaner than the alternative.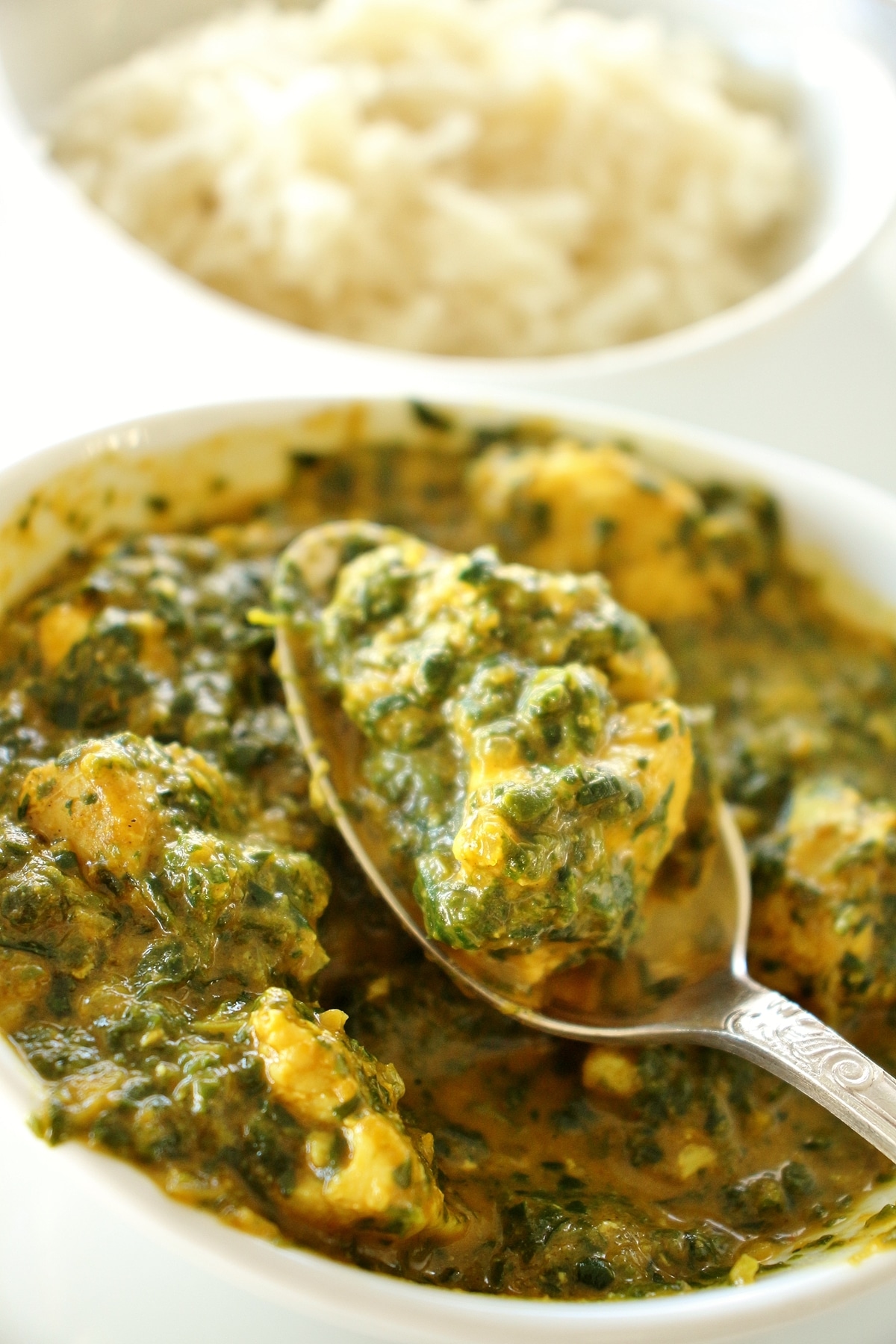 This authentic chicken saag curry is just as delicious reheated the following day. I've taken a portion to work for lunch and will admit it was probably the best lunch I've had at work in ages! If anything the flavor gets even better over time, and it's very easy to reheat in a microwave if that's all you have access to.
I typically serve this simple curry with plain basmati rice or jeera rice, basmati rice made with cumin seeds. The recipe comfortably yields 4 servings, although if you are super hungry you can divide it into 2 or 3 larger portions. You can also serve it with another dish, such as Chana Dal to expand the menu and yield more overall servings.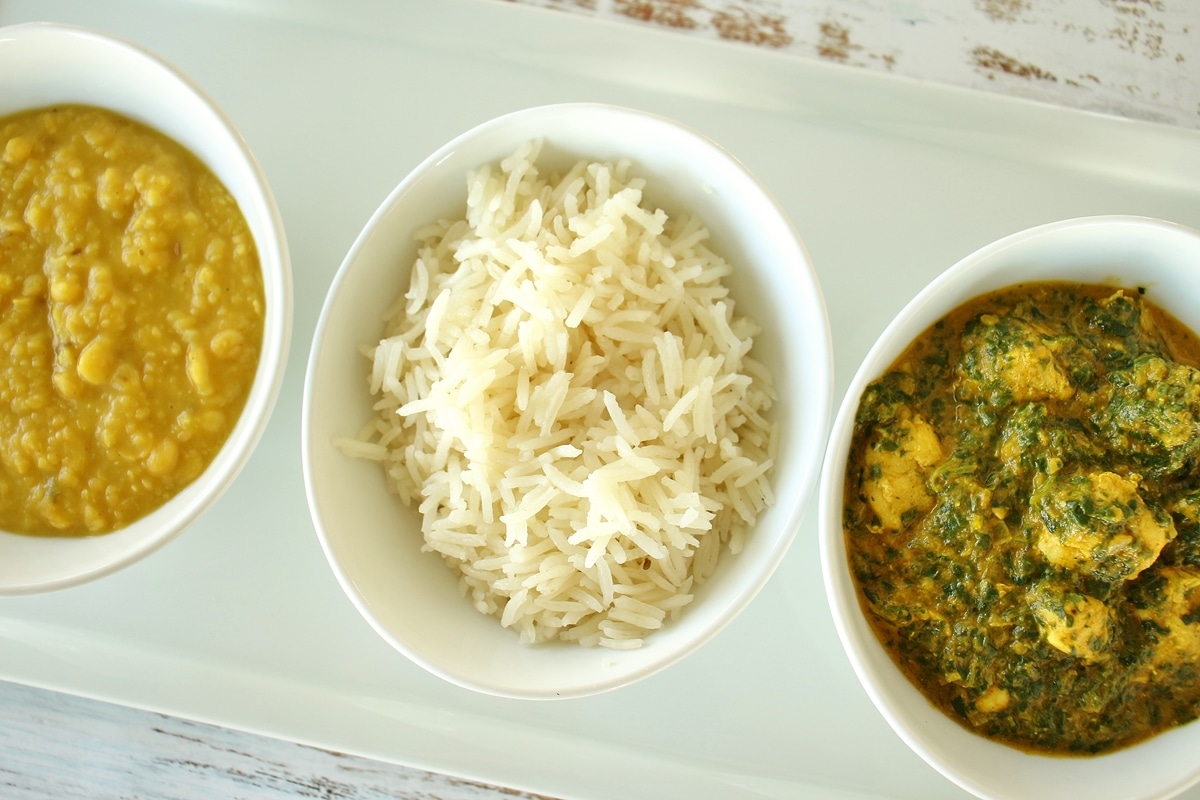 What is your favorite Indian dish to eat? Have you ever tried making it yourself at home? I would love to hear more about your experiences eating and cooking Indian food. Leave me a comment and a rating for this recipe if you've tried it. Thanks!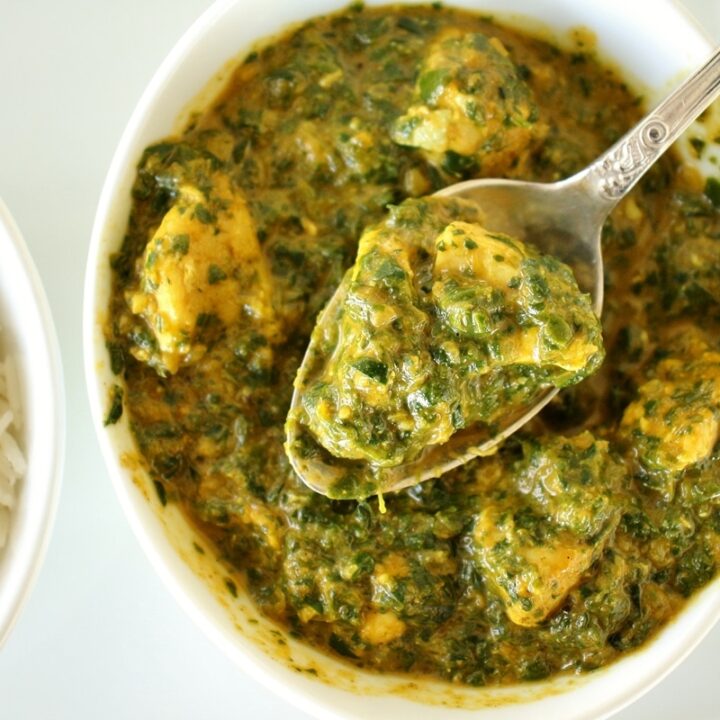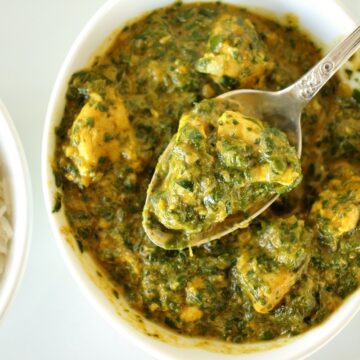 Chicken Saag
This quick and easy Chicken Saag is the fastest curry you'll ever make from scratch. It's healthy and delicious with a flavor bomb of spices. You'll never need to order Indian takeout again with this recipe in your arsenal.
Print
Pin
Rate
Ingredients
2

tablespoons

vegetable oil

1

large onion

finely chopped (about 1 cup)

2

cloves

garlic

minced (about 1 tablespoon)

2

tablespoons

minced fresh ginger

1 ½

teaspoons

kosher salt

plus more as needed

1 ½

teaspoons

ground coriander

1 ½

teaspoons

garam masala

1

teaspoon

ground turmeric

1

teaspoon

ground cumin

½

teaspoon

ground cardamom

¼

teaspoon

Indian chili powder or cayenne pepper

or to taste

1

tablespoon

tomato paste

½

cup

water

8

ounces

baby spinach or trimmed regular spinach,

washed and dried

1

pound

chicken breast or tenders

cut into 1-inch pieces

¼

cup

plain yogurt

preferably thick Greek-style yogurt
Instructions
Heat 1 tablespoon oil in a large nonstick skillet over medium-high heat (if you plan to double the recipe, definitely use a pot instead of a skillet so you have room for all the spinach!). Add the onion, garlic, and ginger and saute until softened, about 4 to 5 minutes, stirring regularly, and lowering heat to medium-low if it starts to brown too quickly.

Over medium heat, add the salt, coriander, garam masala, turmeric, cumin, cardamom, and chili powder, and stir on medium-low heat until fragrant, about 30 seconds or so. Add the tomato paste and water, and stir gently to dissolve the tomato paste and all the spices into the water, creating a thick spiced sauce, about 1 minute.

Add the spinach and gently stir to combine, as the skillet will be very full. Cover and raise the heat to medium-high, allowing the spinach to start to wilt. Occasionally remove the lid, stir, and then cover again until most the spinach has begun to wilt, about 3 to 5 minutes (can depend on the size of your spinach leaves). Remove the lid and finish stirring the spinach until it is completely wilted but still bright green, another minute.

Transfer spinach mixture to a blender and puree until relatively smooth but still a bit chunky (you don't want it to be super smooth, a bit of texture is good). Taste and adjust salt and spice if necessary.

Meanwhile, wipe the skillet clean with a paper towel, return it to medium-high heat, and add another tablespoon of oil. When the oil is hot, add the cubed chicken pieces, sprinkle salt over the top to season, and cook until almost completely cooked through, about 5 to 7 minutes. Pour the spinach mixture back over the chicken, using a rubber spatula to get every last bit out of the blender, and cook for another 2 to 3 minutes to allow the flavors to meld and the chicken to finish cooking. Stir in the yogurt, and serve immediately with basmati rice and/or naan.
Notes
You can also use a combination of dark leafy greens in this recipe. Try half spinach and half kale, mustard greens, or Swiss chard as another option. Those other greens are more bitter and will change the general flavor of this curry. This is simply a matter of personal preference.
This recipe uses kosher salt (aka cooking salt, kitchen salt, coarse salt outside of the US). If you are using table salt, definitely scale down the salt as that is a saltier type of salt! The type of salt will make a big difference in how salty your food tastes, so keep that in mind.
Nutrition
Calories:
438
kcal
|
Carbohydrates:
26
g
|
Protein:
18
g
|
Fat:
30
g
|
Saturated Fat:
6
g
|
Polyunsaturated Fat:
5
g
|
Monounsaturated Fat:
2
g
|
Cholesterol:
53
mg
|
Sodium:
1504
mg
|
Potassium:
342
mg
|
Fiber:
3
g
|
Sugar:
4
g
*All nutritional information is based on third-party calculations and should be considered estimates. Actual nutritional content will vary with brands used, measuring methods, portion sizes and more.*