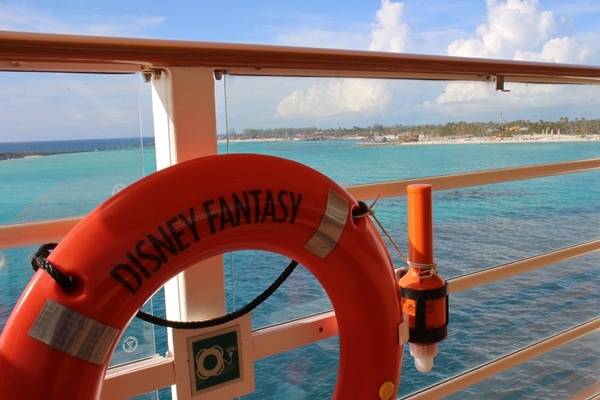 Today is the last day of our magical Disney Cruise, and it's always bittersweet. It's my favorite and least favorite day all at once, because it's the day we visit everyone's favorite port of call Castaway Cay, Disney's private island in the Bahamas, but it also means all the fun is coming to an end. Until next time, I guess.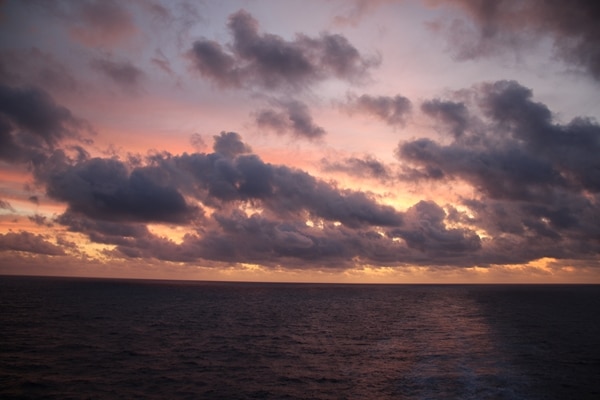 In honor of our last day, the sun decided to give us a beautiful show this morning as it awoke from the horizon.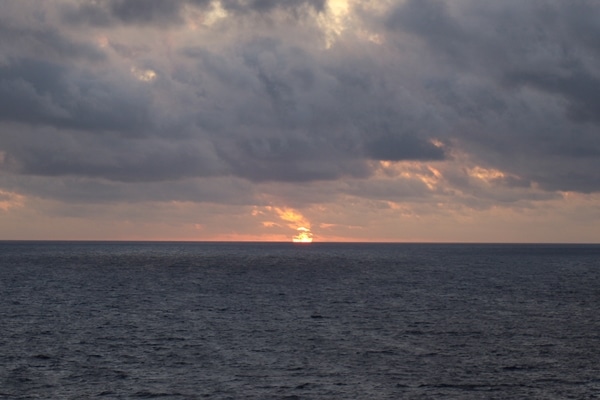 We decided to eat our breakfast on the deck behind Cabanas to take in the extraordinary view.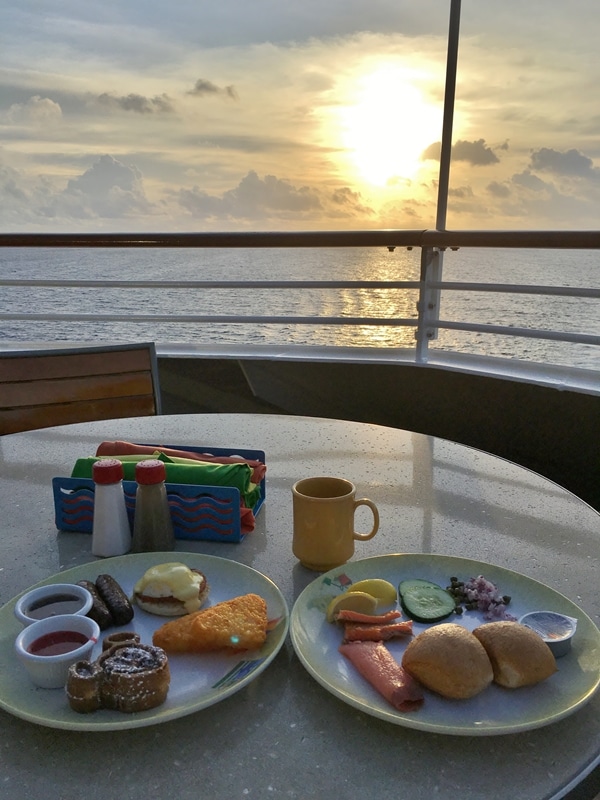 And before we know it, we're already docking at Castaway Cay! I don't know about you, but I'm ready to get off the ship one last time to visit my favorite island.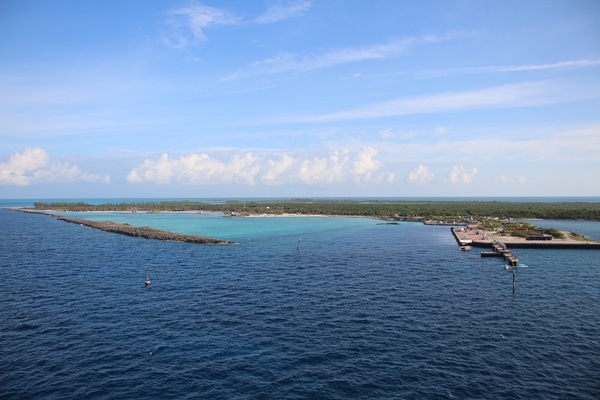 We always head to the second tram stop, Pelican Point, where we have access to one of the family beaches, Pelican Plunge (the water slides), the snorkeling lagoon, and more.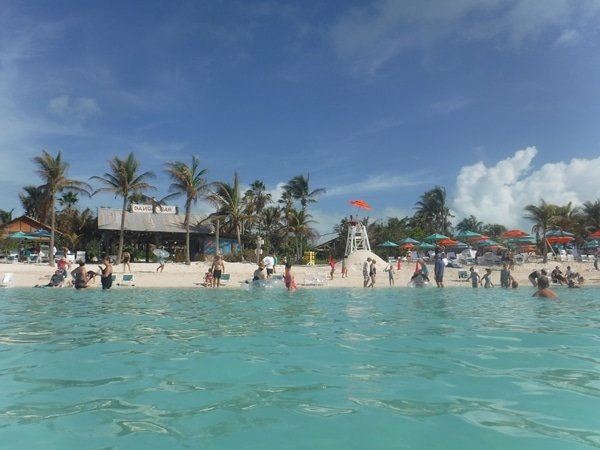 Pelican Plunge is so much fun! You have to swim out to the platform, but it's not super deep, I think about 6 feet or so. There are two slides, but I usually prefer the open-top slide as it's longer with more twists and turns.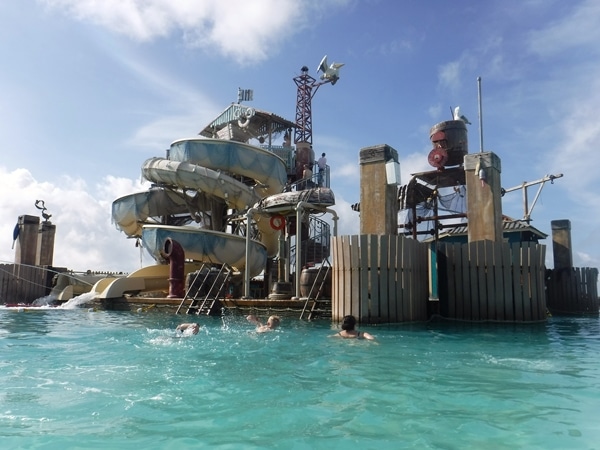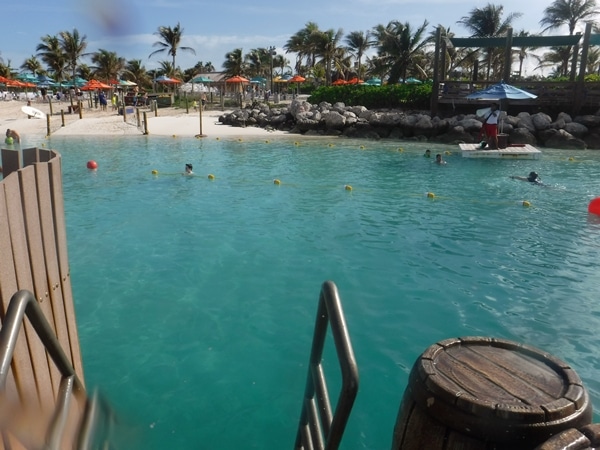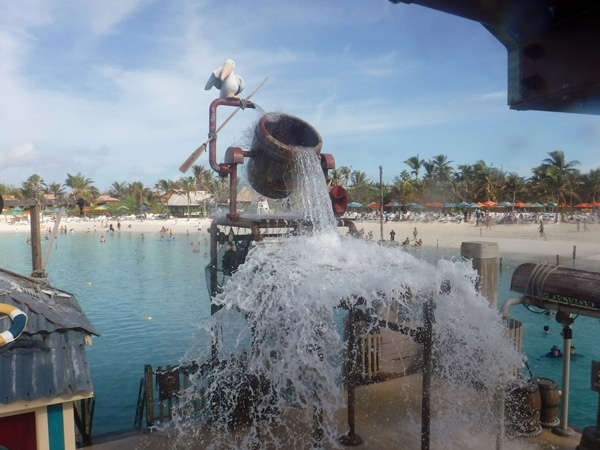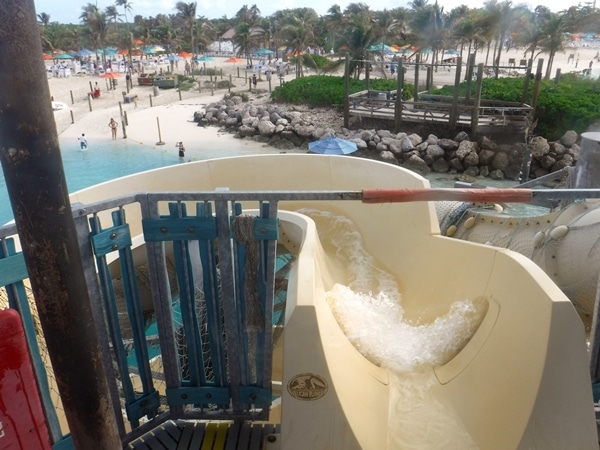 We hung out at the family beach for a while longer, and a bit later mom and I split off to head to Serenity Bay, the adults only beach, a short tram ride away. After the recent hurricane in the area there has been tremendous erosion at Serenity Bay, and it's not quite back to normal. We noted that the beach was super shallow about as far as the eye could see.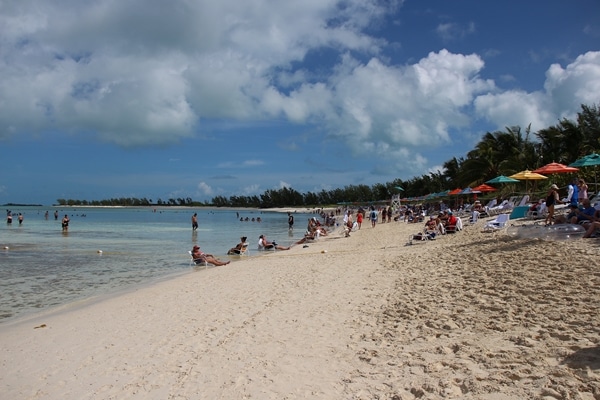 There was also a serious lack of available beach chairs by the time we arrived, but we managed to find a couple chairs and drag them near each other, near another grouping of chairs in the shade. After taking in the view for a bit, we headed to lunch where we noshed on the standard fare of hamburgers, hot dogs, etc.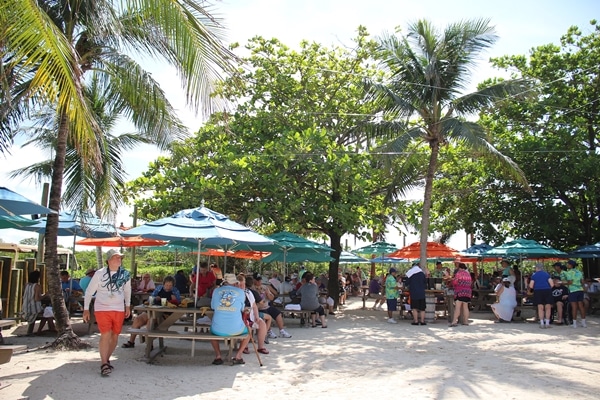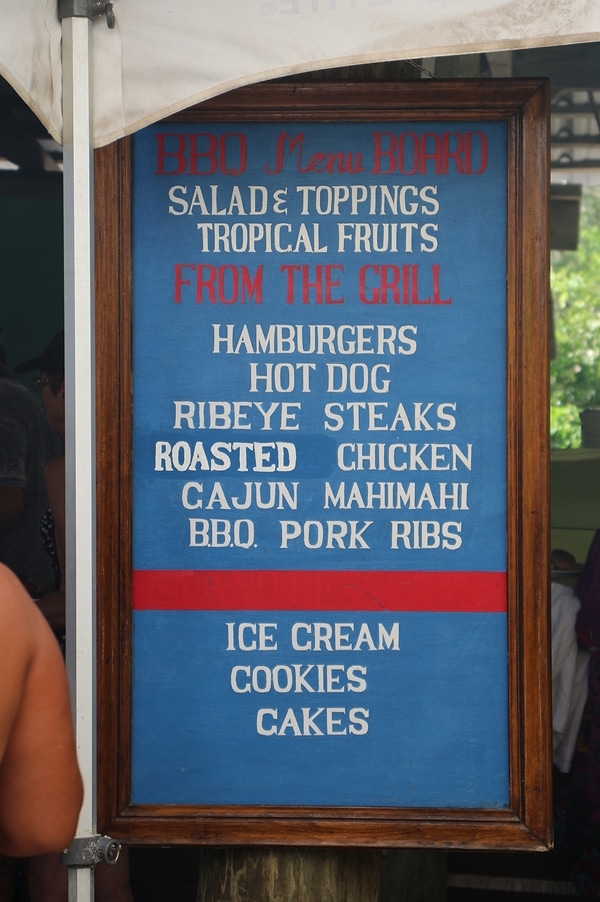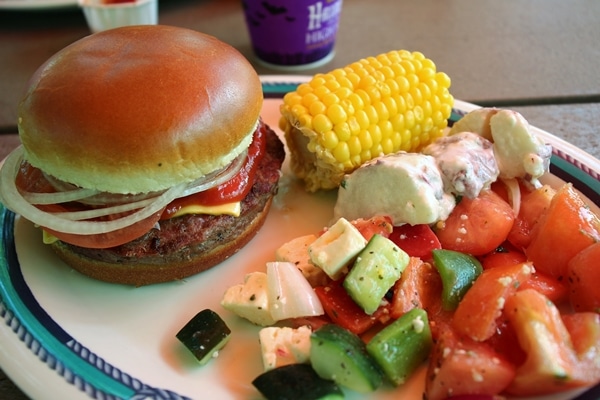 When we returned to our beach chairs we were surprised and irritated that the group of people who had commandeered the chairs near ours had pushed our chairs away from their area (as if they owned the beach) with total disregard to our things. My flip flops were practically buried in the sand. I couldn't believe people could behave so entitled and rude. Mom and I felt really uncomfortable after that, and decided to head back to the family beach where the water was deeper and better for swimming, and there was an abundance of beach chairs. I've never had such a negative experience like that on Serenity Bay before. I know people usually stake out hammocks and beach chairs like nobody's business, but I've NEVER had people actually move my things away from their's like that. WOW. I'm still pretty livid.
I'm washing my hands of that whole experience and moving on. The weather was truly perfection, and the water was warm and serene. We enjoyed a bit more time on the island before heading back to the ship to shower and pack (BOO!).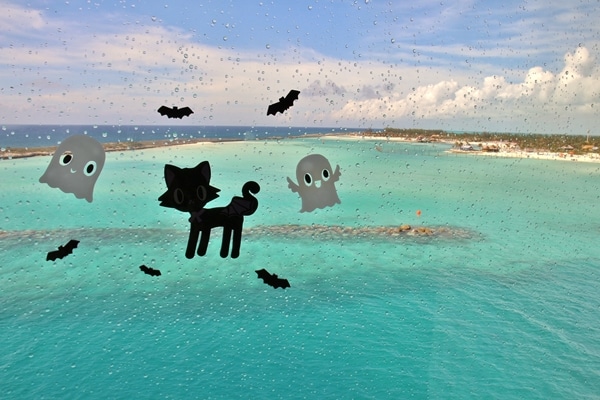 We situated ourselves with the perfect view prior to the ship's departure from port. It was fascinating watching the crew load and unload food and supplies, and gather the thousands of used towels that were discarded in towel bins throughout the island. My mind was blown by the sheer number of towels carted back to the ship on trucks!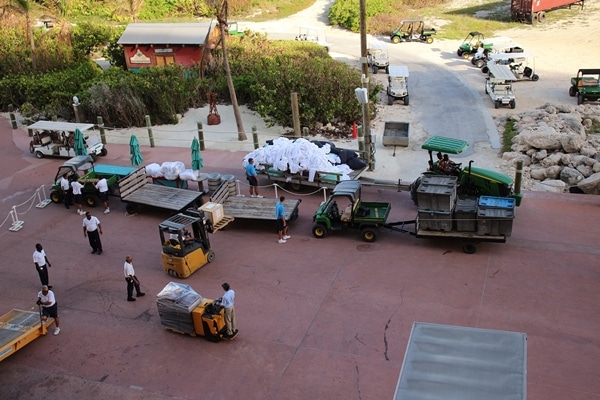 It's time to say goodbye to Castaway Cay, but we will be back again someday. It's impossible to stay away...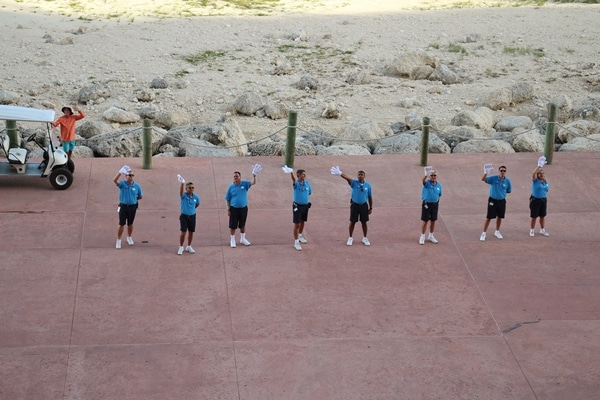 We've saved the best for last, dinner at Palo, the adults-only upscale Italian restaurant on board. The additional cost to dine at Palo is $40 per person at the time of this post (always seems to be going up!) but if you are a Platinum Castaway Club member or staying in the same stateroom as a Platinum cruiser, then you get a free meal at Palo, which is a sweet benefit for avid cruisers.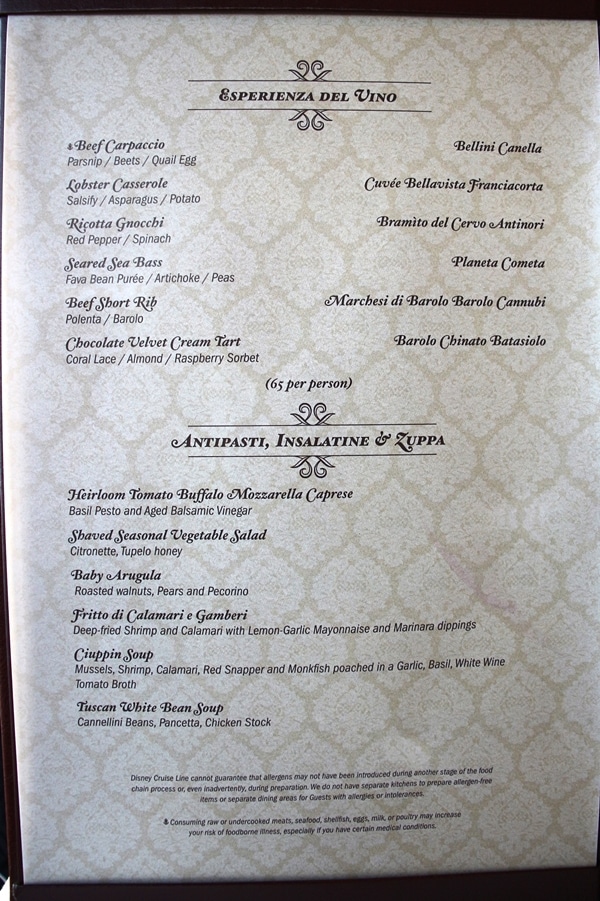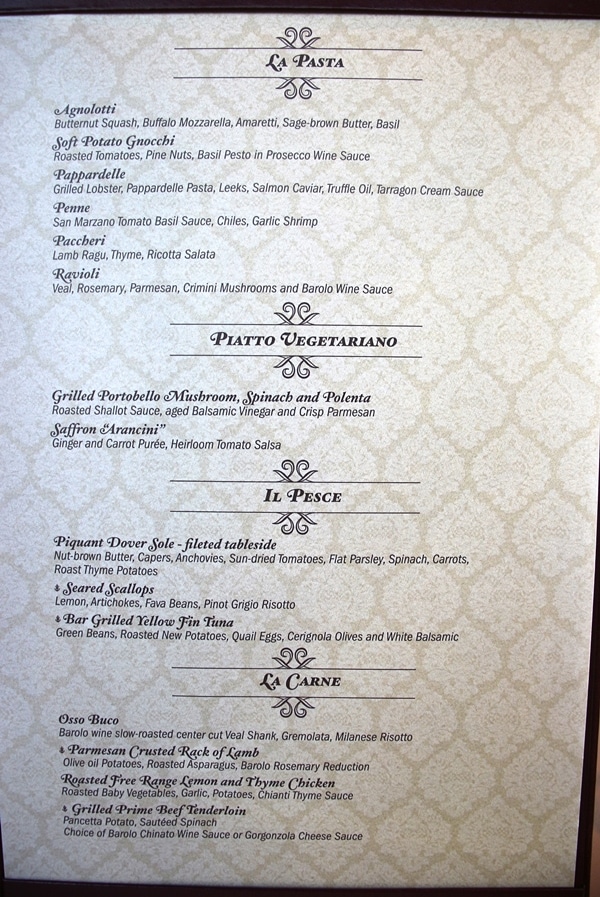 Our server tonight is Sasa (pronounced Sasha) from Croatia. He may have been our Palo server during a previous cruise, but I'm not 100% sure. Palo and Remy, the two adults-only restaurants on board not only boast exceptional food, but also the best dining room service you will find anywhere on the ship. The service is like night and day compared to our inexperienced serving team in the main dining rooms. Sasa was FANTASTIC! He was humorous, attentive, thoughtful, and basically perfection personified.
For the first time at Palo, we started our meal with a bit of a surprise. Apparently the chefs at Palo and Remy are engaging a little friendly competition by preparing an amuse bouche for diners. We didn't sample the amuse bouche prepared for Remy, but we were offered a fried potato gnocchi with porcini mushroom sauce and Asiago cheese from the Palo chefs. It was sublime!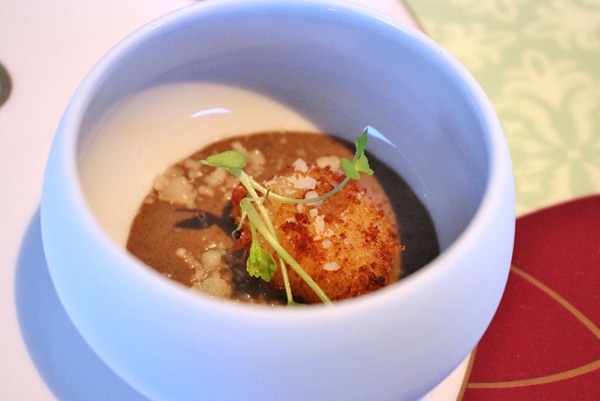 A meal at Palo typically starts with your server rolling the antipasti cart over to your table and preparing a plate of antipasti tableside. This is something we always look forward to and enjoy. The quality of ingredients is always exceptional. Sasa made two plates for the four of us, and drizzled all three infused oils (chile, thyme, and rosemary) along with a 12-year-aged Modena balsamic over our smorgasbord of antipasti. Yum!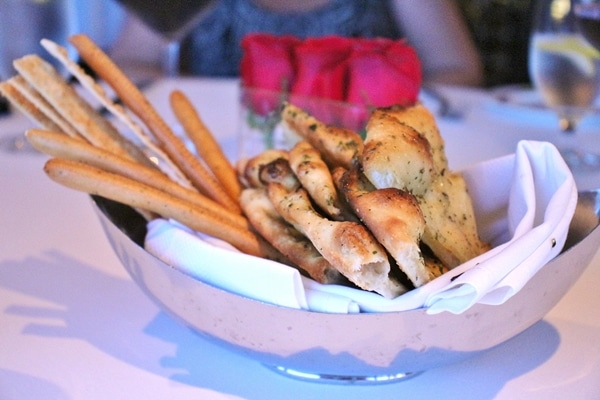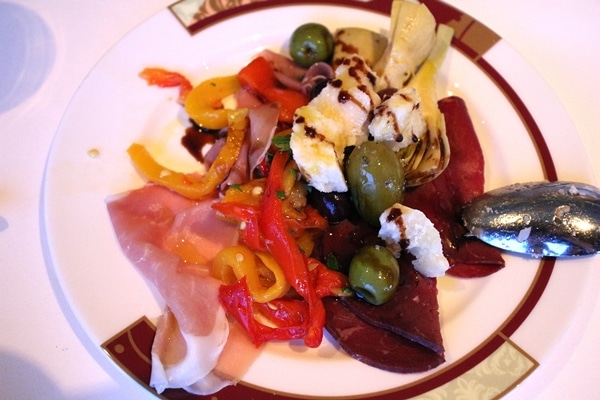 Our next course consists of appetizers. I tried the heirloom tomato buffalo mozzarella caprese which was AMAZING. The quality of the mozzarella, heirloom tomatoes, and 12-year aged balsamic was incredible. It was such a fresh and perfect starter, with lusciously soft mozzarella. This is the caprese that all other capreses should be measured by.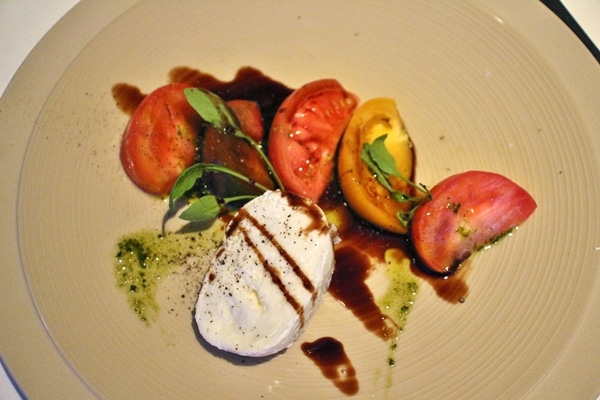 We also sampled the fried calamari and shrimp with lemon-garlic mayonnaise and marinara. Two thumbs up for fried seafood.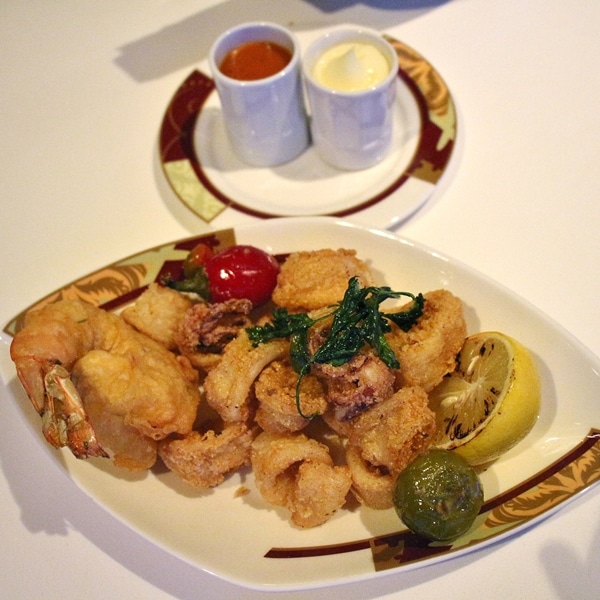 We simply cannot dine at Palo without trying some of their mouthwatering pasta dishes. We narrowed down four of the pasta selections and sampled them all, creating our own little pasta buffet!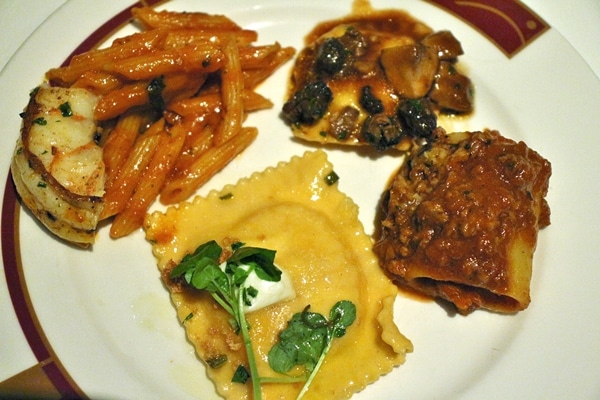 All four were out-of-this-world delicious. The penne with San Marzano tomato-basil sauce, chiles, and garlic shrimp was the simplest preparation, but perfectly executed and packed with flavor.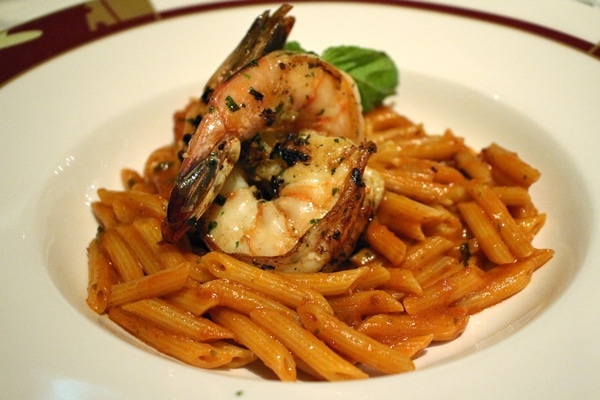 Luscious ravioli is stuffed with braised veal, and served with cremini mushrooms and a Barolo wine sauce. It's intensely savory and decadent without being too rich. This is a great stuffed pasta!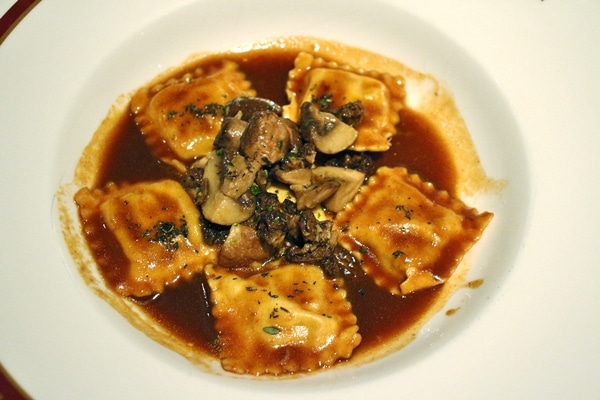 We also upped our stuffed pasta game with a sweet preparation of butternut squash agnolotti with buffalo mozzarella, amaretti, sage-brown butter, and basil. This is a beautiful fall-inspired pasta that will tantalize your taste buds.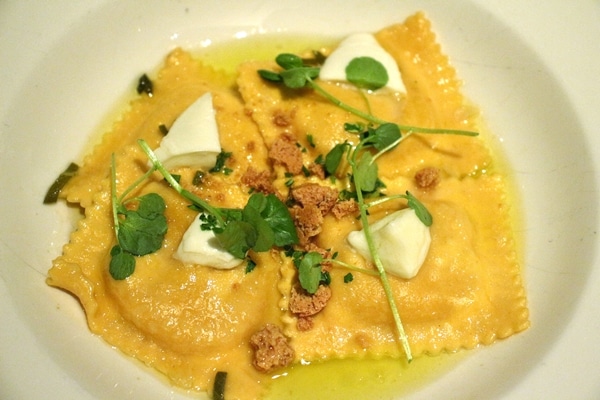 Last but certainly not least is the paccheri, which translates to "slap in the face" or mouth. They are large tubes cloaked with the most epic lamb ragu and finished with ricotta salata. For me this was the dark horse. I love meat sauce, but have never eaten a ragu made of lamb (as opposed to beef) before, and holy pasta Batman, this is the one I sampled seconds and thirds of. A bowl of this pasta in the dead of winter would surely melt away the winter blues.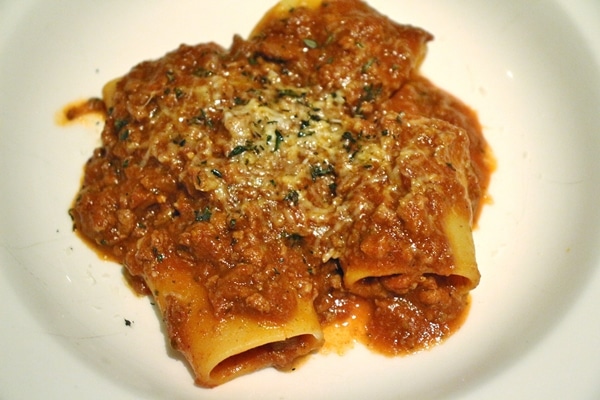 After our amuse bouche, antipasti, and pasta sampling, we were already starting to get full but still had more courses coming! A lemon sorbet intermezzo is the palate cleanser before the main event.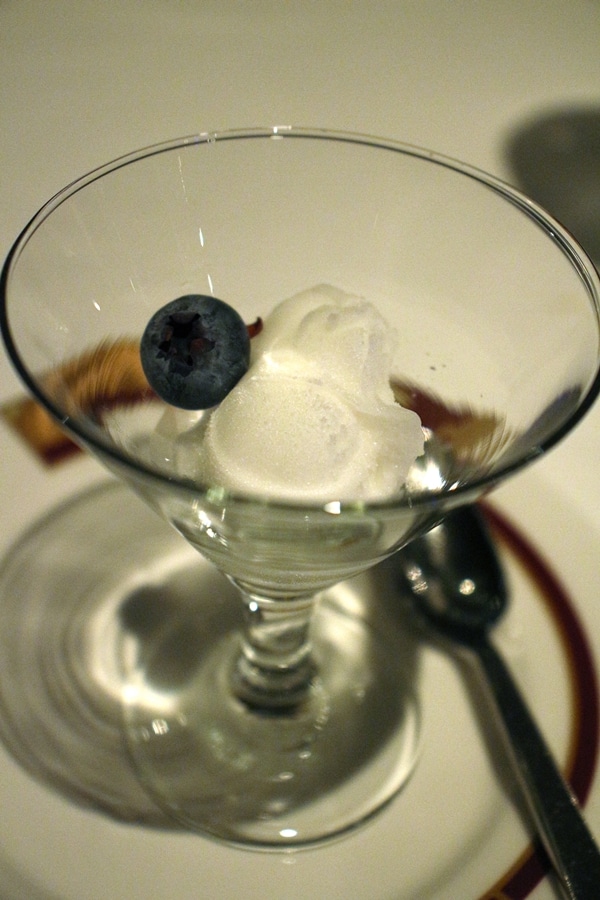 In the past I had tried the seared scallops, and enjoyed them very much. The scallop preparation had recently been changed, so I was excited to try the new rendition of a dish I already loved. Now it's served with lemon, artichokes, fava beans, and a pinot grigio risotto. All elements were cooked perfectly. The scallops were tender and nicely caramelized while the risotto was creamy with a nice bite.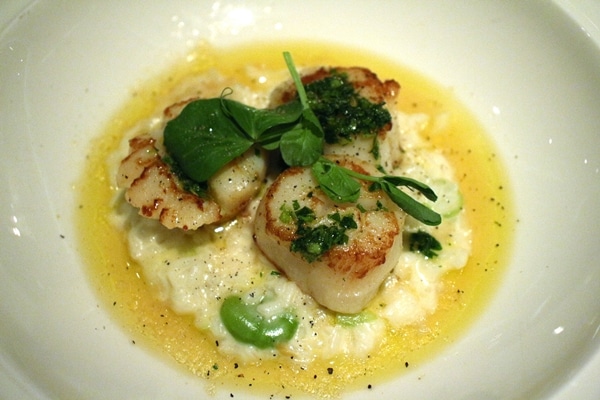 Once again, mom ordered the sole, which is filleted tableside. What a gorgeous plate of seafood!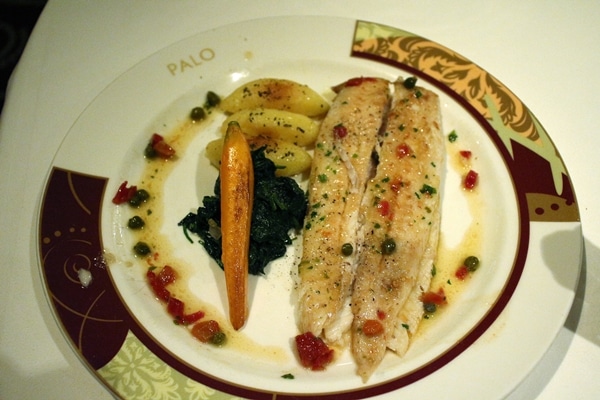 We had initially considered trying the new cheese course prior to dessert, but couldn't manage another course. TOO. MUCH. FOOD. There is no way we weren't going to have dessert, however, as the chocolate soufflé is one of the things we look forward to most on a Disney Cruise. It's always the perfect punctuation to a dinner at Palo.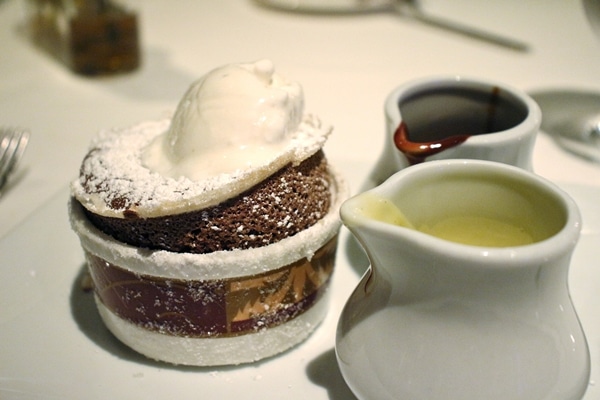 The real punctuation to our meal is a small shot glass of scroppino, an Italian cocktail made with lemon sorbet and vodka.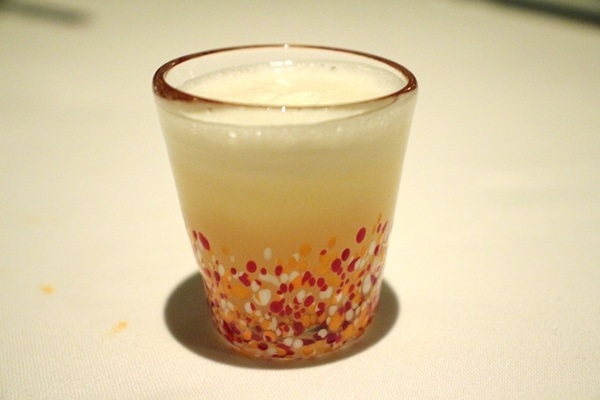 Thank you for joining me on this Halloween on the High Seas adventure on the Disney Fantasy! Over the past week we have cruised the Eastern Caribbean, visiting exotic ports of call, hanging out with our favorite Disney characters, and enjoying the most beautiful cruise ship around. We hope to "See Ya Real Soon," Mickey 😉
Disney Fantasy Halloween on the High Seas Eastern Caribbean Cruise (October 2019):