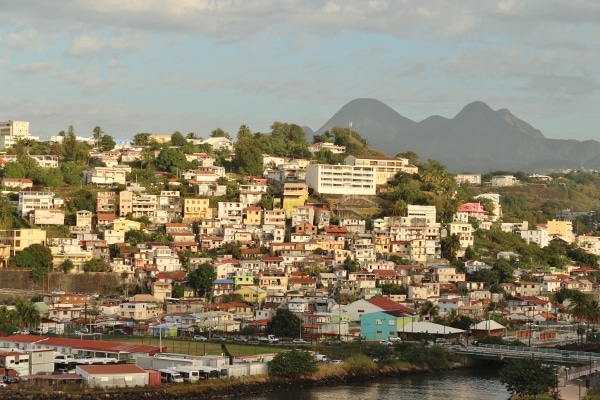 So far on our trip we have explored a couple of fascinating and stunning Puerto Rican caves, traversed the Isle of Spice and learned all about spice and cocoa production in Grenada, and had some close encounters snorkeling with sea turtles in Barbados, among many other fun and exciting experiences as we sailed with Disney Cruise Line on their Southern Caribbean itinerary.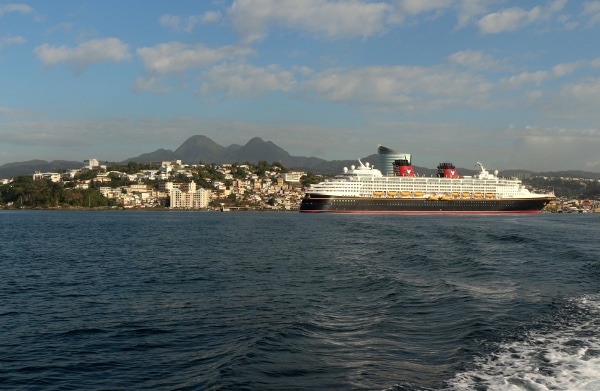 Our next island adventure takes place in Martinique, which is a new port of call for Disney this year. Martinique is an overseas department of France, giving the island a European flair that sets it apart from many of the other islands in the area. Having the economic backing from France really helps Martinique avoid some of the poverty that is unfortunately common in the Caribbean. The main language spoken here is French, and the currency is the Euro. Martinique is about as French as you can get, French flags and all.

Here's a bit of interesting history about Martinique. Christopher Columbus landed here in 1502, but the Spanish had little interest in the island. France colonized here by the 17th century, and established forts and sugar plantations in the area. In 1763, England conquered the island, but France elected to give England control of Canada in exchange for keeping Martinique and Guadaloupe because the sugar trade here was so valuable. Martinique is also referred to as the "island of flowers" and the Pays du Revenants, or "the land to which one returns." I can certainly see why.
First things first, the view of Fort de France, the capital of Martinique, is absolutely stunning from the ship with its colorful hillside buildings and the pitons du carbet stretching into the sky beyond.
Martinique presented a huge challenge to us in finding an independent tour (everything we found online was in French, and seemed very limited), so because of this we booked our port adventure directly through Disney Cruise Line. We selected the "Grand Anse Beach and Turtle Discovery" tour. Although we booked through Disney, the local tour company that provided the tour was called Ykeva (they appear to charge €50.00 for the experience, while Disney ups the price to $79 for adults--eek!). Our tour guide Chantal directed us to the catamaran with submarine vision that would be our vessel for this journey.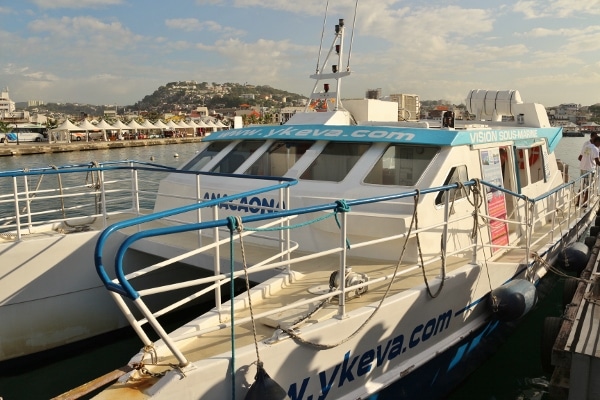 We sailed south through the Bay of Fort de France, an absolutely stunning area with epic views of the city and the Pitons du Carbet. As we sailed further south, we could actually see the outline of Mount Pelée farther in the distance to the north. You can faintly see it on the left hand side of the photo below.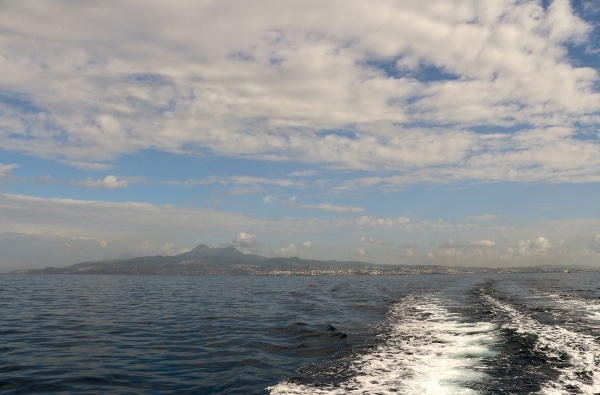 As we sailed, Chantal discussed topics ranging from the history of Martinique, and how it developed from volcanic activity over 400,000 years ago, to the large banana production on the island, approximately 90% of which is shipped directly to France. As we learned more about this French bit of paradise, she pointed out other interesting sites. We sailed by Ilet Ramier, or Pigeon Island, an important nature preserve hugging the coast.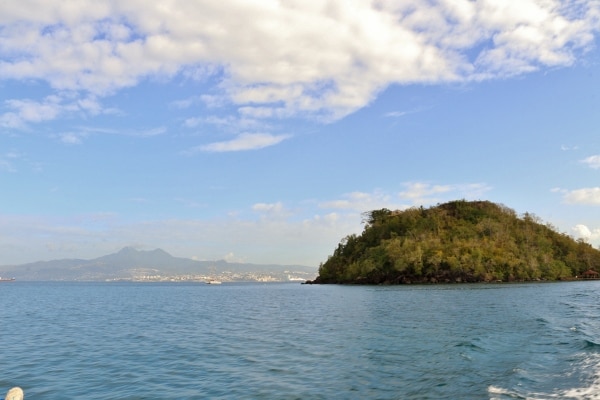 Not too far from Ilet Ramier we discovered the Bat Cave, where there are other excursions offered to actually snorkel within the cave. We pulled our catamaran right up to the entrance of the cave, and could see a line of bats along the right hand "crack" of the cave opening.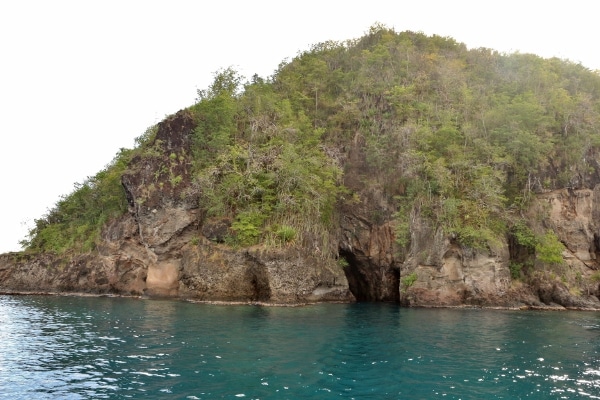 I will also point out how incredibly crystal clear the water is. I could see right to the bottom, and it wasn't very shallow where we were either. I would LOVE the chance to snorkel here in the future. I imagine the visibility would be outstanding. We could see plenty of fish even just looking down from the boat.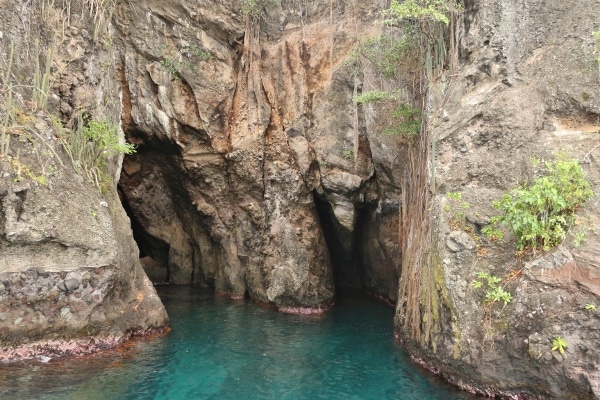 After this short detour, we continued on our way to Le Grande Anse d'Arlet, where our tour group would split up. Half the group would spend time on the beach, while the other half enjoyed the submarine vision on the catamaran to see turtles underwater. Then the groups would switch. We were in the first group to go to the beach.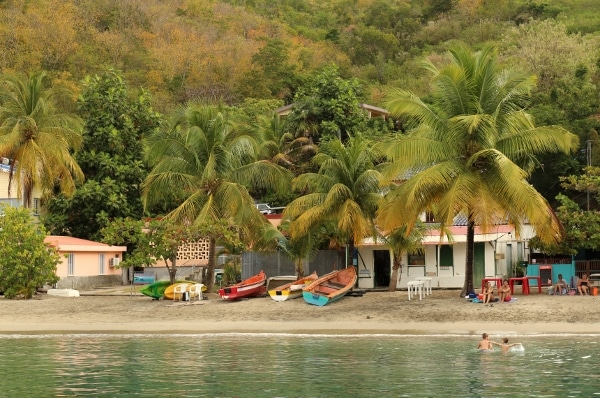 Although the water at this beach is not the same bright blue as we found in Barbados, I will say that this beach was still amazing for several reasons. One: the variety of palm trees on Martinique has a golden hue, which I find particularly enchanting.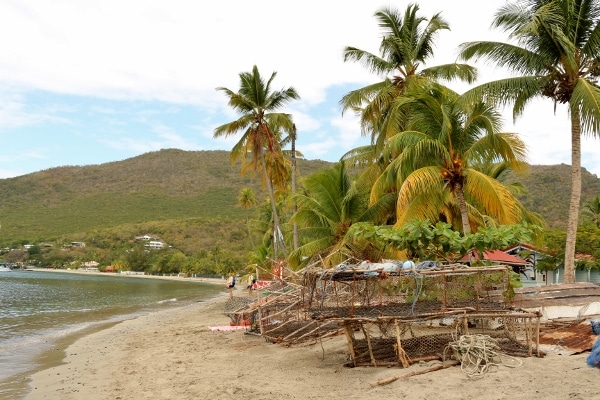 Fishing traps on the beach
Two: the water is crystal clear, pristine, and calm. I prefer a beach with calm water, and this beach had the calmest water of any of the beaches we visited on this trip (even including the upcoming ones in Antigua and St. Kitts).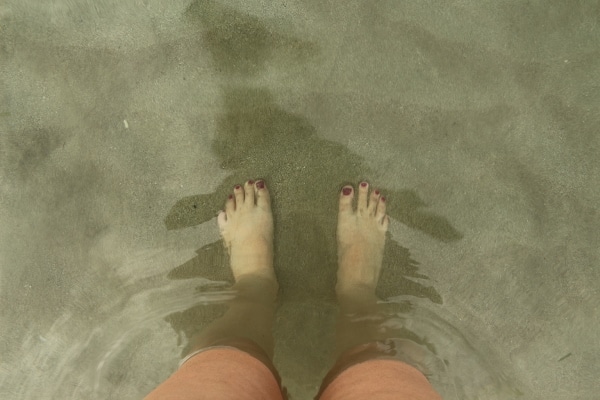 Three: the beach was uncrowded and made up of mostly locals with the exception of our small group of cruise ship passengers. These are just a few reasons why I fell in love with this small stretch of beach.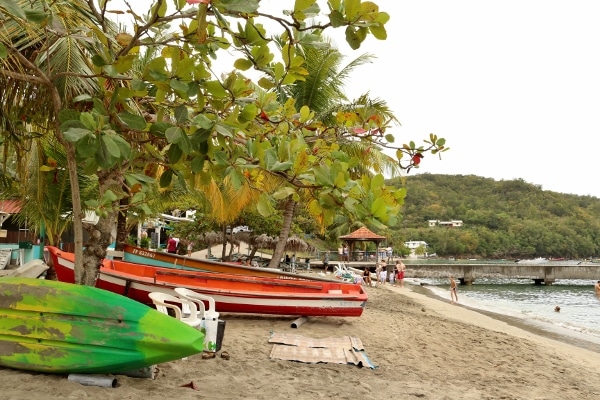 I will also tell you that the beach was very French. We saw a topless female sunbather, and a group of young men jogging along the beach carrying baguettes and wine. If that doesn't epitomize French beach behavior, then I'm not sure what does, haha.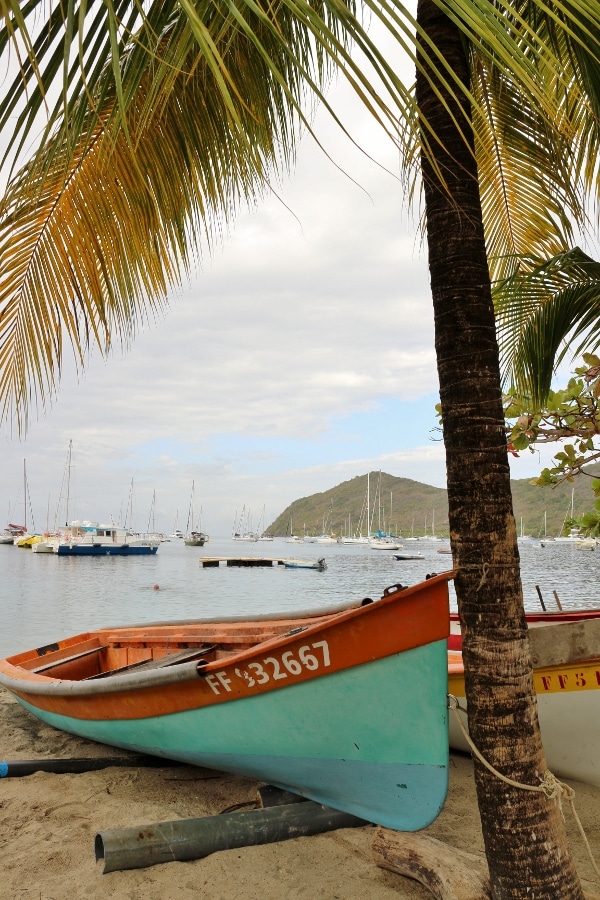 After our brief, but amazing visit to the beach, it was our turn to board the catamaran again for the "turtle discovery" portion of our tour. We climbed below and checked out the submarine vision as we made our way around the small bay. We saw several turtles, but the visibility was not as clear as when we snorkeled with turtles the previous day. It was still pretty cool, though. Honestly, I would have preferred to just spend more time on that beach!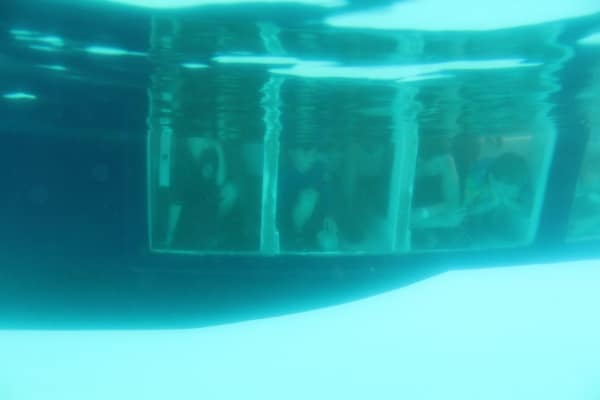 Submarine vision!
After the rest of the group boarded the catamaran, we were back on our way to Fort de France. Chantal took this opportunity to educate us on the rum production in Martinique. From what I remember, there are 7 rum distilleries on the island, which produce 14 million bottles of rum annually.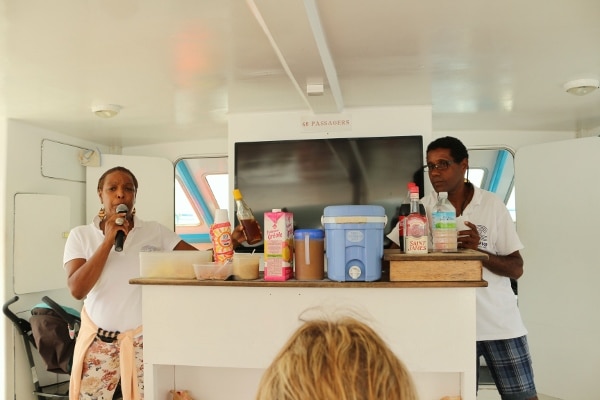 We had the delicious opportunity to sample some of that Martinique rum, with mixers such as orange juice, pineapple juice, and guava juice (of course for the youngsters, they could simply enjoy the juice). I mixed my rum with pineapple and guava juices. It was delicious! Chantal also passed out some other refreshments, such as these small slightly spicy pork pastries wrapped in flaky dough. They were excellent! I had a couple and would have loved even more.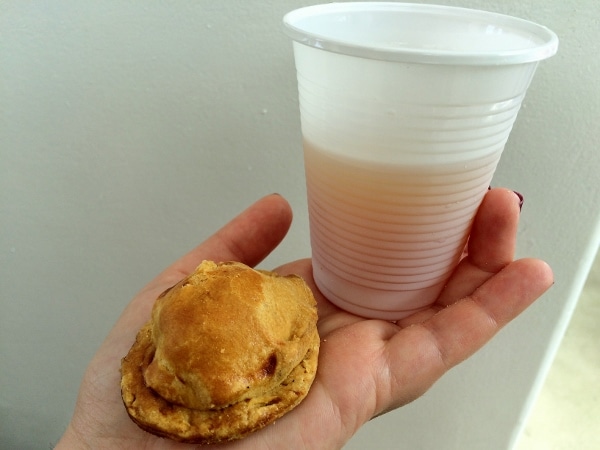 My hand was the plate. I made it work!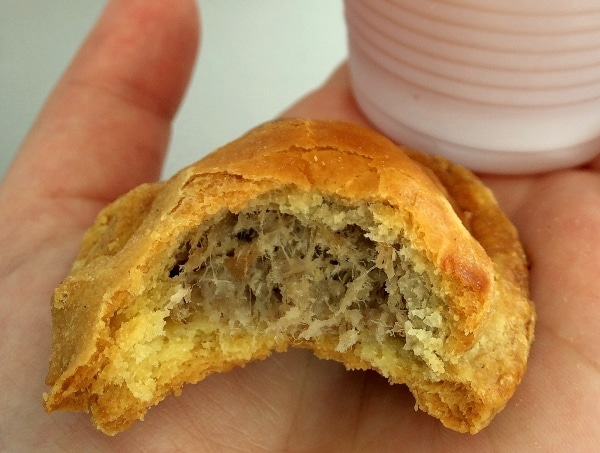 As a sweet treat, she also passed out tender cakes made with coconut and guava marmalade. The coconut flavor was very mild, as was the sweetness. The pop of flavor came from the thin sheen of guava at the base of the cake. I had two pieces, and they were so delicious!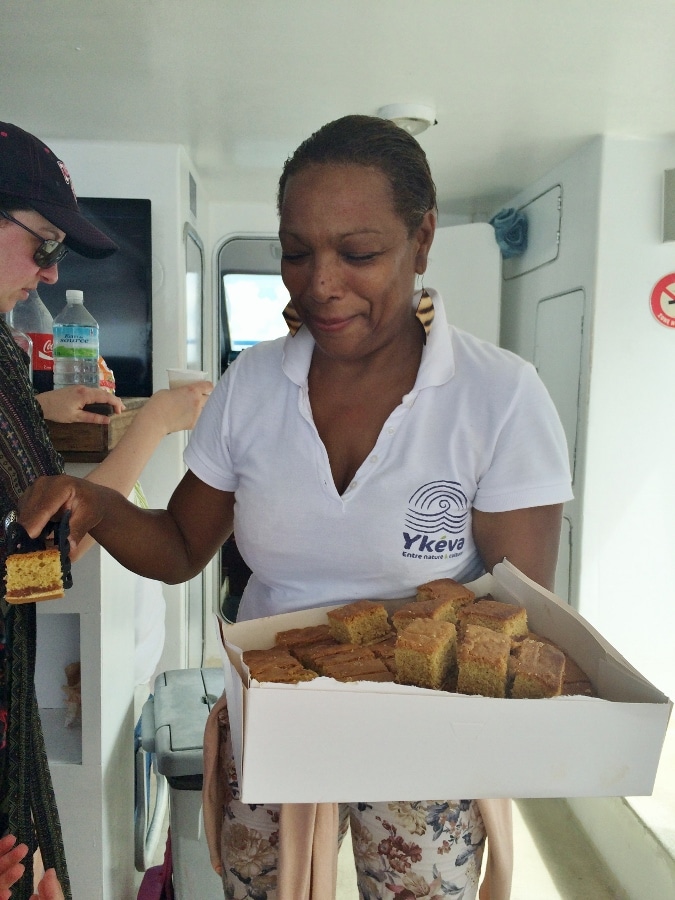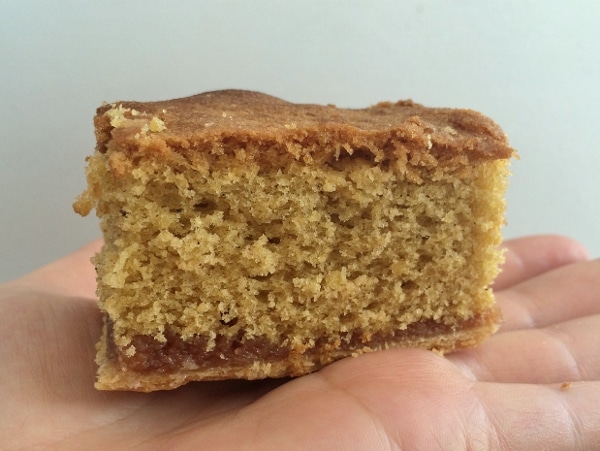 These snacks helped hold us over as we traveled back across the bay to our ship. It was lunchtime and we were still really hungry. We elected to dine at Triton's for lunch again.
My choice for starter was the Lobster Ravioli. The very first bite had a strong seafood flavor, but after digging in a bit more, I enjoyed the ravioli more as it mellowed out with the tomato broth.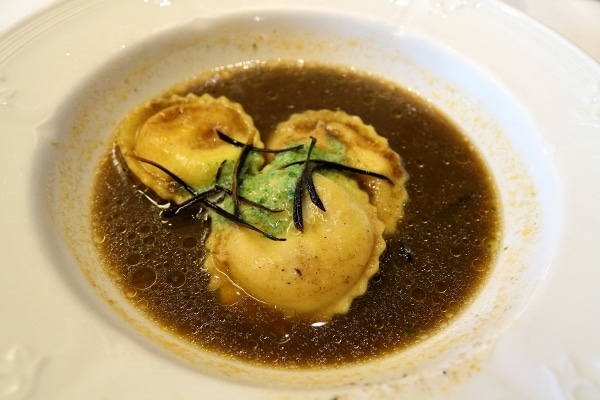 A couple members of my family selected the Meze, featuring red pepper hummus, tabbouleh salad, marinated olives and pita bread. They loved it, and after a taste I would agree that it was even better than the ravioli.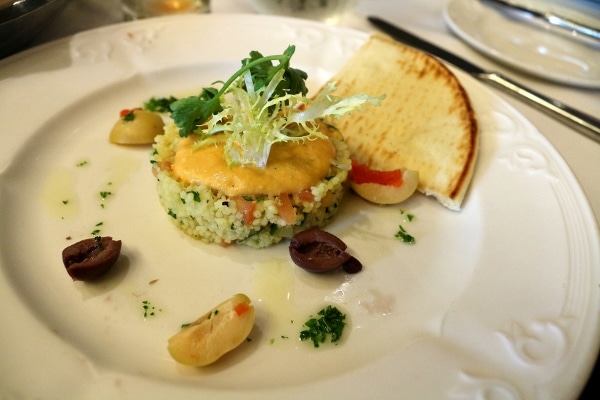 I couldn't resist the Mexican Tortilla Soup with black beans. I've eaten Disney's tortilla soup on previous cruises in the lunch buffet, and I'm sure it's the same recipe here. It was really good with some crispy fried tortilla chips on top to soak up the broth. This is a solid choice.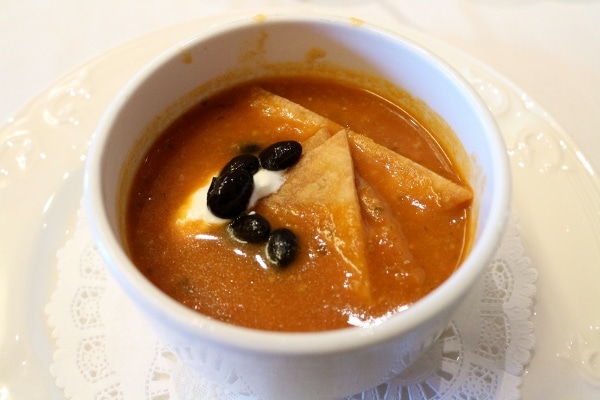 For entrees, the Mild Chicken Curry with basmati rice and popodum was great. It wasn't what I ordered, but I tasted it and really like it. It's definitely mild, but very flavorful.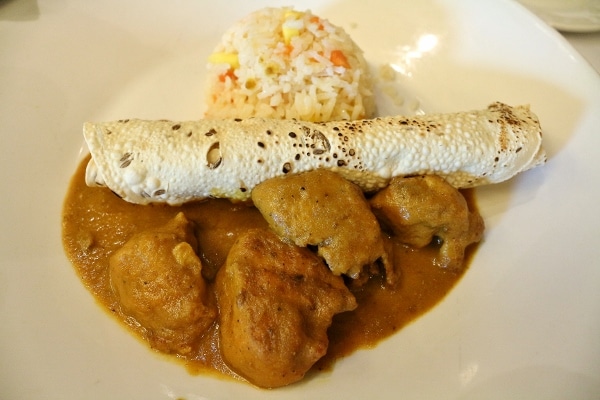 My lunch consisted of the Cheese Croissant Sandwich with minute steak, caramelized onions, Swiss cheese, and horseradish mayo. The steak was a bit fattier than I typically prefer, but otherwise it was a tasty sandwich. I was already pretty full from my previous courses so I didn't end up finishing it, but it did hit the spot. Next time I'd probably go with the chicken curry though.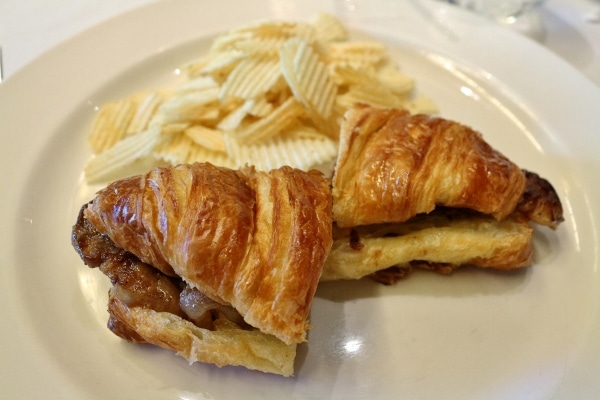 After lunch, my mom and I headed back out to the island to do some souvenir shopping.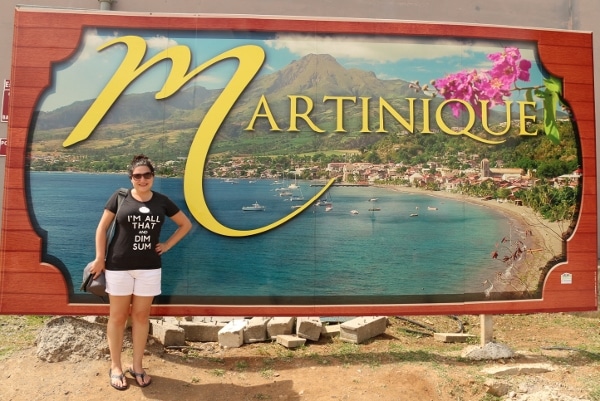 I found some beautiful earrings which I purchased, as well as some artisanal soaps made with coconut oil and natural scents and colors, and perfumes made from sugar cane, all made by Akaya. The quality of products available at this port were a bit more interesting than at some of the other ports. There was a mixture of "touristy" souvenirs as well as unique crafts.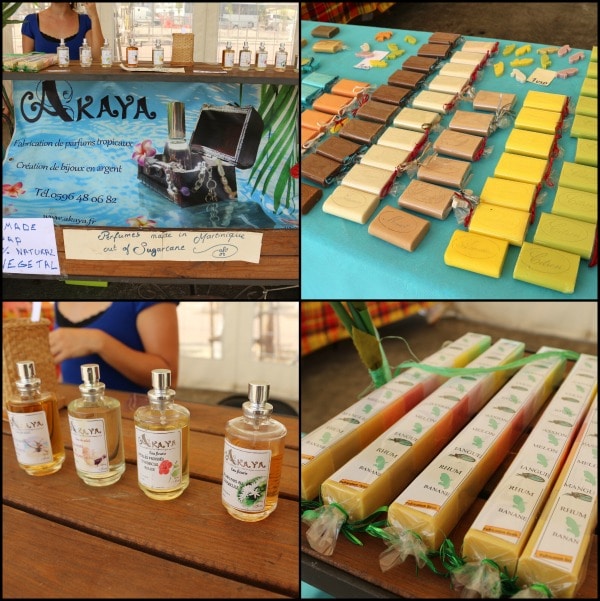 After wrapping up our purchases on the island, we headed back to the Disney Wonder to prepare for Pirate Night on the ship, but not before spending some time enjoying the marching band from Martinique entertaining us on the dock as a festive sendoff.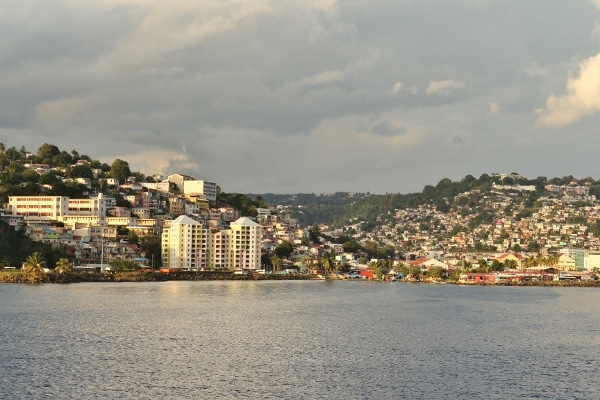 Au revior, Martinique!
So, like I mentioned above, it was Pirate Night on the ship. This is one of my favorite Disney Cruise Line exclusive celebrations. Disney is the only cruise line that does fireworks at sea with their Pirates IN the Caribbean party. They also have the characters dress up as pirates, and feature a special pirate menu in all the dining rooms. Guests are welcome, but not required, to dress up as pirates as well, and it becomes a very popular night aboard the ship for guests of all ages.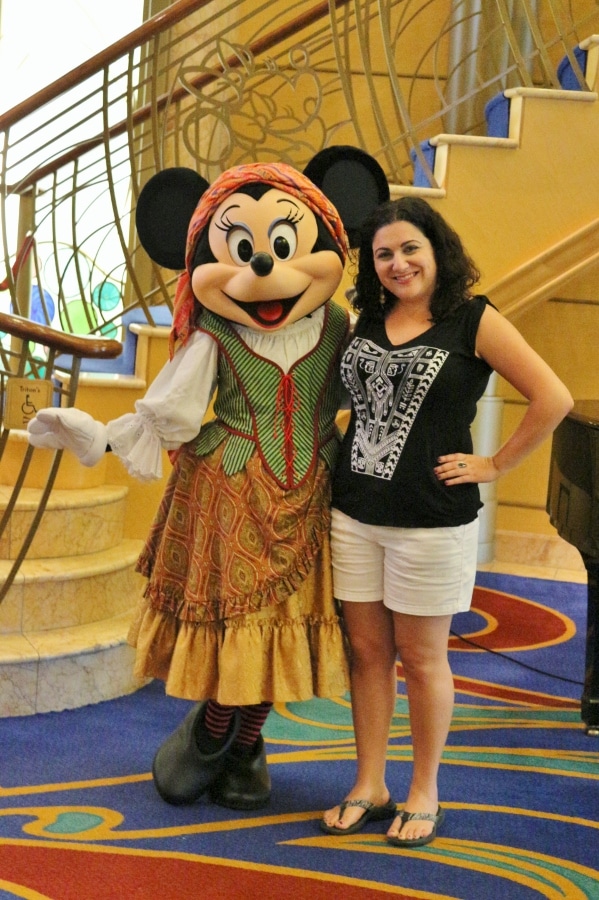 Personally, I enjoy the pirate menu, although some of my family members claim to be over it (although on this cruise they seemed to enjoy the food more than they remembered in the past). I have my tried and true picks off this menu, and it all begins with the Pirates Golden "Potstickers." I'm a dumpling fiend (in fact I even wore my "I'm All That and Dim Sum" shirt earlier that day on the island!), so this comes as no surprise. The dumplings themselves are mediocre, but hey, they're dumplings so I'm still happy.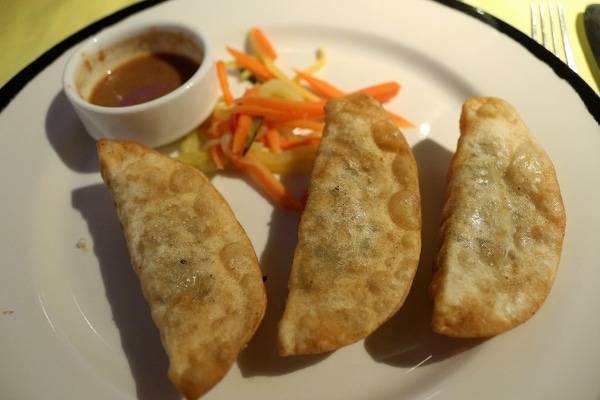 I skip the soup/salad course and opt for a second appetizer with Black Beard's Jumbo Crab Cake with golden raisin, carrot, coconut slaw and spicy Calypso dressing. It's not as rockin' as the potstickers, but it's a decent crab cake and satisfies the craving.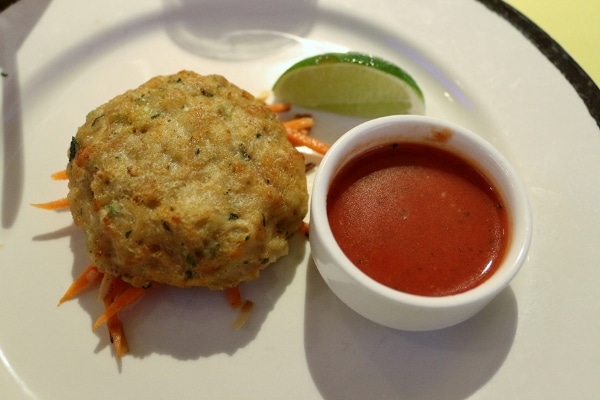 There's more than one entree I prefer on the pirate menu. One is Jack Sparrow's Barbecue Marinated Beef Short Ribs with tamarind barbecue sauce and onion red bliss mashed potatoes. If you love short ribs, these are well-executed and flavorful.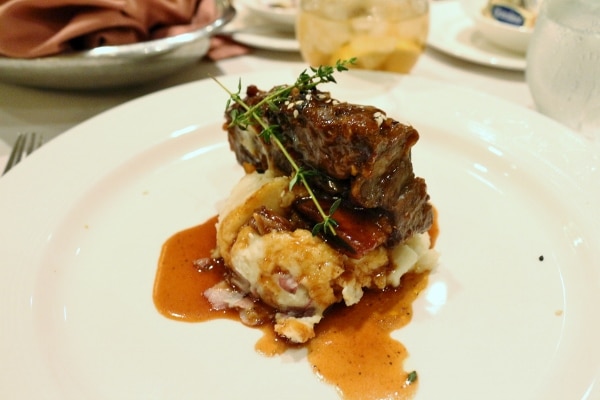 Captain Hook's Macadamia Nut Dusted Mahi Mahi is another entree I've enjoyed in the past (although I haven't ordered it myself in recent years). If you're looking for seafood that night, this is a good choice.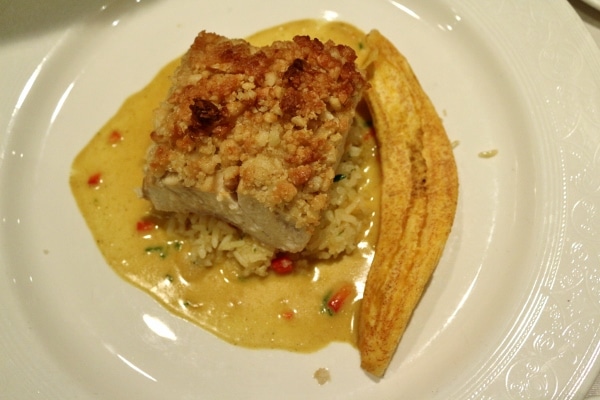 Lately, I've been ordering the Castaway Chicken Breast rubbed with pirate island spice, and served with rice and beans, fried okra, and a rich spiced glaze. This is my current go-to option on the pirate menu. The chicken is really flavorful, the sauce is excellent, and the rice and beans and fried okra are both great accompaniments to the chicken.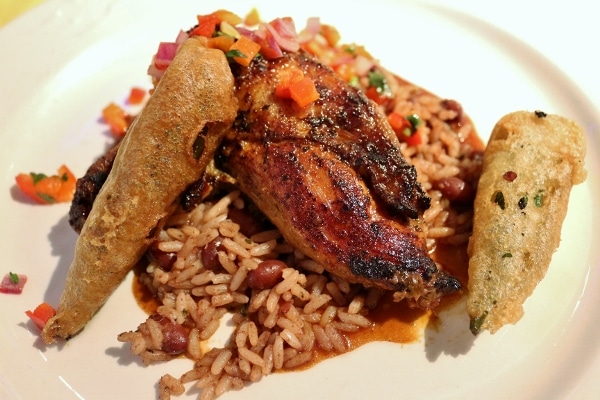 I was pretty stuffed by the time dessert rolled around, but I elected an ice cream fix with the Crunch Time Sundae. It's comprised of rum raisin ice cream, pineapple, whipped cream, and croquant. I honestly only had a few spoonfuls, but it was tasty.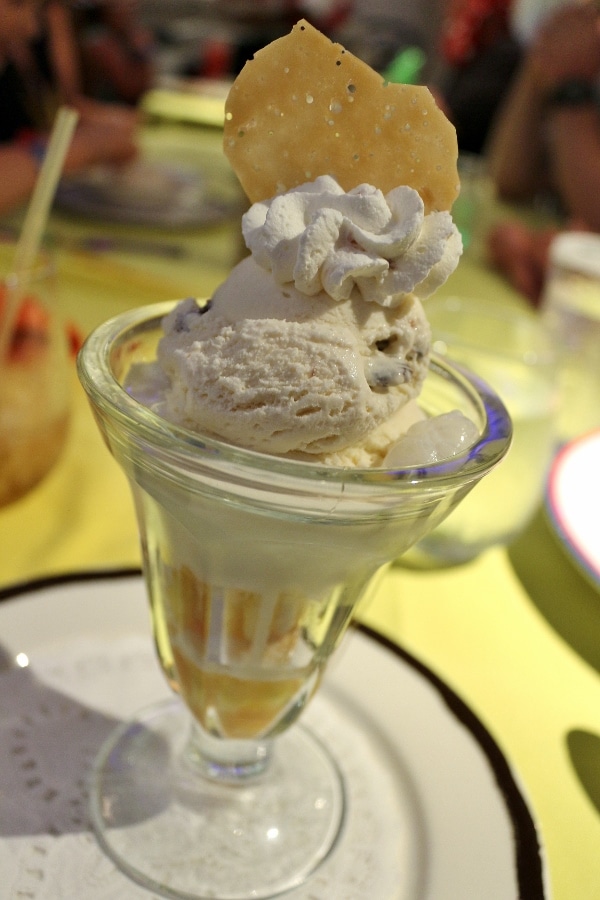 That night, for the first time in any of my 6 sailings aboard Disney Cruise Line, there were some technical difficulties with the fireworks. They finally went off, but after a short delay during which I believe the captain was repositioning the ship because of the wind direction. FINALLY, we got to enjoy the fireworks at sea and continue sailing north toward our next port of call Antigua. More on that in my upcoming blog post.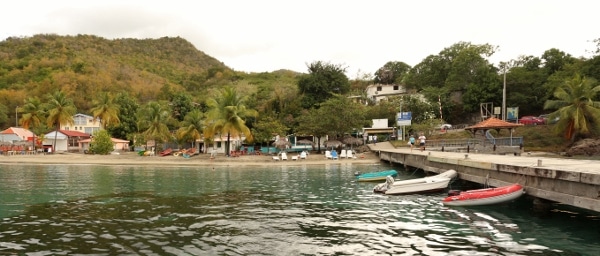 We had a spectacular day in Martinique. I'm so glad that Disney added Martinique as a port of call this year. At first, when the itineraries were announced, we were disappointed to see St. Lucia missing from the list, but Martinique turned out to be one of our favorite stops on this cruise, and I genuinely hope to return again in the future.
Disney Wonder Southern Caribbean Cruise (January - February 2016):