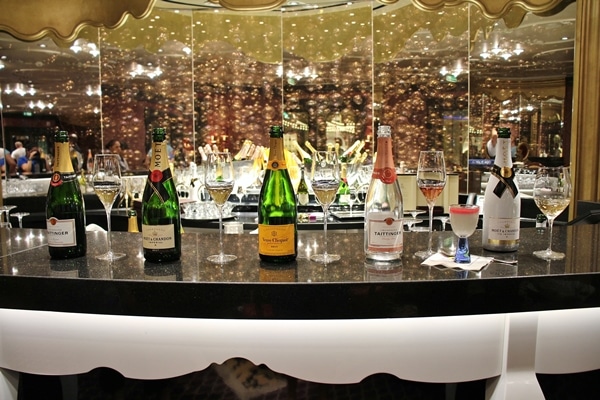 Today is the third and final day at sea of our Disney Cruise. As I mentioned in a previous post, days at sea are my favorites! I usually plan a combination of relaxation time and fun activities around the ship. This morning we decided to try the table service breakfast at Royal Court as opposed to the tired breakfast buffet at Cabanas. There were a few unique items on the menu that were appealing.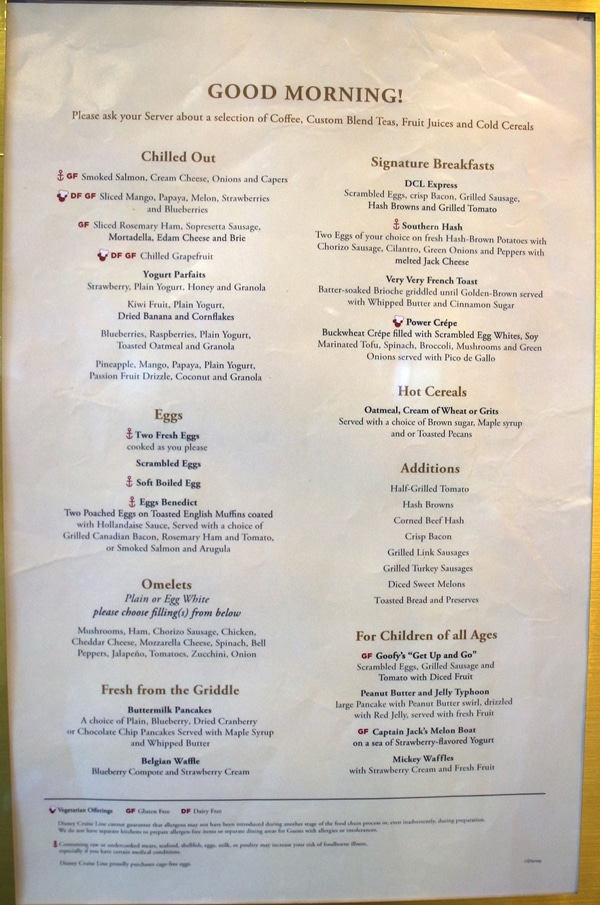 The rosemary ham, sopressata sausage, mortadella, Edam cheese, and Brie plate is a good start, but is more than enough to share if you plan on getting more food.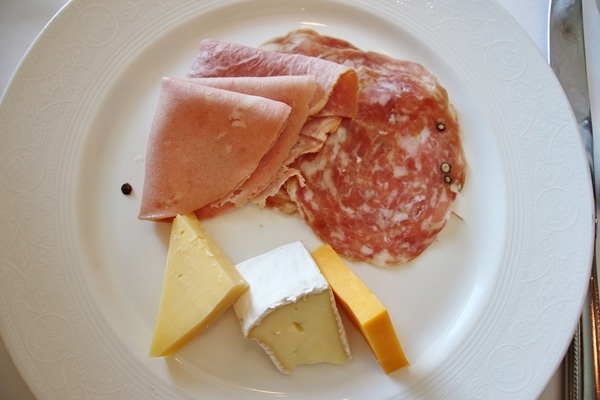 For my main dish I tried the Southern hash off the signature breakfasts section of the menu. It features potatoes, chorizo sausage, cilantro, green onions and peppers topped with melted Monterey Jack cheese and two eggs of your choice. This was a nice change of pace to the standard fare offered at Cabanas.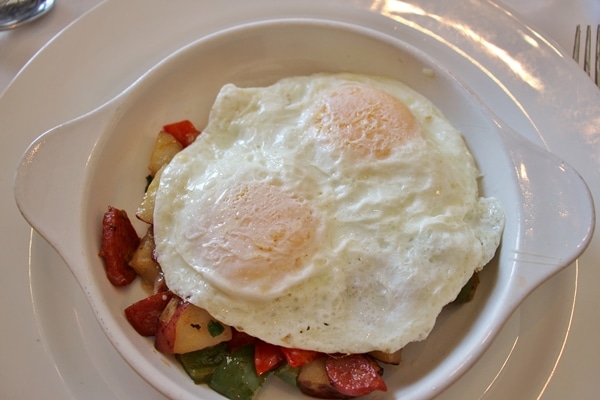 After breakfast we savored some pool time at the adults only Satellite Falls before hitting the lunch buffet at Cabanas. Some of my choices today include chicken pot pie (super creamy and a bit too rich for my taste), grown up macaroni and cheese, orecchiette with mushrooms and cherry tomatoes, beef stew, fish curry on rice, and fried calamari.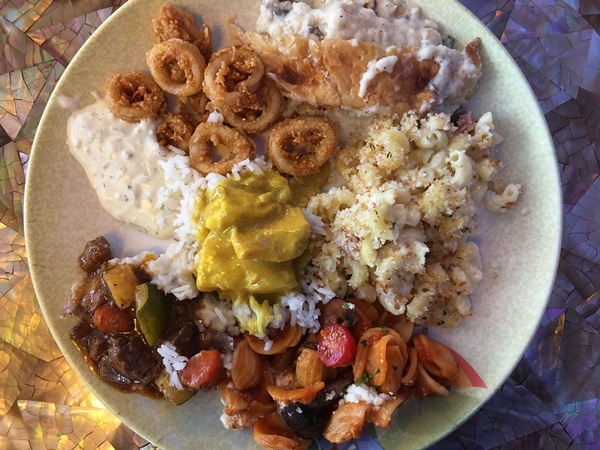 My sister and I had booked a second beverage tasting for this afternoon. The Champagne tasting takes place at Ooh La La, the Disney Fantasy's Champagne bar, and is hosted by the sommelier from Remy and Palo, the two high-end adults-only restaurants on board, featuring French and Italian cuisine respectively.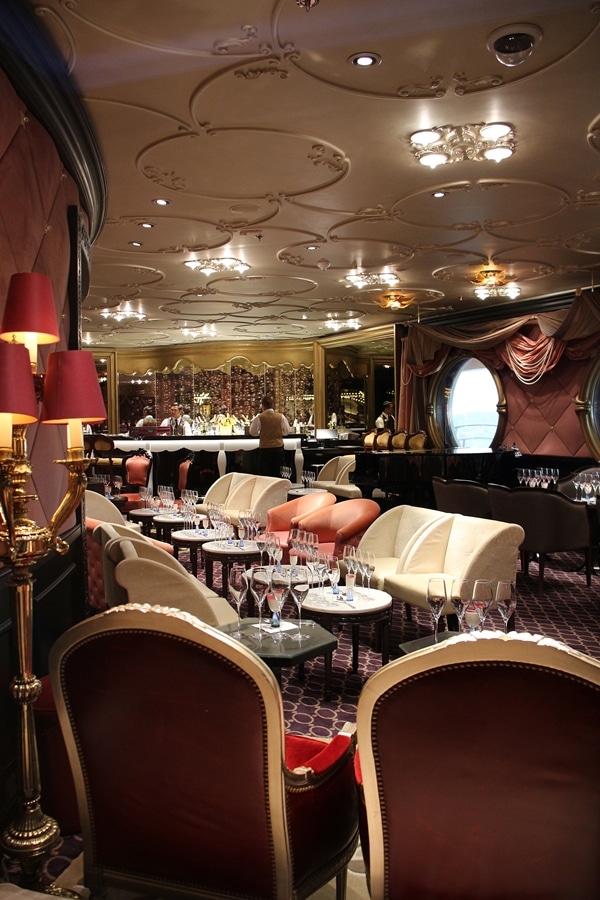 Over the next 45 minutes we learned about Champagne history and Champagne making from our resident expert, and sampled five different Champagnes along with a light dessert.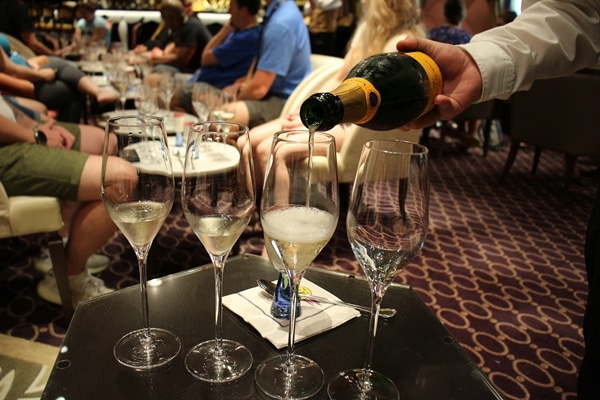 Champagne only comes from the Champagne region of France. If bubbly comes from anywhere else, it is termed something different (ie sparkling wine, Prosecco, Cava, etc). Typically, the finer the bubbles, the better the quality of Champagne. Depending on the producer, Champagne usually contains a blend of three varietals of grapes: Chardonnay (white grapes), Pinot Noir (red grapes), and Pinot Meunier (red grapes). The exact blend varies greatly between producers. High acidity is typical in Champagnes which range in dryness from Ultra Brut or Brut (very dry), Sec (medium-dry), to Demi-Sec (sweet) and Doux (very sweet), and everywhere in between.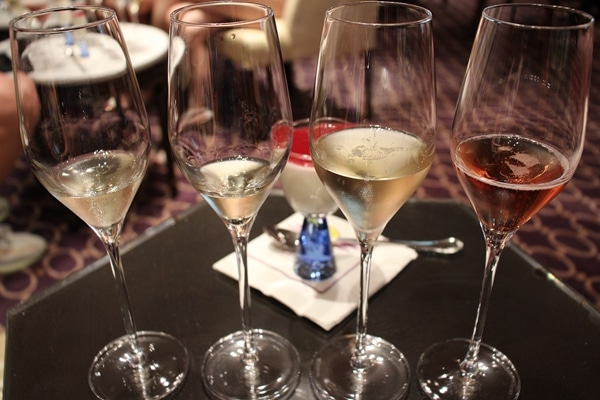 The Champagnes were poured two glasses at a time so they would stay chilled and effervescent as we progressed through the tasting. The first glass we tried was Taittinger Brut La Francaise. It's light, fresh, and crisp, made mostly with Chardonnay grapes. It smells like green apple and citrus, and is very fruit forward in aroma and flavor. This was one of our favorite glasses.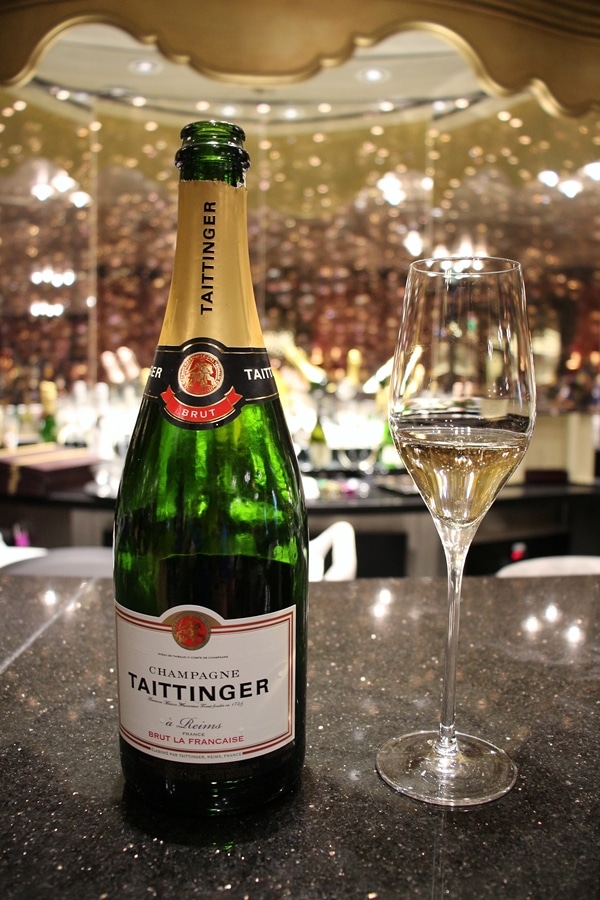 Next we tasted Moët & Chandon's Impérial Brut. It was ever so slightly darker in color than the Taittinger. It smells like minerals and rocks, the quality coming from the soil, and is dry with a high acidity. Moët & Chandon is the largest winery in the region, producing approximately 1 million bottles a year.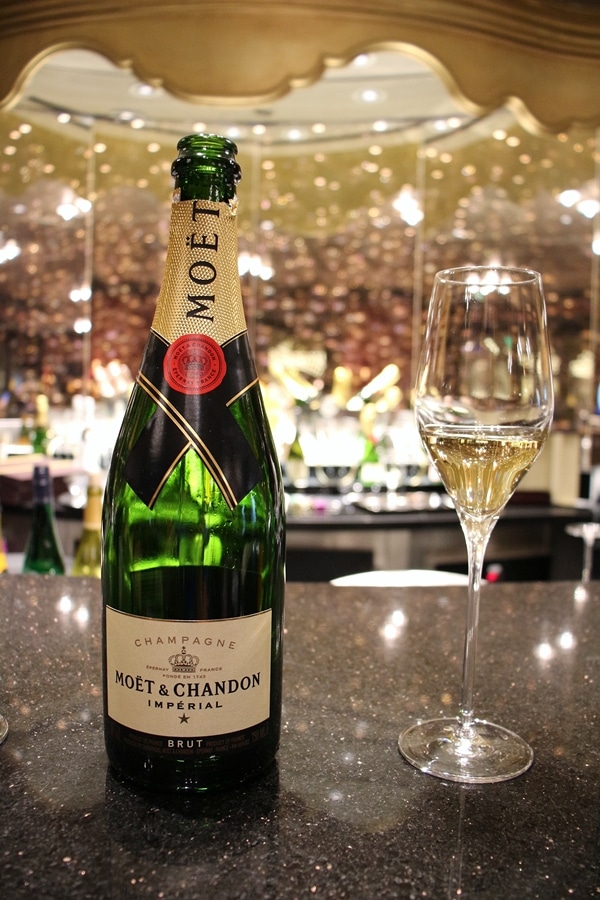 Third we sampled the highly recognizable yellow label Veuve Clicquot Brut Champagne. This too featured a metallic smell. The Veuve Clicquot winery was run by Madame Clicquot, known as the "Grande Dame of Champagne," who took over her husband's wine business when widowed at age 27. This winery was the first to discover the process of removing sediment from bottles, finally yielding a crystal clear elixir. The process involves slowly turning bottles upside down over many weeks, as to not disturb the sediment as it carefully settles. Then they freeze the tip, and an ice cube of sediment pops out. This is the most selling label of champagne in the world. With that said, it was probably our least favorite Champagne we tasted. Not to say it was bad, it just wasn't as appealing as the others upon direct comparison.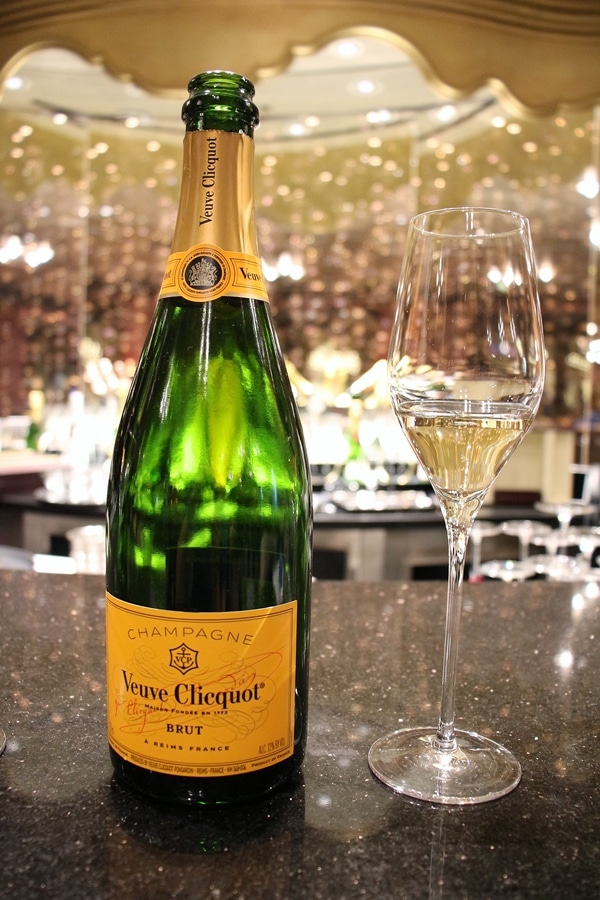 Our fourth tasting was another from the Taittinger brand, the Prestige Rosé. Rosé Champagne is different from other rosé wines. Champagne producers have found that they yield better quality and can age their Champagne longer by using white wine with a little red wine added (cheating) rather than processing wine with some skins added, as they typically do for other rosé wines. This Champagne is quite fruity, and another of our favorites. So far Taittinger is leading the field for us! This is surprising as I always considered myself a Moët & Chandon girl.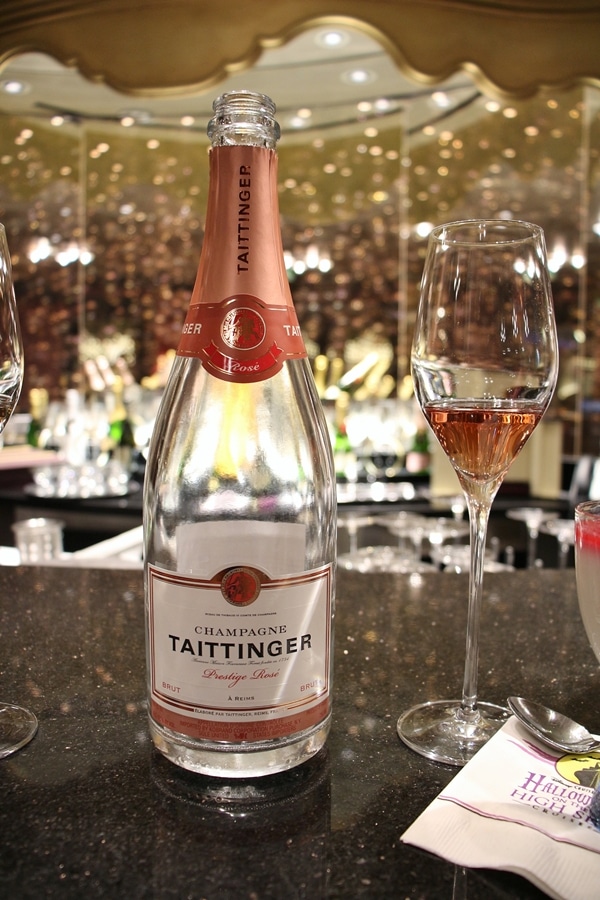 Time for a little dessert intermezzo. A light panna cotta with raspberry coulis is the perfect segue to our next "course" of Champagne. After a few bites we are ready to proceed.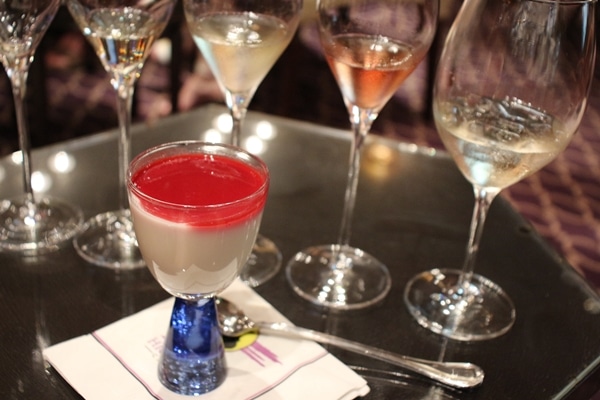 Moët and Chandon Ice Impérial is a Champage we were first introduced to four years ago during our Remy Champagne Brunch on the Disney Fantasy. It's Demi-Sec (sweet), and was actually designed to be served over ice, allowing the ice to slightly water down the Champagne while keeping it ultra chilled, opening up the fruity notes for an ideal tasting.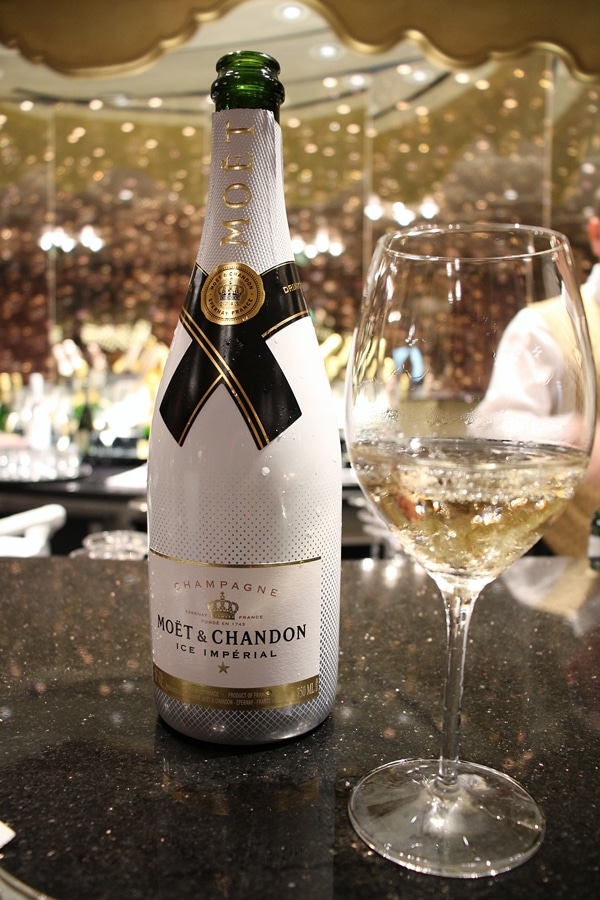 While at $38 per person (2019 price), the Champagne tasting is more expensive than some of the other beverage tastings on board, I think it's a great value for anyone who enjoys and appreciates Champagne and wants a guided and informative experience. I would highly recommend it, and would happily book it again sometime in the future.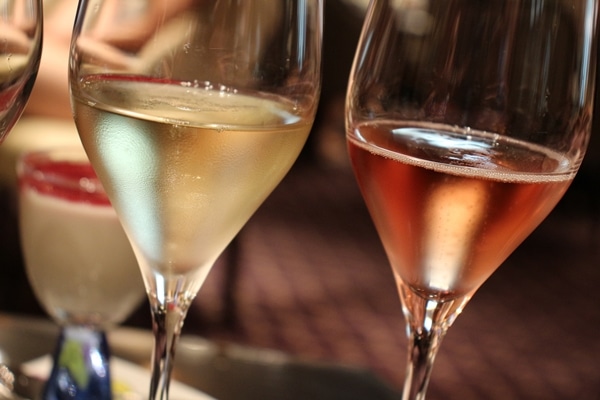 One of my favorite things about Disney Cruise Line is that even when you aren't planning a scheduled character encounter, you may run into one as you're walking around or lounging about the ship. This happens on every single cruise, and I was super excited to get a visit from my beloved Minnie Mouse while she was strolling around Deck 4 this afternoon.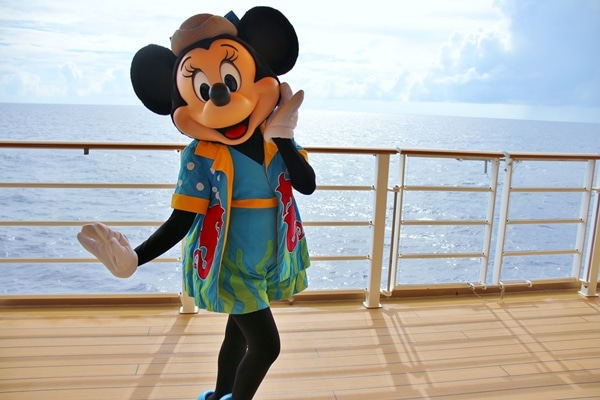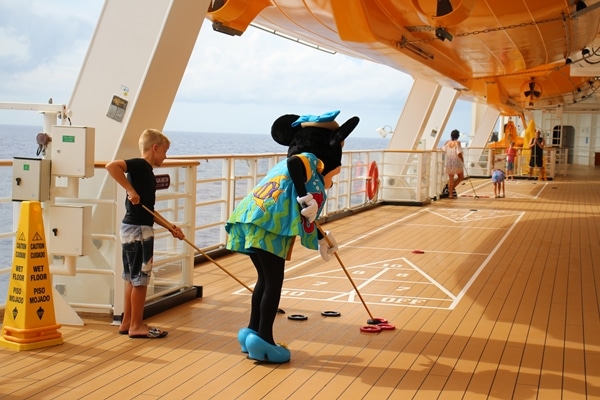 Tonight we are returning to Animator's Palate for the final time this cruise to check out the second interactive dinner experience here, the Animation Magic Show. Here each diner gets to create a drawing which will get scanned and animated into a show later in the meal, usually somewhere between the main course and dessert. The dinner menu itself is a combination of dishes we recall from previous cruises, in addition to some that have been added more recently.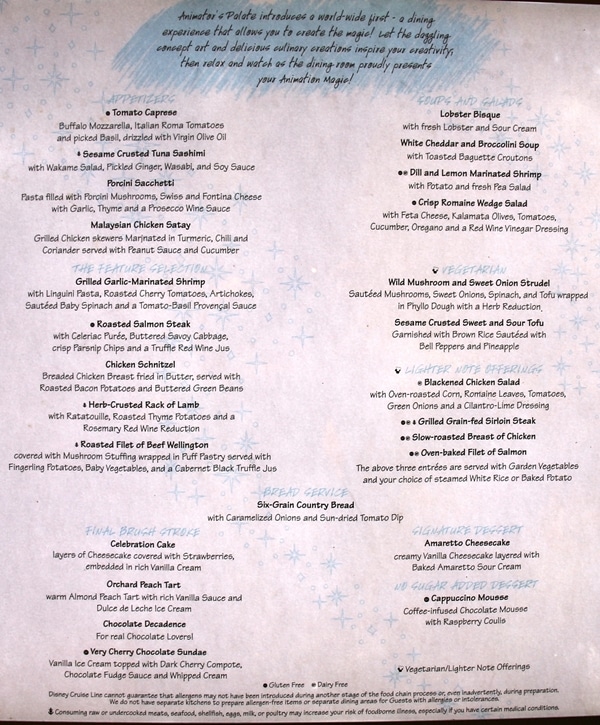 To start I had the delicious sesame-crusted tuna sashimi. I followed it with the lobster bisque, which was atrocious. I took one bite, and sent it back.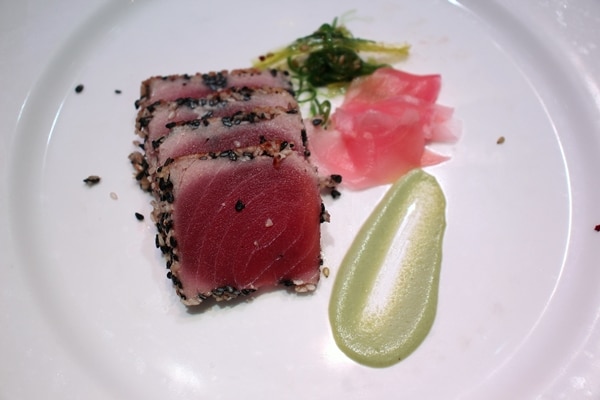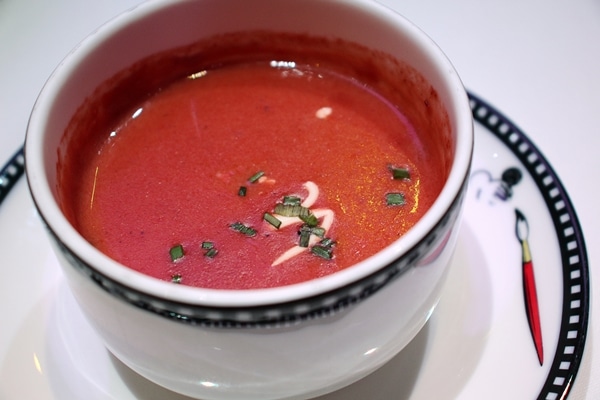 Mom tried the Malaysian chicken satay which was a far superior choice to the lobster bisque. Duly noted.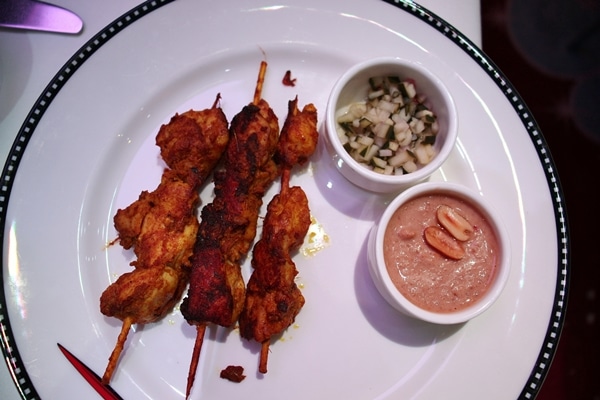 My main course was the chicken schnitzel with roasted bacon potatoes and buttered green beans. It was very good, and washed away the terrible memory of the bisque.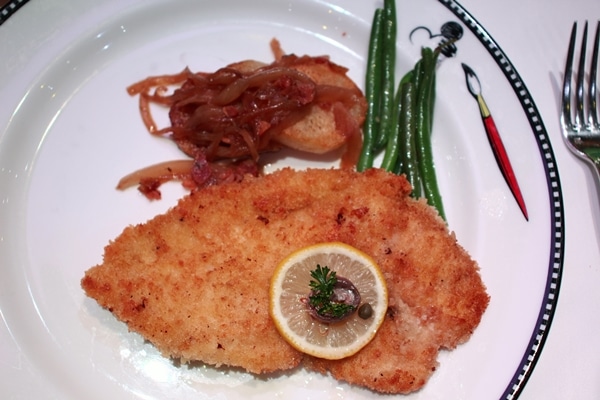 My mom and sister both got the grilled garlic-marinated shrimp with linguine pasta, roasted cherry tomatoes, artichokes, sauteed baby spinach, and tomato-basil Provencal sauce. This was a great choice! I took several bites, and would likely order it myself next time.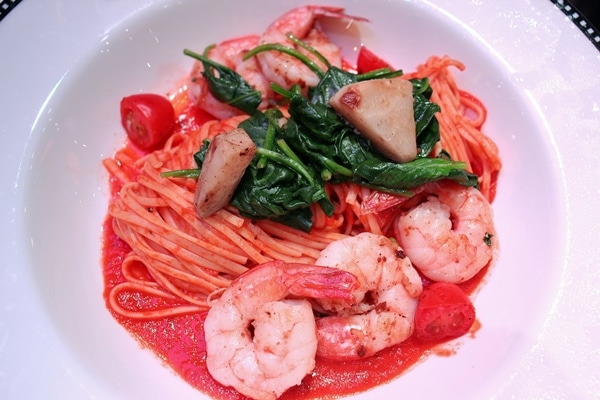 Tonight we were celebrating my oldest nephew's 11th birthday! My sister had ordered a special gluten-and-dairy-free cake in advance, and we had scheduled the cake to be delivered tonight at the end of our meal as a surprise. Boy, was he surprised, and SOOOO happy! You would never have guessed that the cake was entirely gluten-and-dairy-free. Good job, DCL.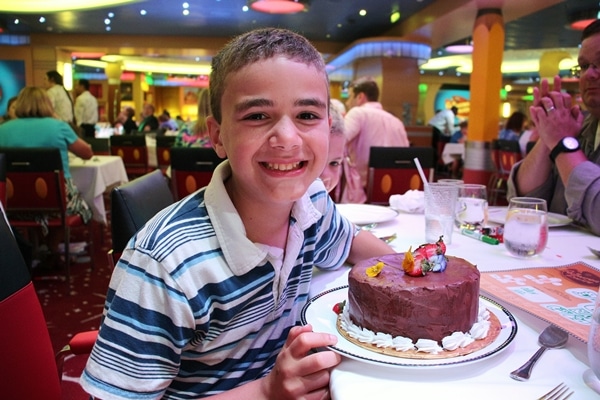 This evening my mom, sister, and I headed to Skyline Lounge for some adult libations. In particular, we were excited to order the Ooh La La cocktail we sampled earlier in the week at our mojito tasting. I asked for the recipe with ballpark measurements, and plan to recreate it soon (I will share with you all then). This just may be my new favorite cocktail.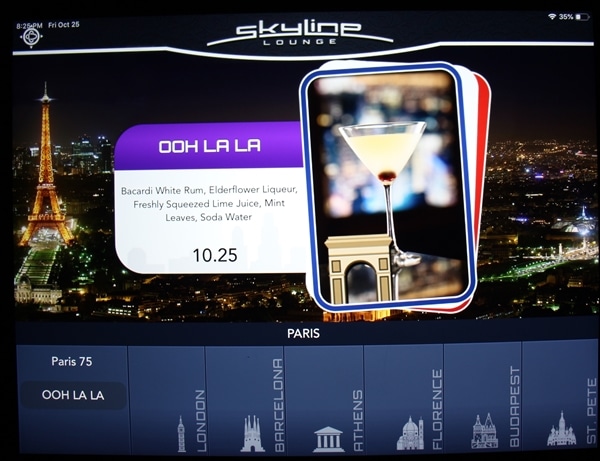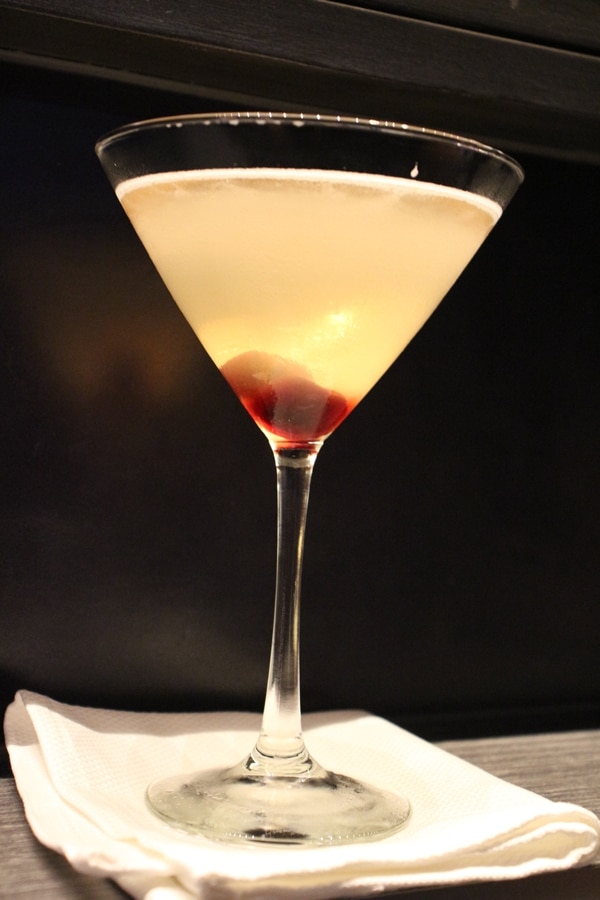 Join me tomorrow for the final day of our cruise. We're visiting everyone's favorite port of call, Castaway Cay, Disney's private island in the Bahamas, and finishing our day with our favorite meal on board, dinner at Palo. See you soon!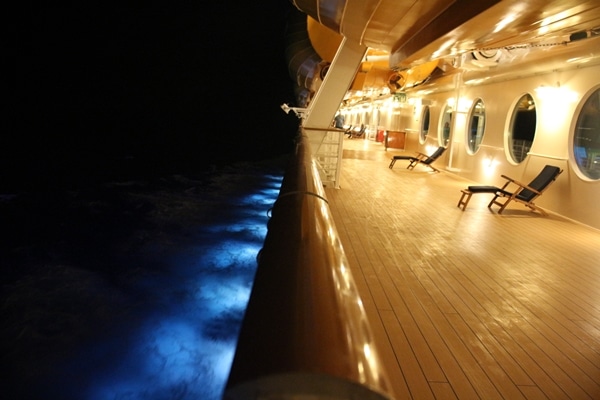 Disney Fantasy Halloween on the High Seas Eastern Caribbean Cruise (October 2019):