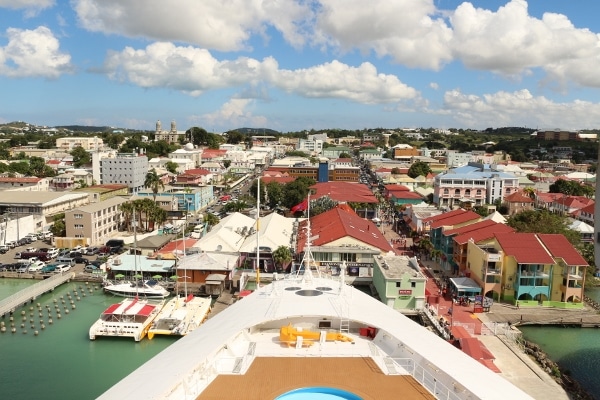 Our next stop is St. John's, the capital of Antigua, one of two islands in the island nation of Antigua and Barbuda. Antigua has 365 beaches, one for each day of the year. It makes sense that upon visiting Antigua, we would head to the beach. The big question is "which beach?"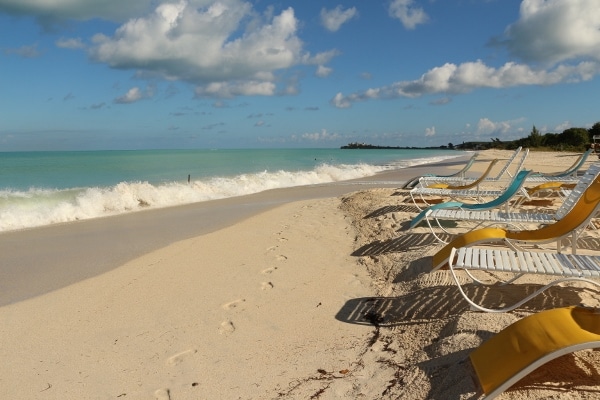 We did research in advance, and initially planned on taking a taxi to Long Bay on the east coast. Through additional online research we found a beach break offered on Viator for a half day resort pass to Dickenson Bay on the west coast of the island. The deal offered access to deluxe resort facilities and optional rental equipment for water sports.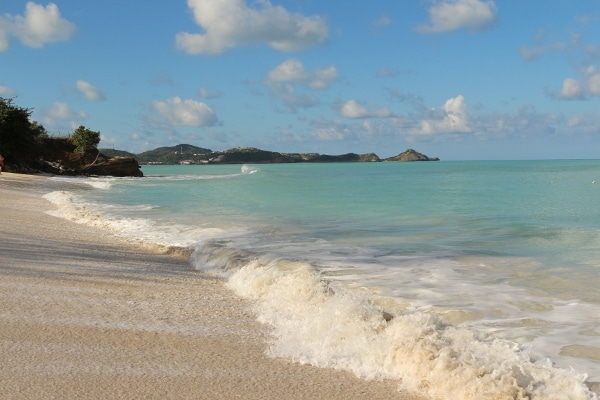 Imagine our surprise when we met up with the tour company representative (who was very nice by the way), climbed aboard our taxi (our driver Hercules was also very friendly), and were driven to a totally different beach.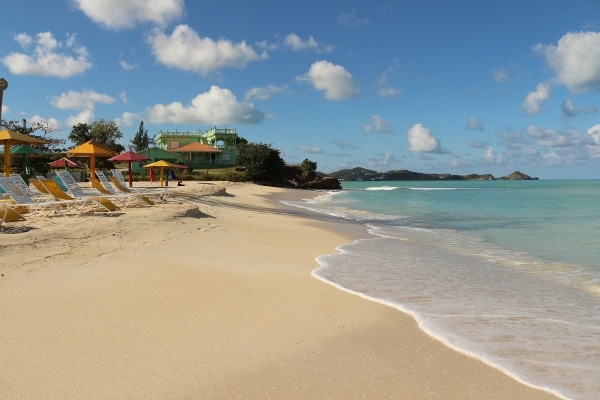 We told the driver that our tour was for Dickenson Bay, and he called the tour company to find out what happened and was told that they had changed the tour to a different beach. The tour company claims they told Viator, but that perhaps Viator had not made the change on their end, nor had they informed us of any changes after we'd already booked.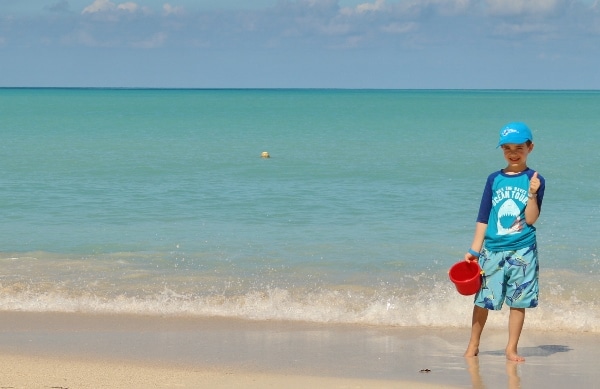 At this point, we decided to just go with it since we had no other choice, but with plans to complain to Viator later (which we did for a full refund--at the time of this post they've finally changed the name of the beach in the tour description, but the remaining details haven't changed, and are still inaccurate in regards to the "deluxe" facilities available).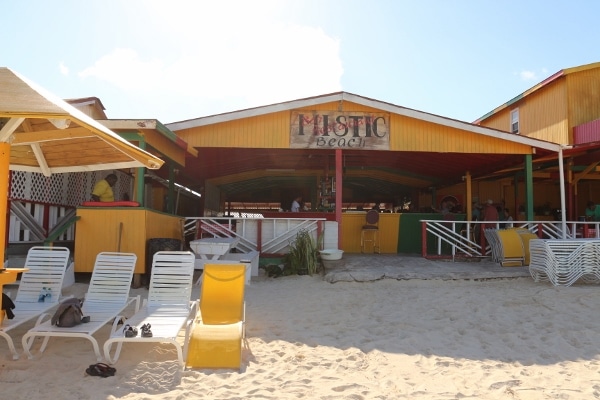 A pretty standard beach bar, but not a deluxe resort by any means
The beach we were taken to was very close to the cruise pier. It was called Sandhaven at Runaway Beach. It was not a deluxe resort, but rather a basic beach bar. There were no options to "rent a kayak or snorkel gear," as the tour description stated, and the service at the bar was unfriendly at best. There was also a large drop off in the water, and the sea wasn't as calm as advertised. I realize there can be calm and rough days at a single beach depending on various factors, but between the inconsistencies across the board with what was advertised, we were disappointed to say the least.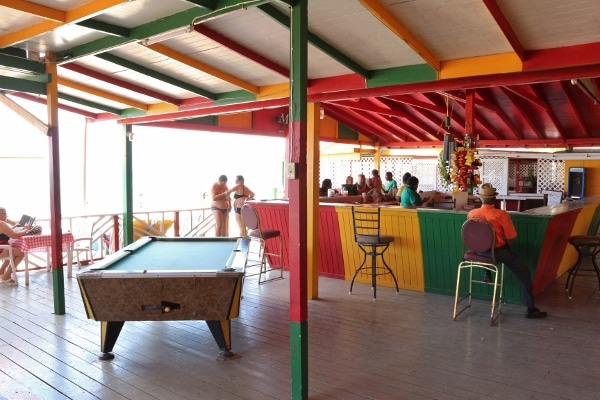 I think we would have enjoyed the beach more if we hadn't started off on the wrong foot. Otherwise, it really is a beautiful stretch of sand, and it was very uncrowded until several other large tour groups (one from another cruise ship) arrived. All in all, it was a beautiful beach, but in the future I would not book this tour through Viator. We have taken taxis to beaches on other islands before without any issues, and next time I would simply take a taxi to my chosen beach. No drama.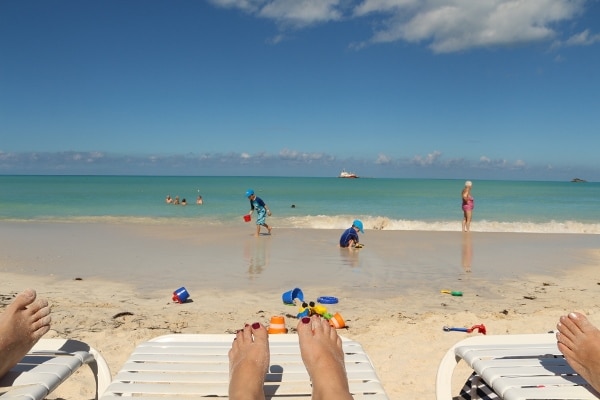 We still made the best of what turned out to be a gorgeous beach day! The kids loved playing in the sand, and the rest of us spent some time walking down Runaway beach, collecting shells, and laying out on our beach chairs. We made an arrangement with Hercules our taxi driver to pick us up a little earlier than the 4 hours that the beach break was supposed to last. We wanted to head back to the ship in time for lunch at the Beach Blanket Buffet.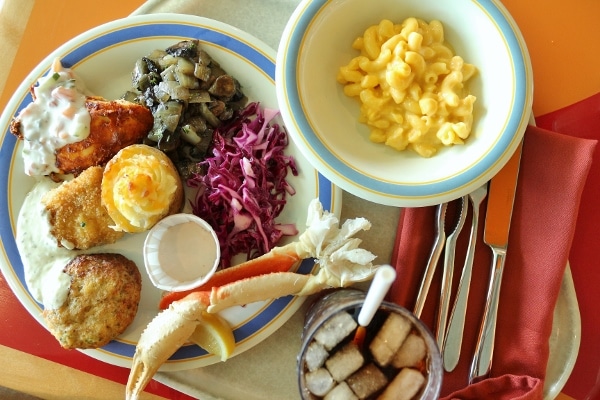 We spent the rest of the afternoon relaxing on the ship, sipping iced lattes at the Outlook Cafe, and enjoying some quiet time on deck 4 near the walking/jogging track.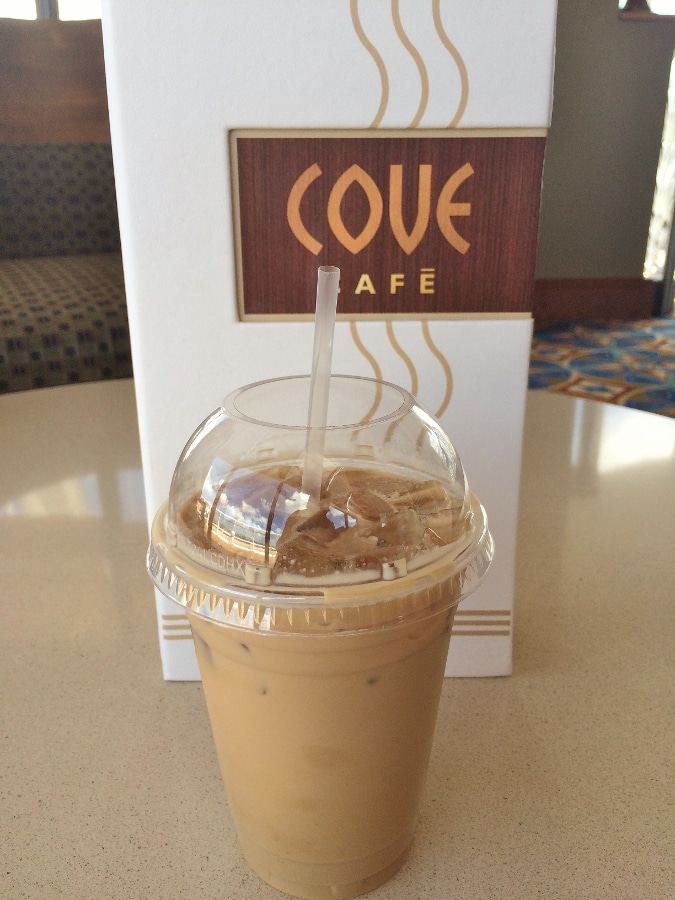 Tonight was the Captain's Gala aboard the Disney Wonder. That's basically semi-formal night with some higher end menu options (like lobster) at dinner. I noticed some delicious-sounding additions to the menu that were different from past cruises. I started with the Lightly Breaded Baked Eggplant, filled with ricotta and mozzarella, and served on toscano sauce. Although it was only lukewarm when served (not the first time that happened on this cruise), I thought the flavors were really good. It would have been even better piping hot 🙂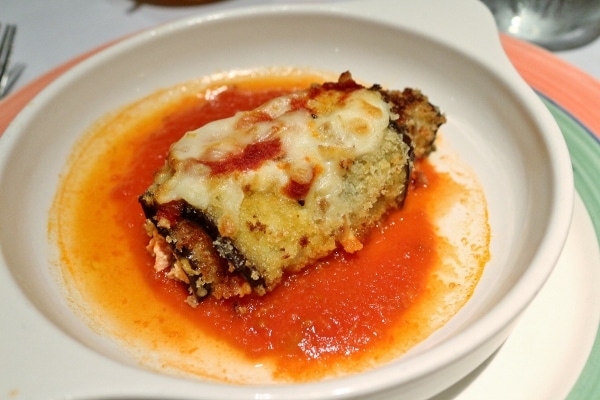 Another appetizer option on this menu is the Marinated Tiger Shrimp. My family members who picked this option complained that it was rather bland. I'd say pass on this one.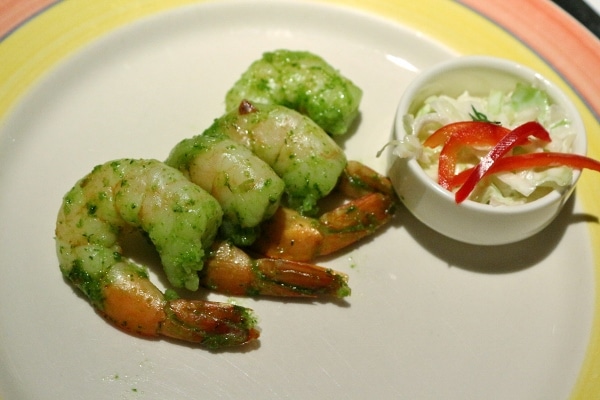 I was also intrigued to try the Braised Oxtail Soup with spinach and roasted garlic tortelloni. I really liked this and found it to be flavorful and rich, with tender bites of oxtail, and a nice "surprise" tortelloni within.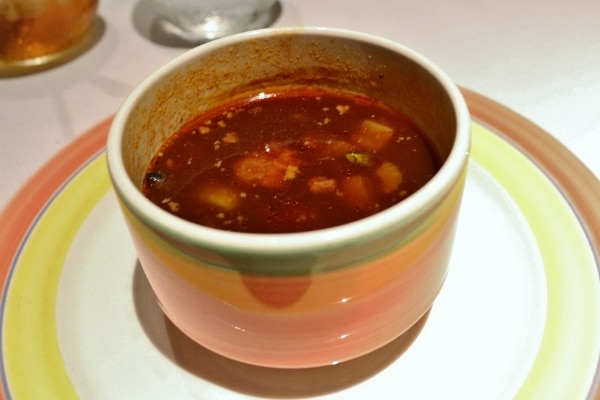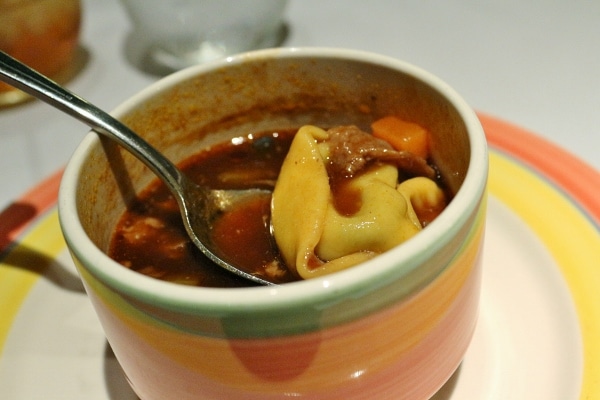 There are several options on this menu that I enjoy. On this most recent cruise I selected the Oven-Roasted Pork Tenderloin over cheesy polenta with sauteed wild mushrooms and merlot reduction. It's serious comfort food! Between the decadent polenta and mushrooms, and the perfectly tender pork, this is a great option that I've returned to over the years.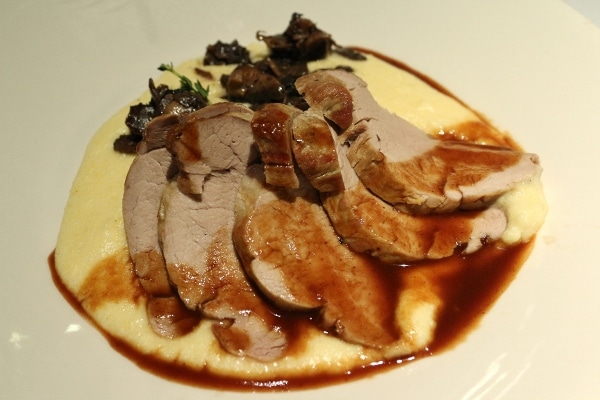 I also really enjoy the Fettuccine with Parmesan Crusted Chicken. It sounds so simple--Parmesan crusted chicken breast with sweet peppers and mushrooms with fettuccine in a cheddar cheese sauce. It's really tasty though, and another super comforting option on the Captain's Gala menu.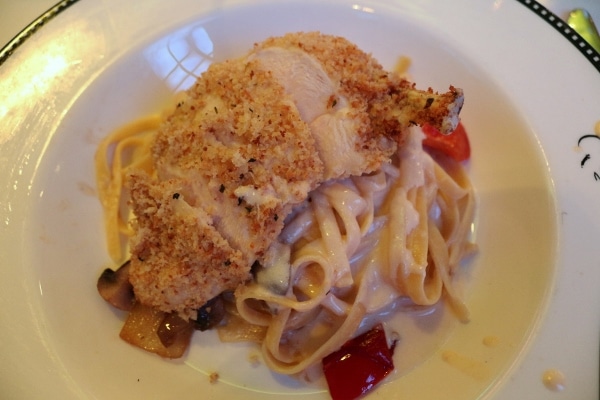 We also love the Lobster Tail option! These last couple of pictures are from a previous cruise, but these dishes haven't really changed in the past year.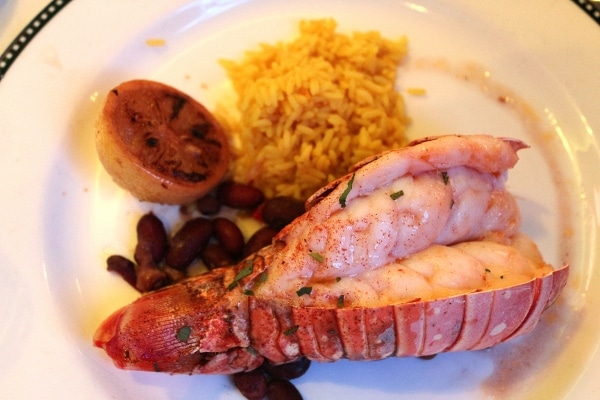 For dessert I ordered the Apricot Trio, which consists of vanilla cheesecake with apricot compote, apricot tarte tatin, and apricot-infused ice cream. It was fresh, and delicious, and definitely something I'd order again in the future.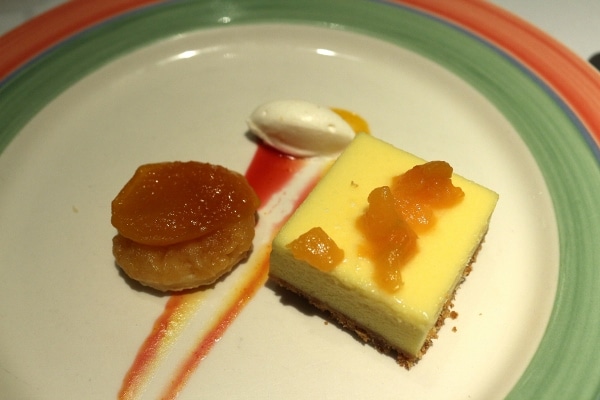 Later that evening, we headed to Diversions the sports bar on the Disney Wonder to play some games. Earlier in the cruise I had noticed quite the variety of games, but only Yahtzee was available that night, so that's what we played. There were some snacks available when we arrived (chicken wings, chips and salsa, etc.) which we enjoyed with our beer.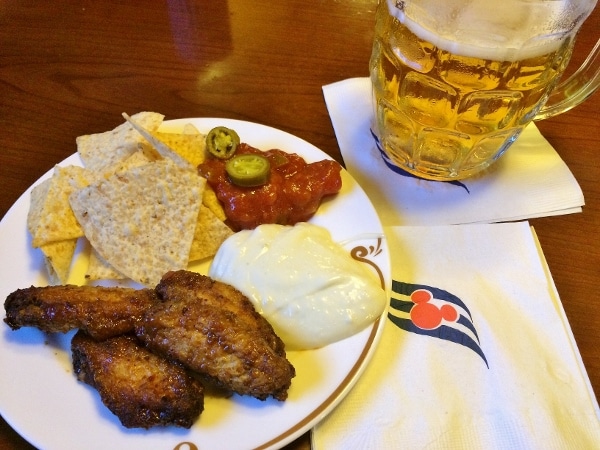 A bit later into the night, a new wave of snacks arrived including mini sandwiches, coconut shrimp, and spring rolls. Earlier in the week they had potstickers in place of the spring rolls, and mozzarella sticks instead of the shrimp. Otherwise, it looks like most of the menu items were repeats throughout the week, at least from my experience.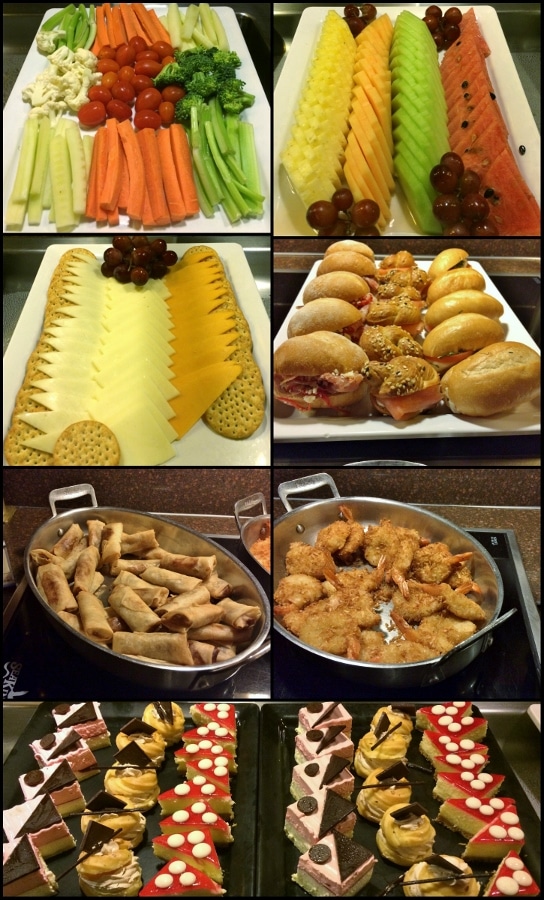 This wraps up yet another day aboard the Disney Wonder! My next post will be my last for this series. We'll be visiting St. Kitts, so stay tuned!
Disney Wonder Southern Caribbean Cruise (January - February 2016):