This post may contain affiliate links, which means that I may receive a commission if you make a purchase using these links. As an Amazon Associate I earn from qualifying purchases.
Decadent Old Bay Crab Cakes feature a golden crust wrapped around mouthwatering lump crab meat and spices. These easy boardwalk style Maryland crab cakes are served with a quick Old Bay remoulade sauce. They're perfect for summer, or any time you crave a taste of the sea.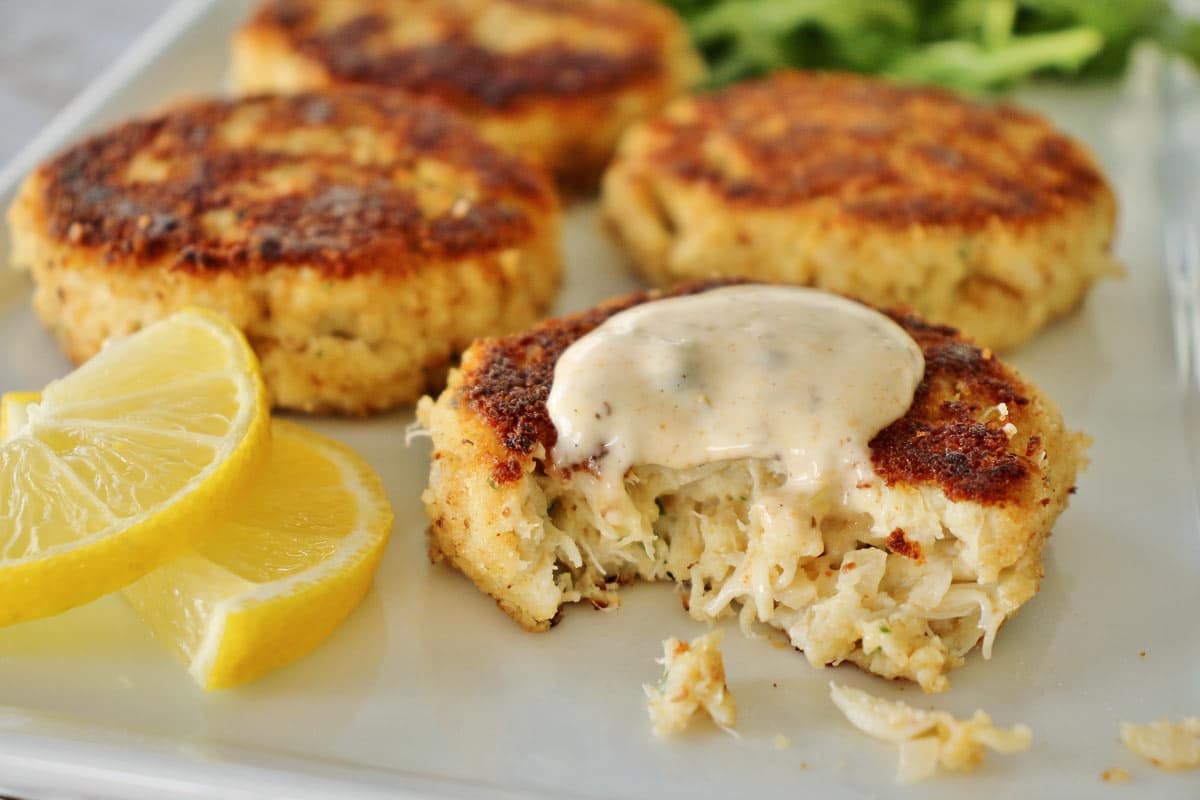 (This recipe was originally published in August 2009, but was updated with new photos and content in 2020).
Crab cakes are a popular seaside treat that come in many forms. They range from elegant restaurant-style to casual beach fare, but one thing they all have in common is tender, delicious crab meat bursting with the flavors of the sea!
There are many styles of crab cakes and varieties of crab meat one can use. Before we build our beautiful Old Bay crab cakes, let's break down some differences.
Common crab species in the United States
Fresh crab meat can be pricey. It's important to understand what you're getting before you invest in a potentially expensive ingredient. There are many types of crab, which each yield uniqueness in flavor and even geographical authenticity.
I will specifically discuss crab meat in the United States, but I'm sure there are lots of different species of crab throughout the world, each with their unique flavor traits.
Dungeness Crab: Found along the Pacific coast from Alaska to Baja Mexico, it's very popular on the west coast, particularly in the San Francisco Bay area and Pacific Northwest. Living on the east coast, it's not a common variety of crab meat I find for sale here, but for folks living out west, this may be your go to option.
Blue Crab: These blue-green hued crabs are much more common on the Atlantic coast of the US. When you think of Maryland or Chesapeake style crab cakes, this is the variety of crab meat you'll find.
Peekytoe Crab: From Maine rock or sand crab. These used to be a throwaway byproduct of Lobster fishing, but are now popular in their own right. I've seen this variety used by brilliant chefs like Eric Ripert in crab dishes on their menus.
In all honestly, depending on where you live you may not have accessibility to super fresh crab meat. You may not even be able to select a specific species of crab for your cakes. Authentic Maryland crab cakes are made with regional blue crab meat, but many people make Maryland "style" crab cakes with other varieties simply due to sourcing limitations.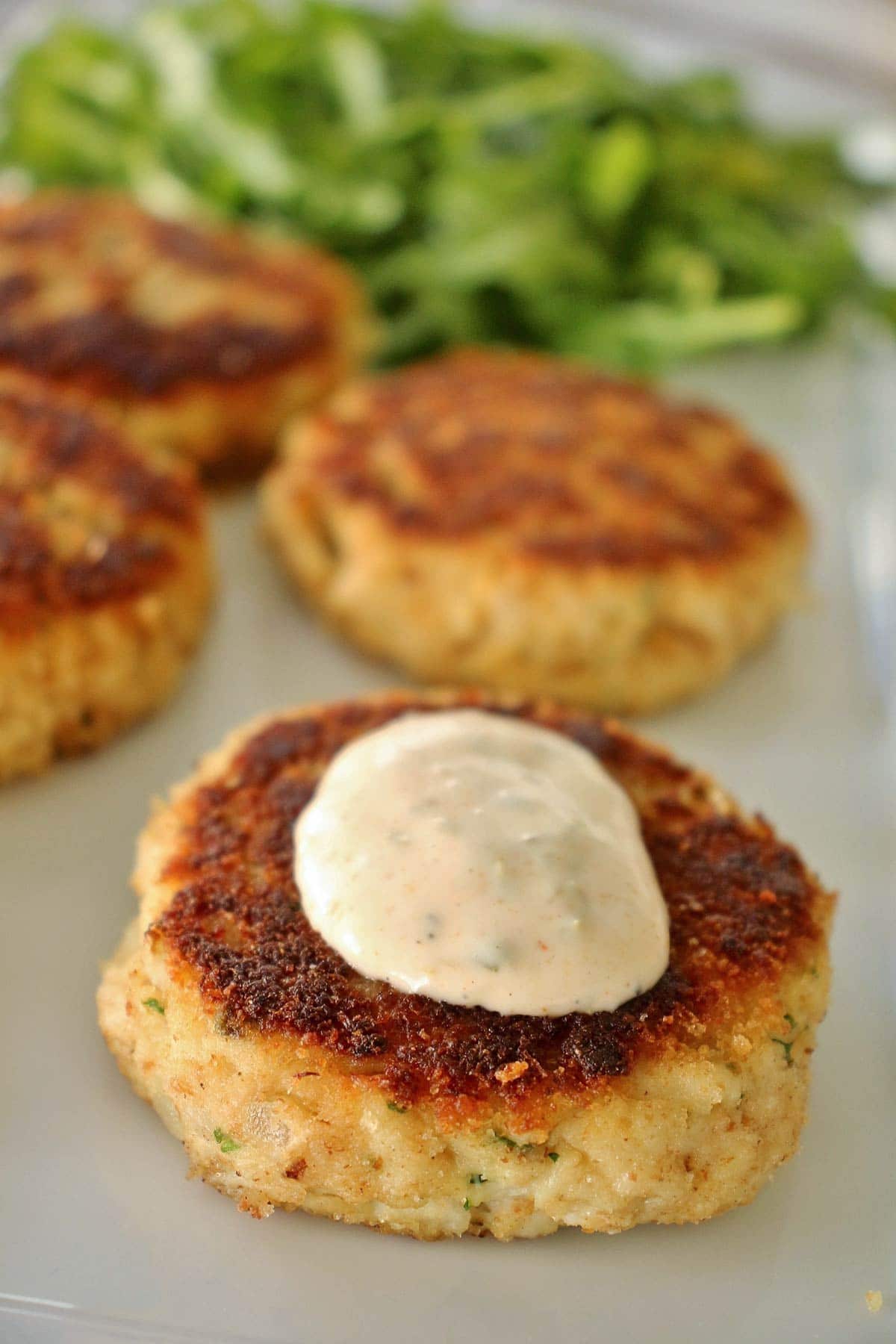 Canned crab meat options by grade
If you aren't able to buy fresh crab meat from a seafood vendor, you can often find a variety of good quality canned crab meat options at many grocery stores. Here are a few common varieties by grade from least expensive to most expensive.
Claw Crab Meat: This is the least expensive but most flavorful grade of crab meat. It's great in soups, chowders, and crab meat stuffing.
Special White Crab Meat: Consists of smaller flakes taken from the crab body. It's good for bisques, dips, and mayo-based salads.
Backfin Crab Meat: It's made up of a combination of smaller, broken pieces of lump crab and flakes of white body meat. It's less expensive than lump, and has good texture overall. Use it in crab salads, crab cakes, and pastas.
Lump Crab Meat: This consists of broken jumbo lump pieces, and large pieces of body meat. It's less expensive than jumbo or colossal grades, but still great quality. It's a good restaurant-quality option which you can use for crab cakes, pasta, and more.
Colossal Lump or Jumbo Lump Crab Meat: This is the most expensive option with the largest intact pieces of crab meat. These are the pieces of meat that connect to the swimmer fins of the crab. You may use these for crab cakes or dishes like Crab Louis, where you want to savor large pieces of crab.
It is important to note that imitation crab meat is not crab meat at all. It's made from fish turned into a paste and then shaped to resemble crab legs. Please don't use it in your crab cakes.
With that said, specific brands of canned crab meat can also range drastically in quality. For my crab cakes pictured here, I purchased canned lump crab meat which includes large lump pieces of meat, but also some smaller pieces. When combined, visually you see a bit less of the giant lump pieces that are prevalent in lump crab cakes, but I assure you the flavor is incredible and the texture simply melts in your mouth!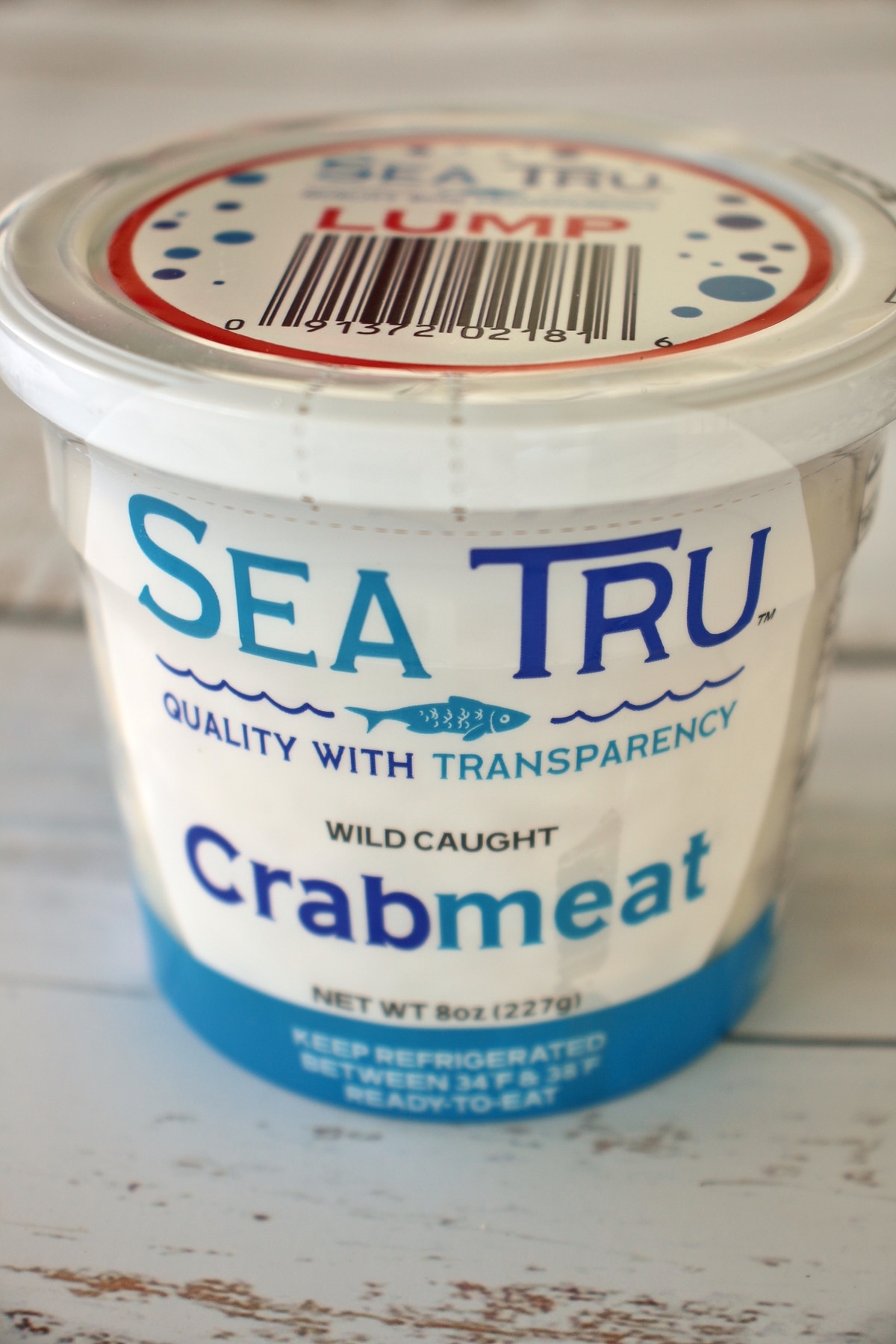 Louisiana vs. Maryland style crab cakes
Let's discuss a few common styles of crab cakes based on geographic location. Both Louisiana and Maryland style crab cakes utilize blue crab meat, but their preparation is quite different.
Louisiana crab cakes typically include Cajun spices, and are breaded with flour, egg, and bread crumbs before pan-frying in oil.
Maryland style crab cakes come in a couple varieties: restaurant/gourmet style and boardwalk style.
Restaurant or gourmet style Maryland crab cakes contain barely any filler, very large lump pieces of crab meat, and essentially no breading at all. They are usually broiled or cooked in a buttered pan.
Boardwalk style Maryland crab cakes include generous seasonings, and some bread crumbs and eggs. The cakes are lightly coated in bread crumbs as well before pan-frying.
The Old Bay crab cakes I'm sharing today are an example of a more boardwalk style Maryland crab cake recipe. They feature minimum filler, but just enough to bind. A very light, simple coating of bread crumbs gives them a golden exterior. They're the perfect balance of crisp edges with incredibly tender, super crabby filling without unnecessary fillers. In short, they're perfection!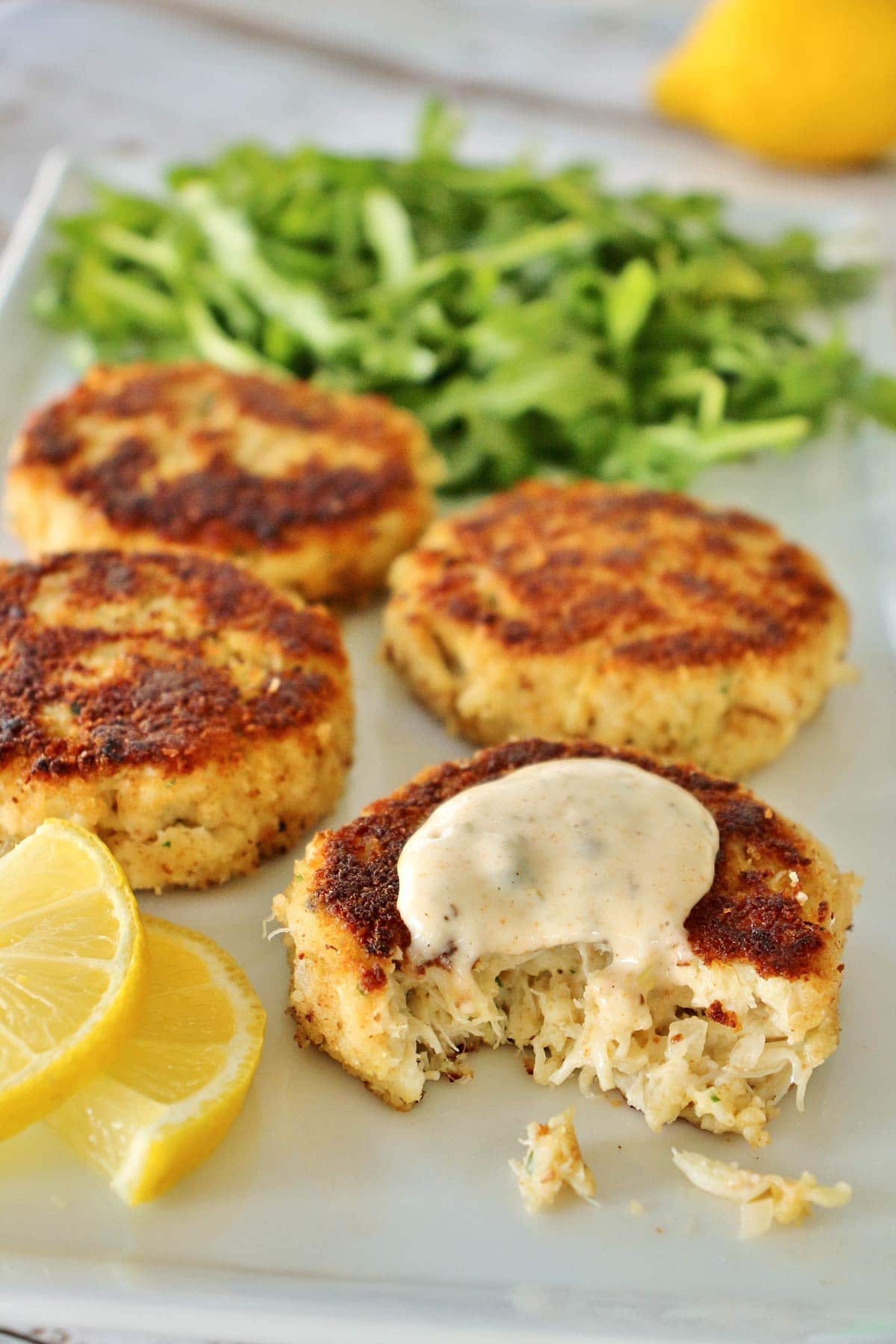 What is Old Bay Seasoning?
Old Bay Seasoning, or simply Old Bay, is a spice blend hailing from Baltimore, Maryland. It's very popular for seafood, and includes celery salt, paprika, black pepper, red pepper flakes, and more. If you can't find it where you live, you can make a copycat recipe, but I've never tried doing this myself so I can't attest to how it compares.
I use the reduced sodium version of Old Bay, which I found at my local grocery store. It appears to be less common for online ordering, but either variety will work fine for this recipe. You may use leftover Old Bay for any other seafood recipes. It's also a fabulous seasoning for french fries or roasted potatoes, especially if you are serving them with seafood.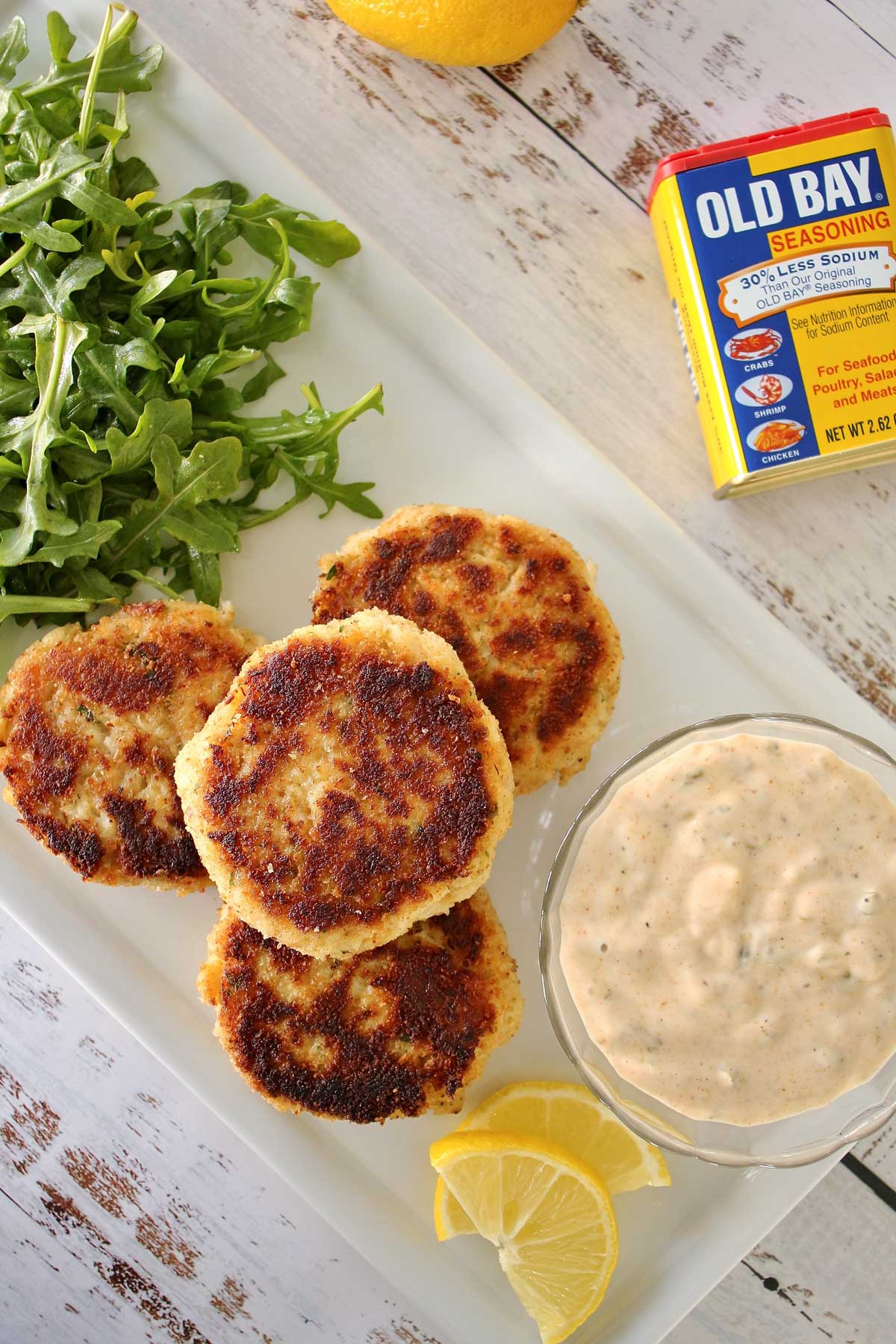 How to make easy Old Bay crab cakes
First, saute finely chopped onion in a bit of olive oil until softened. Set aside to cool completely. To the cooled onions, add an egg, mayonnaise, Dijon mustard, chopped parsley, Old Bay Seasoning, and salt (STEP 1). Mix until smooth (STEP 2). Then add the lump crab meat, and gently mix (STEPS 3-4). Add a little bit of dried bread crumbs (STEP 5), and mix just until combined (STEP 6). Set it aside while you make the Old Bay remoulade sauce.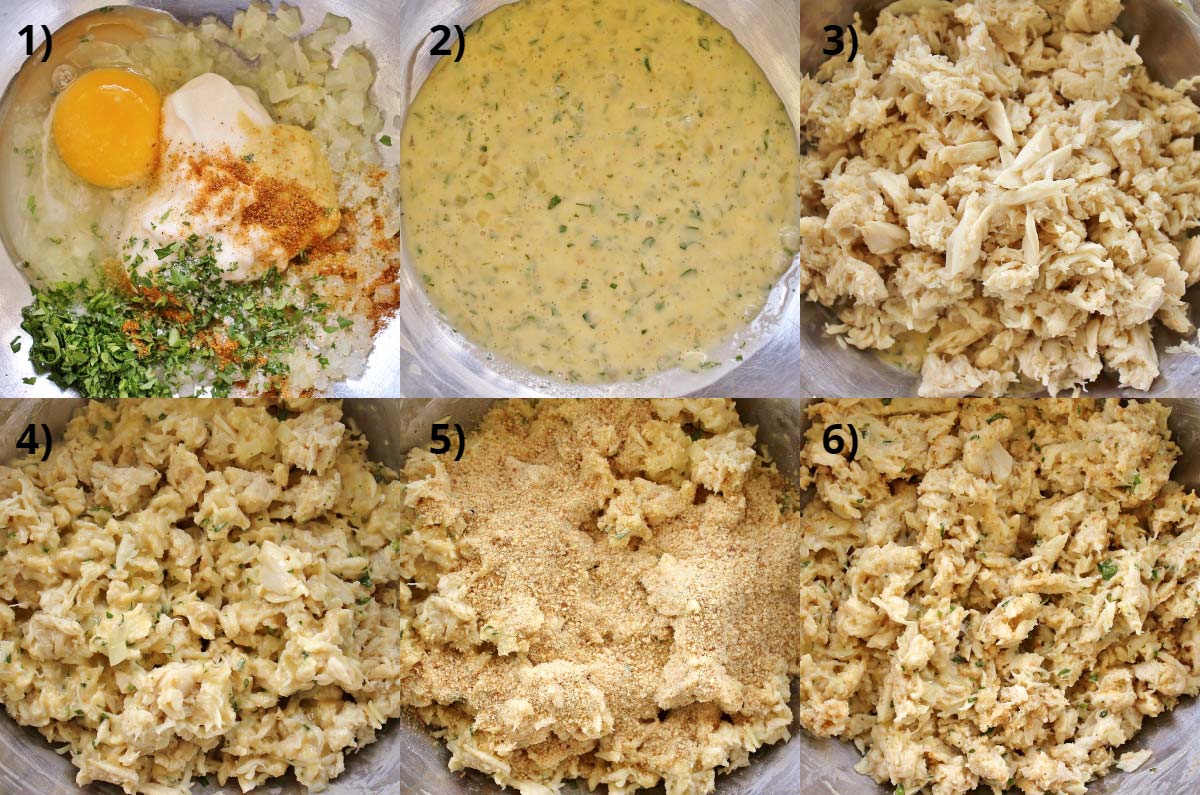 In a small mixing bowl combine mayonnaise, lemon juice, chopped capers, Old Bay Seasoning, and a bit of hot sauce, paprika, and salt. Set aside until you're ready to serve.
Meanwhile, it's time to shape the Old Bay crab cakes. Divide the mixture into 8 equal size portions. You can make 6 larger lump crab cakes, or make miniature hors d'oeuvres size crab cakes as well, but I think making 8 is a good size for the average meal.
Shape each portion into a patty about 3/4-inch thick. Lightly dredge the exterior in bread crumbs (STEP 1). Heat olive oil in a large nonstick skillet over medium heat. Cook the crab cakes for 4 minutes on each side until golden brown (STEPS 2-3).

Serve immediately with the Old Bay remoulade sauce. I also like to serve these Old Bay crab cakes with a super simple arugula salad. There's no real recipe. Just toss the arugula with fresh lemon juice, extra-virgin olive oil, salt, and pepper to taste. Bon appetit!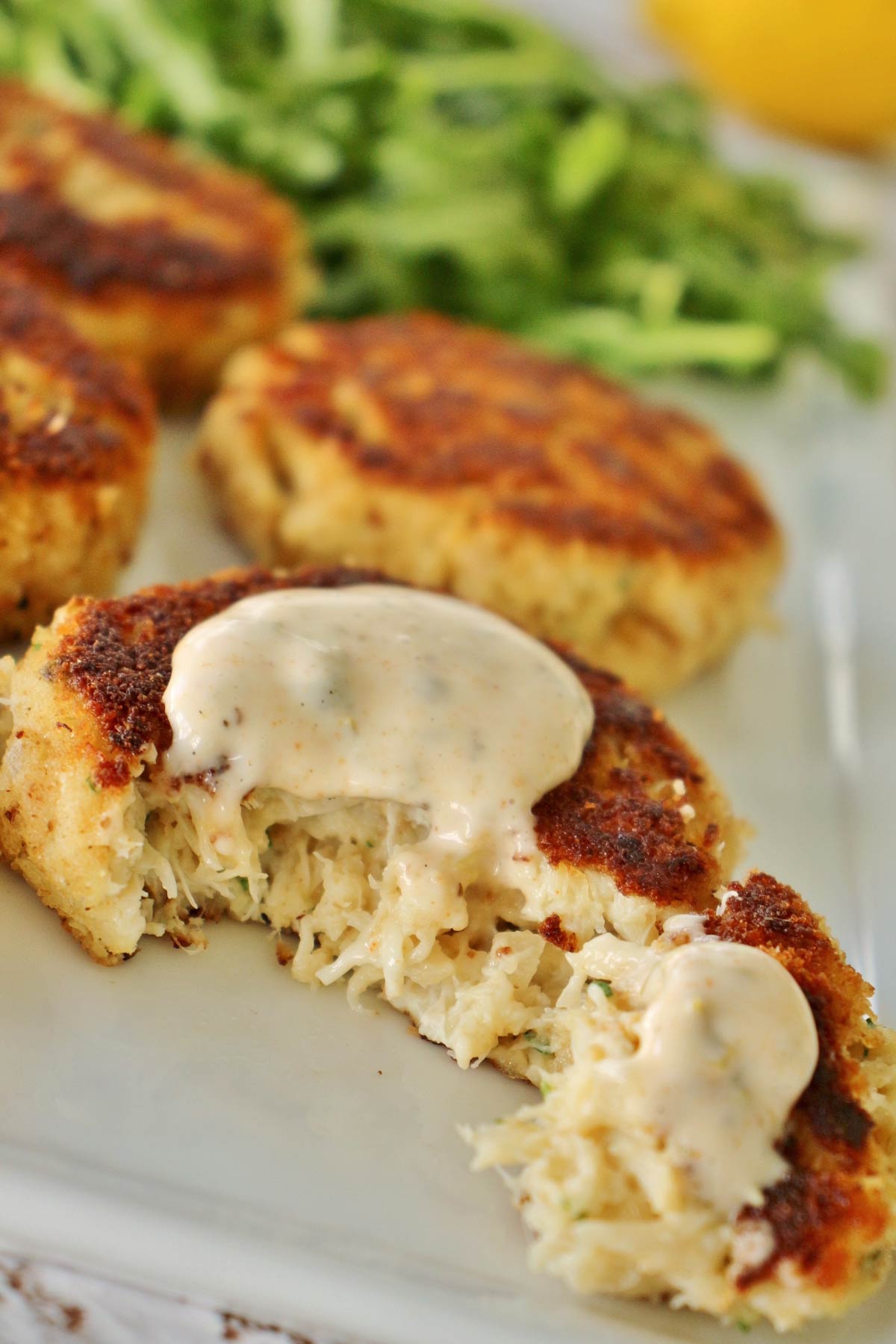 Other seafood recipes you may like
How do you like your crab cakes? Do you ever make them at home, or do you only enjoy them out at restaurants? Let me know in the comments, and don't forget to rate this recipe if you've tried it. Thanks!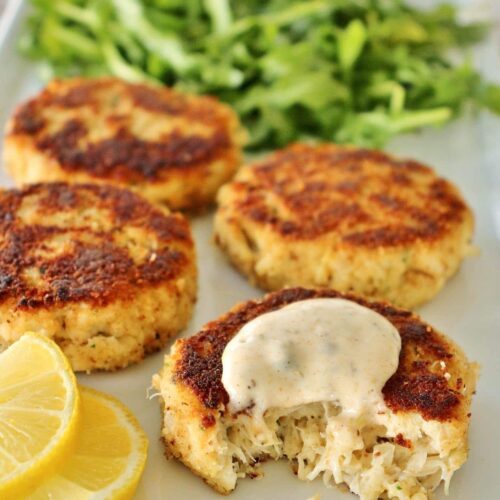 Old Bay Crab Cakes
Decadent Old Bay Crab Cakes feature a golden crust wrapped around mouthwatering lump crab meat and spices. These easy boardwalk style Maryland crab cakes are served with a quick Old Bay remoulade sauce. They're perfect for summer, or any time you crave a taste of the sea.
Ingredients
Crab Cakes:
1

teaspoon plus 2 tablespoons

olive oil

separated

1/2

cup

finely chopped onion

1

large egg

1/4

cup

mayonnaise

1/2

tablespoon

Dijon mustard

1

tablespoon

chopped parsley

1/2

teaspoon

kosher salt

1/2

teaspoon

Old Bay Seasoning

1

pound

lump crab meat

picked over for shells

1/4

cup

dried plain bread crumbs

plus more for dredging
Old Bay Remoulade:
1/4

cup + 2 tablespoons

mayonnaise

2

tablespoons

lemon juice

1

tablespoon

capers

drained and chopped

1/2

teaspoon

Old Bay Seasoning

2 to 4

dashes hot sauce

1/8

teaspoon

Spanish paprika

1/8

teaspoon

kosher salt
Instructions
Heat up 1 teaspoon of olive oil in a small skillet over medium heat. Cook the onion until softened and translucent, about 5 to 7 minutes. Transfer to a large mixing bowl, and set aside to cool.

To the mixing bowl of cooled onions, add the egg, mayonnaise, mustard, parsley, Old Bay, and salt, and mix until smooth. Fold in the crab meat, being careful not to break up the pieces too much. Add the bread crumbs, and fold the mixture until just combined. Set aside the crab mixture while you prepare the sauce. The moisture in the crab mixture will begin to soften the bread crumbs.

In a small bowl mix together all of the ingredients for the sauce and taste for seasoning. Set aside until you are ready to serve.

Add some bread crumbs to a plate for dredging your crab cakes. Portion out the crab mixture into 8 equal-sized mounds, between 1/3 to 1/2 cup each. Shape the crab cakes into patties about 3/4-inch thick. If the cakes feel a little loose, just gently press them back together with your hands. Dredge each crab cake in bread crumbs and set aside. Refrigerate for up to 1 hour before cooking.

Heat the 1 tablespoon oil in a large nonstick skillet over medium heat. Add the prepared crab cakes and cook for 4 minutes until browned. Add the remaining tablespoon of olive oil before flipping over, and cook the second side for another 4 minutes, or until golden brown. Remove from the heat. Serve immediately accompanied by the sauce.
Notes & Nutrition
Servings 8.0 * calories 217 * Total Fat 17 g * Saturated Fat 3 g * Monounsaturated Fat 6 g * Polyunsaturated Fat 8 g * Trans Fat 0 g * Cholesterol 95 mg * Sodium 559 mg * Potassium 188 mg * Total Carbohydrate 3 g * Dietary Fiber 0 g * Sugars 1 g * Protein 12 g
*All nutritional information is based on third-party calculations and should be considered estimates. Actual nutritional content will vary with brands used, measuring methods, portion sizes and more.*
Pin it for Later!