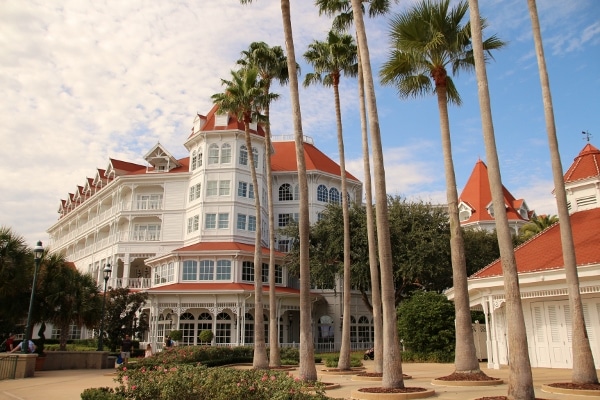 On my recent trip to Walt Disney World, my family actually did what's called a "split stay,"which means splitting your trip between multiple resorts.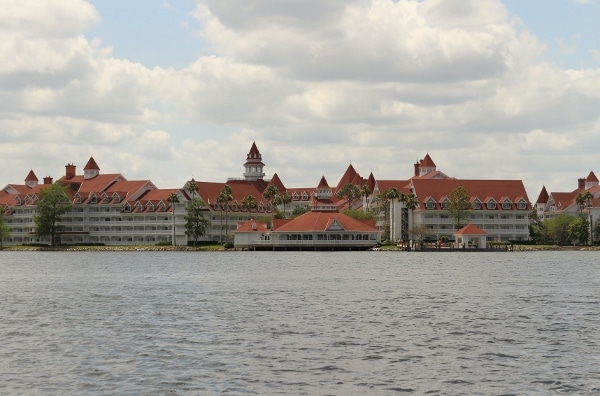 This is easy enough to do because bell services at any Disney resort will deliver your bags to your next Disney resort. You can drop off your bags, go to one of the parks (or wherever), and then head to your new resort later on and your bags will be waiting for you at bell services.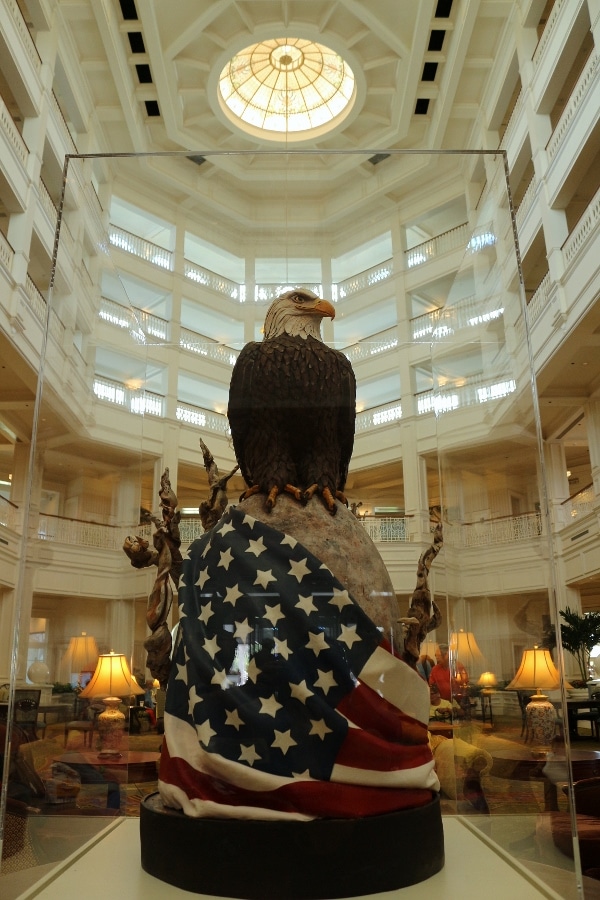 Chocolate sculpture hand-decorated by the Grand Floridian Bakery
We spent the first couple of nights at Disney's Beach Club Villas and the last two nights at the Villas at Disney's Grand Floridian Resort & Spa (phew, that's a mouthful).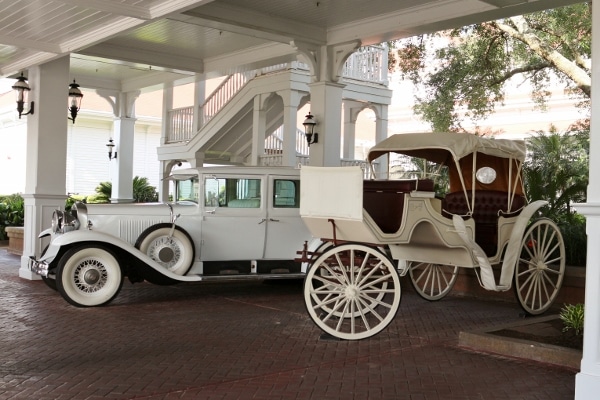 Disney's Grand Floridian Resort & Spa is arguably the nicest, classiest, and most luxurious of all the resorts at Walt Disney World.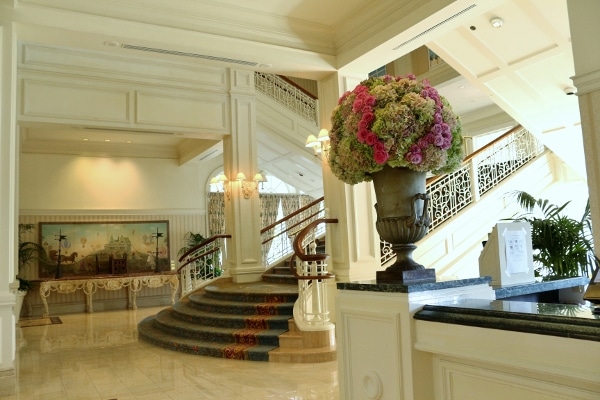 For many years I didn't find the Grand Floridian to be "special" but that was before I ever stepped foot inside. Don't judge a book by it's cover. It may not have the most exotic themeing compared to some other Disney resorts, but it's the crème de la crème for a reason.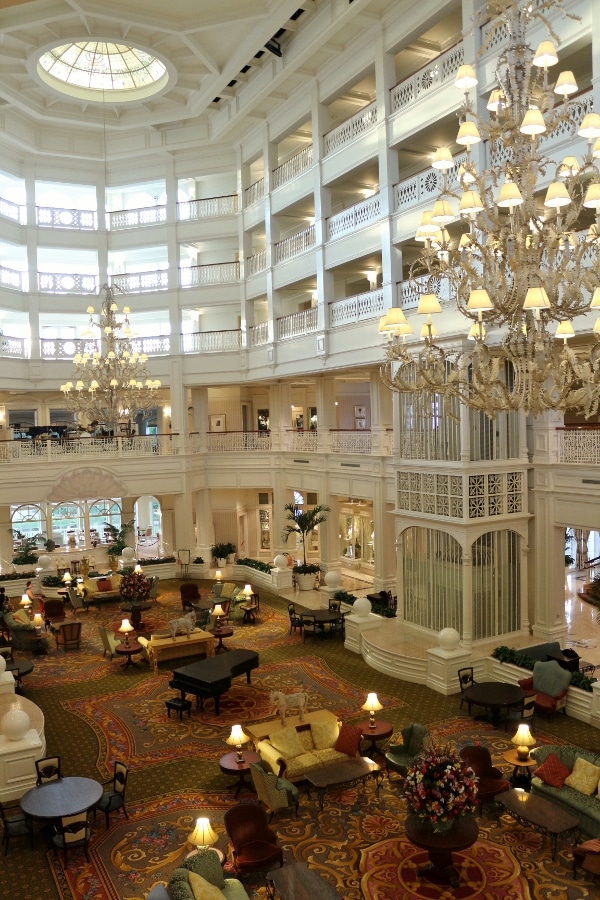 The Grand Floridian is a Victorian-style resort which is reminiscent of the famous Hotel del Coronado in San Diego, California. It's on the monorail circuit, and also has boat transportation to and from the Magic Kingdom. With views of Cinderella Castle, it's a prime location for anyone who wants to be fully immersed in the Disney experience.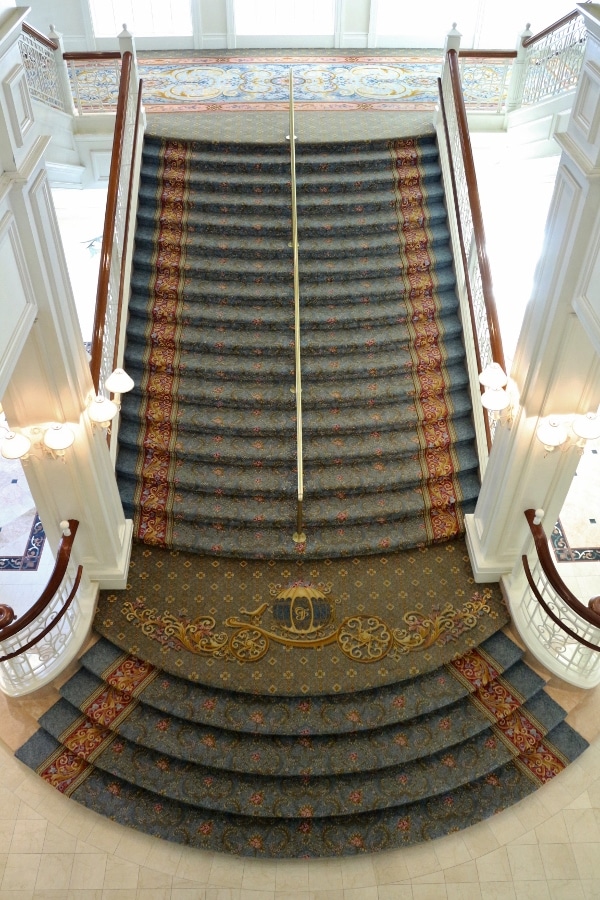 Some of the best restaurants on Disney property are found here at the Grand Floridian. Starting with Victoria & Albert's and continuing with Citricos, Narcoossee's, 1900 Park Fare, The Grand Floridian Cafe, and the Garden View Tea Room to name a few.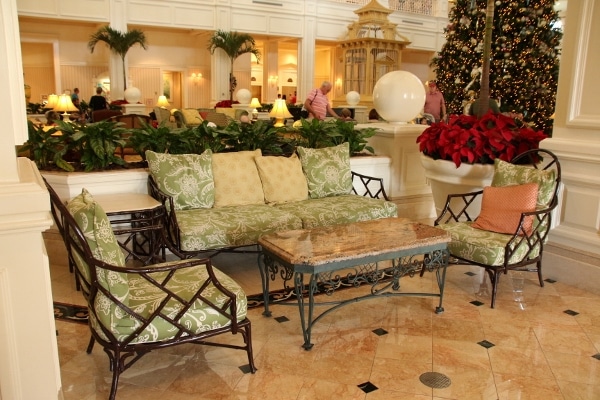 Much like my post for the Beach Club, I have photos from the Grand Floridian at Christmastime as well as when it's not Christmas, so I'll be sharing both.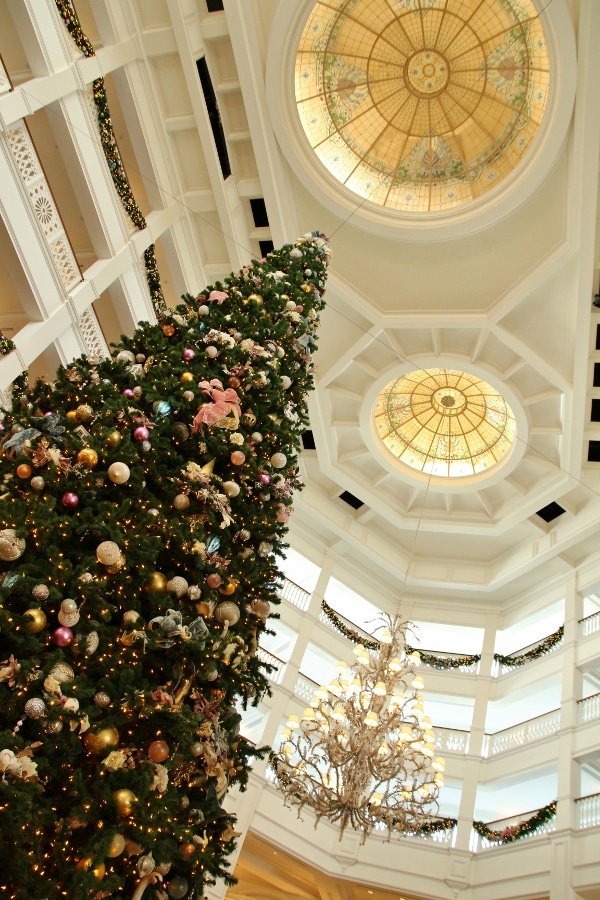 Christmas at the Grand Floridian is pretty epic. Not only does the expansive lobby feature an incredible Christmas tree with classic decorations, but it also houses a giant gingerbread house.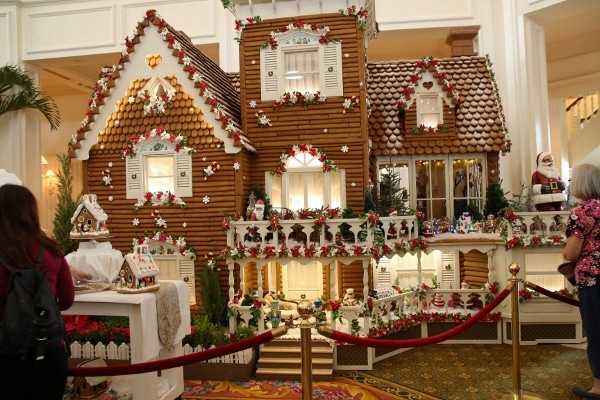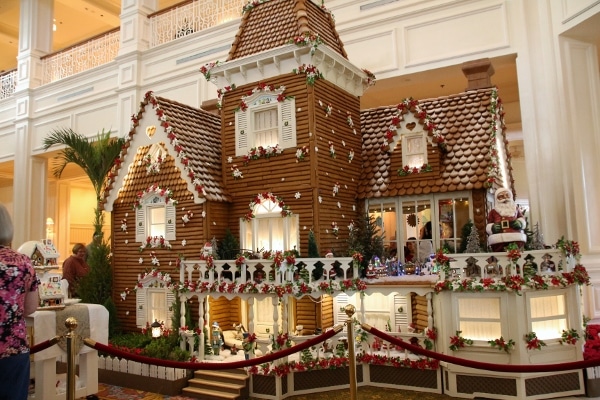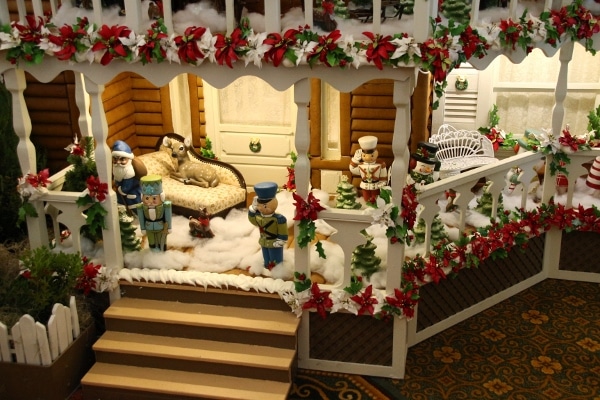 Disney guests from far and wide visit the resort to check out the gingerbread house. Cast members demonstrate decorating gingerbread houses and also provide samples of the gingerbread (also available for purchase!).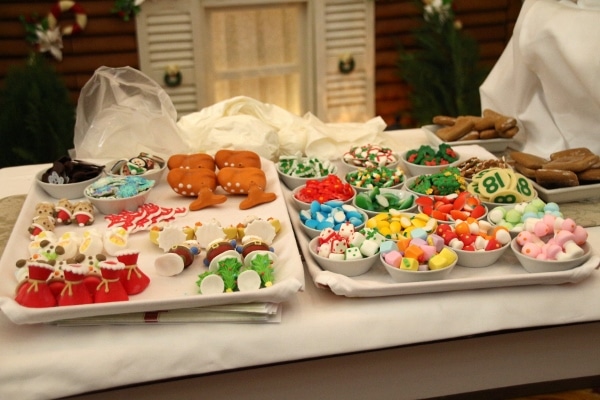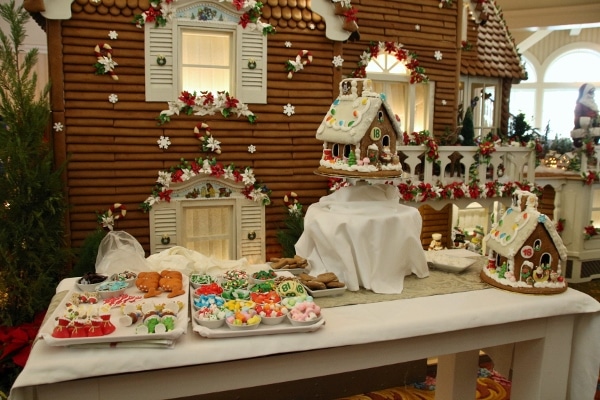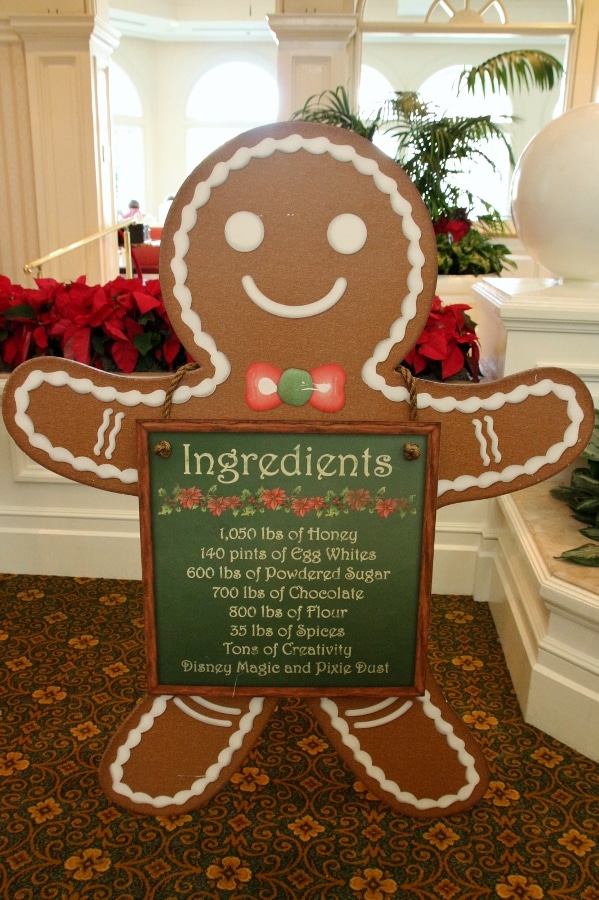 It's so much fun to check out the lobby at Christmastime, and I highly recommend even if you aren't a guest at this resort.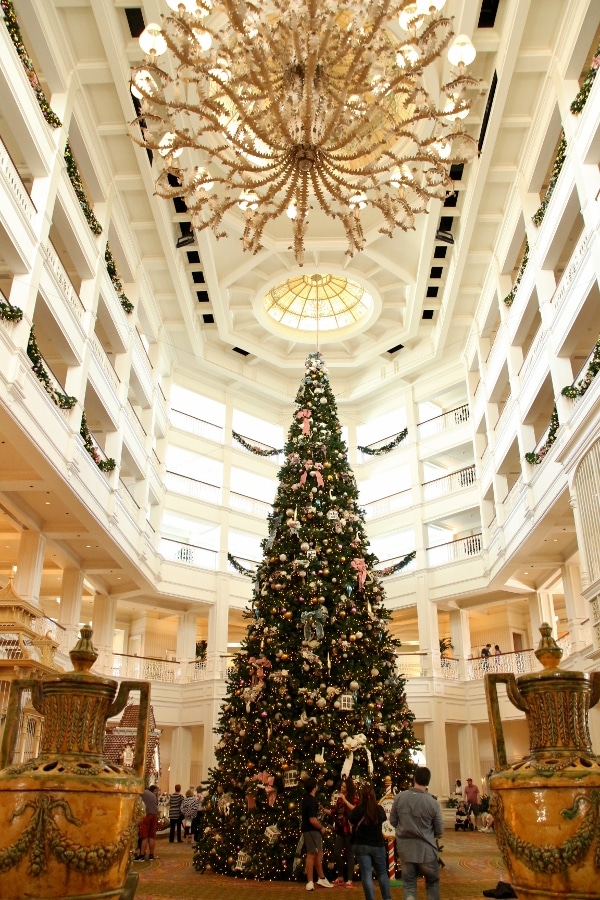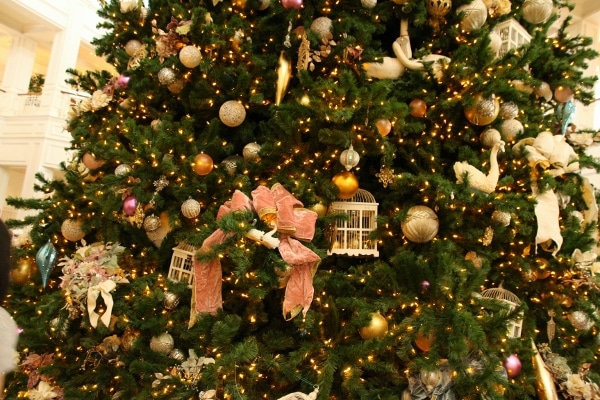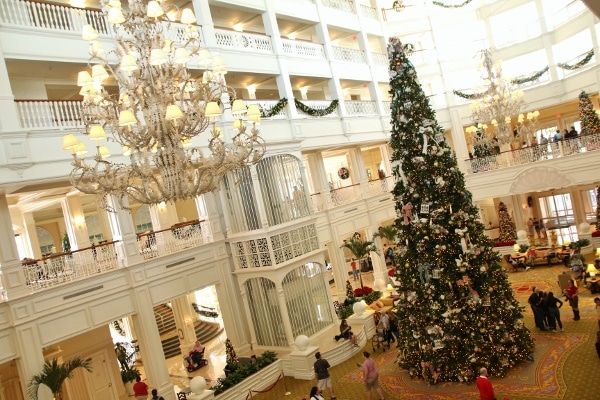 The lobby is quite stunning even without Christmas decorations. Filled with various cozy sitting areas, it's the perfect location to enjoy some live musical entertainment, such as classic tunes on the piano or a bit of jazz with the Grand Floridian Society Orchestra.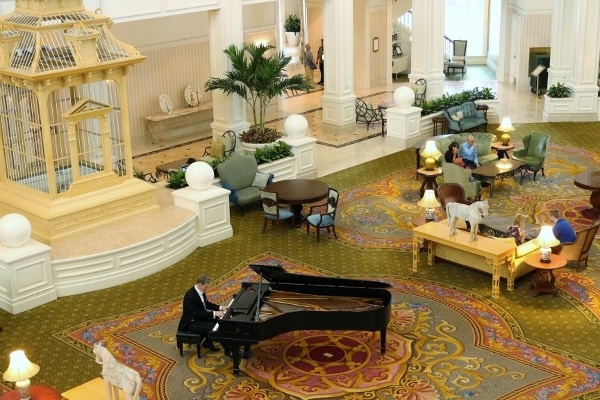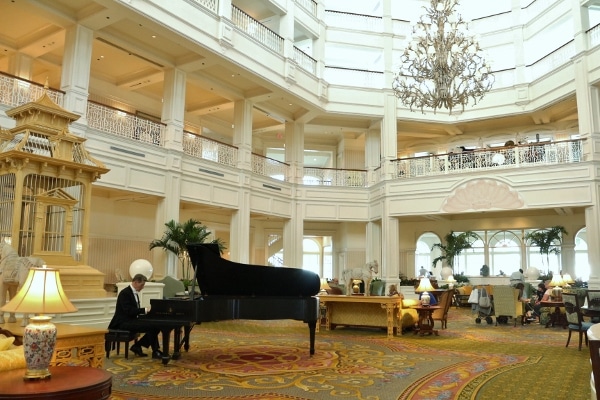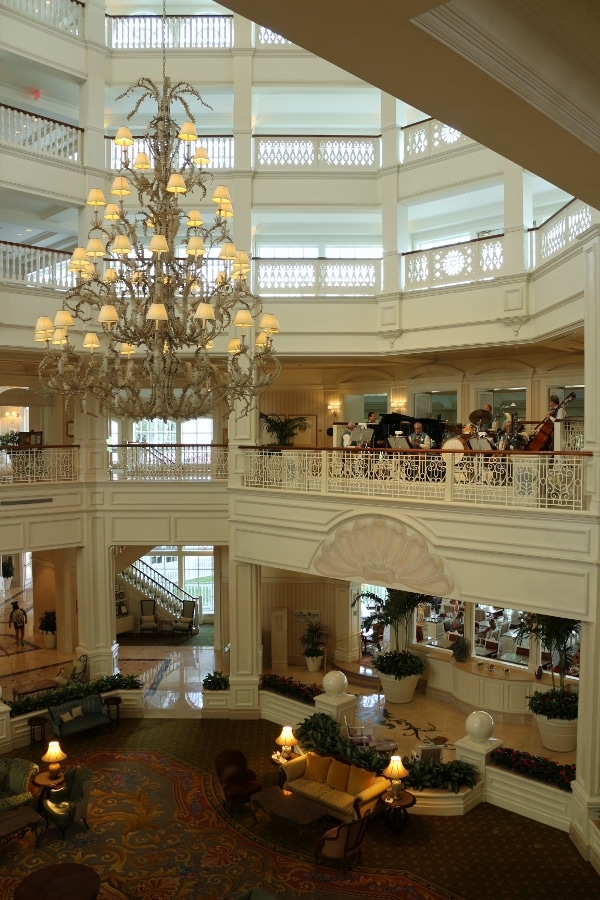 There are also two pools and a splash area. The Courtyard Pool is a zero-entry leisure pool. It's generally calmer and more quiet than the Beach Pool. From our experience the water was a bit colder than the nearby Beach Pool.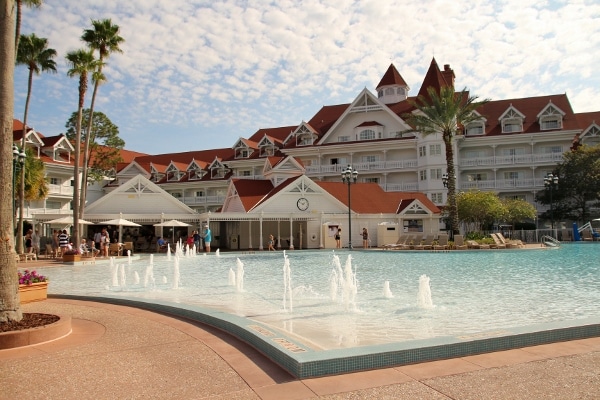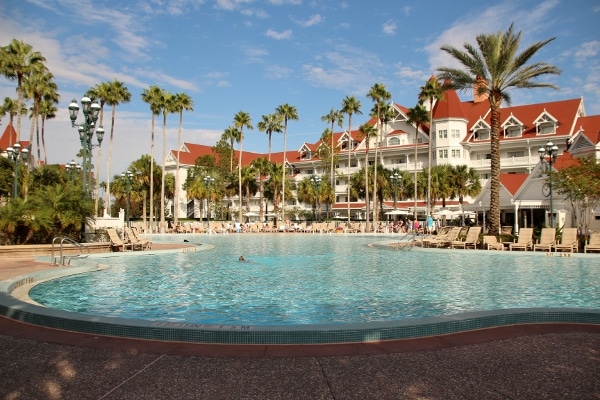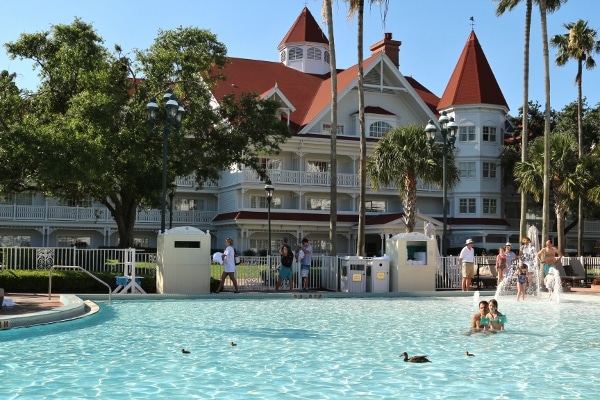 There's also a fun giant-sized chess board and pieces by the Courtyard Pool.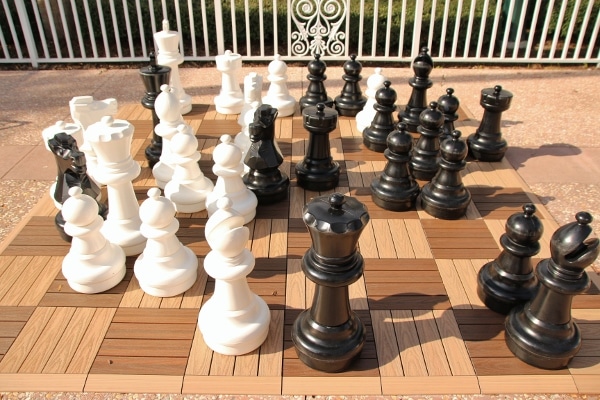 The Beach Pool is a bit louder and more rowdy than the Courtyard Pool. There's music blaring, and a 181-foot water slide to make this a very family-friendly pool.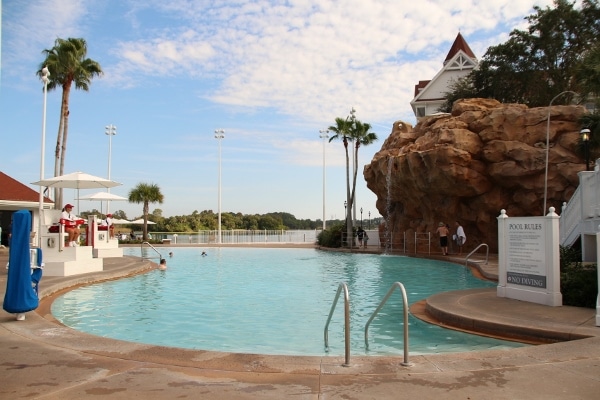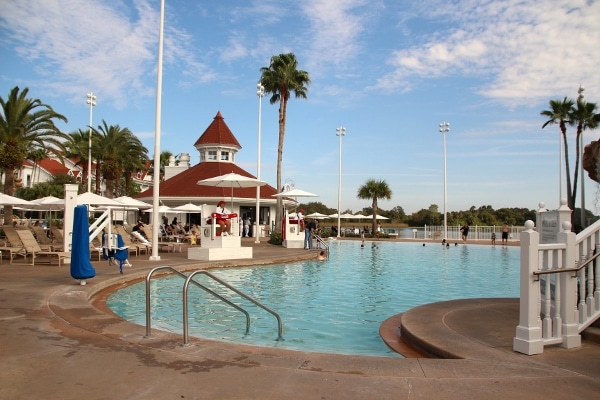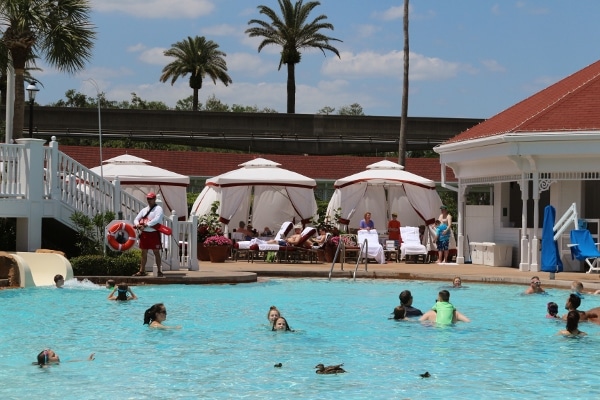 Funnily enough during our visit there was a mama duck and her three little ducklings that visited BOTH of the pools and swam around, not bothered at all by the other guests. How adorable!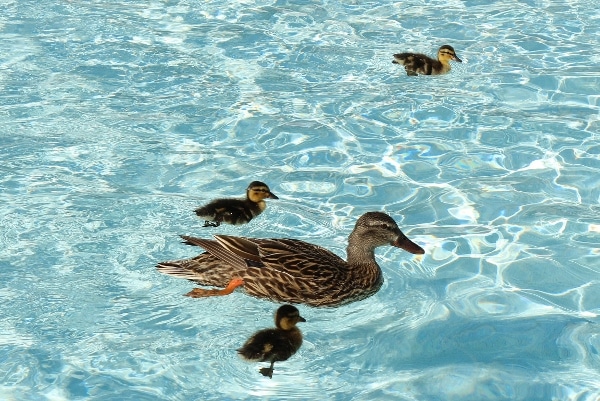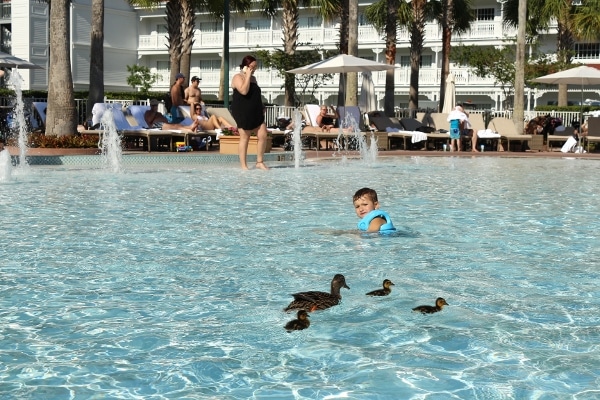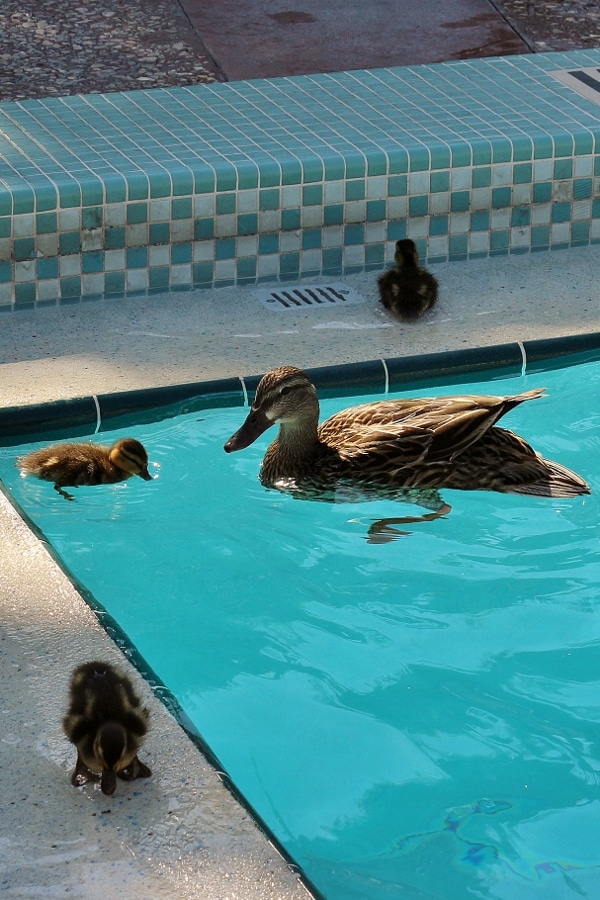 There's also an Alice in Wonderland-themed splash area for kids. It makes me wish I was young enough to enjoy this space!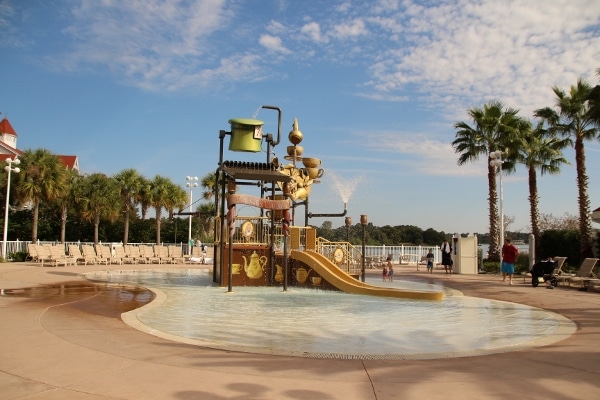 They also occasionally set up lawn games on the Courtyard Lawn nearby, including games like giant Connect 4 and cornhole.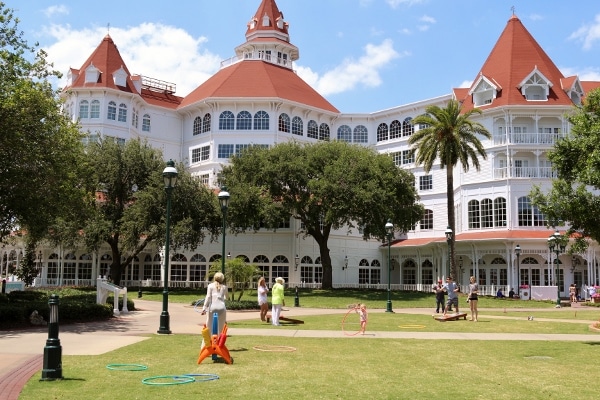 You might recall from the name of the resort, it's the Grand Floridian Resort & Spa, so let's take a moment to talk about Senses Spa.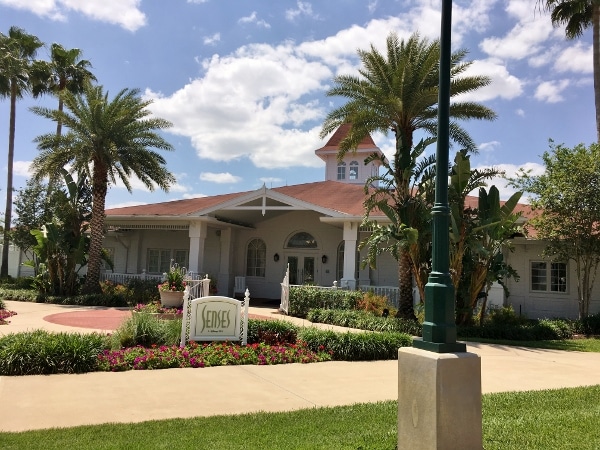 During our recent trip we scheduled spa services, so my mom, sister and I all had an opportunity to visit the spa. The cast members were super professional, and the relaxation room and spa services rooms were immaculate and peaceful.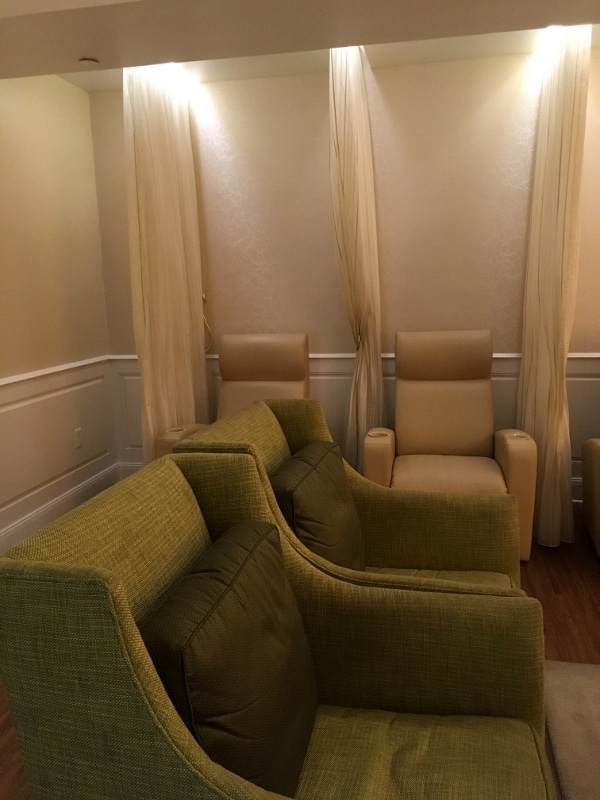 An array of beverages and snacks are offered for guests, and after your treatment you also get a drink menu for a complimentary alcoholic beverage, along with a chocolate.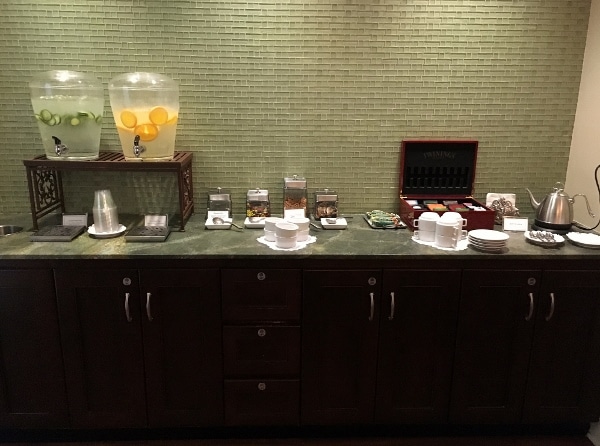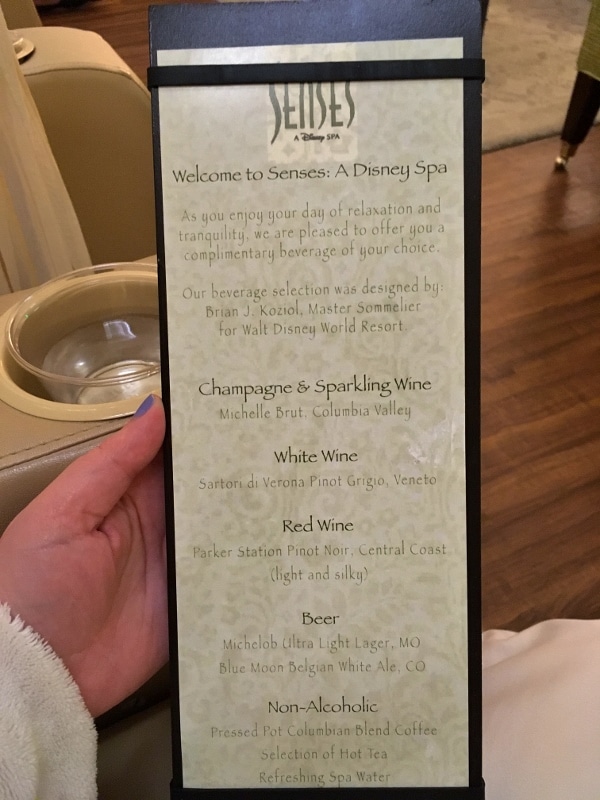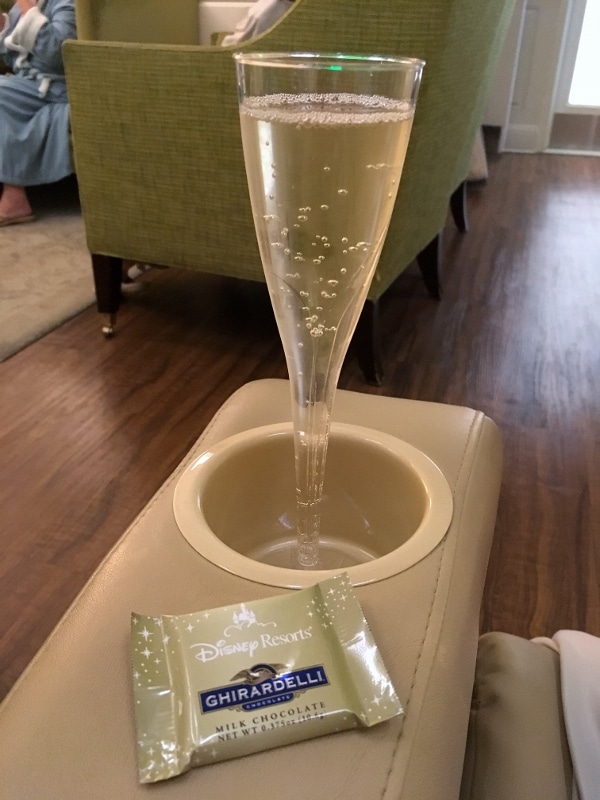 We all selected the Authentic Aromatherapy Massage, which was fabulous! All of the staff members use a choreographed technique hailing from the UK, which focuses on pressure points in the body, combining massage and reflexology. The entire experience was truly sublime and relaxing, and made for an excellent break from our tiring days walking around the parks.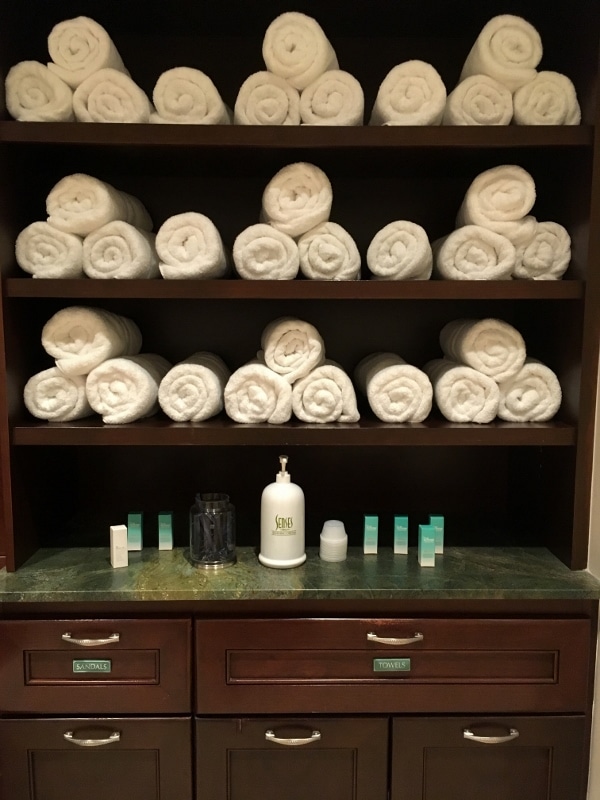 There's also a steam room and jacuzzi adjacent to the relaxation room, and guests are welcome to bring bathing suits to enjoy this space. We decided not to take advantage, but still took a peek to check it out.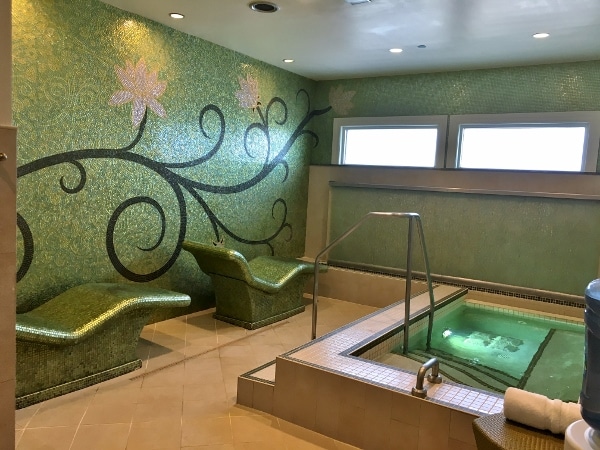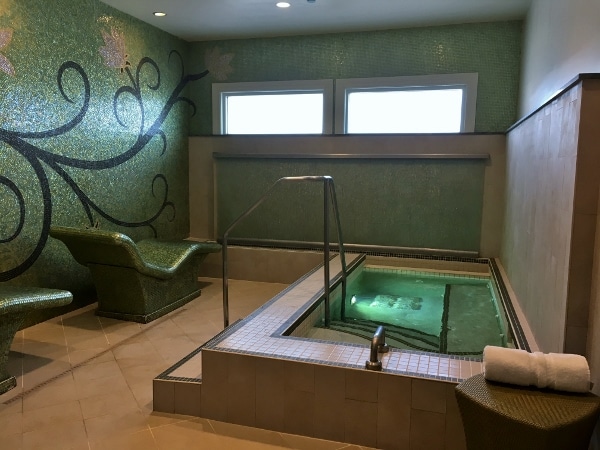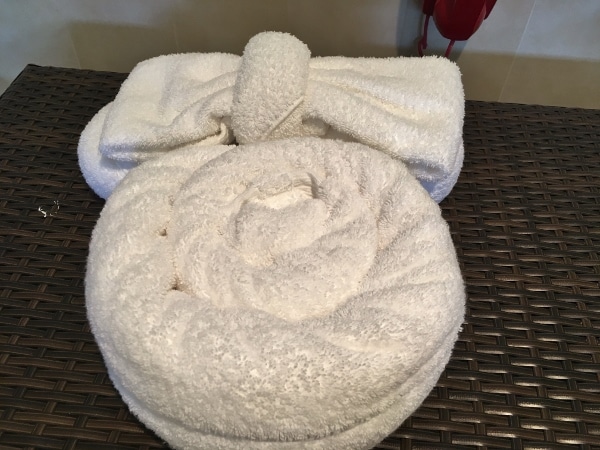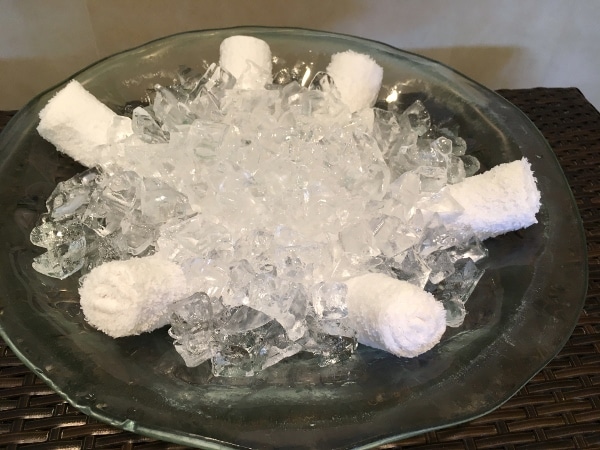 When we stayed here recently we actually stayed at the Villas, which have their own building on the property directly across from Senses Spa, and right around the corner from the Beach Pool. The Villas Lobby draws inspiration heavily from Mary Poppins.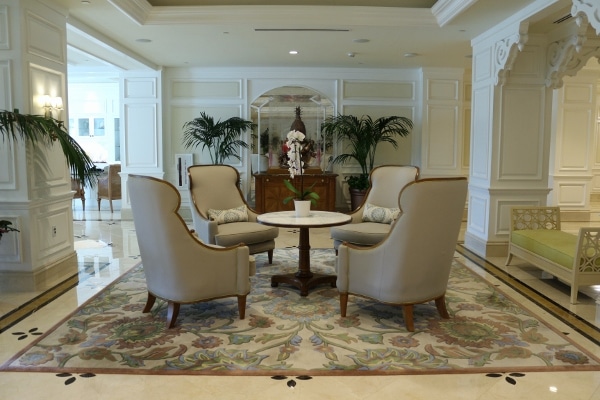 The Victorian themeing continues from the main resort along with elegant seating areas arranged around chess and checkers boards, carousel horses reminiscent of the ones found in Mary Poppins, and of course the penguin waiters fountain, also directly inspired by scenes from Mary Poppins.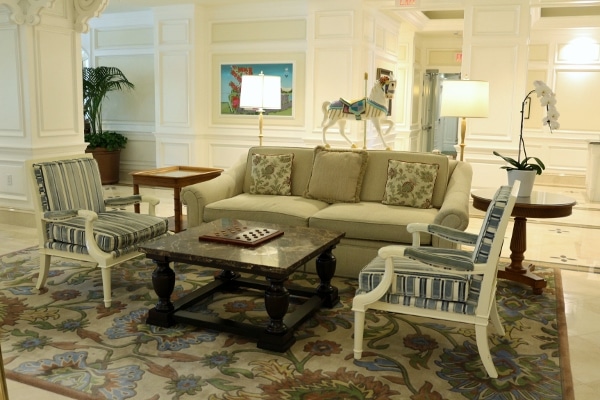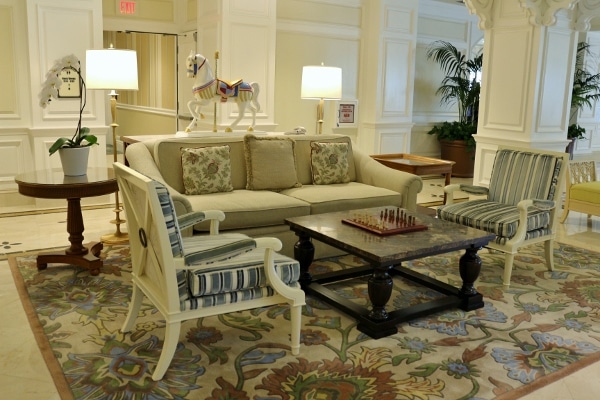 During our stay the fountain was not operational, but it was still adorable and a wonderful accent piece to the entire lobby space.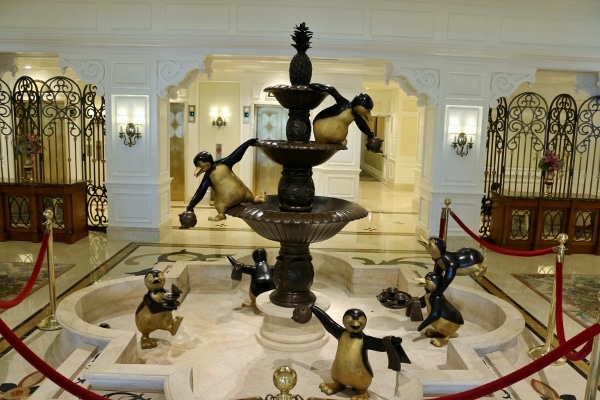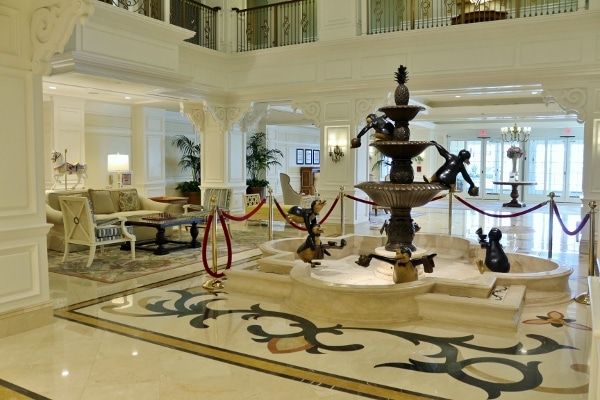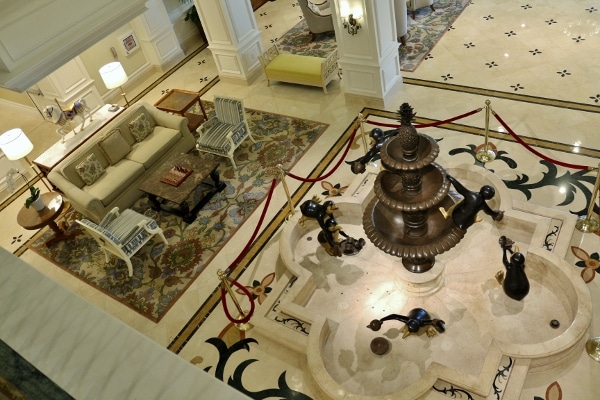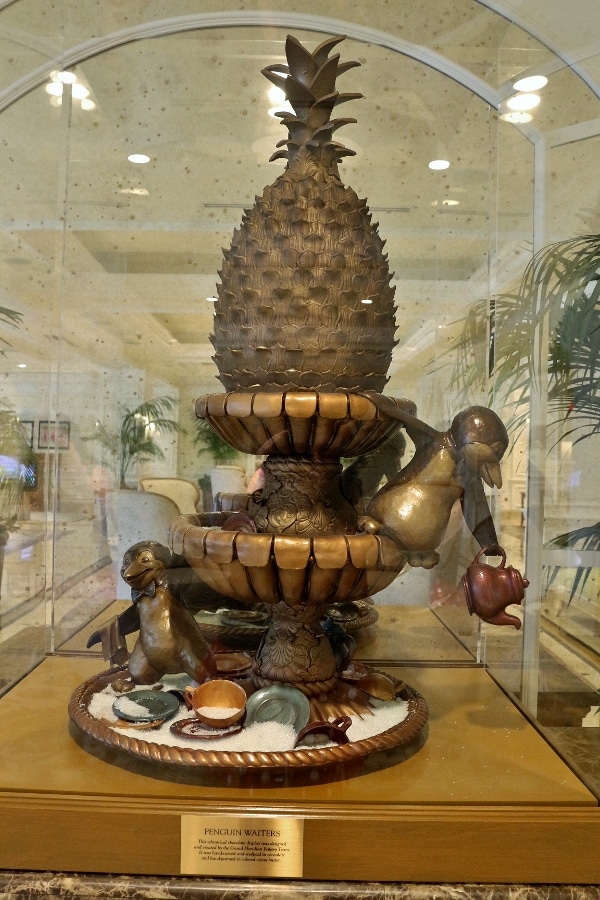 Hand-carved chocolate sculpture
Mary Poppins' umbrella hovers above the elevators, indicating the elevator's location.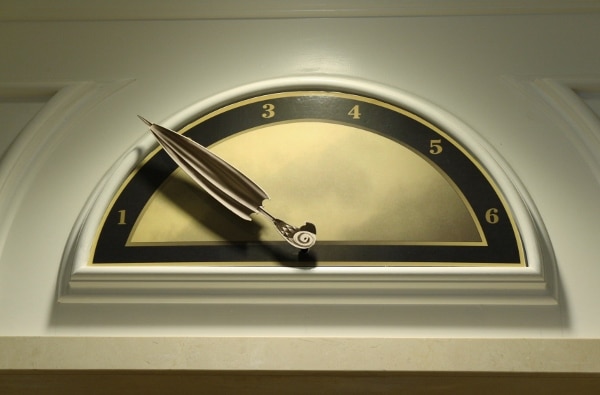 Beyond the lobby, let's take a look at our room where we stayed! Our Deluxe Studio is similar in size and layout to some of the other studios we've visited at other Deluxe resorts, with a few differences.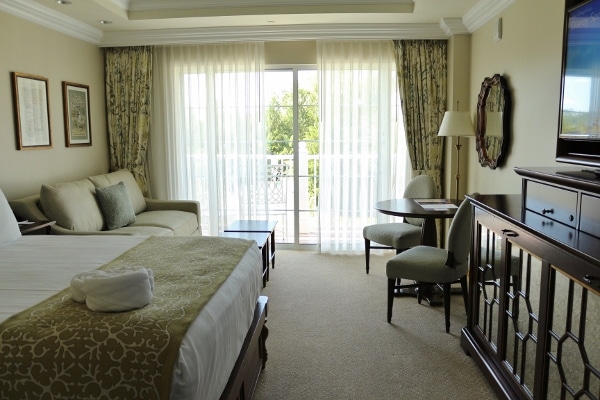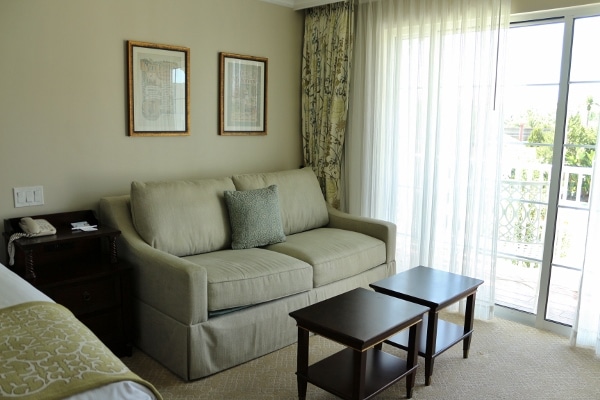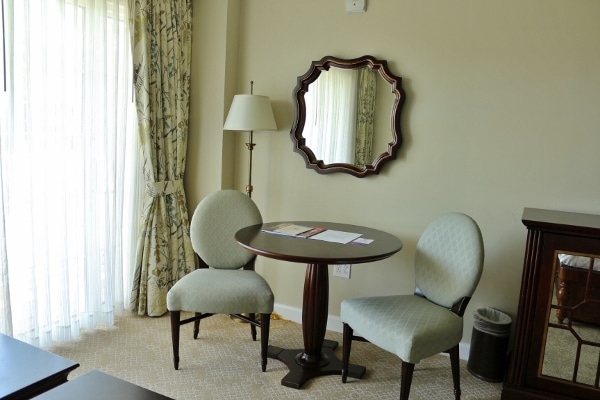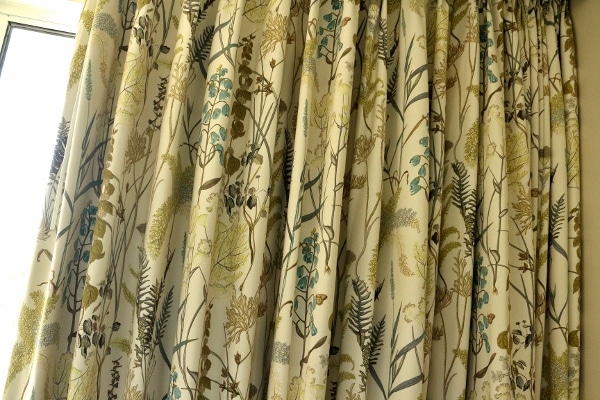 Pretty curtains
Like the others, there is a queen bed and a queen-size sleeper sofa.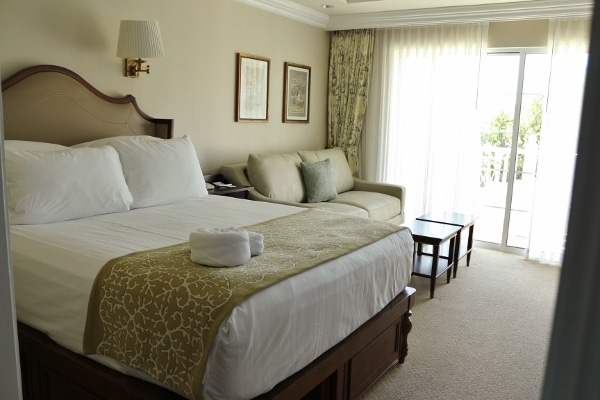 There is also a twin-size pull down bed underneath the television. The mural is a scene from Dumbo! I've seen photos of the pull down bed in the one and two-bedroom villas, and those depict a scene from Mary Poppins.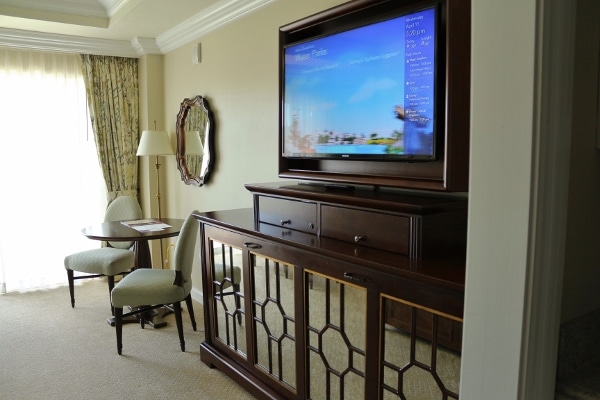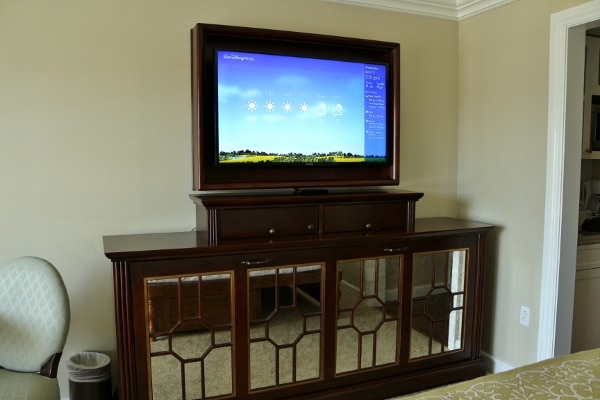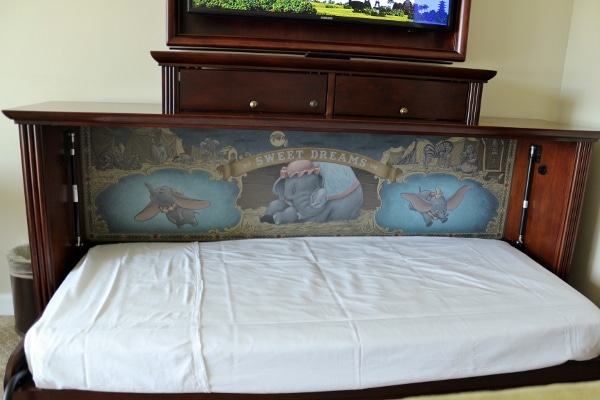 Like the other Deluxe Studios, there is a small kitchenette with a mini refrigerator, microwave, toaster, and coffee maker.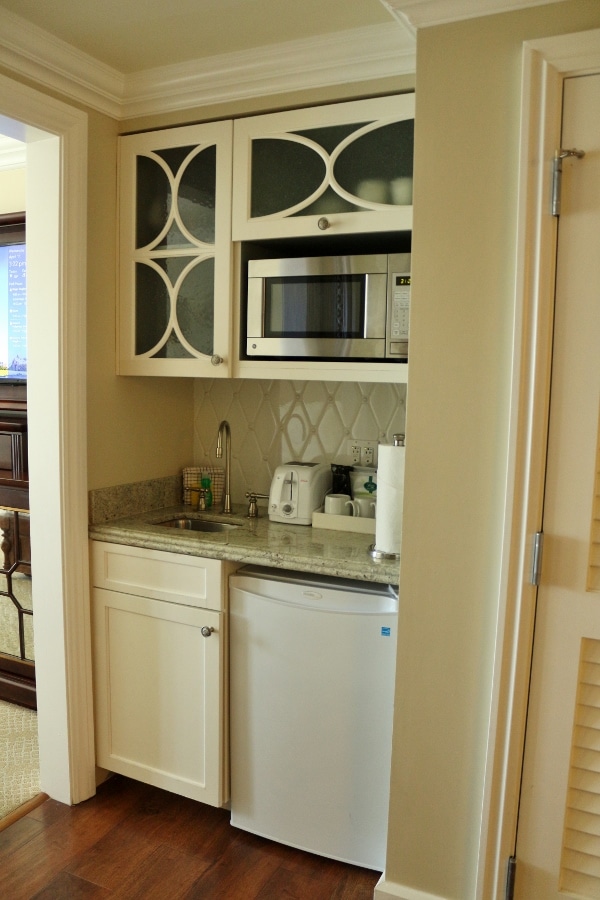 Similar to Disney's Polynesian Villas, these Deluxe Studios also feature a split bath, although the layouts between the two are different. Whereas the Poly has one bathroom with a toilet, sink, and tub/shower and another with a sink and standing shower, the Villas at the Grand Floridian Resort have one bathroom with a sink and standing shower, and another with a toilet and a tub/shower. So there's one less sink at the Grand Floridian.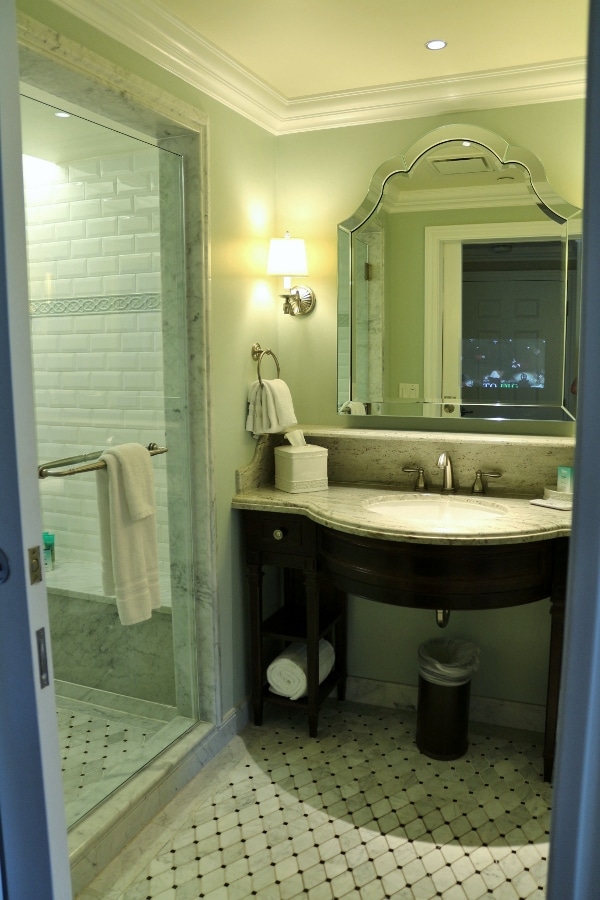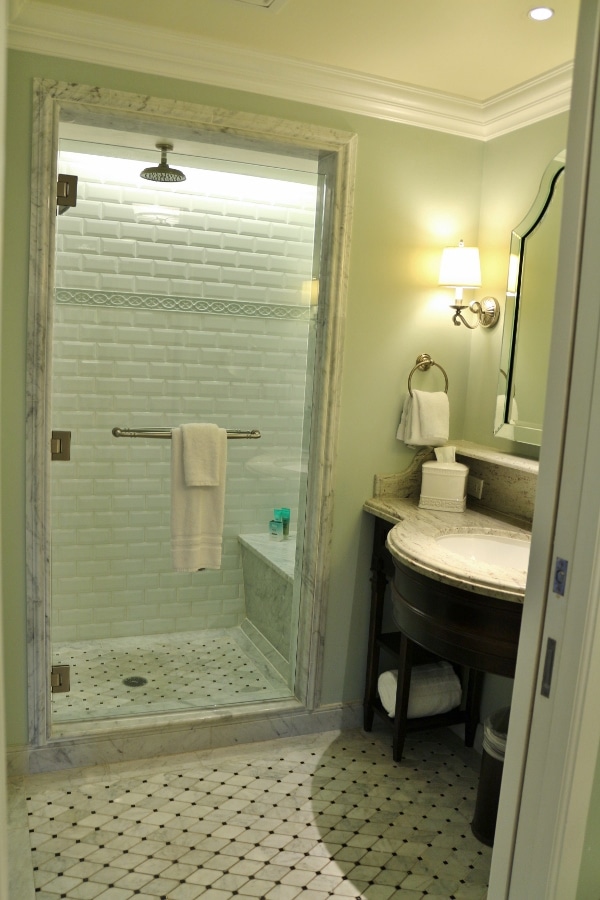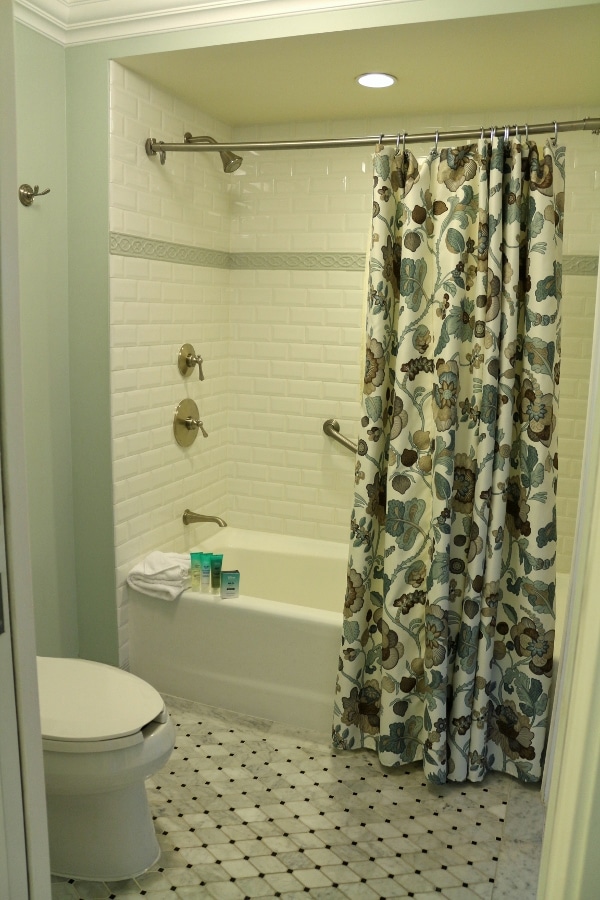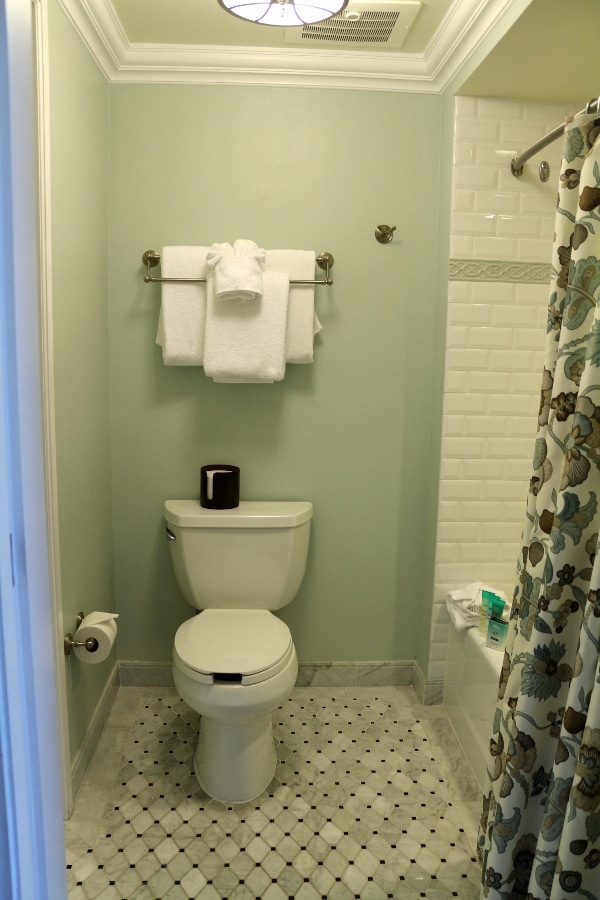 Also, the mirror over the sink has an imbedded television screen, so you can watch tv or listen to the Disney music loop while you shower or get ready for the day!
Each room also includes a balcony. We had a standard view for our room which overlooked the monorail, a fountain, and one of the entrances to the Beach Pool.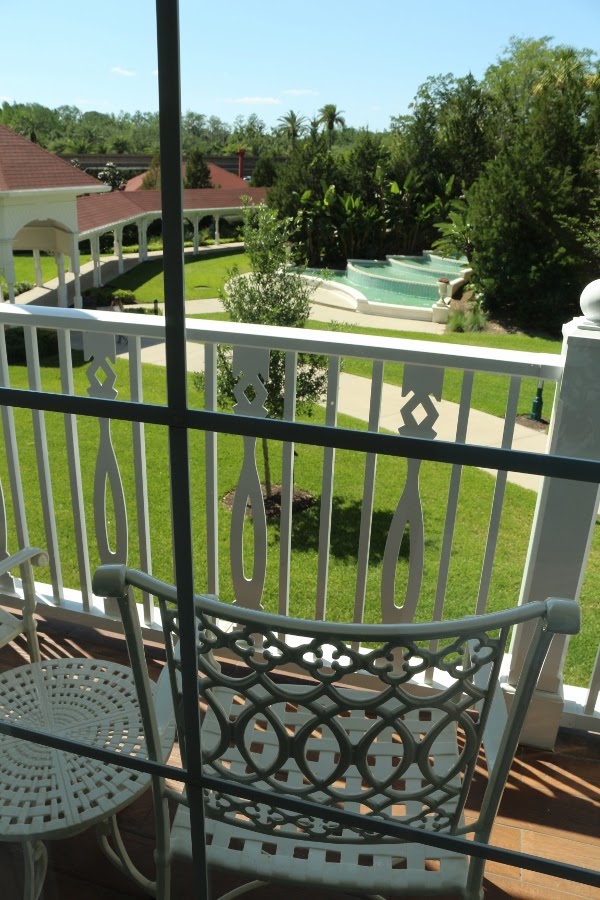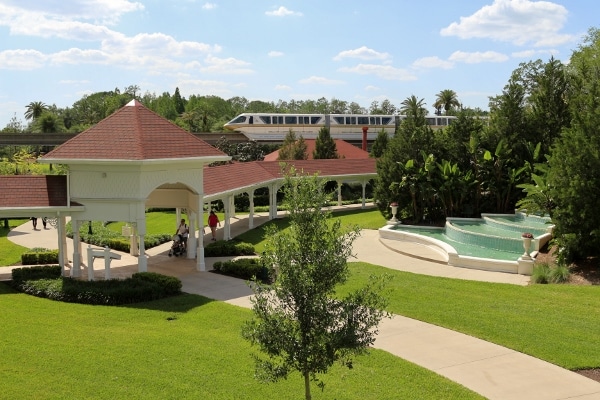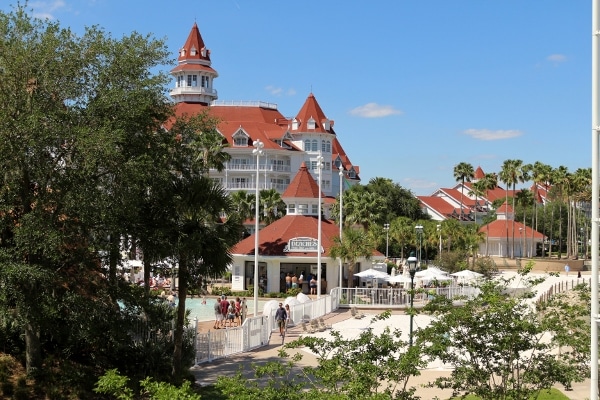 View of the Beach Pool from our balcony
Our room decor was very classic with a tray ceiling and elegant furnishings. Although this room can sleep five, please keep in mind that it could definitely get a bit crowded with 5 adults, although we managed just fine with 4 adults and still had plenty of room to move around. It's also great that two people could shower at the same time in the two separate showers. A pocket door separates the two bathrooms.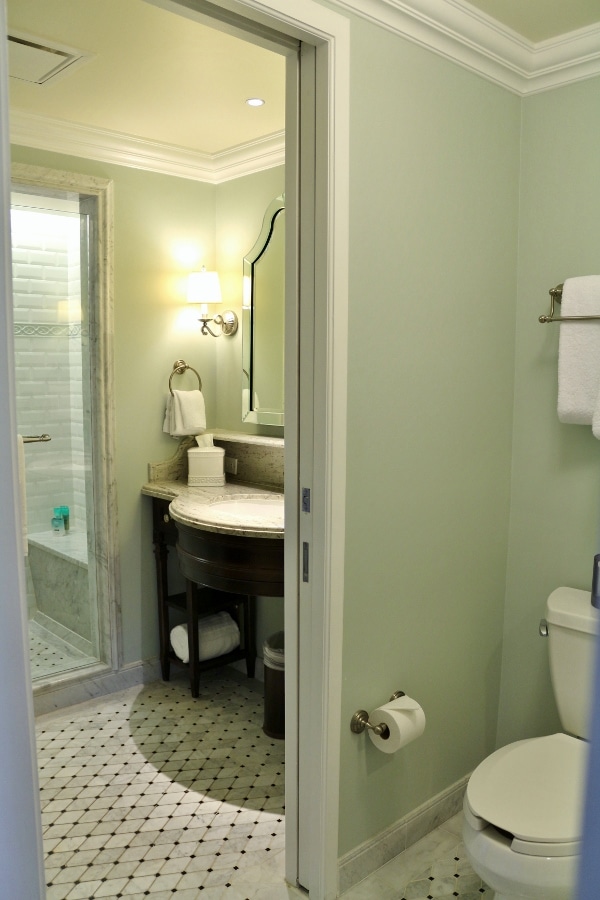 It's really impossible to pick a favorite resort at Disney, so I'll never claim to have one. There are features I love about them all, but the Grand Floridian is truly special. It's certainly the most elegant, but it also sits in a prime location for visitors to the Magic Kingdom. It's also pretty easy to take the monorail to the Transportation and Ticket Center (TTC) and switch over to the Epcot monorail if desired. The walk to the Polynesian Village Resort is also very convenient if you'd like to dine over there at any point.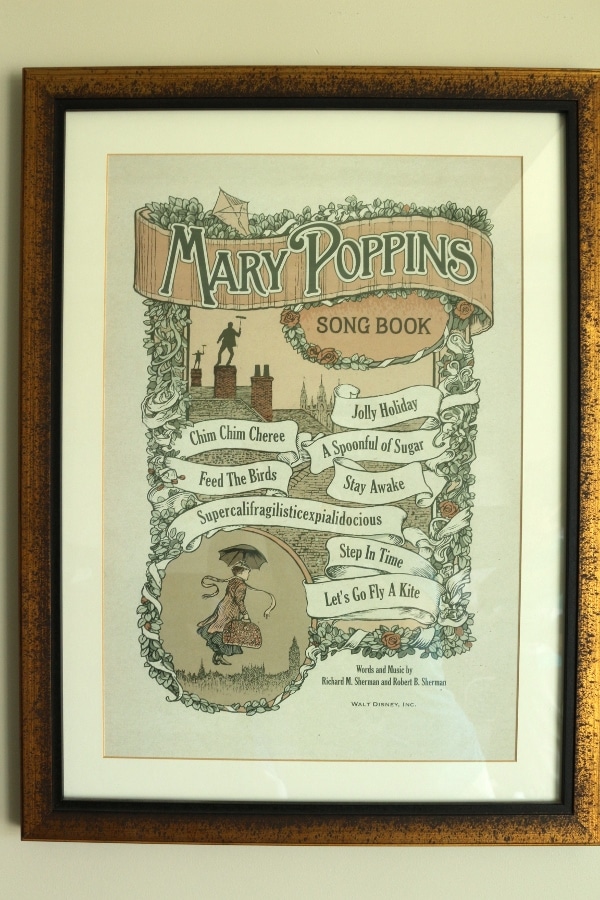 Artwork in our room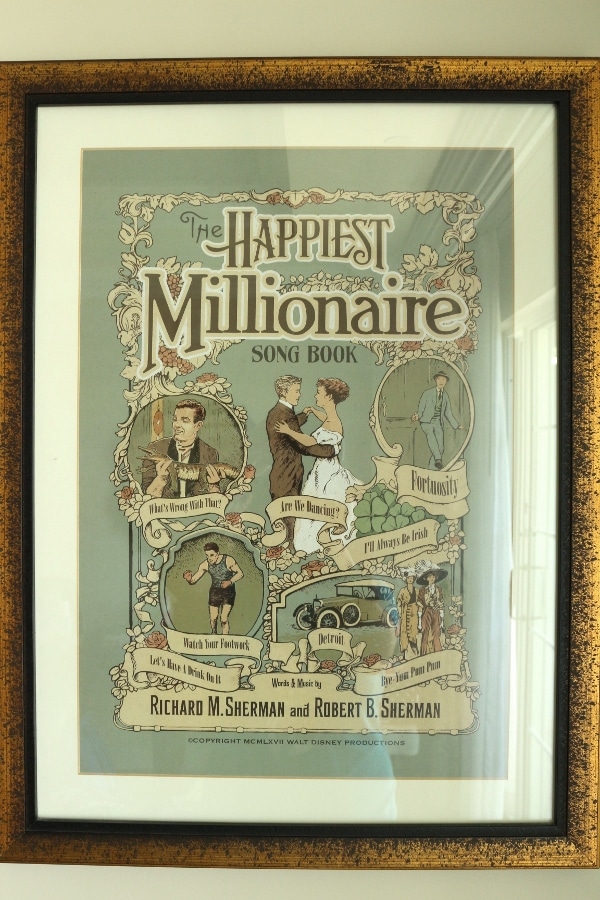 Artwork in our room
We had a wonderful stay here, and I look forward to visiting soon. Even if you're not a guest at this resort, it's definitely worth visiting the Grand Floridan simply to enjoy the ambiance, or dine at any of the fantastic restaurants.
The Villas at Disney's Grand Floridian Resort & Spa
4401 Floridian Way
Bay Lake, FL 32836
(407) 824-3000
https://disneyworld.disney.go.com/resorts/grand-floridian-resort-and-spa/
https://disneyworld.disney.go.com/resorts/villas-at-grand-floridian-resort-and-spa/
https://disneyworld.disney.go.com/spas/grand-floridian-resort-and-spa/senses-spa/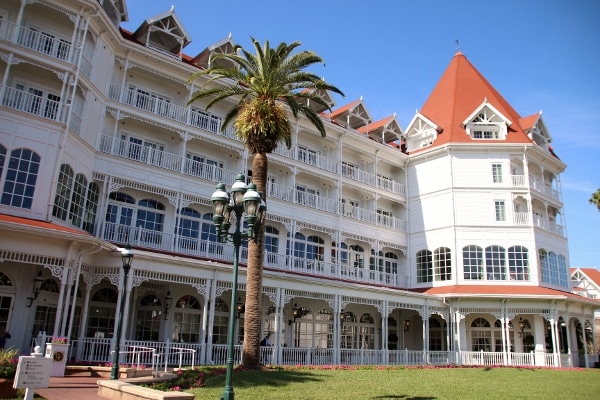 Related posts