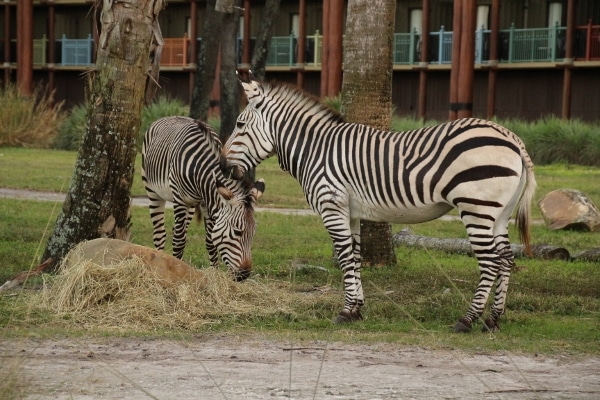 My family recently took a trip to Walt Disney World. This was my first time experiencing the parks and resorts at Christmastime, and I was really impressed by all of the wonderful holiday decorations. If you're an ardent reader of this blog, you're probably already quite aware of my Disney obsession. You can easily review many of my past Disney posts here, ranging from park visits, resort and restaurant reviews, and of course my beloved Disney Cruise Line.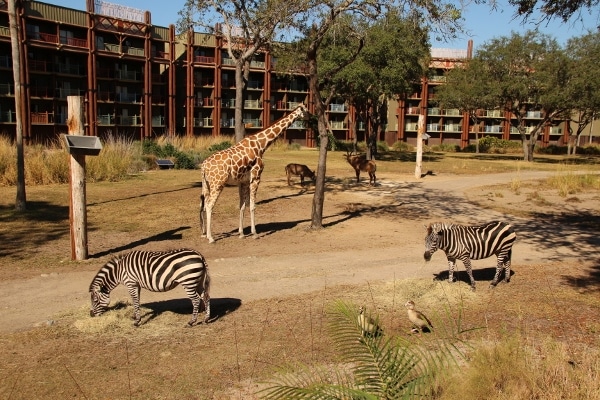 Today I will be discussing one of the two resorts where we stayed on this most recent trip. This was actually a split stay, and we spent one night in a two-bedroom villa at Animal Kingdom Villas - Kidani Village, and the rest of the week in a two-bedroom villa at Boulder Ridge Villas at Disney's Wilderness Lodge. I will focus on the second resort in my next post.
I'd like to start out by just sharing some fun photos of the great Christmas decorations. Here we have the Christmas tree from Animal Kingdom Lodge - Jambo House next door.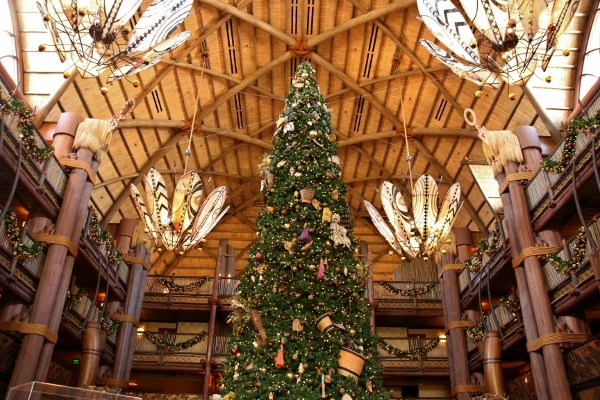 This is the tree at Kidani Village. Both are quite stunning, yet unique in their own ways.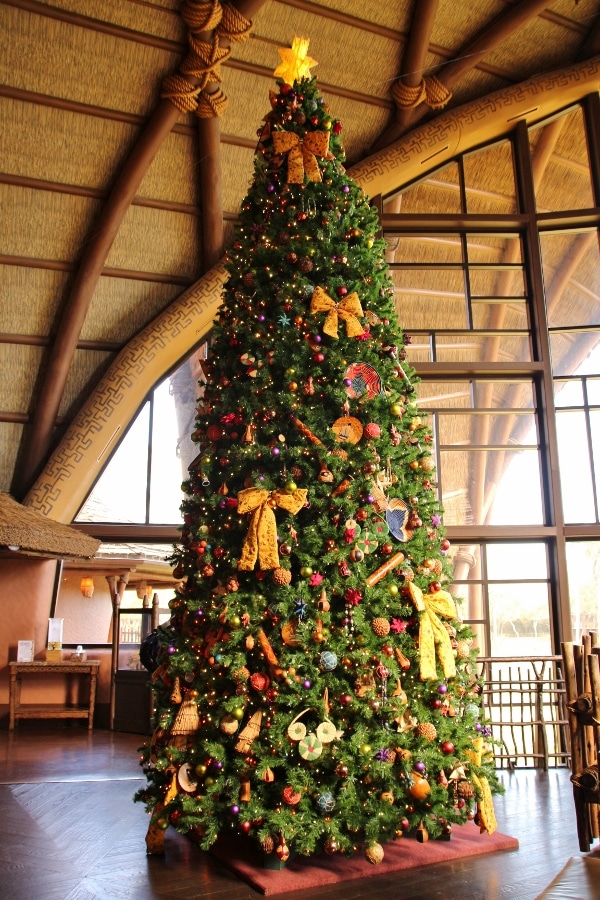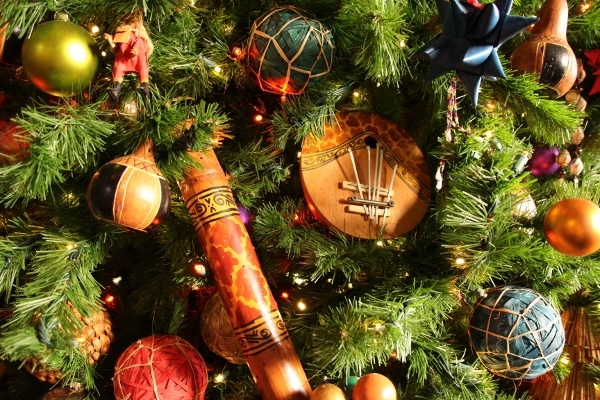 This was not my first time staying at Animal Kingdom Villas. I have discussed this resort previously, and shared photos from one of the deluxe studios, which features a queen-size bed and a queen-size sleeper sofa, along with a full bath and kitchenette. Our room during this visit was vastly different, so I wanted the opportunity to share some photos.

First of all, the one bedroom and larger villas feature full kitchens. This is definitely great if you want to prepare food yourself and save some money. We mostly used the kitchen to prepare breakfast, as well as one dinner at the resort. It was also easy to reheat leftovers from previous meals if we desired since we not only had the standard microwave, but also an oven and stove top (and of course, don't forget the dishwasher!).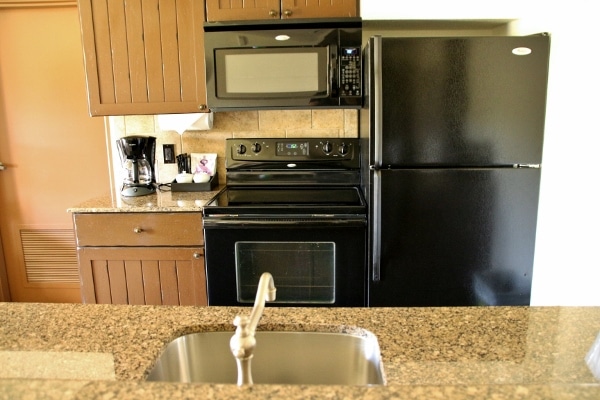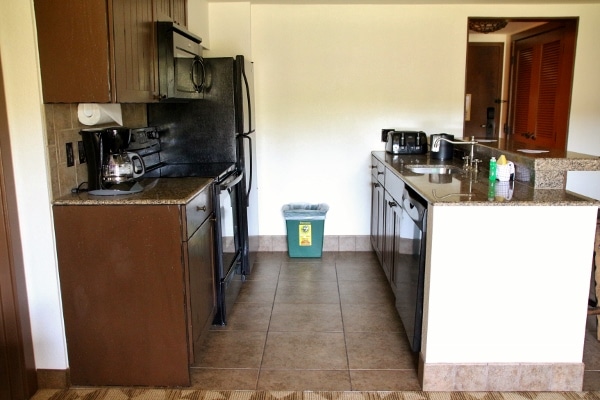 These rooms also include laundry facilities, which is wonderful when you come back from a rainy park day and want to throw all your wet clothes into the dryer, or when you need a quick turnaround on wet bathing suits before heading back to the pool 🙂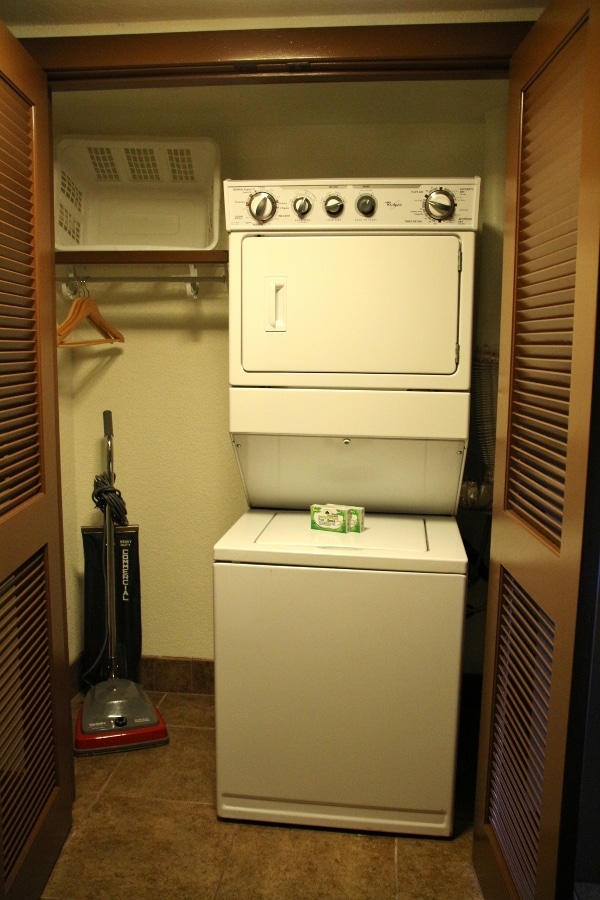 The living room features a table and chairs, a large flat-screen television, a queen-size sleeper sofa, as well as a sleeper chair. This room sleeps up to 9 people.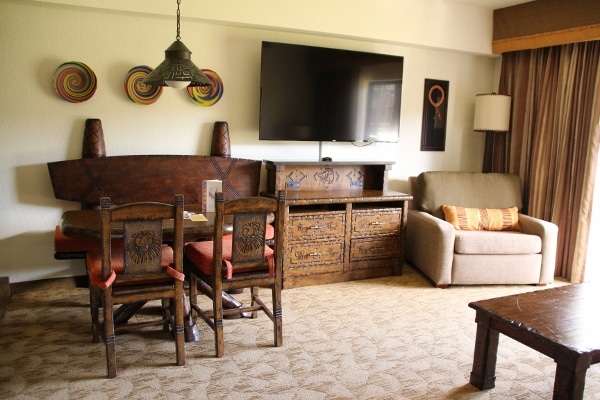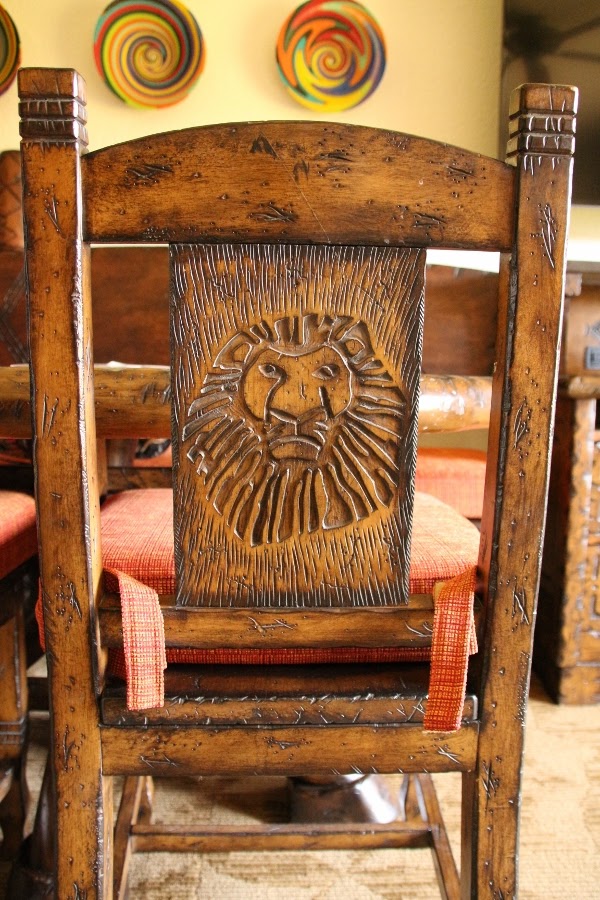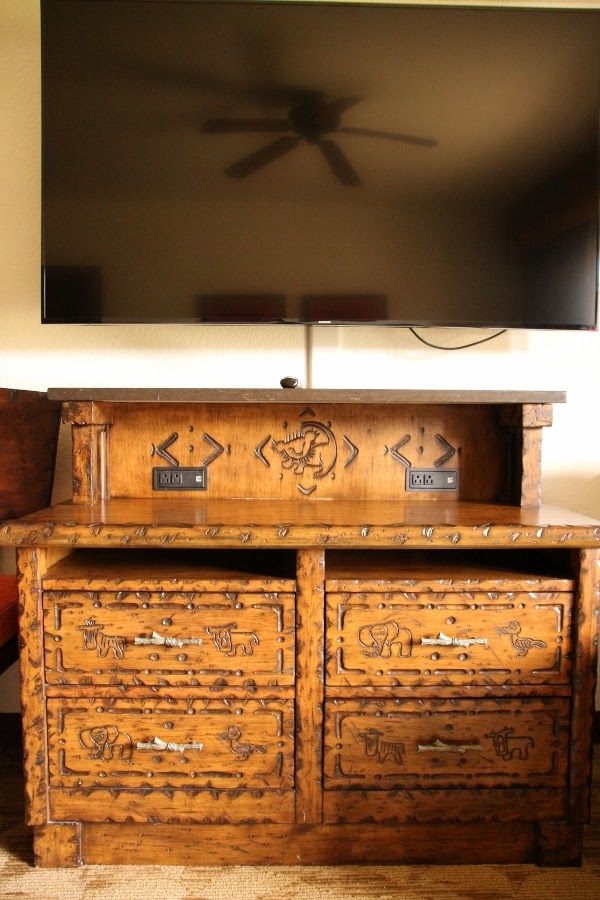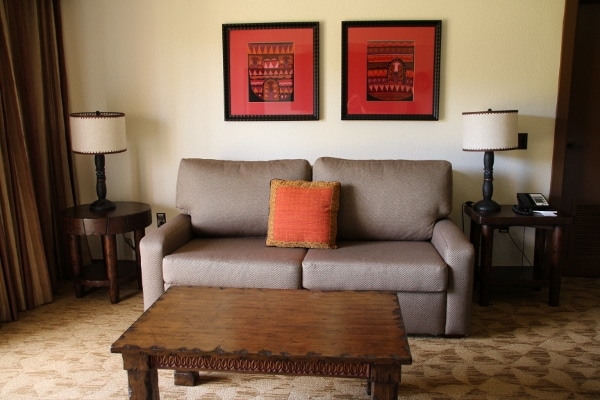 There is a full bathroom just inside the entrance to the villa, across from the laundry room/closet.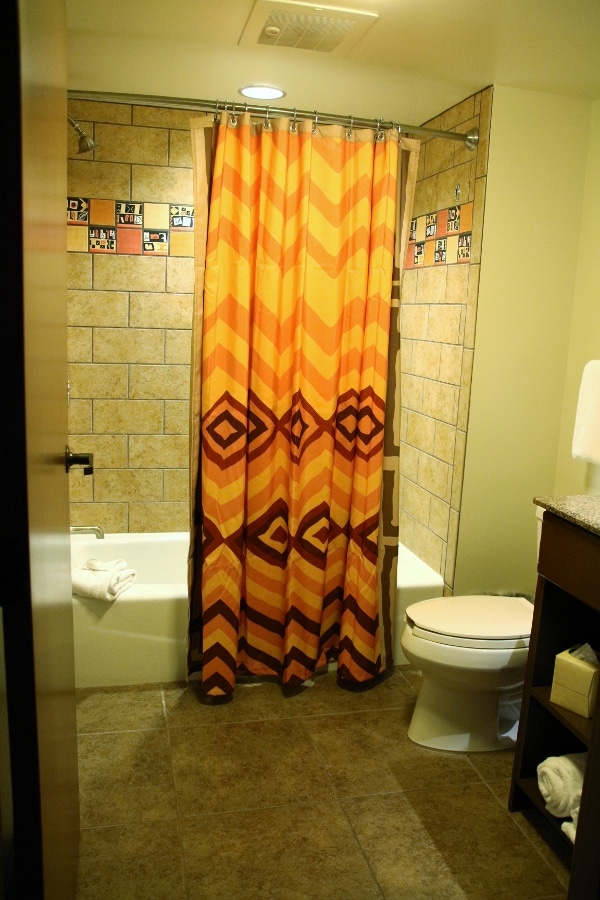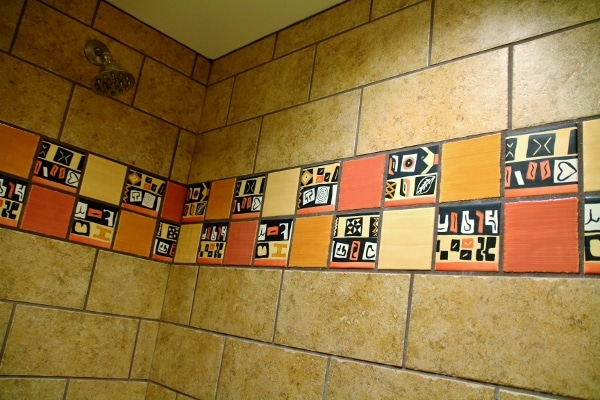 Depending on whether the villa is a dedicated two-bedroom villa or a lock-off (meaning it's a one-bedroom villa and a deluxe studio with an adjoining door), there will be a bedroom with two queen-size beds or a queen-size bed and a queen-size sleeper sofa.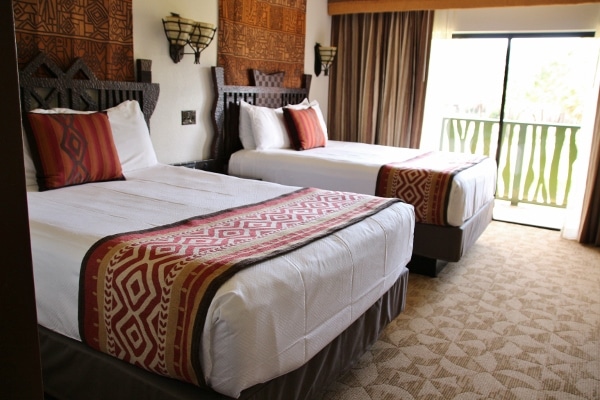 This room will have it's own dedicated full bathroom with a separate little room for the toilet.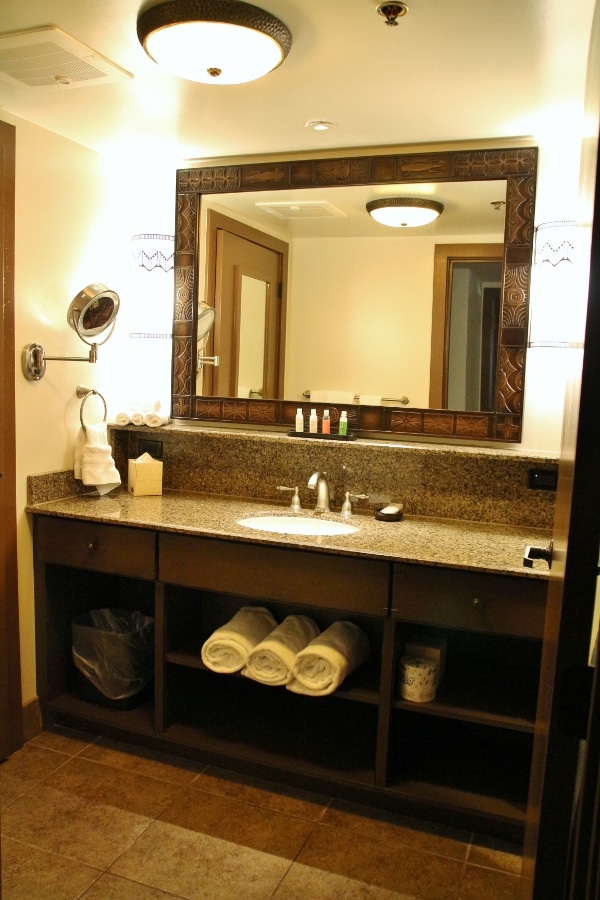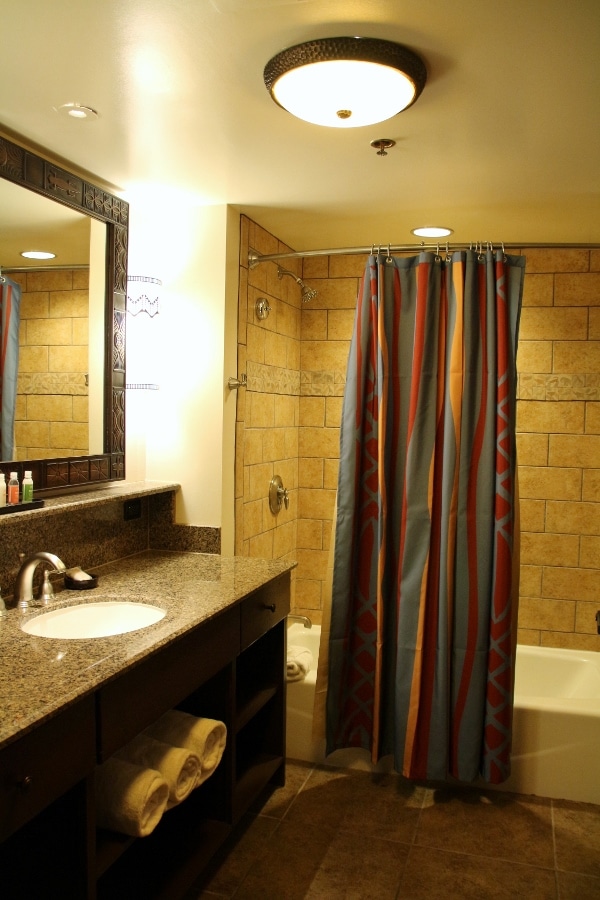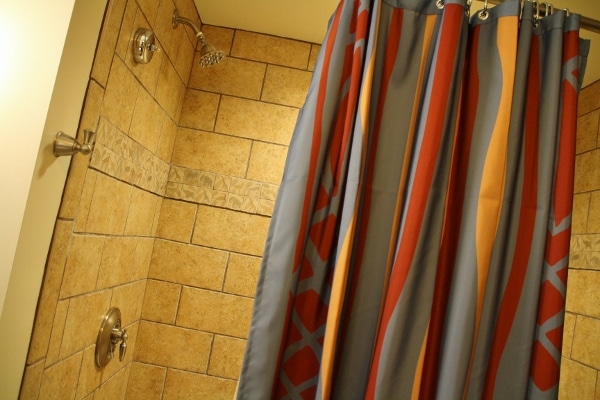 On the other side of the villa is the master bedroom, featuring a king-size bed and a master bathroom with a hot tub and standing shower.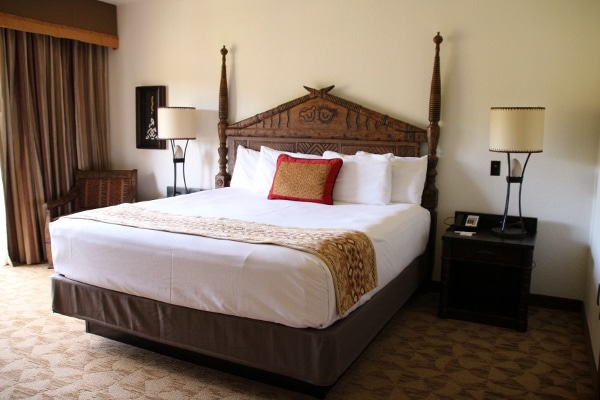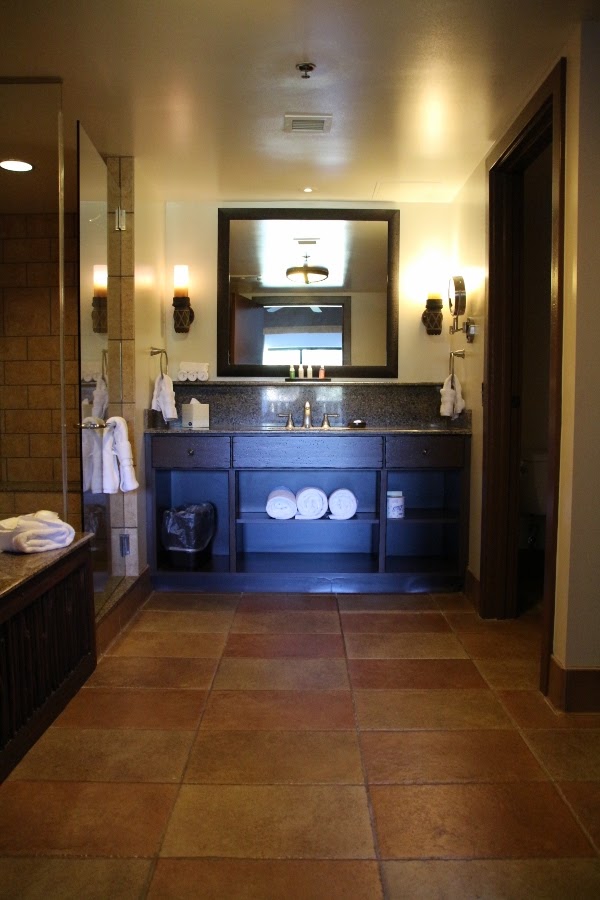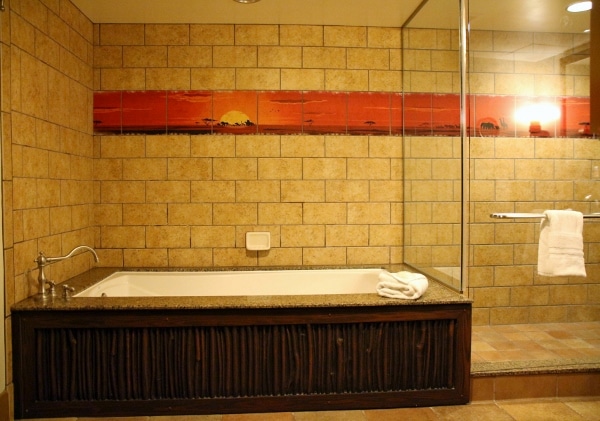 I'm absolutely in love with the beautiful shower tiles between all three bathrooms, but this one is my favorite!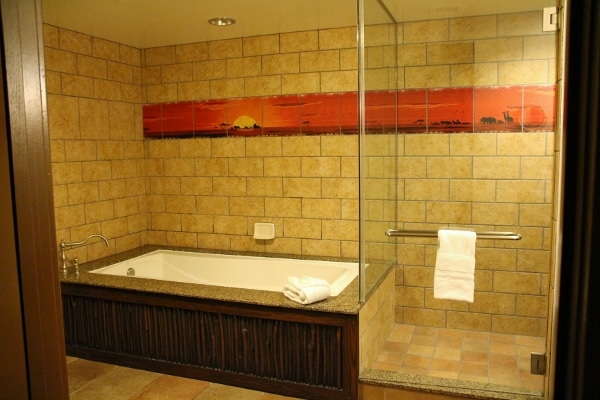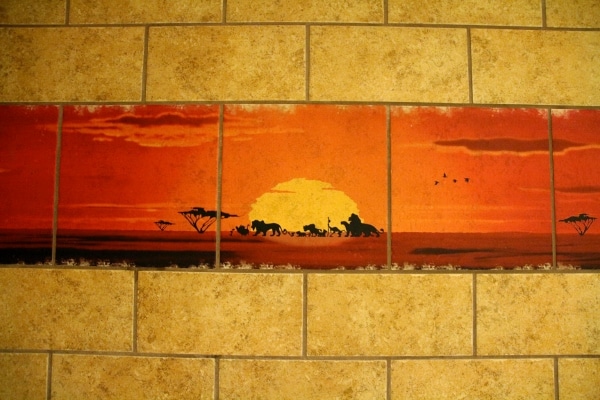 We had a savanna view room, and our balcony extended all the way from one end of the villa to the other, accessible from all three rooms (the two bedrooms and the living room in between).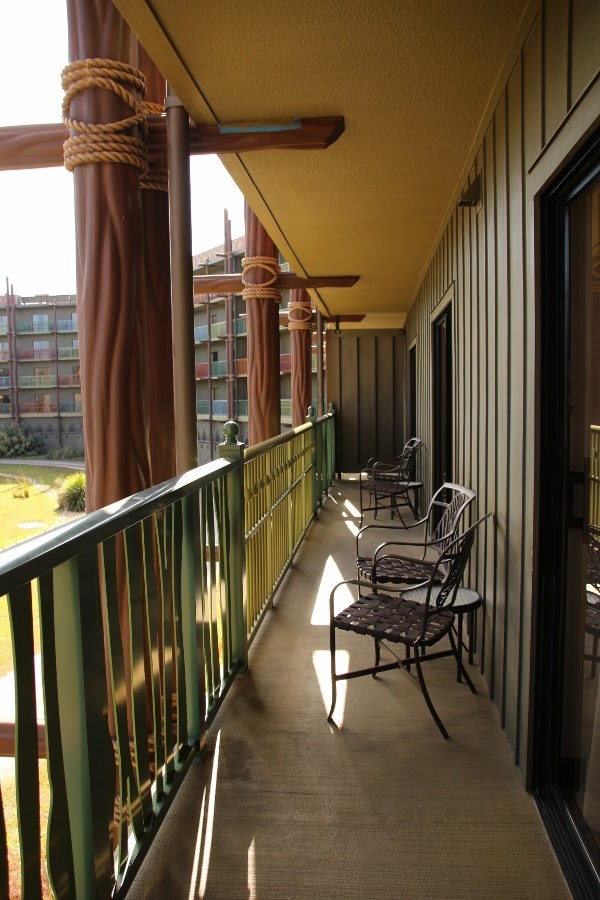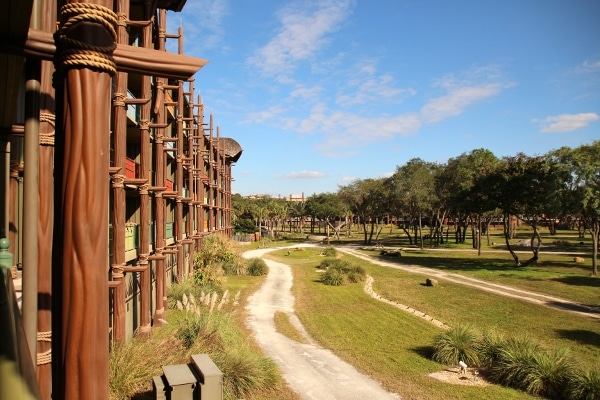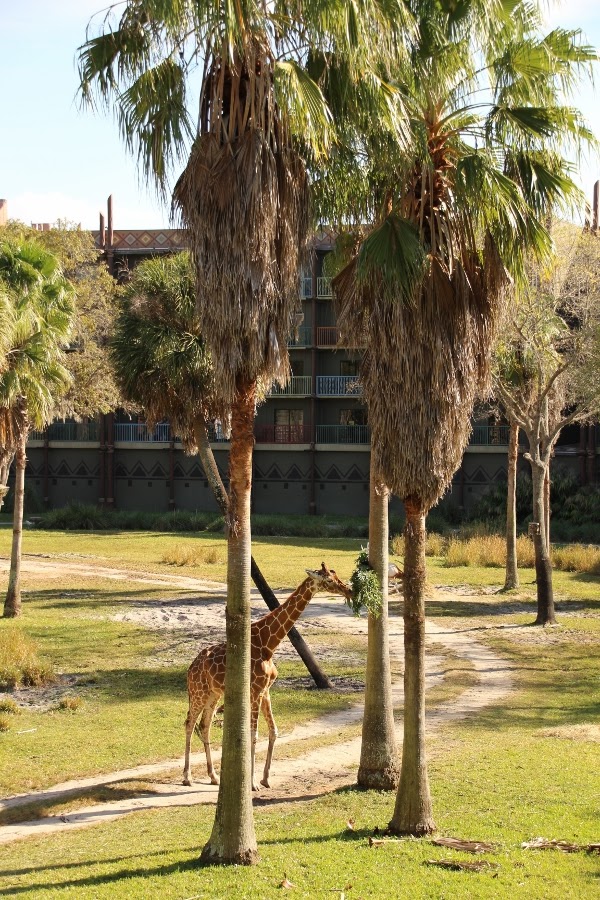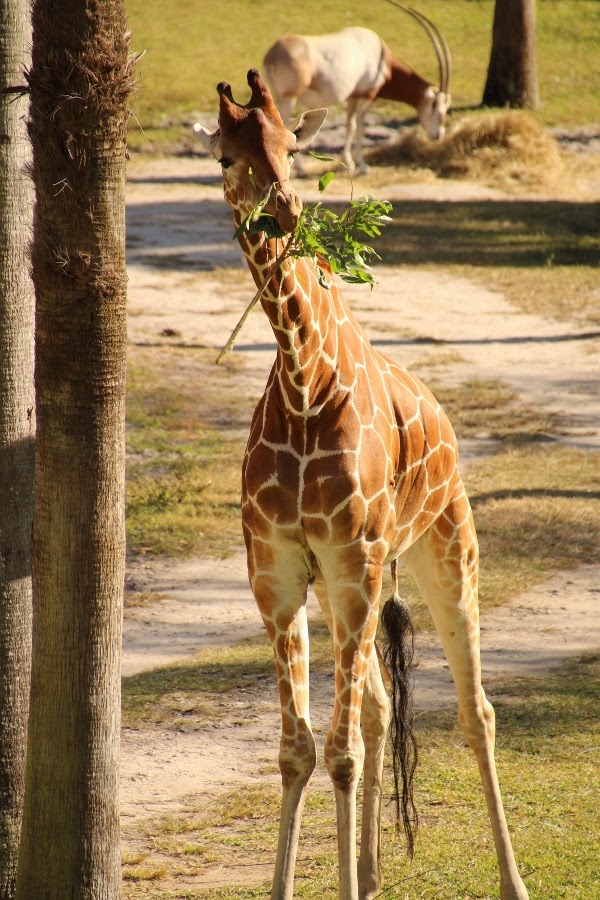 Let's take a quick look at the Samawati Springs Pool at Kidani Village. Jambo House has it's own pool area, but since we have only stayed at Kidani Village, this is where we have spent our pool time.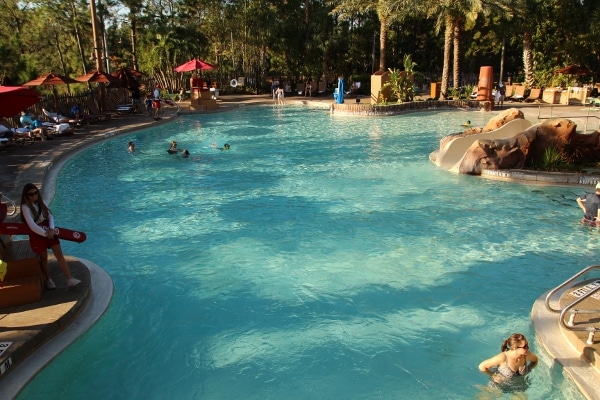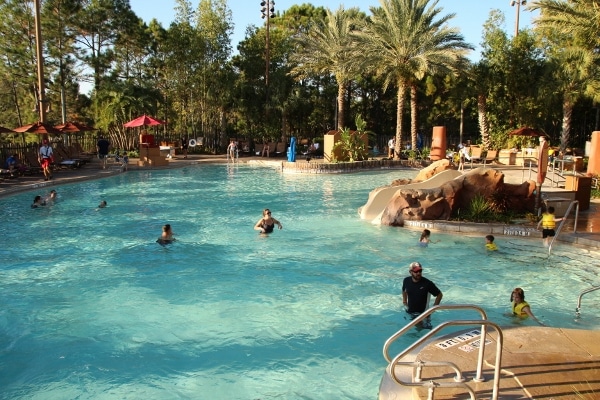 The slide is a bit more impressive than some other pool slides I've seen at the other resorts. There's a small children's slide on the other side of the pool.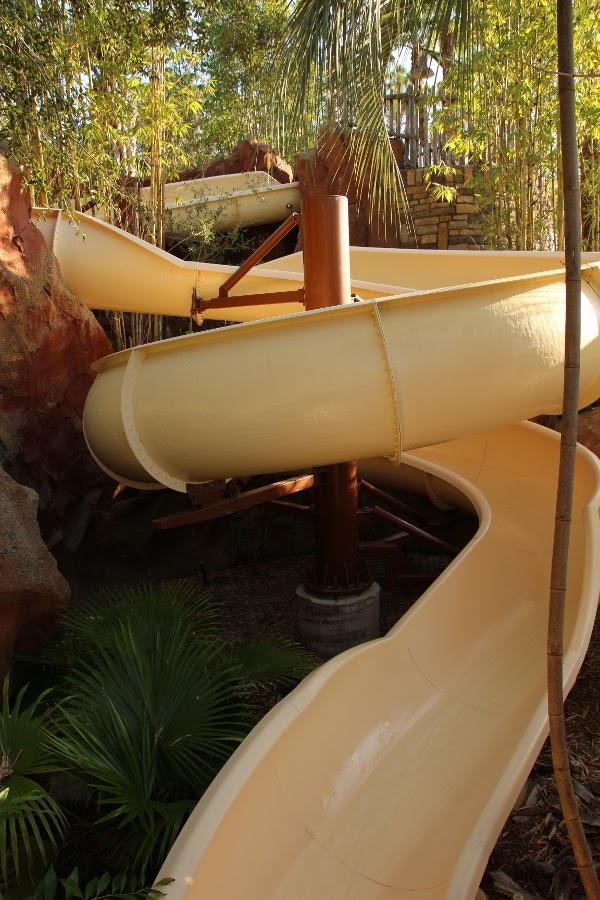 There's also a nearby splash area especially for the kids.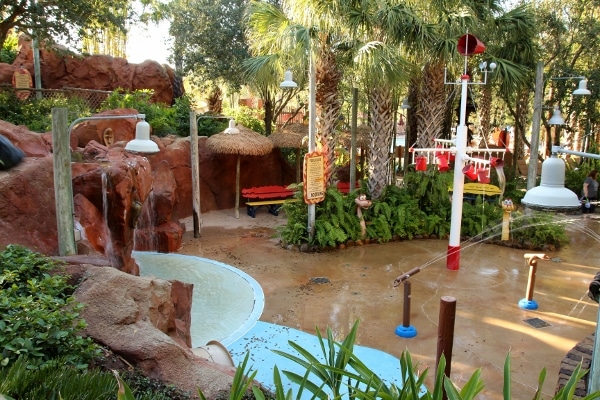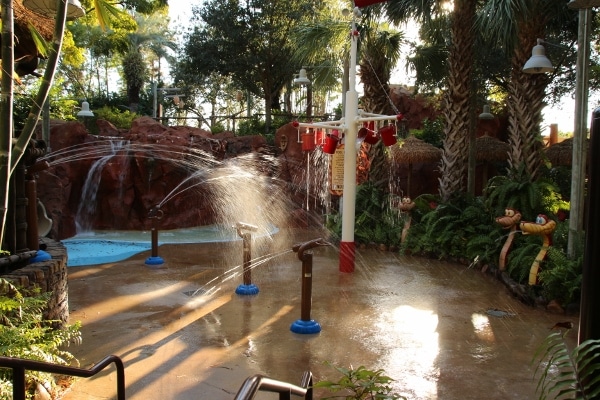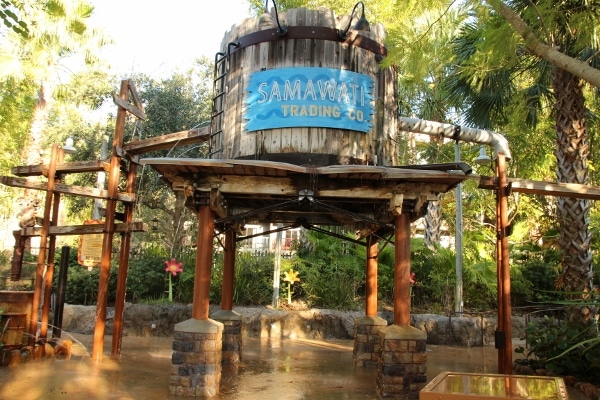 Although we only spent one night in this particular villa, I was very impressed. Animal Kingdom Lodge/Villas is definitely one of my favorites on property, and truly provides a unique experience. The room itself features modern amenities, such as electrical outlets featuring USB ports. Our room at the Wilderness Lodge didn't have that particular luxury. I also really liked the fact that we had three full bathrooms. The more, the better, especially in a room that sleeps up to 9 people!
Check back in the coming weeks for more posts from my recent Disney trip. Next up will be a look at the Wilderness Lodge, where we spent the remainder of our week-long stay.
Animal Kingdom Villas
2901 Osceola Pkwy
Lake Buena Vista, FL 32830
(407) 938-3000
https://disneyworld.disney.go.com/resorts/animal-kingdom-villas-kidani/
Related posts