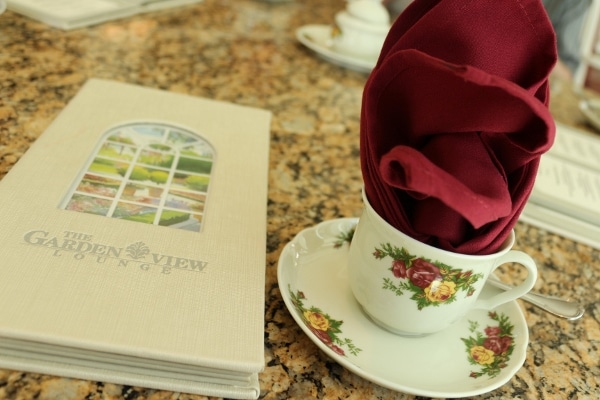 There were a couple of meals I was especially excited about during our recent trip to Walt Disney World. One was dinner at Homecomin', and the other was the Afternoon Tea at the Garden View Tea Room at Disney's Grand Floridian Resort & Spa on my birthday!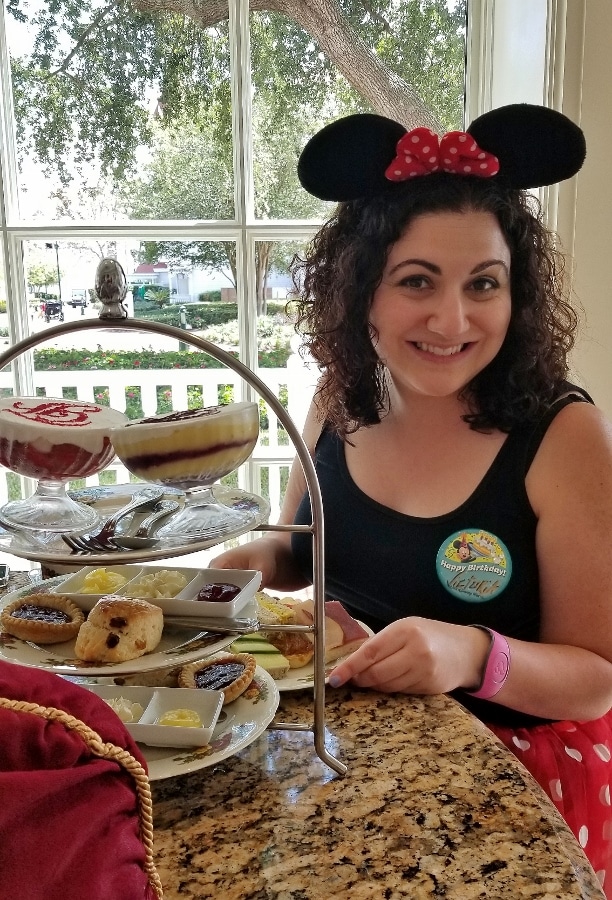 I had been wanting to experience the afternoon tea here for quite some time.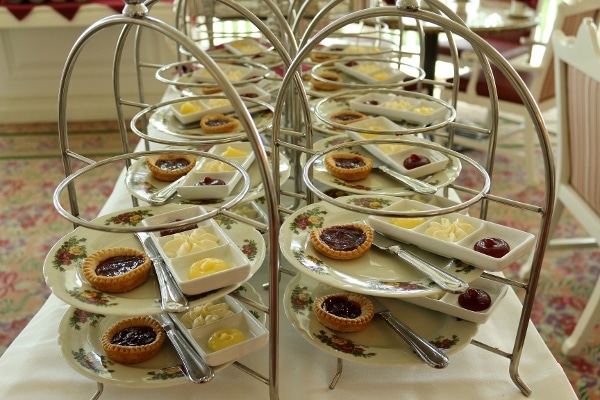 In the past it was offered at kind of weird times, and starting later in the afternoon on certain days of the week. At the time of this post, it appears that it's offered daily from noon to 4 pm, which is an improvement to the previous schedule.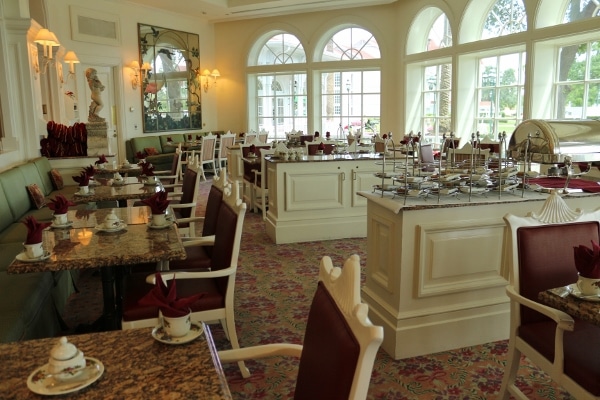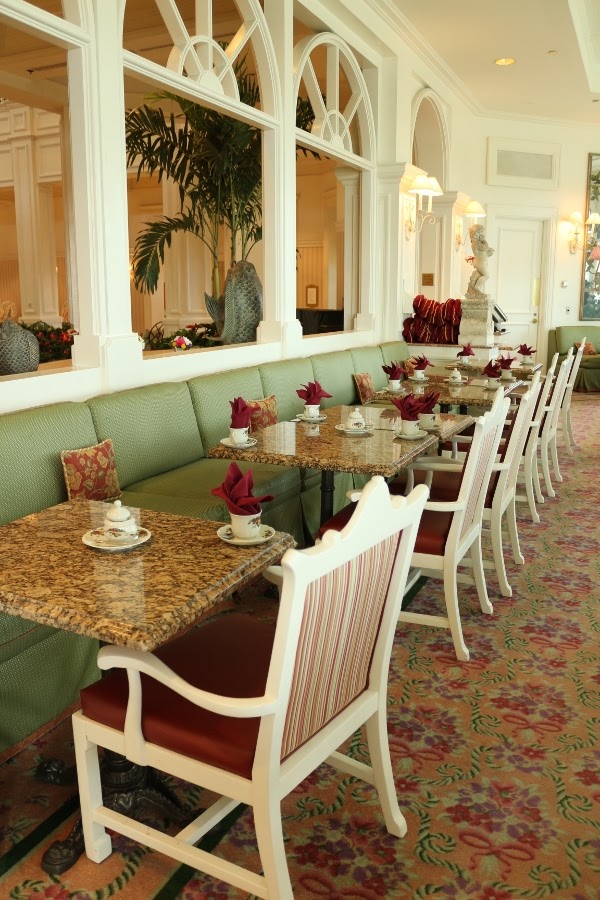 The Garden View Tea Room is located just beyond the lobby of the Grand Floridian, overlooking the beautiful grounds and gardens.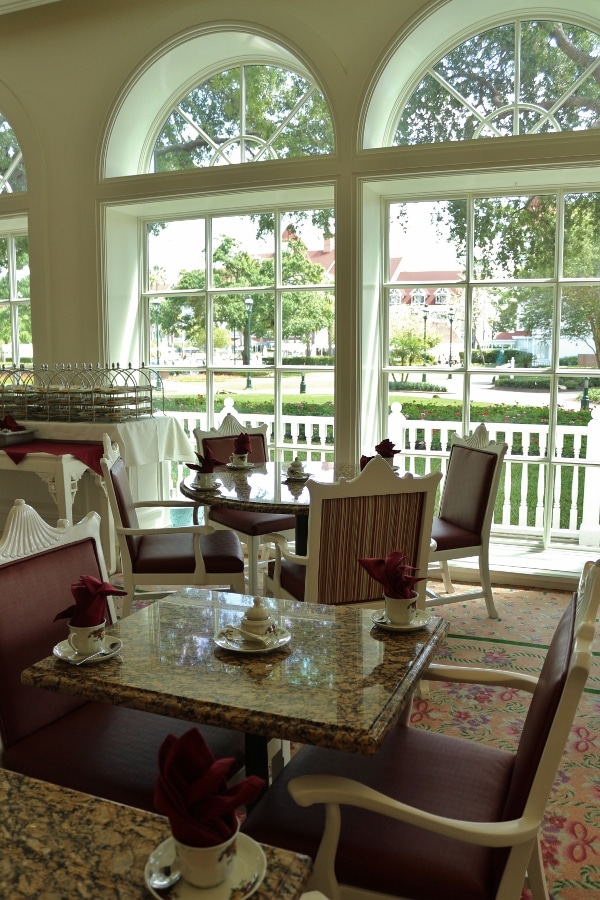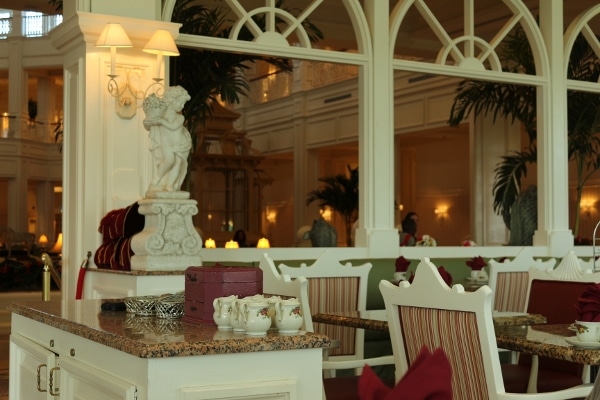 There's definitely a garden theme here with floral accents (and of course some hidden Minnies in this case) in the carpeting.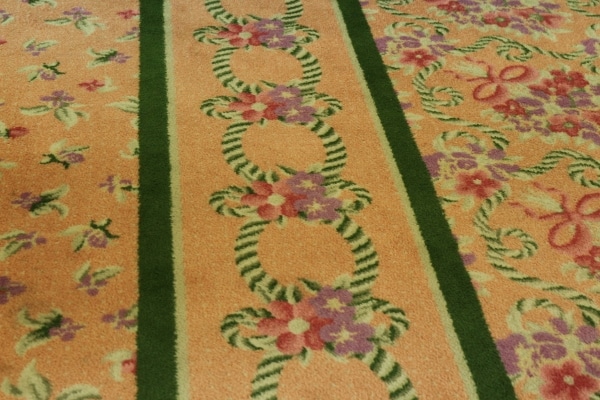 Let's start off by taking a look at the menus. We'll begin with the food.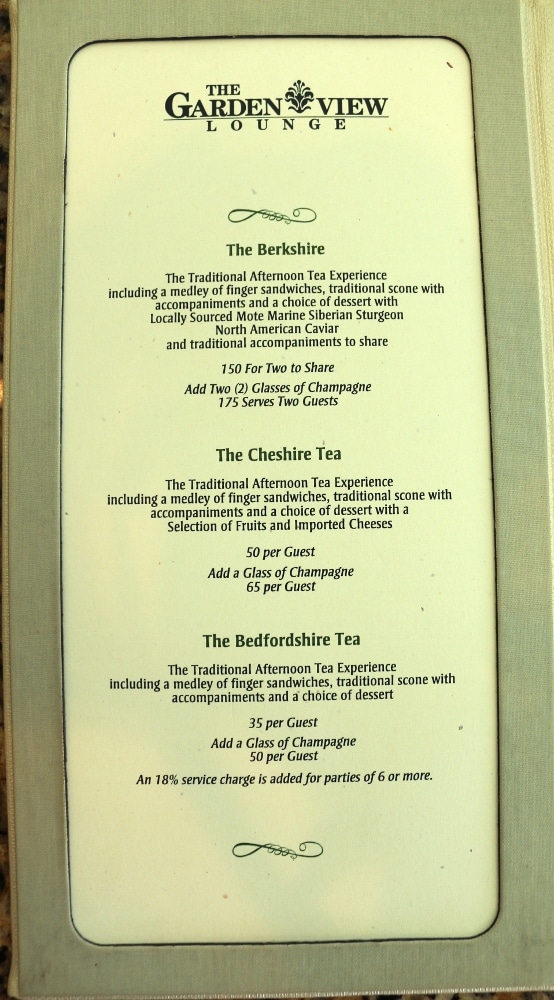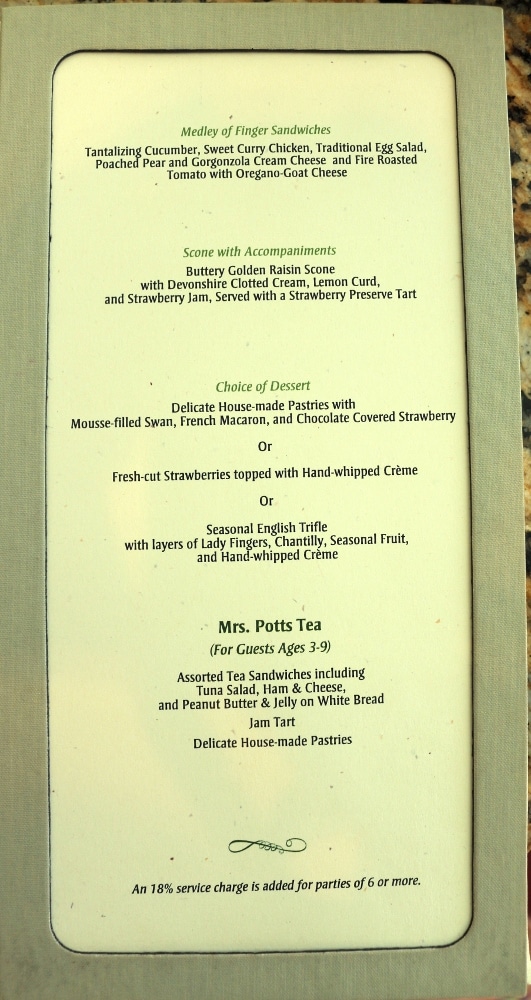 Each afternoon tea experience comes with a pot of tea. The tea selection is extensive.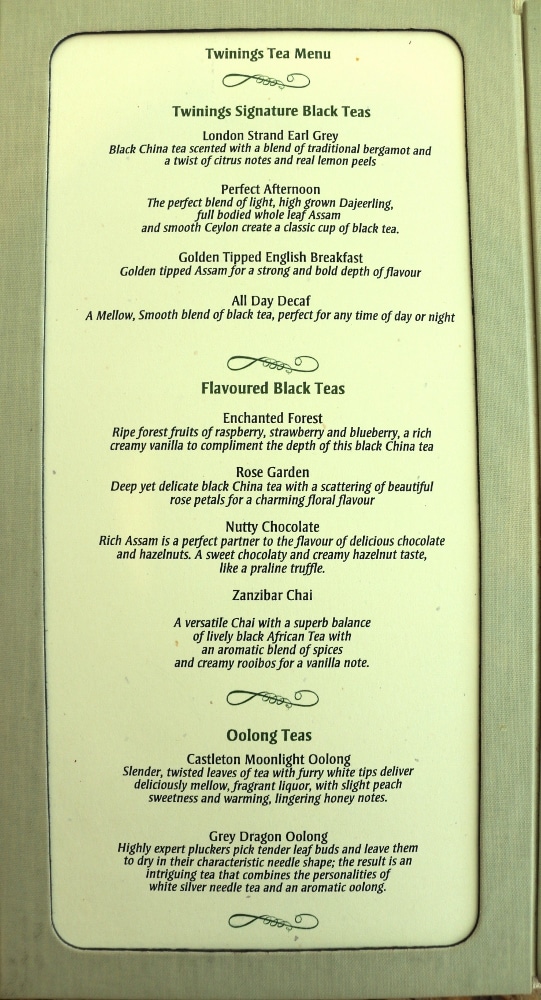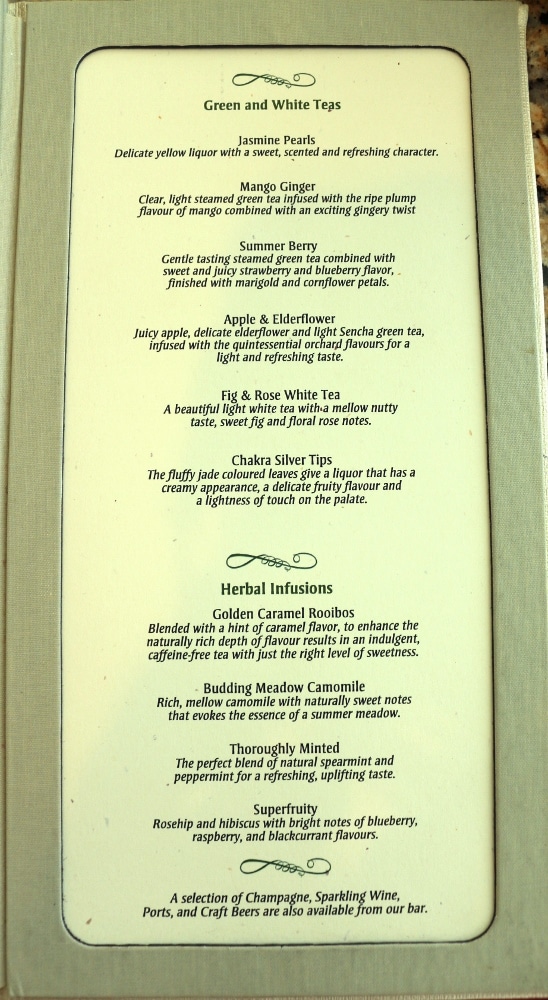 We all selected the Bedfordshire Tea, which is the most basic option. It includes a medley of finger sandwiches, a scone with accompaniments, and a choice of dessert. There are a couple of other tea experiences which include either caviar or fruit and cheese plates, and they are priced accordingly. For my choice of tea I picked the Castleton Moonlight Oolong, which was excellent! And I just loved the adorable tea cozies used to keep our teapots warm.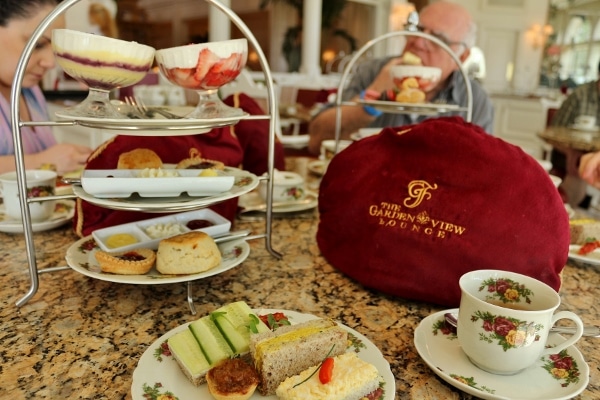 Let's take a closer look at each of the components of our afternoon tea experience. We'll begin with the medley of finger sandwiches.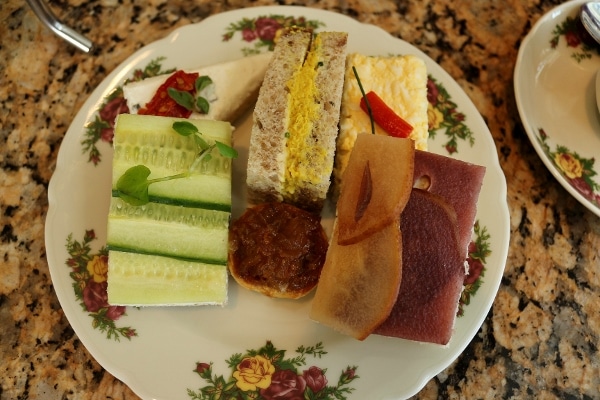 These include poached pear with Gorgonzola cream cheese, traditional egg salad, curried chicken salad, cucumber and Boursin cheese, and fire roasted tomato on oregano-goat cheese. These are served with a tiny caramelized onion tartlet.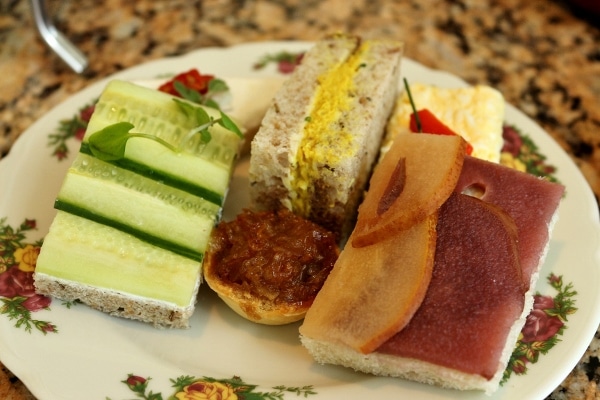 I enjoyed each of the finger sandwiches for their unique qualities, however I found the cucumber sandwich to be the least exciting. I expected a bit more flavor from the Boursin, but it was pretty neutral in flavor.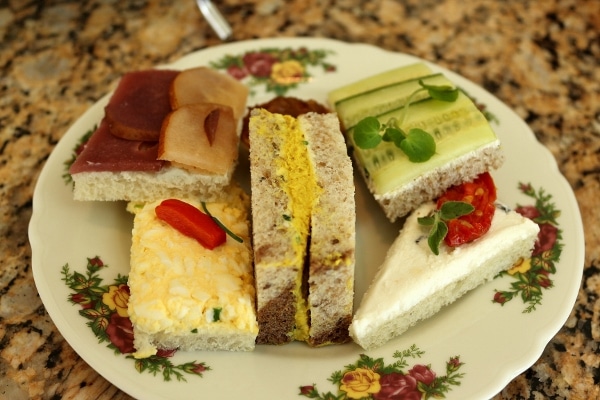 I loved all the other sandwiches a lot though. The flavors were good, the texture of the bread was good, squishy but firm. I also really liked the little tartlet.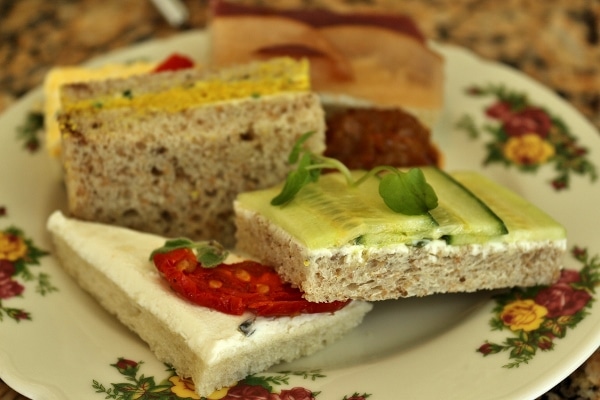 Between the four of us we received two towers featuring our next two courses, the scones and the desserts.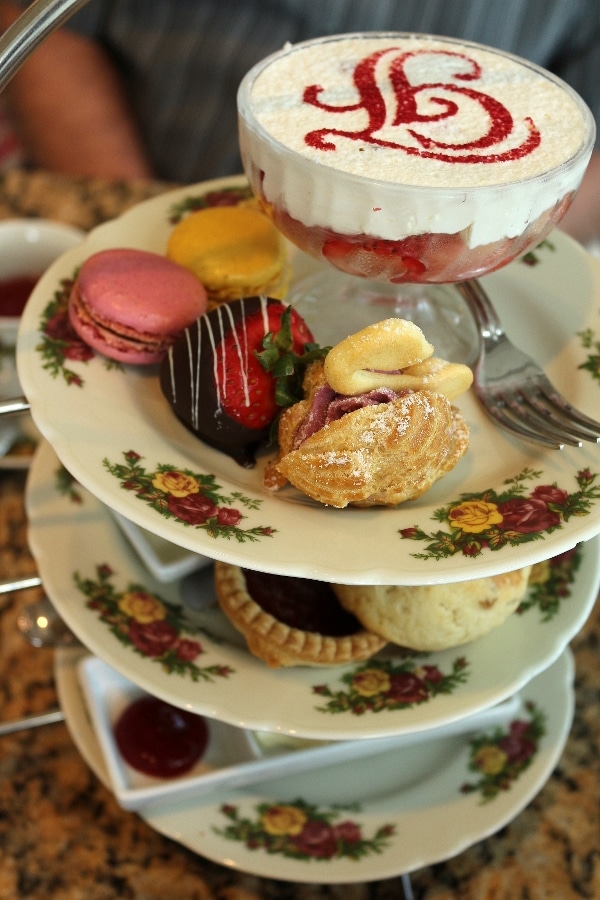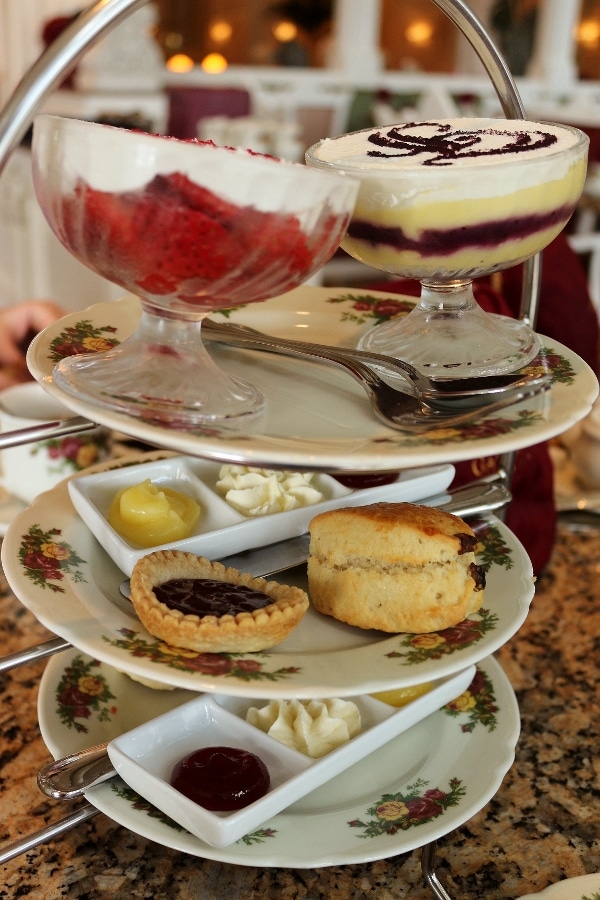 Flaky golden raisin scones are served with Devonshire clotted cream, lemon curd, and strawberry jam alongside a small strawberry preserve tart.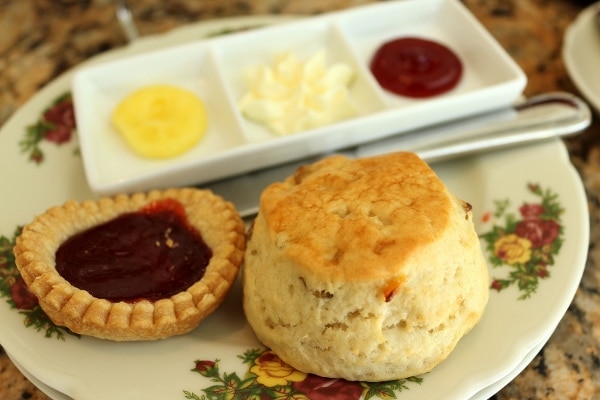 The scone and its accompaniments were all spot on, as was the tartlet. I have pretty high standards when it comes to scones (and really afternoon tea anything) so I'm happy to report that there were no disappointments here at all. Tender. Buttery. Delicious.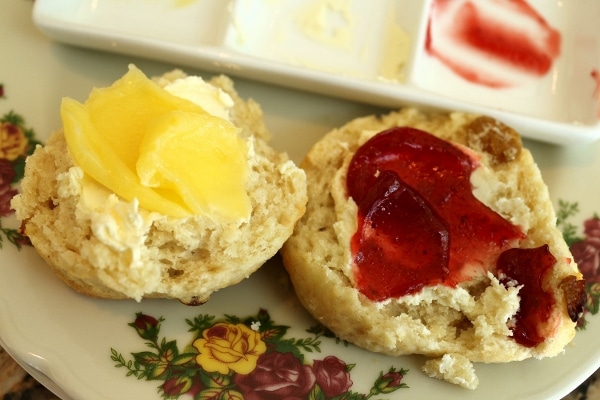 There are three options for dessert: strawberries and cream, English trifle, or house-made pastries and a chocolate-covered strawberry. We ordered all of them.
The strawberries and cream is the simplest of the three, however it's a classic British treat, and quite delicious.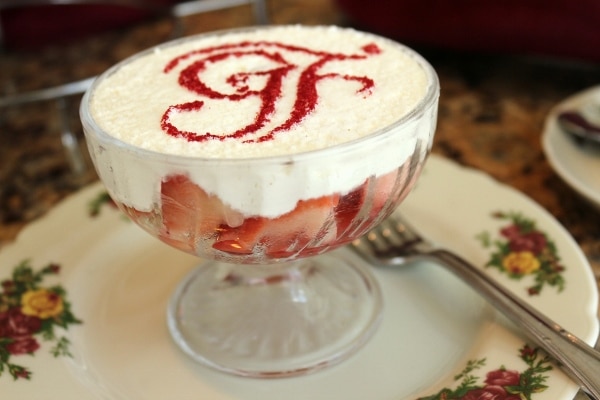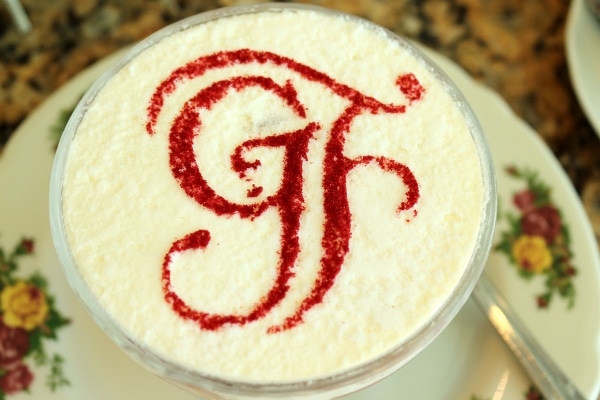 The traditional English trifle varies seasonally, and at the time of our visit was blueberry-lemon, a lovely combination.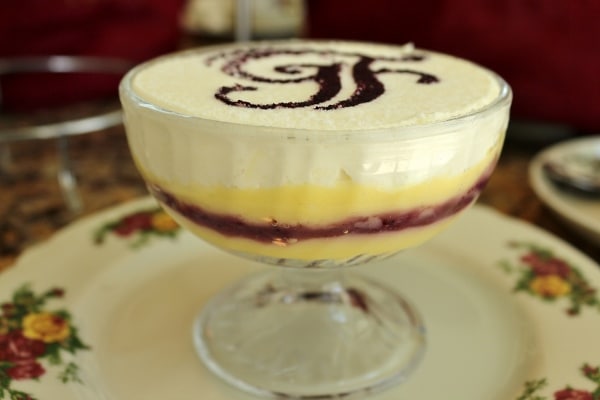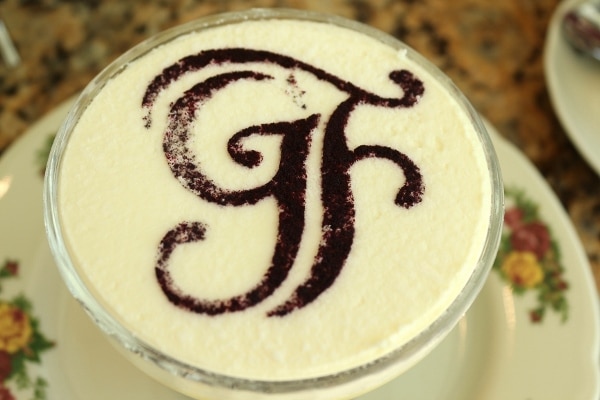 I preferred my trifle to the strawberries and cream that I sampled, meanwhile my sister was quite content with her strawberries and cream selection. I don't think you can really go wrong with either.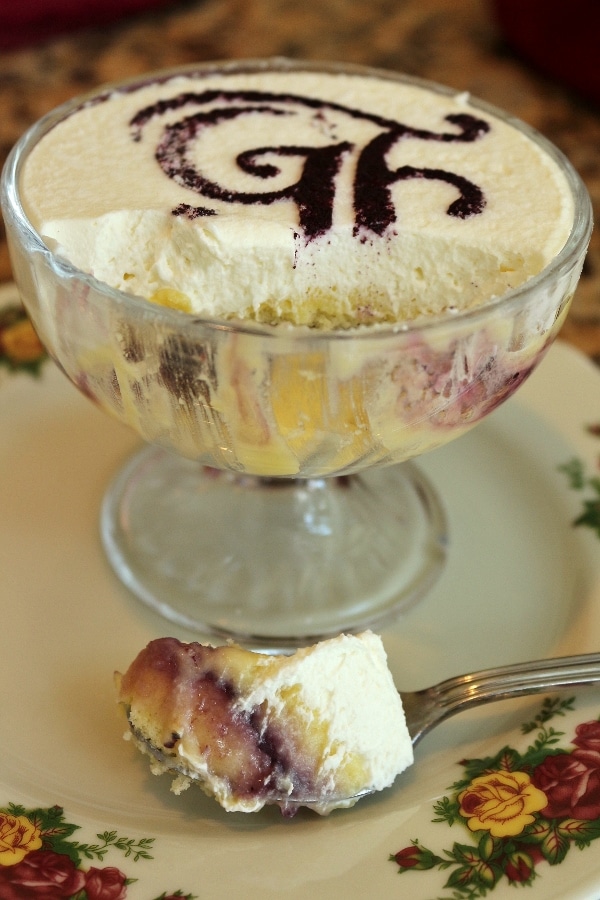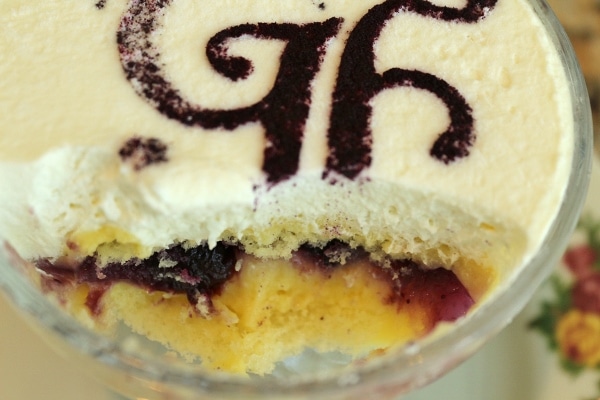 The final dessert option includes a few pastries including a mousse-filled swan (during our visit it was a mixed berry mousse), macarons, and a chocolate-covered strawberry. This is a good choice if you want a little more variety in your final course.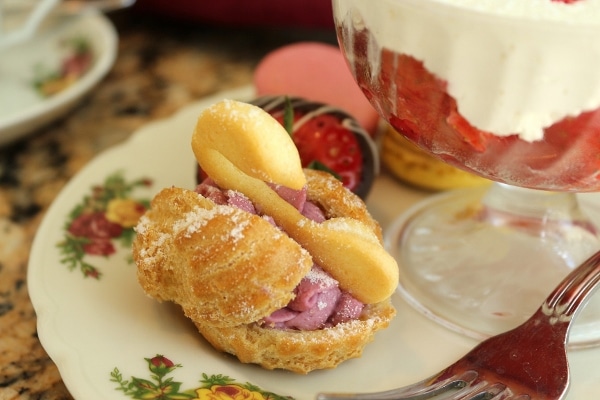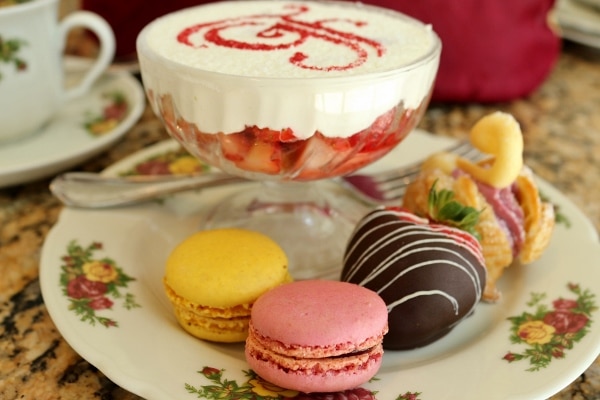 I tried half the mousse-filled swan, and it was divine!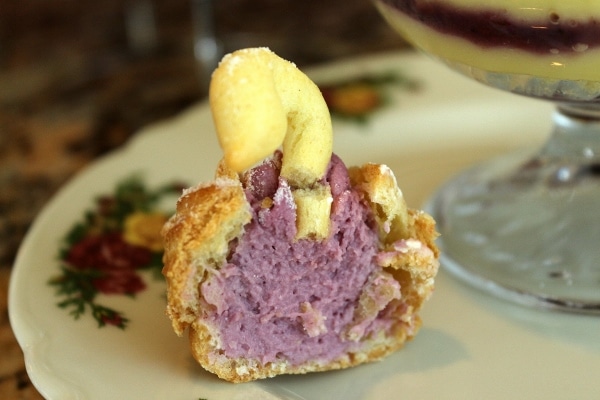 Afternoon Tea at the Garden View Tea Room didn't just live up to my expectations, but rather exceeded them. I knew it would be a fun experience, but it was really so lovely. The lounge was mostly empty when we dined, and therefore pretty quiet and intimate. The tea was outstanding, and our various courses of food were fantastic! The entire family enjoyed this experience. I would definitely do it again, and would highly recommend it for anyone who enjoys afternoon tea.
Garden View Tea Room
4401 Floridian Way
Orlando, FL 32830
(407) 939-3463
https://disneyworld.disney.go.com/dining/grand-floridian-resort-and-spa/afternoon-tea/
Related posts