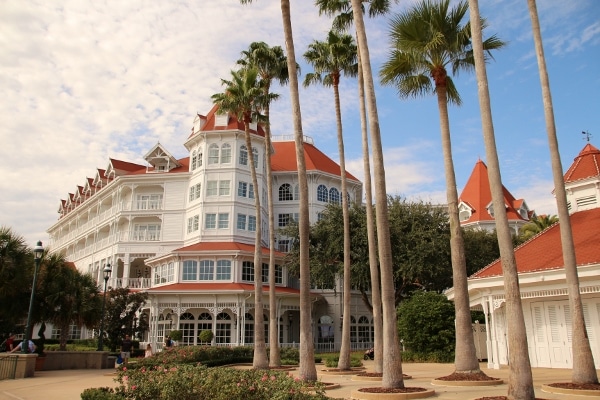 Perhaps the most timeless and opulent of all the Walt Disney World resorts is Disney's Grand Floridian Resort and Spa. With its Victorian themeing, and it's likeness to the classic Hotel del Coronado in Coronado, California, the Grand Floridian is the epicenter of elegance at Walt Disney World.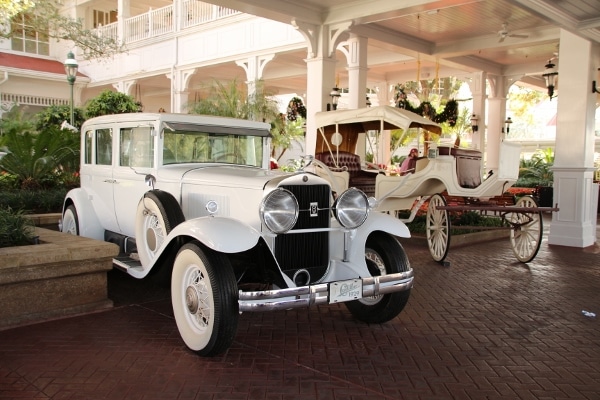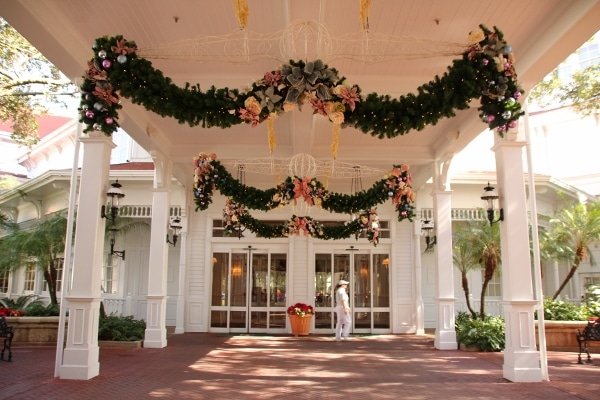 Staying here as a guest is still on my to do list, but in the meantime, I love visiting the resort, wandering around the grounds, and dining at its fantastic restaurants. During a recent trip to Disney, my family had lunch at the resort, so we had the perfect opportunity to take in all the wonderful holiday decorations, including the giant gingerbread house in the lobby.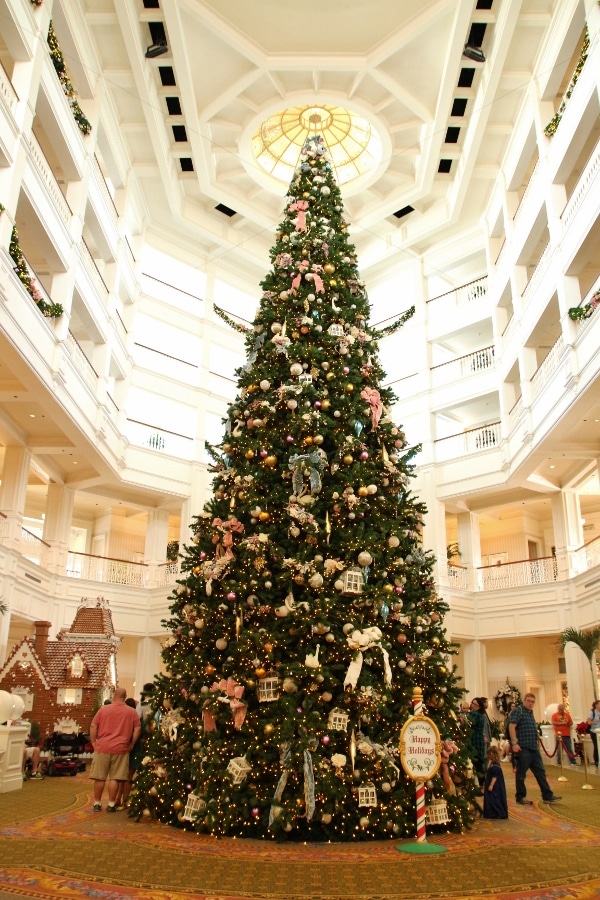 The Grand Floridian Christmas tree features swans, bird cages, ribbons, flowers, and more--super elegant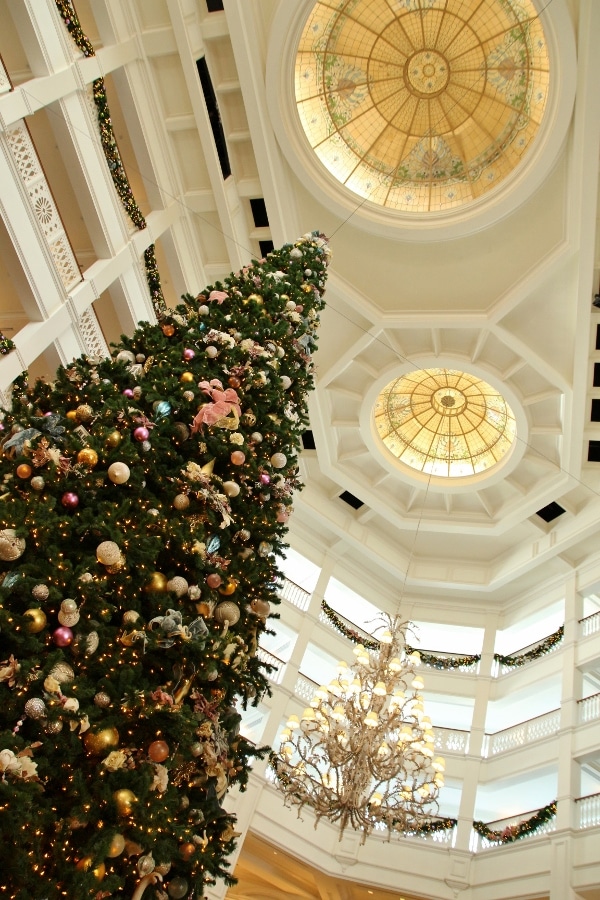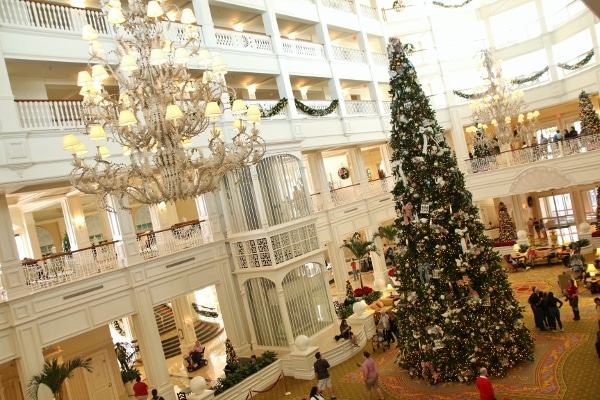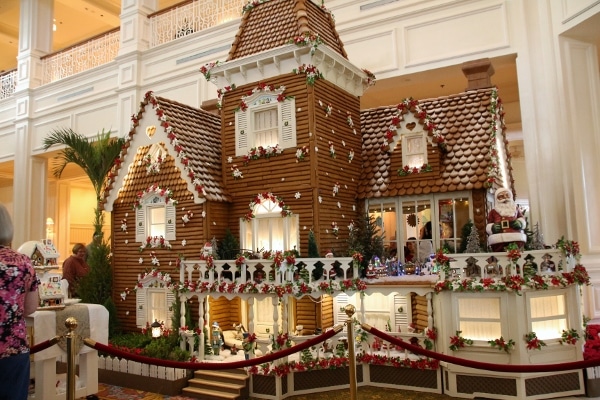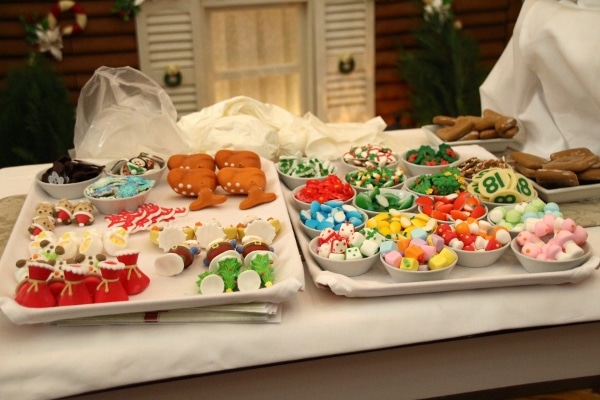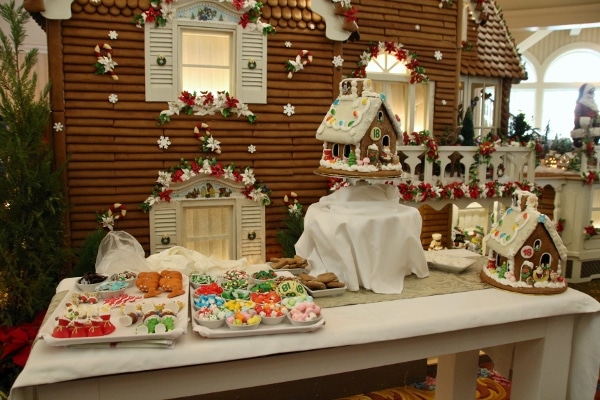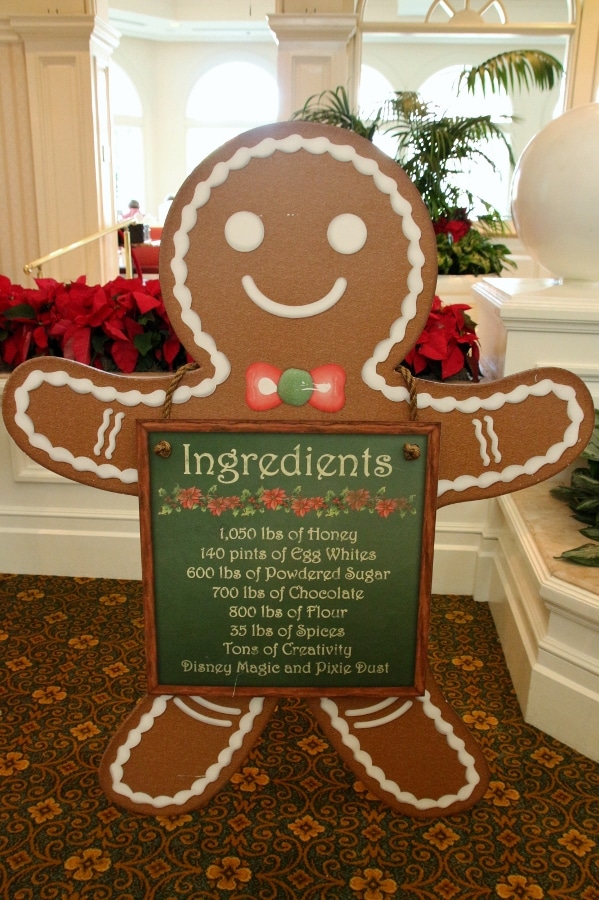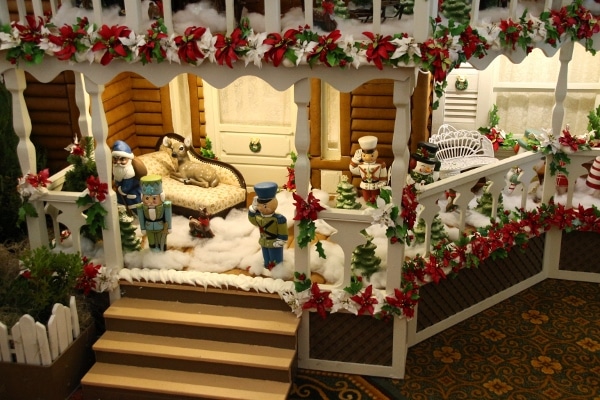 Before heading in to lunch, let's take a quick look at the beautiful grounds of the Grand Floridian, including its two luxurious pools.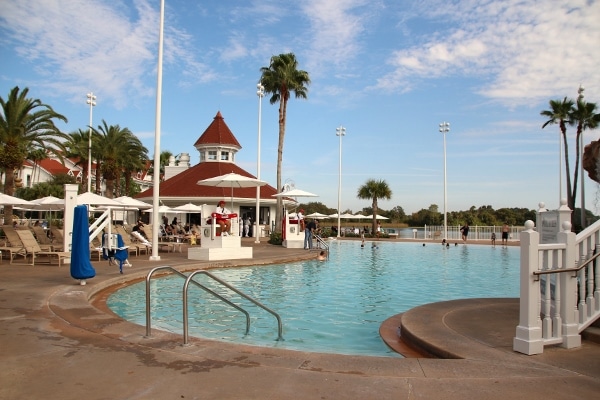 Beach Pool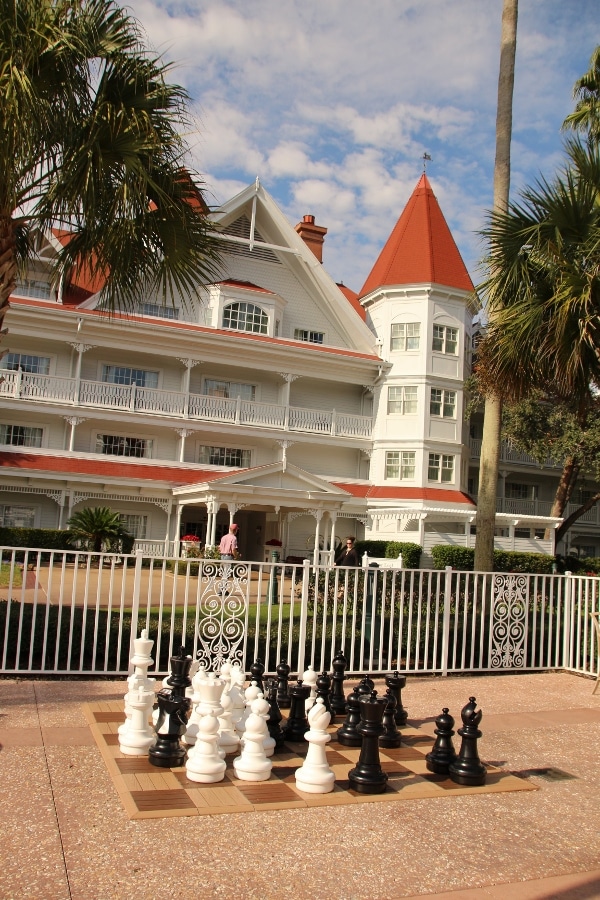 Giant chess set by the Courtyard Pool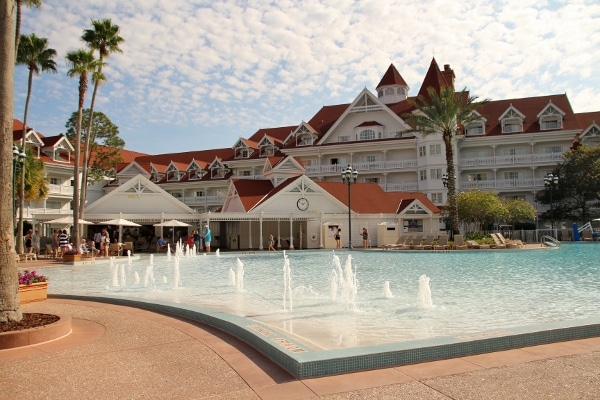 Courtyard Pool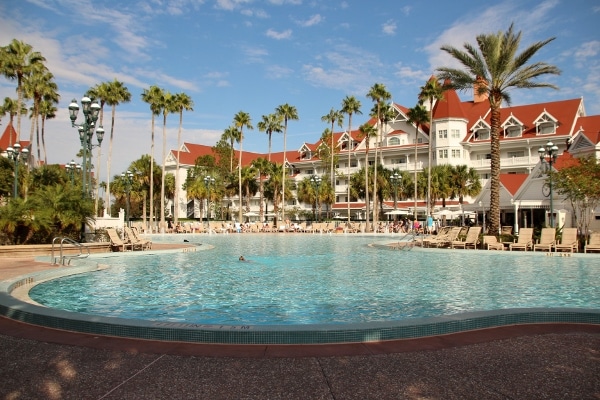 Courtyard Pool
The Grand Floridian Cafe is seriously a hidden gem. I've eaten here twice now, once for breakfast and most recently for lunch, and it's probably the best bang for your buck in terms of quality that you will find at all of Disney.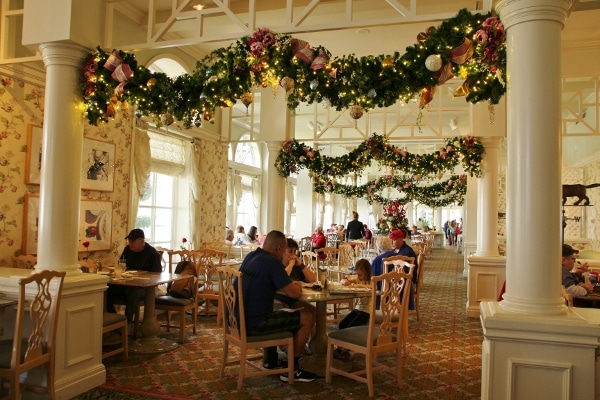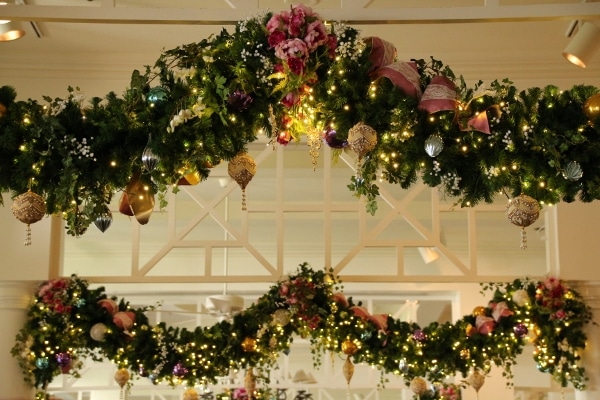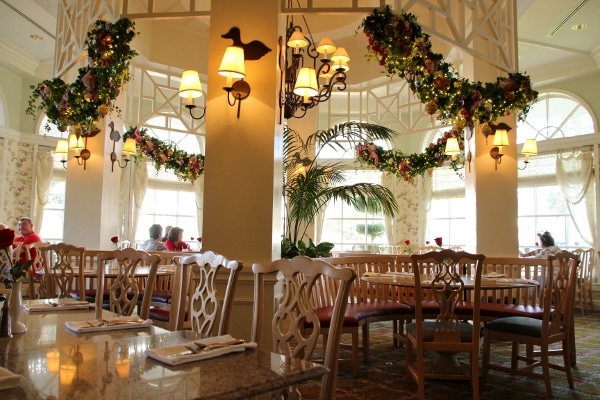 Featuring a seasonally changing menu, what was offered during our visit may vary, but from my experience there are always great options to choose from regardless of the time of year, or even time of day. Breakfast, lunch, and dinner are all great here!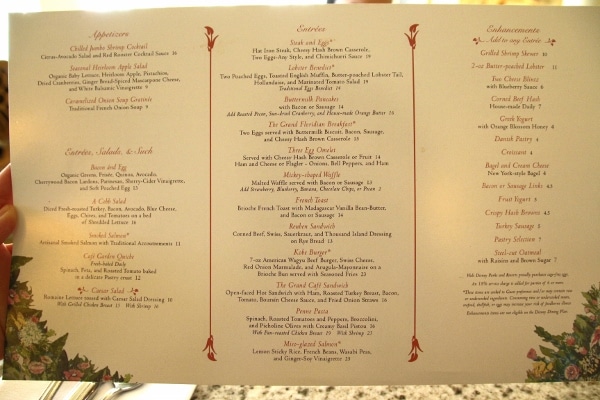 The lunch menu includes some breakfast favorites as well as solid lunch options, so I think of it as more of a brunch menu. Let's start out with some fun drinks. The Raspberry Colada is a creamy, almost milkshake style drink with pureed raspberries. The Tropical Splash was another table favorite featuring a combination of strawberries and orange juice, although I didn't manage to snag a photo of that one.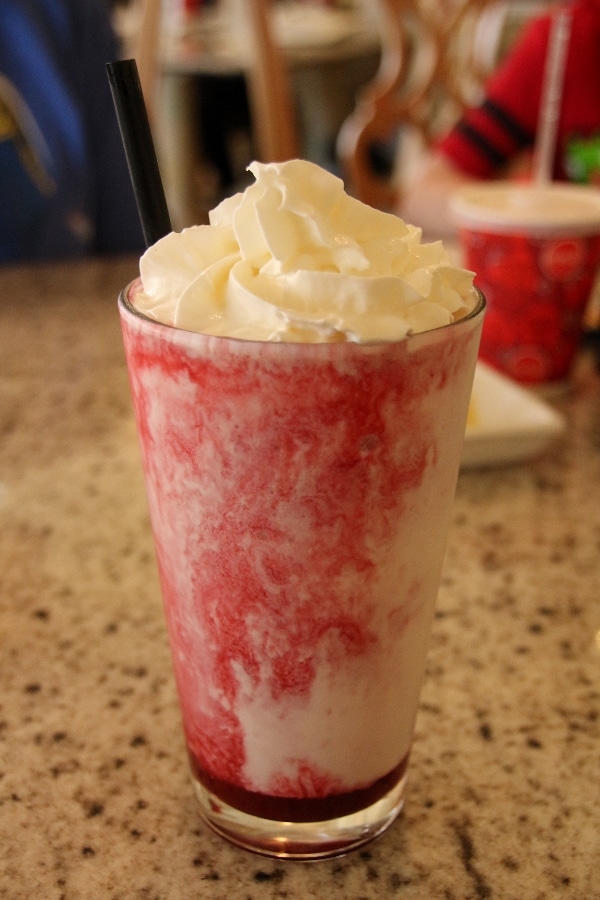 Raspberry Colada $5.50
With so many great choices, its tough to pick just one. I selected the The Grand Cafe Sandwich, an open-faced hot sandwich with ham, roasted turkey breast, bacon, tomato, and crunchy fried onion straws, served with a Boursin cheese sauce on the side. The sauce is a lot less rich than one would expect, and was the perfect compliment to provide a bit of creaminess to this protein-heavy sandwich. I really loved this, and saw many patrons at nearby tables ordering the same thing. I would imagine it's one of the more popular choices, and I was very pleased that I picked it.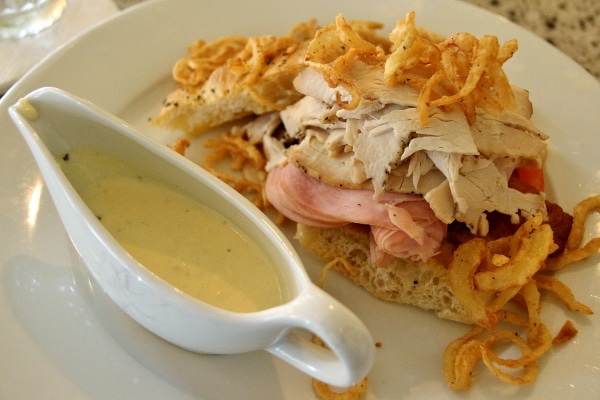 The Grand Cafe Sandwich $16
My sister swooned over her Miso-Glazed Salmon with lemon sticky rice, French beans, wasabi peas, and ginger-soy vinaigrette. Our server agreed that it's one of her favorites too, and certainly one I would consider ordering on a future visit!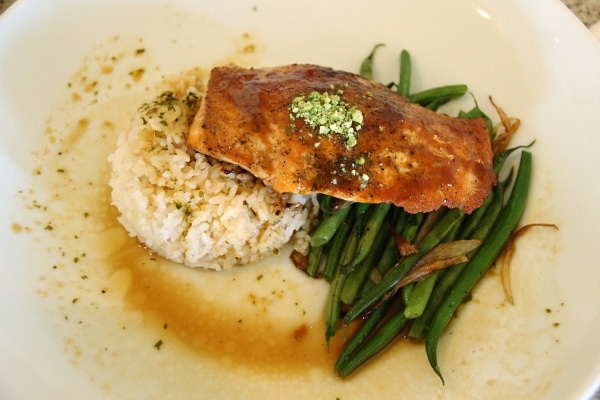 Miso-Glazed Salmon $25
Both of my parents picked the Reuben Sandwich, featuring corned beef, Swiss cheese, sauerkraut, and Thousand Island dressing on rye bread. They were both very satisfied by their sandwiches. Thirteen dollars is a small price to pay for so much good food!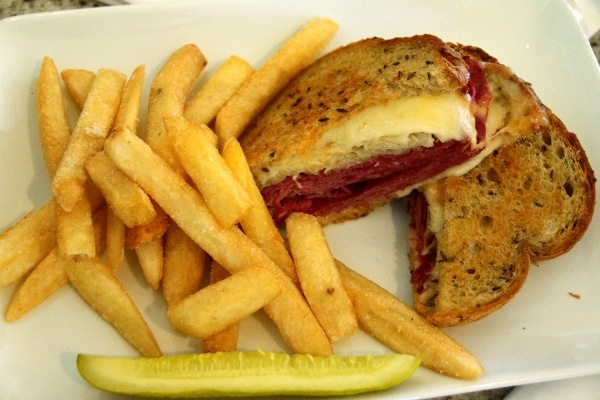 Reuben Sandwich $13
My brother-in-law selected the Kobe Burger, which is a 7-ounce American Wagyu beef burger with Swiss cheese, red onion marmalade, and arugula mayonnaise on a brioche bun, served with seasoned fries. He was blown away by how good it was, and definitely stood by his choice. This burger seriously looks exquisite!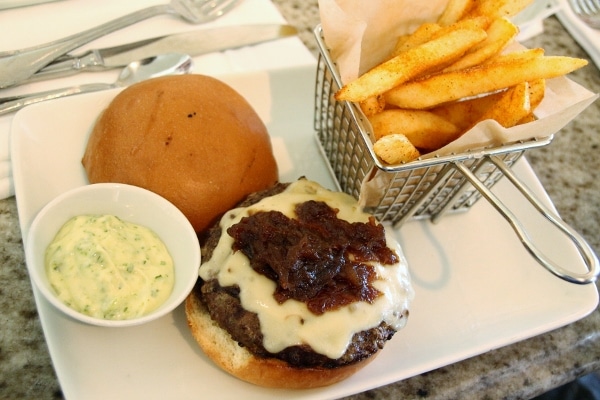 Kobe Burger $23
You can't go wrong with a visit to Grand Floridian Cafe. It's one of my go to options on the monorail circuit, and certainly one of the best deals for the quality of food you'll find here. Honestly any excuse to visit the Grand Floridian Resort will add a bit of luxury to your Disney vacation, and stopping by during the holidays is absolutely worth it to check out the decorations alone, but grab a bite to eat while you're at it. You won't be sorry.
Disney's Grand Floridian Resort and Spa
4401 Floridian Way
Bay Lake, FL 34747
(407) 824-3000
https://disneyworld.disney.go.com/resorts/grand-floridian-resort-and-spa
Grand Floridian Cafe
4401 Grand Floridian Way
Lake Buena Vista, FL 32830
(407) 824-1841
https://disneyworld.disney.go.com/dining/grand-floridian-resort-and-spa/grand-floridian-cafe/