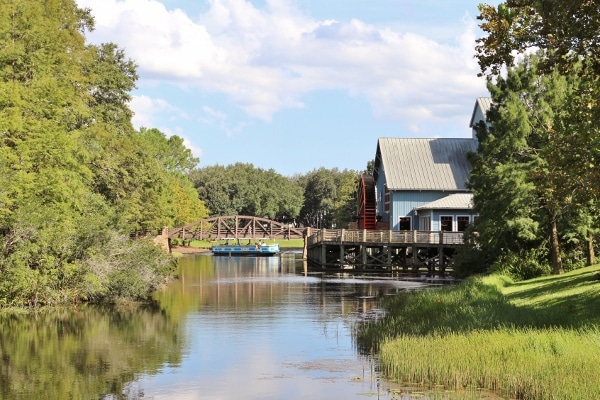 My Disney obsession love is no secret on Mission Food Adventure. I've shared many posts over the years discussing delicious eats from trips to Walt Disney World, Disneyland, and Disney Cruises, as well as sharing fun Disney recipes. Disney truly is the happiest place on Earth. There's really no contest.
I recently spent a few days at Walt Disney World, and will be sharing several posts over the coming weeks. I think it's fitting to start by discussing my resort. Then in my followup posts, I will discuss the food options at my resort, and then hop from park to park (and even to a couple other resorts) to share my dining experiences from the remainder of the trip. So let's get started!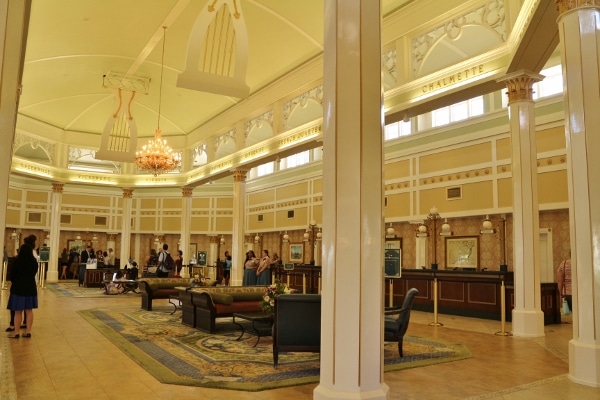 Port Orleans Riverside Lobby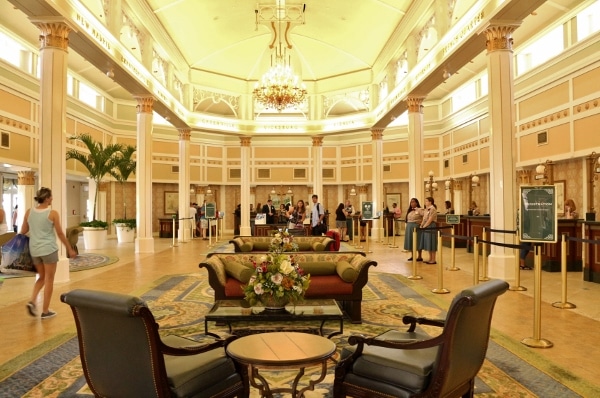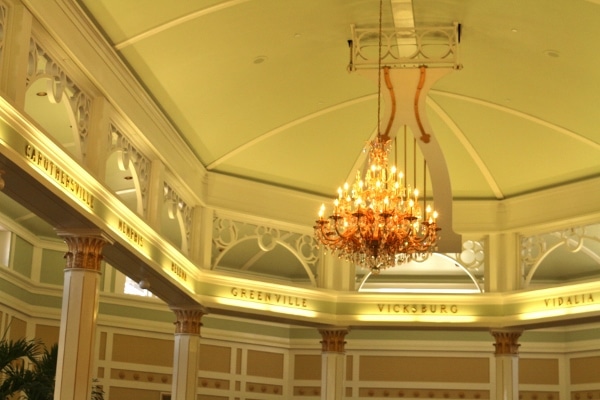 This was my second time staying at Port Orleans Riverside. This is perhaps the most popular Moderate Resort on the property. It's divided into two main sections with a main building housing the lobby, restaurants, store, bar, etc. The actual resort rooms are found in smaller buildings spread around the resort area. There are two main sections for the resort: Magnolia Bend and Alligator Bayou.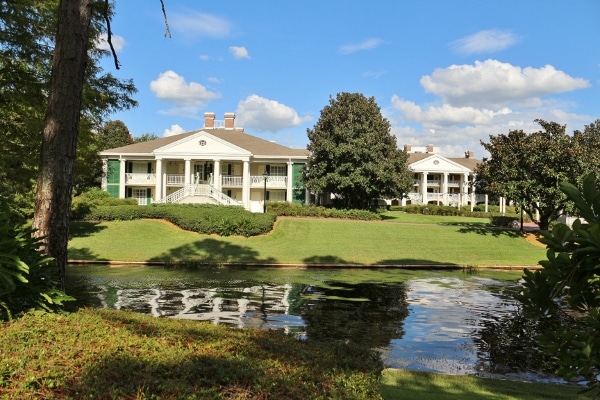 View of Magnolia Bend from Ol' Man Island (main pool area)
Magnolia Bend, where we stayed on a previous visit 2 ½ years ago, is designed to look like Southern mansions. These regal looking buildings sit along the Sassagoula River, which connects this resort with its sister resort (Port Orleans French Quarter) next door and Downtown Disney (soon to be called Disney Springs). We previously stayed in one of the updated Royal guest rooms, inspired by princesses. The bedding has been updated since that visit (the photographs in my post from that visit are now a bit outdated, at least in reference to the beds), and now all Disney resort rooms feature bed runners instead of full bed spreads. I think this looks much sleeker than the original bedding.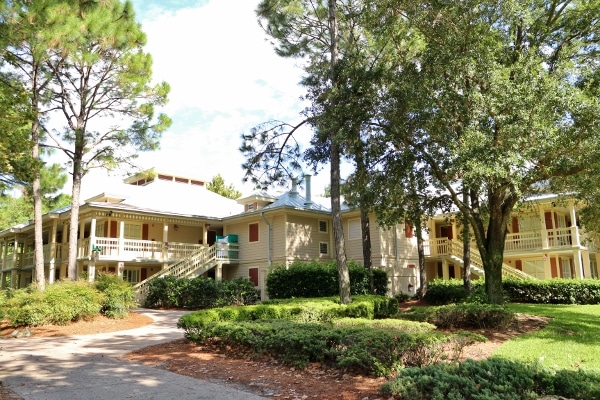 Alligator Bayou - Building 27, where we stayed (preferred rooms = closer to the main building but extra $)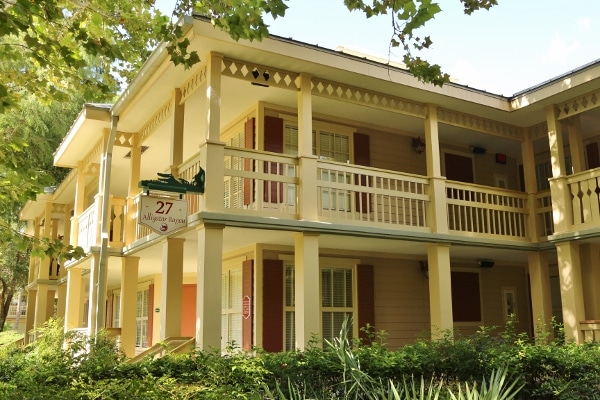 On this most recent visit, we stayed in the Alligator Bayou section of the resort. It feels less polished than the Magnolia Bend area, but to be honest, I think I liked the theming at Alligator Bayou a little bit better. The rooms are more rustic in decor with furniture that is made to look like it's made with logs. The lighting fixtures look like lanterns.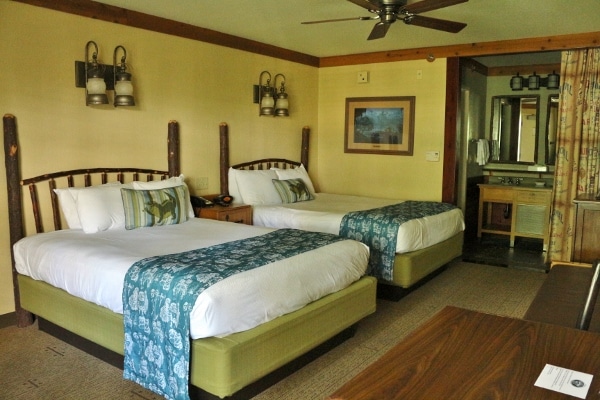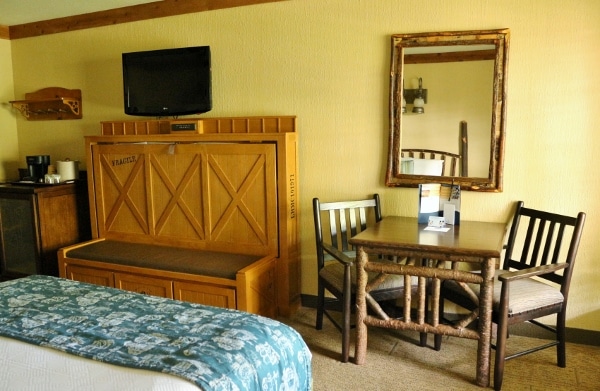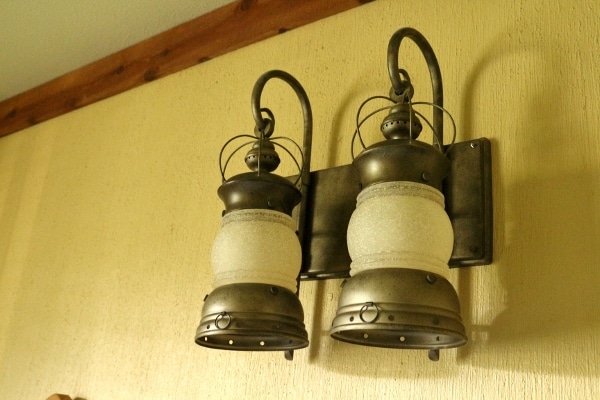 The curtain separating the bathroom area from the rest of the room is patterned with designs for old fashioned bags of flour and sugar. The shower curtain is covered with fish (I'm thinking it's bass?) and the shower walls are made with faux wood, while the carpeting in the room also looks like wood.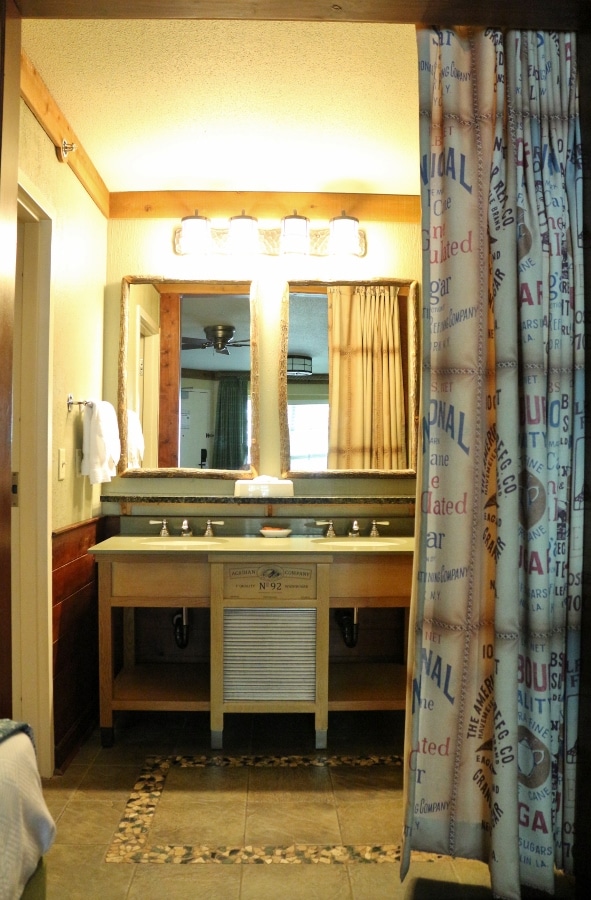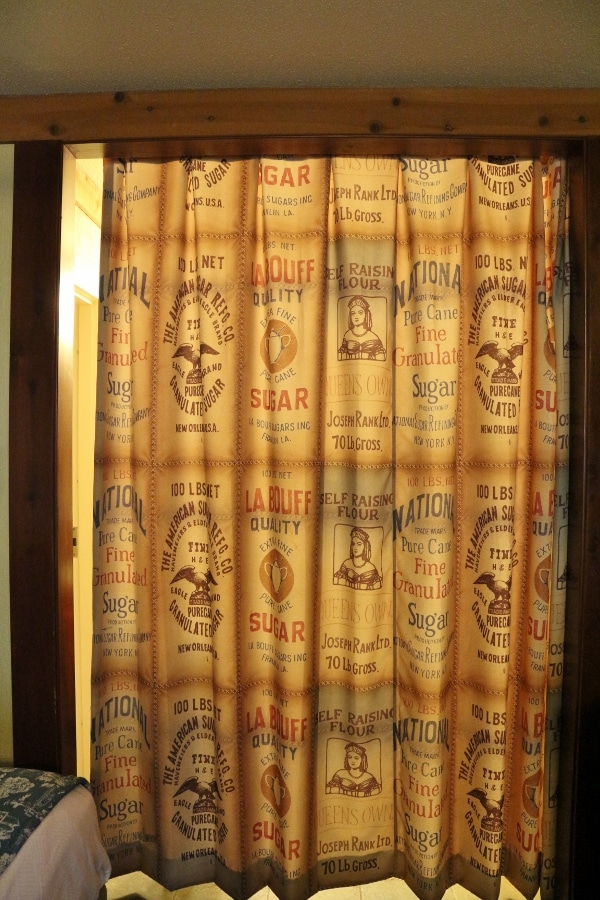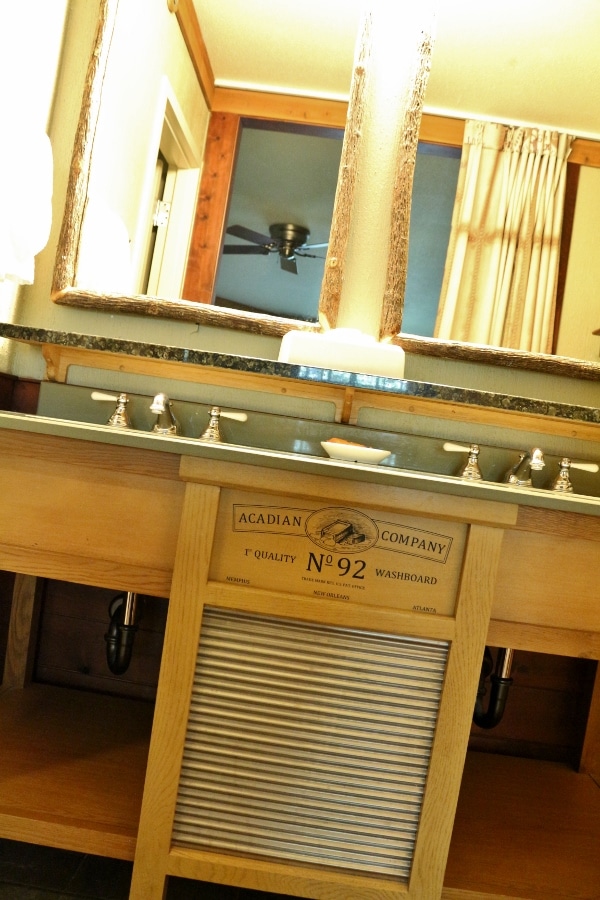 Washboard accent on the bathroom sink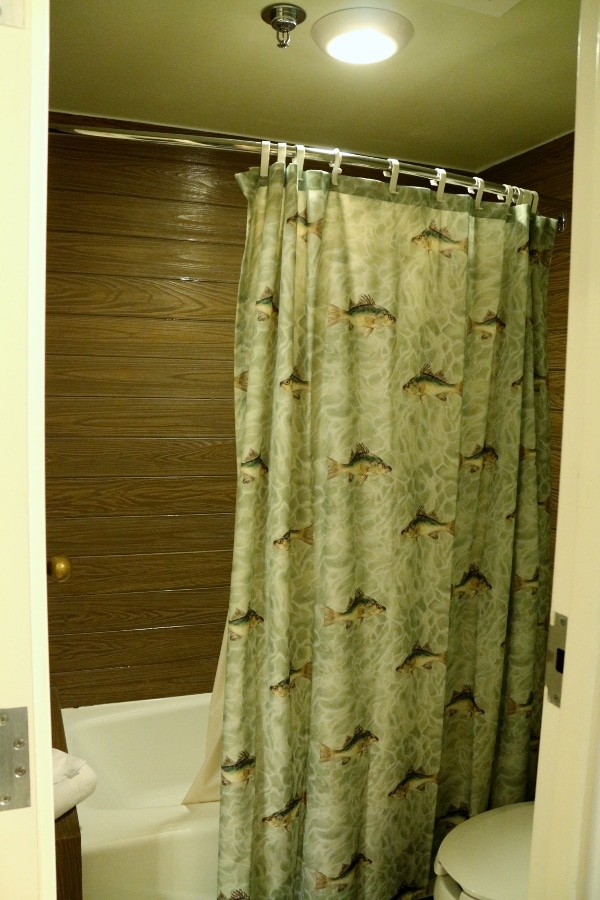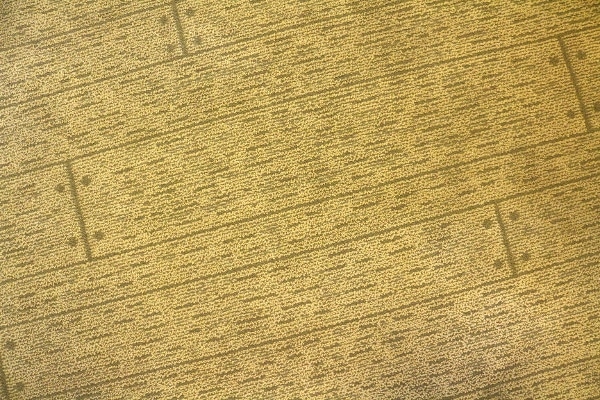 Carpet
But best of all is the alligator accents! I love the accent pillows showcasing an alligator holding a horn. And even better yet, most of these rooms actually sleep five, not four. There is a hidden murphy bed which you can fold down to access a short twin sized bed (length is best for children and adults under 5'2"). There is an ADORABLE illustration of a sleeping alligator on the wall when you fold down the bed. It's absolutely priceless and one of my favorite features in the room! It's not only precious, but useful if you are traveling with a party of five, or even less and just want to spread out a bit and not share beds.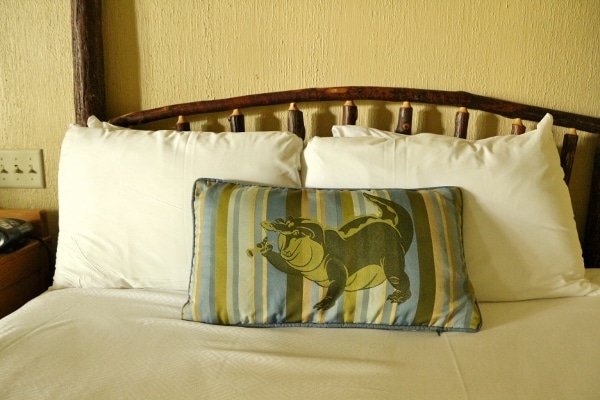 There are four different bus stops around the resort--something to keep in mind if you stay here, you may not only be a longer walk from the main building, but also when you take Disney transportation, you may have to wait for additional bus stops before you can get on or off the bus (and at the end of a long day at the parks, you just want to get to your room). Also, you can actually pay more for preferred rooms, which are found in the buildings closest to the main building (on the other hand, the bus stop closest to the main building is the last one to drop off, so it's a catch 22--less walking but more waiting). We did that on this recent visit and thought it was totally worth it for the convenience.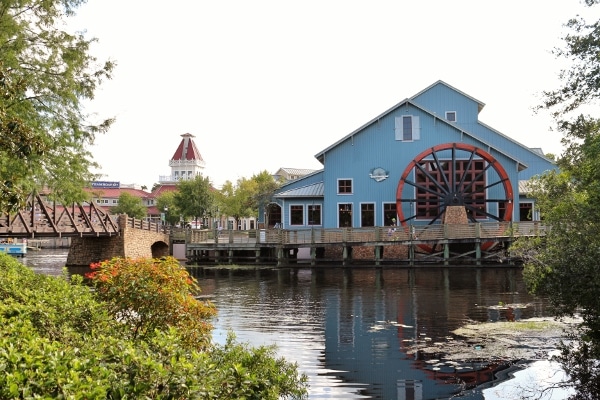 Also, please beware that the two-story lodge-style buildings in Alligator Bayou do not have elevators. We learned this the hard way and had to drag a giant rented double stroller (collapsible, but still bulky) up and down the stairs each day. If you stay in Alligator Bayou and are concerned about the stairs, request a ground floor room. The three-story buildings in Magnolia bend do have elevators though, so that's a plus.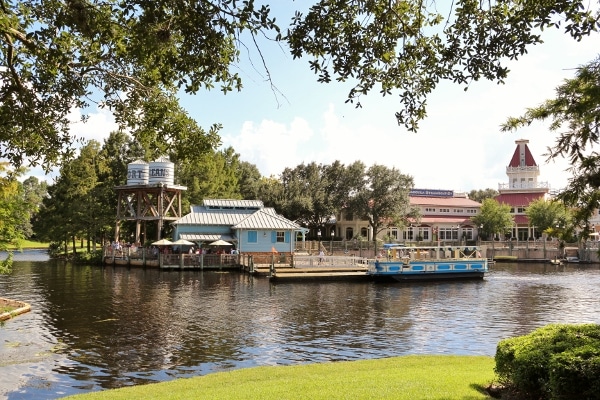 I also really enjoyed the main pool area at Port Orleans Riverside. It's called Ol' Man Island and features a large pool with varying depths (but none that exceed 5 feet--perfect for us shorties), a separate wading pool for children, a hot tub, and a slide! There are also five smaller "quiet pools" spread throughout the resort (mainly because of its vast size), but we didn't visit any of these on our trip since we were such a short walk to Ol' Man Island (another plus for paying extra for a preferred room).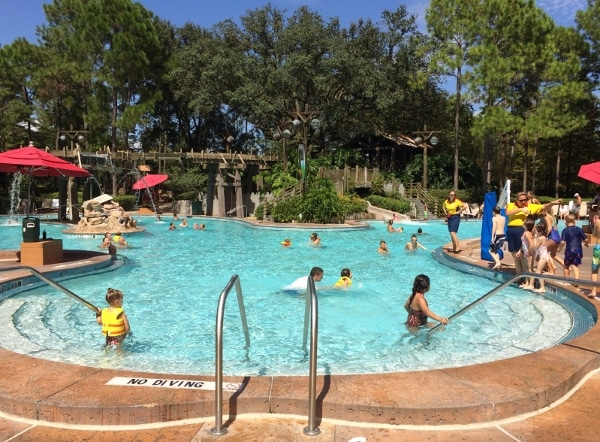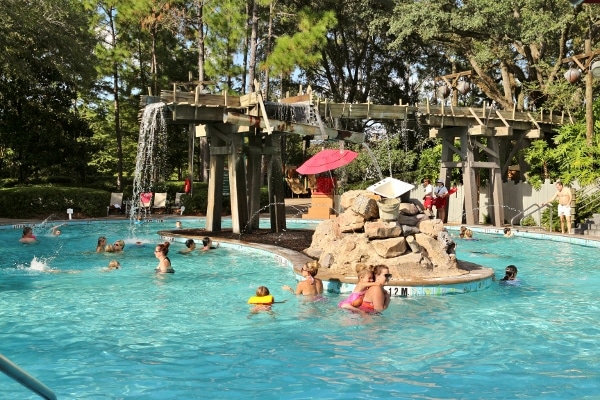 I'm a big fan of Port Orleans Riverside. If given a choice, I'll still pick the Animal Kingdom Villas over Riverside, but that's a Deluxe Resort versus a Moderate one. You can't really compete directly. But with that said, I love the convenient location of this resort (very close to Epcot, Hollywood Studios, and Downtown Disney/Disney Springs), and the theming is really fun. Also, it's much cheaper!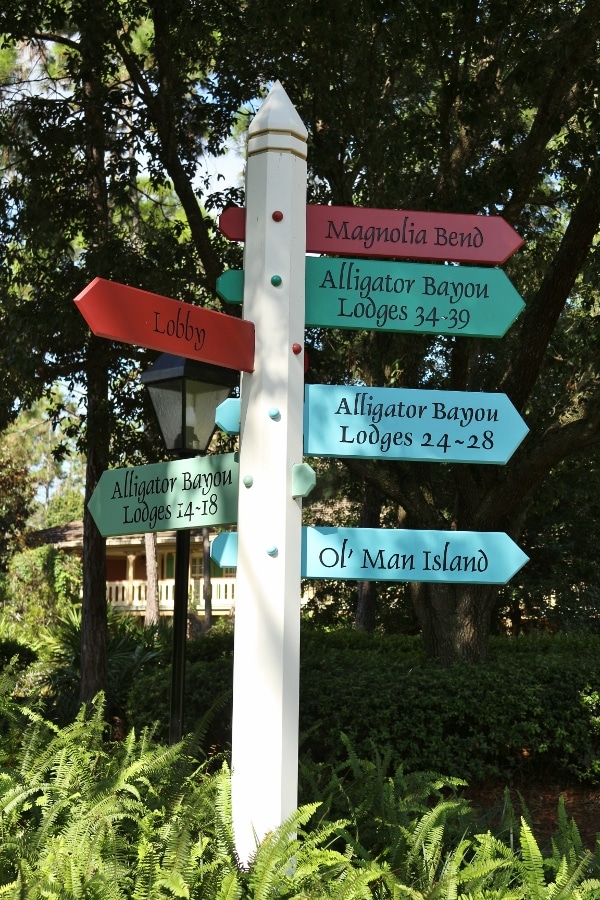 Lots of great information about Port Orleans (Riverside and French Quarter) can be found on this unofficial site. It's a wonderful reference, and tends to have more information in one place than the official Disney site.
My next Walt Disney World post will discuss restaurants (both table service and quick service) at Port Orleans Riverside and French Quarter. Stay tuned!
Port Orleans Resort Riverside
1251 Riverside Dr
Orlando, FL 32830
(407) 934-6000
https://disneyworld.disney.go.com/resorts/port-orleans-resort-riverside/