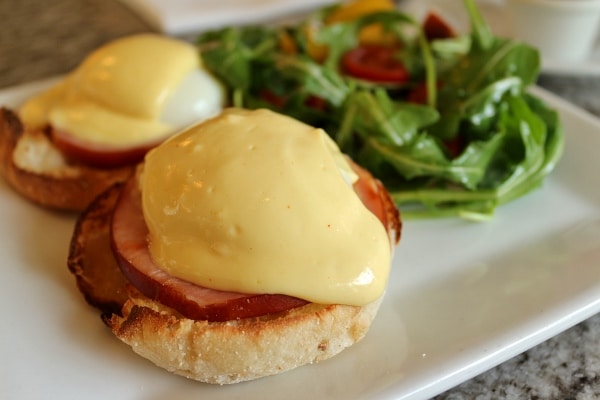 Although we are head over heels for breakfast at Kona Cafe (and just so happened to also be staying at Disney's Polynesian Village Resort on this recent trip) we decided to have an early breakfast at another of the Monorail resorts before heading to Magic Kingdom.
Right next door to the Poly is the most elegant of all the Disney resorts: Disney's Grand Floridian Resort and Spa. It's theme depicts a turn-of-the-century Victoria style, which is amplified by the vast, chandeliered lobby complete with grand piano.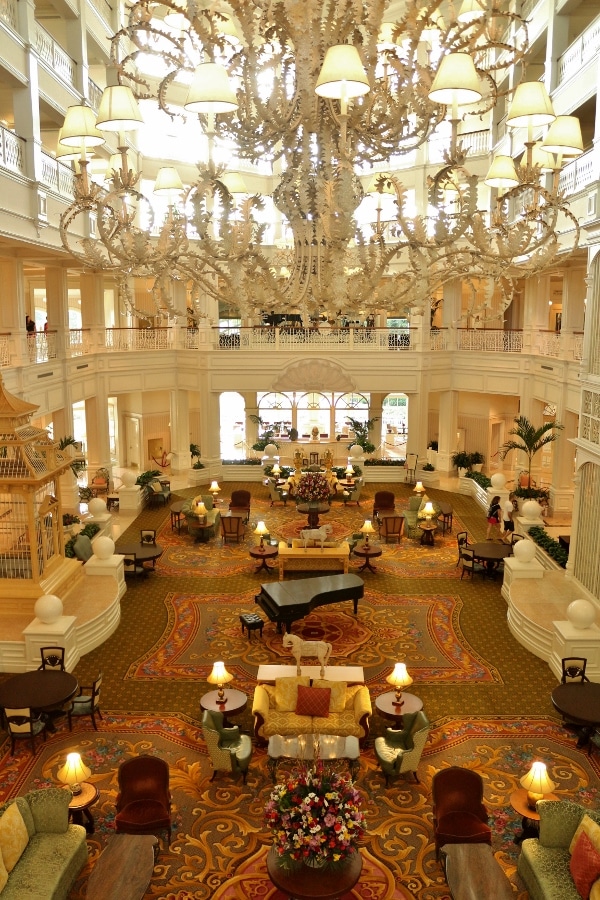 There are several truly fantastic dining options at the Grand Floridian. For breakfast we headed to the Grand Floridian Cafe. A friend of mine has raved about dinner here (a great choice, but often overlooked by flashier options), and we had read some great reviews about breakfast as well, so we decided to give it a shot.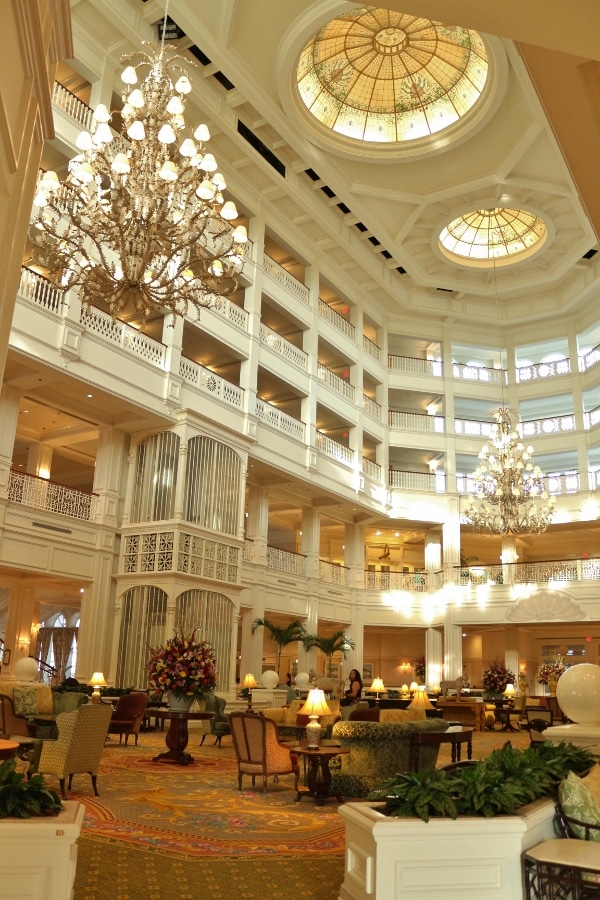 The Grand Floridian Cafe opens at 7 am for breakfast, a whole 30 minutes earlier than Kona Cafe, so we figured that would give us more time to eat and still make it to Magic Kingdom in time for Extra Magic Hours starting at 8 am. What we didn't realize is that the Monorail wouldn't open until 7 am too, which is when we had made our reservation.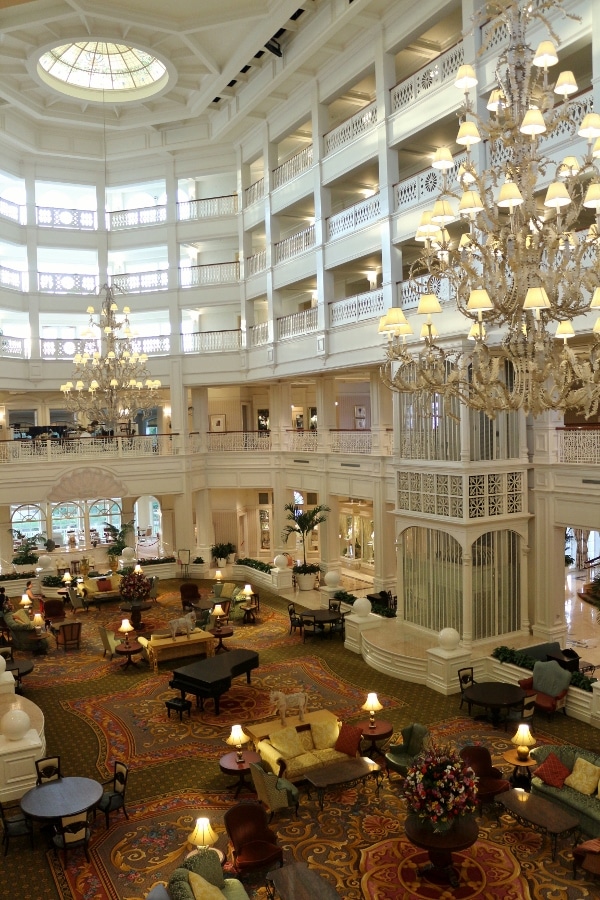 We were told there is a walking path to the Grand Floridian, but in our hasty efforts to find it, we gave up and headed back to the Monorail at the Poly to just wait, and expected to be a few minutes late for our reservation.
Apparently there IS a walking path, and now I've learned where it is for next time, but just something to keep in mind for the future. Don't make such early reservations unless you know for sure your transportation method will be available at that hour! This would be a better option if one was staying at the Grand Floridian, or had made a later reservation.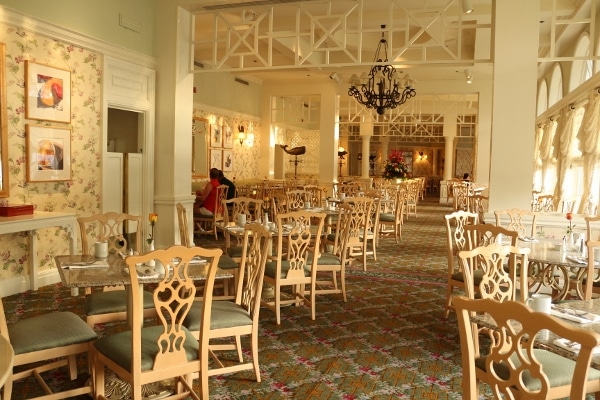 The Grand Floridian Cafe carries the same Victorian theming, with floral wallpaper and carpeting, and lace-draped windows throughout. Overlooking the beautifully landscaped grounds, the setting feels quite calm and serene, a really nice way to start your day before a crazy day at the parks.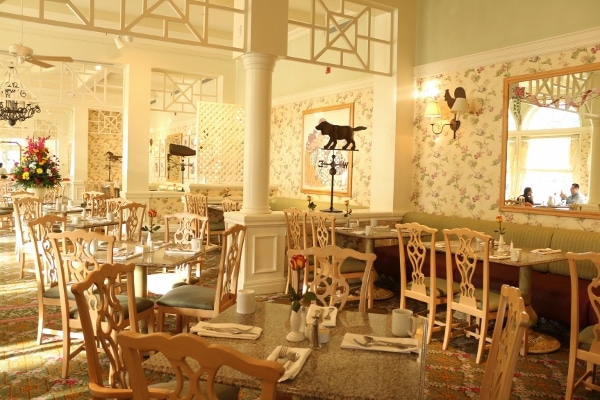 The breakfast menu has recently changed, much to our disappointment. When we were originally booking our Advanced Dining Reservations we reviewed the menu and found some really exciting options, such as Lobster Eggs Benedict and Citrus Pancakes (roasted pecan and sun-dried cranberry pancakes with house-made orange butter), but the selection during our visit was much more basic and lacked some of those special flourishes. Some of these menu items are probably seasonal, but we were still disappointed that nothing equally as thrilling was added to the menu prior to our arrival.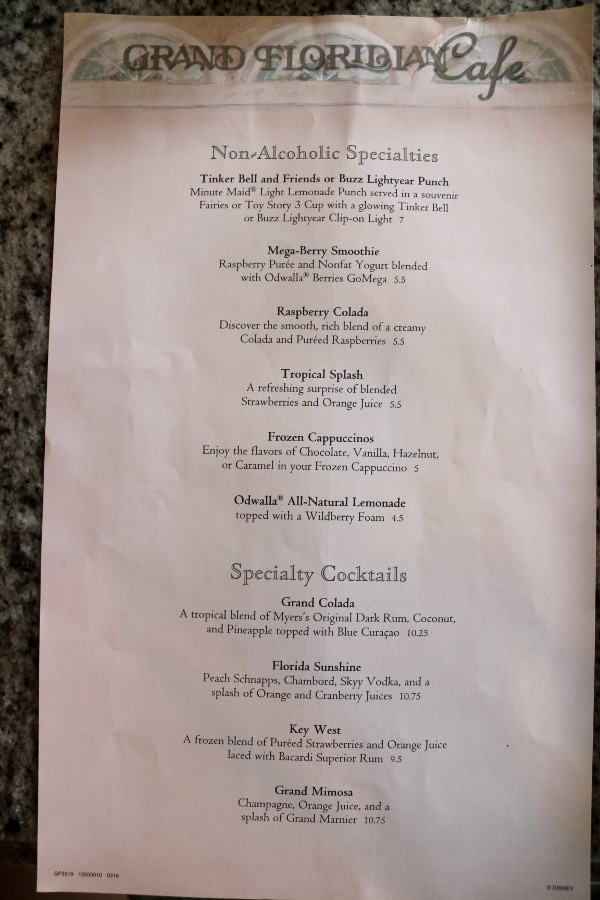 The only pancake option is a basic buttermilk version, and they only have the standard Eggs Benedict on the current menu (previously that was available in addition to the lobster variation). With that said, the menu still has plenty of options, even if they weren't the ones we had seen on previous menus.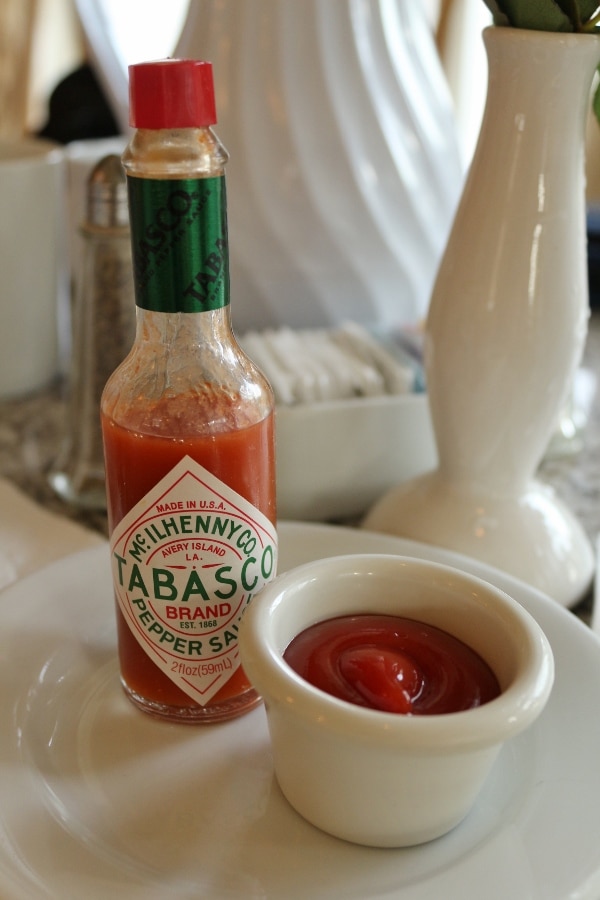 My sister selected the Garden Omelet, which is a three-egg omelet with spinach, feta, and roasted tomato served with a potato casserole or fresh fruit.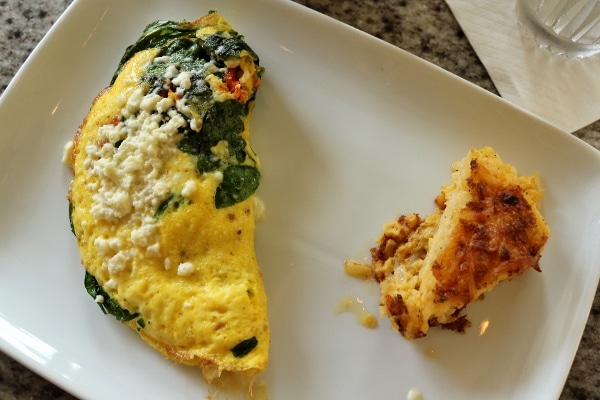 Garden Omelet $13
It honestly looks very small considering it's made with three eggs, but the flavor is great! It reminds me a bit of a Greek style omelet, minus the obligatory olives. I do think the plate looks pretty naked with the omelet and small piece of potato casserole (maybe a smaller plate would make it look bigger?), but my sister was satisfied with the portion size, flavor, and quality of her meal.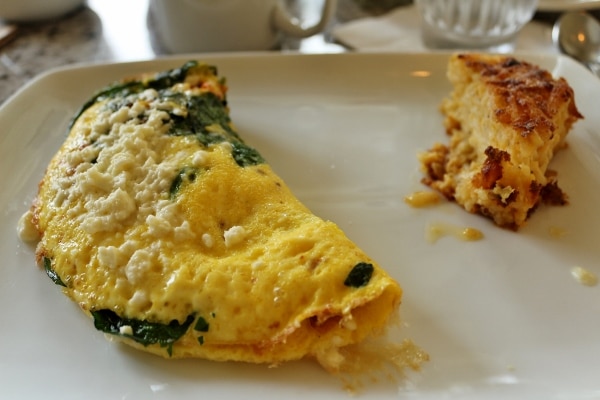 I ordered the traditional Eggs Benedict. It's easily one of my favorite breakfast dishes of all time, and I was happy to try the version here. It's very well executed, with a crisp-but-not-dry English muffin, perfectly poached eggs (soft yolk, but whites cooked completely through), the right amount of Hollandaise (not a massive pool like some places do), and a really appropriate side dish of lightly dressed arugula and halved heirloom cherry tomatoes. The acidity and brightness of the salad helps cut through the richness of the Benedict. It's truly a better balanced side dish than potatoes would have been. I was very happy with my choice.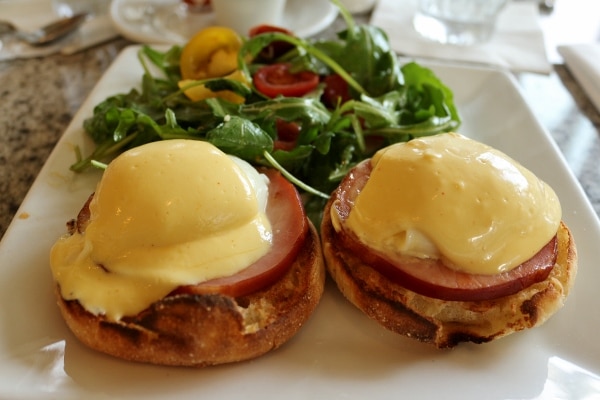 The Benedict $13
The prices are a few dollars higher than comparable items at Kona Cafe, and overall, I'd pick Kona Cafe for breakfast in the future for it's more unique menu (*cough* Macadamia Pineapple Pancakes) and general atmosphere. I'd still love to try the Grand Floridian Cafe for dinner sometime, but it's not really a destination breakfast the way it is at Kona Cafe, where we will Uber it up from another resort just to have breakfast there.
Grand Floridian Cafe
4401 Grand Floridian Way
Lake Buena Vista, FL 32830
(407) 824-1841
https://disneyworld.disney.go.com/dining/grand-floridian-resort-and-spa/grand-floridian-cafe/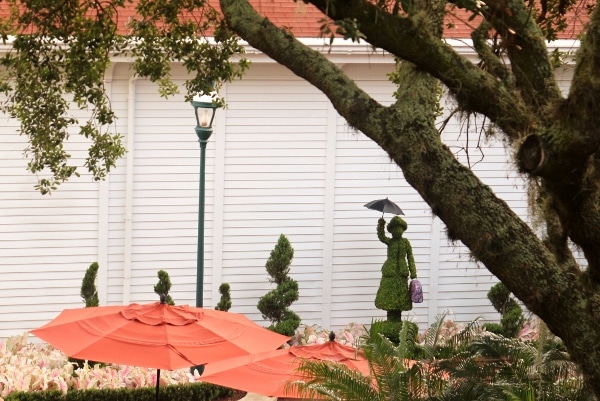 Related posts