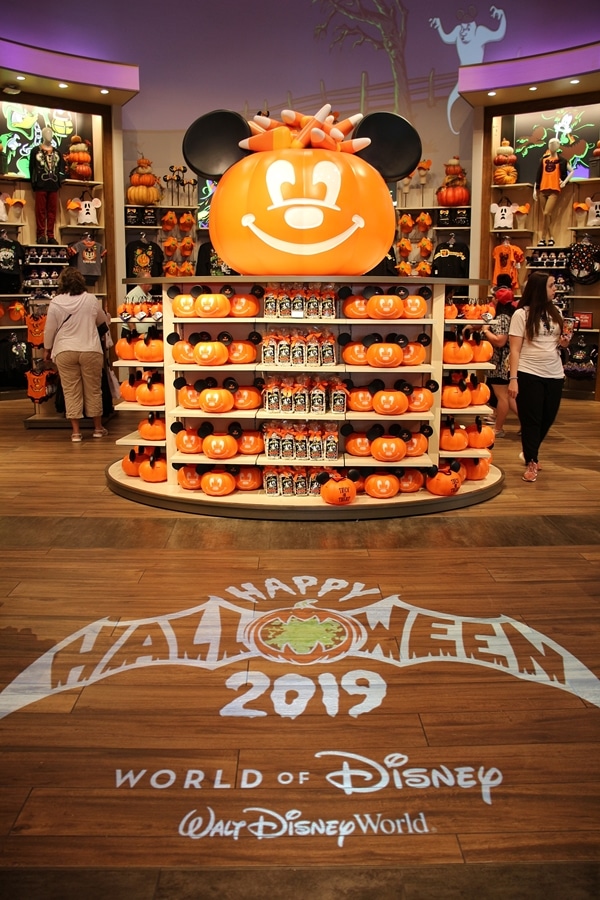 I recently returned from my eighth Disney Cruise, which happened to be my third Halloween on the High Seas cruise. Believe it or not, I'm not a huge fan of Halloween. I do enjoy the costumes and festivities, but it's not my favorite holiday. The reason for so many Halloween cruises on Disney Cruise Line is the convenient timing and pricing of booking cruises in the fall (aka hurricane season and back to school time for the kids). With that said, I thoroughly enjoy the Halloween themeing and decorations at Walt Disney World and on the Disney cruise ships this time of year, which typically last through the months of September and October.
This particular cruise we booked was an 8-night voyage to the Eastern Caribbean visiting St. Kitts, Antigua, San Juan, and Castaway Cay, Disney's private island in the Bahamas, along with three glorious days at sea! It was one night longer than the standard 7-night itineraries typical of the Disney Fantasy, making this a popular and appealing itinerary for many.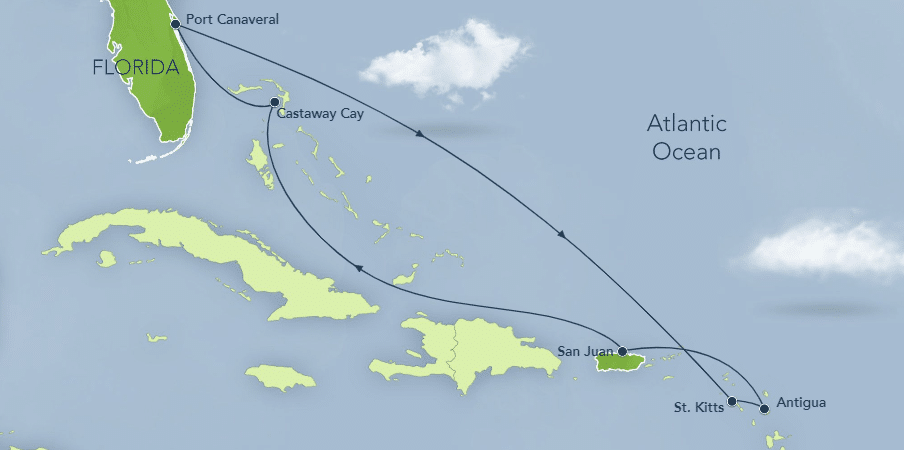 My family flew into Orlando a couple days early. It's always a good idea to fly in at least one day in advance in case of flight delays and cancellations. We spent two nights at Disney's Wilderness Lodge's Boulder Ridge Villas, part of Disney Vacation Club (Disney's time share), arriving in the evening on Thursday, and had a full day at Disney before boarding the ship on Saturday.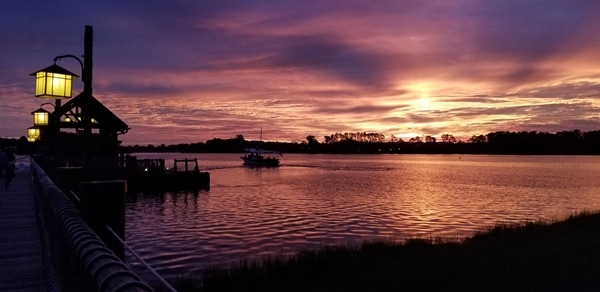 My sister's family headed to the Magic Kingdom bright and early, while my mom and I lingered around the resort in the morning before heading to Disney Springs for several hours for lunch and shopping. We had reservations at The Boathouse, an upscale waterfront restaurant specializing in seafood and steaks, as well as featuring an extensive oyster bar. The restaurant has rave reviews, and we love seafood, so this was a good opportunity to give it a try.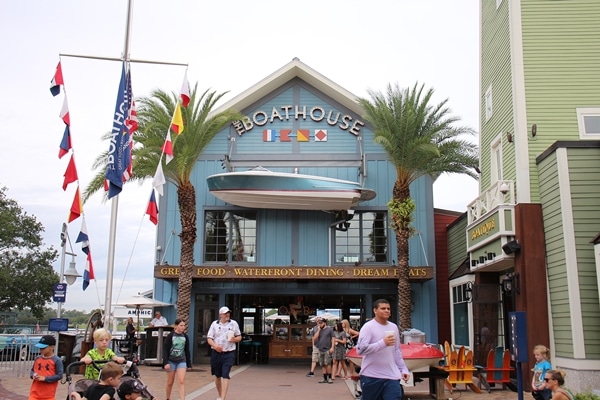 The decor is extremely nautical, and even features some boats turned into tables with seating. We opted to sit on the deck outside, and had a great view of the vintage amphicars as they splashed into the water for tours around the lagoon.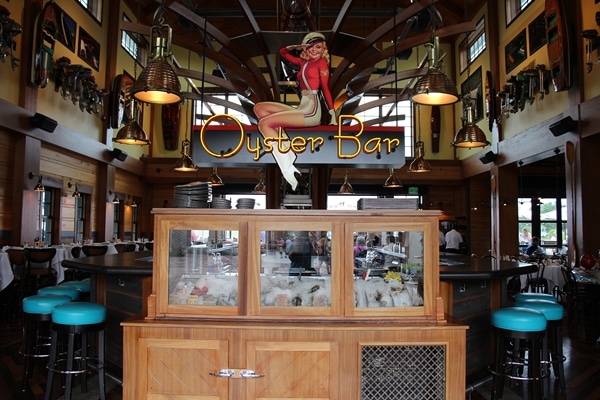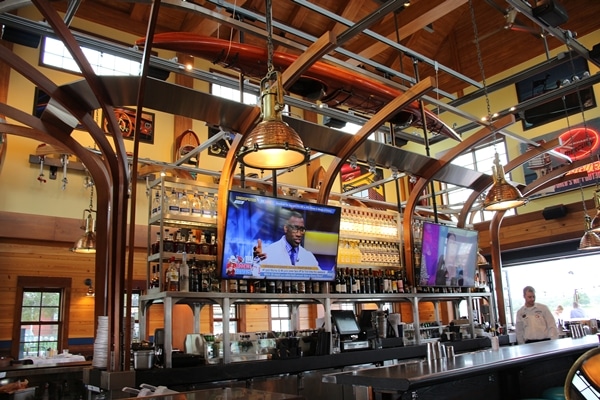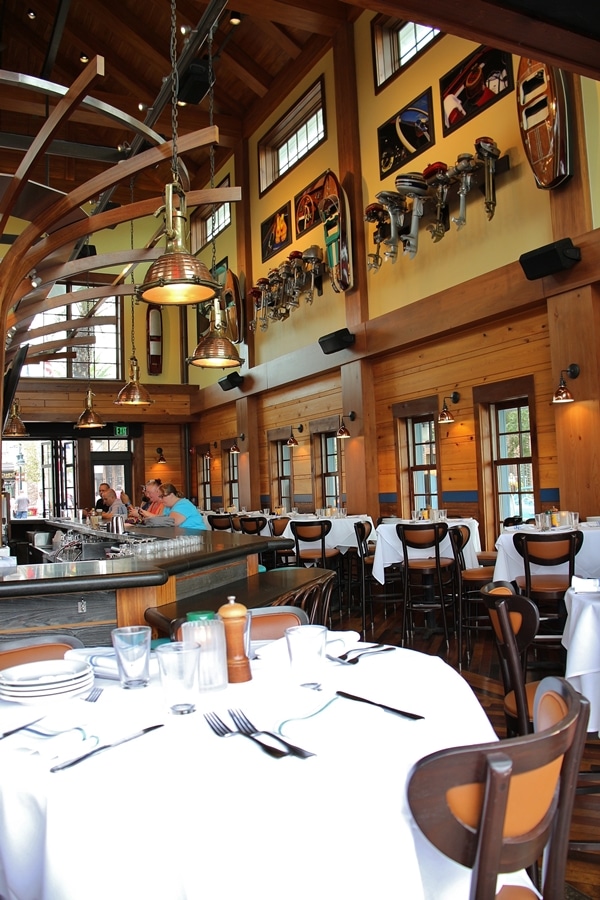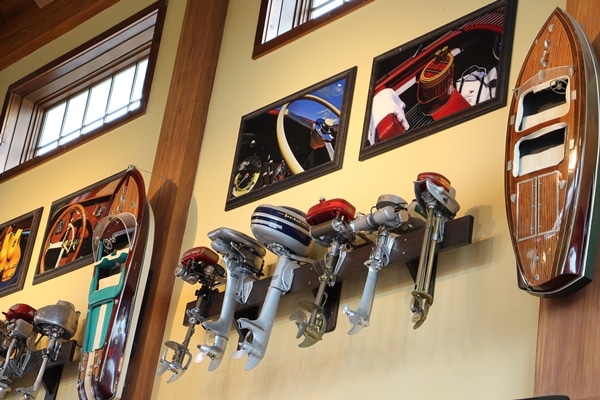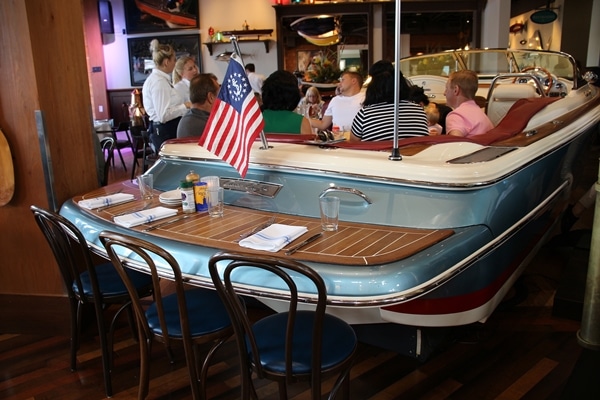 Warm, glistening honey butter rolls were a comforting start to our meal, although I found the interior to be exceptionally doughy. I liked the crust on the top and bottom very much though.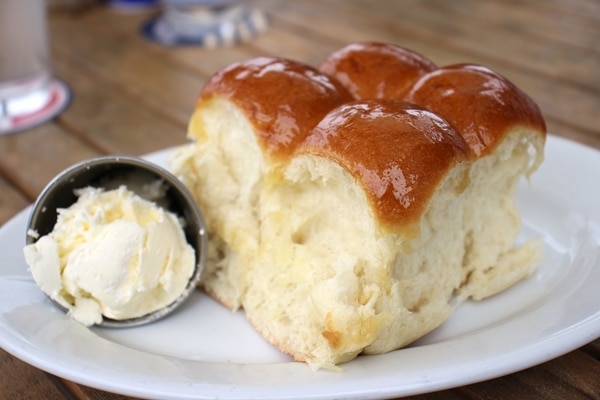 The moment I saw the daily specials menu I knew we would be starting with the fried green tomato appetizer.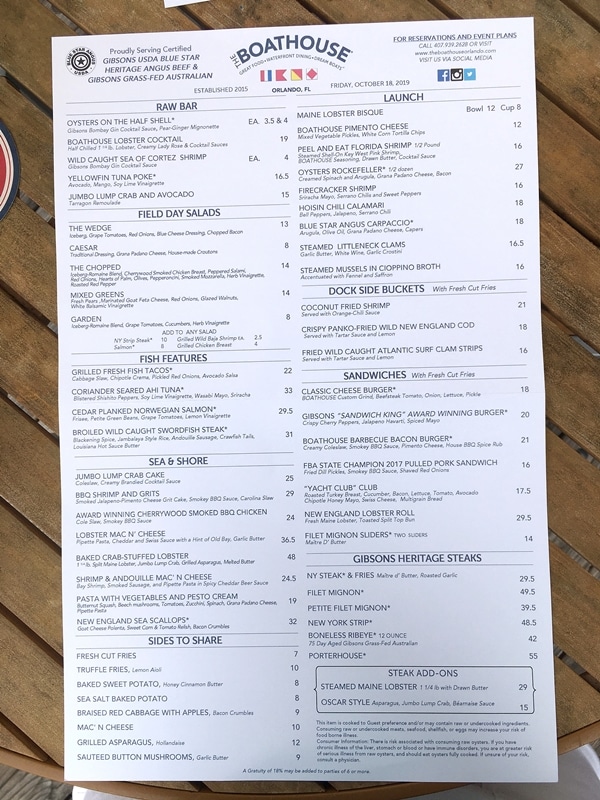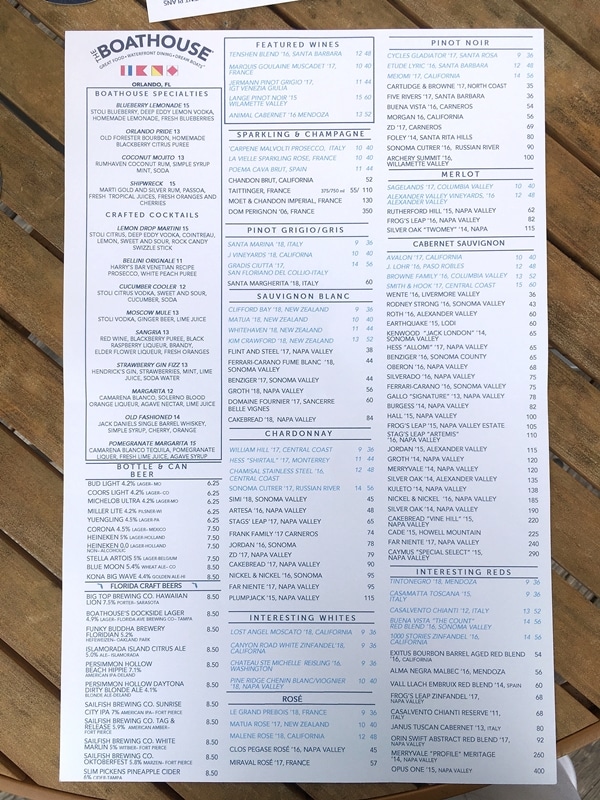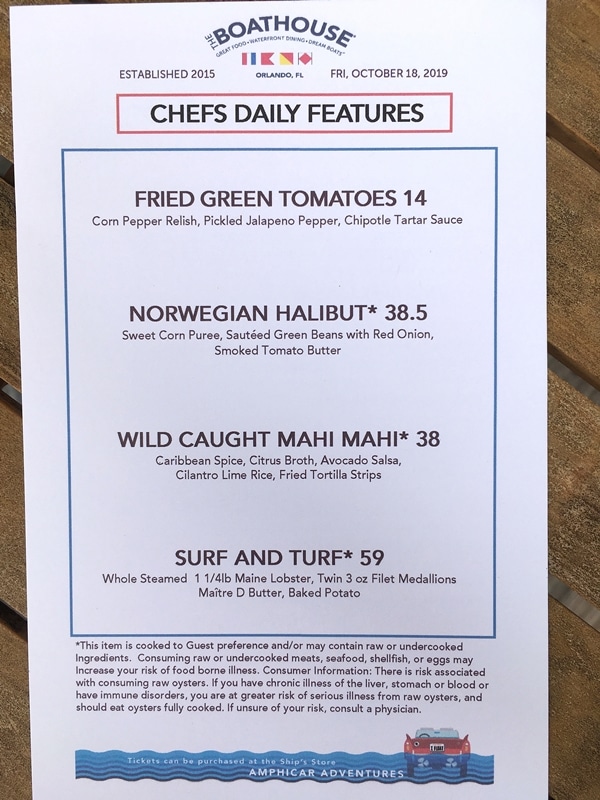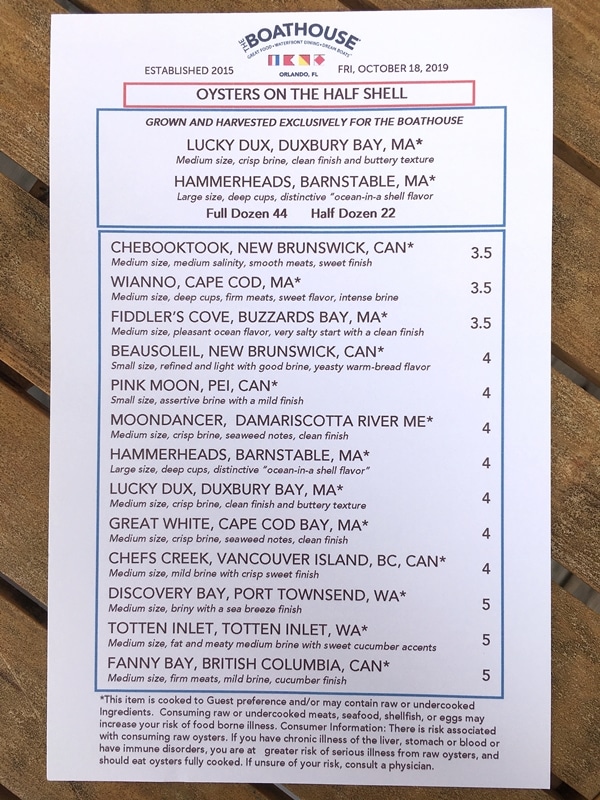 I absolutely love fried green tomatoes, but rarely get to eat them. This version was served with corn pepper relish, pickled jalapeno, and chipotle tartar sauce. Honestly, I found is relatively disappointing and underwhelming. They were under-seasoned and under-cooked. They could have been fried a bit crisper on the outside and a bit more tender on the inside. They were ok but not the best I've had by far. The chipotle tartar sauce was the only saving grace in terms of flavor.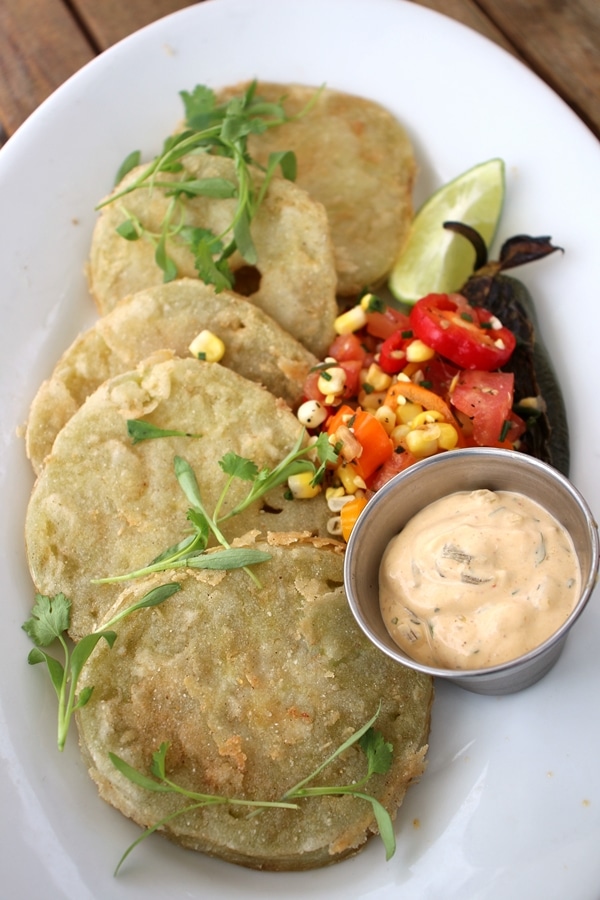 For our entrees we both opted for the grilled fresh fish tacos with cabbage slaw, chipotle crema, pickled red onions, and avocado salsa. They were excellent, making up in seasoning what the tomatoes lacked. They were a bit messy with small pieces of mahi mahi sprinkled over the top of the 3 corn tortillas but once you use your fork to portion them onto each tortilla a bit better it's not bad. This was far superior to the tomatoes in every way. Definitely a winner, and a more budget-friendly entree than others.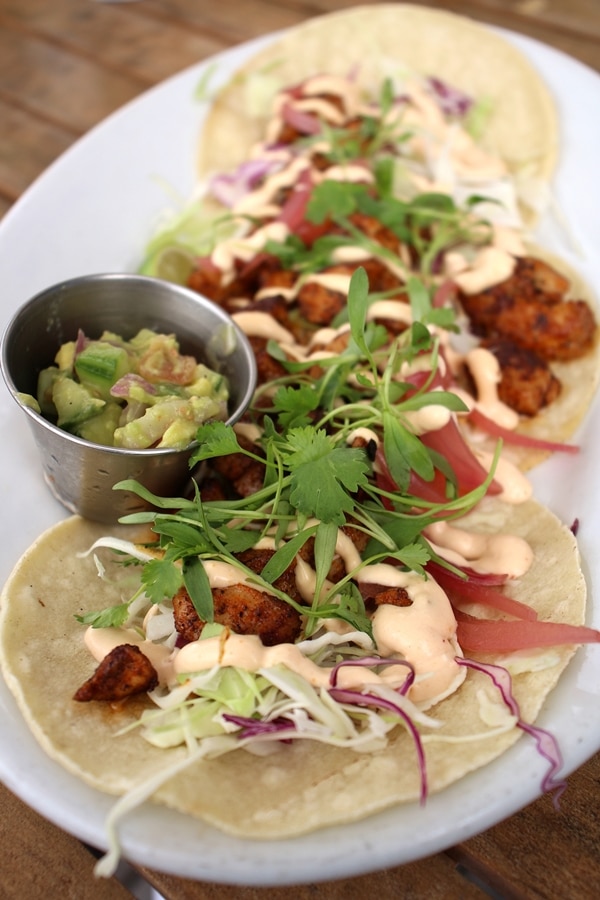 My overall impression of The Boathouse is that is has a great waterside location, fun nautical themeing, and excellent service. The food was truly hit or miss for us. The tacos were a hit, the fried green tomatoes were a miss. I'm not sure I would return simply because I'm 100% obsessed with Homecomin' right around the corner in Disney Springs, and given the choice between the two (and the plethora of other dining options) I wasn't impressed enough with The Boathouse to warrant repeat visits. But that's just me.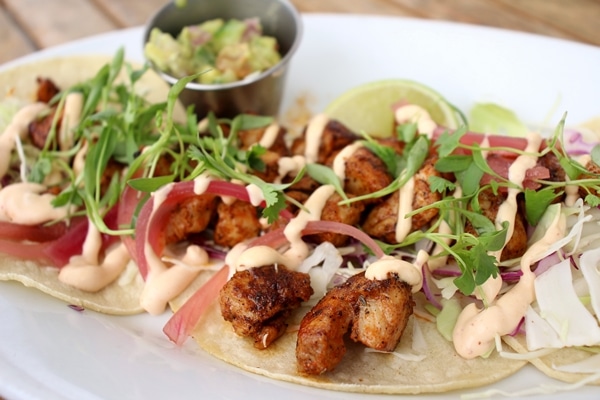 After a nice walk around the Springs to digest our tacos, we stopped by Vivoli for a gelato fix. Fun fact: my family visited the original Vivoli location in Florence, Italy approximately 18 years ago! It was a foodie destination for us at the time, and holds really delicious memories of decadent gelato in a prime setting.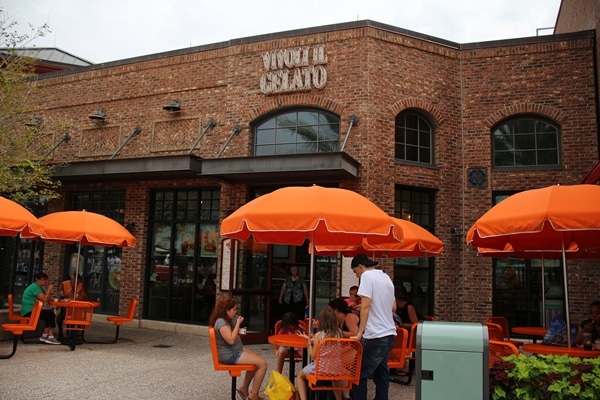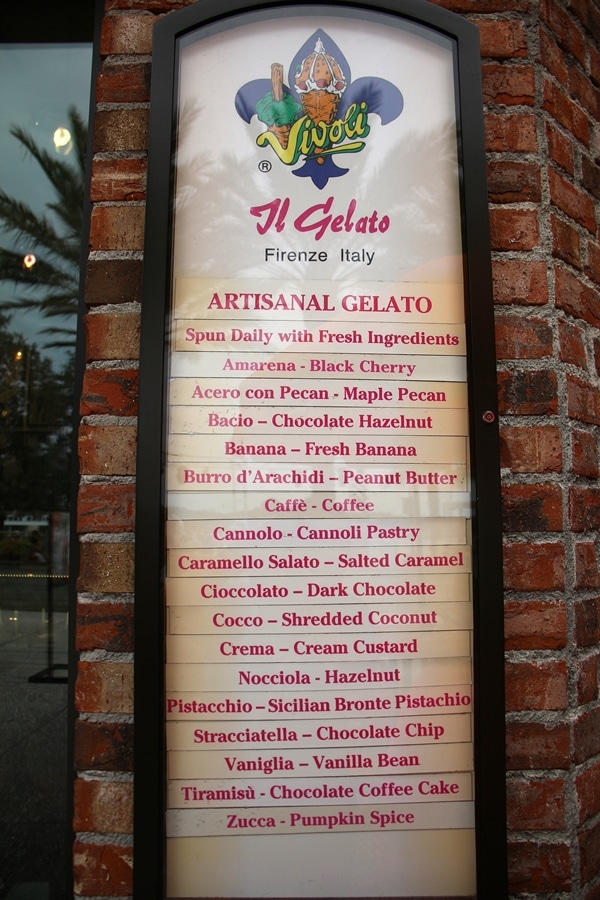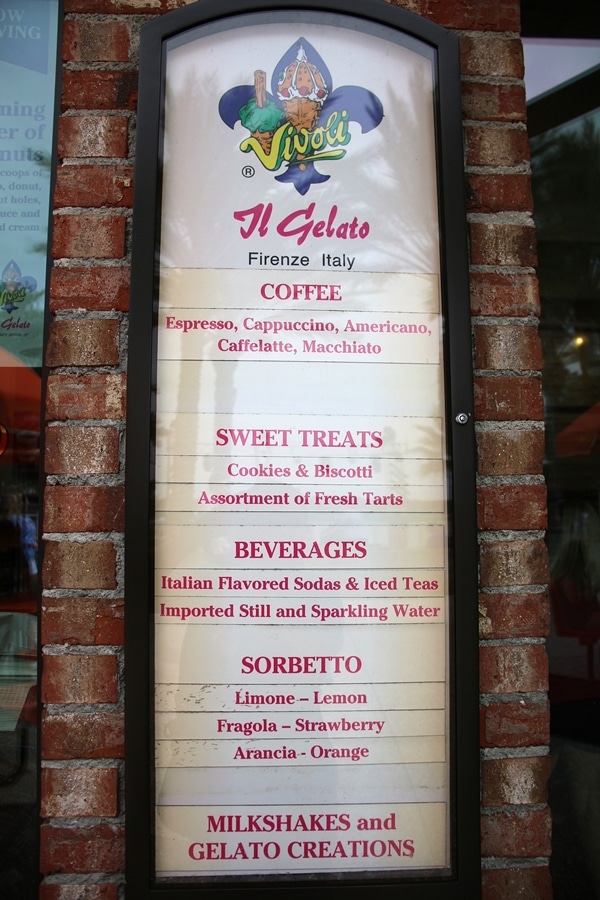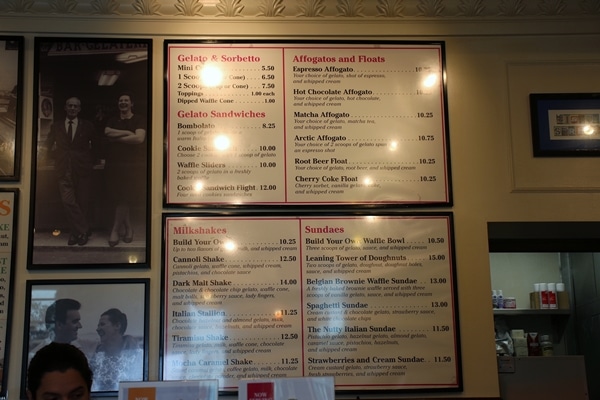 A few years back when I learned that Vivoli would be opening a branch at Disney Springs I was elated! Sadly, the reality did not live up to the expectation. Mom and I sampled several flavors, and selected two each. I got the cannoli and mint chocolate chip while mom got hazelnut and almond.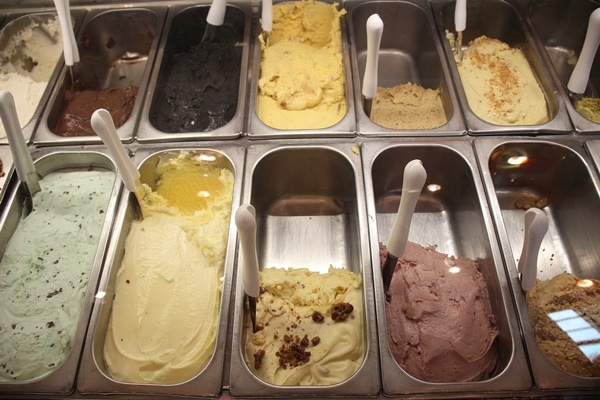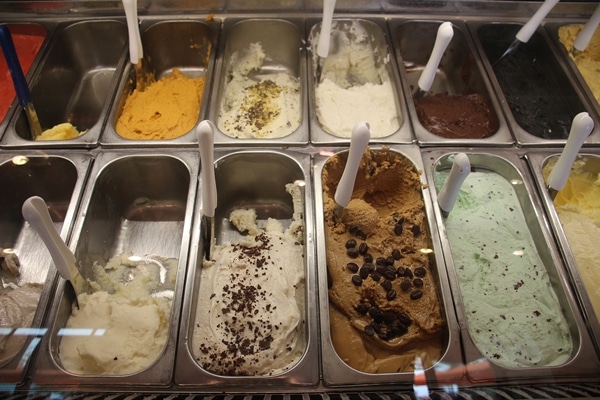 The gelato was so rich it was actually sticking to the roof of our mouths! It was a strange feeling to be honest. I believe the cream in the gelato somehow separated yielding a somewhat icy, less creamy, texture with a greasy aftertaste from the milkfat. It was not pleasant. It felt like an oil slick on the roof of my mouth. I much preferred the gelato in Prague which was lusciously creamy, and also recall Vivoli in Florence being a million times better. This doesn't compare at all. Another spot where I won't be returning. You can't win 'em all, folks! I'm glad I gave it a shot though. Moving on…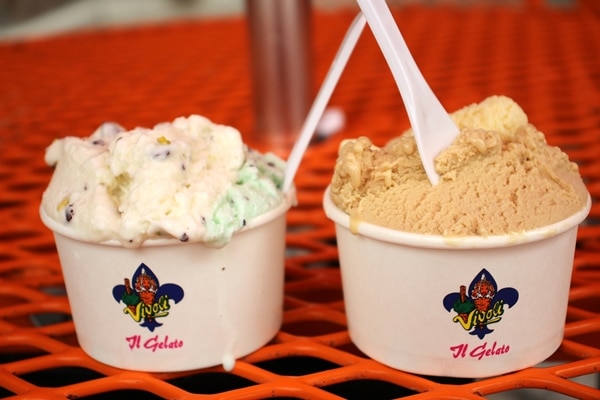 The food today wasn't entirely disappointing, thankfully. After some time spent at the resort and at the pool we cleaned ourselves up and headed over to Disney's Grand Floridian Resort for dinner reservations at the Grand Floridian Cafe, one of my personal favorites, and a reliable option on the monorail circuit for breakfast, lunch, and dinner.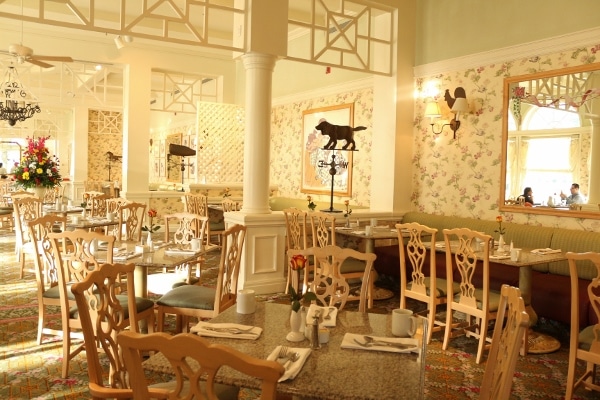 The menu changes a bit seasonally, with some tried and true favorites sticking around throughout the year.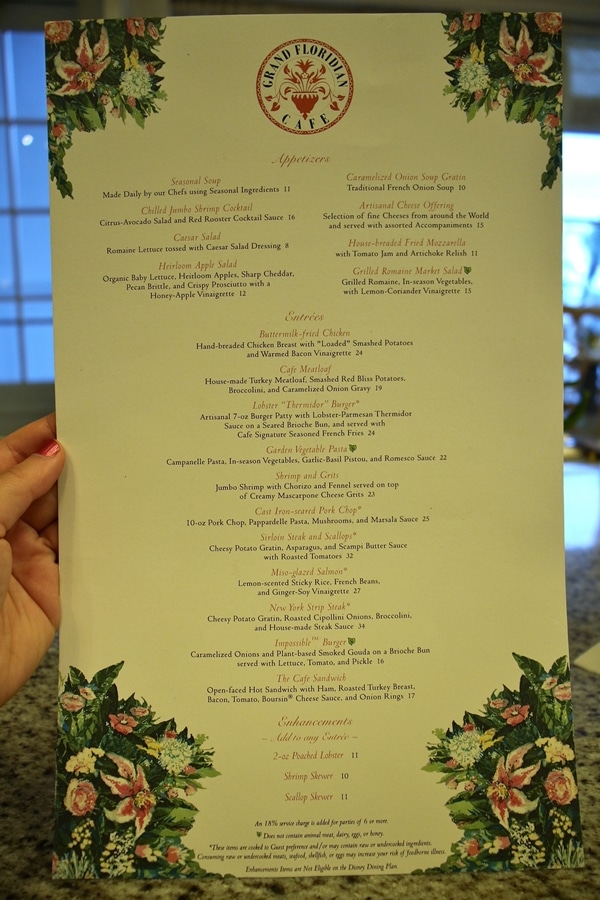 The artisanal cheese offering was shared amongst most of us to start. A selection of three cheeses (a soft cheese, a hard cheese, and a blue), accompanied a cube of sticky honeycomb, a tiny loaf of a carrot cake-like concoction, and apricot relish. With the exception of the carrot cake, which was good but seemed a little odd for an appetizer cheese board versus a dessert cheese board, we really liked the selection offered.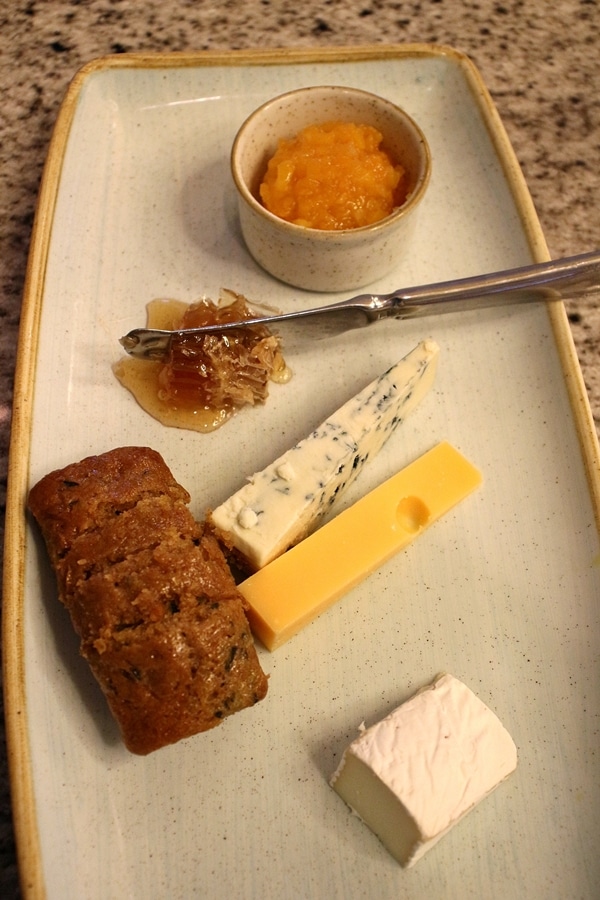 I couldn't resist the lure of pure comfort food in the form of the cafe meatloaf, a rendition of turkey meatloaf, smashed red bliss potatoes, broccolini, and caramelized onion gravy. It was divine! The meatloaf was juicy and well seasoned, as was the rich brown gravy. The potatoes and broccolini were excellent counterparts. I was so pleased by this meal that I decided to recreate it in part when I returned home (stay tuned for my recipe in a future post!).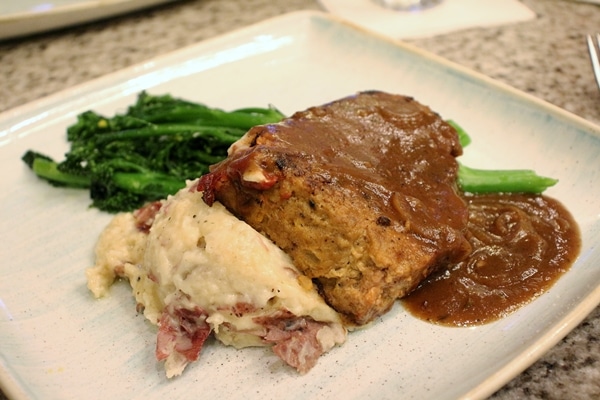 I'm including the following day in this post as well. We awoke early to check out of our room and head to Disney's Beach Club Resort for Minnie's Beach Bash Breakfast at Cape May Cafe, a delicious breakfast buffet with character interactions with Minnie, Daisy, Donald, and Goofy. I had breakfast (and dinner) at Cape May Cafe one-and-a-half years ago (which I thoroughly reviewed), but was pleased to note that not only were there some changes to the menu, but Minnie and Goofy had also updated their outfits since last year!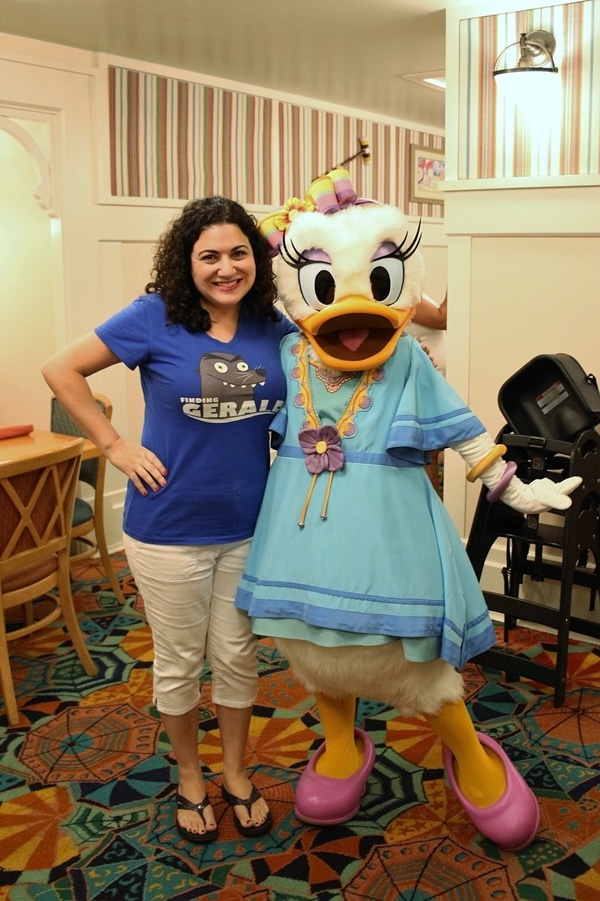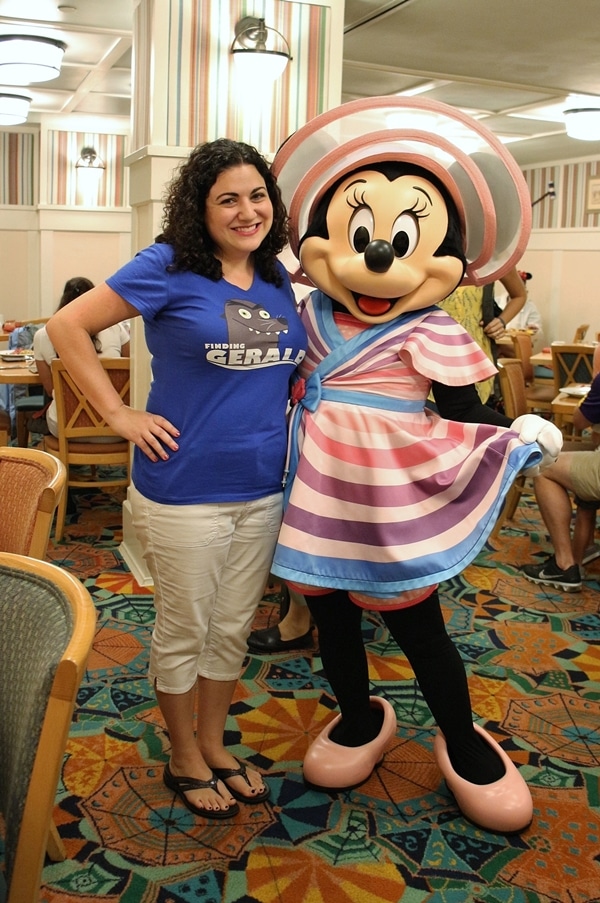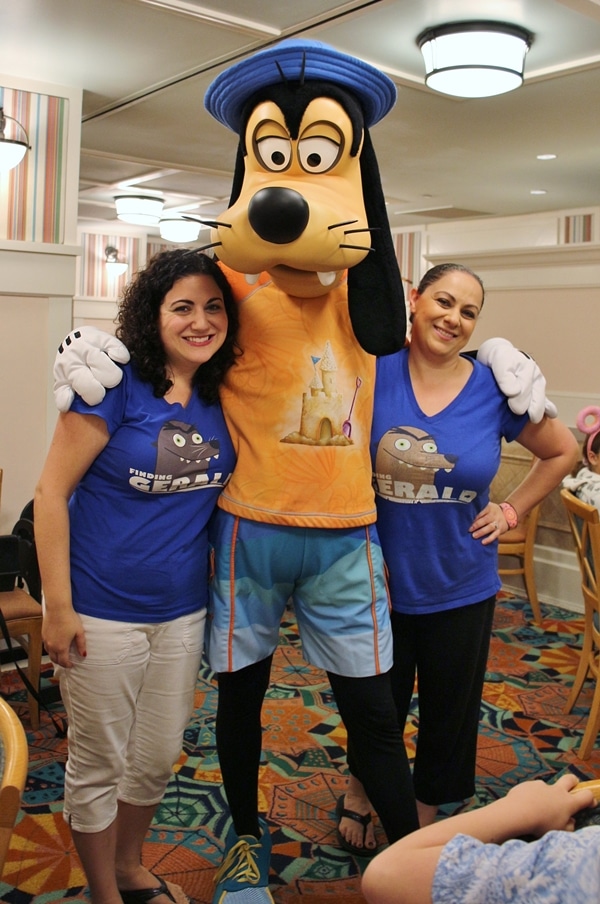 New on the menu for us was the shrimp hash with poached egg and spicy hollandaise, and a breakfast burrito bar. Sadly, my beloved goat cheese scramble is gone.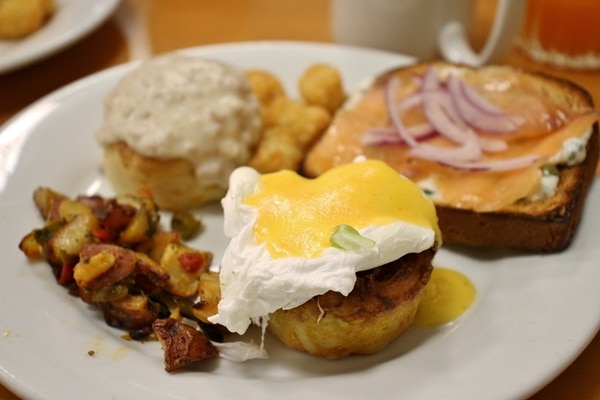 Funny story to share... Donald overheard me telling Minnie she was my favorite, and then he was all angry with me. He even tried covering my face when I was posing for a picture with Minnie. He left and then came back later pointing at me like we were in a fight. And then he signed my nephew David's autograph book "Donald Duck #1" and then showed me and pointed to the #1. Then I apologized and said he was actually #1 and we made up. It was hilarious! That entire interaction was easily one of the highlights of our morning!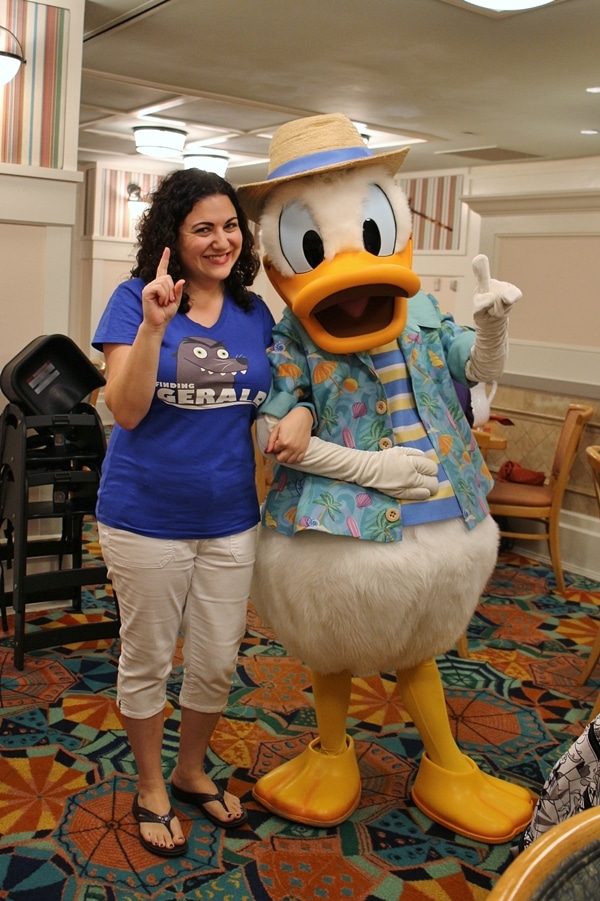 Donald and me after making up. Donald Duck #1 😉
After breakfast we headed to Port Canaveral in our rental car through heavy rain and wind. It was not ideal weather conditions, but fortunately by the time we got to the port the weather had mostly cleared up. I'll warn you now, I did not take a million pictures of the ship with the exception of Halloween decorations. There are tons of pictures of the Disney Fantasy in previous blog posts including
this one
highlighting my favorite things about DCL. That's a great resource for general information about the cruise line with plenty of photos from around the ships.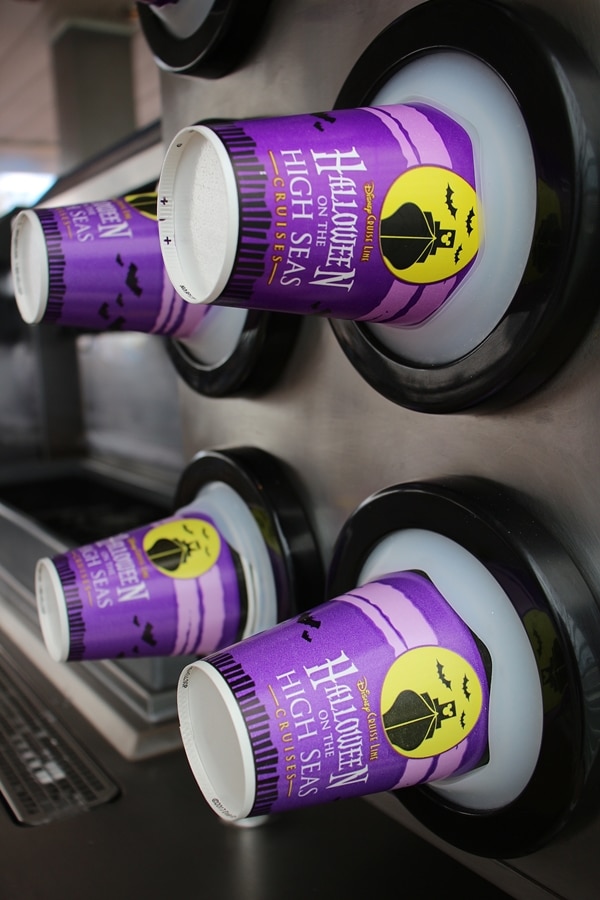 In the past embarkation lunch was offered at Cabanas (buffet) and Enchanted Garden (table service), but this was our first time cruising on DCL were the embarkation lunch option for table service had switched from Enchanted Garden to Animator's Palate. The menu was pretty much identical to the one from two years ago.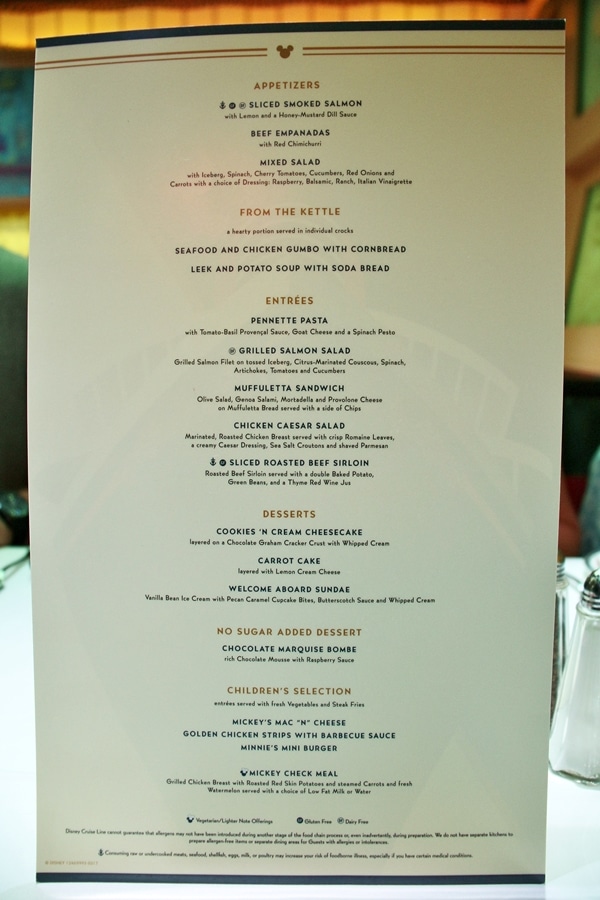 We were quite stuffed from our breakfast buffet, so we opted for light salads for lunch. I enjoyed the grilled salmon salad very much! The salmon was beautifully seared, and the salad itself was quite good.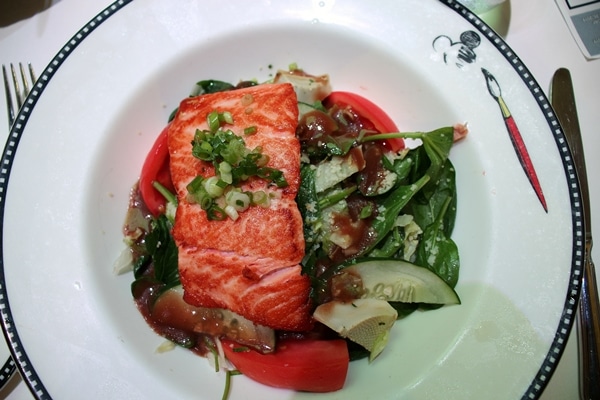 This was also the first time we were cruising after DCL made changes to the toiletries offered in the staterooms. Previously shampoo, conditioner, and body lotion was provided in small disposable bottles (I still have a stash in my closet which I use regularly), but now they are supplied in large pump bottles. Going green and all that. I honestly didn't mind the change, although I always enjoy bringing some home with me. They sell the products if you want so no biggie.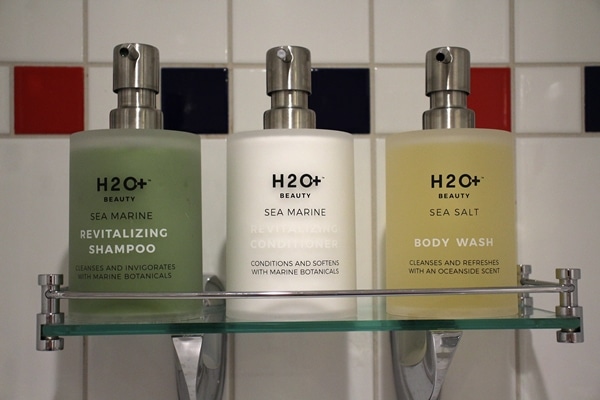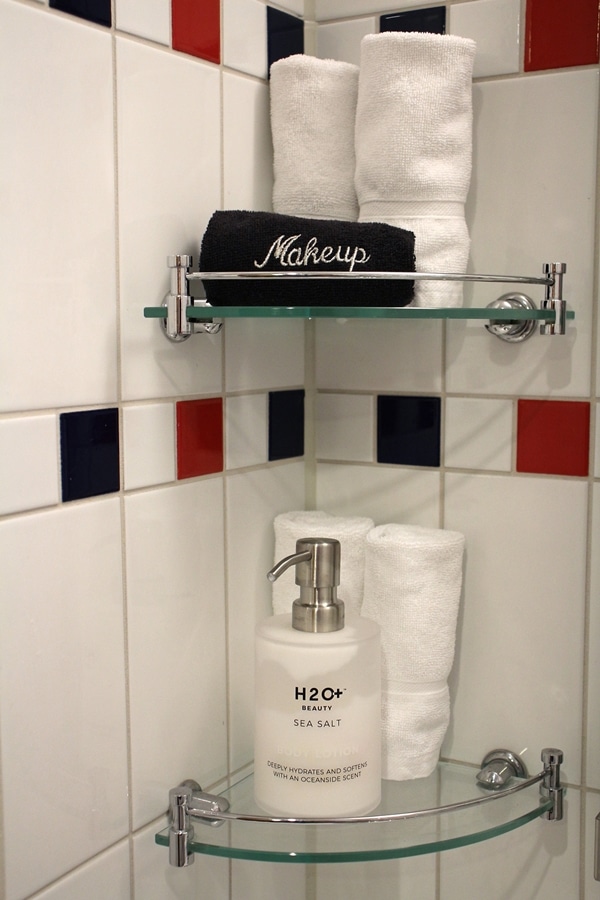 A slightly stormy and overcast sky loomed over the pool deck during the Sail Away Party, but fortunately the rain stayed away. Instead, we got a rainbow seeing us off on our voyage!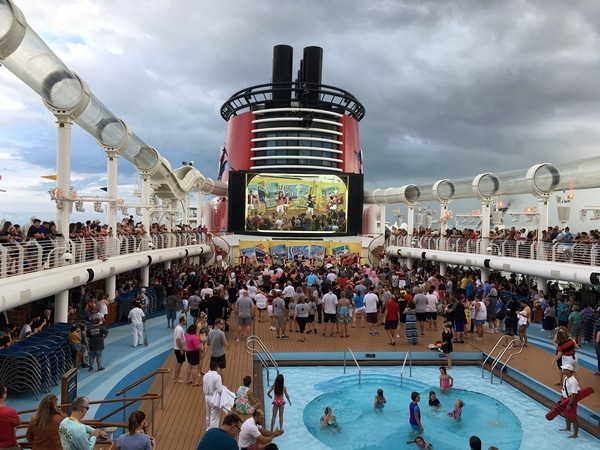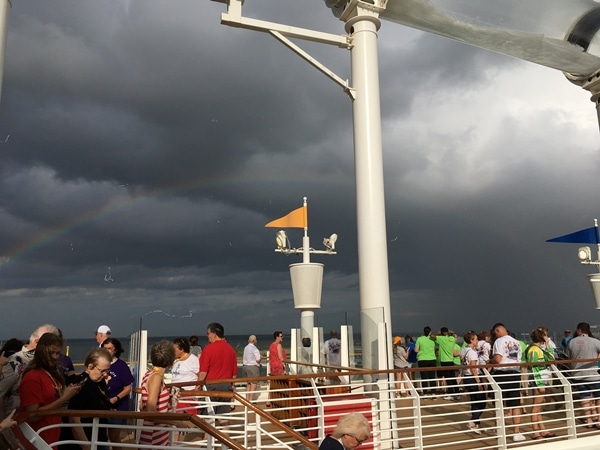 Our first dinner on board was at Animator's Palate, the same place we had lunch earlier in the day. Disney Cruise Line features rotational dining, where your table number and servers stay the same throughout the week, but you rotate between three different dining rooms depending on the schedule. Over the years we have had many servers from around the world, and we've enjoyed meeting them and learning about where they come from.
Our server and assistant server on this cruise were lovely, friendly, hard-working people from Turkey and Thailand respectively, but we found that they seemed inexperienced compared to serving teams we have had in the past, and also found that the language barrier was a bit more challenging on this cruise and with this team than in cruises past. With that said, we still really enjoyed our week with them, but really missed some of the incredible serving teams of the past. In fact, at the dining room section next to ours was one of our favorite servers whom we met on the Disney Magic five years ago. If we had known he had transferred to the Disney Fantasy we would have absolutely requested him in advance! Oh well.
On the contrary, our head server (the white-coated person overseeing various serving teams in the dining room) Luan from South Africa was probably the best head server we have ever had. He was a true joy to meet, and he even looked a bit like New England Patriots quarterback Tom Brady! Here is a picture of us from Pirate Night a few nights into the cruise...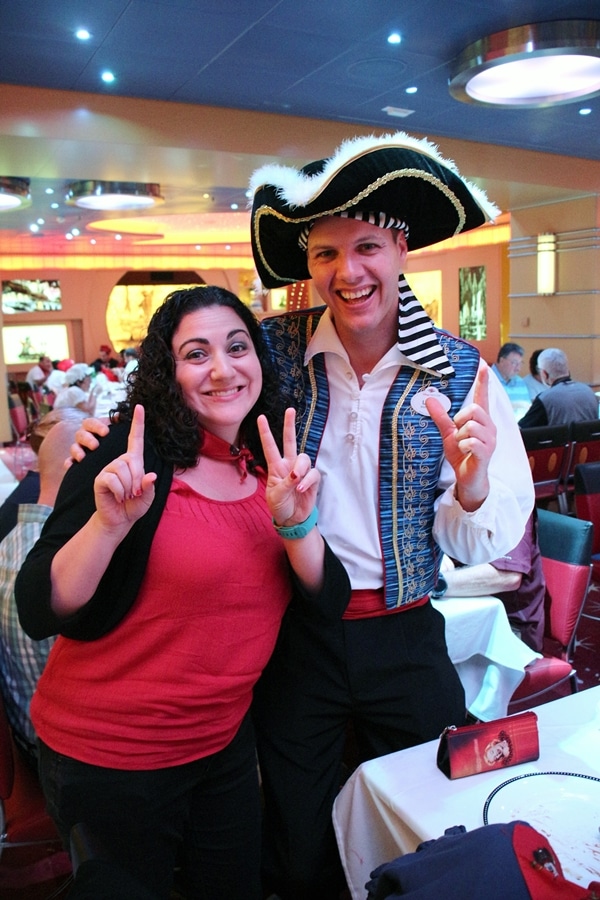 Animator's Palate is acoustically probably the loudest dining room on the Disney Fantasy, but it is also the most fun because it features a couple of really cool interactive experiences. On a 7-or-more-night cruise you will dine at Animator's Palate at least twice, and each of those nights will feature a special show. The first show is called Undersea Magic, and features Crush and friends from Finding Nemo. It is similar to Turtle Talk with Crush at Epcot, but you get to interact with Crush from the comfort of your seat while enjoying your dinner. Crush doesn't get to chat with everyone in the dining room, but picks random people to connect with, usually singling them out by the color of their "shell" or shirt.
We were lucky this time to be sitting right in front of one of the large screens, and had Crush not only speak with our family but request a "shell-fie" with us! I had my DSLR with me which is not really conducive for selfie-taking, so I asked my brother-in-law to snap a photo of my sister and I posing with Crush! This was such a funny and memorable experience. In all my eight Disney Cruises, and my sister's twelve this was the first time we had an interaction like this with a request for a "shell-fie." So priceless!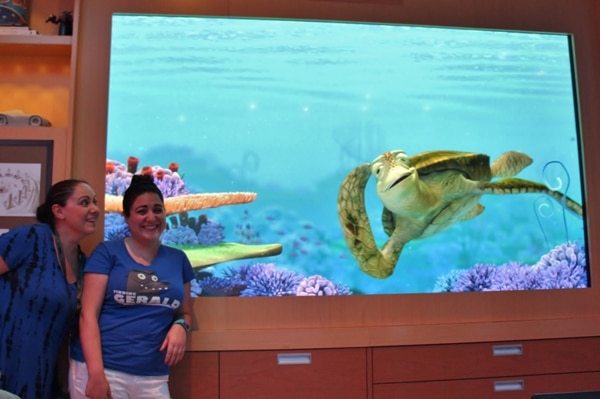 Let's not forget that we were here for dinner, and that this is actually a food blog 😉 Here is the menu for tonight's dinner at Animator's Palate.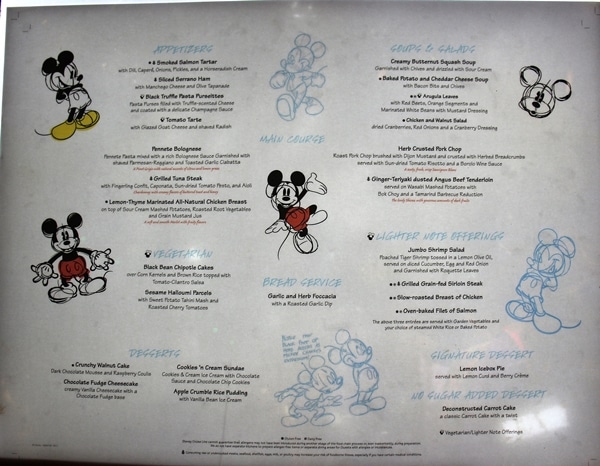 The menu here hasn't really changed throughout many cruises. Maybe just a small tweak here and there, but overall I've tried quite a bit of this menu over the years. Tonight I opted to start with the sliced Serrano ham with Manchego cheese and olive tapenade. It was better than the last time I had it, when I recall the olive tapenade seemed bland.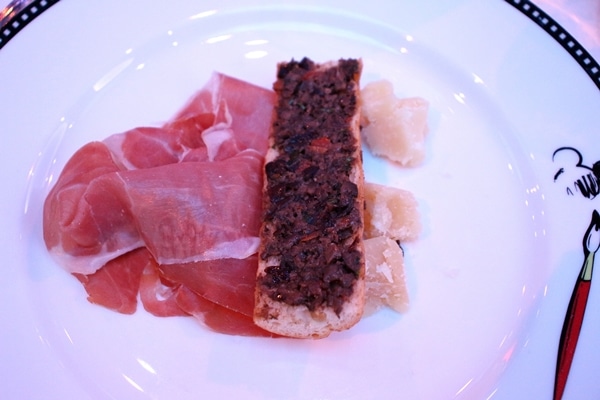 Mom sampled the arugula with red beets, orange segments, and marinated white beans with mustard dressing as her salad while I selected the chicken and walnut salad with dried cranberries, red onions, and cranberry dressing for mine. Both were good salad options. Both photos were taken before the salads were dressed tableside.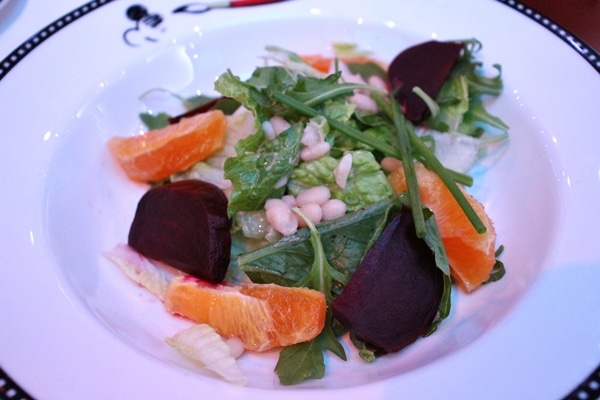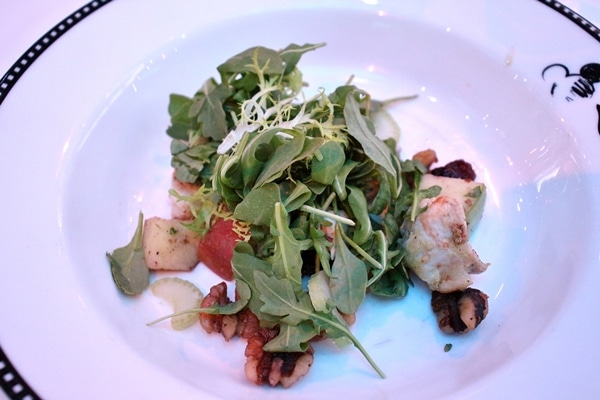 Mom selected the lemon-thyme marinated chicken breast with sour cream mashed potatoes, roasted root vegetables, and grain mustard jus. She loved it!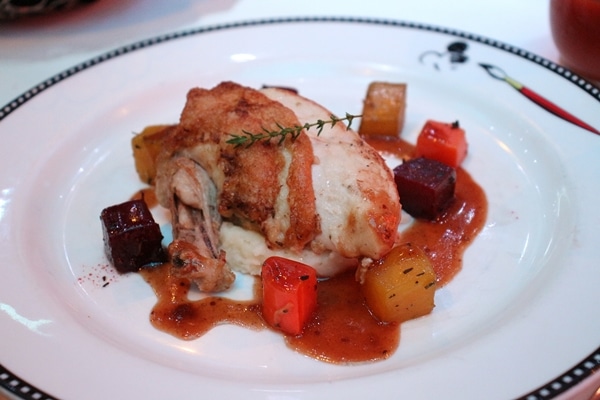 I tried the herb-crusted pork chop served with sun-dried tomato risotto and borolo wine sauce. I've ordered this in the past with mixed results. The pork was slightly overcooked while the risotto was slightly under. It can be difficult making risotto for hundreds of people, and same goes for properly cooking meat in bulk, but it's always a little disappointing when you get a less than stellar plate of food.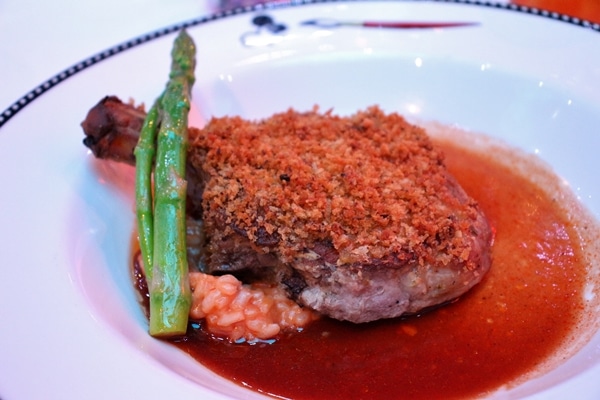 For dessert I was actually intrigued by the no sugar added option, a deconstructed carrot cake. It was beautifully plated, not too sweet, with a yummy pineapple topping, almost like a pineapple upside down cake. Overall I enjoyed it and found it intriguing and different.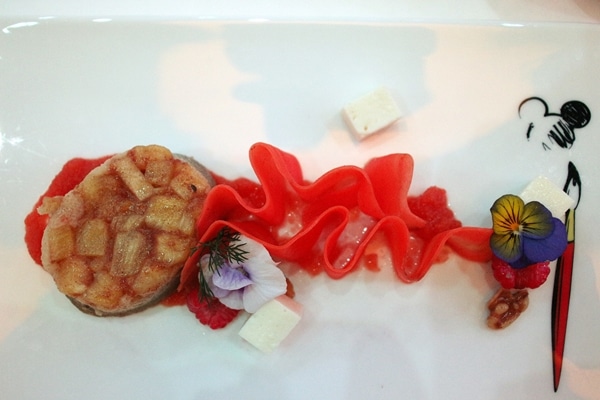 The beginning of the Halloween festivities would kick off tonight with the lighting of the Pumpkin Tree in the Lobby Atrium. On our last Halloween on the High Seas cruise five years ago there was much more show involved in the story of the Pumpkin Tree. There were no pumpkins at first on the tree, and they started to appear throughout the week overnight, and a few nights later they hosted the event where the tree would be lit after the host shared the story of the tree.
Disney seems to have removed the preamble from the equation and cut right to the chase. There would only be one night dedicated to lighting the Pumpkin Tree, and it was timed after the first seating of dinner and before the second seating. Although I understand the reason for the timing, I wish they would have pushed it slightly later (even 15 minutes) because those of us eating in the early seating found it challenging to find a good spot to view the show since the lobby atrium was already full when we arrived immediately after finishing dinner. This put us at a disadvantage. Although most nightly activities were performed twice, shows like this obviously were not. The best we could do was stand directly above the Pumpkin Tree, and didn't have a great vantage point for the show's storyteller, and most of the Pumpkin Tree itself, but we did have a nice view of the confetti at the very end! I don't want to come across as a complainer, but as a seasoned Disney cruiser whenever I see things taken away while the prices continue to increase, I get pretty annoyed.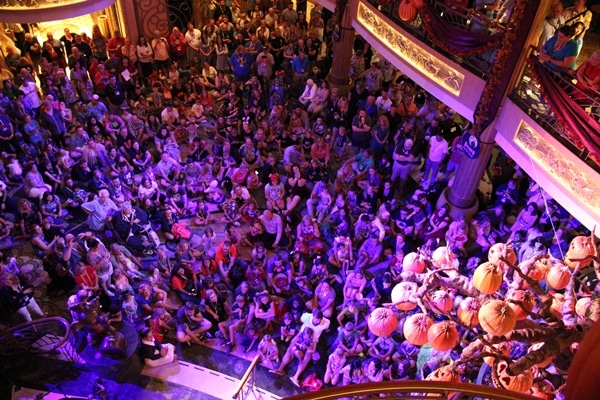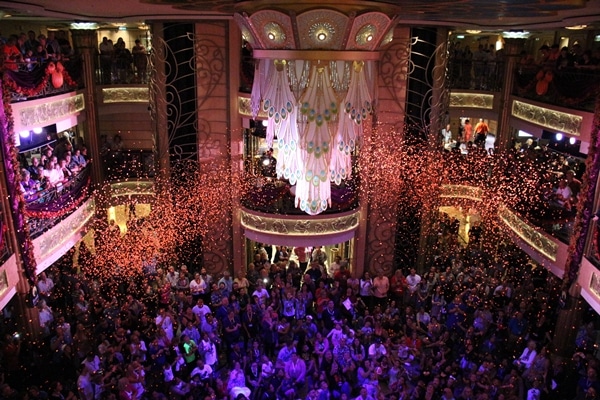 Ok, vent over! Overall this was a really great start to our trip. We dined with characters in the morning, evaded a rainy Sail Away Party, chatted it up with Crush at dinner, and got right into the Halloween spirit upon boarding the ship. Tomorrow's post will feature the first two days at sea on our voyage. Stay tuned!
Disney Fantasy Halloween on the High Seas Eastern Caribbean Cruise (October 2019):