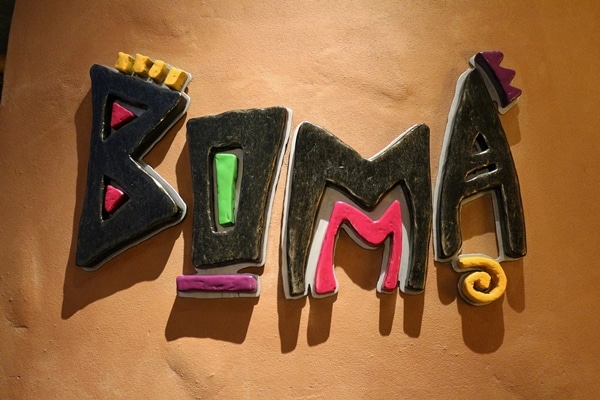 My family absolutely loves Disney's Animal Kingdom Lodge. We have stayed at the Villas at Kidani Village on multiple occasions, and go wild over the amazing savannah view from the resort rooms, where you can lounge on your balcony while watching an angry ostrich chase after another ostrich (this actually happened on our recent trip, and was super entertaining).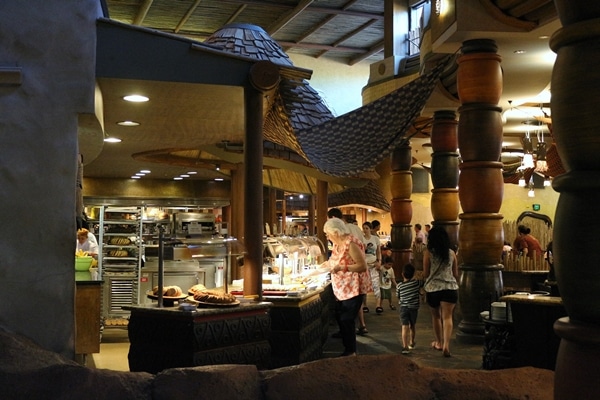 Disney's Deluxe Resorts not only feature incredible themeing and close proximity to Disney theme parks, but also have some of the most popular restaurants on Disney property. We thoroughly enjoyed both Minnie's Beach Bash Breakfast and the seafood dinner buffet last year at Cape May Cafe at Disney's Beach Club Resort. We also loved the eclectic lunch buffet with characters in tow at Tusker House at Disney's Animal Kingdom Park.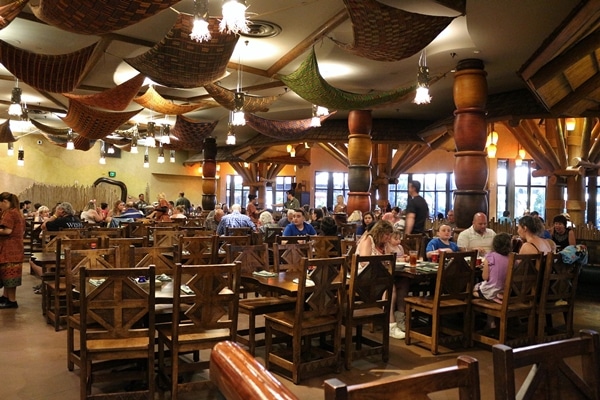 During a recent visit to the Animal Kingdom Lodge, where we have enjoyed meals in the past at Jiko, Sanaa, and The Mara, we finally checked the last of the AKL dining options off our list. Boma is a Swahili word that refers to an enclosure to protect a camp or herd of animals.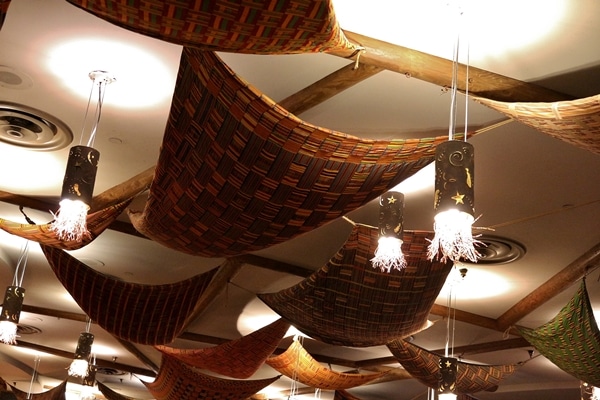 The AKL restaurant Boma is a buffet that features both a breakfast and lunch/dinner option. Like other Disney buffets, it's on the more expensive side, and can range in price depending on the time of year, etc. When we dined here recently on a weeknight, the cost was $49 for adults for the all-you-care-to-enjoy meal (I can't remember the corresponding price for children offhand).
I took photos of most but not all of the stations which I will share below. I skipped the fruit station, the kid's station, and some of the less exotic desserts--ie cookies and cupcakes. The menu rotates, so certain menu items may or may not be available when you visit.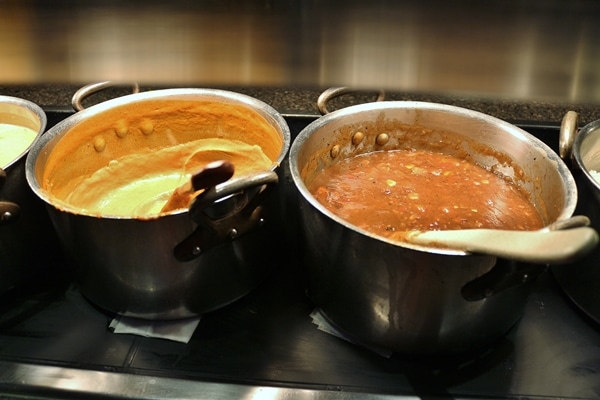 Butternut Squash Soup, Ghanaian Oxtail Stew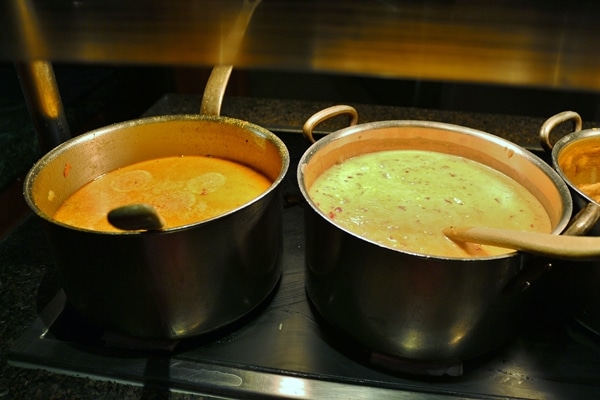 Curried Coconut Seafood Stew, Sambal Chicken Corn Chowder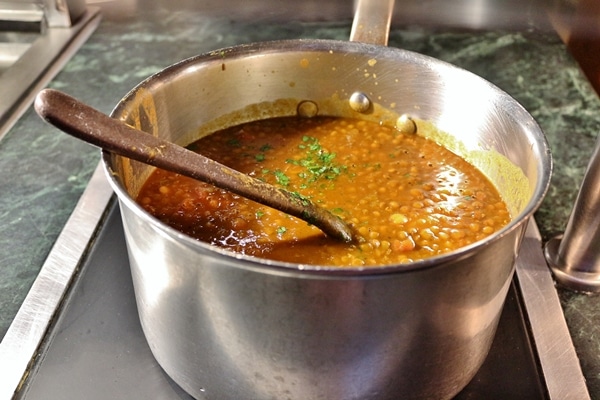 Harira (Northwest African Vegetable Lentil Soup)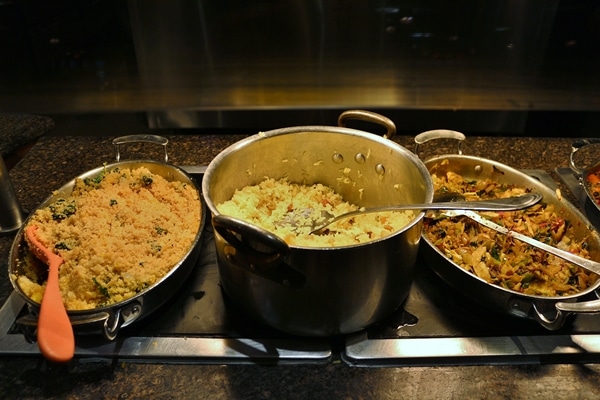 Couscous with Spinach, Geel Rys (Turmeric and Cinnamon Spiced Basmati Rice with Golden Raisins from South Africa), Zulu Cabbage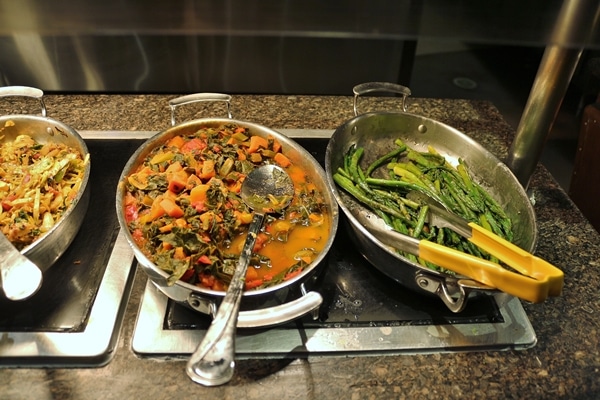 Collard Greens, Asparagus with Paprika Olive Oil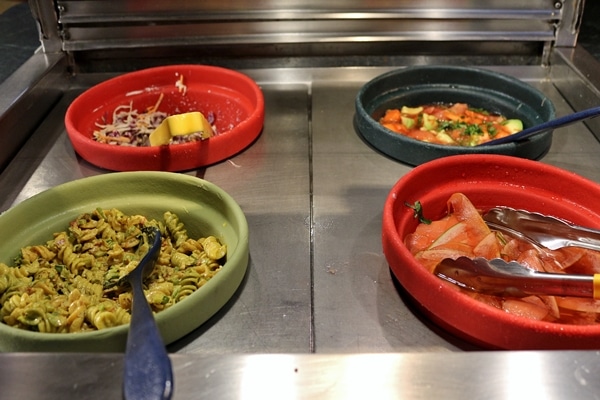 Kool Slaw, Pasta Salad with Curried Mayonnaise, Avocado Papaya and Grapefruit Salad, Watermelon Rind Salad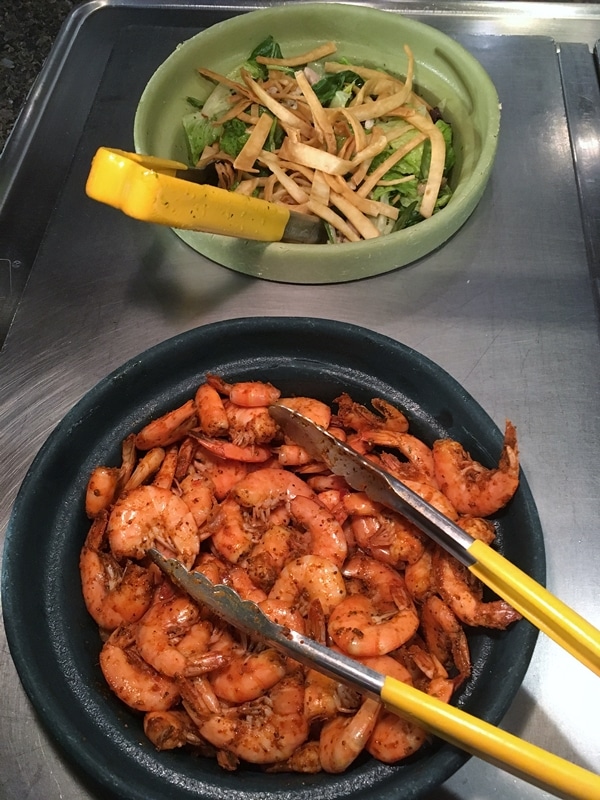 Chilled Chermoula Shrimp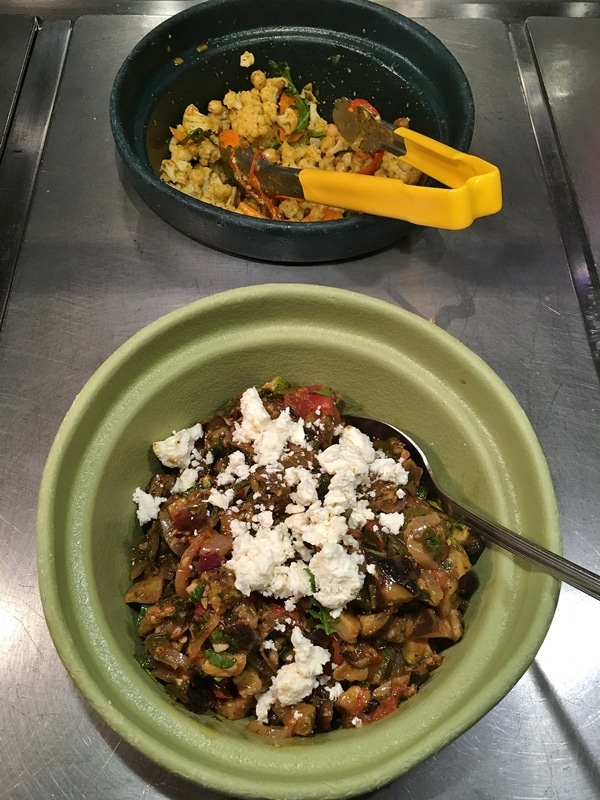 North African Cauliflower Salad, Roasted Eggplant and Tomato Salad with Feta Cheese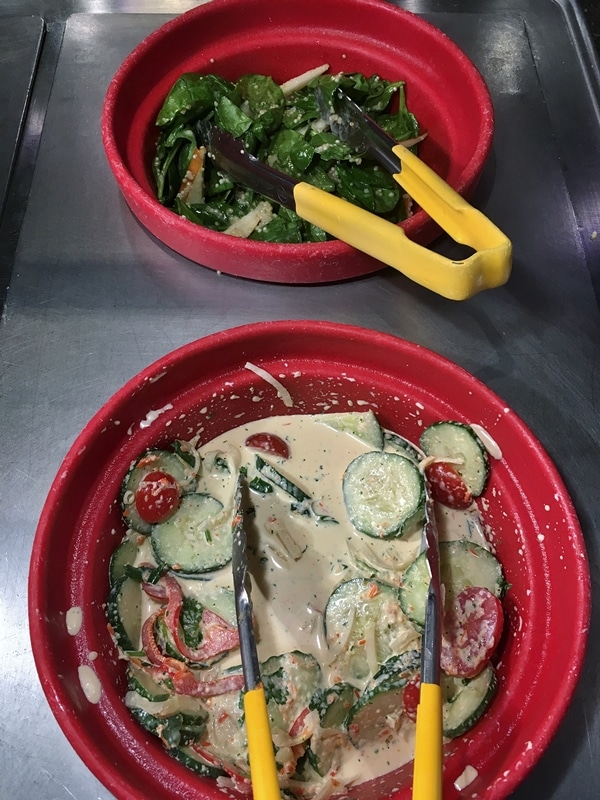 Spinach and Quinoa Salad, Marinated Cucumbers with Peppadew Dressing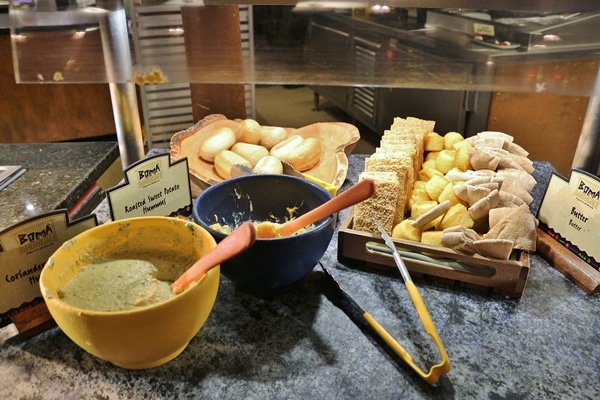 Bread selection and spreads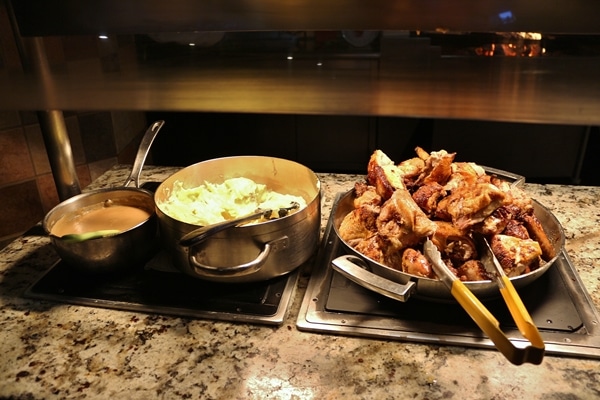 Gravy, Mashed Potatoes, Durban-Style Roasted Chicken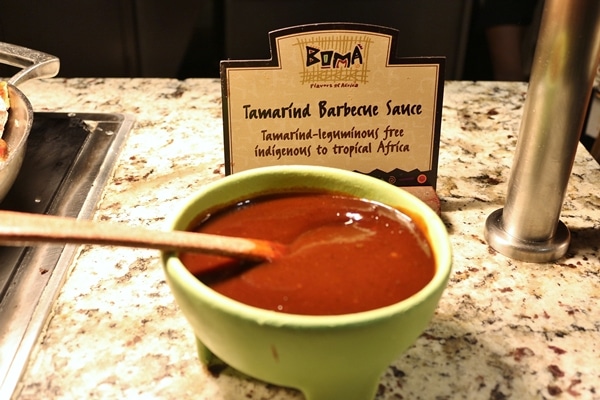 Tamarind Barbecue Sauce for the chicken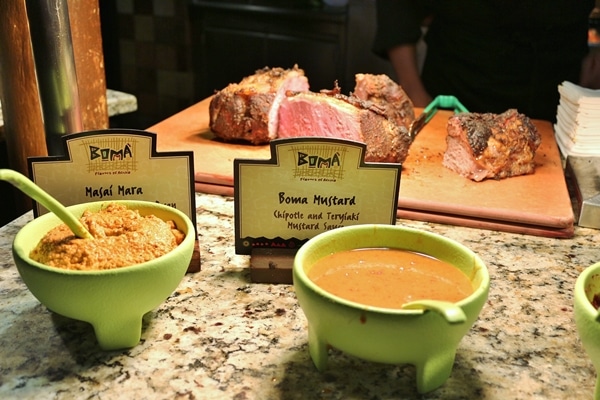 African-Carved Strip Loin with sauces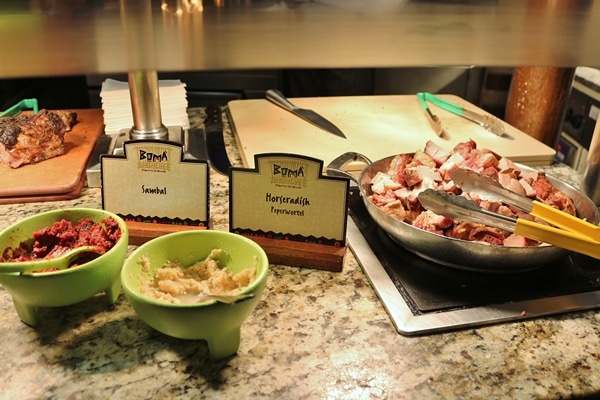 Mace and Cardamom Roasted Pork Shoulder and sauces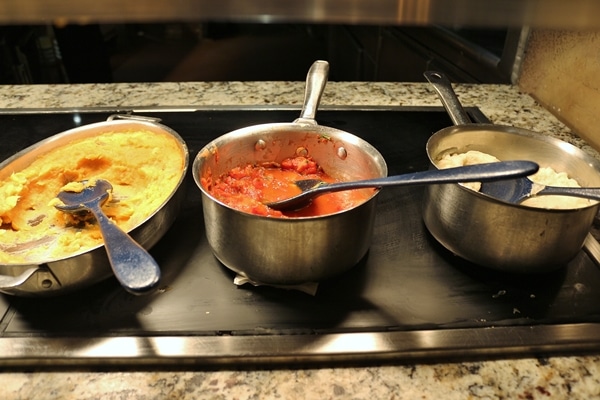 Fufu (Western and Central African Sweet and White Potato Mash), Chakalaka (South African Spicy Tomato Stew), Pap (Creamy White Cornmeal)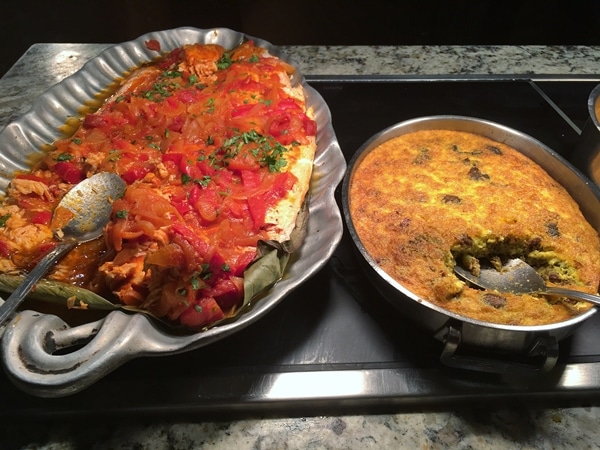 Senegalase Salmon with Yassa Sauce, Bobotie (South African Dish with Ground Beef, Mushrooms, and Eggs)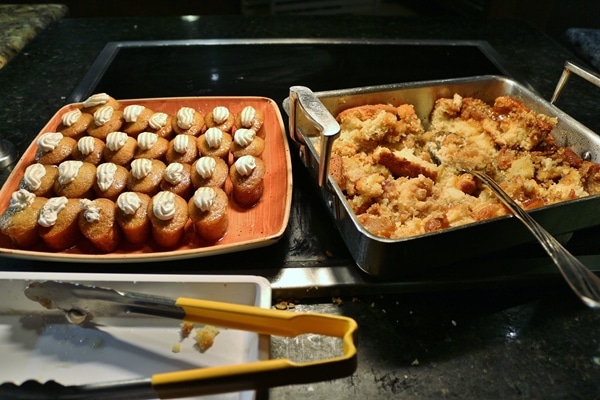 Malva Pudding, African Apple Cake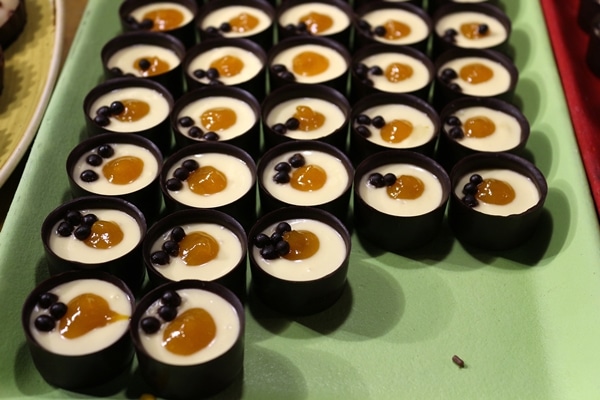 Coconut-Mango Chocolate Tart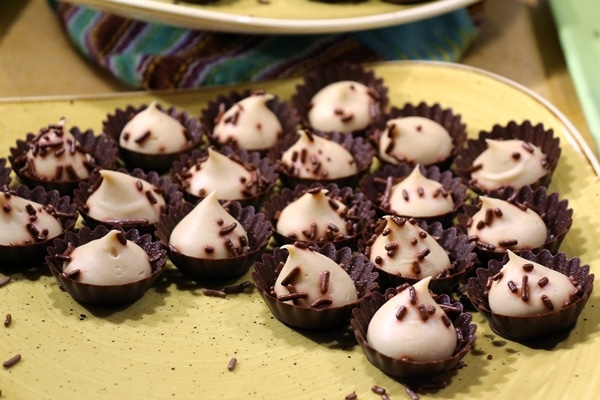 Kenyan Coffee Tarts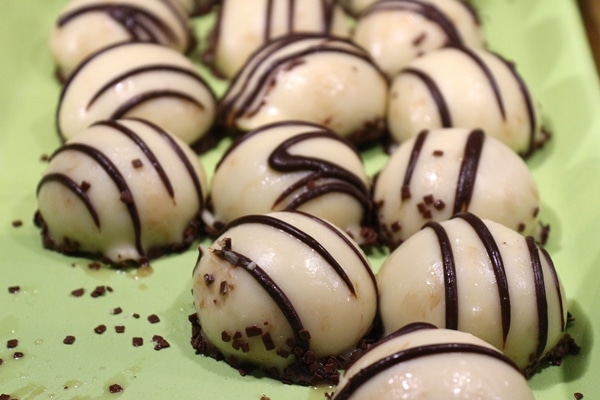 Zebra Domes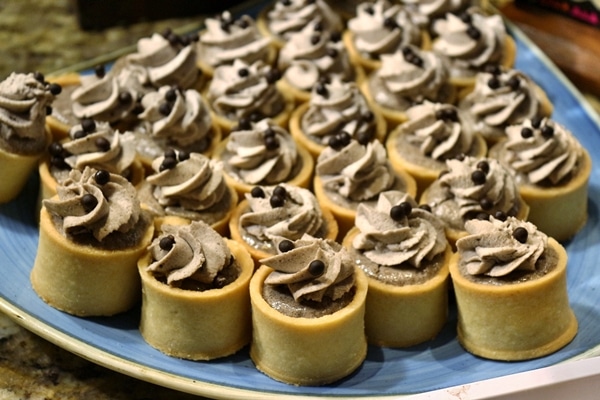 Oreo Cheesecake
Lemon Rose and Blueberry Meringue
The value of a Disney buffet is completely dependent on how hungry you are, and what types of dishes you focus your appetite on. I did my best to sample as much as I could in small portions, and then doubled back for any of my favorites. The soups in particular were excellent, but our favorites of those we tried were the curried coconut seafood stew and the sambal chicken corn chowder (the two bowls on the right of the photo below).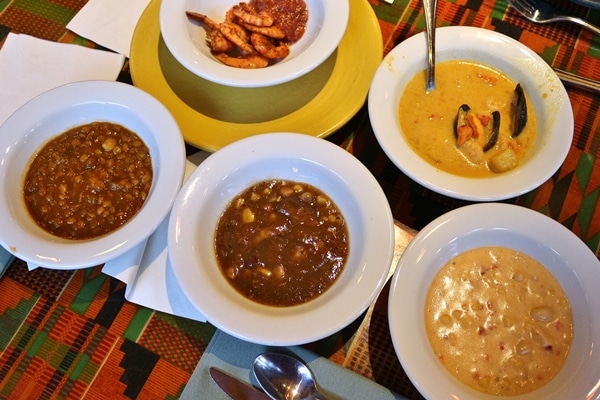 I loved the cold prepared salads I tried. Everything on this plate was awesome, from the curried pasta salad to the cauliflower salad, roasted eggplant with feta, and the cucumbers with peppadew dressing. Thumbs up across the board!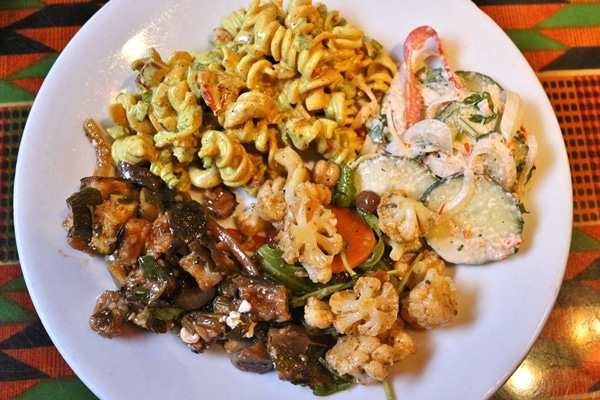 Next up I sampled the bobotie, fufu with chakalaka (although in retrospect I think the chakalaka was more meant for the pap), Durban chicken with tamarind barbecue sauce, and the salmon. The salmon was under-seasoned (wah wah), but the chicken was excellent! I'm in love with the barbecue sauce as well. The fufu was good, interesting but nothing mind-blowing, same with the chakalaka. I liked the bobotie, although I found it a little odd as it also contains raisins in addition to ground beef--I wasn't expecting that. I think it would make a decent breakfast item due to the eggs.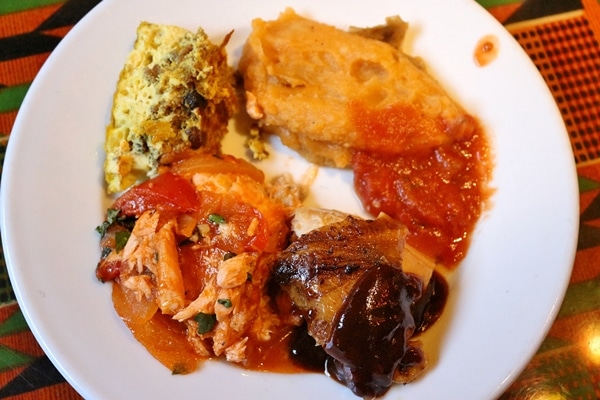 The African strip loin with Boma mustard was by and far one of the highlights of the entire meal! It blew away everything else on the plate. The cabbage was ok, the macaroni and cheese is a guilty pleasure I just can't avoid, and the pita bread and coriander chutney hummus was super lackluster. Knowing what I know now I would fill up an entire plate of that meat and mustard sauce!
I was pretty stuffed at this point, but had to make some room for dessert. The zebra domes are famously popular, and contain decadent Amarula Liquor mousse atop a thin white cake base, and are topped with white chocolate and a dark chocolate drizzle. I also particularly enjoyed the little lemon curd and blueberry tartlets, but honestly everything on this plate was scrumptious! You can purchase a pack of four zebra domes at AKL's quick service location, The Mara, which we have done in the past. Yummy!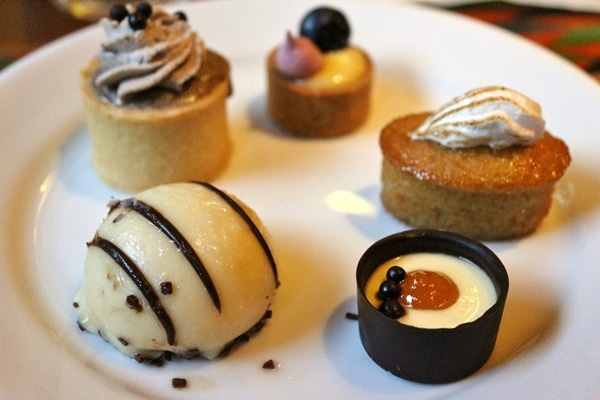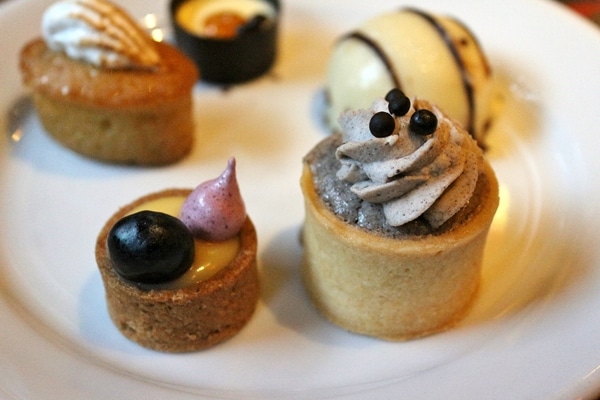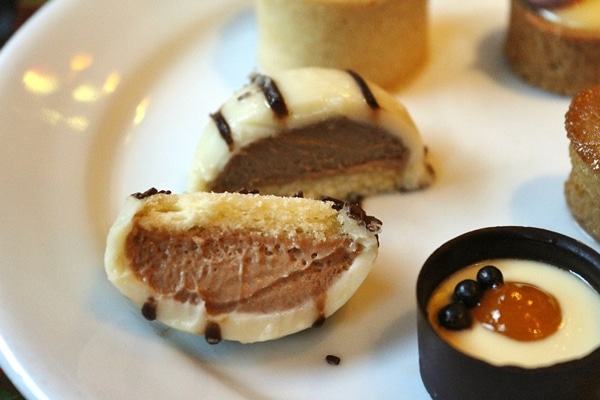 Although any buffet meal at Disney has a price tag to match the all-you-care-to-enjoy mantra, Boma is one of the most popular among those who enjoy exotic and ethnic flavors. Personally, I enjoyed the food at Tusker House a bit more, with the bonus of character interactions, but overall was very pleased with dinner at Boma. If you have a huge appetite and focus much of your eating on the proteins, this can be considered a good value, but if you're a picky eater it's probably not for you.
Related posts