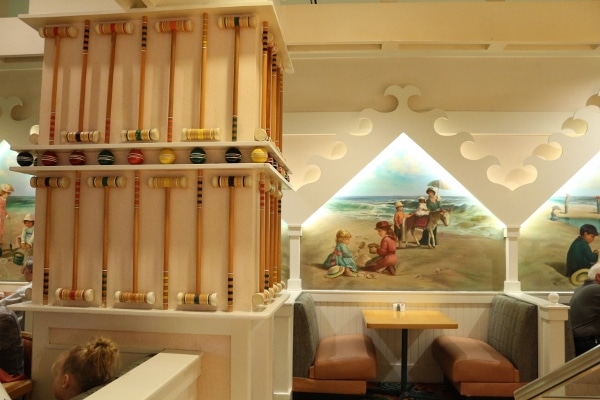 During our recent stay at Disney's Beach Club Villas we were able to check out Cape May Cafe for both breakfast and dinner. Both meals are served buffet-style, but each is different in theme. Let's start with breakfast.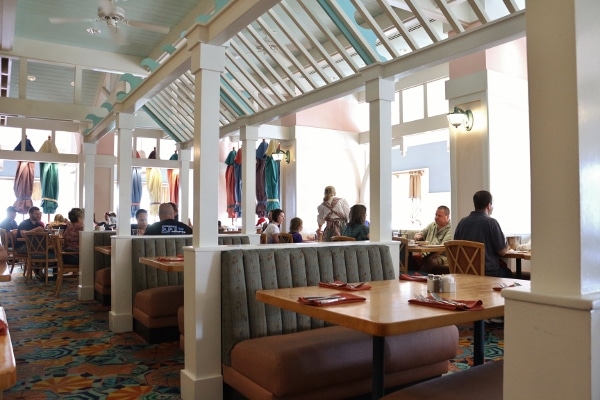 Minnie's Beach Bash Breakfast is served daily from 7:30 am to 11 am. It's a breakfast buffet with character interactions, currently featuring Minnie, Goofy, Donald, and Daisy all in their beach attire.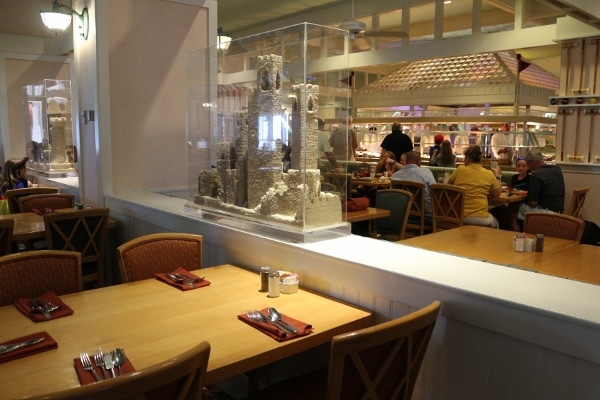 Much like any other buffet/character meal at Disney, the price ranges depending on the time of year. I believe we paid $32 for each adult when we went. Annual Pass and DVC discounts also apply.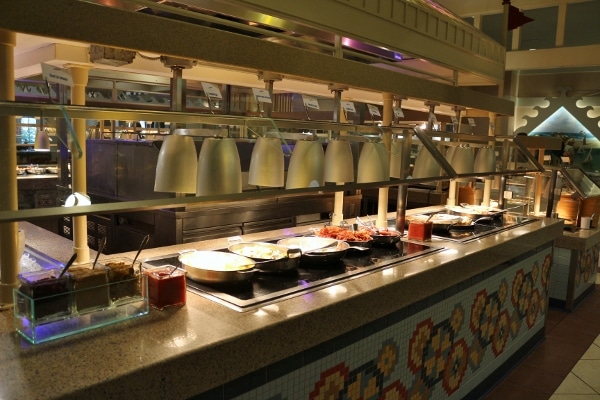 The menu is perhaps slightly elevated from what you may find at some other Disney breakfast buffets, and I think that's part of what makes this meal so appealing outside of meeting the characters. One of our favorite items on the menu is the vegetable scramble with goat cheese. I swear, the goat cheese makes all the difference!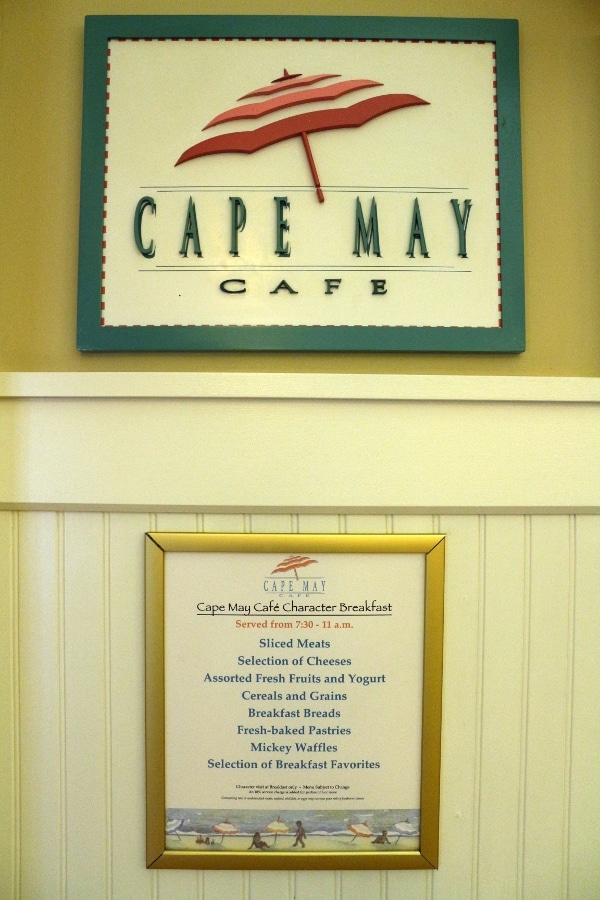 Let's take a closer look at some of the other buffet items.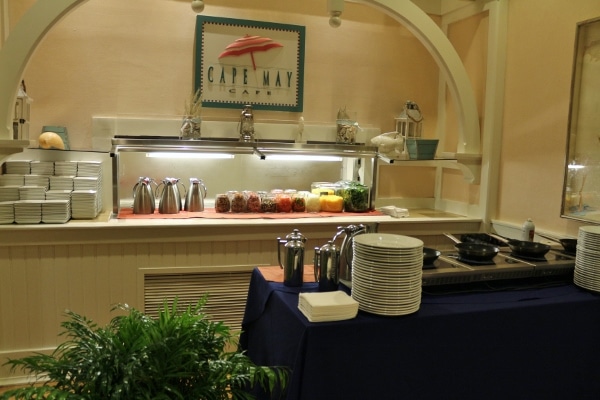 Omelet station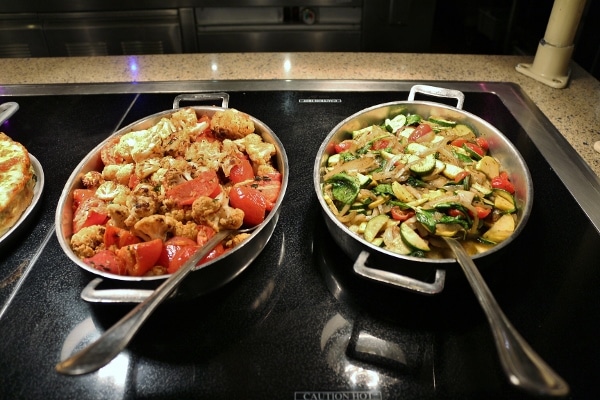 Tomatoes and Cauliflower, Seasonal Vegetables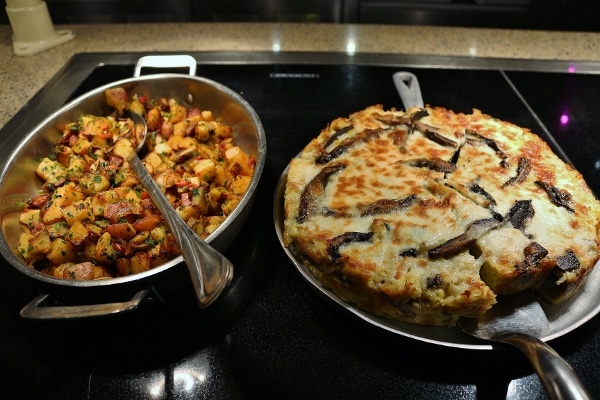 Breakfast Potatoes, Mushroom Frittata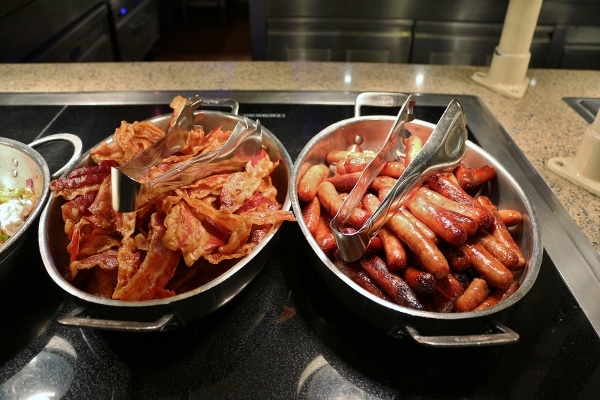 Smoked Bacon, Pork Sausage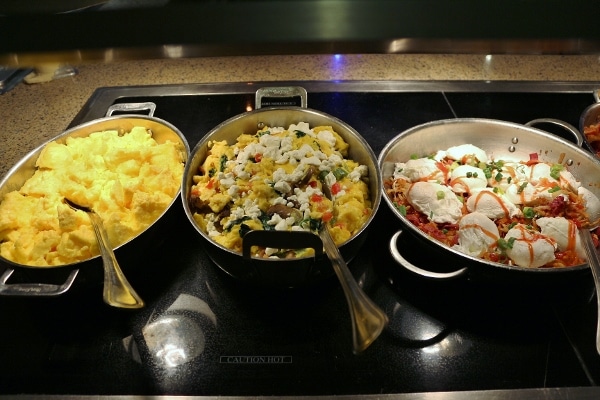 Scrambled Eggs, Vegetable Scramble with Goat Cheese, Corned Beef Hash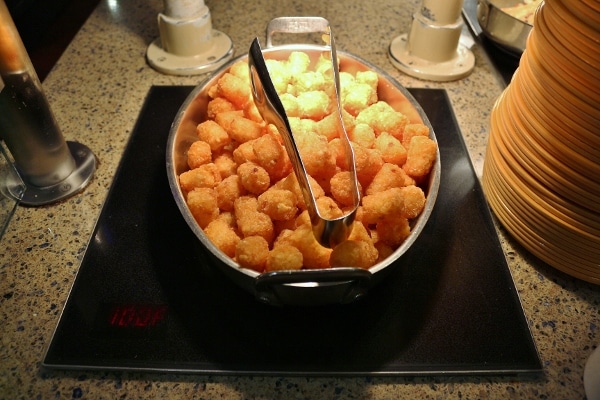 Tator Tots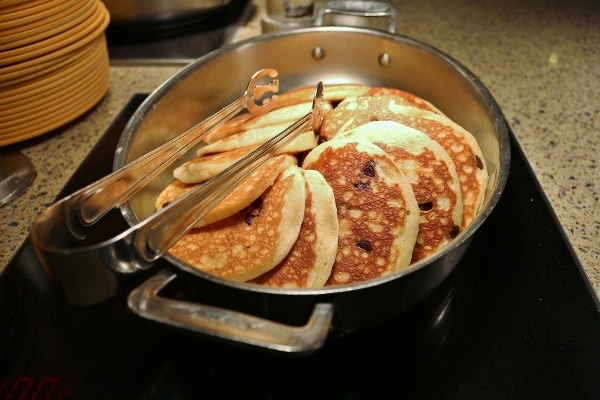 Chocolate Chip Pancakes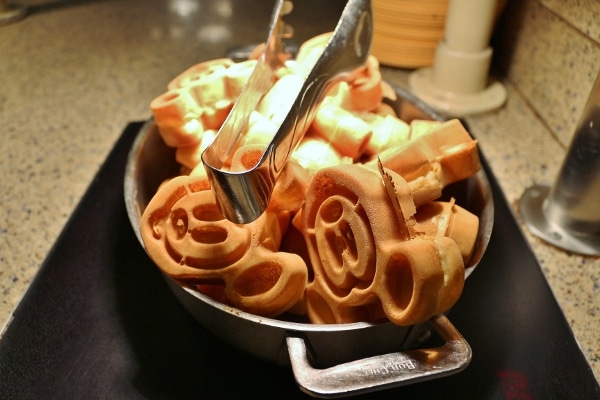 Mickey Waffles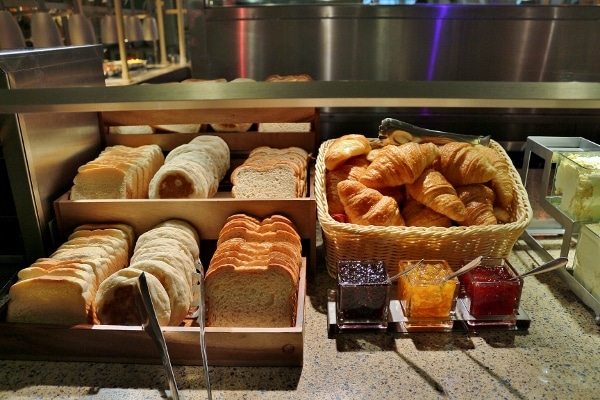 Assorted Breads, English Muffins, Croissants, Jams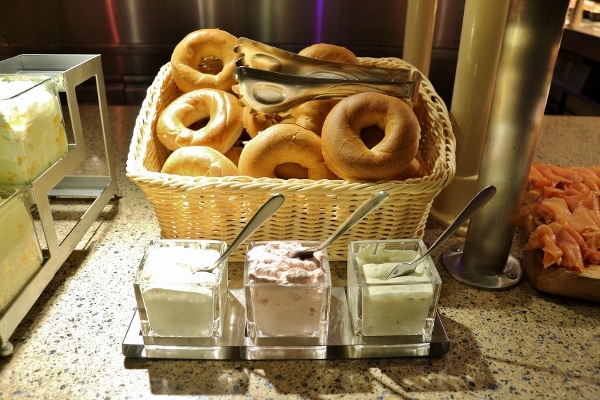 Bagels, Whipped Cream Cheese, Strawberry Cream Cheese, Chive Cream Cheese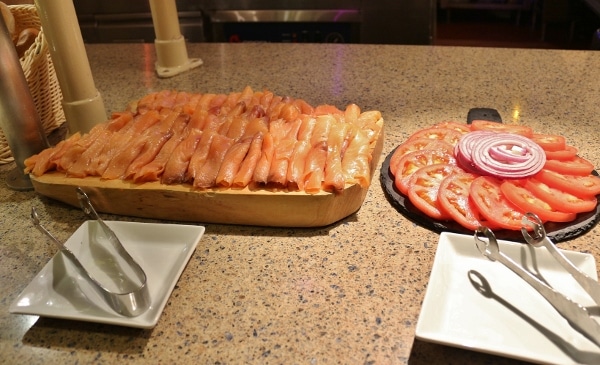 Smoked Salmon, Sliced Tomatoes, Sliced Red Onion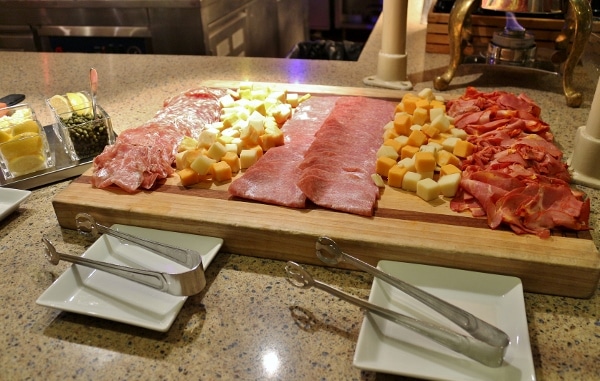 Lemons, Capers, Chopped Eggs, Salami, Capacola, Soppressata, Selection of Cheeses
Biscuits, Breakfast Potatoes, Pork Sausage, Smoked Bacon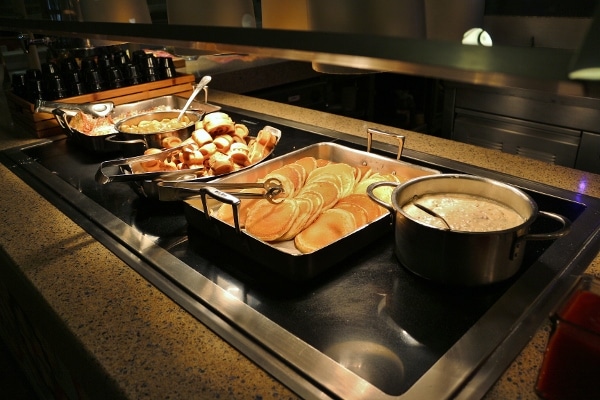 French Toast, Caramel Banana Sauce, Mickey Waffles, Pancakes, Sausage Gravy (for Biscuits above)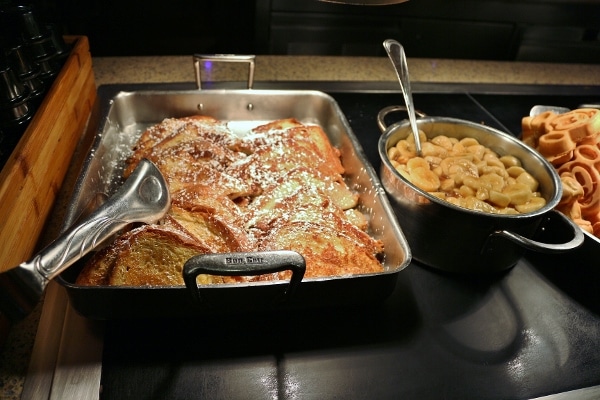 French Toast with Caramel Banana Sauce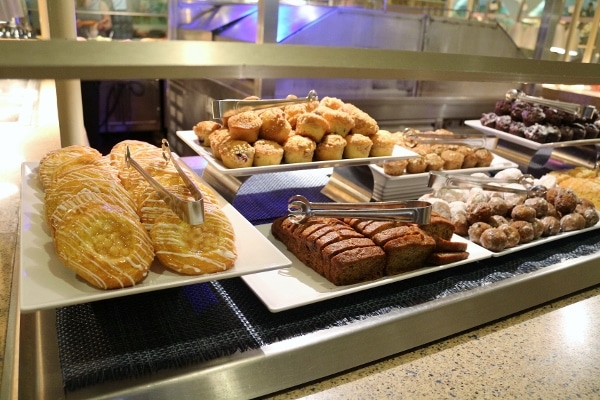 Apple Danish, Banana Bread, Blueberry Muffins, Oat Bran Muffins, Powdered Donut Holes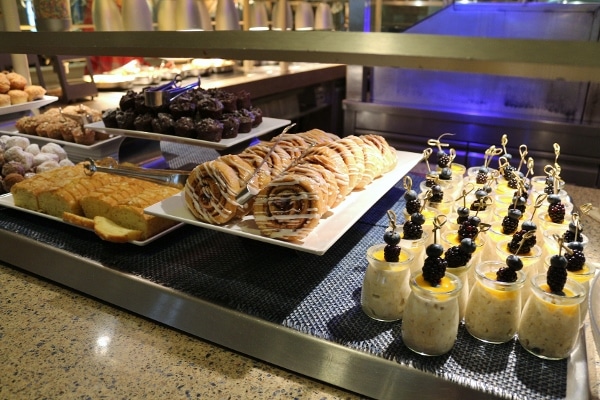 Chocolate Chip Muffins, Lemon Poppy Seed Bread, Cinnamon Buns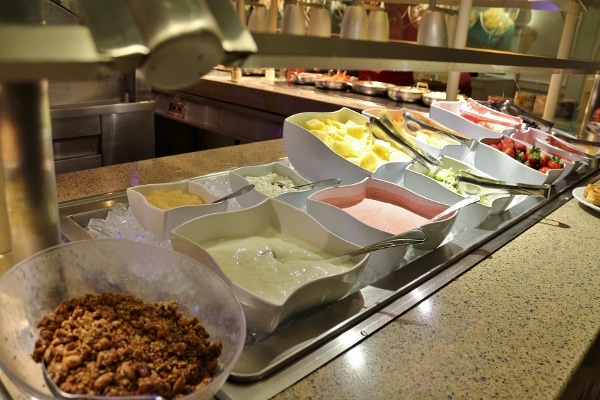 Granola, Yogurts, Fruits
All the meals come with complimentary tea or coffee and juice. You can also purchase other specialty beverages or breakfast cocktails if you wish. I selected Earl Grey tea as well as POG juice (passion fruit, orange, guava). I honestly enjoyed pretty much everything I tried. The vegetable scramble with goat cheese is one of the highlight, the biscuit with sausage gravy wasn't bad either. The frittata was also pretty satisfying.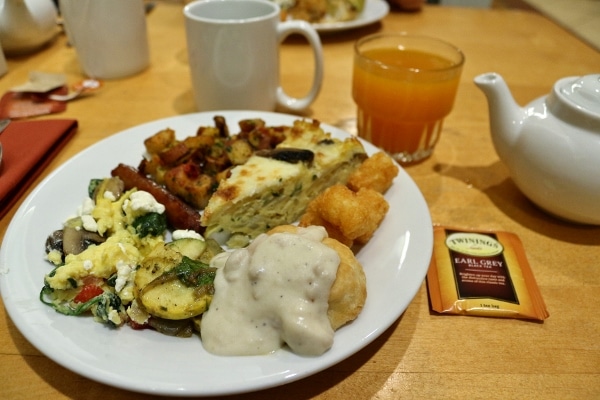 On the sweet side I loved the french toast. I also tried something that tasted like overnight oats, topped with fruit puree and berries. It was kind of bland once you ate all the fruit puree. I'm not sure what it actually was because it wasn't labeled.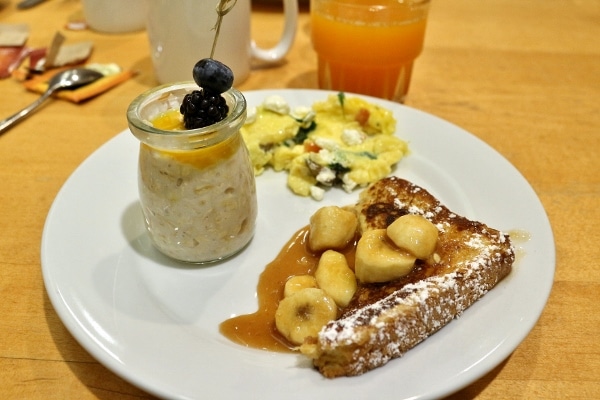 As you can see I got a second helping of the veggie scramble with goat cheese along with my sweets!
Although breakfast at Cape May Cafe is actually pretty good, and ventures outside of the boring and expected breakfast fare, the real reason most people book this meal is for the character experiences. Recently Daisy Duck joined the cast, making her the fourth member of the character team making the rounds. Here I am with my new beach-going pals!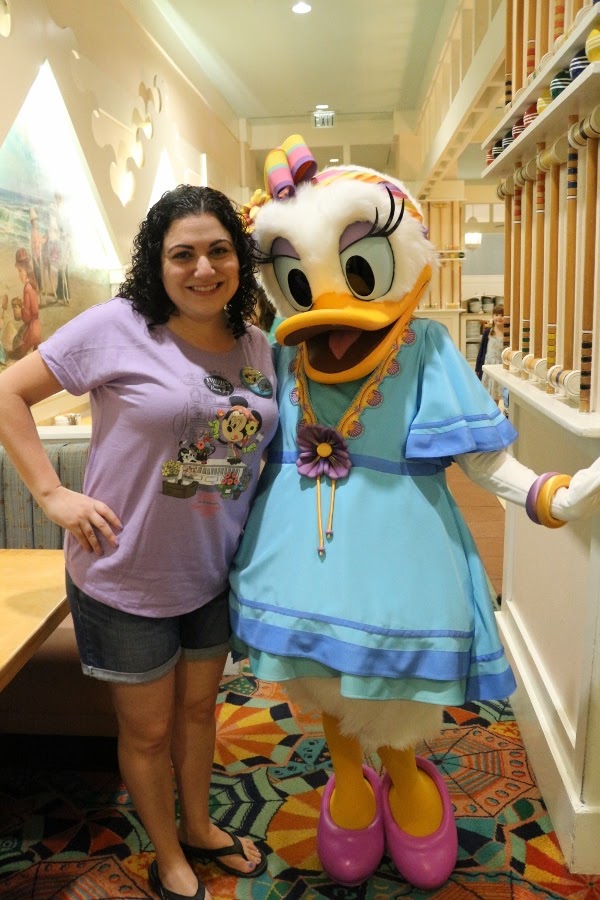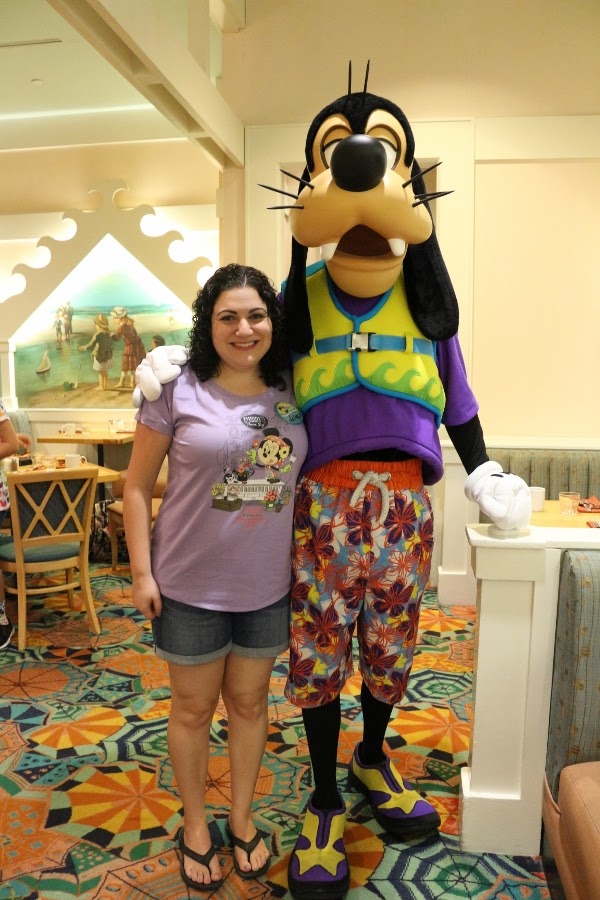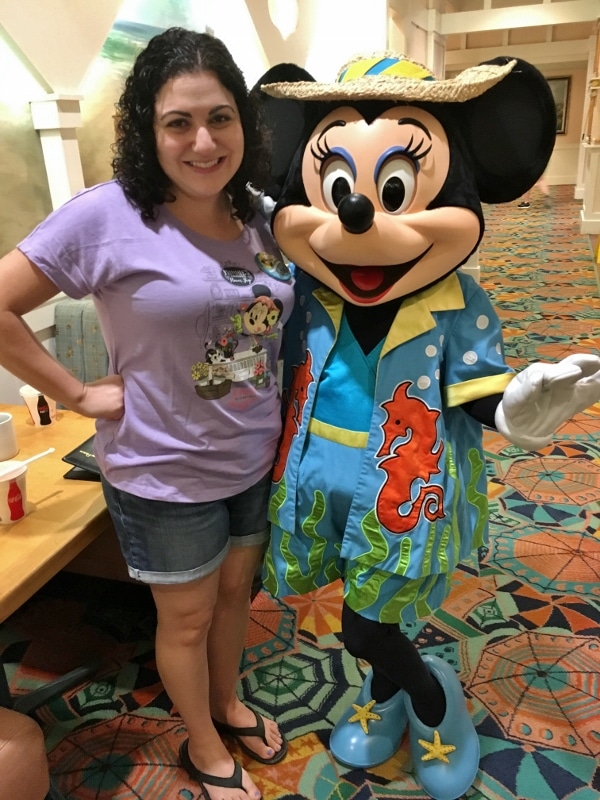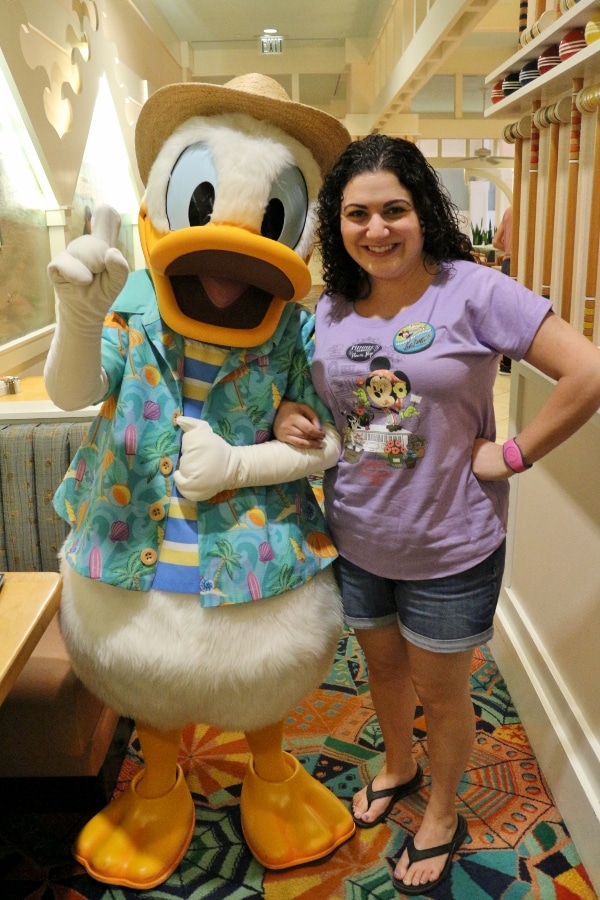 Also, for my birthday I got a card signed by the characters and a cupcake! Our awesome server Tanja even got some of the nearby tables to join her in singing Happy Birthday to me. I was so stuffed that I couldn't even eat the cupcake but I appreciated the sentiment. It was really a super way to start the day! I would definitely recommend this character breakfast, and I would happily do it again.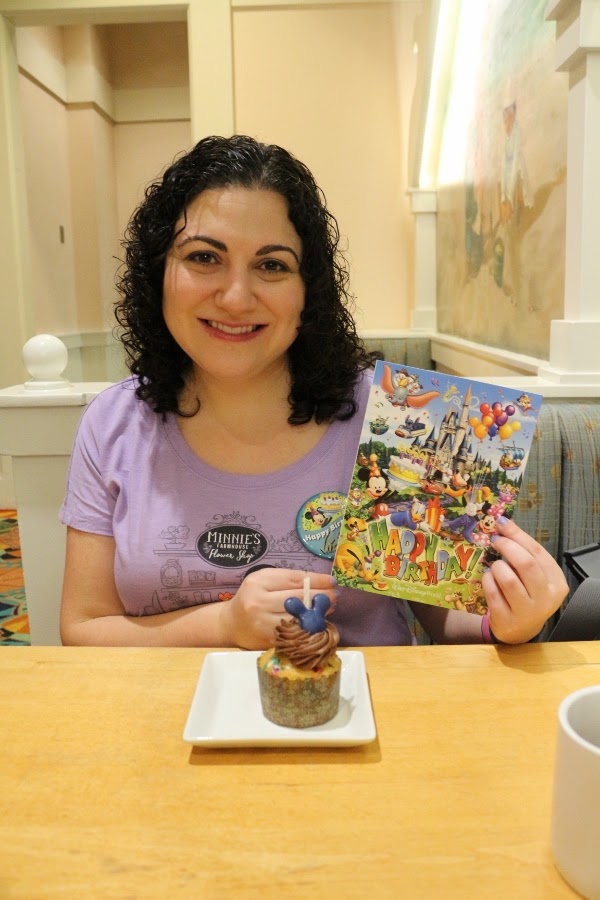 Dinner at Cape May Cafe is not a character meal. It's a seafood-and-more buffet served from 5 pm to 9 pm daily. We actually had reservations this night to a different restaurant but decided to check out dinner at Cape May Cafe instead after walking by several times during our stay and smelling all the delicious seafood. At the time of our visit we paid $45 per adult for our meal.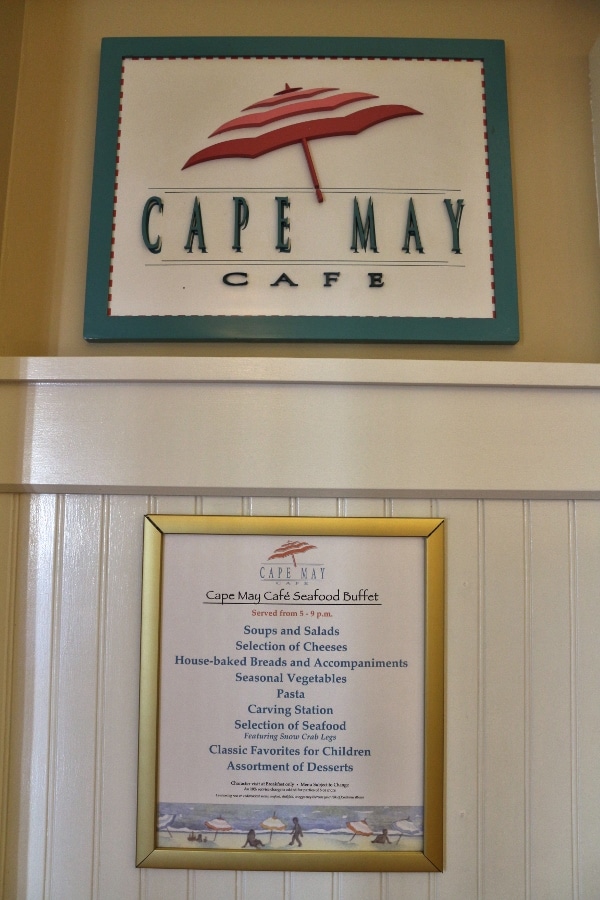 Although it's listed as a seafood buffet, there's a lot more on the menu than simply seafood. Let's take a closer look at the offerings.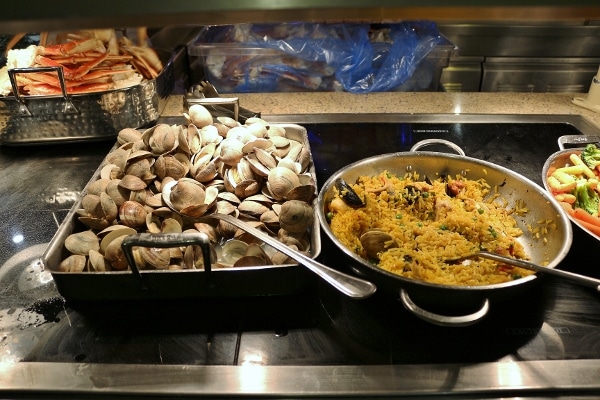 Steamed Clams, Paella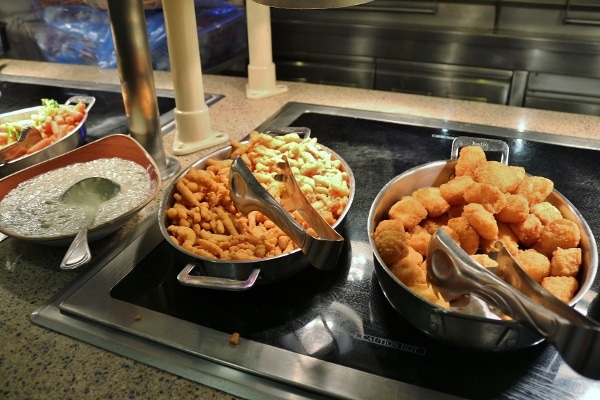 Tartar Sauce, Clam Strips, Fried Cod Nuggets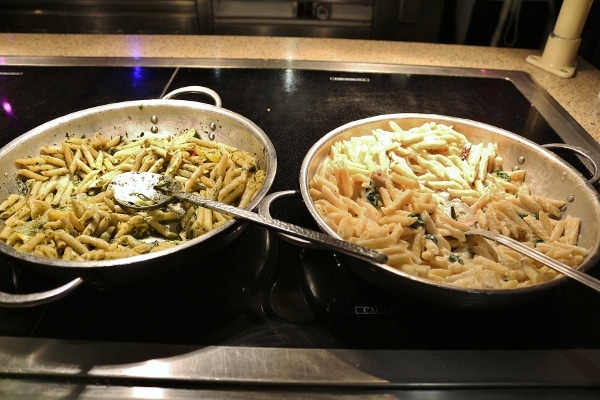 Vegetable Pasta with Herb Pistou, Chicken Spinach Alfredo Pasta
Macaroni and Cheese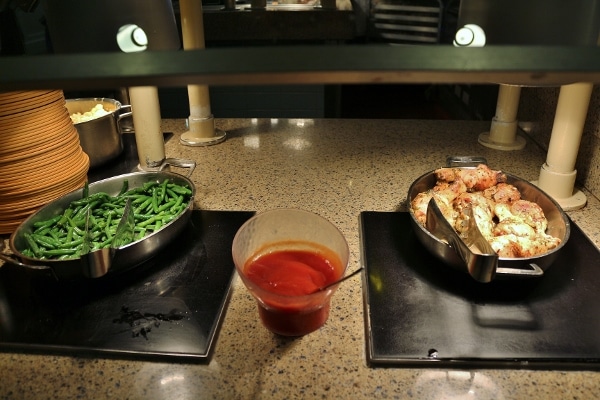 Sauteed Green Beans, Chicken Drumsticks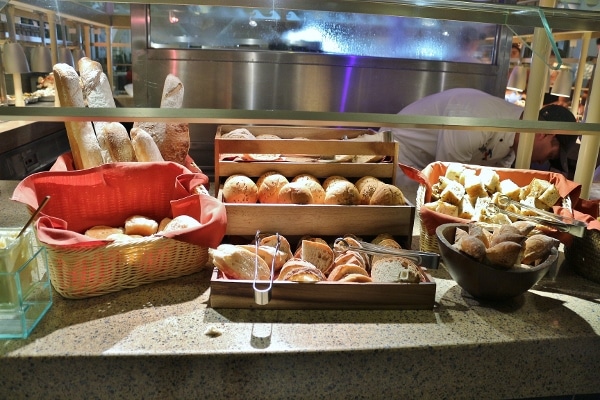 Selection of Breads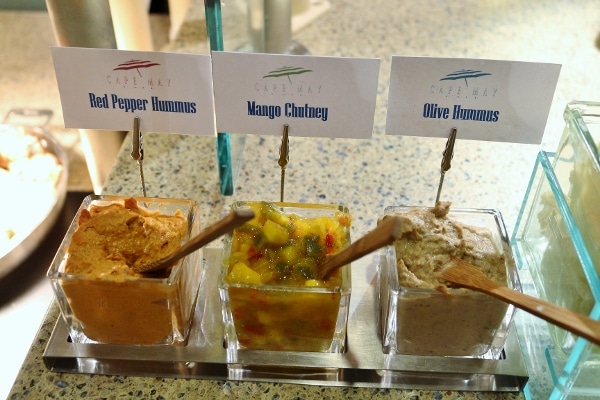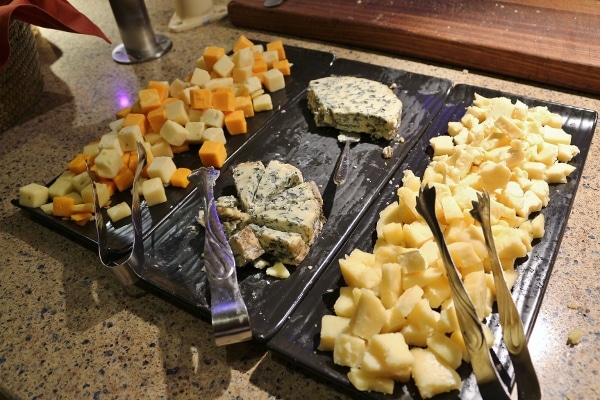 Selection of Cheeses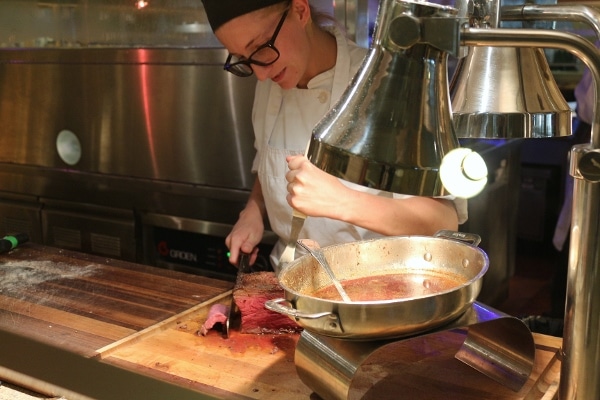 Hand-carved Strip Loin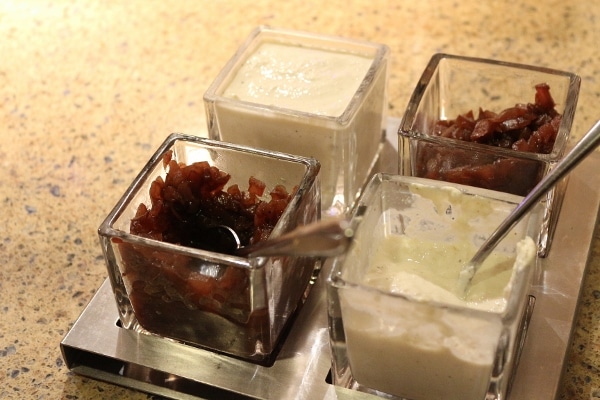 Horseradish Cream and Onion Jam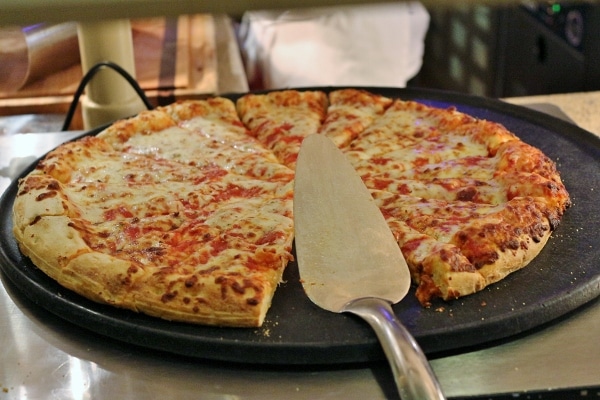 Cheese Pizza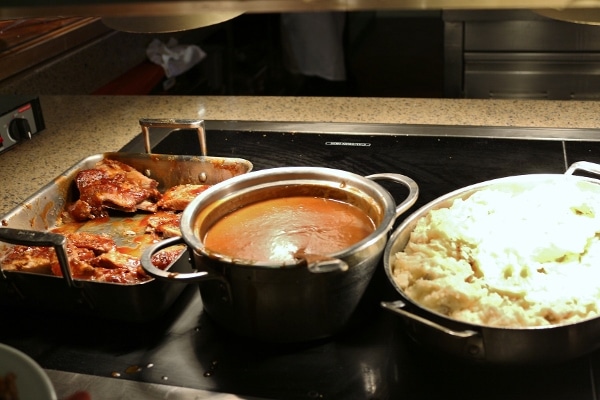 Barbecue Pork Ribs, Brown Gravy, Mashed Potatoes
Italian-Herb Marinated Salmon, Steamed Mussels in Tomato Fennel Broth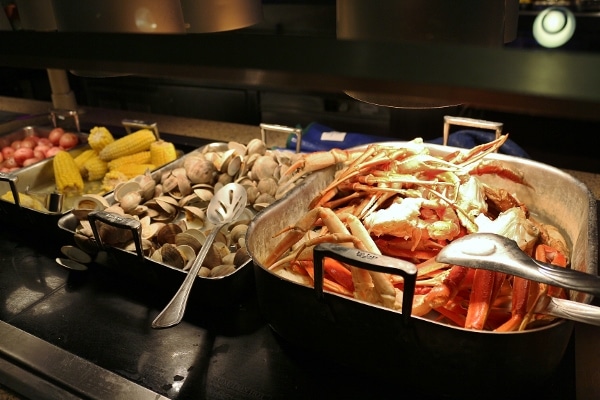 Steamed Red Potatoes, Steamed Corn on the Cob, Steamed Clams, Snow Crab Legs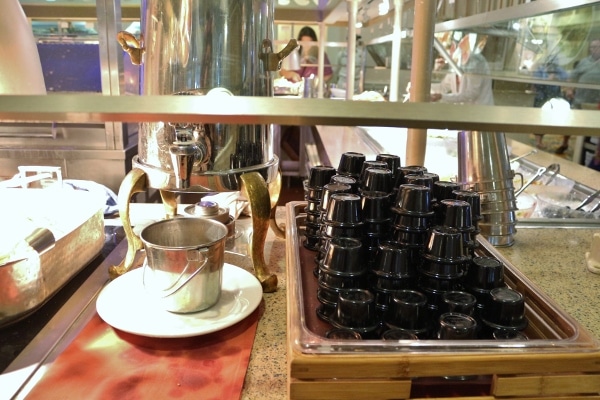 Drawn Butter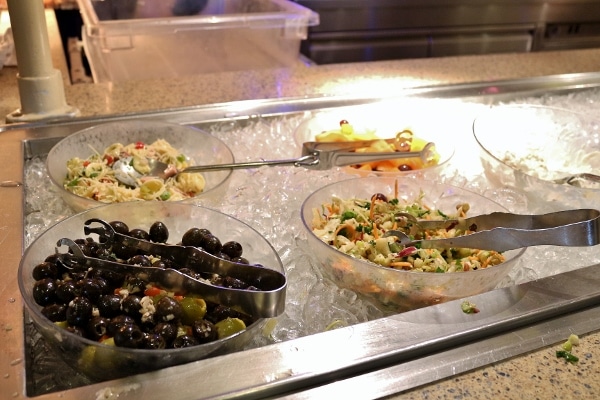 Selection of Salads, Marinated Olives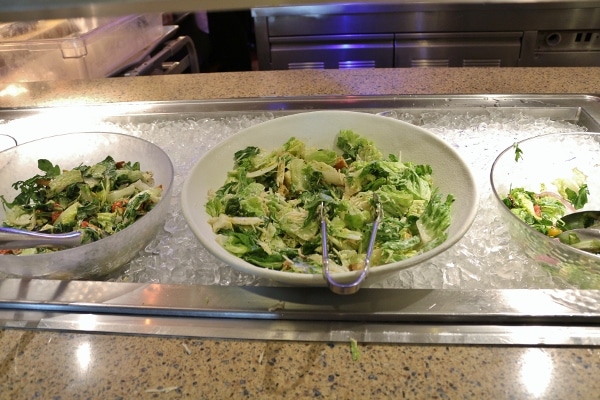 Southwestern Salad, Caesar Salad, House Salad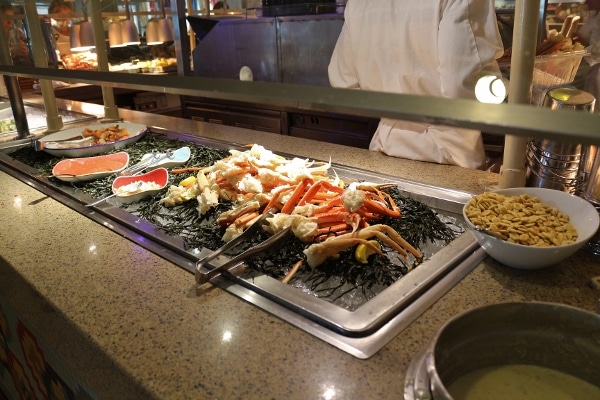 Chilled Marinated Shrimp, Cold Snow Crab Legs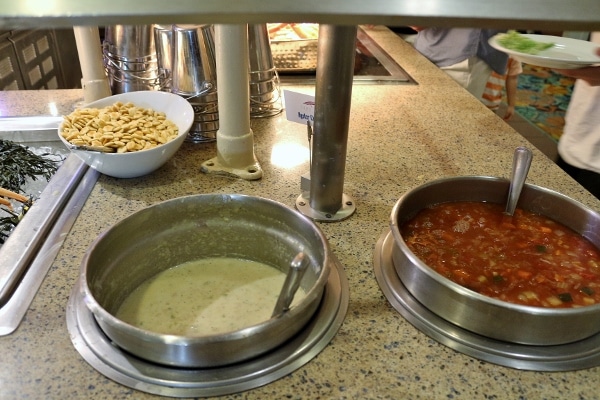 Clam Chowder, Vegetable Soup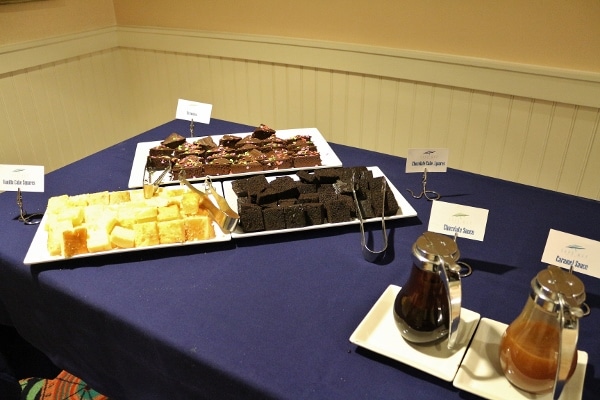 Cake Squares, Brownies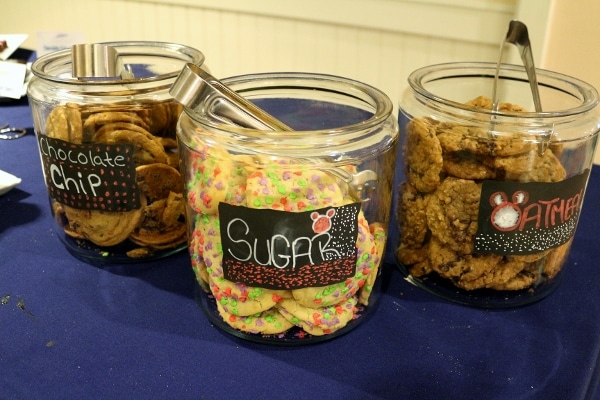 Cookies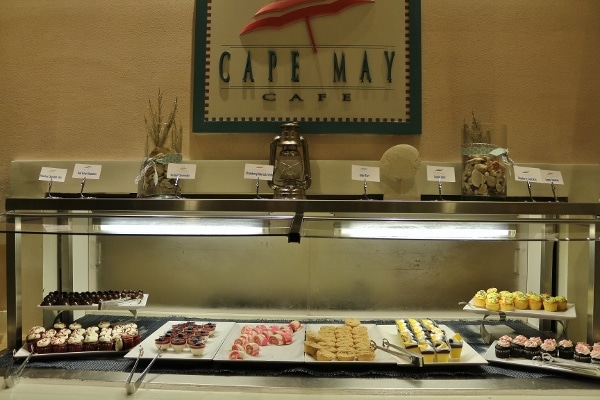 Dessert Bar
So many choices! I started with the clam chowder, which was actually really good! And I'm from New England, so you know I know what I'm talking about. Very chunky with potatoes and lots of clams. Really tasty chowder. Several of my family members got second bowls of the chowder at the tail end of our meal.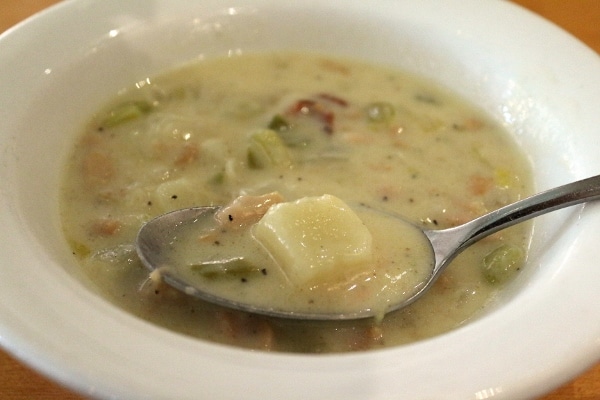 I moved on to an all seafood plate consisting of paella, steamed mussels, salmon, clam strips, cod nuggets, and some bread with olive hummus. My least favorite item was probably the salmon. It was only ok, and cooked pretty well-done. The clam strips were likely pre-frozen, maybe the cod nuggets were too, but I honestly didn't mind them. I really enjoyed the paella and mussels the most.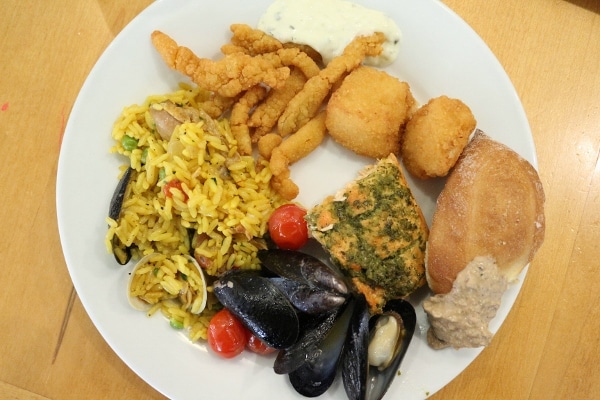 I moved on to a non-seafood plate with some Caesar salad, roasted beef strip loin with horseradish cream and onion jam, mashed potatoes with brown gravy, macaroni and cheese, and vegetable pasta with pistou. The beef was pretty tender, and generally quite enjoyable. Believe it or not the mashed potatoes and gravy were pretty stellar. So comforting and well-seasoned. The macaroni and cheese was also really good. It's homemade, and delicious!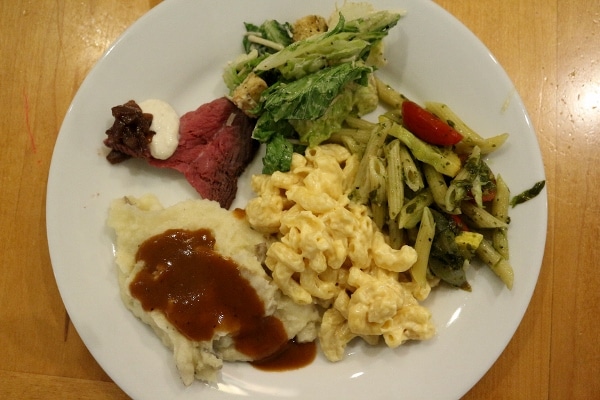 Ok, so I'm not sure how or why I waited until the end of the meal to get the snow crab legs, but somehow I did. I took a few on a plate and then freaked out when I realized how good they were, and what I had been missing this whole time, and I went back and filled a bucket with more snow crab legs. I ate the hot ones (not the chilled ones) with drawn butter, and OMG were they good!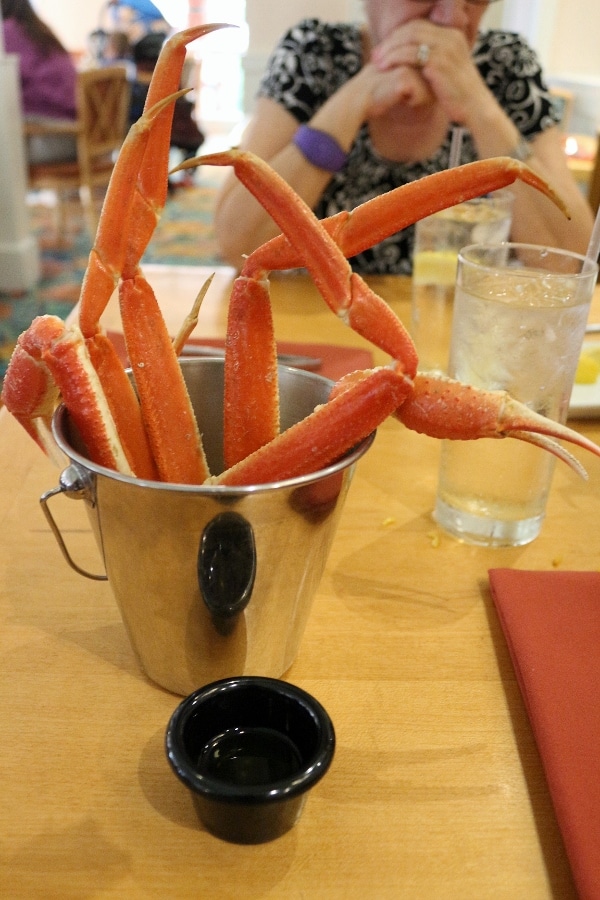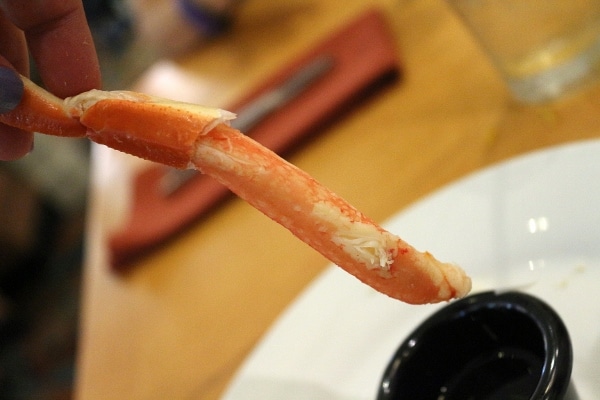 This is the reason people come to this buffet. Honestly, I don't really think it's worth $45 (or more) unless you are really going to town on the shellfish. There are plenty of seafood and non-seafood options at the buffet, but whether or not it's worth the price is really going to depend on the person, their appetite, and their affinity for seafood. We had a wonderful meal, but with all the other great dining options in a similar or lower price range, I'm not sure we will be back. I'm really glad we tried it though! I would still recommend it for anyone who loves seafood (mainly shellfish) to try it at least once.
Cape May Cafe
1800 Epcot Resorts Blvd
Orlando, FL 32830
(407) 939-3463
https://disneyworld.disney.go.com/dining/beach-club-resort/cape-may-cafe/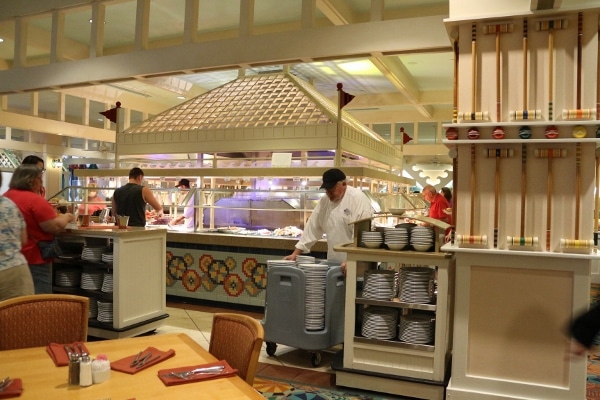 Related posts