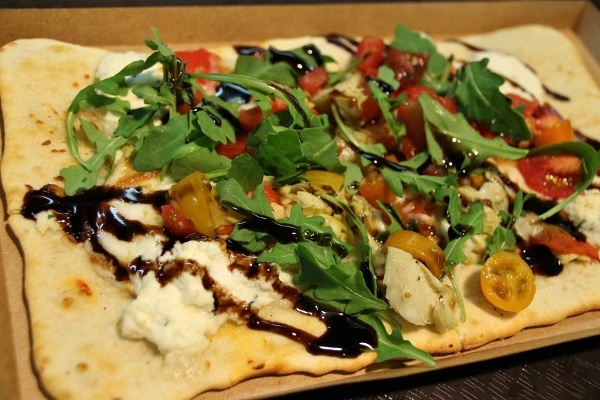 Named for a river flowing through Kenya and Tanzania, The Mara is the quick service dining location at Disney's Animal Kingdom Lodge featuring some of the most interesting and ethnic dining options at a resort quick service location.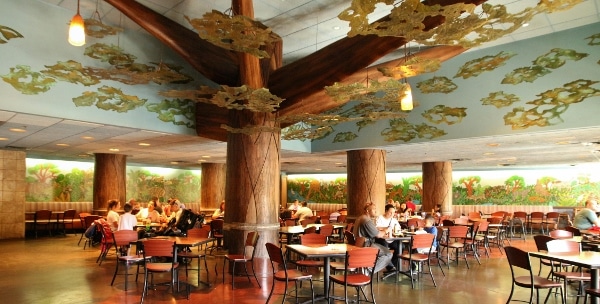 I really enjoy the atmosphere at The Mara. It's made to look like you are surrounded and covered by trees, and the painted walls surrounding the space depict various animals in their native African ecosystems. We sat near some hippos, snakes, monkeys, frogs, and more.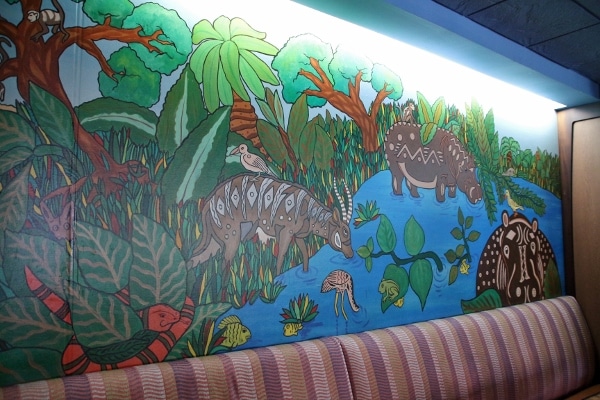 We actually dined twice at The Mara during our recent visit to Walt Disney World. Although it serves breakfast, lunch, and dinner, both of our meals were at lunchtime, so I will happily share our selections as well as some thoughts from the experience. Let's begin with some of our favorites off the menu.
There are three flatbreads offered, and we tried one of them during our visit, namely the Mixed Tomato Flatbread topped with vine-ripened tomatoes, roasted garlic, fresh herb ricotta, artichokes, red peppers, and finished with peppery arugula and balsamic glaze. While this flatbread is likely a bit more mild in flavor than its counterparts, it's also the only vegetarian one out of the three, and honestly was quite enjoyable. It wasn't as good as a flatbread at nearby signature restaurant Jiko, but for quick service it certainly hits the spot.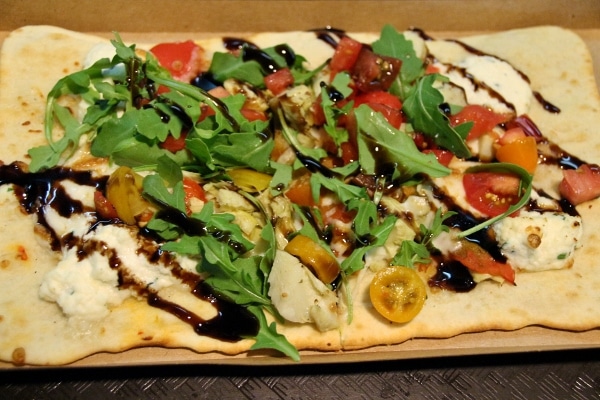 Mixed Tomato Flatbread $9.99
The Mara Salad is a popular choice as well. It's packed with a blend of greens, grilled chicken, lentils, chickpeas, cucumbers, tomatoes, feta cheese, red onion, and a chili-cilantro dressing. This is no boring salad, it's full of protein even if you asked to omit the chicken to make it vegetarian. My mom actually ordered this salad both days we dined here and was very pleased with her choice.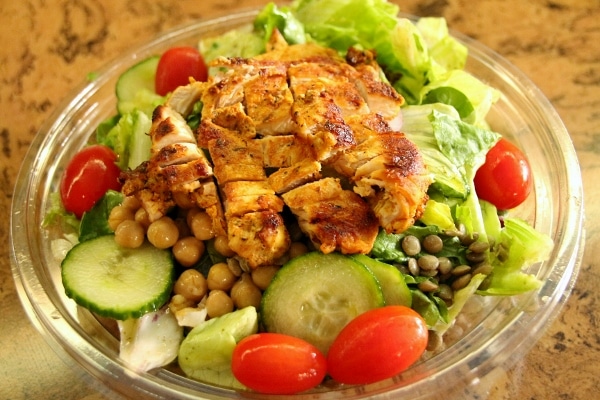 The Mara Salad $9.69
There are some solid sandwich options at The Mara as well. In addition to your standard Disney burger and hot dog, you can also get a Hand-carved Sandwich served on a brioche bun with a choice of side, in this case a delicious couscous salad. On this particular day, the sandwich was hand-carved turkey, and topped with cheddar cheese and what seemed to be a cranberry mayo of sorts. My sister absolutely loved and raved over both her sandwich and the couscous salad. I would likely try this sandwich myself on a future visit.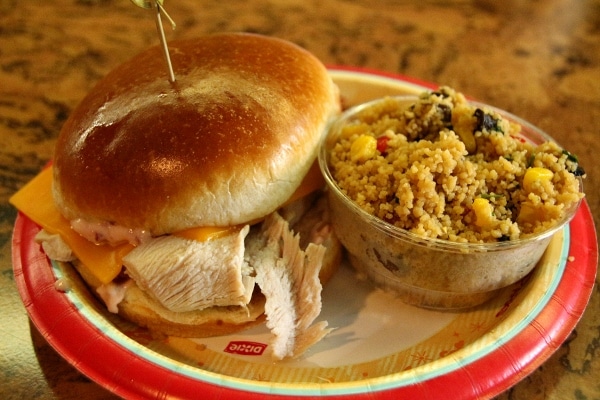 Hand-carved Sandwich $10.99
You can also order a Chicken Pita, which is a slightly more ethnic sandwich option, filled with grilled chicken, sun-dried tomato hummus, cucumbers, tomatoes, mixed greens, and a mint-yogurt sauce. This was another delicious sandwich option, and a good one to consider for the future. There's also a similar Falafel Pita that is served with the same fillings but swaps out falafel for the chicken.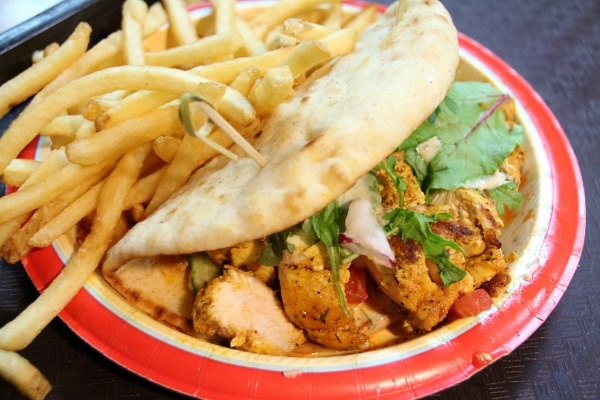 Chicken Pita $9.99
So here's the part where I tell you about my least favorite dish we tried on the menu. This is sad because it's something I was really looking forward to trying. In theory is sounds amazing: African Stew with beef, turkey, ham, carrots, potatoes, peas, chickpeas, and raisins served over basmati rice. The flavor was actually excellent. I enjoyed the sauce, the vegetables, and most of the meat. What I couldn't get over was that what I believe was the ham in the stew was exceptionally fatty. It was basically just huge chunks of fat, not meat. This made the dish unpalatable, and I ended up picking through the stew and eating the other stuff and removing the ham. This was tremendously unfortunate, as I said, because otherwise this is one of the most "exciting" menu options here, and something more authentic to the resort's African roots. I wish they had done a better job trimming the meat before cubing it up into the stew.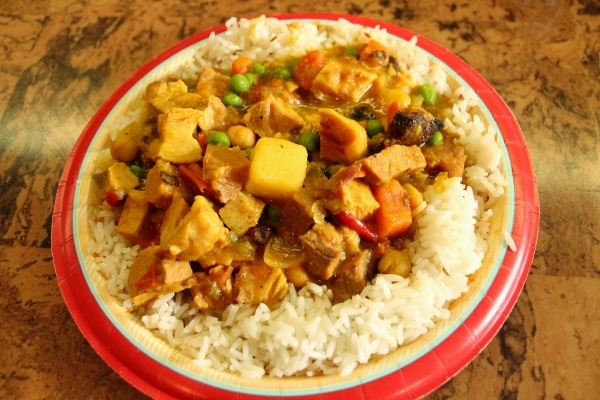 African Stew $8.49
I don't want to end this review on a bitter note, however, so I have one more yummy discovery to share! We finally had the chance to try the epic Zebra Domes! You can purchase them in a small plastic container in the refrigerated section of The Mara. These treats are filled with creamy Kahlua-spiked mousse, and wrapped in a melted chocolate coating that resembles the stripes of a zebra. These Zebra Domes have a cult following, and are available both at The Mara as well as Boma, the nearby buffet dining option. They are everything we thought they could be and more! This certainly turned my frown upside down.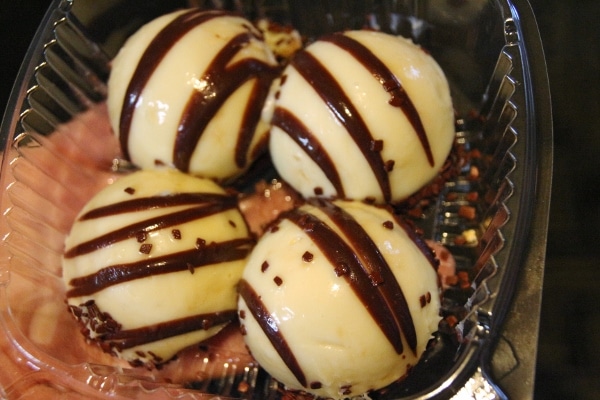 Zebra Domes
Overall we really enjoyed our lunches at The Mara. There was only one menu option we selected that was sub-par, and that was due to technical execution (on any other day that ham may have been trimmed better). Otherwise, the selections at The Mara were quite excellent for quick service, and are certainly more intriguing than many other resort quick service locations (with the exception perhaps of Captain Cook's at Disney's Polynesian Village Resort). If you're staying at the Animal Kingdom Lodge or Animal Kingdom Villas, this is a great spot to grab a quick bite before, after, or in between park visits!
The Mara
Disney's Animal Kingdom Lodge
2901 Osceola Pkwy
Lake Buena Vista, FL 32830
(407) 938-3000
Related posts