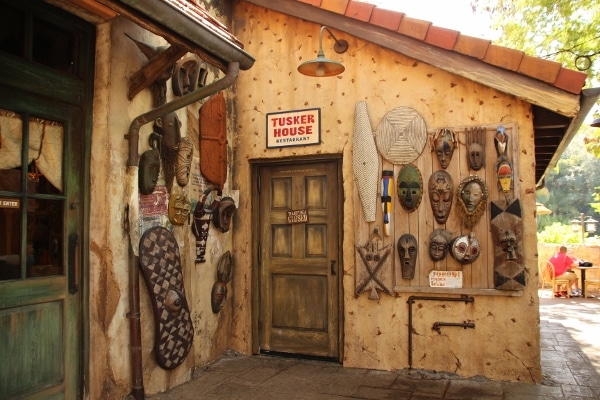 Winding down my Walt Disney World blog posts, today I'm sharing one of our favorite experiences from our trip. Whispering Canyon Cafe and Tusker House Restaurant were probably our two favorite meals from our visit, not only for the fantastic food, but for the overall ambiance and fun interactions.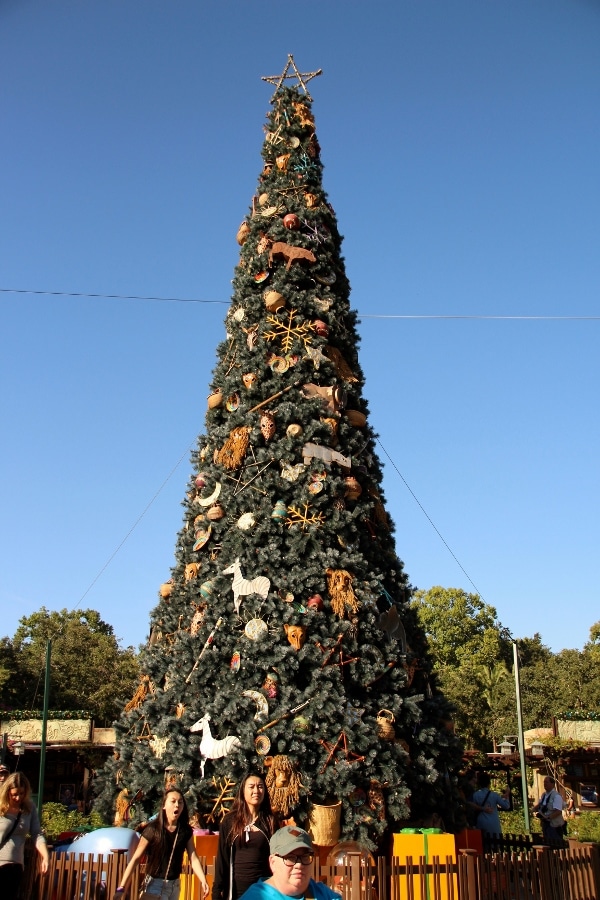 Tusker House is located in the Animal Kingdom within the fictional village of Harambe in Africa, and is known for it's African-inspired buffet and character meet-and-greets with Donald, Daisy, Goofy, and Mickey.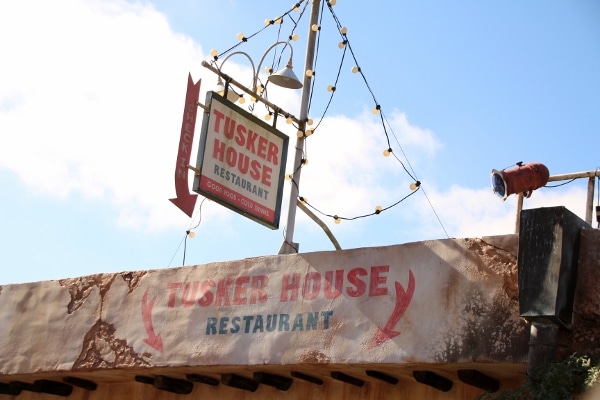 The atmosphere is great. The entire buffet area is very open, and designed like an open-air market with food stations around the perimeter, an island of buffet carts in the center with desserts, and beautiful, colorful fabrics stretched across the ceiling filtering in light.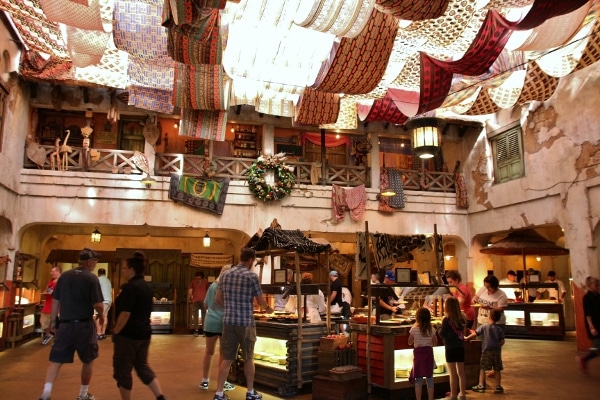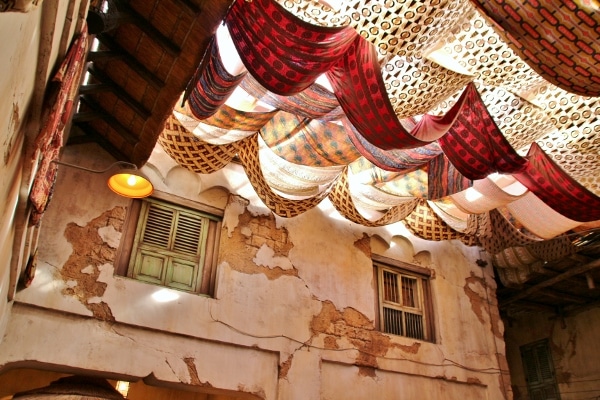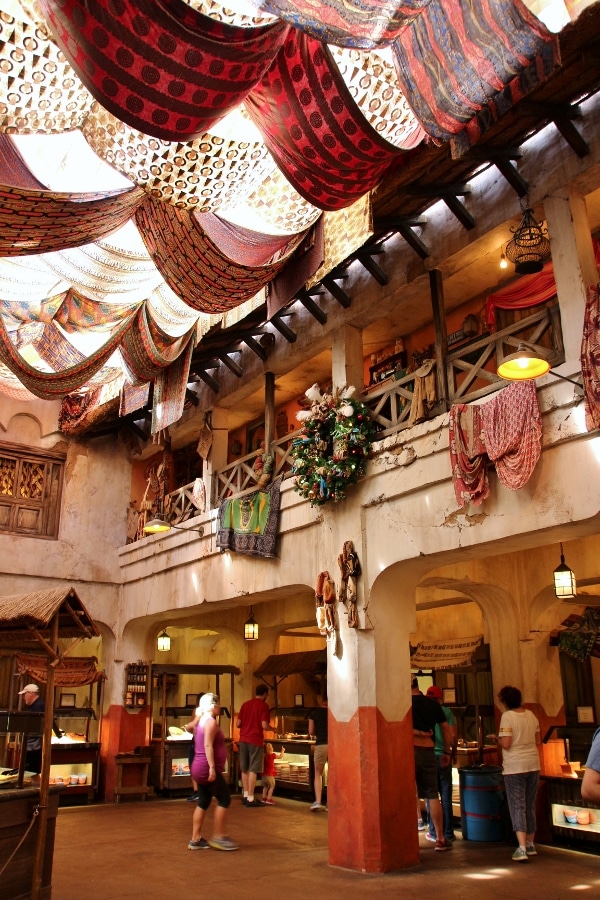 The dining area is separated into several smaller dining rooms, each of which with fun African decor that is consistent with the rest of the themeing.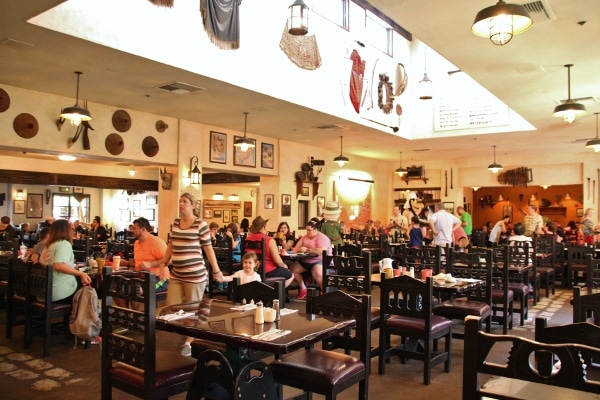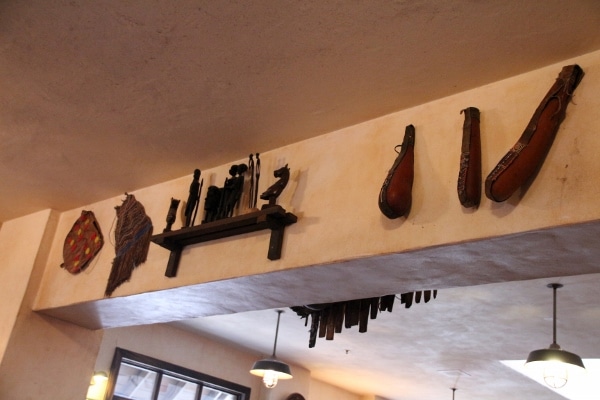 The stars of the show are the characters who visit each table and interact with guests, signing autograph books, posing for pictures, and even leading a parade around the dining room, showing off their dance moves.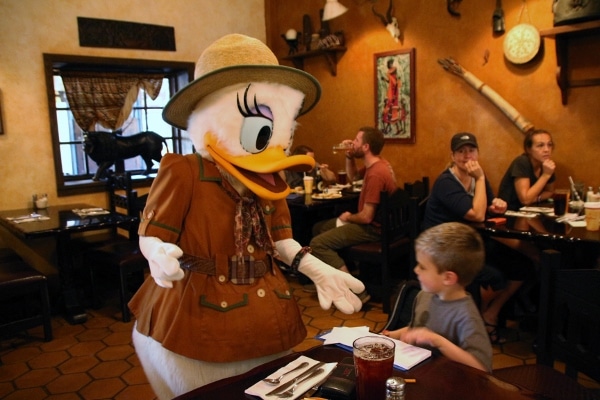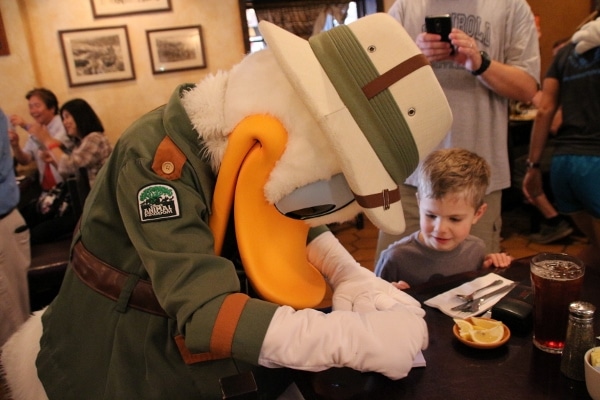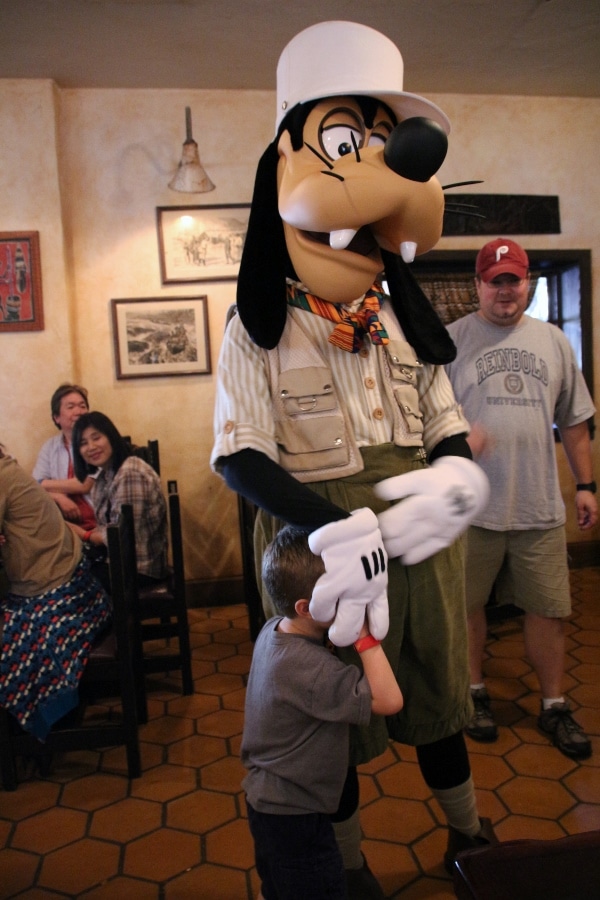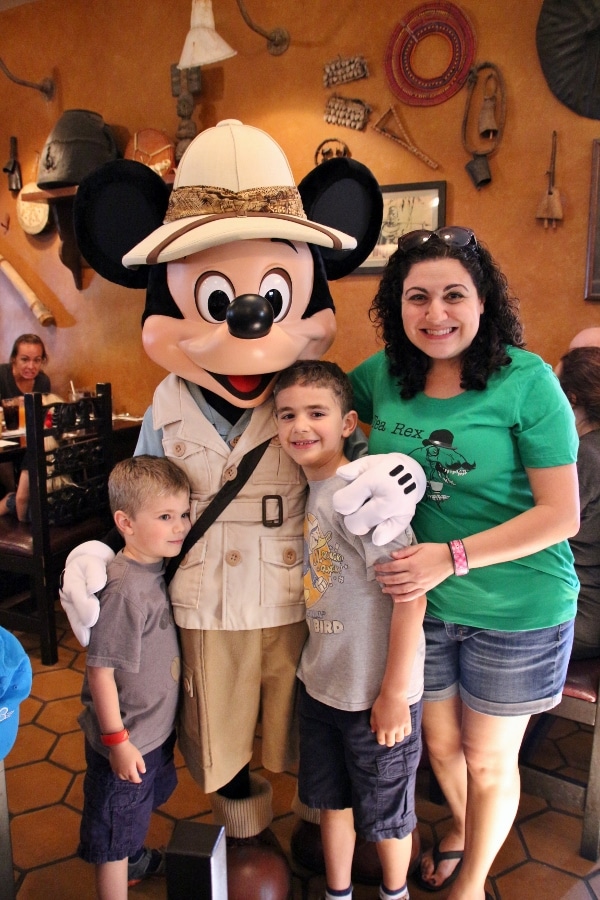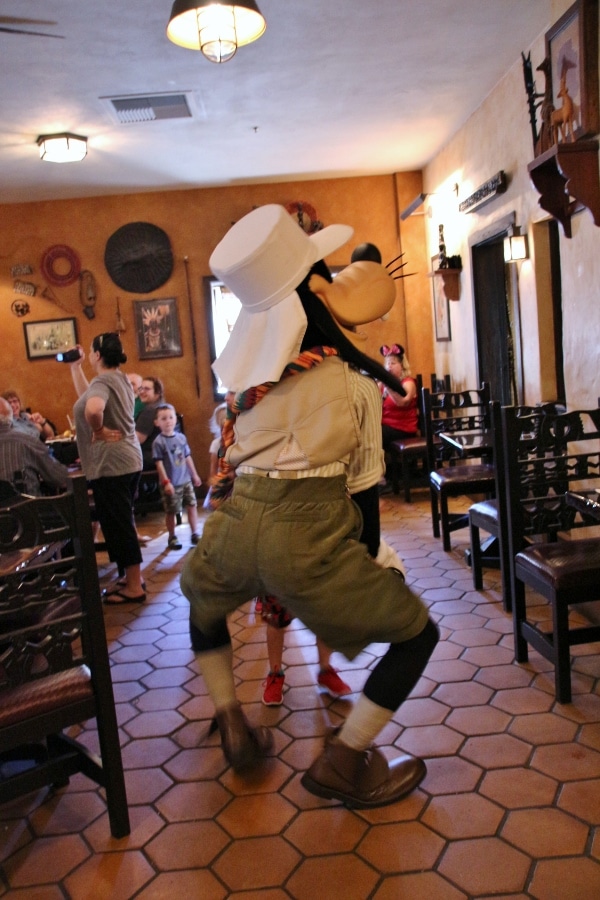 Goofy busting a move!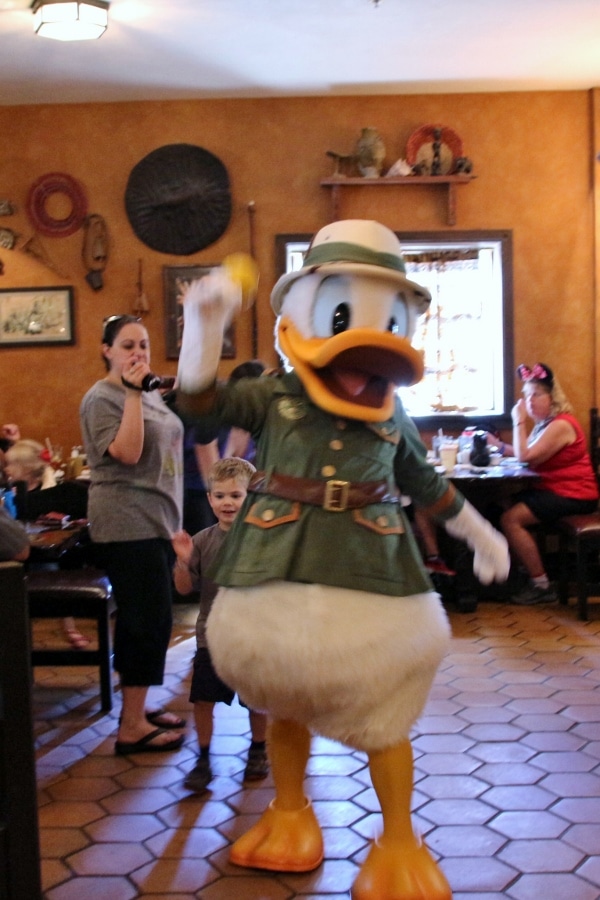 This is probably the main draw for a meal at Tusker House, but as a foodie, I'm particularly drawn by the incredibly diverse buffet. Let's take a closer look.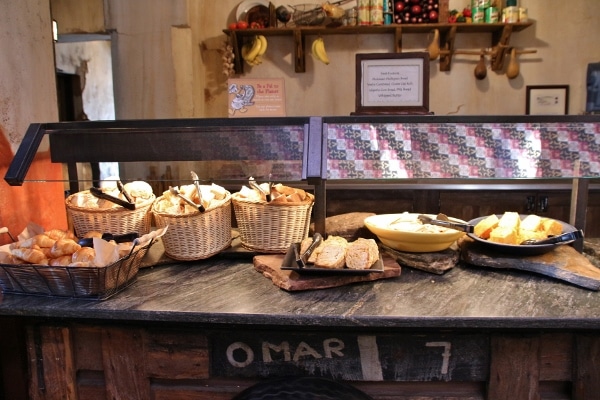 Breads: Herb Focaccia, Moroccan Multigrain Bread, Mealie Cornbread, Cluster Oat Rolls, Jalapeno Cornbread, Pita Bread, Whipped Butter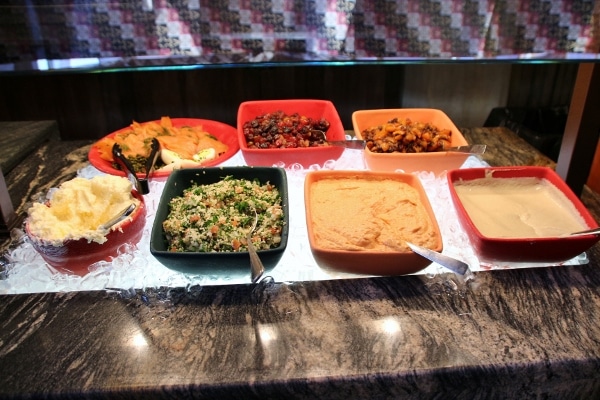 Spicy South African Preserves: Blatjangs, Mixed Fruit Chutney, Hummus, Tabouleh, Whipped Butter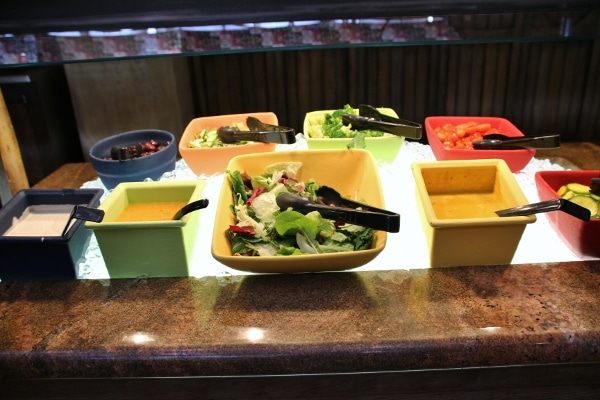 Mixed Greens, Ranch Dressing, Italian Dressing, Coconut Curry Vinaigrette, Chermoula Vinaigrette, Olives, Cucumber, Broccoli, Tomato, Housemade Pickles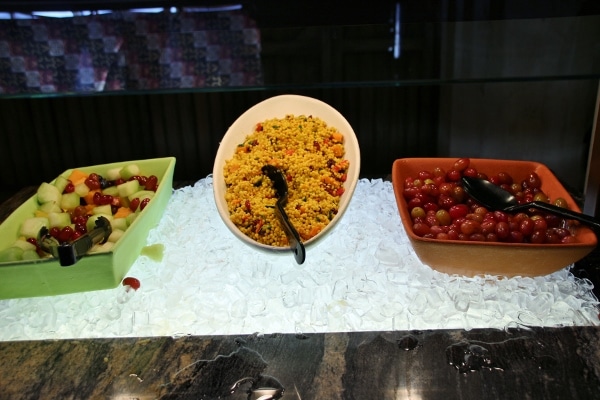 Fruit Salad, Toasted Couscous Salad with Craisins, Grapes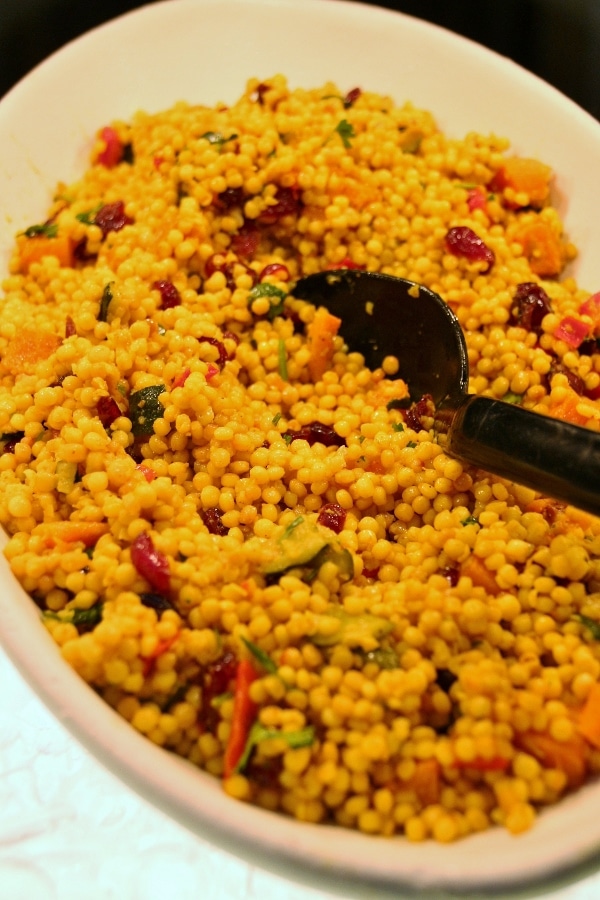 A closer look at the Couscous Salad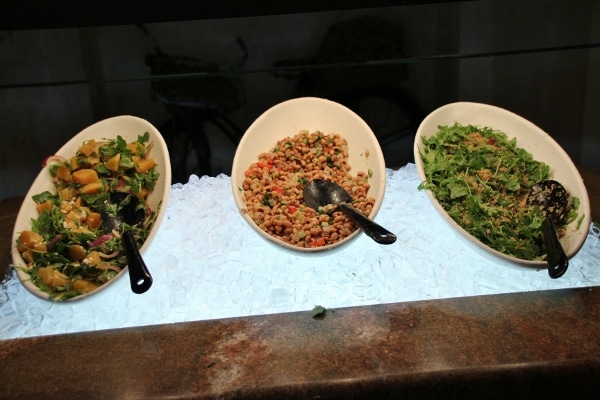 Spiced Beet Salad, Black-Eyed Pea Salad, Trek Power Salad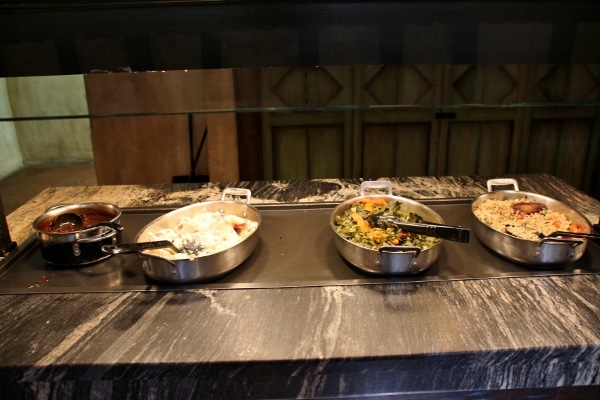 Brown Gravy, Whipped Mashed Potatoes, Collard Greens, Roasted Vegetable Couscous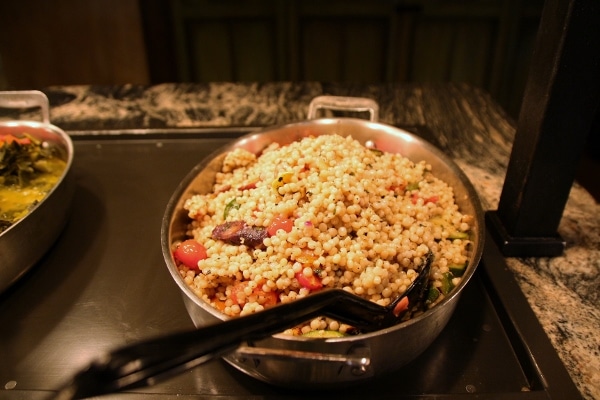 A closer look at the Roasted Vegetable Couscous
Oven-Roasted Red Skin Potatoes, Tandoori Tofu, Oven-Roasted Rainbow Carrots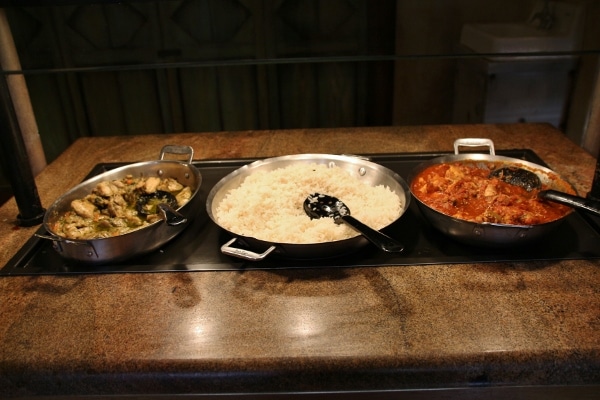 Spicy Green Coconut Curry, Basmati Rice with Lemon, Cinnamon, and Cardamom, Cape Malay Curry Chicken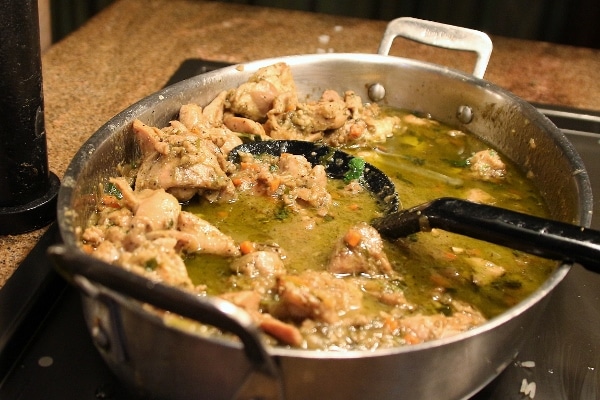 A closer look at the Spicy Green Coconut Curry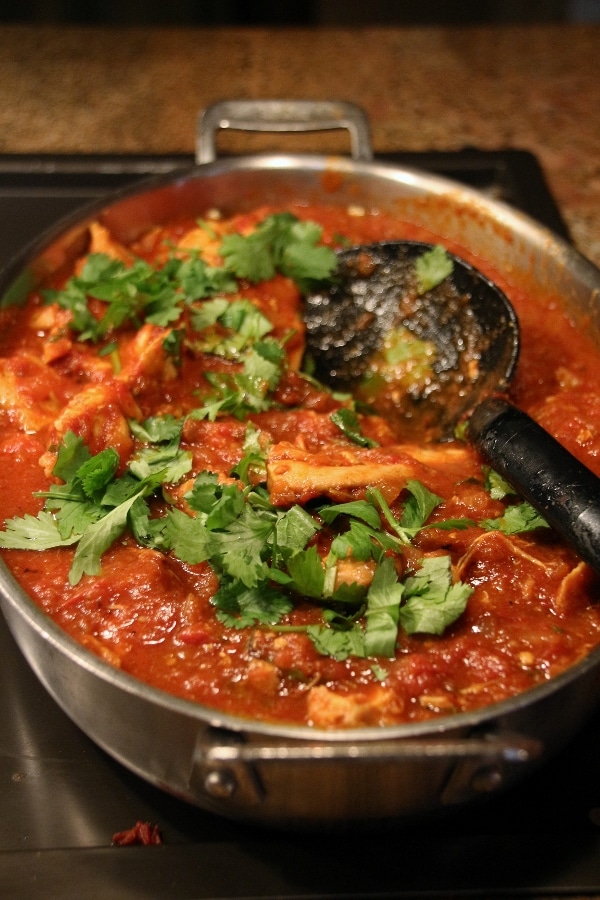 A closer look at the Cape Malay Curry Chicken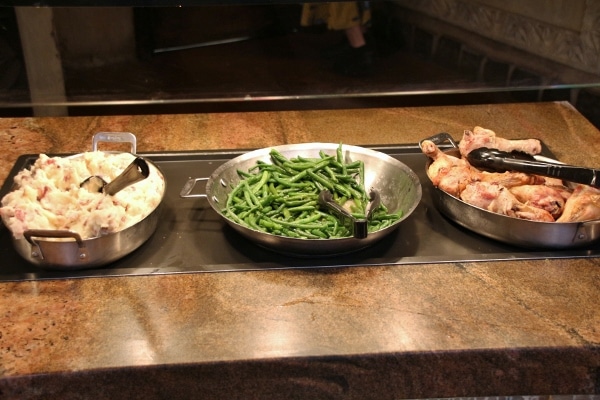 Whipped Mashed Potatoes, Green Beans, Chicken Drumsticks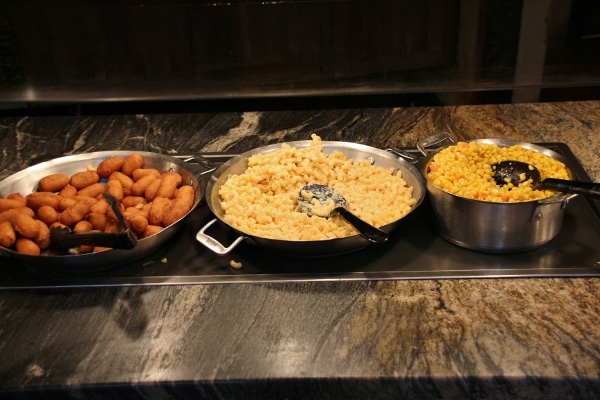 Corn Dog Nuggets, Macaroni and Cheese, Corn Medley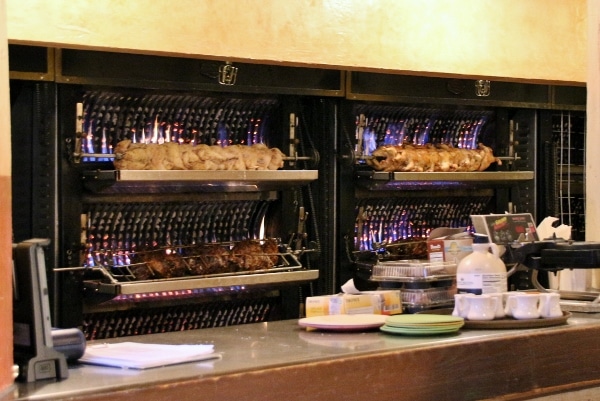 Spit-roasting meats on the "Wall of Flames"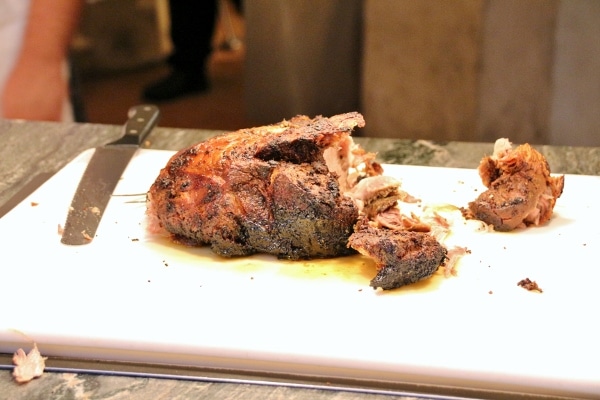 Mojo Pork Shoulder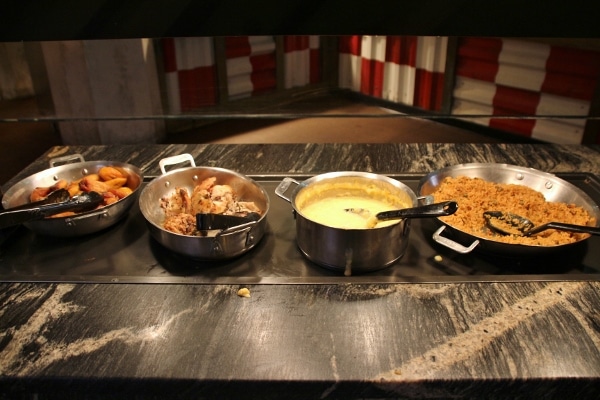 Sweet Plantains, Spit-Roasted Chicken, Mealie Pap, Pigeon Peas and Rice
It's nearly impossible to try every single item on the menu, as much as I'd like to try. I did manage to try quite a few dishes, and particularly fell in love with the Cape Malay Curry Chicken and the Peri Peri Salmon (which I didn't get a photo of on the buffet, but it's pictured below on one of my plates). I don't think there was a single item I tried that I didn't like. Everything down to the mashed potatoes and gravy, both couscous dishes, plantains, and even corn dog nuggets (which I can't resist regardless of my age), were delicious. Food-wise, this meal at Tusker House was the highlight of the trip, especially since you can eat as much as you want!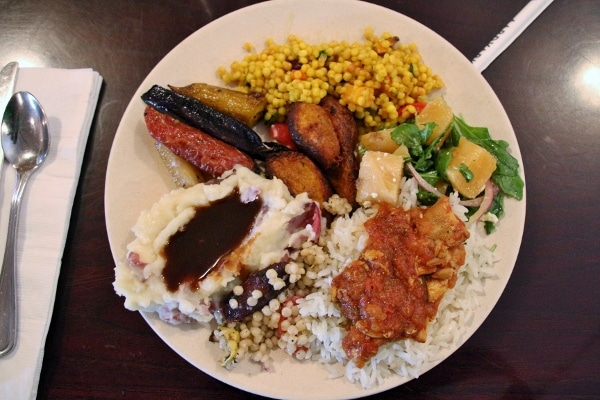 My first plate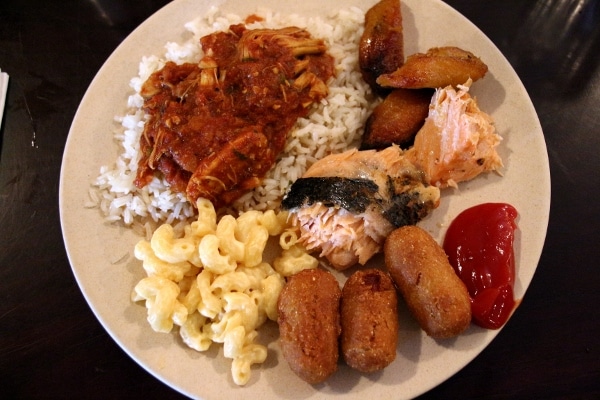 My second plate (notice the second helping of Cape Malay Curry Chicken--sooooo good!)
Let's take a peek at dessert next! By this point I was beyond full, and only managed to try a few bites. I didn't get photos of all the desserts. I believe there was a variety of cookies that I missed, but you get the picture 🙂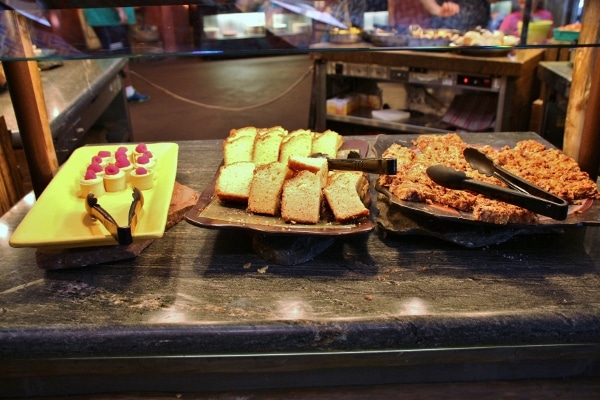 Mango Cardamom Fruit Tart, Pecan Chocolate Tart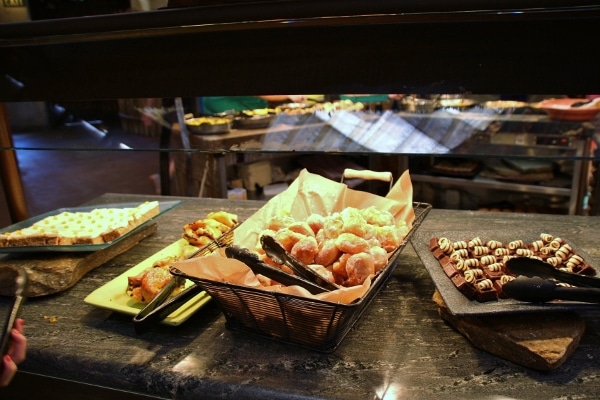 Passion Fruit Spice Cake, Flourless Chocolate Cake with Chocolate Ganache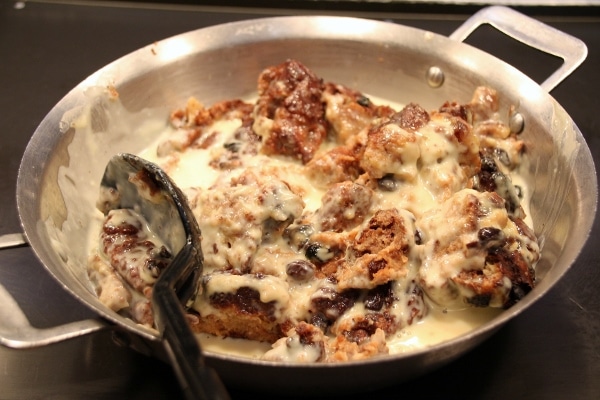 Banana Bread Pudding with Vanilla Anglaise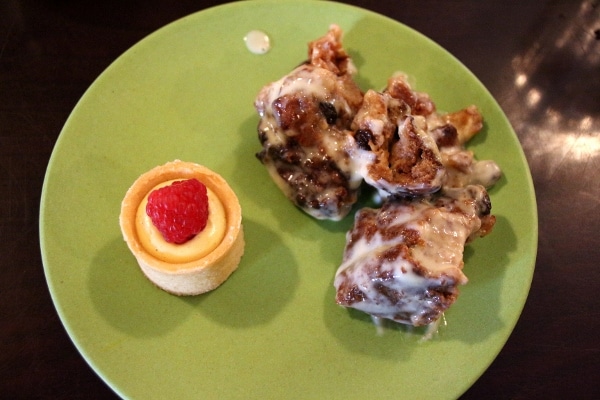 The bread pudding is truly phenomenal (and I know a thing or two about bread pudding). It's pure comfort, and I really wish I had more room to enjoy it after this gluttonous experience. I also like the freshness of the mango-cardamom fruit tart to balance it all out.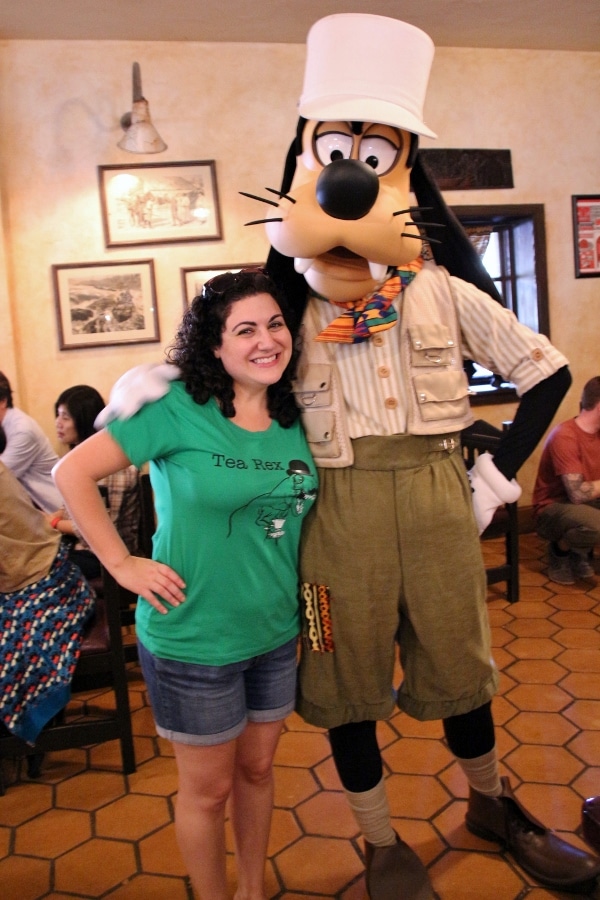 Tusker House definitely stands out as a premiere character dining experience. If you're an adventurous foodie and looking to mingle with Mickey and friends, this is probably the best combination of food and festivities on Disney property. The price of a meal at Tusker House ranges depending on the season (popular times of year may cost more). We paid $45 per adult and $27 per child in early December, but it also includes basic beverages and a whole lot of personality.
Tusker House Restaurant
Disney's Animal Kingdom Theme Park
Osceola Pkwy
Orlando, FL 34747
(407) 939-3463
https://disneyworld.disney.go.com/dining/animal-kingdom/tusker-house-restaurant/
Related posts