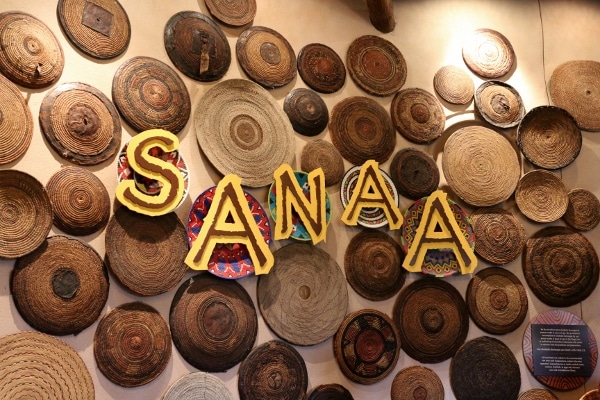 During our previous visit to Walt Disney World, we had the pleasure of staying at Animal Kingdom Villas - Kidani Village. It's by far one of the most incredibly themed resorts on property, and a must-visit for anyone heading to Walt Disney World. If you're unable to stay at this resort, never fret, there are several wonderful dining options both at Kidani Village and Jambo House, the main resort next door. I've had the privilege at dining at two of them, but plan to check out the rest on future trips.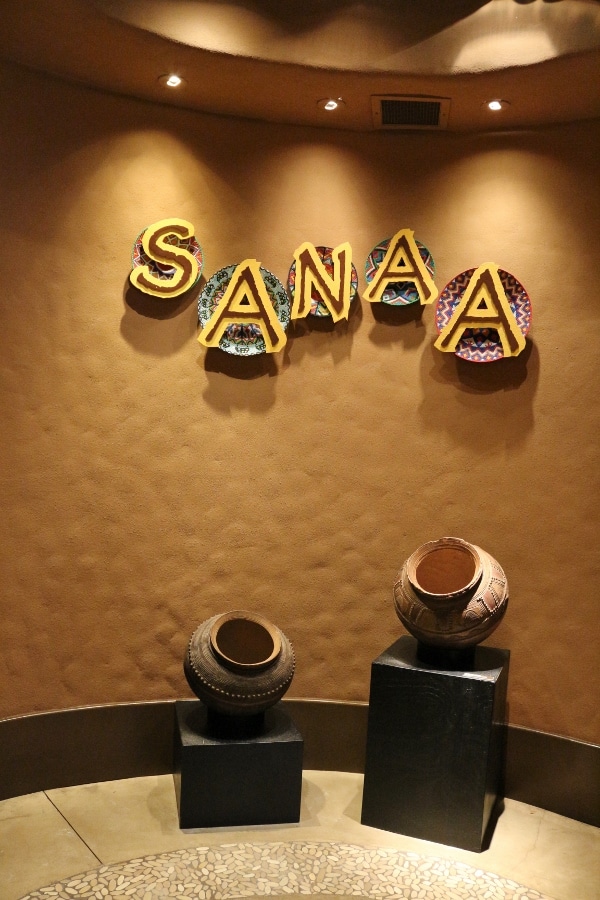 On our most recent trip, we couldn't resist a return visit to one of our favorites from last February: Sanaa, featuring "the Art of African Cooking with Indian Flavors." Sanaa overlooks the Sunset Savanna at Kidani Village, so if you're lucky enough to get a table by the window, you will have the best seat in the house to view incredible wildlife just on the other side of the glass!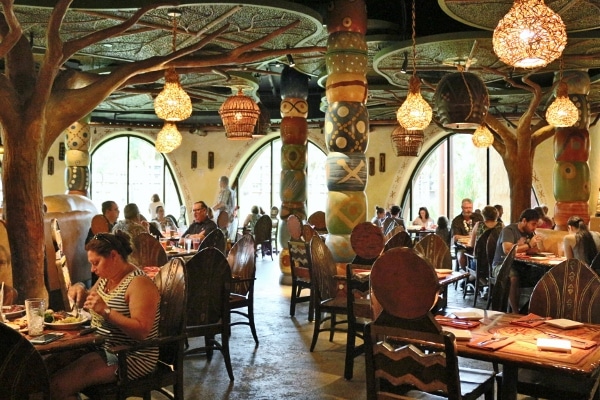 We didn't have a prime view from our table, but we did get to sit in one of the awesome booths in the back of the restaurant. Our server was awesome, and we even got a visit from Chef Edward to chat with my sister about my nephew's dietary restrictions.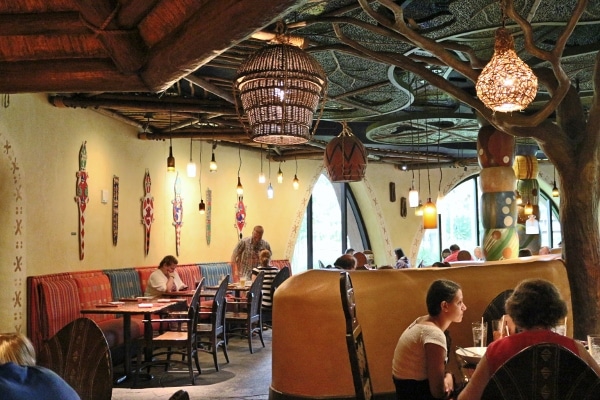 One of my dining companions asked the chef about his recipes for all the accompaniments for their bread service and at the very end of our meal they gave him an envelope filled with printouts of all the recipes! Talk about pixie dust. Thankfully he also shared it with the rest of us 🙂 I look forward to making them all!
*Update 3/6/19* I have FINALLY posted the recipes for the dipping sauces! You can find them here.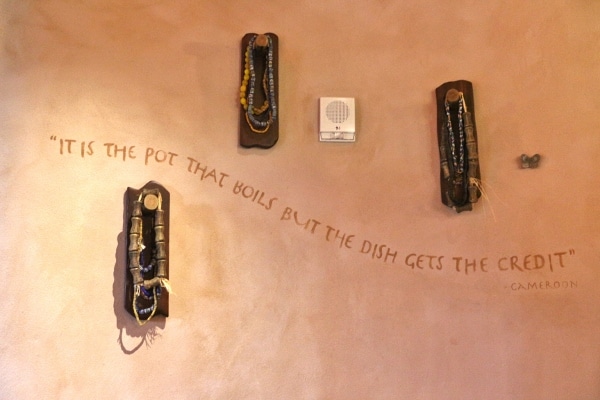 And speaking of our meal, let's dive right in. We tried several of the awesome signature cocktails. My personal choice was the refreshing African Starr Mojito, featuring Starr African rum, Van der Hum tangerine liqueur from South Africa, fresh mint and lime. I love a good mojito in pretty much any capacity, and this particular one is fantastic. A great choice at the end of a long day.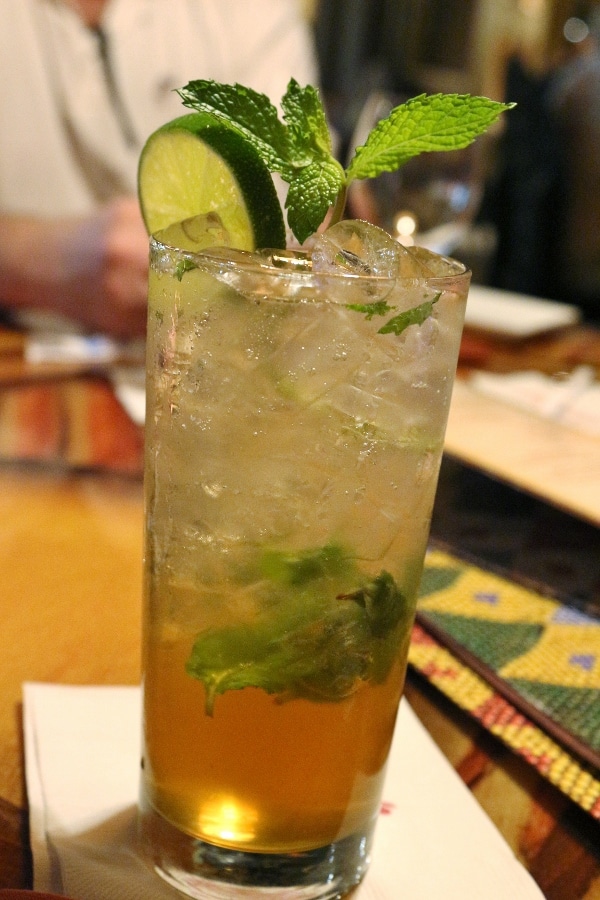 African Starr Mojito $10.25
My dining companions ordered the Malawai Mango Margarita, featuring a frozen blend of tequila, Van der Hum tangerine liqueuer, mango puree, and fresh lime juice, as well as the Magical Star Cocktail, featuring X-Fusion organic mango and passion fruit liqueur, Parrot Bay coconut rum, and pineapple juice along with a souvenir glow cube. Our server recommended the Magical Star as the drink that packs the greatest punch, and it was probably the most popular flavor-wise among my tablemates. The margarita was delicious, but not quite as unique as the other drinks. PS I've also noticed the Magical Star Cocktail on the standard Walt Disney World Bar and Lounge menu so you should be able to find it at other resorts as well, not just specifically here at Sanaa.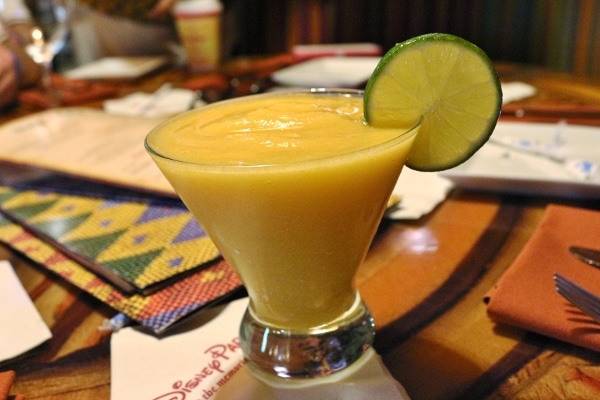 Malawai Mango Margarita $11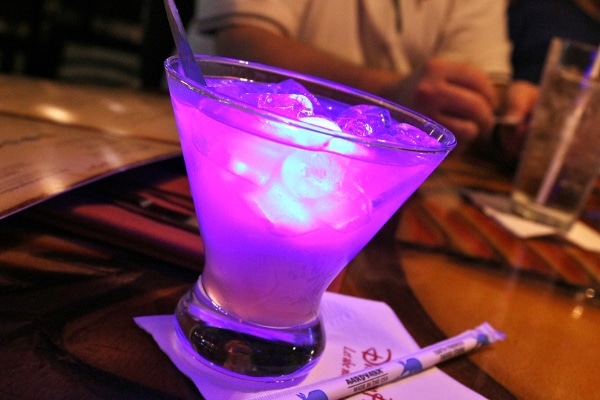 Magical Star Cocktail $11.50
We absolutely had to start our meal with the famous bread service. Last February, the bread service only included three breads, but now it includes five at the same price! That's actually really awesome, because we definitely had to order extra bread in the past (and actually again on this visit since there were more of us dining, but it's always great to get more for less).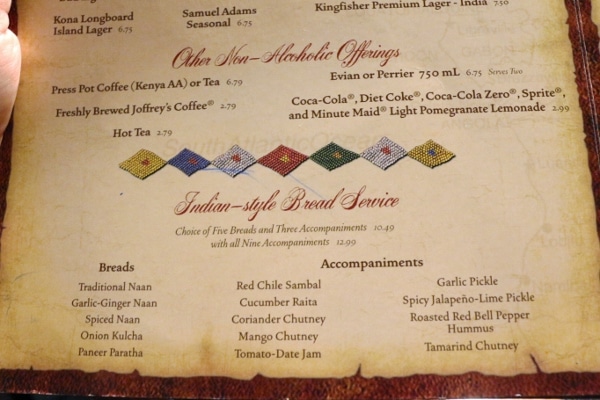 On our previous visit, we decided to get the bread service with three accompaniments, but this time got the full experience with all nine accompaniments (and it only costs $2.50 more). These include, in order from top to bottom in the photograph, and also generally in order of spiciness (though I'd flip-flop the first two): Spicy Jalapeno-Lime Pickle, Red Chile Sambal, Garlic Pickle, Coriander Chutney, Tomato-Date Jam, Tamarind Chutney, Mango Chutney, Roasted Red Bell Pepper Hummus, and Cucumber Raita. It also comes with your choice of breads: Traditional Naan, Garlic-Ginger Naan, Spiced Naan, Onion Kulcha, and Paneer Paratha. The first three are made in-house, and they are stellar.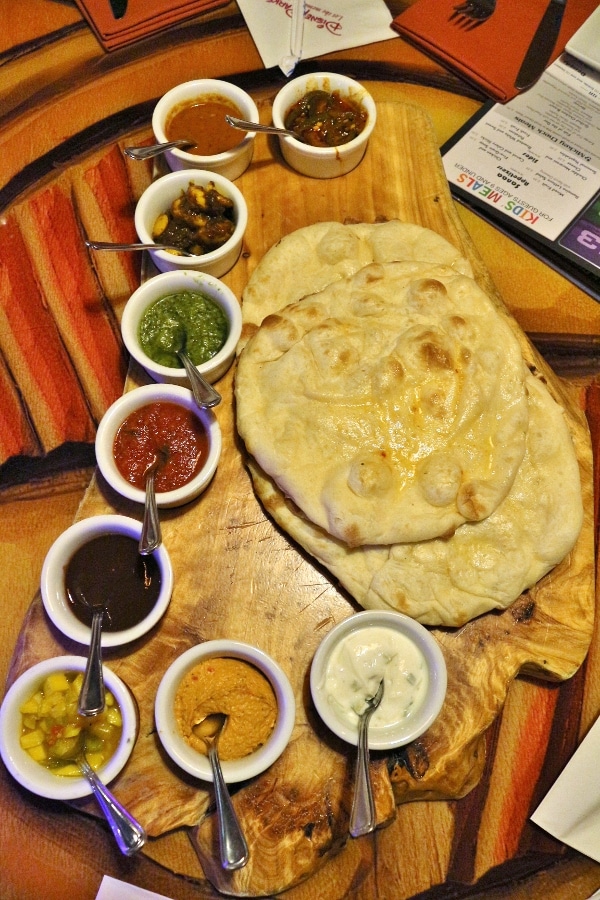 Bread Service with all Nine Accompaniments $12.99
I absolutely love the bread service. It's so much fun trying all the accompaniments, and even pairing them up on bits of naan to see how they go together when combined. A visit to Sanaa would be incomplete without this incredible bread service. I'm so thrilled to have all the recipes! I particularly want to try making the Garlic Pickle, which was a favorite at our table.
*Update 3/6/19* I have FINALLY posted the recipes for the dipping sauces! You can find them here.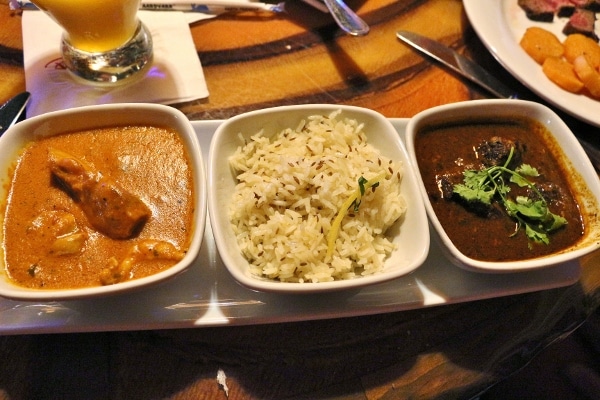 Butter Chicken, Basmati Rice, and Lamb Curry $23.99
For entrees, I do enjoy the incredible you-pick-two curries served with rice. These options change periodically and the ones on this visit were mostly different from what we were offered back in February. My sister opted to try the famous Butter Chicken and the Lamb Curry with Basmati Rice. You really can't go wrong with Butter Chicken. It's probably the most popular option on the list, but beware that the Butter Chicken entree is vastly different from the version here. This is very similar to Chicken Tikka Masala so if you're a fan of that dish, this is a top choice. It's creamy, tomatoey, lightly spiced, and fantastic! The Lamb Curry features succulent, tender bites of lamb. I personally liked the flavor but my sister found the sauce to have a slightly bitter edge.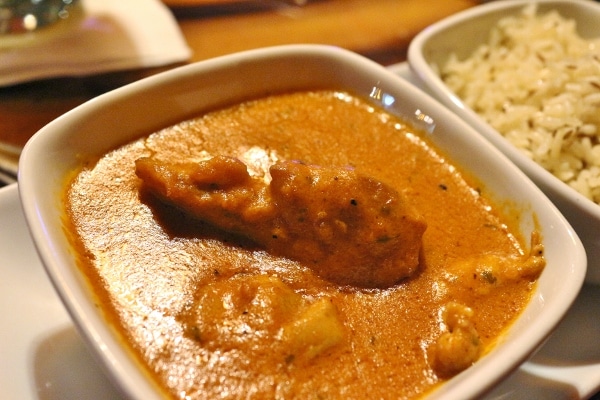 Butter Chicken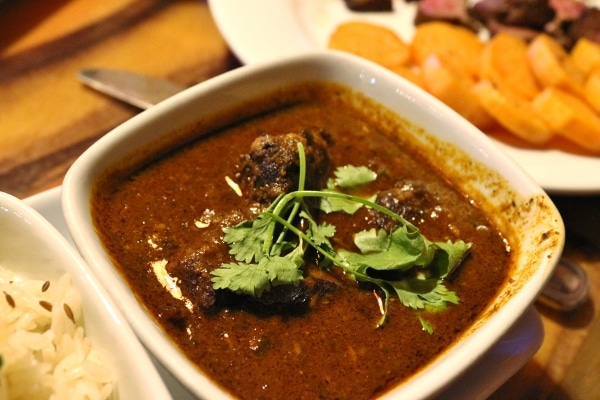 Lamb Curry
For my entree, I selected the dish our server recommended as the most authentically African. This was the Braaivleis, a dish of traditional African grilled meats. Starting with the Boerewor, a homemade African beef-and-pork sausage, the recipe is actually from the personal kitchen of Michelle, one of Sanaa's cooks hailing from South Africa. She actually stopped by our table too to say hello! The dish also includes a couple Lamb Chops and sliced Pork Tenderloin, along with grilled vegetables such as baby carrots, broccoli rabe, and cauliflower. I also had some small onions in a creamy black mustard seed sauce, and some flavorful mashed potatoes with herbs.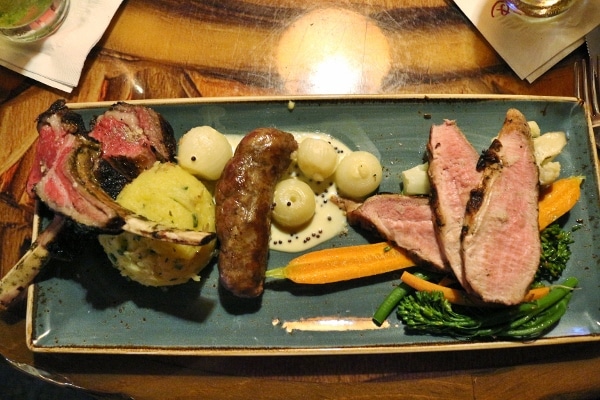 Braaivleis $25.99
My favorite was actually the pork tenderloin. It was cooked medium, and featured a delicious charred flavor without being overcooked at all. I also really enjoyed the rare lamb chops and the sausage, although the sausage did contain some large chunks of fat (I realize this is ideal in making fresh sausage, but it's just not my favorite thing). The accompaniments were also fantastic, and this plate was incredibly filling, especially after gorging myself on naan moments earlier.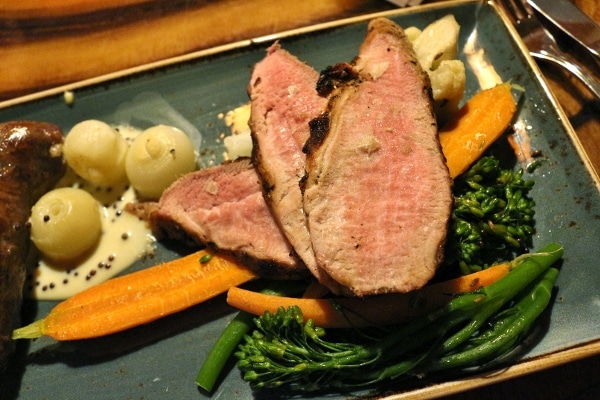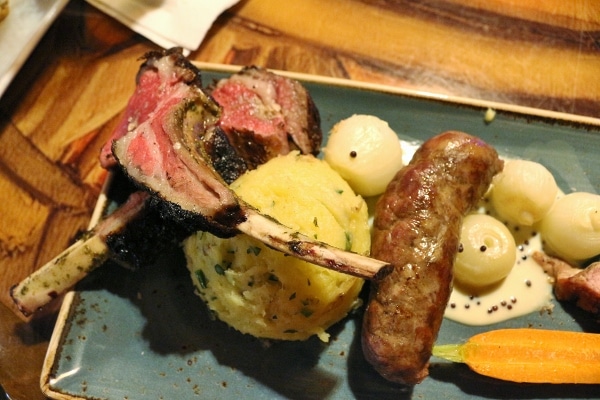 I have to say, Sanaa truly holds a special place in my heart for so many reasons. One: it's found in one of my favorite resorts. Two: it has such a unique setting with awesome views of exotic animals. Three: the food is wonderful, with dishes for both adventurous and tame eaters alike. Four: the service has been consistently excellent on both of our visits. We will definitely be back!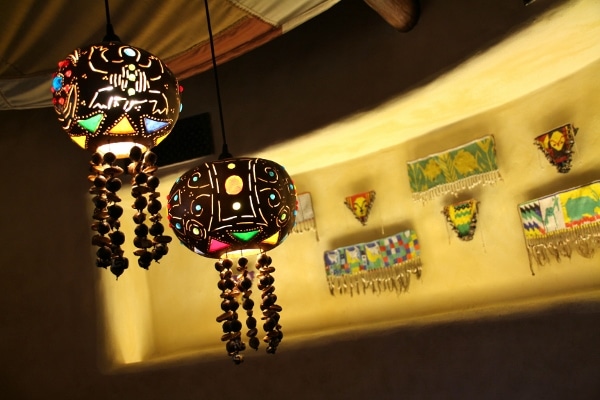 *Update 1/2/17* We recently revisited Sanaa, so I wanted to share some updates. Sadly, I was a bit disappointed by our more recent experience. I'm not sure if it was an off night, but our server was not the greatest, and service was pretty slow overall. We ordered the bread service and asked to swap out a couple of the breads for others (which is pretty normal) and they messed that up. They did bring us more bread to make up for it.
I noticed a change in the way Sanaa is offering their curries. Now you can only pick one meat-based option and one vegetarian option, instead of any two curries. If you want to pick an additional meat, it's at a significant additional cost. My sister picked the beloved Butter Chicken as well as the Lentil Dahl (sorry, I didn't get any photos), but the lentils were undercooked and kind of crunchy. When I asked our server about this she said they were supposed to be that way. I didn't really like the way she brushed me off when I inquired about it, and I'm also not a lentil novice, and I know lentils should be tender. If this is intentional, it's a truly unorthodox preparation for lentils, and something perhaps the chef should rethink because anyone familiar with lentil cookery would agree they were undercooked.
My dad tried the African-inspired Biryani with chicken, and was not particularly impressed. I didn't try it myself, so I can't comment, but the basmati rice appears to be quite plain, with some other more seasoned ingredients piled on top of it, which is not really traditional biryani preparation. He also said the chicken was kind of dry.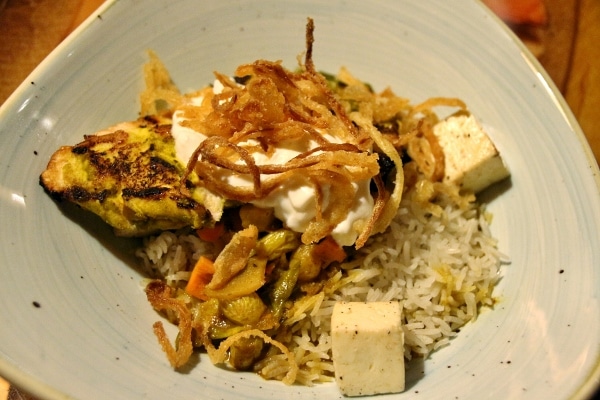 African-inspired Biryani $19 (+ extra for the chicken)
I actually enjoyed my entree, which was the Fragrant Duck, a garam masala-brushed duck breast with spiced confit, baby root vegetables, and five-grain pilaf with cranberries and pumpkin seeds. This dish was quite flavorful, in my opinion, and I enjoyed the duo of duck cookery, with the medium-rare breast and the fork-tender confit. My mom ordered the same entree and thought it was okay, so there were some mixed feelings about it at our table.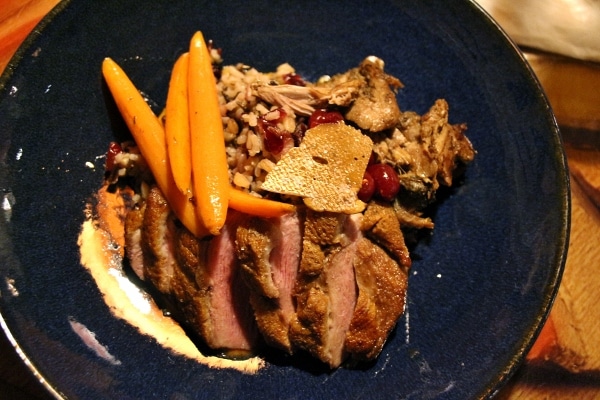 Fragrant Duck $26
I want to also talk briefly about something new that's happening at Sanaa. It's still in a testing phase, so there is no official menu posted online and I'm not sure if it will continue indefinitely or end at some point, but Sanaa is now serving breakfast too!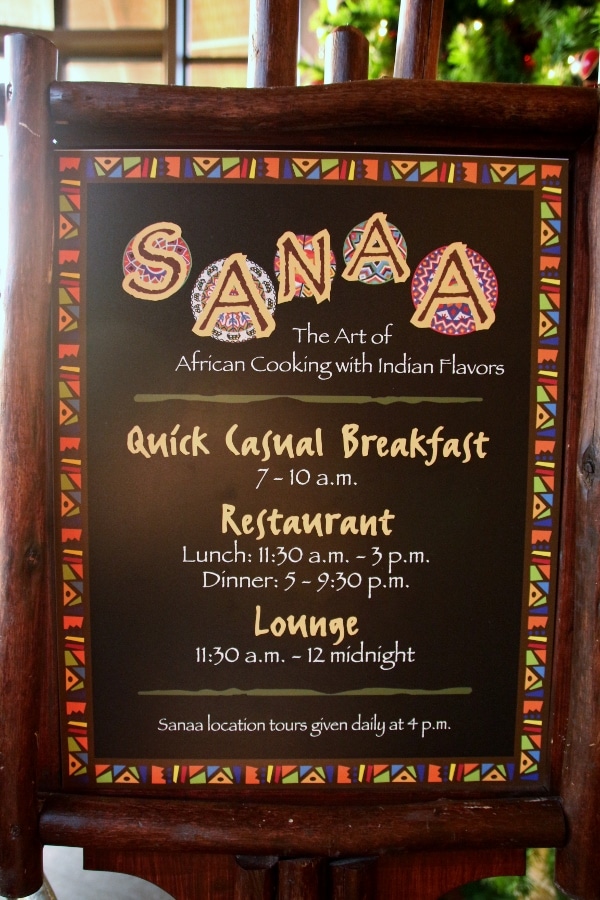 There are Quick Service as well as Grab-n-Go options depending on your preference.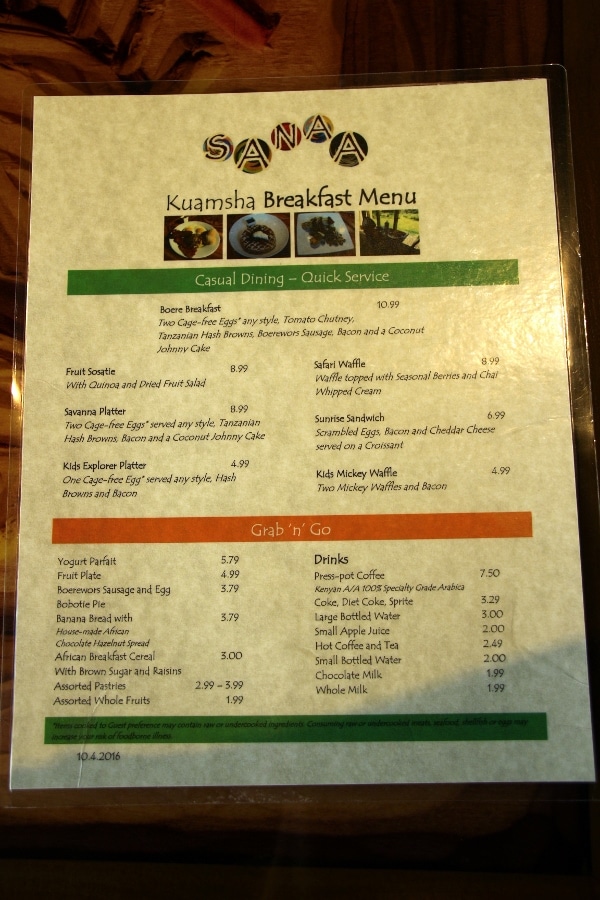 When you place an order from the Quick Service portion of the menu, you're handed an animal figurine with a tracker inside, and a number painted on the outside. You can sit at any table you like (this is a great opportunity to snag a coveted window-front location), and when your food is ready, someone will bring it over to you.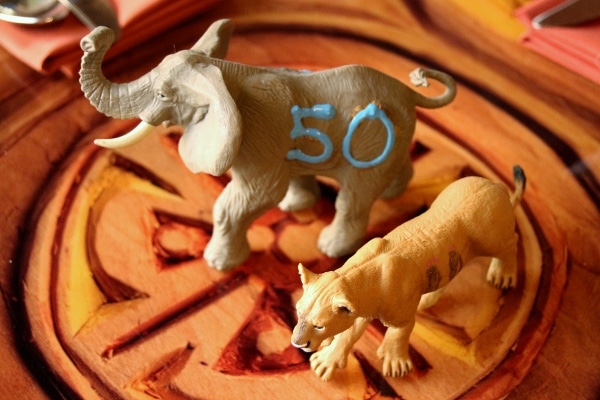 Menu options are better than what you will find for breakfast at most other quick service locations at other resorts. Food is served on real dishes with real silverware, and the quality of the ingredients is exceptional. Where else can you get cage-free eggs for breakfast at a quick service spot? Nowhere that I know of. I tried the Boere Breakfast, which features two cage-free eggs any style, tomato chutney, Tanzanian hash browns, Boerewors sausage, bacon, and coconut Johnny cakes. The tomato chutney is one of the best items on the plate, really flavorful and dynamic! The sausage is house-made, and quite tasty, with a very unique flavor profile. The Johnny cakes are a little odd, and not really what I expected. I'm kind of on the fence about those, but overall this was a very satisfactory quick service breakfast.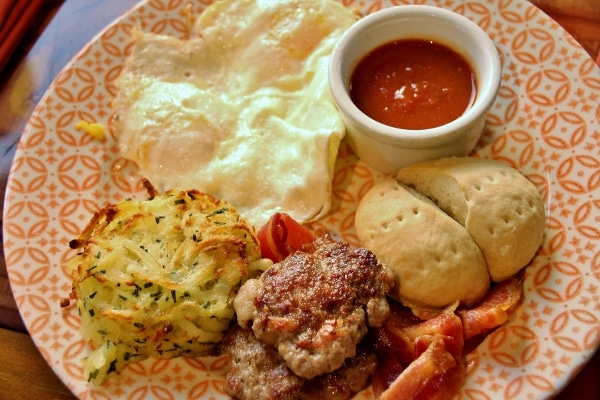 Boere Breakfast $10.99
For a sweet finish, we also tried the Banana Bread with house-made African chocolate hazelnut spread (aka homemade Nutella). This was delicious, and a wonderful treat for anyone with a sweet tooth.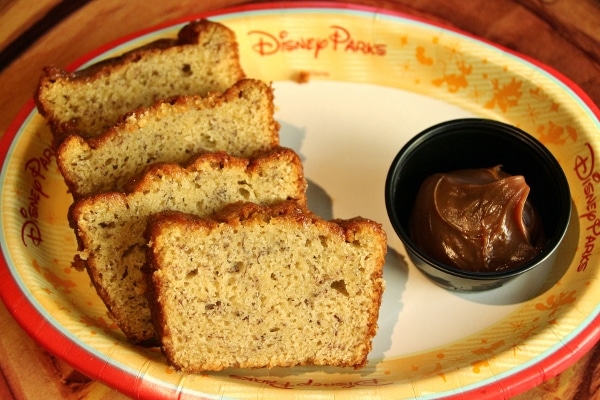 Banana Bread $3.79
I honestly enjoyed my breakfast experience at Sanaa a bit more than dinner at Sanaa the previous night. I'm really hoping that was just flop of a night because I've come to expect so much more from Sanaa, but I'm not really feeling the love this time. There were some pros and some definite cons from this meal. I would revisit Sanaa again, but if faced with a similar result, it may end up in the discard pile in favor of more consistent Disney dining options.
Sanaa
2901 Osceola Pkwy
Lake Buena Vista, FL 32830
(407) 938-7400
https://disneyworld.disney.go.com/dining/animal-kingdom-villas-kidani/sanaa/