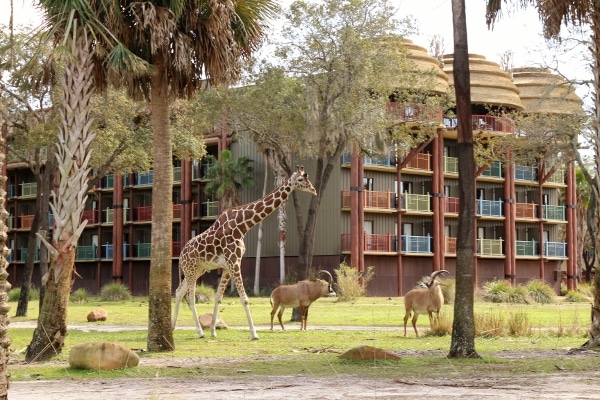 During my birthday trip to Walt Disney World a couple years ago, we stayed at what is possibly the most popular Moderate Resort, Port Orleans Riverside. It depicts Southern plantation homes in the Magnolia Bend section of the resort, and more bayou style lodgings in the Alligator Bayou section. We absolutely love this resort, and definitely think it's the best option if you are looking to stay at a moderately-priced resort at Disney.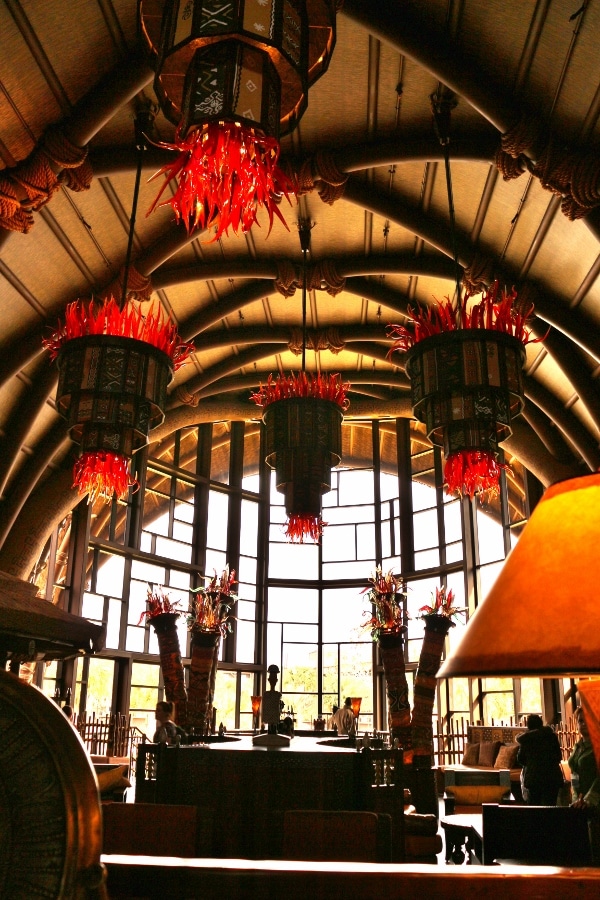 Animal Kingdom Villas - Kidani Village lobby during the day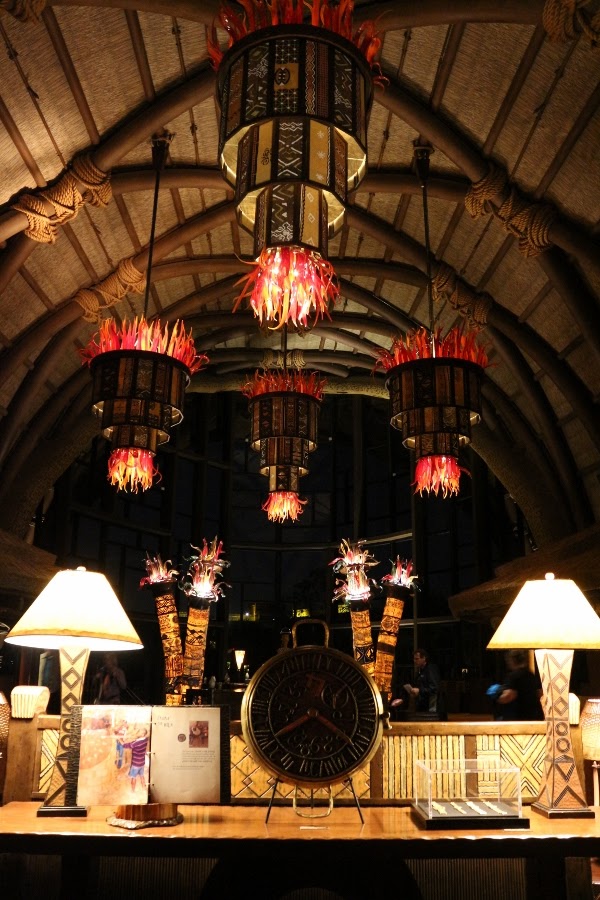 Animal Kingdom Villas - Kidani Village lobby at night
On this most recent visit, however, we decided to splurge. We were actually able to rent Disney Vacation Club points (kind of like a Disney timeshare program) from a member and use them to spend four nights in a Deluxe Studio at the Animal Kingdom Villas - Kidani Village.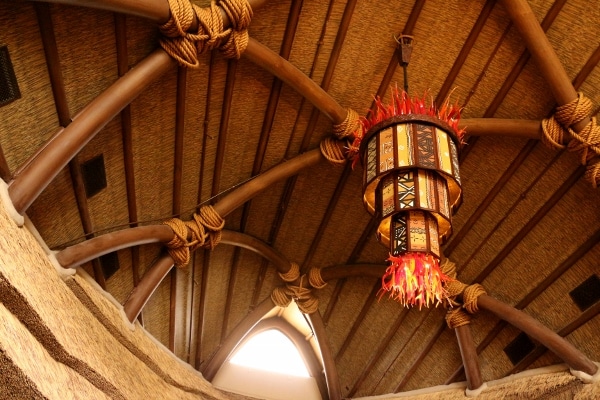 There are a lot of pluses to the decision we made. One: it's a Deluxe Resort. These can be very expensive, and by utilizing the ability to rent points, we actually were able to stay here much cheaper than if we had simply rented a room directly through Disney.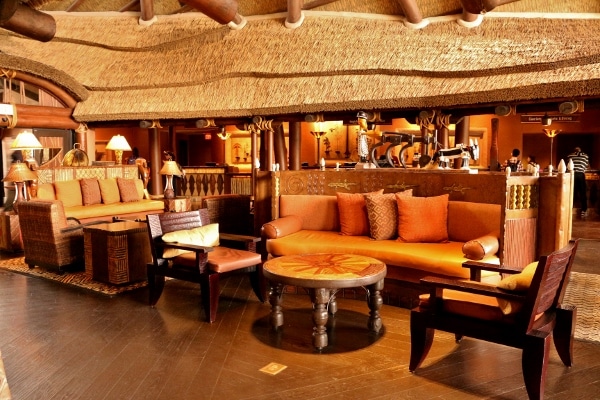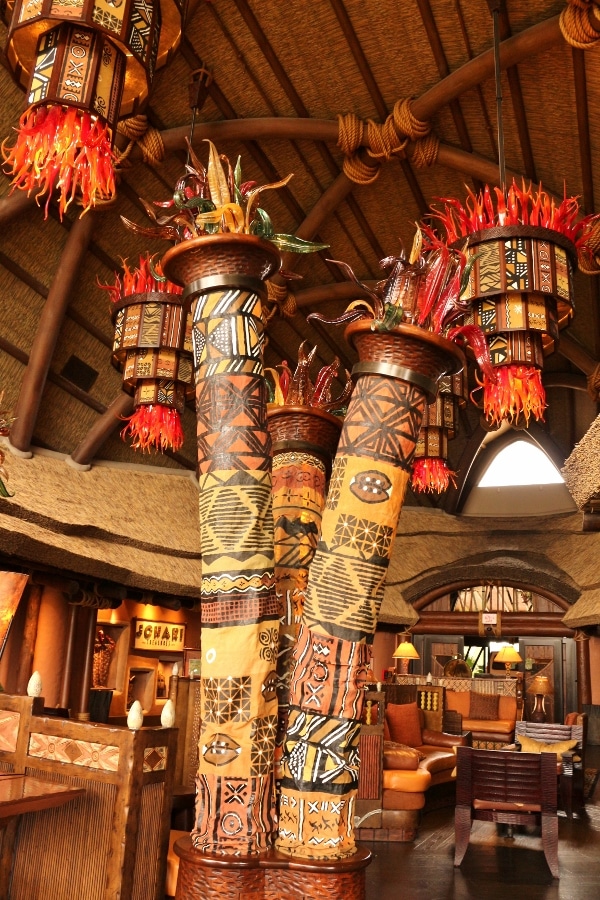 Two: when you stay in a villa, they are priced by room, not by the number of people, so the price doesn't change regardless of how many people are staying in the room. We traveled with a couple of friends who didn't actually stay in the room with us, but we were able to put their names on the room at no extra charge so that we could all utilize the perks of staying on site (Extra Magic Hours, etc).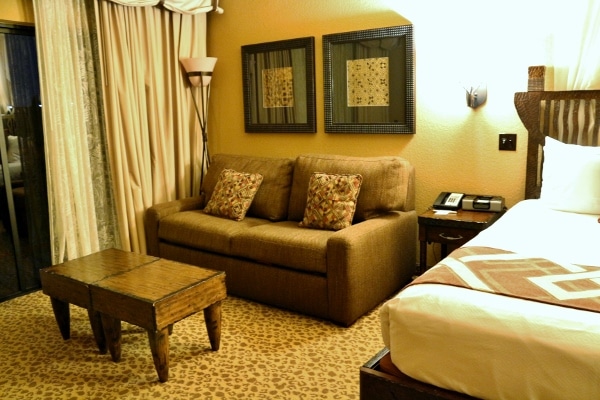 The sofa bed allows the room to sleep up to 4 people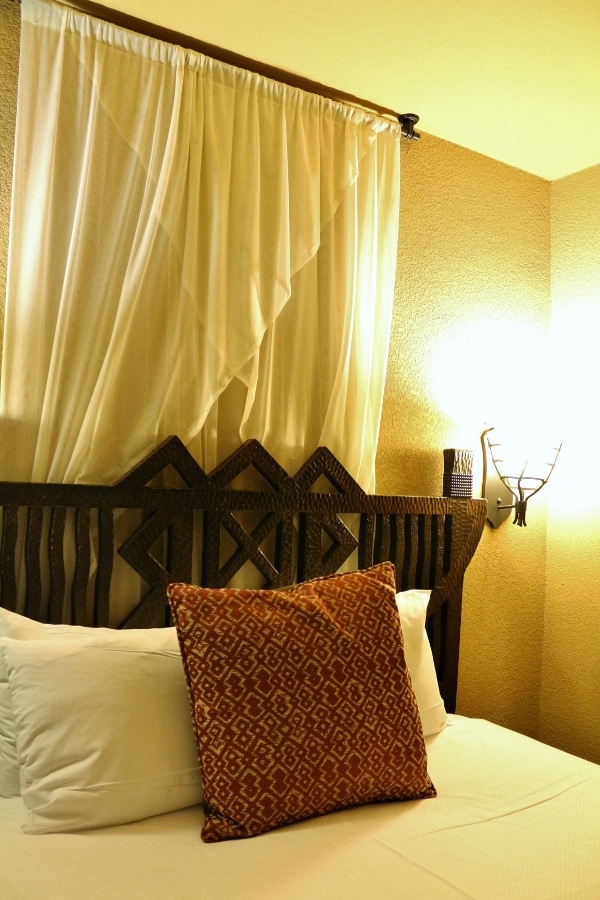 Mosquito netting adds a bit of African flair
Three: because the rooms are villas (essentially suites), not only are they more spacious, but they also contain kitchenettes (or full kitchens for the one bedroom and larger villas), which are not found in standard resort rooms. What does that mean? We had access to a microwave and toaster in our room, in addition to the obligatory coffee maker and mini fridge which I believe all rooms include.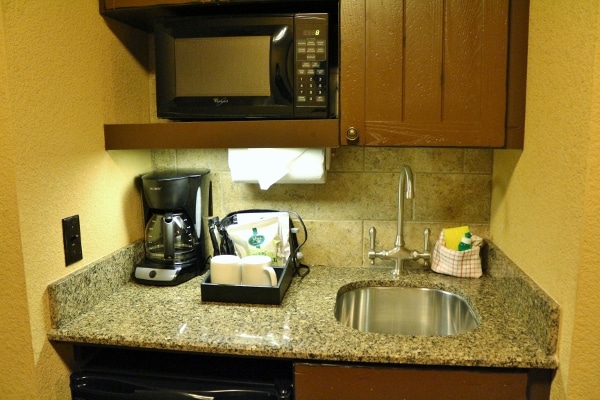 This allowed us to occasionally make Pop Tarts for breakfast, and even heat up leftovers from previous meals. The one downside to using points to book is that they don't service the room daily (changing towels, making the bed, taking out the trash, etc), but this was really not an issue for us at all.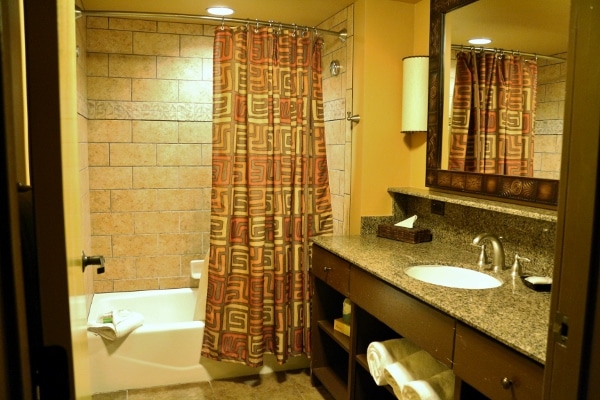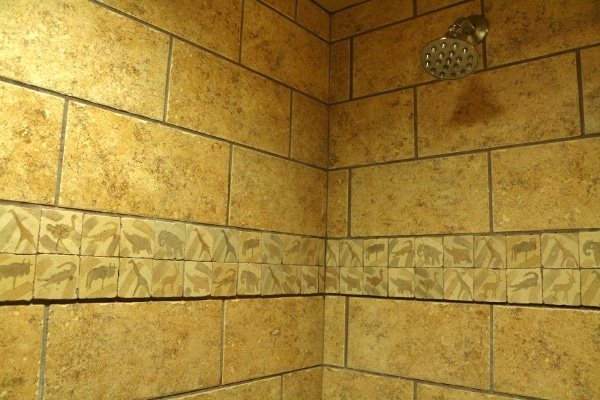 I love the animal tiles in the shower!
Four: the Animal Kingdom Lodge (and in this case Villas) has pretty much been on our bucket list of Disney resorts for a really long time. It has the most exciting theming, with authentic African artwork and artifacts, and perhaps its most thrilling feature is the glorious savanna views (they cost a premium, but are worth it).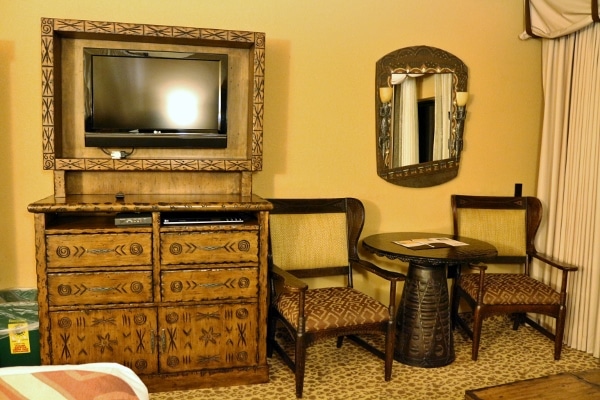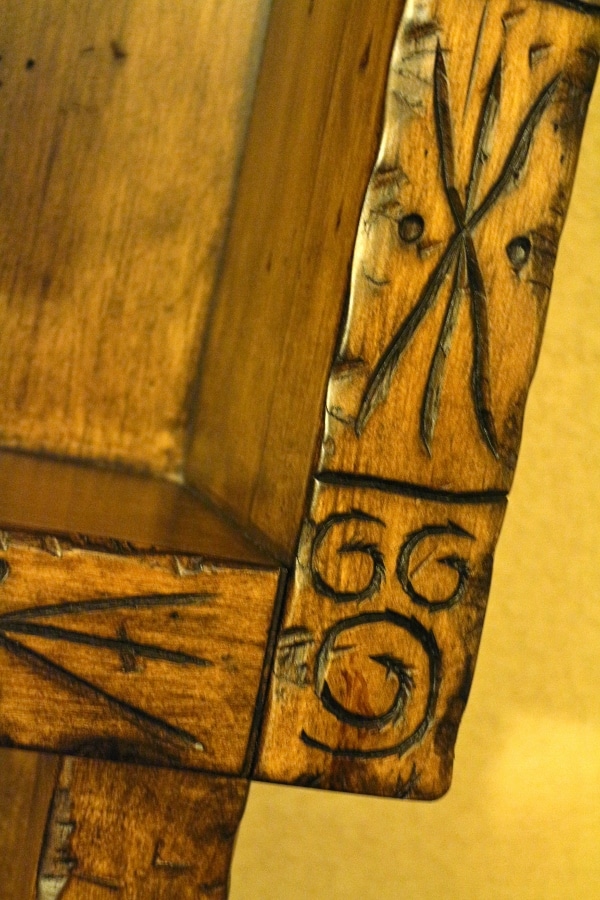 Hidden Mickey!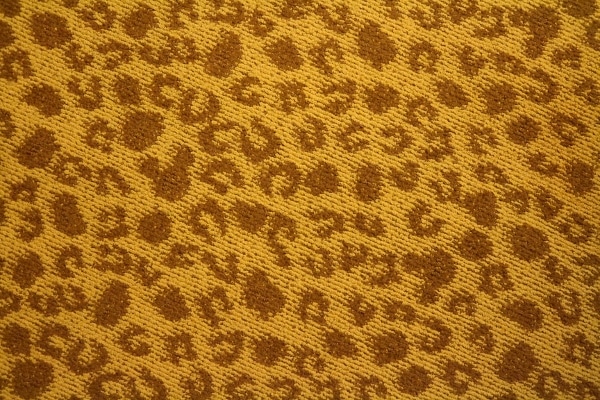 Love the animal print carpeting--complete with hidden Mickeys!
Five: if you're a resort guest at Animal Kingdom Lodge (both Jambo House--the main, larger resort--and Kidani Village), there are a lot of special tours and experiences that are only available to you! One of the perks we got to experience as guests of the resort involved borrowing night vision goggles to watch the animals in the savanna in the dark.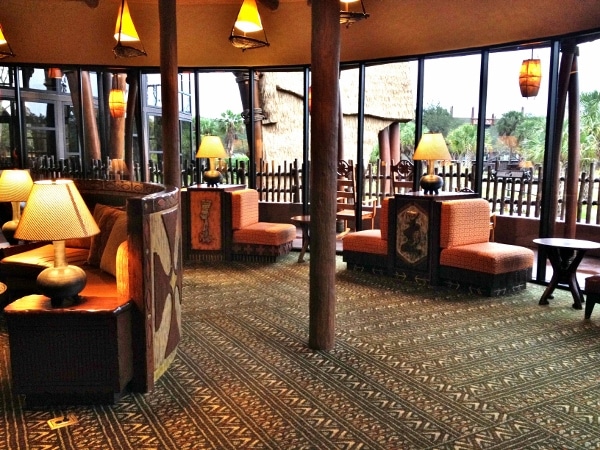 Communal sitting area in the resort with great views of the savanna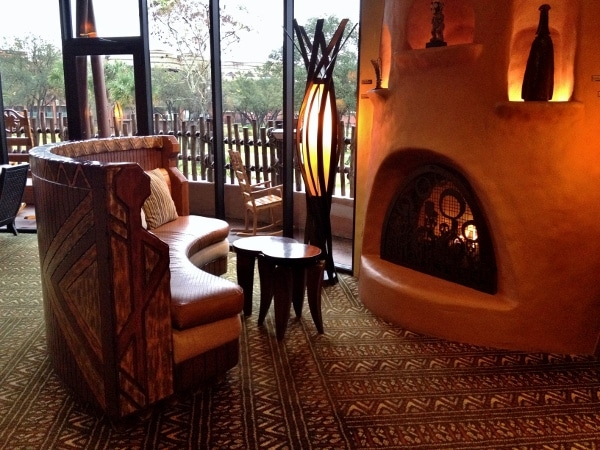 It also features a fireplace!
The resort also offers a night vision safari as well as a Wanyama (or sunset) safari which also includes a tremendous family-style meal at Jiko, both at an additional price, and only for resort guests.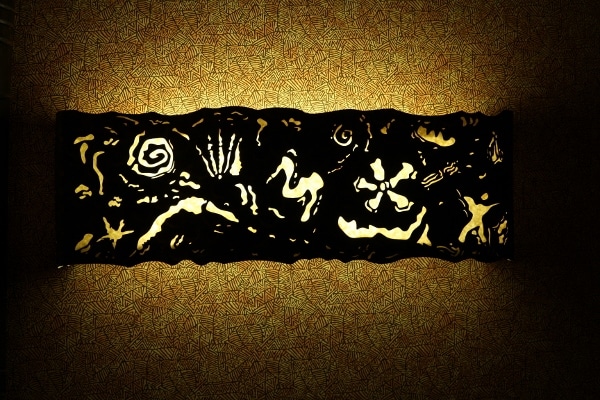 Awesome lighting fixtures in the hallways of the resort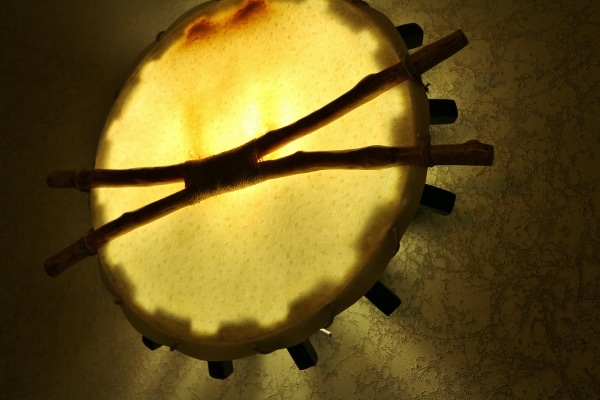 Another cool lighting fixture in the hallway
Six: Animal Kingdom Lodge actually features some of the best resort dining on the Disney property. The three main restaurants are Jiko, Boma, and Sanaa. We had the pleasure of dining at both Jiko and Sanaa during this most recent visit. I had dined at Jiko previously and absolutely love it.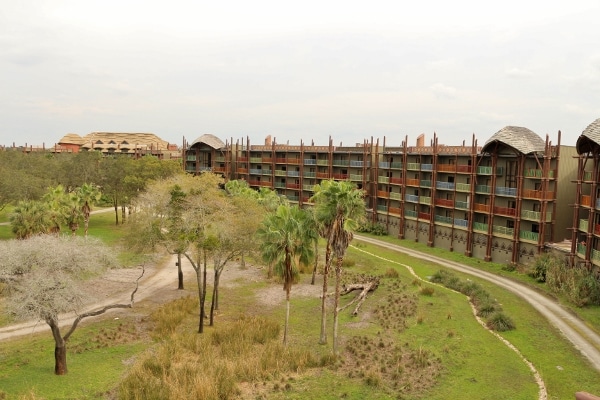 The view from our balcony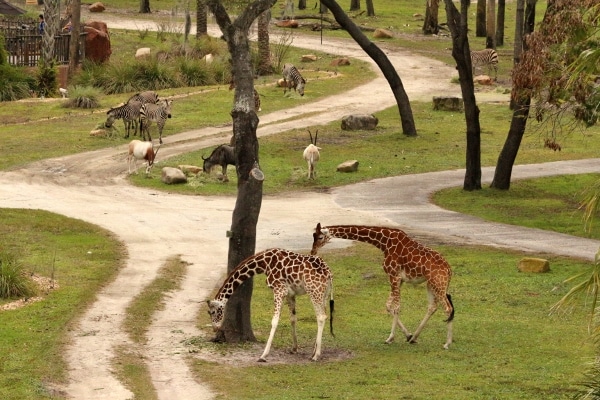 The view from our balcony
Jiko and Boma are located across from each other in Jambo House, the main Animal Kingdom Lodge resort building, while Sanaa is found in the smaller Kidani Village, just a short walk away. Jiko - The Cooking Place tweaks its menu periodically, so even if you've dined here before, chances are you will find different offerings or different preparations of your favorite dishes on a return visit (the short ribs are a great example of this).
Our most recent meal at Jiko began with their standard bread basket, which includes Jiko bread (a flaxseed focaccia) and Dabo (an Ethiopian honey wheat bread), served with Tandoori butter. In the past these breads were prepared in a more focaccia style and cubed up, but now the same breads are formed into rolls. I'm a fan of crust, so the rolls are a-okay with me.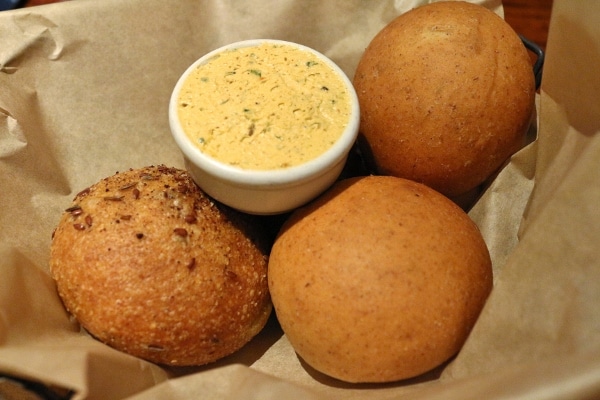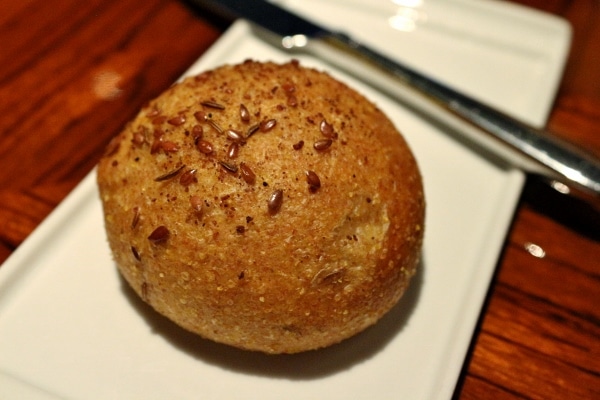 For a starter we selected the Crispy Duck Bobotie Roll. The bobotie rolls are a big favorite on the menu, and the filling has transformed many times over the years. The most recent includes ground duck and a whole lot of delicious, fragrant spices. Served with cucumber raita and green mango atjar, what is essentially an African-style spring roll quickly became another favorite dish of this Disney trip.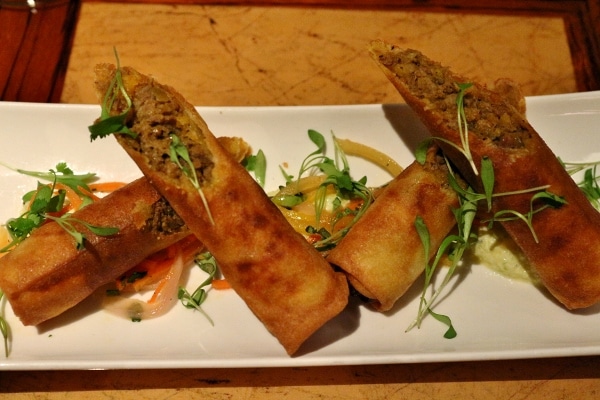 Crispy Duck Bobotie Roll $12
My sister obsessively orders the short ribs whenever she dines here, so on this visit it was the Botswana-style Seswaa Beef Short Rib served with cassava-potato puree, sambal, and mushrooms. She was a very happy camper, and I concur after stealing a bite of the fork tender meat. Definitely a great choice.
Botswana-style Seswaa Beef Short Rib $46
I ordered the relatively new-to-the-menu Piri Piri Snapper, served with truffled mealie pap (like a polenta), cauliflower, romanesco, and roasted tomato beurre monte. I preferred the Maize-Crusted Corvina from my previous visit, but overall was pleased with the snapper dish. I thought the fish was just barely overcooked along the edges, and although I love truffles, the mealie pap was flavored a bit too assertively.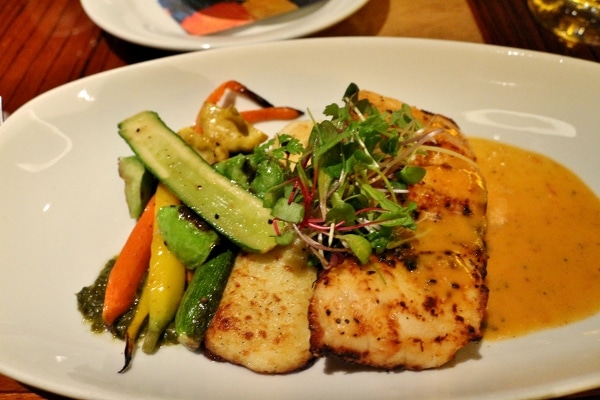 Piri Piri Snapper $45
We couldn't resist a side order of the famous Jiko macaroni and cheese. Although it features four flavorful cheeses, I felt that the mac was lacking a bit of salt. Just a bit more seasoning and the flavors of the cheese would shine even more.
Side of Macaroni and Cheese
As our meal reached completion, we were too full to order dessert. That didn't stop our fantastic server from bringing us a dessert sampler in honor of my sister's birthday. It includes Malva Pudding (toasted meringue, lemon curd, and wild strawberries), Avocado Custard Cake (blood orange kulfi, honey-sage sauce, and pumpkin brittle), and Ghanaian Chocolate and Kenyan Coffee Pot de Creme (almond creme with almond crunch and raspberries).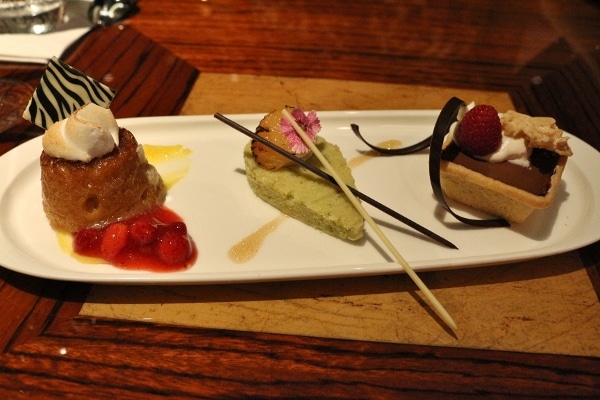 Each and every component is not only stunning, but uniquely delicious. The Malva Pudding was perhaps our overall favorite, with the fresh and light flavors, but I loved both of the other sweet treats as well.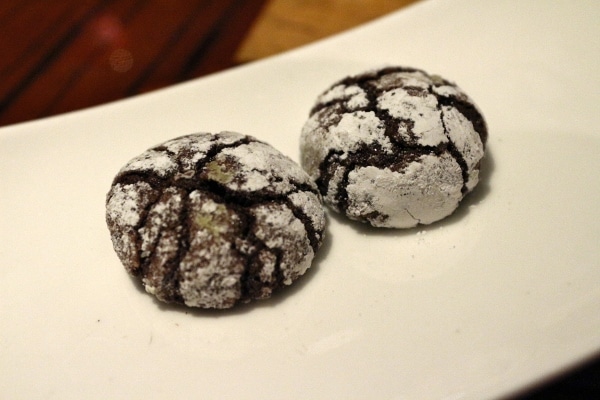 Along with our check, we also received a couple chocolate crackle cookies. Not a bad finish to a very satisfying meal.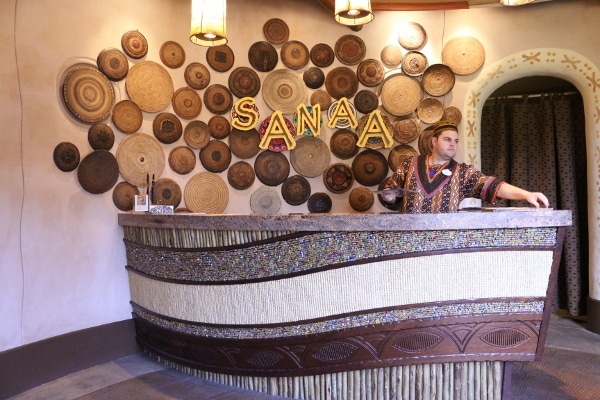 Hidden Mickey, anyone?
Later in our trip, we also had the pleasure of enjoying lunch at Sanaa, featuring "the Art of African Cooking with Indian Flavors." Sanaa has the distinction of featuring one of the best views of any Disney restaurant. Its windows overlook the Sunset Savanna at Kidani Village.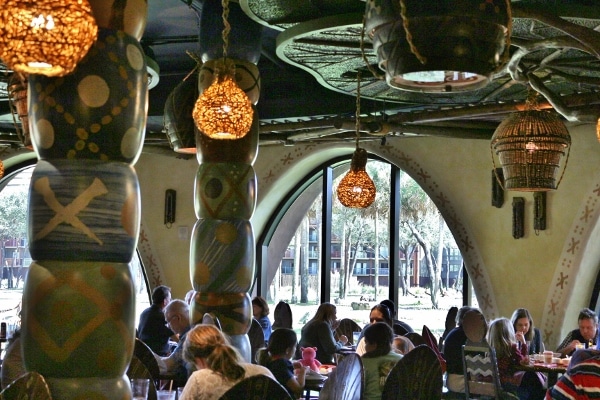 A prime table here at Sanaa may require a bit of a wait, but you can easily step outside and take in the same breathtaking view.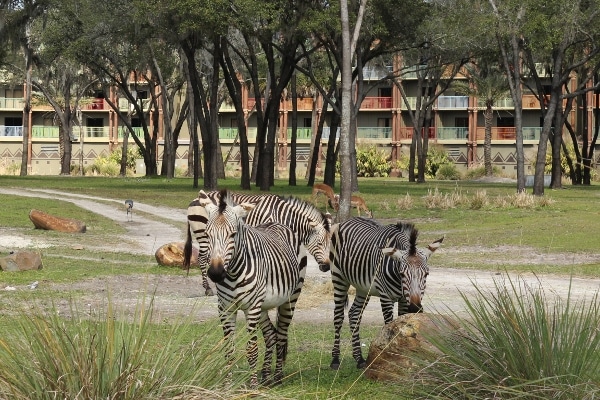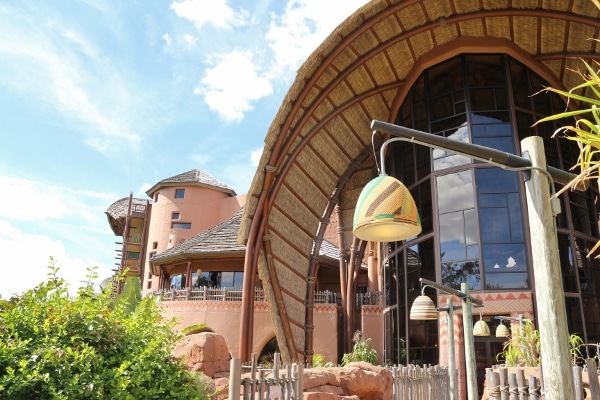 Outdoor space right outside of Sanaa
The menu at Sanaa is totally up my alley. I'm a huge fan of anything Indian, and the food here sways heavily in that direction.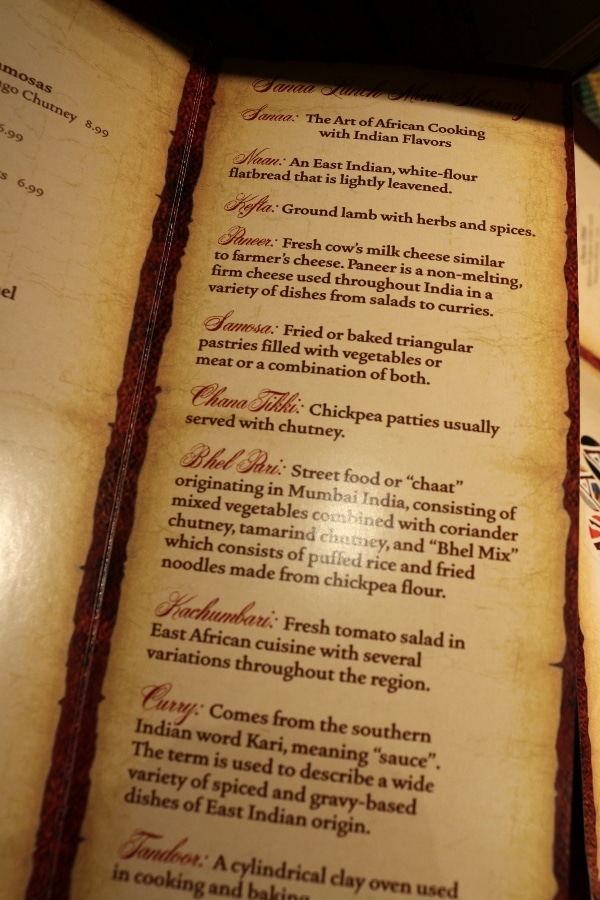 Indian terminology in the Sanaa menu
Lunch at Sanaa was actually our final meal of the trip, and we dined here right before heading to the airport. Our server was excellent in speeding up the food to make sure we didn't have any unfortunate delays.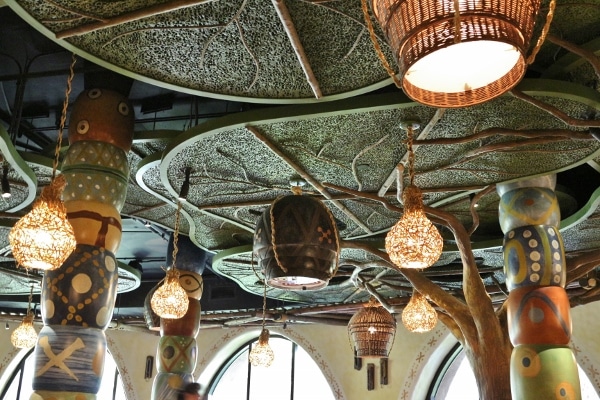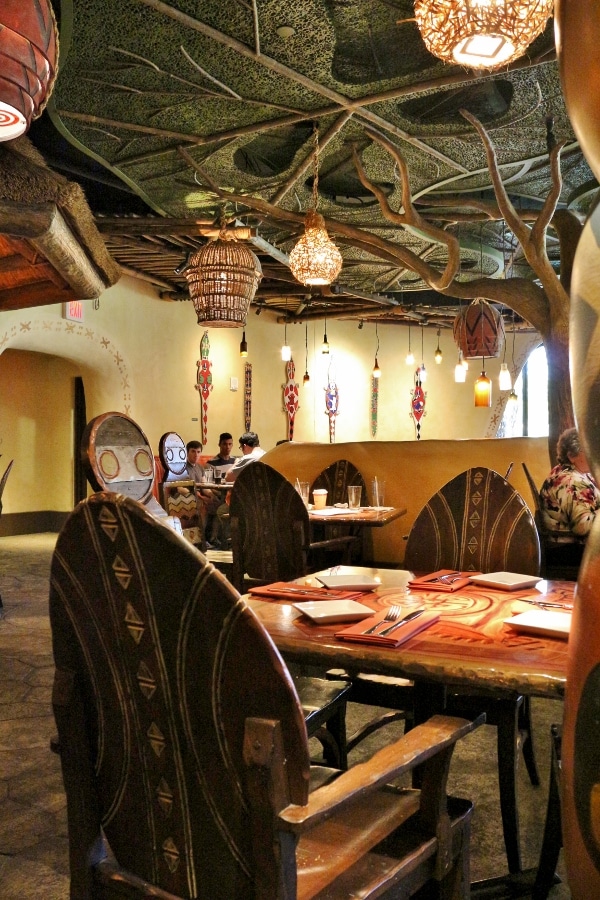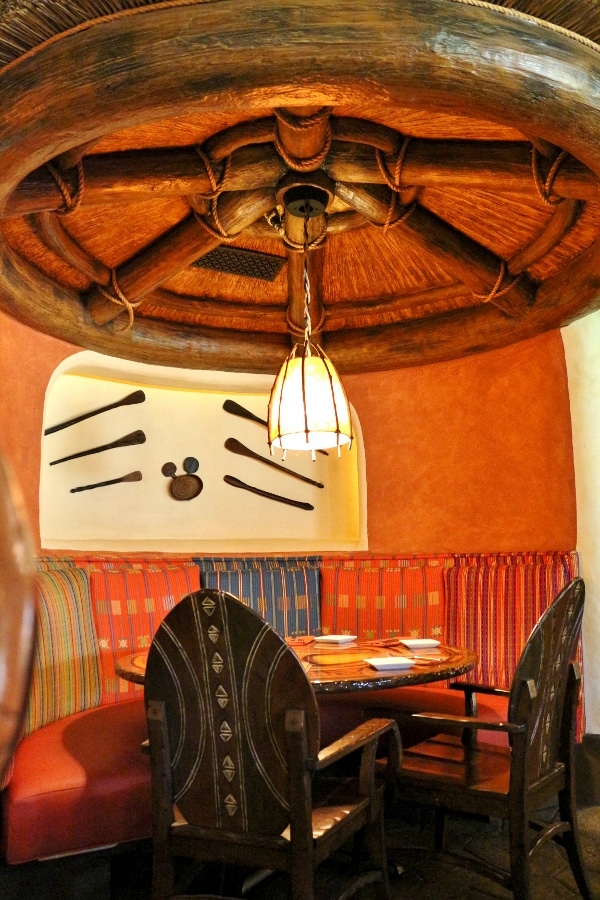 Can you find the hidden Mickey?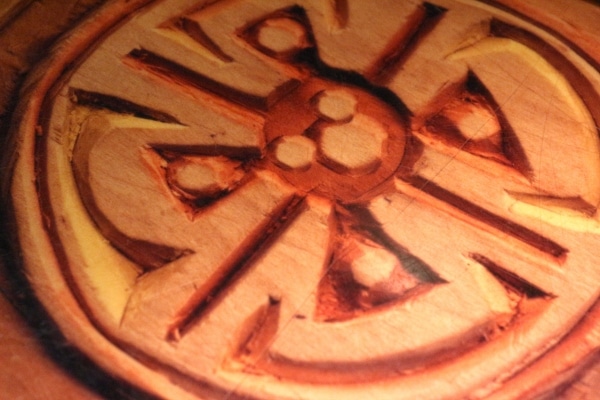 This hidden Mickey was right on our table!
There's probably no better way to begin a meal at Sanaa than partaking in their bread service. The service is not included in your meal, but rather is an extra which you can elect to order (I feel like most people do). You have a choice of three breads and either three accompaniments ($10.49) or all nine accompaniments ($12.99). You can also order extra bread for $2 each. We definitely took advantage of that!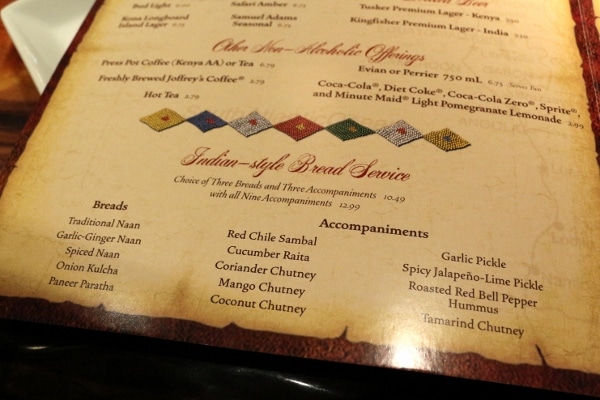 We decided to order the smaller version with the three accompaniments, and found that even then we still had leftover sauce available for the extra breads we ordered. We selected the red chile sambal, coriander chutney, and tamarind chutney. They ranged from spicy, to somewhat spicy yet herbaceous, to sweet. I liked combining the sauces together as well to see how they balance each other out.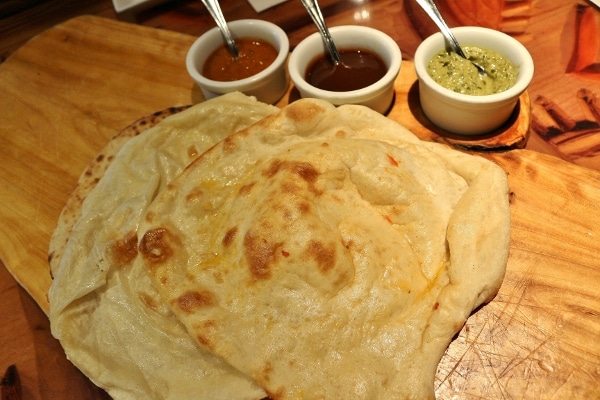 Bread Service $10.49
In addition to selecting the sauces, you also select your bread. We tried the spiced naan, garlic-ginger naan, and the onion kulcha. Again, they ranged in flavor from slightly spicy, to zingy and sweet, and finally to simple yet savory.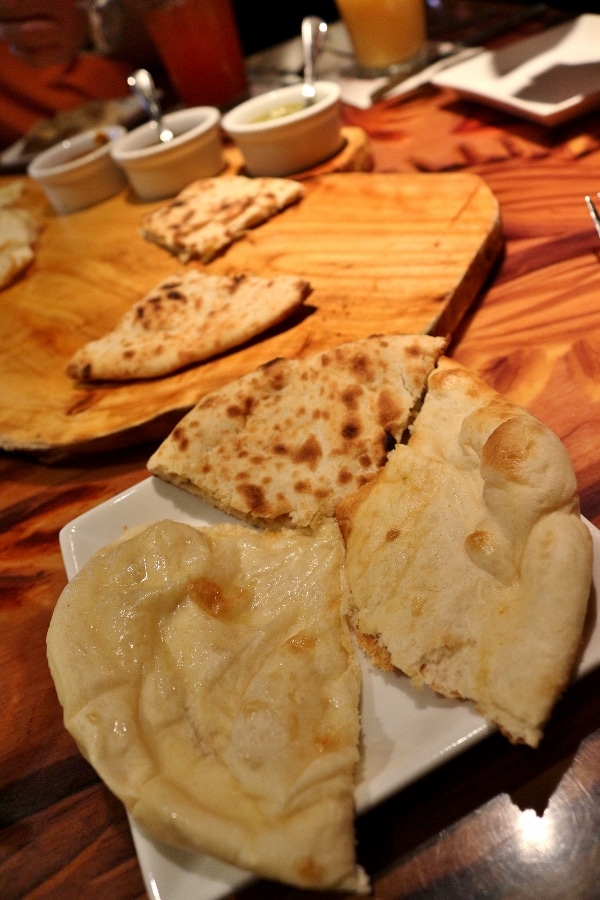 The most popular entrees at Sanaa have got to be the "Slow Cooked in Gravy" dishes. You pick two of the entree options, as well as a choice of rice--either basmati or five-grain pilaf. I've seen these options rotate periodically as well, so the choices we had may be slightly different than what is offered several months from now.
Spicy Durban Shrimp, Basmati Rice, Butter Chicken $23.99
Mix and match however you prefer. My choices include the Spicy Durban Shrimp and Butter Chicken with the plain basmati rice.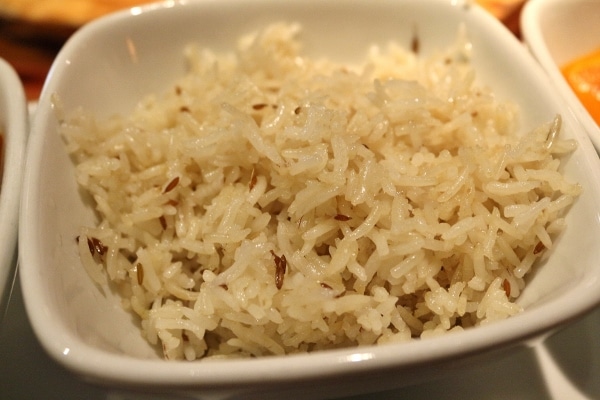 Simply perfect basmati rice is an excellent way to soak up the curry sauces
The Spicy Durban preparation has been used with chicken previously on the menu. I think I would have preferred it with chicken, but I was anxious to try it either way. It was definitely a spicy dish--thankfully I love spicy. With that said, it's a very flavorful spicy, and I would happily recommend it to anyone who enjoys a little heat.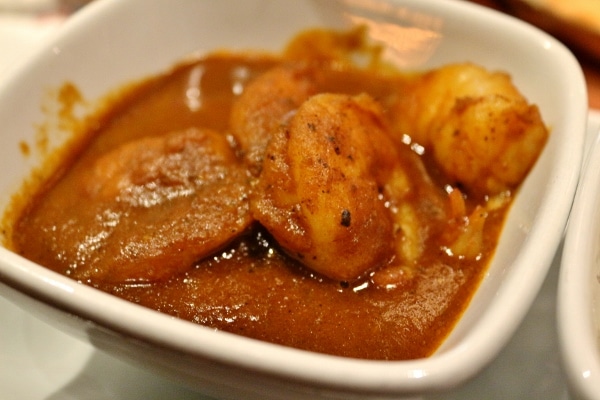 Spicy Durban Shrimp
The Butter Chicken is probably the most popular choice. It's fairly mild, and reminds me of a creamier, less spicy tikka masala. Next to my Spicy Durban Shrimp, the Butter Chicken definitely mellowed out my palate. People obsess over this Butter Chicken, and I can see why it's so deliciously lovable. And lucky for us, the recipe is available in the newly released Kitchen Magic with Mickey Cookbook.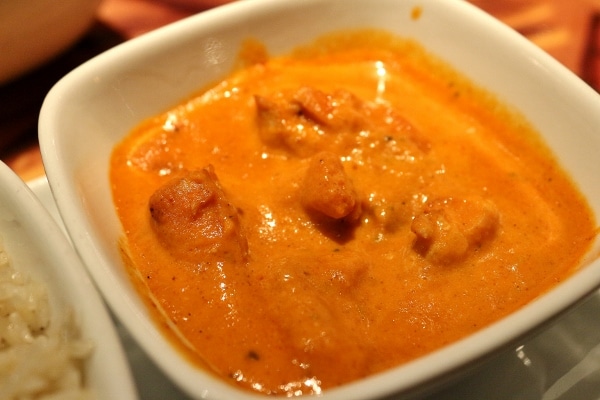 Butter Chicken
My sister selected the Chicken Vindaloo and the Beef Short Ribs. She enjoyed the spicy Chicken Vindaloo, but was concerned when one of her chicken pieces seemed a bit undercooked. With that one exception, she really loved the choice she made.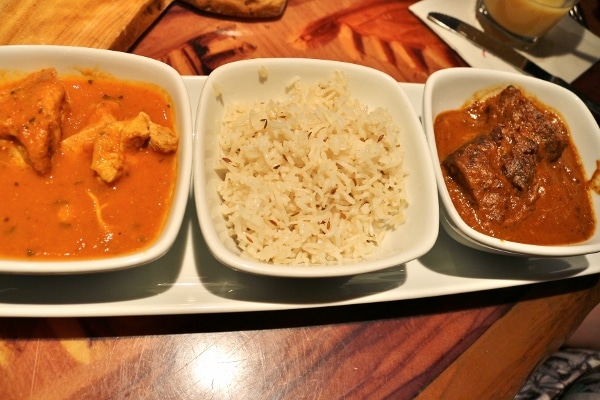 Chicken Vindaloo, Basmati Rice, Beef Short Rib $23.99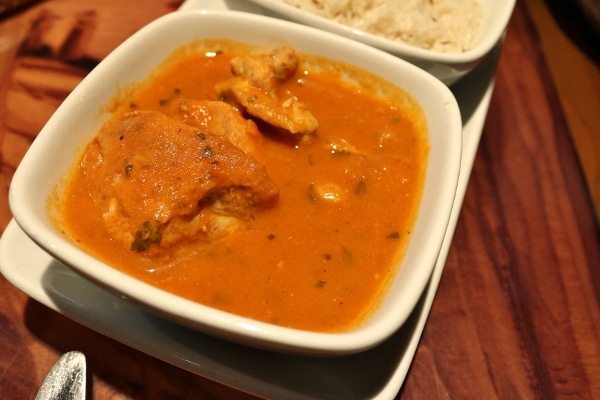 Chicken Vindaloo
The Beef Short Rib is a solid choice, and although quite mild (along with the Butter Chicken it's probably the most mild option), it's incredibly flavorful and supremely fork tender. I would definitely consider it for myself next time, and of the two choices my sister made, this was her favorite!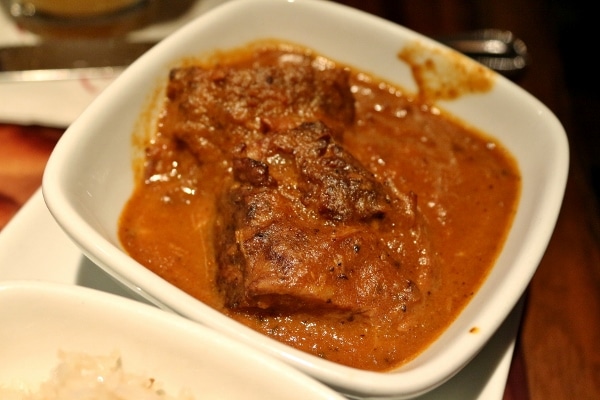 Beef Short Rib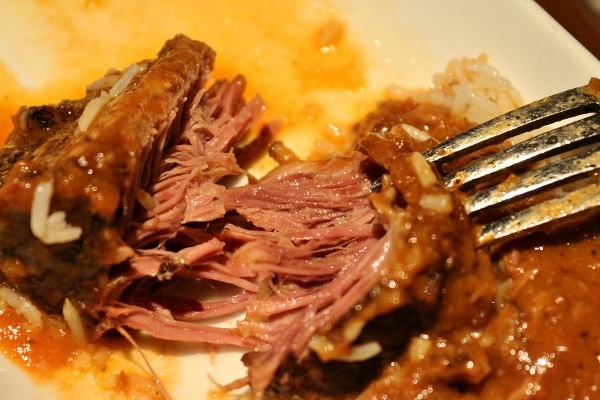 Once again, we didn't actually order dessert, but were presented with a sweet finale in honor of my sister's birthday. Pumpkin Kulfi, a denser version of ice cream, was a great way to cool off our palates after enjoying some spicy food. It features a cranberry sauce, giving it an almost Thanksgiving-inspired flavor profile.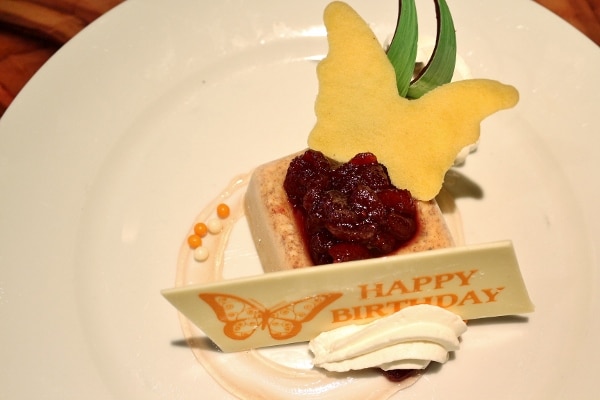 Pumpkin Kulfi Sundae $5.49
I highly recommend the Animal Kingdom Lodge both as a resort and also for its fantastic restaurants. Jiko and Sanaa are fast favorites, with so much flavor packed into their African-themed menus. Best of all, you can visit these restaurants even if you're not a resort guest. If you enjoy eating outside of the box, please consider either of these options during your next Disney World trip.
Animal Kingdom Lodge
2901 Osceola Pkwy
Lake Buena Vista, FL 32830
(407) 938-3000
https://disneyworld.disney.go.com/resorts/animal-kingdom-lodge/
https://disneyworld.disney.go.com/resorts/animal-kingdom-villas-kidani/
Jiko - The Cooking Place
2901 Osceola Pkwy
Lake Buena Vista, FL 32830
(407) 938-4733
https://disneyworld.disney.go.com/dining/animal-kingdom-lodge/jiko-the-cooking-place/
Sanaa
2901 Osceola Pkwy
Lake Buena Vista, FL 32830
(407) 938-7400
https://disneyworld.disney.go.com/dining/animal-kingdom-villas-kidani/sanaa/