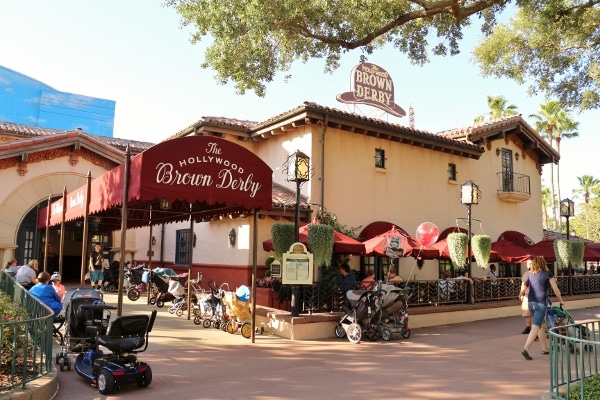 In 1955, "I Love Lucy" aired an episode entitled "Hollywood at Last" which featured a scene were Lucy and the Mertzes dine at the Hollywood Brown Derby. It results in a hilarious conclusion where William Holden gets a pie in the face. Ever since I saw this episode of "I Love Lucy" years ago, I've been fascinated by the Hollywood Brown Derby. I've even made the famous Grapefruit Cake!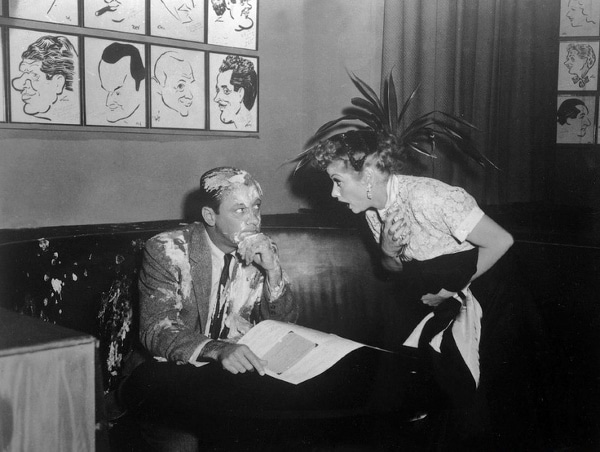 For years I've wanted to try the Hollywood Brown Derby located at Disney's Hollywood Studios. It's an authentic replica of the original in Hollywood, and even contains the original celebrity caricatures that made it so famous, along with its glamorous clientele. Some of the Derby's most well-known dishes still grace the menu, such as the
Cobb Salad
and the Grapefruit Cake.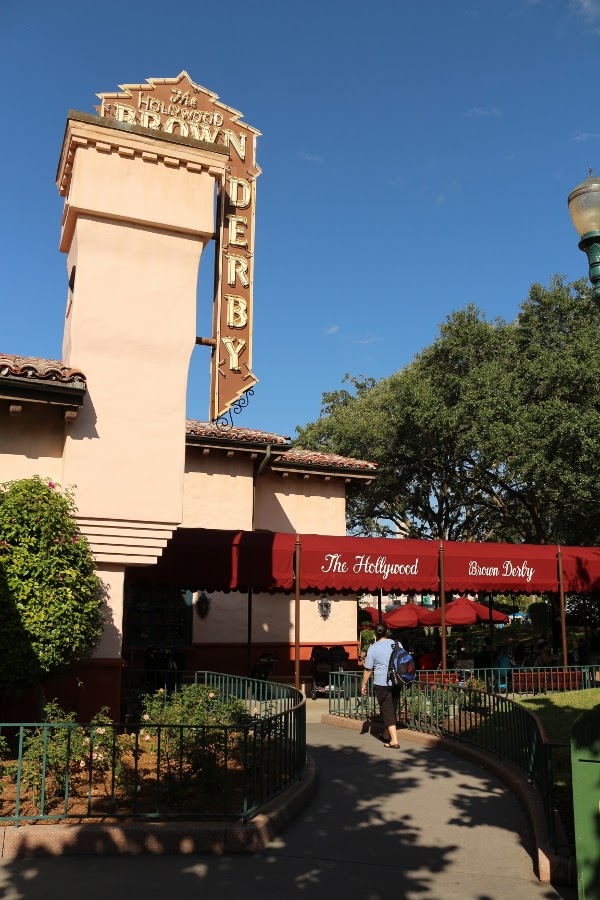 When you enter the Hollywood Brown Derby, you definitely feel like you've stepped back in time (I even spotted some pay phones! Remember those? Haha). There is an old map of Hollywood hanging in the waiting area, with the two original Brown Derby locations highlighted.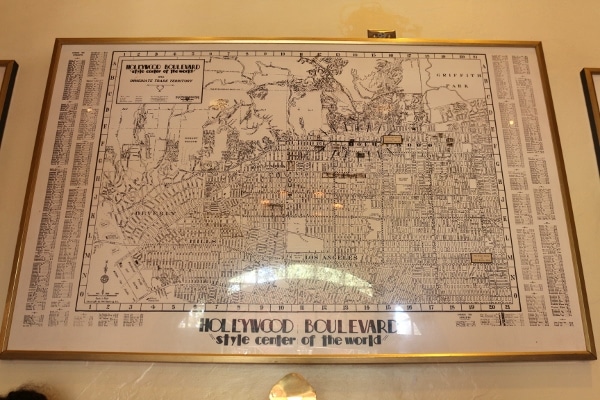 There are also several celebrity caricatures gracing these walls, a bit of a preview to what can be expected once you step foot into the dining room.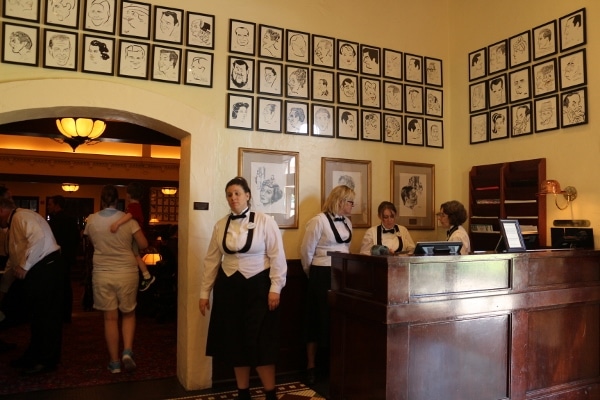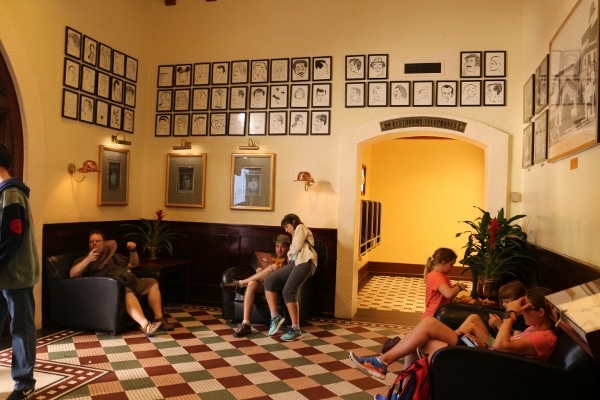 I definitely got that warm, fuzzy feeling when we were seated at our table. Looking all around the room, it definitely feels like old Hollywood.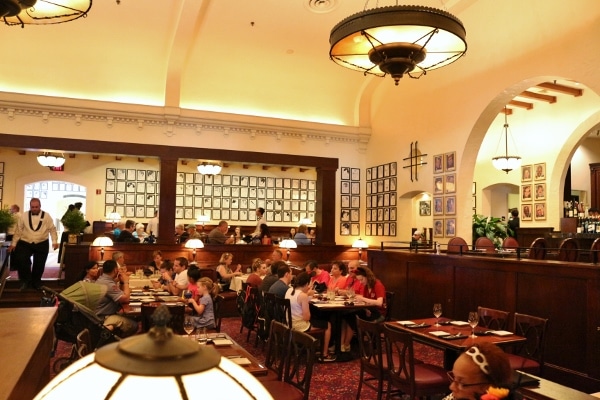 Between the dark brown wooden accents and upholstered booths, to the cream-colored walls, retro-looking lamps and ceiling lights, the dining room feels cozy and comfortable, yet glam and chic.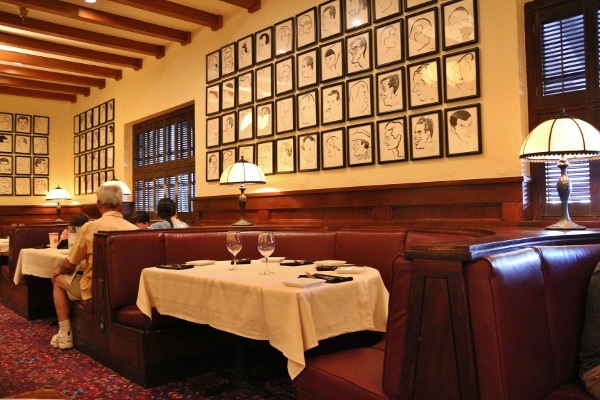 The sheer number of caricatures on all the walls makes me giddy! I really wish I could have spent the day wandering around the restaurant seeing what faces I could recognize. I did spot John Wayne near our table!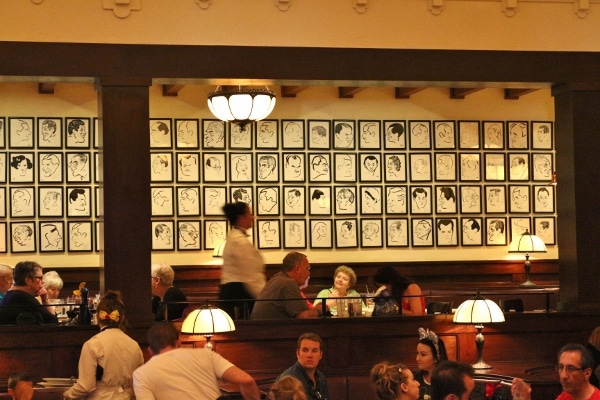 The Hollywood Brown Derby is a Signature Restaurant at Disney, meaning it's price point is higher than most, and if you're using a Disney Dining Plan, this will count for two table service meals instead of one. The menu is reflective of that, and is definitely worthy of the stars gracing the walls.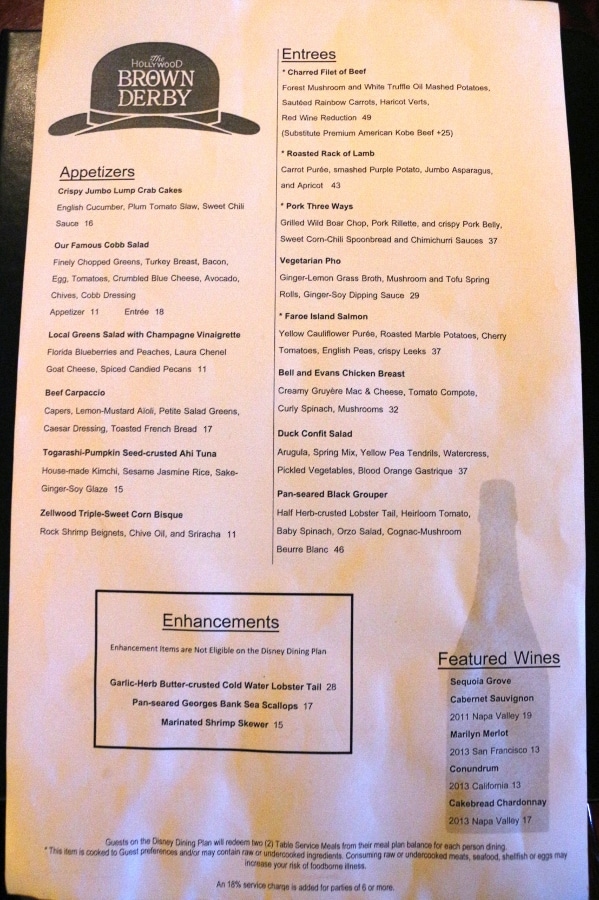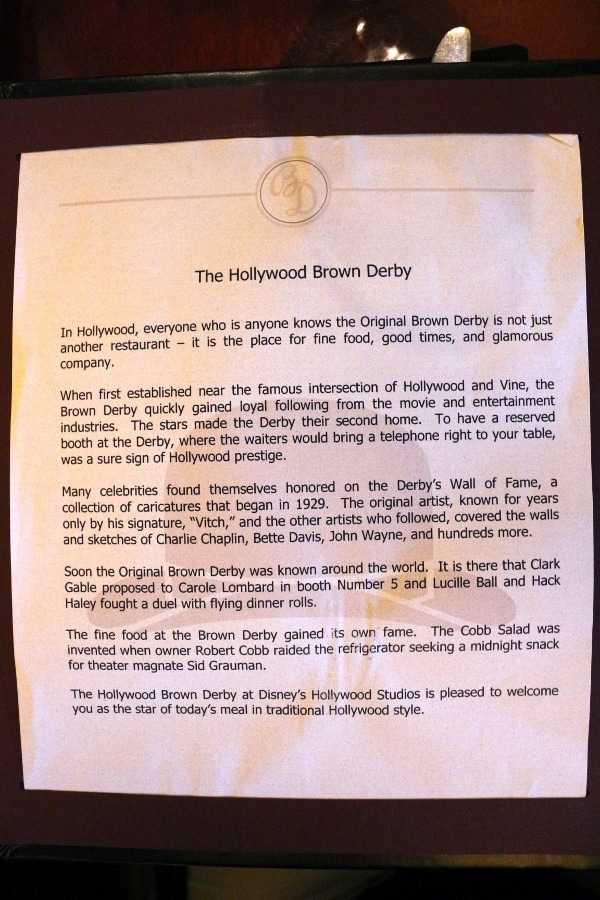 Our meal begins with warm rolls and whipped butter topped with a sprinkle of red salt. As always, irresistible.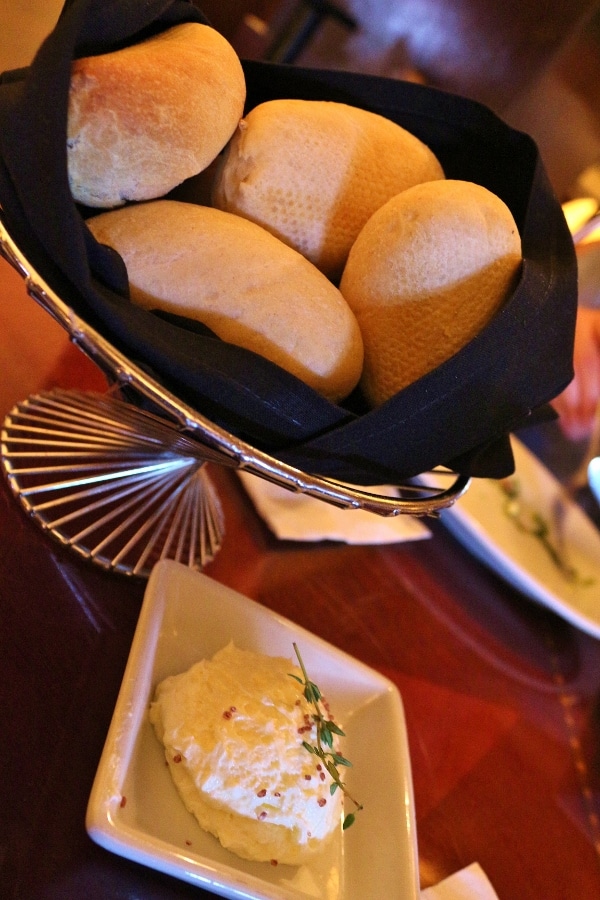 We absolutely had to split a Cobb Salad to start. You can get either an appetizer or entree portion, but we went with the smaller of the two. It features finely chopped greens (and they're not kidding when they say that; the greens are FINELY chopped, like parsley), turkey breast, bacon, hard-boiled egg, tomatoes, crumbled blue cheese, avocado, chives, and Cobb dressing. Cobb Salad has been one of my favorite salads for years, and I was so thrilled to begin my meal with the original version of it at a replica of the restaurant where it was first created.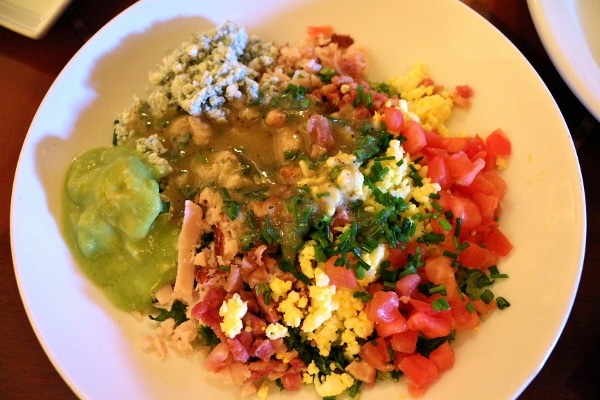 Cobb Salad (appetizer) $11
My sister selected the Charred Filet of Beef as her entree. It is meant to be served with forest mushroom and white truffle oil mashed potatoes, sauteed rainbow carrots, and haricots verts, with a red wine reduction. She asked if the mashed potatoes could be swapped out for the creamy gruyere mac and cheese which is a featured side on the Bell and Evans Chicken Breast entree. The kitchen was happy to oblige, and my sister received her customized dish.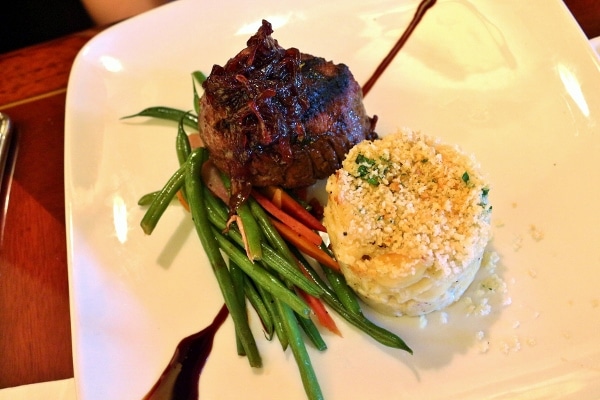 Charred Filet of Beef $49
The beef was an absolute perfect medium rare, so tender and juicy. It's topped with a sweet onion jam. The vegetables are crisp-tender and very nicely seasoned. There's some smoky, salty bacon hidden within the mac and cheese, which is made with orecchiette pasta, and serves as a wonderful accompaniment to the beef. She was beyond satisfied with this excellent entree choice.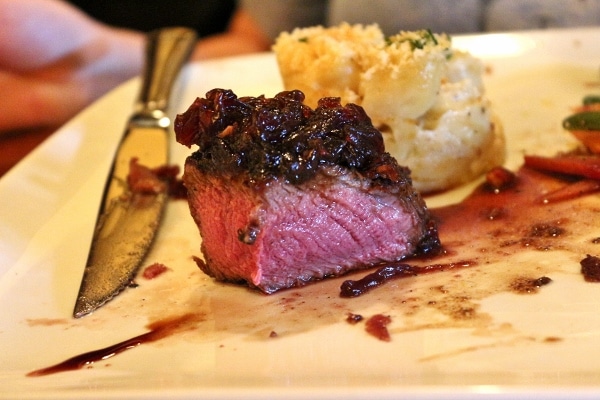 I went with surf to her turf for my entree. My Pan-seared Black Grouper is served with half an herb-crusted lobster tail, heirloom tomato, baby spinach, orzo salad, and a Cognac-mushroom beurre blanc.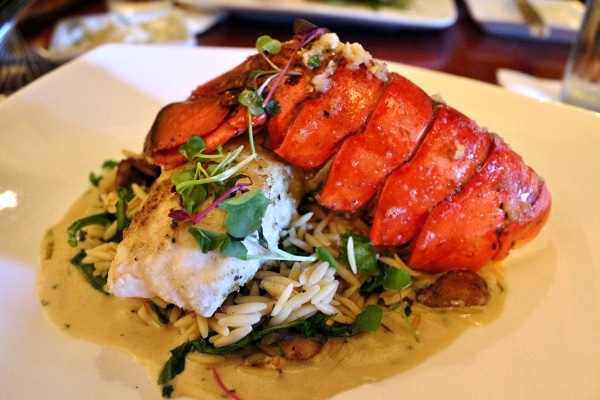 Pan-seared Black Grouper $46
Not only does the dish have a really gorgeous presentation, with the lobster meat mostly removed from the shell to ease the dining process, but all of the components are prepared immaculately. The grouper is nicely seasoned and perfectly cooked, yielding a juicy, melt-in-your-mouth fillet. Definitely no dry fish here!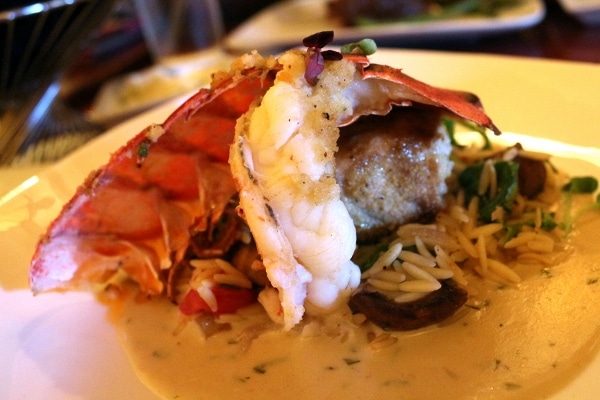 The lobster is delicate and tender. It easily elevates the dish, as lobster is known to do, and is a fantastic addition to an already stellar seafood entree. The orzo is a wonderful base for the fish, and between the baby spinach, the umami mushrooms, and all that creamy, delicious Cognac-mushroom beurre blanc, it's difficult not to lick your plate clean. All the flavors just sing. I was very impressed and very satisfied with my meal.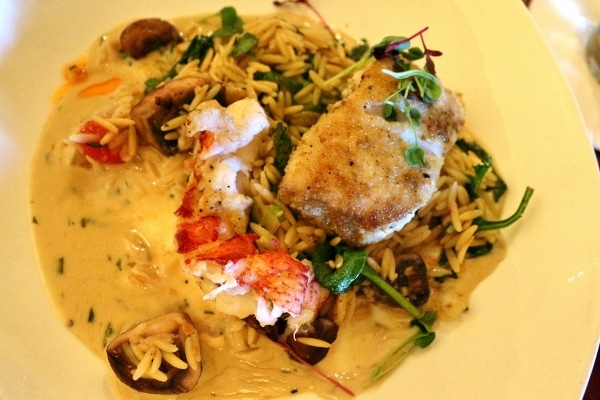 As much as we would have loved to indulge in dessert, we were about ready to call it a day at this point. We were actually having a belated birthday celebration on this trip (my birthday was in April), and so our wonderful server brought over a small sweet treat at the culmination of our meal. It was a silky chocolate truffle filled with orange cream (they call it cream even though it's not creamy--don't know why). Honestly, the filling didn't taste much like orange, but I still thought it was a lovely complimentary treat in honor of a celebratory occasion, and the chocolate was velvety smooth.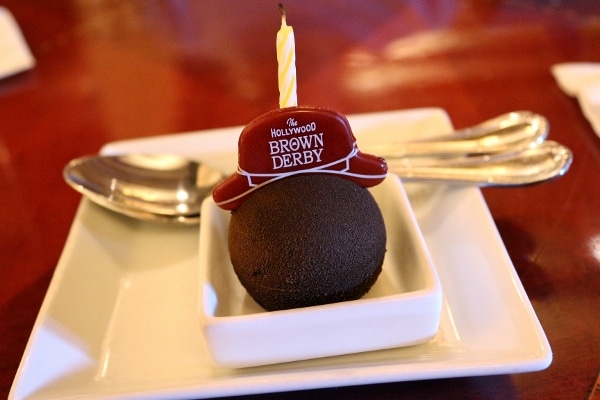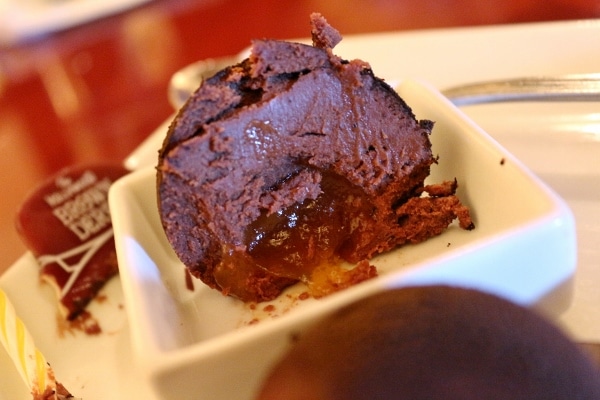 As we were exiting the dining room, I noticed some adorable recipe cards shaped like the Hollywood Brown Derby hat, featuring recipes for the Cobb Salad and the Grapefruit Cake. What a nice touch! I took one of each, even though I have these recipes in one of my older Disney cookbooks 🙂 It's a nice souvenir from our meal!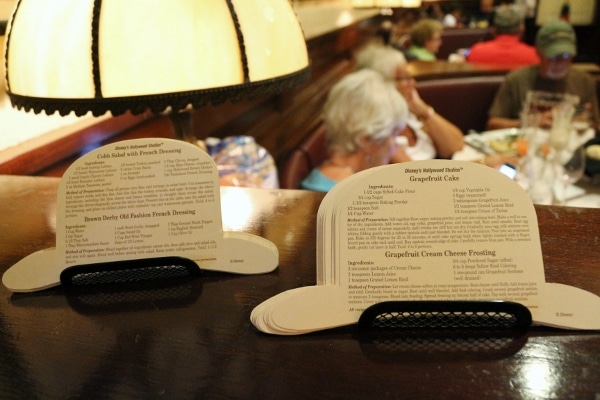 After many years of waiting, I was so pleased by my meal at the Hollywood Brown Derby. It definitely met my expectations both as a Signature Restaurant, but also as an ode to a beloved Hollywood classic. It's a spot I would happily return to again in the future.
The Hollywood Brown Derby
Hollywood Blvd
Disney's Hollywood Studios
Walt Disney World Resort