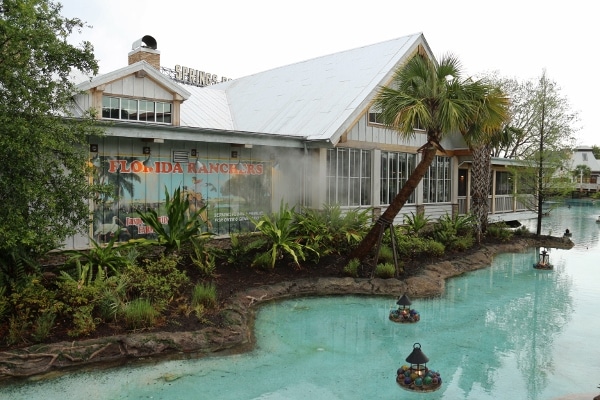 Out of all of our meals that we had planned for our recent trip to Walt Disney World, dinner at Chef Art Smith's Homecomin' was one of the top two meals on my most-excited-to-try list (the other was the afternoon tea at the Grand Floridian Resort's Garden View Tea Room--post coming soon!).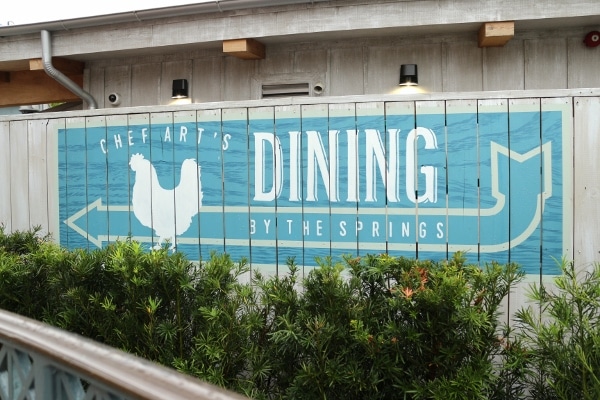 Ever since it first opened its doors on July 12, 2016 I have read nothing but rave reviews. Pretty much every single Disney dining experience seems to have some combination of positive and negative customer feedback (even if the positive tremendously outweighs the negative), and yet somehow Homecomin' has been that spot that just exudes perfection, surpasses all expectations, and lives up to all the praise out there. I honestly haven't read a single negative or even hesitantly positive review. Everyone seems to love this place, so obviously I couldn't wait to finally try it!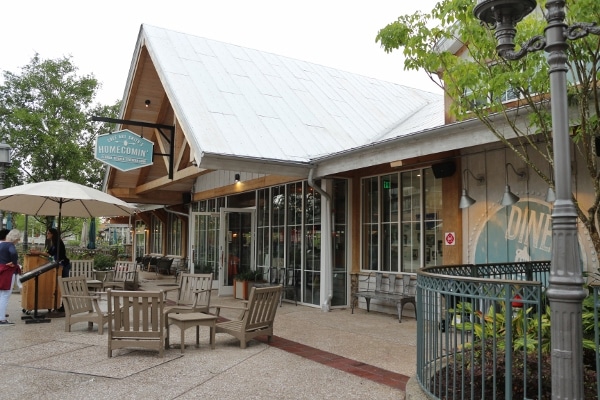 Chef Art Smith is the former personal chef to Oprah Winfrey. He pays homage to his home state of Florida with his hub of comfort food glory. Located in The Landing section of Disney Springs, the restaurant space is just as comfortable as the menu.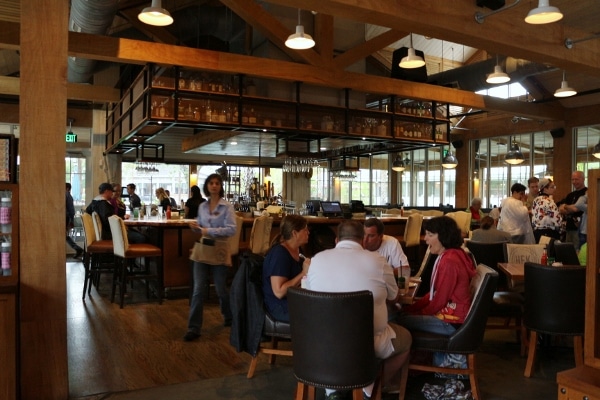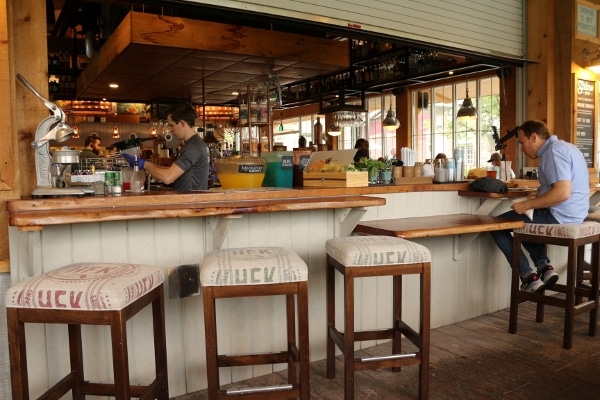 There's plenty of indoor seating with views of the centrally located shine bar, but there's also a fantastic screened-in porch overlooking the Springs.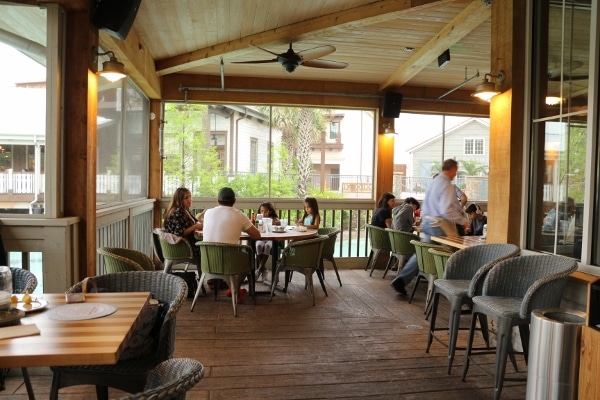 We were lucky enough to snag one of these tables-with-a-view.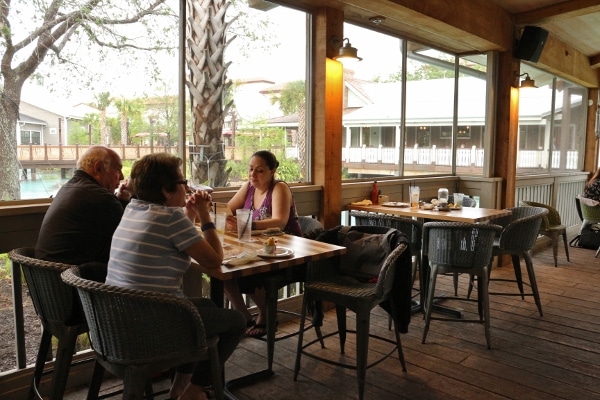 Our table...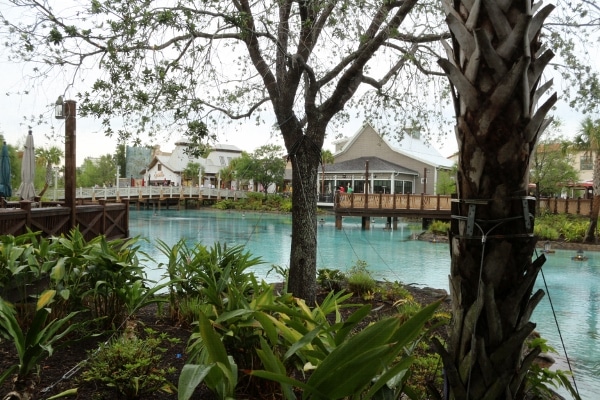 And our view!
Let's take a look at the various menus starting with some of the drink options. First of all, there are four "shines on tap," meaning four pre-mixed cocktails on tap featuring moonshine. They include Moonshine Margarita, Sweet Tea Shine, Blue Hooch, and Rumshine Punch, and they are all available in a couple different sizes.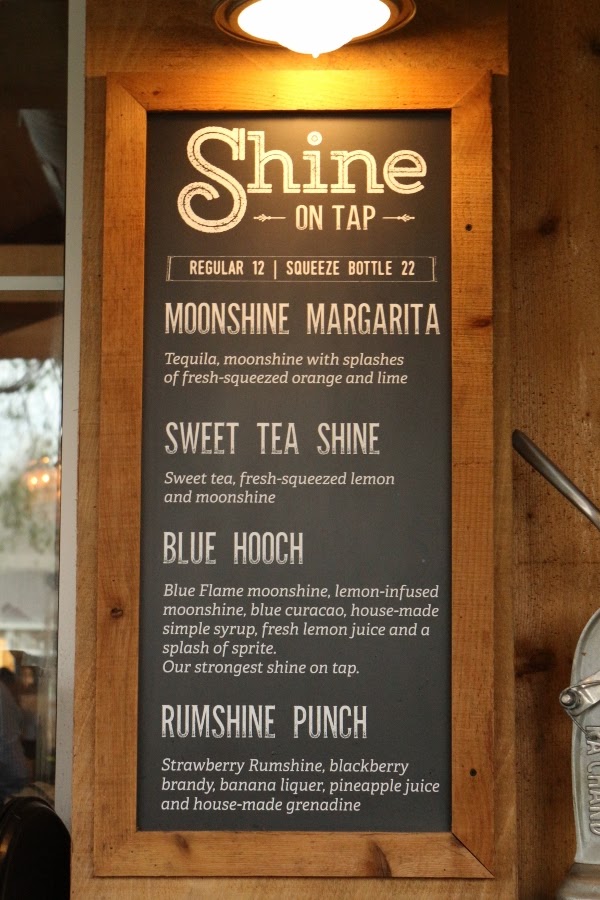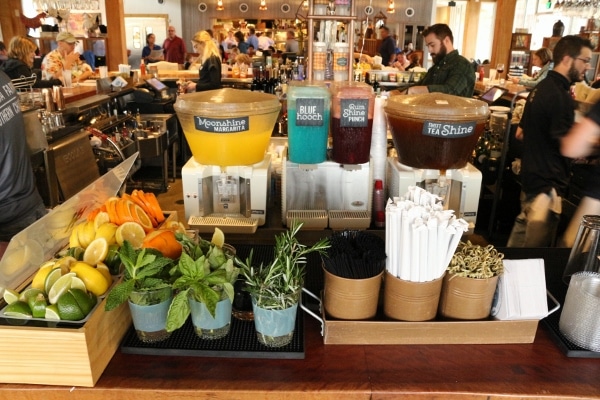 I decided to try out the Sweet Tea Shine, a combination of sweet tea, fresh-squeezed lemon, and moonshine. It was honestly reminiscent of an Arnold Palmer, and was quite refreshing, not too sweet, and not too strong-tasting. This is a great choice if you want something delicious but are afraid to try a drink that's heavily laced with moonshine. This has a nice balance.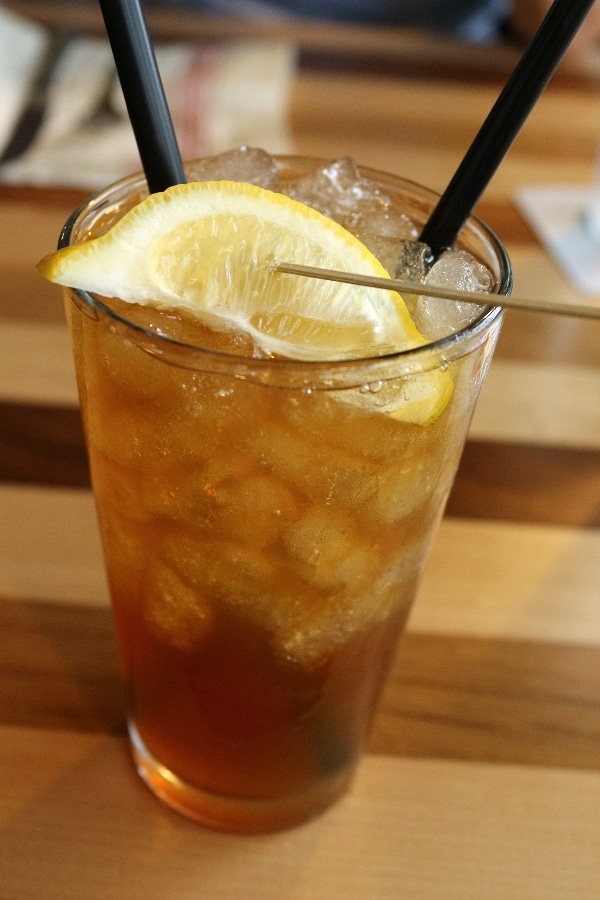 Speaking of moonshine, there's actually an entire moonshine menu! So if you're not a newbie like me, you can get your shine on quite easily with loads of moonshine options.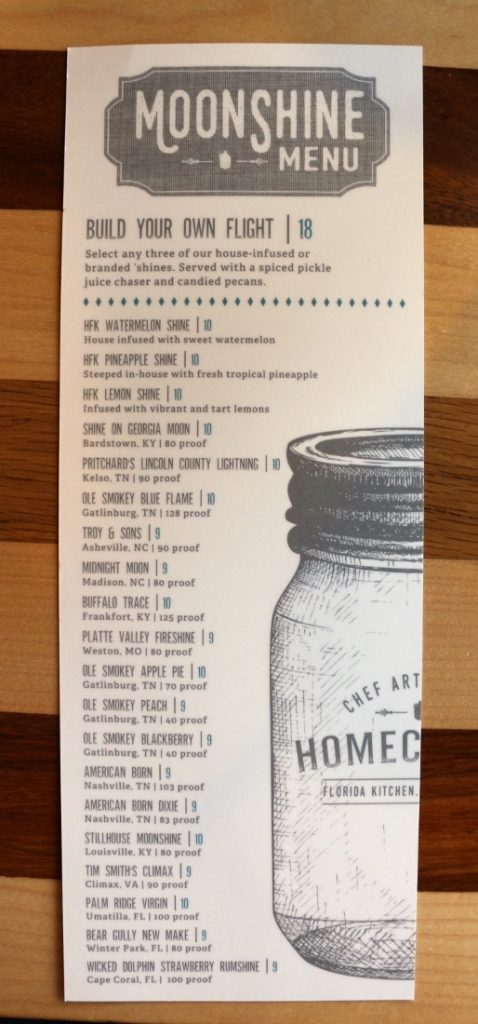 Moonshine ain't your thing? There's also a pretty significant whiskey menu available.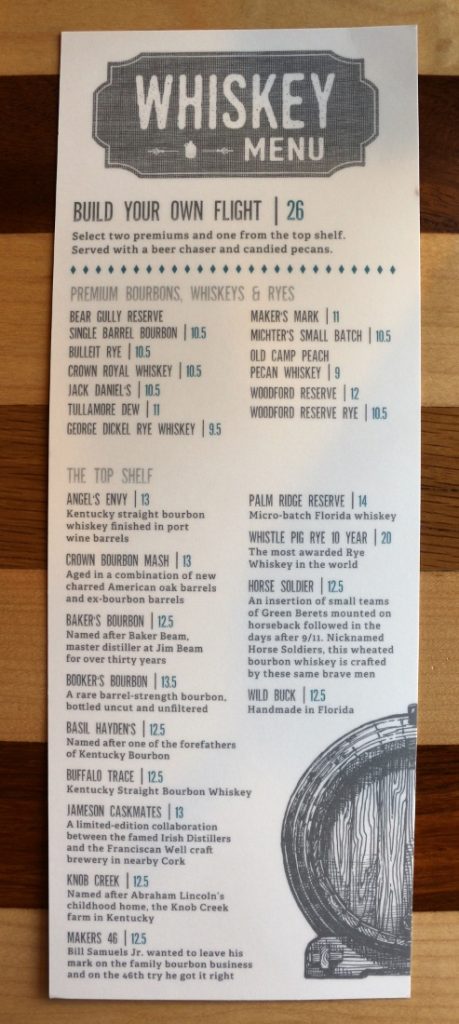 And here's the general drink menu (on the back of the food menu). It includes a few of the previously discussed drink items plus wines, beer, and additional made-to-order cocktails.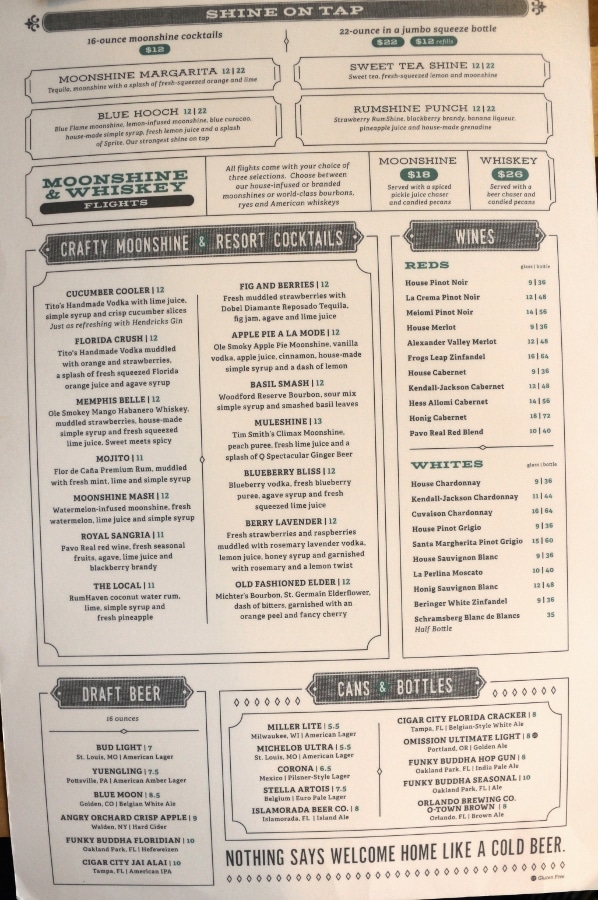 Before we peek at the food menu, check out these adorable his and hers coasters! Another fun detail that could easily be overlooked, but such a nice little touch.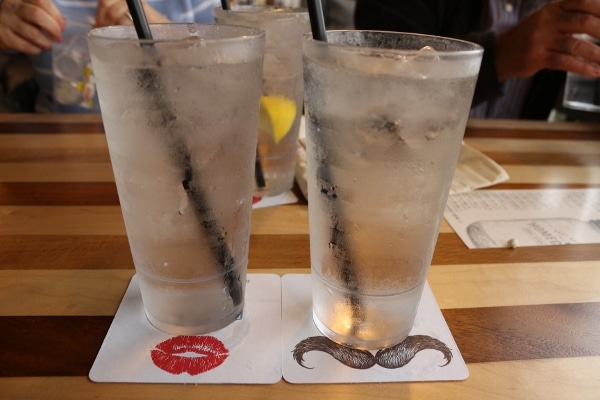 Alright, the best is yet to come! It's time for the main event, the food! Now, I had big dreams for this meal. Big dreams. In theory, I wanted to try as many of the menu items as I possibly could, however I knew that even with a party of four with big appetites, entrees mainly comprised of fried foods would fill our bellies pretty quickly. In lieu of appetizers before our already filling meals, we just went with entrees, however we did get an additional side to try. I'll start first with what the others ate.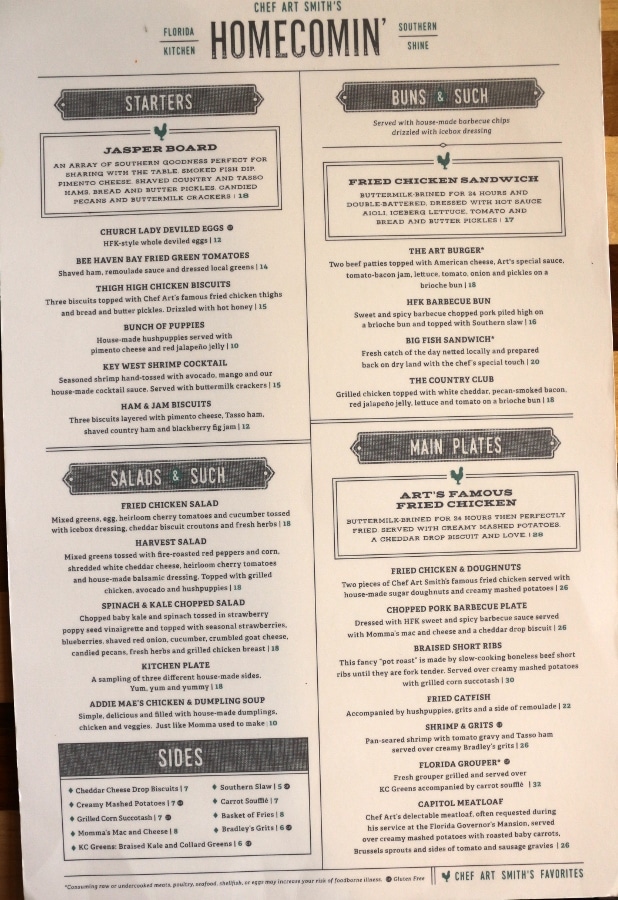 My parents both ordered the Fried Chicken Sandwich, which is buttermilk-brined for 24-hours, double-battered, fried, and served with hot sauce, aioli, lettuce, tomato, and bread and butter pickles on a buttery brioche bun. Normally it comes with house made BBQ potato chips, but they opted for one order of fries and one order of the corn succotash for a small upcharge.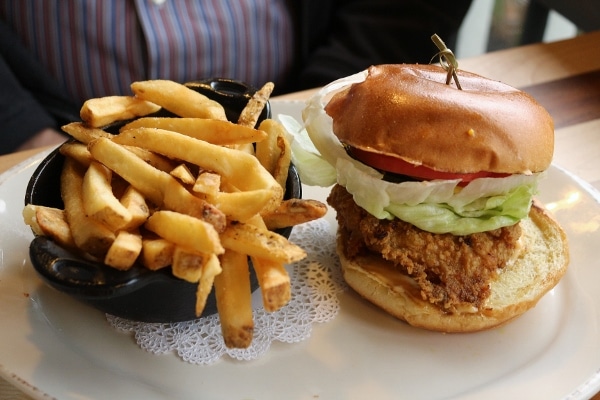 The chicken was loved all around, and was described as a juicy breast with a nice crispy exterior. The hot sauce didn't make the sandwich too spicy at all. In general, the sandwich was really well-balanced. The side dishes were also enjoyable. The succotash was very fresh and flavorful, and the fries were as expected.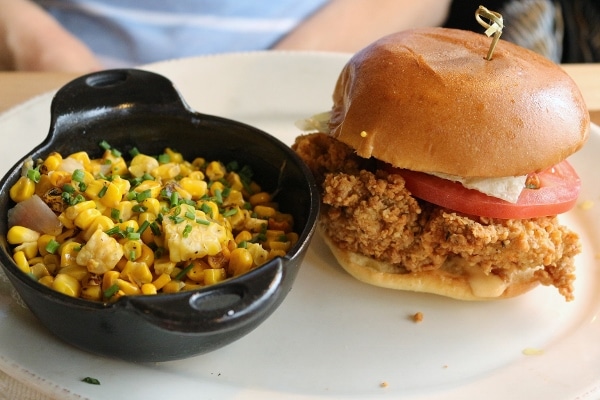 My sister and I both wanted to try Art's Famous Fried Chicken. It's served with a couple different options. The first is the entree named above, which includes 3 pieces of 24-hour-long buttermilk-brined fried chicken (a drumstick, a boneless thigh, and a mostly boneless breast with the wing drumette attached, aka a statler chicken breast). It comes with a side of creamy mashed potatoes, a cheddar drop biscuit, and bread and butter pickles.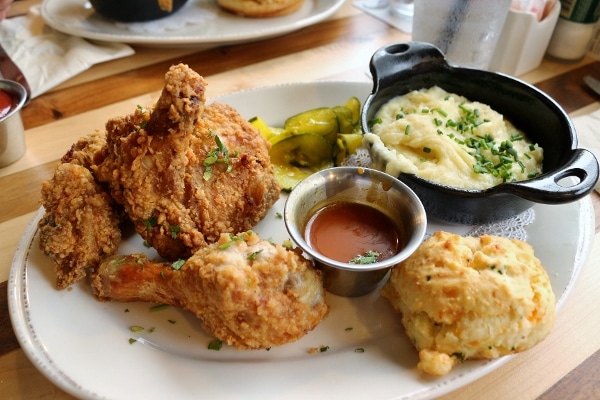 The second option is the Fried Chicken & Doughnuts (not pictured) which is currently $2 less than the above, and features 2 pieces of chicken, house-made sugar doughnuts, and creamy mashed potatoes. So you get one less piece of chicken, but instead you enjoy some really yummy doughnuts.
We decided to actually share Art's Famous Fried Chicken (with the 3 pieces) and add an additional side of Momma's Mac and Cheese. We both wanted to try this beloved side, and we had read that Art's Famous Fried Chicken is a very generous portion size which could easily be shared, especially with an extra side.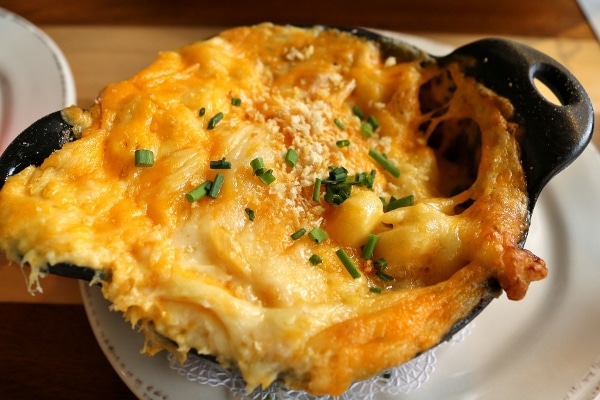 This worked out perfectly for us! The fried chicken was pretty epic, and we requested some hot honey on the side, which was an excellent addition to the already stellar fried chicken. The mashed potatoes were as creamy and delicious as described. The biscuit was right on. The mac and cheese was gooey perfection. No complaints whatsoever.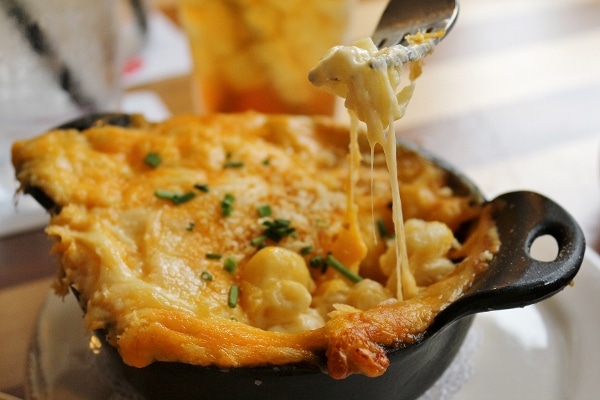 So, I know what you're thinking. We passed up an opportunity to try the house-made doughnuts. Well little did we know that in honor of my birthday (and yours) the staff at Homecomin' will bring you your very own sugar doughnut topped with a scoop of vanilla ice cream, and rainbow sprinkles.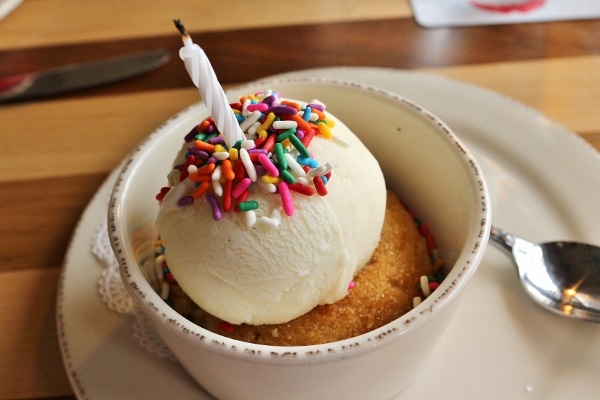 Upon tasting this dessert I was so happy for the surprising opportunity to try a signature doughnut because it was SO GOOD! Even better perhaps with the ice cream on top. Seriously. SO GOOD!! It looks like doughnuts are an option on the dessert menu, so definitely check them out if you pass up the Fried Chicken & Doughnuts meal option. It's the best of both worlds right there.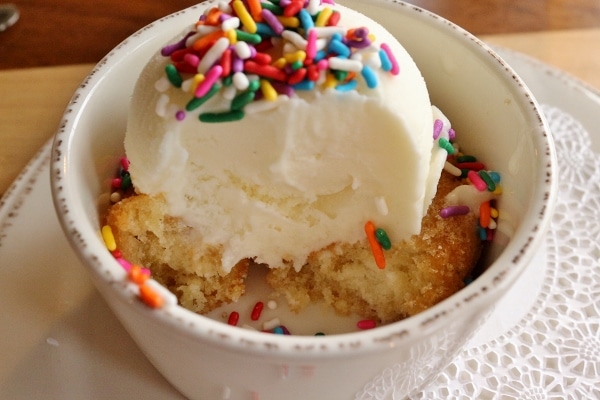 I can't say enough about our meal at Homecomin'. I know the menu doesn't look glamorous, and we didn't even try everything on the menu (and trust me there are many other items I'd love to try out, especially on the appetizer list), but I can easily assess the greatness of this spot at Disney Springs with our singular meal there. The ambiance was cozy and warm, the view was fantastic, the service was great, the cocktail was delicious, our entrees were exceptional, and the free surprise dessert was outstanding. Add Chef Art Smith's Homecomin' to your Disney Springs to do list ASAP. You won't be sorry.
*Update 5/5/19* I recently returned to Homecomin' for lunch, and am just as pleased on my return visit as I was the first time. I opted for a lighter option, the Fried Chicken Salad, which is slightly different now than in the older menu above. The current descriptions reads: Crispy fried chicken over mixed greens, pecan-smoked bacon, egg, heirloom cherry tomatoes, red onion, and cucumber tossed with icebox dressing, cheddar biscuit croutons, and fresh herbs. The salad was excellent! The chicken was perfect, of course, and all the accouterments of the salad were in balance.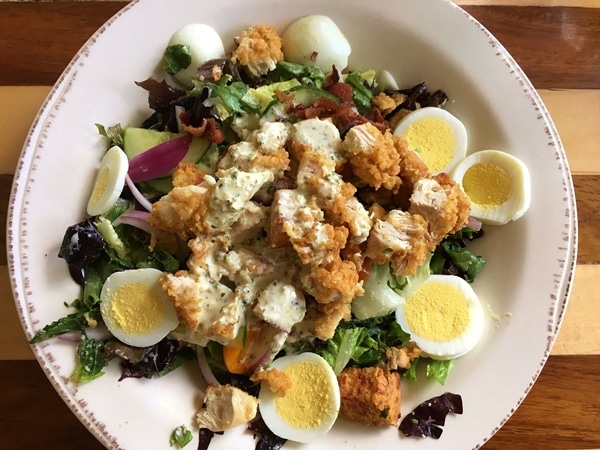 We also shared a ginormous slice of Art's famous Hummingbird Cake. It was epic in both size and flavor. I can see now why so many people swoon over this cake. It's legendary for a reason!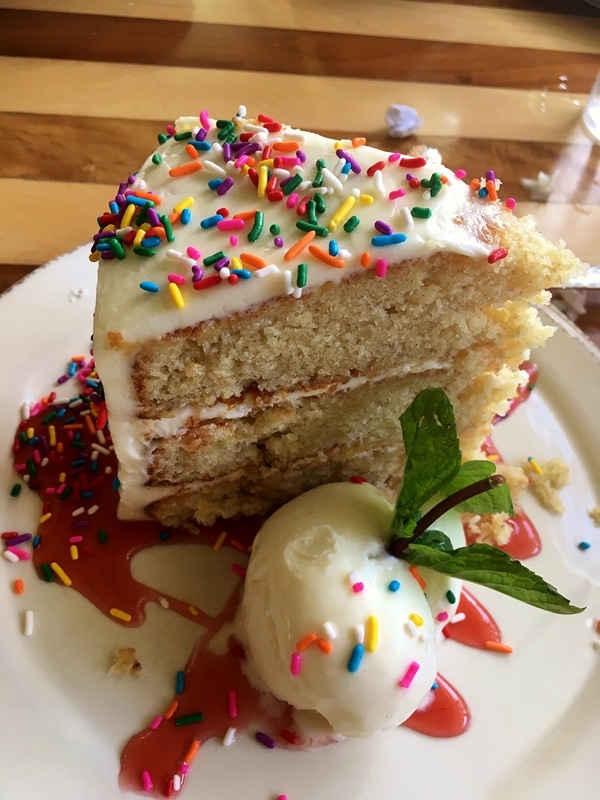 Chef Art Smith's Homecomin'
1602 E. Buena Vista Dr.
Lake Buena Vista, FL 32830
(407) 560-0100
https://disneyworld.disney.go.com/dining/disney-springs/chef-art-smiths-homecomin/
http://www.homecominkitchen.com/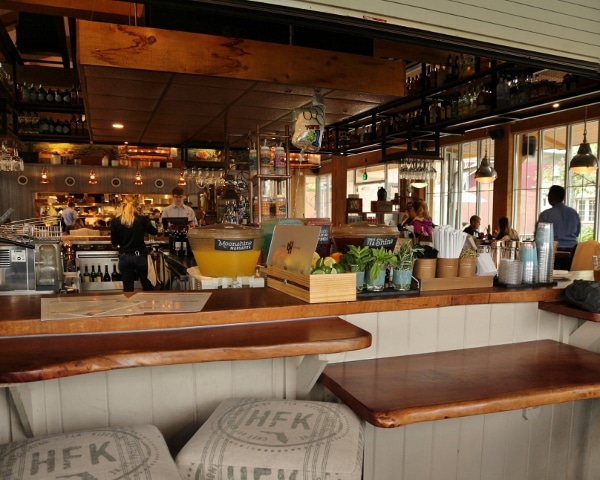 Related posts