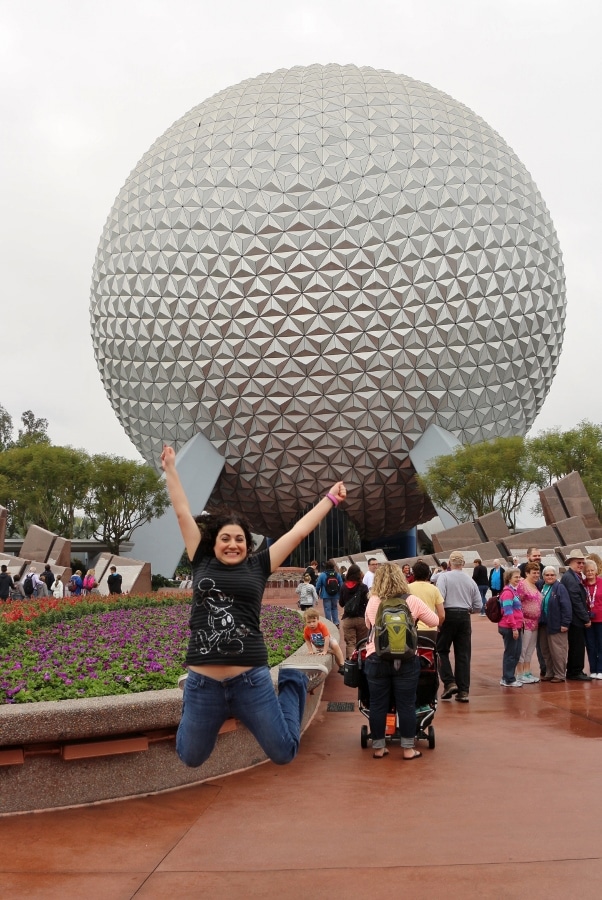 Walt Disney World's Epcot is comprised of two basic "worlds": Future World and the World Showcase. Future World is where you will find the majority of the ride attractions, such as Soarin' and Test Track, my two favorites at this park. There are various pavilions within Future World, such as The Land, The Seas with Nemo & Friends, Innoventions East and West, etc.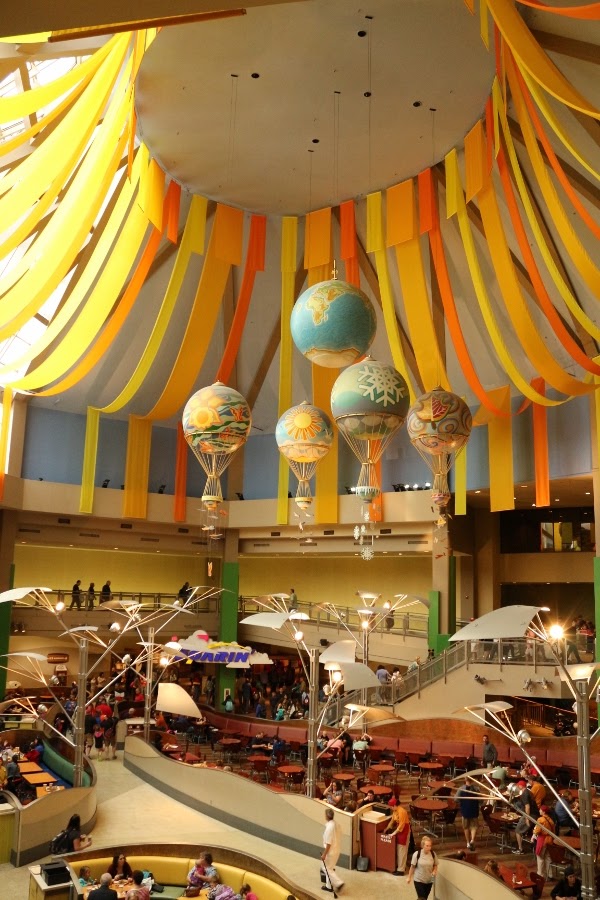 The Land
For this reason, Epcot is actually a great park to visit on a rainy day, since many of the attractions (at least in Future World) are located within larger buildings/pavilions. Lucky for us, the day we visited Epcot was the only day we faced some drizzly weather, but it cleared up in the late morning.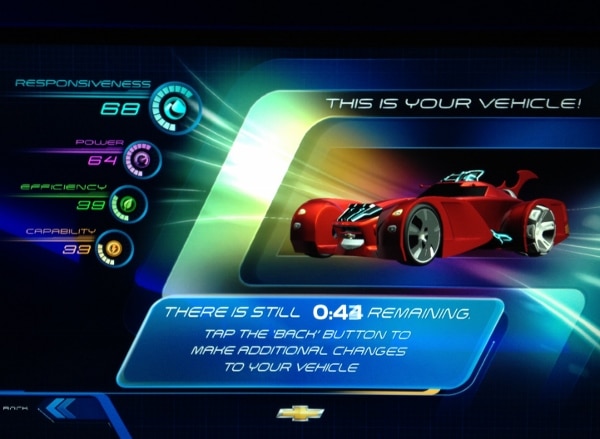 The snazzy car we designed at Test Track
The other world at Epcot is the World Showcase, which stretches across the other side of of the World Showcase Lagoon, home to the nighttime spectacular, Illuminations. To most youngsters, this is probably considered the "boring" side of Epcot, but for anyone who enjoys traveling and experiencing different cultures, the World Showcase is awesome.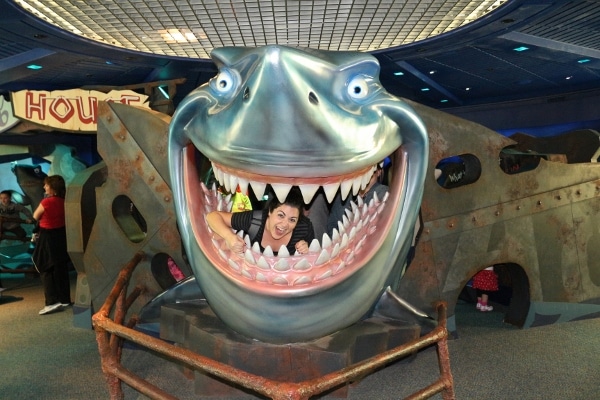 Hanging out in Bruce's mouth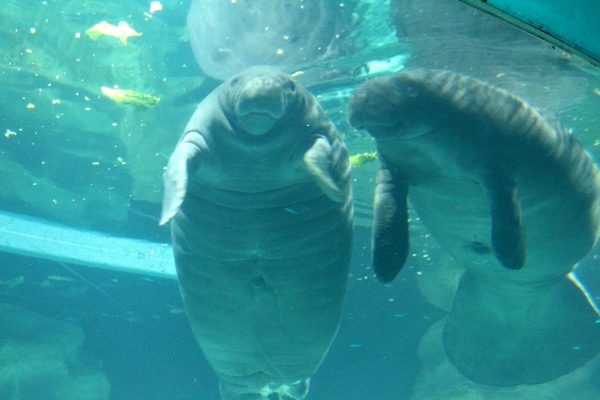 Manatees in The Seas with Nemo & Friends Pavilion
In clockwise order, the countries in the World Showcase are Mexico, Norway, China, Germany, Italy, United States, Japan, Morocco, France, United Kingdom, and Canada. I always seem to explore the World Showcase counter-clockwise for some reason, perhaps because we generally have lunch at the Canada/UK end and dinner toward the Mexico end, so it just makes sense.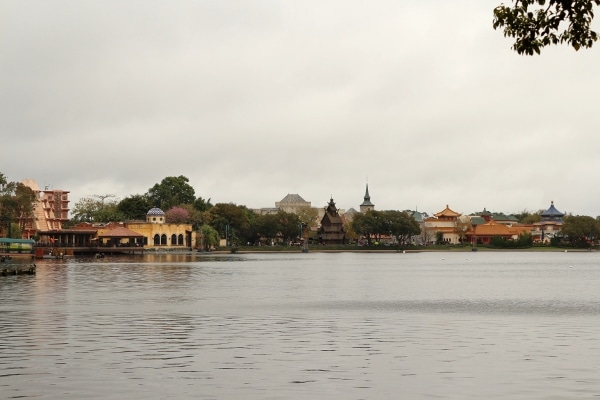 Mexica, Norway, and China Pavilions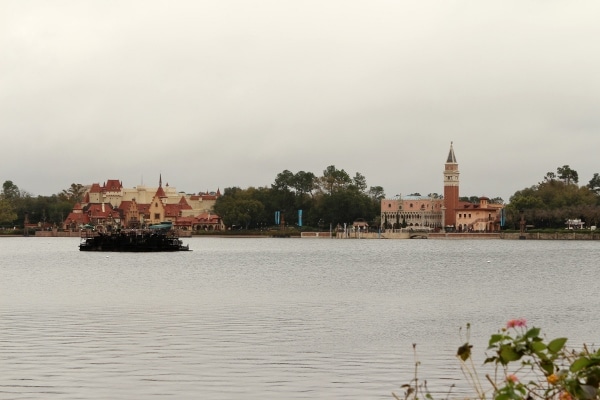 Germany and Italy Pavilions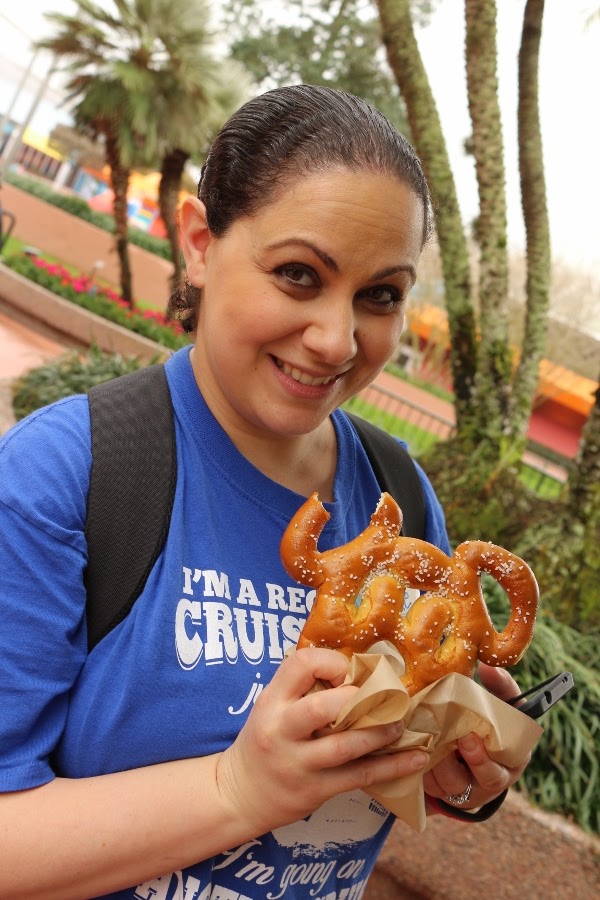 Mmmm, Mickey pretzel!
Not unlike before, on our most recent visit to Epcot we explored the World Showcase counter-clockwise, beginning with lunch at the Rose & Crown Dining Room in the UK, sweet treats at Les Halles Boulangerie & Patisserie in France, and finally dinner once again at La Hacienda de San Angel in Mexico. Let's take a virtual culinary tour!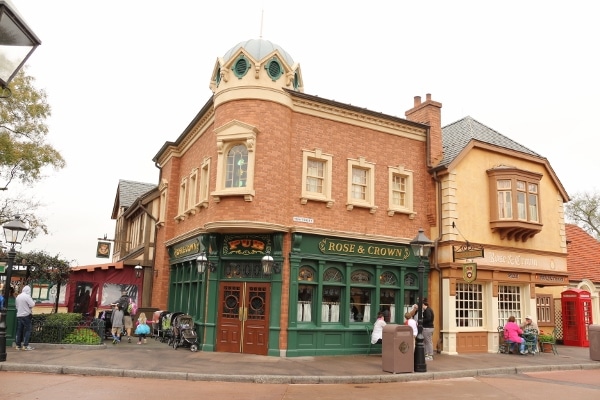 The Rose and Crown Pub & Dining Room is a two part restaurant (pub and dining room) located in the United Kingdom Pavilion. It is the absolute essence of a typical British pub, in both decor and fare. In fact, our British server informed us that the reason some of the windows to the pub are dimpled is because in old-fashioned British pubs this would prevent wives from finding their husbands drinking in the pubs in the middle of day by skewing their vision when peeking through the glass. Not only is it funny trivia, but it also keeps with a theme, something Disney is by far the best at doing.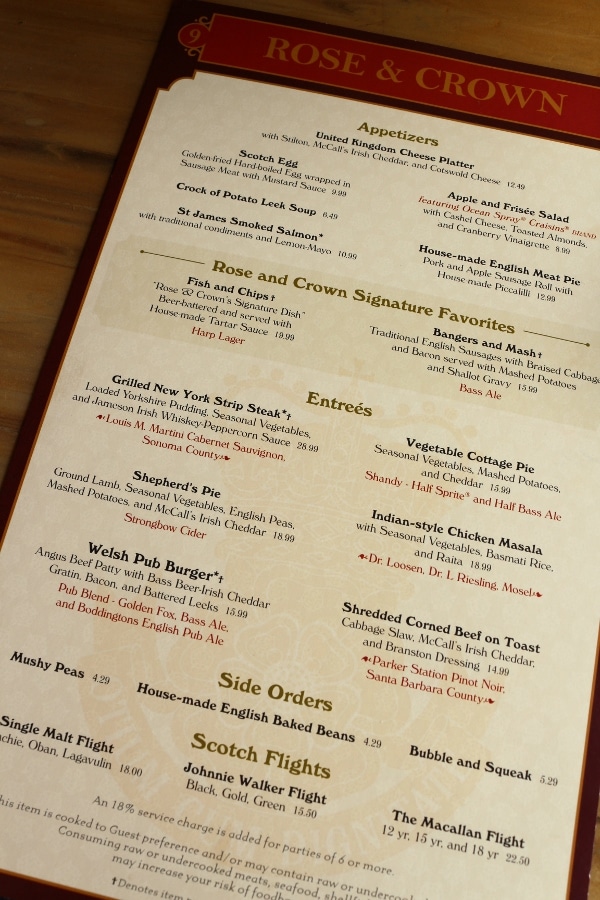 Rose & Crown also has an excellent view overlooking the water, making it a prime viewing location for Illuminations. We actually lucked out with a waterfront view when we stopped in for lunch. The weather was somewhat chilly, so they had draped clear plastic covers around the outdoor dining area, but we still had a great view!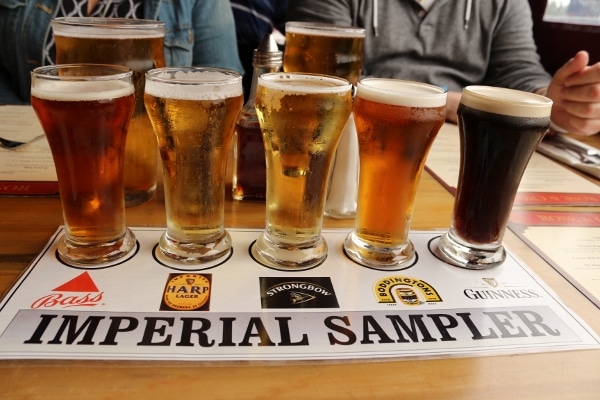 Before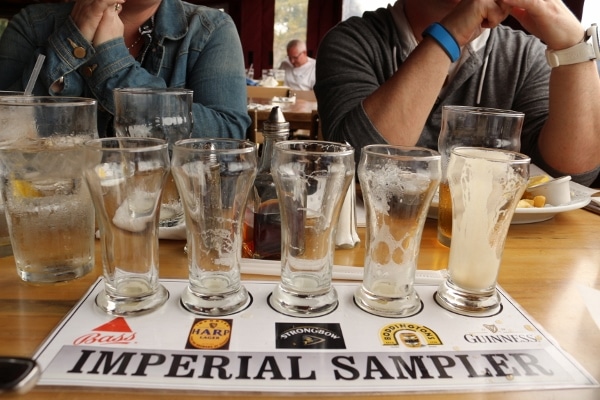 After
To drink, my sister and I decided to split the Imperial Sampler, containing glasses of Bass, Harp, Strongbow Cider, Boddingtons, and Guinness. When in Rome... I can't imagine dining at a pub without drinking beer, and this gave us a variety instead of committing to just one pint (it is the middle of the day after all).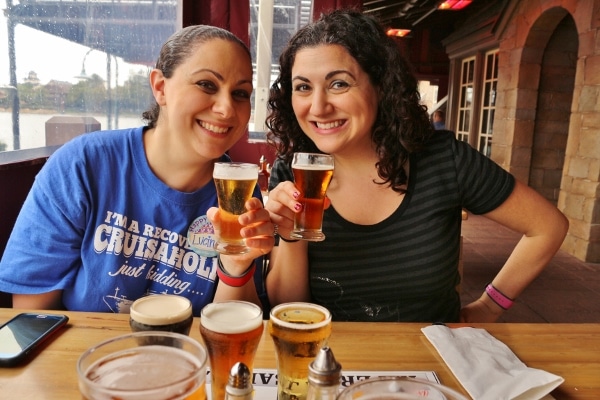 As tempted as we were to order a full meal, including appetizers and desserts, we decided to stick with only entrees, so we could take advantage of some of the dessert offerings in the nearby France Pavilion. The entire table ordered Fish & Chips. The fish was well-battered and super crispy with a perfect compliment in the chips. You really can't go wrong!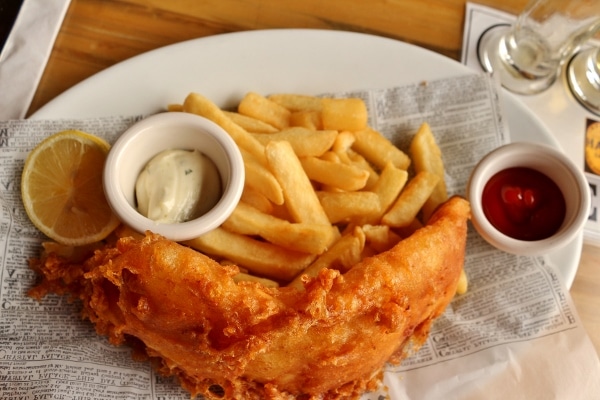 Fish & Chips $19.99
After a deliciously satisfying meal of fried goodies and beer, it's time to move along to the France Pavilion where you can find Les Halles Boulangerie & Patisserie, a source for all things decadent. Both sweet and savory heart-cloggingly awesome creations are available here. The sandwiches and quiches look wonderful, but on this particular visit it was all about the sweets.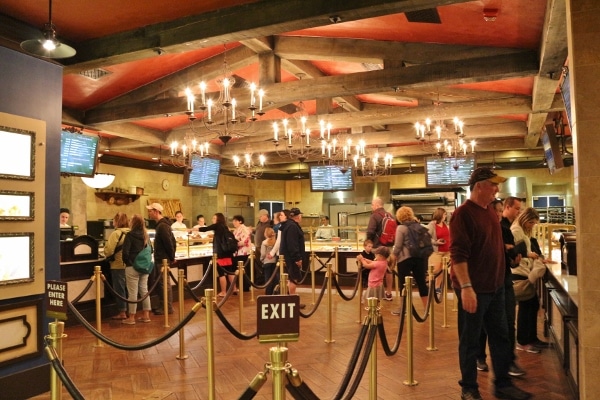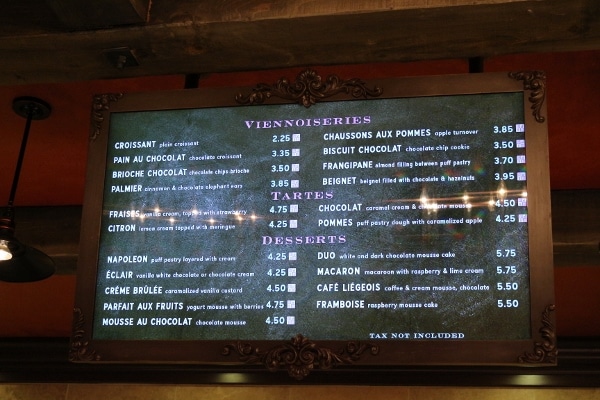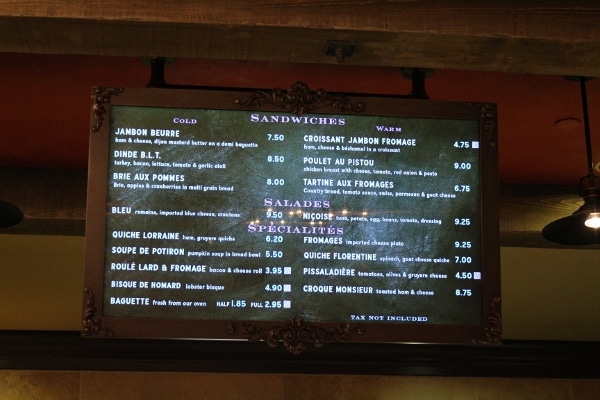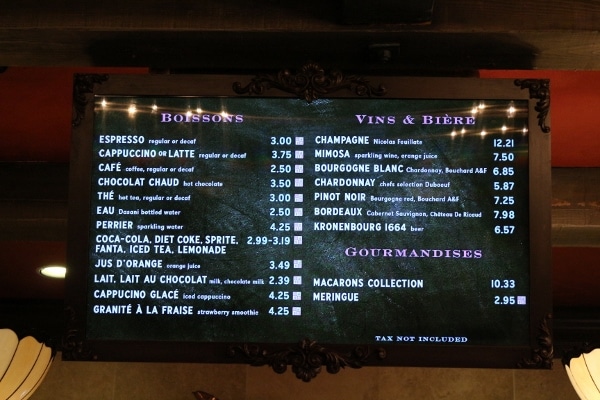 You can easily go overboard because there are just so many incredibly appetizing options in the display cases here, but we managed to narrow down on Pain au Chocolat and a Napoleon, both to share, along with a latte to wash it all down.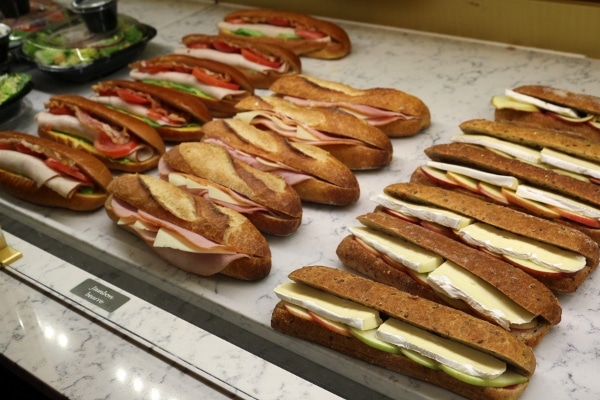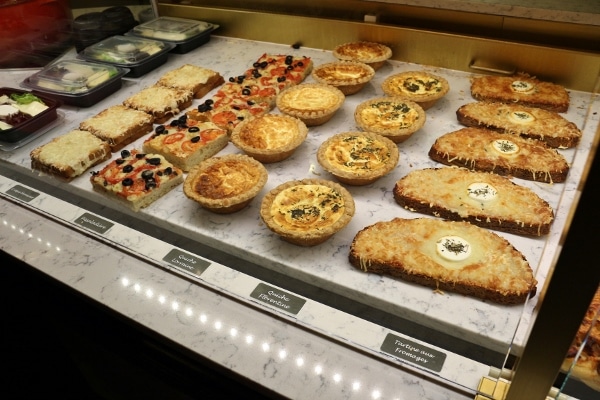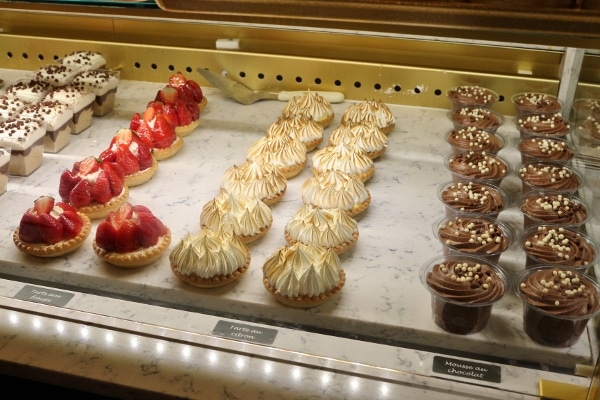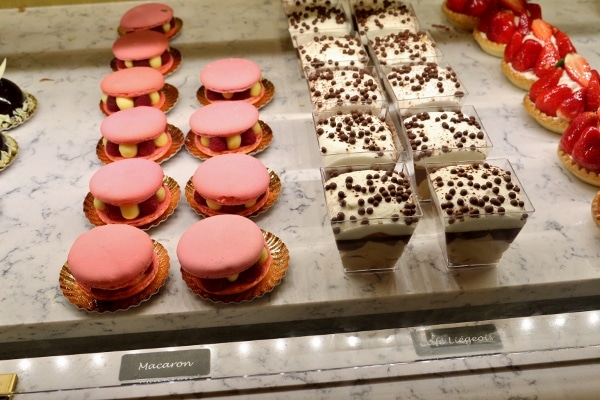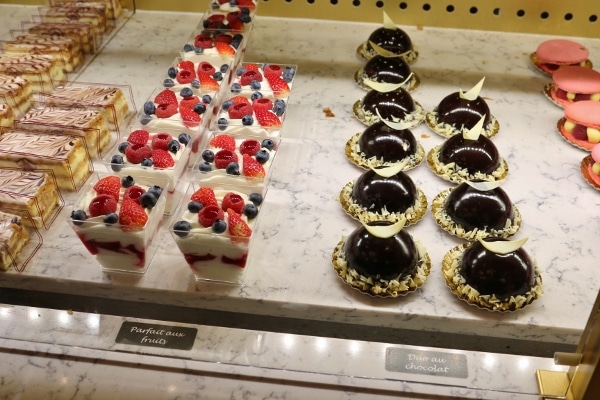 The Pain au Chocolat was not nearly as crisp as the ones I've enjoyed in Paris. Although the chocolate inside was still gooey, the dough had obviously softened after sitting the the case for a while. Although tasty, I've had better.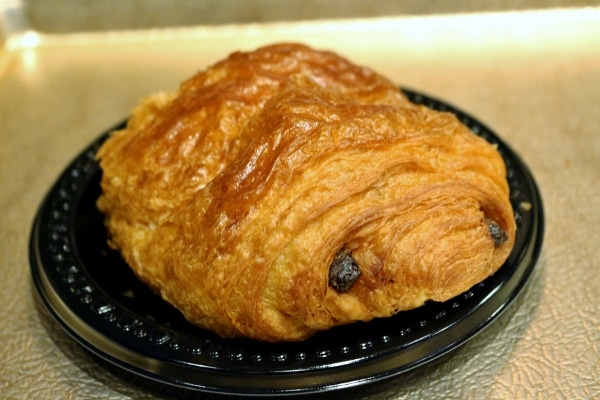 Pain au Chocolat $3.35
The Napoleon was delicious, although a bit difficult to eat. Puff pastry and pastry cream are really a match made in heaven, and if you're a fan of either, the Napoleon is a good choice.
Napoleon $4.25
I really hope to return to Les Halles Boulangerie & Patisserie again in the future, and am really tempted to have an entire meal there, starting perhaps with one of their amazing-looking sandwiches and then moving onto a gluttonous orgy of French sweets. It's pretty much the anti-diet, but hey, it's vacation!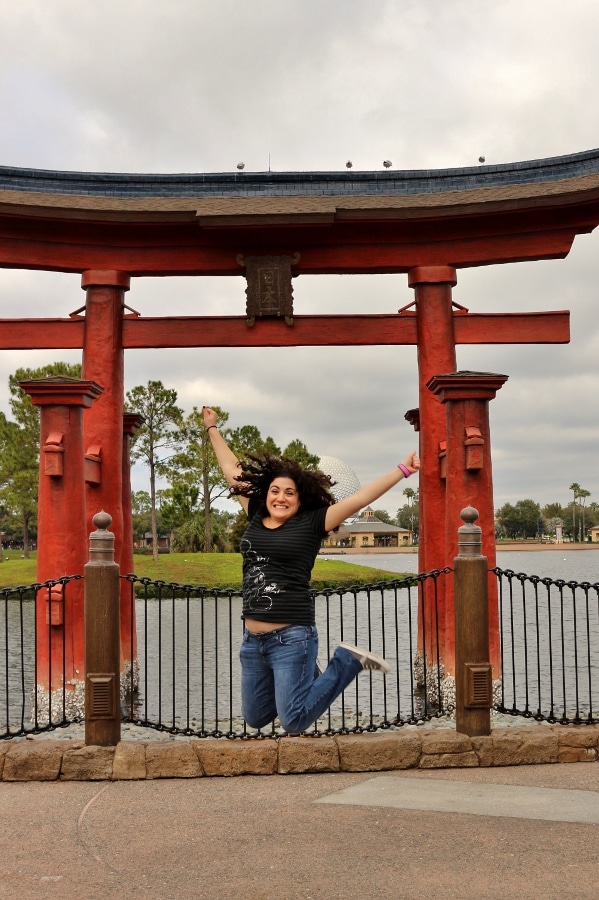 Jumping for joy in Japan!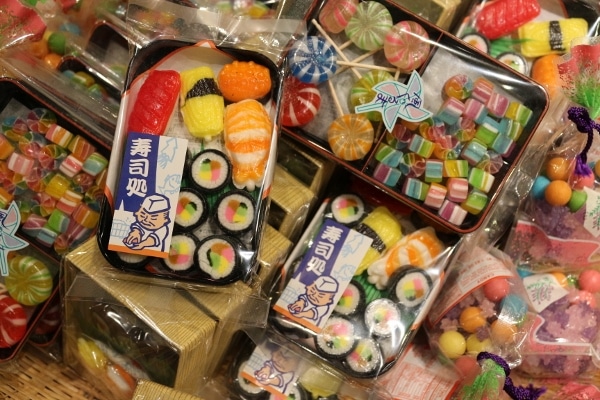 Japanese candies shaped like sushi
We continue to make our way through more of the World Showcase Pavilions, exploring a lot of the fun shops along the way. Some of my favorites can be found in Japan and China. It's easy to spend a lot of money wandering through the World Showcase, both in snacks and merchandise.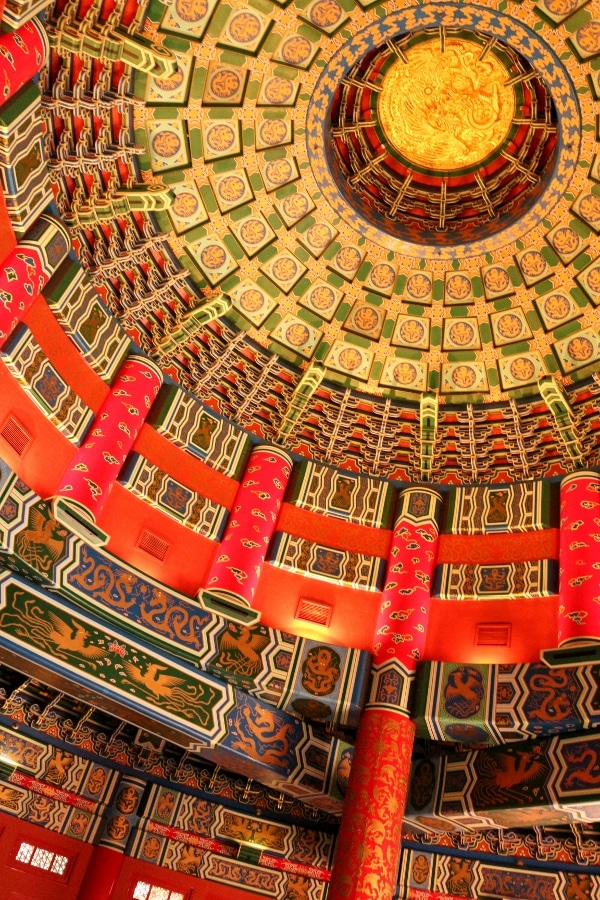 China Pavilion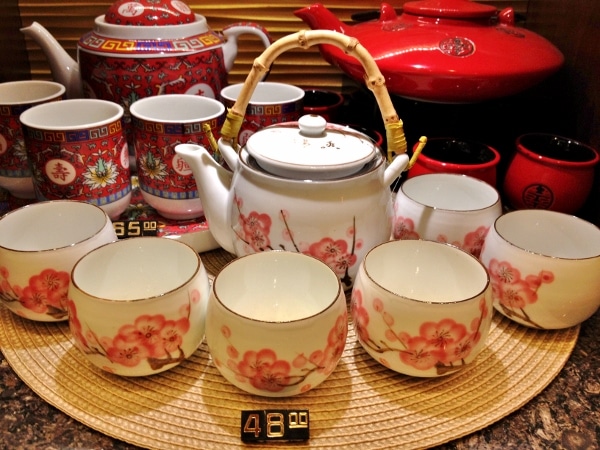 Gorgeous tea set in the China Pavilion--I bought it!
Eventually, we make our way through the remaining countries and end up in Mexico, where we have a dinner reservation at La Hacienda de San Angel. The food here is not your traditional Mexican, but rather more upscale in nature.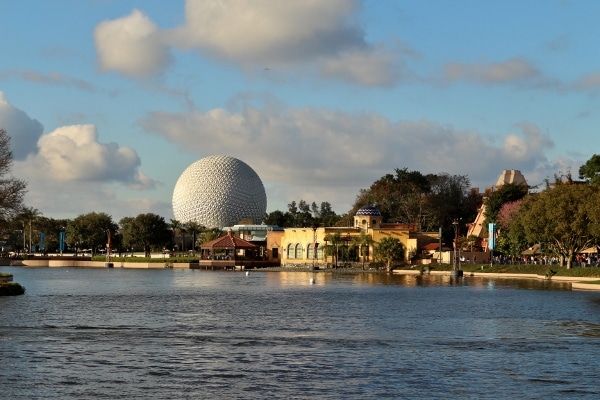 Spaceship Earth and La Hacienda de San Angel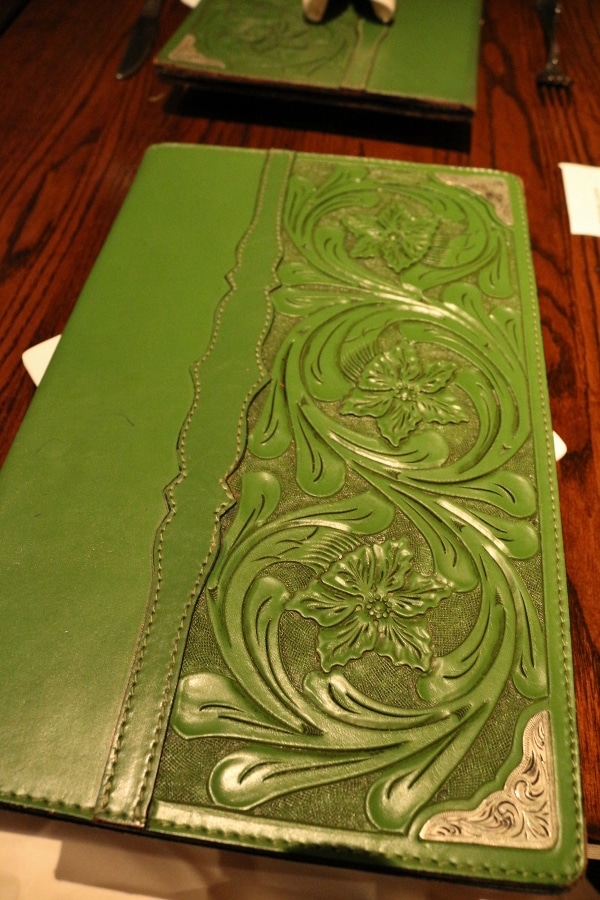 Pretty menu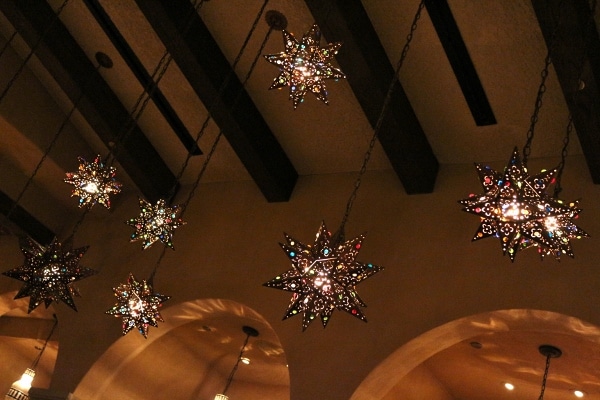 Awesome lighting fixtures
The meal begins as expected with a basket of crisp tortilla chips with red and green salsas.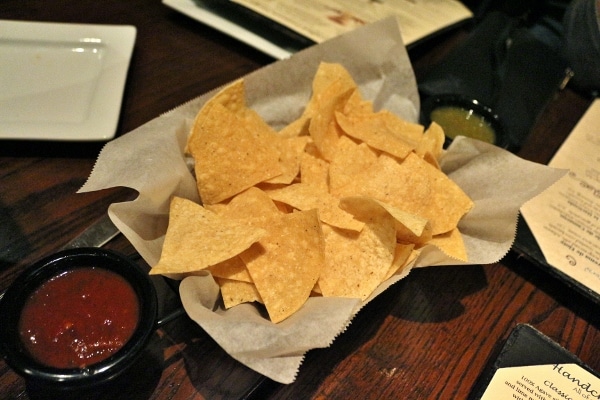 We follow up with our drink orders. I select the Orange Mango Fire Margarita featuring tequila, ginger liqueur, orange juice, mango puree, fresh lime juice, Tabasco sauce, and a Tajin chili powder rim. I like the kick from the Tabasco and chili, but it is not really spicy per se. The sweet orange and mango flavors are a great counterpart to the chili.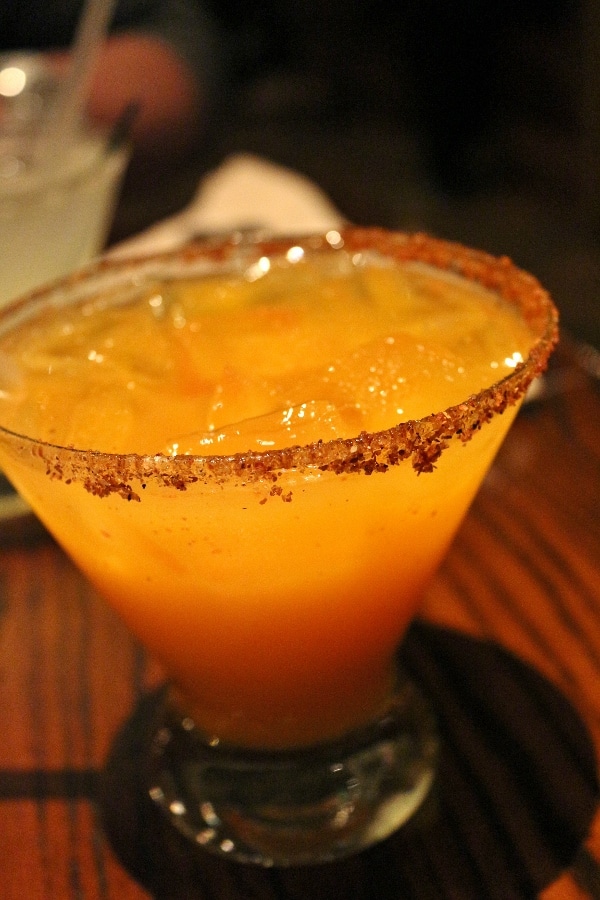 Orange Mango Fire Margarita $13
My sister tried the Rosita Margarita featuring rose infusion, tequila, fresh lime juice, and a hibscus Himalayan salt rim. Although I love rose-flavored things, I thought this margarita was actually a bit too floral even for me.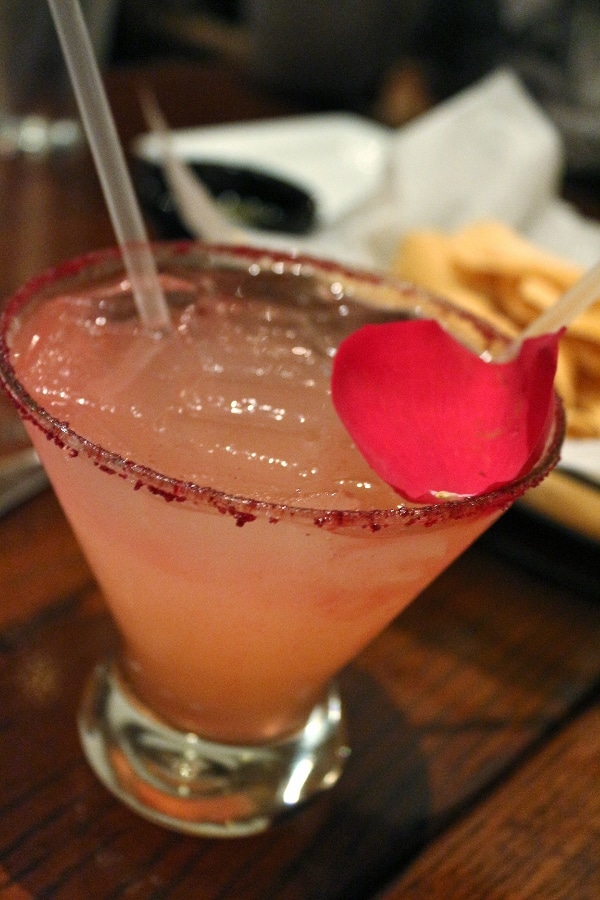 Rosita Margarita $13.50
One of my dining companions picked the Taquiza appetizer as his entree. It includes three tacos (beef with chipotle salsa, chicken with salsa verde, and Chilorio--marinated pork--with cream and queso fresco). Although he enjoyed the tacos, he didn't realize that the portion would be so small.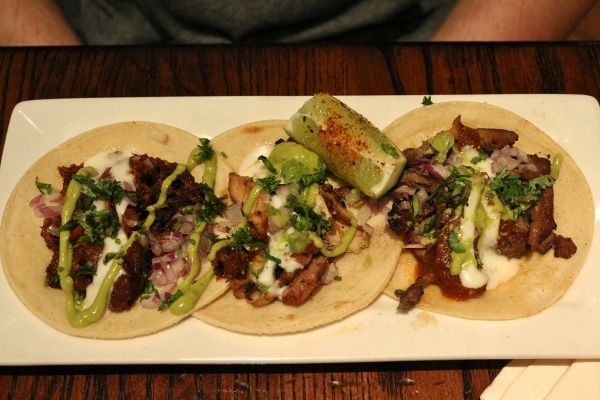 Taquiza $11.50
Fortunately, all entrees are also served with family-style rice and black beans, both of which completely hit the spot in my Mexican food-loving belly.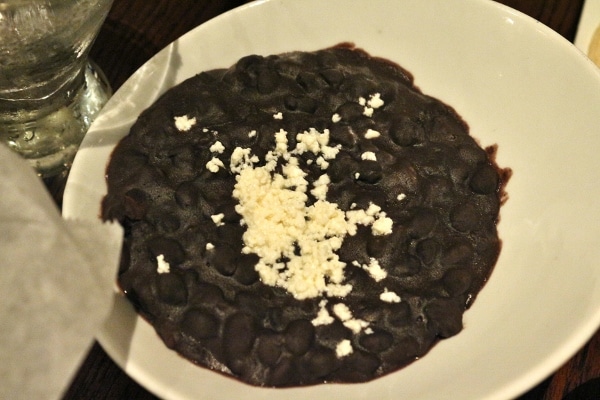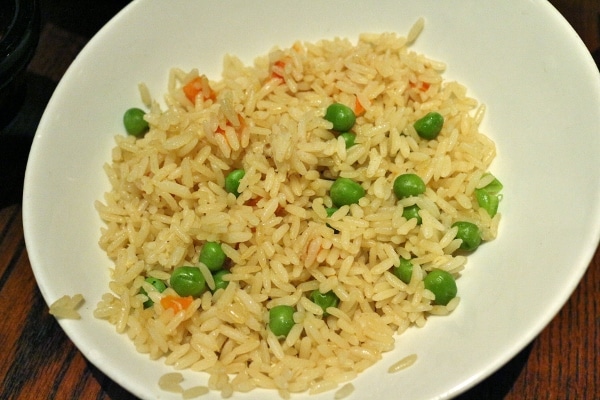 The Tacos de Camarones (shrimp tacos) are an awesome choice that another friend made for dinner. They feature fried shrimp, chipotle-lime aioli, cabbage, lime, and salsa verde over flour tortillas. Although I didn't order them on this occasion (or technically even last time--my sister ordered these in 2013), I do love this dish and would probably order it myself next time.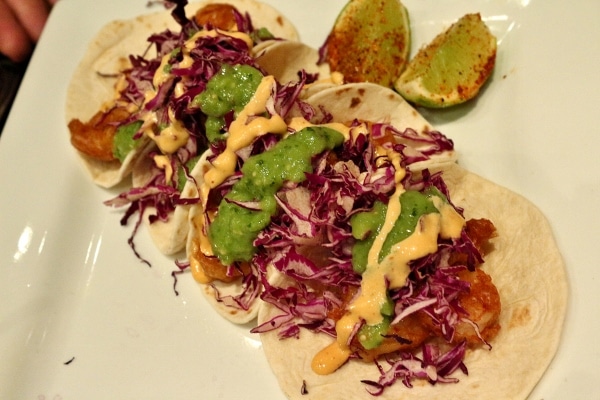 Tacos de Camarones $25.50
My sister and I actually both picked the Carnitas Yucatecas--pork confit (Yucatan style carnitas), with pico de gallo, cabbage, citrus juice, and avocado salsa. It's served with flour tortillas on the side to assemble your own tacos. The Carnitas are incredibly juicy and flavorful. I loved our entree choice, but both my sister and I ended up eating only about half of our portions. It would have been a smart choice to just order one and share! I will definitely keep that in mind next time.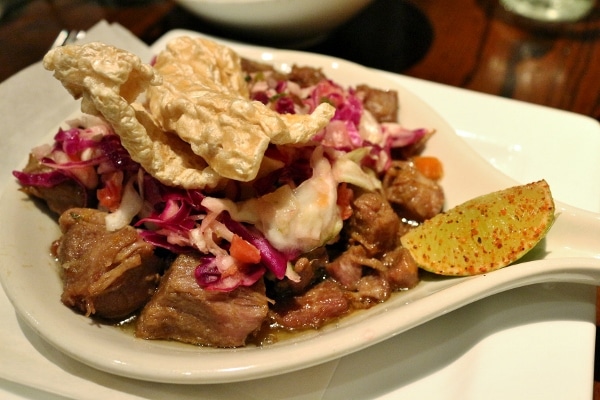 Carnitas Yucatecas $27.25
Epcot is home to such a wonderful array of restaurants. The cuisine literally spans the globe, with restaurants found in scaled down versions of their home countries. It's such a wonderful resource for anyone who loves eating a variety of cuisines, and experiencing those cultures through different shows and shops throughout the World Showcase.
Rose & Crown Pub & Dining Room
1510 Avenue of the Stars
Lake Buena Vista, FL 32830
(407) 939-3463
https://disneyworld.disney.go.com/dining/epcot/rose-and-crown-pub-and-dining-room/
Les Halles Boulangerie & Patisserie
1510 Avenue of the Stars
Lake Buena Vista, FL 32830
(407) 939-3463
https://disneyworld.disney.go.com/dining/epcot/les-halles-boulangerie-patisserie/
La Hacienda de San Angel
1510 N Ave of the Stars
Lake Buena Vista, FL 32830
(407) 827-2253
https://disneyworld.disney.go.com/dining/epcot/hacienda-de-san-angel/