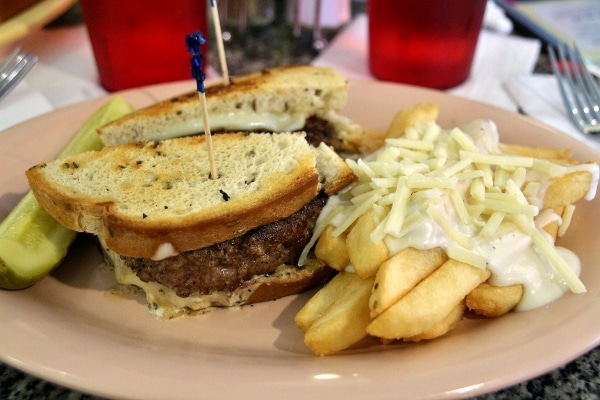 One of the most highly coveted Advanced Dining Reservations at Walt Disney World is the elusive Beaches & Cream Soda Shop at Disney's Beach Club Resort. The reason is not because it's necessarily the best meal on property, but because the space is small and therefore reservations are limited.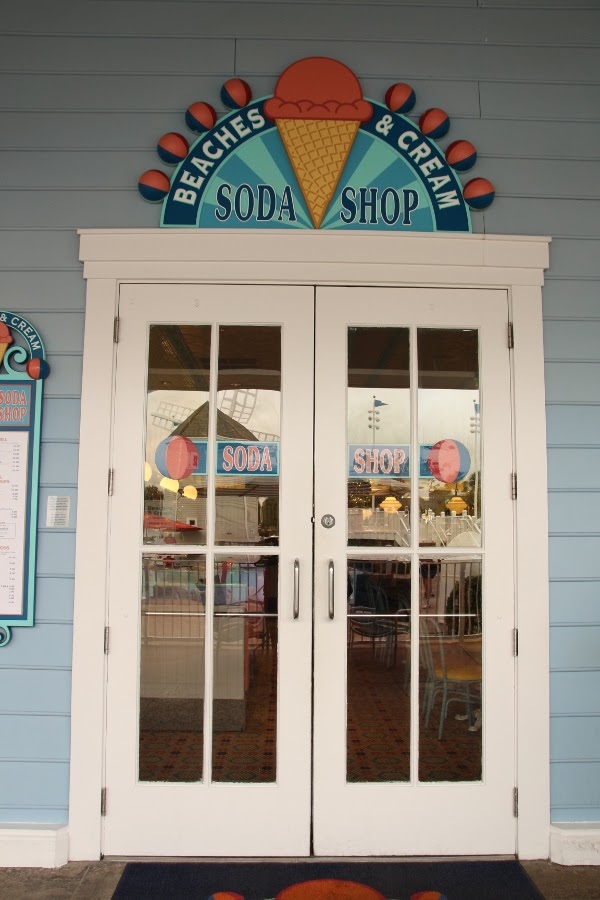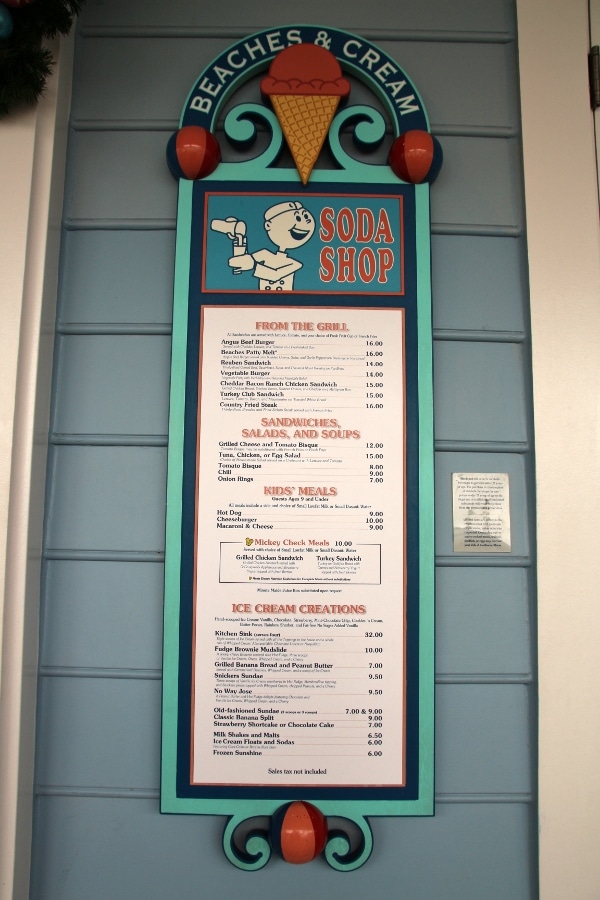 It's also the only spot where you can get the infamous Kitchen Sink sundae, which contains 8 scoops of ice cream, all of their toppings, and a whole can of whipped cream. They even set off siren lights when someone orders it to make sure everyone knows what's going on. Finishing a Kitchen Sink is a pretty epic task.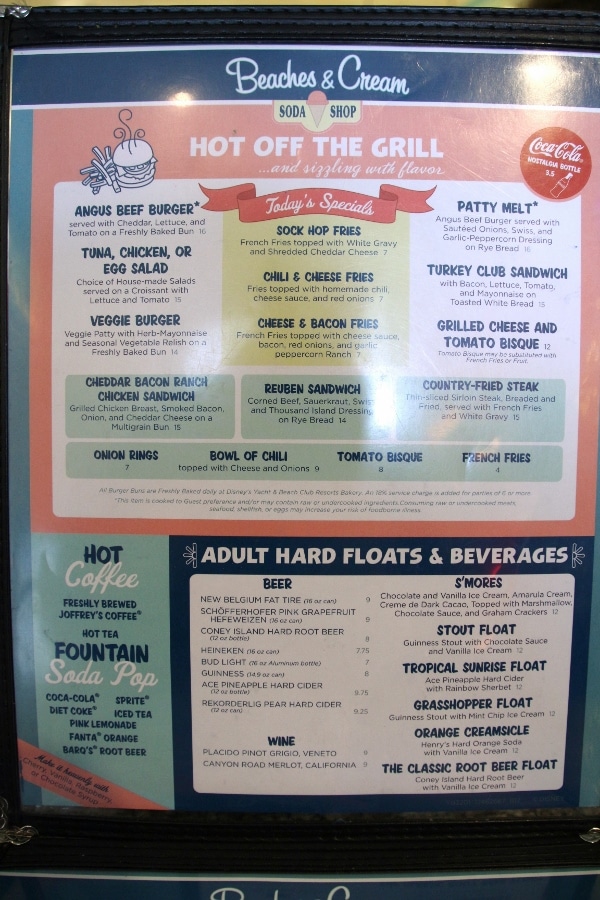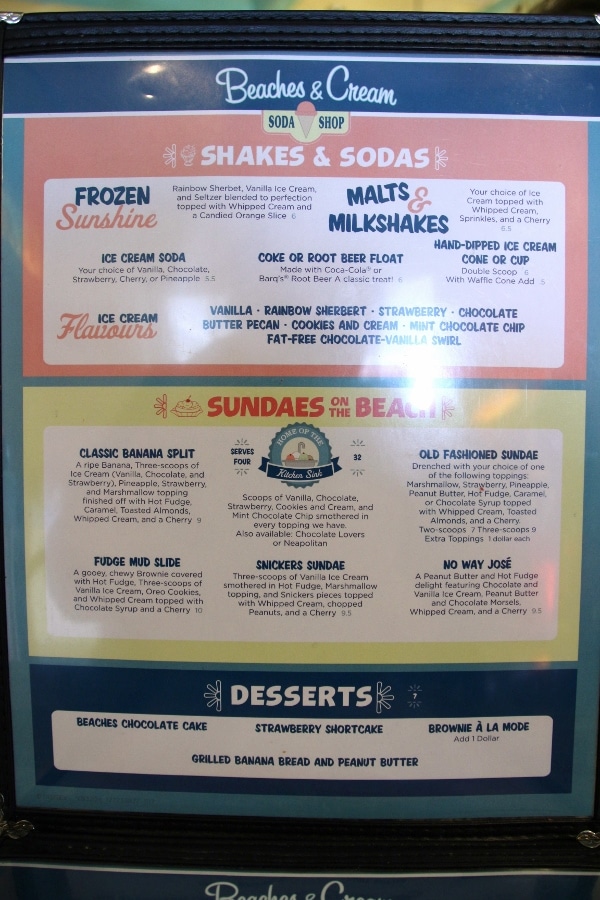 So anyway, Beaches & Cream reservations are tough to come by, but I've been luck to get reservations twice in the last 6 months. The first time was back in early December (hence all the Christmas decorations in the pictures), and the second time more recently in mid-April. Both times I had every intention of ordering ice cream, but both times was so insanely full that I just couldn't do it. Maybe on my third try.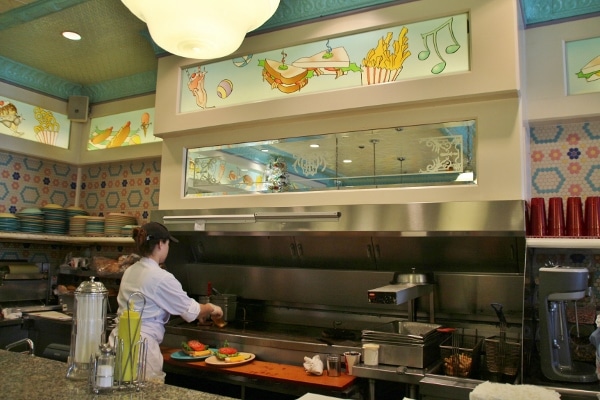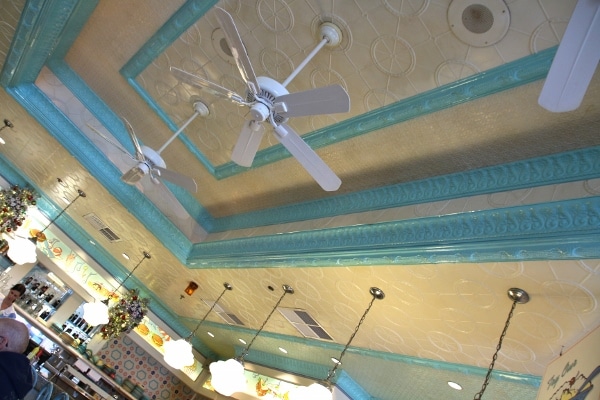 In the meantime, let's take a look around the small but fun space that is designed to look like a 50's style diner. Near the door is a jukebox playing all 50's era music. It's free to pick your favorite songs, but it's awfully close to a nearby table, so if there are guests sitting there, it may be a little awkward to go pick your music.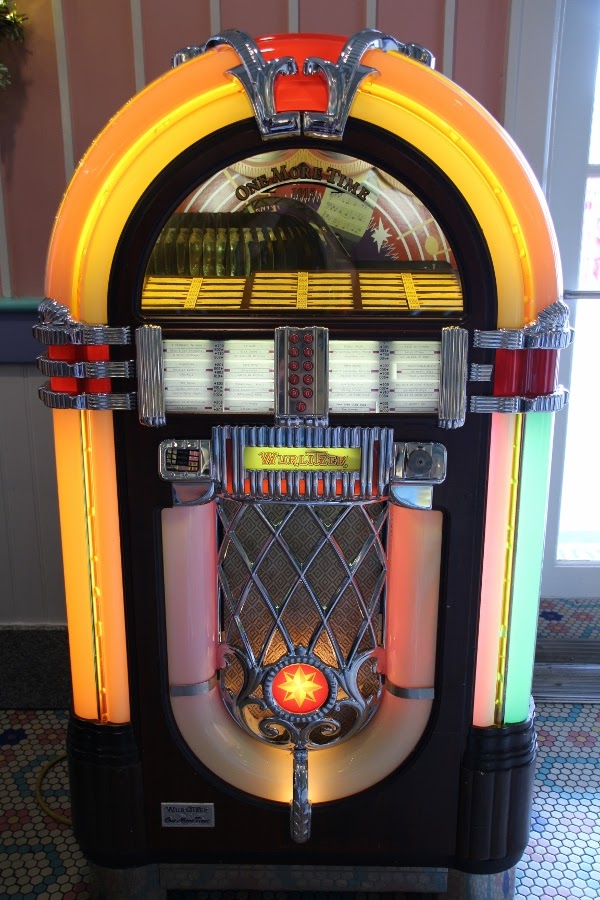 In general, the tables are quite small. There are a few booths, which are probably quite popular. On our recent visit two of the booths were open, and we asked if we could sit in one for our party of four, but they said they save them for larger parties of five or more. Then shortly afterwards they seated a party of four with two small kids in one of the booths. They took up a lot less space than our four full-grown adults. There were also four adults sitting at the already occupied booth. We were a little unhappy that we were given that excuse by the hostess to see it wasn't really true. This, and the tiny tables are my only real complaints about Beaches & Cream.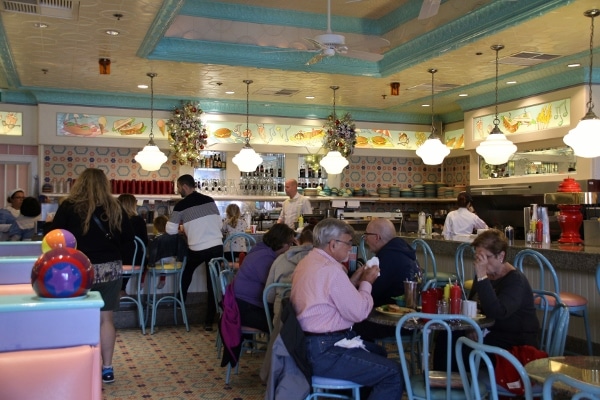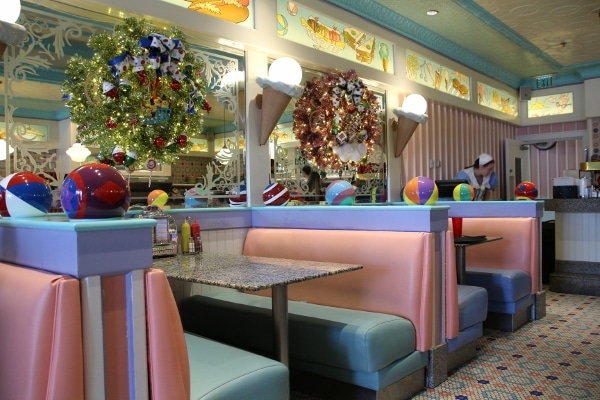 On my first visit, everyone at my table ordered the Patty Melt, which is a juicy Angus burger patty, sautéed onions, Swiss cheese, and garlic-peppercorn dressing sandwiched between rye bread. OMG it was absolutely fantastic! The rye bread was nicely toasted but not dry, and the burger was nicely juicy but not greasy.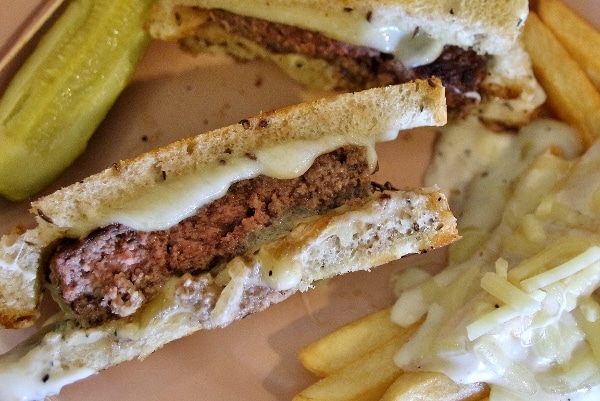 All the burgers and sandwiches are served with fries, but you can upgrade your side for an extra $1.25 to get one of their special fries off their appetizer menu. I tried the Sock Hop Fries, which is fries topped with white gravy and shredded cheddar cheese. I imagine this is their take on poutine, but it's really nothing like poutine. With that said, it was still really tasty.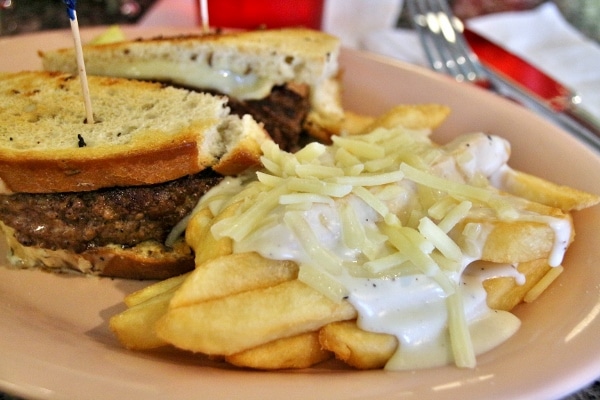 On my recent visit, I couldn't help but order the Patty Melt again, because I had been thinking about it since the first time. It was still really good, and this time I swapped out the fries for the Chili-Cheese Fries, which are topped with homemade chili, and cheese sauce. It was also good, but probably more filling than my previous choice because of the meatiness of the chili.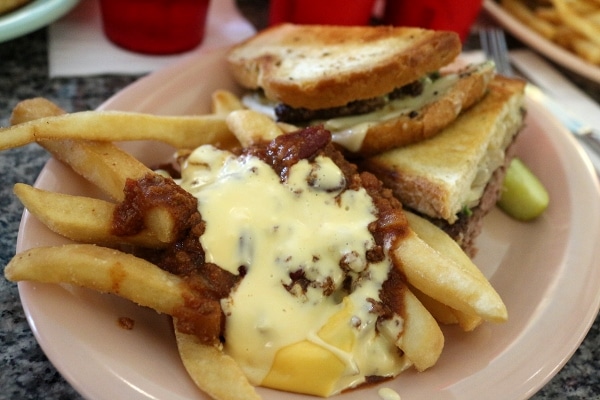 My mom tried the highly regarded Veggie Burger, which is honestly a pre-made veggie burger (I can't remember which brand) that is made predominately with beets. Although it was good, she said it really was nothing special, even though our server and the hostess both raved about it.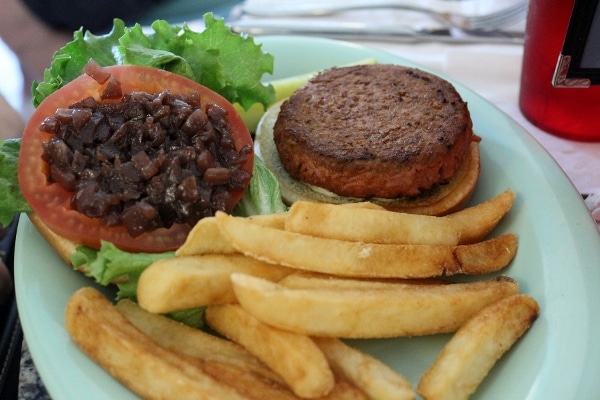 To drink, my sister and I shared the Frozen Sunshine, which is a mixture of rainbow sherbet, vanilla ice cream, and seltzer, topped with whipped cream and candied oranges. It was described as being very refreshing, and it kind of was, but honestly didn't have much flavor. I expected a bit more color and flavor from the rainbow sherbet to be honest. Our server split it into two glasses for us, but it was nothing special. I kind of wish I had saved those calories and pushed myself to get a sundae instead, even if it was a small one.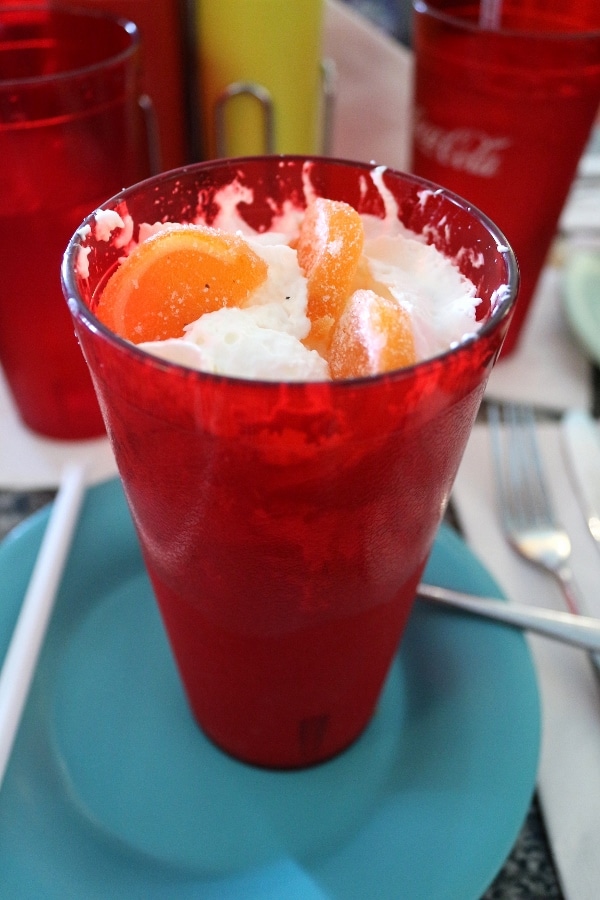 Next time I'm pretty sure I will try to share an entree just so I can ensure to save room for ice cream afterwards. That's such a big part of the Beaches & Cream experience, and even though I've been here twice I still feel like something is missing, and it's probably because I still haven't eaten ice cream there!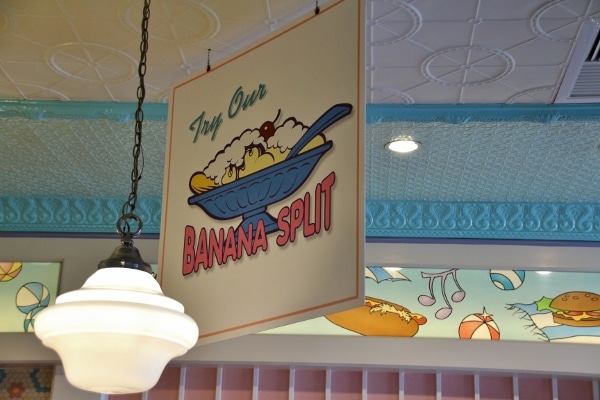 They do have some to-go ice cream options, so you can always swing by even without a reservation and still get some ice cream. That's a good consolation, but keep in mind they only serve ice cream to go, not the entrees, and you can't get the full-sized kitchen sink to go, that's only for dine in.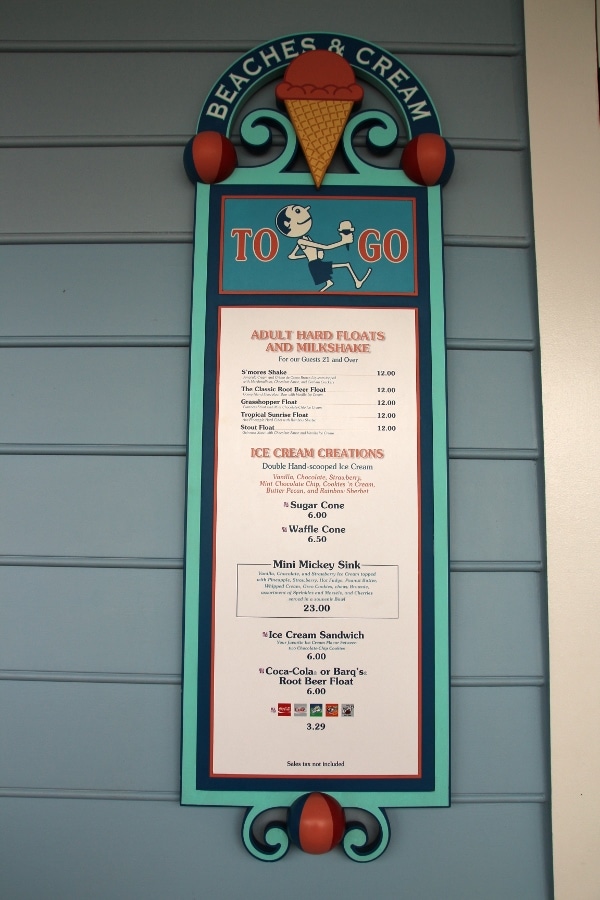 The Patty Melt is really great, and if you can score a reservation here I'd highly recommend it. This was probably the least exciting place we ate during our five-day visit, but that's only because we made so many great choices. I would still come back here, especially if staying at the Beach Club or Yacht Club, as it is supremely convenient and a really fun atmosphere.
Beaches & Cream Soda Shop
1800 Epcot Resorts Blvd
Orlando, FL 32830
(407) 939-3463
https://disneyworld.disney.go.com/dining/beach-club-resort/beaches-and-cream-soda-shop/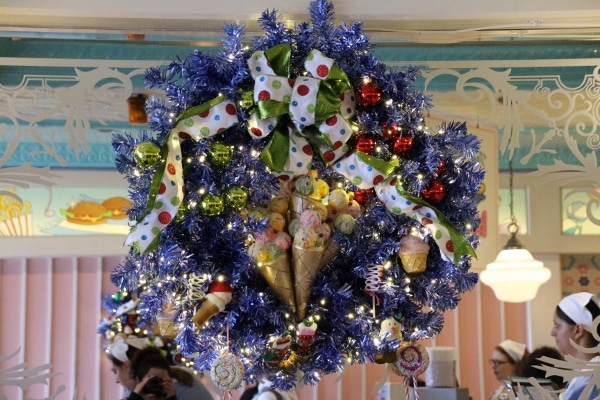 Related posts