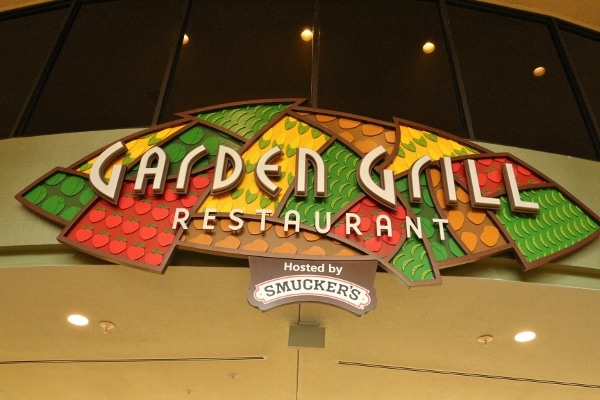 Epcot's Future World is not well-known for its dining options. The World Showcase definitely draws a crowd with its globe-spanning restaurants, but there are still some great choices that don't fall within the international pavilions.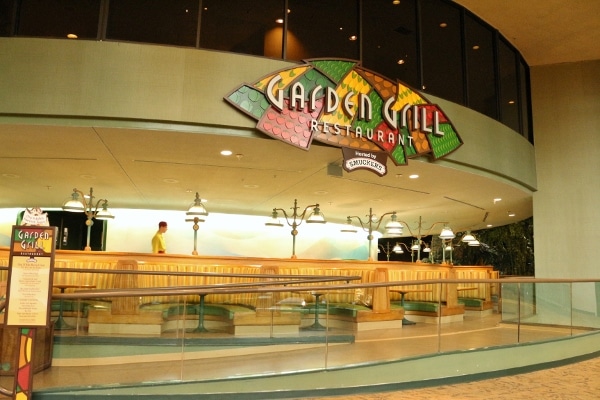 Take for example the Garden Grill in Future World's The Land Pavilion. Not far from one of Epcot's biggest attractions, Soarin', the Garden Grill is a family-style character dining experience with a rotating dining room. Yes, you heard right, the restaurant is actually round and rotates very slowly throughout your entire meal. The view from your table is pretty awesome if you're a fan of Living with the Land, since that's your view through the majority of your meal!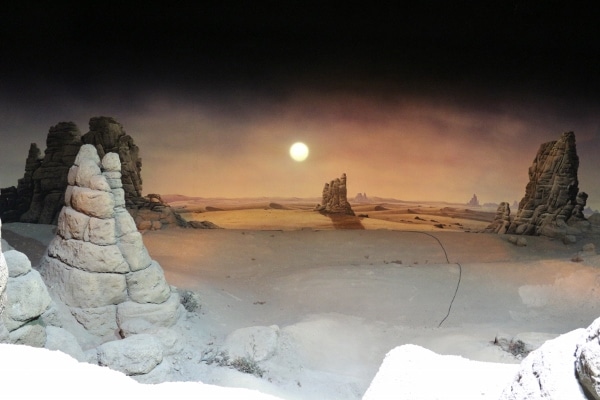 If you're lucky enough to have one of the booths facing outward, like we did, you will see some of the classic scenes from the first portion of Living with the Land (before all the greenhouses).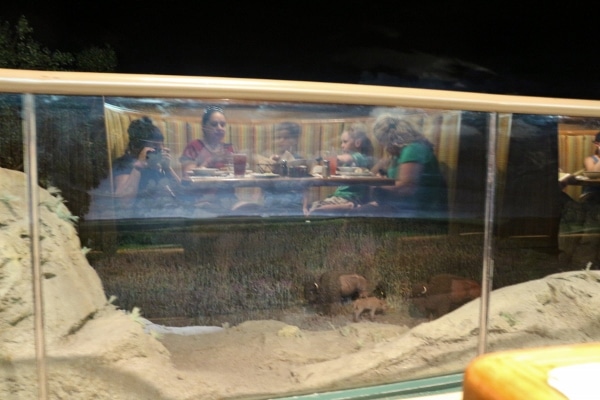 You can see our reflection in the glass to give you perspective as to where we were sitting with the Living with the Land view beyond 🙂 Hey, bison! What's up?
The biggest draw at Garden Grill is definitely the character experiences, so let's start there. You'll meet four classic Disney characters while enjoying your meal, and they will visit your table FREQUENTLY! In fact, we got three visits from each character throughout dinner. That's tons of great photo opportunities.
You get to see Farmer Mickey, Pluto, Chip, and Dale. This is the highlight of the meal and the reason people are willing to pay extra to dine here. I especially love that you get a lot of quality time with each character, rather than just a quick visit.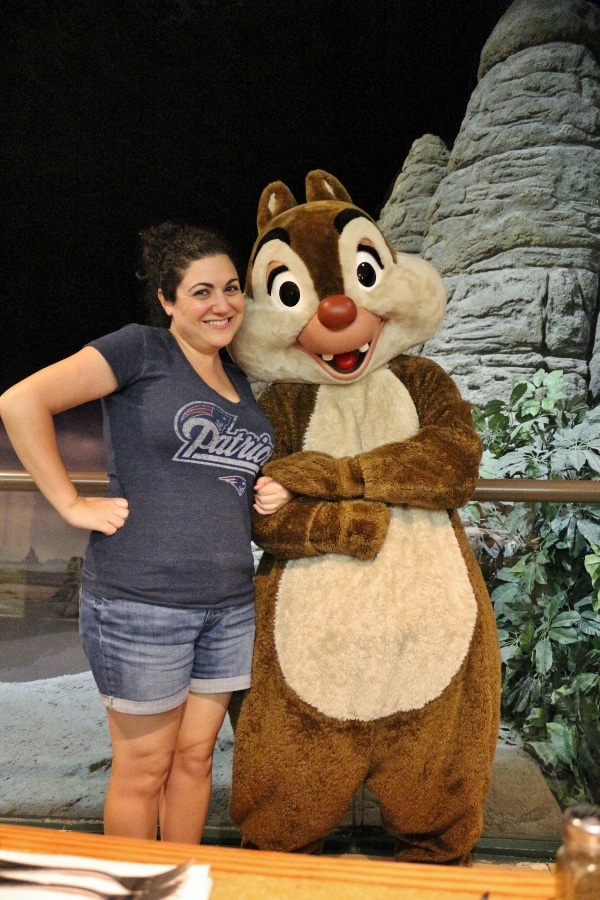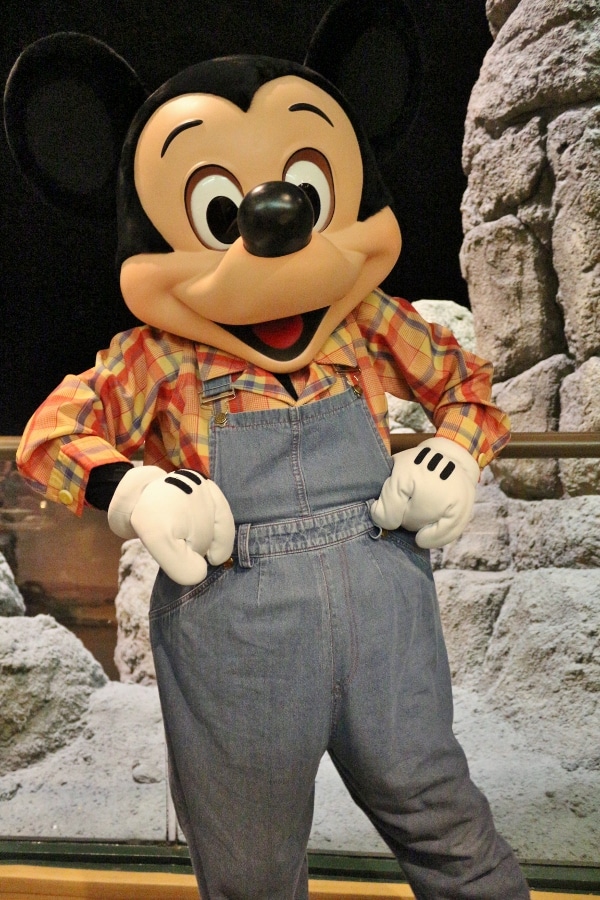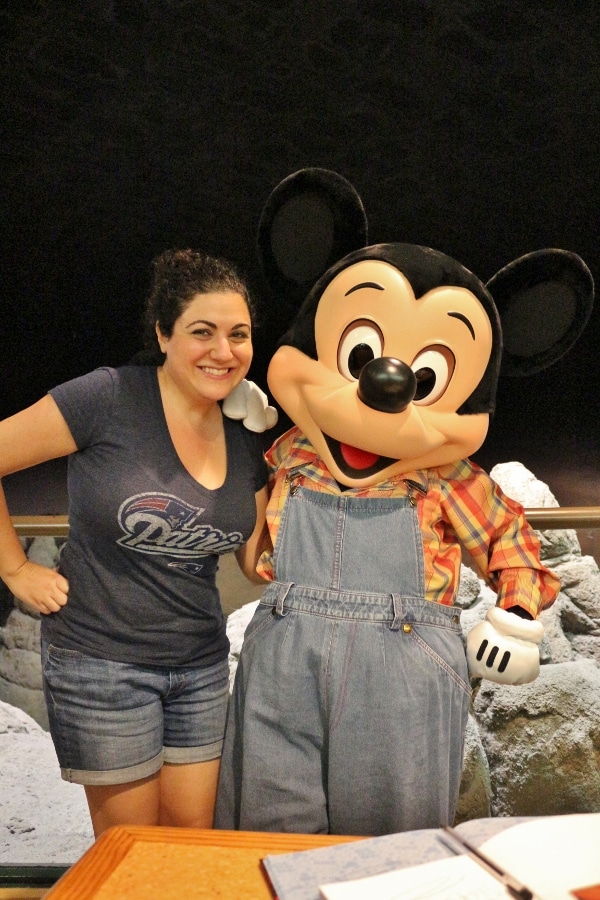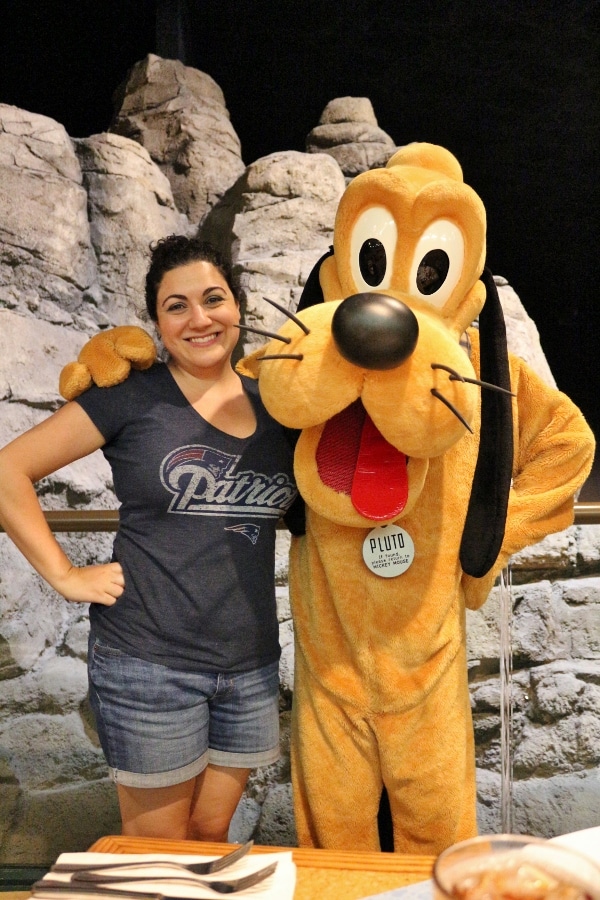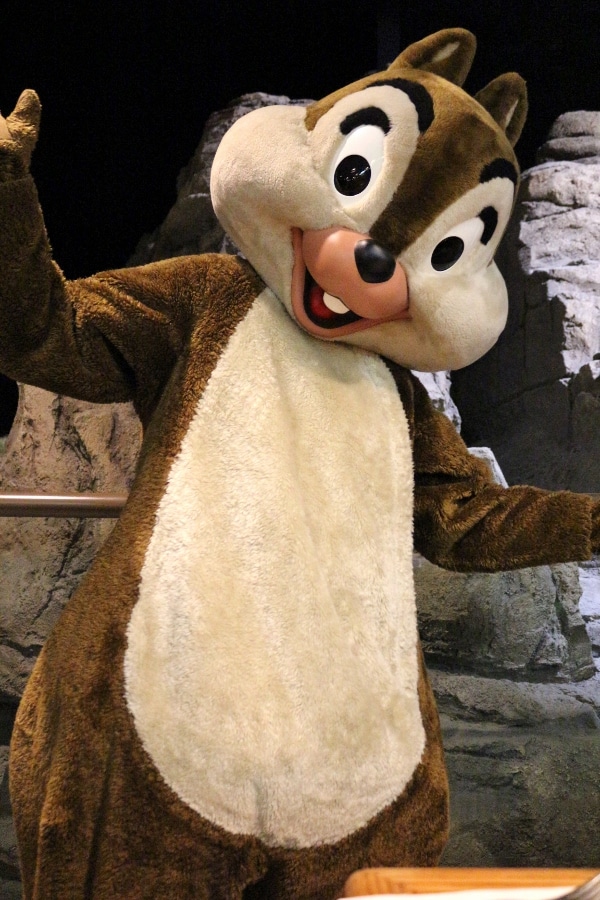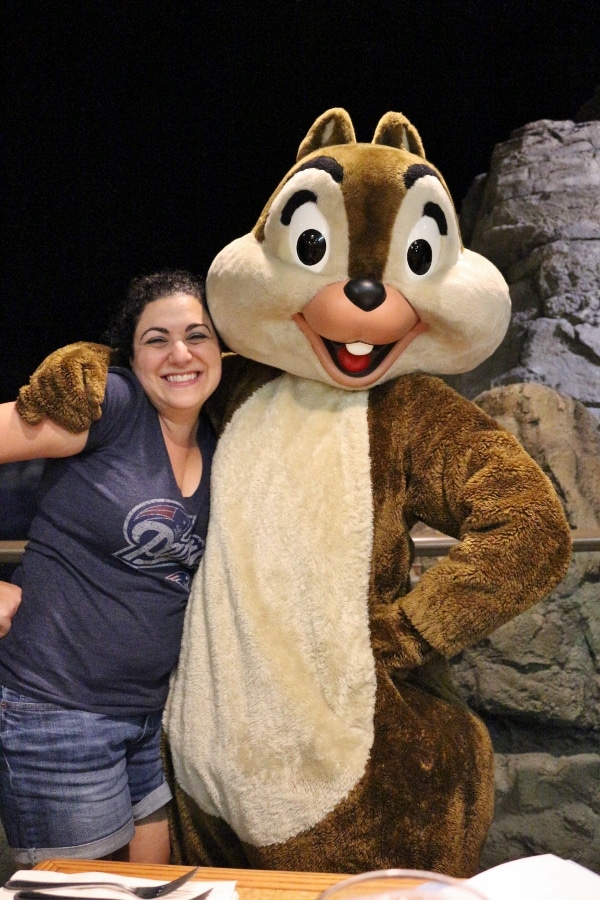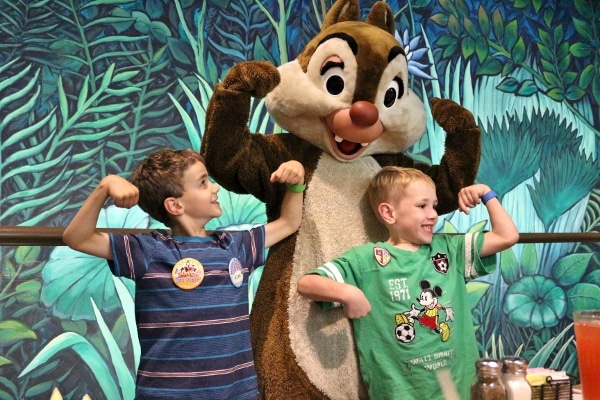 So the character experience is a huge plus, as is the rotating dining room with views of Living with the Land, but at the end of the day you're here to eat. Although Garden Grill will start serving up breakfast and lunch on November 8, 2015, at the time of our visit dinner was our only option (please also keep in mind that prices vary throughout the year--we paid $41.99 per adult and $24.99 per child in early September 2015). The menu is all-you-care-to-enjoy family style and includes lots of delicious comforting dishes to please any palate.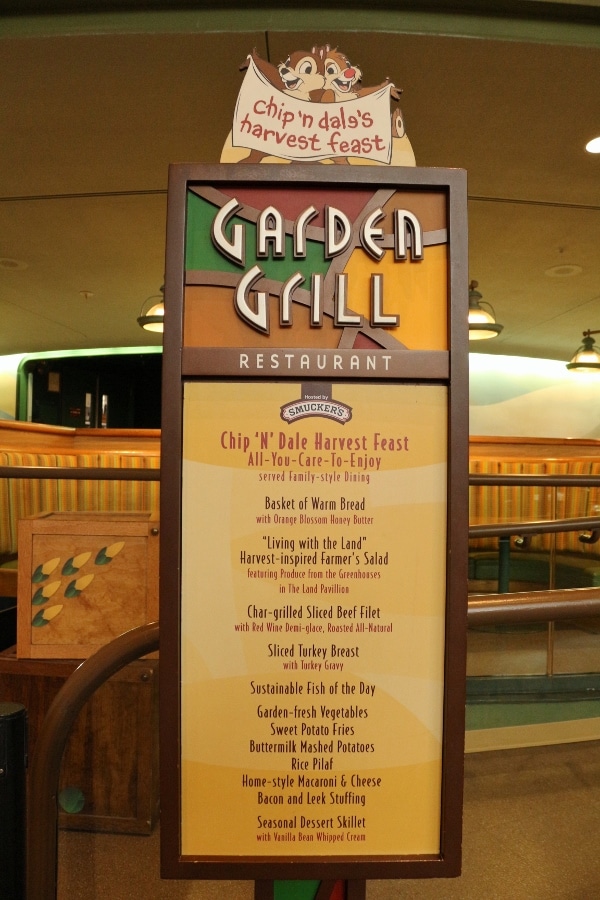 We start off with "Living with the Land" Harvest-inspired Farmer's Salad featuring produce from the greenhouses in The Land Pavilion. It also includes some protein from a hard-boiled egg and bacon. My only criticism is that I wish it was dressed a bit better. I was one of the last in our group to grab some salad and I couldn't really taste any dressing.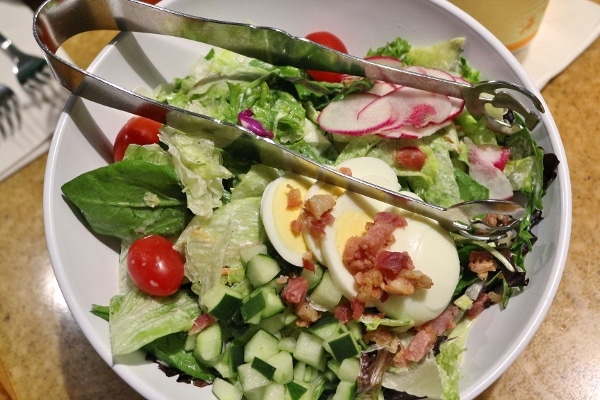 We also got to enjoy a Basket of Warm Bread served with orange blossom honey butter. Bread and butter is one of my favorite things in the entire universe, and the combination here doesn't disappoint. The bread is fluffy with a bit of crust, and the butter is drizzled with honey and topped with a sprinkle of sea salt. Pure comfort.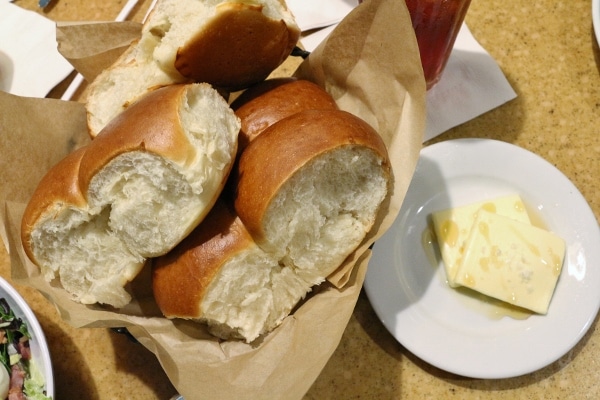 A large platter consists of all of our entrees paired up with sides. From left to right we have Sliced Turkey Breast with Turkey Gravy, Bacon and Leek Stuffing, Cranberry Sauce, Sustainable Fish of the Day with Tomato Jam, Rice Pilaf, Buttermilk Mashed Potatoes, Char-Grilled Sliced Beef Filet with Red Wine Demi-Glace.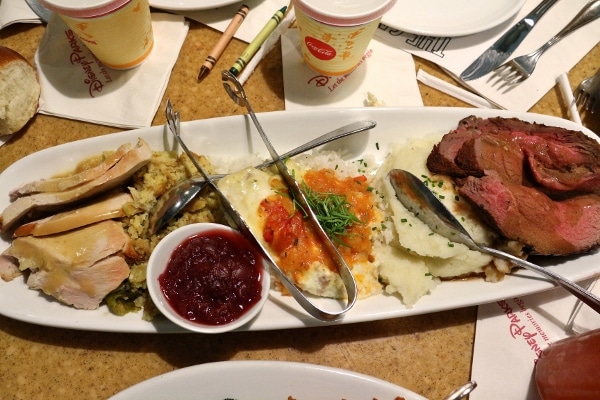 My favorite is probably the beef because it's the most tender, and I absolutely love the demi-glace. It gives the beef even more flavor. The mashed potatoes are a good counterpart and oh so comforting!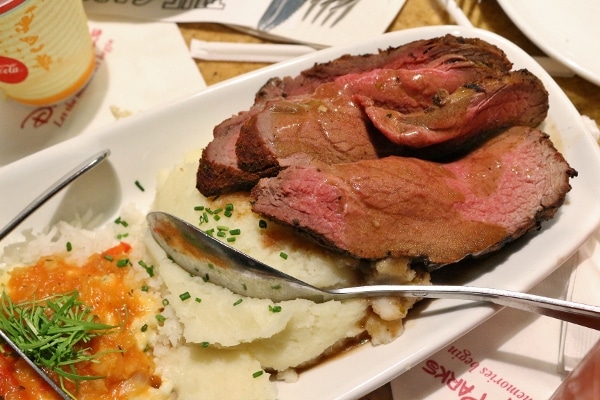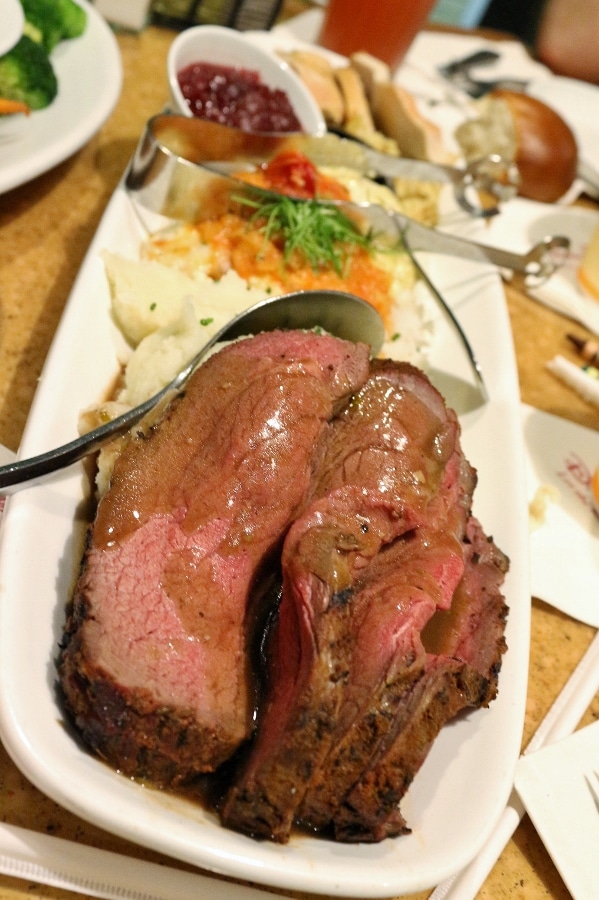 I also really enjoy the turkey breast, stuffing, and cranberry sauce. It's basically Thanksgiving dinner, so what's not to love? It also reminded me of the wonderful all-you-care-to-enjoy family-style Thanksgiving dinner at Liberty Tree Tavern at Magic Kingdom, and that's always a winner too! You can't go wrong with this combo...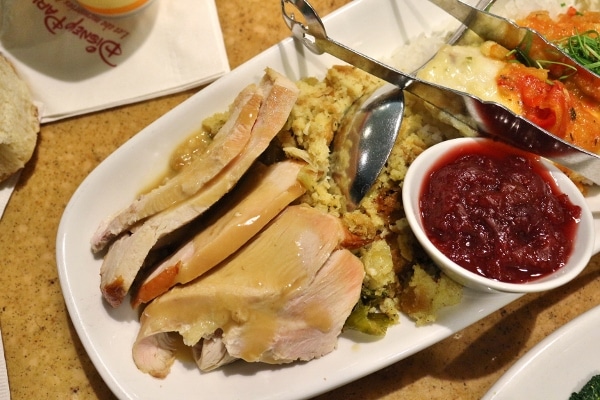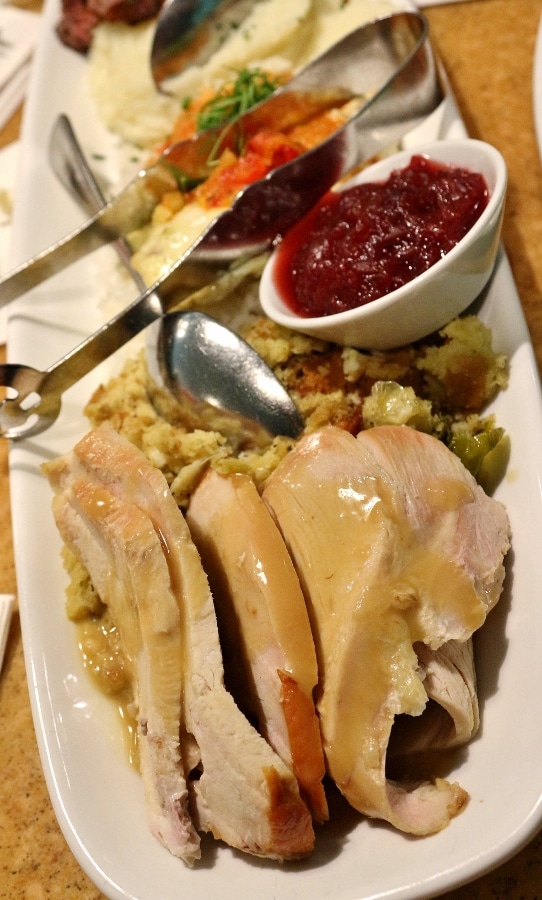 The fish is really tender and well-cooked, offering another great option on a platter full of great options. The sauce is also a nice compliment for such a mild fish, and the rice is a good pairing for this entree. I do feel like the fish can easily be overlooked here, and even I only tried a small piece because I was more excited by the other choices.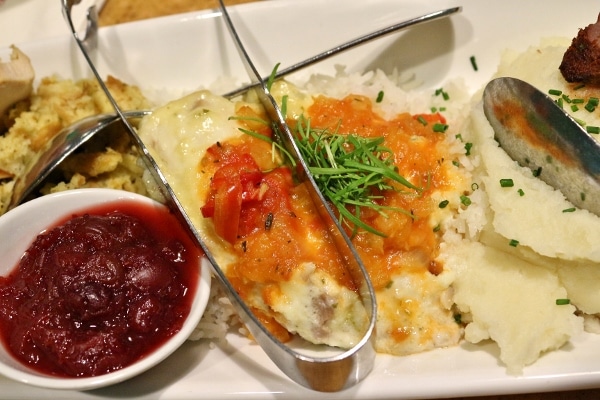 We still have more food to discuss! There's also another platter including more side dishes. This features Garden Fresh Vegetables (in this case we got broccoli), Home-style Macaroni and Cheese, and Sweet Potato Fries. I'm not gonna lie, with all this awesome food I didn't even touch the broccoli. The mac and cheese is your typical Stouffer's-style (or even possibly ACTUAL Stouffer's), which is so comforting even for this food snob. I love that they top it with goldfish crackers! What a brilliant way to add a crunchy topping, while still being playful. The sweet potato fries are also excellent, crispy, and irresistible. At this point you're really wishing you could phone in for an extra stomach. But I digress...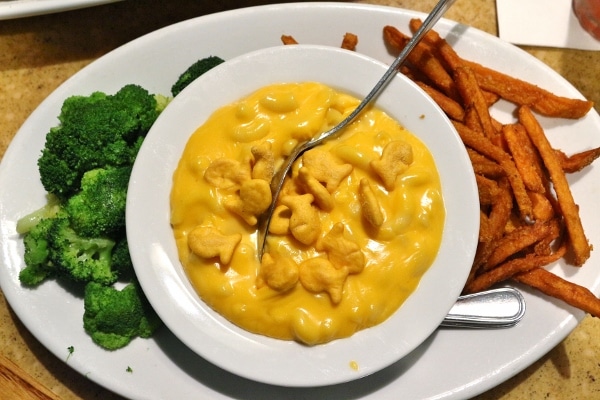 In general the food was pretty cold by the time I started eating because we had characters show up at our table just as the food at arrived--and then of course I was busy taking pictures of the food before diving in, teehee. Even with the food being on the colder side, I have to say I was still quite pleased and would be thrilled to visit the Garden Grill again. It was just kind of unfortunate that the food arrived and then immediately Chip & Dale stopped by. I shouldn't complain though. They're both pretty adorable!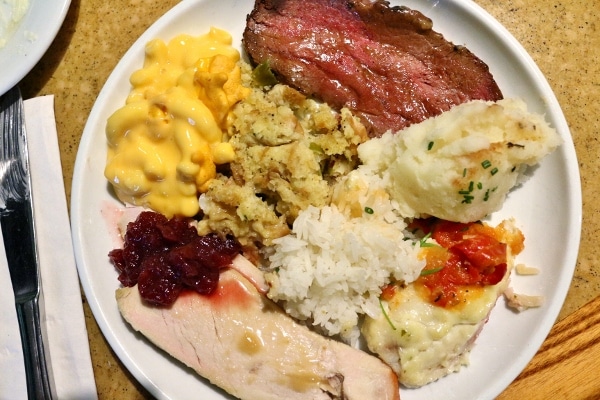 I didn't exactly save room for dessert (remember what I said about needing an extra stomach?), but it's included with the meal, so here goes! You get a Seasonal Dessert Skillet with Vanilla Bean Whipped Cream. We were here in early September and had a four-berry skillet featuring strawberries, raspberries, blackberries, and blueberries and topped with a lovely nutty crumble topping. I took a couple bites and thought it was excellent. I only wish I had saved more room to really indulge 🙁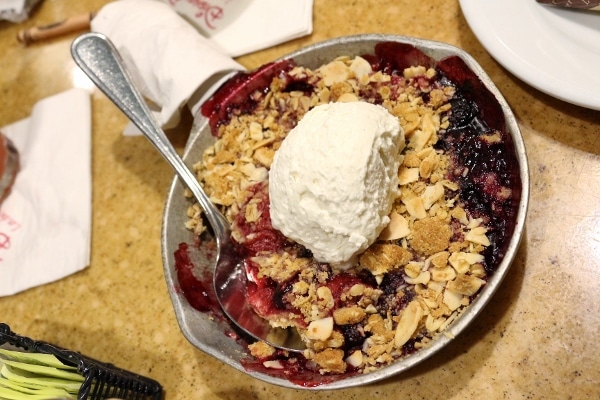 For the kids they bring out chocolate cake cones, which look awesome! I was tempted to try one myself, but again was so full and we were actually rushing towards the end of our meal to catch our Fast Pass time for a sunset ride on Test Track! Definitely don't wanna miss your Fast Pass window 😉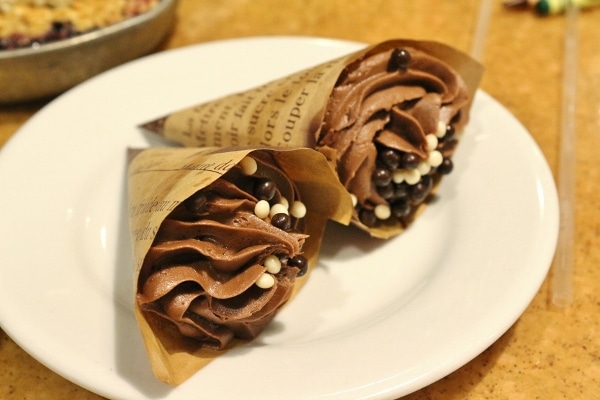 I'm so in love with Garden Grill. Although I generally sway toward many of the enticing dining options in the World Showcase, Garden Grill definitely holds its own for so many reasons. Between the delicious comforting food, the wonderful character interactions, and of course the rotating dining room overlooking Living with the Land, it's definitely worth making Advanced Dining Reservations here if you're planning a visit to Epcot.
The Garden Grill
1510 N Avenue of the Stars
Lake Buena Vista, FL 32830
(407) 939-3463
https://disneyworld.disney.go.com/dining/epcot/garden-grill-restaurant/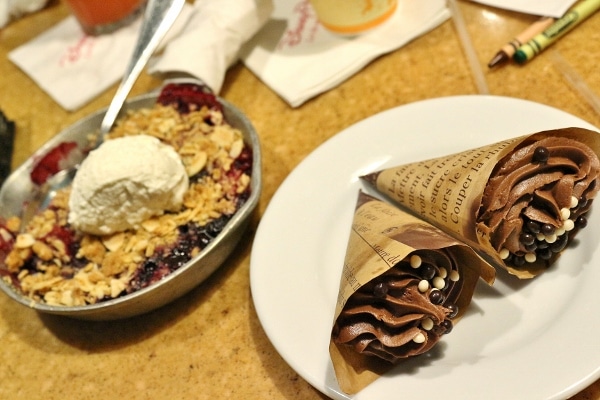 Related posts