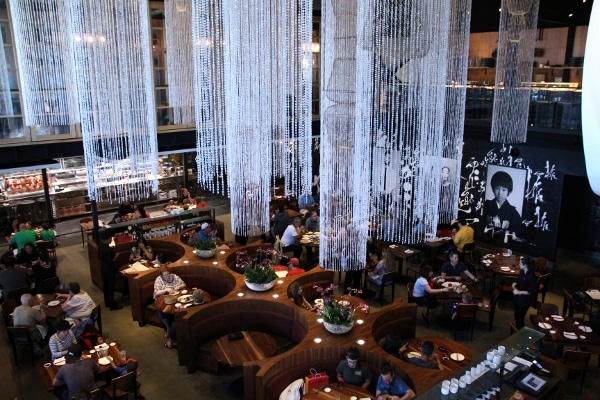 Disney Springs at Walt Disney World, formerly known as Downtown Disney, has completely transformed in the past couple of years. The most noticeable development has been the addition of many exciting restaurants featuring all different types of cuisines. There's something for everyone!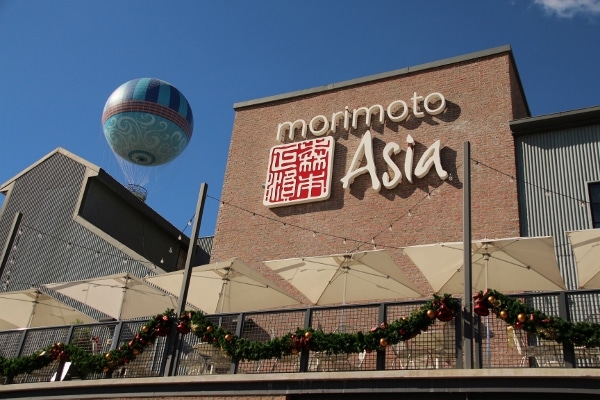 The number of have-to-try restaurants at Disney Springs has surpassed my own ability to visit often enough to try them all! If only I lived closer.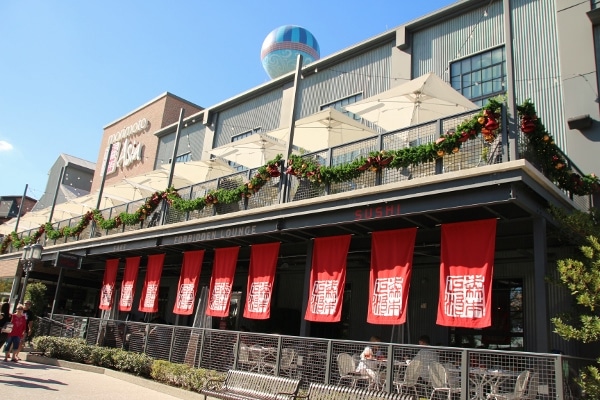 When my family traveled to Orlando back in December for our Very Merrytime Disney Cruise I headed straight to Disney Springs for lunch after checking into our resort. I had made a reservation in advance at Morimoto Asia, Iron Chef Masaharu Morimoto's contribution to this newly developing culinary epicenter on Disney property.
My server at lunch was Hien, and he was fantastic. Truly knowledgeable, helpful, and courteous. He made a point to tell me about the themeing of Morimoto Asia, because just like everything else at Disney there's more thoughtful planning and detail than you'd expect at a regular restaurant.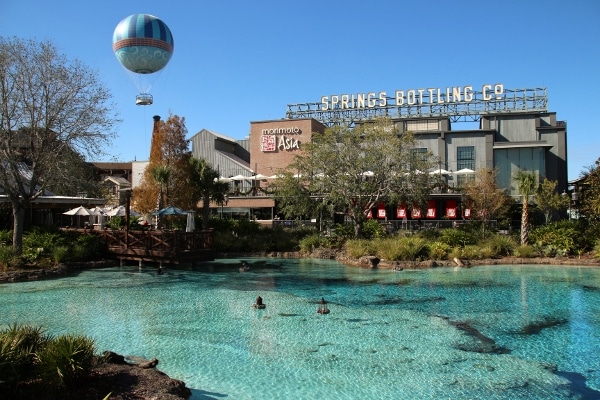 Looking at the Morimoto Asia building you'll notice the sign on top reads Springs Bottling Co. Supposedly, this space was once used as a bottling factory, and even has some of the old gears and bottles from the factory as some of the decor in the upstairs area, where there's a bar and lounge, as well as a sushi bar.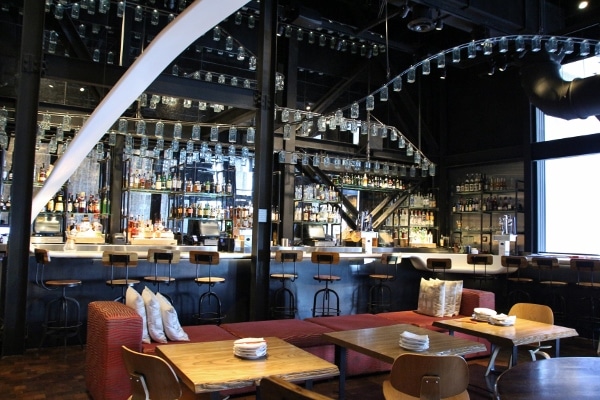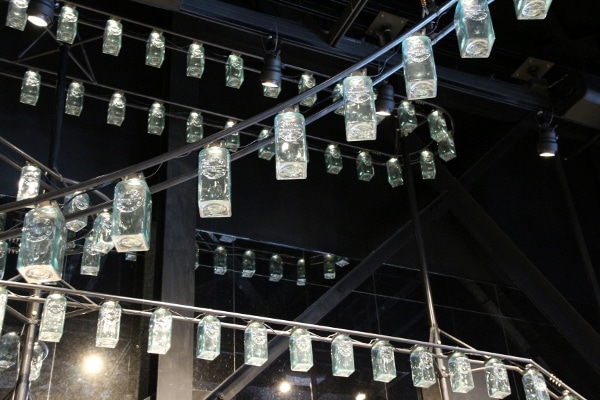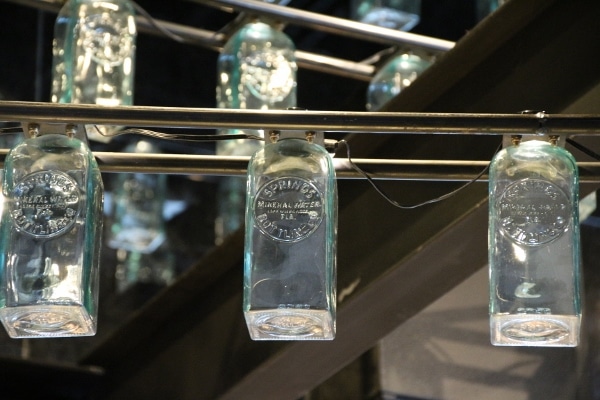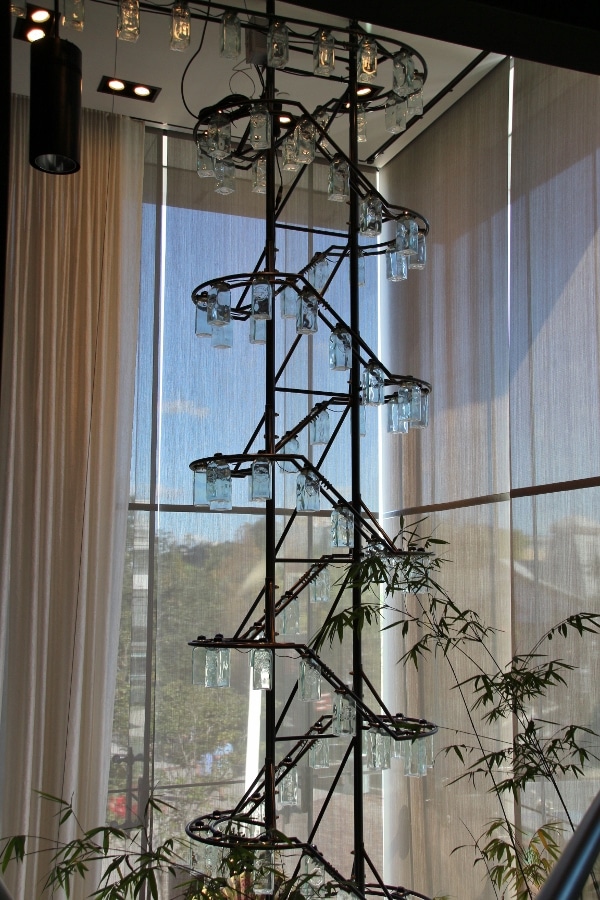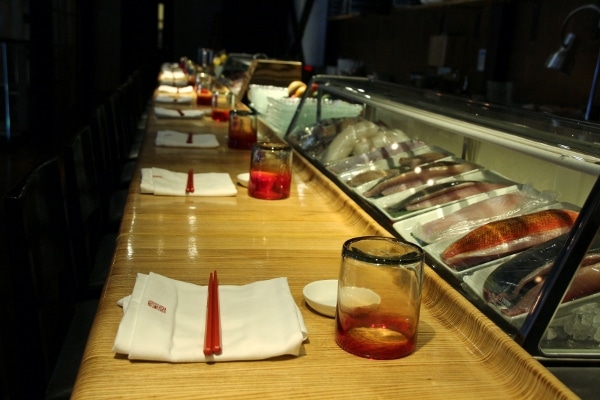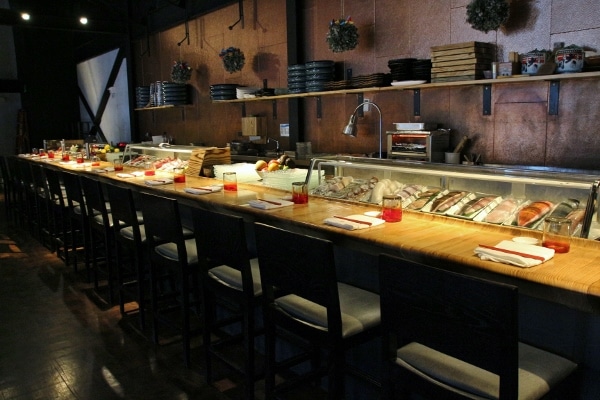 One of the most prominent aesthetic pieces throughout the space has to be the chandeliers. They are quite stunning from every angle whether you're downstairs, upstairs, or somewhere in between.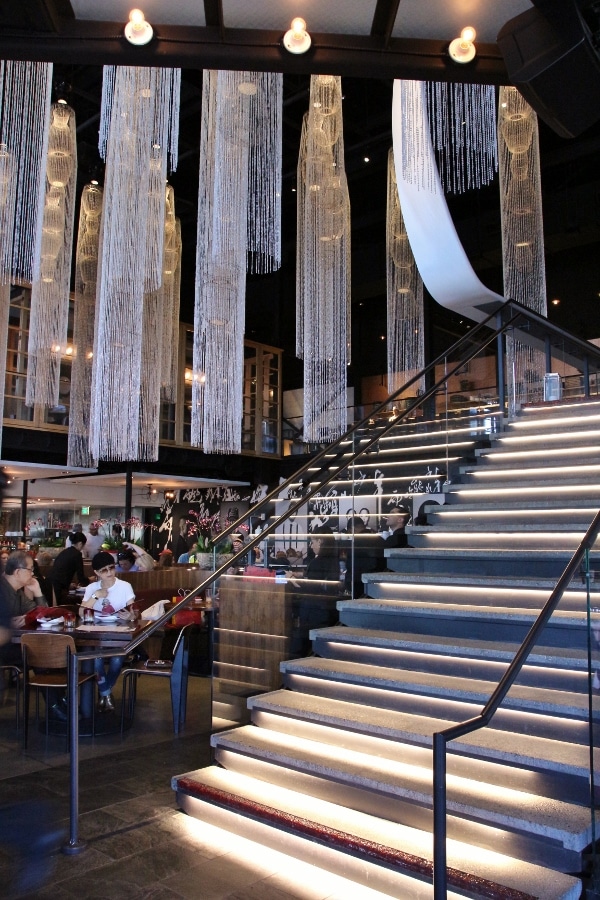 There's also a pretty great open kitchen (well, it's behind glass, but it's open as far as I'm concerned), and if you're lucky enough to be seated nearby, you'll have a really nice view of these Peking ducks. Don't they look delicious?!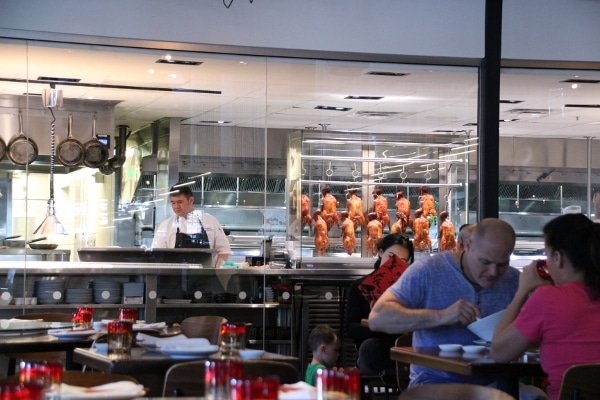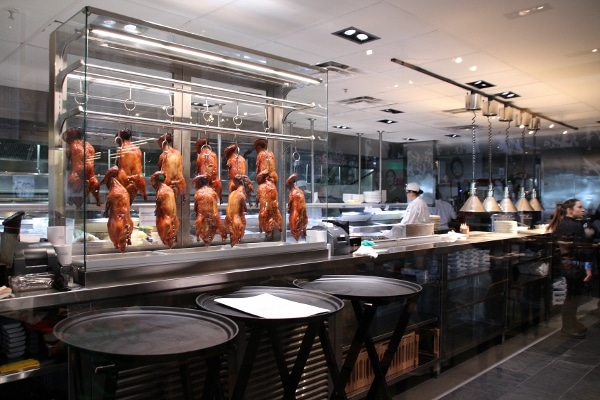 Now that we've learned a bit about the themeing and decor at Morimoto Asia, let's take a peek at the menus. First up is the drink menu.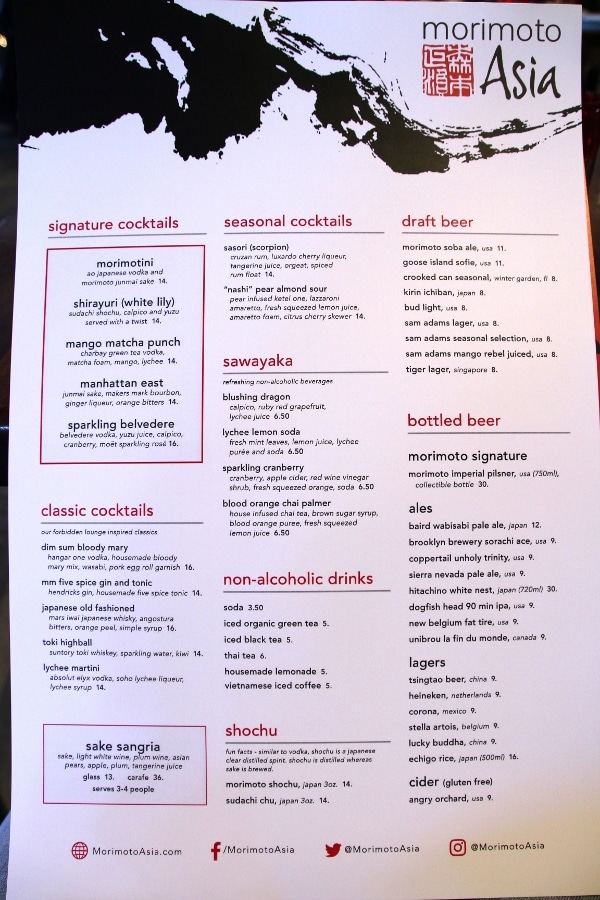 Since this was the first meal of my well-deserved vacation, I knew I wanted to start it off right with a cocktail. I asked Hien for some suggestions, and went with one of the highlights he pointed out, the Sparkling Belvedere. This combination of Belvedere vodka, yuzu juice, Calpico (a creamy Japanese soft drink), cranberry juice, and Moet sparkling rose is delicately sweet, refreshing, and light with a bit of dryness from the Champagne. I definitely made a good choice.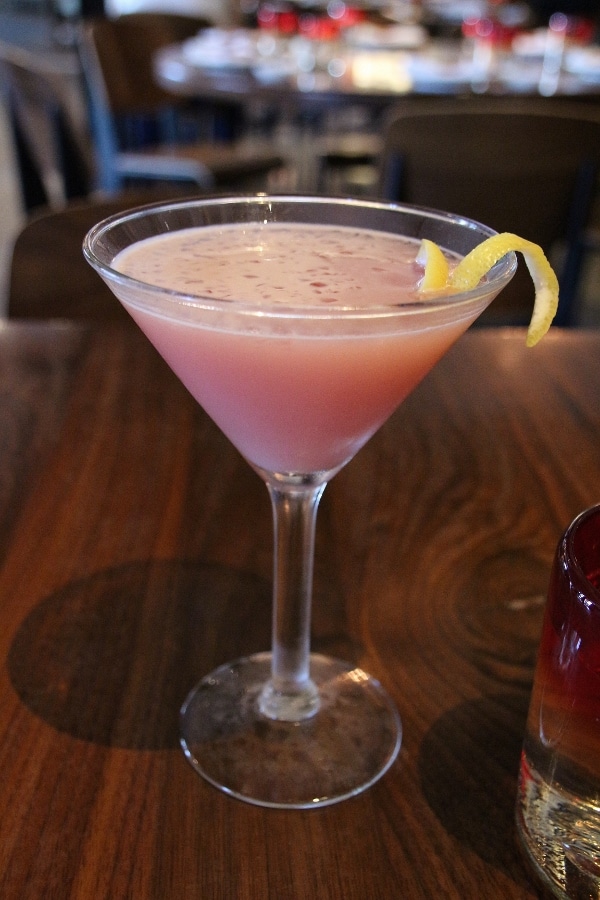 Here's a look at the food menu.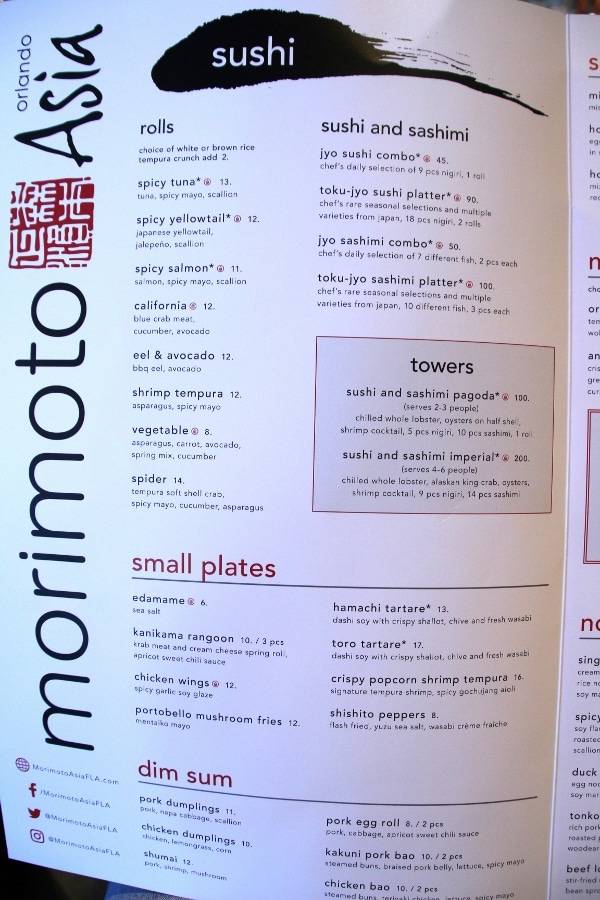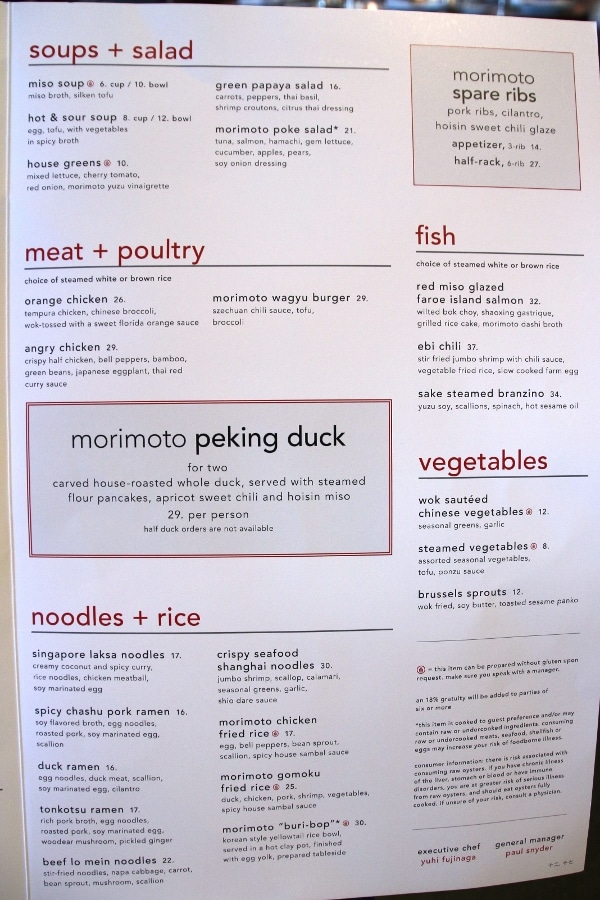 I was actually dining alone. Some of my family with annual passes went to the parks, while the rest of the family was on a later flight. I saved my park money, and came to Morimoto instead. The only problem with dining alone is that when you're a foodie like me, and want to try a bunch of different things, it's tough because there aren't others to share with (and I don't like wasting food or money by ordering more than I can eat). I sucked it up, and ordered an appetizer and entree all for myself though because there was no way I was coming here without trying at least a couple dishes.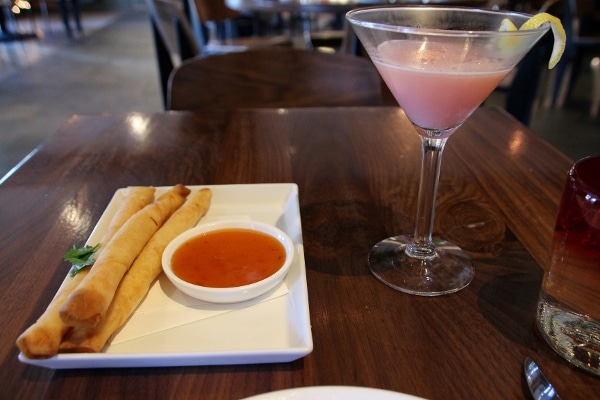 I had my eye on the Kanikama Rangoon, which is the Morimoto version of crab rangoon. They are shaped like thin, long spring rolls instead of the standard triangular shape, and the wrapper is a lighter, crispier spring roll wrapper. The filling is a combination of imitation crab and blue crab, cream cheese, and a little spicy mayo. It's served with an apricot sweet chili sauce.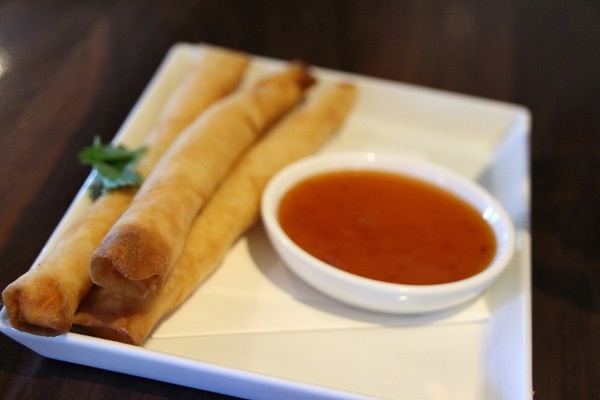 These rangoons are pretty crabby, so if you like crab you'll like these. They are the OPPOSITE of your neighborhood Chinese restaurant crab rangoons which are typically super heavy on the cream cheese, and wrapped in a thick, doughy shell. These are way more refined and crab-forward.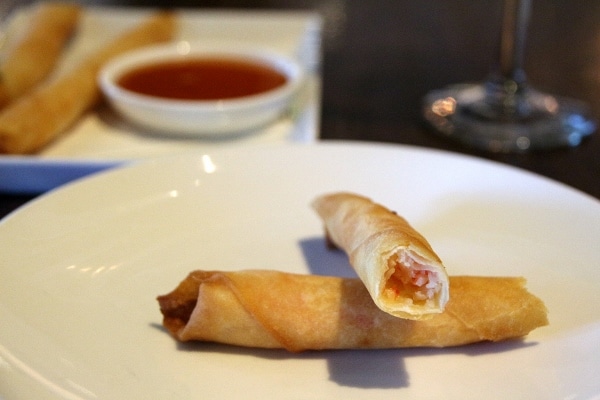 Although there were a lot of top contenders, I only had eyes for one entree on the menu, the Singapore Laksa Noodles.
The laksa broth was amazing! Mine was piping hot, creamy, and spicy, but not too spicy. There were all different textures and flavors in the bowl, from the crispy wontons to the soy-marinated hard-boiled egg with it's soft but not-runny yolk. Rice noodles and chicken meatballs rounded out the rest of the soup. The meatballs were juicy, but kind of meh in flavor. They got flavor from the broth, but that was about it. With that said, even the under-seasoned meatballs didn't detract from the out-of-this-world experience eating this wonderful laksa.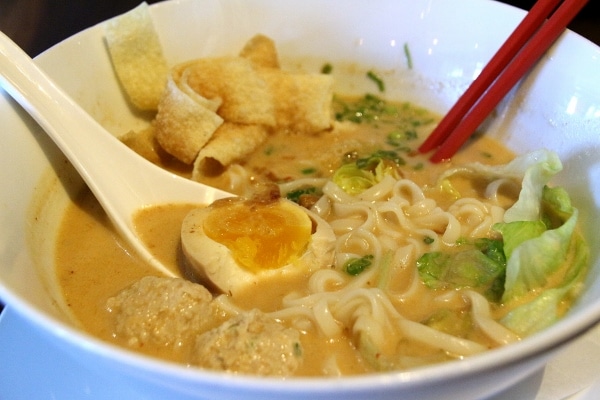 This meal for one turned out to be quite pricey, but it was what I expected. With a cocktail, an appetizer, and an entree, this wasn't going to be a bargain by any means, but I don't have a single complaint, and I'd do it again. The laksa was outstanding, and the rangoons were a revelation compared to every other rangoon I've ever tasted. And let's definitely not forget the amazing cocktail to start it all. Along with attentive service and beautiful surroundings I'd be happy to return to Morimoto Asia whenever the opportunity arises.
Morimoto Asia
1600 E Buena Vista Dr
Lake Buena Vista, FL 32830
(407) 939-6686
https://www.patinagroup.com/morimoto-asia
Related posts