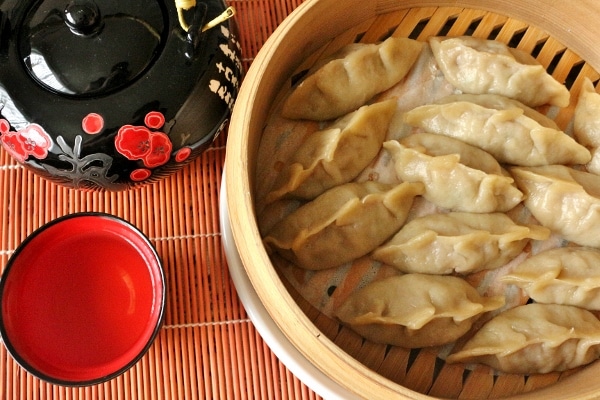 The most common dumpling filling among typical Chinese restaurants (and even other Asian restaurants) is pork. You'll find some variation of pork dumplings (steamed or fried) on many Chinese menus, whether they are traditional or American-Chinese style restaurants. Although some may contain just pork and seasonings, it's likely that many of them also contain some cabbage and/or Chinese chives.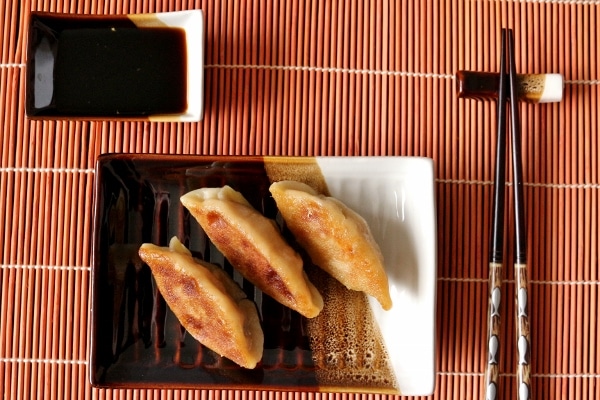 Pork and Cabbage dumplings are perhaps the pinnacle for standard dumpling fare at many Chinese restaurants. Even some restaurants specializing in dumplings, but only featuring a small variety place the pork ones at the forefront--Vanessa's Dumplings in NYC, one of my personal favorites, places Chive and Pork Dumplings and Cabbage and Pork Dumplings at the top of their menu. Both are excellent.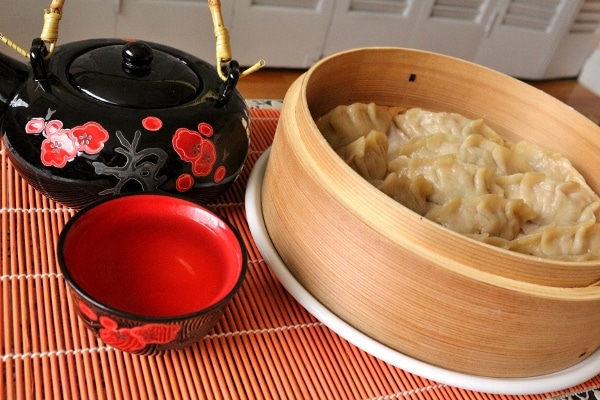 I've created a huge selection of both traditional and creative dumplings over my years of dumpling obsession, but today I will be kicking it old school and sharing a very traditional pork and cabbage dumpling recipe. All of my Chinese/dumpling/dim sum cookbooks have some variation of this recipe, and they are nearly identical in many ways.
I recently made a batch of the pork and cabbage dumplings featured in Asian Dumplings (as well as a batch of the amazing vegetable dumplings from the same cookbook--PS I just updated the photos on that post with new ones!). These dumplings are super easy to make. At first I was worried the cabbage wouldn't wilt enough in the filling (my first adventure with dumpling-making MANY years ago resulted in that problem).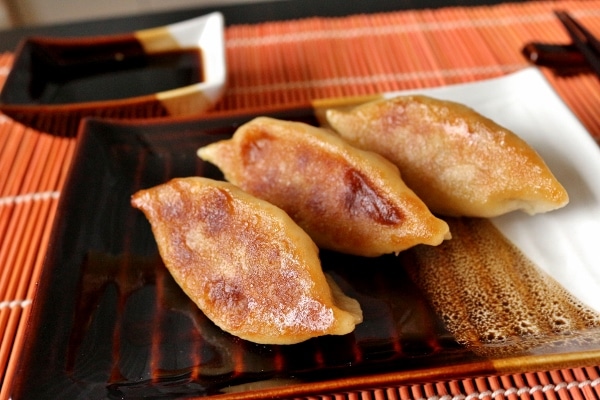 The cabbage wilted a bit during the salting step, but it continued to soften once I added the flavoring sauce, and even more when I allowed the filling to rest overnight in the fridge. I did end up with perhaps an extra ½ to ¾ cup filling (same goes with the veggie filling) and I just froze the extra fillings in freezer bags to use another time. I also froze about half of each variety of dumplings for convenient snacks/meals when an inevitable dumpling craving hits.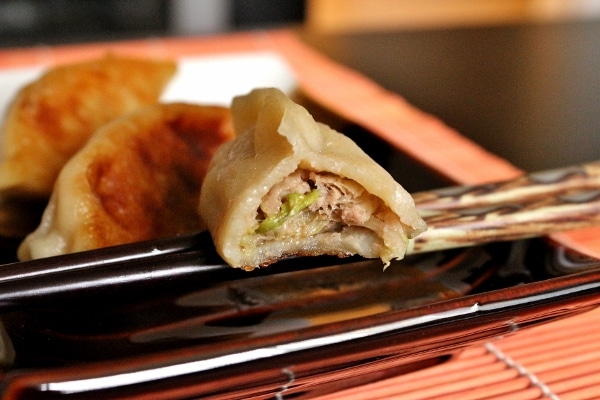 With Chinese New Year approaching next month, this is the perfect time to start planning delicious ways to celebrate. These pork dumplings are excellent both steamed and pan-fried, and you can even simply fold them into half-moons and boil them as well. They are very versatile and delicious in any form!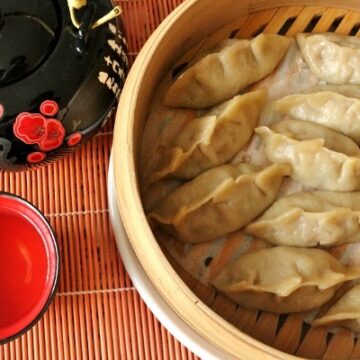 Pork and Cabbage Dumplings
One of the most classic Chinese dumpling recipes featuring pork and cabbage filling. These juicy morsels can be steamed, pan-fried or boiled with delicious results.
Print
Pin
Rate
Servings:
32
dumplings (serving 4 as a main course, or 6 to 8 as a snack or starter)
Ingredients
Filling:
2

cups

lightly packed finely chopped napa cabbage

cut from whole leaves (about 7 ounces)

½

teaspoon plus scant ½ teaspoon

salt

1

tablespoon

finely minced fresh ginger

¼

cup

chopped Chinese chives or scallions

white and green parts

8

ounces

ground pork

fattier kind preferred, coarsely chopped to loosen

⅛

teaspoon

ground pepper

¼

cup

chicken stock or water

1 ½

tablespoons

light (regular) soy sauce

1

tablespoon

Shaoxing rice wine or dry sherry

1

tablespoon

canola oil

1 ½

tablespoons

sesame oil
Dough:
10

ounces

(2 cups) unbleached all-purpose flour

About ¾ cup just-boiled water

boil water, then let it sit for a minute off the heat before measuring
Tangy Soy Dipping Sauce:
⅓

cup

soy sauce

2 ½

tablespoons

unseasoned rice, Chinkiang, or balsamic vinegar

⅛

teaspoon

sugar

(optional)

1

tablespoon

finely shredded ginger or 2 teaspoons finely minced garlic

(optional)
To Cook:
Canola or peanut oil

if pan-frying
Instructions
To make the filling, put the cabbage in a bowl and toss with the ½ teaspoon salt. Set aside for about 15 minutes to draw excess moisture from cabbage. Drain in a mesh strainer, flush with water, and drain again. To remove more moisture, squeeze the cabbage in your hands over the sink, or put in a cotton kitchen towel and wring out the moisture over the sink. You should have about ½ cup firmly packed cabbage.

Transfer the cabbage to a bowl and add the ginger, Chinese chives, and pork. Use a fork or spatula to stir and lightly mash the ingredients so they start coming together.

In a small bowl, stir together the remaining scant ½ teaspoon salt, the pepper, chicken stock, soy sauce, rice wine, canola oil, and sesame oil. Pour these seasonings over the pork an cabbage mixture, then stir and fold the ingredients together. Once the pork has broken up, briskly stir to blend the ingredients into a cohesive, thick mixture. There should not be any visible large chunks of pork. To develop the flavors, cover and set aside at room temperature for 30 minutes. You should have about 2 cups of filling. The filling can be prepared 1 day ahead and refrigerated. Bring it to room temperature before assembling the dumplings.

To make the dough, place a large mixing bowl over a damp paper towel on your work surface, to keep in place while mixing. Add the flour and make a well. Use a wooden spoon to mix the flour while you add the water in a steady stream. Mix together until you have a lot of lumpy bits, then knead the hot dough in the bowl until the dough comes together. Add water by the teaspoon if the dough does not come together.

Continue kneading the dough on a lightly floured surface (only flour if necessary, and do so sparingly) for a couple more minutes until the dough is smooth and elastic (my mixing bowl was very large so I finished kneading directly in the bowl and it was just fine). The dough should bounce back when pressed with your finger, but leave a light impression of your finger. Place dough in a zip-top bag, seal tightly, pressing out excess air, and set aside at room temperature for 15 minutes up to 2 hours. The dough will steam up the bag and soften. After resting, the dough can be used right away, or refrigerated overnight and returned to room temperature before using.

To make the dipping sauce, combine the soy sauce, vinegar, and sugar and stir to dissolve. Taste and adjust flavors to your liking for a tart-savory balance. The sauce can be prepared several hours in advance up to this point. Right before serving, add the ginger or garlic.

To assemble the dumplings, remove the dough from the bag, turning the bag inside out if the dough is sticky. Put the dough on a lightly floured surface and cut it in quarters. Put half back in the bag, squeezing out the air and sealing it closed to prevent drying.

Roll the dough into a 1-inch-thick log and cut into 8 pieces (cut in half, then cut each half in half, and so on to create pieces that are even in size. The tapered end pieces should be cut slightly larger). If your pieces are oval, stand them on one of the cut ends and gently squeeze with your fingers to make them round, like a scallop. Take each piece of dough and press each cut end in flour, lightly pressing the dough to about ¼ inch thick and set aside.

Next, flatten each dough disk into a thin circle, about ⅛ inch thick, either with a tortilla press (lined with plastic wrap), or with a heavy flat-bottomed object like a frying pan (also lined with plastic). Alternatively, use a dowel (which is a good lightweight rolling pin alternative for fast and flexible dumpling making) to lightly roll out each disc into an ⅛ inch thick circle.

To finish the wrappers, place wrappers one at a time on your work surface, and flour only if sticky. Imagine a quarter-size circle in the center of the dough. This is what the Chinese call the "belly" of the wrapper. You want to create a wrapper that is larger than its current size, but still retaining a thick "belly" in the center. This ensures an even distribution of dough when the dumpling is sealed. Use the rolling pin to apply pressure to the outer ½-to-¾-inch border of the wrapper. Roll the rolling pin in short downward strokes with one hand while the other hand turns the wrapper in the opposite direction. Aim for wrappers that are about 3 ¼ inches in diameter. When a batch of wrappers is formed, fill them before making wrappers out of the other portions of dough.

Line a baking sheet with parchment paper (if planning to refrigerate dumplings for several hours, also dust with flour to prevent sticking). Hold a wrapper in a slightly cupped hand and scoop about 1 tablespoon of filling slightly off-center toward the upper half of the wrapper, pressing and shaping it into a flat mound and keeping a ½-to-¾-inch border on all sides.

To make "pleated crescent" shapes, make the first pinch between index finger and thumb, then fold over the front edge to form the first pleat and press it against the back edge. Continue pleating the dough in this fashion until making the final pleat and then settle the dumpling on a work surface and press the edges to seal well.

Alternatively, to make "pea pod" shapes, fold the edge of the wrapper closest to you to meet the top edge and pinch together to seal well (you can stop here at the "half moon" shape, especially if you plan on boiling these). Place on your work surface and press gently to steady the dumpling and make it sit flat. Fold the sealed edges of the dumpling to make a series of pleats from one end to the other.

Place finished dumplings on the prepared baking sheet. Repeat with the remaining wrappers and dough, spacing out dumplings about ½ inch apart. Keep the finished dumplings covered with a dry kitchen towel.

When all the dumplings are assembled, they can be covered with plastic wrap and refrigerated for several hours and can be cooked straight from the refrigerator. For longer storage, freeze them on their baking sheet until hard (about 1 hour), transfer to a zip-top freezer bag, pressing out excess air before sealing, and frozen for up to 1 month. To cook after freezing, partially thaw, using your finger to smooth over any cracks that may have formed during freezing, before cooking.

To boil the dumplings, half-fill a large pot with water and bring to a boil over high heat (I like to salt the water, but it's not necessary). Add half the dumplings, gently dropped each one into the water. Nudge them apart with a wooden spoon to keep them from sticking together or to the bottom of the pot. Return the water to a simmer and then lower the heat to maintain a simmer and gently cook the dumplings for about 8 minutes, or until they float to the surface, look glossy, and are puffed up and a tad translucent. Use a slotted spoon or skimmer to scoop the dumplings from the pot, a few at a time, pausing the spoon's motion over the pot to allow excess water to drip back down before putting the dumplpings on a serving plate. Cover the plate with a large inverted bowl to keep the dumplings warm. Return the water to a boil and cook the remaining dumplings. When done, return the first batch to the hot water to reheat for a minute or two. There is no need to reboil.

To steam the dumplings, place the dumplings into a bamboo steamer lined with a perforated parchment circle or cabbage leaves (to keep the dumplings from sticking to the steamer) steam over boiling water for for about 8 minutes, or until slightly puffed and somewhat translucent. Remove the trays and place each atop a serving plate.

To pan-fry the dumplings, use a medium or large nonstick skillet (or cook two batches at the same time using two pans). Heat the skillet over medium-high heat and add 1 ½ tablespoons oil for a medium skillet and 2 tablespoons for a large one. Place the dumplings 1 at a time, sealed edges up, in a winding circle pattern. The dumplings can touch. Medium skillets will generally fit 12 to 14 dumplings, large skillets will fit 16 to 18 dumplings. Fry the dumplings for 1 to 2 minutes until they are golden or light brown on the bottom.

Holding the lid close to the skillet to lessen splatter, use a measuring cup to add water to a depth of roughly ¼ inch (about ⅓ cup water). The water will immediately sputter and boil vigorously, Cover with a lid or aluminum foil, lower the heat to medium, and let the water bubble away for 8 to 10 minutes, until it is mostly gone. When you hear sizzling noises, remove the lid as most of the water is now gone. Let the dumplings fry for another 1 or 2 minutes, or until the bottoms are brown and crisp. Turn off the heat and wait until the sizzling stops before using a spatula to transfer dumplings to a serving plate. Display them with their bottoms facing up so they remain crisp.

Serve with the dipping sauce in a communal bowl or in individual dipping sauce dishes.
Notes
For the cabbage:

I weighed my chopped cabbage instead of measuring volume, but it actually looked like more than 2 cups.
Adapted from Asian Dumplings
Nutrition
Serving:
1
dumpling
|
Calories:
69
kcal
|
Carbohydrates:
7
g
|
Protein:
3
g
|
Fat:
3
g
|
Saturated Fat:
1
g
|
Monounsaturated Fat:
1
g
|
Cholesterol:
7
mg
|
Sodium:
95
mg
|
Potassium:
2
mg
*All nutritional information is based on third-party calculations and should be considered estimates. Actual nutritional content will vary with brands used, measuring methods, portion sizes and more.*