I consider myself to be a bit of an expert on New York City's Chelsea Market. Let me break it down for you. Years ago, I began my culinary career as an intern at the Food Network, whose offices are located above Chelsea Market. Every day, I commuted from afar (nearly 1 ½ hours from Long Island until I moved to Brooklyn) and walked through the epic entrance to the greatest indoor food hall in all the land.
I became very familiar with every nook and cranny of this vastly popular space (with notoriously horrible cell phone reception!). In the mornings, I would often pop into Amy's Bread or Sarabeth's Bakery for a sweet start to my day before heading to the elevators.
During my lunch breaks, I would often head down to the market and try different shops and restaurants until I had tried nearly all of them, from the Tuck Shop for Australian meat pies to Chelsea Thai and the Lobster Place, my all time favorite seafood shop.
On my way home, I would perhaps stop by Manhattan Fruit Exchange to pick up some produce, or maybe Lucy's Whey for some artisanal cheeses. Meanwhile, I can't resist perusing the beautiful dishes and kitchen gadgets throughout Bowery Kitchen Supplies. I always manage to find something fun to go home with.
I have dined at Buddakan on several occasions, including one of my birthday celebrations. I loved it so much that I made my own attempts to recreate dishes on the menu, like their carrot dumplings.
There is never a shortage of delicious food finds at Chelsea Market. Even outside of the foodie sphere, Chelsea Market has some really great spaces. One usually houses sample sales from various designers. That same space once featured live alligators in a special event promoting the season premiere of the History Channel show Swamp People. I met several gator hunters there, checked out some live baby and full size alligators and chowed down on delicious New Orleans staples. All because I can't resist walking into Chelsea Market when I'm anywhere in the vicinity.
It pulls at my heart strings; it's a beacon calling me home. Chelsea Market is very special and easily one of my favorite places in all of New York (and I'm not the only one!). It has quite an incredible history, which I first learned doing research for my culinary school project while working at the Food Network.
The building used to house a factory for the National Biscuit Company, or Nabisco. The remnants of this past life is prominent as you walk into the Market and look around at the artwork and artifacts on the walls. This is where the infamous Oreo cookie first made its mark on the world.
There is even more history about Chelsea Market that I didn't fully realize until I got my hands on an advance copy of The Chelsea Market Cookbook by Michael Phillips and Rick Rodgers (who I actually had the pleasure of meeting at a cookbook release party I attended in NYC a couple years ago--yeah I know, I'm so fancy!). For example, even through the research I conducted on my own, I didn't realize that Chelsea Market in its current form is only 15 years young! It feels like it's been there forever... in a good way!
This gorgeous hardcover book features 100 recipes ranging from the many restaurants and food artisan shops within the market, as well as recipes from guest chefs (some of whom are employed by the Food Network, whose offices are housed above Chelsea Market) as well as some Chelsea Market family recipes from the very people who own and operate the building.
Personally, although many of the family recipes do look appealing, I could do without them in place of more from the actual restaurants at the market, which are more familiar to me and therefore more enticing to replicate in my kitchen. There are still plenty of these restaurant-sourced recipes in the book! One can easily prepare an entire meal from a single shop, such as Guiness Steak and Mushroom Pies with a side of Roasted Brussels Sprouts and a sweet finish of Lamingtons from Tuck Shop.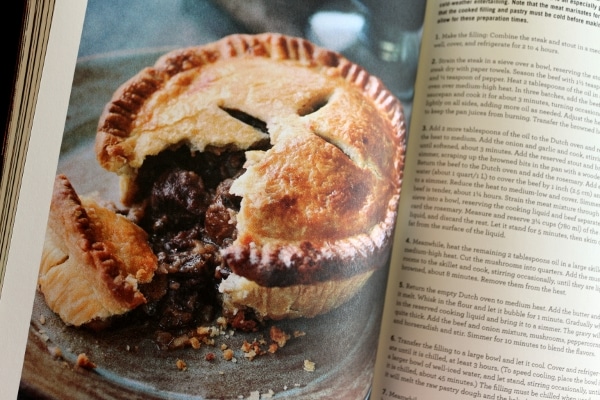 Or perhaps start with a Tranquility cocktail and Char Siu Pork Belly Buns, then enjoy Mongolian Rack of Lamb with Crystallized Ginger Crust and a side of Stir-Fried Cauliflower and Chile-Garlic Sauce as the main event, and wrap it all up with Yogurt Panna Cotta with Tropical Fruits, all from Buddakan.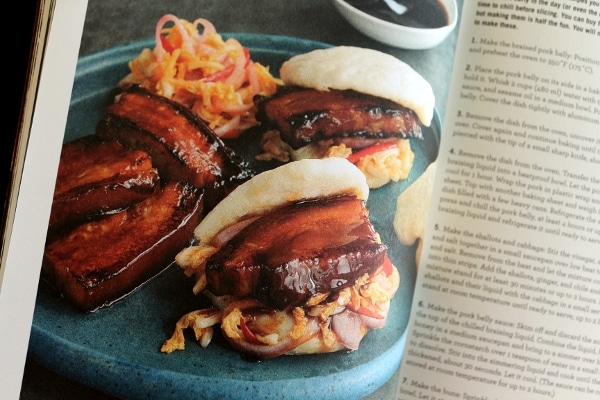 In addition to these truly crave-worthy recipes, each chapter concludes with a section entitled "Market Voices," which includes various in depth and useful looks at artisans in the market showcasing their specialties. For example, Lucy's Whey shares thoughts on choosing cheese, including tips on conducting a grilled cheese sandwich night, vertical cheese tasting night, and more. Meanwhile, in another chapter, Chelsea Market Baskets shares insight on preparing the ultimate food baskets for any occasion.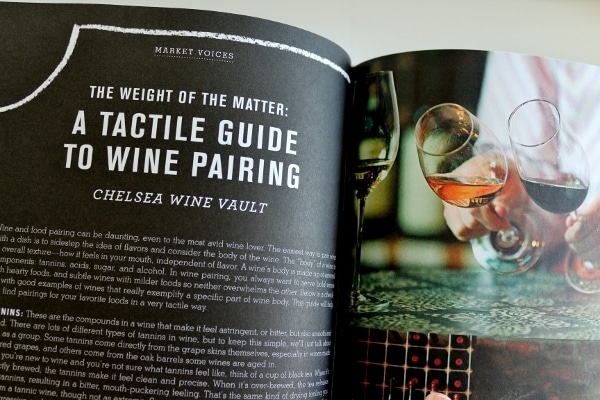 And don't even get me started on the photos. Each picture of the Market itself is a trip down memory line, along with lots of mouthwatering food photos to round out the book. Chelsea Market is such a special and beloved place in New York City, and this book is a really fitting example showing it the respect it deserves. It's not every day I get to review a cookbook that is so personal to me, and I must say it met my expectations!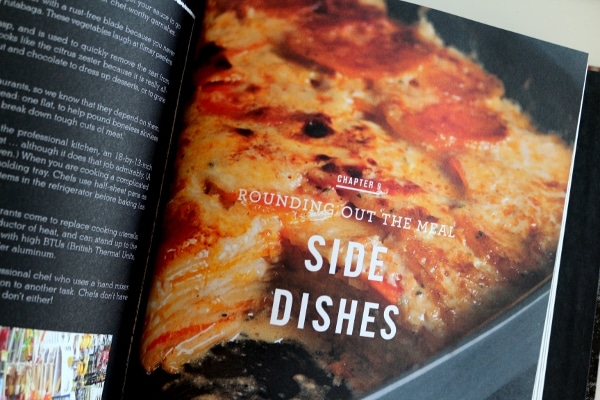 In fact, it inspired me to conduct a little photo shoot of my own when I recently took a trip to New York City! Although I have plenty of photos from various visits to the Market over the years (including when I worked there), I was happy to take more (with a much nicer camera this time) and include many of them in this post.
Now, onto the cooking portion of this review! I couldn't resist trying a recipe from one of my favorite spots at the Market, Buddakan. Although it describes the Stir-Fried Cauliflower with Chile-Garlic Sauce as a side dish, it can definitely be the star of your meal if you'd like to serve it on its own with some steamed rice. That's what I did and it was very satisfying.
I love the slight crunch from the cauliflower with the meaty addition of ground pork. The sauce is fantastic with a great amount of heat that isn't completely overwhelming. It does contain a lot of specialty ingredients, but many of them can be found in the Asian section of your grocery store, and if you have access to a specialty Asian market as I do, you can definitely find everything there.
I used sriracha instead of sambal oelek simply because I had it on hand it was a small quantity needed. I also left out the mint garnish, but that's no biggie. The chile bean sauce is the only product that might be a bit more challenging to find, but it is also sometimes referred to as "broad bean chili paste" or "Sichuanese chili bean sauce." I live in the suburbs and managed to find it, and if you look hard enough, you can find it too.
One other note about the recipe. Even though I dried my cauliflower thoroughly, it still managed to release some more water before I tossed it in the wok. It caused my sauce to get a little extra saucy, and so I made some extra cornstarch slurry to rethicken it when I was stir-frying. Just keep that in mind in case you run across the same problem. Otherwise, we loved this dish and I will definitely keep it in my repertoire of Asian dishes.
Stir-Fried Cauliflower with Chile-Garlic Sauce
Hailing for Buddakan restaurant, this stir-fried cauliflower with ground pork is spicy and flavorful.
Print
Pin
Rate
Ingredients
Chile-Garlic Sauce:
½

cup

(120 ml) chicken stock or reduced-sodium chicken broth

2

tablespoons

soy sauce

2

tablespoons

Chinese red vinegar or rice vinegar

2

tablespoons

toban jan

(chile bean sauce)

1 ½

teaspoons

oyster sauce

1 ½

teaspoons

honey

½

teaspoons

sambal oelek

(Indonesian chile paste)

Pinch

kosher salt

1 ½

teaspoons

cornstarch

3

tablespoons

grapeseed or vegetable oil

2

garlic cloves

minced

1

teaspoon

peeled and minced ginger
Cauliflower:
1

head cauliflower

cut into bite-size florets

¼

cup

(15 g) panko (Japanese bread crumbs)

8

ounces

(225 g) ground pork

10

fresh mint leaves

cut into thin shreds
Instructions
Make the chile-garlic sauce: stir the stock, soy sauce, vinegear, chile bean sauce, oyster sauce, honey, Indonesian chile paste, and salt together in a medium bowl. Sprinkle the cornstarch over 1 tablespoon water in a small cup or ramekin and stir to dissolve it.

Heat 1 tablespoon of the oil in a medium saucepan over medium heat. Add the garlic and ginger and cook just until they are browned, about 30 seconds. Stir in the stock mixture and bring to a simmer. Mix the cornstarch mixture to recombine, and stir it into the sauce. Cook until the sauce is thickened, about 1 minute. Remove it from the heat. (The chile sauce can be cooled, covered, and refrigerated for up to 5 days.)

Bring a large pot of salted water to a boil over high heat. Add the cauliflower and cook it until it is just tender, 1 to 2 minutes. Drain it in a colander and rinse it under cold running water. Transfer the cauliflower to a large bowl of iced water and let it cool completely. Drain it well and pat it dry with paper towels.

Heat a large wok or skillet over medium heat. Add the panko and cook, stirring occasionally, until it is toasted, about 1 minute. Transfer the panko to a plate.

Return the wok to medium-high heat. Add the remaining 2 tablespoons of oil and heat until it is hot but not smoking. Add the pork and cook, stirring often and breaking up the meat with the side of a wooden spoon, until the pork is browned, about 3 minutes. Stir in the chile sauce. Add the cauliflower and cook, stirring often, until the cauliflower is heated through and the sauce is thicker, about 2 minutes.

Transfer the mixture to a serving dish. Top it with the toasted panko and mint and serve it hot.
Nutrition
Calories:
297
kcal
|
Carbohydrates:
15
g
|
Protein:
13
g
|
Fat:
21
g
|
Saturated Fat:
5
g
|
Polyunsaturated Fat:
7
g
|
Monounsaturated Fat:
2
g
|
Cholesterol:
36
mg
|
Sodium:
1079
mg
|
Potassium:
674
mg
|
Fiber:
3
g
|
Sugar:
6
g
*All nutritional information is based on third-party calculations and should be considered estimates. Actual nutritional content will vary with brands used, measuring methods, portion sizes and more.*
*Disclaimer* I received no compensation to write this review other than a free copy of the book. My opinions are always my own.