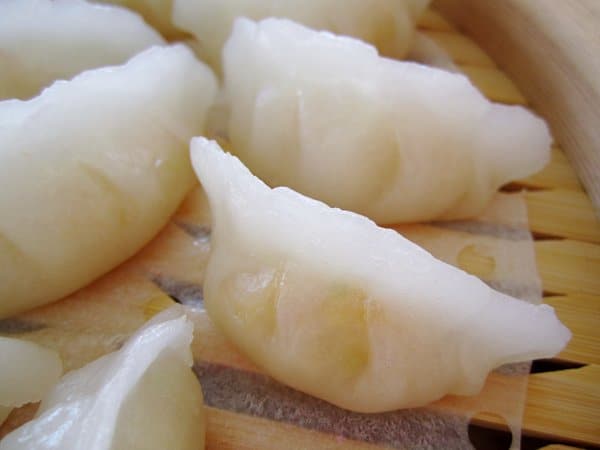 As the Olympic party representative from China, these Har Gow (shrimp dumplings) were the perfect selection. First of all, they are the dumpling that many dim sum masters are judged by. They are the quintessential Chinese dumpling, if there ever was one. I have had the pleasure of making Chinese dumplings on several occasions in the past, and always look forward to exploring new versions.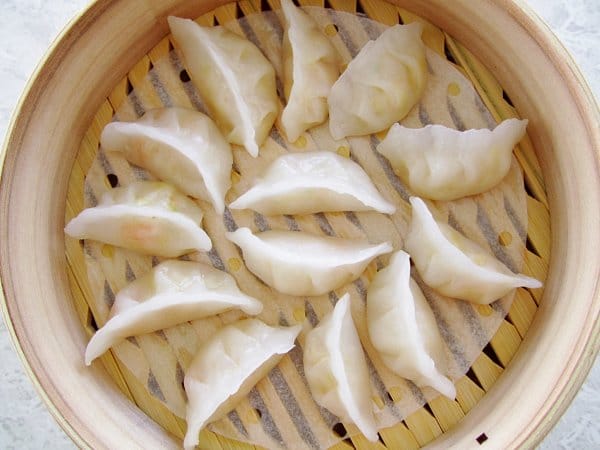 Har Gow utilizes a different type of dough than all the other dumplings I have made in the past. Usually, I have used a flour dough for the pan-fried and steamed dumplings I have created. That dough yields a more opaque result, and is generally off-white in color. Wheat starch dough (which also includes some tapioca starch for suppleness) is stark white. If you've ever gone out for dim sum, you will recognize the white translucent wrapper from many of the dumplings on the carts. Some even refer to this style of dumplings as crystal dumplings because the wrappers glisten and are fairly translucent like crystals.
It was my first time making this style dough and I was a bit nervous. First of all, finding wheat starch was a pretty big challenge. Even at my local Asian market, I could only make off with tapioca starch, but no wheat starch. That finally came from a trip to Kalustyan's, a specialty market in NYC. I was also a bit anxious because unlike the flour dough, these wrappers would not be rolled out by a rolling pin, but rather pressed between greased plastic wrap with a flat heavy object. It just seemed so odd, I wasn't really sure what to expect.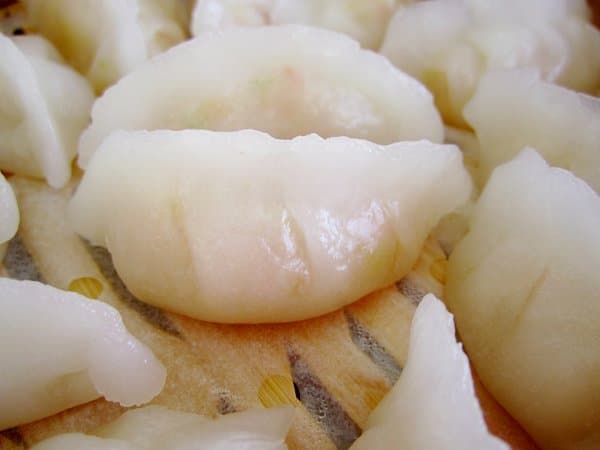 For what it's worth, this dough was a lot of fun to work with. I enjoyed it even more than the alternative flour dough. It reminded me of the texture of Play-Doh and was very easy to manipulate. Pressing the dough was a lot faster and easier than rolling out the flour dough which is much higher in gluten and tends to retract and yield imperfect circles.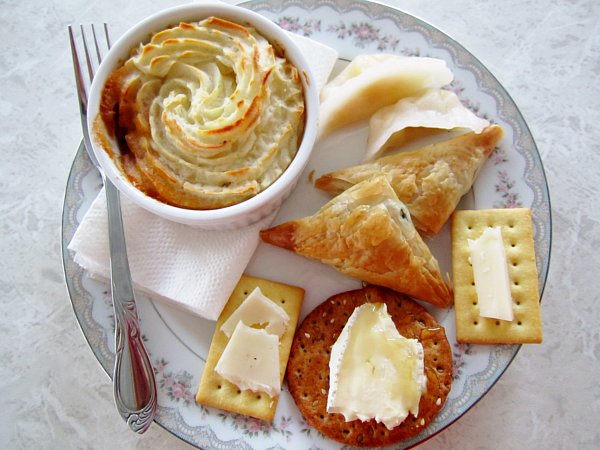 I was able to assemble these dumplings in a jiffy, whereas I expected it to take hours. Honestly, I'm sold! Although I love the flavor and texture of the flour dough (especially for pan-fried dumplings), I really love the wheat starch dough for its ease of manipulation (even if one of the ingredients isn't the easiest for me to find). Keep in mind that wheat starch dough is mainly used for steamed dumplings, so if you want to make fried, pan-fried, or boiled dumplings, you should plan to make the flour dough instead.
The shrimp filling was also a cinch to make (and really delicious!). Pork fat is a traditional addition to the filling. It adds a bit of richness, but it's definitely optional. I chose to keep my filling strictly pescatarian. I also included bamboo shoots, but water chestnuts would be a great source of texture as an alternative. As a matter of fact, I'm already planning on making another batch of these dumplings to utilize some of the extra bamboo shoots I have from the first batch I made. They were so easy that I simply can't resist! They freeze beautifully and are a great option to have on hand for dumpling cravings.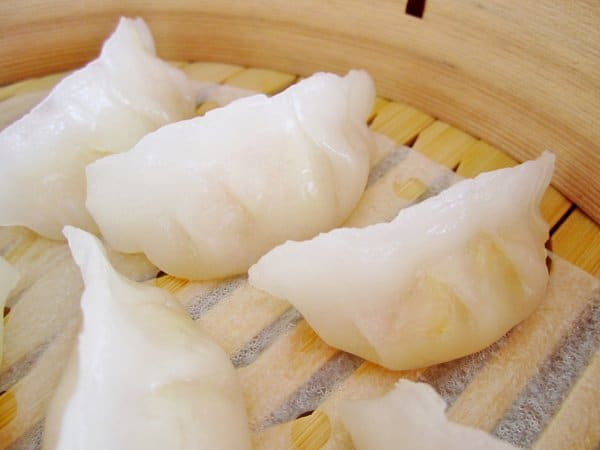 Check out all the Olympic Party posts here...
Part 1: Menu, Cheese Board, and Sangria
Part 2: Spanakopita
Part 3: Cottage Pies
Part 4: Har Gow Shrimp Dumplings
Part 5: Yakisoba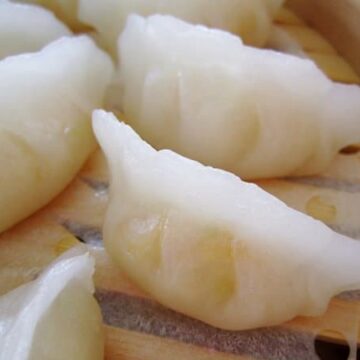 Har Gow Shrimp Dumplings
A very traditional dim sum staple, har gow shrimp dumplings feature a translucent wheat starch wrapper and a simple shrimp filling. They are always steamed, and never fried or boiled.
Print
Pin
Rate
Ingredients
Filling:
⅔

pound

(9 ounces) peeled and deveined medium shrimp

¾

teaspoon

kosher salt

1 ½

tablespoons

minced pork fat or fatty bacon

(optional)

3

tablespoons

finely chopped bamboo shoots or water chestnuts

2

teaspoons

minced scallion

white part only

2

teaspoons

minced fresh ginger

1 ½

teaspoons

cornstarch

¾

teaspoon

sugar

⅛

teaspoon

black pepper

1 ½

teaspoons

Shaoxing rice wine or dry sherry

1

teaspoon

sesame oil
Wheat Starch Dough:
4 ½

ounces

(1 cup) wheat starch

2 ¼

ounces

(½ cup) tapioca starch

⅛

teaspoon

kosher salt

About 1 cup just-boiled water

4

teaspoons

canola oil
Instructions
To make the filling, toss the shrimp with ¼ teaspoon of the salt, put them in a strainer, and rinse under cold water. Transfer to a paper towel and blot to dry. Chop the shrimp into peanut-size pieces. Put the shrimp into a bowl and add the pork fat (if using), bamboo shoots or water chestnuts, scallion, and ginger. Stir to combine.

In a small bowl, combine the remaining ½ teaspoon salt, cornstarch, sugar, pepper, rice wine, and sesame oil, stirring to dissolve the cornstarch. Pour the seasonings over the shrimp mixture. Stir to ensure that all the shrimp are well coated. Cover with plastic wrap and set aside for 30 minutes or refrigerate for up to 4 hours to marinate. Makes about 1 ⅓ cups.

To make the dough, in a bowl combine the wheat starch, tapioca starch, and salt. Make a well in the center and pour in about 14 tablespoons of the water. Use a wooden spoon to stir the ingredients together (mine actually snapped in half, oops; next time I may use a large metal spoon instead). The dough will look translucent at first and then become mottled, whitish, and lumpy.

Once the water has been incorporated, add the oil. Stir to work in the oil. If the dough looks dry, add a little more water. Aim for a medium firm texture, not a soft and mushy one; work in additional wheat starch by the tablespoon if you add too much water. Press the ingredients together into a rough ball that feels a bit bouncy.

Transfer the warm tough to an unfloured work surface and knead for 1 to 2 minutes, until snowy white, smooth and resembling Play-Doh in texture. When you squeeze on it, it should not crack. If it cracks, very lightly oil one hand and knead it into the dough to increase the dough's suppleness. Cut the dough into 4 equal pieces and put them into a zip-top plastic bag and seal well. Set aside for 5 minutes to rest before using. This dough can be made up to 6 hours in advance and left at room temperature in the zip-top bag.

Before assembling the dumplings, line steamer trays and baking sheets with parchment paper (perforated preferred for steamer trays), then oil the paper.

Have ready 2 (6 to 7 inch) plastic squares cut from a zip top bag (I left mine connected on one end to make it almost like a book); smear a little oil on one side of each plastic square to avoid sticking (the inner surfaces if you've left yours connected on one end like mine). Working with 1 piece of dough at a time, roll it on an unfloured work surface into an 8-inch long log. Cut the log into 8 equal pieces. To prevent drying and sticking, dab your finger in some canola oil and rub a tiny bit on each of the ends of the dough pieces, pressing each one into a ¼-inch-thick disk as you work.

Place a disk between the squares. Apply moderate pressure with a tortilla press, the flat side of a cleaver, or the bottom of a large measure cup, skillet (that's what I used), or plate. You maybe have to press more than once to arrive at the desired size (about 3 to 3 ¼ inches in diameter). Unpeel the plastic and set the slightly shiny wrapper aside. Repeat with the remaining dough pieces. There should be no need to re-oil the plastic between pressings. To prevent the dough from drying, assemble a batch of dumplings before forming more wrappers from another portion of dough.

To assemble a dumpling, hold a wrapper in a slightly cupped hand. Scoop about 2 teaspoons of filling and place it in the center of the wrapper. Pleat about ⅔ of the edge and then press the unpleated edge against the pleated edge, forming a crescent shape. Pinch the rim together between your fingers to seal it well and make it thinner. Settle the dumpling on the work surface and fold in the ends if they stick out. If the skin breaks, dab a tiny bit of oil on the area and try smoothing out and patching up the wrapper.

Set the finished dumpling in a prepared steamer tray. Assemble more dumplings from the remaining wrappers before working on the next batch of dough. Space them about ½ inch apart (if using a metal steamer tray, keep the dumplings 1 inch away from the edge where condensation will collect). Place overflow dumplings on the baking sheet with a good ½ inch between each and cover with plastic wrap. Once assembled the dumplings should be cooked as soon as possible, because they cannot be refrigerated uncooked.

Steam the dumplings over boiling water for about 6 or 7 minutes, or until they have puffed slightly and are glossy and translucent (they will become more translucent as they begin to cool as well). Remove each tray and place it atop a serving plate.

Serve hot with soy sauce, if desired. Cooked dumplings can be refrigerated and then steamed for about 3 minutes before serving. Cooked dumplings can also be frozen for up to 1 month, completely thawed in the refrigerator, and steamed for 3 to 5 minutes. These dumplings MUST be cooked before being refrigerated or frozen.
Nutrition
Serving:
1
dumpling
|
Calories:
36
kcal
|
Carbohydrates:
5
g
|
Protein:
2
g
|
Fat:
1
g
|
Cholesterol:
19
mg
|
Sodium:
81
mg
|
Potassium:
4
mg
*All nutritional information is based on third-party calculations and should be considered estimates. Actual nutritional content will vary with brands used, measuring methods, portion sizes and more.*