This post may contain affiliate links, which means that I may receive a commission if you make a purchase using these links. As an Amazon Associate I earn from qualifying purchases.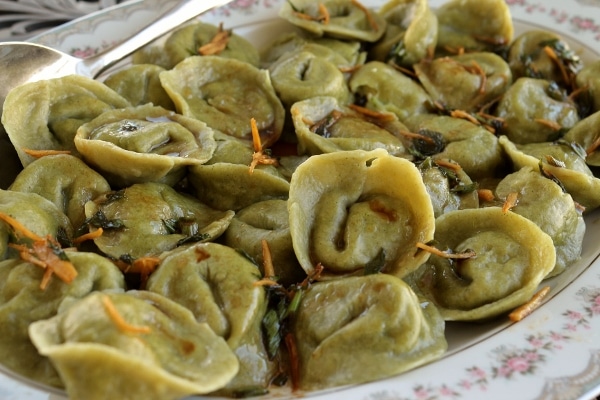 I recently celebrated my birthday with some delicious grilled cheese, as well as one of my all-time favorite treats: dim sum.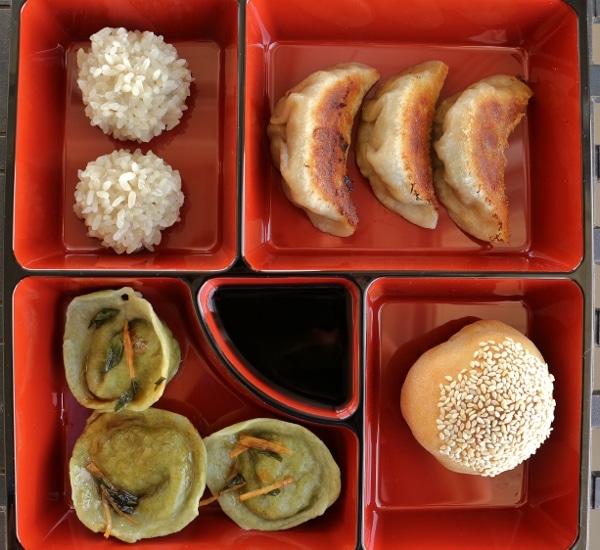 I particularly love going out to dim sum when I visit New York City, but I also love making all different kinds of dumplings at home. I occasionally use store-bought wrappers, but generally prefer to make my dumplings completely from scratch (including the dough) whenever I am able.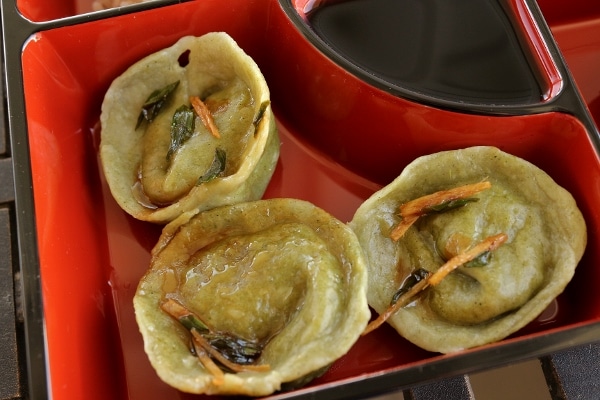 My recent birthday dim sum feast included my absolute favorite crispy pan-fried vegetable dumplings, delectable steamed pearl balls, baked sesame-crusted pork buns, and boiled jade dough-encased fish dumplings.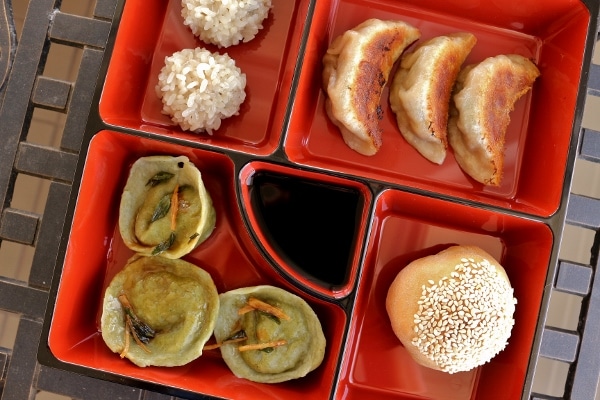 As you can see, I offered a selection of dumplings all cooked with different methods to provide some variation and give me stove-top some balance.
For the most part, I stuck to the fish dumpling recipe in my beloved Asian Dumplings cookbook, but I opted to finish the dumplings with a bit of added flair reminiscent of a Chinese steamed whole fish dish which is topped with julienned ginger and scallions, then drizzled with hot oil to create a nice sizzling effect, and finally a touch of soy sauce. This adaptation was inspired by the fish dumplings recipe in my very first dim sum cookbook.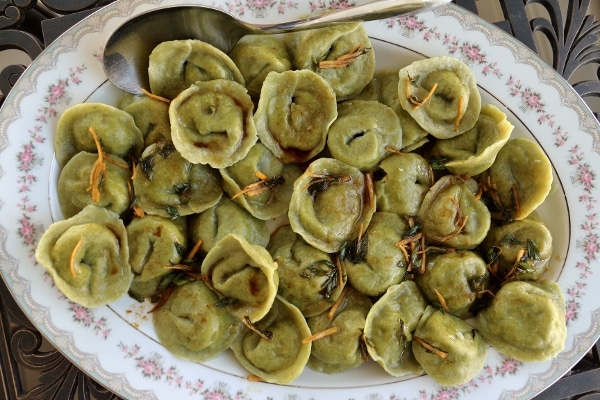 The filling is very delicate and heightened with ginger and sesame oil, among other classic Asian flavors. Because it's so pale in color, this is the perfect opportunity to make colorful dumpling dough. Really, any color would help showcase the mostly white filling, but this green spinach-infused dough creates a classic look.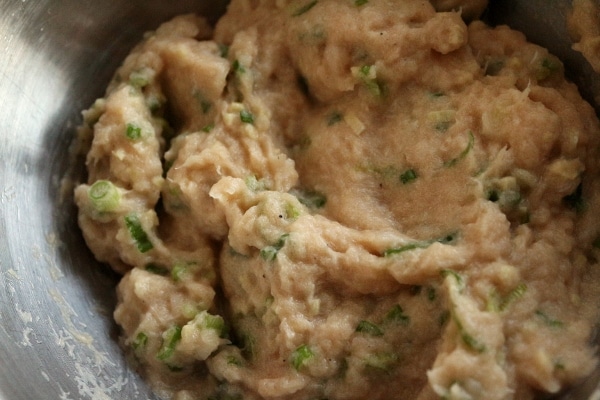 Never having eaten fish dumplings in the past, I honestly wasn't sure what to expect. They were far better than I imagined, equally delicate in flavor and texture, with a bit of a pop from the ginger both within the filling and in the finishing "sauce."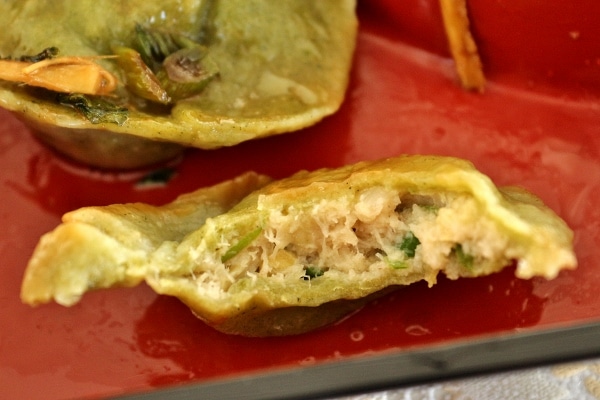 It's easiest to boil these dumplings, although technically you may steam or pan-fry them as well.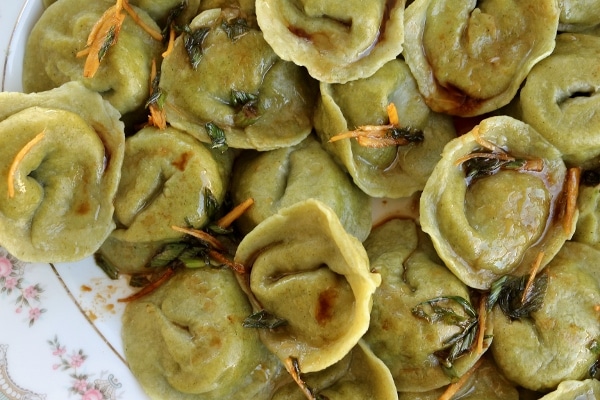 Now that I've finally gotten a taste of these fish dumplings, I will definitely be adding them into my circulation of dumplings to make in my kitchen. I love how they contrast so many of the other traditional ones I typically make, such as pork and cabbage, pork and chive, and of course any number of the vegetable based fillings.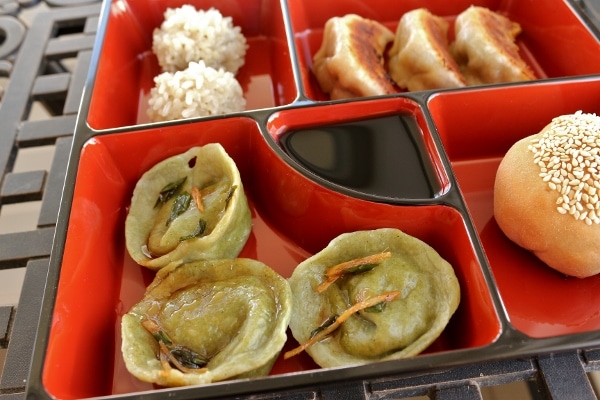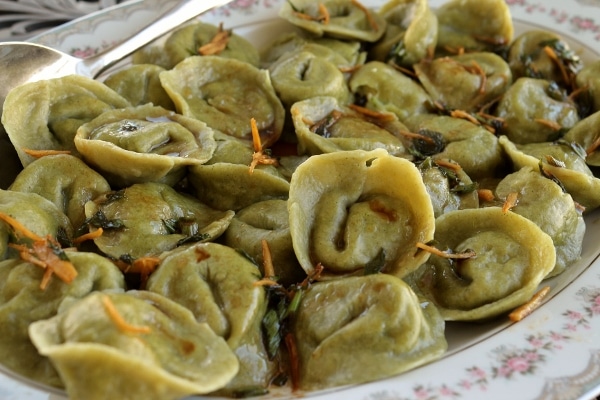 Fish Dumplings
The fish filling for these dumplings is especially delicious thanks to the addition of fresh ginger and fragrant sesame oil. The bright green spinach dough offsets the pale white filling beautifully.
Ingredients
Filling:
2/3

pound

mild-tasting white fish fillet

such as cod or sole

Scant 1/2 teaspoon salt

1/8

teaspoon

ground white pepper

1/4

cup

chicken stock or water

1 1/2

tablespoons

light (regular) soy sauce

1

tablespoon

Shaoxing rice wine or dry sherry

2

tablespoons

canola oil

1 1/2

tablespoons

sesame oil

1 1/2

tablespoons

finely minced fresh ginger

3/4

cup

chopped Chinese chives or scallions

white and green parts
Spinach Dumpling Dough:
10

ounces

(2 cups) unbleached all-purpose flour

2

lightly packed cups coarsely chopped spinach leaves

about 3 ounces

A generous 1/2 cup water
To Finish:
1

tablespoon

canola oil

1-

inch

piece fresh ginger

peeled and cut into fine slivers

2

tablespoons

scallion

green part only, finely sliced on the diagonal

2

tablespoons

light

regular soy sauce
Instructions
To make the filling, cut the fish into 1-inch chunks, discarding any bones you discover along the way (bevel-tipped tweezers will help, if you have them). Put the fish in a food processor.

In a small bowl, combine the salt, white pepper, chicken stock, soy sauce, wine, canola oil, and sesame oil. Mix well to create a seasoning liquid, and then pour about 2 tablespoons of the liquid into the food processor. Run the food processor, pouring the remaining seasoning liquid through the feed tube. Grind to a coarse paste, stopping occasionally to scrape down the sides.

Return the paste to the bowl and mix in the ginger and Chinese chives. To develop the flavors, cover with plastic wrap and set aside at room temperature for 30 minutes. You should have about 2 cups of filling. (The filling can be prepared 1 day ahead and refrigerated. Return it to room temperature for dumpling assembly.)

To make the dough: place a large mixing bowl over a damp paper towel on your work surface, to keep in place while mixing. Add the flour and make a well.

Liquefy spinach and water in a blender for about 90 seconds, or until there is an intensely green, smooth mixture. If needed, pause the blender to scrape down the sides. Transfer to a small saucepan and heat over medium heat. When the spinach comes to a near boil (look for foam all around the rim), turn off the heat. Stir to blend in the foam, measure out 3/4 cup. Use a wooden spoon to mix the flour while you add the spinach water in a steady stream. Mix together until you have a lot of lumpy bits, then knead the hot dough in the bowl until the dough comes together. Add spinach water by the teaspoon if the dough does not come together.

Continue kneading the dough on a lightly floured surface (only flour if necessary, and do so sparingly) for a couple more minutes until the dough is smooth and elastic (my mixing bowl was very large so I finished kneading directly in the bowl and it was just fine). The dough should bounce back when pressed with your finger, but leave a light impression of your finger. Place dough in a zip-top bag, seal tightly, pressing out excess air, and set aside at room temperature for 15 minutes up to 2 hours. The dough will steam up the bag and soften. After resting, the dough can be used right away, or refrigerated overnight and returned to room temperature before using.

To assemble the dumplings, remove the dough from the bag, turning the bag inside out if the dough is sticky. Put the dough on a lightly floured surface and cut it in half. Put half back in the bag, squeezing out the air and sealing it closed to prevent drying.

Roll the dough into a 1-inch-thick log and cut into 16 pieces (cut in half, then cut each half in half, and so on to create pieces that are even in size. The tapered end pieces should be cut slightly larger). If your pieces are oval, stand them on one of the cut ends and gently squeeze with your fingers to make them round, like a scallop. Take each piece of dough and press each cut end in flour, lightly pressing the dough to about 1/4 inch thick and set aside.

Next, flatten each dough disk into a thin circle, about 1/8 inch thick, either with a tortilla press (lined with plastic wrap), or with a heavy flat-bottomed object like a frying pan (also lined with plastic). Alternatively, use a dowel (which is a good lightweight rolling pin alternative for fast and flexible dumpling making) to lightly roll out each disc into an 1/8 inch thick circle.

To finish the wrappers, place wrappers one at a time on your work surface, and flour only if sticky. Imagine a quarter-size circle in the center of the dough. This is what the Chinese call the "belly" of the wrapper. You want to create a wrapper that is larger than its current size, but still retaining a thick "belly" in the center. This ensures an even distribution of dough when the dumpling is sealed. Use the rolling pin to apply pressure to the outer 1/2-to-3/4-inch border of the wrapper. Roll the rolling pin in short downward strokes with one hand while the other hand turns the wrapper in the opposite direction. Aim for wrappers that are about 3 1/4 inches in diameter. When a batch of wrappers is formed, fill them before making wrappers out of the other portion of dough.

Before assembling the dumplings, line a baking sheet with parchment paper. (If you plan to refrigerate the dumplings for several hours, or freeze them, lightly dust the paper with flour to avoid sticking.) For each dumpling, hold a wrapper in a slightly cupped hand. Scoop up about 1 tablespoon of filling with a bamboo dumpling spatula, dinner knife, or fork and position it slightly off-center toward the upper half of the wrapper, pressing and shaping it into a flat mound and keeping about 1/2 to 3/4 inch of wrapper clear on all sides. Fold, pleat, and press to enclose the filling (I made mine into tortellini style shapes). Place the finished dumpling on the prepared baking sheet. Repeat with the other wrappers, spacing the finished dumplings a good 1/2 inch apart on the baking sheet. Keep the finished dumplings covered with a dry kitchen towel as you form wrappers from the remaining dough and fill them with the remaining filling.

Once assembled, the dumplings can be covered with plastic wrap and refrigerated for several hours; they can be cooked straight from the refrigerator. For longer storage, freeze them on their baking sheet until hard (about 1 hour), transfer them to a zip-top freezer bag, seal well, and keep them frozen for up to 1 month; partially thaw, using your finger to smooth over any cracks that may have formed during freezing, before cooking.

To cook the dumplings, half-fill a large pot with water and bring to a boil over high heat. Add half the dumplings, gently dropping each one into the water. Nudge the dumplings apart with a wooden spoon to keep them from sticking together and/or to the bottom of the pot. Return the water to a simmer and then lower the heat to maintain the simmer and gently cook: a hard boil can make a dumpling burst. Cook the dumplings for about 8 minutes, or until they float to the surface, look glossy, and are puffed up and a tad translucent. Use a slotted spoon or skimmer to scoop up the dumplings from the pot, a few at a time, pausing the spoon's motion over the pot to allow excess water to drip back down before putting the dumplings on a serving plate. Cover the plate with a large inverted bowl to keep the dumplings warm. Return the water to a boil and cook the remaining dumplings. When done, return the first batch to the hot water to reheat for a minute or two. There is no need to reboil. If your pot is large enough, gently boil all the dumplings in one batch, but please use your judgement.

Meanwhile, heat a small skillet, and then add the oil. When it is almost smoking, add the ginger and scallion and stir-fry for 1 minute. Remove from the heat and stir in the soy sauce. Drizzle the mixture over the finished dumplings. Serve hot.
Notes & Nutrition
Slightly adapted from Asian Dumplings
Servings 32.0 * calories 65 * Total Fat 2 g * Saturated Fat 0 g * Monounsaturated Fat 1 g * Polyunsaturated Fat 1 g * Trans Fat 0 g * Cholesterol 4 mg * Sodium 167 mg * Potassium 20 mg * Total Carbohydrate 7 g * Dietary Fiber 0 g * Sugars 0 g * Protein 3 g
*All nutritional information is based on third-party calculations and should be considered estimates. Actual nutritional content will vary with brands used, measuring methods, portion sizes and more.*