These completely from-scratch Vegetable Dumplings are out of this world delicious! The healthy filling packs a flavor punch, while the homemade dough yields an amazing crispy and chewy texture when pan-fried.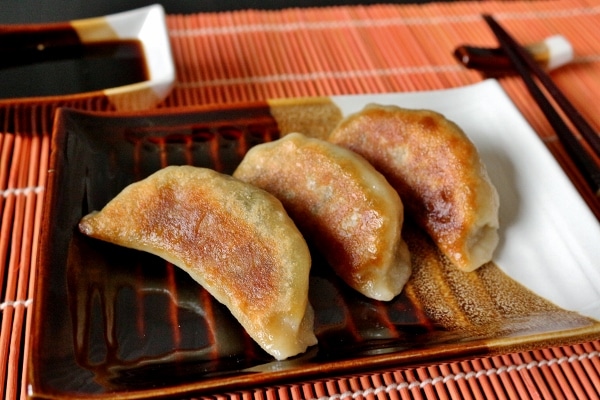 I love love love dumplings and dim sum. I can honestly say that I haven't met a dumpling I didn't like, and that includes non-Asian versions, like Armenian manti and Polish pierogies. There is a world of dumplings out there, and my life goal is to eat my way through it (not a bad goal, huh? hehe). Most people use store-bought dumpling, wonton, and spring rolls skins to make Asian dumpling creations in their home kitchens.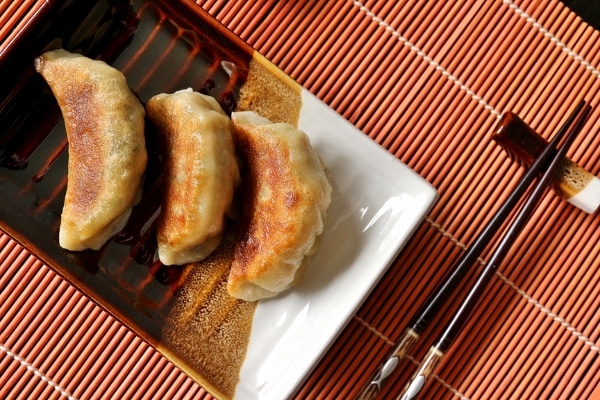 It's a wonderful convenience that saves a lot of time. I am an elitist, however, and enjoy the flavor and texture of homemade skins so much that I will go out of my way whenever possible to make them myself. It makes a world of difference and I highly suggest that you try it at least once. Much like fresh pasta versus dried, the texture of the homemade skins is exponentially better than their dry counterparts, which require water or egg to seal and never yield that toothsome, slightly chewy texture that one finds in dumpling houses. In the end, it's just not the same.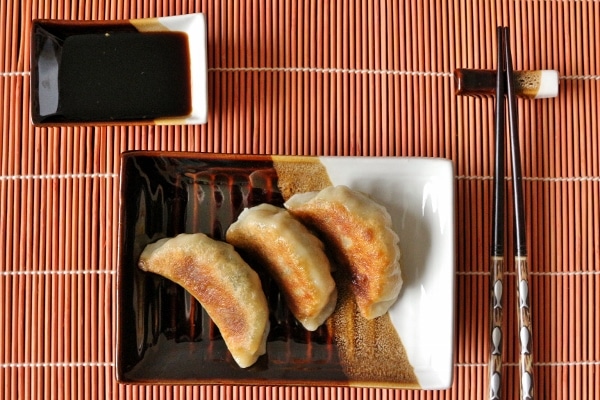 Another thing I really love about dumplings, and dim sum in particular, is the variety you can achieve in one meal. Going to a dim sum house gives you an incredible selection of foods, especially when dining with a larger party because you can order even more plates to try! At home, it is a lot easier to stick to just one recipe, as making the dough and filling, and then assembling and cooking it can take significant time depending on how much you want to challenge yourself. I apparently like to challenge myself a lot. In my first attempt to make dim sum, I made 4 different recipes! This time, I stuck with just 3, but it still took a great part of the day and required some advance work.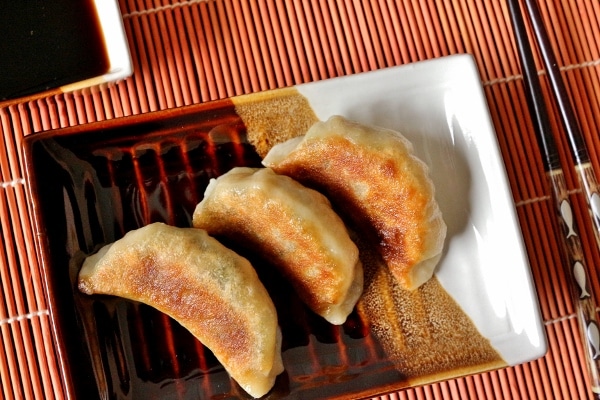 I made char siu (Chinese BBQ pork) from scratch a couple days before. It made enough to make 4 different recipes (depending on what you are making) and I froze some of the extras for future use. On the day of my dumpling adventures, I used some of the pork to make a char siu filling for baked bao (buns), which utilize a yeasted dough for their wrappers. I made the dough too, of course, and assembled and baked these off. The dough was fluffy and slightly sweet with a savory-sweet pork filling inside. I love the honey glaze brushed on top for extra shine and flavor. I made medium-size buns, and froze half of them for future use.
Both the char siu and baked char siu buns recipes were from an amazing cookbook called Asian Dumplings written by blogger and dumpling-maker extraordinaire Andrea Nguyen of Viet World Kitchen. She includes lots of wonderful dumpling-making tips on her sister site Asian Dumpling Tips. Her book is like an encyclopedia of Asian dumpling making, and includes versions from China, Japan, Korea, Thailand, India, Nepal, Tibet, the Philippines and more. The instructions are incredibly detailed, and are further enhanced by videos available on her website. Watch how to roll out dumpling skins here, and how to create some simple dumpling shapes used in the book here. There are even more videos and recipes on her website, but I highly suggest you check out her book for all the recipes! I'm seriously considering cooking my way through the entire book to really experience every last bite 🙂
The other recipe I made from her book, and the one I've chosen to share with you today, is for vegetable dumplings. In the book this recipe includes instructions for steaming the dumplings, but any of the fillings in the first chapter can be swapped for the different cooking techniques (boiling, pan-frying, and steaming). Although I love steamed dumplings, my favorites are pan-fried. On the West coast they are often referred to as potstickers, but on the East coast, and namely New York City, they are called pan-fried dumplings. "Potstickers" are for tourists 😉 The crust on each dumpling was amazing! It was audibly crisp, like a potato chip, yet perfectly balanced by the chewiness of the rest of the dumpling skin. Her suggestion to serve them with the crust facing up (or technically to the side) is vital in retaining the crisp texture.
I wanted to balance the meaty filling of the baked bao with something lighter and more vegetal, so this was an excellent pairing. These vegetable dumplings are vegan and full of flavor! Spinach, shiitake mushrooms, carrots, and pressed tofu (I found a small variety at Whole Foods) make up the bulk of the filling.
You definitely don't miss the meat at all! I froze half of these dumplings for future enjoyment, and I highly suggest you do too, or if you plan on serving them all at once, double the recipe and freeze a whole batch. It will be easier to make twice as much now than making it two separate times later on. When a dumpling craving hits, there is nothing better than a homemade dumpling on the fly to really satisfy.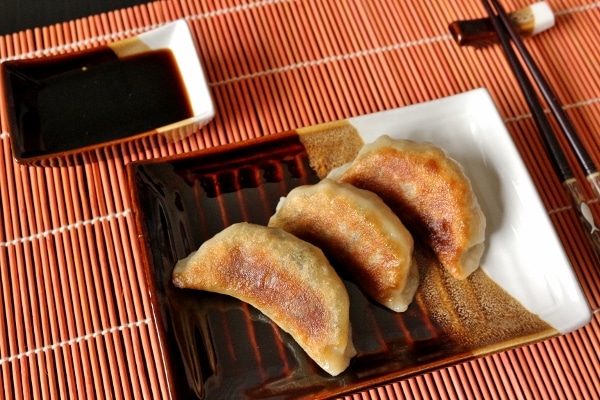 I realize the recipe below is dauntingly long. Keep in mind that I had to put together several separate recipes in the book (dough, filling, assembly, cooking technique, dipping sauce) to make one cohesive recipe for you, my fabulous readers. You can easily make the dough and filling in advance, and can even assemble the dumplings hours before you plan on cooking them. Or better yet, freeze them and then partially thaw them just in time for a dim sum party. A little patience will result in dumplings that are far worth the effort and time 🙂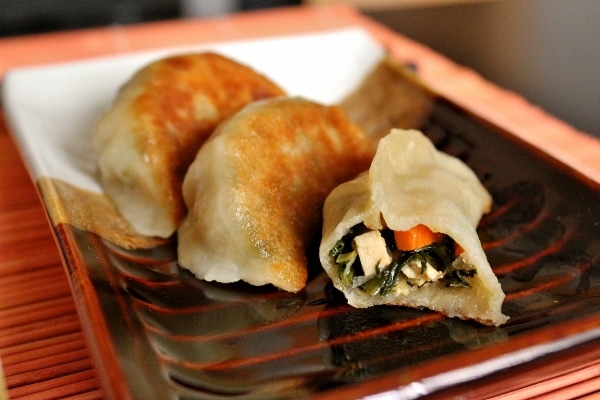 Check back later this week for more of my Dim Sum and Then Some series when I share an incredibly easy and delicious recipe for scallion pancakes from another dim sum cookbook I own and love, as well as a flaky and delightful char siu pastry recipe!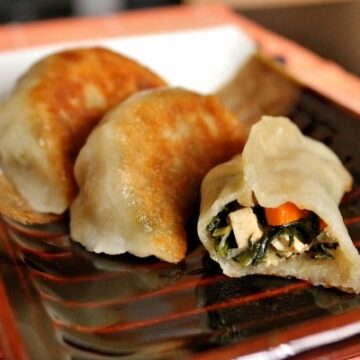 Pan-fried Vegetable Dumplings (Vegetable Potstickers)
These completely from-scratch Vegetable Dumplings are out of this world delicious! The healthy filling packs a flavor punch, while the homemade dough yields an amazing crispy and chewy texture when pan-fried.
Print
Pin
Rate
Servings:
32
dumplings, serving 4 as a main course, or 6 to 8 as a snack or starter
Ingredients
Filling:
4

large dried shiitake mushrooms

4

cups

lightly packed coarsely chopped spinach

(7 to 8 ounces)

¼

teaspoon

kosher salt

¼

teaspoon

ground black pepper

¾

teaspoon

sugar

1 ½

tablespoons

soy sauce

2

tablespoons

toasted sesame oil

2

tablespoons

canola oil

1

tablespoon

finely minced fresh ginger

⅓

cup

finely chopped carrot

3

ounces

brown pressed baked tofu,

finely chopped (⅔ cup total)

2

teaspoon

cornstarch dissolved in 1 tablespoon water

½

cup

chopped Chinese chives or scallions

white and green parts
Dough:
10

ounces

(2 cups) unbleached all-purpose flour

About ¾ cup just-boiled water

(boil water, then let it sit for a minute off the heat before measuring)
Tangy Soy Dipping Sauce:
⅓

cup

soy sauce

2 ½

tablespoons

unseasoned rice, Chinkiang, or balsamic vinegar

⅛

teaspoon

sugar,

optional

1

tablespoon

finely shredded ginger or 2 teaspoons finely minced garlic,

optional
Cooking:
Canola or peanut oil

for pan-frying
Instructions
Filling:
Soak the dried mushrooms in a bowl with room temperature water to cover for 8 hours to overnight. This slow soaking will result in the best texture and flavor. Remove the mushrooms from their liquid, cut off the tough stems, and finely chop the caps, resulting in about ½ cup chopped mushroom. Reserve ¼ cup of the mushroom soaking liquid (pass through a cheesecloth-lined strainer to remove any sand or grit).

Put the spinach in a large bowl and cover with boiling water. Let spinach wilt for about 30 seconds, drain, rinse with cold water, and drain again. Squeeze spinach with your hands over the sink to remove excess moisture. You should have about ½ cup firmly packed spinach.

In a bowl, make the flavoring sauce by combining the reserved ¼ cup mushroom soaking liquid, salt, pepper, sugar, soy sauce, and sesame oil. Stir to dissolve sugar and set aside.

In a wok or large skillet, heat the canola oil over medium heat. Add the ginger and stir-fry for about 30 seconds until aromatic. Add the spinach, carrot, mushrooms, and pressed tofu. Stir to combine and then pour in the flavoring sauce. Cook for 2 minutes until the vegetables release their juices a bit, give the cornstarch mixture a final stir and add it to the filling. Stir to thicken, remove from the heat and add the Chinese chives.

Transfer to a bowl and cool completely before assembling dumplings. You will have about 2 cups filling. The filling can be prepared 1 day in advance and refrigerated. Bring to room temperature before assembling dumplings.
Dough:
Place a large mixing bowl over a damp paper towel on your work surface, to keep in place while mixing. Add the flour and make a well. Use a wooden spoon to mix the flour while you add the water in a steady stream. Mix together until you have a lot of lumpy bits, then knead the hot dough in the bowl until the dough comes together. Add water by the teaspoon if the dough does not come together.

Continue kneading the dough on a lightly floured surface (only flour if necessary, and do so sparingly) for a couple more minutes until the dough is smooth and elastic (my mixing bowl was very large so I finished kneading directly in the bowl and it was just fine). The dough should bounce back when pressed with your finger, but leave a light impression of your finger. Place dough in a zip-top bag, seal tightly, pressing out excess air, and set aside at room temperature for 15 minutes up to 2 hours. The dough will steam up the bag and soften. After resting, the dough can be used right away, or refrigerated overnight and returned to room temperature before using.
Dipping Sauce:
Combine the soy sauce, vinegar, and sugar and stir to dissolve. Taste and adjust flavors to your liking for a tart-savory balance. The sauce can be prepared several hours in advance up to this point. Right before serving, add the ginger or garlic.
Assembly:
Remove the dough from the bag, turning the bag inside out if the dough is sticky. Put the dough on a lightly floured surface and cut it in half. Put half back in the bag, squeezing out the air and sealing it closed to prevent drying.

Roll the dough into a 1-inch-thick log and cut into 16 pieces (cut in half, then cut each half in half, and so on to create pieces that are even in size. The tapered end pieces should be cut slightly larger). If your pieces are oval, stand them on one of the cut ends and gently squeeze with your fingers to make them round, like a scallop. Take each piece of dough and press each cut end in flour, lightly pressing the dough to about ¼ inch thick and set aside.

Next, flatten each dough disk into a thin circle, about ⅛ inch thick, either with a tortilla press (lined with plastic wrap), or with a heavy flat-bottomed object like a frying pan (also lined with plastic). Alternatively, I used a dowel (which is a good lightweight rolling pin alternative for fast and flexible dumpling making) to lightly roll out each disc into an ⅛ inch thick circle.

To finish the wrappers, place wrappers one at a time on your work surface, and flour only if sticky. Imagine a quarter-size circle in the center of the dough. This is what the Chinese call the "belly" of the wrapper. You want to create a wrapper that is larger than its current size, but still retaining a thick "belly" in the center. This ensures an even distribution of dough when the dumpling is sealed. Use the rolling pin to apply pressure to the outer ½-to-¾-inch border of the wrapper. Roll the rolling pin in short downward strokes with one hand while the other hand turns the wrapper in the opposite direction. Aim for wrappers that are about 3 ¼ inches in diameter. When a batch of wrappers is formed, fill them before making wrappers out of the other portion of dough.

Line a baking sheet with parchment paper (if planning to refrigerate dumplings for several hours, also dust with flour to prevent sticking). Hold a wrapper in a slightly cupped hand and scoop about 1 tablespoon of filling slightly off-center toward the upper half of the wrapper, pressing and shaping it into a flat mound and keeping a ½-to-¾-inch border on all sides.

To make "pea pod" shapes, fold the edge of the wrapper closest to you to meet the top edge and pinch together to seal well. Place on your work surface and press gently to steady the dumpling and make it sit flat. Fold the sealed edges of the dumpling to make a series of pleats from one end to the other. Place finished dumplings on the prepared baking sheet. Repeat with the remaining wrappers and dough, spacing out dumplings about ½ inch apart. Keep the finished dumplings covered with a dry kitchen towel.

When all the dumplings are assembled, they can be covered with plastic wrap and refrigerated for several hours and can be cooked straight from the refrigerator. For longer storage, freeze them on their baking sheet until hard (about 1 hour), transfer to a zip-top freezer bag, pressing out excess air before sealing, and frozen for up to 1 month. To cook after freezing, partially thaw, using your finger to smooth over any cracks that may have formed during freezing, before cooking.
Cooking:
To pan-fry the dumplings, use a medium or large nonstick skillet (or cook two batches at the same time using two pans). Heat the skillet over medium-high heat and add 1 ½ tablespoons oil for a medium skillet and 2 tablespoons for a large one. Place the dumplings 1 at a time, sealed edges up, in a winding circle pattern. The dumplings can touch. Medium skillets will generally fit 12 to 14 dumplings, large skillets will fit 16 to 18 dumplings. Fry the dumplings for 1 to 2 minutes until they are golden or light brown on the bottom.

Holding the lid close to the skillet to lessen splatter, use a measuring cup to add water to a depth of roughly ¼ inch (about ⅓ cup water). The water will immediately sputter and boil vigorously, Cover with a lid or aluminum foil, lower the heat to medium, and let the water bubble away for 8 to 10 minutes, until it is mostly gone. When you hear sizzling noises, remove the lid as most of the water is now gone. Let the dumplings fry for another 1 or 2 minutes, or until the bottoms are brown and crisp. Turn off the heat and wait until the sizzling stops before using a spatula to transfer dumplings to a serving plate. Display them with their bottoms facing up so they remain crisp.

Serve with the dipping sauce in a communal bowl or in individual dipping sauce dishes. Enjoy!
Nutrition
Serving:
1
dumpling
|
Calories:
29
kcal
|
Carbohydrates:
2
g
|
Protein:
1
g
|
Fat:
2
g
|
Polyunsaturated Fat:
1
g
|
Monounsaturated Fat:
1
g
|
Sodium:
211
mg
|
Potassium:
38
mg
|
Fiber:
1
g
*All nutritional information is based on third-party calculations and should be considered estimates. Actual nutritional content will vary with brands used, measuring methods, portion sizes and more.*