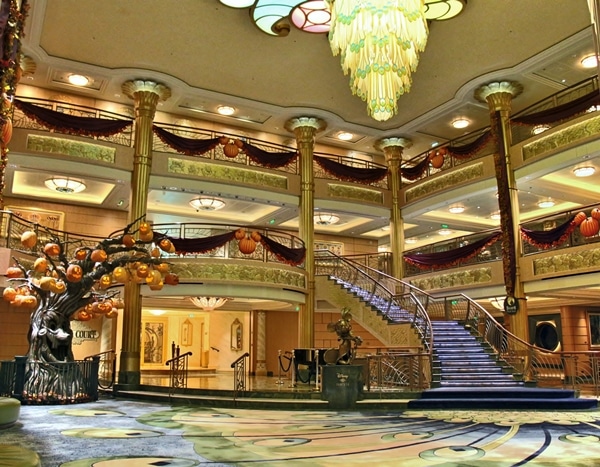 The next two days in our 8-Night Eastern Caribbean Disney Cruise will be spent at sea! Believe it or not, sea days are my favorite! As much as I enjoy ports of call, visiting beautiful and exotic places, I am so in love with Disney Cruise Line ships that the time spent aboard simply experiencing everything and/or relaxing is the absolute best. Check out my DCL Favorite Things blog post to see some of my favorite activities and parts of the ship!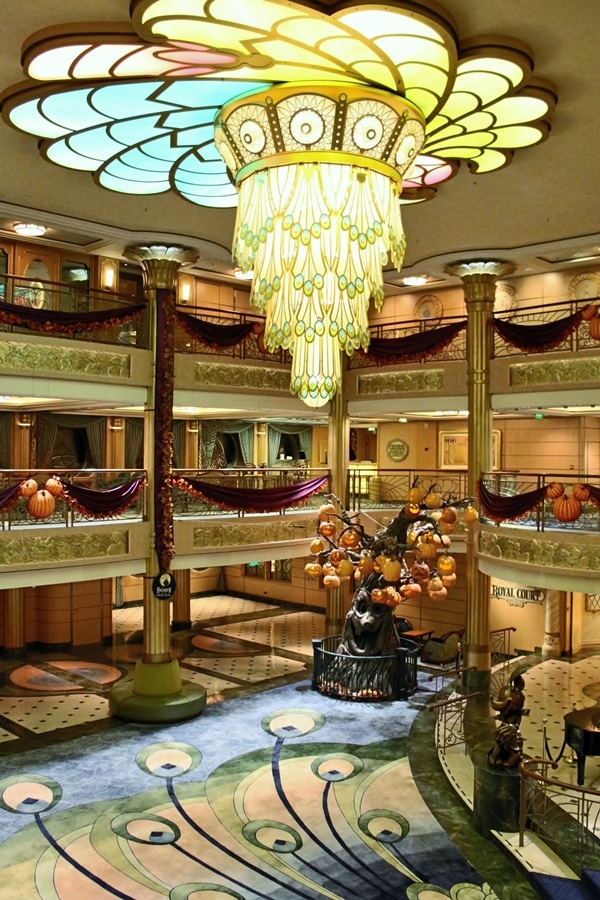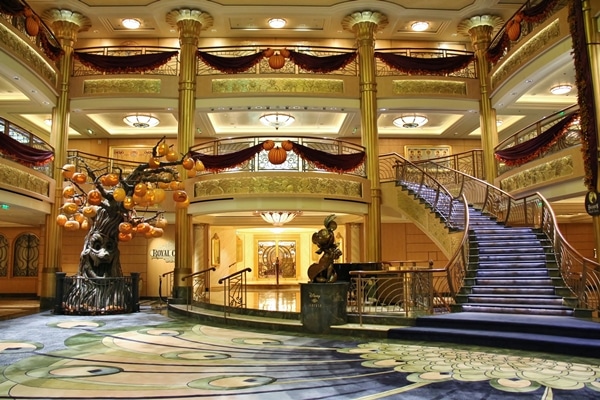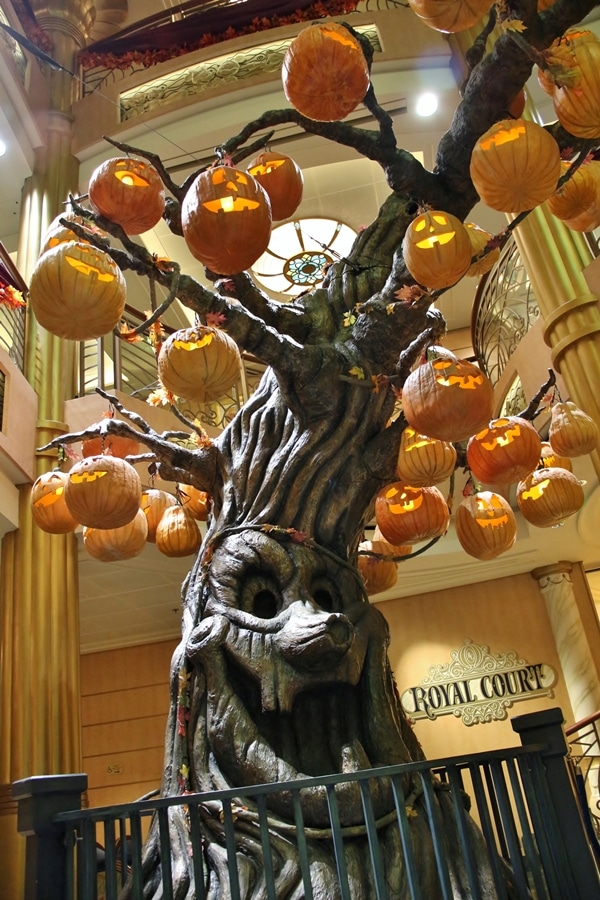 I love waking up early when I'm cruising so I can watch the sunrise. Throughout the middle of our cruise as we got further south the sunrise was even earlier in the morning, and I didn't always catch it. This first morning I got up bright and early, photographed the entirely empty lobby atrium with its Halloween décor, and took a peek at the colorfully streaky morning sky.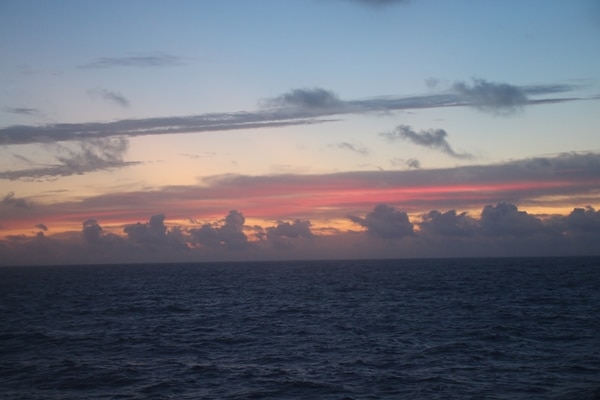 For breakfast my sister took my nephew David to the Disney Junior Character Breakfast (pre-booking required) while the rest of us headed to Cabanas, the buffet on deck 11.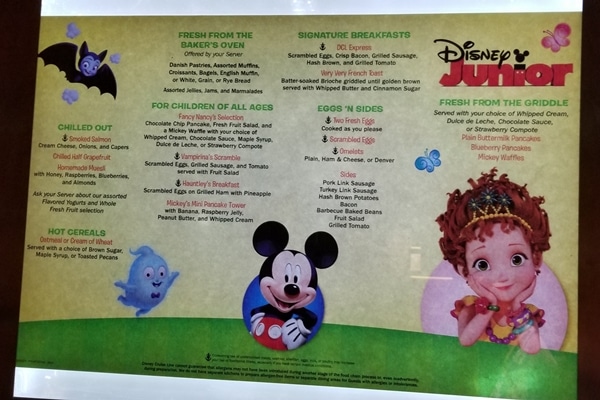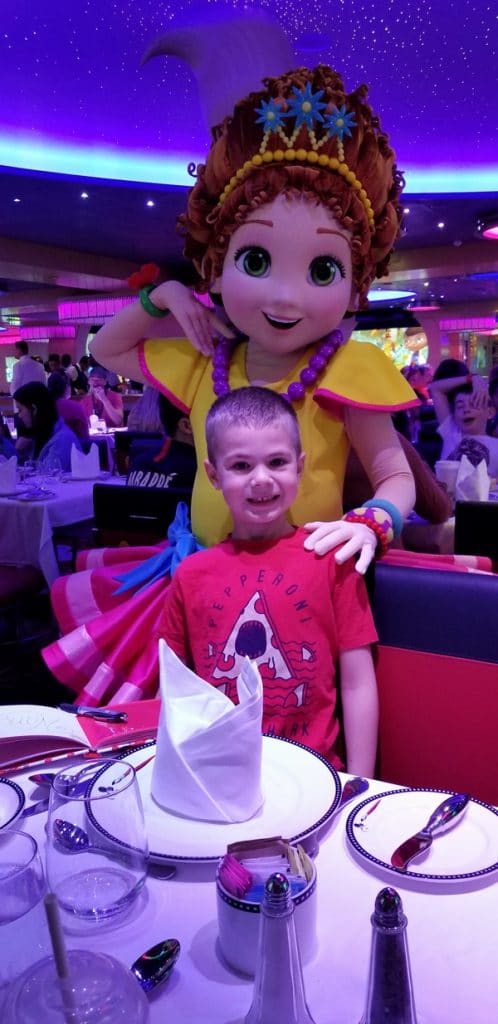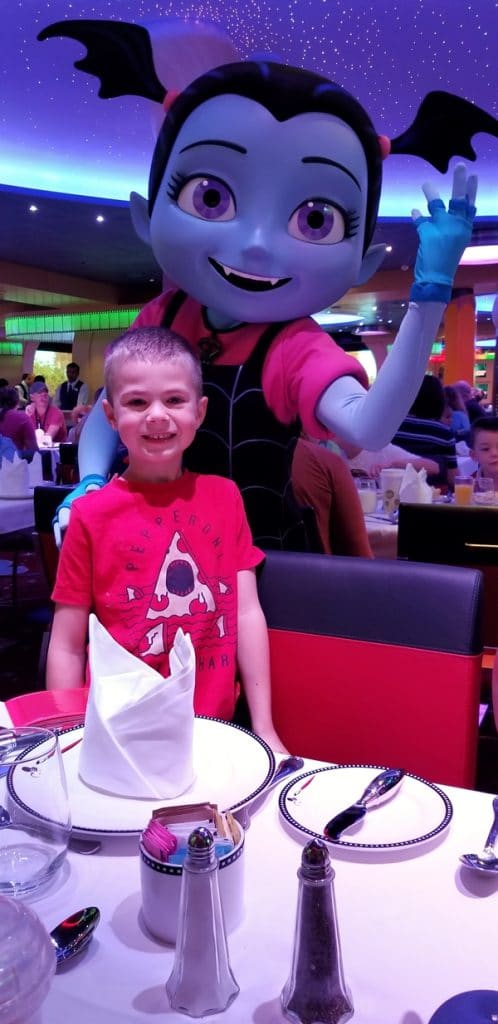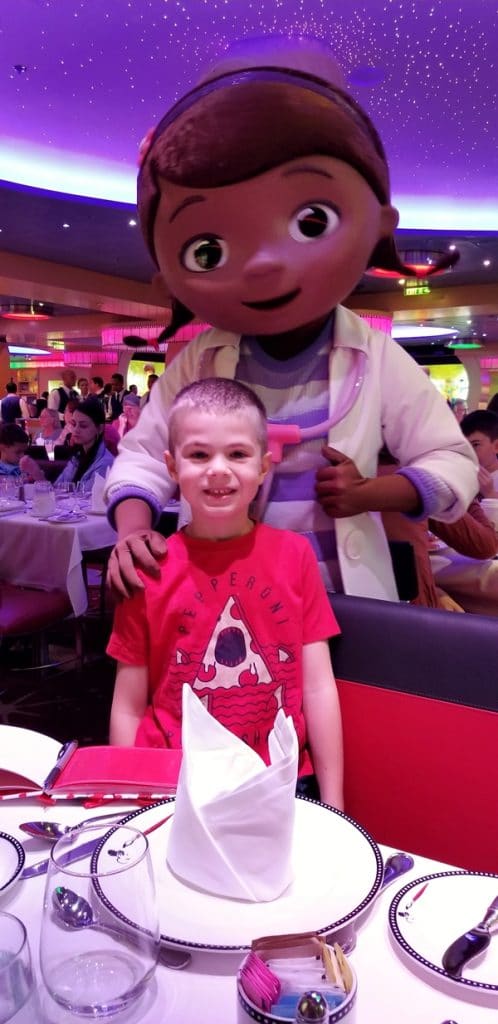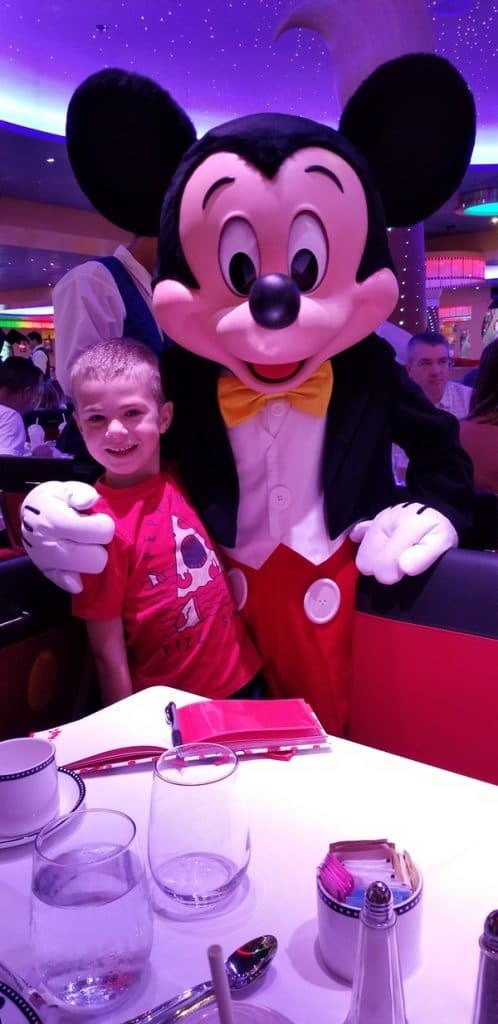 Breakfast in Cabanas was pretty much identical every day with the exception of one item that would change daily, ranging from breakfast sandwiches to my #1 favorite Mexican hot pockets (which were sadly only offered once). In general, I found breakfast at Cabanas to be most frustrating because of its limited rotation, and even though there are many options (trust me, there are), I typically ate mostly the same things daily: some variation of Eggs Benedict or an omelet, hash browns, roasted tomatoes, maybe a Mickey waffle.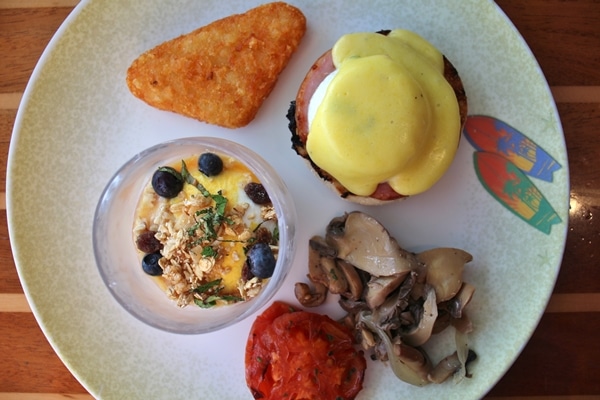 Lunch at Cabanas is a whole other animal, however, and had a much broader range of offerings including a carving station, a salad bar, and sushi.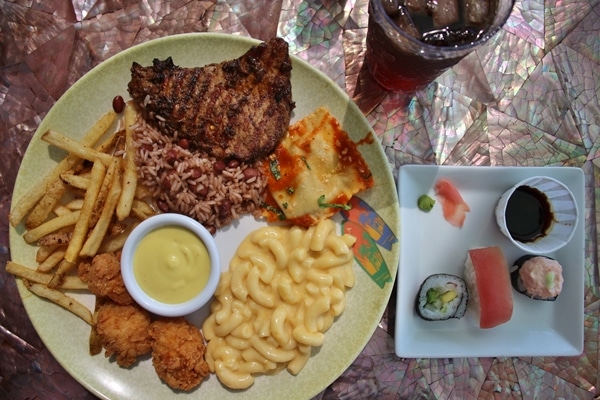 We spent a good part of the day doing things around the ship like riding the AquaDuck, a water coaster at sea, a million times (pro tip: arrive early right when it opens--most people are still sleeping or having breakfast), lounging at the pools, testing our problem-solving skills with the Midship Detective Agency, and more. There are also many scheduled activities throughout the ship on sea and port days such as craft-making, cooking demonstrations, trivia, etc. We kept busy when we wanted to, and relaxed the rest of the time. It was perfect.
My sister and I had booked spa appointments in advance for the Fire and Ice Pedicure at Senses Spa. I didn't take any pictures, but will simply say that not only was the view overlooking the ocean incredible and tranquil, but it was also the best (and most expensive--nearly $95 with gratuity) pedicure I've ever gotten. It features a combination of hot and cold treatments including hot stones and cooling gels, as well as an eye treatment and neck massage. It was like a pedicure+, and easily the best I've had. A few days later one of my toe nails chipped at the beach and I returned to ask if I could just touch up the nail myself with some polish, and they actually sat me down and touched up a few of the nails themselves! Definitely prime service, as one would expect for the price.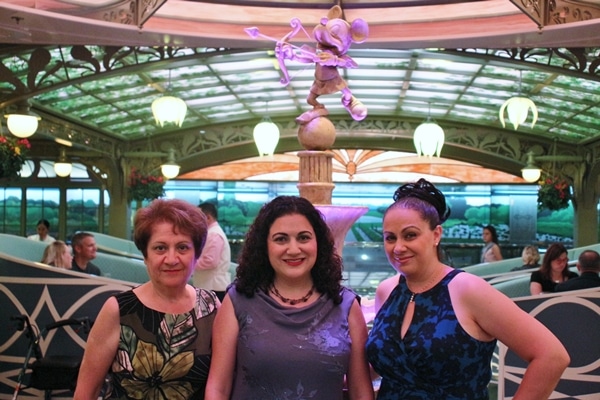 With our toes polished to perfection we were ready for formal night and dinner at Enchanted Garden, our rotational dining room of the day. Again this menu hasn't really changed over the years, and I tend to stick with my general favorites.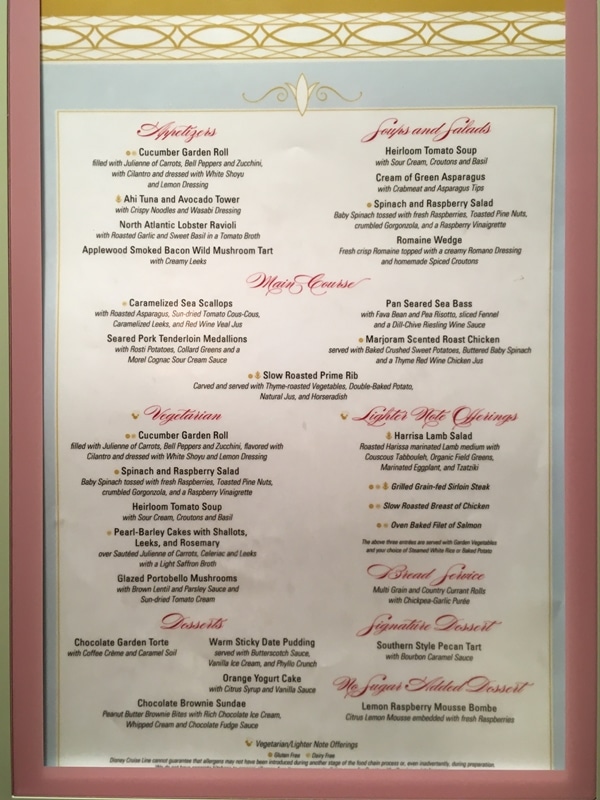 To start I really love the ahi tuna and avocado tower. I think I've eaten it every single time we've had this menu.
I followed that up with the romaine wedge which was honestly just ok and could have used a lot more dressing.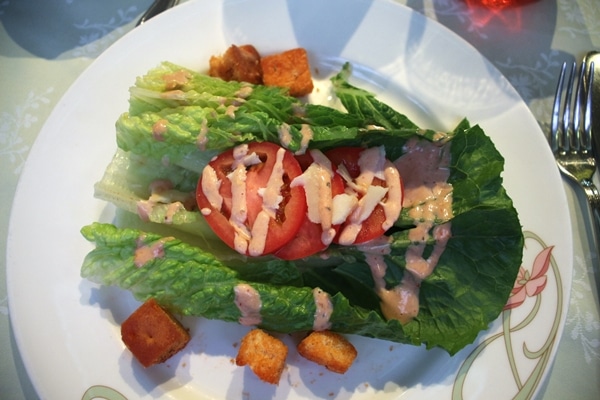 For my entrée I have tried a few different ones over the years but my favorite and the one I will likely stick to from now on is the pan-seared sea bass with fava bean and pea risotto, sliced fennel, and dill-chive Riesling wine sauce.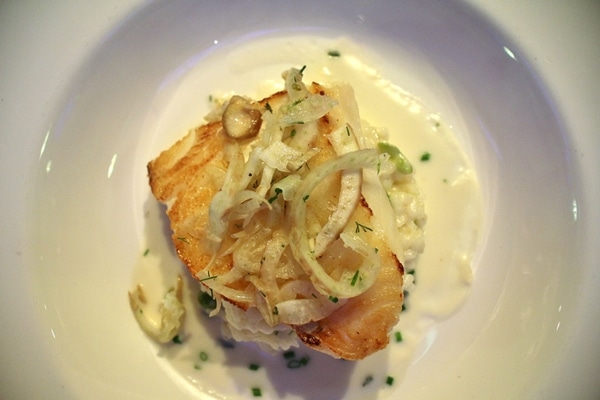 Where the Animator's Palate seems to drop the ball on more than one occasion with risotto-making for a crowd, Enchanted Garden seems to always get it right. It's not super luscious and creamy, but the rice itself is cooked through. That's a win for cruise line risotto! This fish is one of my favorites on the various DCL menus.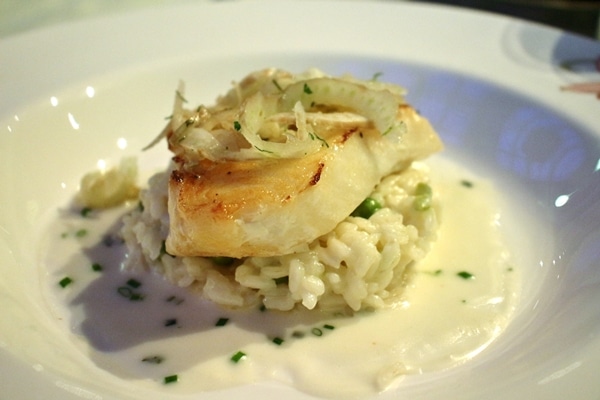 Dessert is also a staple at Enchanted Garden, and I pretty much always get the warm sticky date pudding (aka sticky toffee pudding). It's fabulous!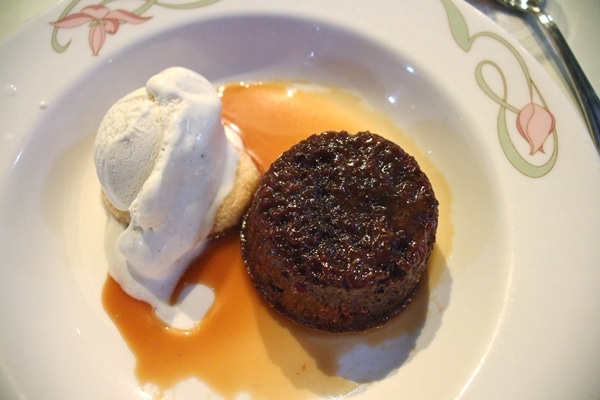 The next morning we returned to Cabanas for a very similar breakfast, and then spent a good part of the morning and afternoon in the Rainforest Room at the Senses Spa. We pre-booked our spots in advance before DCL raised the prices *cough cough*.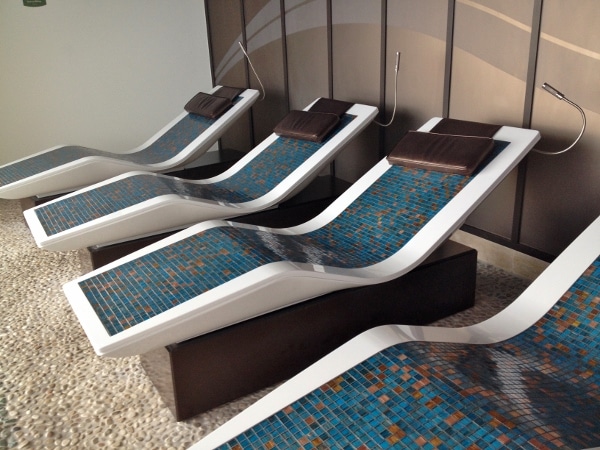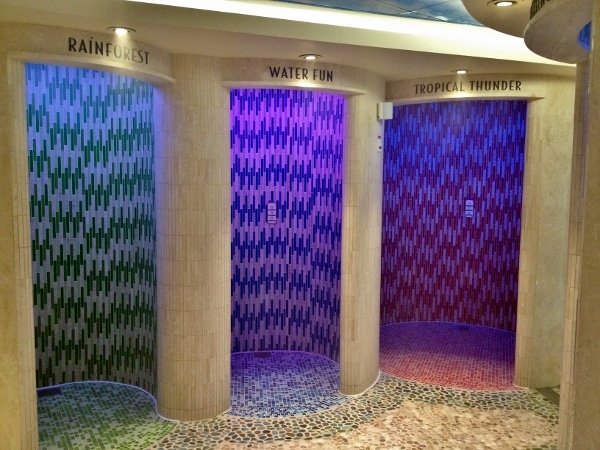 When you book a day at the Rainforest Room you can visit as many times and for as long as you want throughout the same day, so we stopped by in the morning and again in the late afternoon for ultimate relaxation. I discuss the Rainforest Room in more detail as well in my DCL Favorite Things post. Even with the price bump, it's one of my favorite things to do on board, and I still think it's worth it.
We decided to try lunch today at Royal Court, one of the rotational dining rooms for dinner which is also open for table service breakfast and lunch.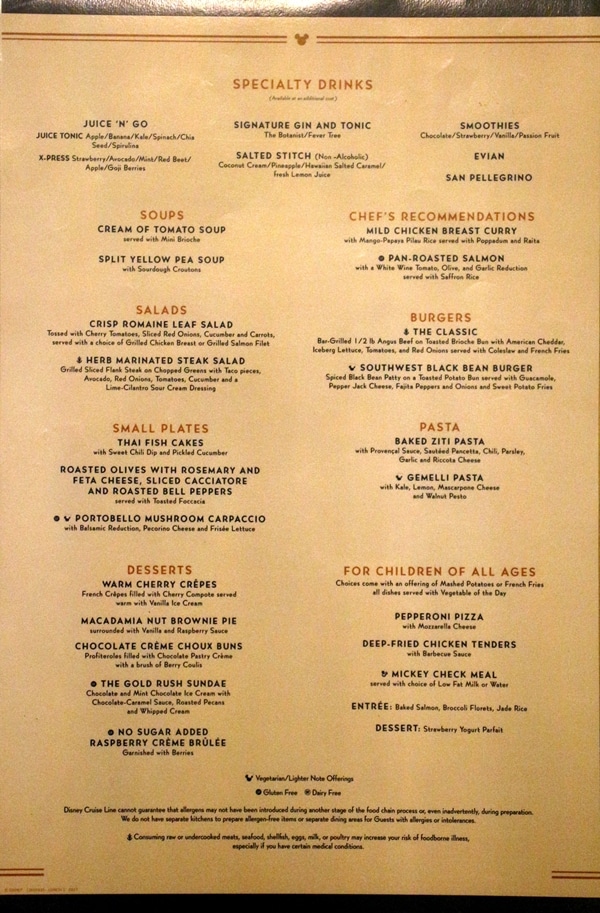 I started with the Thai fish cakes. I actually had to briefly leave the dining room and go to Guest Services to deal with an issue (I will explain more in detail in the following post) but because of this when I returned my fish cakes were cold, and not as delectable as I'm sure they would have been piping hot. My mom had the same starter and really enjoyed it.
She also tried the chicken breast curry which was very good.
My sister and I both got the herb-marinated steak salad as our entrees. Although we were both served at the same table at the same time, her steak was cooked medium while mine was well-done, a disappointing example of inconsistency. Although mine was well-done, the steak was still tender and the salad was generally good.
For dessert we tried the warm cherry crepes and the chocolate crème choux buns. Both were tasty!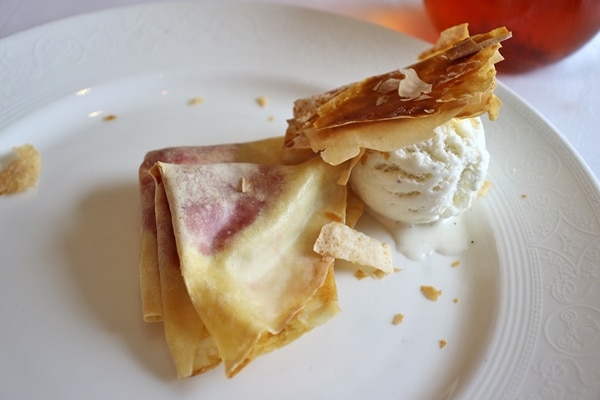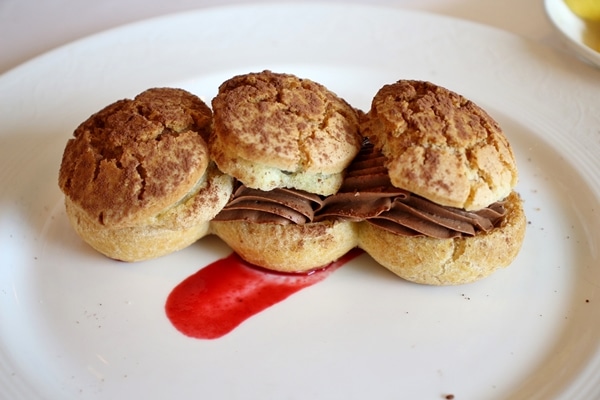 This afternoon my sister and I had pre-booked a mojito and caipirinha tasting at Skyline Lounge. It wasn't simply a tasting but also a basic tutorial on how to make mojitos and other cocktails, learning how to muddle ingredients, shake cocktails shakers, and more. We also learned about the history of mojitos, which were invented in Cuba.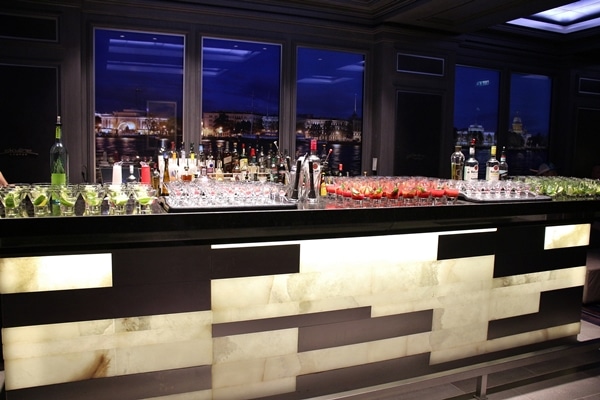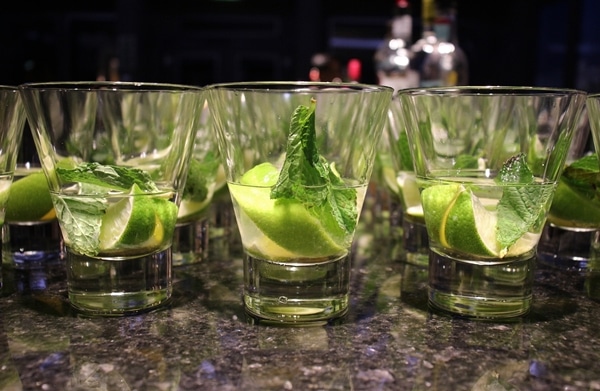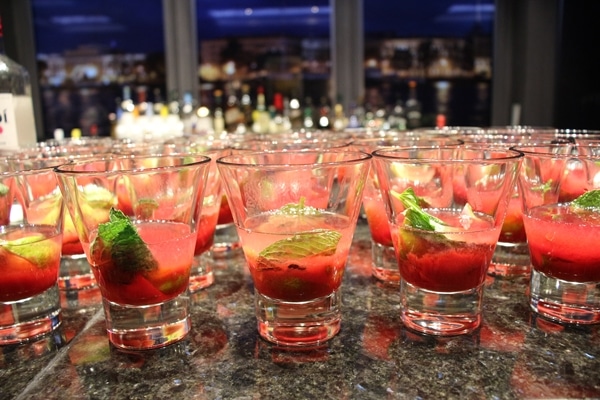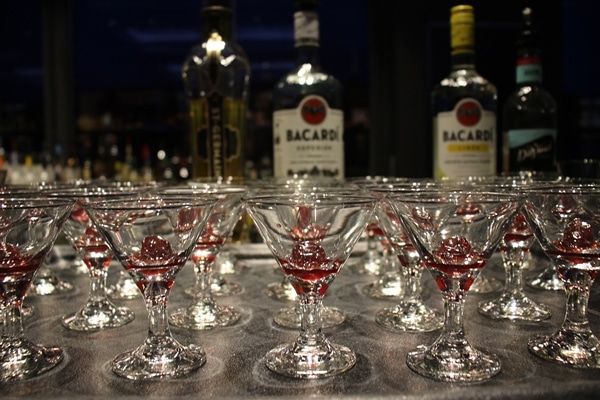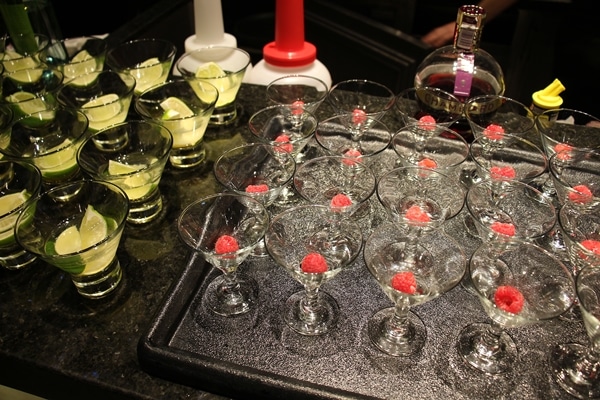 I was one of the first volunteers to participate in the hands-on portion of the tasting. I muddled my lime wedges, simple syrup, and mint, and poured in the rum before the bartender topped off my glass with seltzer.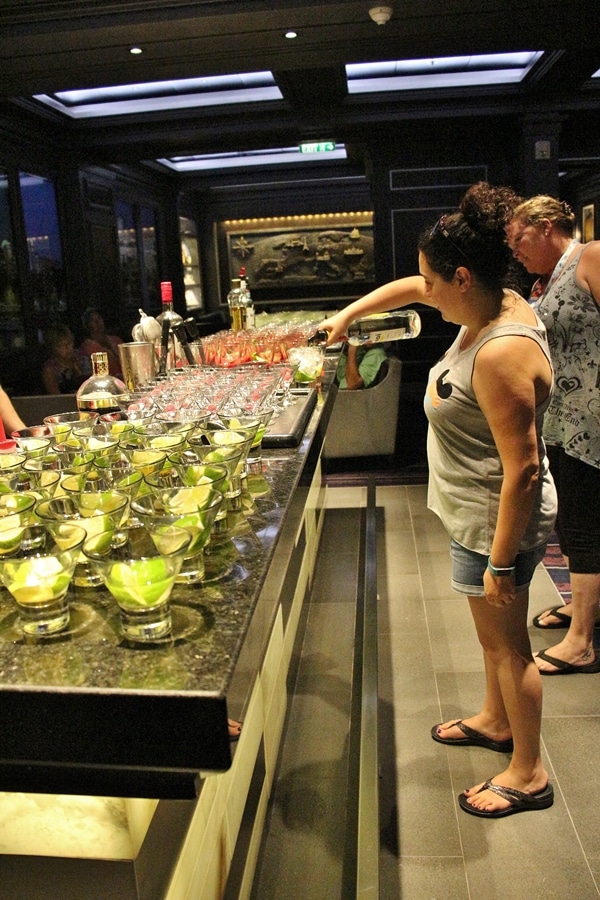 It was a mighty delicious classic mojito! Cheers!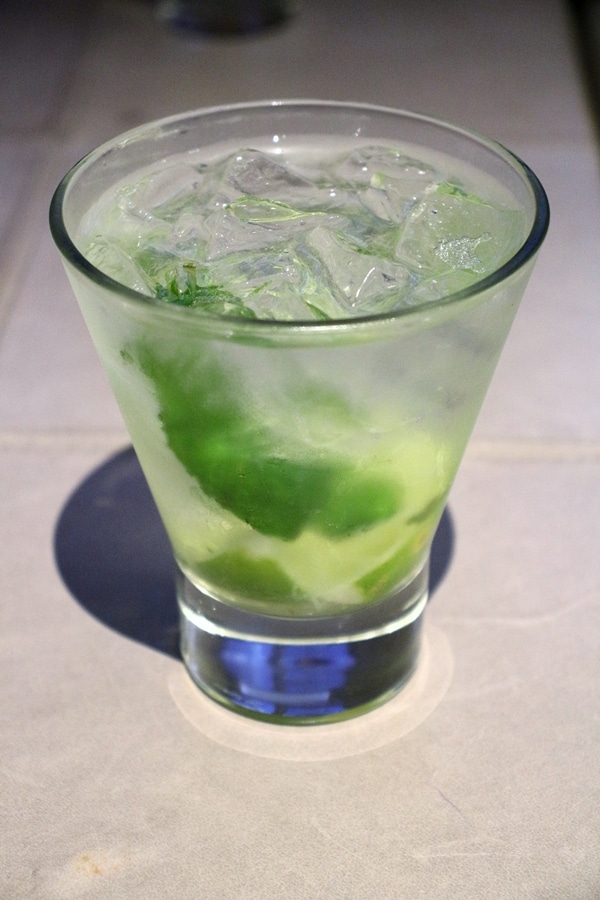 Next we sampled one of the signature cocktails at Skyline Lounge, a drink representing Paris entitled Ooh La La. It's a twist on a mojito, but more upscale, strained and served in a cocktail class.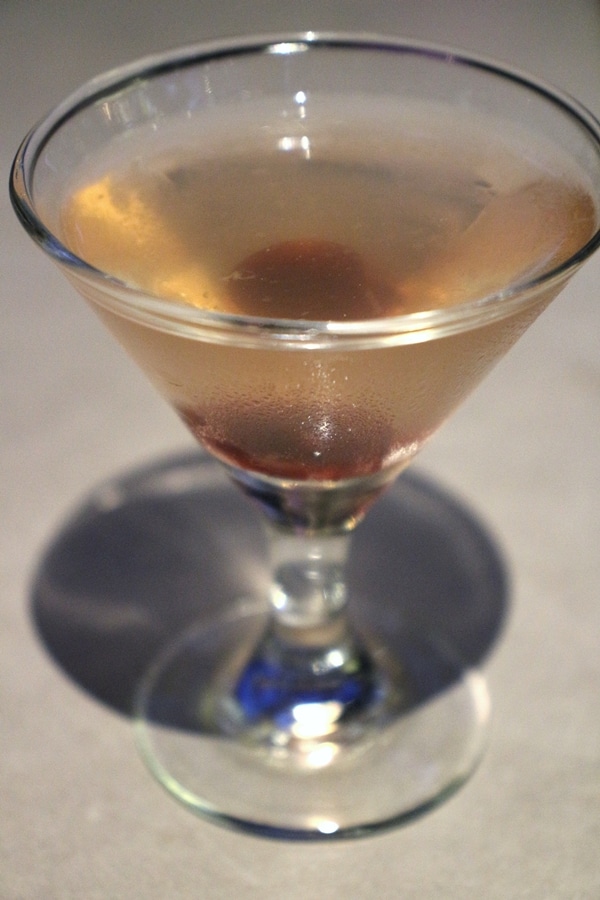 It features muddled lime, mint, white Bacardi rum, St. Germain elderflower liqueur, and seltzer with a garnish of delicious Filthy black cherries, my new favorite drink garnish for my new favorite drink! It is so light, delicate, and effervescent. I plan on recreating this one at home. We actually returned to Skyline Lounge later in the cruise and ordered the full size version. Deeeee-licious!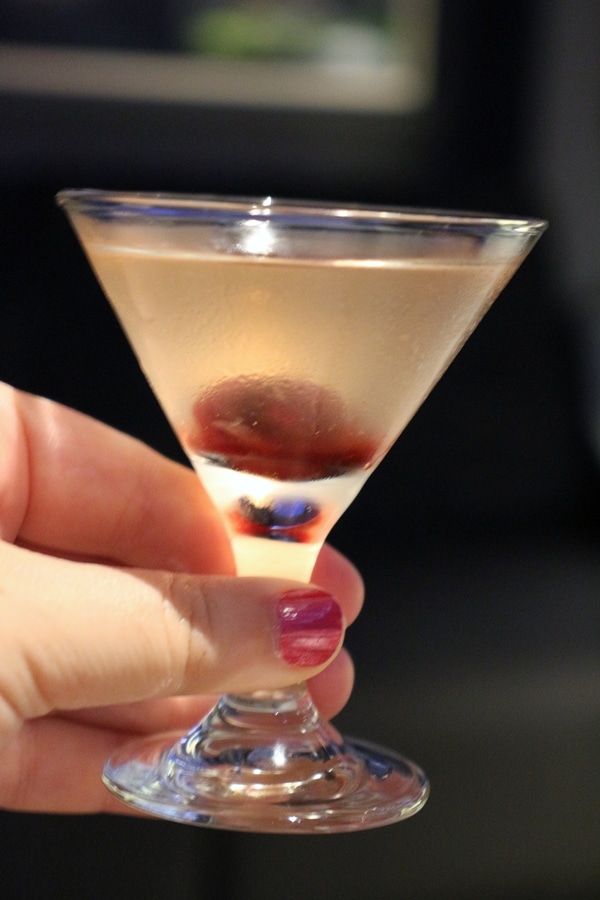 Our third drink was a raspberry mojito, much like a classic mojito but with raspberry puree, and a reduction in sugar/simple syrup. It was good and very refreshing, a great poolside cocktail option!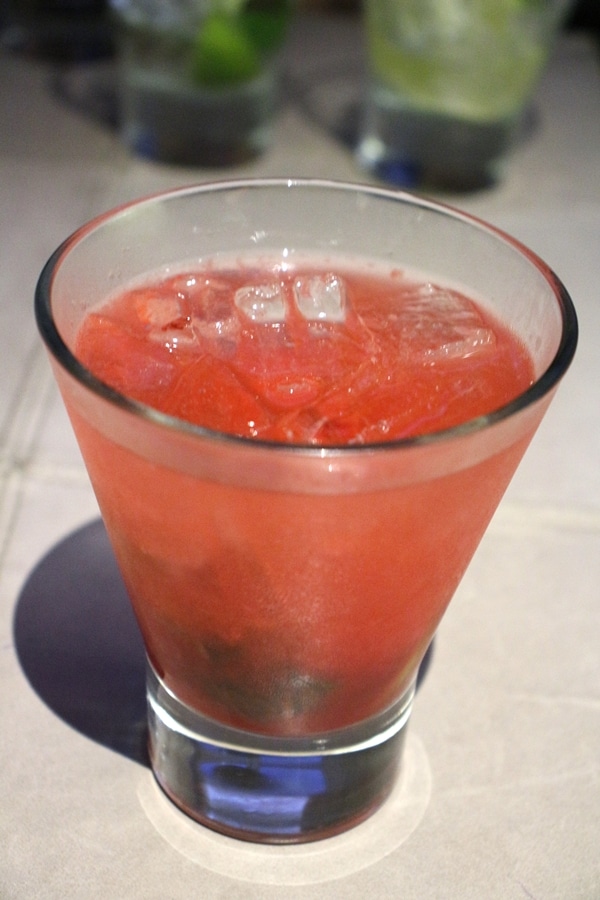 The Chambord mojito martini was next, featuring Chambord (raspberry liqueur), white rum, lime, mint, and sugar. This was our second favorite, after the Ooh La La.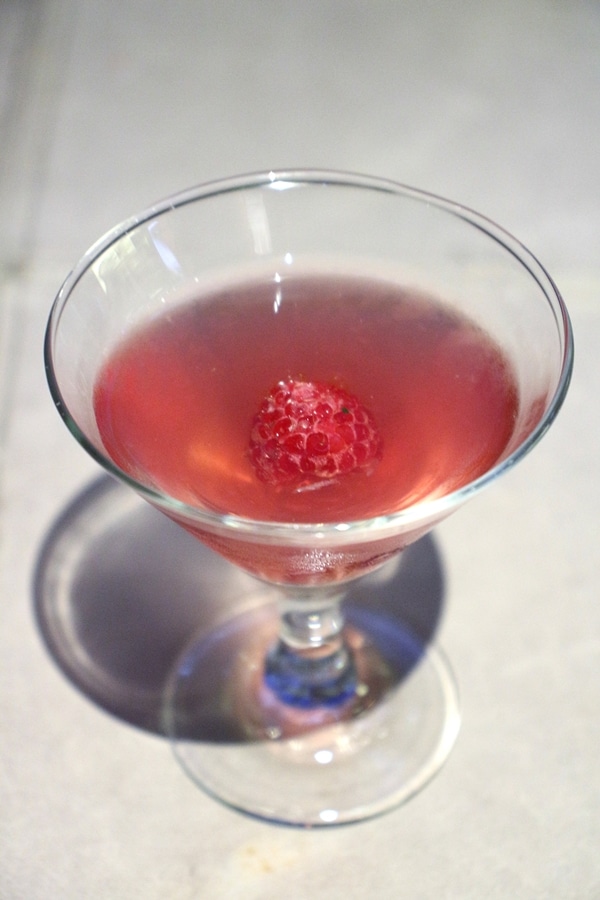 Last and definitely least was the caipirinha, a traditional Brazilian cocktail made with cachaça, sugar, and lime. The version we sampled was disgusting. There's no nice way to put it. It smelled and tasted like rubbing alcohol. A gentleman sitting near us told us he makes caipirinhas at home, and this particular one was not made properly, and needed a lot more sugar/simple syrup. We asked our host for more simple syrup in our drinks, and it was a slight improvement but we still didn't like it. I'd love someone to prove me wrong with a perfectly crafted, delicious caipirinha someday, but until then I'm putting caipirinhas on the naughty list. What a bummer!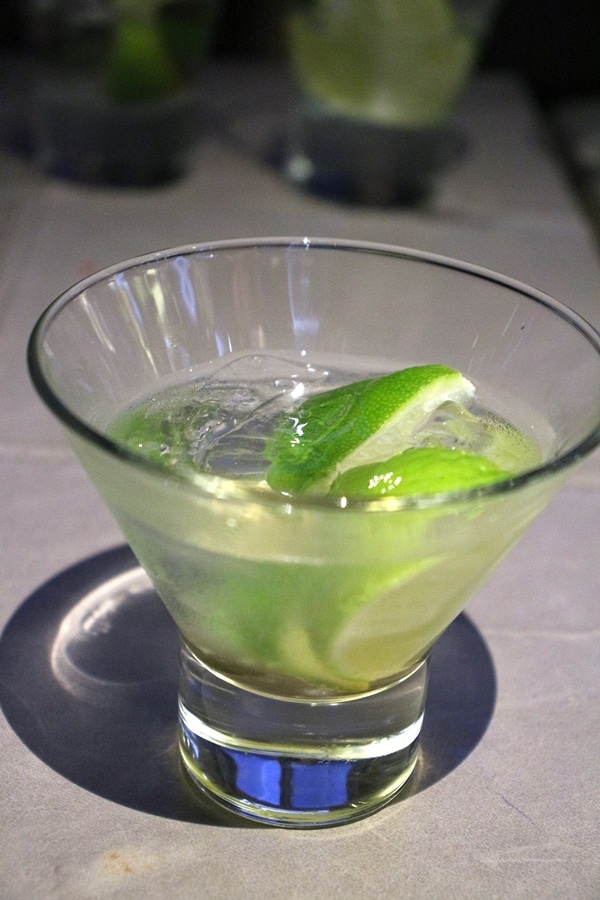 With a bottle of prosecco in our stateroom and a beautiful sunset over the sea, we headed to dinner at Royal Court, the same place we had lunch earlier today.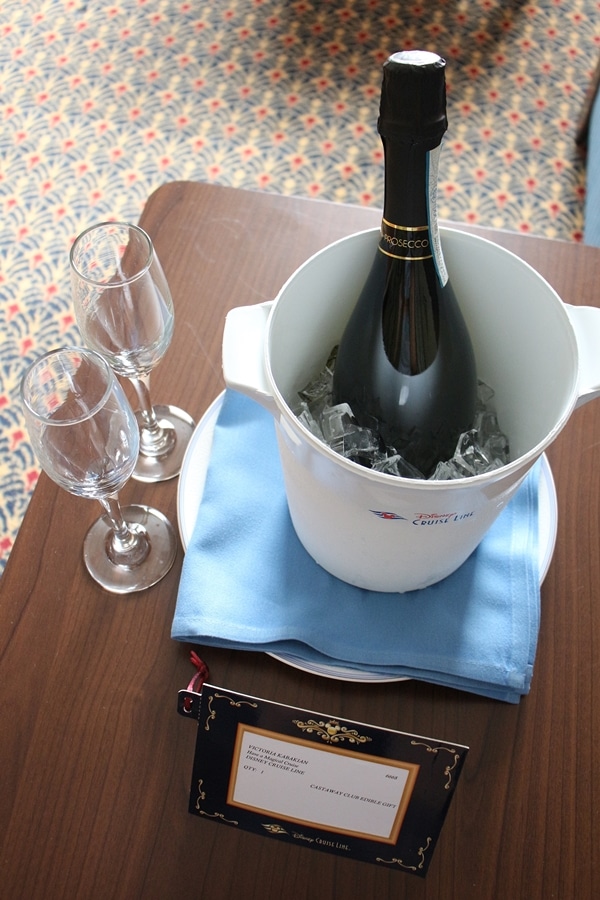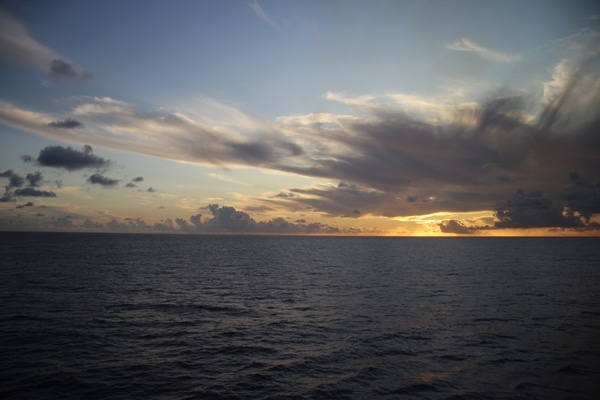 Royal Court features a French-themed menu. It's usually one of my favorites, although on this particular day the execution was a bit lacking for certain dishes.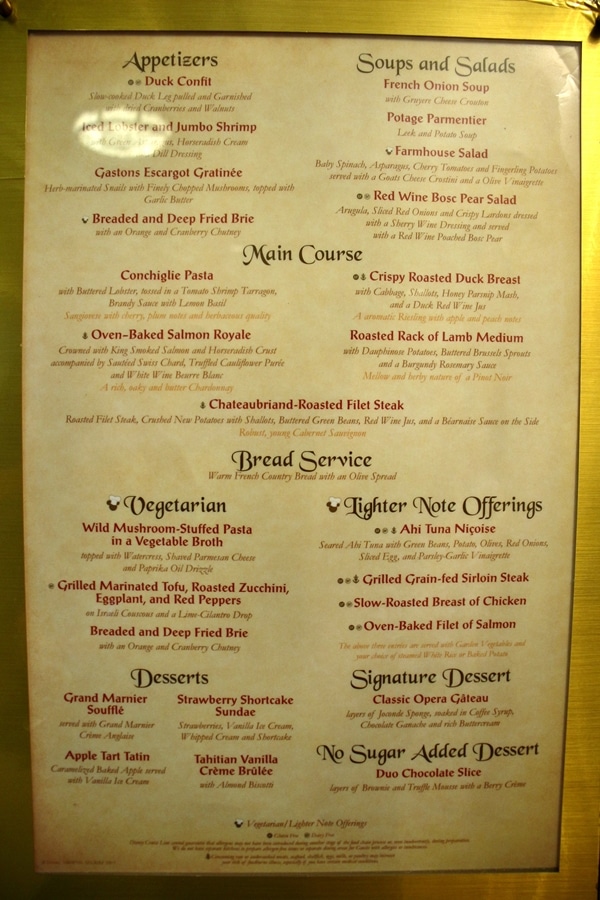 I always always get the French onion soup. It's usually quite good, but this time seemed much thicker and darker, like it was over-enriched and over-reduced. That's my main complaint about the meal. The soup was off, and considering it's my favorite soup in the whole wide world, that's just sad.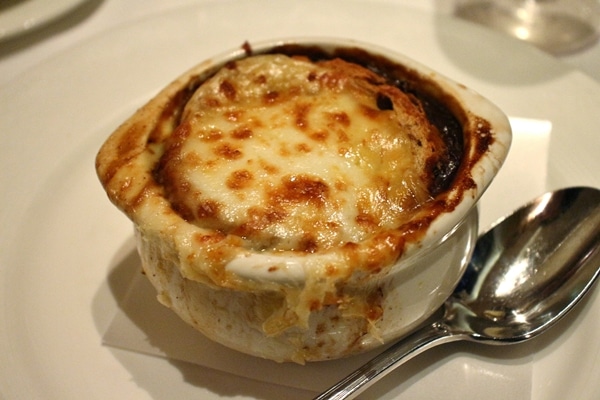 For my salad I picked the farmhouse salad with goat cheese crostini. It was fine. Nothing much to report here.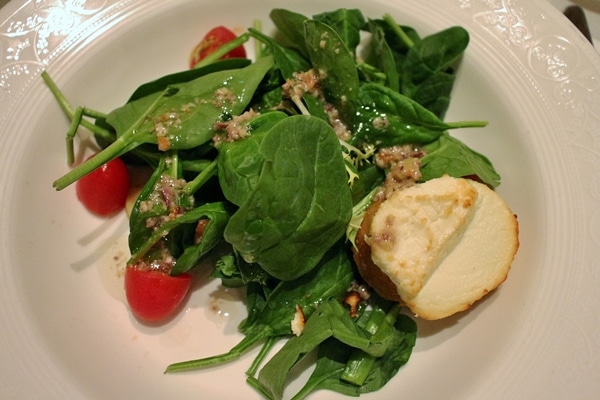 On past cruises I have often ordered the salmon royale or the chateaubriand for my entrée, but on our last cruise I discovered that one of the vegetarian entrees, the wild mushroom-stuffed pasta in vegetable broth was a surprising winner! I tried it again and wasn't disappointed.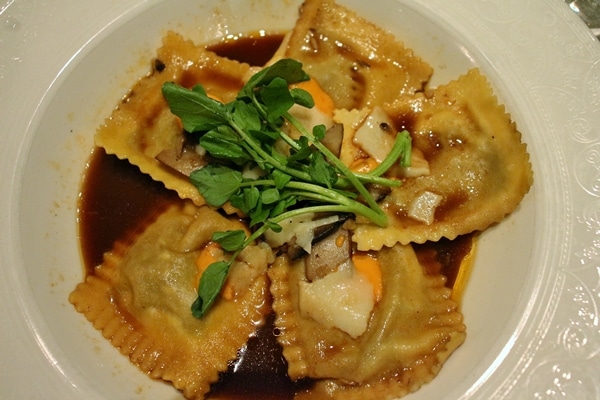 For dessert at Royal Court I always always always get the Grand Marnier soufflé. It's one of two souffles I must have on every Disney Cruise (the other is the chocolate soufflé at Palo!). What can I say, it's a consistent winner!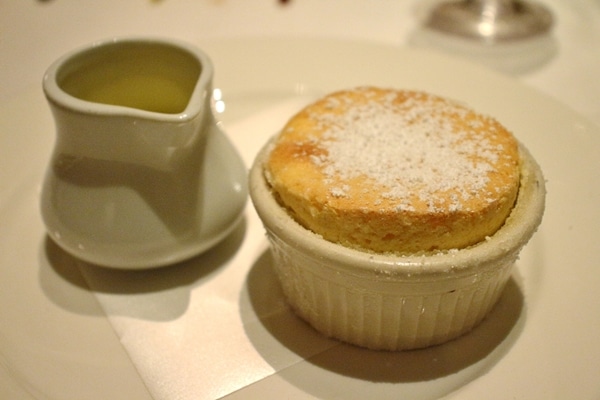 After dinner mom and I ran into Cinderella herself! She was as lovely as ever.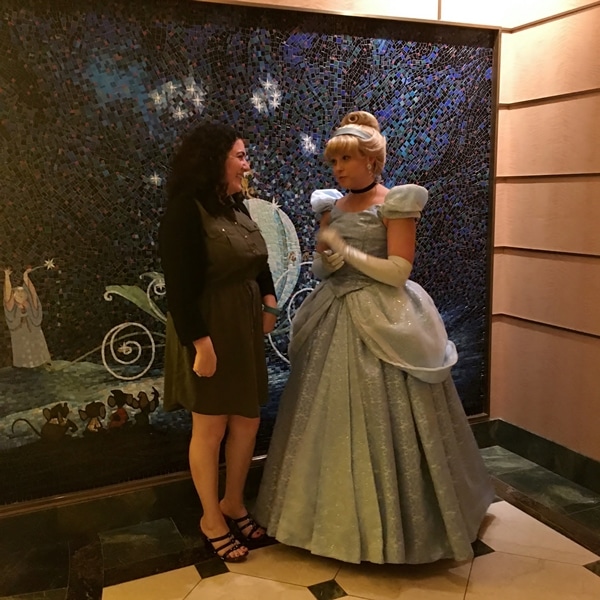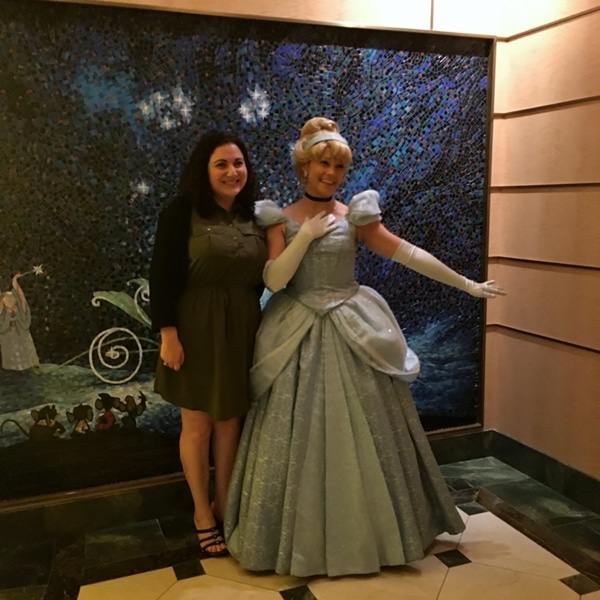 Tomorrow we stop at our first port of call, St. Kitts. See you then!
Disney Fantasy Halloween on the High Seas Eastern Caribbean Cruise (October 2019):