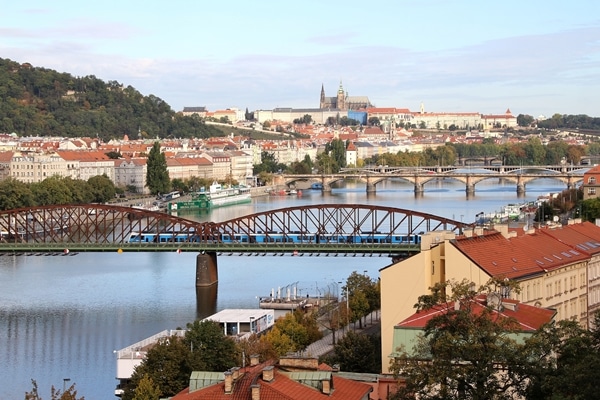 Vyšehrad complex is a historical fort which translates to "Castle on the Heights." It's slightly out of the way, and therefore lacks many of the tourists overtaking the heart of Prague. There are many important sites within the complex including the huge twin-spired Neo-Gothic Basilica of St. Peter and St. Paul (50 CZK admission), Vyšehrad Cemetery and its famous tomb Slavín which houses the tombs of many influential Czech people, the 11th century Rotunda of St. Martin, one of the oldest surviving buildings in Prague, the mysterious Devil's Pillar, and the castle walls themselves, from which there are superb views over the Vltava River and across Prague.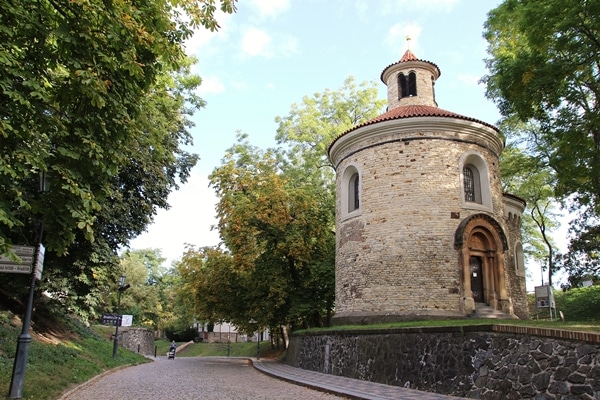 Rotunda of St. Martin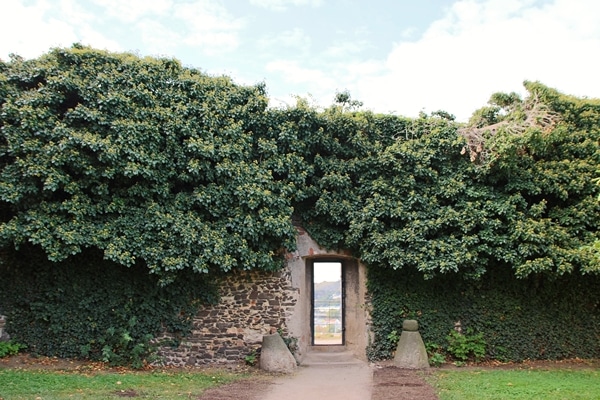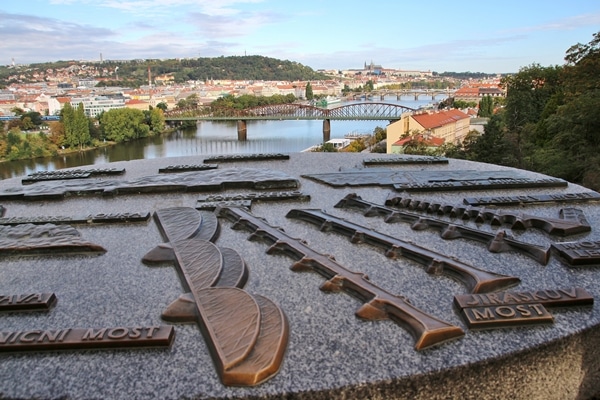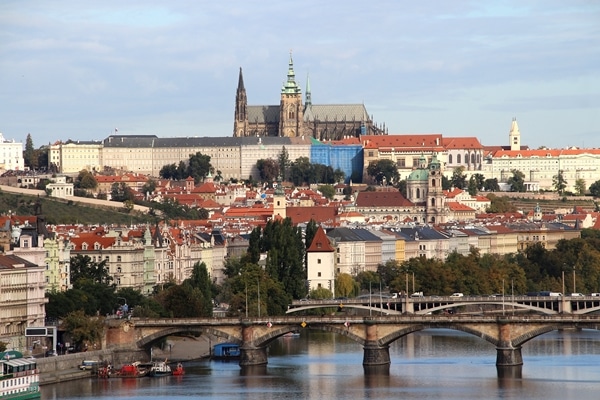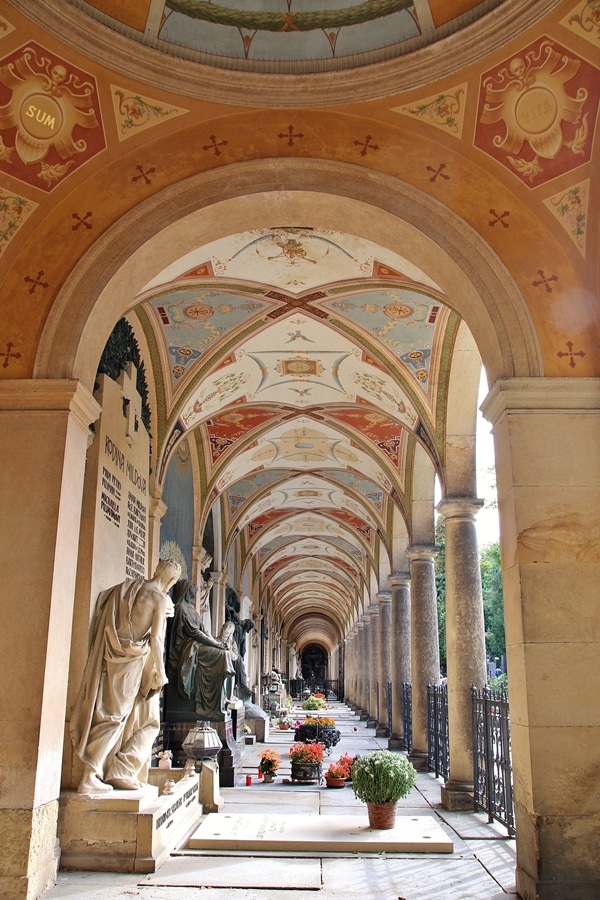 Vyšehrad Cemetery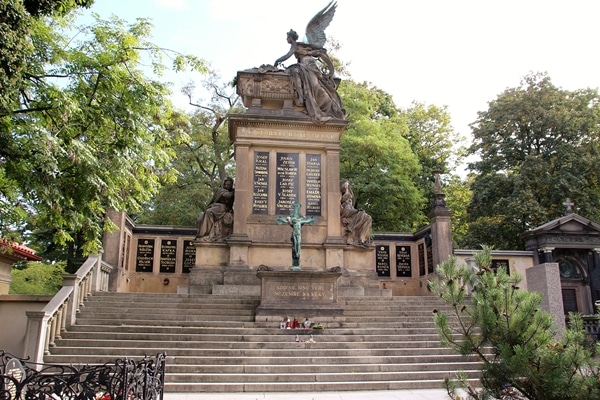 Tomb Slavín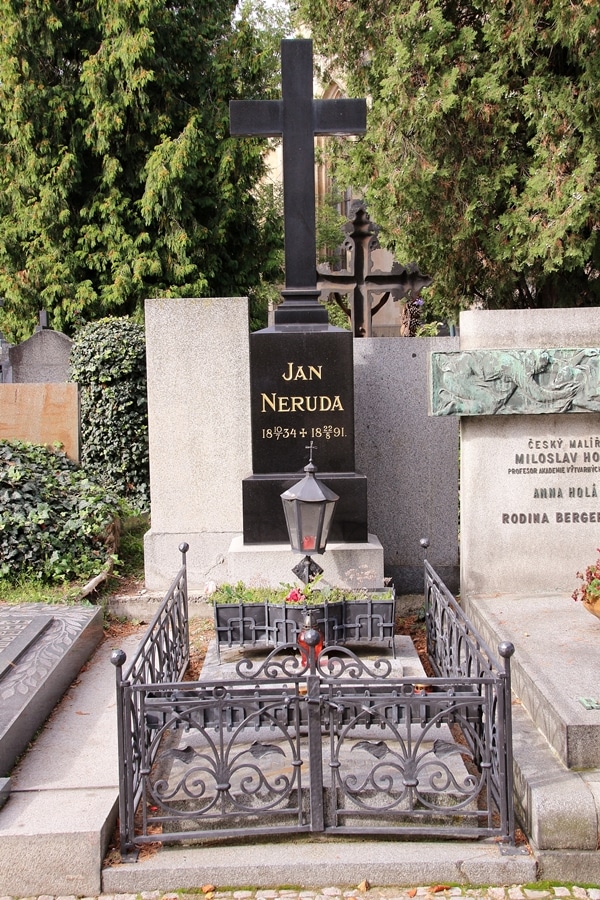 Grave of Czech writer Jan Neruda, namesake of Nerudova Street where he once lived
Additional admission and tours are also offered within several other sites within the complex, including the Casemates and Gorlice, which feature underground corridors used for rapid troop movement dating back to the 17th and 18th centuries during the construction of bastion fortification. I considered this tour but read some iffy reviews (the tours were in Czech, the majority of the time was spent watching a video, etc etc), and honestly didn't have enough time anyway. At Vyšehrad you'll also discover the final Amadeus shooting location of my visit to Prague, the Leopold Gate, an impressive Baroque entryway into the inner Vyšehrad complex. It served as the gateway through which Mozart's wife Constanze returns to Vienna, and later Mozart's coffin is transported out of Vienna to the mass burial site.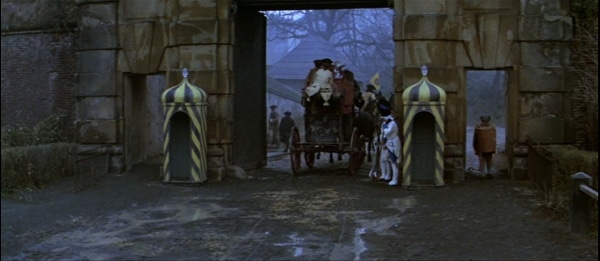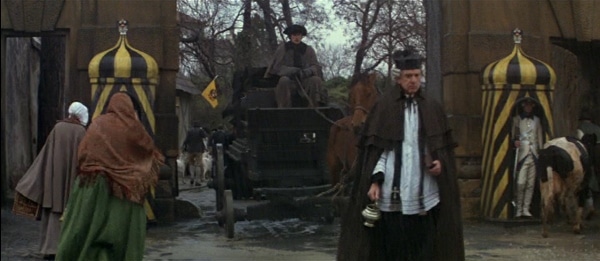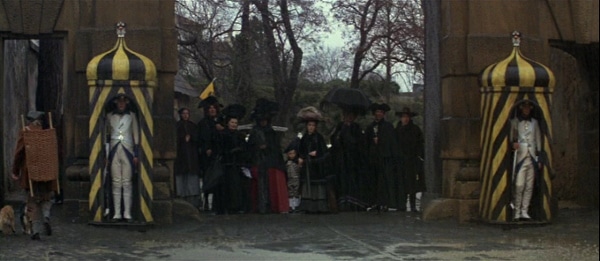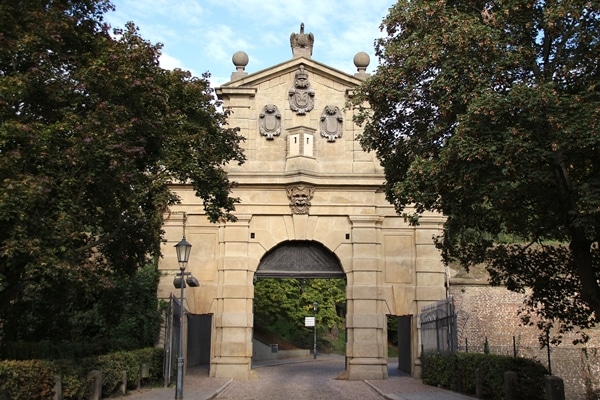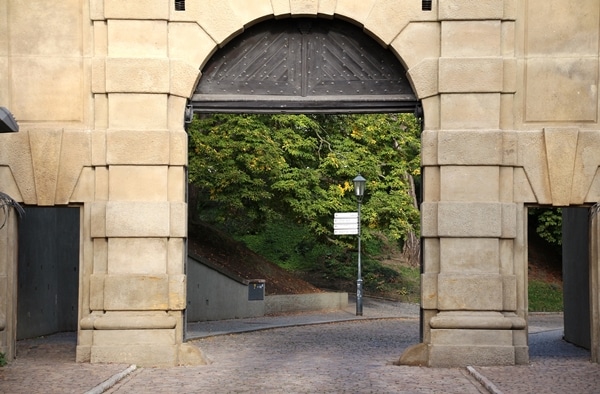 The entire neighborhood including the complex felt peaceful and quiet compared to central Prague, although there were like-minded tourists adventuring as I was. I loved the views and particularly adored the Basilica of St. Peter and St. Paul with its impressive frescoes from floor to vaulted ceiling. Although it's a slight trek from the city center, I highly recommend it.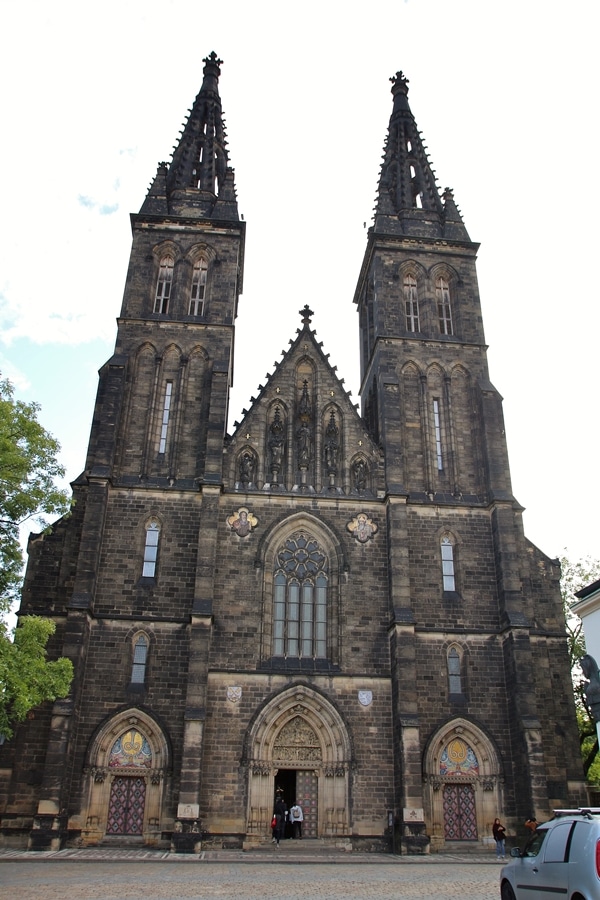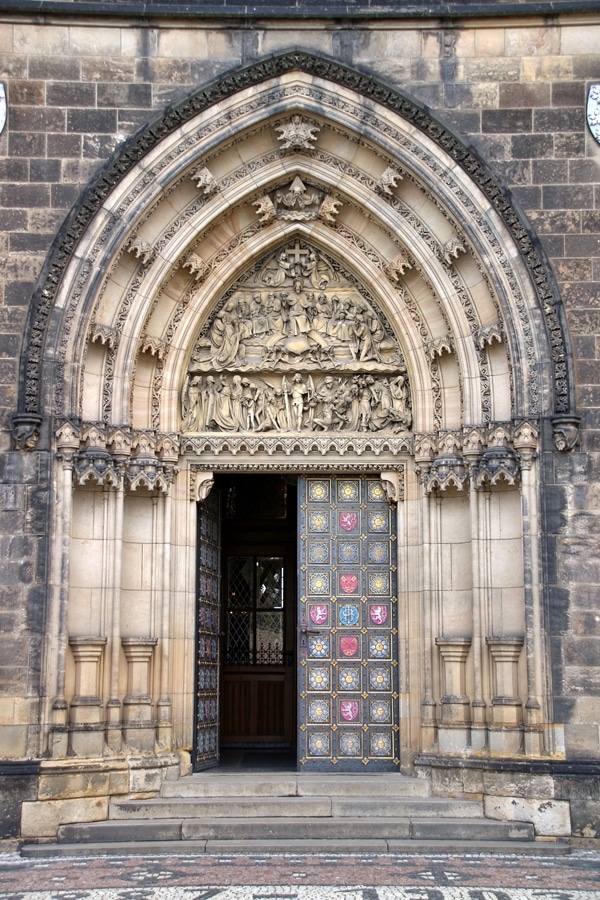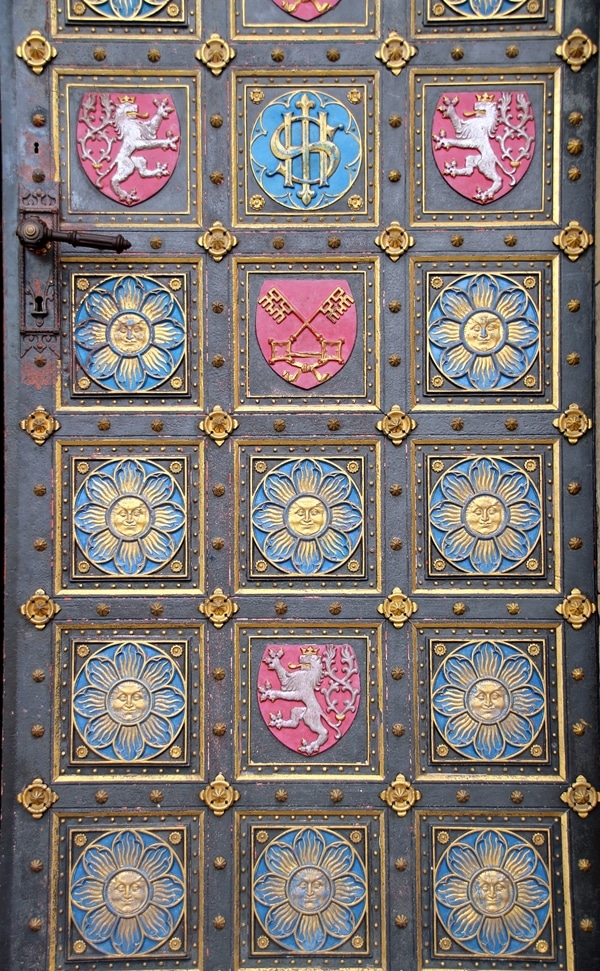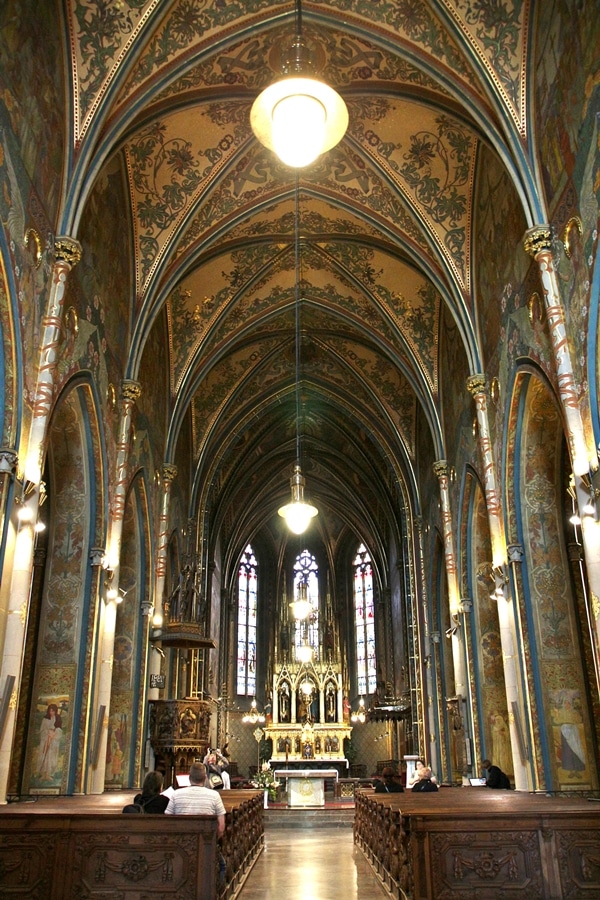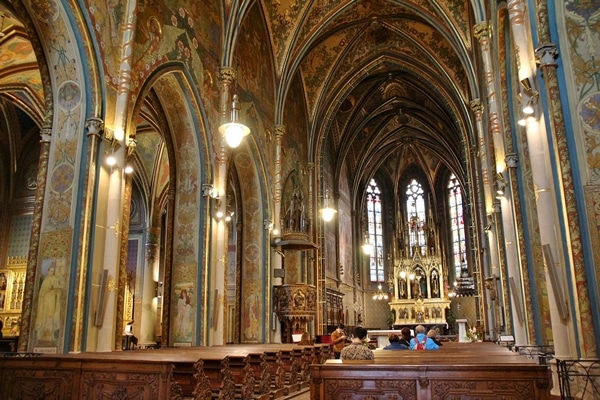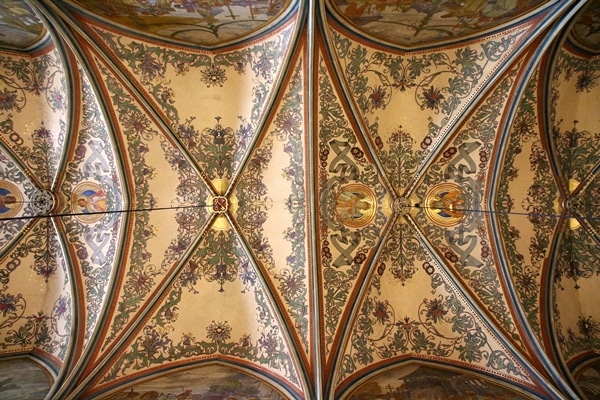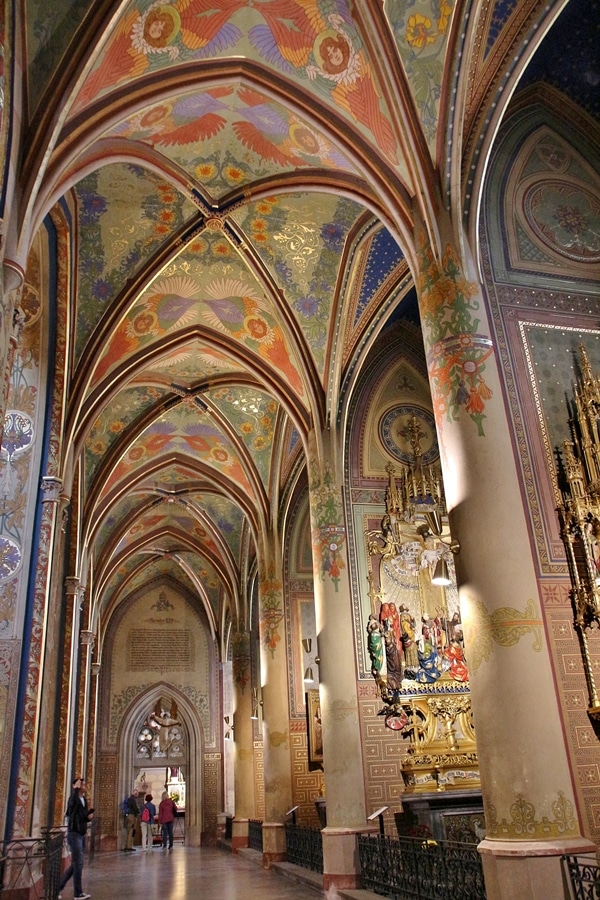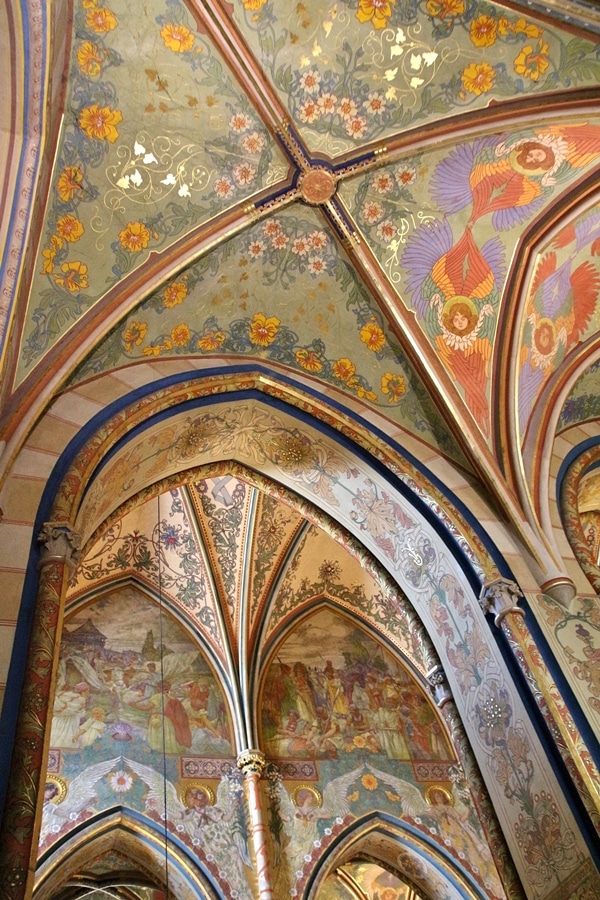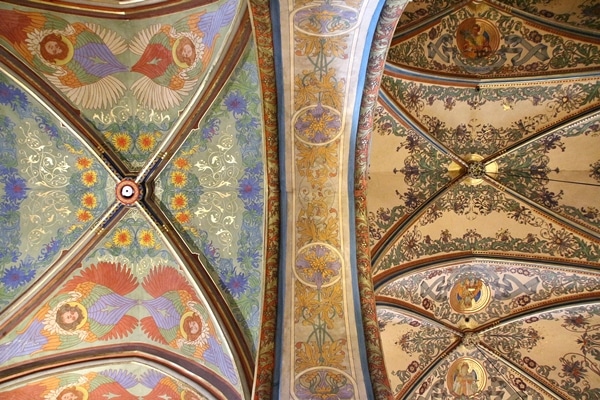 I researched several Prague food tours before selecting the one through Eating Europe. Honestly, the top food tours on TripAdvisor all have 5 stars. I don't think you can go wrong (and that's a good thing) but it's a matter of personal preference, days/times offered, and availability. Also note that tour offerings are subject to change, so reading an older review may differ from your personal experience. Even before venturing on our tour I already had a good vibe from Eating Europe when I emailed them to ask for info on the tour stops in advance (for further research), and got a response almost immediately with an advance copy of the tour guide. I will share the blurbs provided in the tour guide as we proceed through our tour.
Eva would be guiding our group of 9 on a food adventure around Prague. There were 3 food stops in Old Town and 3 in New Town with places to sit down at most of the stops. Our meeting point, and initial taste of our tour is Perníčkův sen (meaning Gingerbread Man's Dream). "Owned by two sisters-in-law, this shop is single-handedly reviving Prague's gingerbread tradition. As well as gingerbread made the authentic way with plum jam and walnuts, they also serve up some of the tastiest poppy seed kolache in town, with their own unique twist! Address: Haštalská 757/21"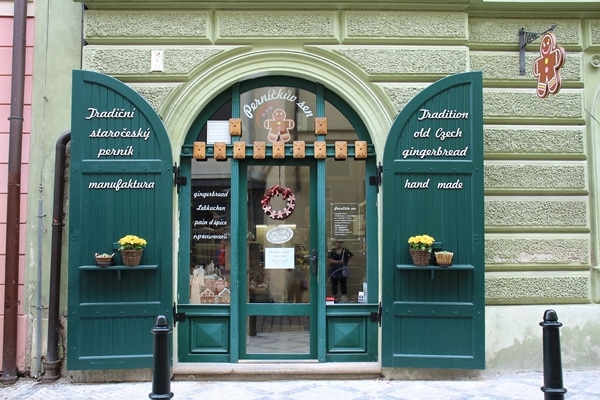 We learned from Eva (and later confirmed on Google) that an Armenian monk actually brought the recipe for gingerbread to France 1,000 years ago. So gingerbread is actually Armenian but has of course evolved since its invention. The version at the shop isn't made like American gingerbread, with molasses and ginger, but is softer in texture and loaded with spices (Eva mentioned black pepper!). We were told that at the shop they also sell the gingerbread dough if people want to buy it and shape their own cookies. They even sell pressed gingerbread Christmas ornaments (not for eating). We had arrived early to the shop and took advantage of the time by purchasing a bunch of beautifully decorated gingerbread to go. We are glad we did because apparently this shop does not seem to keep normal hours, and friends of ours arrived not once but twice during business hours to find the shop closed early. I have read reviews on TripAdvisor that said the same, so just be careful and come as early as possible because they tend to close early quite often.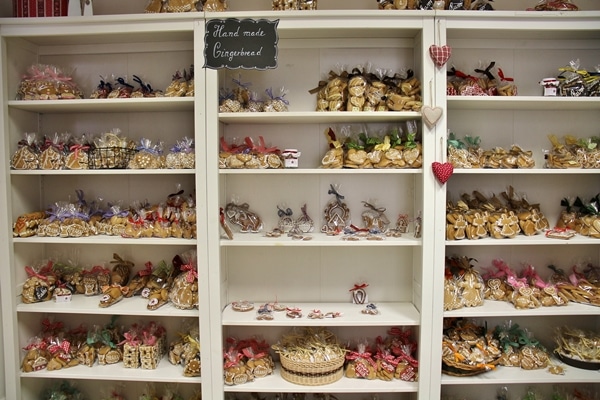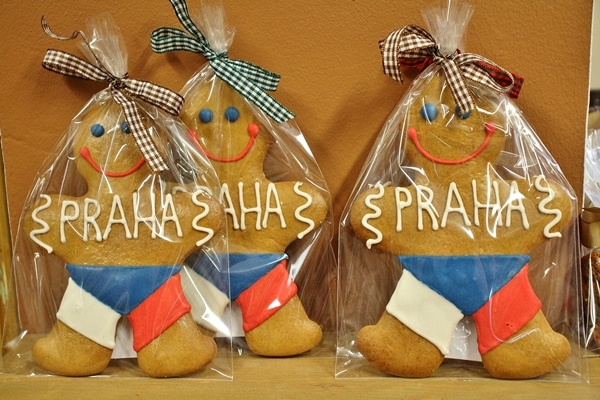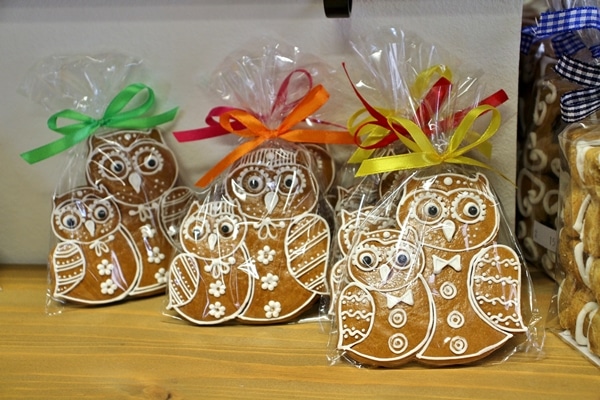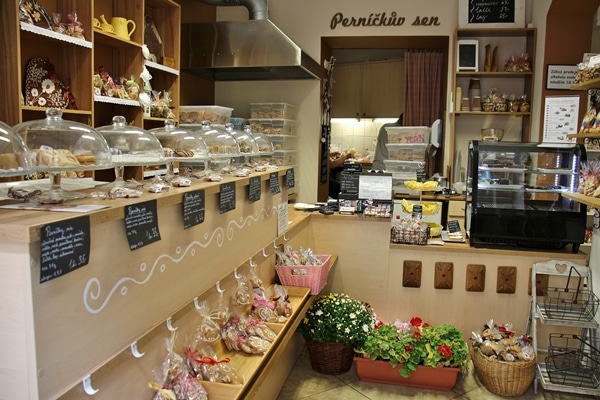 Even though our first food stop was a gingerbread shop, we didn't actually sample the gingerbread during the tour. We were given an adorable beer mug-shaped gingerbread to take home for later, and sampled a few other pastries instead.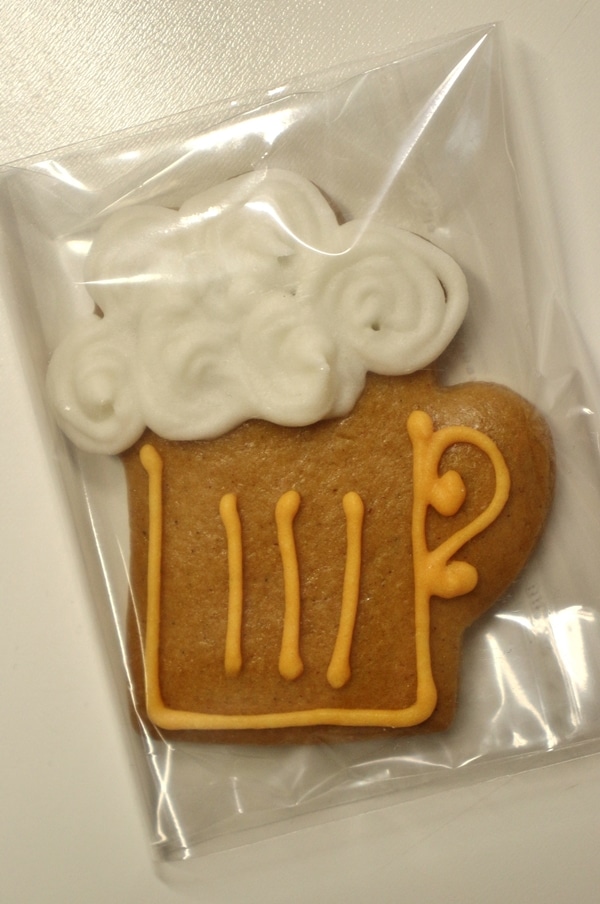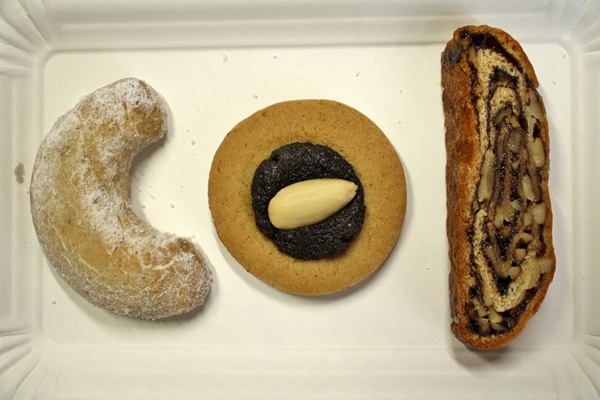 The first (from right to left, and the order we tasted) is Sakrajda (which translates to "dammit cake"), a thin dough rolled with walnuts and plum jam. It's slightly chewy with thick sticky jam and crunchy nuts. This medieval recipe was very delicious! I'm on the lookout for a good recipe! Next we sampled their version of koláče (kolache) made with gingerbread dough (traditionally this is a yeast dough), garnished with poppy seeds and an almond. The gingerbread base was tender, and not too sweet. Last but not least was the vanilkový rohlíček (same as the German & Austrian Vanillekipferl), described to us as "vanilla rolls." These crescents with Austro-Hungarian roots are made with loads of butter and ground almonds, and are crumbly and sweet. They are soooooooo good. You can really taste the richness of the butter. It's epic, and already on my list to make as Christmas cookies this year!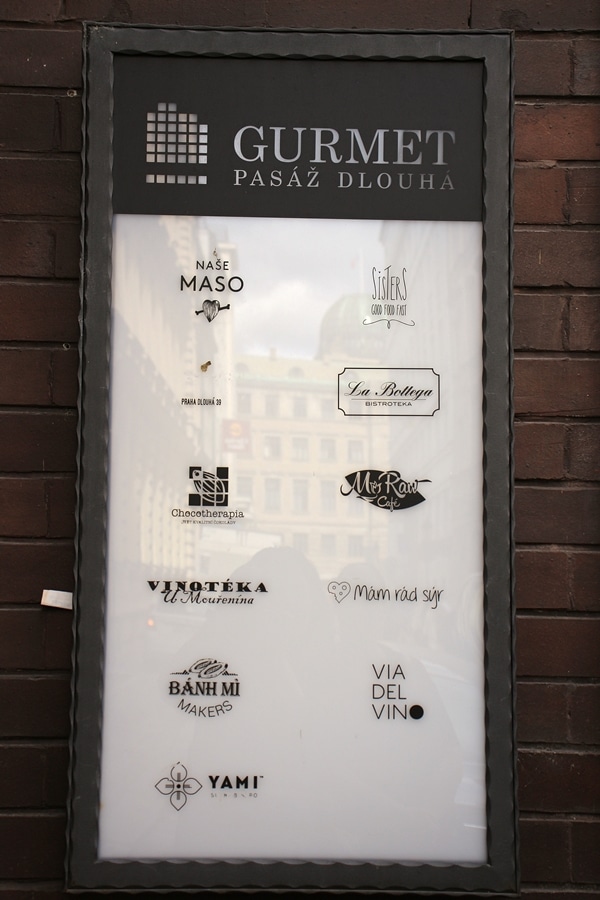 Next we headed through a hidden passage (there are many like it in the city) called Gurmet Pasáž. This particular passage between streets is full of gastronomical delights. We paused midway through the passage and stood around a table while Eva told us a bit about the next 2 stops which are located across from each other at the far end of the passage. She brought out trays one after another for us to sample. The first selection is from Sisters. "A gourmet assortment of the most typical Czech snack food: 'chlebičky' (little breads). This is the taste of most Czech parties, office meetings, and picnics. Czechs are not the only ones to claim this invention, but Sisters makes some of the best you can get in the world! Address: Dlouhá 727/39"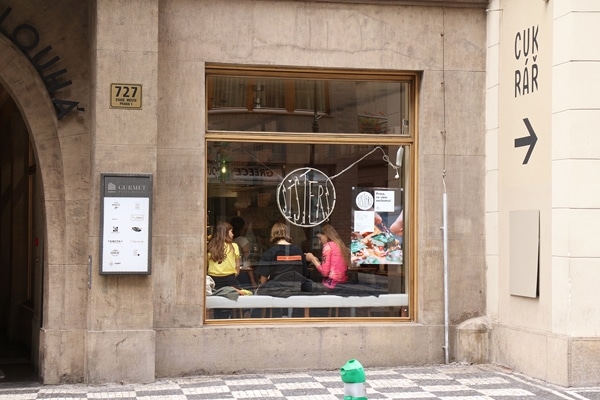 I was very excited to try Sisters' modern take on Czech open-faced sandwiches or "garnished breads" called obložené chlebíčky or simply chlebíčky. One of the "sisters" referred to in the name is local culinary big-wig Hana Michopulu, former editor-in-chief of Apetite Magazine, and the founder of the first Farmers Markets in the Czech Republic.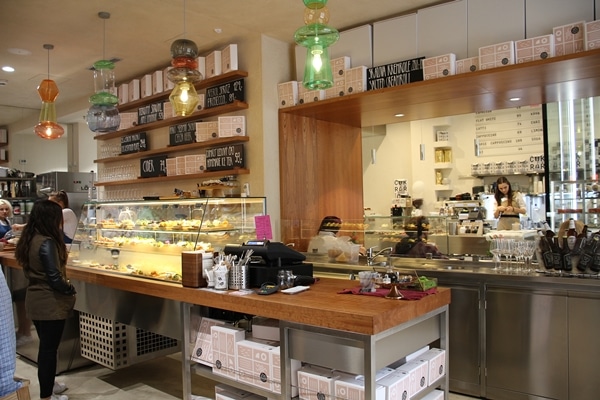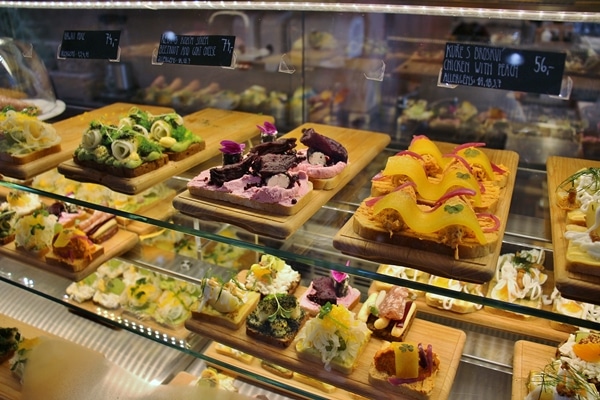 The menu changes periodically so those on the tour or visiting the restaurant on their own will likely have other offerings in the future. We sampled 3 different varieties currently on their menu. All were served on thin, dense breads (similar to cocktail bread in thickness and density) with various toppings.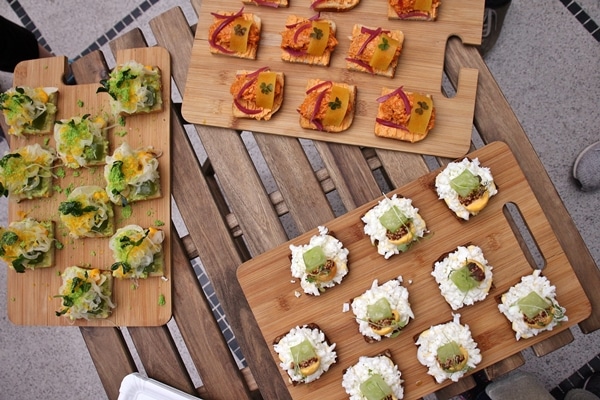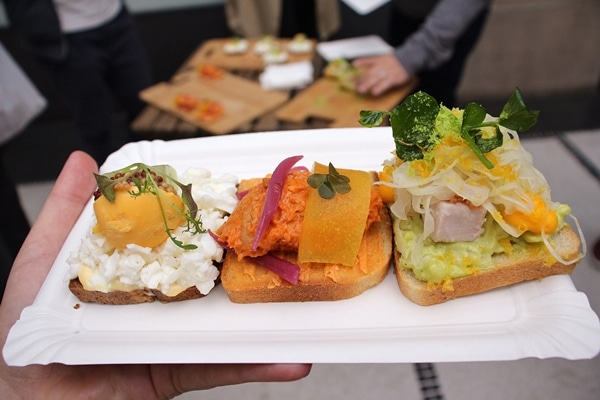 Flavor 1: Egg. "Egg spread, without a doubt, cannot be excluded from any Czech menu. Again, we tend to use various textures of this basic meal ingredient, therefore this sandwich contains chive oil, yolk emulsion, the yolks themselves and mustard. With the addition of cucumber jelly and salt, you can enjoy this unforgettable snack experience." Served on rye bread with sunflower seeds, egg spread, grated egg white, sous vide egg yolk, whole grain mustard and a cucumber cube. This had the most delicate flavor of the three. It was a unique spin on egg salad, which I really enjoyed.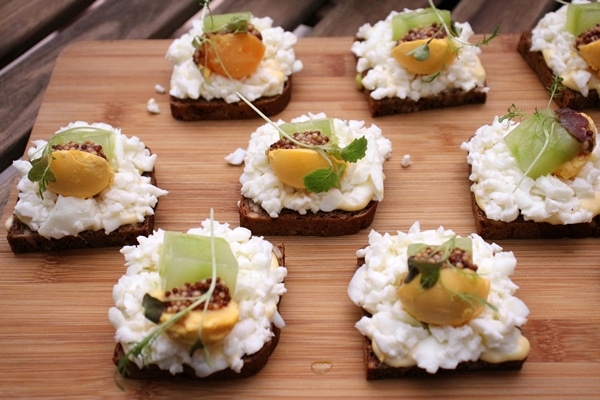 Flavor 2: Chicken with Peach. "A dish commonly laughed at, but still loved among the Czech people – chicken with peach on top. In our version, the chicken is first soaked in a 4 % salt solution, so its flavor spreads throughout the whole meat. It is then roasted and torn up into small pieces, which are combined with peach jelly." This variation is served on white bread with paprika chicken, pickled onion, and a delicate peach slice. The chicken was shredded in the paprika and peach sauce and mounded onto the bread. It was truly delicious, and a wonderful sweet/savory combination that wasn't too sweet at all.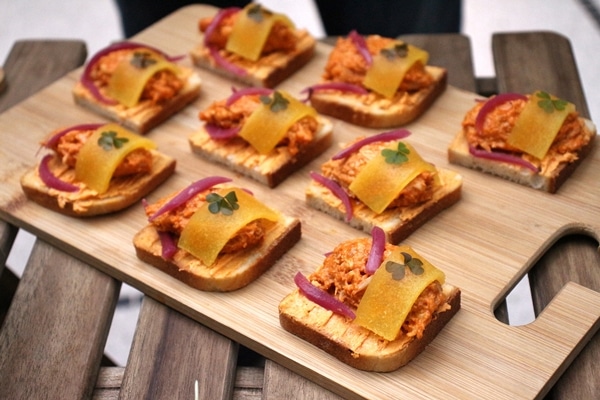 Flavor 3: Prague Ham and Smoked Potato. "A combination of classic root vegetables in various textures that remind you of cobblestone streets of Prague. Cucumber jelly, celeriac spirals and pea sprouts lightly enhance the taste of smoked ham and potatoes. A real bonfire in the city centre." Also served on white bread, topped with potato salad, mustard dust, "parsley dumpling," a cucumber jelly cube, and a Prague ham cube. As stated in the official description, the cubed ingredients offer an homage to the cobblestones on the street. This was my sister's favorite. I thought they were all great but the latter two were the most exciting and creative of those we tried. I feel inspired to create my own versions!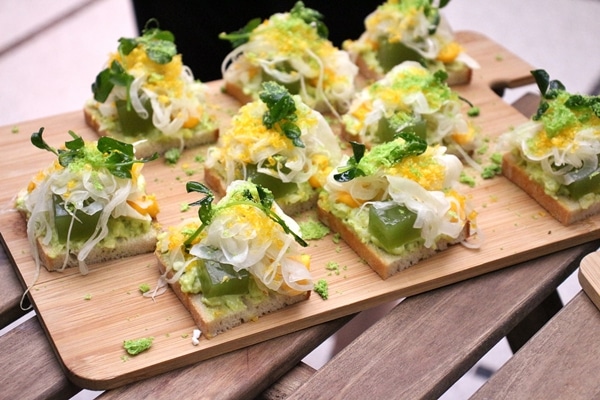 Next up was a laden platter of deliciousness from Naše maso (which translates to "our meat"). "It's not a proper Czech meal without maso (meat)! Watch the local artisan butchers at work and taste the best cuts in town - such as their Prague ham and Přeštice sausage. Address: Dlouhá 727/39"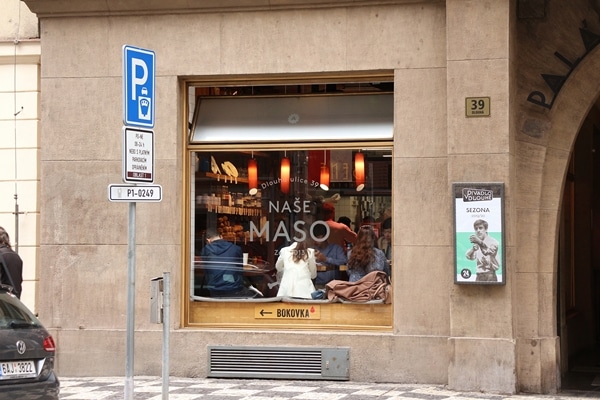 First of all, it was truly glorious peeking through the windows of this shop at all the awesome meat. Everything they sell is made in house (the hams, sausages, and even mustard, etc) and ingredients are sourced locally in the Czech Republic. It's easy to see why this is the most popular butcher shop in Prague.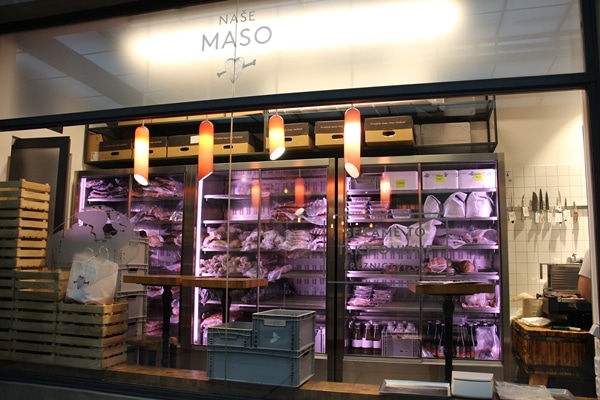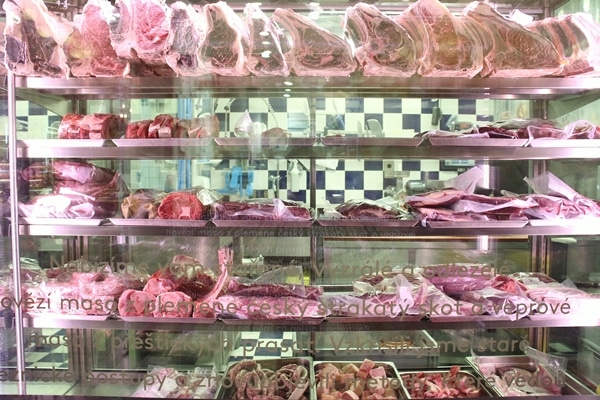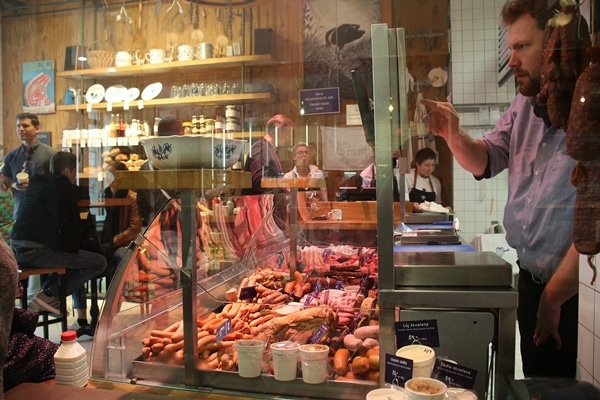 Our smörgåsbord included Pražská šunka (Prague ham), tourist salami (called this because travelers would carry it in their backpacks for sandwiches), přeštická klobása (Přeštice sausage), Prague-ham-style beef, Johnny's pickles (or Honza's pickles), homemade mustard, and rye bread.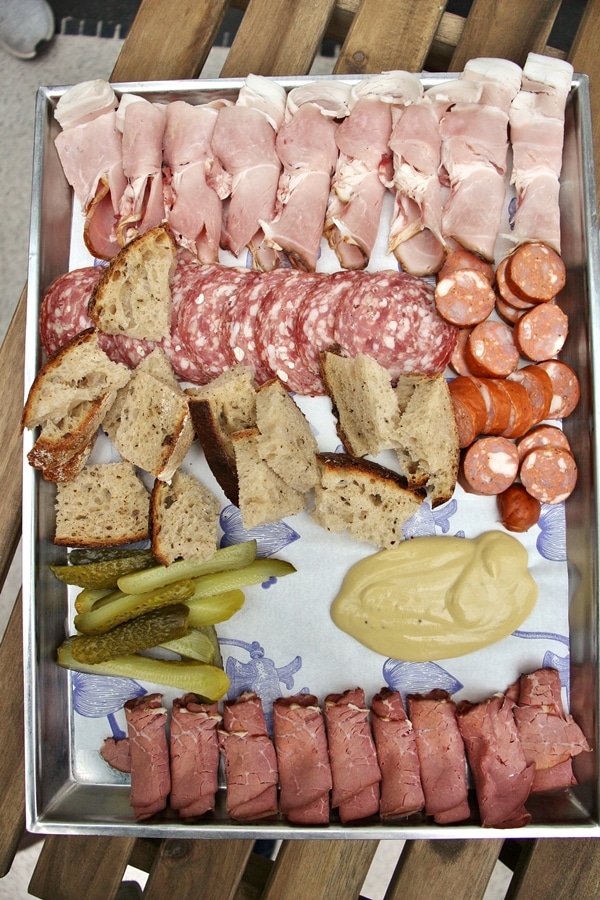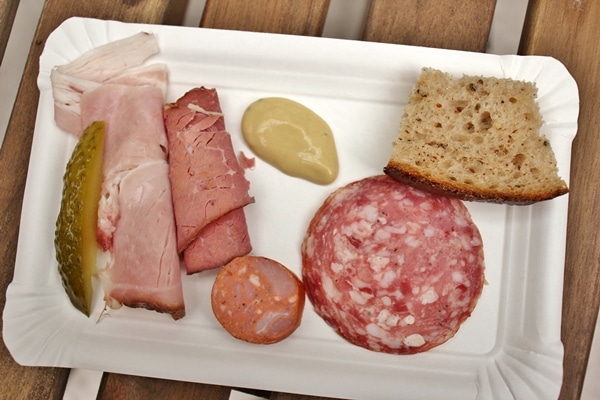 I loved literally every bite! This was truly an epic charcuterie board to really experience the meat of Prague.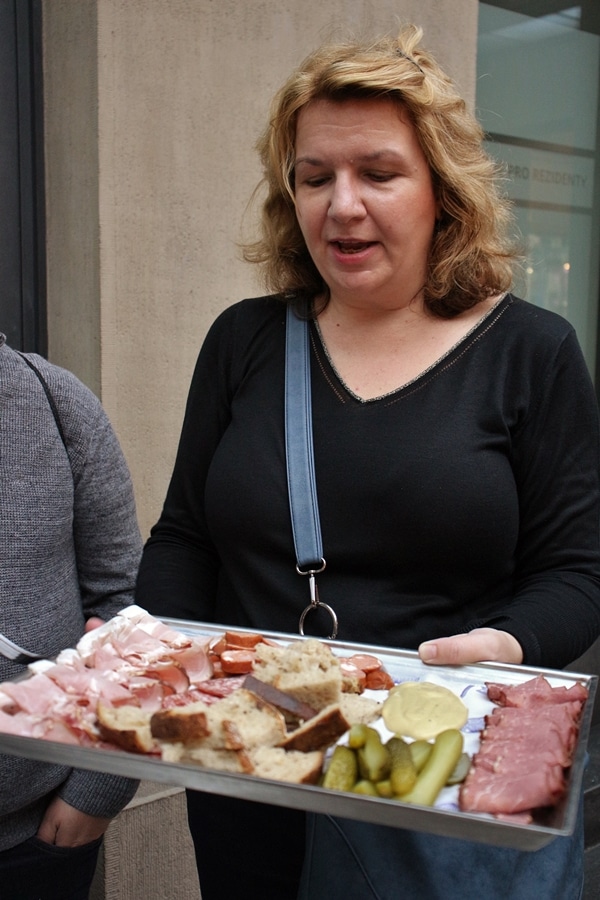 Eva giving us the meat tour!
So far, everything we tasted was wonderful, and we were only halfway through the food stops. We digested as we walked from Old Town to New Town for the next portion of our walking and eating tour.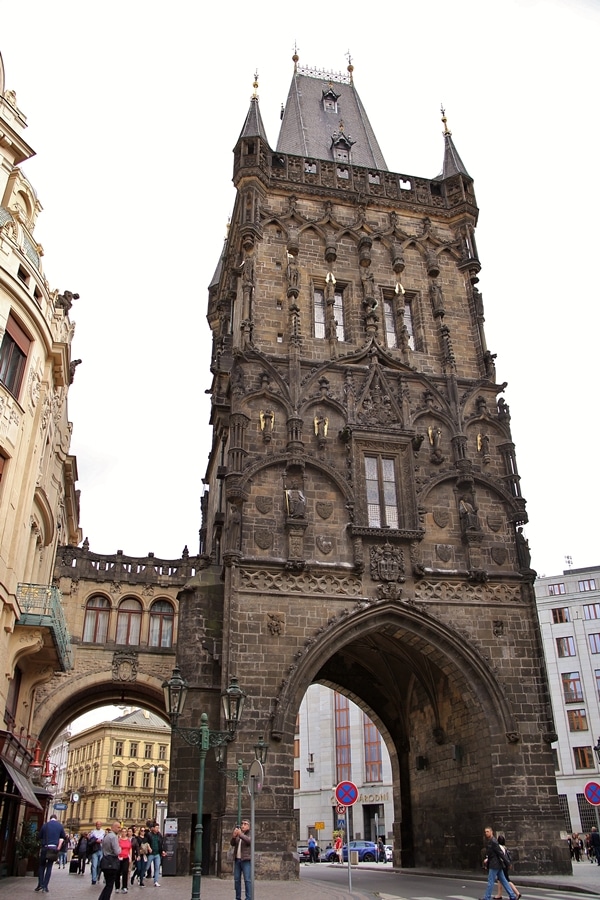 Powder Tower (which we climbed the other night!)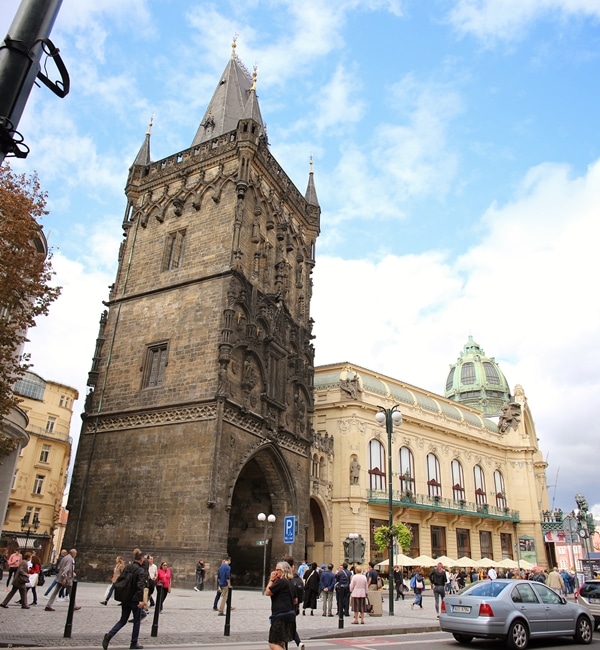 Powder Tower and Municipal House, the border between Old Town and New Town
You may recall that I had already dined at Špejle for lunch a couple days prior. It's the next stop on our tour, and I'm happy to be back! "At this Czech style tapas and pinchos bar, enjoy delicious duck with sauerkraut and gingerbread dusted potato dumplings paired with a house lager. If you need more reason to come back, check out the gin and tonic section on their menu. Address: Jindřišská 937/16"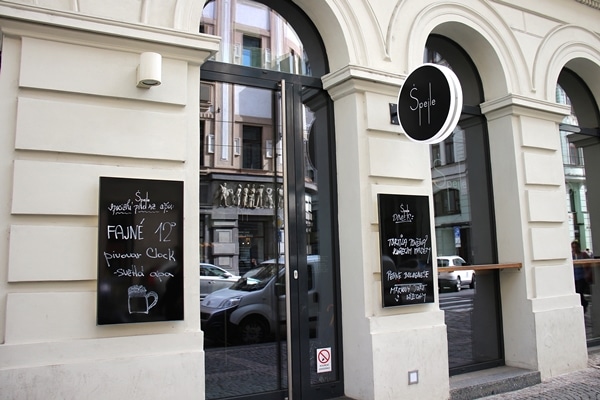 The restaurant name "Špejle" literally translates to skewer, and they are quite obsessed with them, using skewers on every portion of hot and cold food served. This bistro concept derives from the beloved Czech open-faced chlebíčky sandwiches, which are served in a špejle buffet where you enjoy as many skewers as you like, discard the skewers in a container on your table, and then you're charged based on the number of skewers, 29 CZK (or $1.25) each, and items range from 1 to 2 sticks depending on size/substance. This is such an awesome concept for serving beautifully thoughtful food.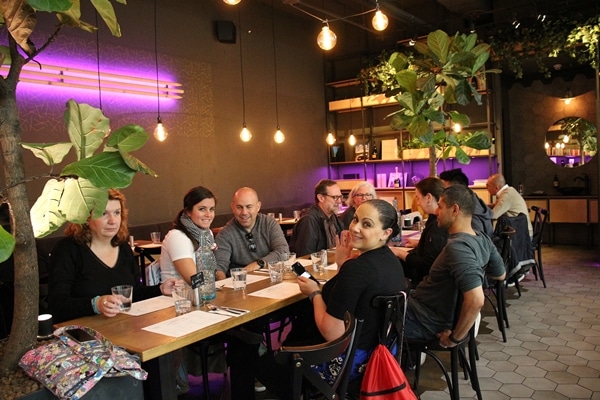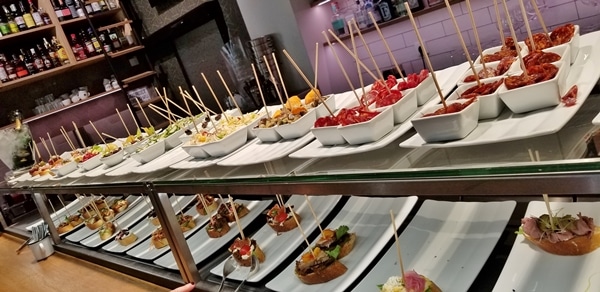 For our tasting pleasure we were served Špejle's bite-sized version of a Czech classic, duck with red cabbage and potato dumplings (a dish I had for dinner 2 nights ago before attending the opera!). Sous vide duck breast is served with a potato dumpling stuffed with red sauerkraut, coated in gingerbread crumbs, and topped with fried onion. This creative rendition is a great combination of textures and flavors, and was definitely a hit! We also had a choice of drinks here, including beer or one of Špejle's unique lemonades.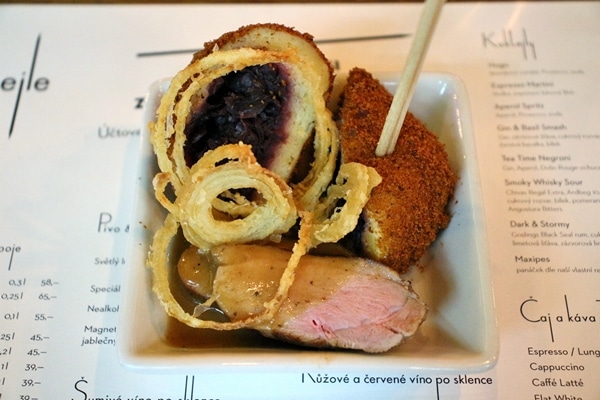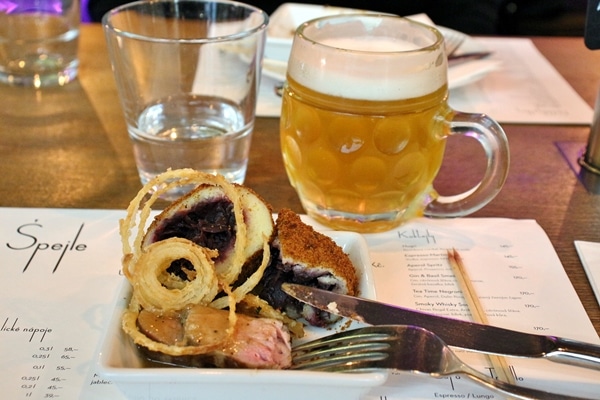 Next on the menu would be our main course served at Café Louvre. "Bearing the name of the world famous gallery, Café Louvre has been in business since 1902. Taste traditional svíčková - Czech dumplings, braised beef and cranberry compote. Address: Národní 22"
This historical café opened in 1902 and was once the stomping grounds of important historical figures such as Prague's own Franz Kafka and Albert Einstein, who was a regular on Tuesday evenings back in 1912 when he was working at the Prague German University. There is a larger café and a smaller, more formal restaurant which is
where we sat for our meal.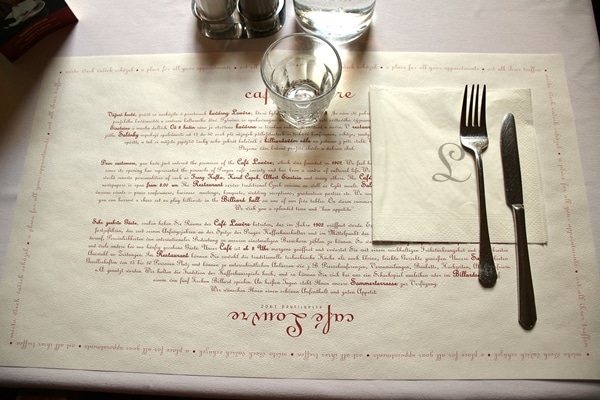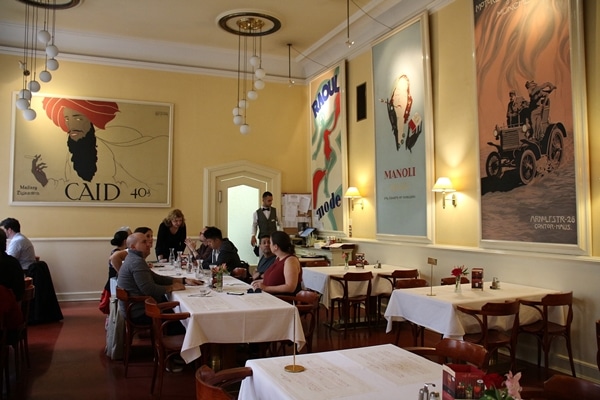 The restaurant where we sat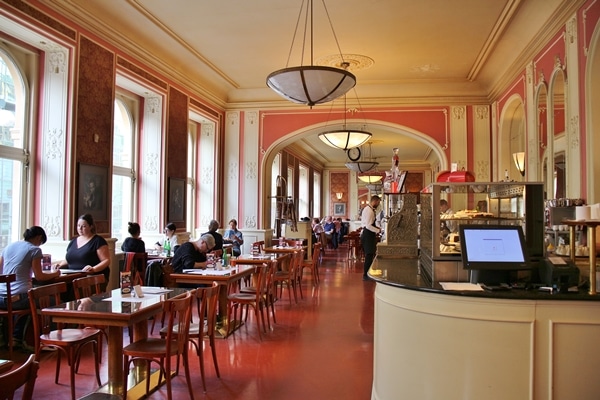 The cafe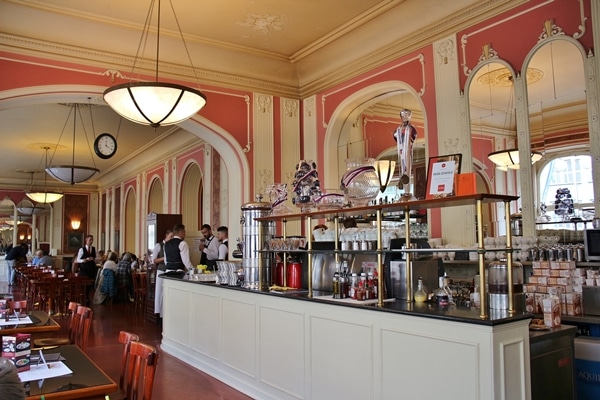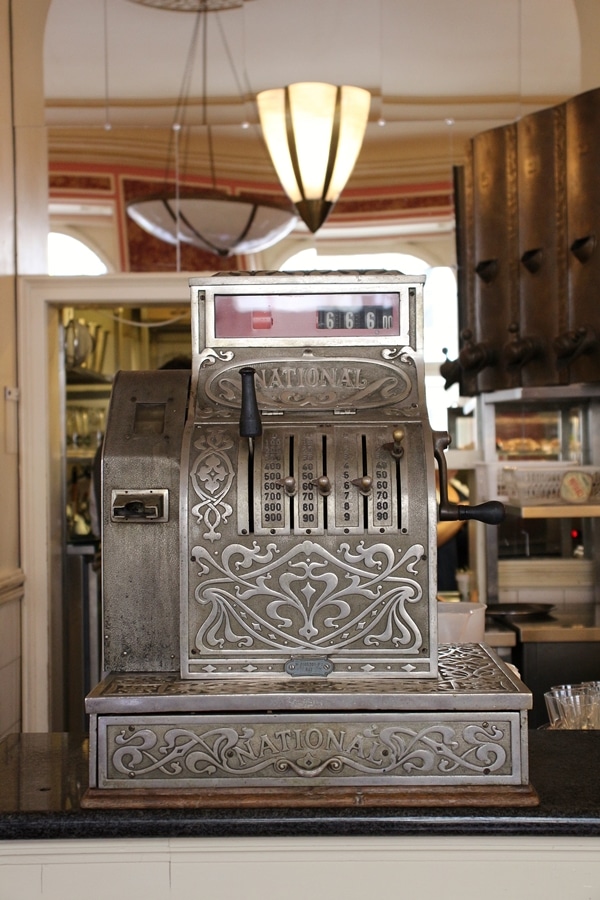 Svíčková is a traditional Czech dish featuring braised beef sirloin cloaked in a flavorful vegetable cream sauce, topped with a dollop of cranberry compote, and served with boiled bread dumplings called houskové knedlíky. It's considered a Sunday family dish since it takes so long to prepare and marinate. Loads of roasted root vegetables in the sauce provide a complex flavor with a hint of sweetness. The beef was fork-tender and the dumplings like sponges for the sauce. The dish is surprisingly not very heavy considering it's red meat with a creamy sauce, and real whipped cream ("not from a can!" as Eva would say). Visually this is a very unflattering dish but it is actually delicious! I loved it and would like to try making it myself since it's really the one truly Czech dish that wasn't influenced by neighboring cultures (like goulash for example).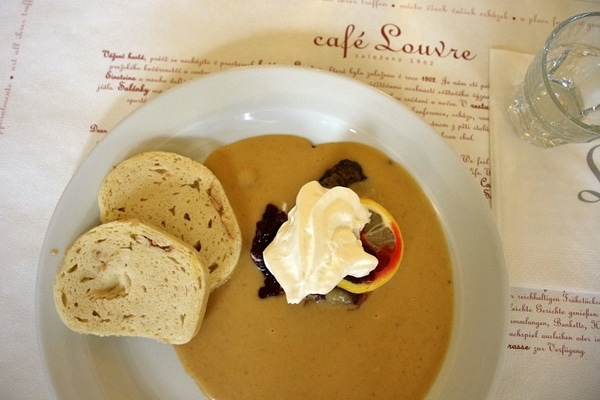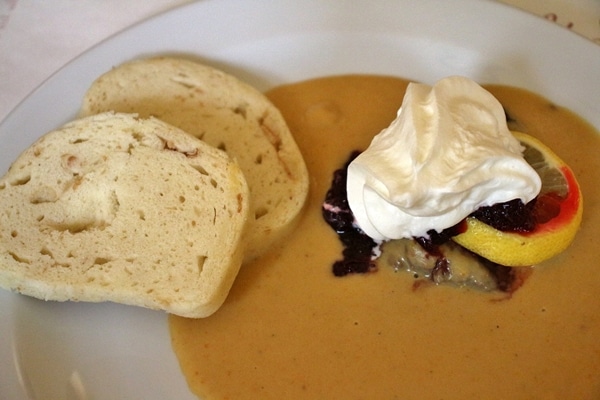 Last but certainly not least we are heading across the street for dessert at Crème de la Crème - Zmrzlinový salon. "The ice cream man, Honza Hochsteiger, has been making gelato non-stop since 2002. His small shop provides Praguers with unique Czech flavors while innovating the core principles of ice cream making. This workshop is helping to develop a unique and delicious future for gelato. Address: Národní 23"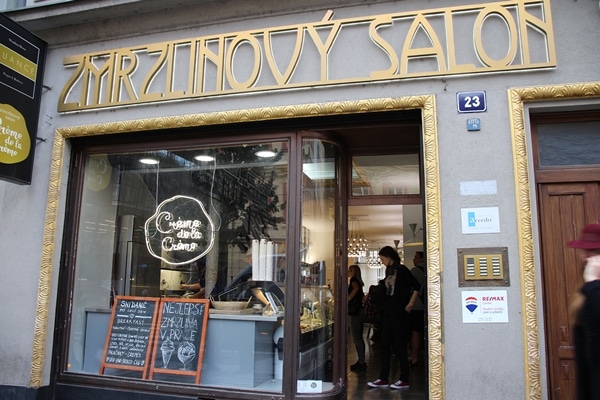 There are 3 Crème de la Crème locations, a salon (which we visited), a café, and a showroom.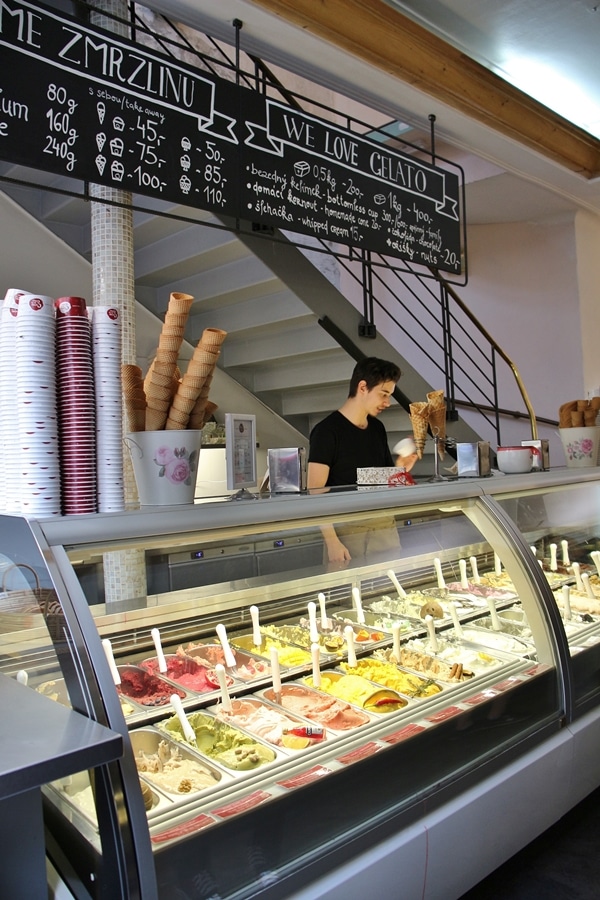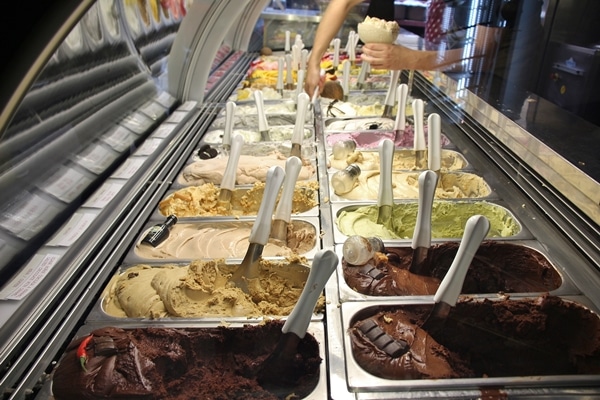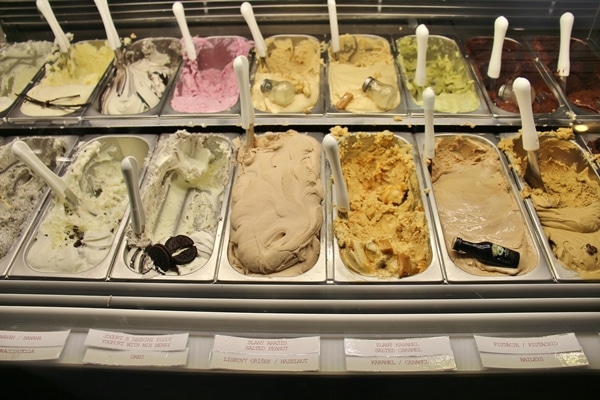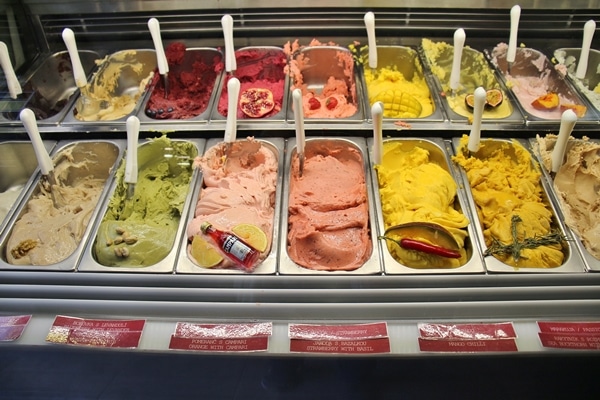 We sampled a seasonal sorbet flavor, plum and cinnamon, as well as hazelnut gelato. Both were AMAZING. The hazelnut tasted like eating straight hazelnuts. It had such intense hazelnut flavor, and was so creamy and decadent! Wow. The sorbet was absolutely delicious! It wasn't too cinnamony but had a great balance and was sweet but not cloying, and surprisingly creamy for a sorbet. It was unbelievably good! I love them both exceptionally and would always make room regardless of how full I was otherwise. I highly recommend Crème de la Crème, and would 100% include it on a dining itinerary for a future trip to Prague.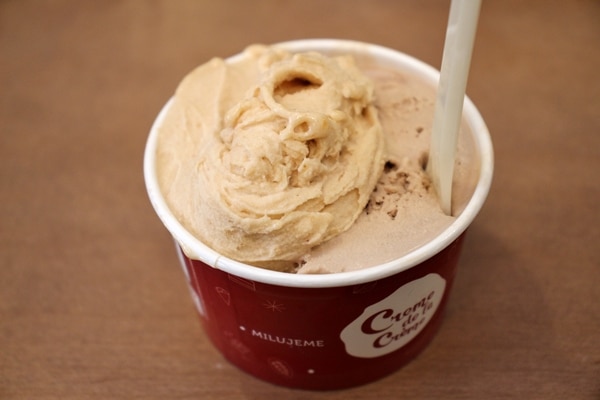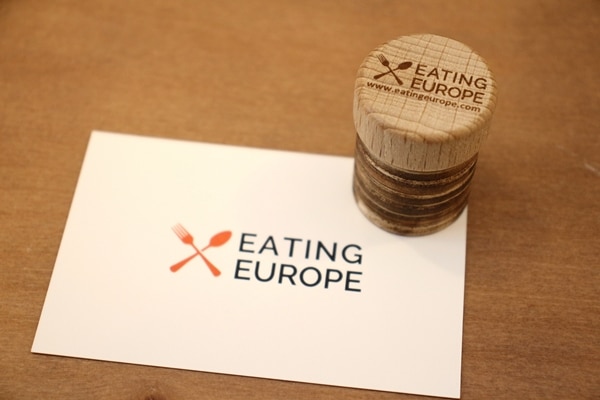 Friends of ours had wanted to do the same tour as us, but our time slot was sold out so they booked for the group which left an hour after our tour. Their tour guide was actually Armenian, and we met him briefly as we left the first stop of the tour. Our friends loved their tour as well! Although the food stops were the same, the tidbits of history and mental nourishment shared by the two guides differed slightly.
The Prague food tour is a tour of the city and its history and culture and certainly not just food tastings. We saw the location of massive student protests to communism, which were captured on video and shared with the world, sparking the start of the Velvet Revolution and the end of communism. We also saw the balcony from which the Czech Republic's first president waved to the crowds of Wenceslas Square when he first took over leadership of the government.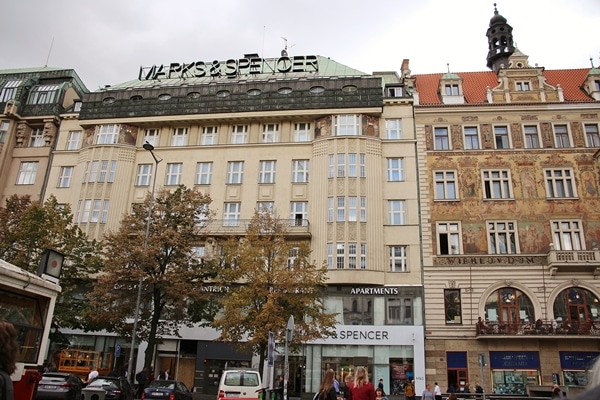 He stood on that balcony behind the trees!
We visited the Upside-Down Statue of King Wenceslas Riding a Dead Horse (which I had seen a few days prior, but the rest of the tour members had not) and the lovely Franciscan Garden hidden between buildings and accessible by pasáže or "passages."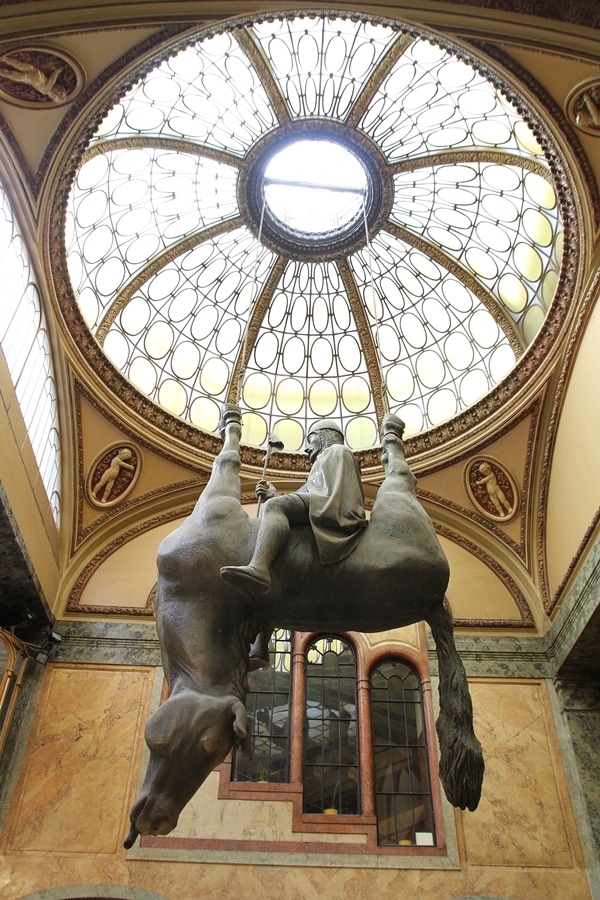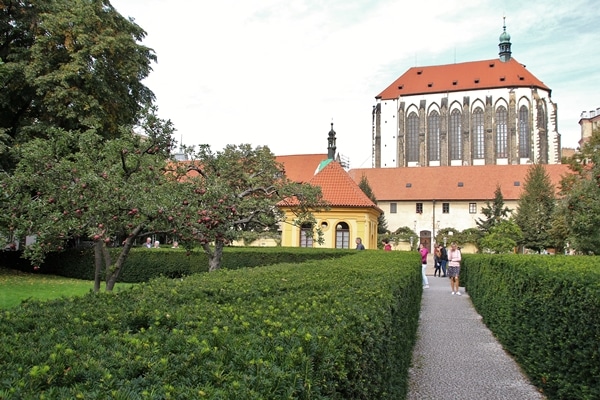 We learned about engraved metal sidewalk stones placed in front of homes of Jews who were killed during WWII. All kinds of bonuses we may not know if not for this tour. Also apparently Prague Castle wasn't lit at night until once upon a time Mick Jagger asked the former president why he couldn't see where the president lived from across the way, and then offered a large sum of money to light the castle, and sent his lighting crew shortly after to get started on the project. Overall I think the tour was very well-paced, and the amount of food was just right. I was full but not overstuffed, and felt sated both gastronomically and culturally. Two major thumbs up for the Prague Food Tour by Eating Europe. I would definitely consider another food tour by this organization in another European city in the future!
After our gluttonous tour of the city, my sister and I headed to massage appointments, and then later wandered around Old Town for a bit for our final night in the city. After digesting our epic food tour we wanted a small bite before calling it a night. We stopped at Joy Burger Bar Steak House around 10 pm as we headed back to our hotel. My sister and I both tried the French onion soup, which was actually quite good! It was topped with a different cheese than typical (not sure what) and had caraway seeds in the broth, making this a Central European spin on the classic. I was pleased with my choice and it hit the spot.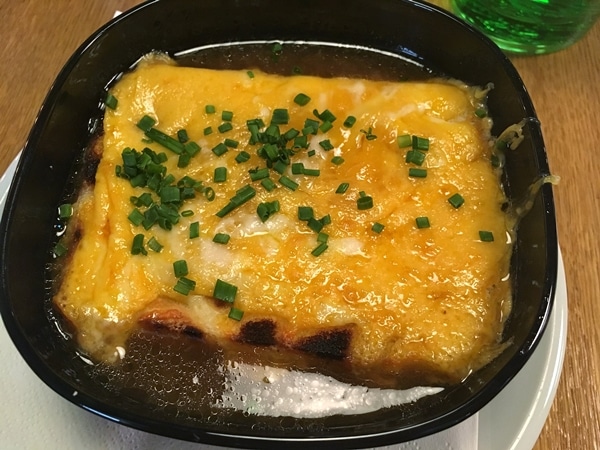 My only complaint is that service was very slow due to chatty servers who were probably ready to go home. We waited a little while for someone to come over and take our orders, and our server also didn't seem to comprehend how to split the bill onto multiple credit cards, and just charged everything to one even though we gave her two cards.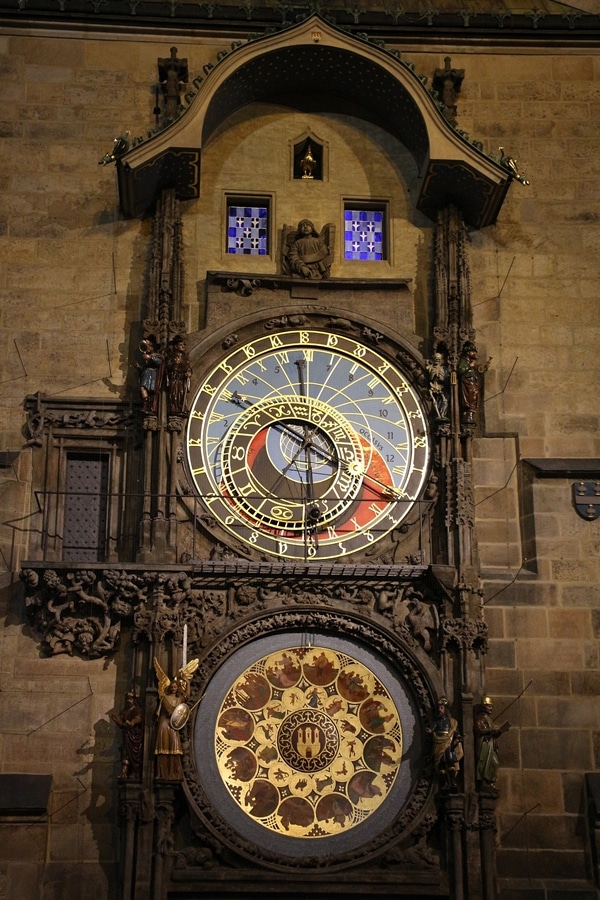 Prague is truly a magical, fairy tale city. Its architecture is exceptionally lovely, and it has a rich but tragic history that has shaped the Prague we see today. I feel blessed to have had the opportunity to check Prague off my bucket list, and take such beautiful memories home with me. I will treasure watching the sunrise from the Charles Bridge, and visiting the various shooting locations from one of my favorite films of all time, Amadeus. I will never forget the incredible views from the Old Town Hall Tower, Old Town Bridge Tower, Powder Tower, Petřín Lookout Tower, and of course Vyšehrad. I will also never forget the atrocities and injustices that have befallen innocent Czechs throughout history. I will remember my time in Prague fondly, (attempt to) cook dishes I ate during my visit, and always encourage those who want to take an adventure of their own to this "Golden City," the "City of a Hundred Spires," Praha.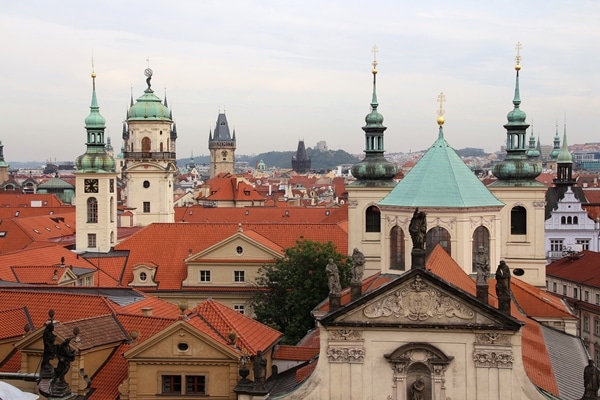 Prague - September 2019
Day 1 - Malá Strana (Lesser Town) & Amadeus Shooting Locations
Day 2 - Prague Tour by Legendary Tours & Old Town Hall Tower
Day 3 - Sunrise, Staré Město (Old Town), & Nové Město (New Town)
Day 4 - Kutná Hora Day Trip & Prague Night Views
Day 5 - Heydrich Terror Memorial, Petřín Hill & Tower
Day 6 - Vyšehrad & Prague Food Tour