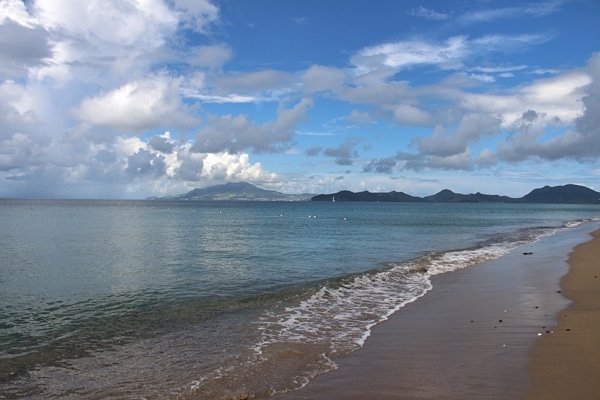 Today we are visiting the dual-island nation of St. Kitts and Nevis! My family visited St. Kitts on a Southern Caribbean Cruise back in 2016, and adventured on an island tour followed by beach time. On this visit we decided it would be fun to check out the sister island of Nevis, and the best way to get there is by catamaran.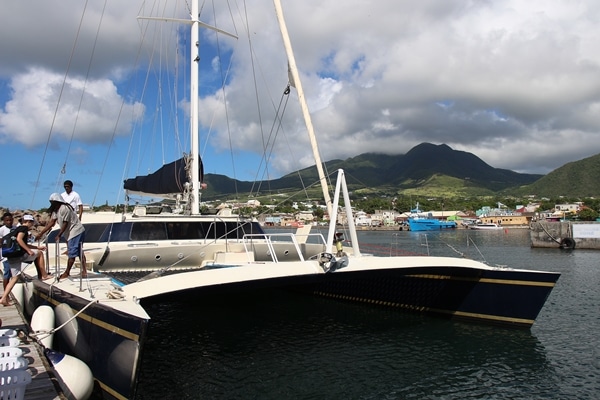 We actually started the process of researching and booking our tour to Nevis in February, eight months in advance. After reading many reviews we selected the Full Day Tour by Leeward Islands Charters. Although in the end we had a great experience on the catamaran with its crew, in the interest of honesty I must share a few frustrations with the customer service team in the process of booking and then communicating with them prior to the tour.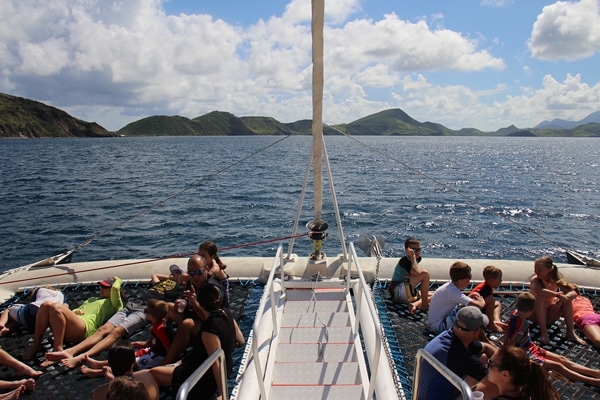 My sister contacted the company via email in mid-February to inquire about sailing on the day of our visit. She was sent the following response: "Yes we do take bookings in advance. However we are currently waiting for another guest to decide on a private or open sail. We sincerely apologize for the inconvenience and will respond as soon as we know what is available." Fair enough, but the crux of the problem is that the tour company never followed up to tell her the outcome. Two months later I contacted them separately since they had never given my sister an answer, and asked them about booking for that date, and they let me book the tour. I told my sister, and she followed up with them again and booked for her family as well. It was very strange and unprofessional to leave people hanging like that for two months without a straight answer.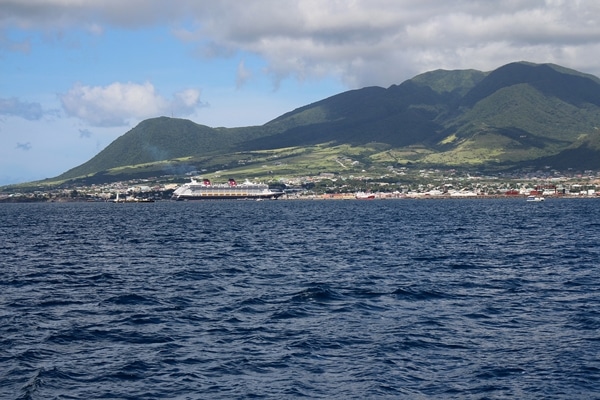 The plot thickens. When we had booked our cruise one-and-a-half years in advance, and even as recently as March when we made our final payment, our all ashore time for St. Kitts was 7:30 am. The Leeward Islands Full Day Tour to Nevis was scheduled to depart at 9:30 am. No big deal. But after boarding the ship, and checking out the Navigator which shared details for the week ahead, I noticed the all ashore time for St. Kitts now said 9:30 am. ALERT! ALERT! RED FLAG!
I was stunned, annoyed, and concerned that this would be a major issue for not only our family but also the other families on our cruise ship who had booked the same excursion. We were already at sea when I noticed this change in times, so I went to Guest Services on the ship and asked if I could call the tour company to let them know that it would be cutting it close/impossible considering the times that DCL had published for our arrival to St. Kitts. I spoke with a member of the office team at Leeward Islands Charters who echoed my concern considering the change in arrival time, and said she would check on her end as well about our arrival time but would likely bump the time of our tour slightly later so we could all make it. She would email us the following day to confirm changes to the departure time. Phew. Crisis averted.
Until the following day when I received an email from her saying they had spoken with the port master in St. Kitts who informed them we would be arriving at 8 am and that they wouldn't be changing the time of our tour. Once again I was frustrated and confused. I went back to Guest Services for a straight answer on our arrival time to St. Kitts. The cast member I spoke with went into the back, spoke with the assistant cruise director, I believe, and returned to inform me that yes, the original Navigator had listed 9:30 am, but it was a typo and we would have an all ashore time of 9 am (the new Navigator would reflect these corrections). Still not the 7:30 am it was when we booked, so I wasn't lying when I said the times had changed, but still cutting it a bit close for any families who weren't at the gangway the moment the ship let us off.
I called Leeward Island Charters again and spoke with the same person who insisted that the port master was correct, that they were told 8 am, and that other tours on the island were scheduled to start at 8:30 am. I told her that I was literally standing at Guest Services of the actual cruise ship she was referring to, and that the Cast Members were all shaking their heads when I said 8 am for an arrival time. They said the ship would arrive at 8 but we wouldn't be let off the ship for another hour. I found it very frustrating dealing with this person on the phone who I understand was going off the information she had received from the port master (NOT the cruise line) but was basically calling me a liar even though I was the one on the ship and getting the information about all ashore times straight from the horse's mouth, if you will.
Long story short, we headed to the gangway very early, making sure we were the first to disembark the ship, and slowly but surely other families made their way to the check in desk at the marina nearby where the catamaran was docked. I don't believe we left right on time, likely at least a small delay by the time all the booked families had checked in, but it was the principle of the fact that I was given so much push back when all I was doing was trying to help, and make sure the tour company knew that there might be a delay. ALL of the people booked on this tour were from our ship.
Sigh.
Glad that's off my chest.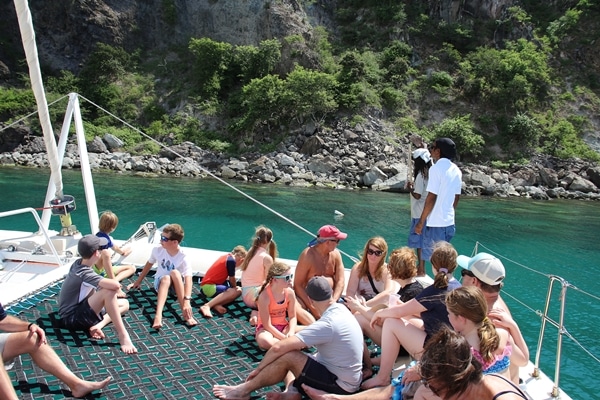 Let's get back on track, and onto happier moments. So despite a bit of drama leading up to the big day, the tour itself went off without a hitch. The crew was fantastic, super friendly, cheerful, and helpful. This is a 7-hour tour with an initial stop at Shitten Bay (I am not making this up) for snorkeling. It's considered a snorkeling hot spot on the island, but I thought it was just ok.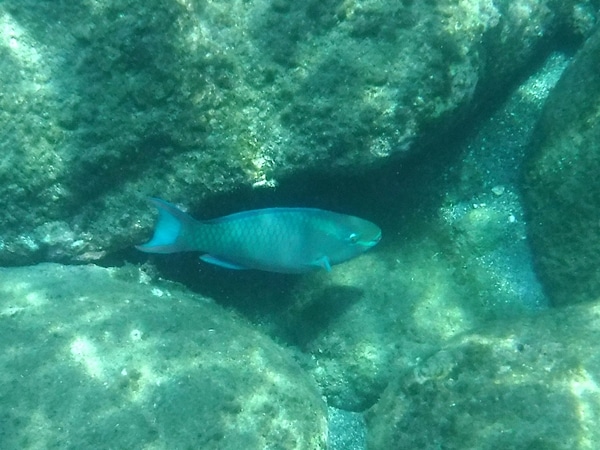 Maybe we didn't swim far out enough in the limited time we had (maybe 30-45 minutes tops?). I saw several fish, but many were lone swimmers, and although there was some beautiful coral, and lots of sea urchins, there are better spots for snorkeling elsewhere in the Caribbean, at least based on our visit. It was still really fun, and a great opportunity to cool off and burn off some calories from breakfast!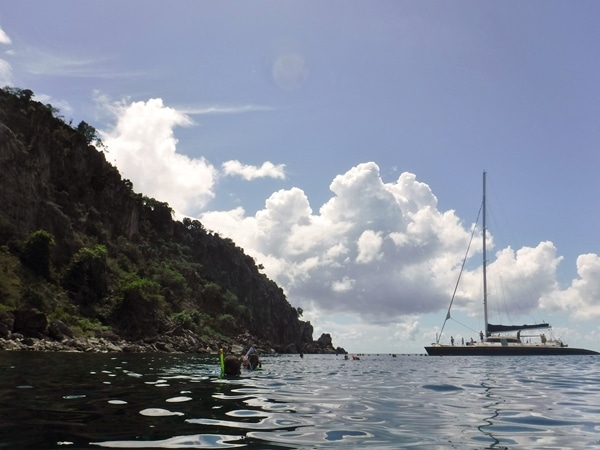 After boarding the catamaran again we continued sailing toward Nevis, where we observed and then encountered a bit of a rain shower. Fortunately it wasn't too bad, and passed rather quickly.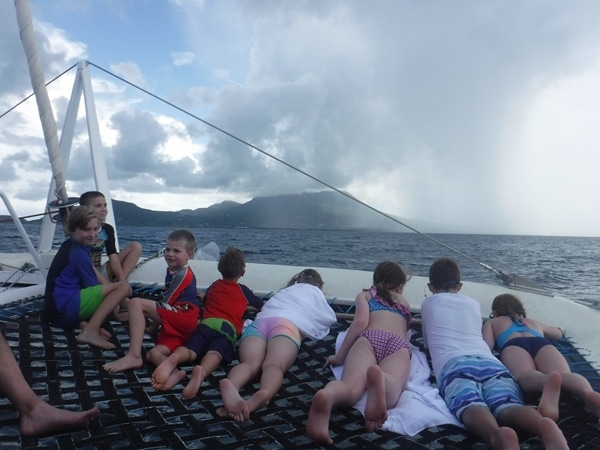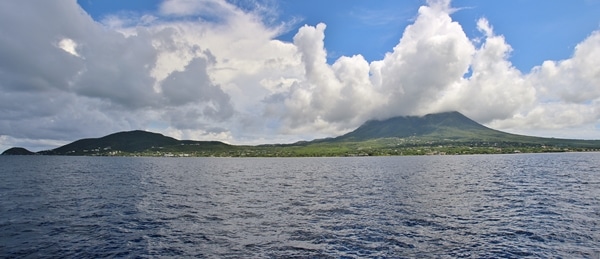 The catamaran pulled up to a small, secluded and remote stretch of Pinney's Beach on Nevis. This is the same beach where the Four Seasons is located but this section is less developed. Guests climbed down the steps right into the water to walk onto the beach.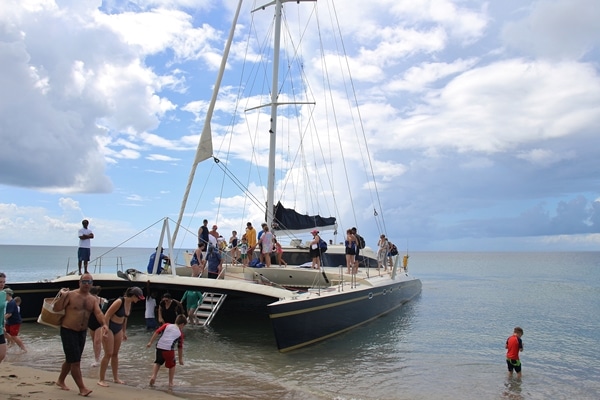 Behind the beach was a forested area with picnic tables, a couple of large grills, and an area for the buffet. There was also a plank of wood behind which guests could do their bathroom business. We were warned ahead of time there were no actual bathrooms once we got off the boat.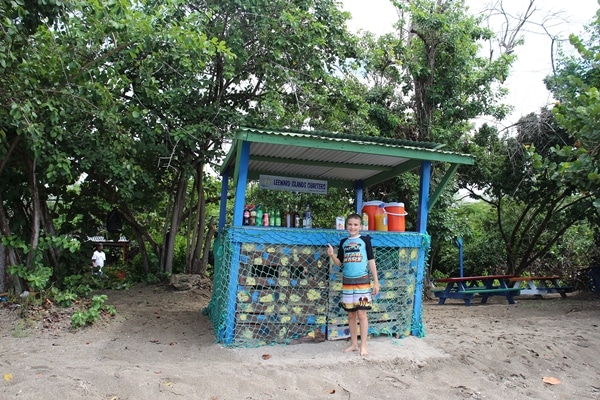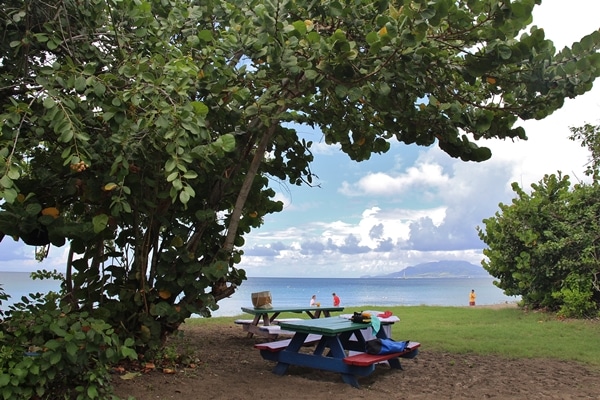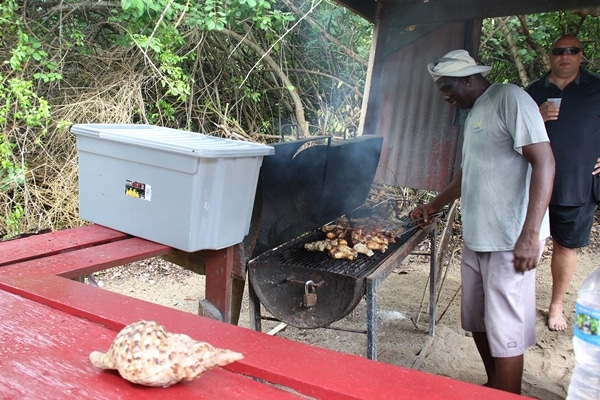 We spent 3 hours at the beach, which was a little long in my opinion considering there were few places to sit, none directly on the beach, only picnic tables nearby; we would have enjoyed a bit more time snorkeling instead. Many of the kids dug up all kinds of treasures from the sand including conch shells, coconut halves, sand dollars and giant star fish.
The lunch buffet included barbecue chicken legs (drumsticks and thighs) with barbecue sauce, hot dogs, pesto pasta salad with sun-dried tomatoes, coconut, carrot, and raisin salad, corn and tomato salad, and fresh watermelon. There was also an open bar on the catamaran and on the beach.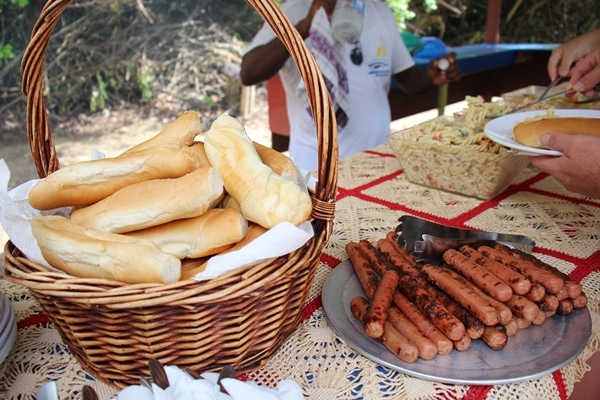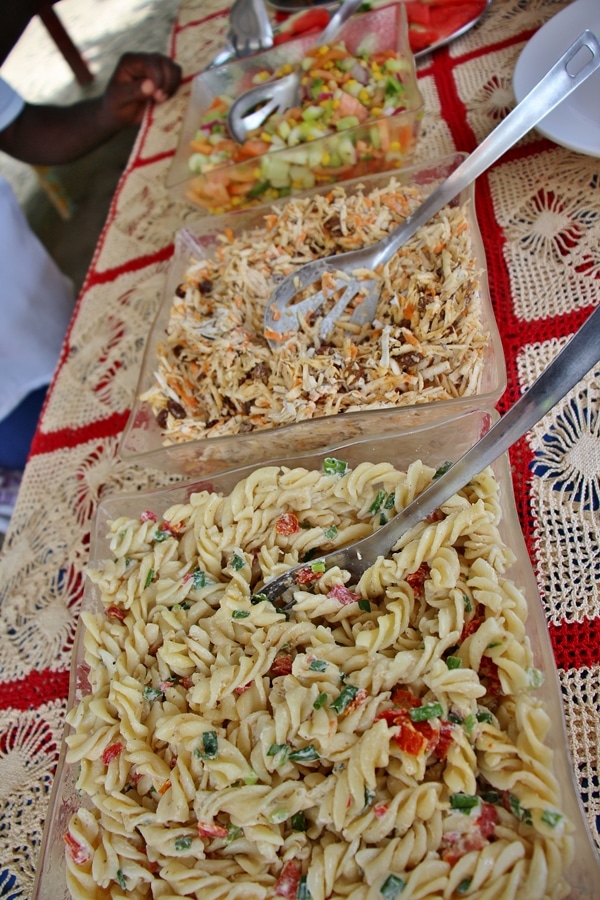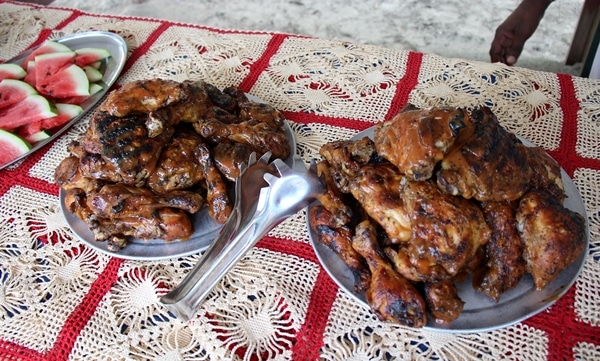 The food was very good! The chicken in particular was great! Between the generously stocked open bar, and the thoughtfully prepared food, I was really pleased with this aspect of the tour.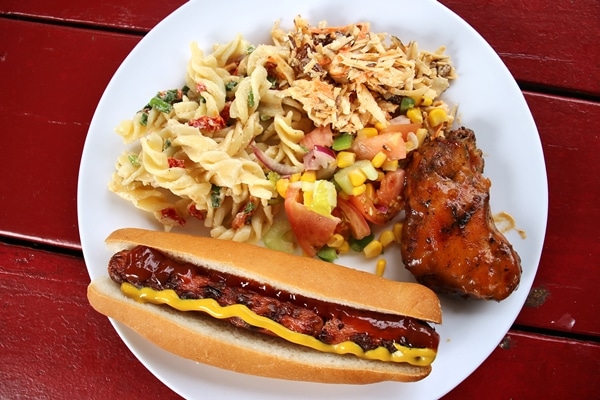 I do have one final complaint, and it's not the fault of the tour company, but rather based on the location of the beach and picnic tables. There were so many insanely large and hungry mosquitoes ALL OVER the tree-covered picnic area while we were there. Not only had it recently rained, but also there was a small pond nearby, and still water often breeds mosquitoes. Although we had a wonderful time at the beach itself, enjoying our private paradise, the only places to sit down were at the picnic tables, which meant you were feasted on by hoards of mosquitoes. Everyone in my family got bitten A LOT. I had over 30 mosquito bites all over my upper body (I counted them a couple days later when they all surfaced), and even on my face! It was crazy. Ideally I would have enjoyed a mosquito-free beach (they DO exist) with beach chairs and umbrellas for those who desired a break from the water.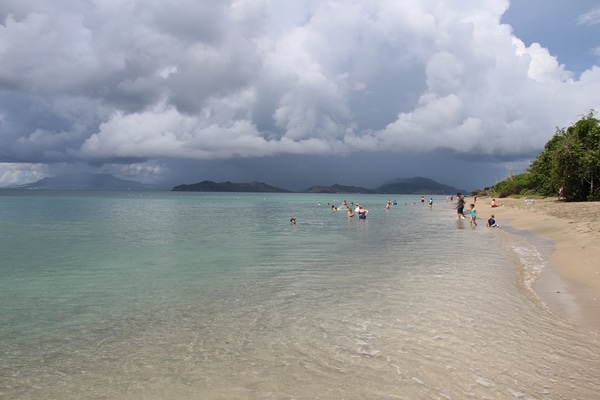 On the voyage back to St. Kitts, we particularly enjoyed the awesome 90s music mix they played. We sang along and danced, and even did the Macarena! I kinda wish I had a copy of this CD. It was a lot of fun and super nostalgic for those of us who grew up in that decade.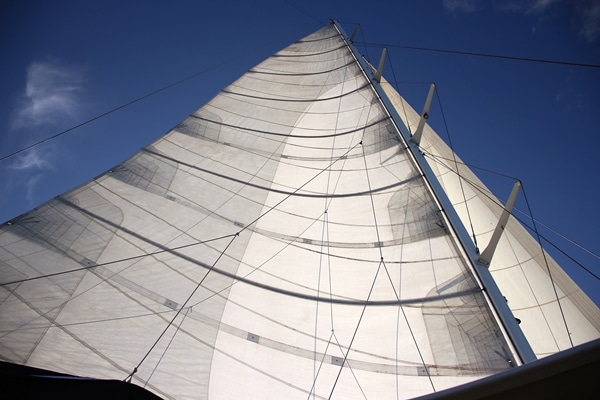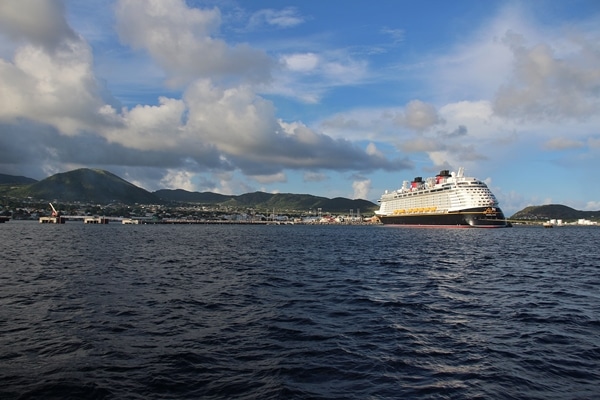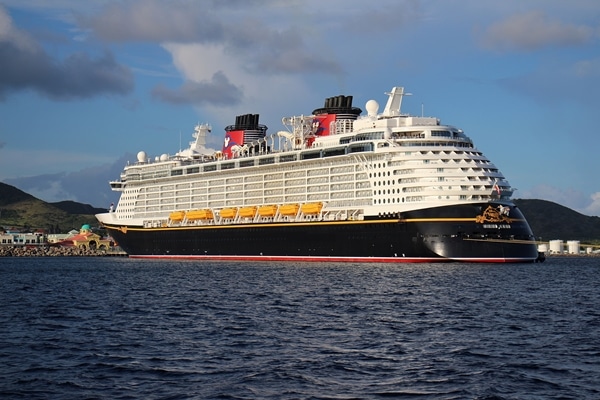 We returned to the ship with barely enough time for us all to shower and get ready for our early dinner seating at 5:45 pm. Tonight is Pirates IN the Caribbean night, which is always my favorite.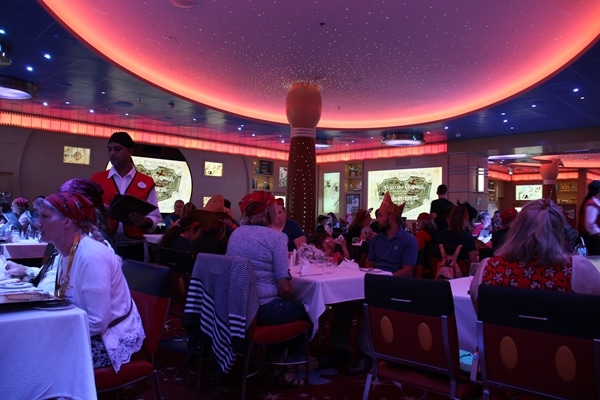 This was our first time having our Pirates dinner at Animator's Palate on the Disney Fantasy, and I was really impressed by all the cool pirate artwork that shuffled over the screens throughout the dining room. There were drawings from various pirate-themed movies including Peter Pan and Pirates of the Caribbean, but also concept art from the Pirates of the Caribbean ride at Disney! It really helped us get in the mood to be pirates tonight! ARRRRRRRRRR...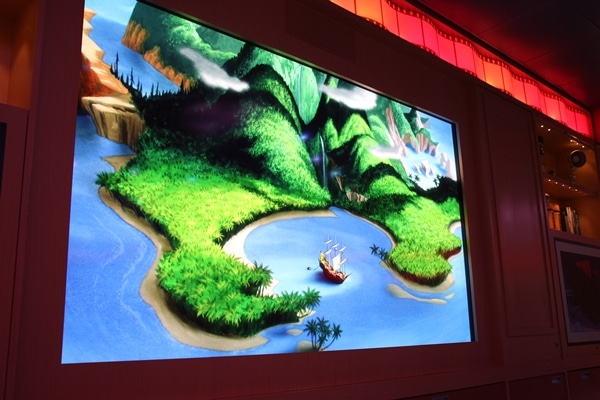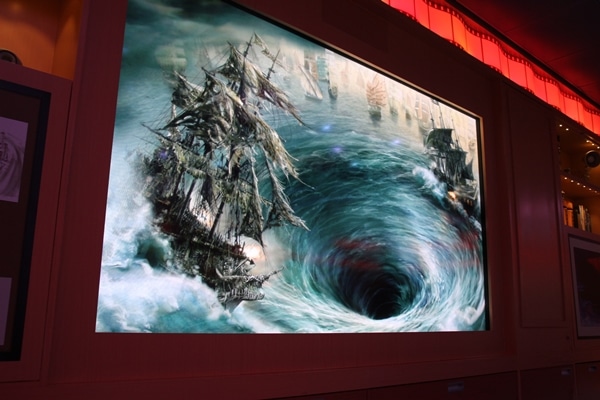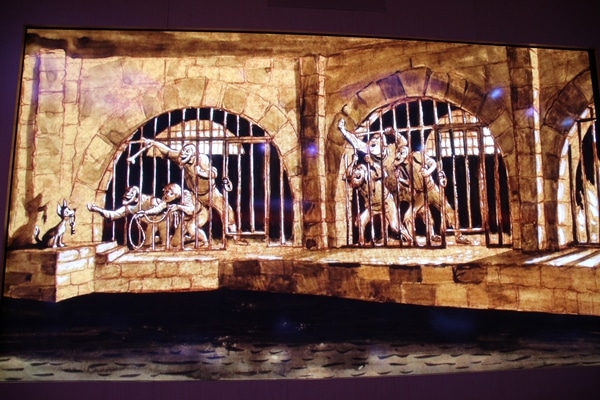 Once upon a time the dinner for Pirate night was my family's least favorite on the ship, but over many years as it has evolved it has actually become one of our favorites!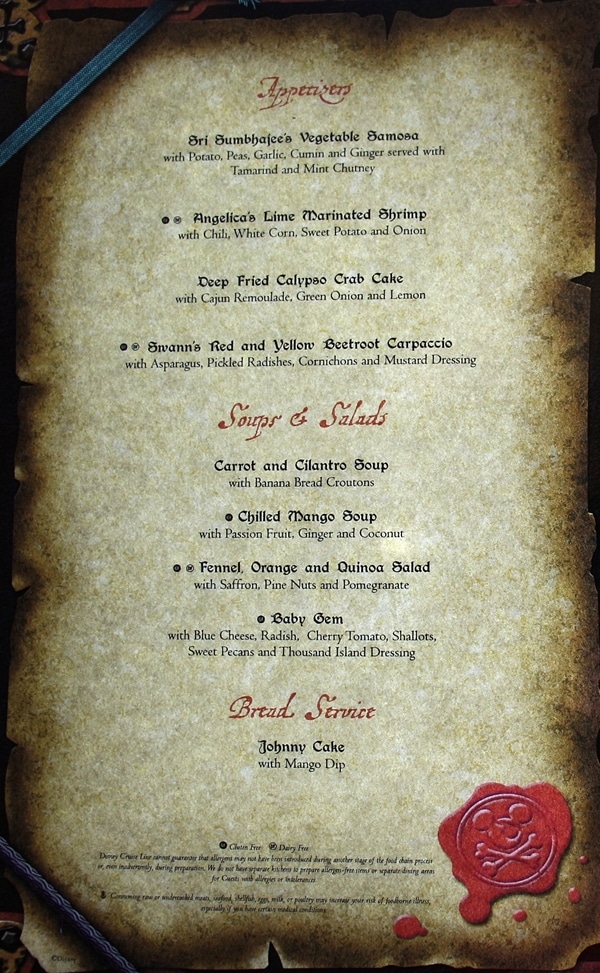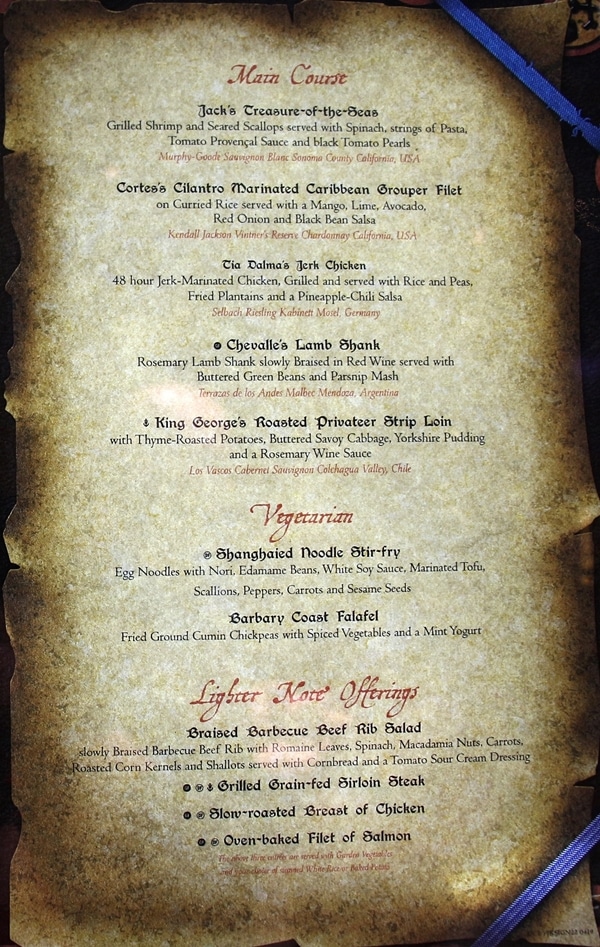 Sri Sumbhajee's vegetable samosa with potato, peas, garlic, cumin, and ginger, served with tamarind and mint chutney, and the Calypso crab cake with Cajun remoulade, green onion, and lemon are both delicious and worth ordering. If I had to pick just one, I think the crab cake would inch away with the victory because it's super packed with crab meat! It's plated a bit differently than it was in the past, and it seems to be breaded whereas before it wasn't before, but I prefer the way it is now. The changes they have been making with this menu are definitely getting noticed in a good way.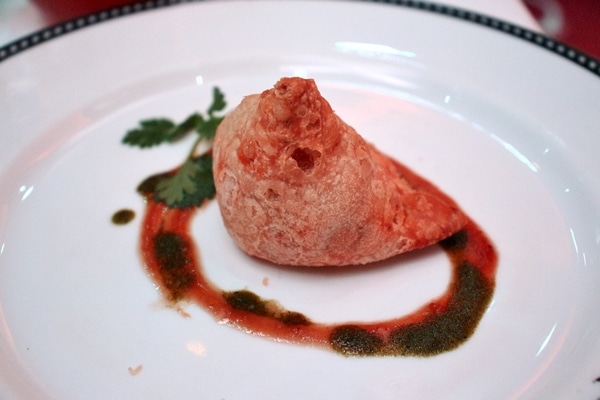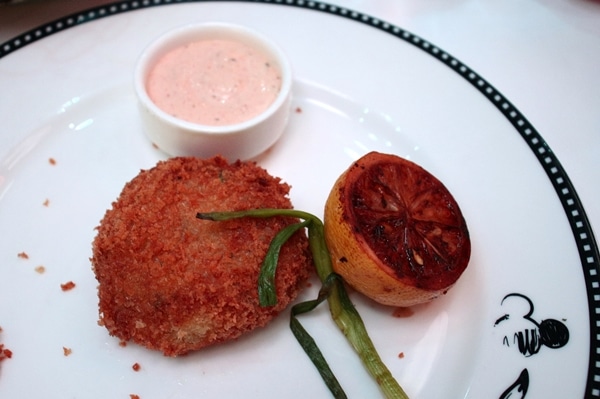 This is my second cruise in a row ordering Cortes's cilantro marinated Caribbean grouper filet with curried rice, and mango, lime, avocado, red onion, and black bean salsa. The last time they served it with fried yucca instead of the rice, and a crab-filled arepa, which I think was the weakest link in the dish. I'm happy to see they have made some adjustments, and removed the arepa from the equation. This is a tasty fish dish I will happily order again and again.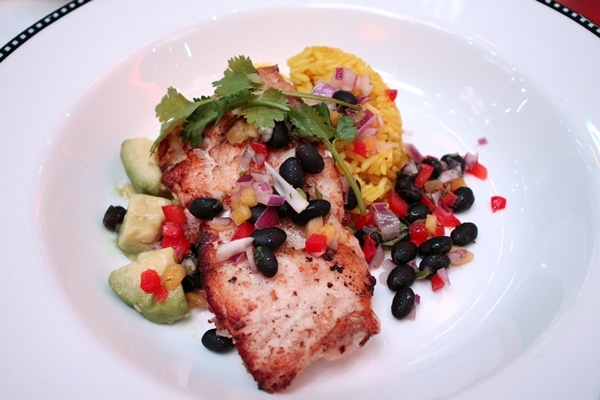 For dessert I couldn't make up my mind.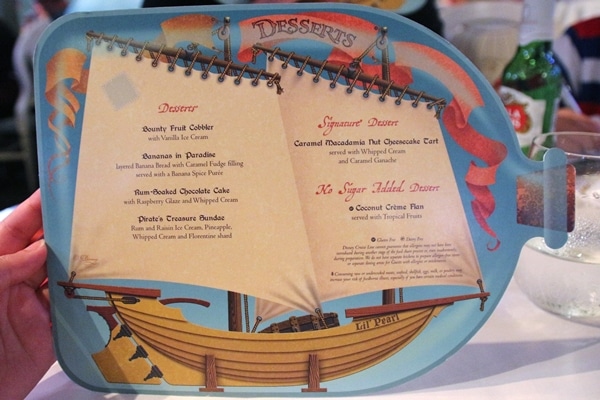 I ordered both the bananas in paradise, layered banana bread with caramel fudge filling, served with banana spice puree, and the caramel macadamia nut cheesecake tart with whipped cream and caramel ganache. Both desserts are winners, but I went back for more bites of the cheesecake. It was perfection.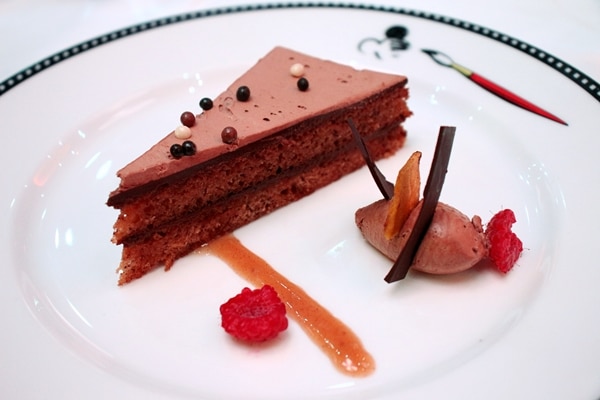 The culmination of every Pirates IN the Caribbean party on board a Disney cruise is the festivities on the pool deck, which include a pirate show followed by the Buccaneer Blast Fireworks spectacular. In the past I have complained that the Jack Sparrow show on the Disney Fantasy was super cheesy and dumb. I would tolerate it only to get to the fireworks at the end.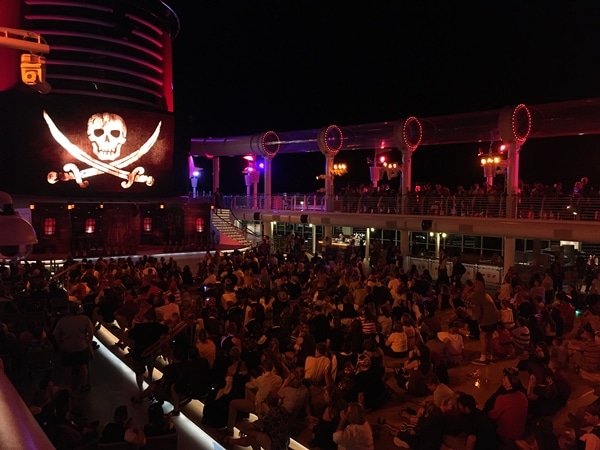 I have some excellent news to report! That show is no longer! There is a new show, still featuring Jack Sparrow, but it's a bit more wholesome than the previous one (where the pirates were fighting over possession of a gauntlet in order to have power over the others), and includes audience participation and sing-alongs to pirate songs like "Yo Ho Yo Ho (A Pirate's Life for Me)" and "What Do You Do With a Lazy Pirate." I thought it was fantastic! A breath of fresh air! Definitely another positive change. I love love loved it! (PS Not my video below but a good clip I found to show some of the sing along).
From start to finish, today was a great day (minus the mosquito bites!). Tomorrow we'll be visiting our next port of call, Antigua, for some quality beach time followed by more Halloween festivities on board. See you then...
Disney Fantasy Halloween on the High Seas Eastern Caribbean Cruise (October 2019):