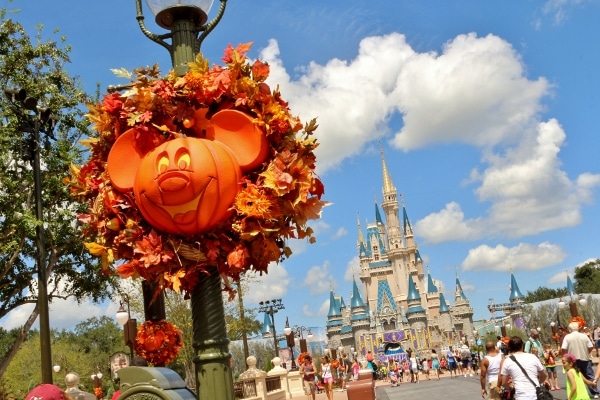 The most iconic park at Walt Disney World is definitely the Magic Kingdom. From the incredible Cinderella Castle serving as its central hub, to the wheel-and-spoke design branching out to several distinct lands such as Tomorrowland, Fantasyland, Frontierland, Adventureland, and more, the Magic Kingdom truly is the happiest place on Earth.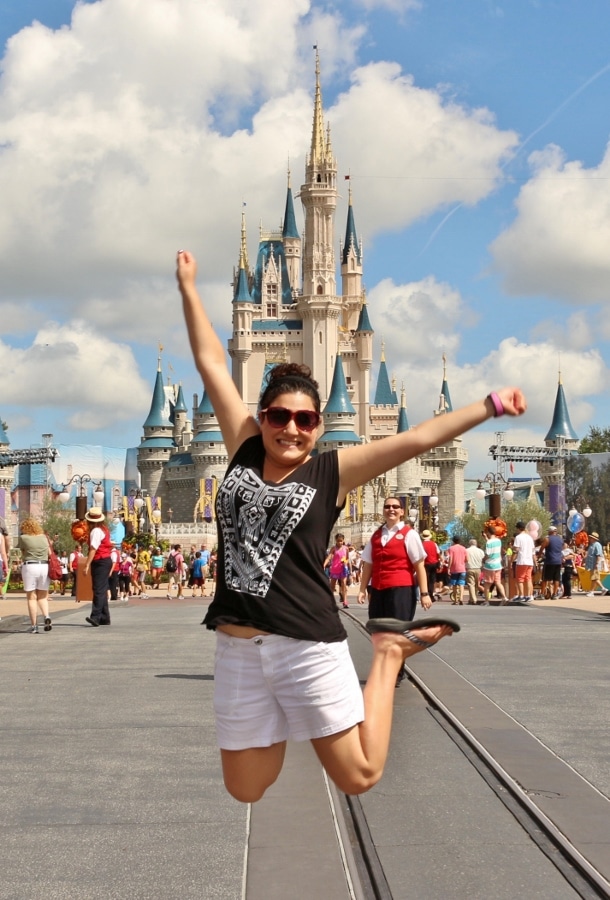 I've been very fortunate to have taken the awesome Keys to the Kingdom Tour available at the park for an extra fee. I discussed it in a previous post, but continue to recommend it to anyone interested.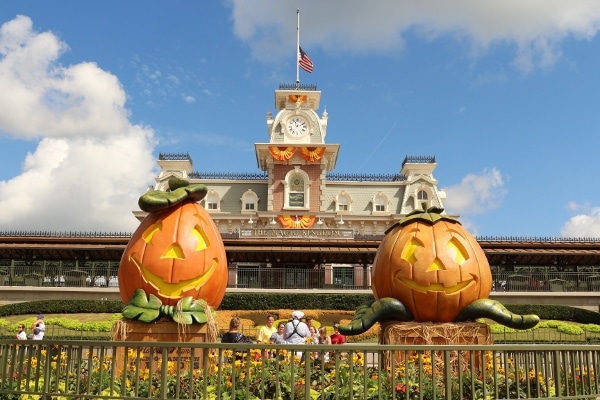 On our recent visit to Walt Disney World, we visited the Magic Kingdom twice and dined at a couple of the Quick Service options for lunch, and then headed to resorts for dinner (our own resort Port Orleans Riverside to dine at Boatwright's and Animal Kingdom Lodge to eat at Sanaa--my newest review will be coming soon).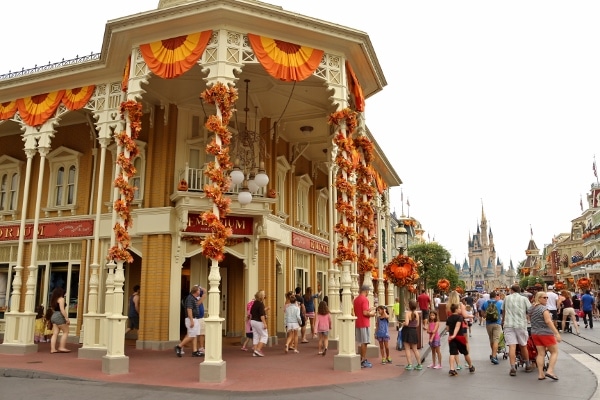 While Day 1 at MK was sunny and beautiful in theory, it was an inferno. Day 2 was overcast and much more tolerable.
On the day we arrived, after checking into our resort we headed straight to the Magic Kingdom. We were starving, but had an early fast pass to use at Buzz Lightyear's Space Ranger Spin first, and then headed immediately to Cosmic Ray's Starlight Cafe for lunch. I've heard great things about Cosmic Ray's for years, and am happy to finally have a chance to check it out.
Let's start with the setup at Cosmic Ray's. There are three bays where you can order food in this futuristic-themed eatery.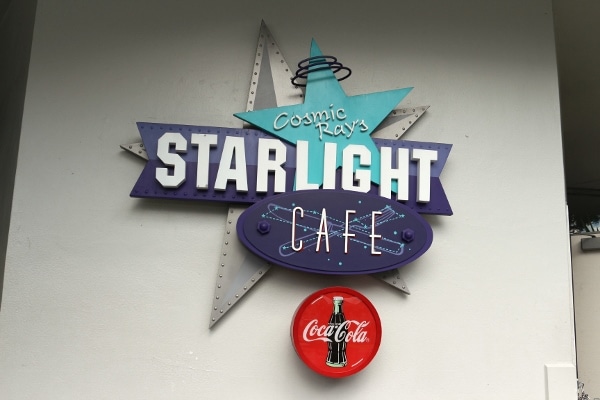 Bay 1 features mostly chicken while bays 2 and 3 feature burgers and sandwiches. You simply stand in line at whichever bay you prefer to order your meal. The offerings at bays 2 and 3 are identical. The Barbecue Pork Sandwich and the Bacon Deluxe Chicken Sandwich are the only items that appear at all 3 bays.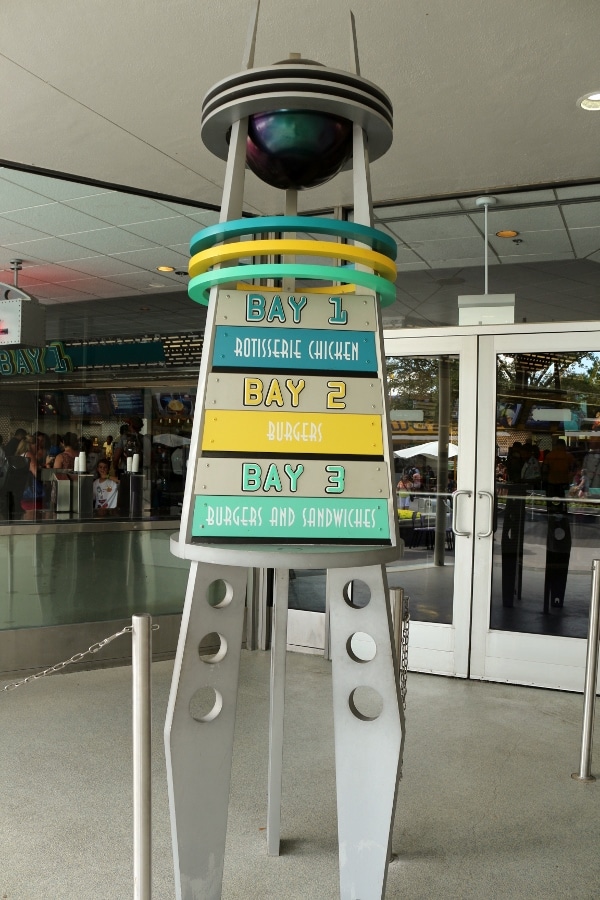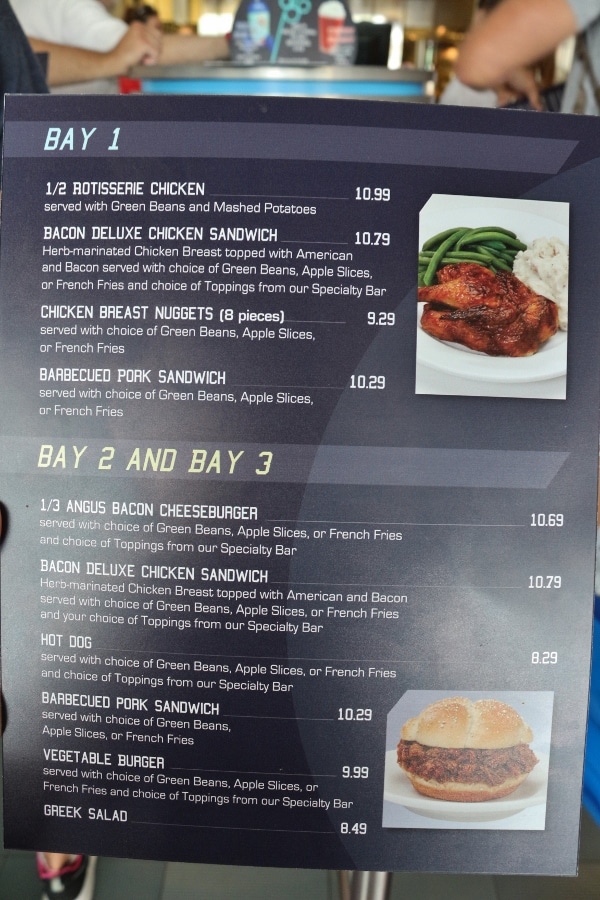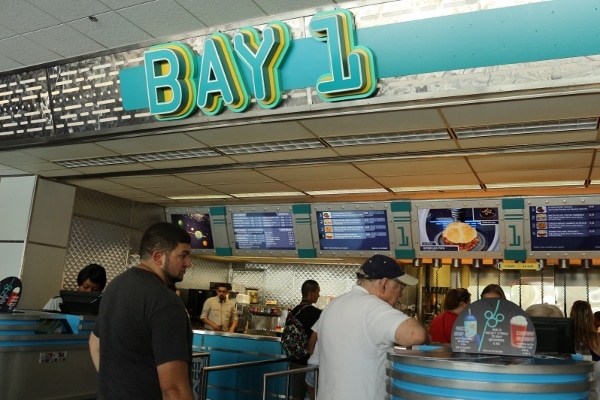 Speaking of the Barbecued Pork Sandwich, that's what we all ordered! This pulled pork sandwich is served on a soft bun with your choice of fries, green beans or apple slices. The sandwich was quite tasty considering it didn't hail from an actual BBQ joint. The pork is moist and the sauce is tasty. The fries are well-seasoned and definitely fit the bill. An order of lemonade rounded out lunch with a bit of refreshment on this super hot day.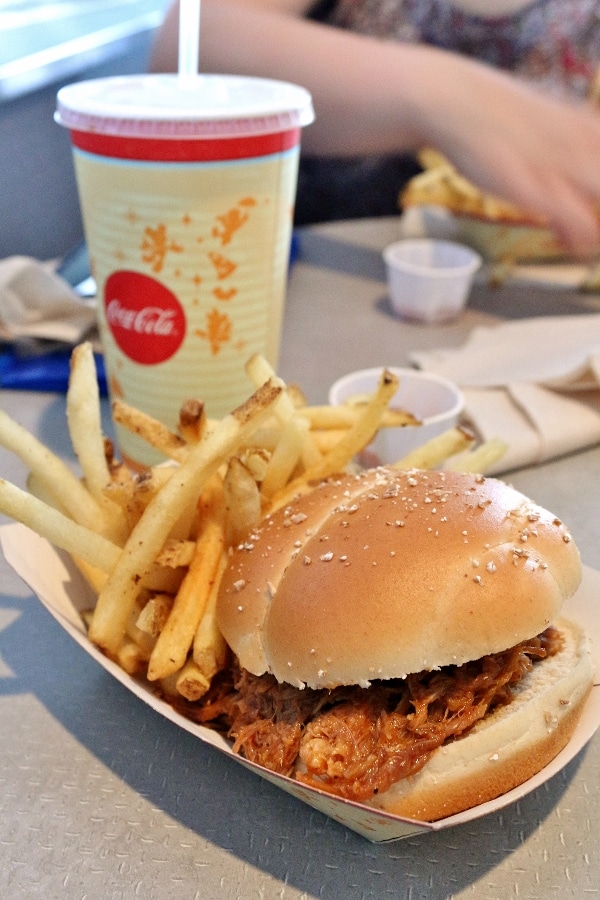 Barbecued Pork Sandwich $11.99
The atmosphere at Comic Ray's Starlight Cafe is as big a draw as the food. The resident entertainer, Sonny Eclipse, is an alien musician with a giant venue that serves as the main dining room.
We managed to find some seats with a great view, although a bit further away from Sonny, it probably spared us from experiencing most of the too-noisy aspect of this particular dining spot. I've heard lots of people comment on how loud it can be, but since we were sitting pretty far away it actually wasn't bad at all.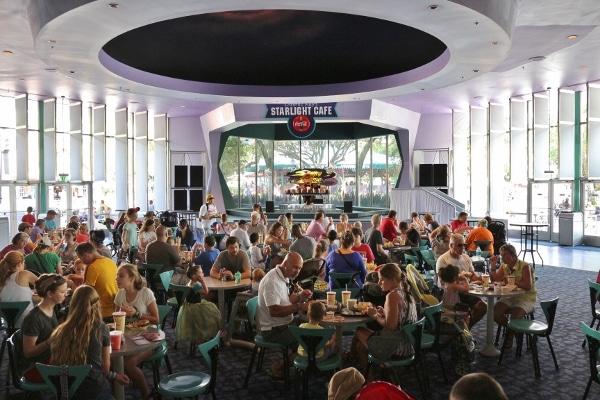 All in all I was very pleased by my first experience at Cosmic Ray's Starlight Cafe. I can see why it's such a popular Magic Kingdom spot, and I can also see myself returning in the future. I'd happy get the Barbecued Pork Sandwich, but I'd also happily try some of the chicken or burger options as well.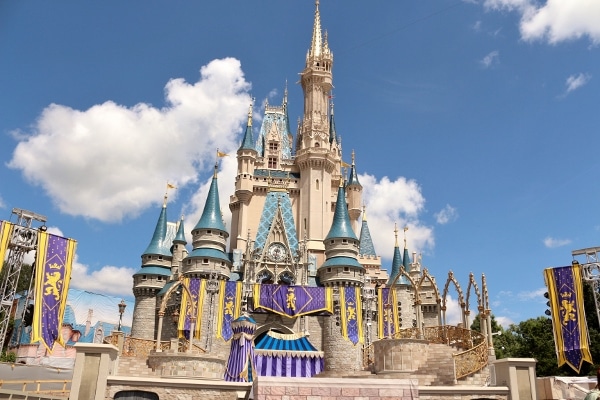 This particular day at the Magic Kingdom was appallingly hot. I mean, we were basically melting in this Central Florida inferno. I honestly don't know how people can live there. I complain about the heat and humidity in our New England summers, but they pale in comparison. We headed back to our resort earlier than planned to spend the rest of the afternoon in the pool, and then headed back to the Magic Kingdom the next morning (after breakfast at Kona Cafe--the subject of another upcoming post) and were pleased to find the weather overcast and much more tolerable.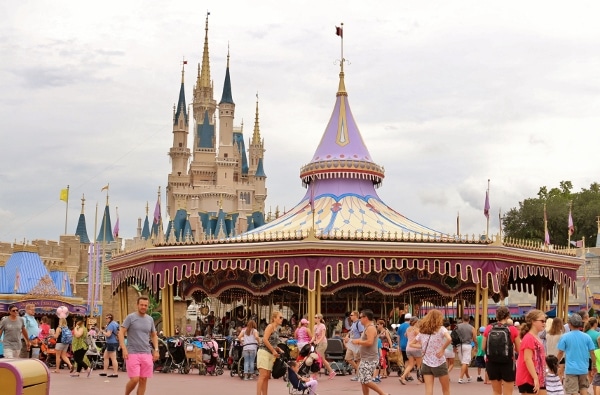 We actually had Advanced Dining Reservations for lunch at Be Our Guest. This was our third time dining here. We've previously enjoyed both dinner and lunch here. Be Our Guest is a unique experience in many ways, but one of which is the fact that it's considered a Quick Service restaurant for lunch (although it does accept reservations) and a Table Service restaurant for dinner.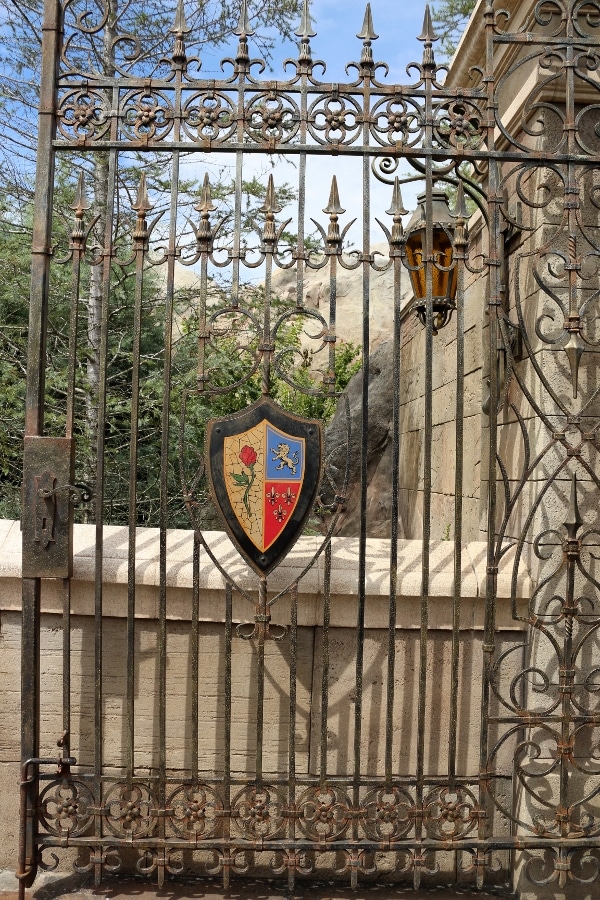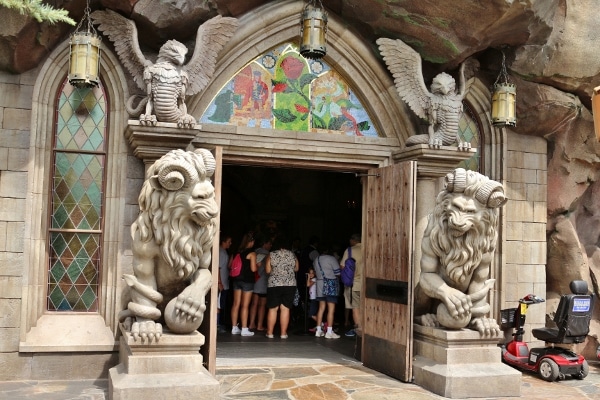 One of the really cool things about Be Our Guest is that if you have Advanced Dining Reservations, you can also actually order your food in advance. Then when you arrive onsite you simply pay for it, a cast member will hand you a rose (typically red unless someone in your dining party has a food allergy, and then you get a gold one), and then you head into one of the dining rooms to find a table. They use the rose to find your location and bring you your food.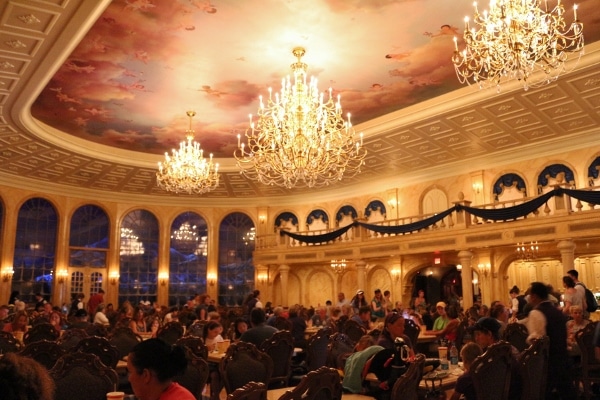 I've dined in the Ball Room and the West Wing on past occasions. I personally love the Ball Room because it's so opulent with the gorgeous chandeliers and huge windows depicting snow falling outside, but this room can get very loud because of its size and the acoustics.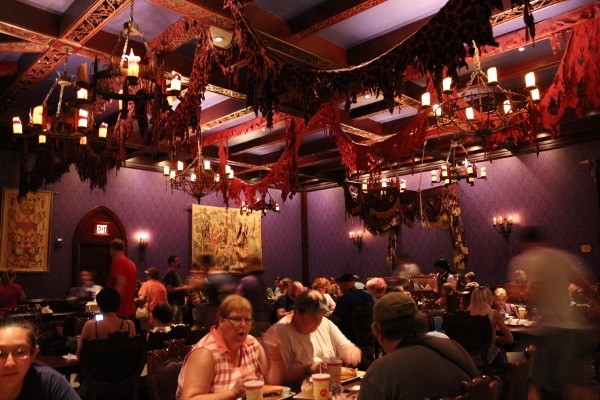 The West Wing is probably the most popular because it's smaller and quieter, but also really beautifully themed. It contains the Beast's rose sitting in the window, as well as a tattered portrait of the Beast as a prince. Every so often, you'll hear a loud rumble of thunder and the portrait will briefly transform to show the Beast. It's a really cool experience, and I do recommend everyone visits this room even if you don't plan on dining in here.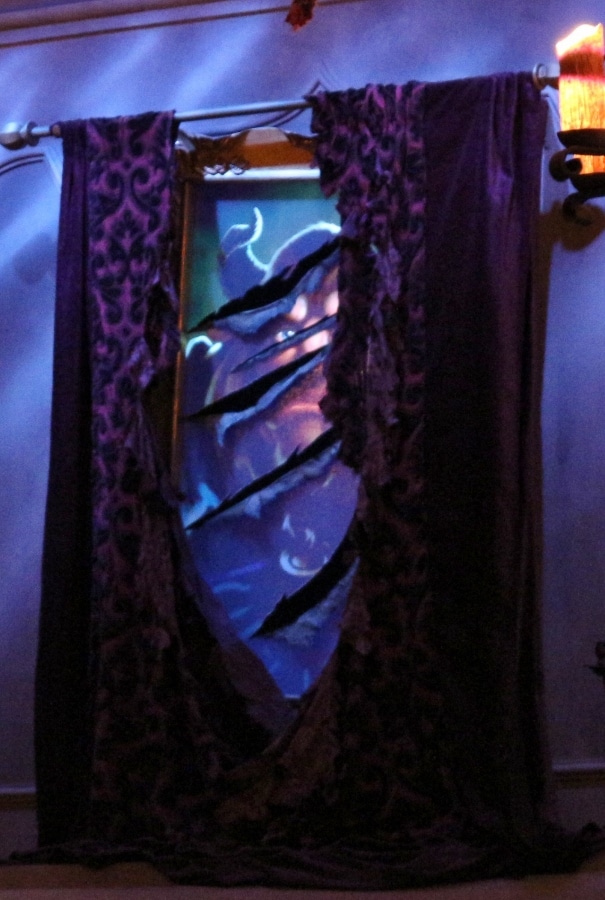 I ordered the exact same dish I had last time I was here for lunch: the Braised Pork. It's slow-cooked for 8 hours with mushrooms, onions, carrots, and bacon and served with mashed potatoes and green beans jardiniere. Obviously I wouldn't have ordered it again if I didn't enjoy it the first time around. It's absolute comfort food, and perhaps was even more enjoyable the second time around. I've said it before and I will say it again, the chef here likes salt. I'd say the food in general is just on the cusp of being salty, but was just fine for us. A pinch more and it would have been too much. If you're really sensitive to salt, please beware of this.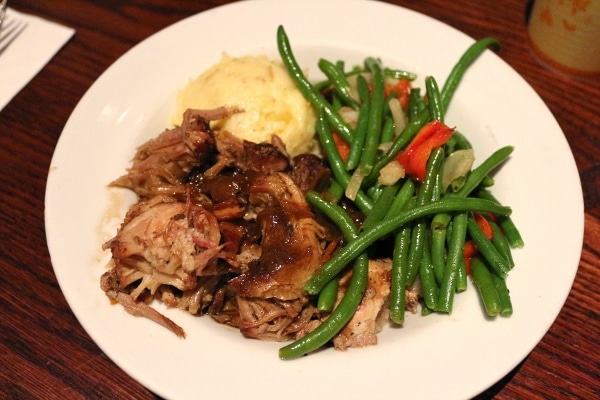 Braised Pork (Coq au Vin Style) $16.99
Be Our Guest continues to be a culinary highlight at the Magic Kingdom, not particularly because of the food (although we have overall been pleased by all of our meals here--minus the salt issue), but because of the ambiance and the experience (when you have dinner here you get to meet the Beast!). I definitely think it's worth visiting Be Our Guest at least once, but definitely try to get reservations if you can! Because lunch is Quick Service, some visitors don't realize you can do that, but I'm here to tell you that you can and you should!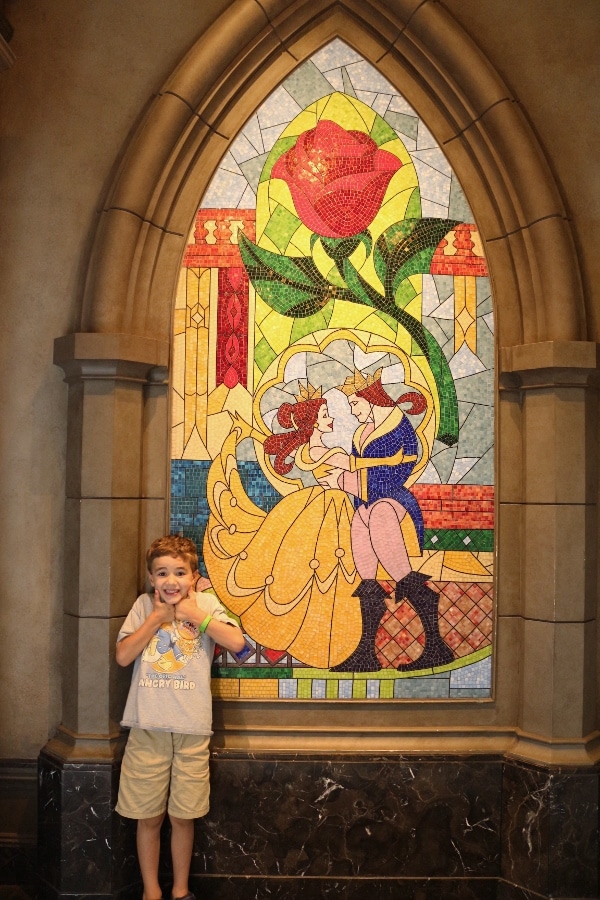 My nephew enjoying his first visit to Walt Disney World!
*Update 1/2/17* We visited Be Our Guest for lunch again recently and tried a few different menu items, so I wanted to share some additional thoughts and photos. After this experience, I stand by my devotion to the Braised Pork. It's still, in my opinion, the best option on the menu, although the price has gone up significantly from $12.99 just over a year ago when I first published this post to $16.99 (I updated all the food prices with the photos above to reflect prices as of 1/2/17).
If you are craving soup, we actually LOVED the Potato Leek Soup, which is vegetarian but so much more flavorful than the vegetarian French Onion Soup here, which is completely forgettable.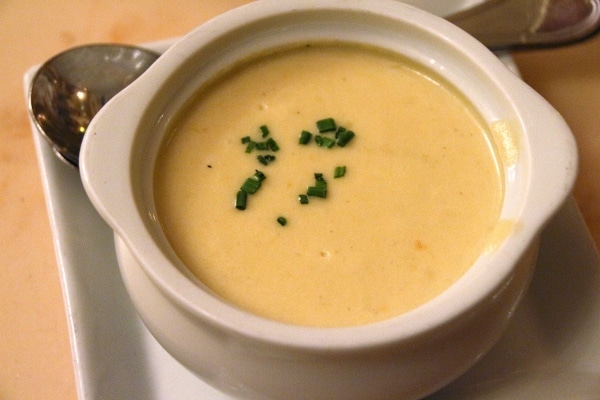 Potato Leek Soup $5.99
My mom ordered the Carved Turkey Sandwich, which is served on a baguette with Dijon mayonnaise and fries. She really enjoyed the sandwich, but I didn't try it myself so I can't personally comment. It looks pretty good though for a simple sandwich.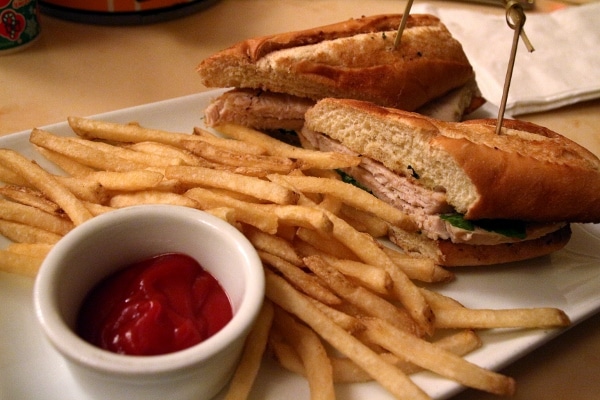 Carved Turkey Sandwich $15.99
I tried the Carved Roast Beef Sandwich, also served on a baguette with horseradish blue cheese cream sauce and fries. I had read good reviews of this sandwich, which is why I decided to go for it, but honestly the horseradish and blue cheese flavors were completely non-existent. It just tasted like average, under-seasoned roast beef. This sandwich was also pretty forgettable, especially with something as flavorful as the Braised Pork still on the menu.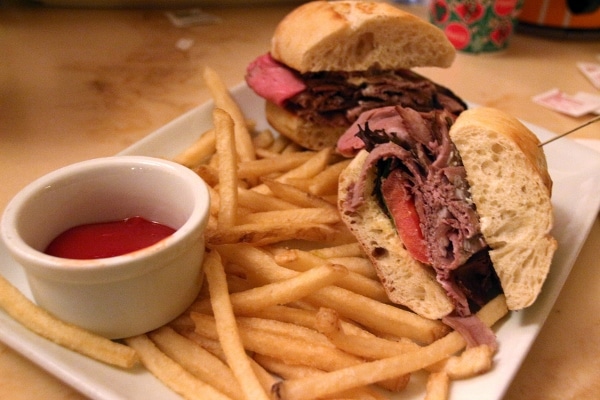 Carved Roast Beef Sandwich $16.99
Cosmic Ray's Starlight Cafe
1180 Seven Seas Drive
Lake Buena Vista, FL 32830
(407) 939-3463
https://disneyworld.disney.go.com/dining/magic-kingdom/cosmic-ray-starlight-cafe/
Be Our Guest Restaurant
1180 Seven Seas Drive
Lake Buena Vista, FL 32830
(407) 939-3463
https://disneyworld.disney.go.com/dining/magic-kingdom/be-our-guest-restaurant/