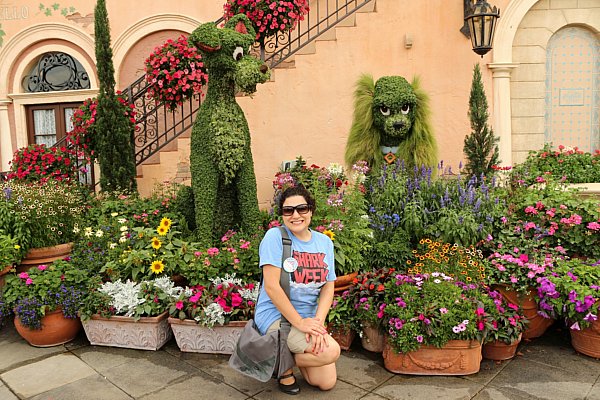 We're nearing the end of My Super Magical Birthday Celebration. Our final park day was comprised of heading to Disney's Hollywood Studios for Extra Magic Hours in the morning and then heading to Epcot later. We didn't spent too much time at Hollywood Studios, but we actually experienced quite a bit while we were there.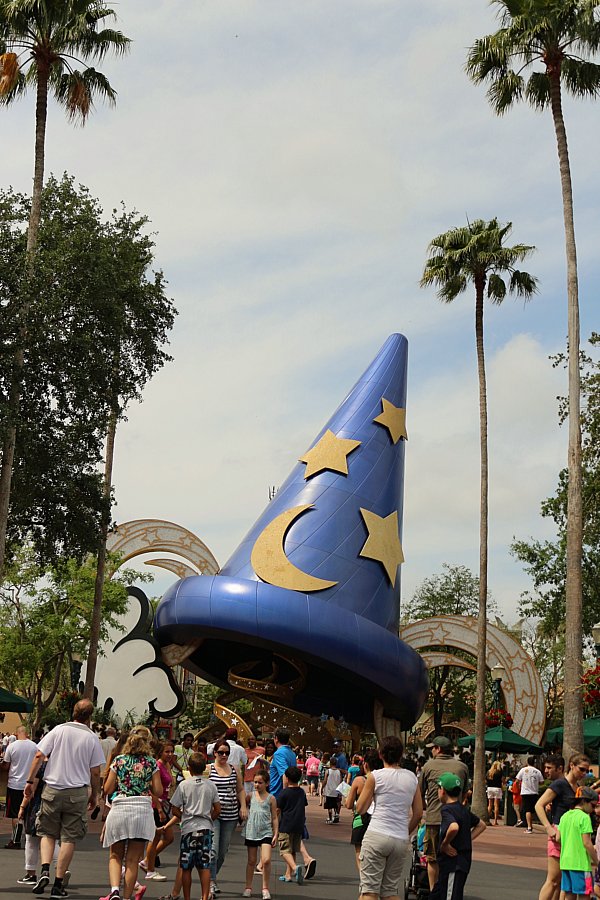 We were able to ride Disney's most popular ride twice, Toy Story Midway Mania. We headed straight there when the park opened, grabbed a Fast Pass and then got in line. It was so much fun, and I can see why it's such a popular ride. The line gets incredibly long and Fast Passes run out pretty quickly, so this is something you would want to do as soon as the park opens in order to be most efficient.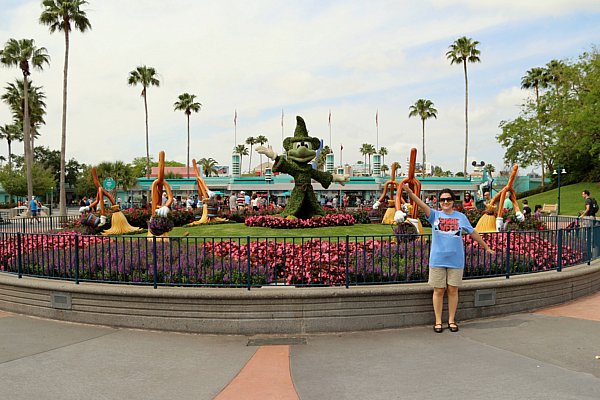 Afterwards, we rode our favorite ride at Hollywood Studios 3 times in a row. That would be Aerosmith's Rock 'N' Rollercoaster. It is AWESOME! It shoots you from 0 to 60 miles per hour in 2.8 seconds. The ride is in the dark with electrified street signs and such, and it goes upside down 3 times. It's a really great thrill ride and reason enough to head to Hollywood Studios.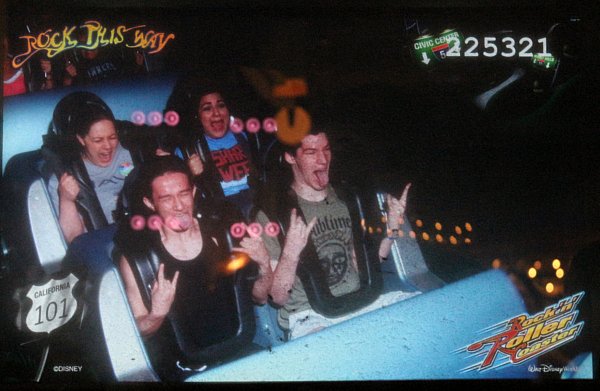 Best picture ever! I love our facial expressions, and the guys in front of us are awesome!
We also rode Star Tours 3 times. The great thing about Star Tours is that there are 54 different ride experiences that just cycle through automatically. It means that multiple rides of Star Tours can be very very different from one another. This ride was a lot of fun, and had a short wait, so I highly recommend trying it multiple times if you can 🙂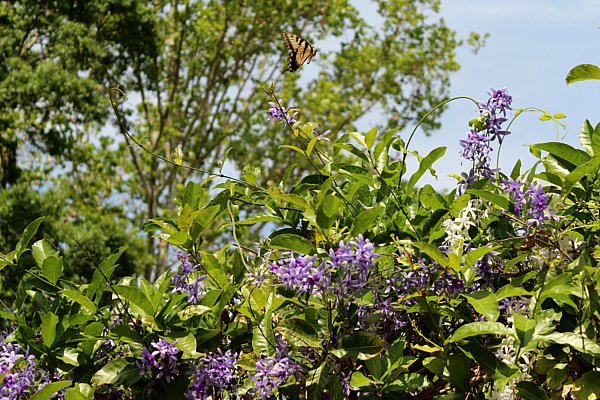 And that was pretty much it. I had wanted to do the Tower of Terror but the wait was getting longer (and the Fast Pass return time was getting later) and we had planned to head to Epcot as soon as we wrapped up. So that's just what we did. We took a Friendship Boat from Hollywood Studios to Epcot. It docked right in the World Showcase, which was perfect because our plan for the day was to explore that part of Epcot.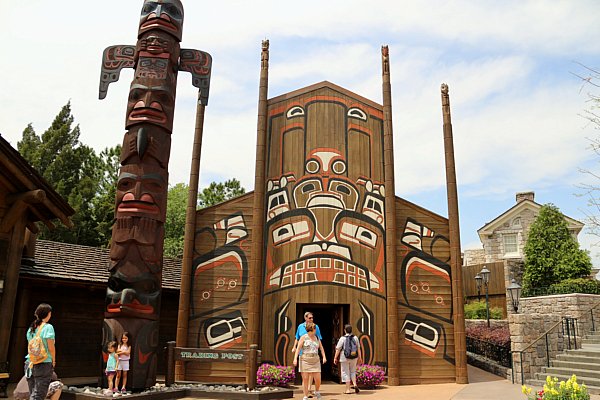 I really love the World Showcase at Epcot. Honestly, you can easily spend a whole day there. There is a lot to explore in each country's Pavilion, lots of fun shops, restaurants, and even some great shows to check out. I'll just go in order from one end of the World Showcase to the other.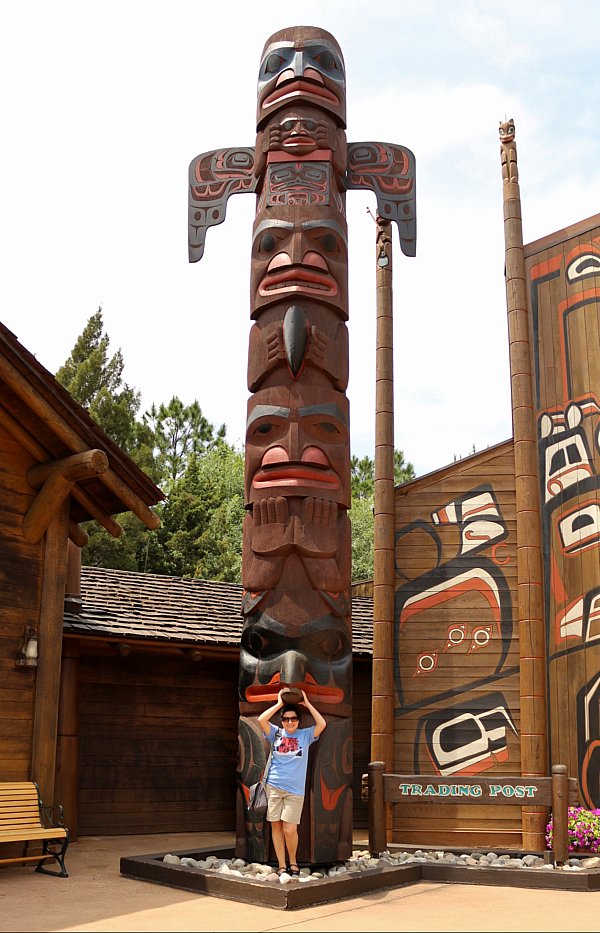 We start with Canada. As you may recall, we dined at Le Cellier in the Canada Pavilion earlier in the week. Canada features a canyon, waterfall, and totem poles intended to remind viewers of the Canadian outdoors. Canada also features a Circle-Vision 360° show called O Canada! We thought we might head back later to watch that show, but eventually ran out of time.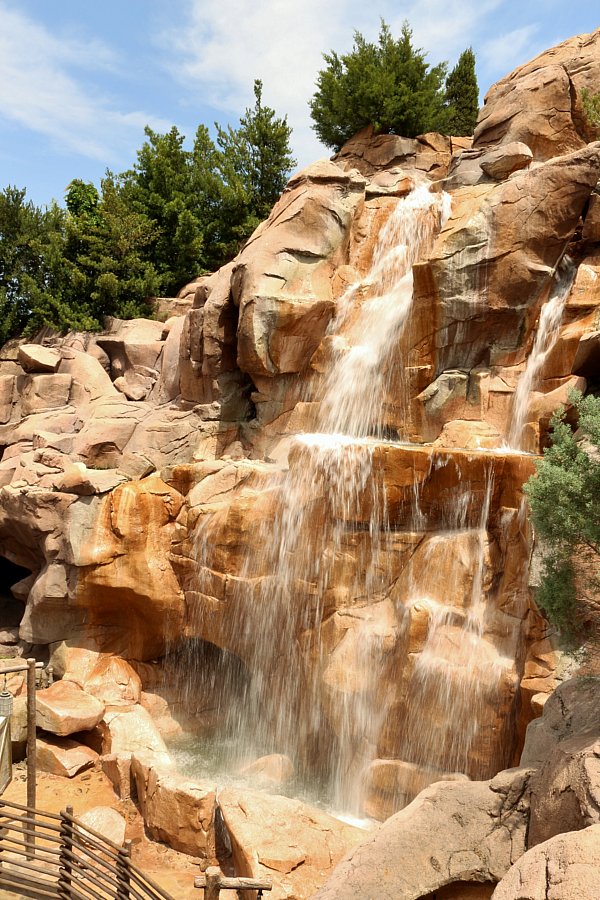 The next Pavilion is the United Kingdom, which features shops that sell tea and other British staples. Red telephone booths stud the pavilion, along with a fish and chips shop and a typical British pub.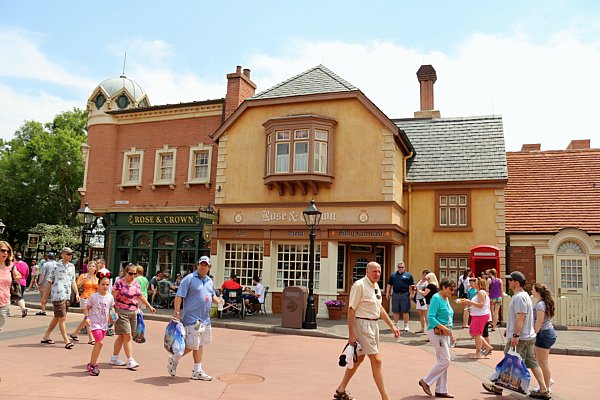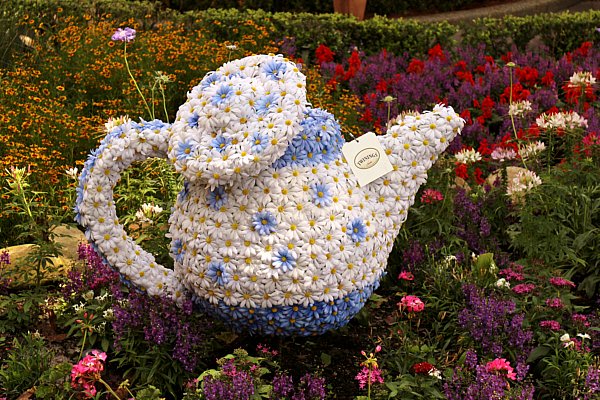 Some of the topiaries featured here come straight from Peter Pan. They were some of our favorites!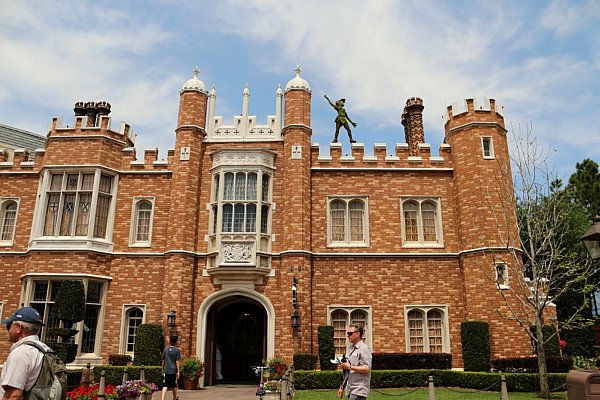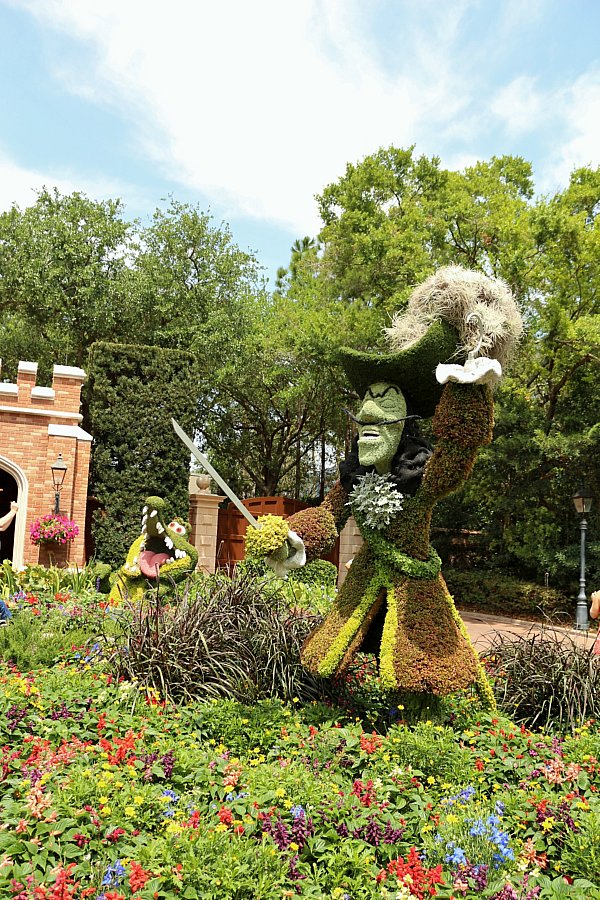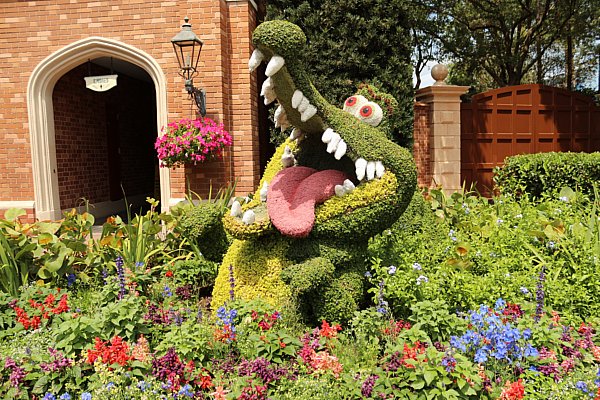 The France Pavilion comes next, and it easily one of my favorites. Not only does it feature an Eiffel tower and incredibly Parisian architecture, for Epcot's Flower and Garden Festival it houses topiaries for Sleepy Beauty, Cinderella, and Beauty and the Beast.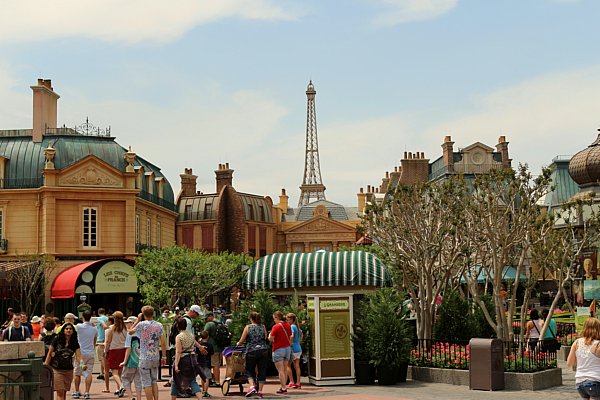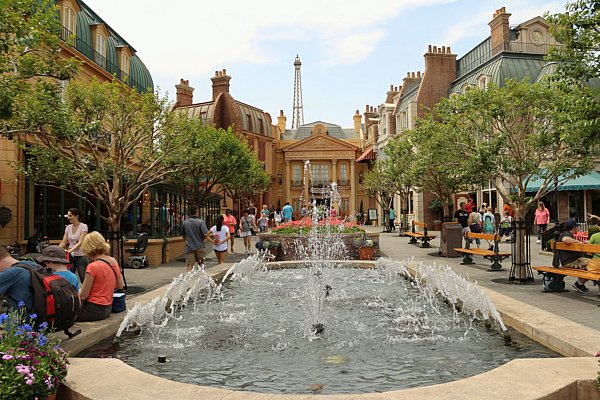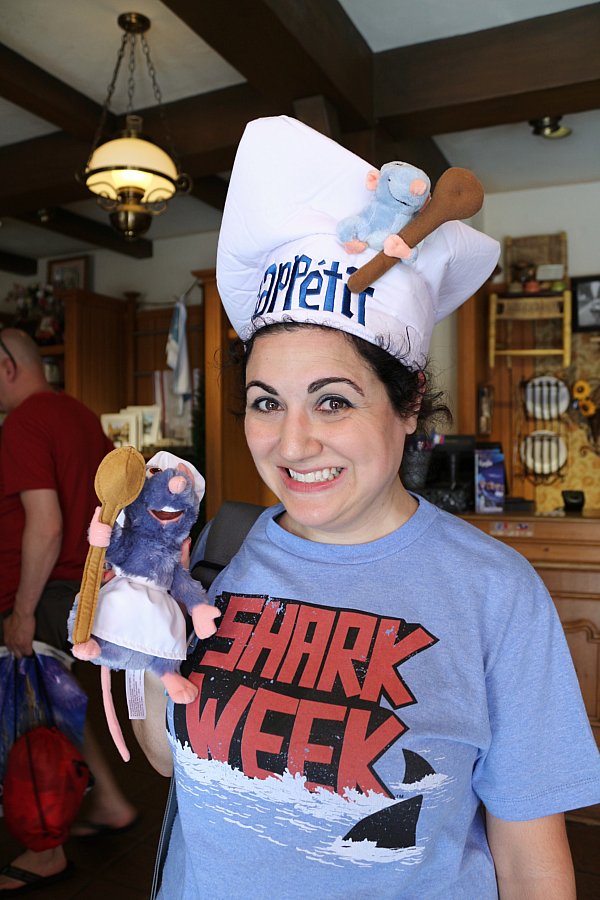 We also LOVED checking out the Impressions de France show, which almost reminded us of Soarin' though France without being on an actual ride. It was so breathtaking, I could watch that show all day.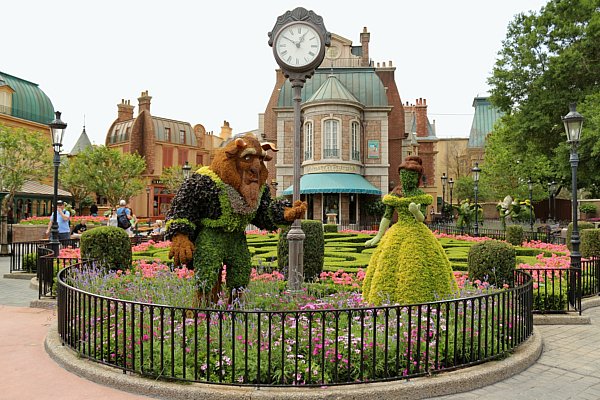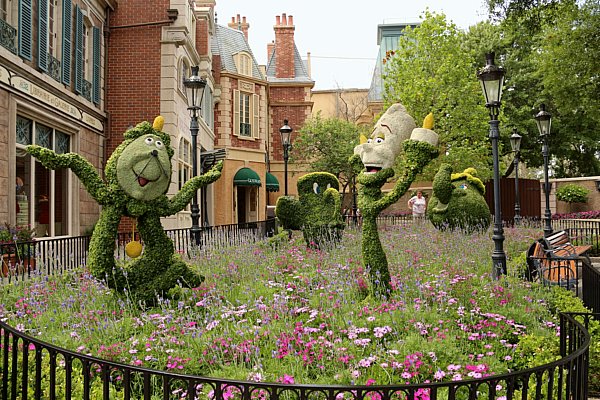 Our lunch reservations were for Les Chefs de France. We had strategically planned to dine there at a time when we knew Remy would make an appearance on his cheese cart.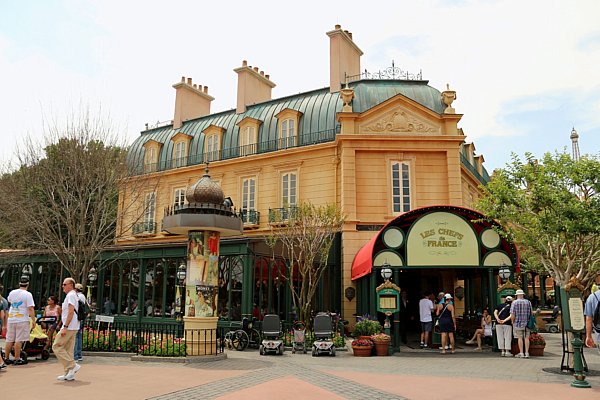 He makes his rounds Monday through Saturday at 12:30, 1:40, 2:50, and 5:20 pm. This animatronic Remy is well-worth a trip to Les Chefs to France, but overall so is the food.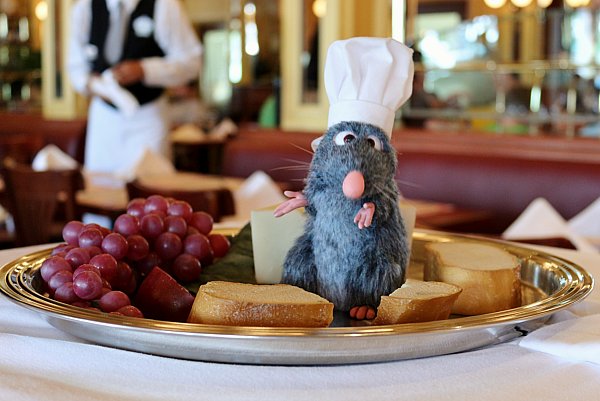 The ambiance at Les Chefs de France is great. It reminds me a typical bistro, and the menu supports that theme. Les Chefs de France features an a la carte menu as well as a well-priced prix fixe option for $23.99 at lunch and $39.99 at dinner.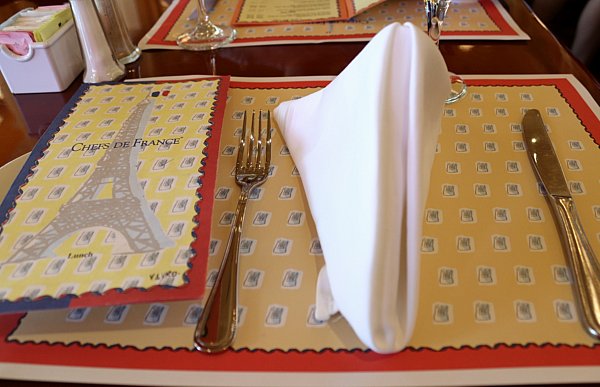 We went with the lunch prix fixe since it was a great deal and featured items we would have normally ordered even off the a la carte menu.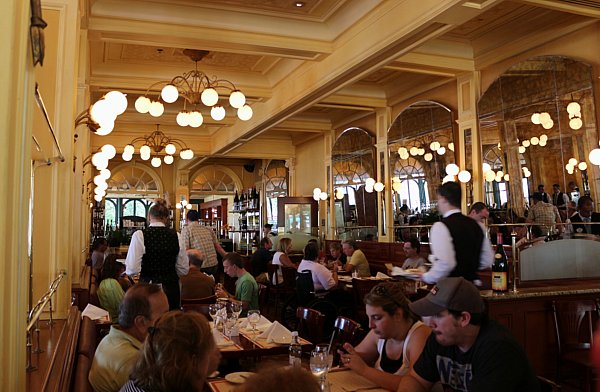 First of all, guests are served fresh, warm baguettes with butter. The baguettes are excellent, with a perfectly crackly crust. The baguettes remind me of the ones I had in Paris. Two thumbs up for bread selection.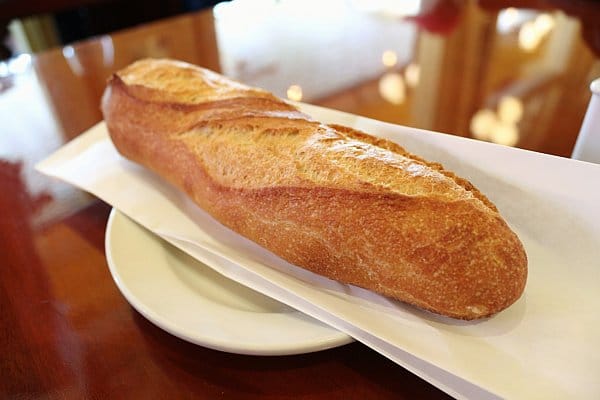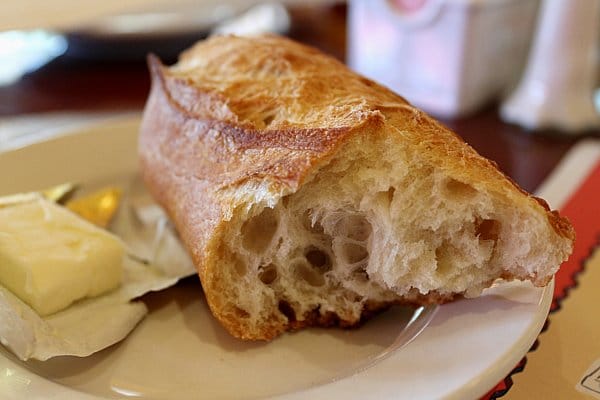 We both started out with French Onion Soup. Considering the French Onion Soup the previous night at Be Our Guest Restaurant didn't really impress us, we had hoping this version would win us over. It didn't. The broth was only slightly more flavorful than its predecessor, and the onions were incredibly undercooked. They were not caramelized whatsoever, and in fact were fairly al dente and cut into very large pieces. The cheese seemed to have more flavor. If the onions were cooked correctly, this soup could have been a winner, but it still had a pretty major drawback, in our opinion. It's a shame. French Onion Soup isn't really that hard to make properly.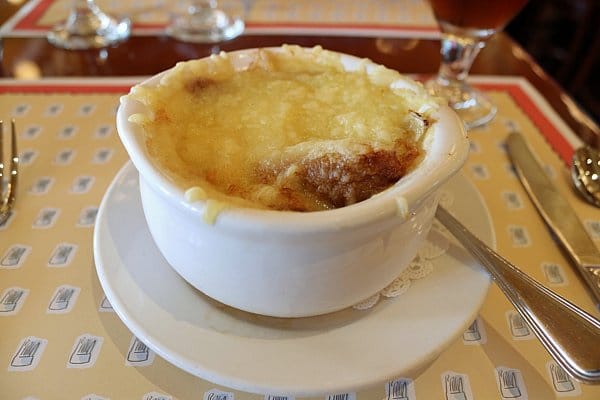 French Onion Soup $7.99 a la carte
My sister chose the Quiche Lorraine as her entree and was pleased with it. The crust was tender and flaky and the custard was nicely cooked.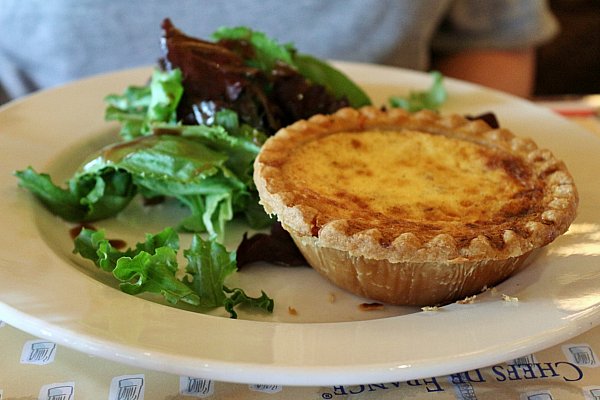 Quiche Lorraine $14.99 a la carte
I had heard rave reviews about the Gratin de Macaroni so I couldn't resist trying it (yes, another "macaroni and cheese," I HAVE AN ADDICTION). It was very different from a traditional macaroni and cheese, but it was AMAZING. It featured perfectly al dente ziti pasta in a Bechamel sauce, topped with a thick layer of cheese and broiled until melted and bubbly. What I loved about this dish is that the sauce itself wasn't cheesy. It was decadent and creamy and perfectly seasoned. The cheese component was a deliciously crusty layer on top that added all the cheese the dish needed, but still balanced with a rich, non-cheesy sauce. I can see why it's one of the most popular "macaroni and cheeses" at Disney. I would totally order it again. And again.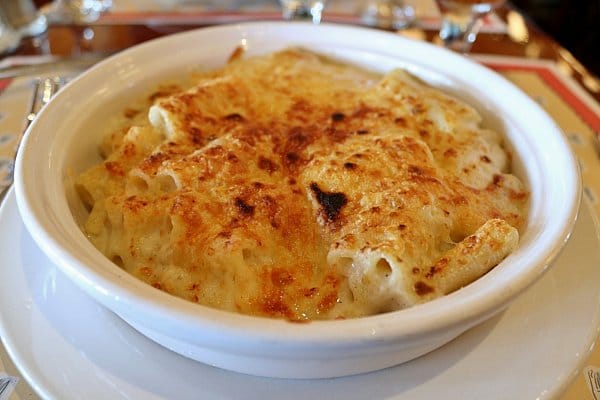 Gratin de Macaroni $14.99 a la carte
We both selected the Profiteroles for dessert, which are essentially cream puffs but with ice cream in the middle instead of cream, and topped with chocolate sauce. They arrived at our table with festive French singing and a candle in mine. The Profiteroles were nicely executed and a great ending to our meal. With the exception of the poorly executed French Onion Soup, this was a really great meal with a really special treat in meeting Remy! I would love to dine here again in the future.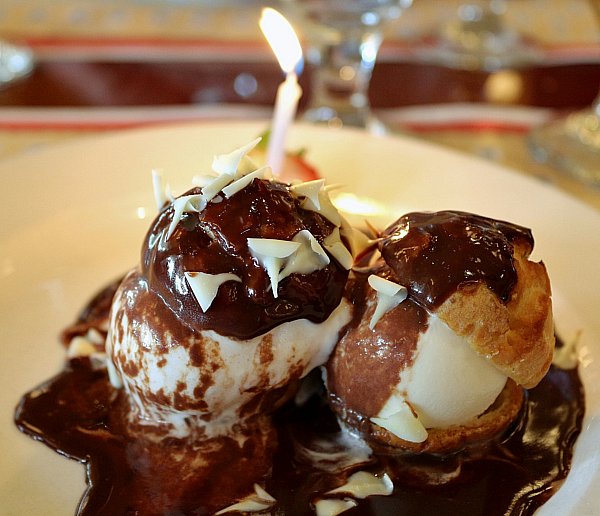 Profiteroles $7.25 a la carte
We continued on with our tour of the World Showcase by visiting Morocco. A really cool fact about the Morocco Pavilion is that King Hassan II actually sent Moroccan artisans to design and create many of the mosaics.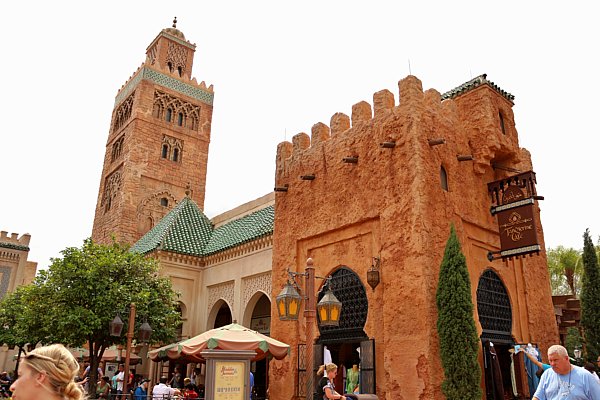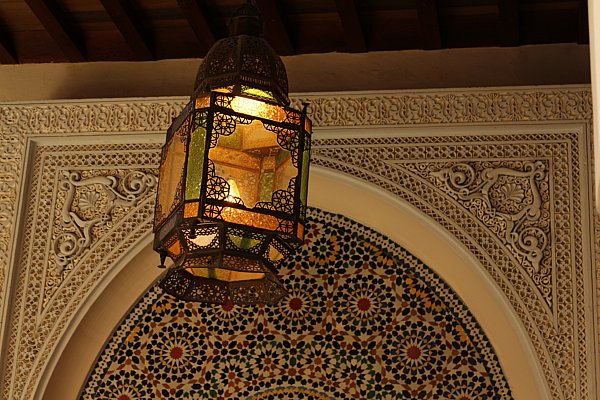 The Moroccan government actually sponsors the pavilion, and it's important to note that because of their religious beliefs, Morocco is the only country in the World Showcase that does not light up during the Illuminations show at night.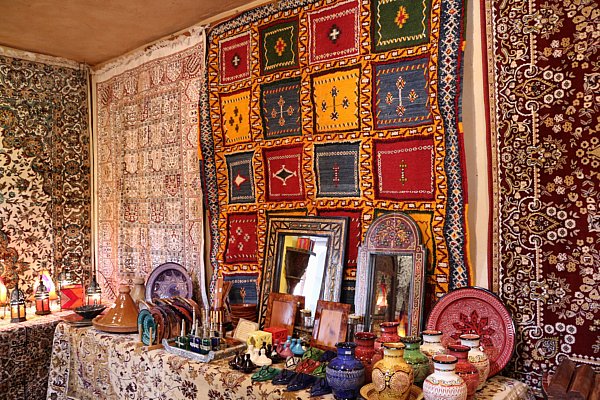 Morocco is an incredibly exotic part of the World Showcase, and perusing the shops here is a true delight! There are so many beautiful and colorful pieces throughout the shops.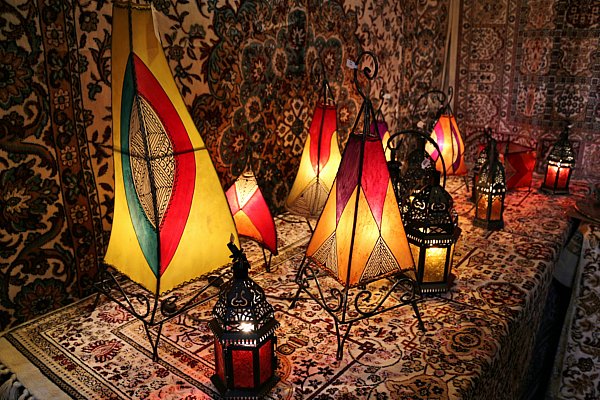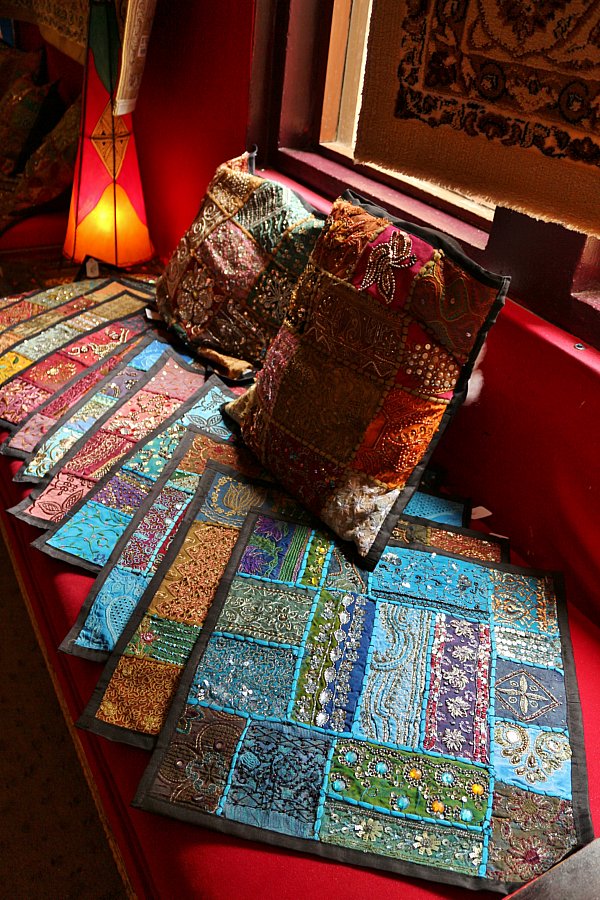 The Japan Pavilion is next on the list, and features one of the coolest shopping experiences in the World Showcase: the Mitsukoshi department store, which is full of awesome Japanese items, such as clothing, jewelry, sushi sets, toys, pop-culture items, candy, and more.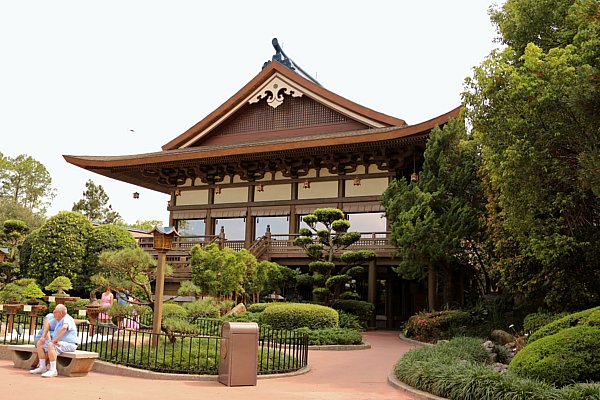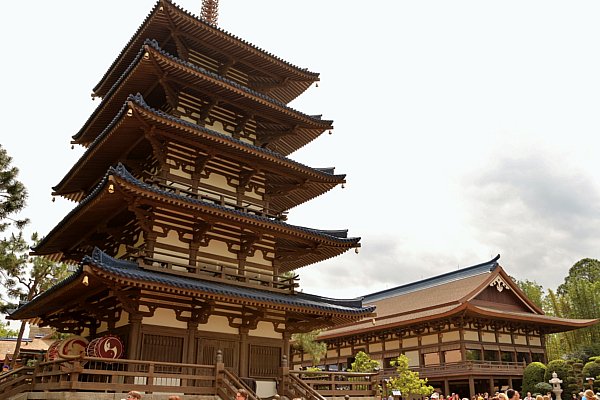 I also loved seeing the really incredible (and old) bonsai trees that were on display for the Flower and Garden Festival. They just made me want to scream, "BONSAI!" Karate Kid style.
The American Adventure Pavilion is next, which takes guests on a trip through American history. We didn't spend too much time here, but I do have a funny story to relay about my previous trip to Disney World when I was 6.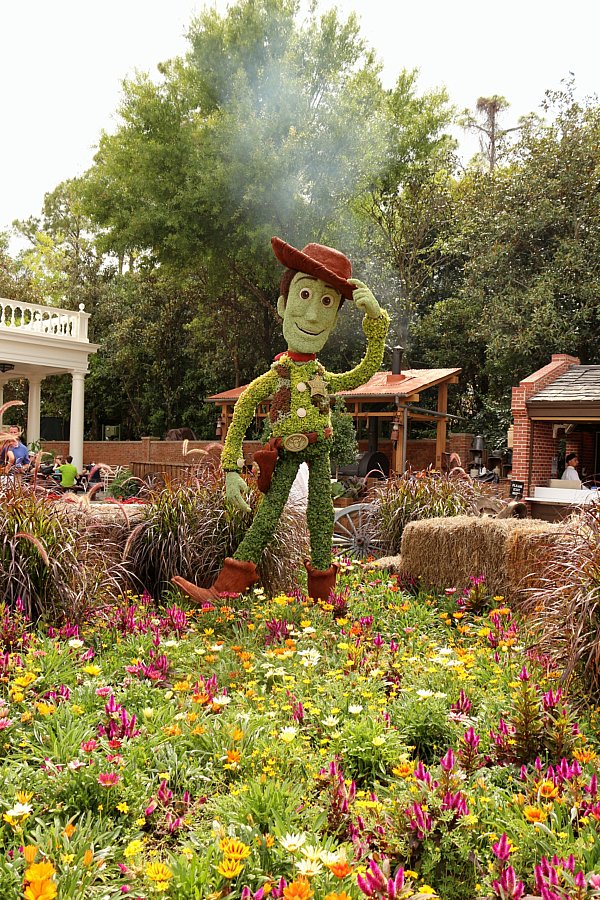 Apparently, I was such a picky eater at the time that although my parents were just dying to eat at one of the more exotic restaurants at Epcot's World Showcase, because of me they were forced to eat at the American Adventure Pavilion because all I would eat was cheeseburgers. I'm ashamed of myself and look forward to our next family trip so they can finally eat someplace else! Haha.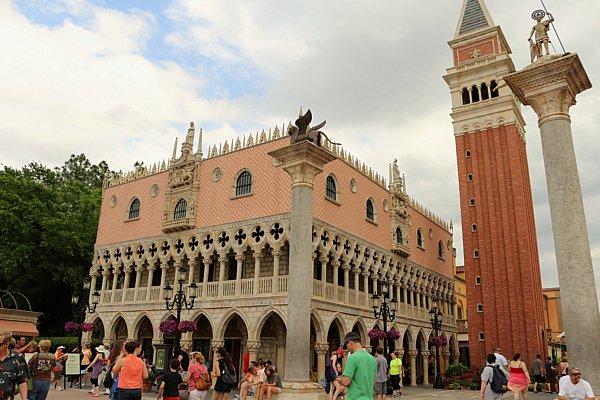 Next up is the Italy Pavilion, which showcases replicas of some of Italy's most famous buildings from Venetian, Florentine, and Roman architecture. The recreations of St. Mark's Campanile and the Doge's Palace from Venice are some of the highlights here. We would actually enjoy dinner in Italy later that day, and I will discuss that a bit later.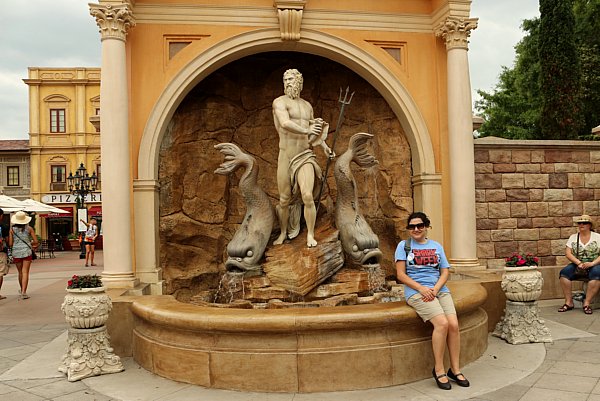 The Germany Pavilion is next up, and features a lovely topiary of Snow White and the Seven Dwarfs.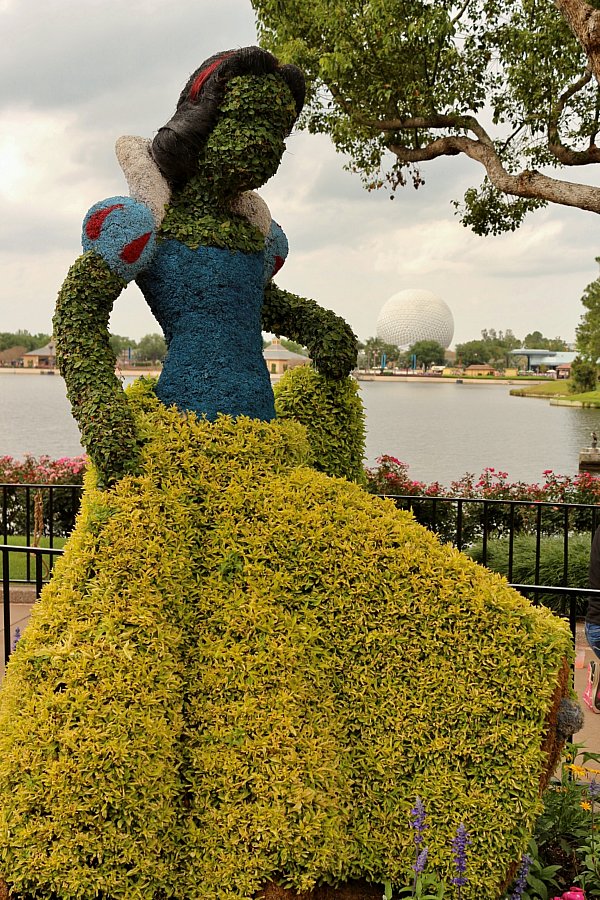 Germany also had the longest line for purchasing beer (compared to the UK which also features beer), and also had a long line at their wine shop, Weinkeller, which features wines from the region.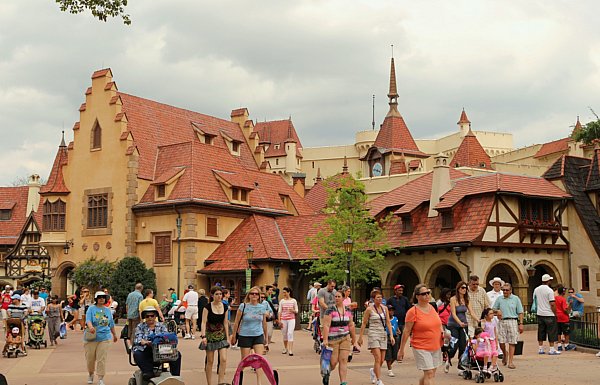 One of our favorite stops in Germany was at Karamell-Küche, a shop sponsored by Werther's Original and featuring a variety of items covered in caramel. Yes, please! I loved their caramel popcorn and would snack on it before Illuminations later that evening.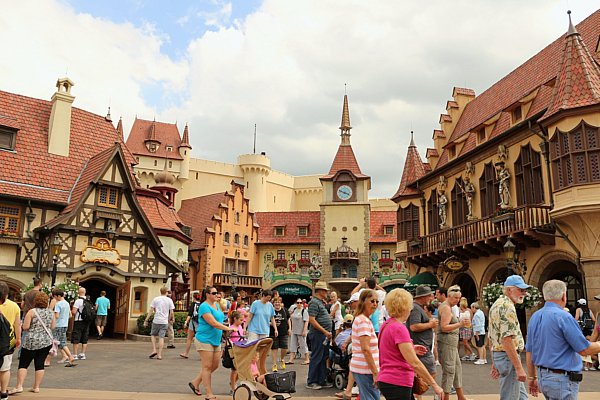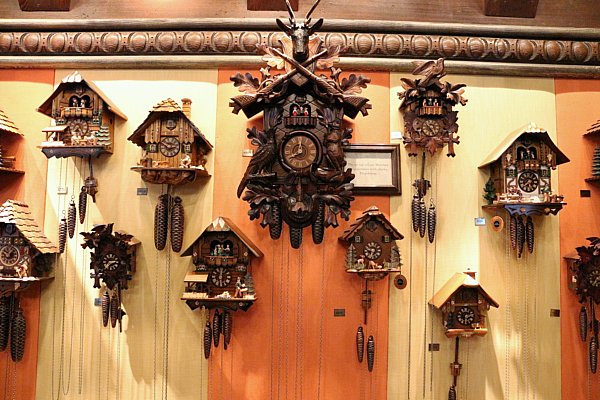 We then made our way into the China Pavilion, which also features incredible architecture and a Circle-Vision 360° show entitled Reflections of China.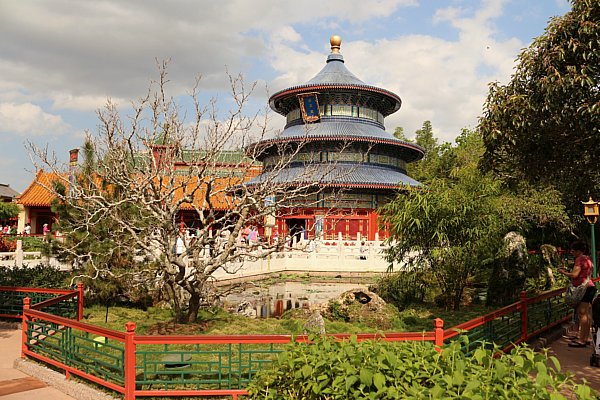 I always thought it would be fun to visit China someday, but especially after seeing this incredible whirlwind tour of this massive country, I really hope I am able to go there someday. I also started immediately craving dumplings after watching the show 🙂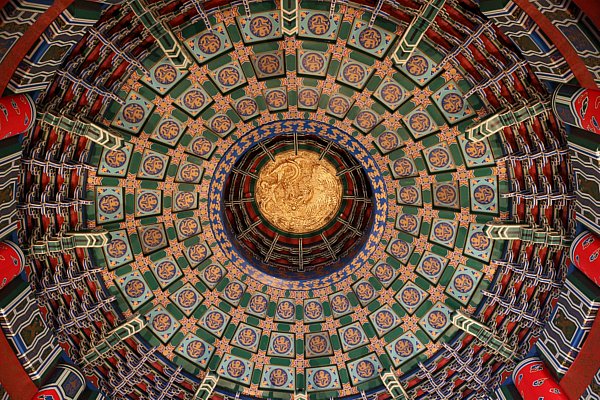 We stopped at the Lotus House kiosk (part of the Flower and Garden Festival) for a refreshing Peach-Oolong Bubble Tea. Although the tea itself was tasty, I was very disappointed by the fact that the straws were not wide enough to suck up the tapioca balls (or boba). We were told to use a spoon to each the boba, but this was really inconvenient since we were walking around and drinking our tea. Also, the boba would get stuck to the bottom of the straw as we would drink. I can't believe this details was overlooking in the planning of their menu. It's kind of a big deal, and a huge waste of the tapioca balls.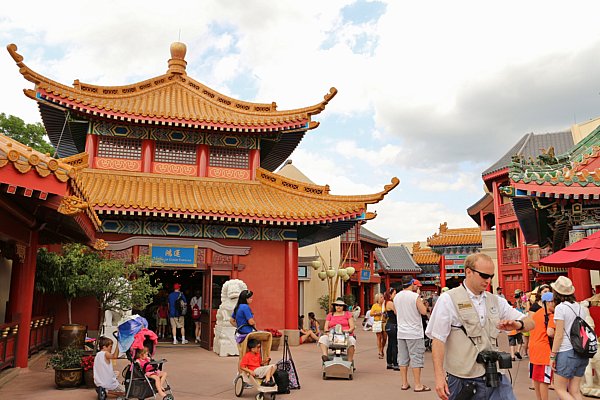 The Norway Pavilion came next and is designed to look like a Norwegian village. Maelstrom is one of the few actual rides in the World Showcase section of Epcot. It's a boat ride through past and present Norway.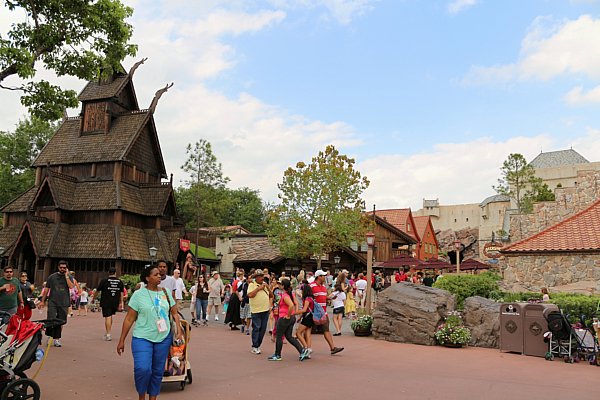 The final stop in the World Showcase is the Mexico Pavilion, where we dined earlier in the week at La Hacienda de San Angel. We headed into the main building, which resembles a Mesoamerican Pyramid and checked out San Angel Inn, a restaurant overlooking an indoor lagoon, as well as taking a boat ride on the Gran Fiesta Tour Starring the Three Caballeros.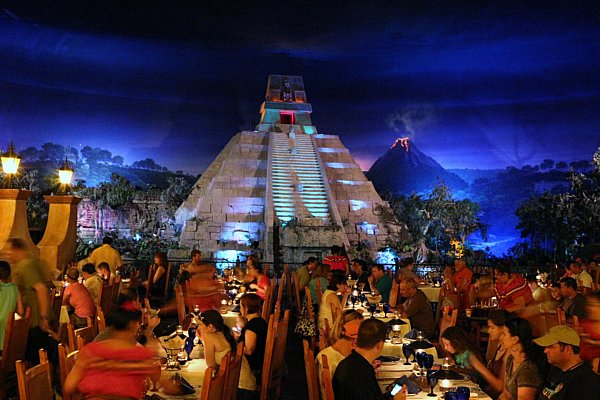 Afterwards, we took another trip to Test Track, which isn't too far away in Future World, and then headed back to the Italy Pavilion to have dinner. Via Napoli opened somewhat recently (by Epcot standards) in August 2010. This family-friendly restaurant is incredibly popular. I mean, they make amazing pizza. What's not to love?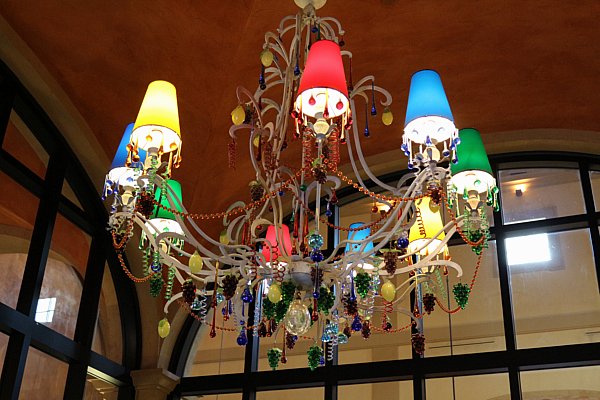 Featuring three wood-burning ovens named after the three active volcanoes in Italy (Mount Etna, Mount Vesuvius, and Stromboli), Via Napoli makes authentic Neapolitan pizzas using imported San Marzano tomatoes and Caputo flour from Italy.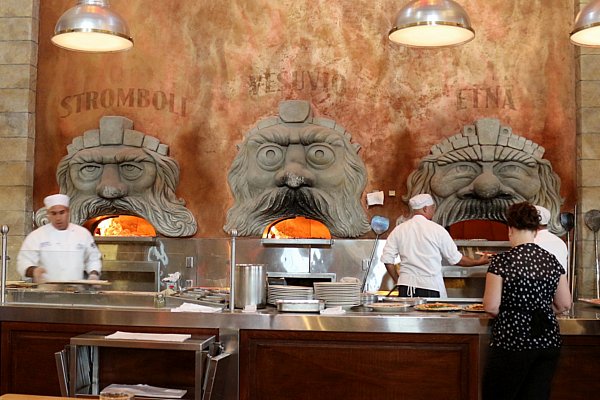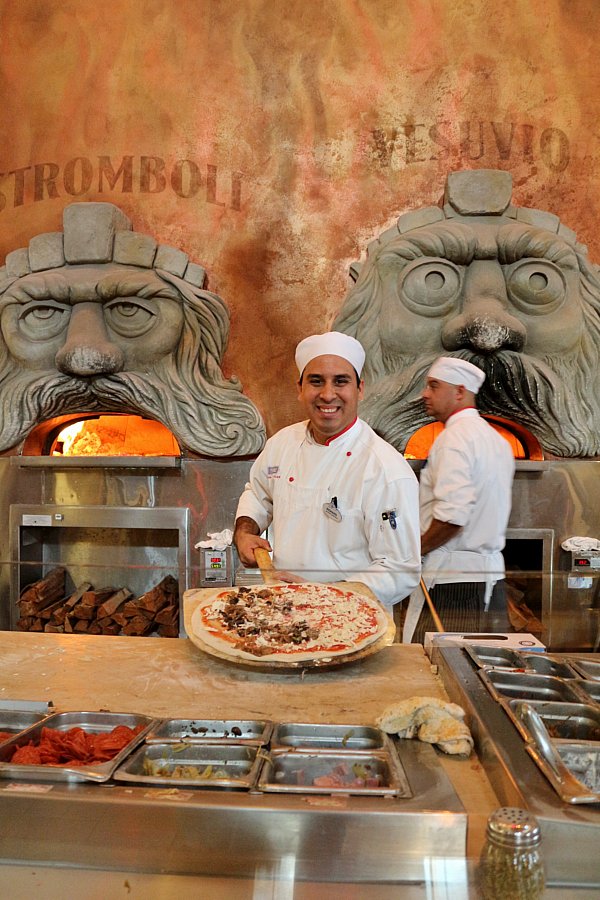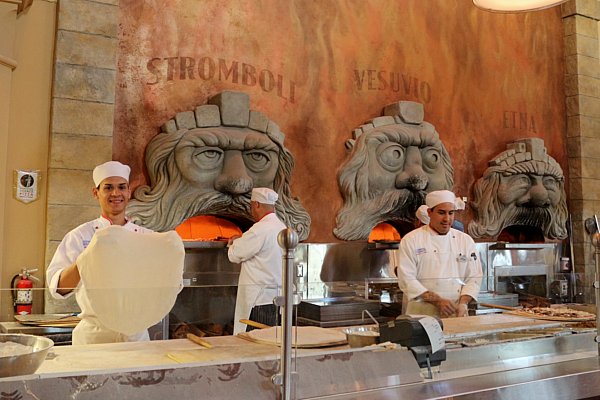 It was actually voted as the Critic's Choice for "Best Theme Park Restaurant" by the Orlando Sentinel, so that's pretty impressive. And if that wasn't enough, the staff is comprised of beautiful, young Italians. You're welcome 🙂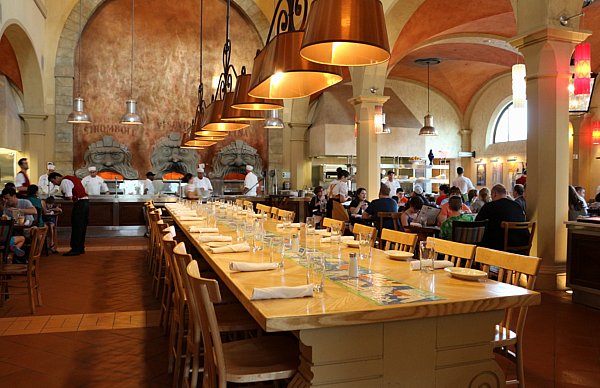 Since it was our last night at Disney, we figured we should celebrate by splitting a pitcher of red sangria. It was refreshing and delicious, and definitely got us tipsy by meal's end.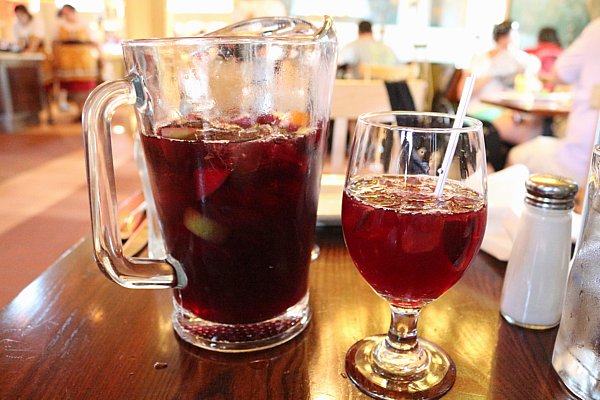 Sangria pitcher $18
It seems that every meal we previously had which included an appetizer AND entree became quite the challenge to finish, so in this case we simply ordered a pizza to share (and even then I couldn't finish the last piece--what is WRONG with me?!).
Large pizza (serves 2 to 3): ½ Funghi, ½ Prosciutto e Melone $30
We went halfsies with two different flavors. First was the Funghi, which features San Marzano tomato sauce, mozzarella, and portobello and cremini mushrooms. The crust was thin, delicious, and chewy and the marriage of the sauce, cheese, and mushrooms was a good one. There were just enough mushrooms without overwhelming all the other pizza components. This was my favorite of the two pizza varieties we tried.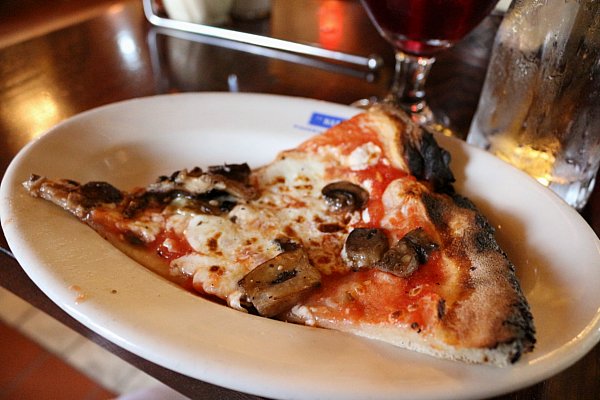 The other half was the Prosciutto e Melone, which is a white pizza featuring fontina and mozzarella cheeses, prosciutto and cantaloupe. The melon and prosciutto combo is a classic one and introduces both sweet and salty elements to the pizza. I appreciate that the prosciutto was placed on top AFTER the pizza was cooked. Some pizzerias cook the prosciutto which just dries it out and makes it too salty.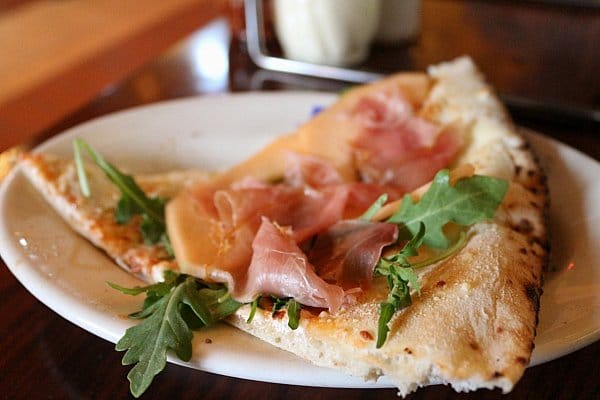 Via Napoli is a great bargain in Epcot's World Showcase. It has some of the best food available (the best in the Italy Pavilion by far, from what I've heard), at really reasonable prices, and most importantly they make PIZZA which people of all ages love. This is a safe bet for both lunch or dinner for a family trip to Epcot.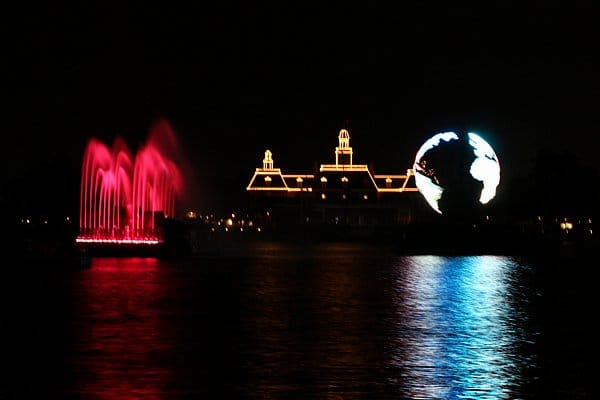 After dinner, we headed back to Future World and snagged a good spot to watch Illuminations with good access to escaping the park once it was over. It was a really great way to end our trip! Definitely a wonderful show.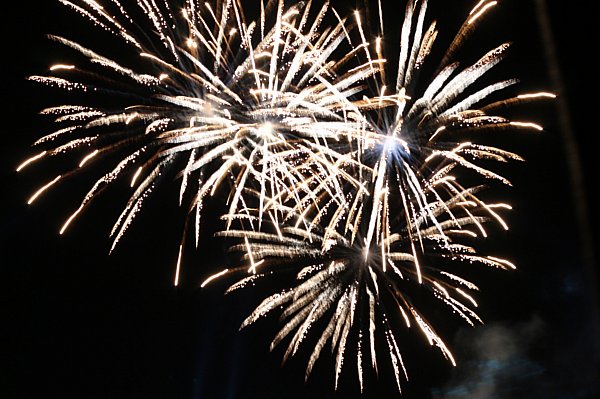 The next day was our 6th and last. We would be getting on a plane before noon, but that still left us some time to have a really nice breakfast with friends before heading to the airport! We had decided long ago that this meal would have to happen at the Kona Cafe at Disney's Polynesian Resort. It features notoriously delicious breakfast, but is also very popular for lunch and dinner.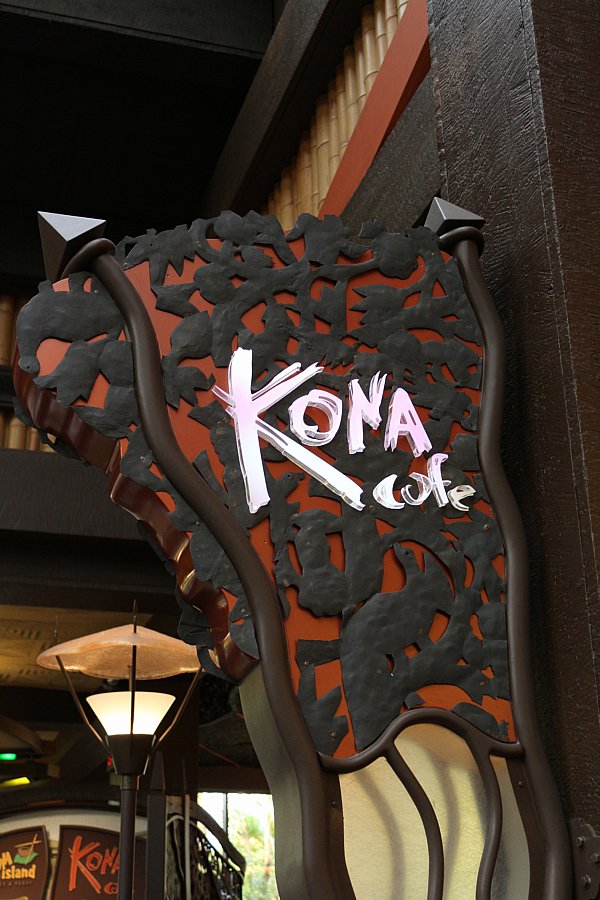 First of all, we instantly fell in love with the Polynesian Resort. It's one of the most expensive resorts at Disney, but understandably so.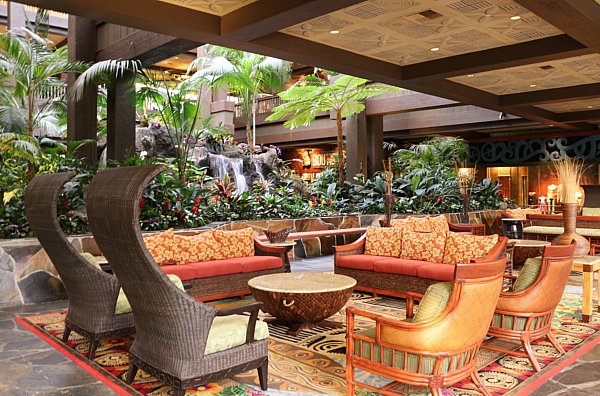 Not only is it conveniently located on the Monorail and directly across from the Magic Kingdom, but it really feels like another world. The tiki-style decor features waterfalls and the like.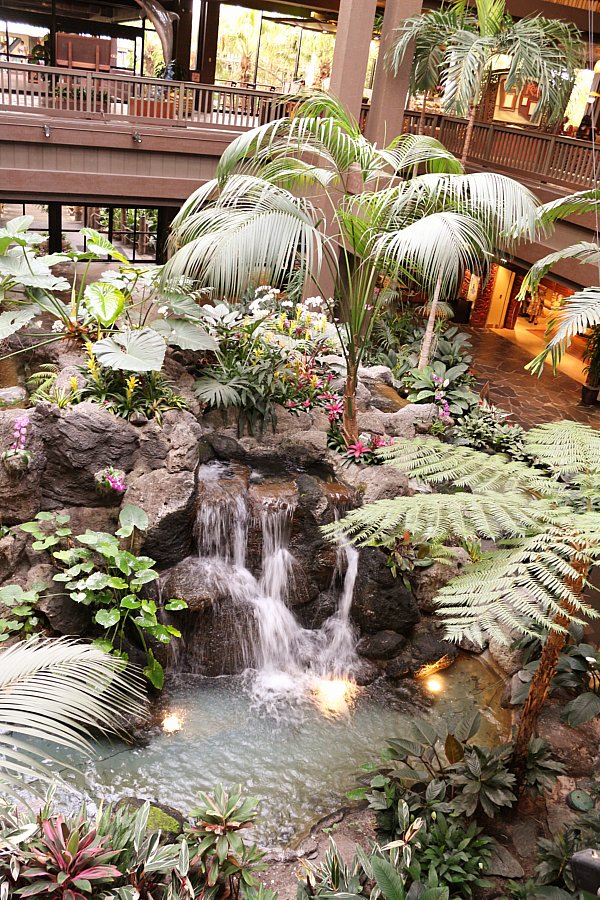 You feel totally immersed in the theme of this beautiful resort. There's a reason why people pay top dollar to stay here.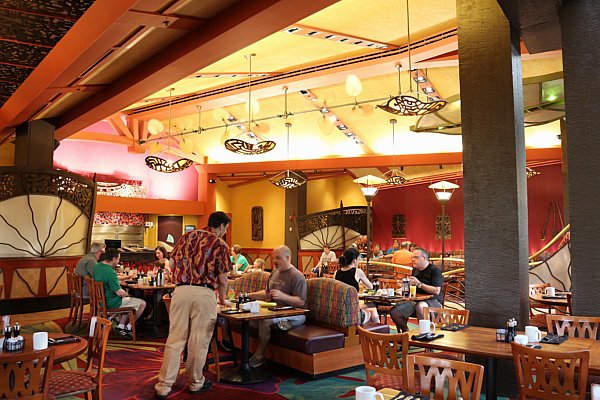 Back to Kona Cafe. The restaurant opens up onto the upper deck of the hotel lobby, so the soothing sounds of the waterfall can easily be heard from within the restaurant.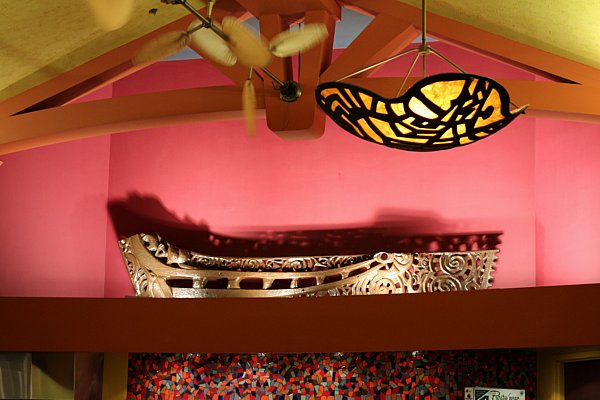 As one would hope and expect, Kona Cafe features 100% Kona Coffee served in a French Press (which serves 2). It's also sold by the pound for $40.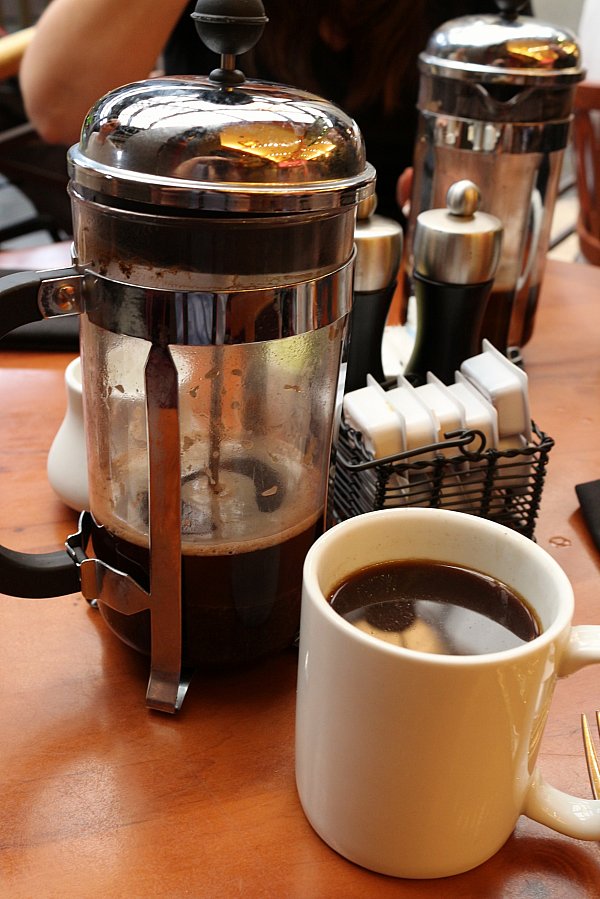 100% Kona Coffee French Press (serves 2) $7.49
Its flavor is strong and intense. One of our friends joked that it tasted like drinking a cigar 🙂 That's only if you drink it black. Adding just a splash of milk and a touch of sugar, this coffee was easily the best coffee I've had. It really had a great flavor and didn't taste watered down like some others.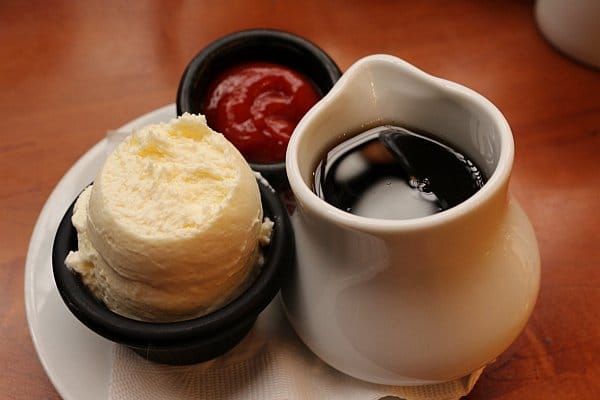 Butter, ketchup, and maple syrup
My sister ordered the Macadamia-Pineapple Pancakes, which are served with a Macadamia Nut Butter, Pineapple Sauce, and a choice of Ham, Bacon, or Sausage. There was a generous amount of macadamia nuts featured in and on the pancakes, which is impressive considering their price. These pancakes are a fluffy and delicious gastronomic trip to Hawaii.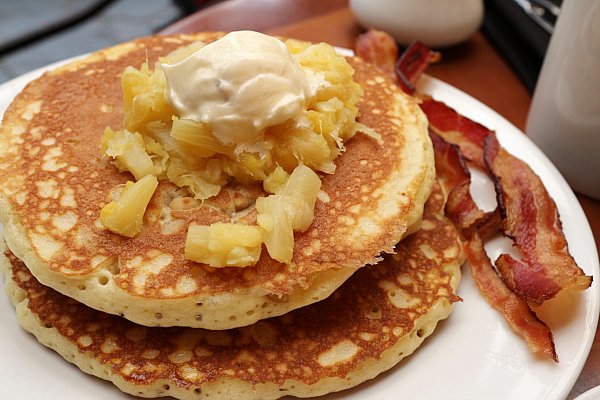 Macadamia-Pineapple Pancakes $10.49
I opted for the Samoan, a dish of Poached Eggs with Hollandaise served over Smoked Pulled Pork Hash. I had heard a mixture of praise and criticism over the dish before trying it myself. I had heard that it was one of the best dishes on the menu, but also heard from a friend that she recently ordered it and the eggs tasted like vinegar and were completely overcooked, and had also heard about it being served too cold.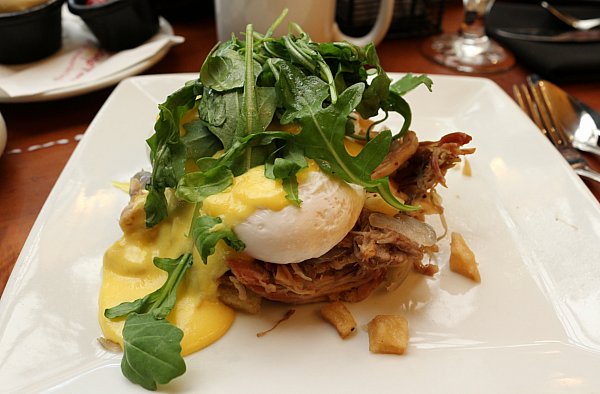 The Samoan $9.99
Fortunately, the dish I was served was perfect. The eggs were cooked just right, with gorgeous, runny yolks. The dish were served at the proper temperature, and if that wasn't enough, it was simply delicious. The pulled pork hash was studded with small bits of potato, and together with the runny eggs and the decadent Hollandaise, it was an excellent way to leave Disney on a good note.
I had the best trip ever celebrating my birthday at both Disney World and Discovery Cove. It's really hard to pick a favorite memory, experience, or meal, but I will do a brief run-down of some that stood out. My favorite rides at each park are as follows: Magic Kingdom - Big Thunder Mountain Railroad (followed closely by Space Mountain, Splash Mountain, and the Haunted Mansion); Epcot - Test Track (followed closely by Soarin'); Animal Kingdom - Expedition Everest; Hollywood Studios - Rock 'n' Rollercoaster (followed by Toy Story Midway Mania and Star Tours).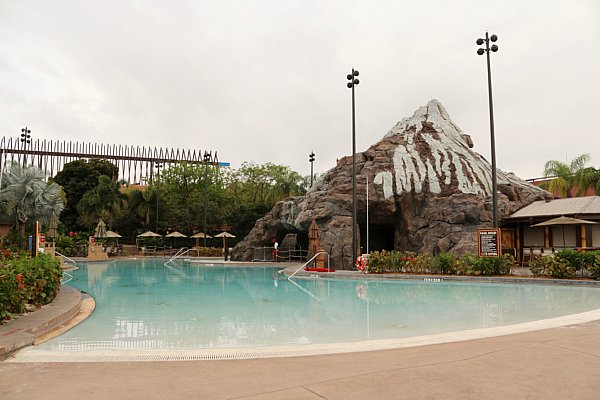 Some of our favorite overall experiences involved animals. We absolutely LOVED swimming with dolphins, stingrays, and tropical fish at Discovery Cove. We LOVED feeding the birds at the Aviary there as well. We also LOVED checking out the incredible wildlife at Disney's Animal Kingdom. I just couldn't stop taking pictures of them! And although he's animatronic, meeting Remy at Les Chefs de France was another highlight. He was just so cute!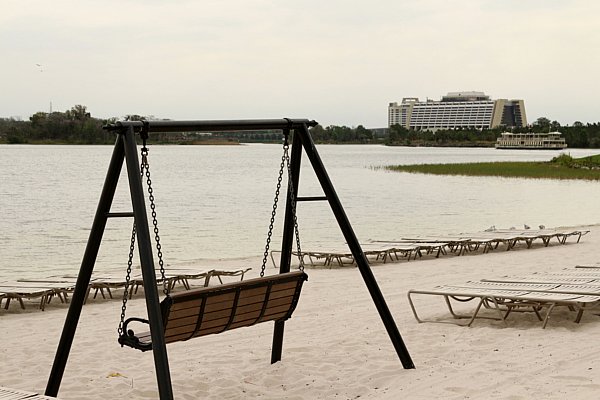 It's very hard to select a single meal that stood out more than others, but if I had to narrow down, I would say that Jiko and Flying Fish Cafe were my two favorite dining experiences, followed closely by Le Cellier. These three are the Signature Restaurants we tried, and so it makes sense that they are high on the list. They all excelled in food, ambiance, and service. I loved the ambiance at Be Our Guest Restaurant, but overall the food could be better to live up to the hype.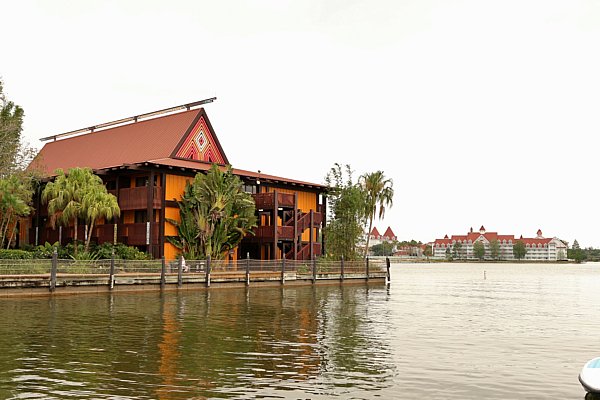 Thank you so much for virtually traveling with me on this wonderful journey. I'm so glad that I could share all of these wonderful experiences with you all!
Disney's Hollywood Studios
351 S Studio Dr
Lake Buena Vista, FL 32830
(407) 824-2222
https://disneyworld.disney.go.com/destinations/hollywood-studios/
Epcot
1200 Epcot Resort Blvd
Lake Buena Vista, FL 32830
(407) 824-4321
https://disneyworld.disney.go.com/destinations/epcot/
Les Chefs de France
1830 Avenue of the Stars
Lake Buena Vista, FL 32830
(407) 827-8709
https://disneyworld.disney.go.com/dining/epcot/chefs-de-france/
Via Napoli
1510 Avenue of the Stars
Lake Buena Vista, FL 32830
(407) 939-3463
https://disneyworld.disney.go.com/dining/epcot/via-napoli/
Polynesian Resort
1600 Seven Seas Dr
Lake Buena Vista, FL 32830
(407) 939-6244
https://disneyworld.disney.go.com/resorts/polynesian-resort/
Kona Cafe
1600 Seven Seas Dr
Lake Buena Vista, FL 32830
https://disneyworld.disney.go.com/dining/polynesian-resort/kona-cafe/