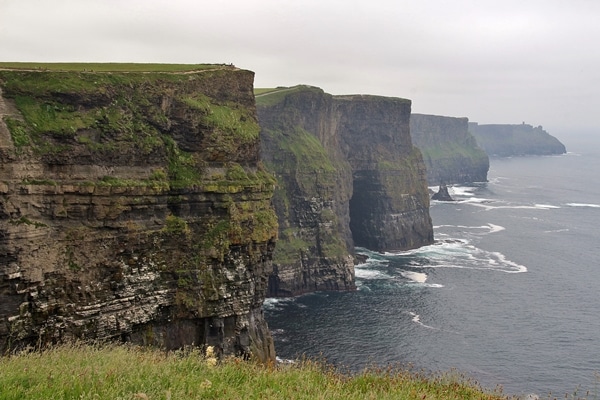 Another day, another adventure! Today we head south along the Wild Atlantic Way to check out the Cliffs of Moher. This is definitely one of the most popular tourist attractions in Ireland, drawing about 1.5 million visitors per year. At their highest point, the cliffs reach 702 feet above sea level.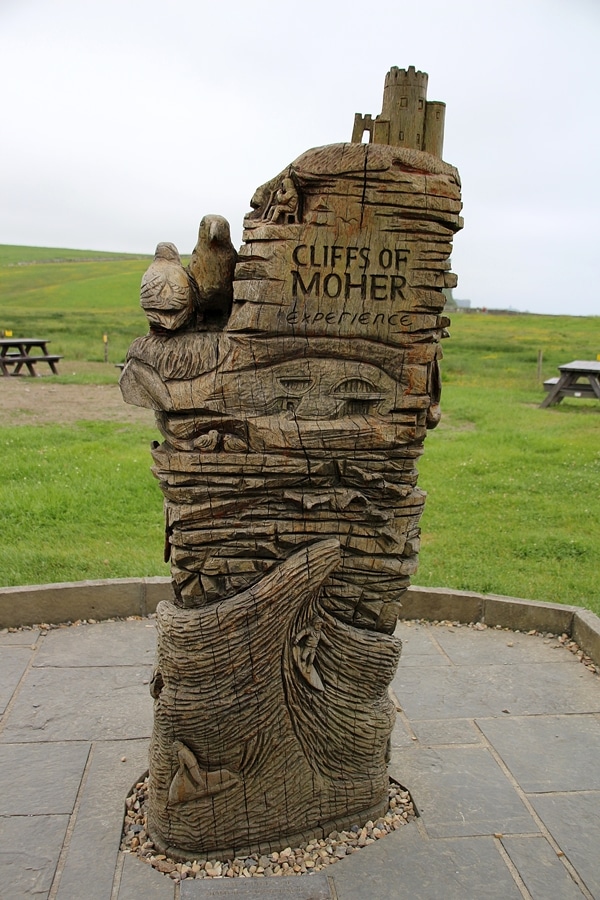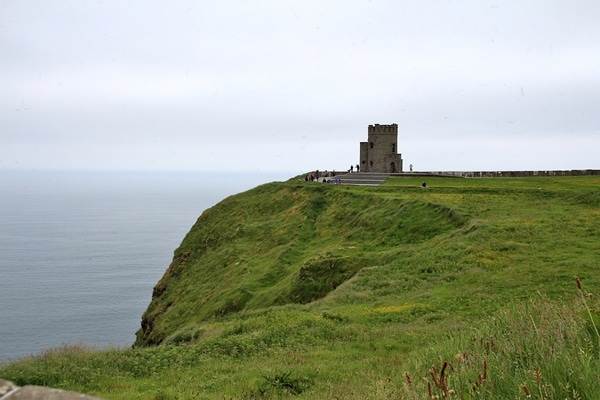 We arrived at the Cliffs of Moher Visitor Experience around 9:30am, and had 1 ½ hours to explore the area. When we arrived, there was hardly anyone there, and the area definitely got more crowded by the time we left. The only downside to arriving when we did was that on that particular morning we were swarmed with an insane amount of bugs. They were like mosquitoes, but something else entirely. I'm really not sure what they were, but they were everywhere!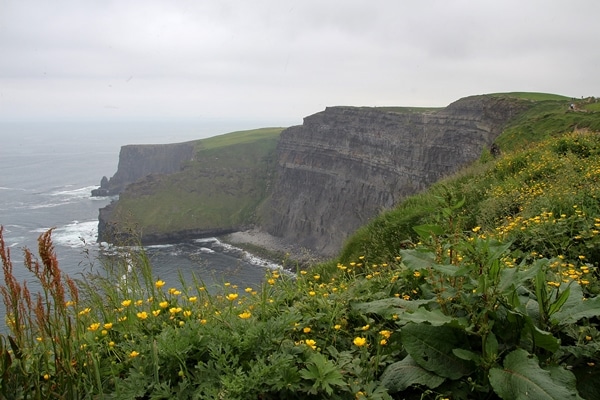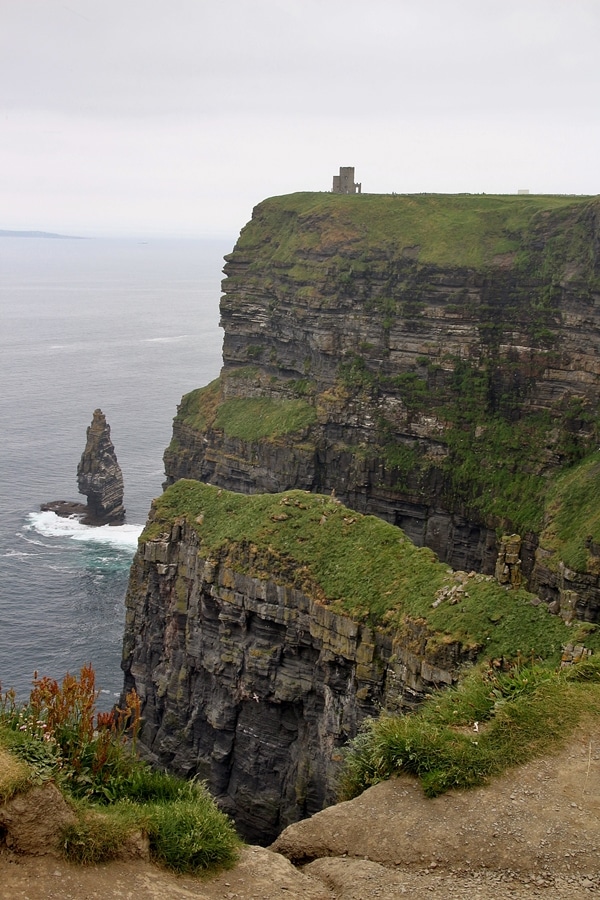 This was the only negative experience during our time at the Cliffs. The Cliffs themselves were extraordinary, with incredible, epic views whichever way we looked. If it hadn't been for the flying pests, we likely would have ventured further down the paths. That's really my only regret. We shouldn't complain though because we heard from someone who had gone the previous morning that it was so foggy they couldn't see anything.
After wrapping up at the Cliffs, we headed to Barrtrá Seafood Restaurant in Lahinch for a Be My Guest lunch experience, included as part of our tour.
Prior to lunch, we met up with a woman named Oonagh who took us foraging in the seaside neighborhood near the restaurant. On the one hand, it was kind of a long, narrow walk with more flying bugs, and we were pretty hungry at this point. My dad was not really a fan of this experience, but as a foodie, and someone who is curious about where our food comes from, I found Oonagh's foraging adventure to be interesting. Realistically, I don't plan on foraging or seeking out the variety of plants she pointed out, but I was impressed to learn that what most of us consider to be weeds can be very beneficial to one's health, if you only know how to use them.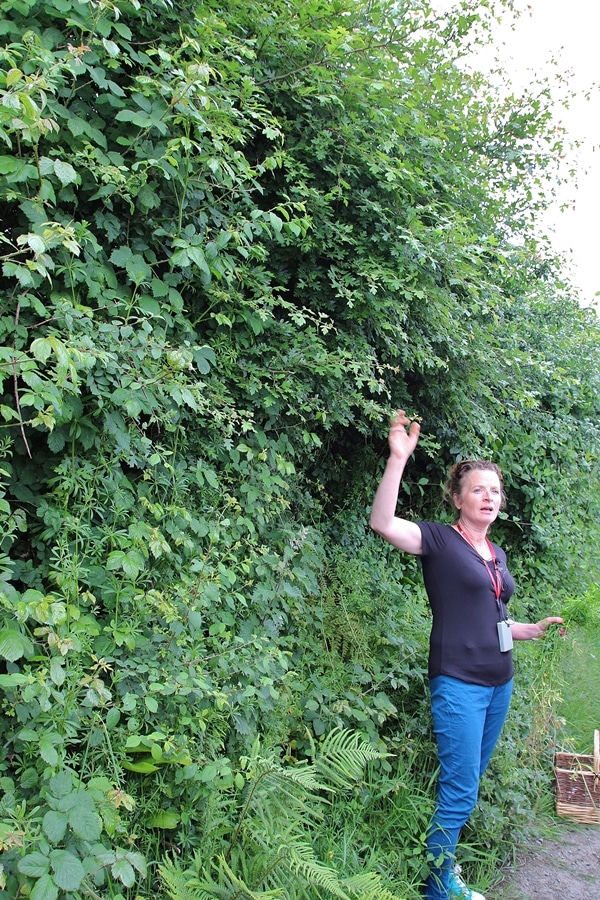 After we completed our walk, we headed back to the restaurant for lunch. We had pre-selected our choices a couple days prior so they could have our food ready for us shortly upon our arrival.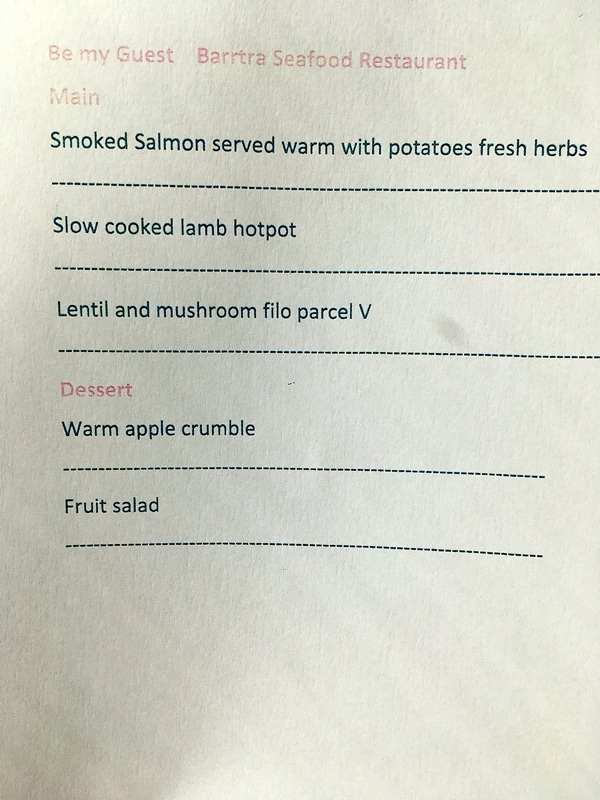 Lunch also included a choice of wine, beer, or soft drink.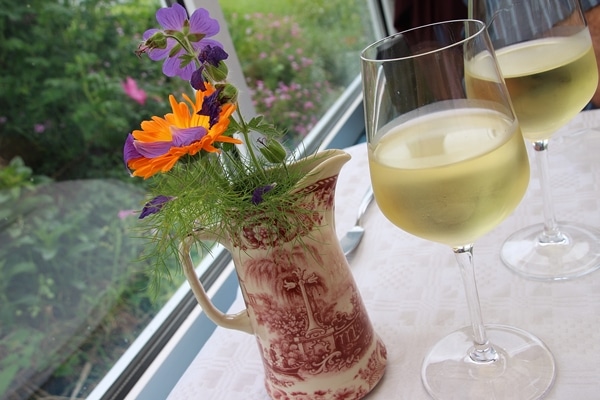 There were a couple small salad bowls on our table for sharing, which was a little odd since it wasn't much salad, and not really enough to split between the 7 people seated there. There also wasn't really enough bread for all of us either, as 3 slices of soda bread were cut into a total of 6 pieces. I thought this was poor planning and erring on the side of stingy.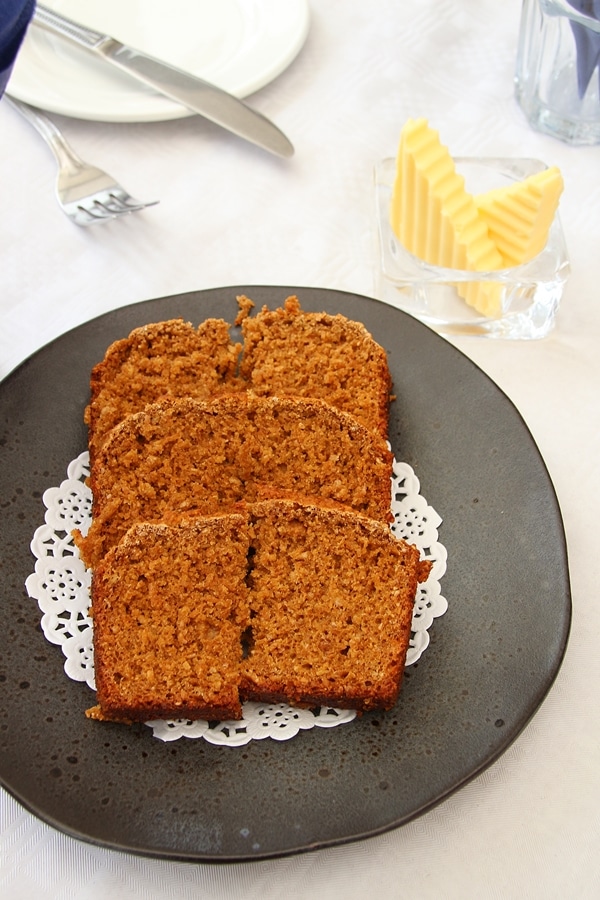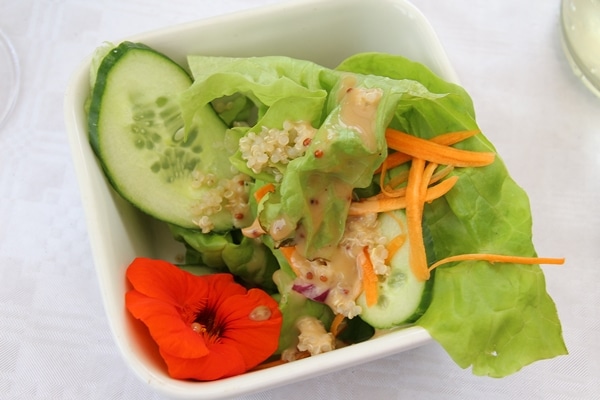 My parents tried the smoked salmon which was generally a popular choice. It looked like a really thin, small piece of fish, however, and again kind of lacked when it came to portion size. The plating was really lovely though.
I enjoyed the lamb hot pot, but would have liked more lamb. This stew was heavier on the red bell peppers than the lamb, but the sauce was flavorful and contained whole pink peppercorns, which were a nice surprise. It was served over mashed potatoes with a parsnip chip garnish. I liked my choice, but thought it was stingy on the lamb.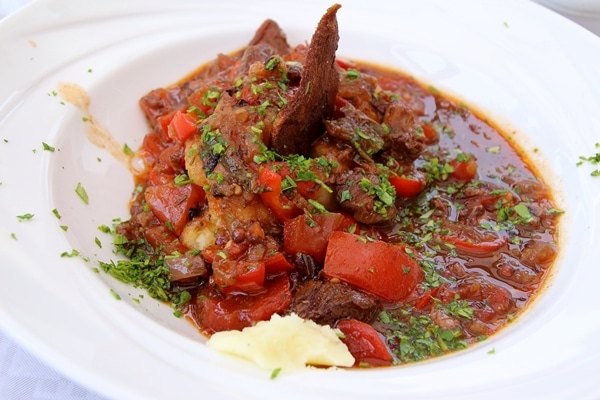 There were a couple choices for dessert. The apple crumble was quite good, and felt like a nice treat after our foraging trek. I enjoyed how crunchy the topping was.
My parents seemed to enjoy their fruit salad with ice cream as well.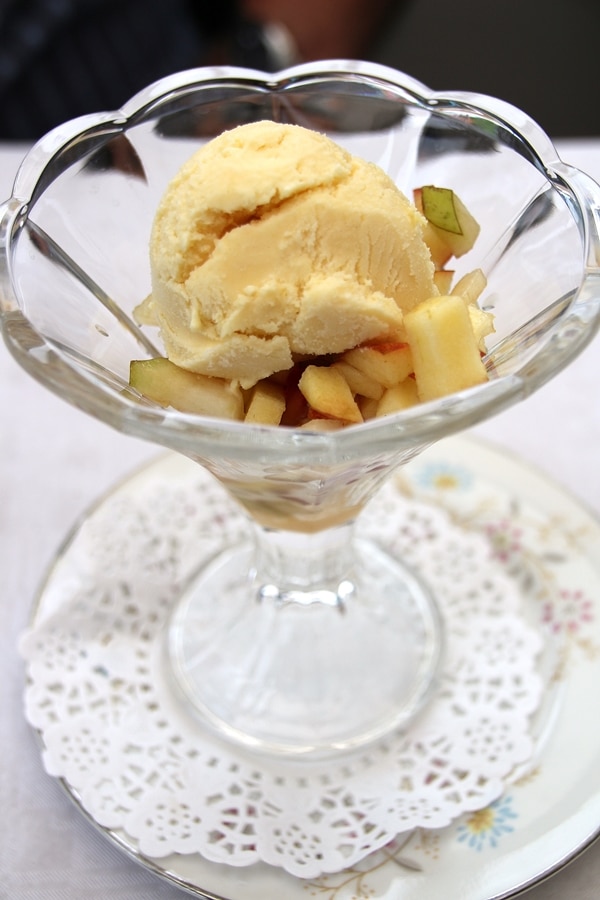 Overall I think this meal and experience held promise, but I wanted more. They could have provided a bit more salad and bread for starters, and maybe increased the size of the salmon fillet and the amount of lamb in the hot pot. This is a nice restaurant with excellent reviews. The food was tasty, just too-small portions for hungry ex-foragers.
We continued driving southbound through the Burren, a notoriously rocky, lunar-like landscape, and then took a ferry across the River Shannon.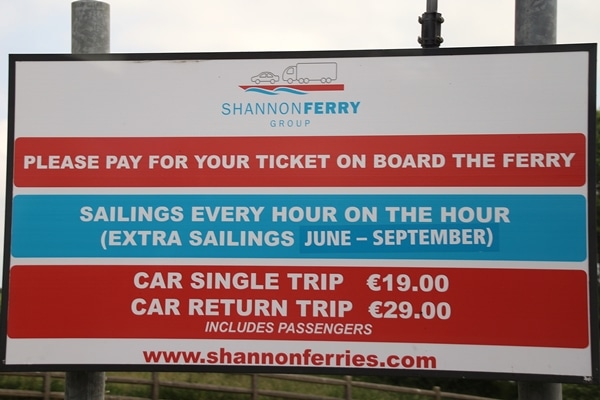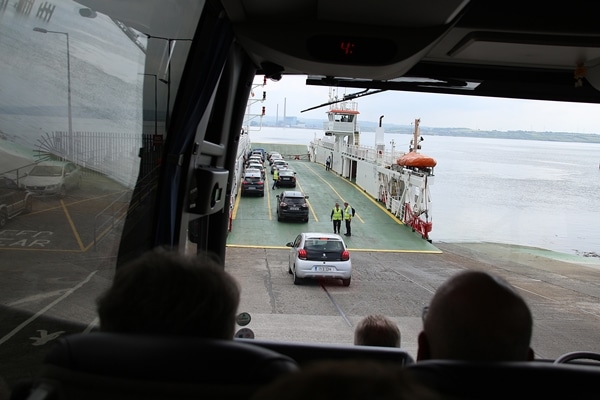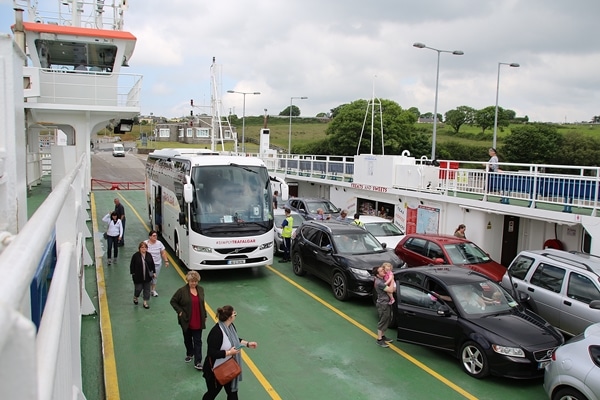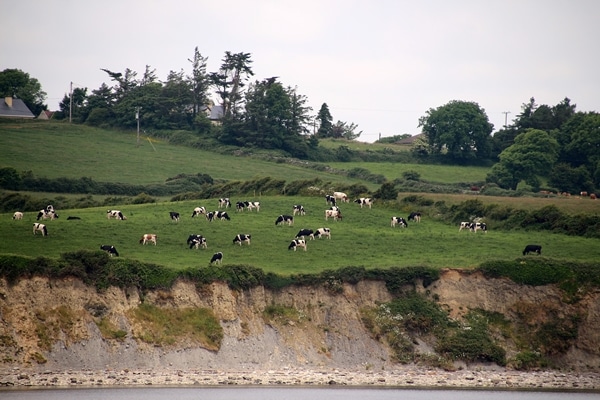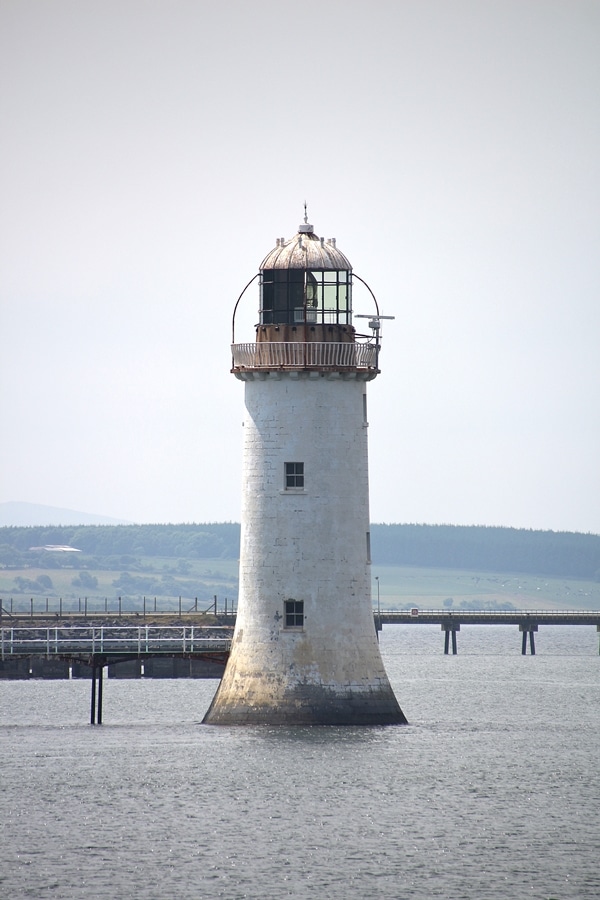 Our final-ish destination for the day, and for the next two nights, is beautiful Killarney.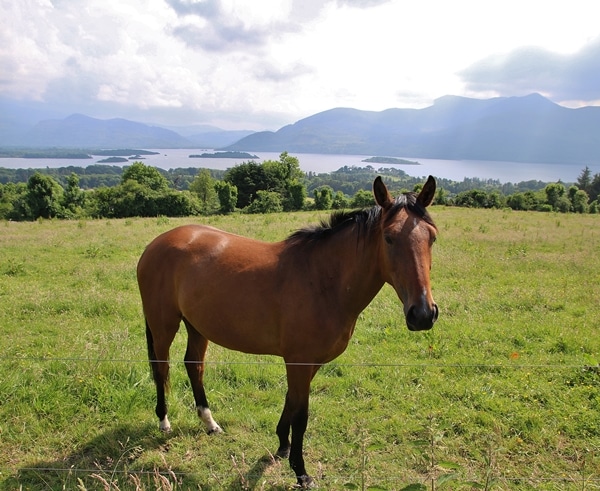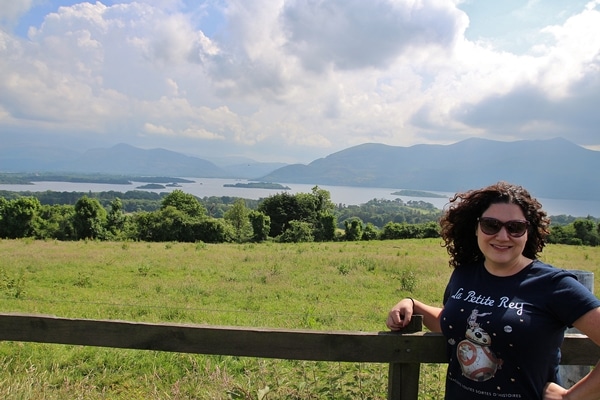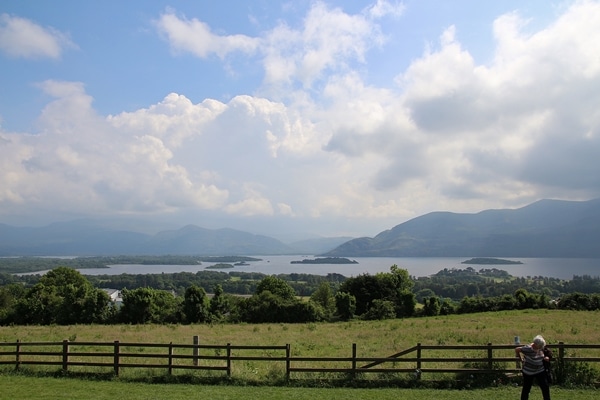 We stayed at the Killarney Towers, right in the city center. It was a fantastic location, definitely the most centrally located hotel of the ones Trafalgar booked.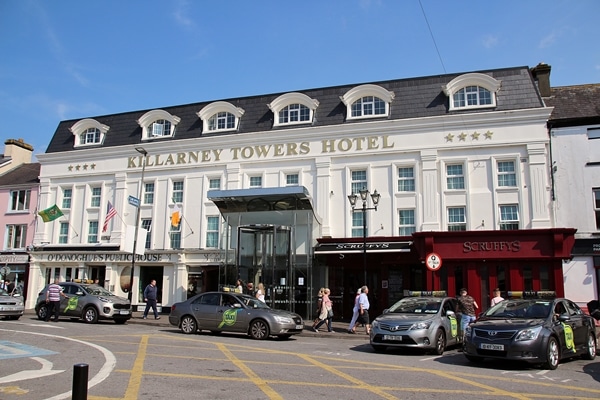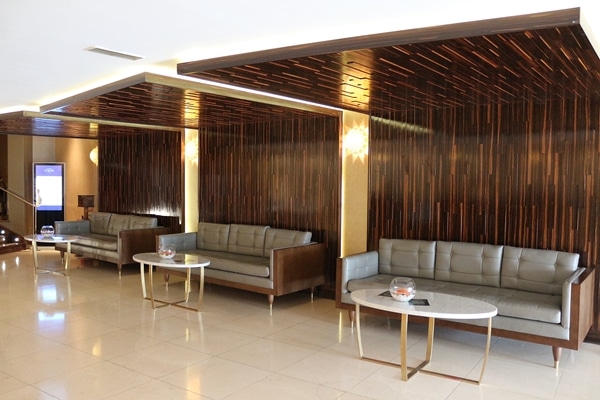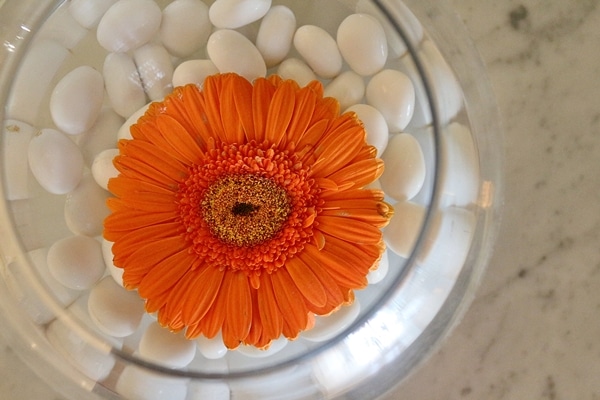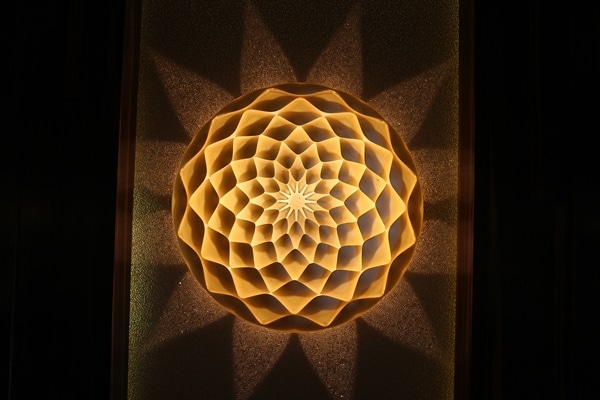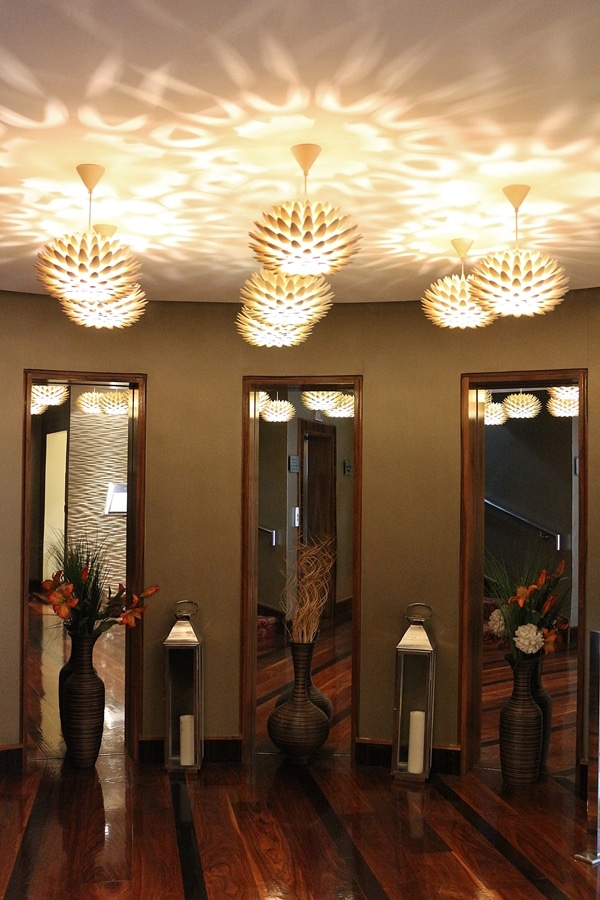 The room furnishings were top notch (compared to everywhere else we stayed on this trip), and the room not only had air conditioning, but also a Jacuzzi in the bathroom. We had some issues with water pressure in the shower, which was unfortunate, but overall enjoyed this hotel the most for location, room, restaurant, etc. Our particular room was slightly smaller than the last couple triples, but overall it had much better amenities than the other hotels, and even had an indoor pool.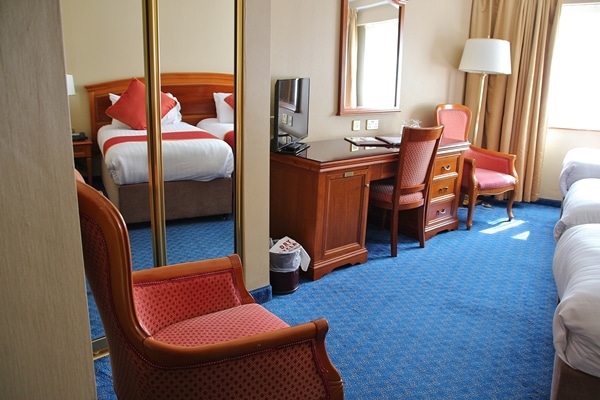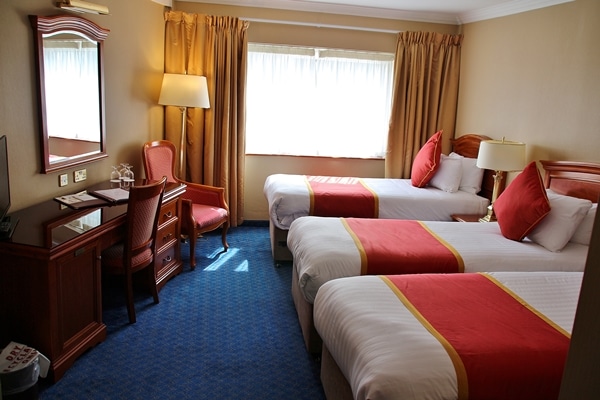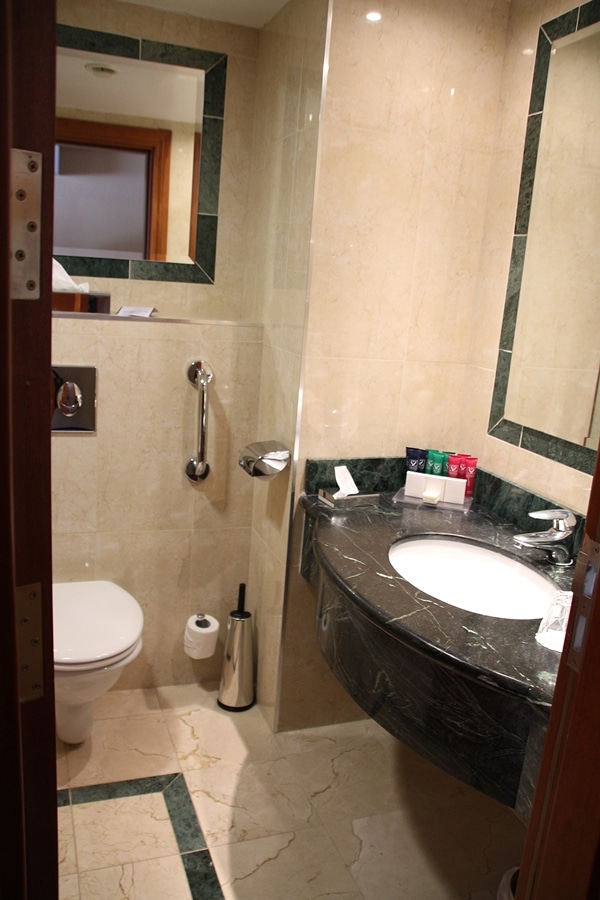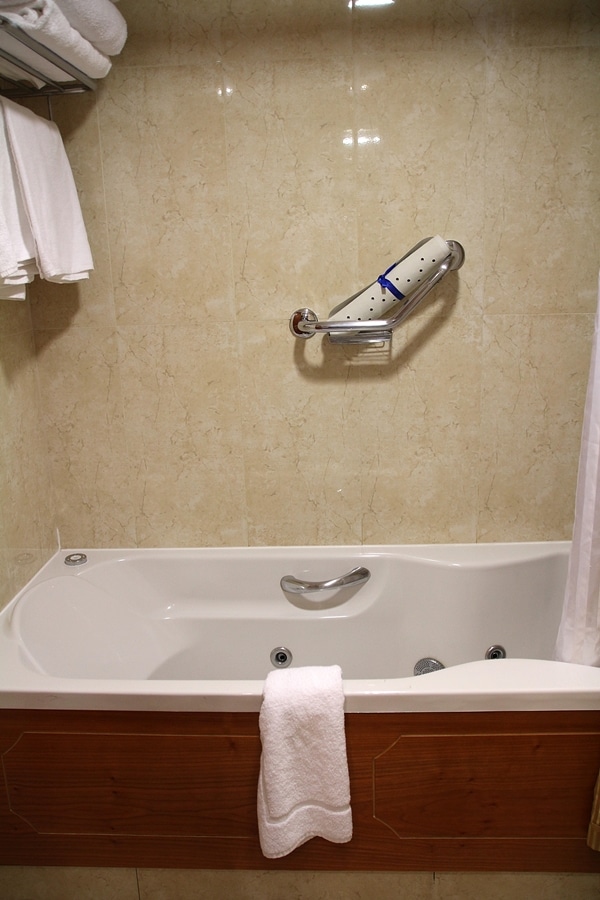 We really loved the neighborhood as well. Each street is full of shops, pubs, and restaurants that seem to go on as far as the eye can see. Killarney was easily one of our favorite stops on the tour.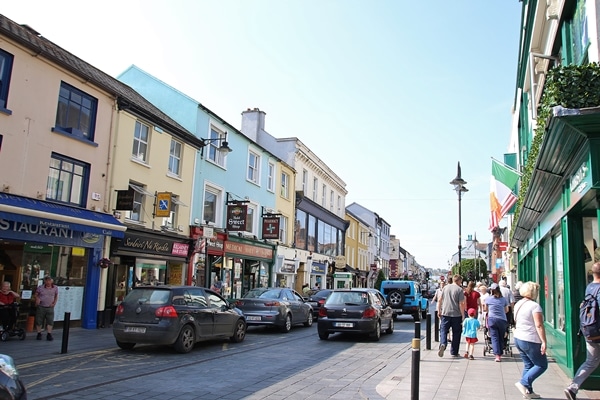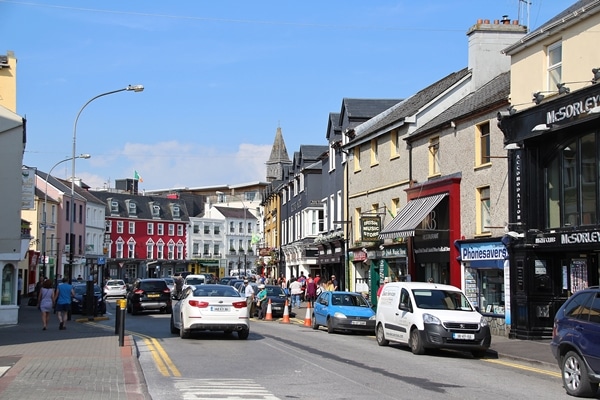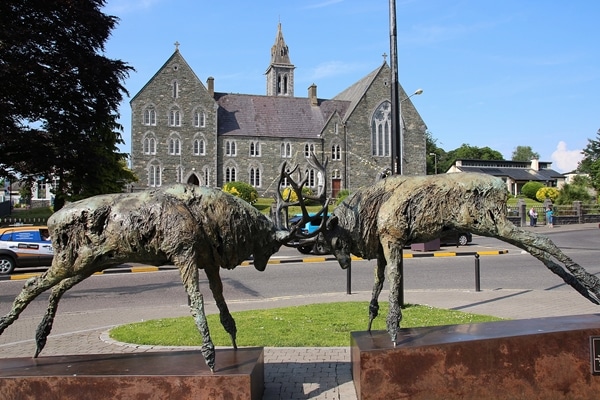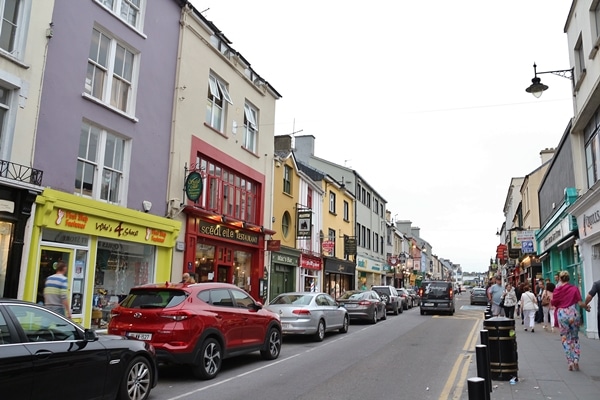 Dinner tonight was one of the Optional Experiences, a traditional Irish Ceili (pronounced like "Kayleigh"), a traditional Irish social gathering with food, music, and dancing. Sounds awesome, right? Much like our lunch earlier in the day, it held so much promise, but fell short on execution. I'll go into further details, but of all the Optional Experiences we did on our tour, this was our least favorite, and the one we would not repeat.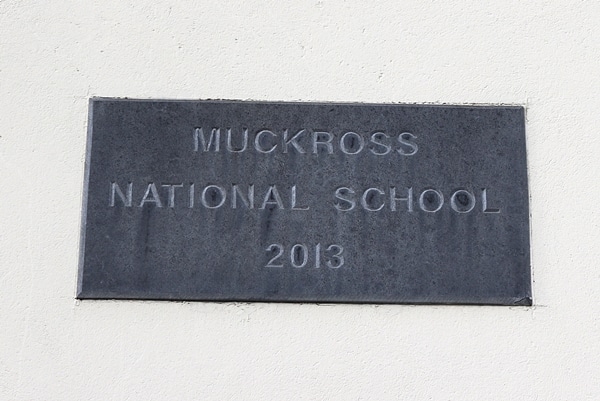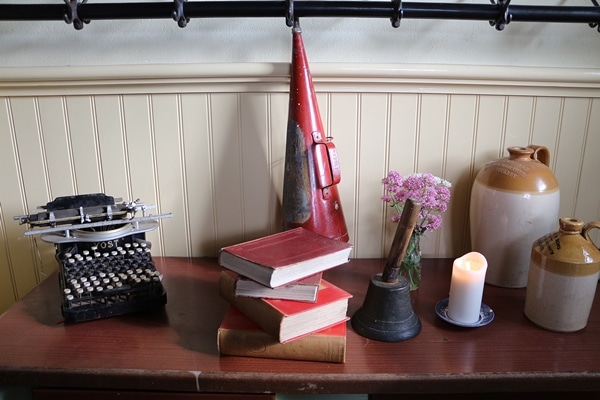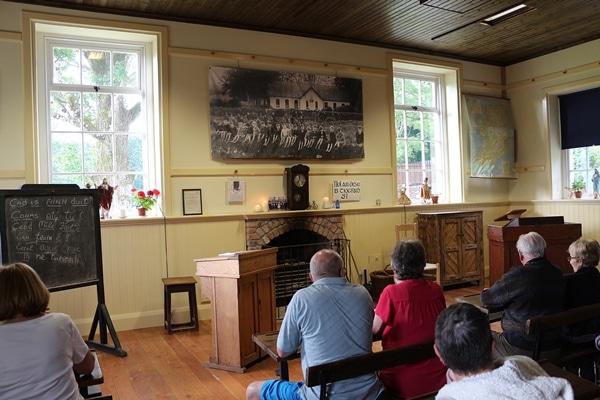 The experience took place at the Muckross School House in Killarney National Park. The school aspect was a little cheesy to be honest, but they meant to replicate the olden days when neighborhood folks would meet up in such places, so I get the motivation behind it. We started out as school children in a classroom to learn a bit about the area as we nibbled on crackers topped with Guinness cheese (yes, Guinness cheese). The Guinness cheese was good, and literally the best bite of food all evening.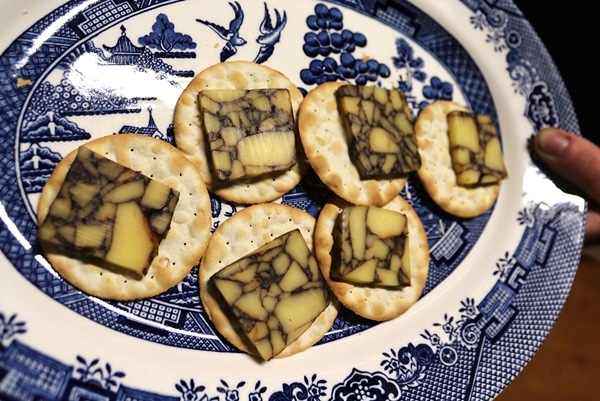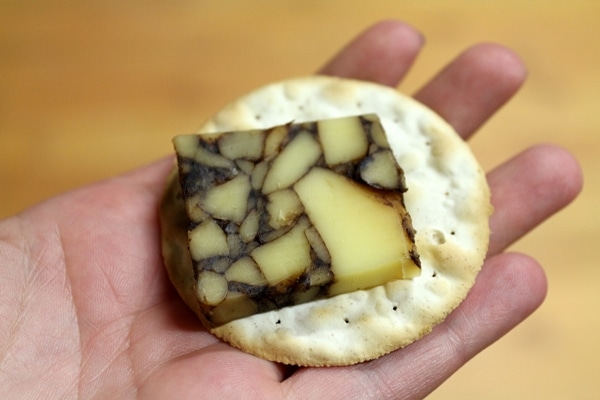 We migrated over to the dining space, and sat at long tables laid in front of the stage where our performers Johnny, Tim, and Mary would play traditional Irish music for us.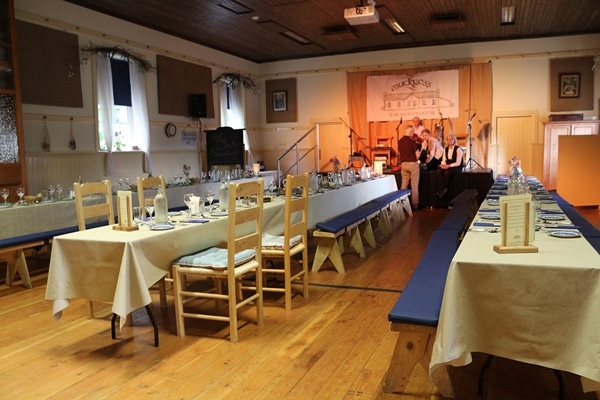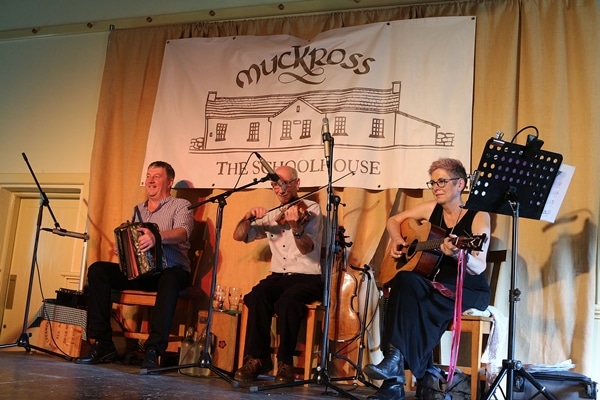 The music was great! Later in the evening Ashley and Niamh (pronounced Nieve), two Irish dancers, joined in to demonstrate four Irish dances. I was REALLY hoping for more dancing. Part of the reason I was excited for this evening was to see plenty of traditional Irish dancing and have it feel more like a party, but it felt very staged. The dancing was awesome, but so limited. Only four dances! I would have loved more.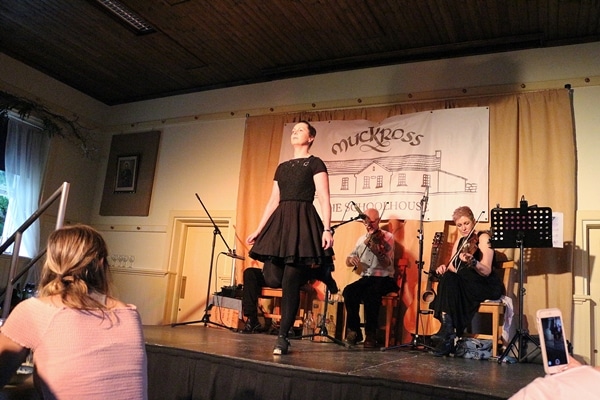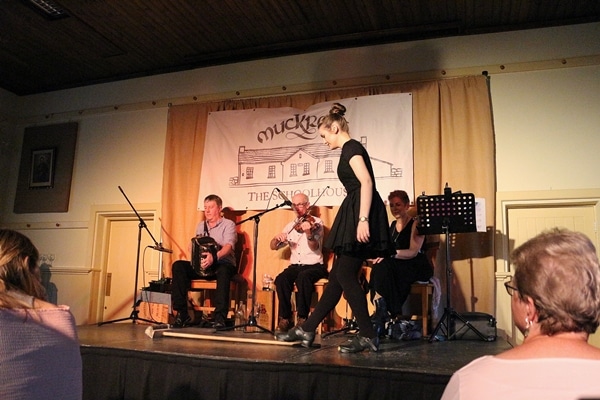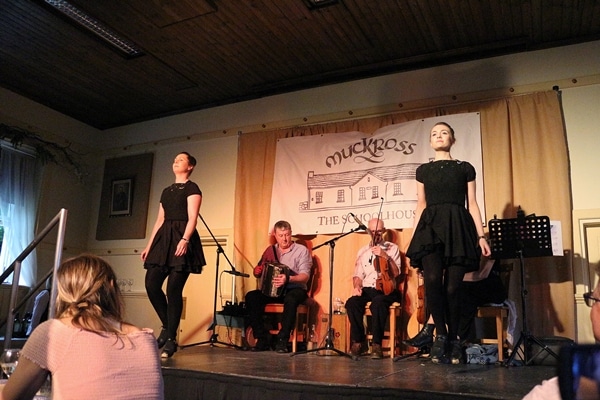 The food was terribly mediocre, which for me was the nail in the coffin. The entertainment was great, but considering this is a dinner and not just entertainment/an experience, the food was not great.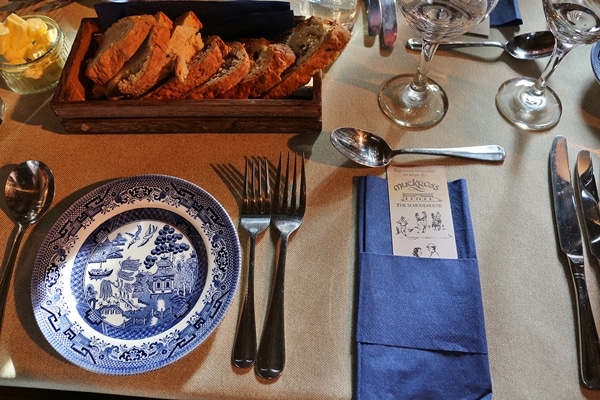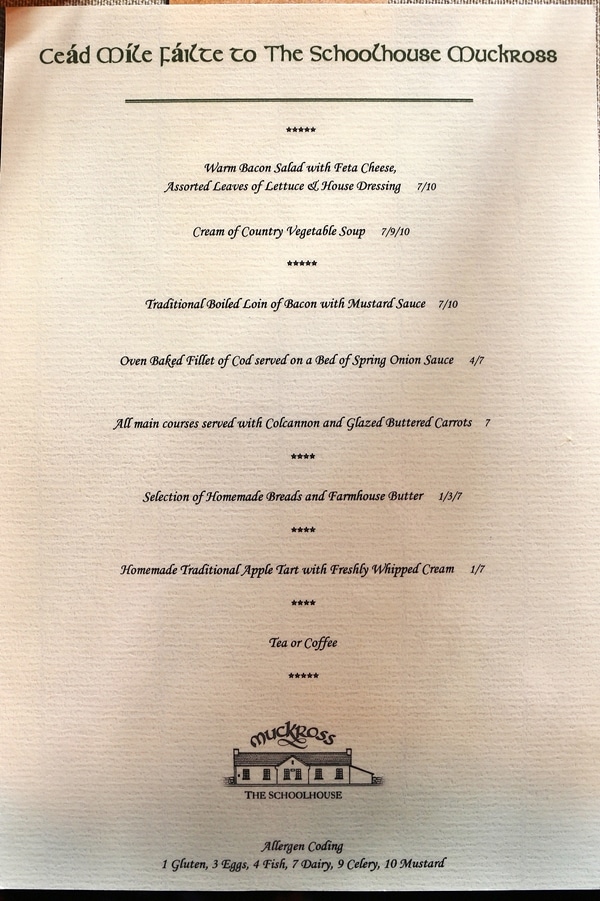 People who ordered the warm bacon salad seemed to love it. I took a small taste, and thought it was pretty good. That would be the better option for your starter.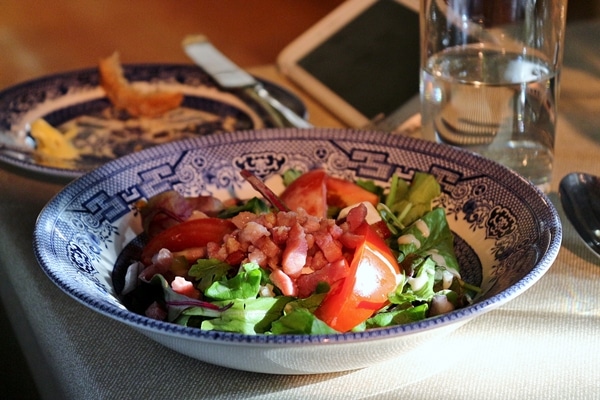 The cream of country vegetable soup was pretty boring and under seasoned. We tried many vegetable soups during this trip, and this was by far the worst and least flavorful.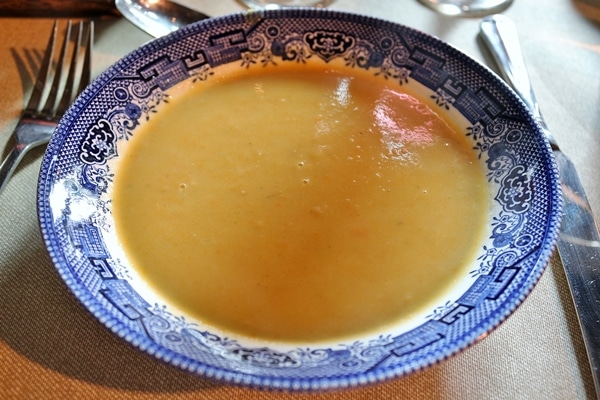 I got the oven-baked fillet of cod for my entree. It was also terribly under seasoned, as were the carrots on the side. The fish wasn't dry per se, but it was also nothing special. We had loads of fish in Ireland, and this was the least special fish dish I tried.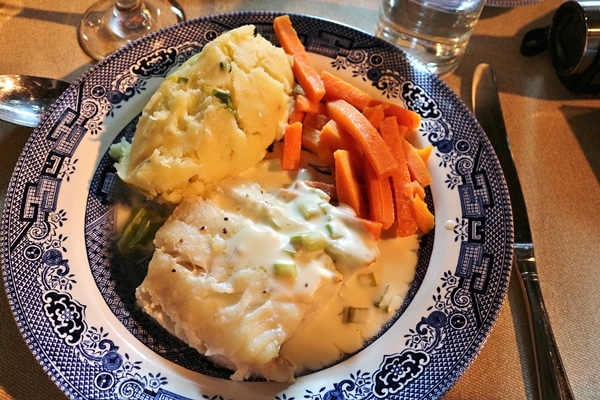 Several people ordered and seemed to enjoy their boiled loin of bacon entree, which kind of looked like ham meets corned beef. I didn't try it so I can't comment, but here's a photo.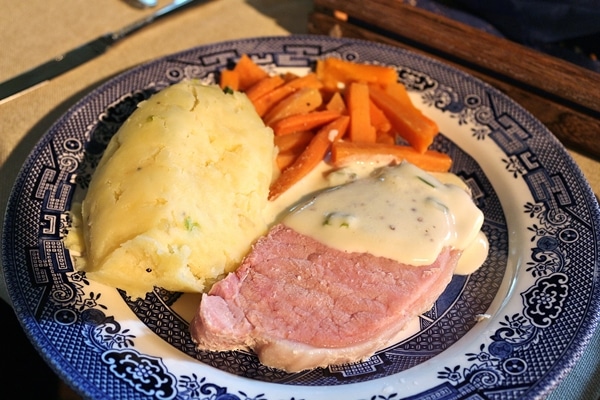 The "apple pie" for dessert was not a pie by my pie-obsessed standards. The crust was soft and not flaky at all. Even if I thought of this dessert outside of the terminology of calling it pie, it was still nothing special.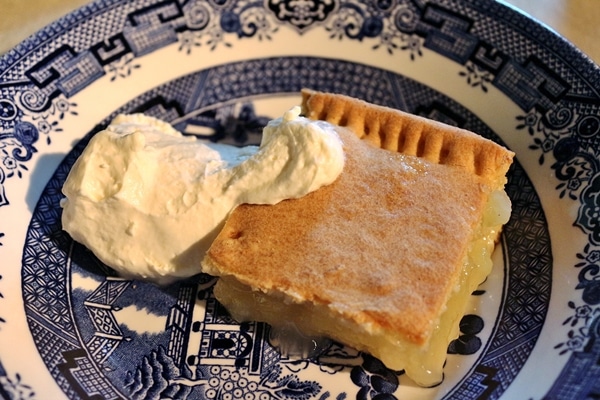 I was not impressed by any of the food this evening. Once again, I know the purpose of this excursion is the entertainment and the craic, but it's also a dinner, and as a food blogger I had really wished for better food 🙁
Tomorrow is a new day with better food and gorgeous sights! We'll be driving around the Ring of Kerry, and taking a Jaunting Cart Ride around Killarney National Park. Ready, set, go!
Ireland - June 2018