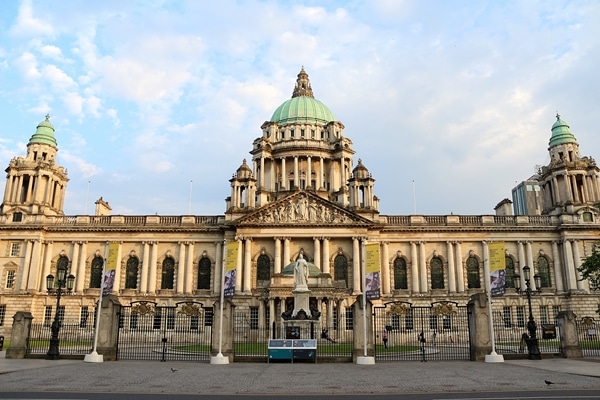 Our final morning in Dublin began with breakfast in the hotel lounge. There was a nice selection including Full Irish options, cold cuts, cheeses, cereals, pastries, breads, juices, tea and coffee. All of our breakfast buffets had similar offerings with a few variations here and there.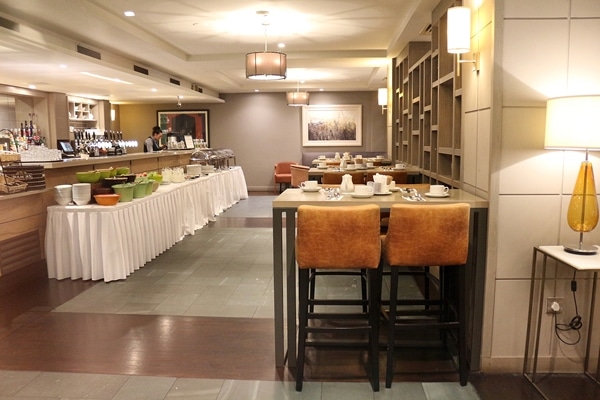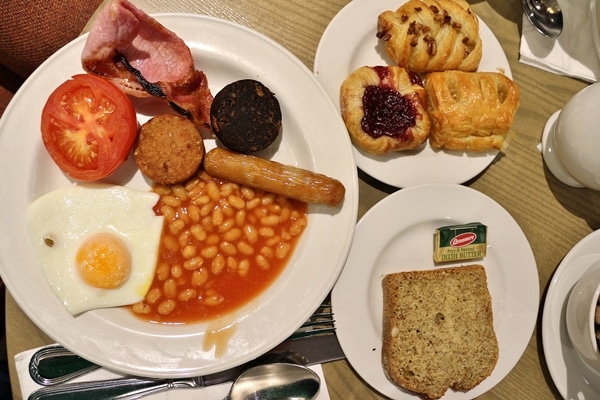 This morning after breakfast we hit the road on our way north to Belfast in Northern Ireland. Belfast has definitely cleaned up its image over the years, but it's important to remember its political history when visiting the city. The Troubles refers to the three-decade conflict in Northern Ireland. Once upon a time, Belfast was one of the 3 B-cities in addition to Baghdad and Beirut known for terrible political violence. No one would ever dream of visiting these cities at that time in history. Politics still play a big part in certain parts of the city, but fortunately the violence has subsided.
Let's take a moment to discuss the terminology for the two different sides. Normally they are described simply as Catholic and Protestant, but the turmoil in Belfast (and other parts of Northern Ireland) runs much deeper than religion. Catholics are also called Nationalists, loyal to a united Ireland. Extreme Nationalists (those who are willing to bomb and shoot for their cause) are also called Republicans. Protestants are also referred to as Unionists, those who want to stay united with the United Kingdom. The extremists in this group are called Loyalists. For the sake of argument, from this point onward we'll continue to call them Catholics and Protestants.
Upon our arrival to Belfast our first order of business was to divide up the group into various specialized taxis so we could take one of the famous Black Cab Tours of the city. Note, not all of the cabs were actually black. Although each Black Cab had its own driver, there were a couple of universal tour guides who would guide our entire group once we arrived at each stop. Mark was the driver for our Black Cab, and I was lucky enough to sit in the passenger seat, and had a better view than those in the back.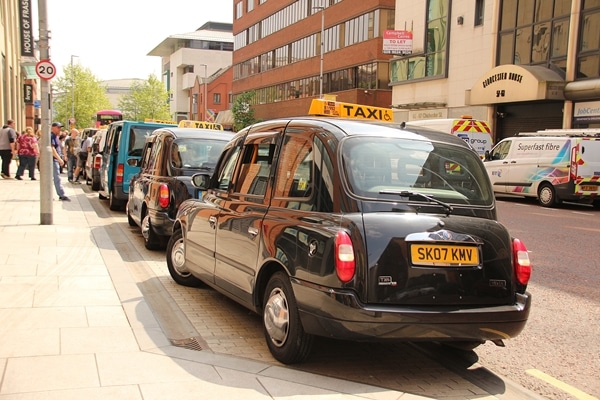 Our first stop was Shankill Road, which is the protestant neighborhood in West Belfast. Here we learned that in Belfast they can't have trials by jury any more, because of the threats of violence against jurors, and inability of jurors to be unbiased. Instead there are 3 judges that preside over all cases, and they all have very high security measures in place.
Eugene was our Protestant guide, and showed us images of Shankill Road before and after the Troubles, the period of violence and discord in Belfast.
He also shared images of the massive bonfires the Protestants build each year to mark the anniversary of the 1690 Battle of the Boyne on July 12. We actually saw the beginnings of one of this year's bonfires a bit later in our tour as we were driving to the Peace Bridge.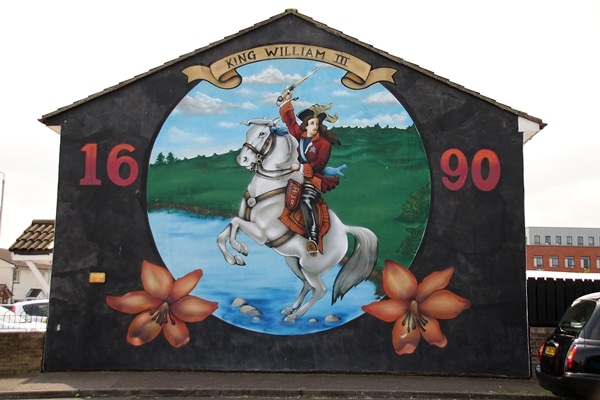 We checked out several of the famous murals on Shankill Road. The "Mona Lisa" gunmen on the side of this mural seem to follow you wherever you go. It's pretty creepy.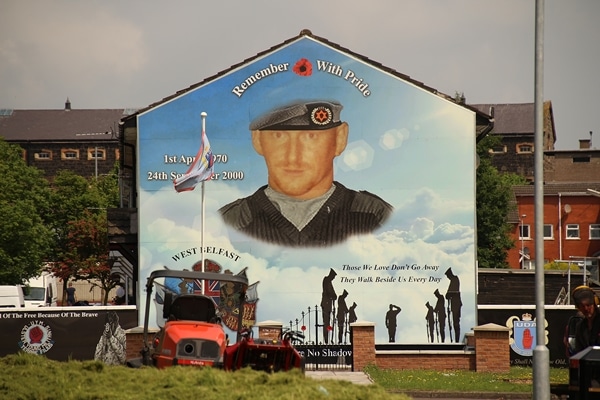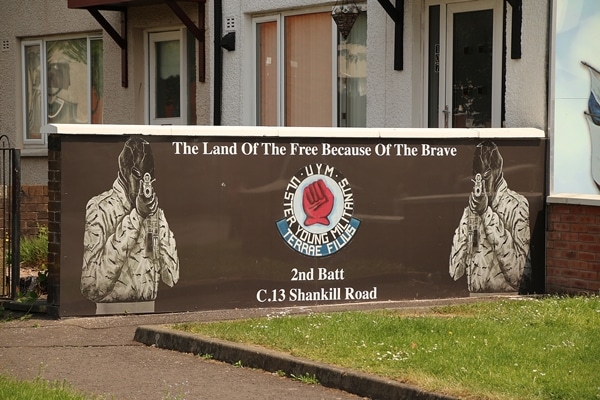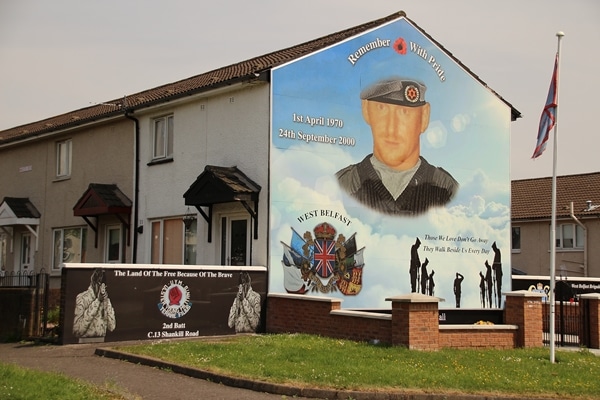 In efforts to redevelop these neighborhoods, and breed peace as opposed to hate, some of these more violent murals are being replaced with peaceful ones.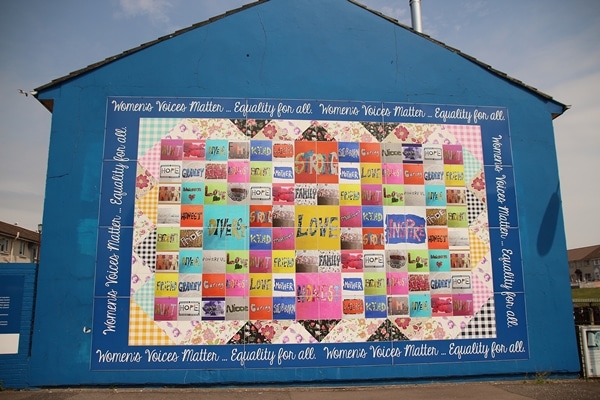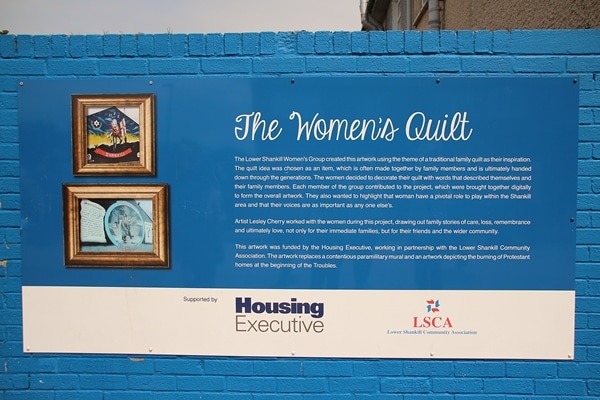 We left Shankill Road and headed for the Peace Wall separating the two opposing neighborhoods of West Belfast. There are several gates in the Peace Wall which are opened each day for about 12 hours, and still locked every single night. Even though violence has ceased in this area for some time, there is still some animosity and the gates and wall are still in place.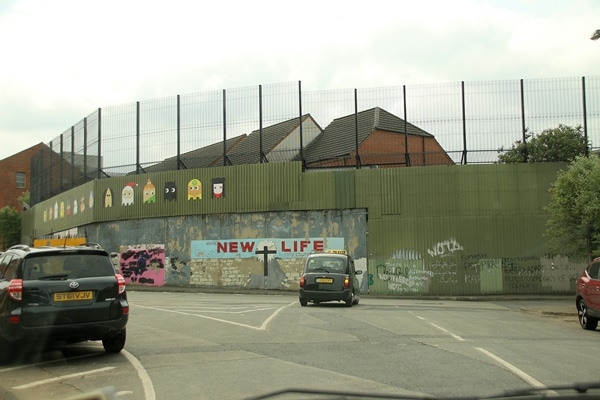 Tom was our Catholic tour guide. He talked to us more about the Peace Wall, which is 45 feet tall, and approximately 2 to 2 ½ miles long. This section of the Peace Wall had recently been repainted by graffiti artists, which happens periodically. We had a pretty clean slate on which to sign our names and messages of peace.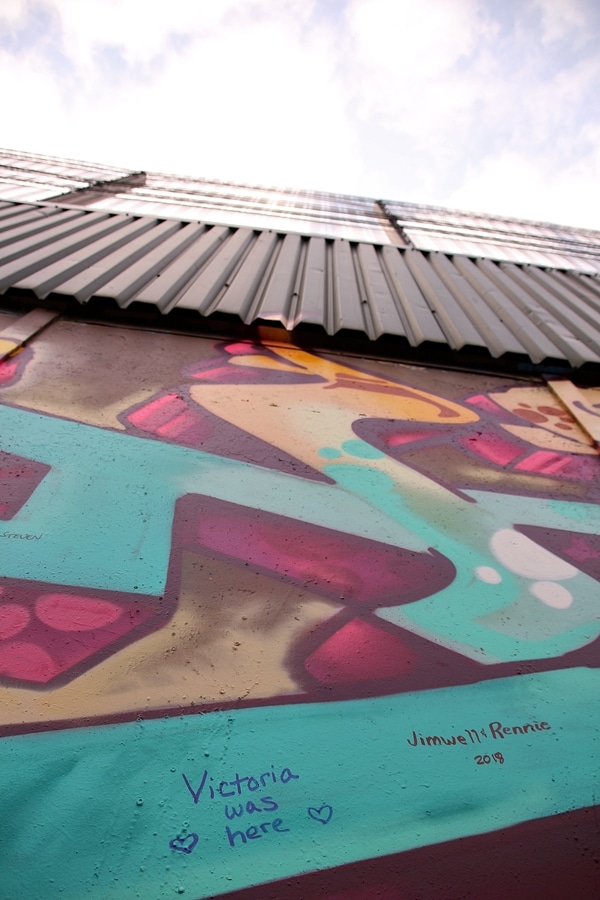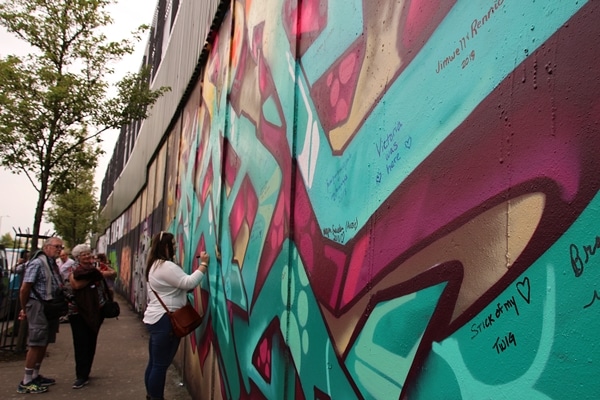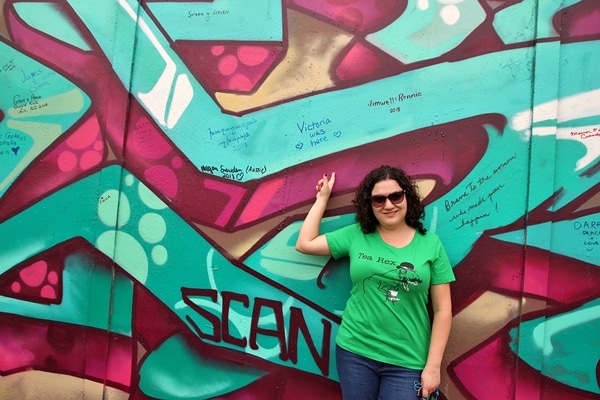 Next we headed to the other side of the wall to Falls Road and the Catholic neighborhood. Here we were met by Damian who shared with us the Clonard Martyrs Memorial Garden, and a background of what occurred on Bombay Street during the Troubles.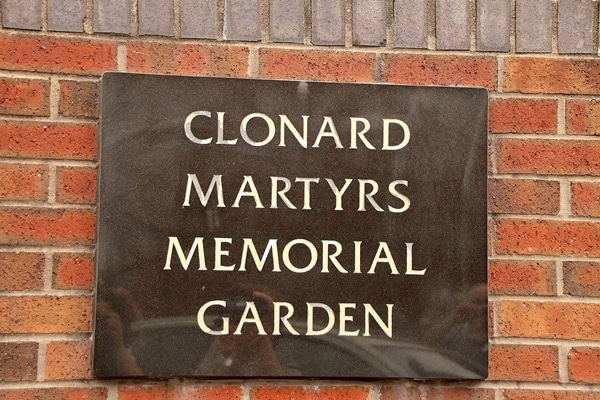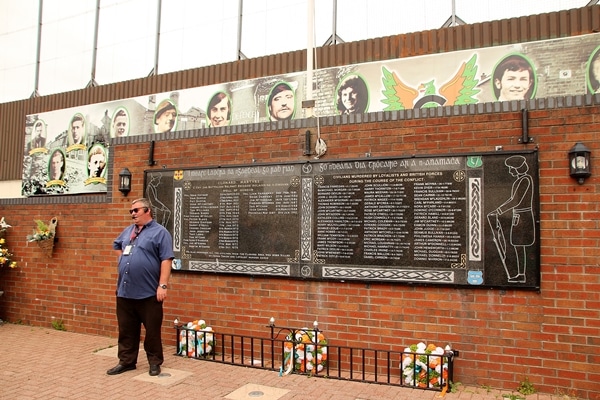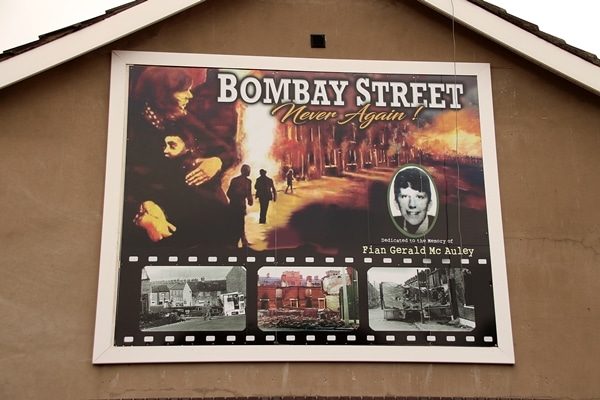 Damian also pointed out the "Belfast Conservatories," which are these sad cages on the back sides of these homes, protecting inhabitants from projectiles thrown over the wall.
Although the tour is considerably depressing, it's essential to see Belfast from this angle to really understand the Troubles, and why even now there is still separation and some animosity between Catholics and Protestants. The city center seems to be a neutral zone, but in these neighborhoods in West Belfast, the walls are still up. Even nowadays, citizens of Belfast are afraid to answer questions like "what is your name?" "where do you work?" and "where did you go to school?" because it would out them as members of either side of the argument.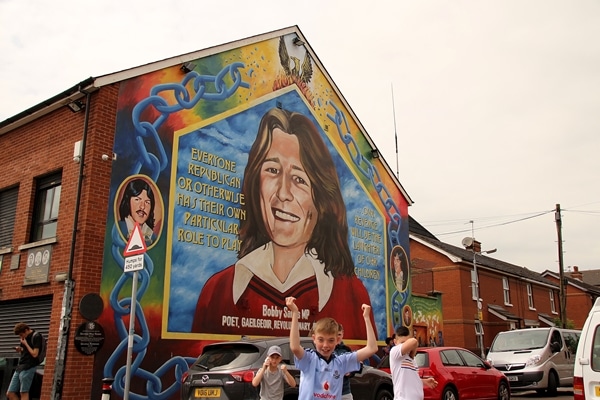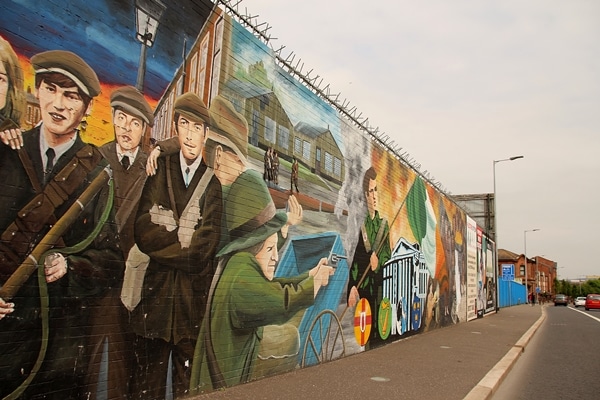 We wrapped up our very informative Black Cab tour, and were dropped off in the city center, right by Victoria Square Shopping Center.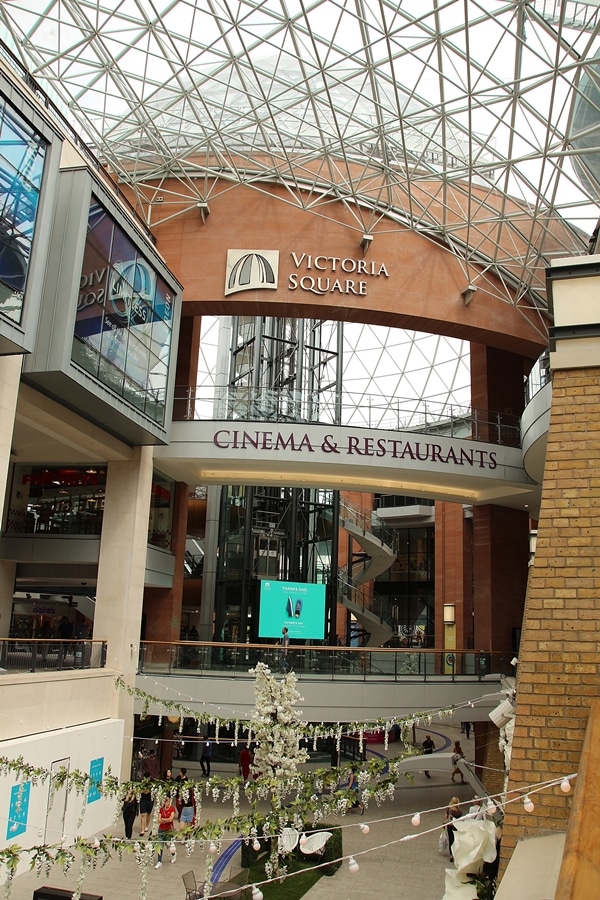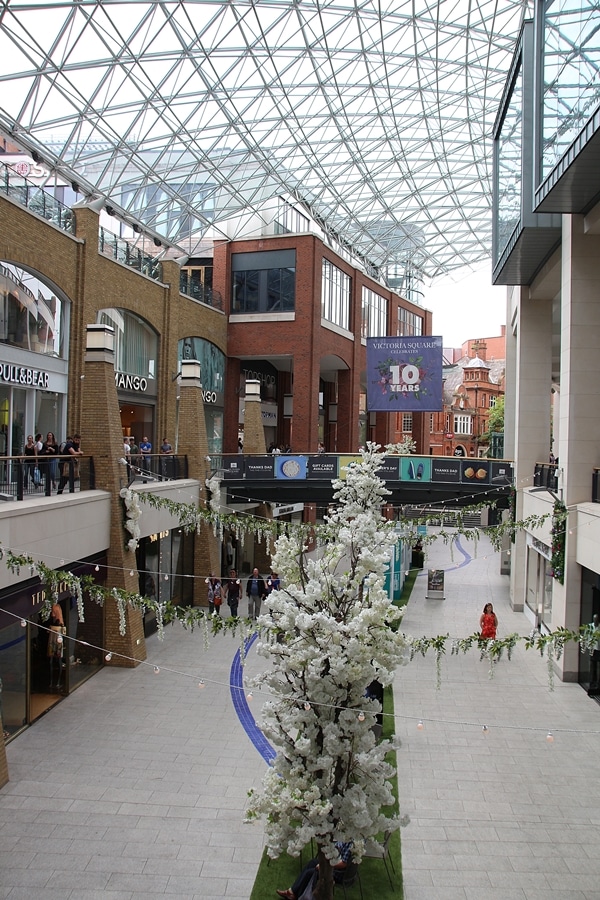 We had some free time to grab lunch and take a look around. We opted for sandwiches from O'Brien's Irish Sandwich Bar.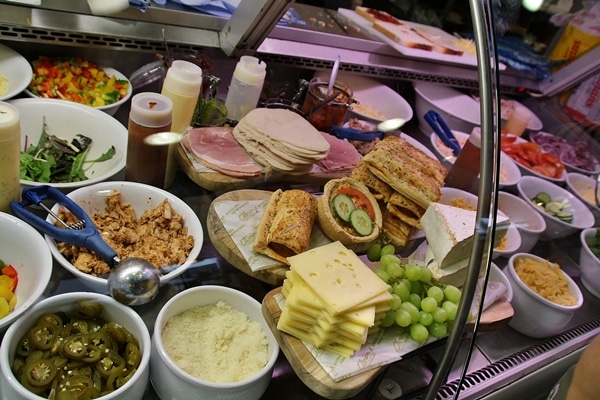 I had the Pulled Ham Ciabatta with sliced ham instead of pulled ham because they were out of pulled ham. Go figure. It was toasted with Swiss cheese, light slaw, BBQ sauce, and pickled jalapenos. It reminded me a little bit of a Cuban Sandwich, which is why I selected it. Overall it was quite good. I liked the spicy and sweet together.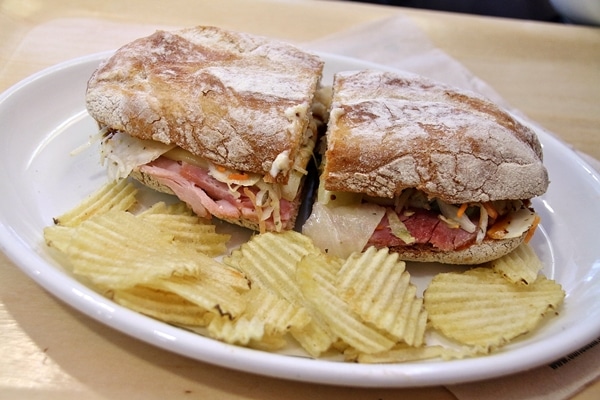 Mom and dad both ordered the Hot Chicken Ciabatta, which has chargrilled peppers, tomato, rocket (arugula), red onion, and herb mayo. They both thought by "hot" it meant "spicy." It wasn't. It was tasty though, just not spicy in this case.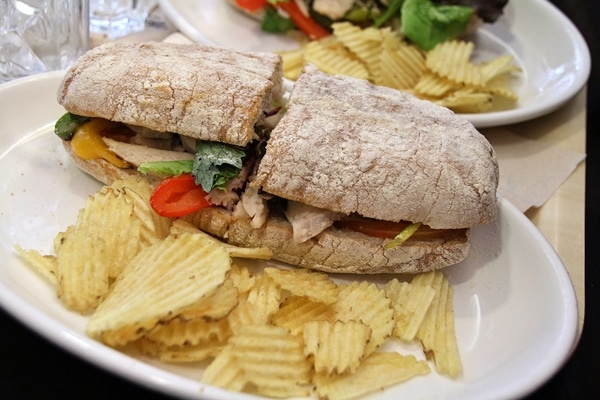 After lunch we headed up to the dome in Victoria Square, where there is a panoramic view of the city. I could pick out a few recognizable sights, such as the Albert Clock (basically the leaning tower of Belfast), Samson and Goliath (the yellow Harland & Wolff gantry cranes overlooking where the Titanic was built), and the gorgeous Belfast City Hall.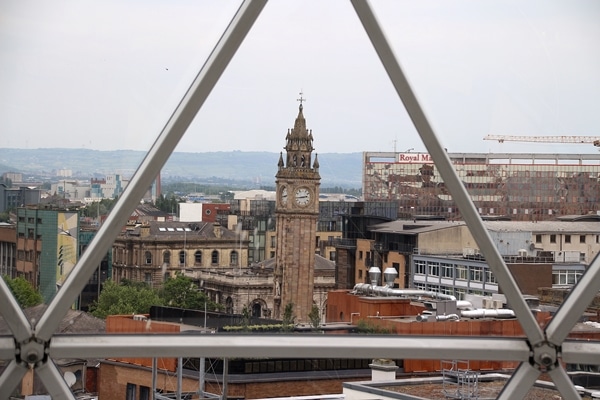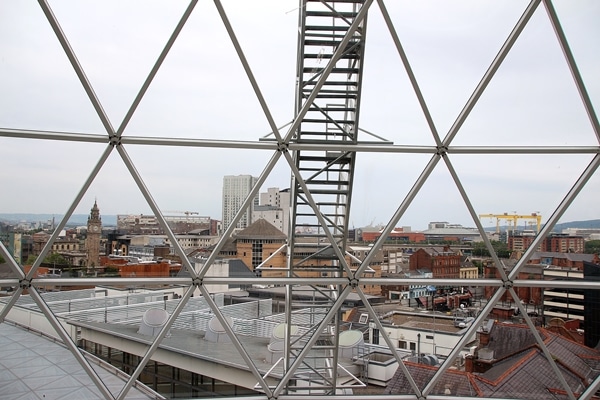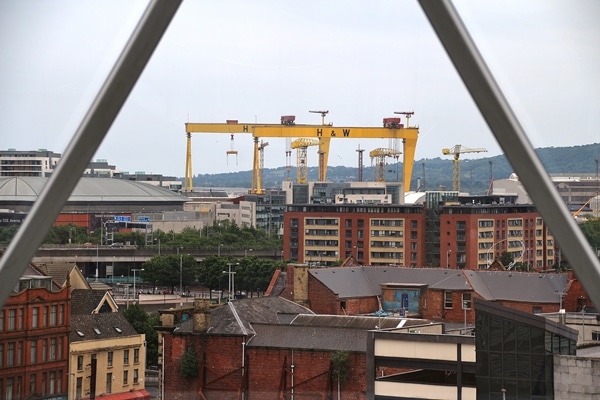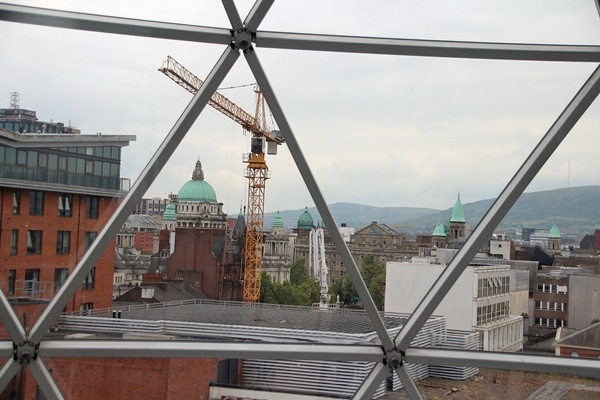 We took a stroll to check out the City Hall in closer proximity. It's definitely the most stunning building in the city. Our time was short, so we returned later this evening and explored the grounds a bit more.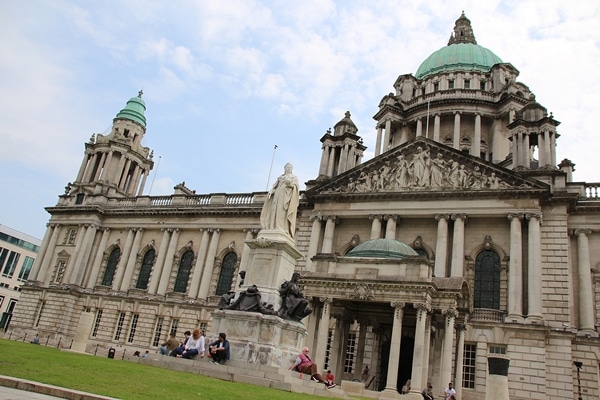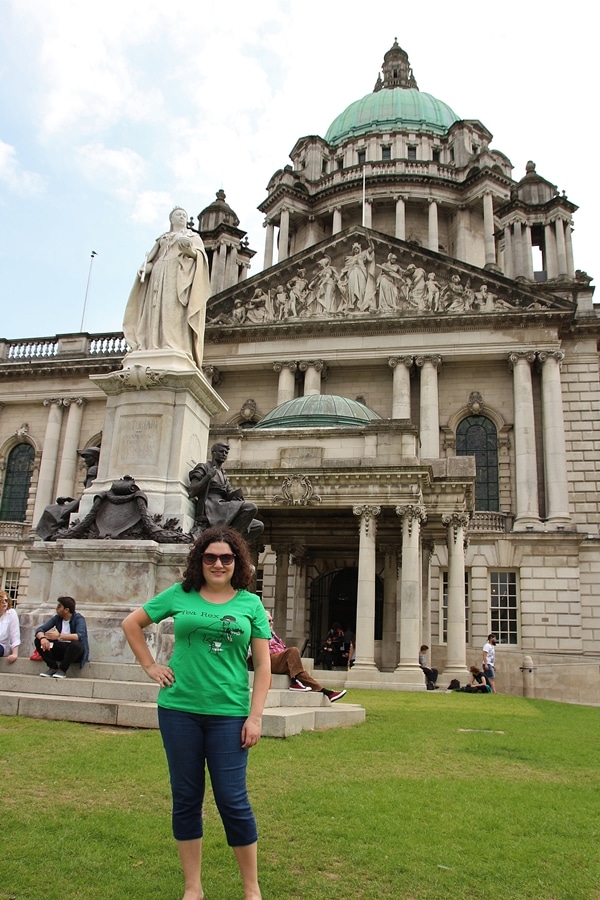 Our hotel, the Park Inn by Radisson, was very centrally located in the Linen Quarter (where they used to make linen back in the day).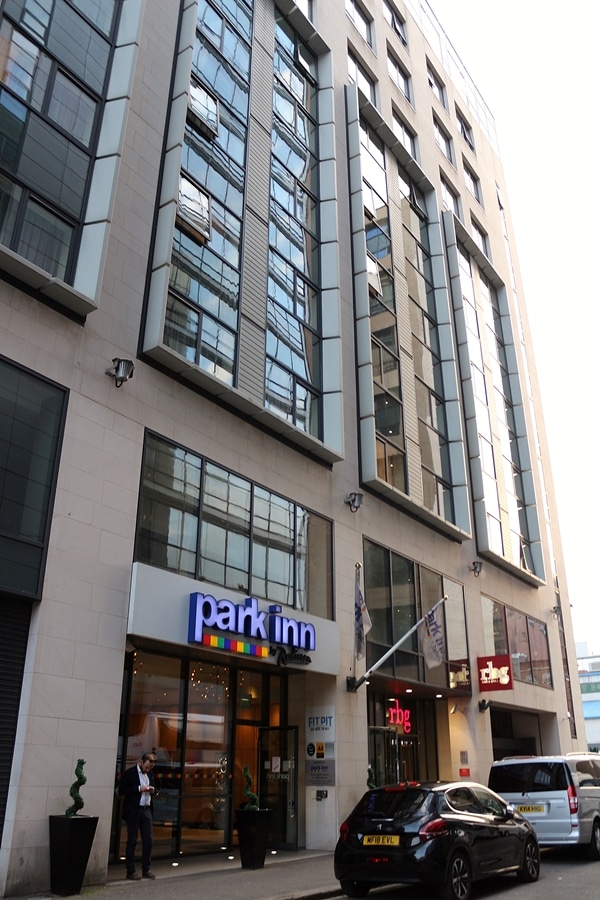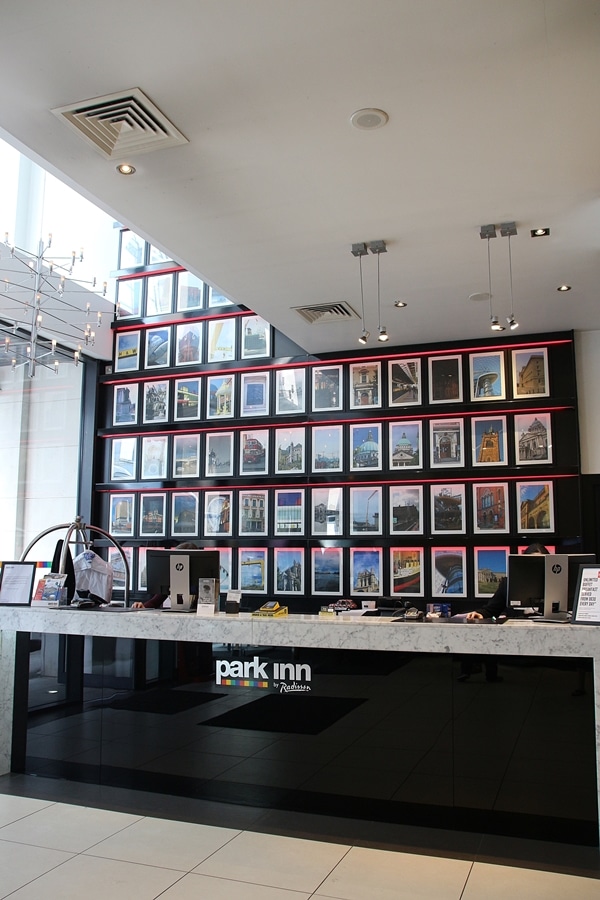 A very bold color scheme of deep reds and blues greets you in all the hallways and rooms. We were excited to see that our room here had air conditioning! It's not very common in Europe, and it was quite warm during our visit, so the A/C was very much appreciated. I guess this hotel doesn't have any actual triple rooms because ours was a double with a cot added to the floor. This reduced the space to move around in the room, but surprisingly the cot was pretty comfortable for sleeping. The bathroom was pretty spacious, but the television was strange and hard to figure out. It would tune into the radio when you would turn it on.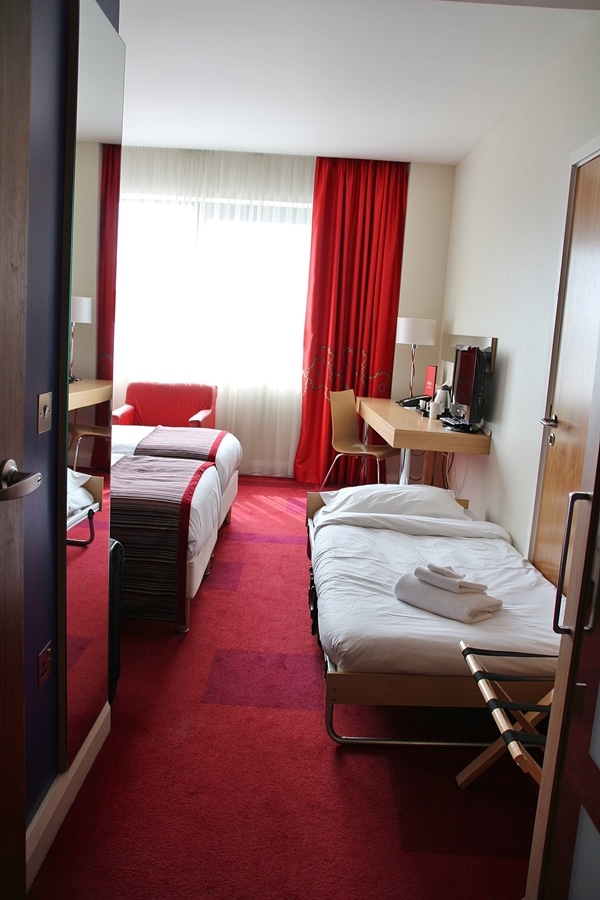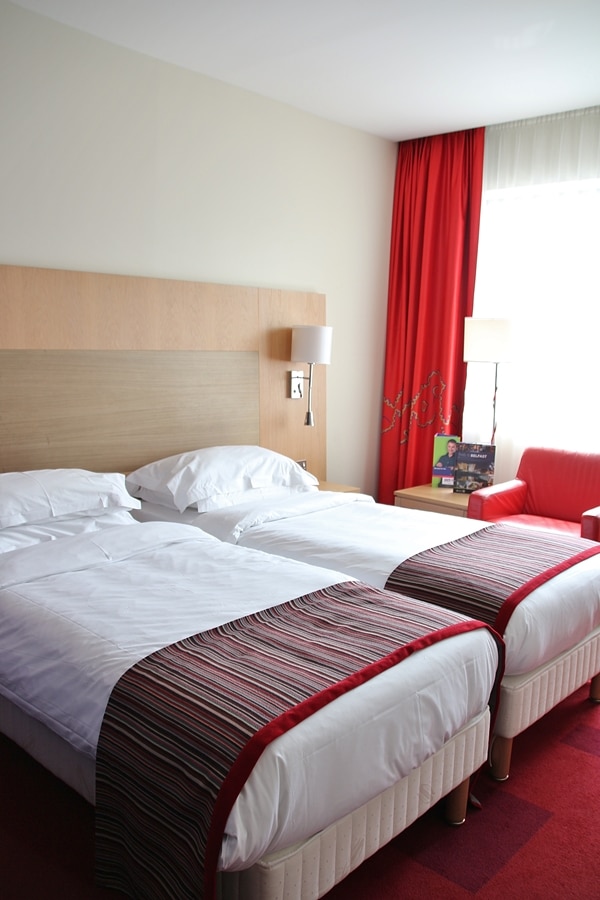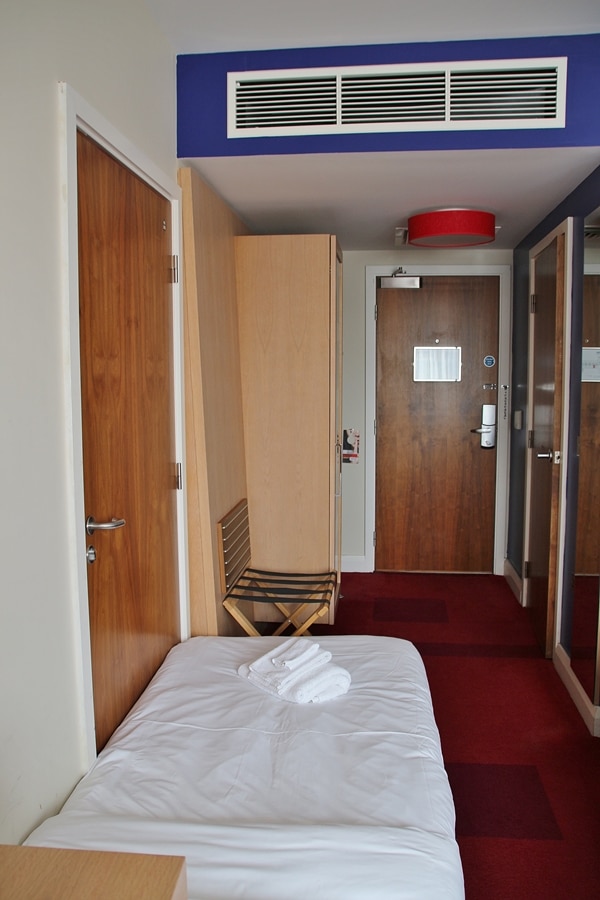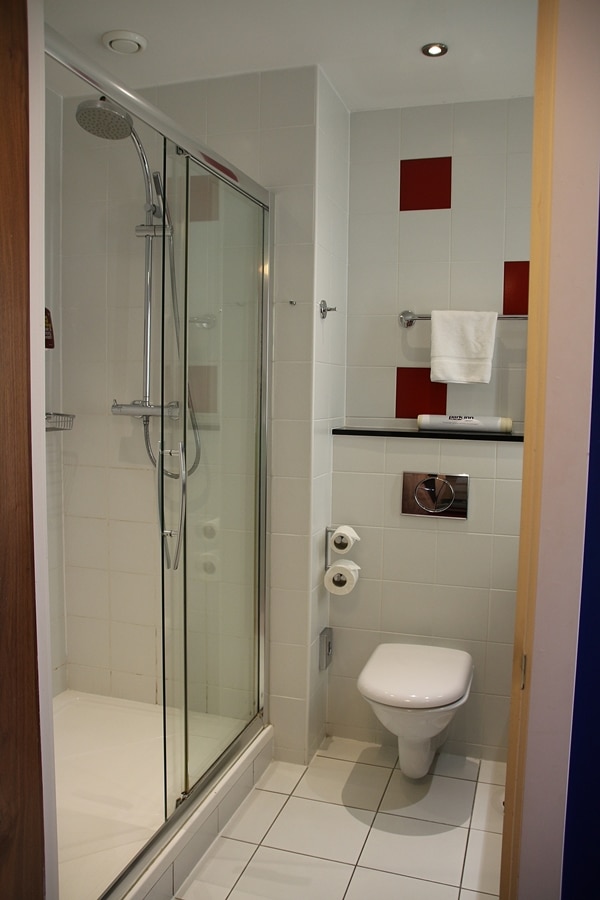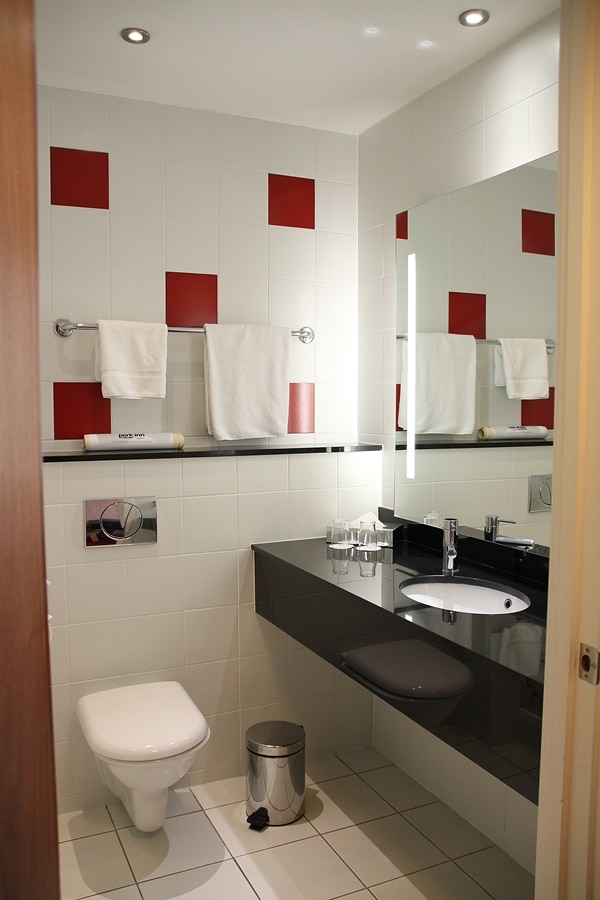 After a short break in our room, it was time for one of our Optional Experiences. These are additional excursions and/or meals that are arranged by Trafalgar, and you can either opt in and pay for them, or do your own thing. We did all but 2 of the Optional Experiences that were offered on our trip. This one was a walk around Belfast with a local specialist, and dinner at a traditional fish and chipper. Our local specialist was Deirdre, who goes by Dee in order to protect her anonymity of Catholic vs. Protestant (I'm serious, this is a big deal over here!).
Dee walked us around the back streets of Belfast to check out parts of the area where a tour bus can't access. There were lots of murals here in the city center as well. This particular mural was painted by Conor Harrington. They usually paint over these murals from time to time, but this one has been preserved. It was painted 10 years ago for 100 quid, but now Conor's paintings are selling for much more so this work has become very valuable.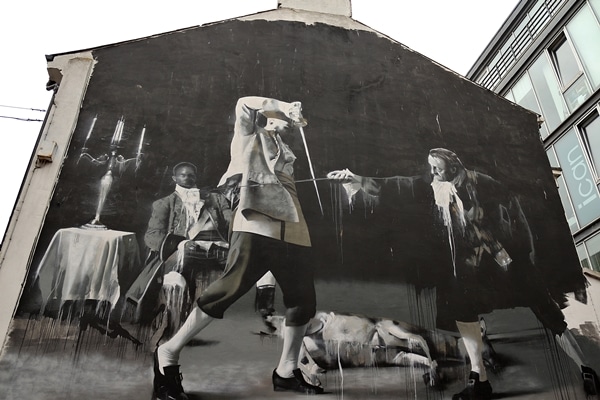 We also checked out this portrait of Rembrandt painted a couple years ago using only spray paint. Pretty cool!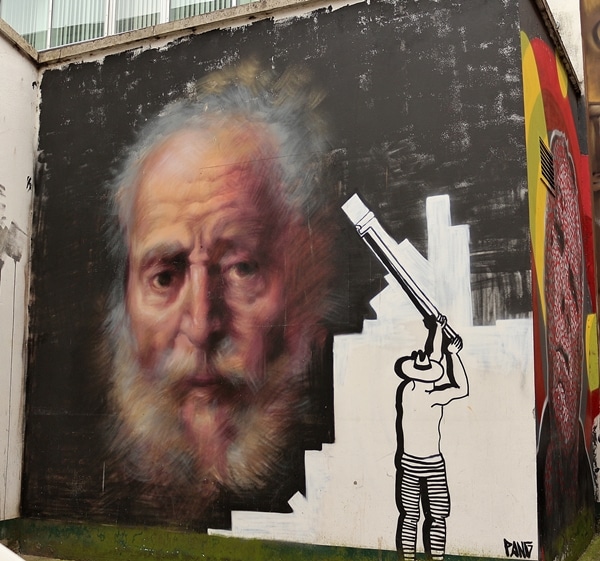 There were many other murals as well in this little nook near the Duke of York Pub. Most of these focused on pop culture and celebrities rather than politics.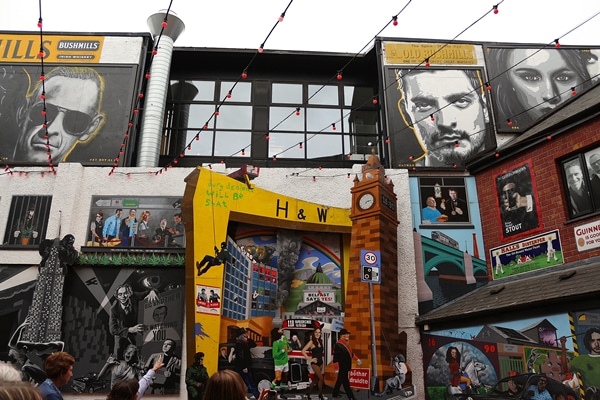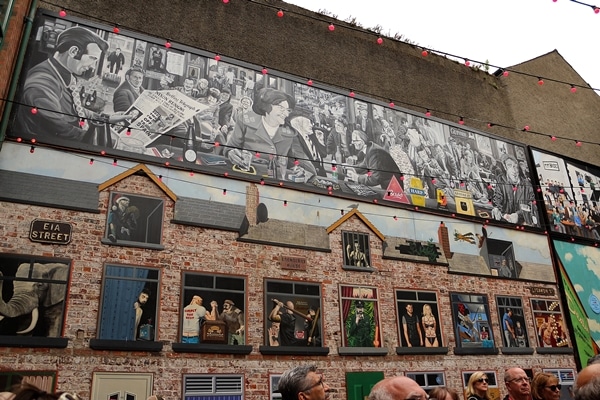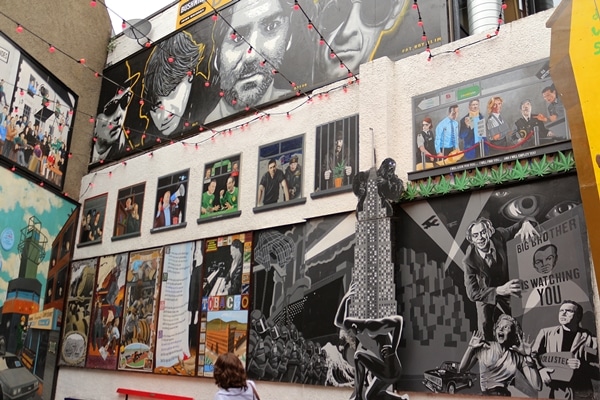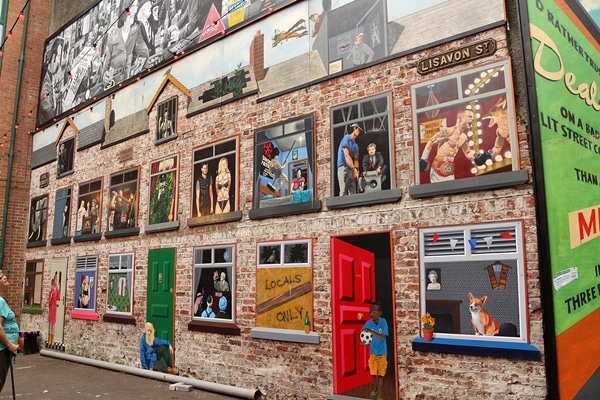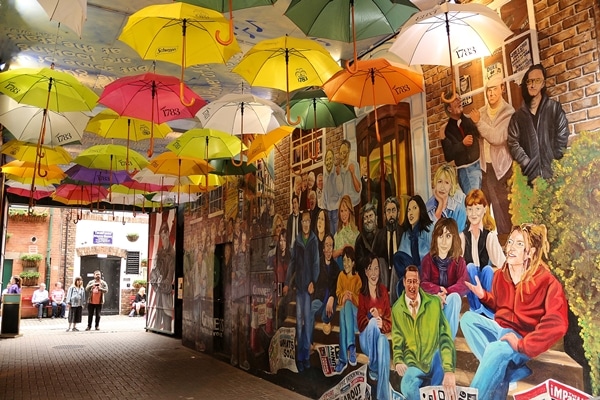 Our Optional Experience included a drink at a pub as well as dinner and a drink at the fish and chipper later on. Dee took us to her local pub (and you know she's a local because as we walked around this area several people greeted her by name). The Duke of York Pub is probably one of the coolest pubs I've been to. It's large with several rooms, and has tons of incredible signage and décor all over the walls and ceiling, much of it mirrored which provides an interesting ambiance and feel.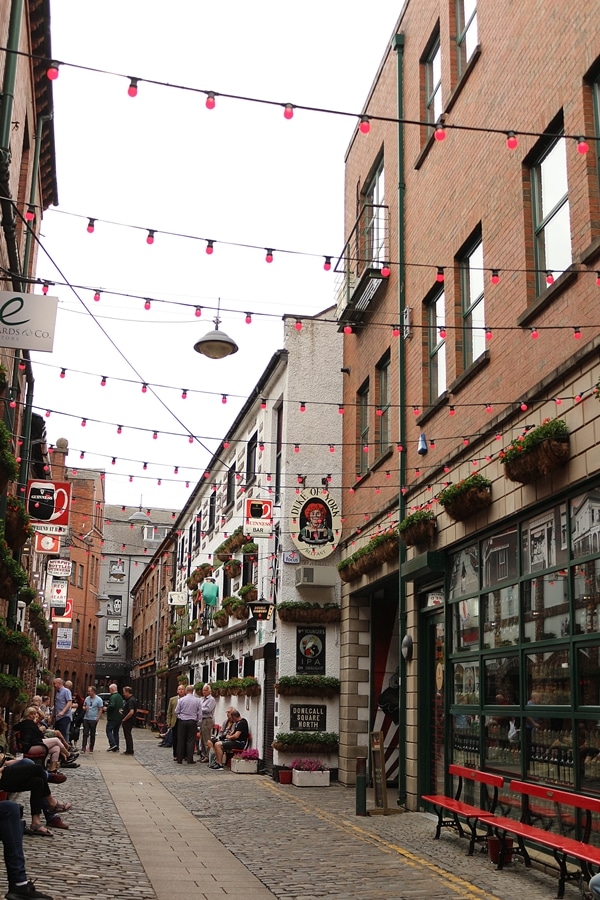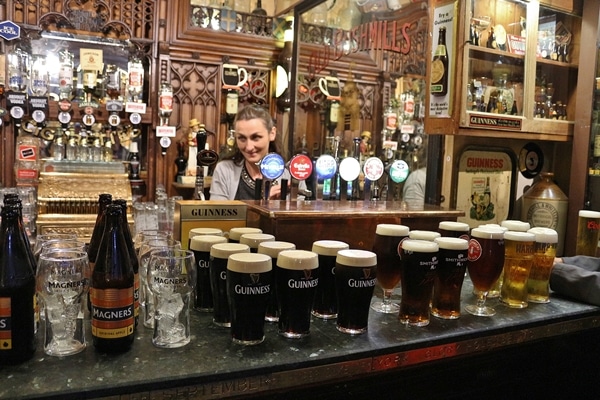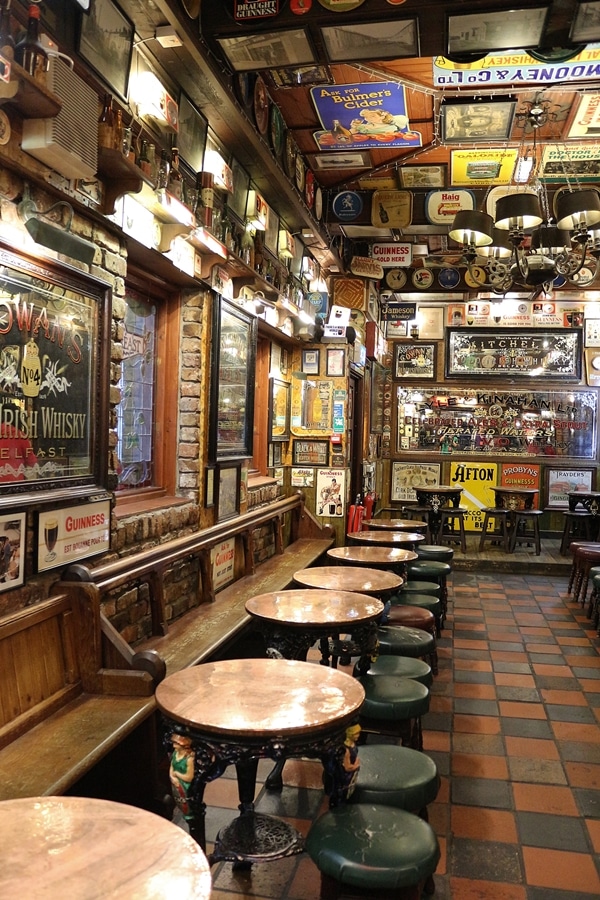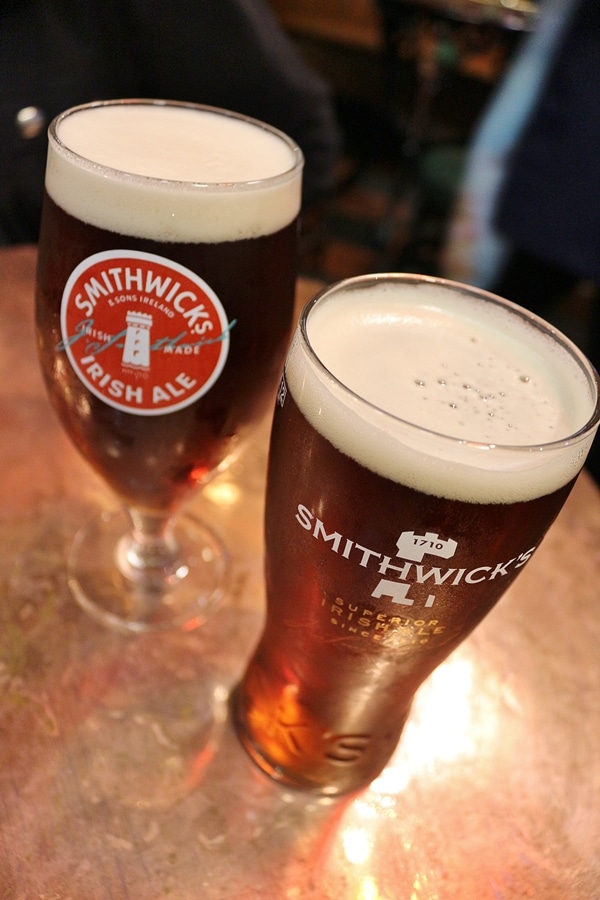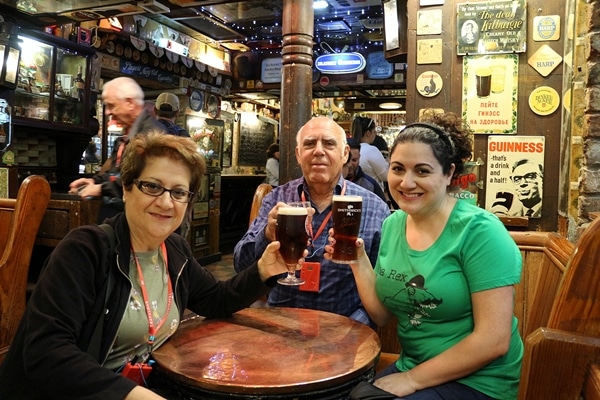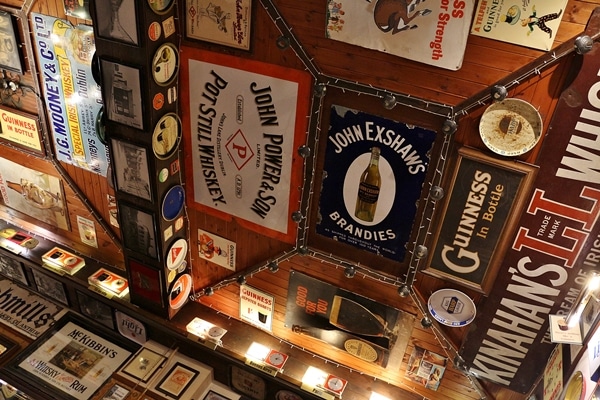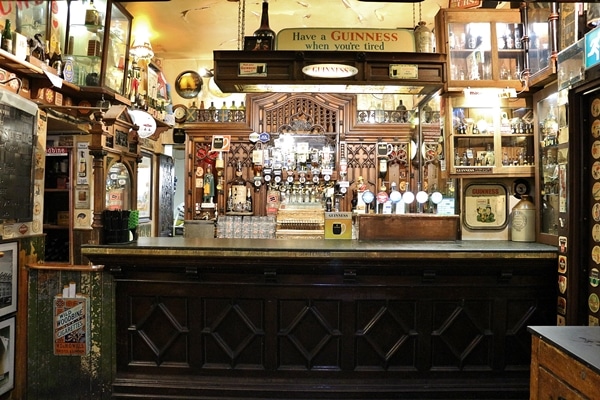 Not only did I simply love this pub, but I also got to step behind the bar and actually pull a pint of Smithwick's (my personal favorite--move over Guinness)! I wish I had a demo first, but I did a decent job for my first time.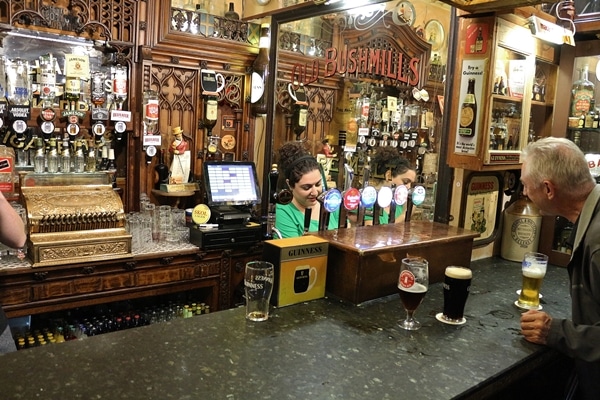 After our pint at the pub, we walked back to the bus which took us to John Long's Fish and Chips Restaurant. Long's normally closes at 6:30pm, but reopened especially for Trafalgar guests at 7pm for this special Optional Experience. Most traditional fish and chippers are take away only, but Trafalgar found a spot that would work for a group like ours, that would keep the tradition alive while also providing ample seating for all the guests.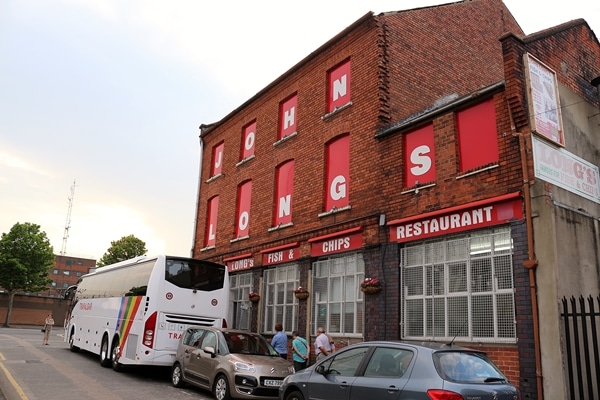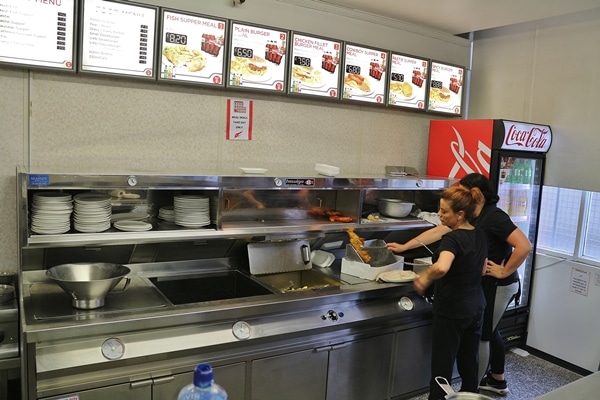 The bread was nothing special, and we were offered Harp and Guinness in addition to red and white wines. I went with the Harp.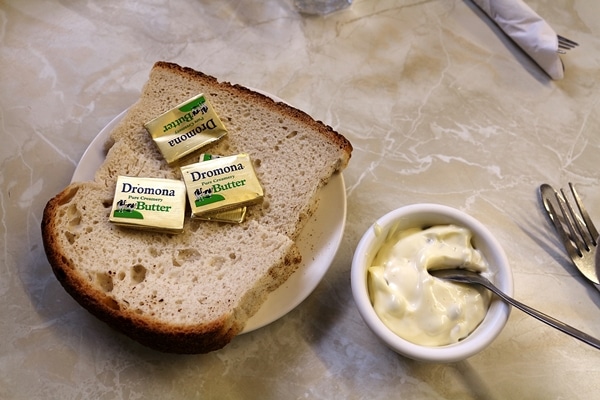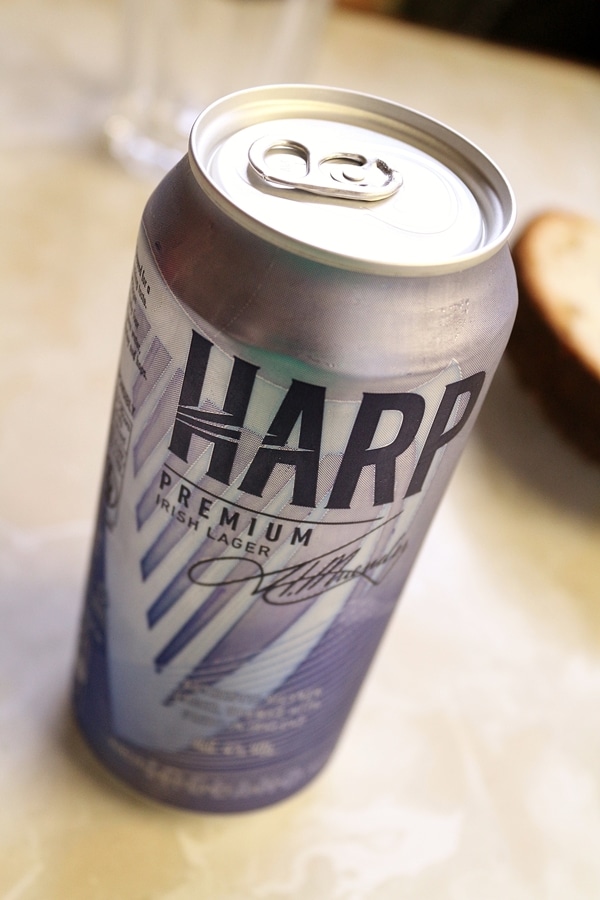 The fish and chips were excellent! A HUGE portion of fish and chips with boiled peas (not mushy, just boiled in this case). The fish was super crispy on the outside, and tender on the inside, and maintained that texture till the last bite (no soggy batter here).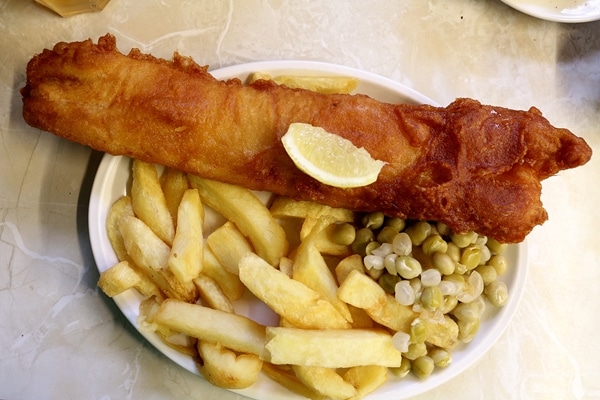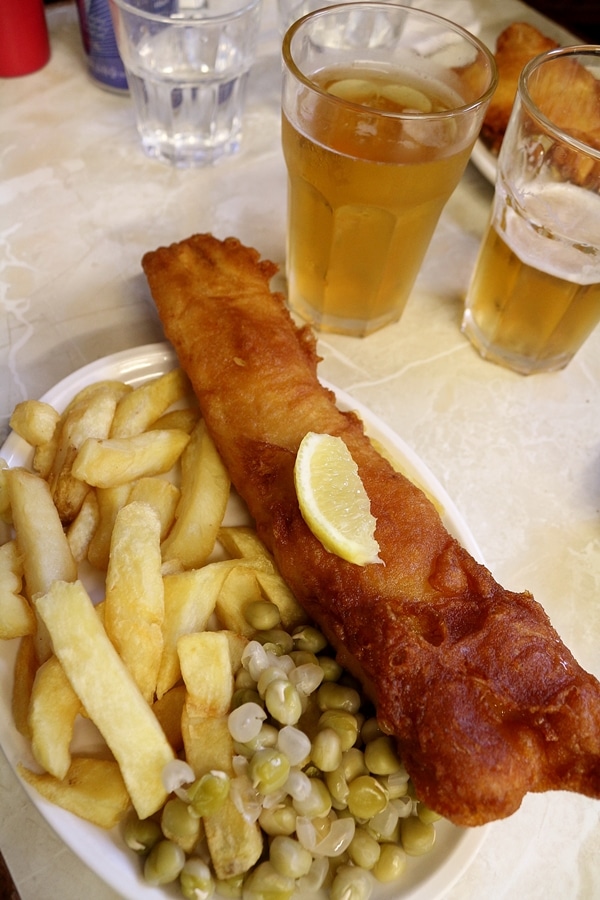 It was definitely worth coming out on this excursion for the excellent insight from Dee, pulling my own pint of Smithwick's at the coolest pub around, and an absolute classic meal of fish and chips.
After all that fried food, we needed to walk around a bit to digest, so we headed out from our hotel and went around the corner to check out the City Hall again. It's made of tons of Italian marble with copper statues on either side of Queen Victoria to represent the linen and shipbuilding industries that were Belfast's bread and butter at the time.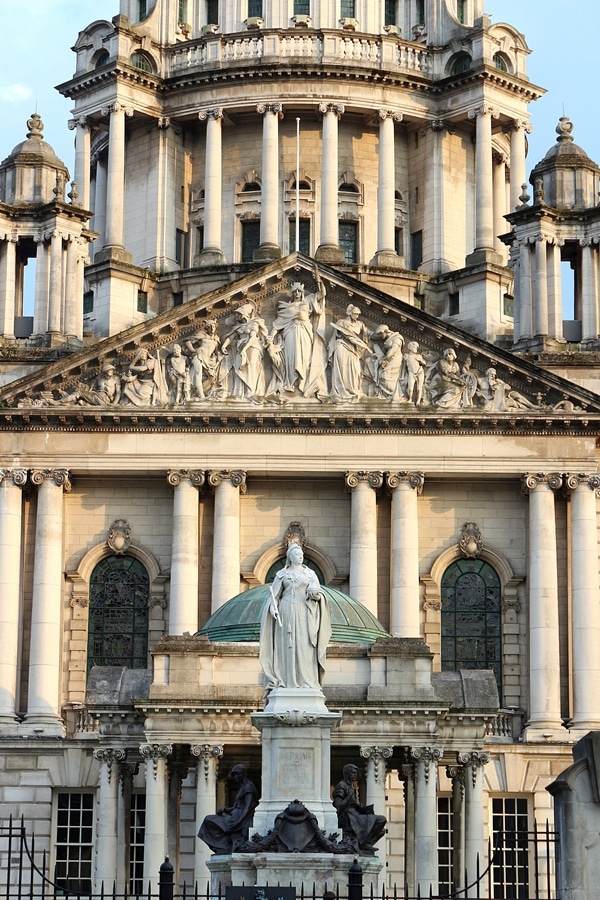 There is a Titanic Memorial Garden off to one side of City Hall. It lists all the names of the deceased. We managed to find 4 Armenian names listed among the dead. This was astonishing, as we had no idea there would have been Armenians on board at the time.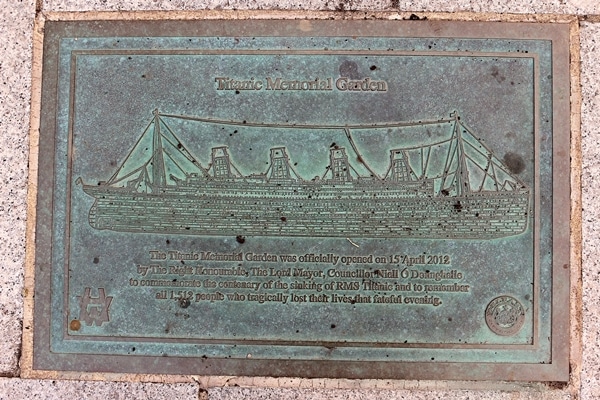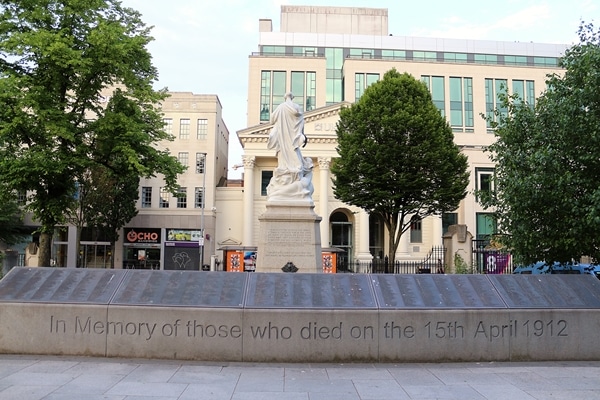 We were very intrigued, and decided the following day when we would visit the Titanic Belfast Experience we would further research and see if there were any Armenian survivors. Stay tuned...
Ireland - June 2018