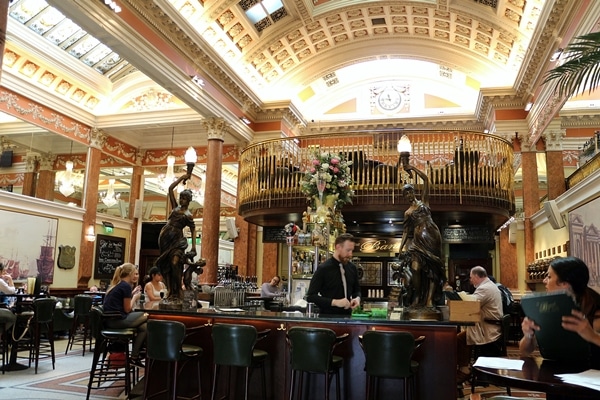 With 2 full days in Dublin under our belts, today would be the day we would meet up with the rest of our Trafalgar tour group to get started on Irish Experience tour, but not until later in the afternoon. With a free morning to ourselves, we definitely took advantage. I had noticed these Boomerang Donuts in shop windows during the previous couple days, and decided we should try them for breakfast this morning. We went around the corner to one of the shops with the Boomerang window displays, and alas, they hadn't even set them out yet.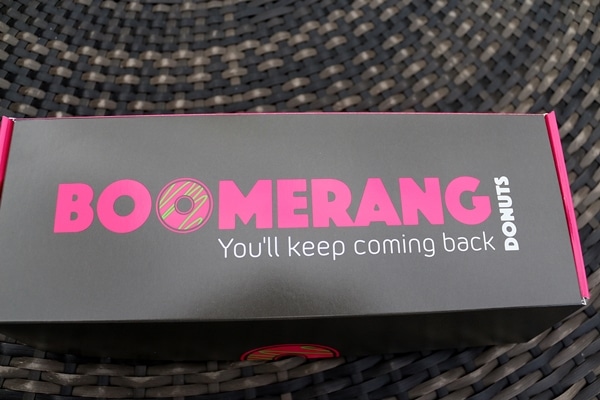 I quickly learned that folks in Dublin get a late start in the mornings (probably because they are all up late at night partying). We arrived around 8:30 or 9 am, and asked the employee if we could get some donuts even though the boxes hadn't been emptied yet for display, and he was really nice about it. We purchased 2 of the Ferrero Rocher donuts, and 1 of the strawberry glaze. Along with the free lattes from our hotel lobby, we took our donuts up to the deck area of the hotel and enjoyed the fresh air. The Ferrero Rocher donuts are filled with Nutella! They were absolutely delicious, however I found the straight Nutella to be a bit too sweet and rich as a filling on its own. I would have loved to see it used in a cream or custard filling to lighten it up just a bit. It was still very good though.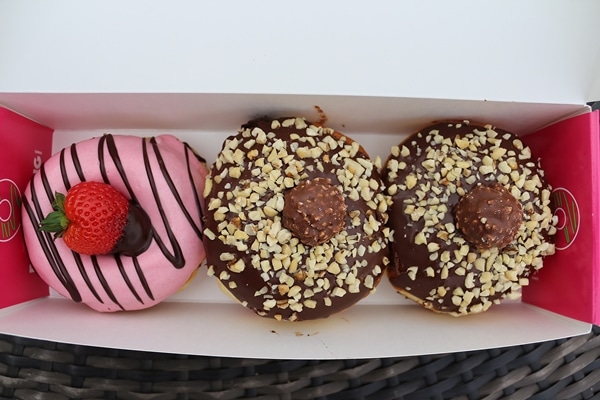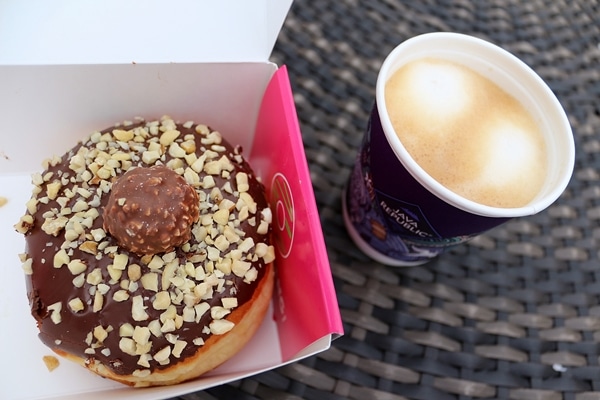 You might remember from the previous day I had a 20% off coupon for the Disney Store. We planned to use it this morning once the store opened. We got an early start (as always) and walked down to Grafton Street, and a bit beyond toward St. Stephen's Green again, since the stores hadn't opened yet. The weather was much nicer this morning, and we enjoyed the park with more sunshine than the previous morning. We also were able to appreciate more of the statues in the park of revolutionaries who we learned about the previous day at Kilmainham Goal.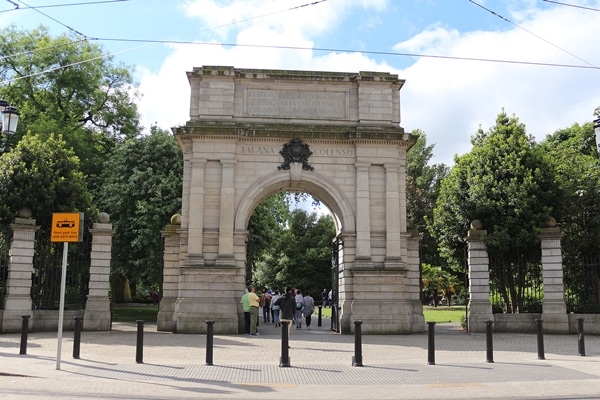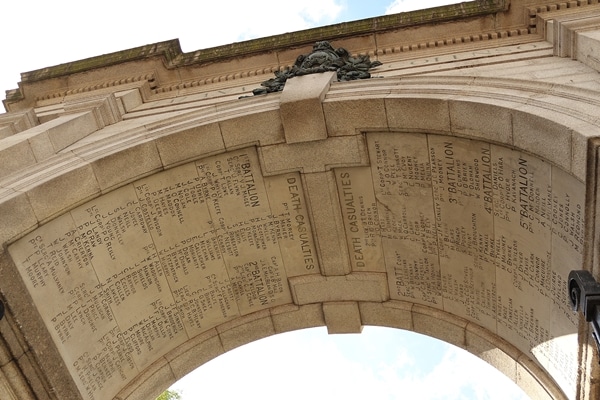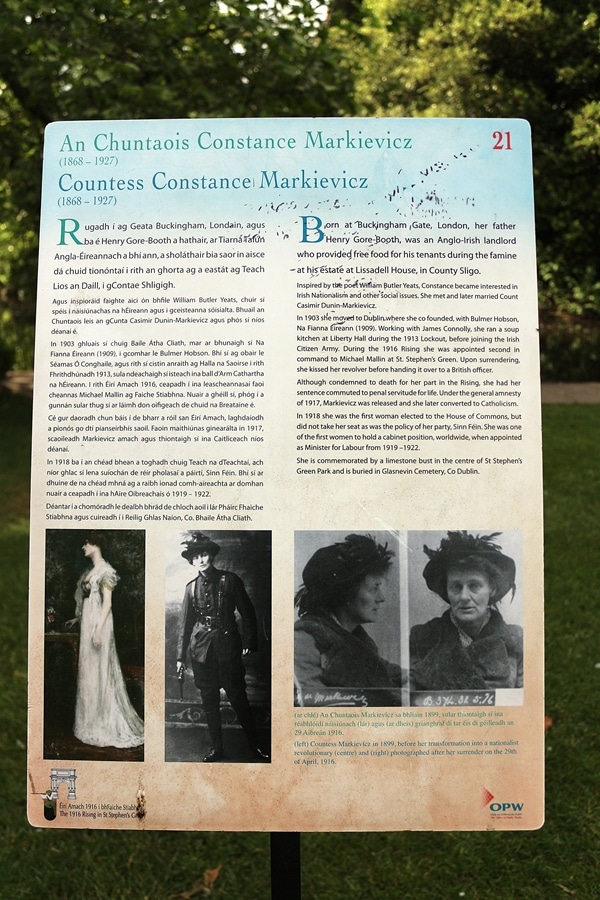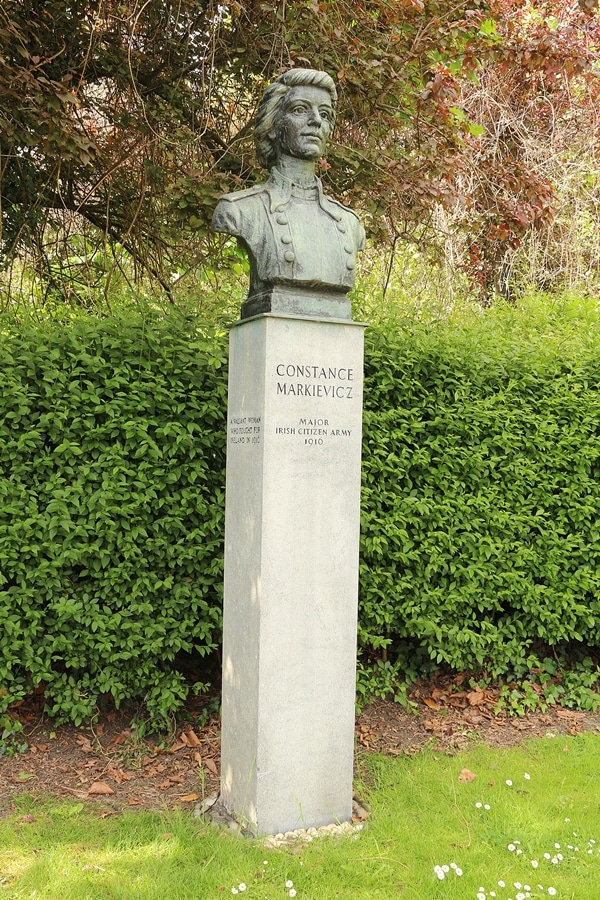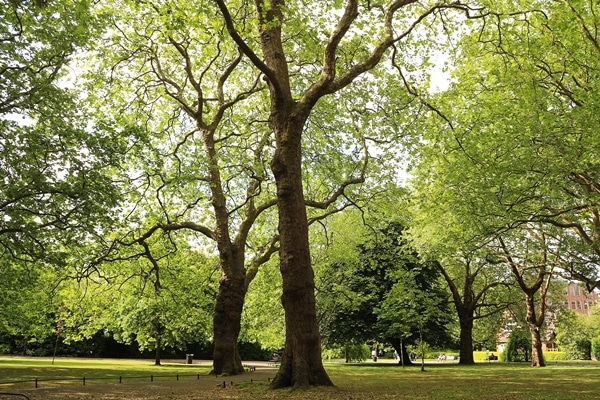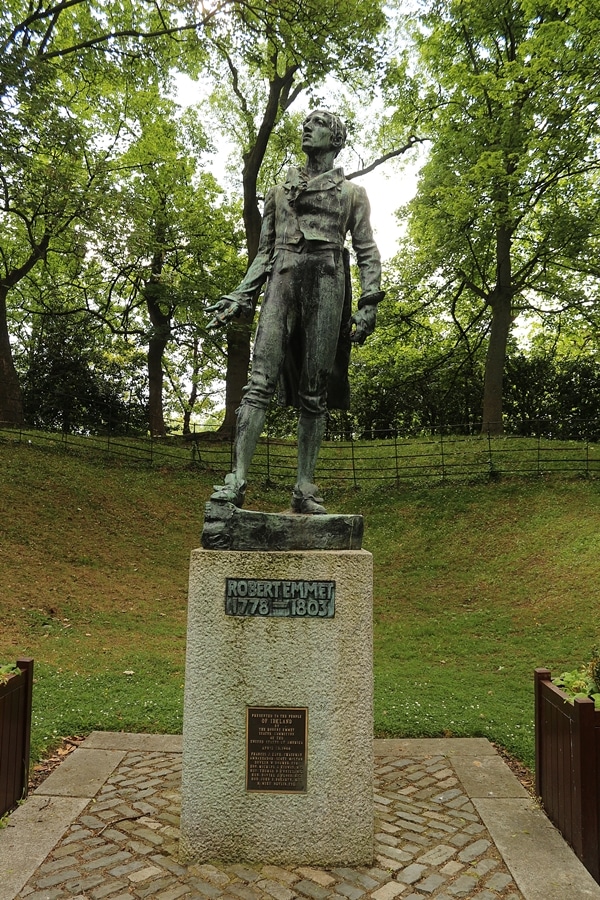 We made it to the Disney Store in time to see the exciting store opening ceremony. A young girl had been selected to turn an oversized key in a lock to "open" the store for business that day. I'm not sure if they do this at other Disney Stores, but it was a fun surprise for us. We made some more purchases, this time using the 20% off coupon, and then continued down Grafton Street popping into other stores along the way.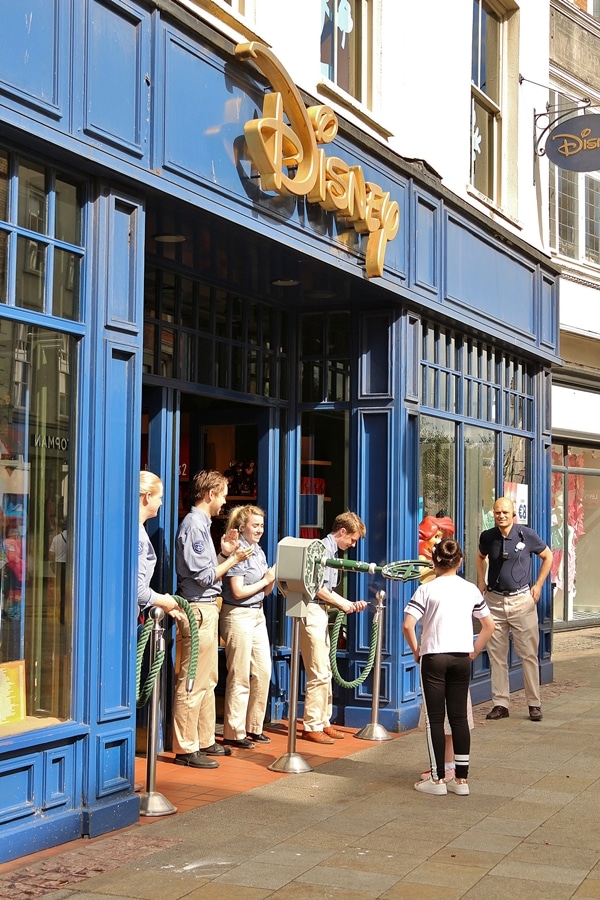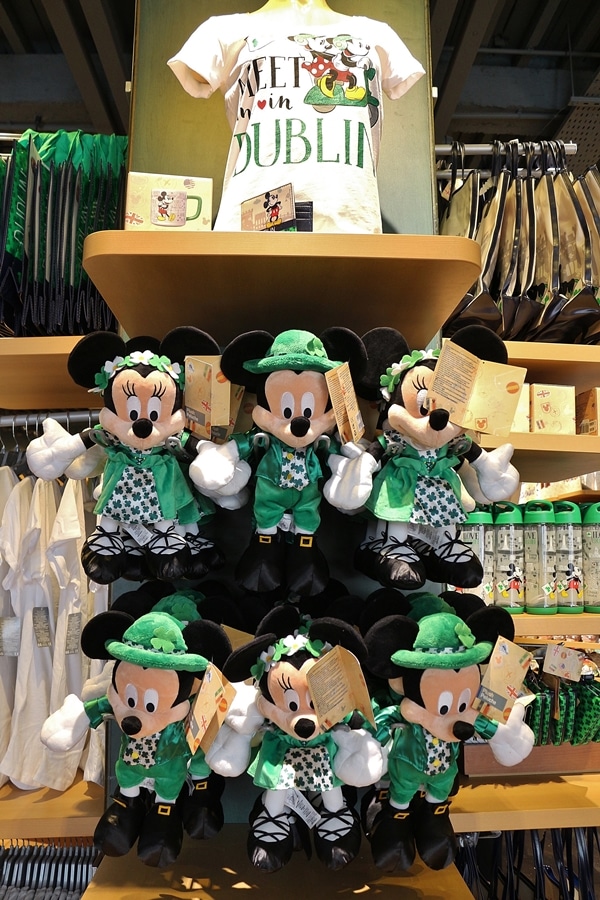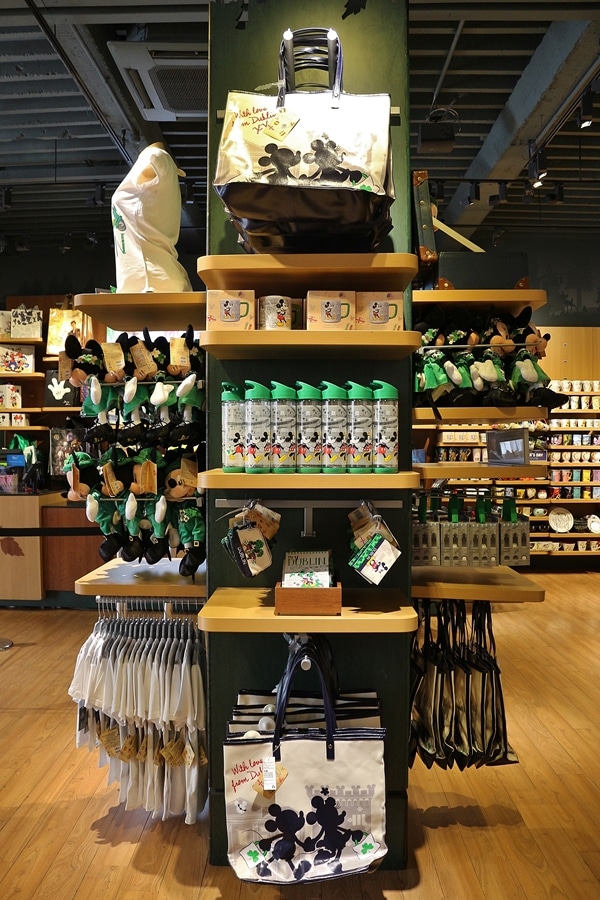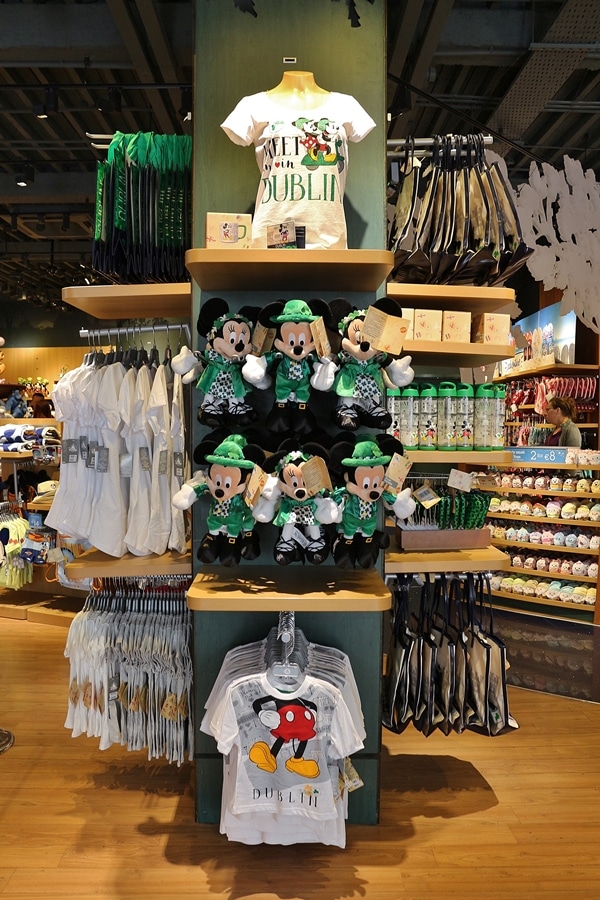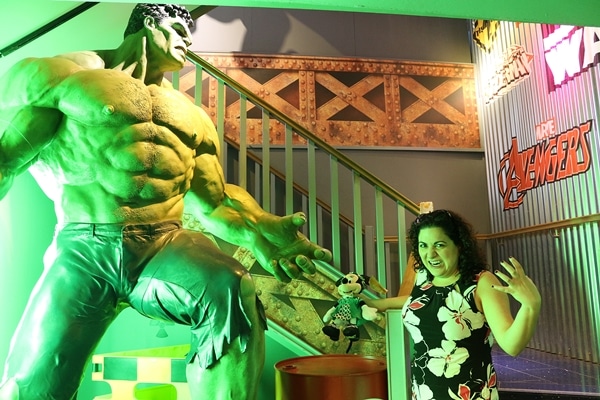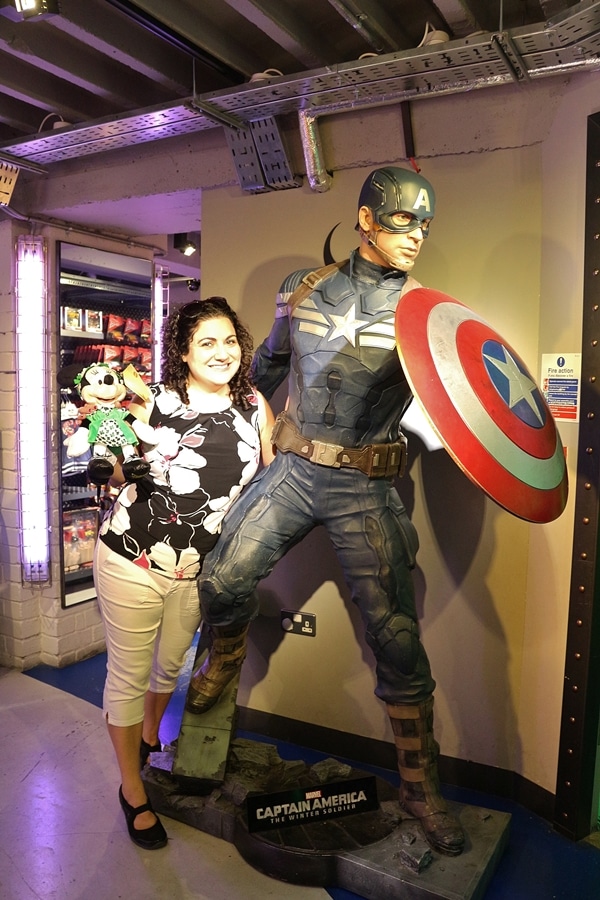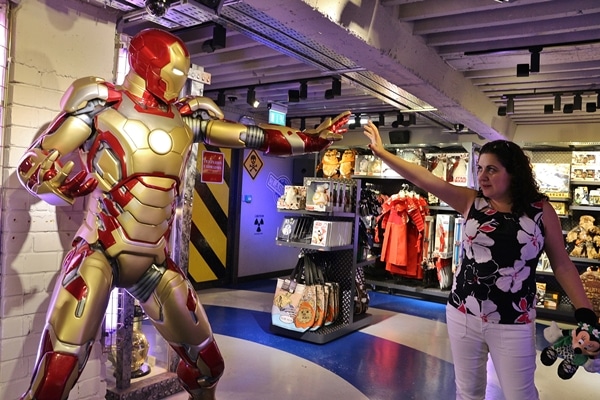 We still had some time to kill before our lunch reservation, so we took a little detour on the way to the restaurant to check out the famous Molly Malone statue, based on the popular Irish song.
Our noon reservation was at The Bank on College Green, a former bank building for the Belfast Banking Company. It's now a popular restaurant in the heart of Dublin featuring the extravagant Victorian architecture of the late 19th century.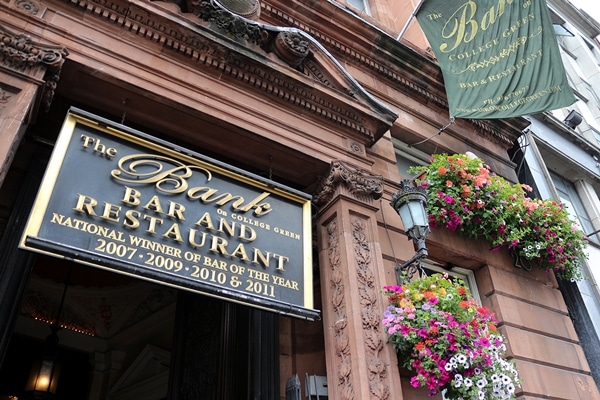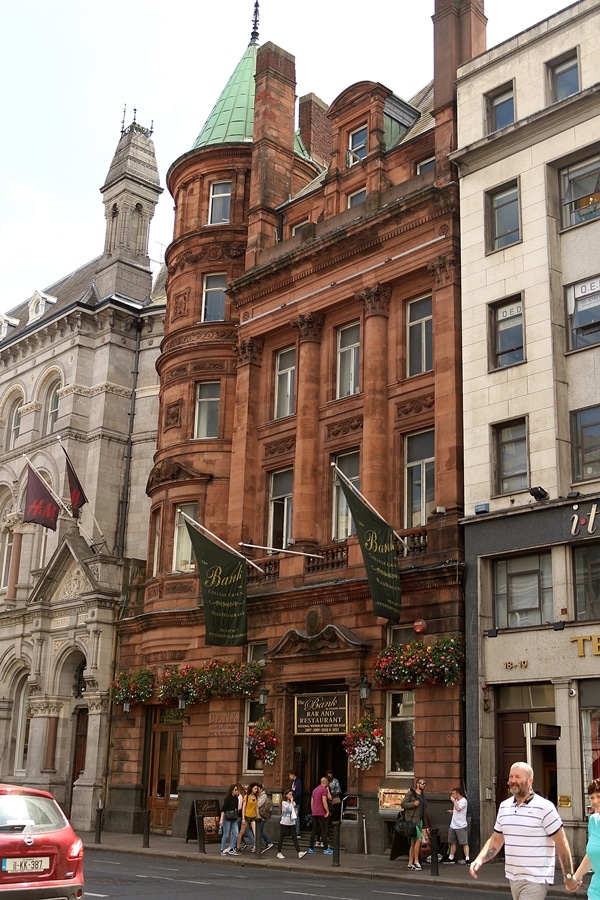 The downstairs area has a bar and lots of tables, along with a piano for live music. There's also an upstairs mezzanine, which is where we were seated since we had booked a reservation. Although the doors opened at 11 am, and the brunch menu was served starting at 11:30 am, seating upstairs only begins at noon.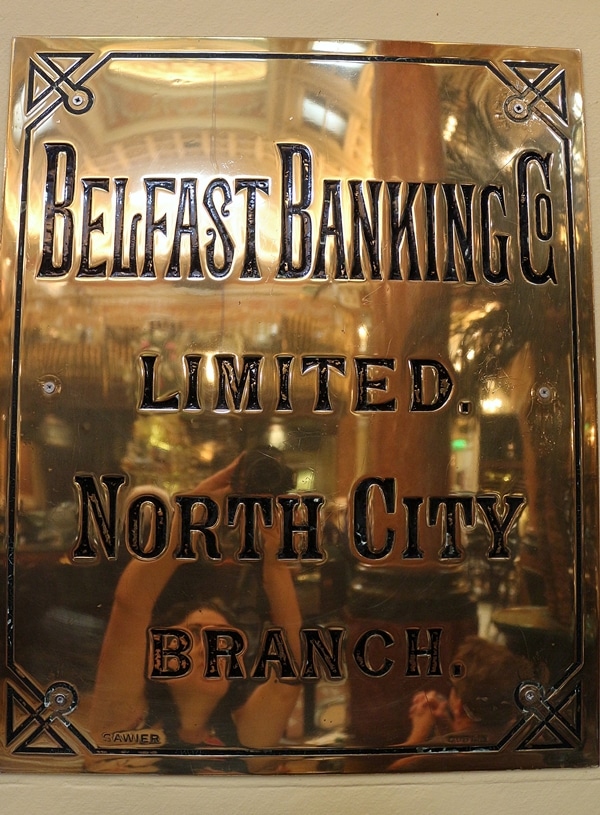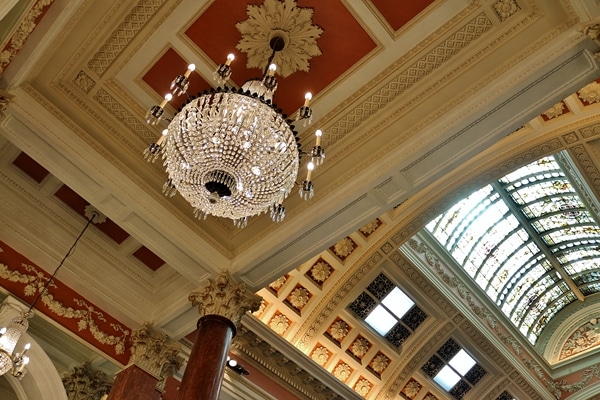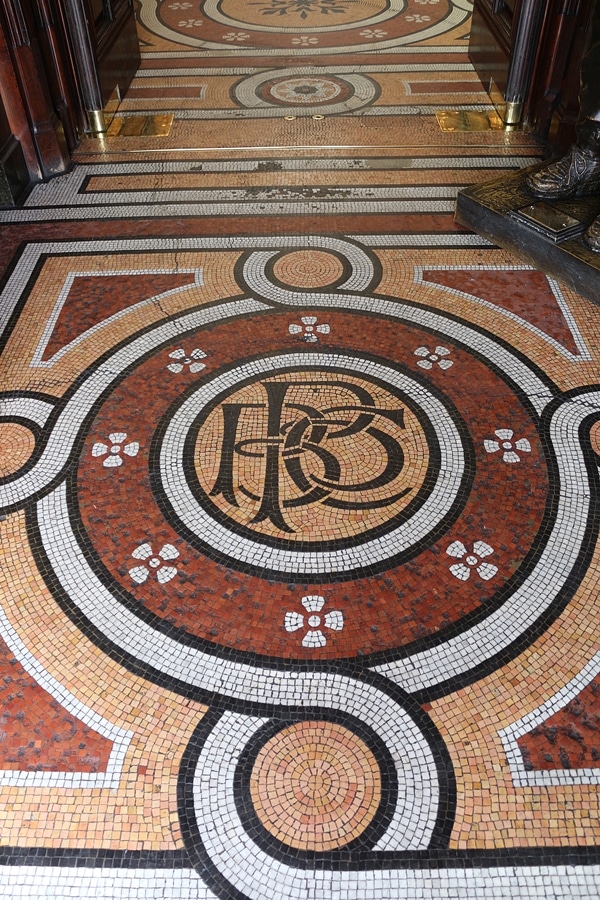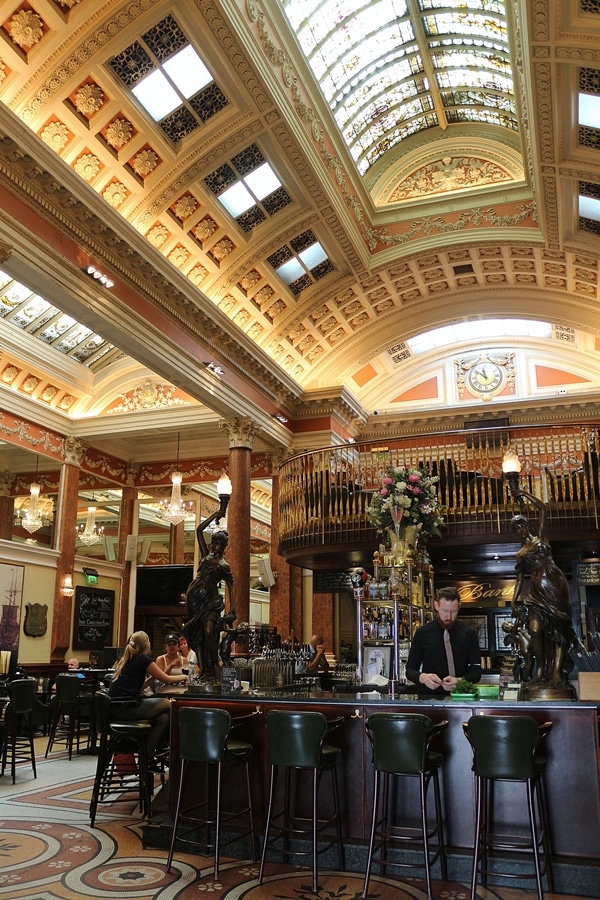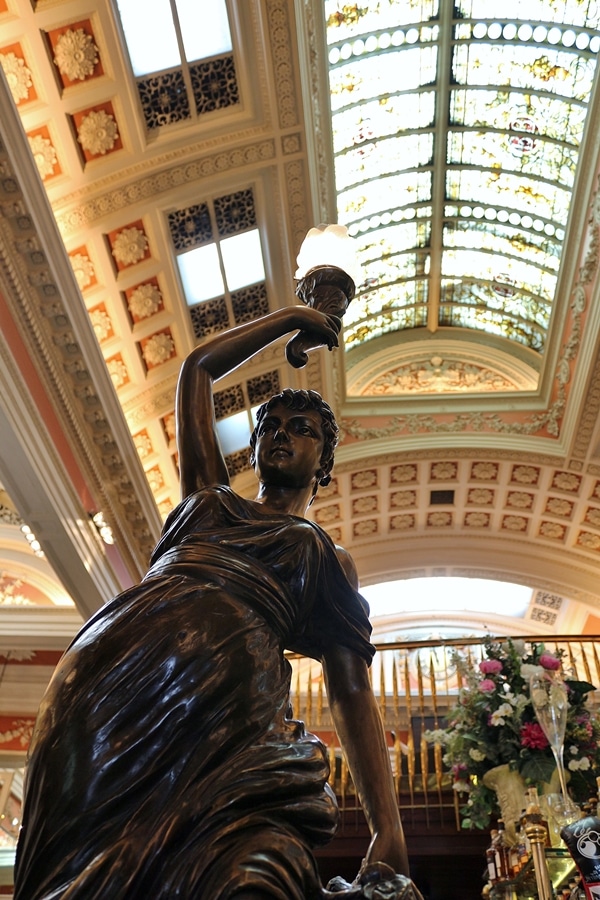 I loved sitting up in the mezzanine. We had a bird's eye view of the whole place, and an even closer view of the beautiful stained glass windows in the ceiling, mosaics and marbles, hand-carved plaster-work, and hand-painted gold leaf embellishments throughout. Meanwhile, the soft sounds of Simon and Garfunkel pulsed through the space, adding a layer of calmness.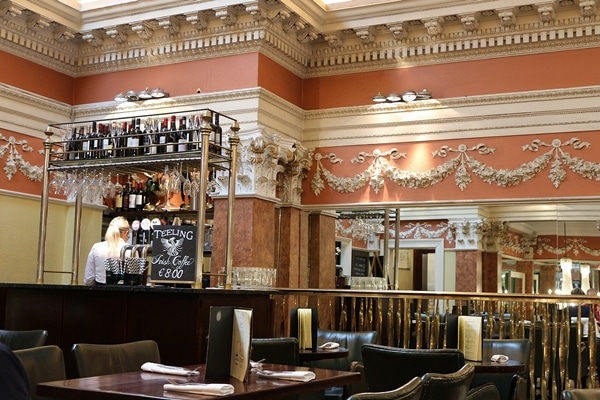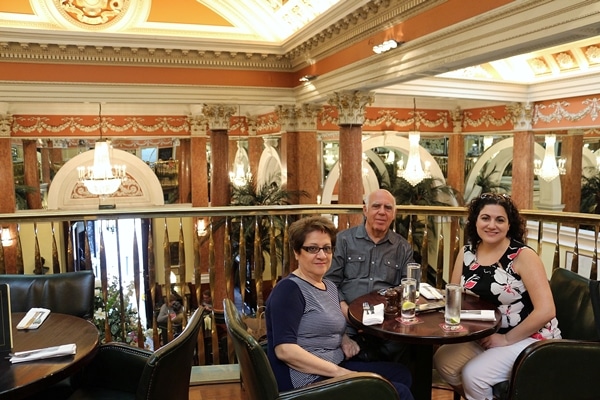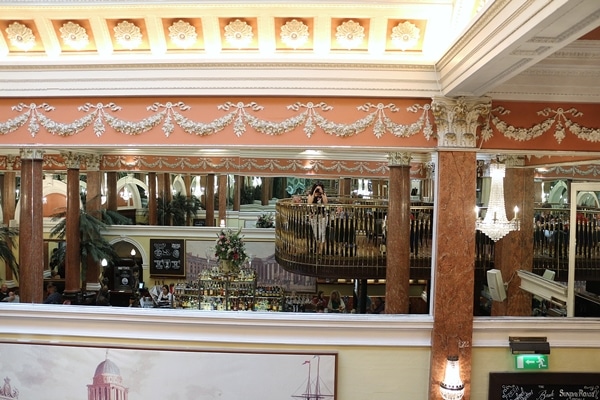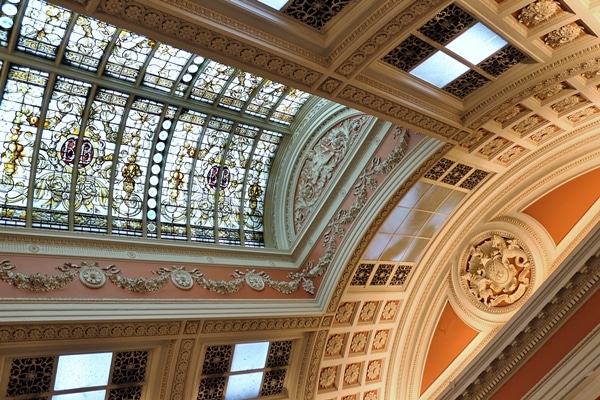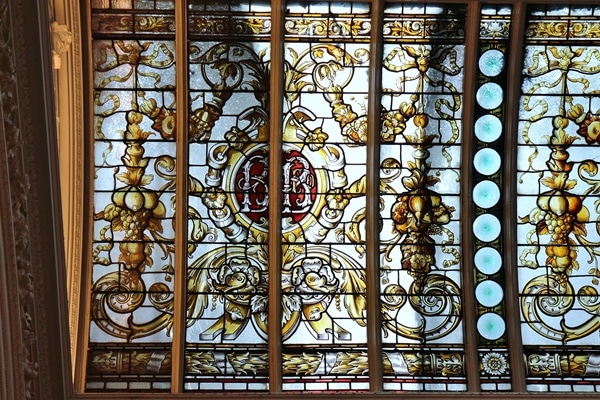 The brunch menu includes both breakfast and lunch dishes, although we all opted for more of the breakfast style items.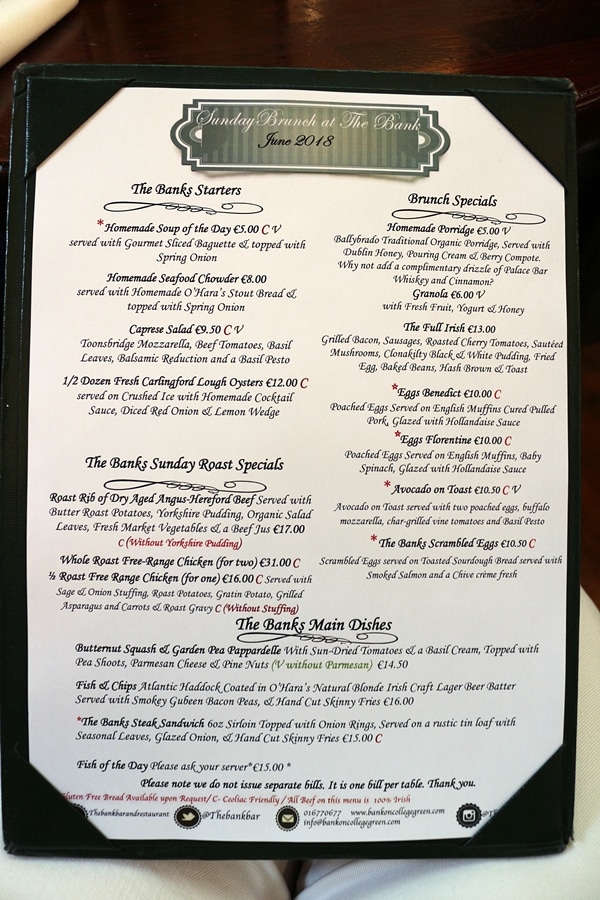 Mom selected the Eggs Florentine, essentially an Eggs Benedict with spinach instead of the ham/bacon.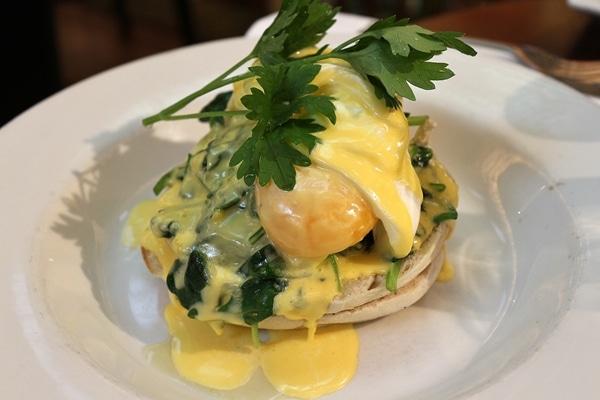 Dad picked the Avocado on Toast, which is also topped with poached eggs, buffalo mozzarella, chargrilled vine tomatoes, and basil pesto. I took a couple tastes and really enjoyed this one! Definitely a more substantial spin on the trendy avocado toast. The pesto added great character to the whole dish, and the mozzarella melted in your mouth.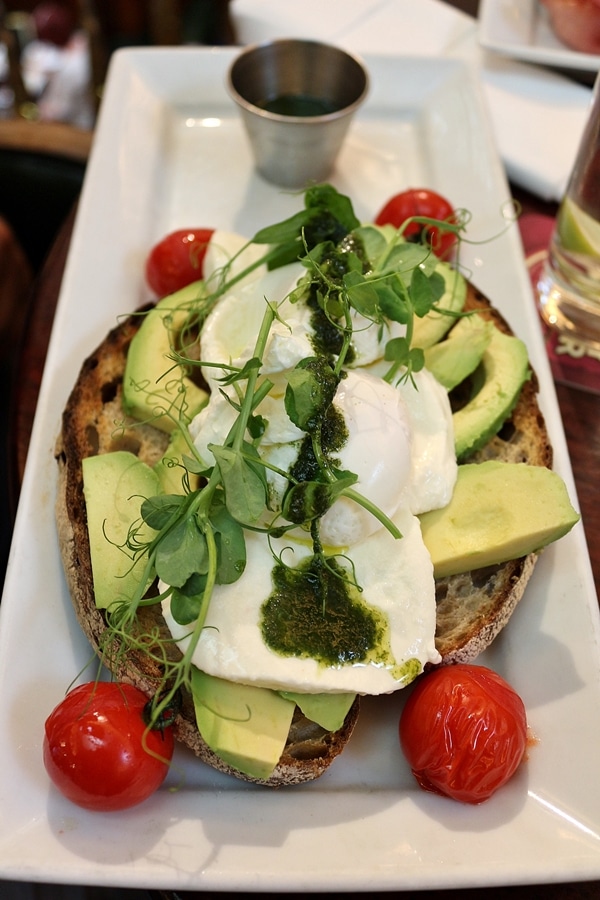 I decided to have my first Full Irish here at The Bank. Although there were full Irish breakfast fixings at every single breakfast buffet for the remainder of our trip, this was most definitely the best of the best. Consisting of grilled bacon (really more like ham), sausages, roasted cherry tomatoes, sautéed mushrooms, Clonakilty black and white pudding, fried egg, baked beans, hash brown, and toast, it was quite epic, yet beautifully plated in a more refined way.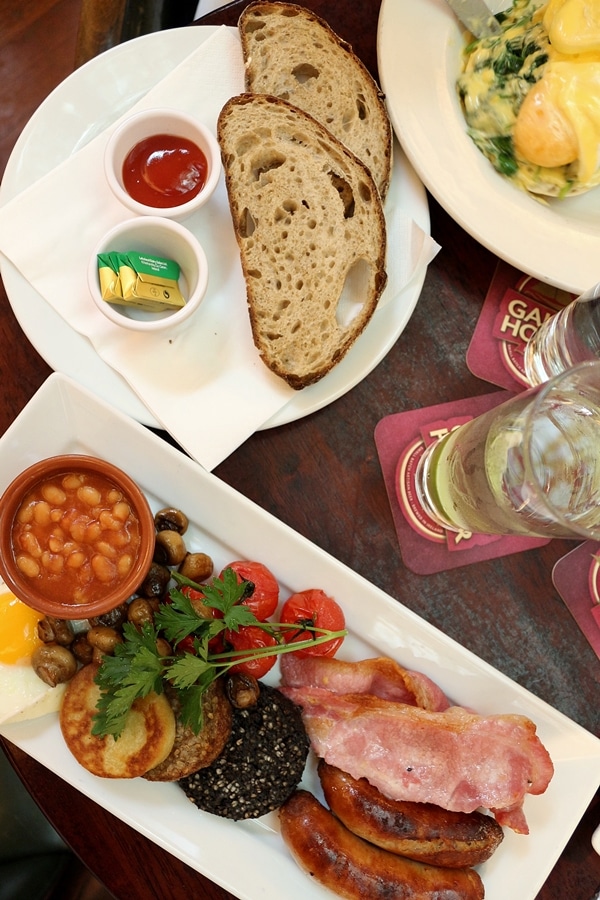 I enjoyed everything on the plate, bar none. Even the black pudding was good, although a tad salty (I think this is just a characteristic of black pudding because I tried it again elsewhere and had the same observation). The sausages in particular were stellar, and had a smooth texture and excellent flavor. The bacon (ham in my eyes) was also fantastic. I loved the sweetness of the roasted tomatoes and baked beans, and the umami of the mushrooms, along with the crispy toast.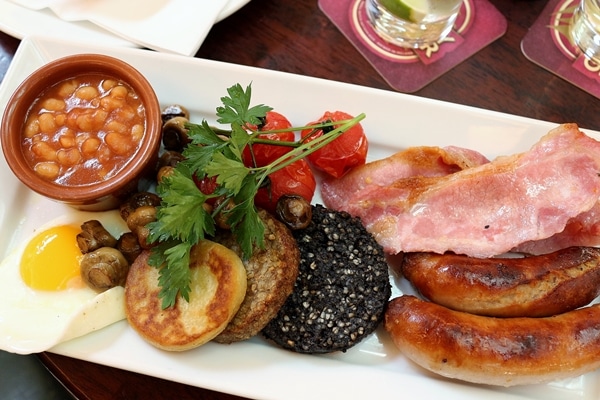 Truly this was one of the best meals so far, and it was breakfast. All 3 of us agreed that this, along with the previous evening's dinner at The Winding Stair were culinary highlights so far. If we had an additional night in Dublin, hands down we would have returned to The Bank on College Green for dinner. It was that exceptional. The ambiance alone was second to none.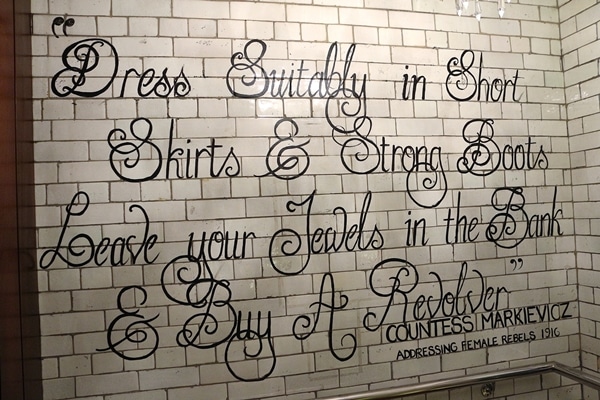 After collecting our bags from the hotel, we made our way to meet up with our tour group at our new hotel for the night. The Mespil hotel is located in Georgian Dublin, a bit southeast of the city centre.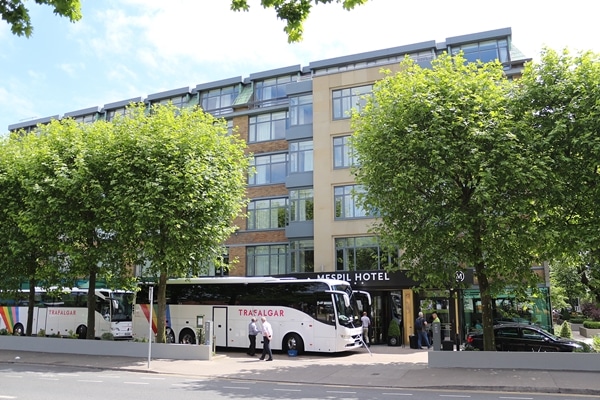 Our room was the very last one to be ready out of anyone in our tour group, and we actually weren't able to get in there until later in the evening after returning from our tour and welcome reception. I will go ahead and share some thoughts and photos now though.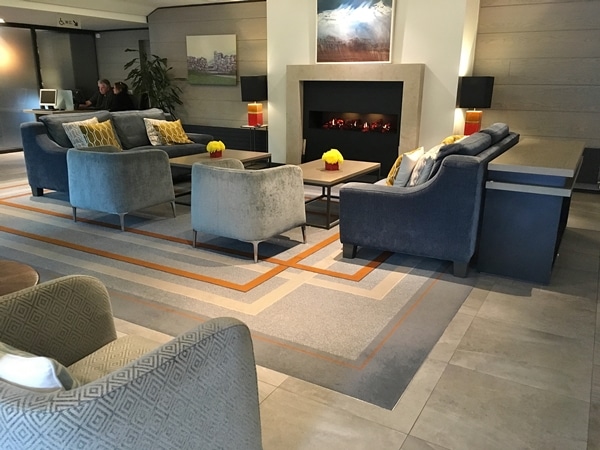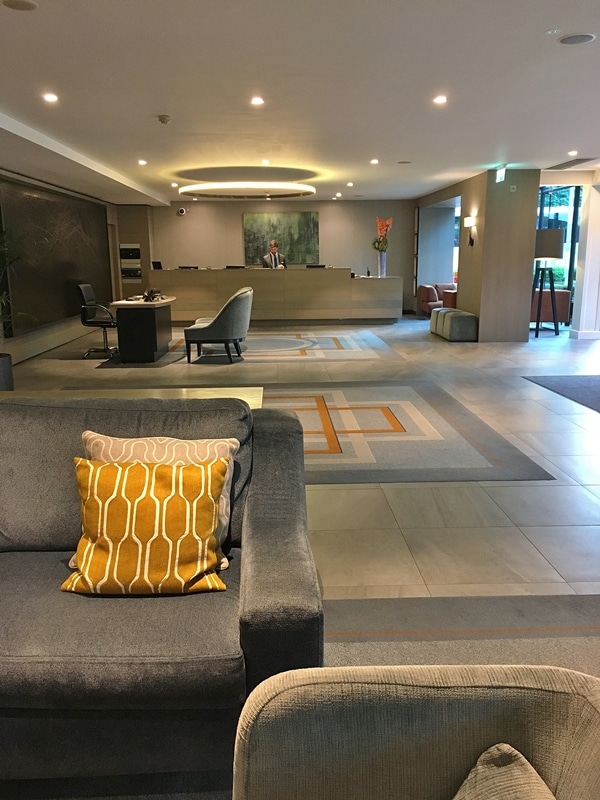 The hotel was much larger, nicer, and more modern than the Fleet Street Hotel, and it was located across the street from the grand canal. It was a much more peaceful location, however it was nowhere near the city center in comparison to our previous hotel. The bathroom was generally larger, as was the shower, and toiletries were provided, unlike the Fleet Street Hotel. The shower was confusing to use.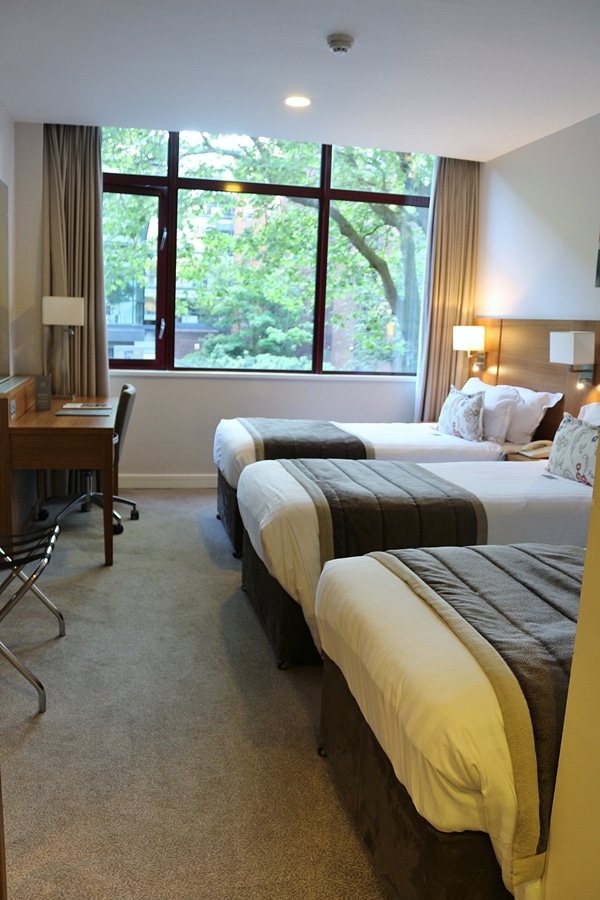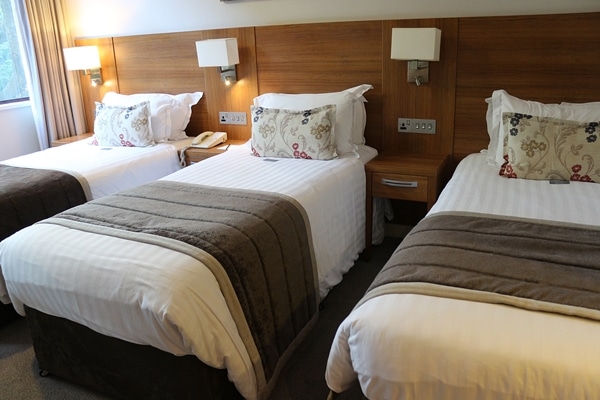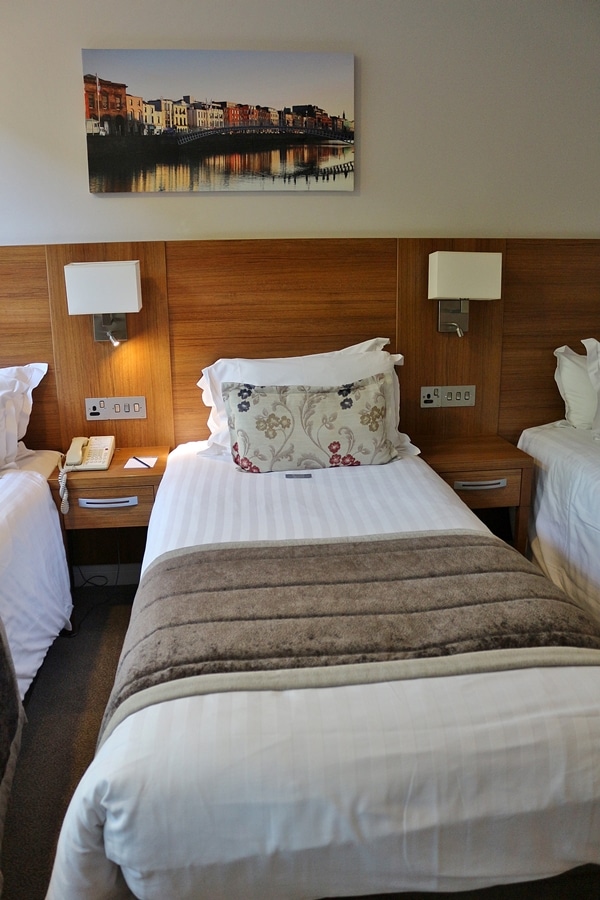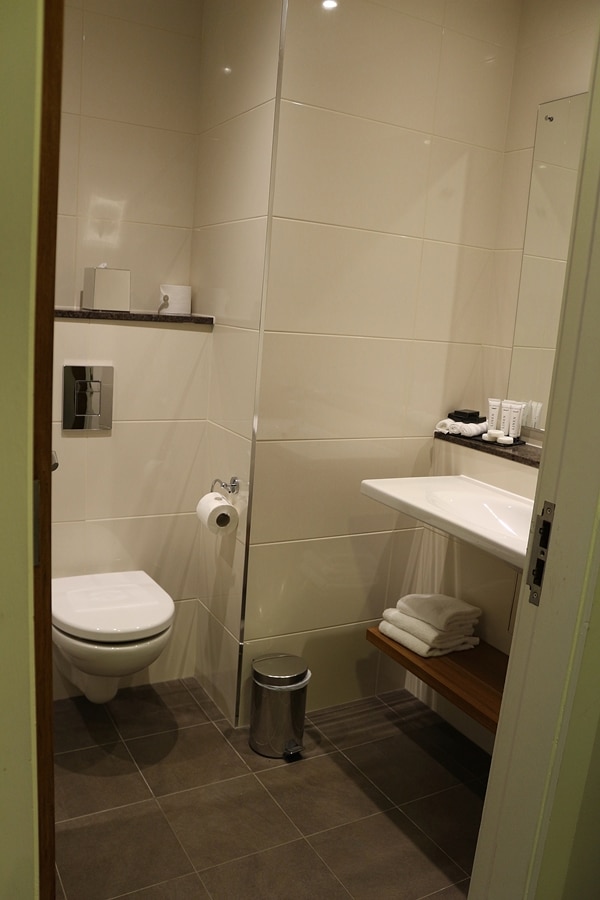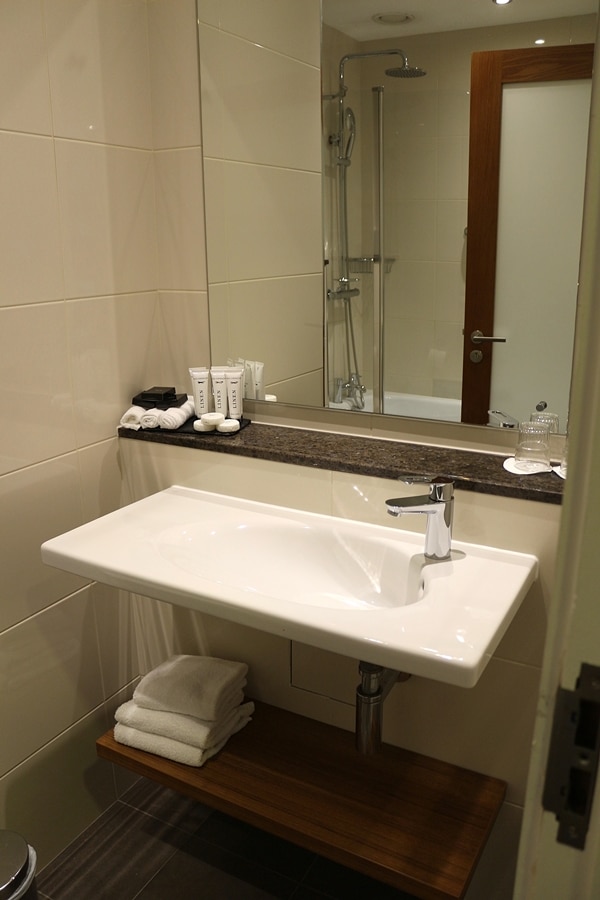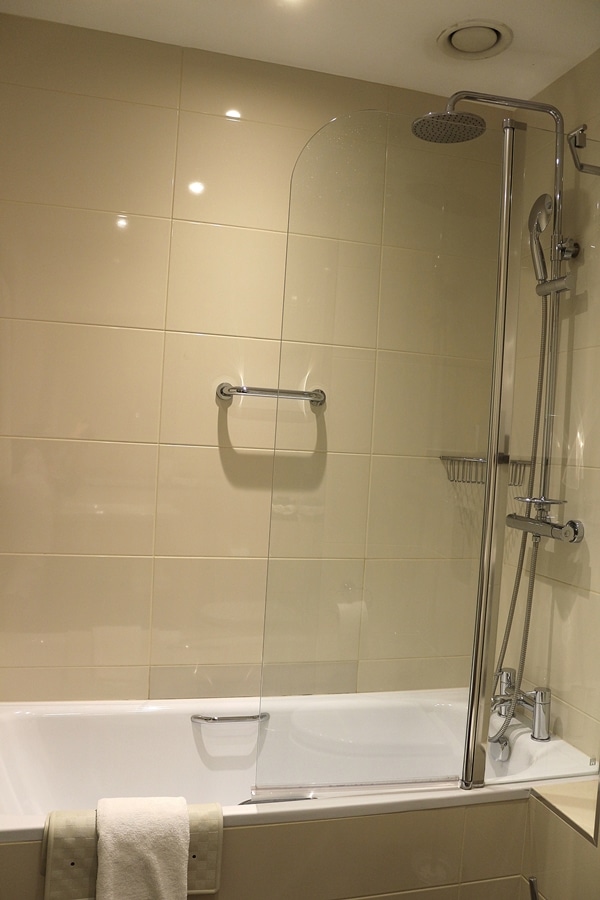 This was a nice hotel, but I would ONLY stay here again if I planned on using taxis to get around the city, as it's not really walking distance to any of the popular sights, nor is it walking distance to any of the Hop on Hop off buses.
So this afternoon was the official start to our Trafalgar tour. We finally met our tour director Bernard Creegan, a native Dubliner, who would turn out to be by far the best tour director we've ever had. I personally believe Bernard is a national treasure, and his presence and guidance on our trip is what took it from great to extraordinary. Bernard had a story for every occasion, and they were usually filled with humor. He was very organized, and posted notice boards at every hotel with pertinent details for our group. We actually find ourselves repeating some of Bernard's funny sayings as a family now, things like "dear golly gosh," adding -ish to the end of various times, and calling people organ donors whenever they cross the street without looking. I can't possibly express all of Bernard's greatness in a single paragraph, but suffice it to say our experience in Ireland exceeded our highest expectations, and that is in large part due to having Bernard as our fearless leader. Thank you, Bernard!
So without further ado, let's get this show on the road! For the first time as a group, all 47 of us boarded the bus, driven by the incredible Paul, and headed out for a quick tour of Dublin. It was obviously not nearly as in depth as what we had seen in the previous couple days (which is why it's great to arrive early), but we stopped for a quick photo opportunity at St. Patrick's Cathedral before driving to Phoenix Park, one of the few sights we hadn't checked out with the DoDublin bus in the days prior. We saw where the president of Ireland lives (in the park), and continued onward to Glasnevin Cemetery for our Welcome Reception.
Warren would be our guide at Glasnevin Cemetery, where we would learn more about Daniel O'Connell (the namesake for O'Connell Street), and even check out his crypt beneath the famous round tower. In addition to Daniel O'Connell, there are 1.6 million bodies buried at Glasnevin, that's more than the 1.2 million living in Dublin, so there are more dead bodies in this cemetery than there are living bodies throughout the city.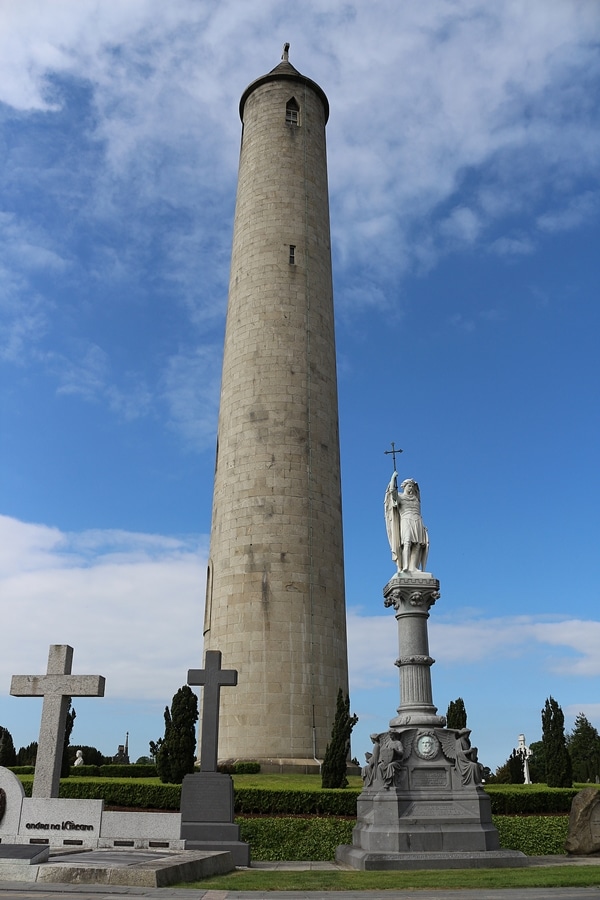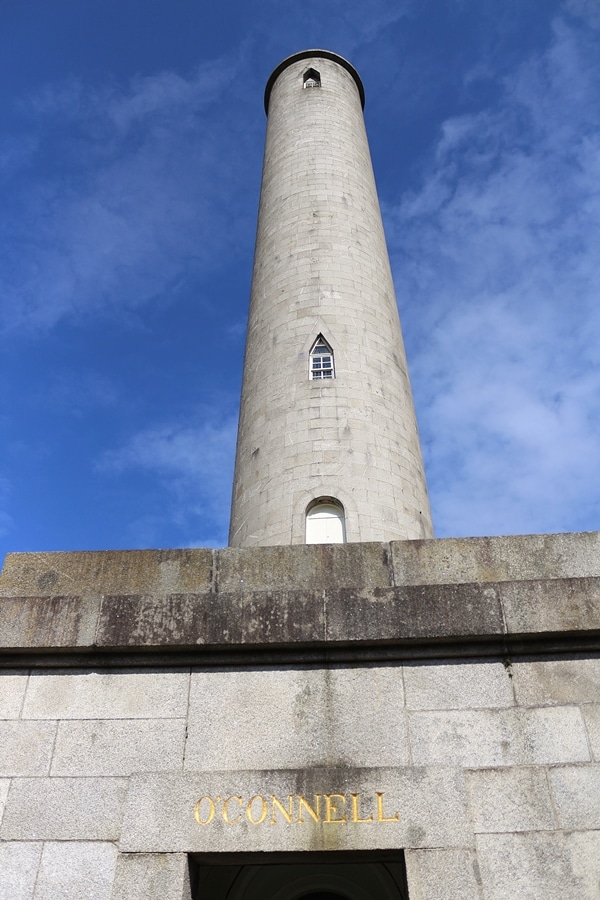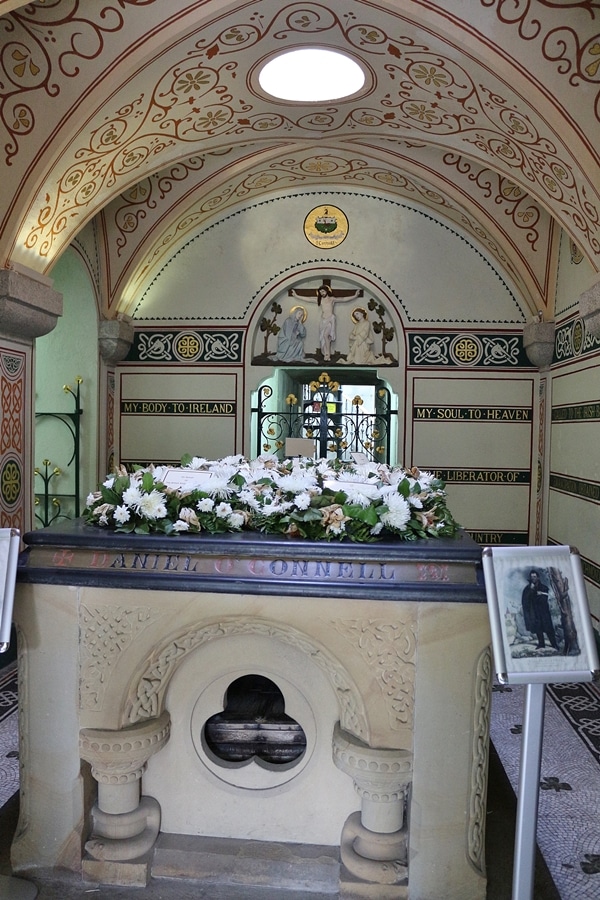 Of those 1.6 million bodies, we visited the burial site for Charles Parnell, who is buried on a massive plot of land. Apparently, they buried him over a mass grave for victims of the plague, this way no one would be tempted to dig up his body.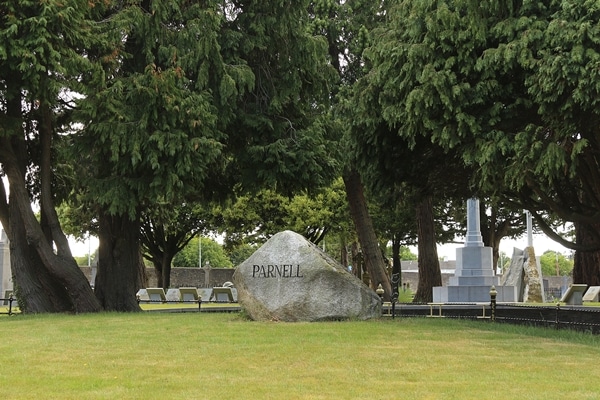 Speaking of digging up bodies, we learned more than we could have ever wished to know about grave robbers and body snatchers. Apparently at the time the church didn't allow autopsies on bodies, so in the name of science doctors would pay grave robbers to sneak into the cemetery late at night to steal would-be cadavers. We learned the best techniques on how to do this, as well as the origins of the phrases "dead ringer" and "saved by the bell." Some people would mistakenly get buried even though they weren't actually dead. They would tie a bell to their finger so they could ring the bell if they woke up, alerting passersby that they are in fact still alive. Oops!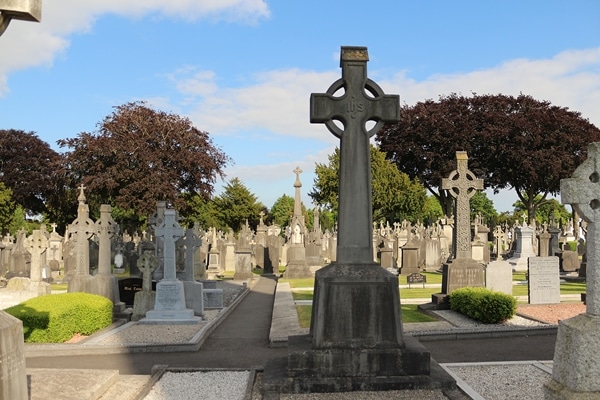 Before wrapping up our tour, we stopped at the grave of Michael Collins, a beloved Irish revolutionary, and the most visited grave in the cemetery. As a matter of fact, the plot next to Michael's is the most expensive plot for sale in the cemetery. Even in the afterlife, it's all about location location location.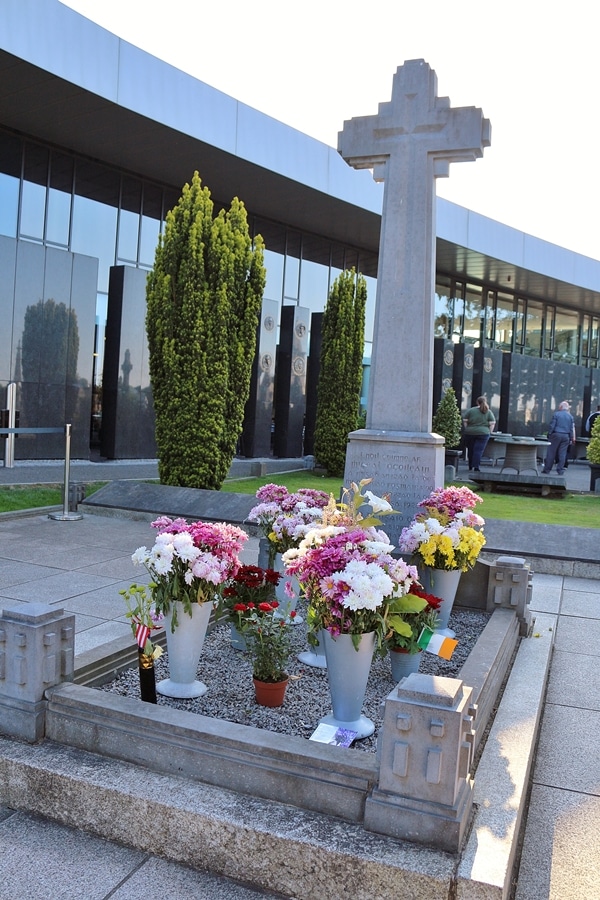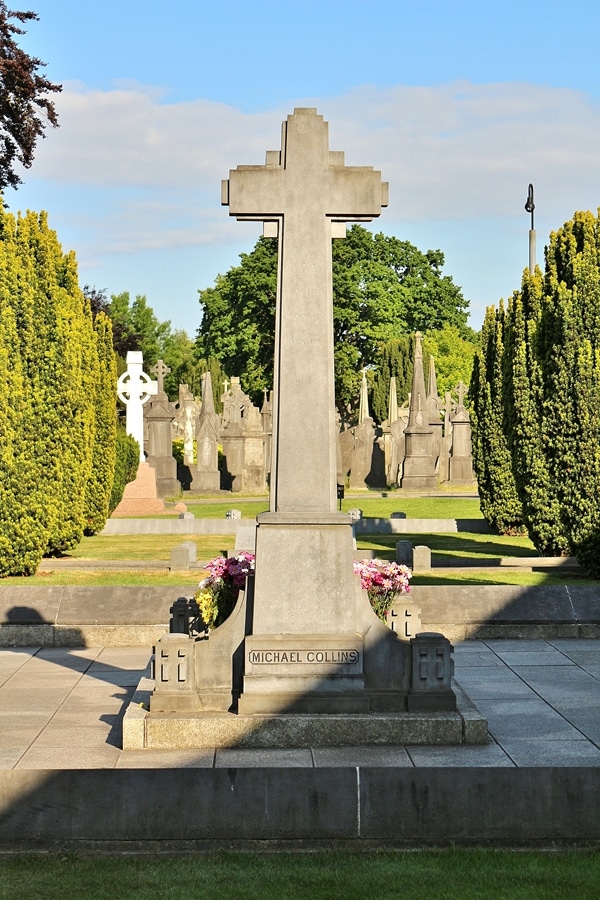 This tour was a truly unique introduction to Dublin, touching a bit upon Irish history as well. It was a great way to begin our adventure with Trafalgar.
After the tour was the food and drink portion of our Welcome Reception. This is where the quality of the event drops a bit. What you'd expect to eat an actual meal as the "Welcome Reception" and first outing as a group, falls a bit short. It's described on the itinerary as "drinks and canapés." Although there are drinks, there are no canapés, but rather an option of either chicken or lamb stew (of sorts) over rice. It's a small portion, otherwise I'd have little to complain about. The dish itself was tasty. I had the chicken, which was stewed with peas, sweet potatoes, and lentils. They easily could have increased the size of the portion and it would have been substantial enough to call it a meal as opposed to a hearty snack.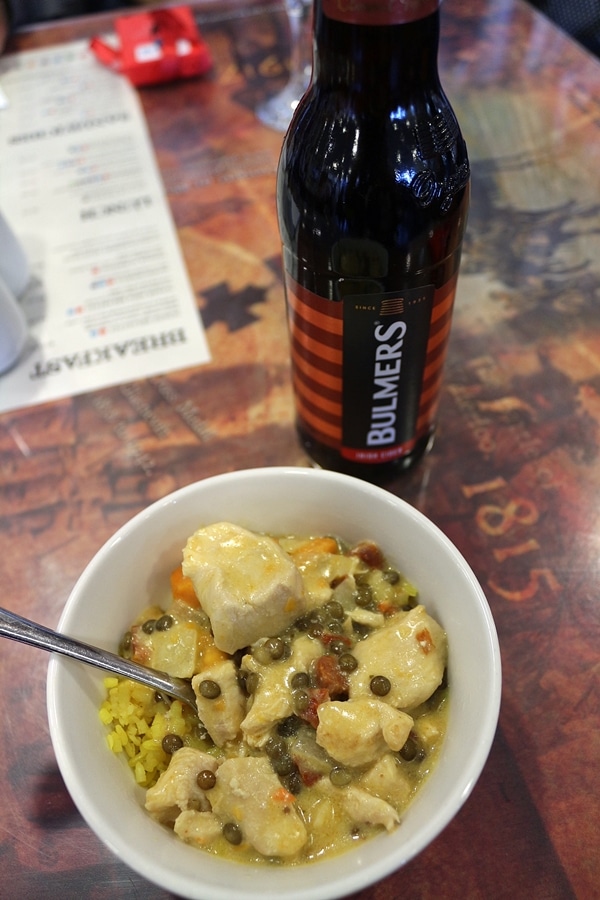 Dessert was even more flimsy, an option of a tiny fruit skewer or an even smaller bite of tiramisu with an odd gelatinous texture. Come on! This is not dessert. Although I appreciate the booze, and the tasty stew (albeit a too-small portion), dessert was pretty pathetic. This was the least filling meal of those included in the cost of the trip. As our first meal and first impression, they could have done better than this.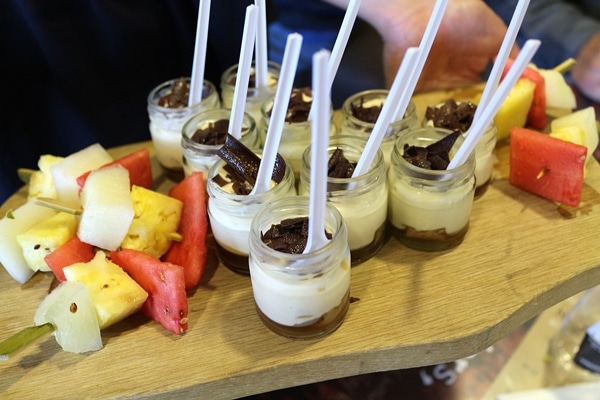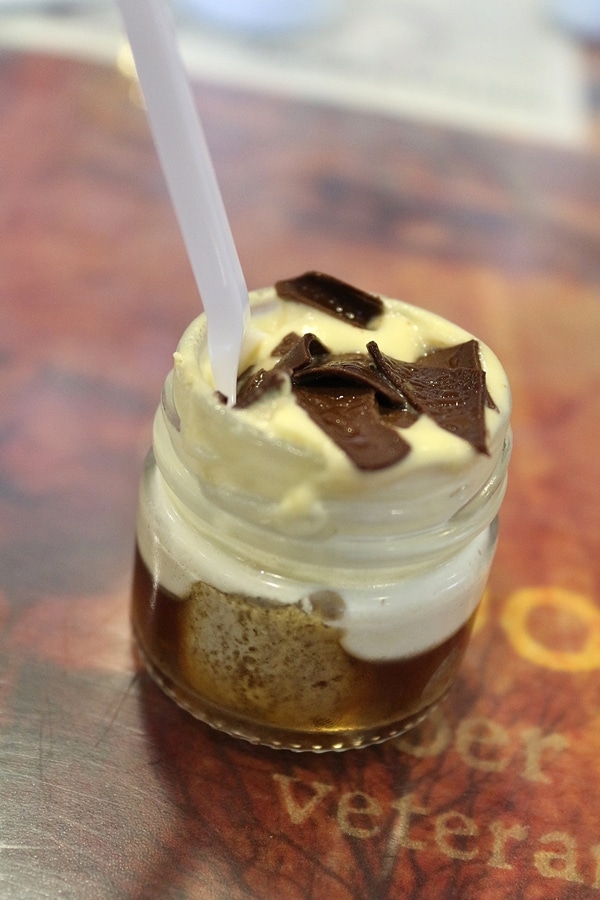 Our final day in Dublin was a good one. It was a bit calmer than the previous couple days, which was nice. Tomorrow we hit the road and head to our next stop, Belfast! Stay tuned.
Ireland - June 2018