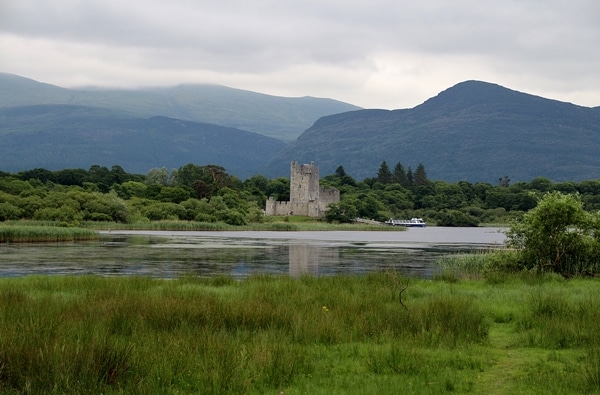 Today is one of the most beautiful and scenic days of the trip. Buckle your seat belts, we're going for a ride! But first let's head to the Innisfallen Restaurant at our hotel for some breakfast. This was one of my favorite hotel restaurants with lots of seating and separate spaces throughout the dining room.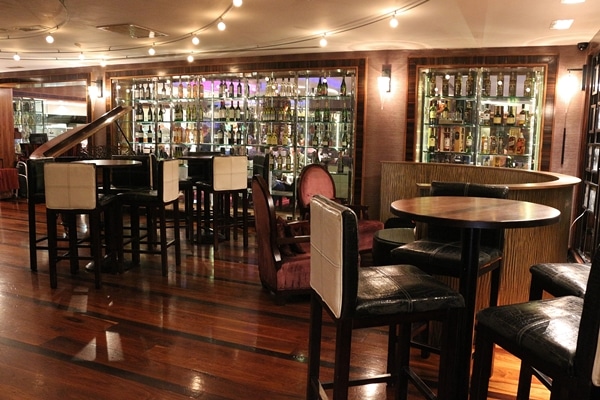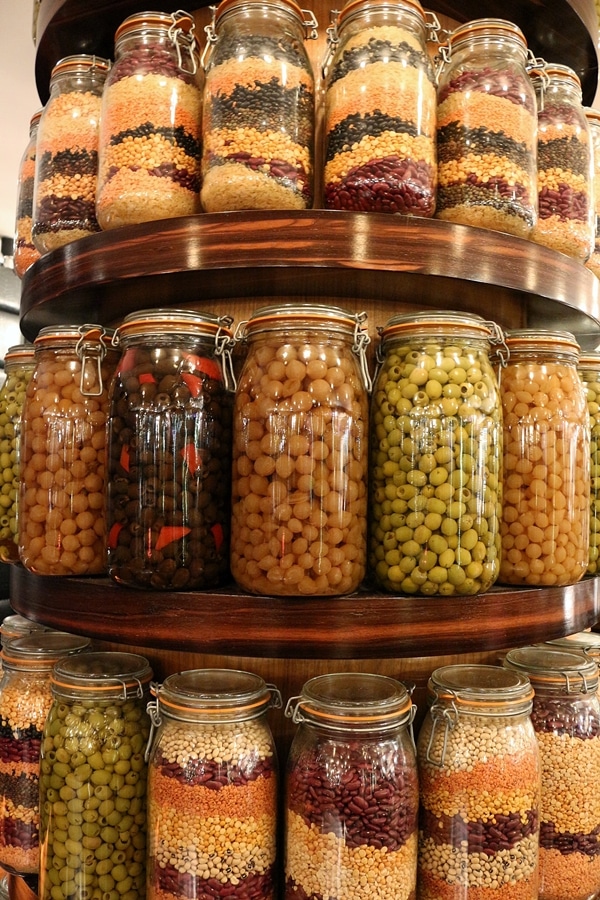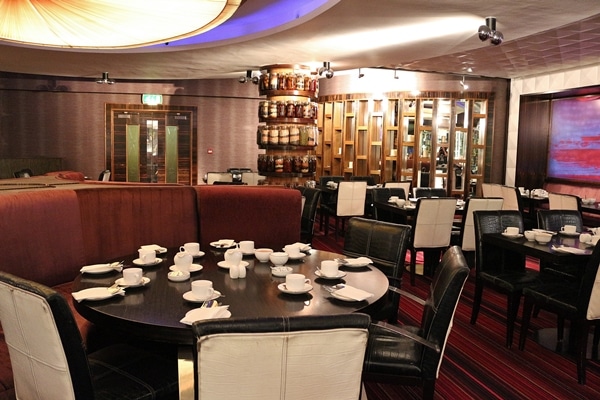 It had a great variety for the breakfast buffet. I particularly enjoyed the smoked salmon and toppings. The salmon was tender and not too smoky. There was also a decent cheese and meat selection. Pancakes were available too, but kind of dry. Delicious smoothies in little bottles, and tiny croissants were excellent breakfast fare, especially when served with a nice hunk of Brie on the side.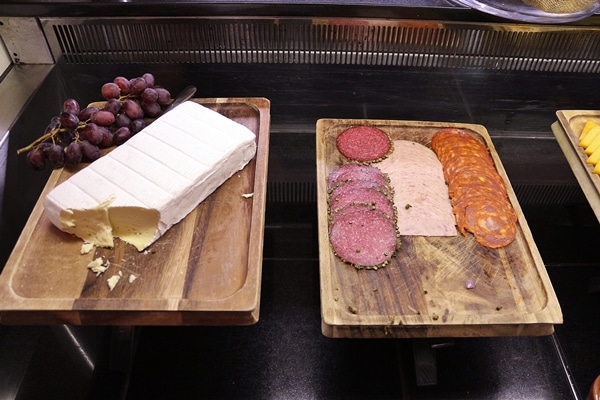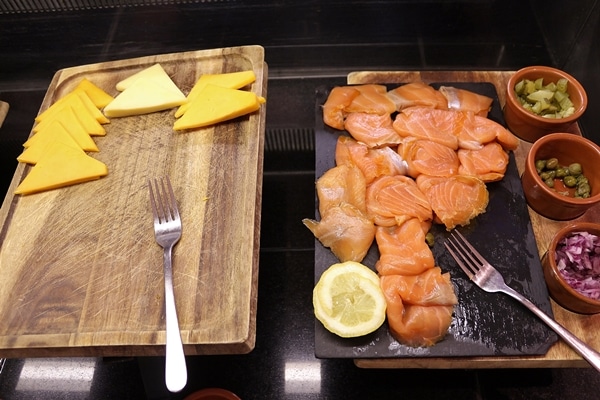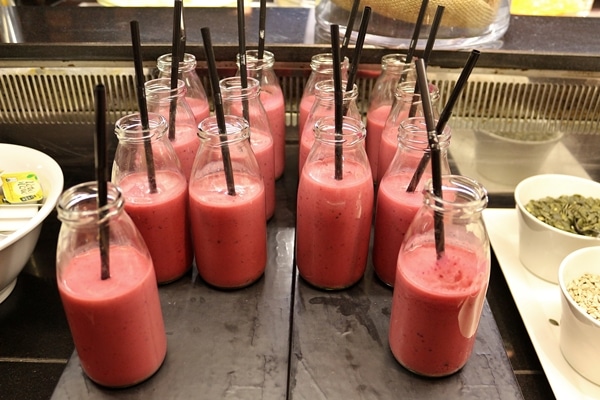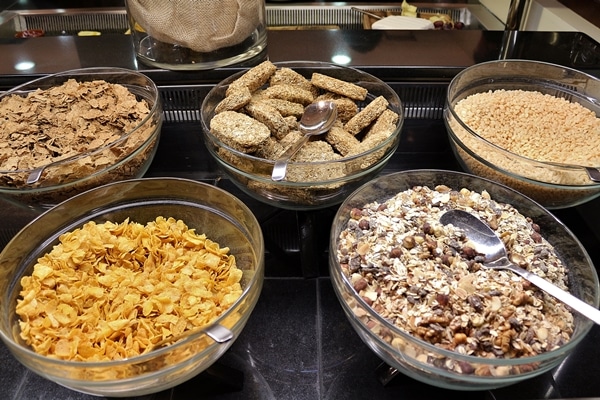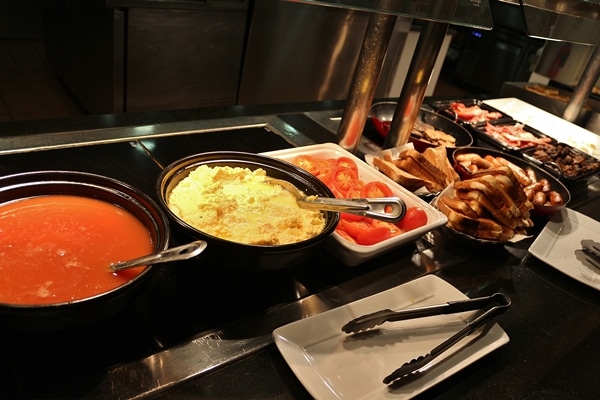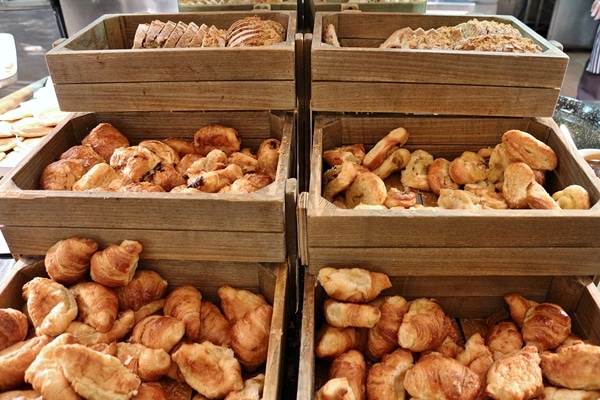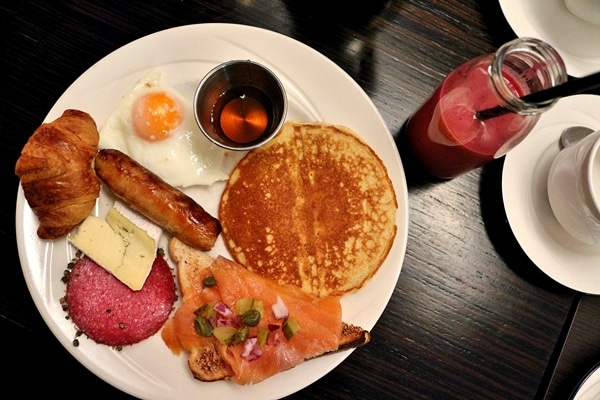 With our bellies full we headed to the Ring of Kerry, a scenic drive around the Iveragh Peninsula. Because these roads can be very narrow at times, all coaches have an agreement to drive counterclockwise around the Ring. There's also only a handful of spots that accept coaches, due to the lack of parking and space. Our first stop on the Ring was at the Red Fox Inn in Kerry Bog Village.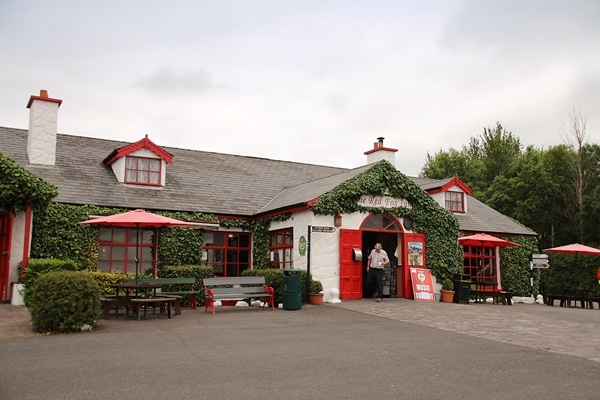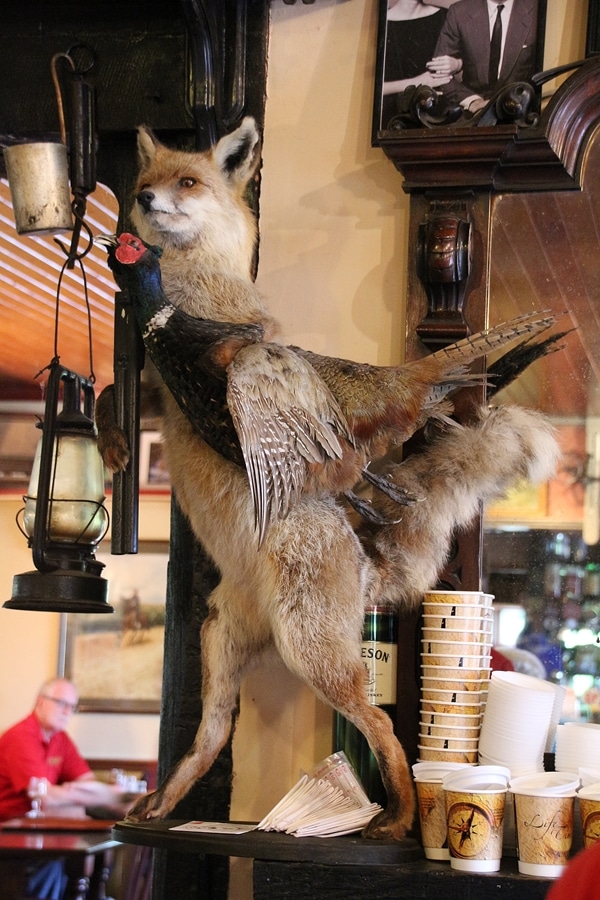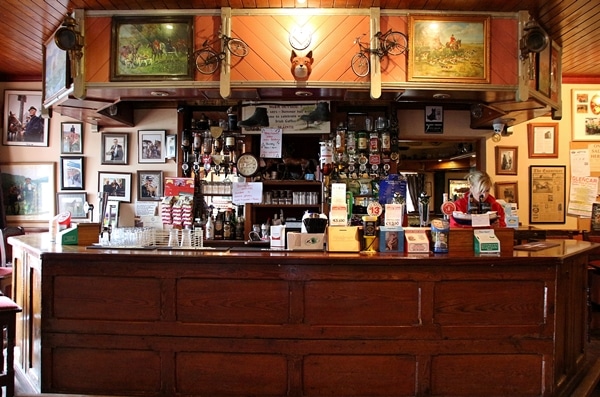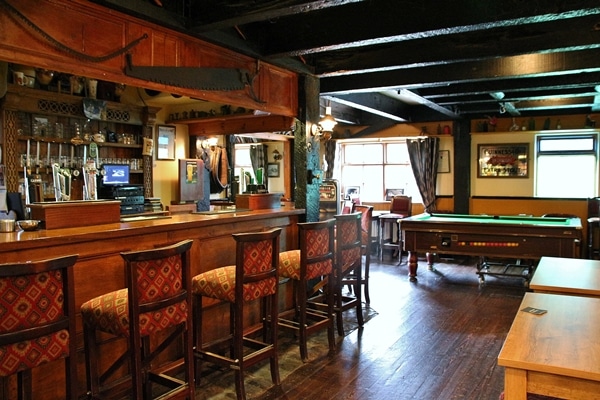 This was mostly as a bathroom break, and of course to enjoy some of their famous Irish coffees. They serve both Irish and Baileys coffees, and we got one of each to try. The proper way to make an Irish coffee is to mix the booze (in this case Jameson Whiskey or Baileys) with a little brown sugar and then add the coffee. You then pour the cream on top, but don't mix! We enjoyed both coffees, but the Irish coffee was stronger. The coffees here are €6 each, not bad considering they contain a generous amount of liquor.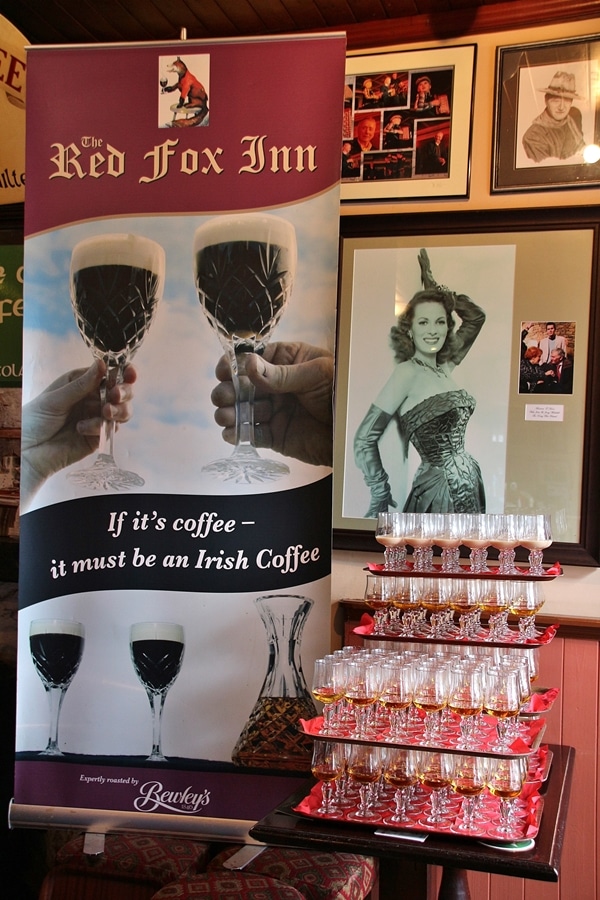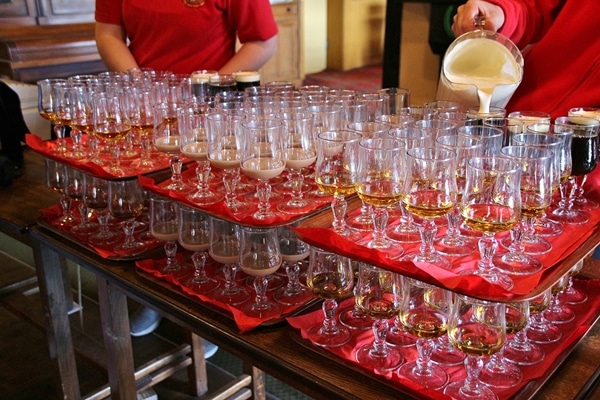 The Red Fox Inn is a busy spot. One-hundred-twenty coaches pass through here daily. In the 30 minutes we were here the parking lot went from just our single coach to 9 by the time we left. It also got crazy crowded indoors before we headed out. It was worth getting an early start to be the first in and first out.
Next we stopped for a quick photo op of Dingle Bay, and then continued our drive through Caherciveen, the birthplace of Daniel O'Connell.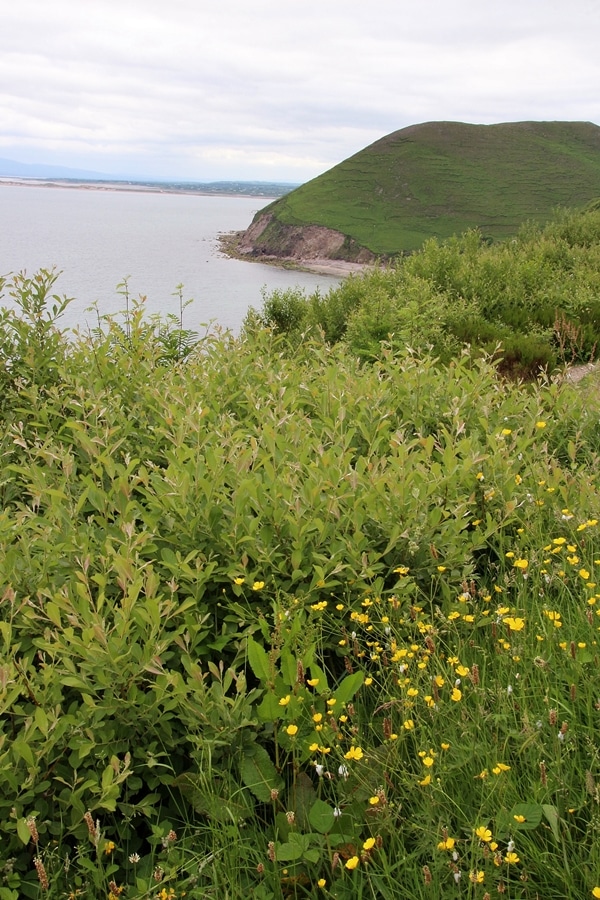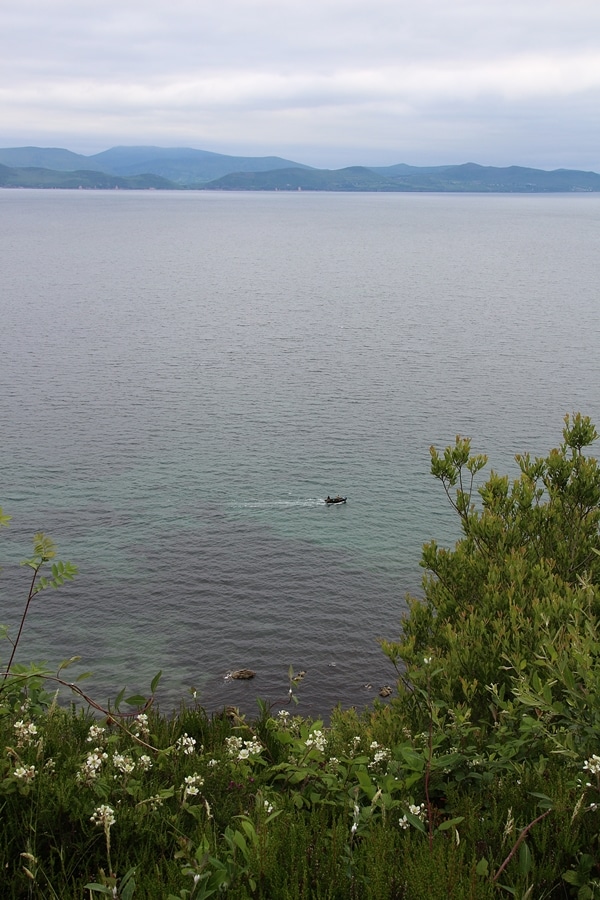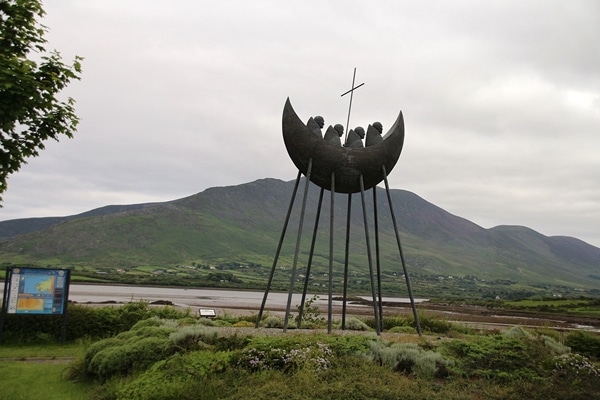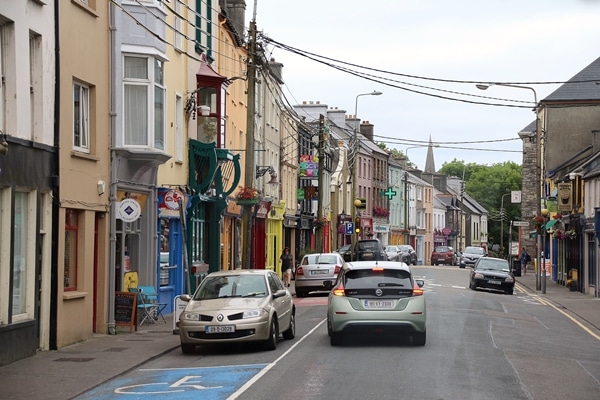 We stopped again in Waterville, which was a favorite holiday spot for Charlie Chaplin and his family. The shore here was quite lovely, scattered with smooth, multi-colored rocks.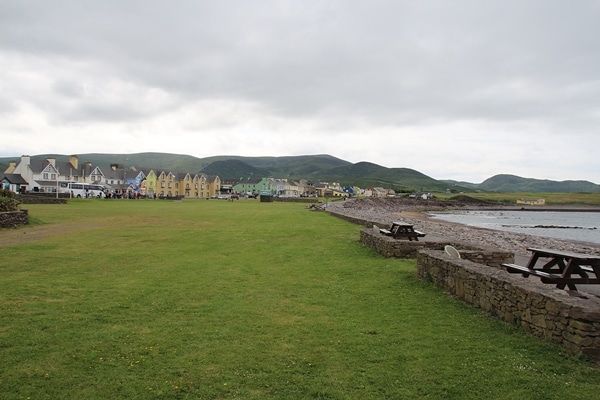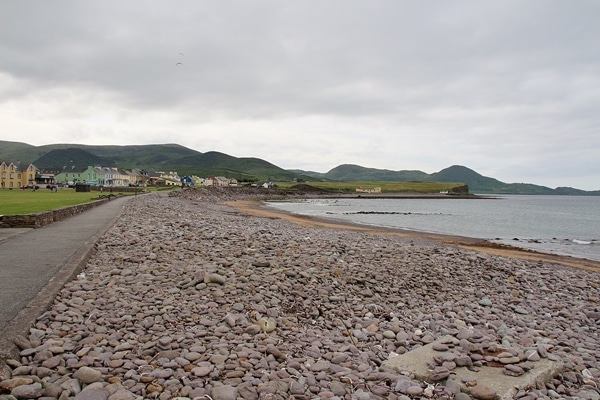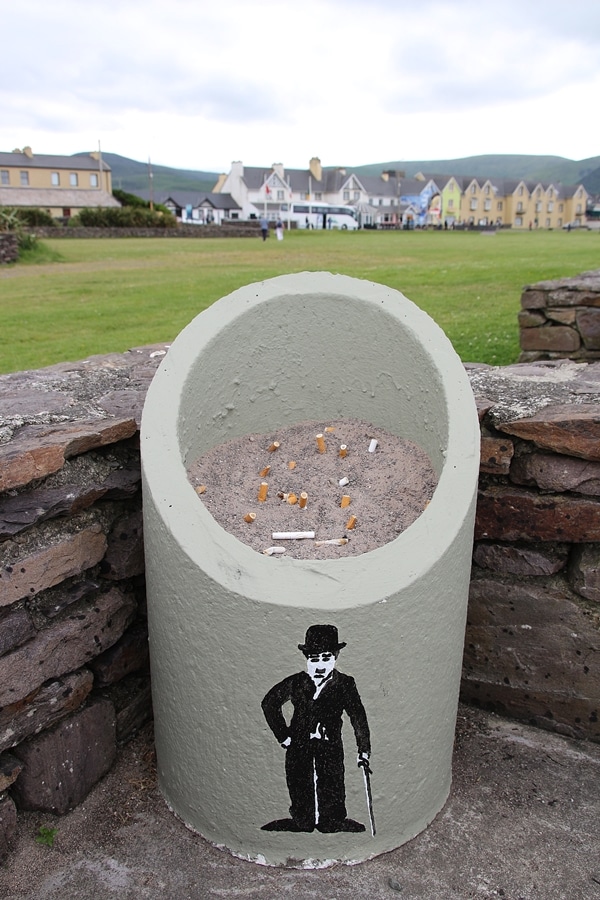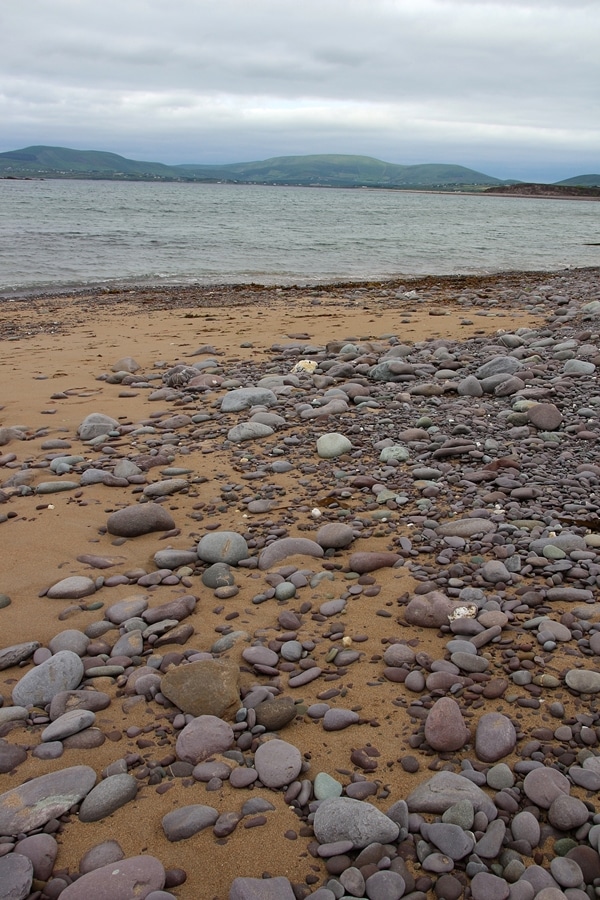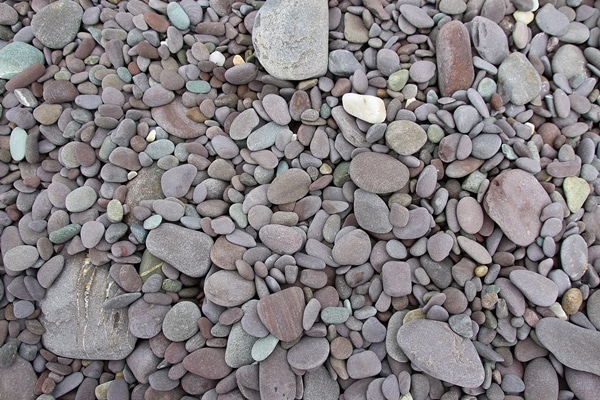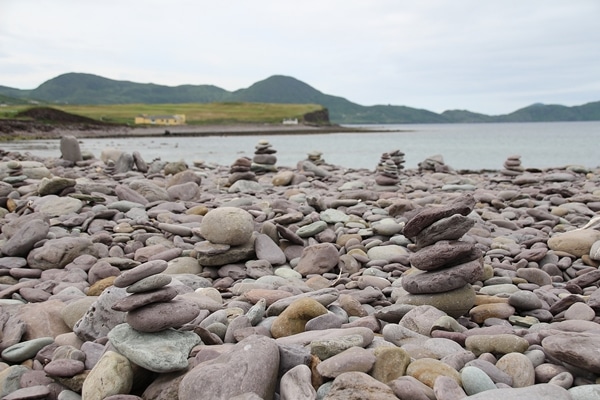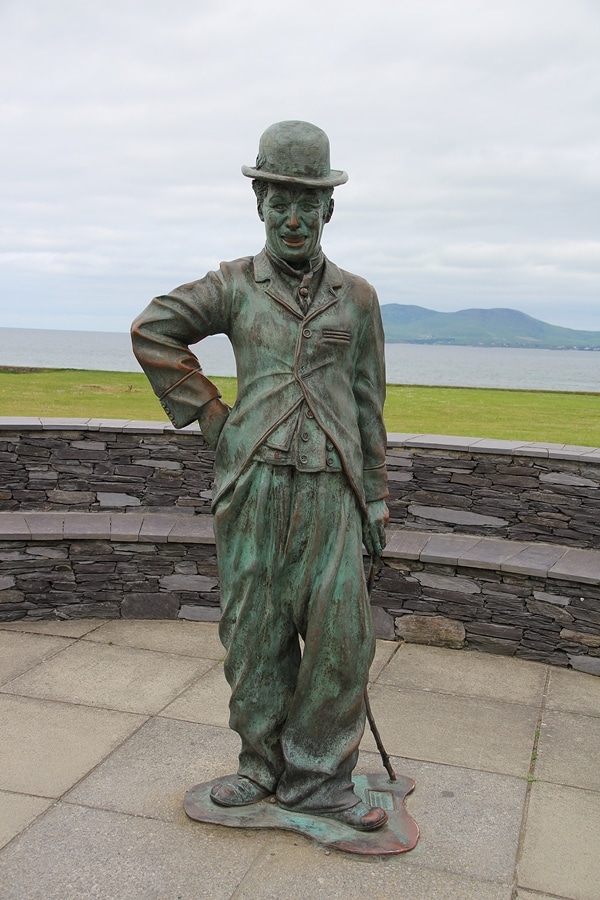 As we continued our journey, we were very lucky to get a nice clear view of the Skellig Islands. Skellig Michael is actually the location of Luke Skywalker's Jedi hideaway in Star Wars: The Last Jedi. This was one of the sights I most wanted to see, and was thrilled to have a clear view on our travels, even if it was simply from across the bay.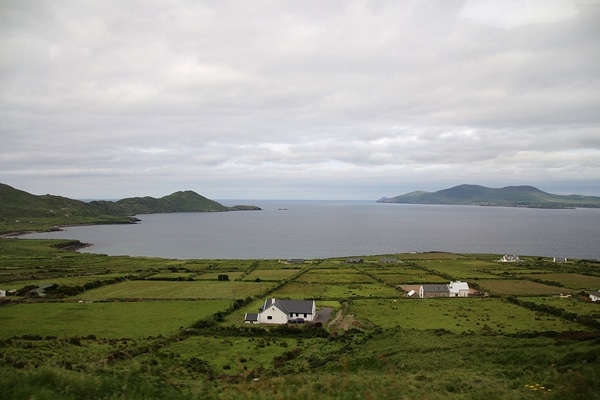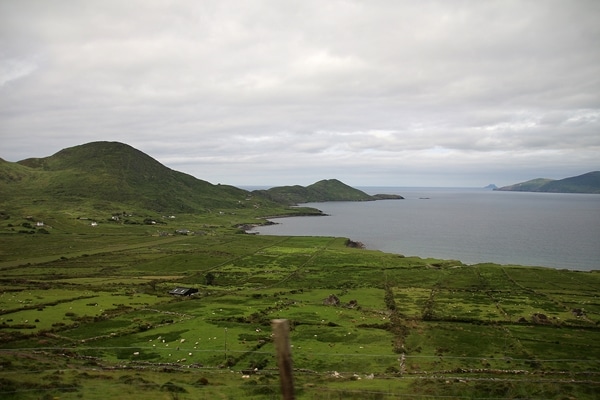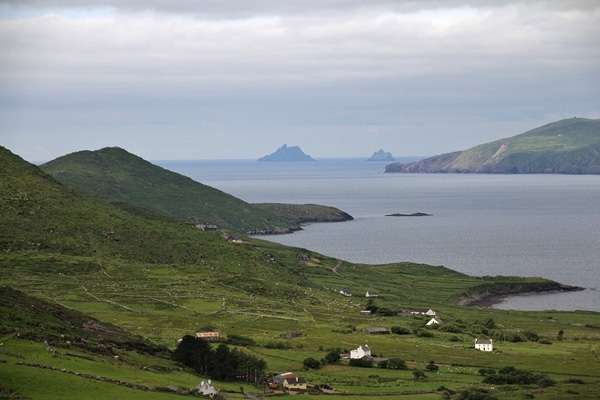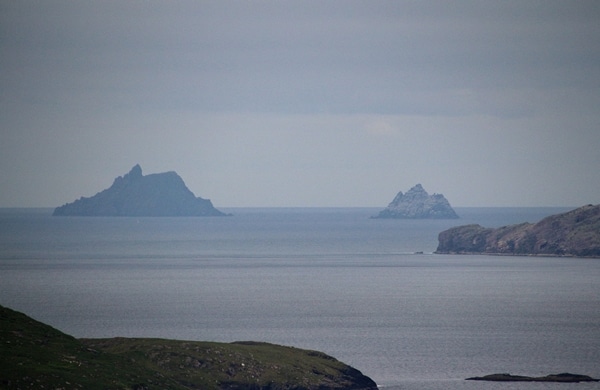 We stopped for lunch at Scarriff Inn, which was the perfect location for lunch with a view. In fact they claim to have "Ireland's Best Known View," and I wouldn't disagree.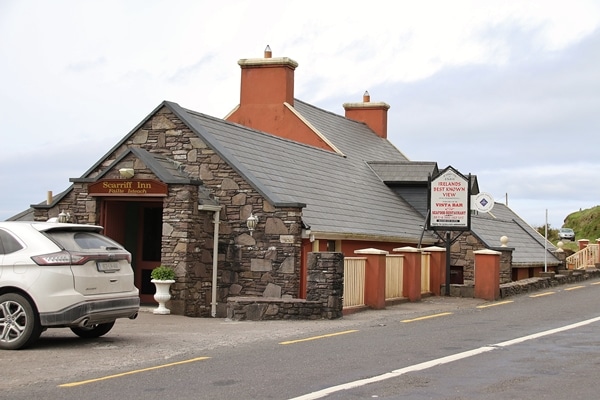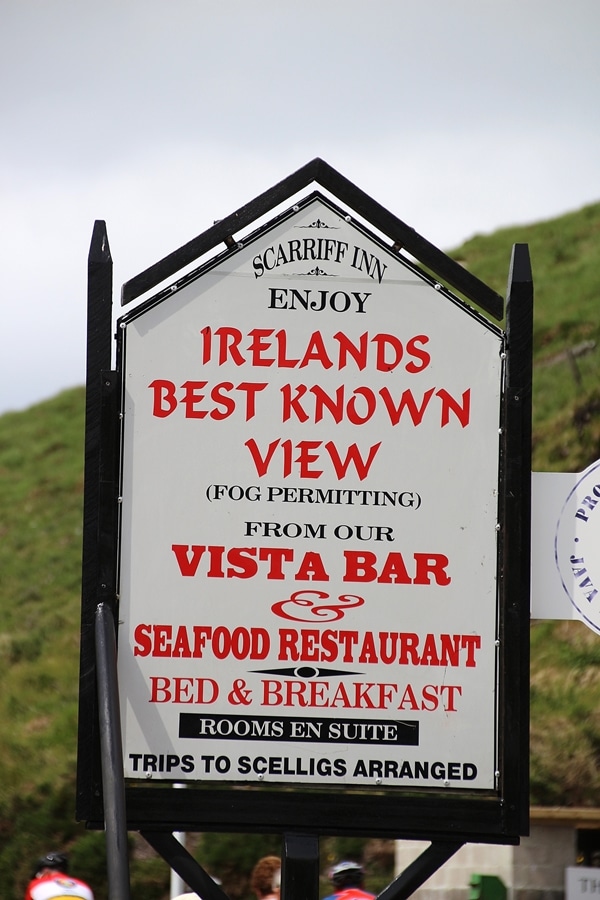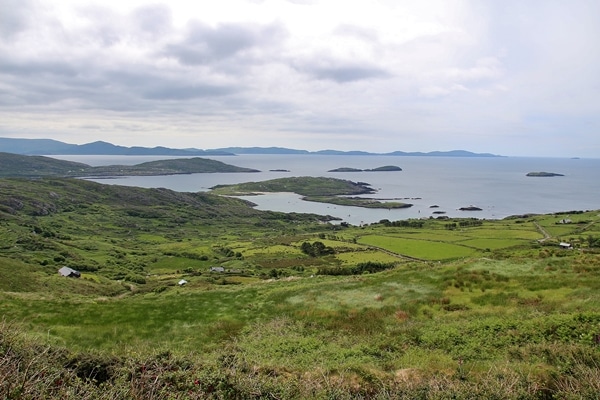 Not only was the Inn large enough to accommodate our group, but the staff was helpful, and actually walked through the line with us to help us order and carry our tray. I'm sure this sped up the process of ordering for a group our size.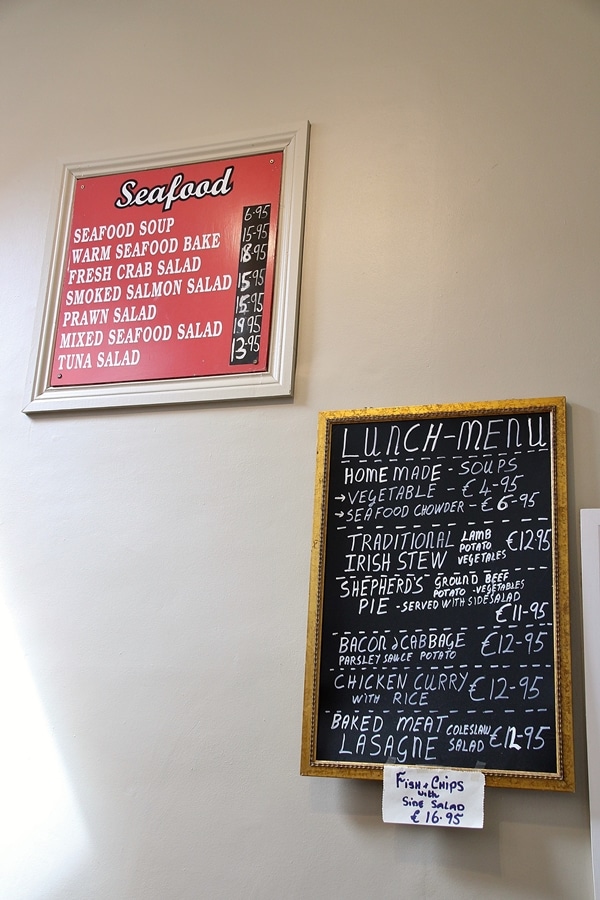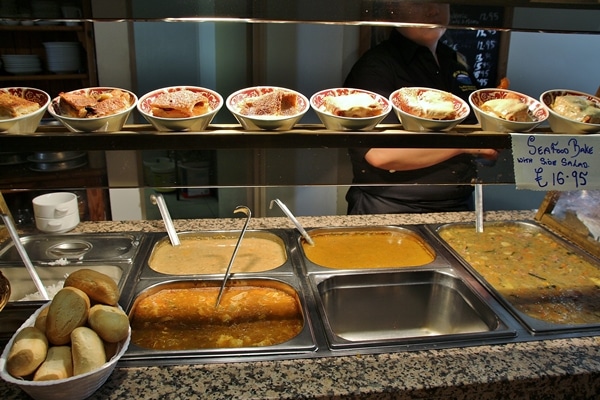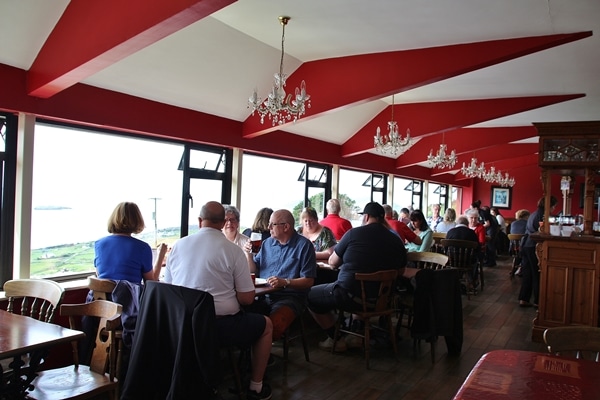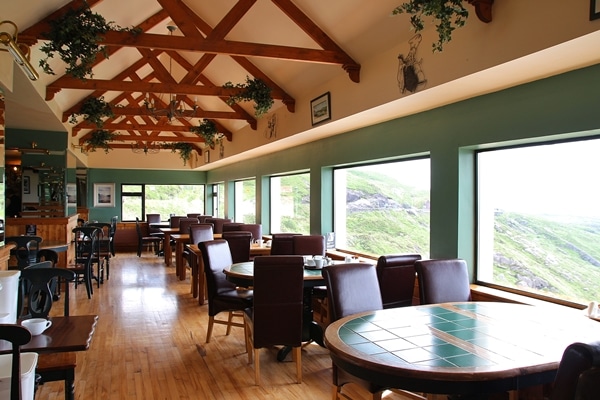 The views really are incredible, and the food here is also excellent. Dad ordered the vegetable soup, and it was much better than yesterday's, had way more flavor.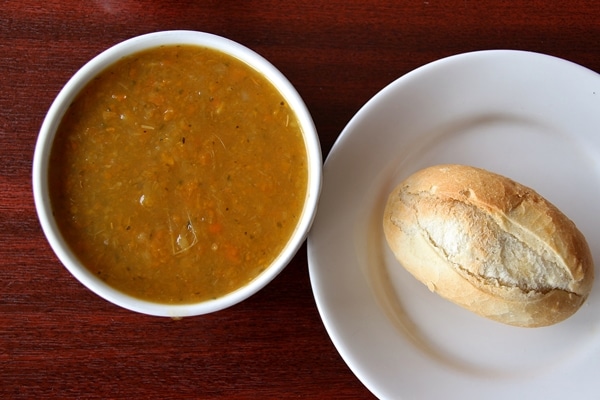 Mom tried the chicken curry, which was mild but very flavorful and delicious with chunks of tender chicken breast.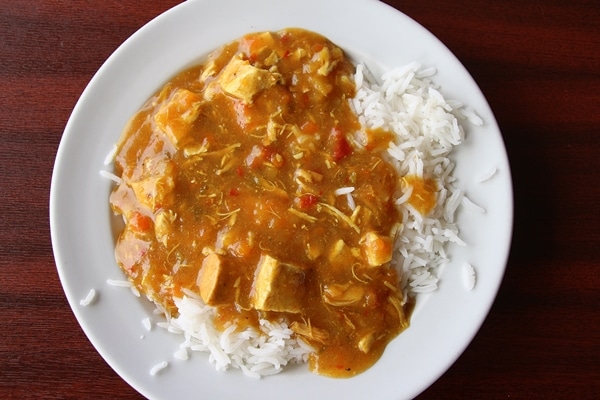 My pick was the shepherds pie, which was fantastic. All the seasonings were on point. This was my first time having shepherds pie with melted cheese on top, but I really liked this touch. It added another layer of yum!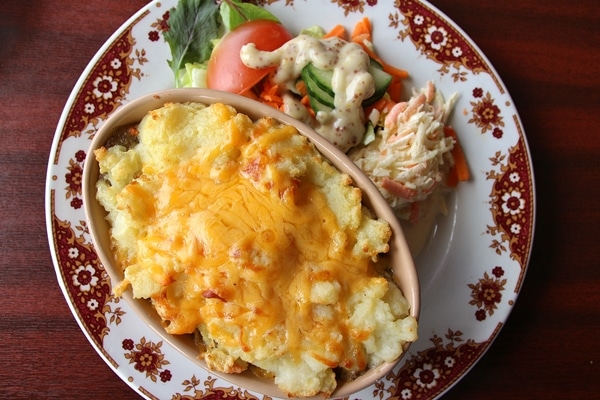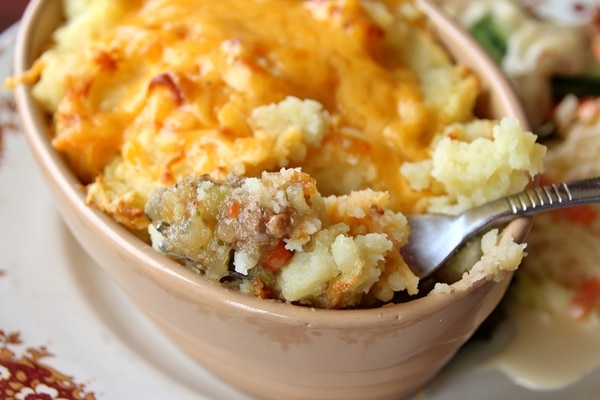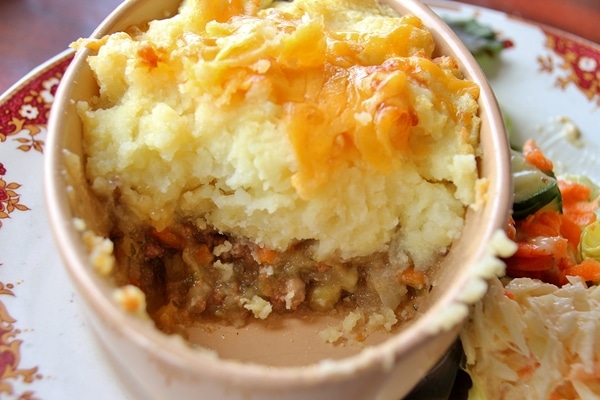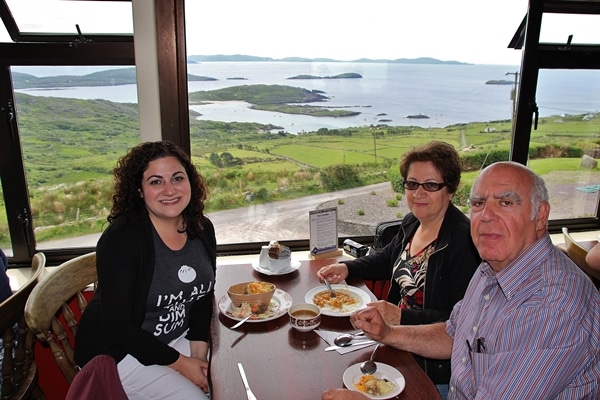 After lunch we continued along the Ring, driving through Moll's Gap, and then stopping for another photo op at the Ladies' View, a scenic stop overlooking the Upper Lake at Killarney National Park. Breathtaking!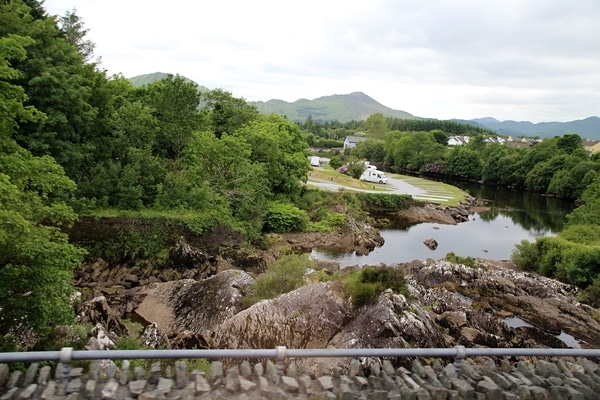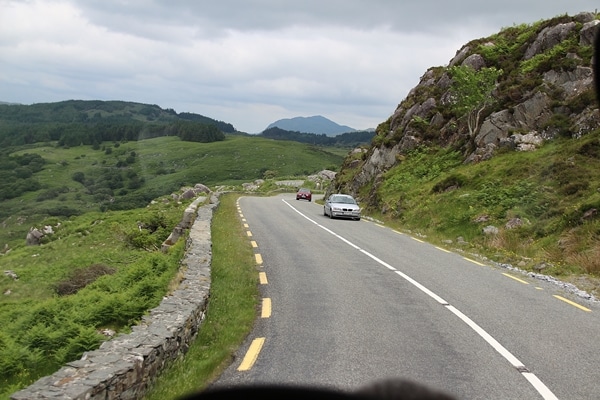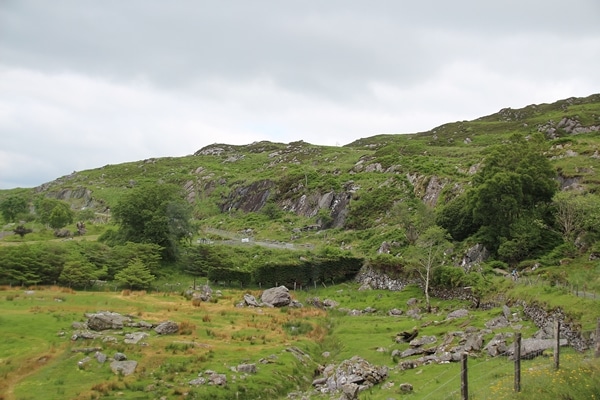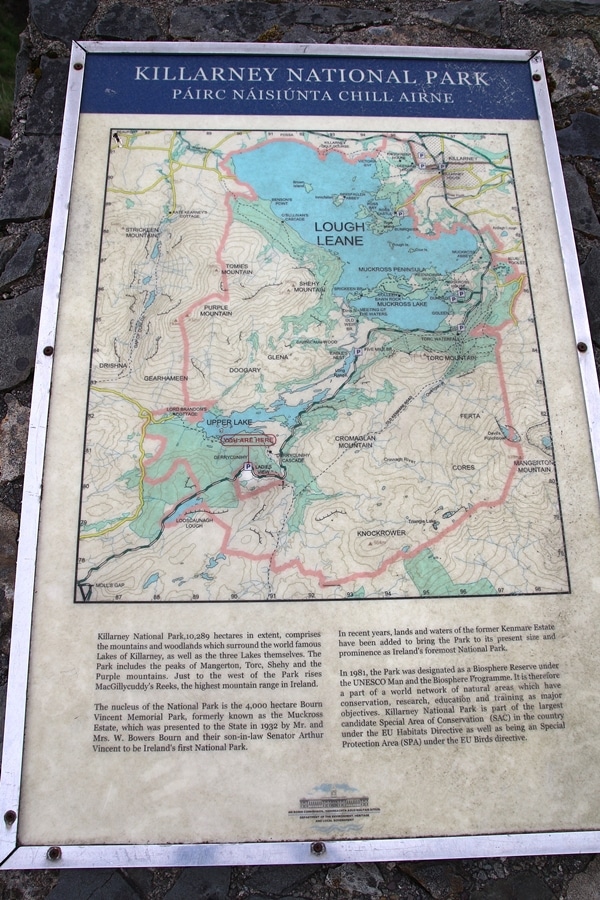 We drove through the Kissing Tunnel, where Bernard made silly smooching sounds on his microphone, and then headed back to our hotel for a short break before our afternoon Optional Experience.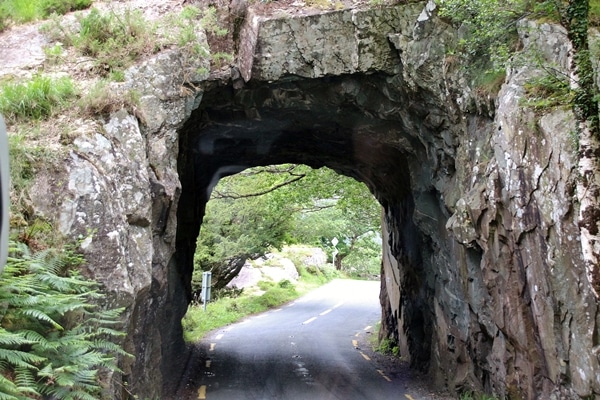 Jaunting Carts in Killarney National Park are a 200-year-old tradition, so we definitely didn't want to miss out on this experience! John was our driver, and 11-year-old Sally was our horse. After inquiring with John we learned that each Jaunting Cart horse only "works" 2 days for each of the first 2 weeks, then 3 days the following week, and starts over. Each horse only does 3 cart rides per working day, and the horses get shuffled around so they aren't over worked. The horses are not stabled, and graze in their free time.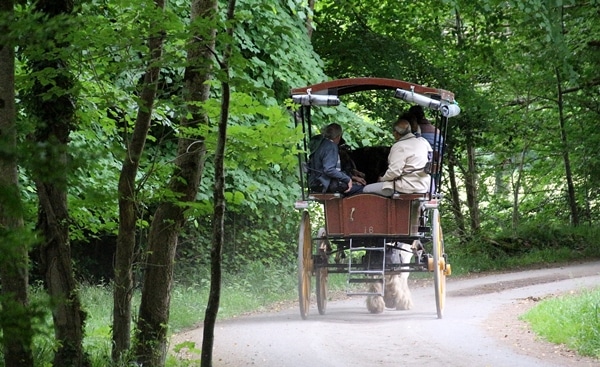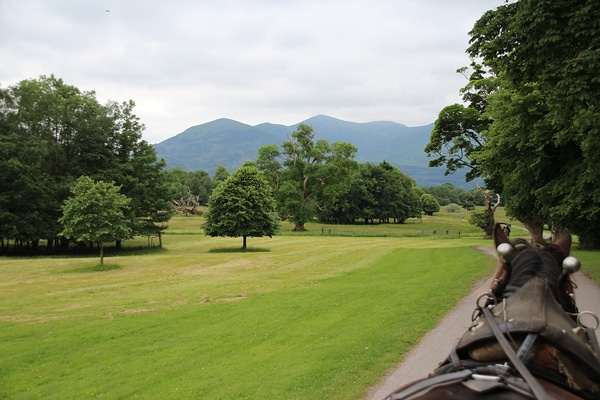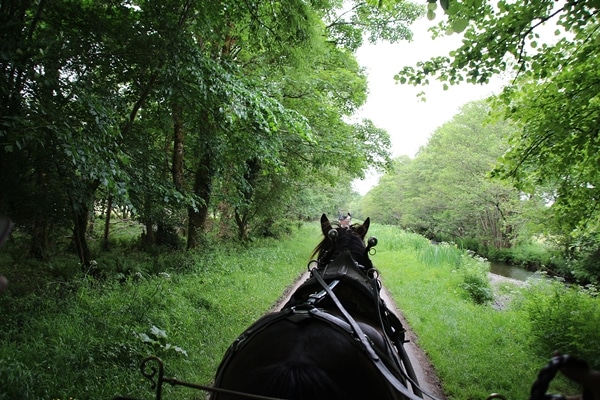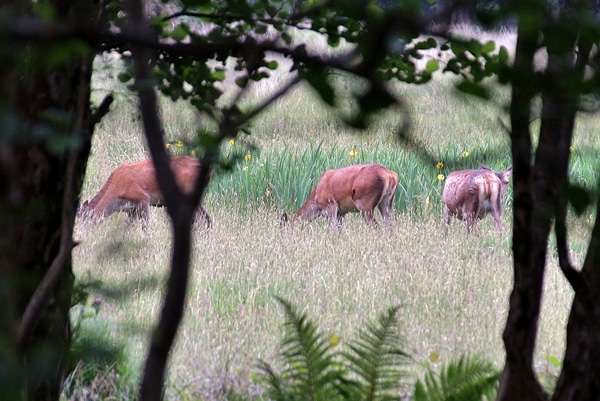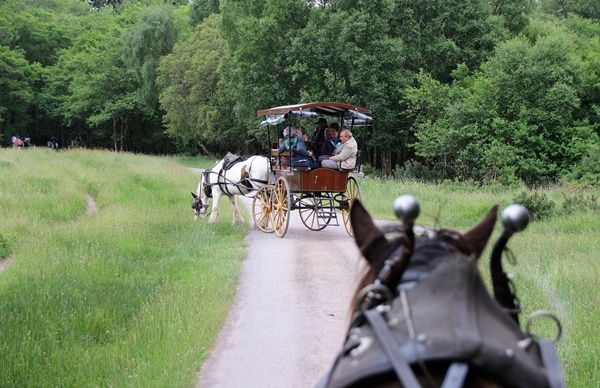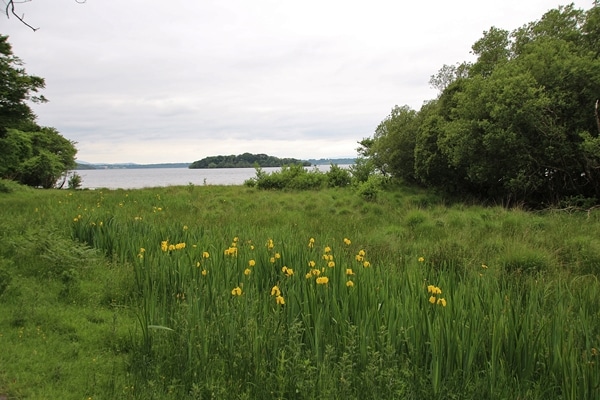 Sally took us for a ride around an approximately 5-mile trail around part of the 65,000 acre park. Nature was in full force as we trotted through fields of green and lush forests, and viewed upon the gorgeous scenery of the Lough Leane (or lower lake) and Ross Castle, a shooting location for Ryan's Daughter.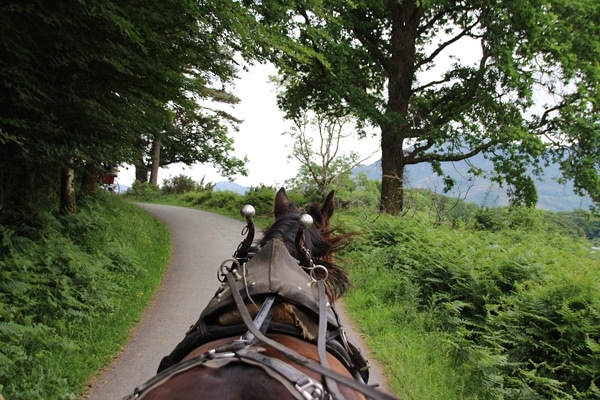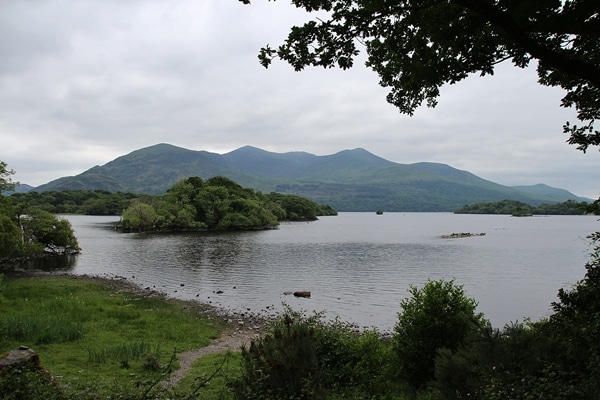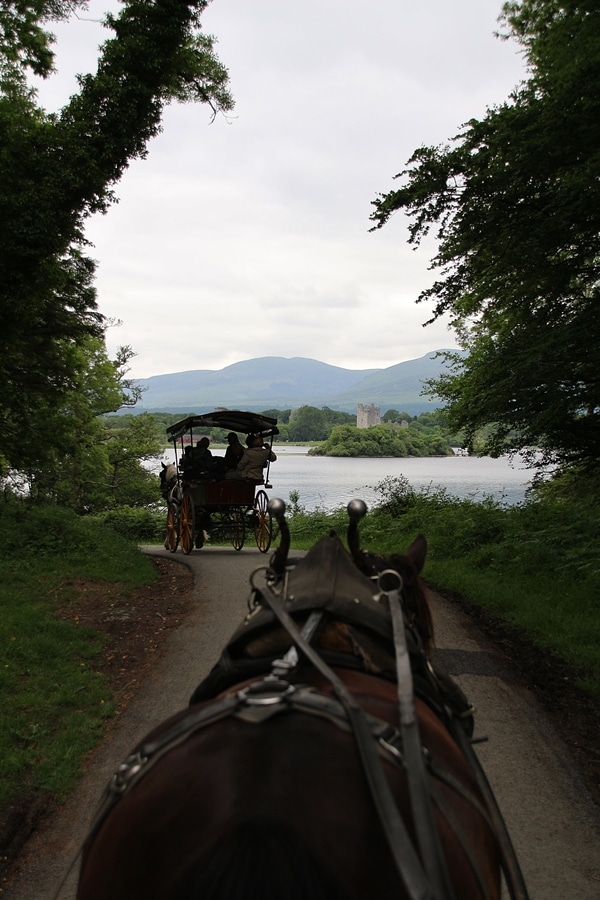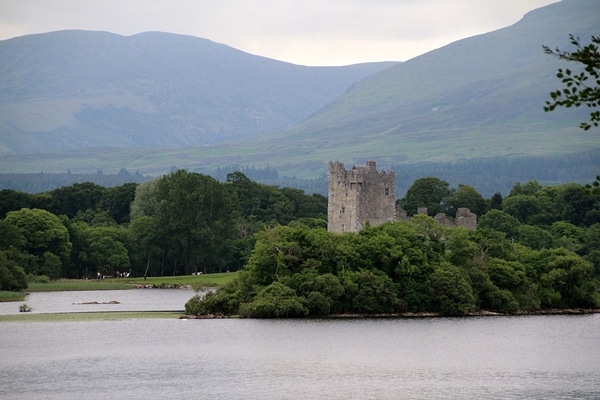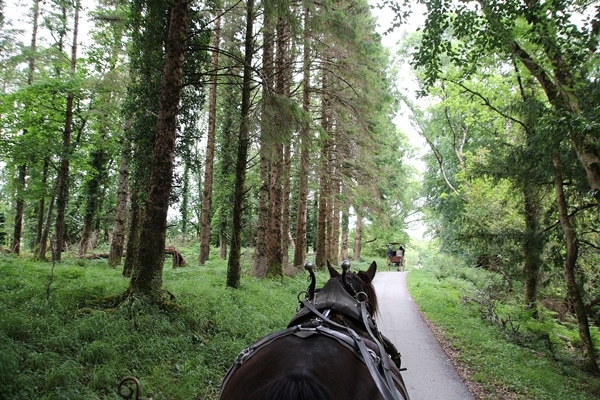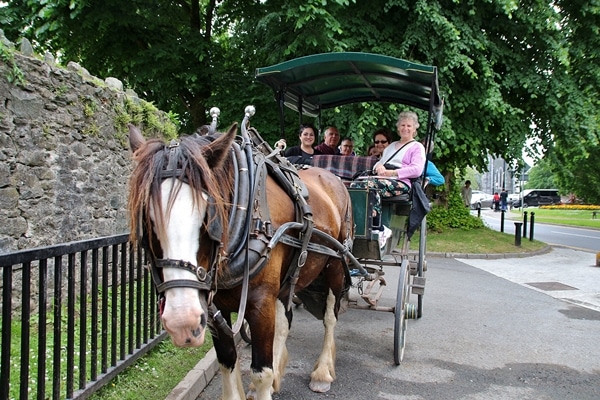 After wrapping up our Jaunting Cart ride, we wandered around the Killarney city center a bit. Like I said before, this was one of our favorite destinations on our tour, and it was so enjoyable checking out the shops around the neighborhood. We had seen Murphy's Ice Cream previously along our journey, but hadn't tried it yet. We were lured in by the free samples at the door! We tried the dreamy creamy caramel, which was super dreamy and creamy.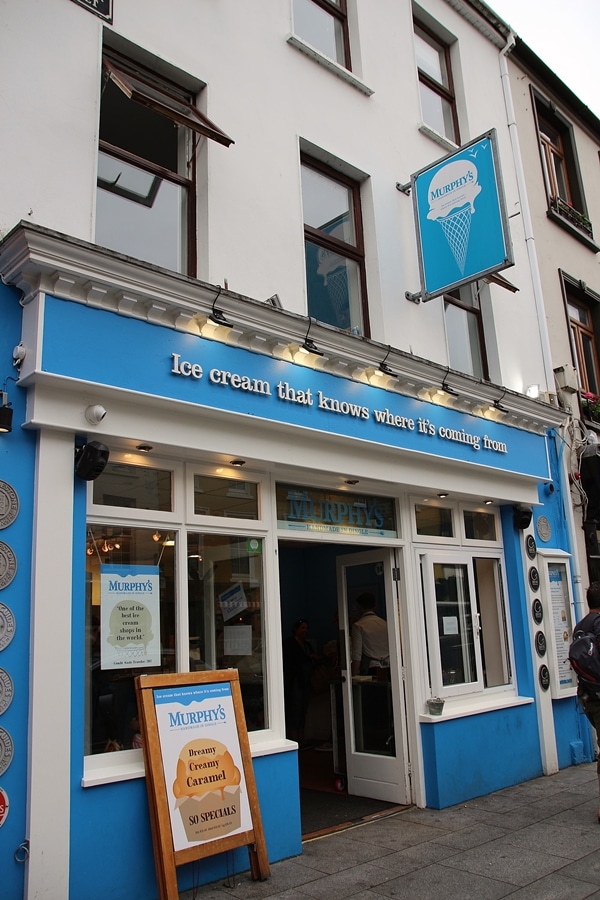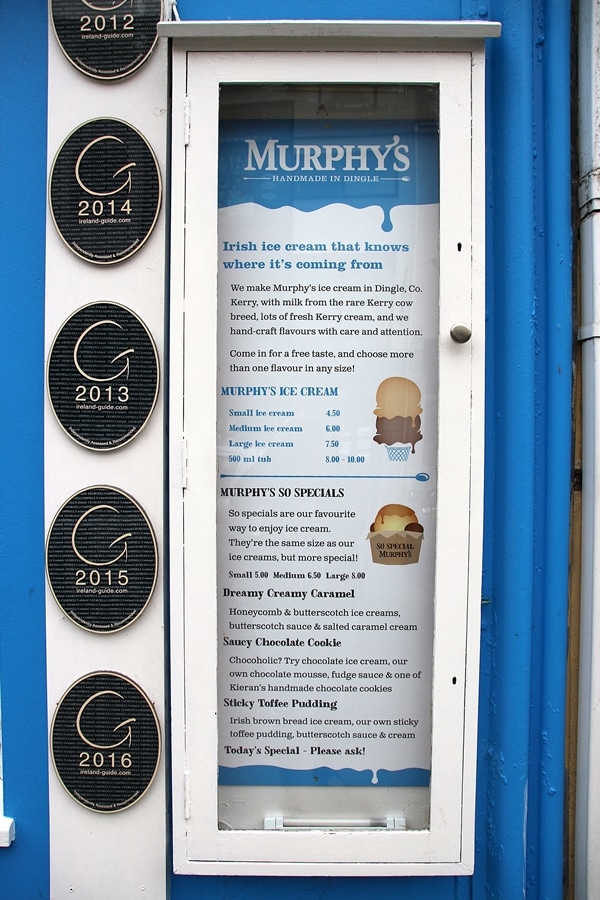 The girls inside were so friendly and awesome. They asked about my dim sum shirt, but didn't know what dim sum was. They also let us sample nearly all the flavors. We chatted about what we had done during our visit here and where they were from. They also showed us a funny shirt that is a play on words for a Gaelic saying that means kiss my ass (póg mo thóin), but changed word "thóin" to "cone" to make a cheeky reference to ice cream.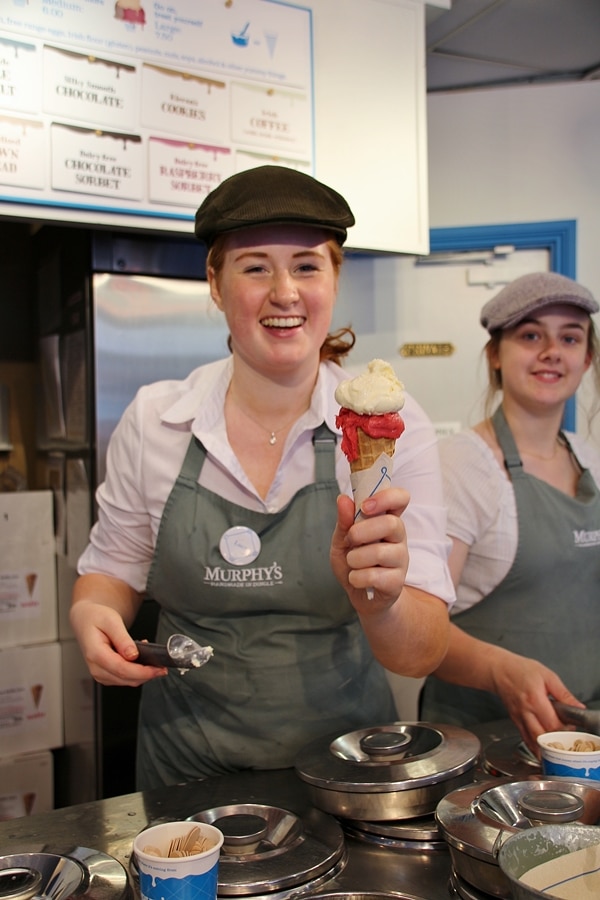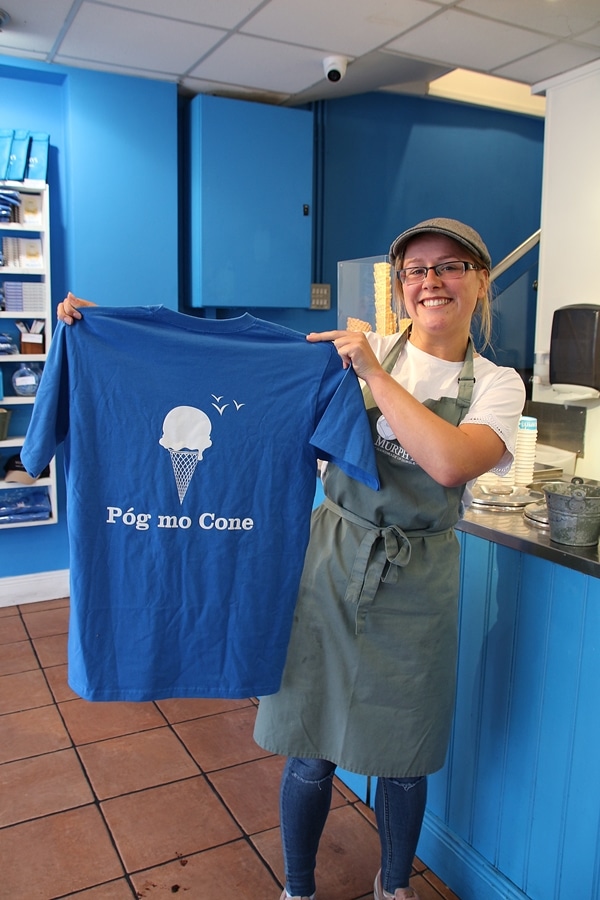 What I loved about Murphy's Ice Cream, is you could get as many flavors as you wanted. Sizes are not determined by the number of scoops. One of the girls suggested her favorite combo which I selected for my cone, the Dingle Gin and Raspberry Sorbet. I also tried and was intrigued by the brown bread, caramel, sea salt, and apple balsamic, which were all very unique and truly Irish inspired flavors. And of course it goes without saying that the quality of dairy used for this ice cream is exceptional. We saw the cows. We know they are plentiful, and make excellent ice cream.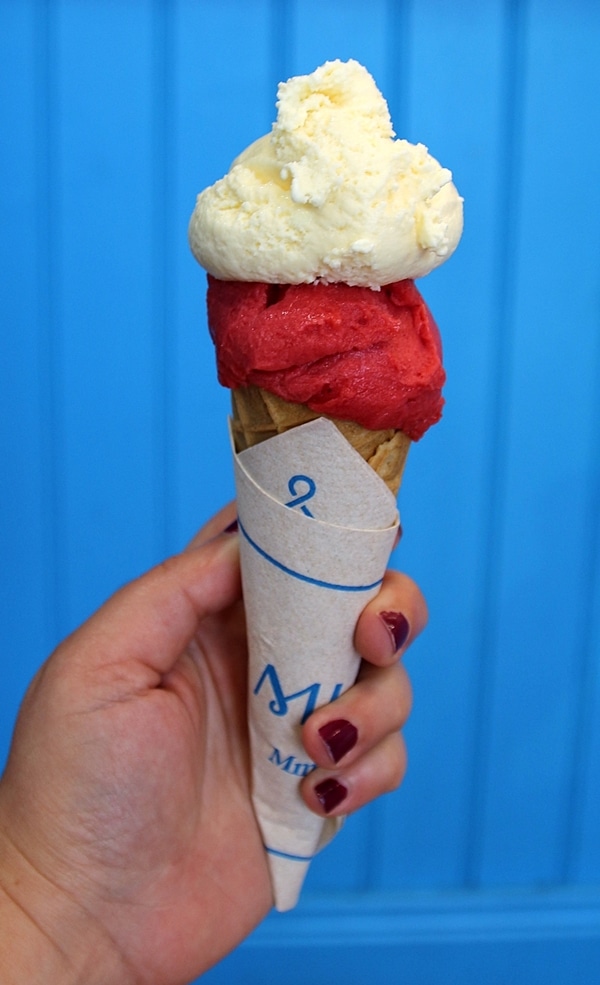 So yeah, we ate ice cream before dinner. It's all part of the fun of being on vacation! Dinner was included tonight, and was a buffet dinner at the Innisfallen Restaurant at the hotel. My pie-obsessed self really enjoyed the chicken mushroom pie with its puff pastry crust. I also enjoyed the braised beef, which was fork tender and served in a well-seasoned sauce. The spinach and pea risotto was interesting, though not a traditional risotto in terms of texture. The blue cheese was excellent, though I'm not sure of the variety. It was a nice replacement for dessert (since we already ate dessert before dinner, remember?).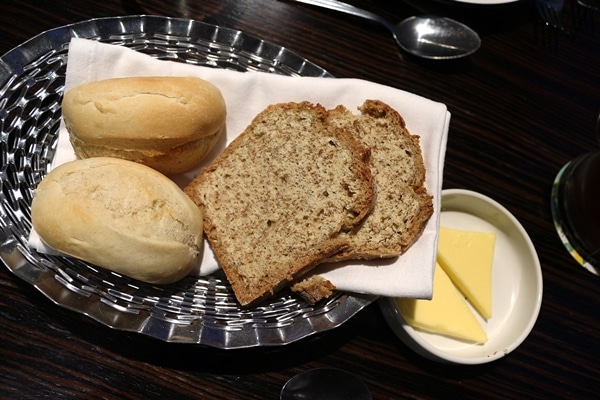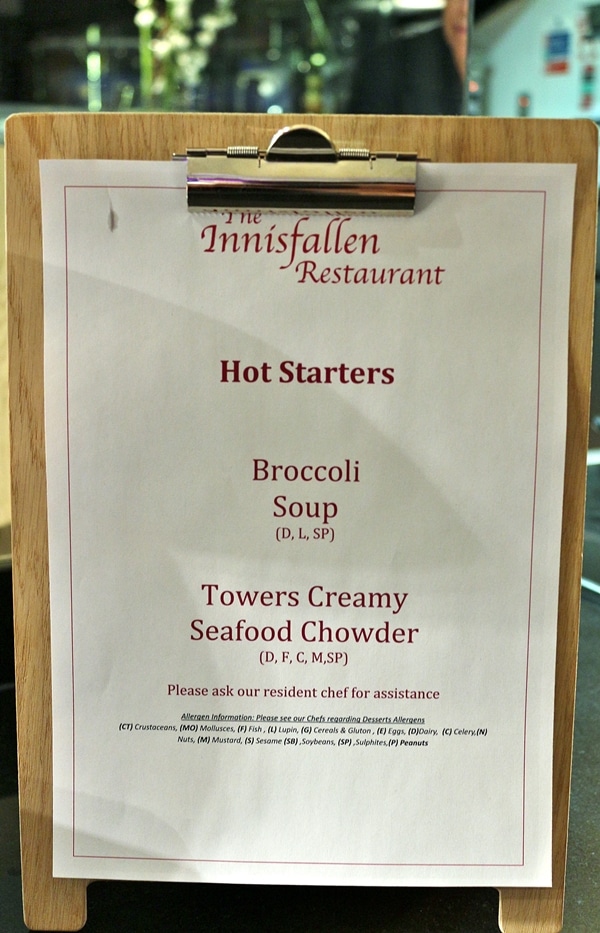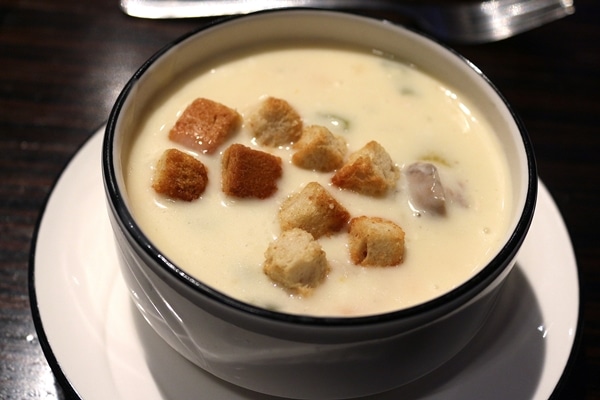 The seafood chowder was good!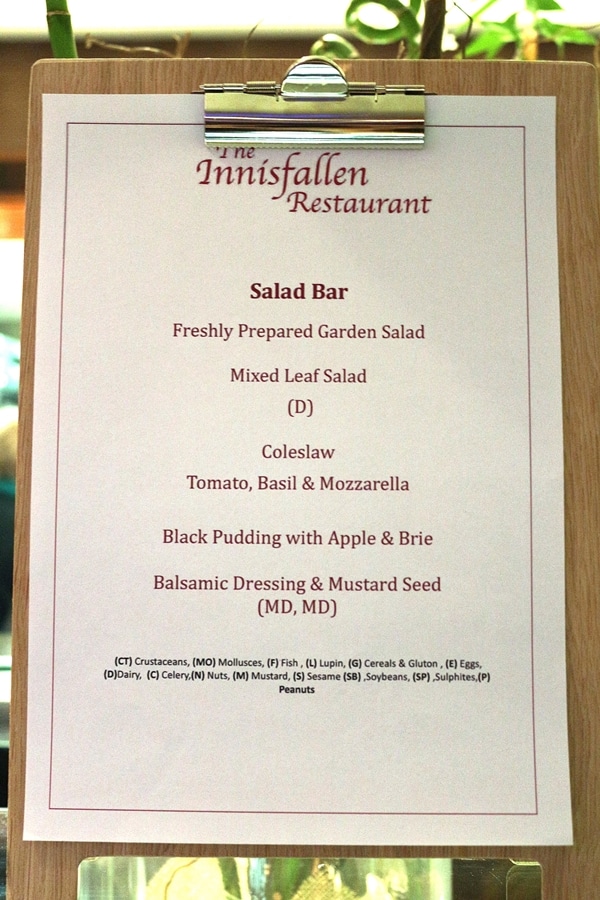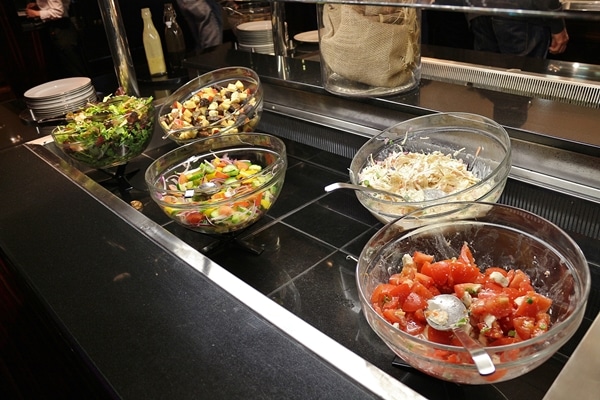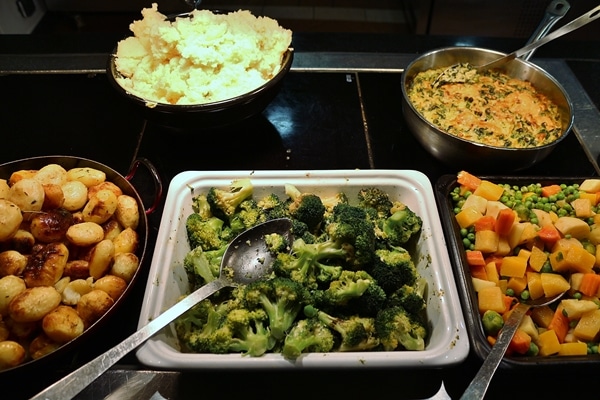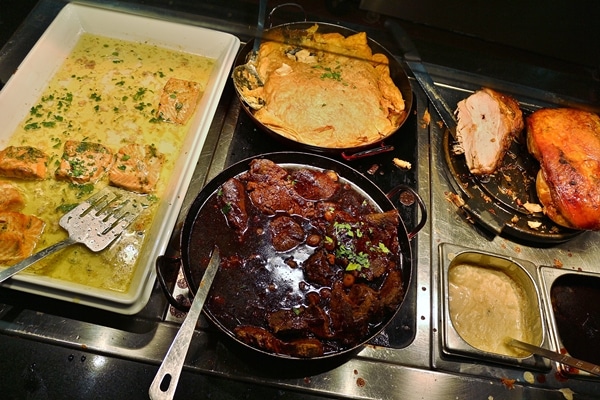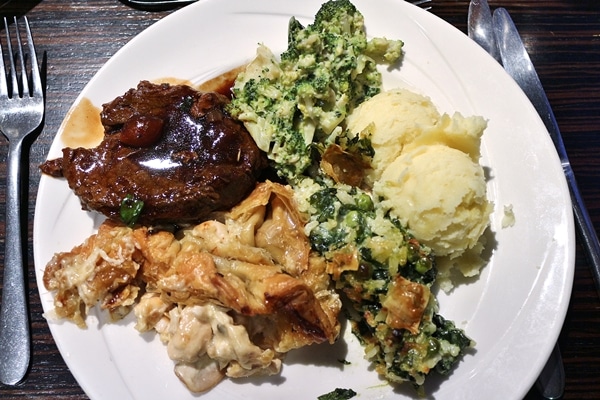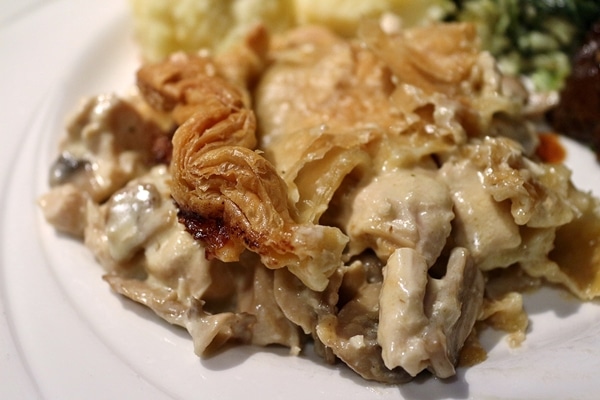 Mmmmm, chicken and mushroom pie!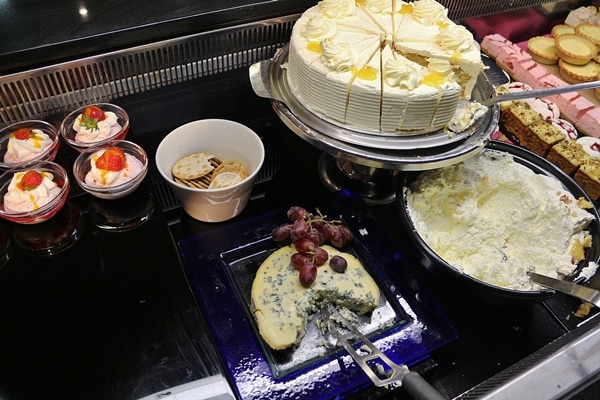 After one of the better and more substantial included dinners of our tour, some of us headed out to check out some of the local pubs and shops in the area. I'm telling you, we just couldn't get enough of this neighborhood! This is why it's so nice to actually stay in the city center. It's so easy to walk out the door and explore.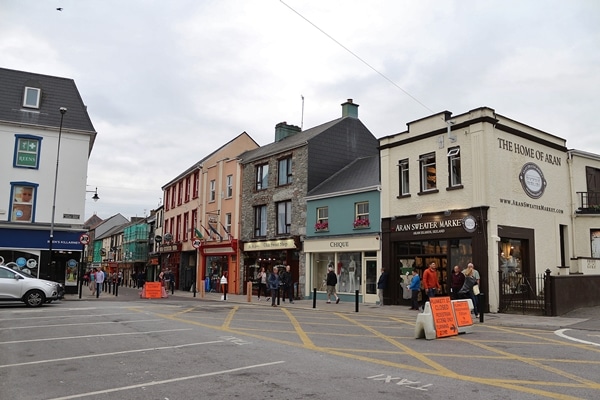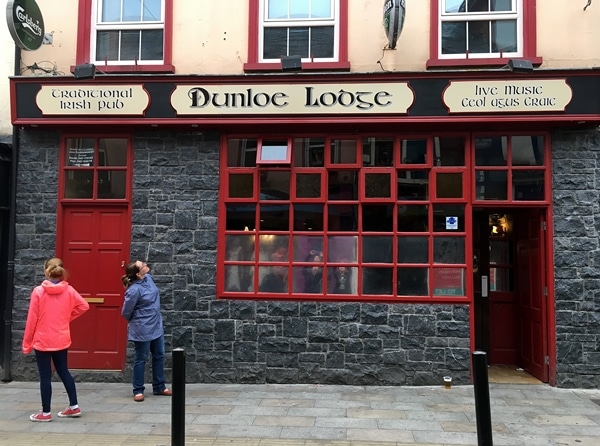 One of our favorite street performers from the trip sang funny original songs about 45 and the sad state of American politics. We couldn't stop laughing. What a great way to end a day full of adventure in County Kerry.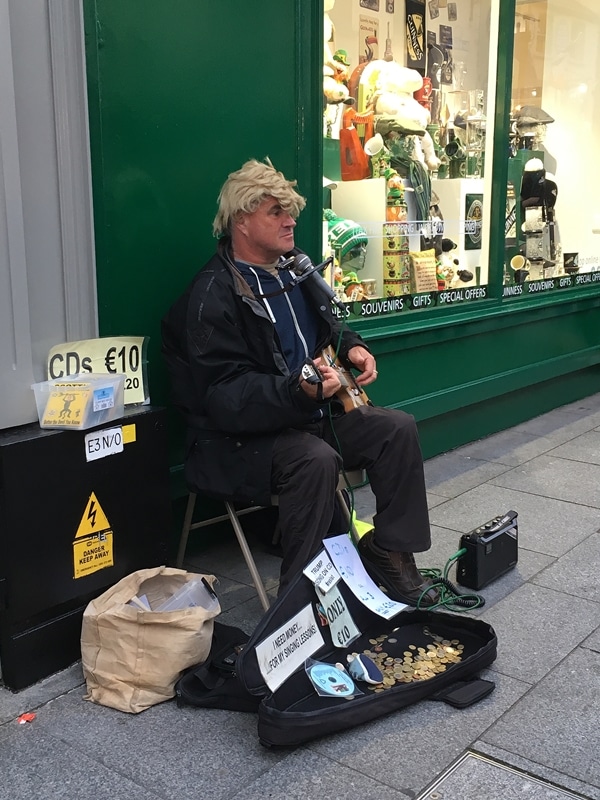 Tomorrow we say goodbye to Killarney, and make our way through Blarney and Waterford to the medieval village of Kilkenny.
Ireland - June 2018