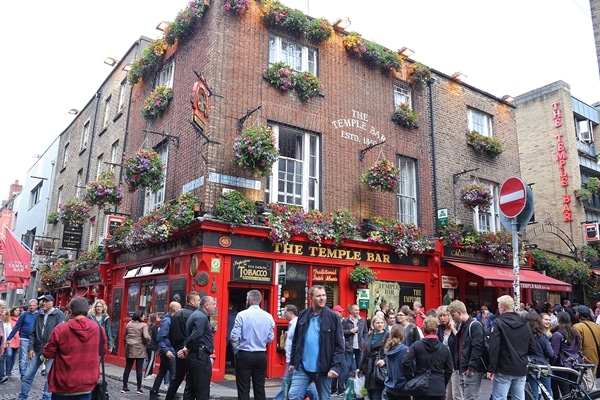 Céad Mile Fáilte, or a hundred thousand welcomes to Ireland! I recently returned from an incredible journey around the Emerald Isle, and I'm so excited to share it with all of you. I can't possibly share every moment, memory, and photo because they are countless, however I will do my best to bring you along on my nearly-two-week-long adventure around one of the most beautiful countries in the world.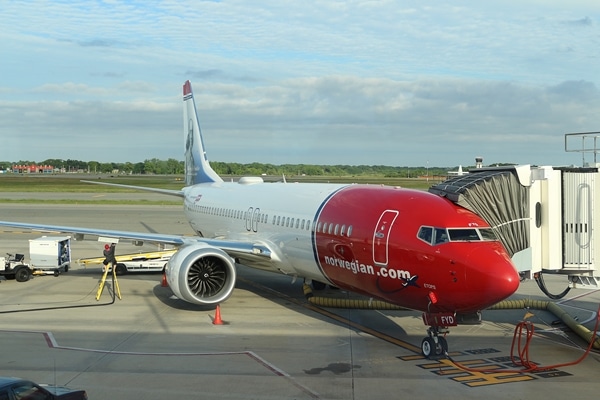 My big inspiration for selecting Ireland as a destination began last year when Norwegian Airlines added reasonably priced non-stop flights between Providence, RI and various cities in Ireland. I saw many friends head across the Atlantic, and considering what a bargain these flights were and still are, it was a no brainer that a trip to Ireland would be happening soon. My parents decided to join me, and we starting making a plan.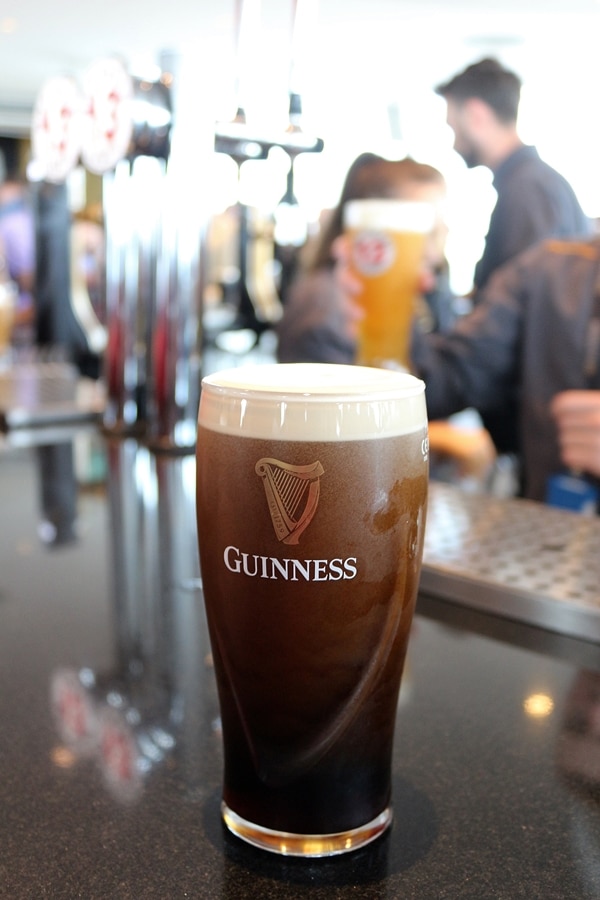 At first I considered just winging it, flying to Dublin and booking some day trips to a few select destinations around the country, but it made more sense to revisit a tried and true tour company that both myself and my parents have used in the past: Trafalgar. They have several itinerary options around Ireland (and several that also include Scotland and/or England, Wales), and we narrowed down to a 10-night tour visiting both the Republic of Ireland and Northern Ireland. We added on a couple extra nights beforehand in Dublin to allow us extra time to explore.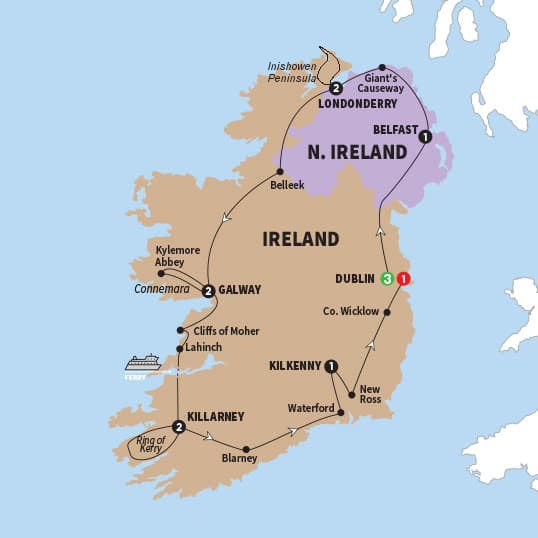 We had originally planned for 1 extra night in Dublin before the tour, but Norwegian actually changed their schedule and cancelled their Friday evening flight, so we ended up flying out a day earlier on Thursday night instead. This worked out in our favor, as it bought us more time in Dublin, where there really is so much to see and do.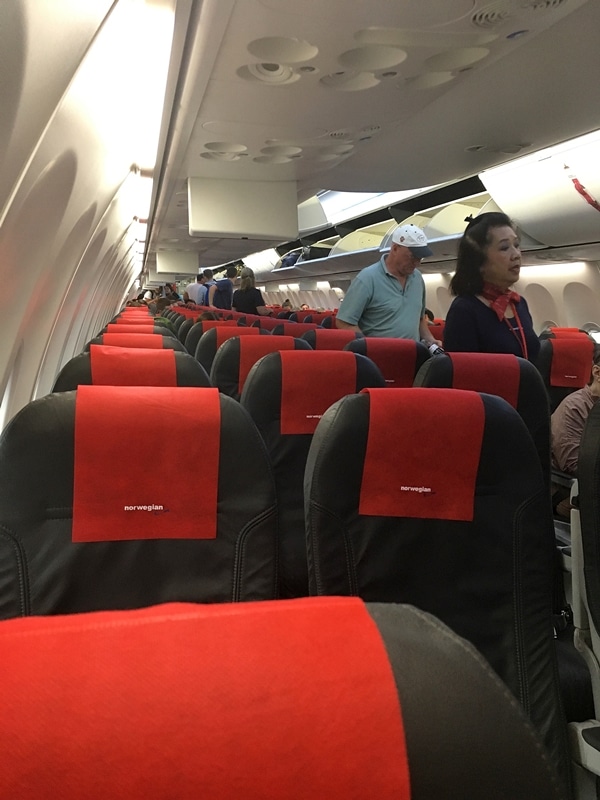 We boarded our 737 for our transatlantic flight to Dublin. Norwegian is highly rated in the world as a budget airline, but the service doesn't feel budget at all. Seat selection, checked bags, and meals are not normally included in the base price, and can be added on for a fee. We booked our flight through Trafalgar, and they were able to get us an excellent deal on our flights, which included all of the above. Our flights were only $350 per person round trip, which is AMAZING! And best of all, we didn't have to travel 1 hour+ to Boston where we normally have to go for international flights.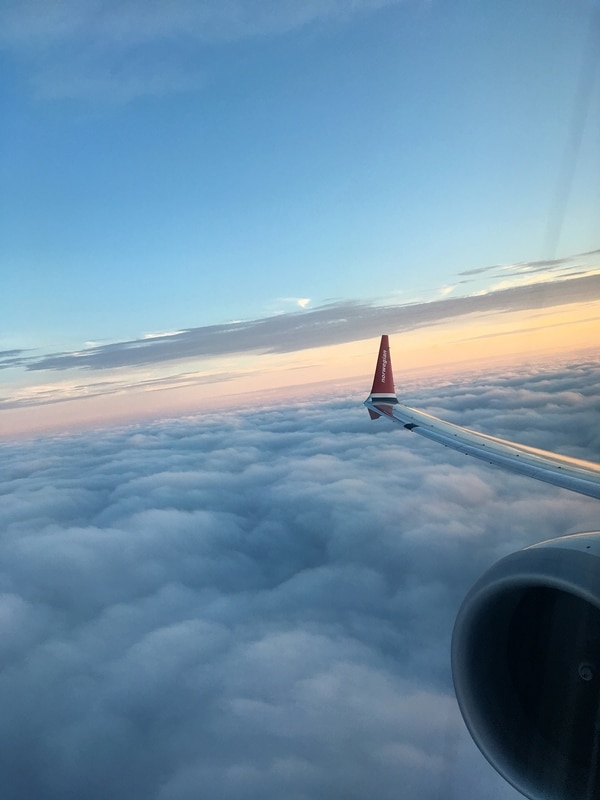 The seats were comfortable, although I wish we were on one of the Dreamliner aircrafts, which have the television screens on the back of each seat. The 2 meal options were fish and chicken. All 3 of us selected the chicken, which was served with cranberries and apples, mashed potatoes, and a medley of summer squash. Honestly, it was barely average, and felt kind of watery, probably from the summer squash (the food on the return flight was better, and I'll discuss that in a later post). The mashed potatoes were good, but the chicken was just kind of meh. There was also a slaw on the side, which tasted like it contained wasabi (so kind of spicy) and didn't really seem to go with anything. I didn't really like it. There was a small brownie bite with chocolate chunks for dessert, and that was the highlight of the meal. It was chewy and pretty good. I paired the meal with a chardonnay.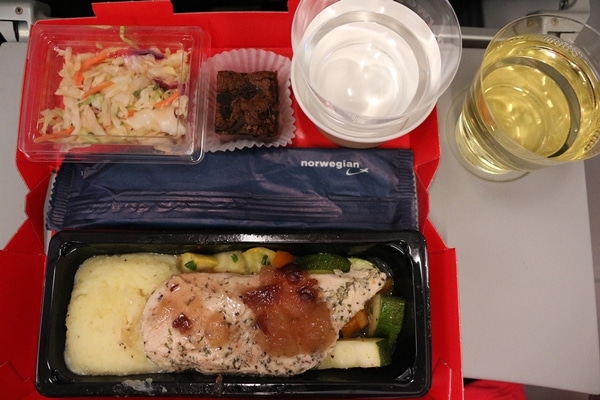 We landed at Dublin Airport, where an issue with a broken sensor on the jetway required all the passengers to wait on the plane for over 30 minutes while they tried to fix it and get the jetway attached to the plane. Eventually they gave up, and brought out a set of stairs for us to disembark the plane. This was an odd start to the trip, but fortunately had no impact on the enjoyment of the rest of our visit to Ireland.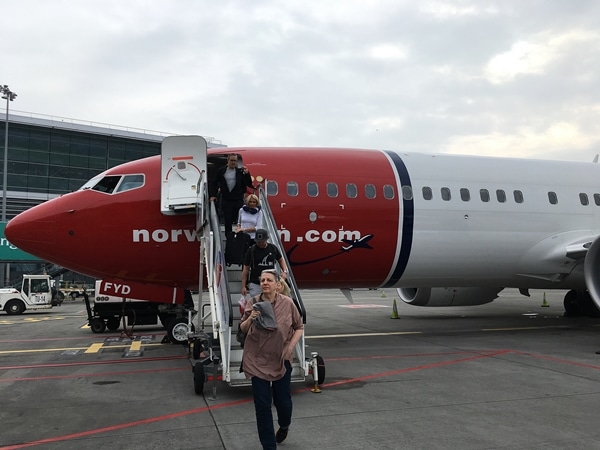 Our hilarious taxi driver Sam drove us to our first hotel, one we booked on our own before meeting up with the tour group. The Fleet Street Hotel is a smaller boutique style hotel in the heart of the Temple Bar neighborhood of Dublin, just south of the River Liffey. It is centrally located, and a short walk from many city sights.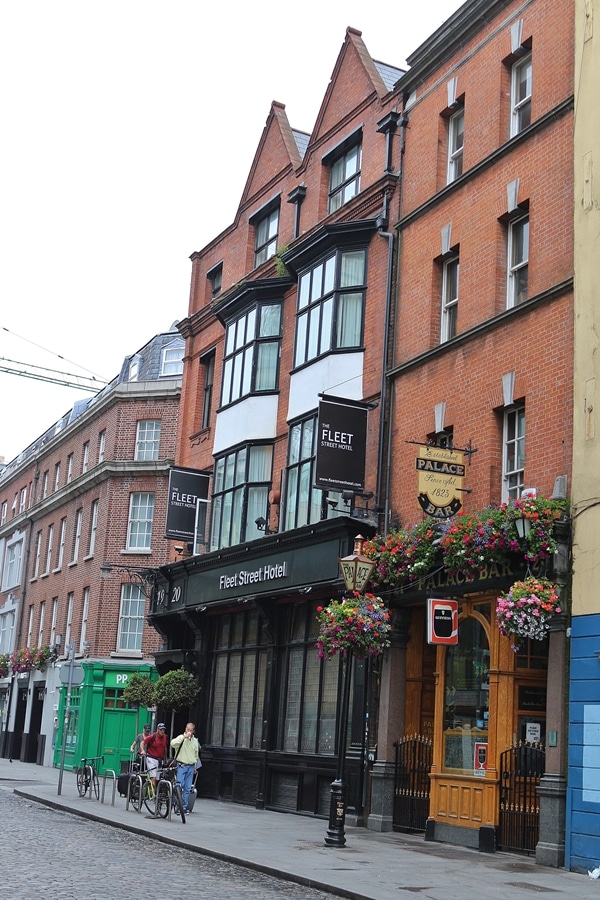 It has a small lounge with stylish furnishings and a cool vibe, with an espresso machine which is free for guest usage.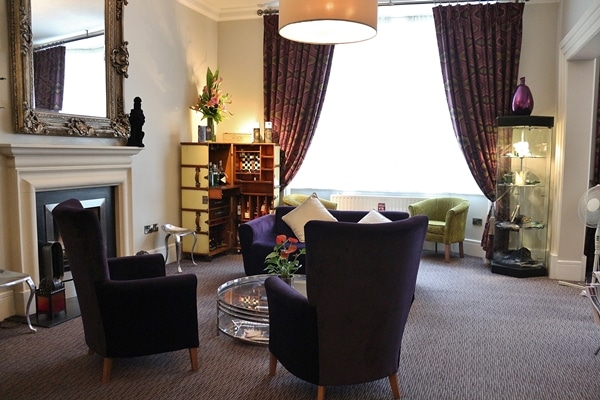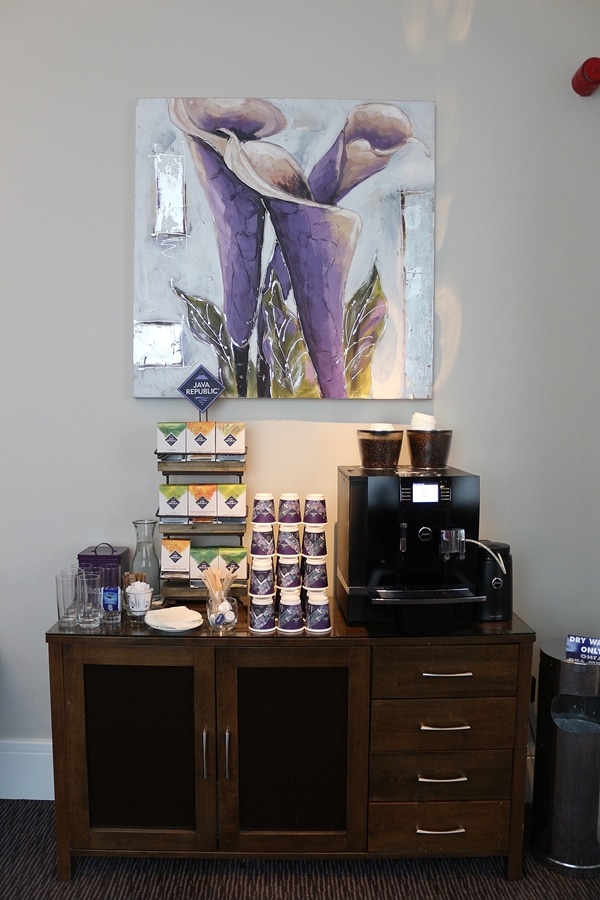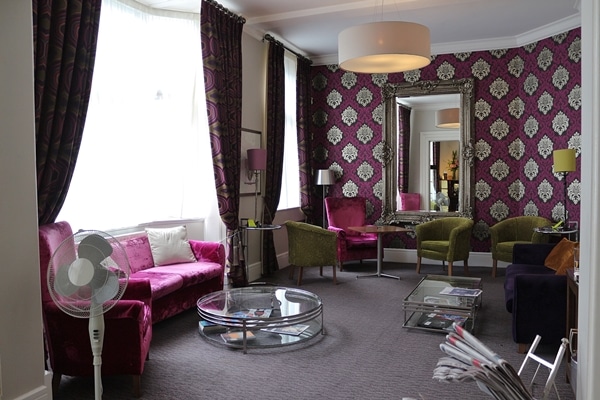 It has kind of an odd layout. It's comprised of what seem to be multiple buildings that have been attached and combined to form one hotel. Long hallways and random sets of stairs mean that even if you take the elevator to a certain floor, you will have to take some stairs either up or down to actually get to your room. So really, it's not very handicap accessible, at least not where our room was located.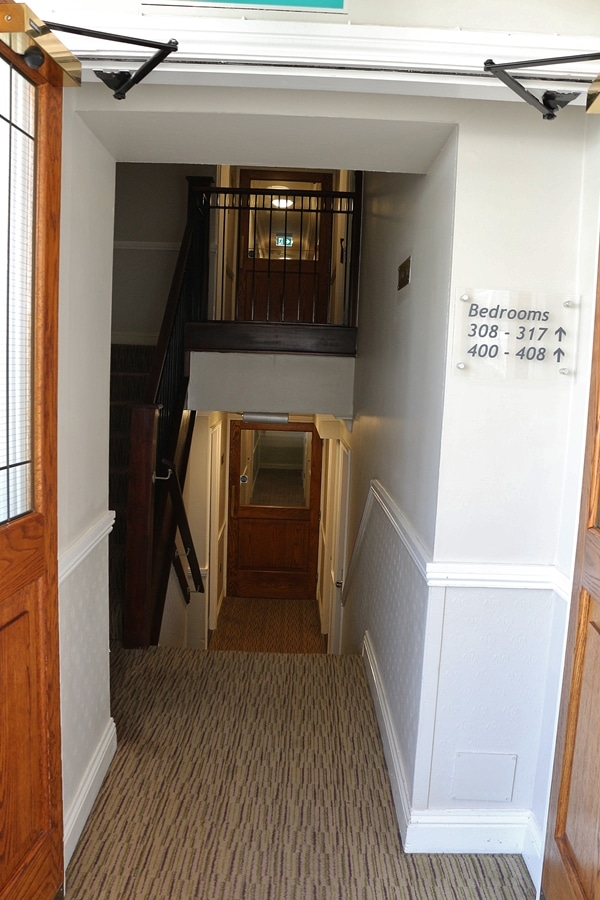 There's a pretty nice outdoor area which was close to our room. We spent some time out there in the evenings and mornings. We even brought our breakfast up there one day, and enjoyed the fresh air.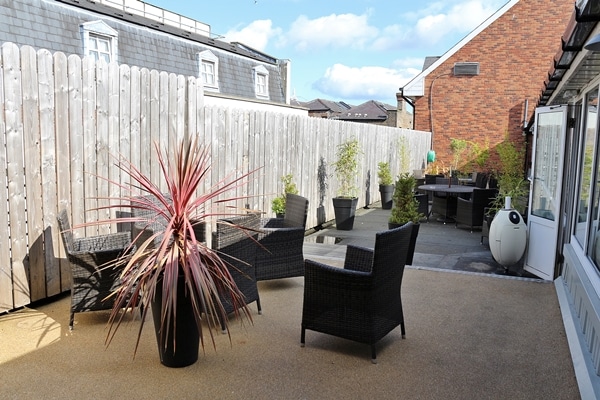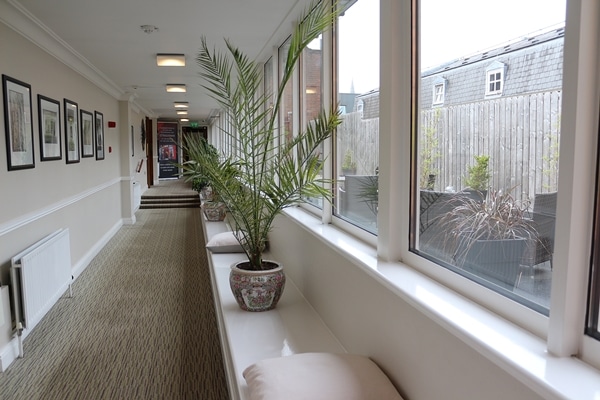 Our room at the Fleet Street Hotel, and all the other hotels, were triple rooms. This seems to be relatively common in Europe, so it's nice that we could save some money on our tour by staying in triples instead of 2 separate hotel rooms. The Fleet Street Hotel has triples comprised of 3 twin beds, as well as triples comprised of a double bed and a twin bed. We stayed in the latter.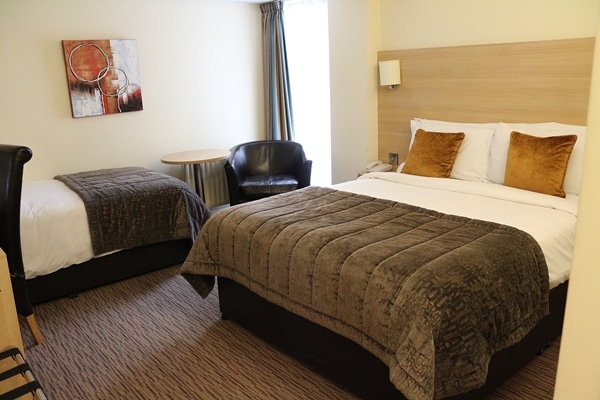 The room was quite comfortable with a small window overlooking an air shaft. The bathroom was small, with the standing shower in particular smaller than average. The sink also had separate faucets for hot and cold water, so in general was on the old-fashioned side. I've seen photos of other rooms at this hotel, and many of them are decorated very differently, so I imagine the odd layout and construction of this hotel means that room sizes and layouts are vastly different. Our experience could be much different from someone else's. This was the smallest room we had during our trip, and yet it had the best (most central location) of any of the ones Trafalgar booked (with the exception perhaps of our hotel in Killarney).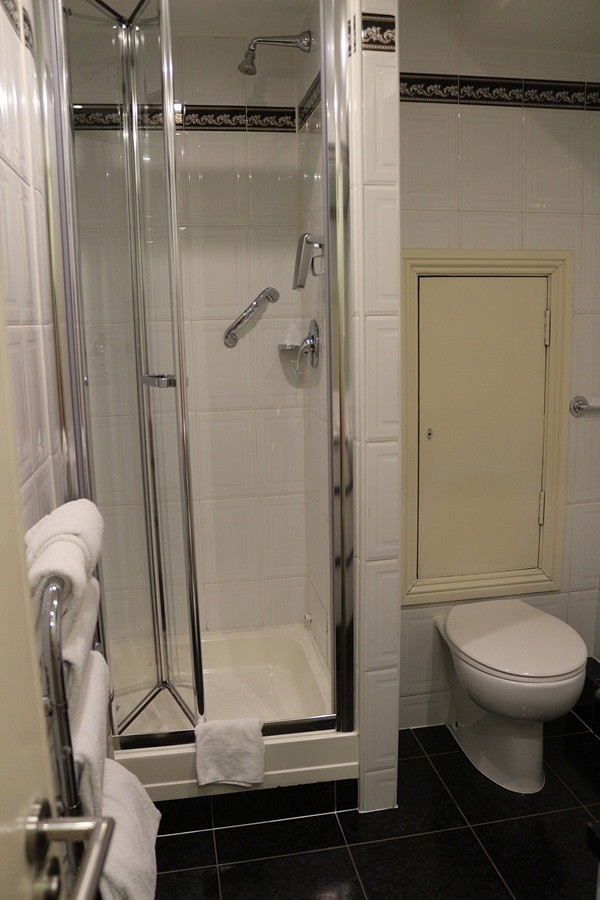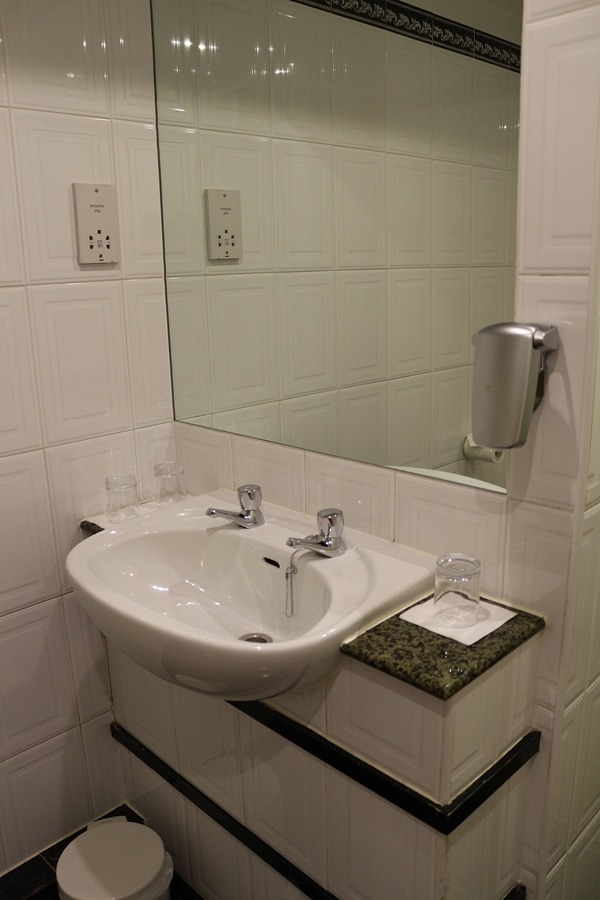 After a short nap, we headed out to get some lunch. I had planned ahead and found a highly regarded restaurant only a block or two from our hotel. The convenient location and great reviews made Gallaghers Boxty House our first meal in Dublin.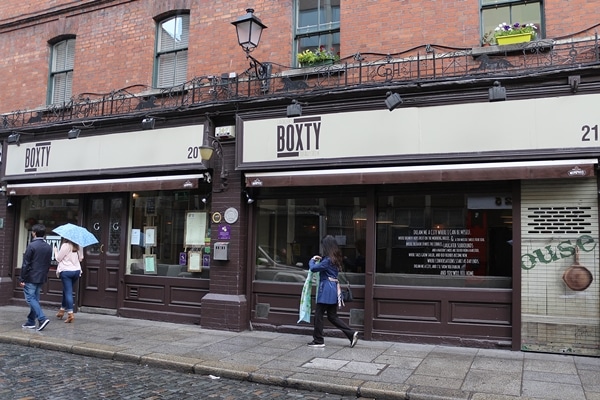 The decor is cute, and the service is friendly. They also sell boxty mix so you can make these traditional Irish potato pancakes at home if you wish.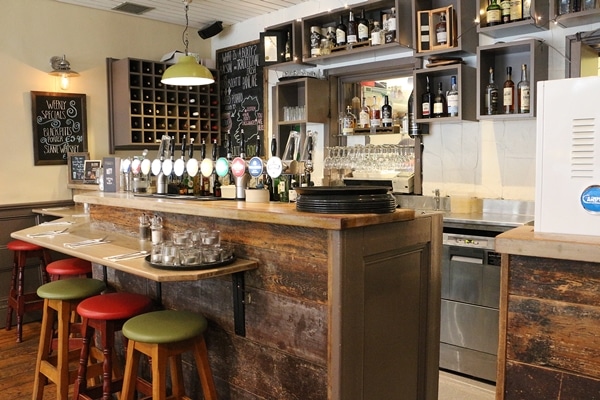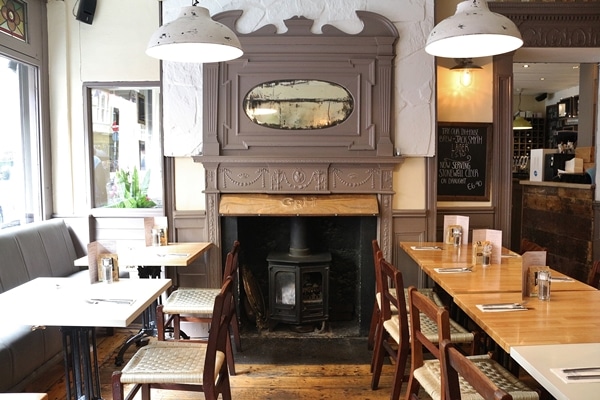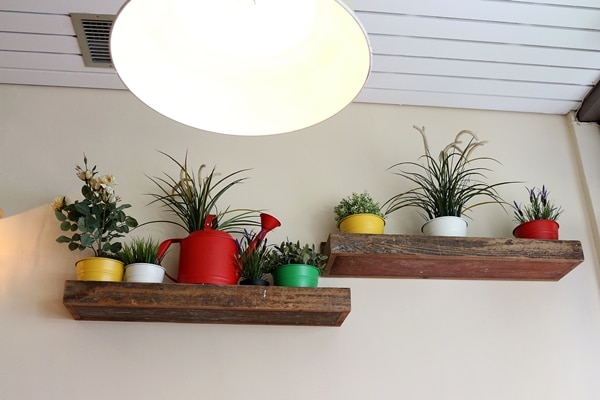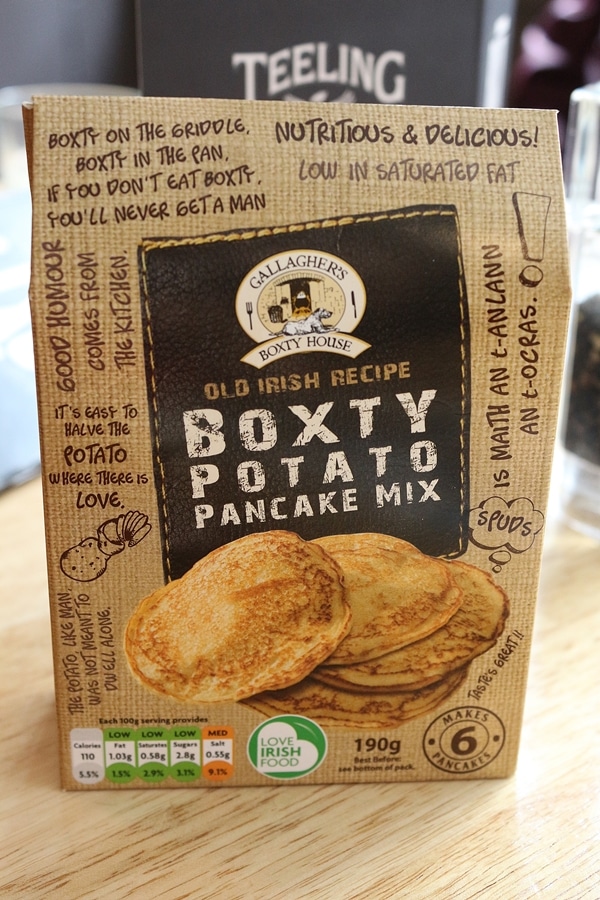 There are actually several menus to choose from depending on the time of day. There is an a la carte all day menu, as well as a brunch menu and an early bird prix fixe menu. All of these menus were available at the time of our meal.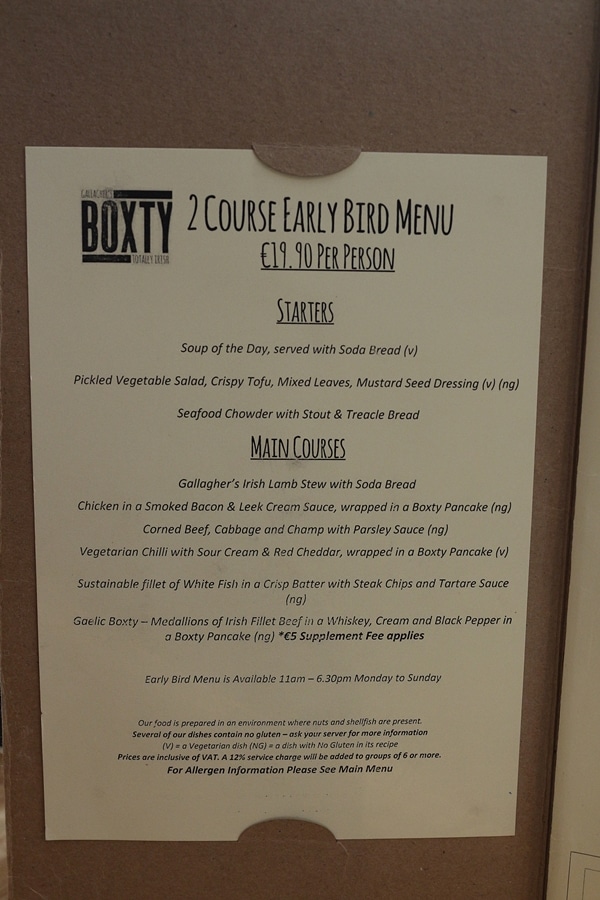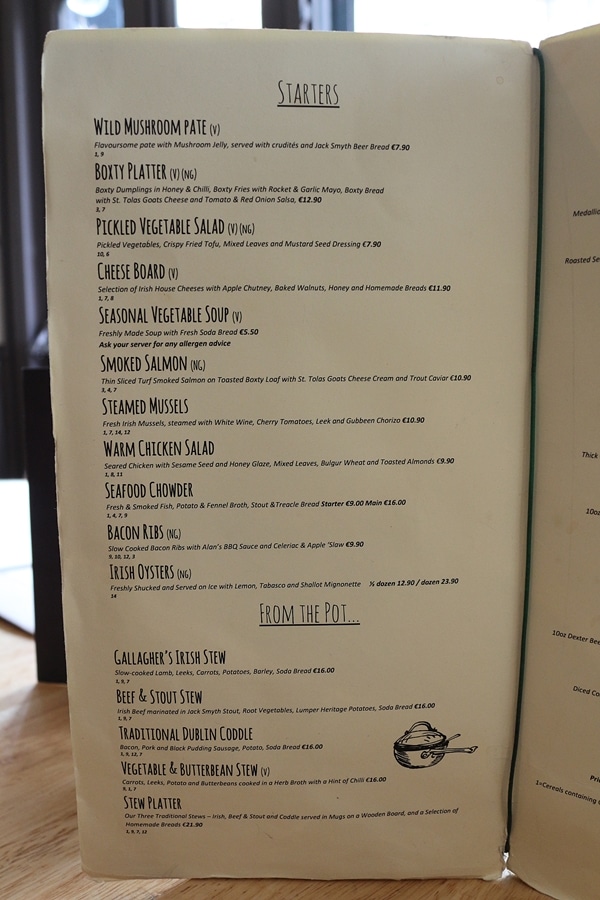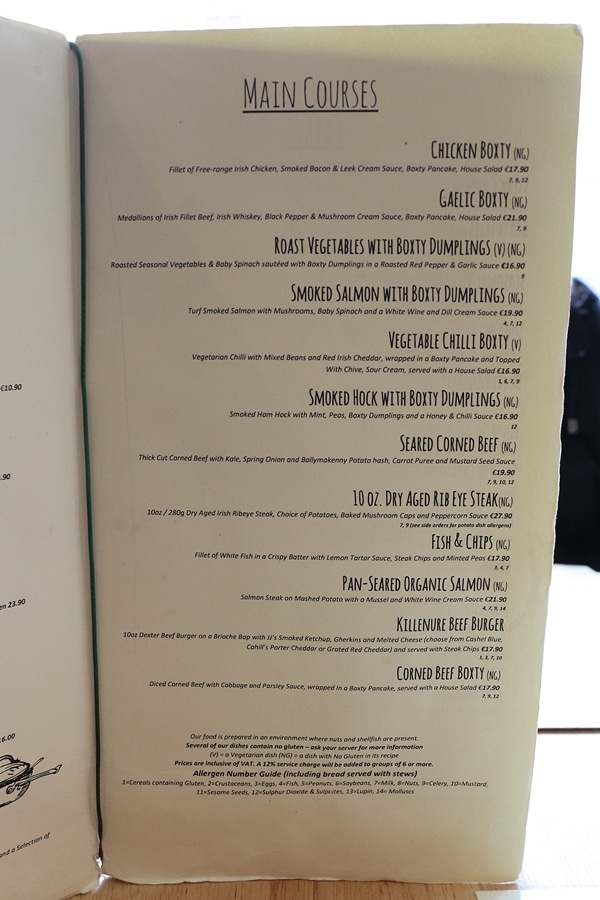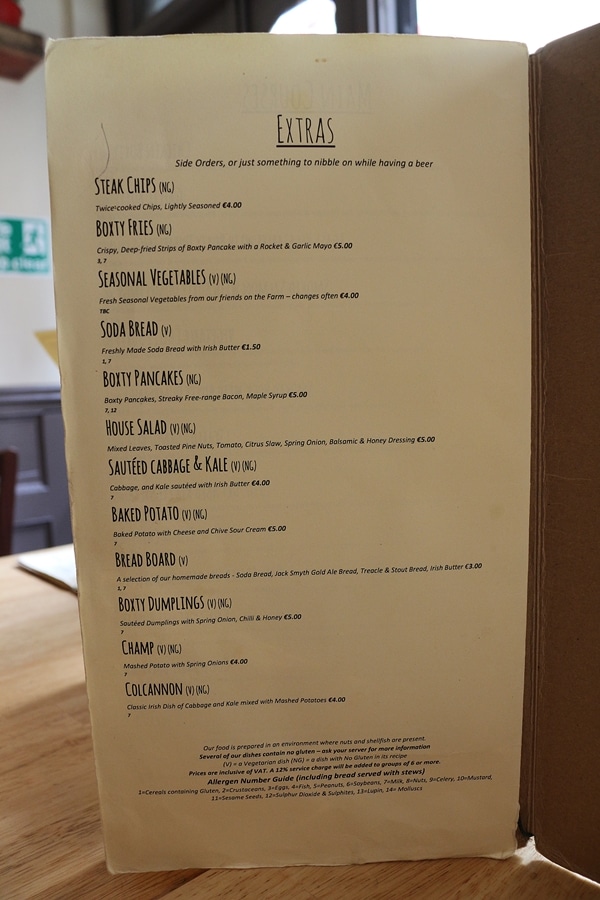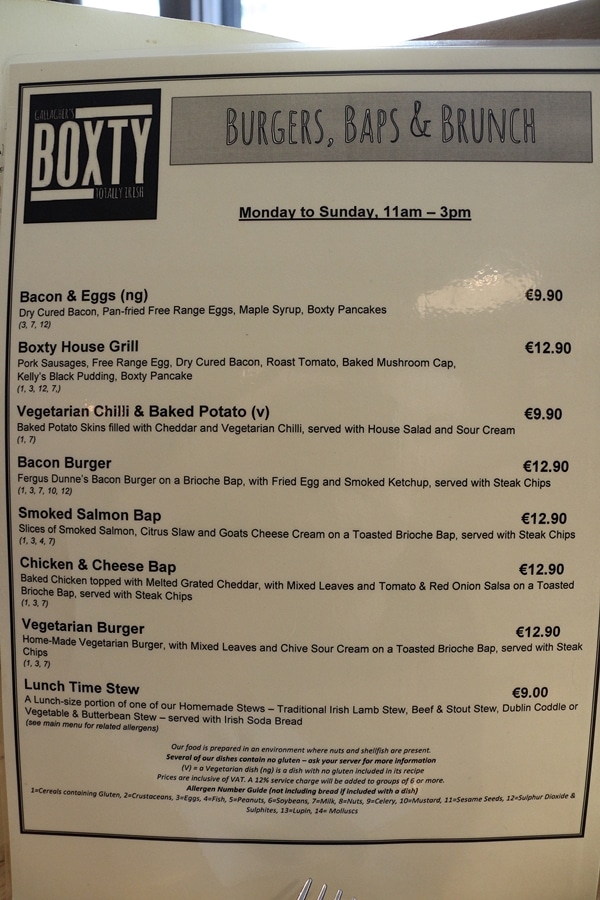 I should preface this review by saying that we were still pretty dazed, tired, and weren't super hungry, still getting used to the time change and all that. I wonder if our tastes buds would react differently under different circumstances. I bit off more than I could chew (quite literally) but trying the 2 course prix fixe (because as a foodie I wanted to try as much food as possible). I started with the seafood chowder served with stout and treacle bread.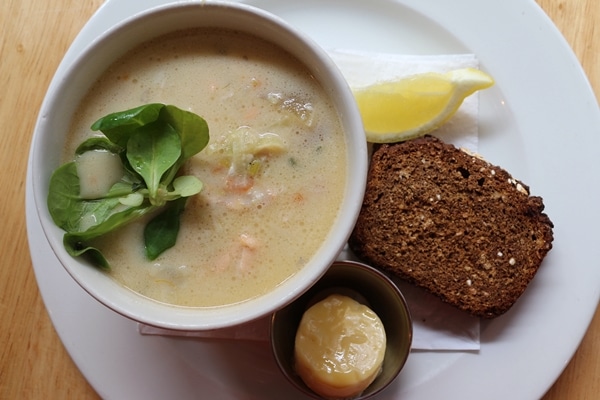 Although it was full of HUGE chunks of tender salmon, the broth was very thin and watery, and it was terribly underseasoned. I had seafood chowder on a few more occasions later in the trip, and enjoyed the other versions much more than this one.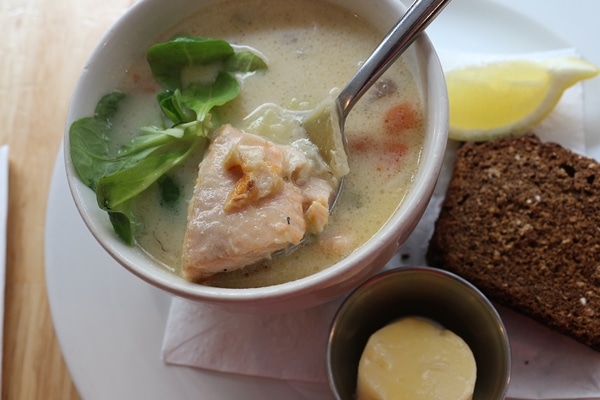 I had read wonderful reviews of the Gaelic boxty, which features medallions of Irish filet beef in a whiskey and mushroom cream sauce with black pepper, wrapped in a boxty pancake. I knew way ahead of time that I wanted to try this dish based on all the reviews. Unfortunately it just fell flat for me. The beef was great quality, and cooked well, however, the boxty itself was soft and got kind of mushy in the sauce.
Also, there was little to no seasoning other than cracked black pepper in the sauce. It needed salt! I had been looking forward to this dish for months (seriously) and it just did nothing for me. I was disappointed. Between the chowder and the boxty, this was way more food than my jetlagged appetite could finish (another disappointment--in myself this time for ordering so much food).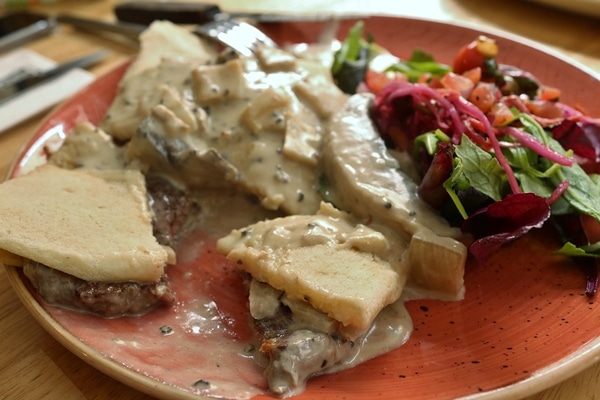 My dad's selection was probably the best seasoned of the bunch. He had the vegetarian burger off the brunch menu. The burger itself had a myriad of spices, including cumin, and was topped with mixed greens and chive sour cream.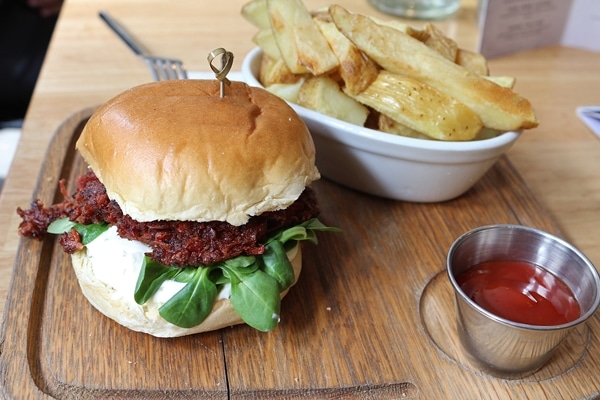 Mom ordered the chicken and cheese bap (sandwich) without the cheese, also off the brunch menu. It had a tomato and red onion salsa on top in place of the chive sour cream from the vegetarian burger.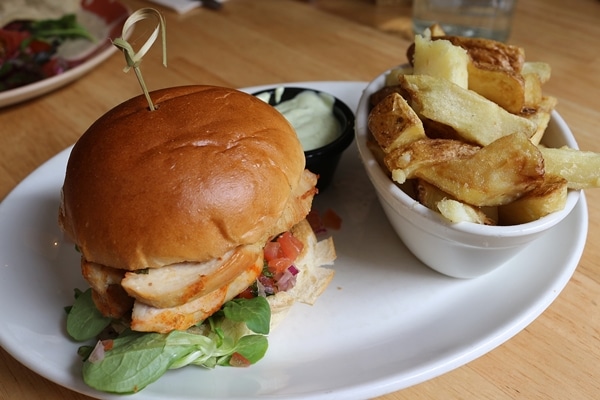 Overall, this meal was one of the more disappointing meals from the trip. Due in part to the fact that we weren't starving (and it was way more food than we could finish after our exhausting flight), but also because of the general lack of seasoning. Fortunately for us, things got much better after this so let's keep looking forward!
We took the short walk up to O'Connell Street, one of the busier streets in Dublin, to begin our Hop on Hop off Bus Tour with DoDublin (the green buses--far superior to the red buses). Something to note about DoDublin as opposed to its competitors. DoDublin is non-profit, and the proceeds from these bus tours go back to the city of Dublin, which are then used for the Dublin bus system, giving free bus passes to children, senior citizens, and disabled people. So by going green you are helping citizens of the city, and not just yourselves!
We purchased a combo ticket which included 48 hours of the Hop on Hop off Bus Tour (a super convenient way to get around town) and a fast-track entry ticket to Ireland's most popular tourist attraction, the Guinness Storehouse. The ticket office where we would redeem our online tickets was a short walk, and we got to take in some sites along the way, including the GPO or General Post Office, one of the key sites of the Easter Rising on April 24, 1916. We also couldn't miss the Millennium Spire or Spire of Dublin, the tallest statue in the world. It has garnered some colorful nicknames by the locals, such as the Stiletto in the Ghetto, the Erection at the Intersection, and the Stiffy at the Liffey.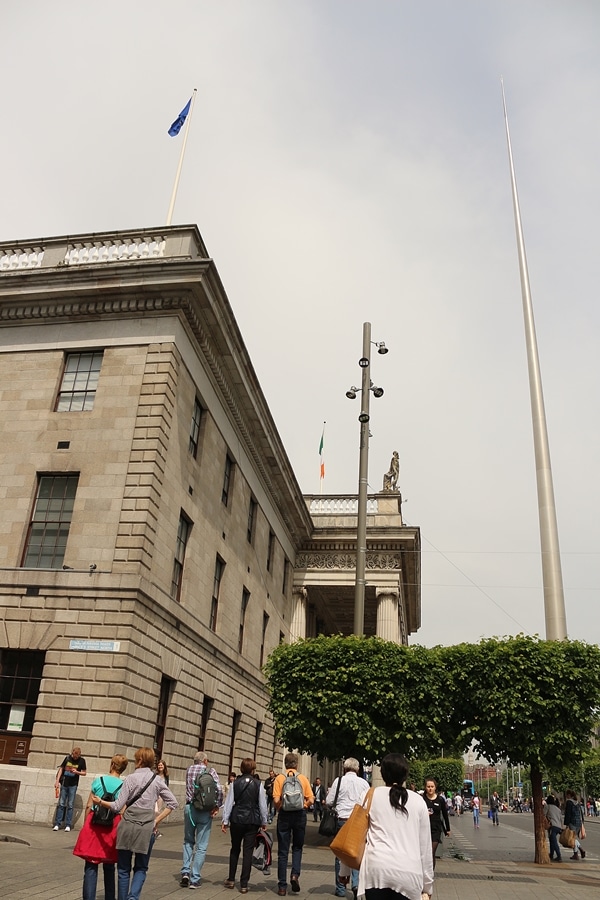 We took in lots of sights (and some uncharacteristic warm-ish weather) on our bus tour before hopping off at the Guinness Storehouse.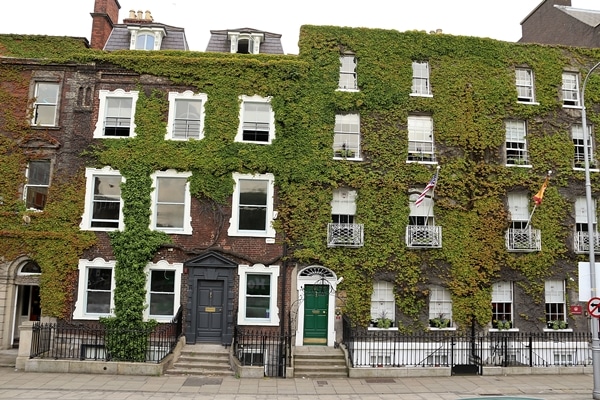 The Guinness Storehouse was our main attraction for the day. We planned for several tours the following day, but since this was day 1, we wanted to ease into everything and knew that the Guinness Storehouse could be time consuming, as it's 7 floors full of exhibits and experiences.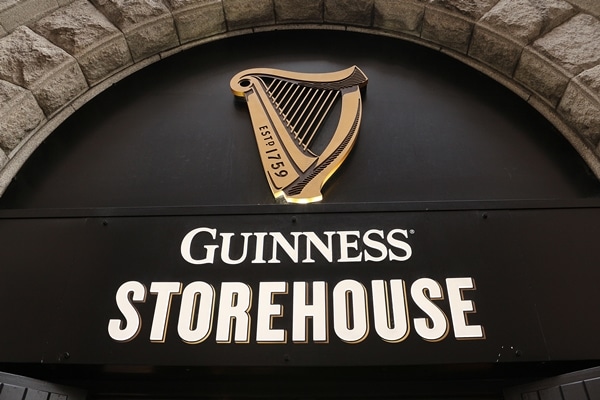 I would estimate we spent a couple hours at the Guinness Storehouse, but you can easily stay even longer. There is truly so much to see and do.
The first part of the self-guided tour takes you through all the ingredients in making Guinness: barley, hops, yeast, and water.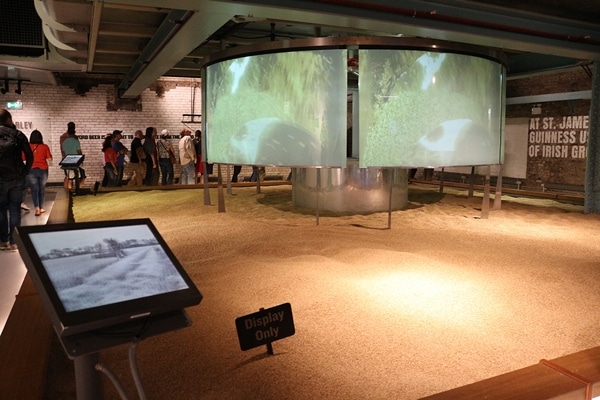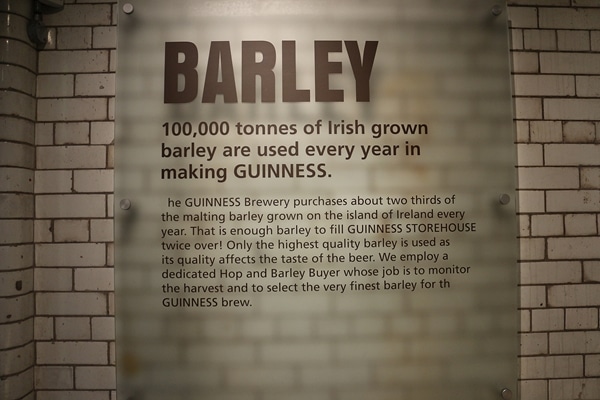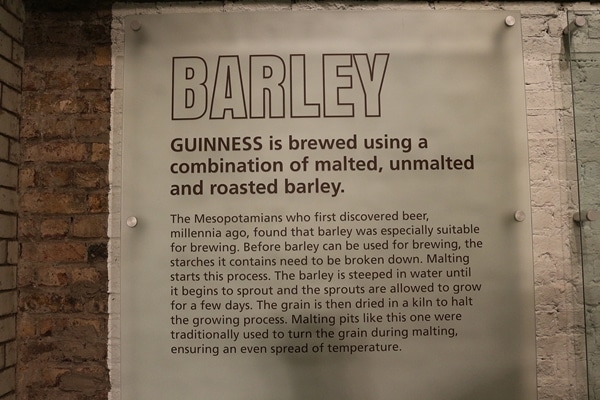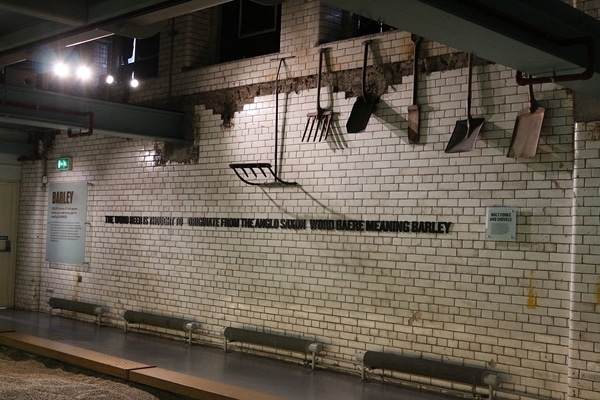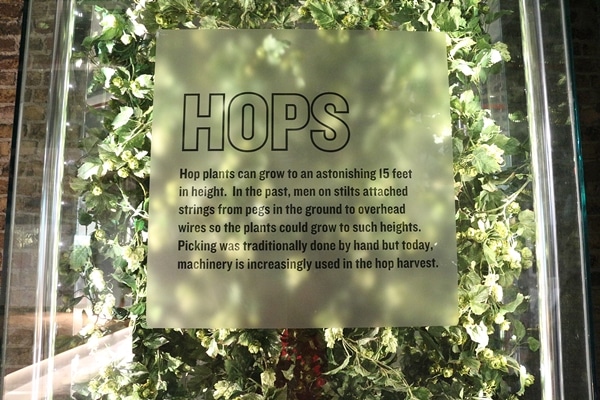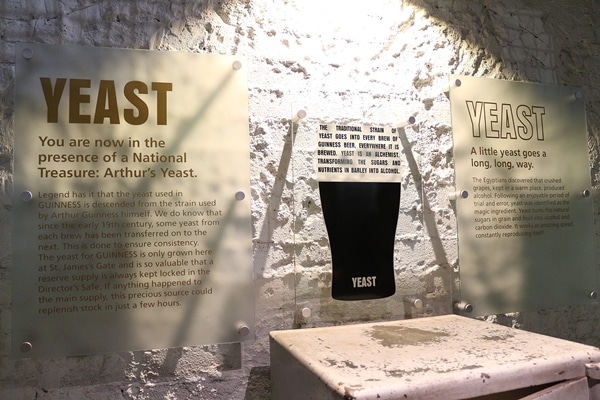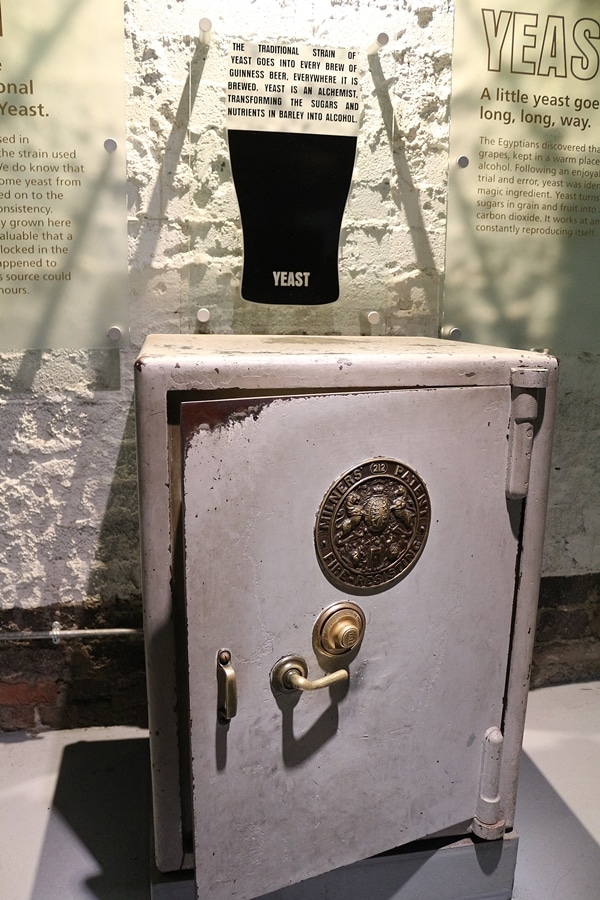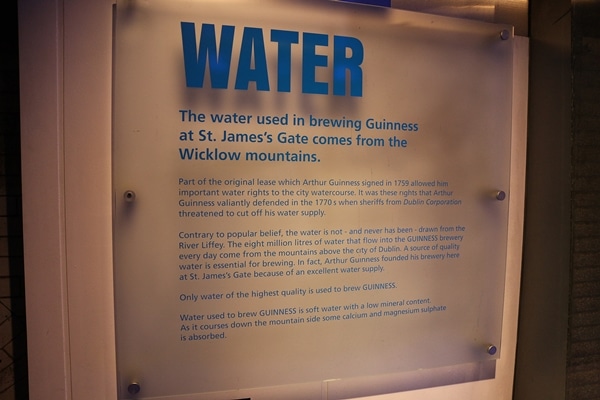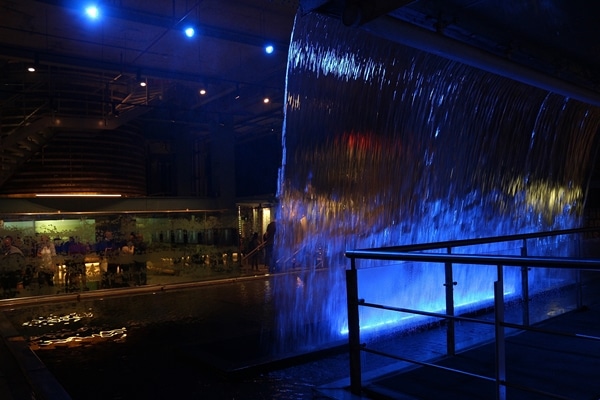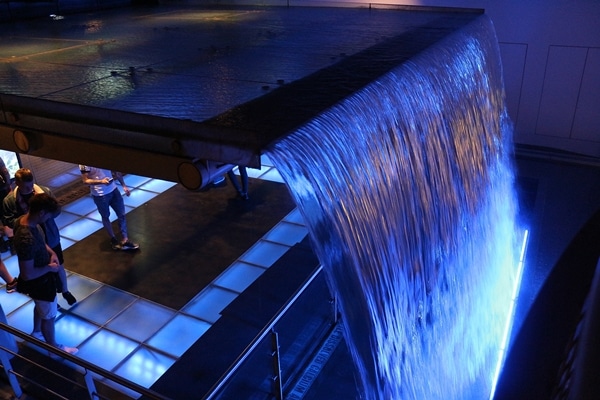 Next we move onto roasting the barley to the perfect temperature, and learn more about the overall process. We also learn about building the barrels by hand, and transporting Guinness around the world.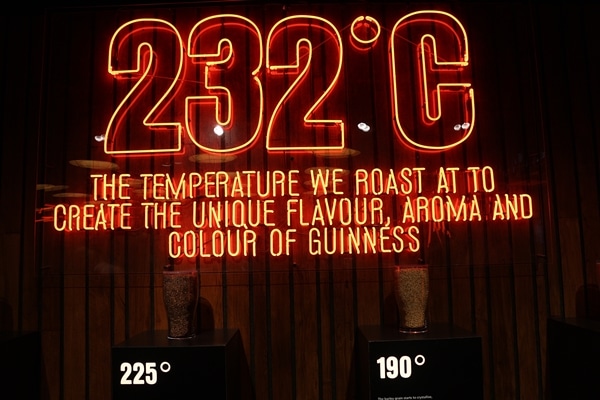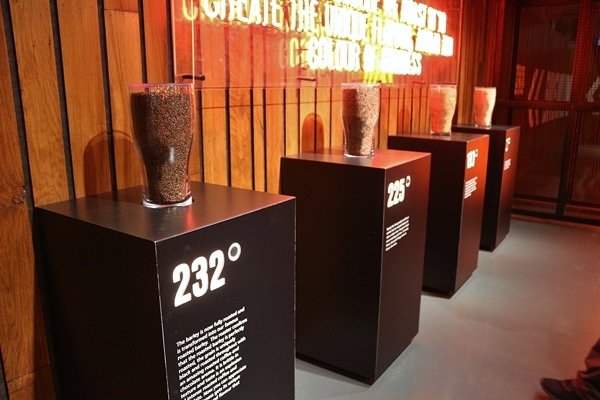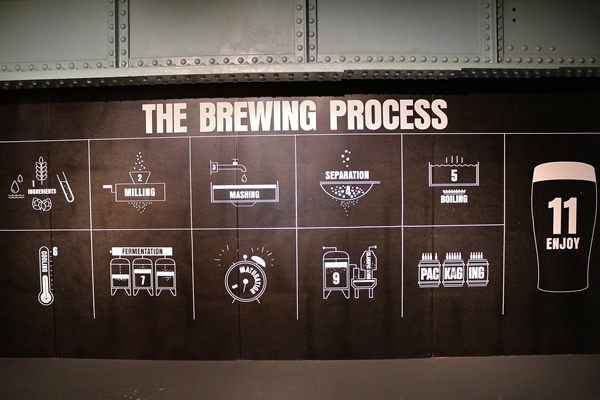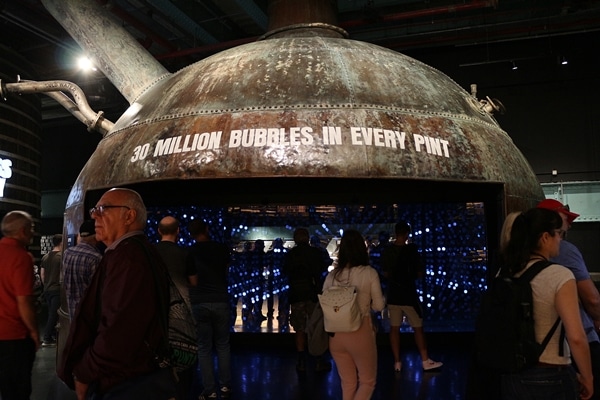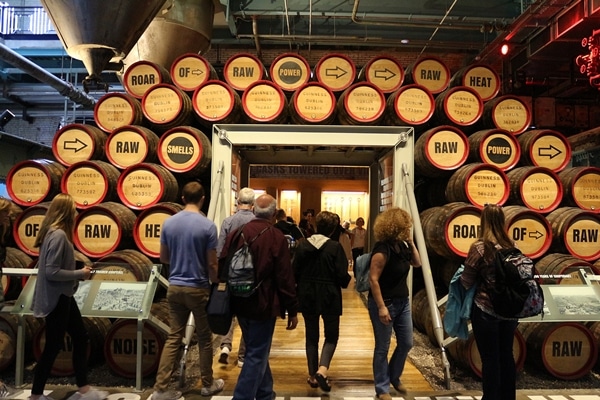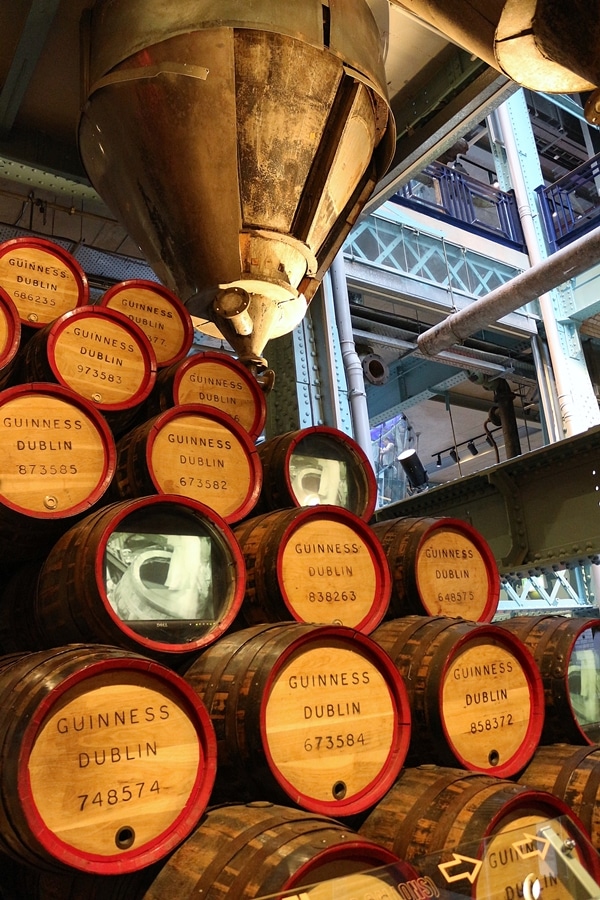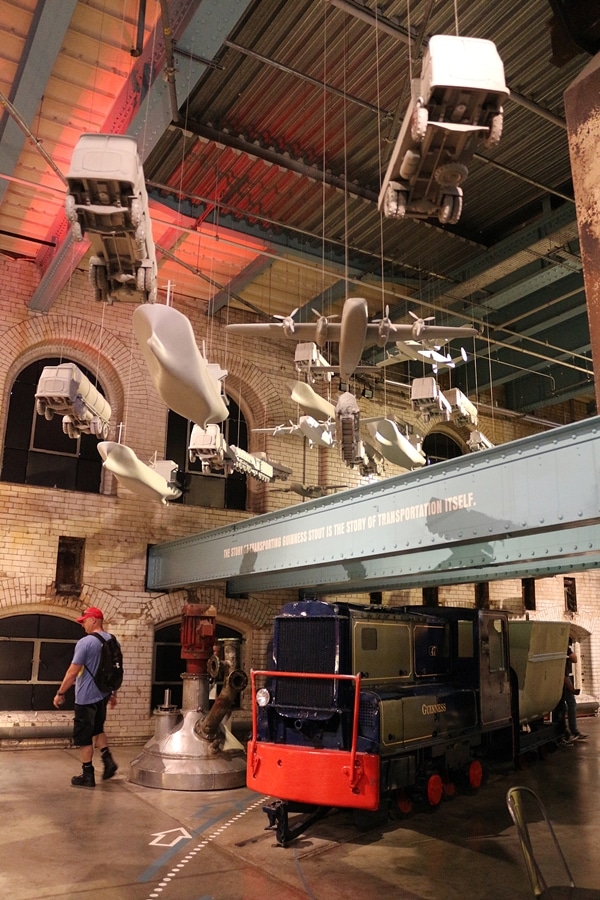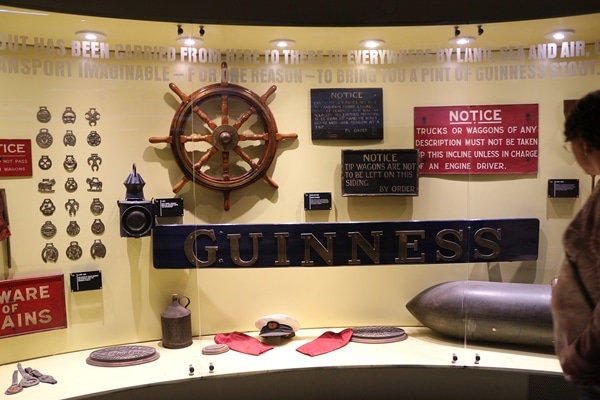 There's also a section devoted to historical advertising for Guinness over the years. Some of these are really funny and quite random.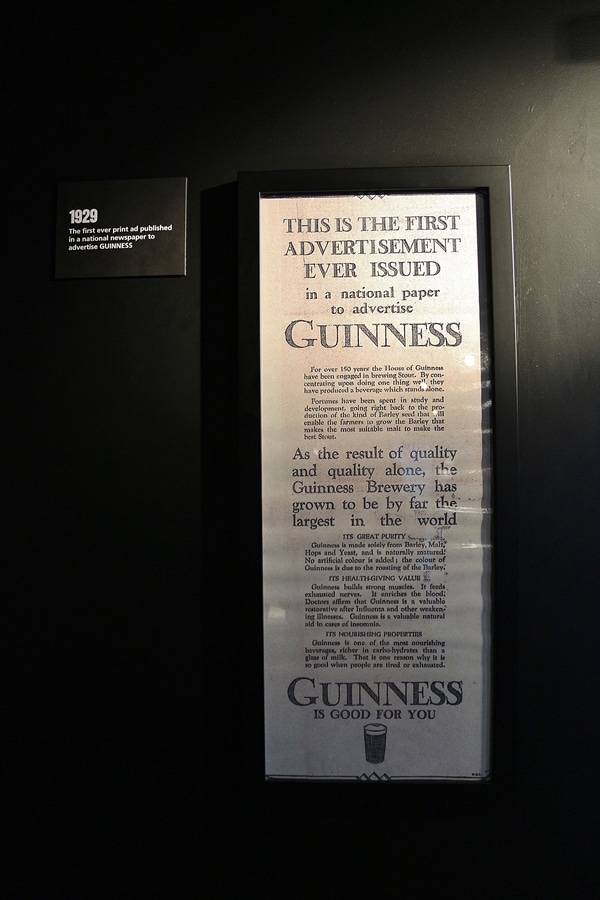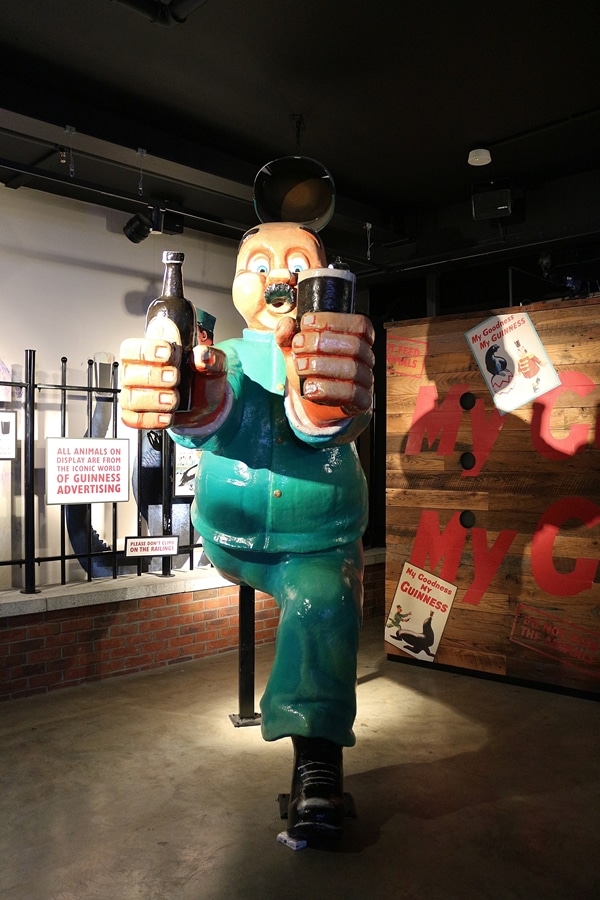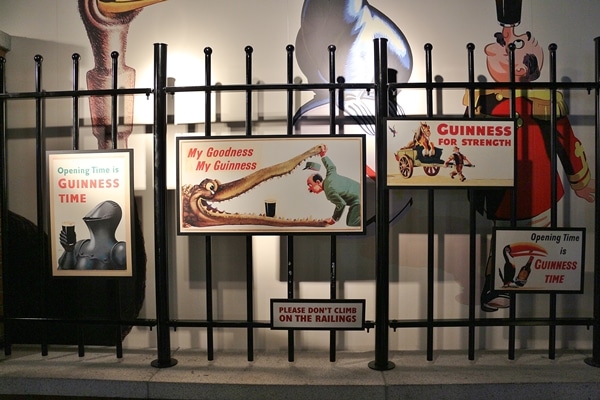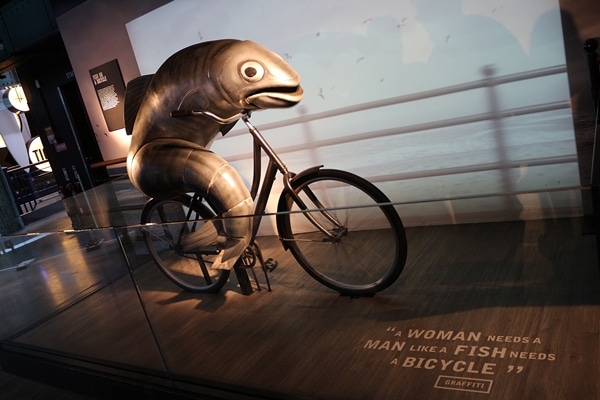 We eventually made it up to the Gravity Bar on the 7th floor. It has panoramic views of Dublin, however we had some afternoon rain which made for dreary sights.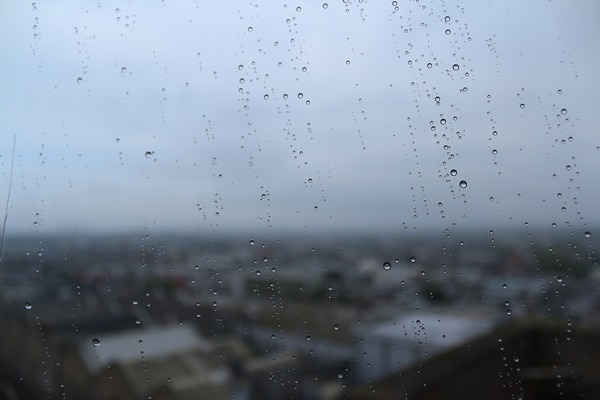 Alas, no matter because along with your admission you also get a free pint of Guinness (or Hop House 13 lager). Cheers, or sláinte, which means "health" in Gaelic.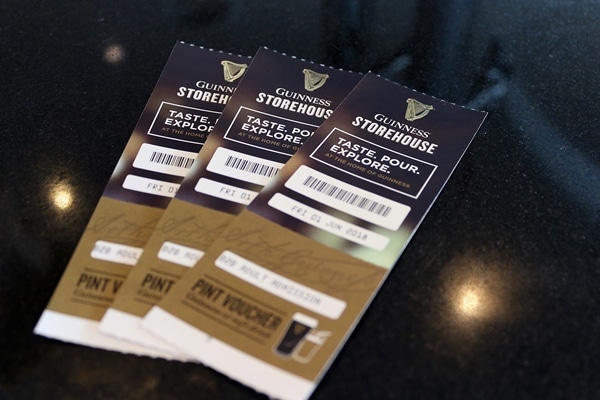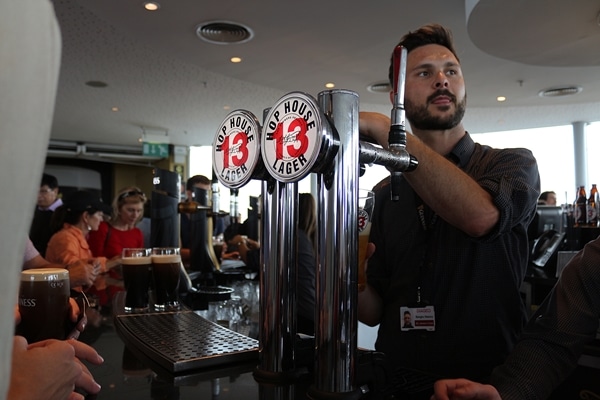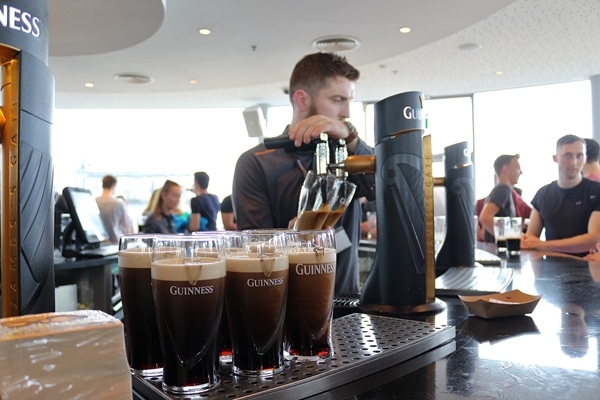 As we headed back onto the DoDublin bus, we passed by the former dwelling of Arthur Guinness, his wife Olivia, and their 21 children (10 of whom survived to maturity).
After retiring to our hotel for a bit of a break, we headed back out to find somewhere to dine. The Temple Bar area was already bustling on this Friday evening with crowds of revelers, and live music bursting from every pub.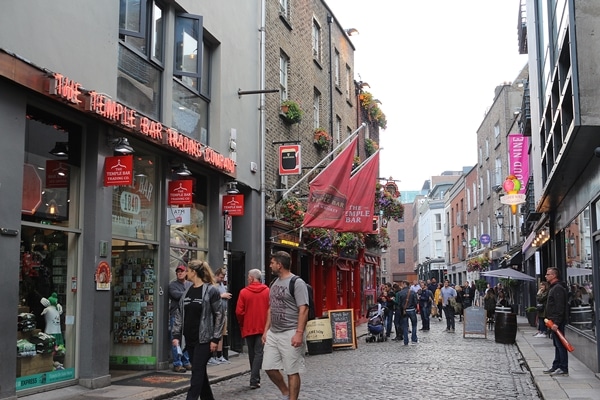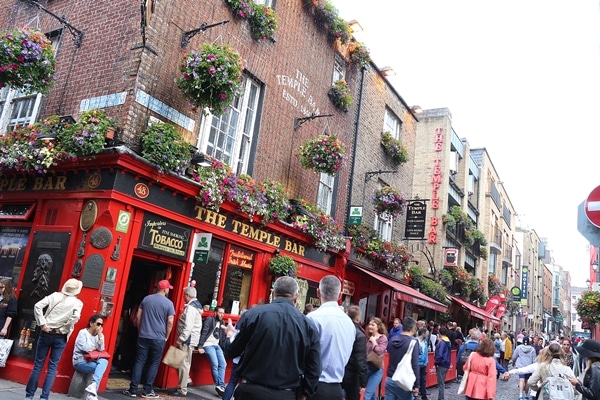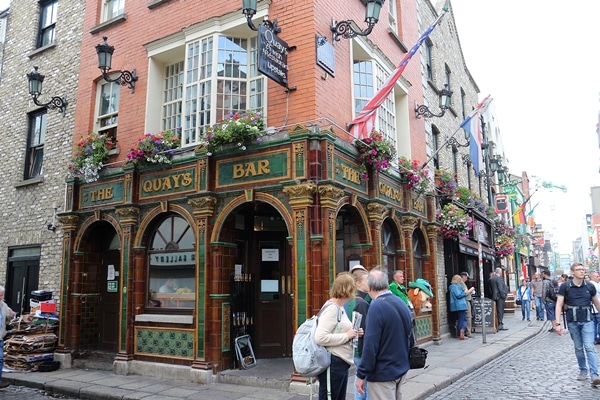 We dined in the upstairs restaurant area of The Auld Dubliner pub where we could enjoy the live music and still maintain some modicum of conversation.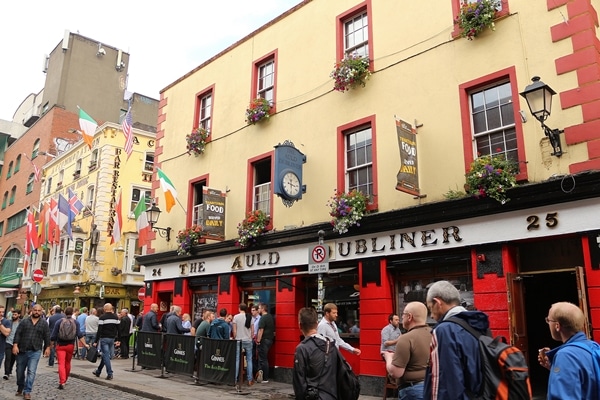 For our first night out, fish and chips were the way to go! All three of us partook in this classic dish, and it was quite scrumptious.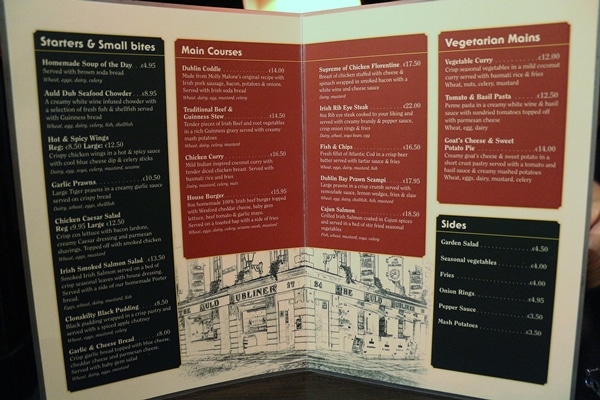 The batter was a little different than what I've had elsewhere. It had black specks throughout, and my guess is it was black pepper although it didn't taste excessively peppery. Honestly, it was simply delicious, and maintained its crispy texture to the last bite.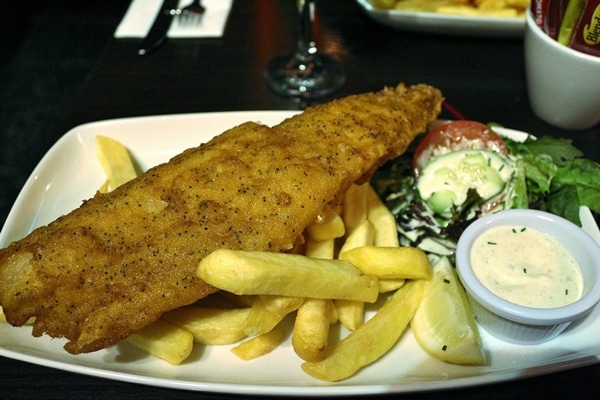 The tartar sauce was also untraditional, and reminded me ever so slightly of remoulade sauce. There was also a light salad on the side along with the chips or fries.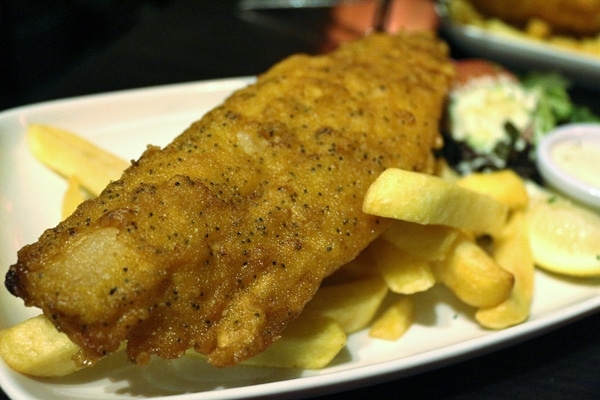 I loved the little mug of sauces. Even the malt vinegar was served in little packets alongside the ketchup and other pre-packaged dips.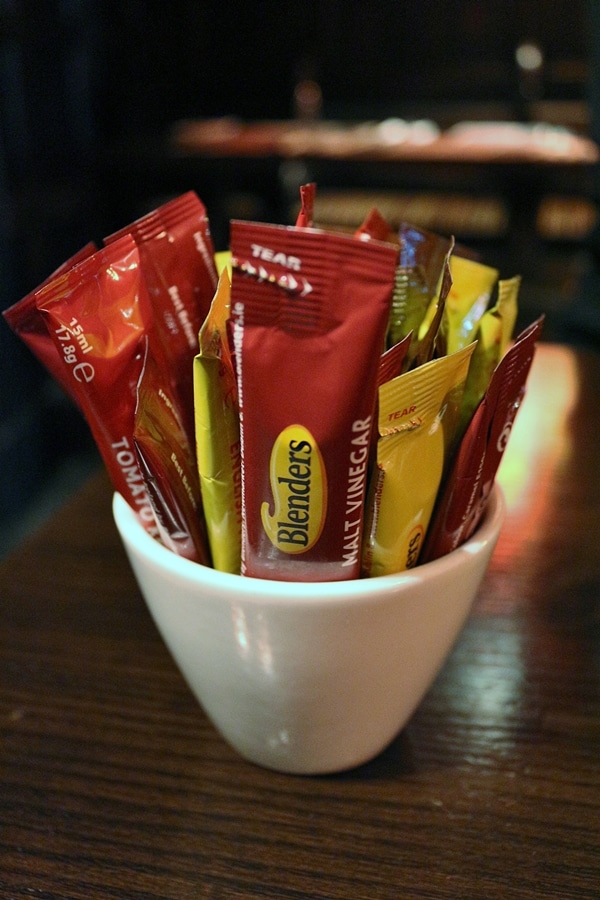 Our first day in Ireland was a smashing success! Although we were a bit off kilter once we arrived, after a lack of sleep on the flight, we bounced back really well and managed to have a very exciting day exploring the city and learning everything we could ever want to know about the Black Stuff. Day 2 awaits, with more adventures around Dublin. Stay tuned...
Ireland - June 2018