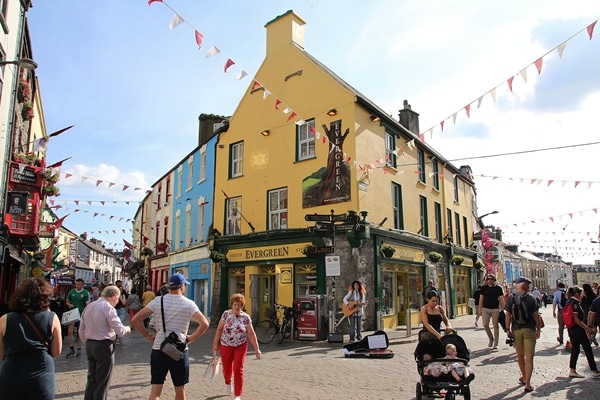 Our final morning in Londonderry, and I had to try the "specialty" that Bernard had told us all about. Apparently in Ireland they serve porridge (or oatmeal) with whiskey! The breakfast buffet had a bottle of Bushmills whiskey as well as fresh cream, and honey to add to your porridge. I'm not much of an oatmeal person in general but I absolutely loved this! It was thinner in texture than American oatmeal, and was so flavorful. What a fun discovery, and the day had barely started!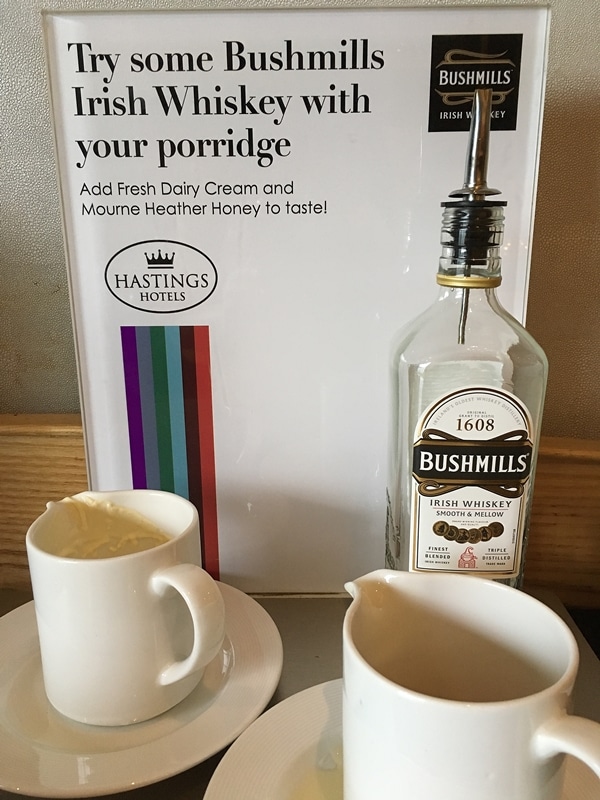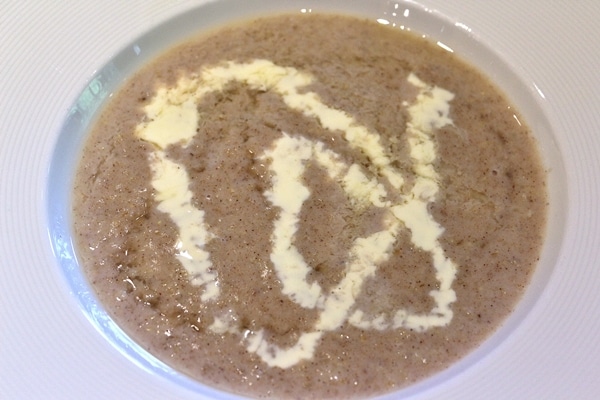 As we continued our journey, our first stop of the day was at Belleek Pottery, which has been making fine Parian china since 1857.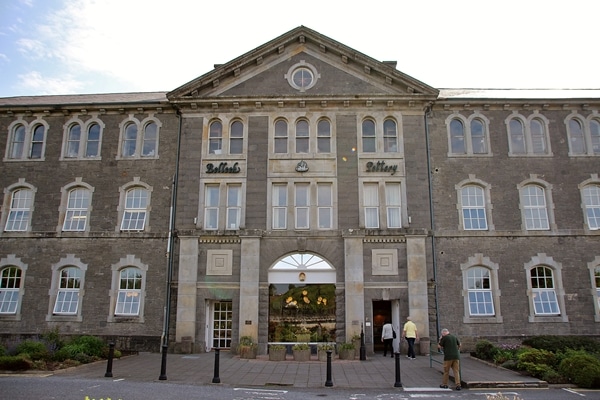 Everything here is completely handmade, and the quality is incredible. I was truly impressed not only by the showroom/shop, but the tour itself which showed us the entire process, as well as allowed us to meet many of the artists.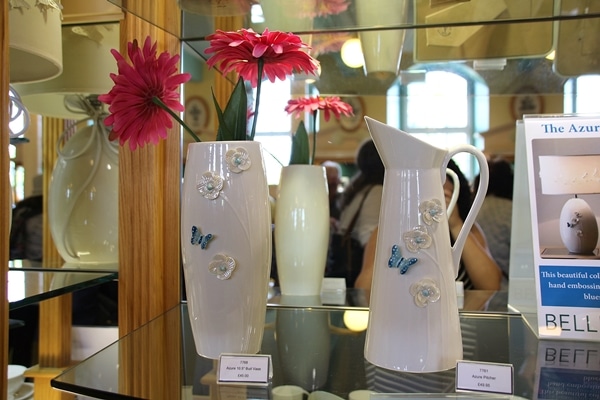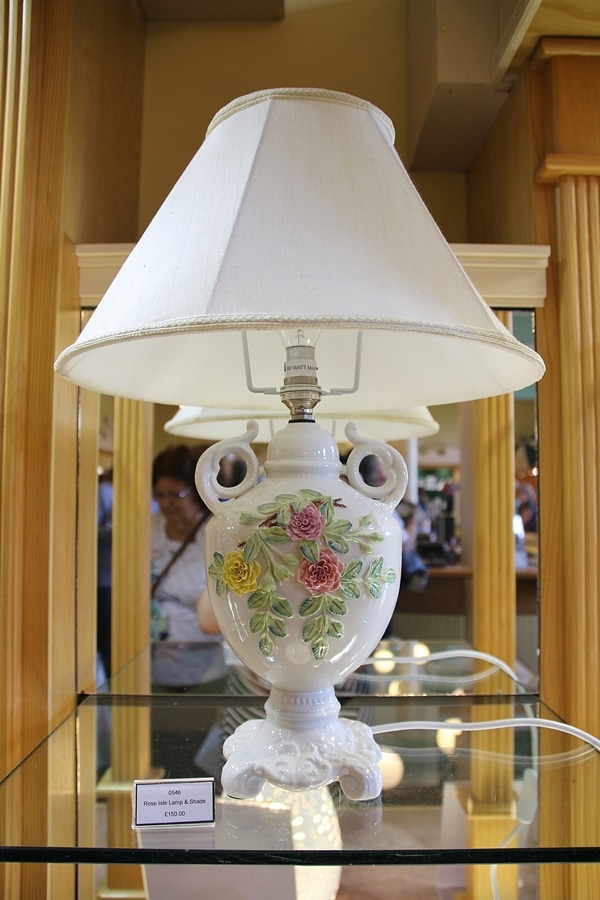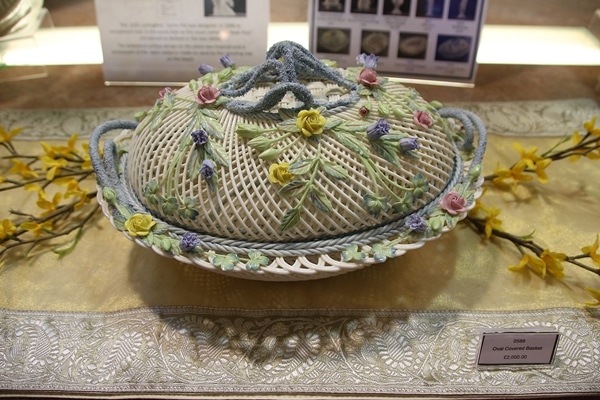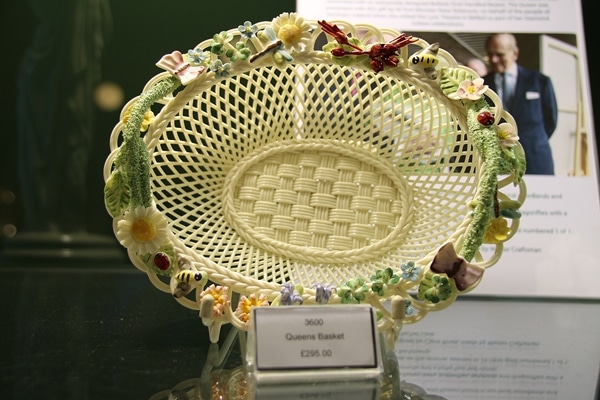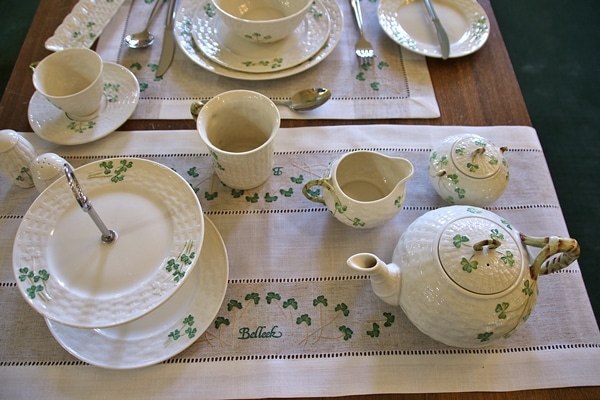 One person I spoke with had worked at Belleek for 24 years, and another for 40 years. This is definitely a trade where people get in and stay in for life.The tour was very informative, and a couple people including myself got to volunteer to do something. I got to dip a small piece of ceramic into glaze! I couldn't resist purchasing something from the shop afterwards, especially after seeing with my own eyes the workmanship that goes into every single piece of china produced at Belleek.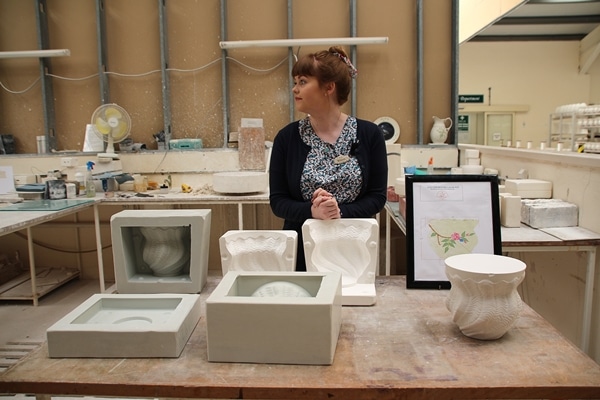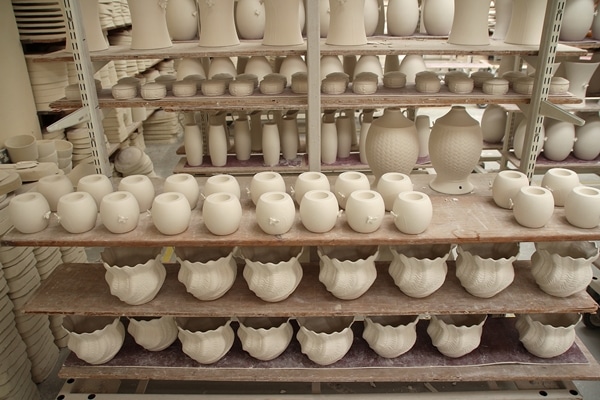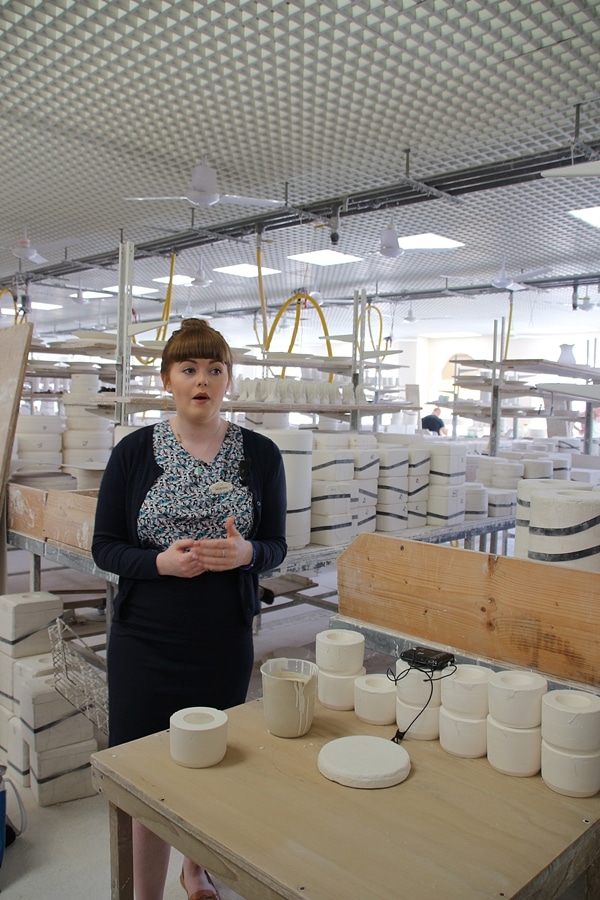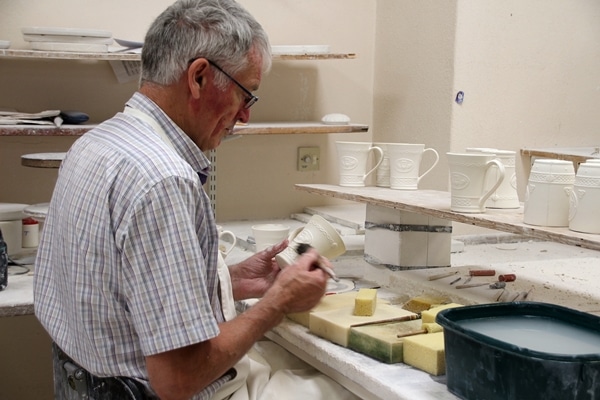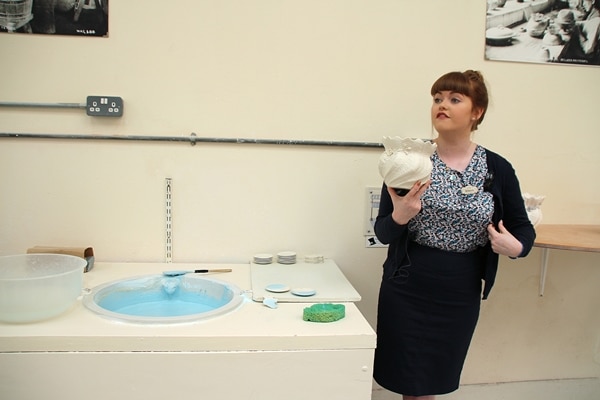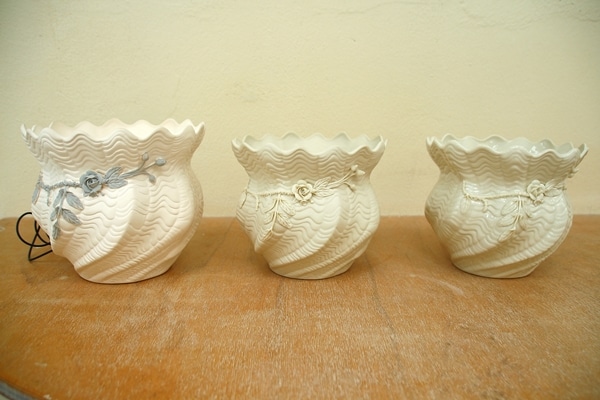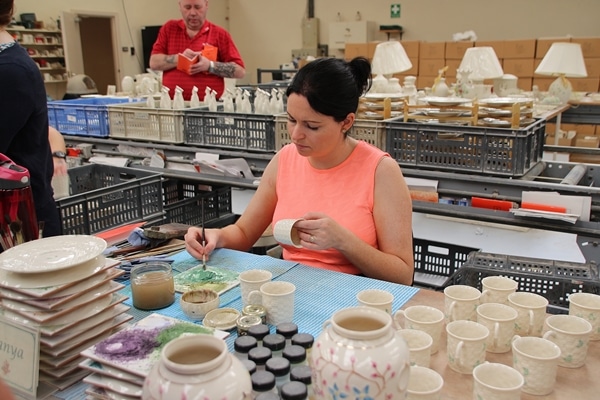 After leaving Belleek, we paused briefly at Tobernalt Holy Well, a little Hidden Gem along the way. It's a tranquil spot for prayer and reflection.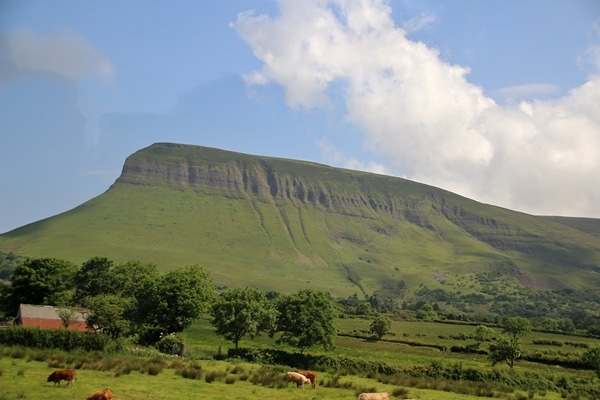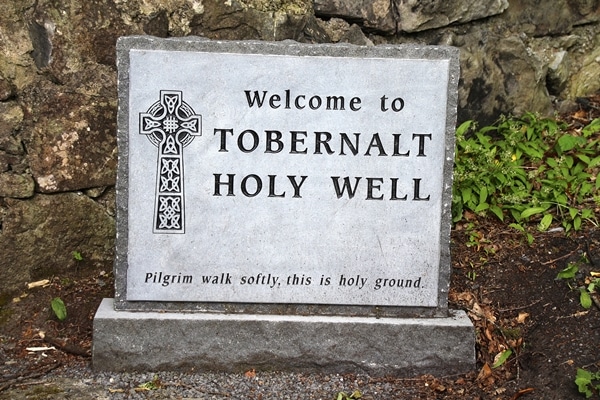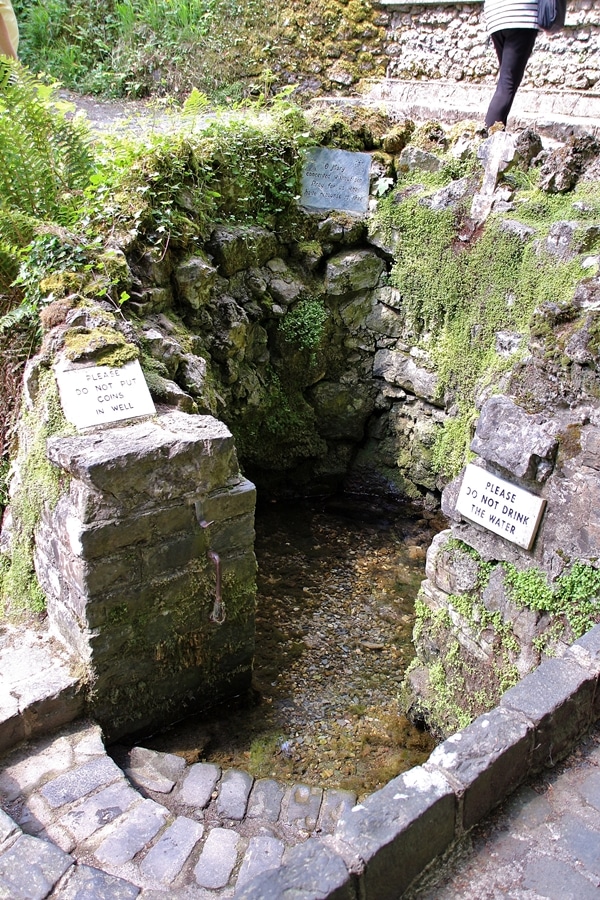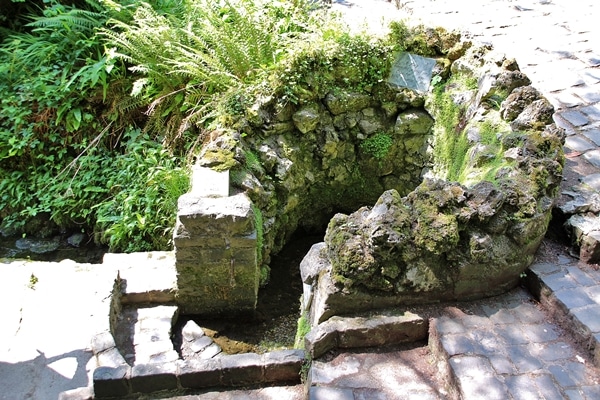 Our travels then lead us to Tobercurry for a lunch stop at Murphy's Hotel. Although Bernard pointed out the lunchtime carvery as the highlight here at Murphy's, we opted for something a bit lighter.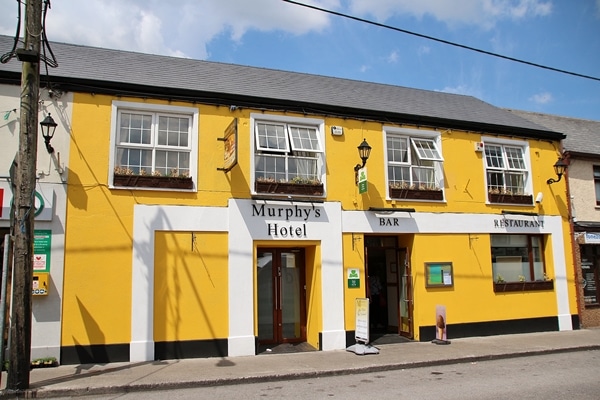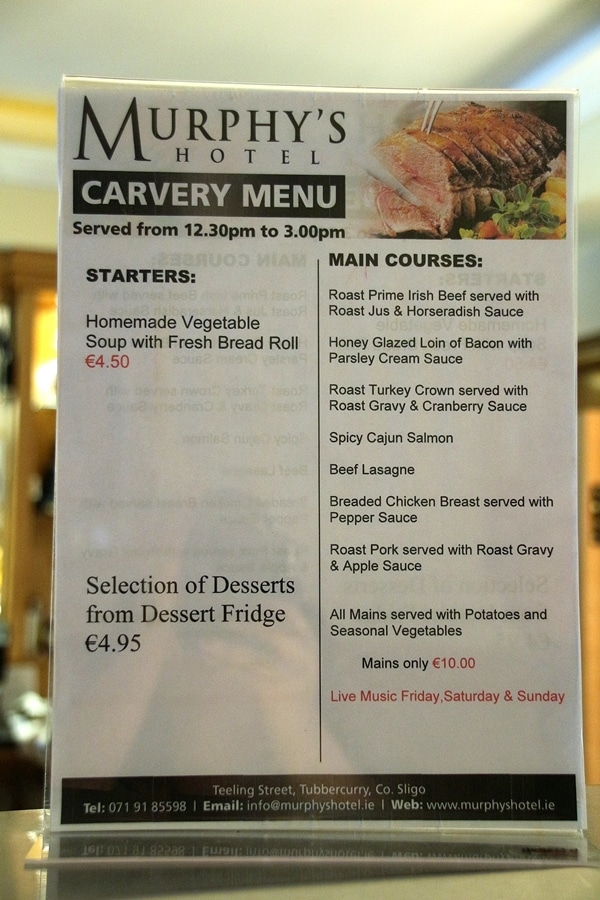 Dad got a tuna sandwich, and mom got the vegetable soup.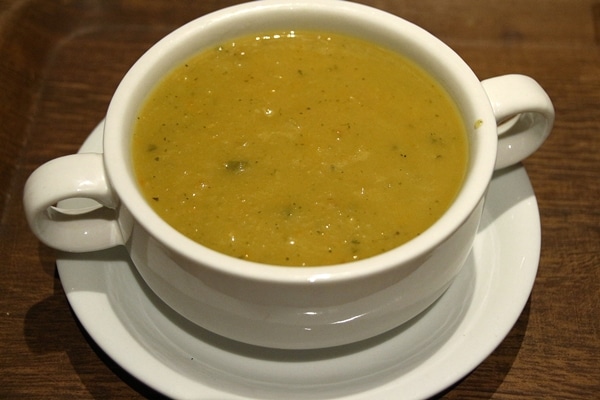 I ordered the seafood chowder, which was actually quite excellent, and much better than the one I got at the Boxty House in Dublin. This chowder was thick, and really well seasoned with large chunks of seafood. There was crusty bread and soda bread offered on the side. This soda bread had a softer and more tender crumb than some of the drier, more crumbly version I had tried elsewhere. And of course soft Irish butter just took it to the next level.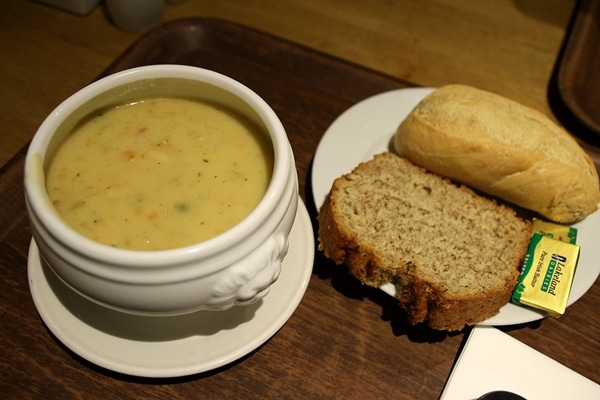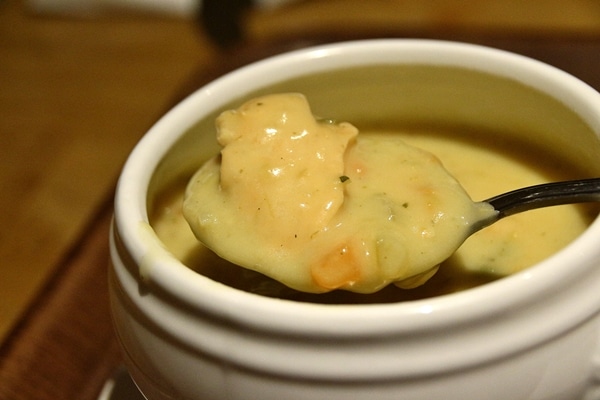 We did a bit of exploring of the street in Tobercurry where Murphy's is located. It was a cute little town, definitely more quaint than some of our other stops on the trip. I particularly enjoyed the bathrooms signs at Murphy's Hotel. What a hoot!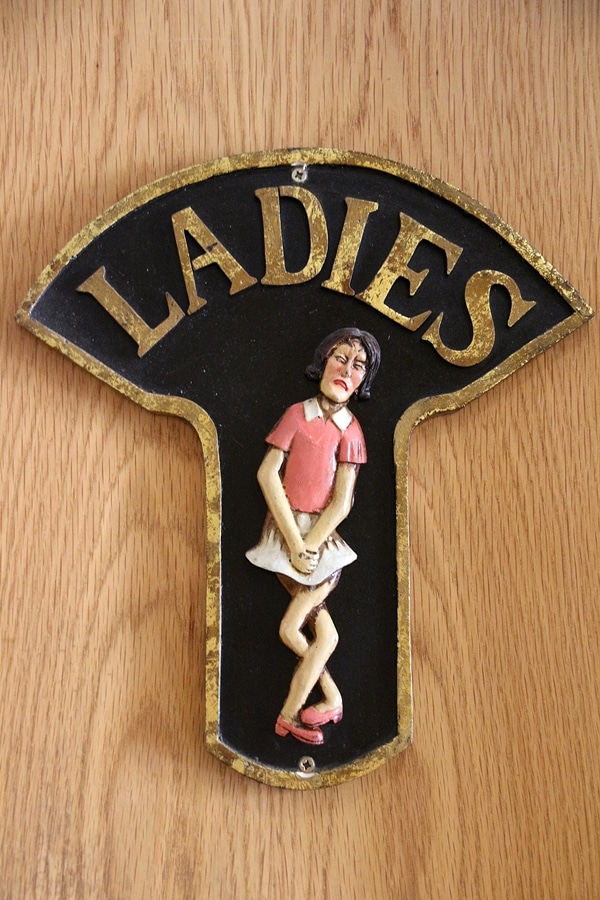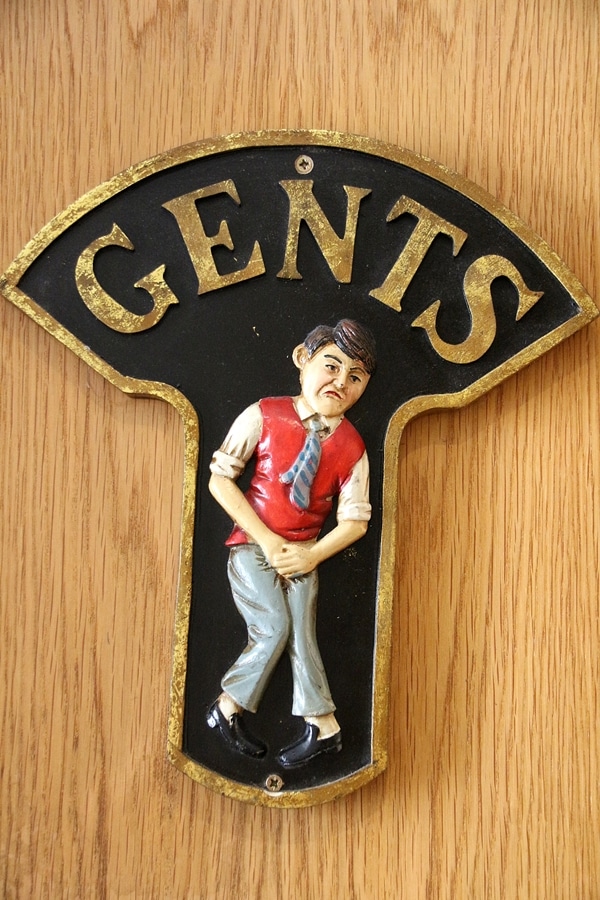 We'd be spending the next two nights in Galway, or rather technically in Oranmore a town just east of Galway. We stayed at the Maldron Hotel, which offered us the largest room so far, containing 1 full bed and 2 twins for the 3 of us. Although the room was spacious, clean, and nicely decorated, the hotel was significantly far from the city center, about 10 km away, or 15 to 20 minutes drive.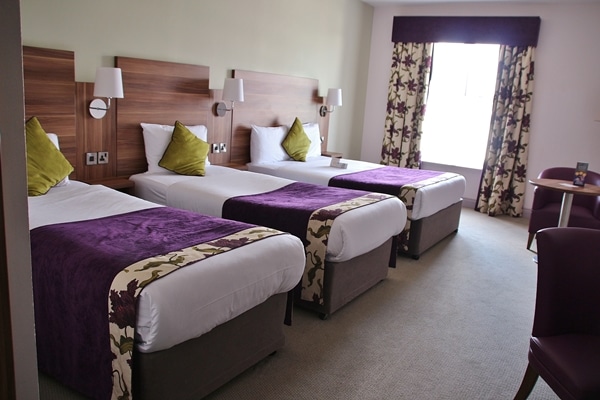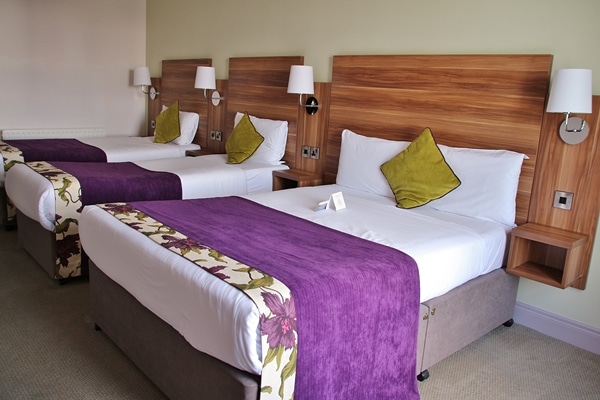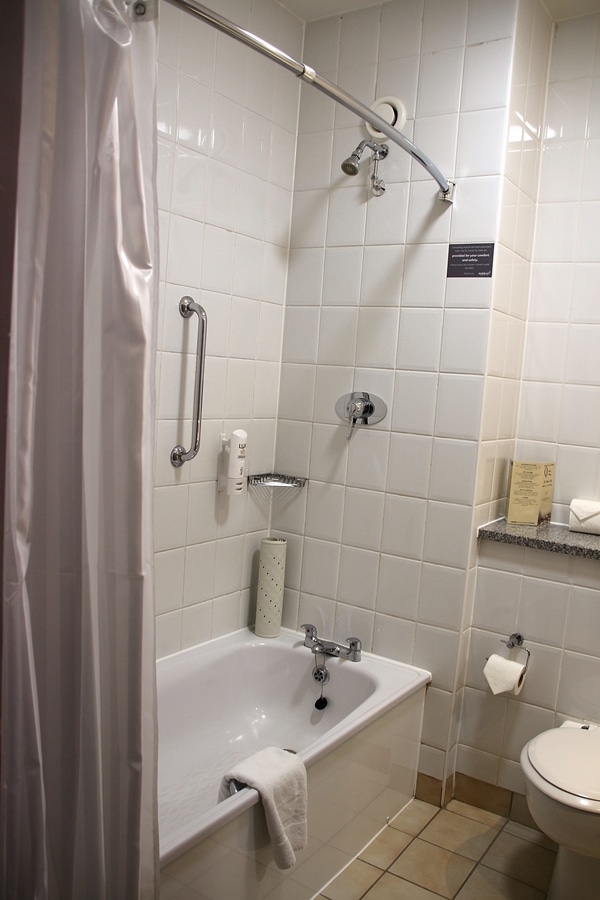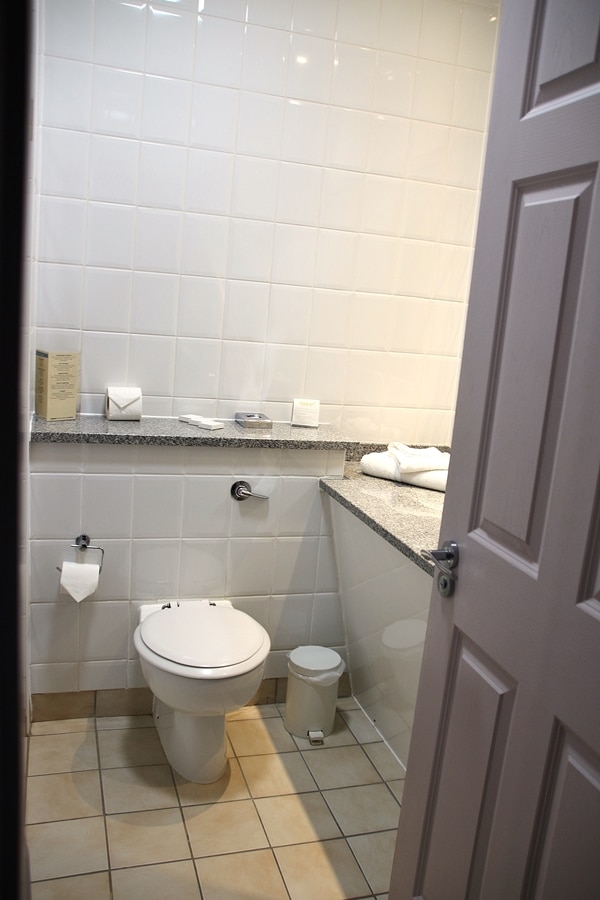 Instead of joining the rest of the crew for this evening's Optional Experience, dinner and storytelling in a castle, we decided to make our own way into Galway to enjoy the craic on our own in this popular seaside town. It was a €15 to Galway from hotel by cab and €20 back--it's pricier to use the Galway cab company than the one based in Oranmore, but cabs are plentiful and parked in designated areas in Galway, so it's still pretty convenient.
We're so glad we decided to spend this evening on our own. The weather was incredible, and we had one of the most enjoyable evenings of our trip wandering through the streets of Galway on our own.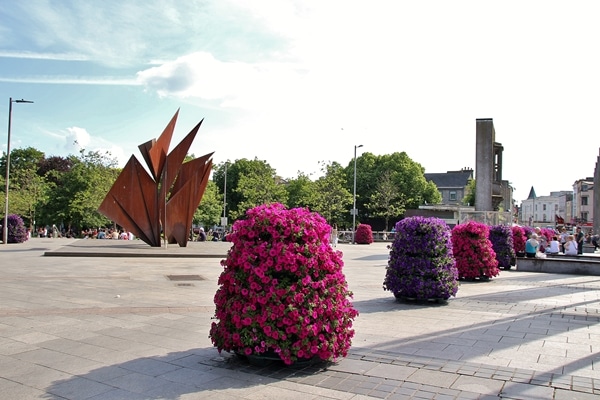 There's a long pedestrian street that changes names 3 times (Shop St, High St, and Quay St), and this is like the vein that runs down the center of Galway. It's bustling and full of energy, with street performers, and tons of shops, cafes, pubs, and restaurants around every corner.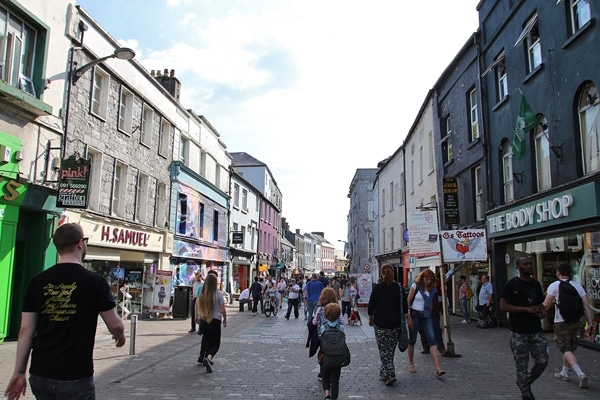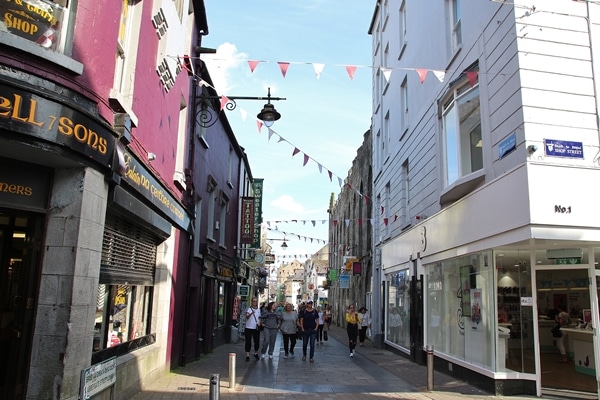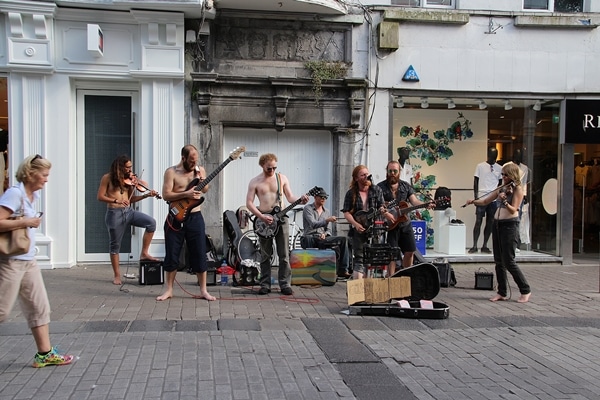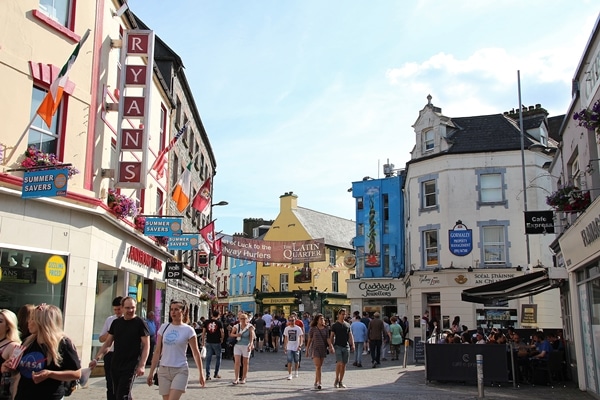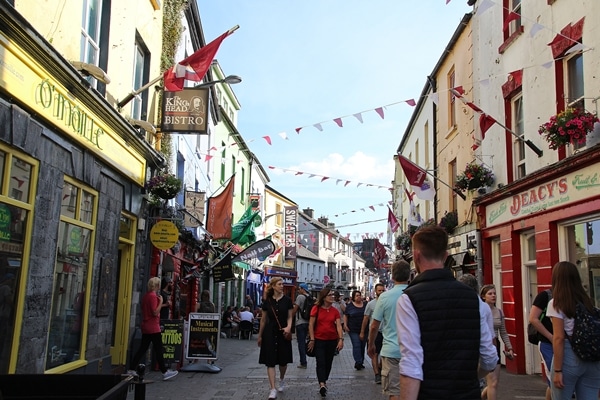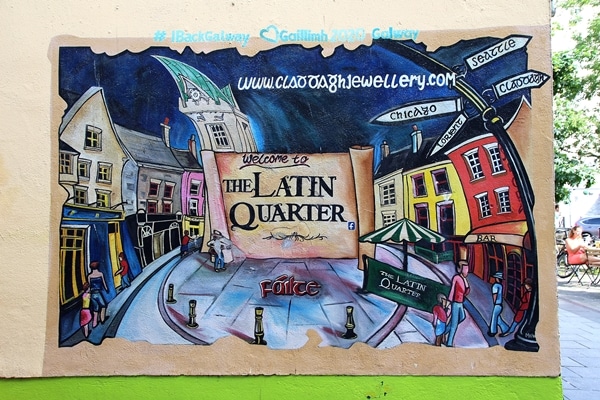 Galway quickly became one of our favorite stops of the trip, and it's easy to see why. There's just so much life and culture here without the overwhelming city vibe. It's much more laid back.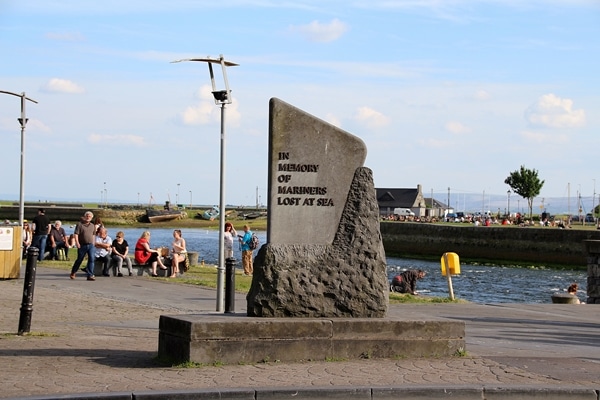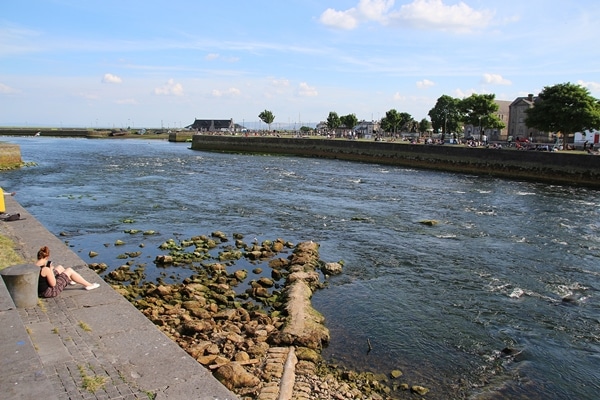 After spending some time window shopping and actual shopping, peeking at menus along the way, we found a spot that to us looked better than all the rest. The menu really popped, and we saw what some of the diners outside were eating, and were immediately sold on The Quay Street Kitchen.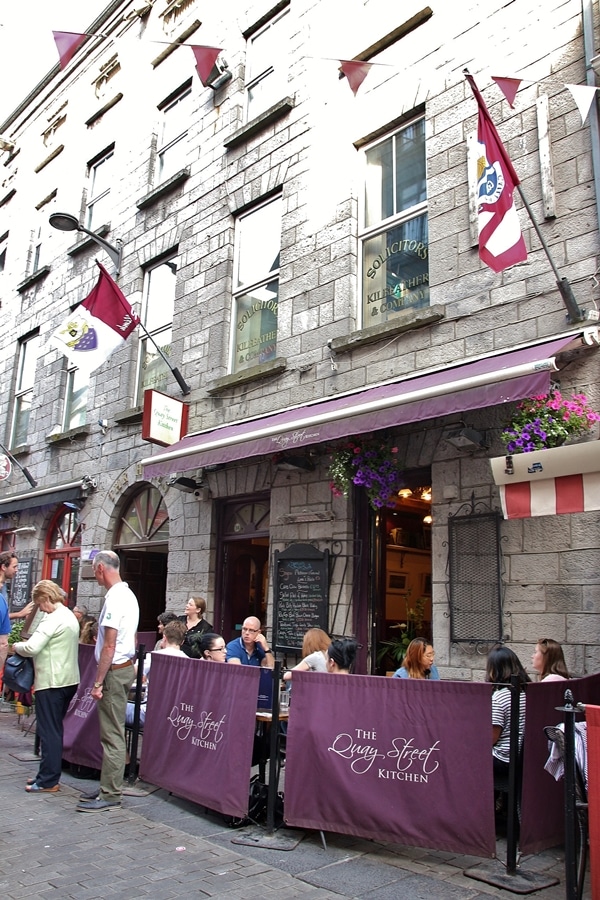 The hostess Andrea was really nice. She informed us it would likely be a 45 minute wait, and that she could call us when it was time. I told her my phone was off limits overseas, and she pointed out a fantastic pub across the street, the 1520 Bar, where we could wait inside and grab a pint while enjoying the live Irish music. She would come grab us at the bar when our table was ready.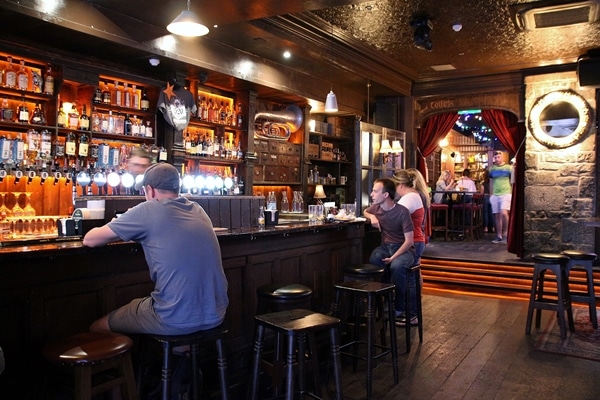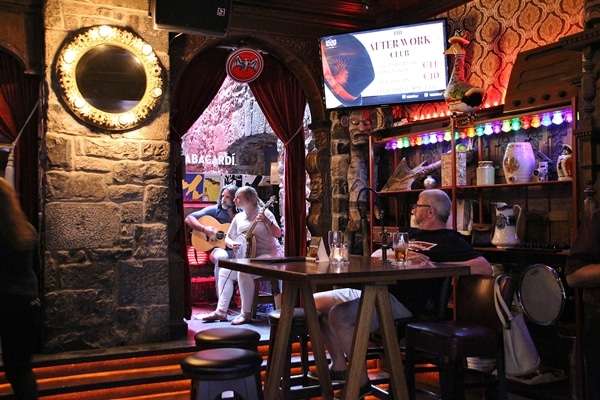 Andrea's timing was pretty accurate, and about 45 minutes later we were seated on the patio as requested. As our meal progressed the service was a bit slow, but the place was hopping and every table was full, both indoors and out, so it was understandable.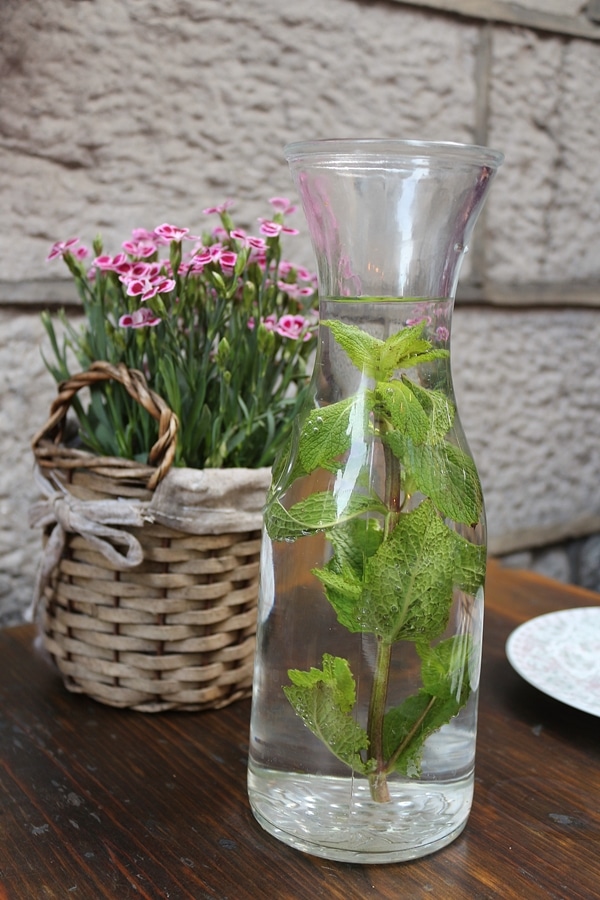 The menu is what originally drew us to this spot, and it's pretty extensive along with enticing daily specials.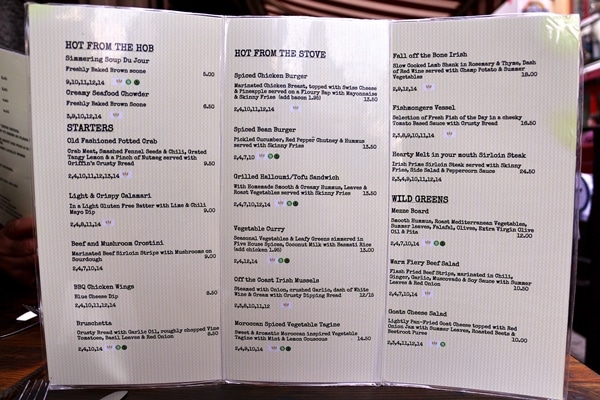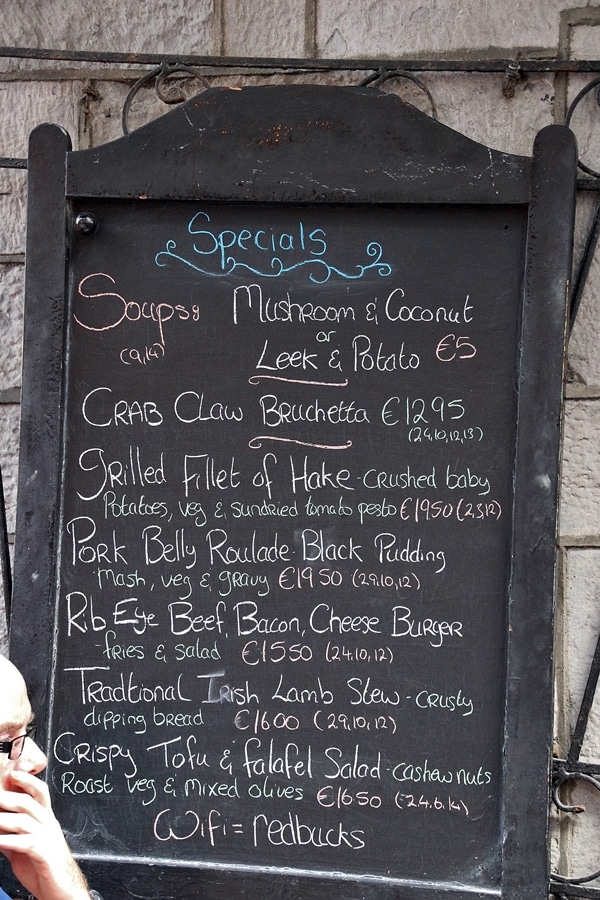 We started with the crab claw bruschetta, an appetizer special. It was excellent! Crispy bread was topped with very fresh, piping hot, snow crab claws, and a light tomato salad. This was a well done, unique take on bruschetta. You did have to eat the crab claws separately (couldn't just bite into the entire bruschetta), but it was fantastic and totally worth it.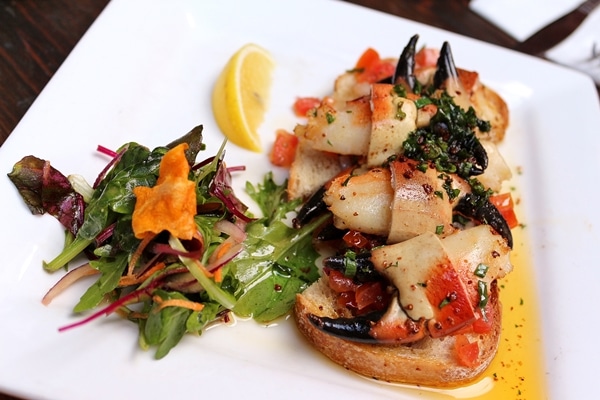 For my entree I selected the Fishmonger's Vessel, which I had seen another diner eating on the patio earlier, and had to get. It's a combination of fish and shellfish, which can vary by day. In my case it was hake, calamari, and mussels with a mixture of zucchini, red, yellow, and green bell peppers, red onion, celery, and fennel in a flavorful tomato broth. It was so chunky, and bright, and comforting! The seafood was perfectly tender. This dish is exquisite.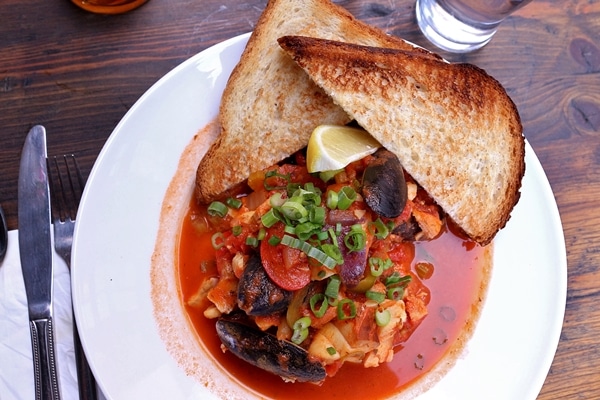 Dad selected the vegetable curry and added chicken. The curry itself was incredible, not spicy at all, but a bit of sweetness from the coconut milk. A mixture of pineapple, chickpeas, green beans, carrots, and greens were topped with crispy chicken, which made for a great textural contrast. At first I was skeptical by his choice of veggie curry, but it was outstanding.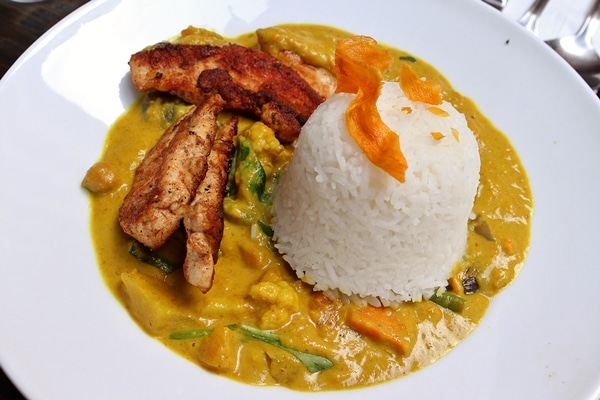 Mom ordered the grilled fillet of hake special, served with crushed baby potatoes, veggies, and sun-dried tomato pesto. The fish was cooked perfectly, and there were sun-dried tomatoes in the pesto smeared on the plate, as well as halves mixed in with the vegetables. The dish was stunning, and perfectly executed.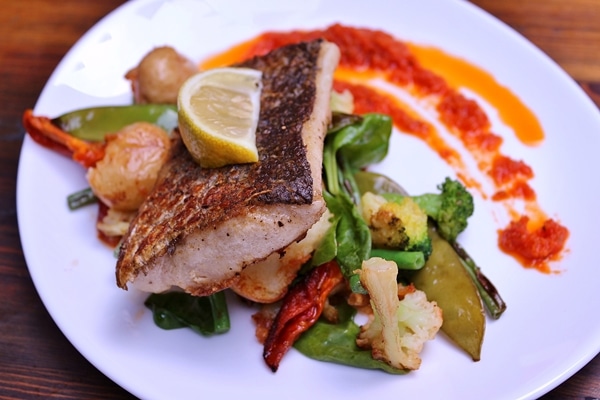 It's not surprising that this meal made it to our list of favorites from the trip. It was the only one from our top 4 which was not previously researched and selected, but after checking out countless menus as we wandered the streets of Galway, this one really stood out, and we are thrilled we decided to wait for a table.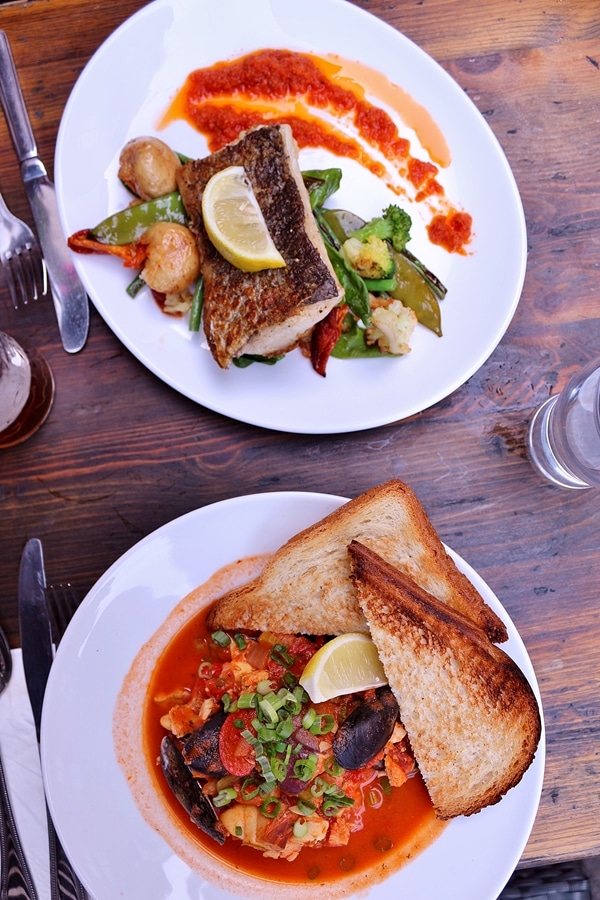 We're excited to see what the next day has in store for us. We'll be taking a drive up through Connemara and checking out the majestic Kylemore Abbey!
Ireland - June 2018