A common Latino flavor combination, guava and cheese is the perfect filling for sweet turnovers or pastries such as these pastelitos de guayaba y queso. The balance of sweet-tart guava and creamy mild cheese is truly magical!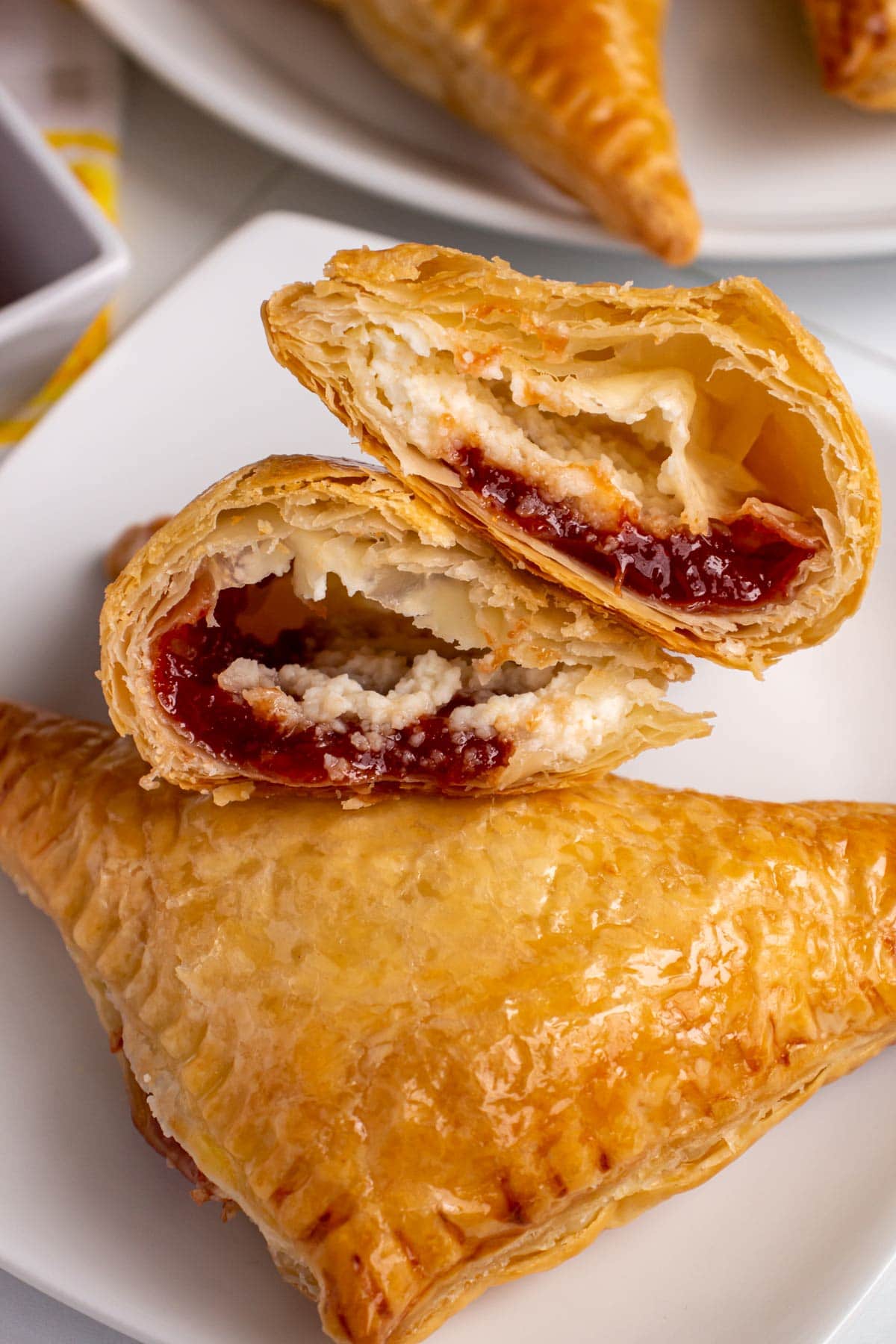 (This recipe was originally published in August 2019, but was updated with new photos and content in 2022).
Pastelitos are flaky Cuban pastries typically filled with cheese and/or fruit preserves. They are easily prepared with store-bought frozen puff pastry. A quick filling of whipped, lightly sweetened cream cheese and guava paste seals the deal. Meanwhile, a shimmering sugar glaze provides a glossy shine and a hint more sweetness to the pastry.
This flavor combination is not uniquely Cuban (nor is wrapping the filling in flaky pastry). I've had practically identical pastries in Puerto Rico, and seen the like on other Latin American menus. The tart and sweet guava is a perfect foil for the tangy cream cheese. The lightly glazed puff pastry pocket is the ideal vessel for indulgence.
These Latin American guava and cheese pastries are crispy, flaky, and utterly decadent. They're lovely for company, perfect for picnicking, easy enough to prepare relatively last minute, and don't require too many ingredients.
Ingredient notes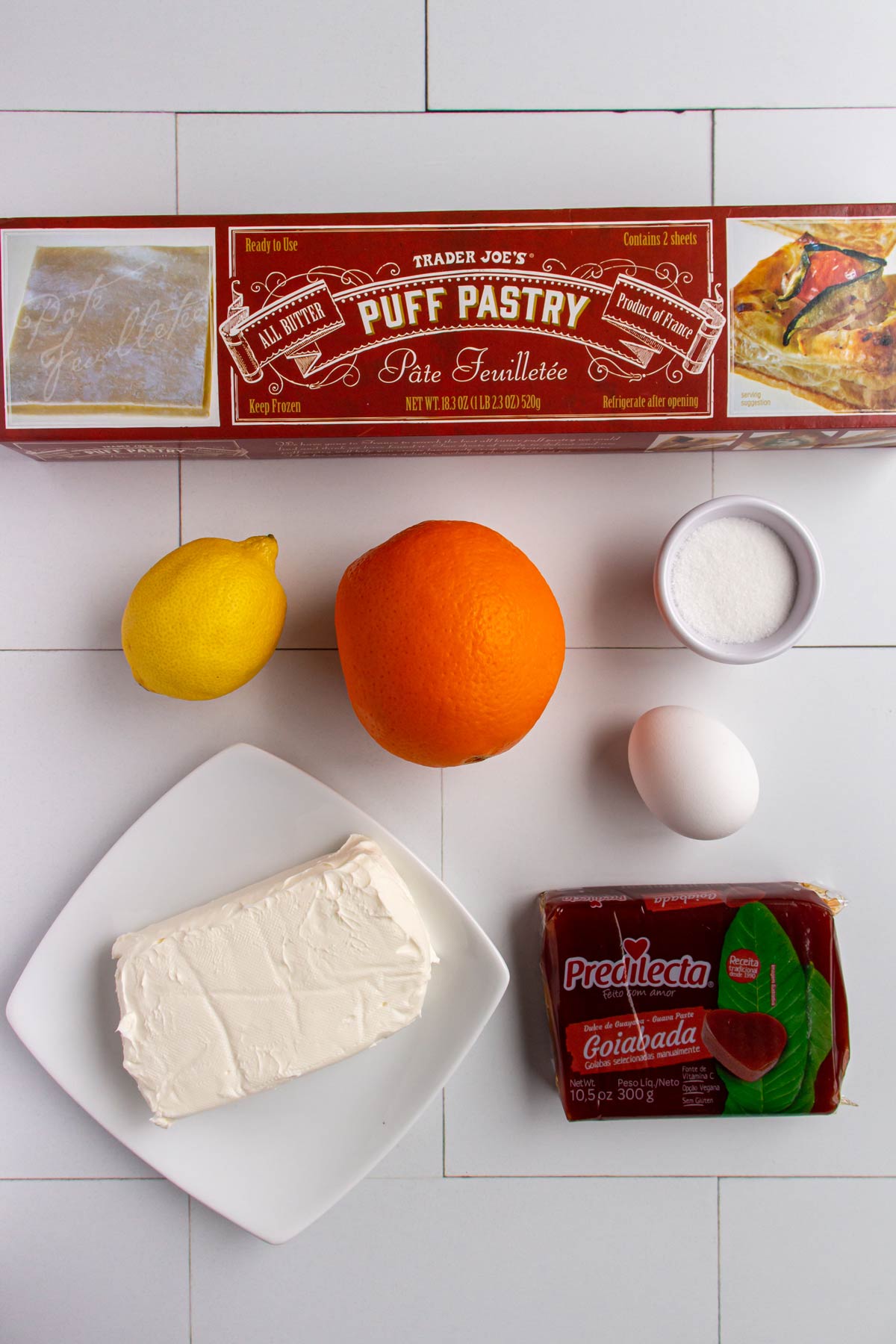 Puff Pastry: Store-bought puff pastry dough makes this process a breeze. I have used both Pepperidge Farm or Trader Joe's brands. The Pepperidge Farm is more readily available, but I find it a little thick, and I don't like how it's folded into thirds. I prefer the Trader Joe's version as it's made with all butter (unlike Pepperidge Farm which contains a lot of unnecessary ingredients), is a bit thinner, and is rolled instead of folded. Unfortunately, Trader Joe's only sells their puff pastry seasonally, typically September/October through end of December. I like to stock up and keep several boxes in my freezer for baking emergencies. Trader Joe's puff pastry can be a little wet and sticky right out of the box. Make sure you dust it liberally with flour on both sides before working with it to keep it from sticking.
Guava Paste: You can typically find guava paste in the Latin foods aisle at your supermarket, and it's also available online. It may be labeled bocadillo or goiabada too depending on its origin (Colombia or Brazil respectively). It's shelf-stable and does not require refrigeration. Personally, I do not recommend the Goya brand of guava paste, as it unnecessarily contains artificial red food coloring. My preferred brands are Iberia guava paste and Predilecta guava paste which are both all natural and dye-free.
Cream Cheese: You can use either regular full-fat cream cheese or American Neufchâtel cheese (which is actually different from French Neufchâtel) for your guava and cheese pastries. It's lower in fat and is a bit softer than regular cream cheese. It's what I typically use and it works great!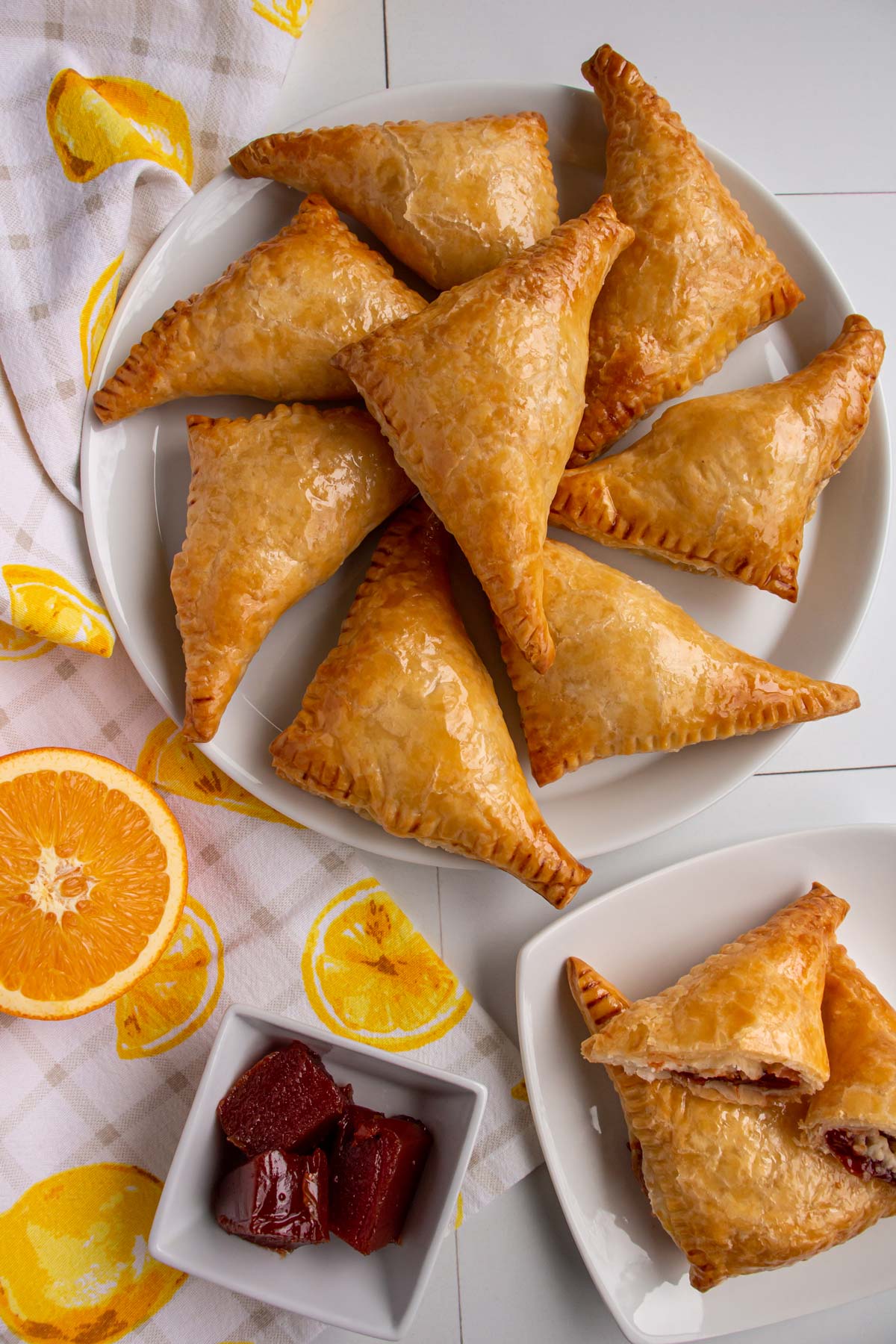 How to make them
To begin, make the guava and cheese fillings. I find a food processor works well for both. Blitz together cream cheese with a little sugar, lemon juice, and orange blossom water (if using). Next in a clean food processor bowl, puree the guava paste with orange or lime juice until smooth.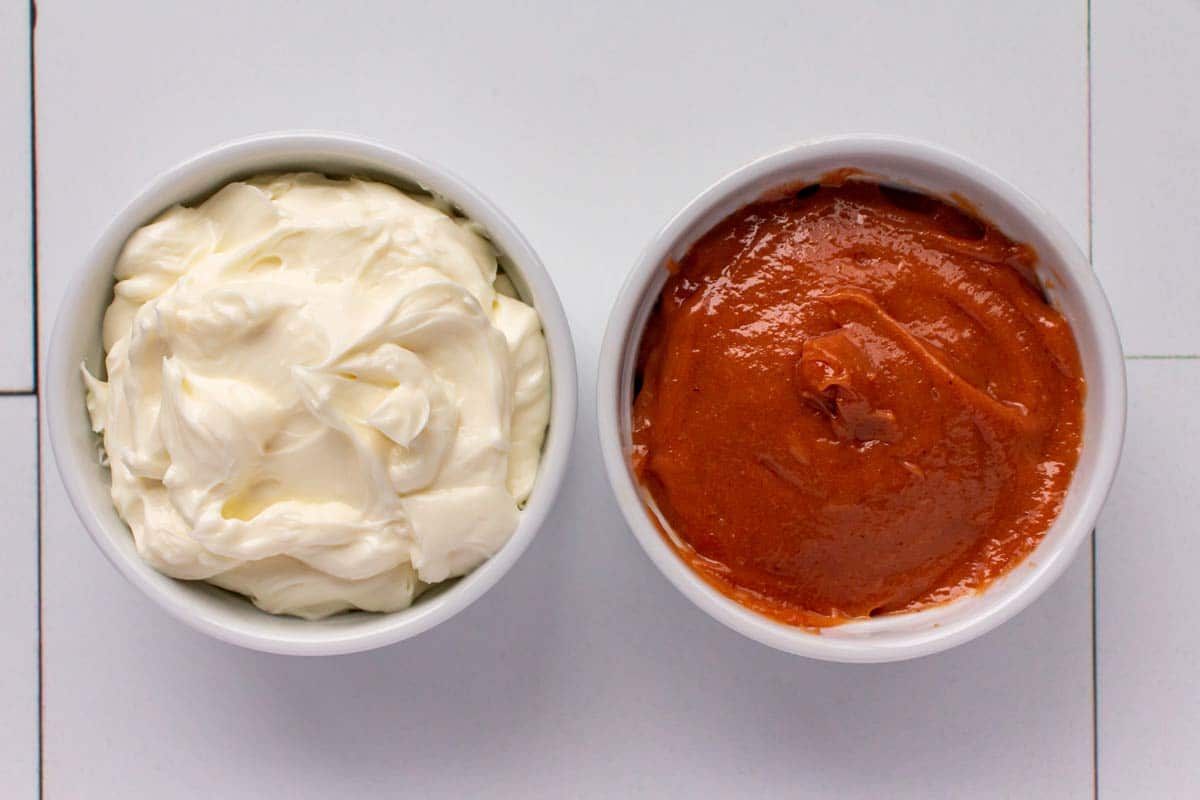 Unroll a sheet of puff pastry and cut it into 6 squares, each about 4-inches across. Top each square with a dollop of guava filling (PHOTO 1) followed by a dollop of cream cheese filling (PHOTO 2).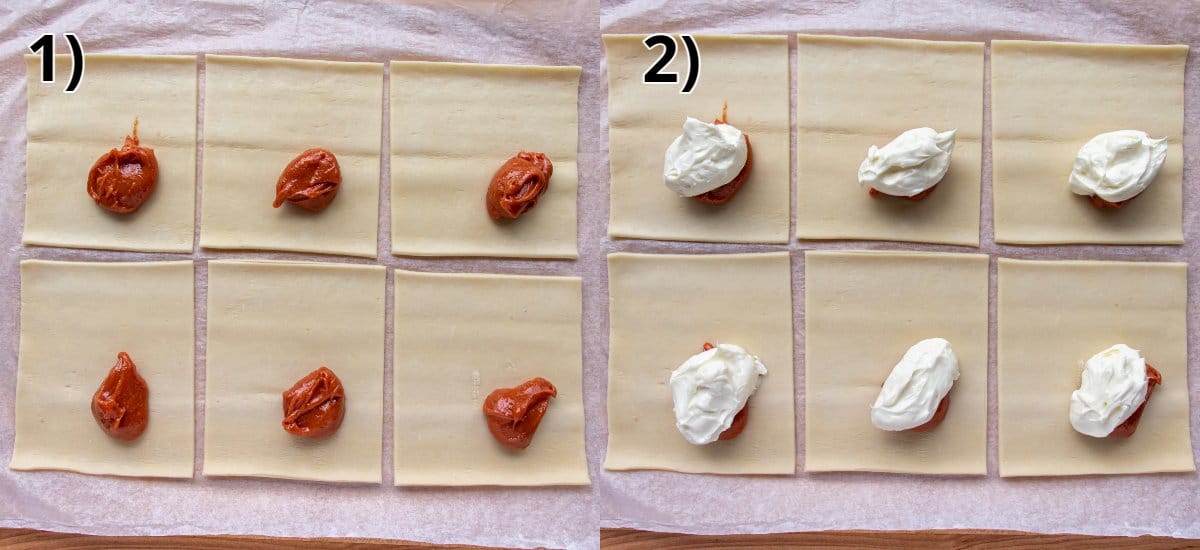 Brush the edges of each pastry square with egg wash, fold the pastry over the filling to create triangles, and finally seal the edges with the tines of a fork. Arrange your pastelitos de guayaba y queso on parchment paper-lined baking sheets and chill until firm.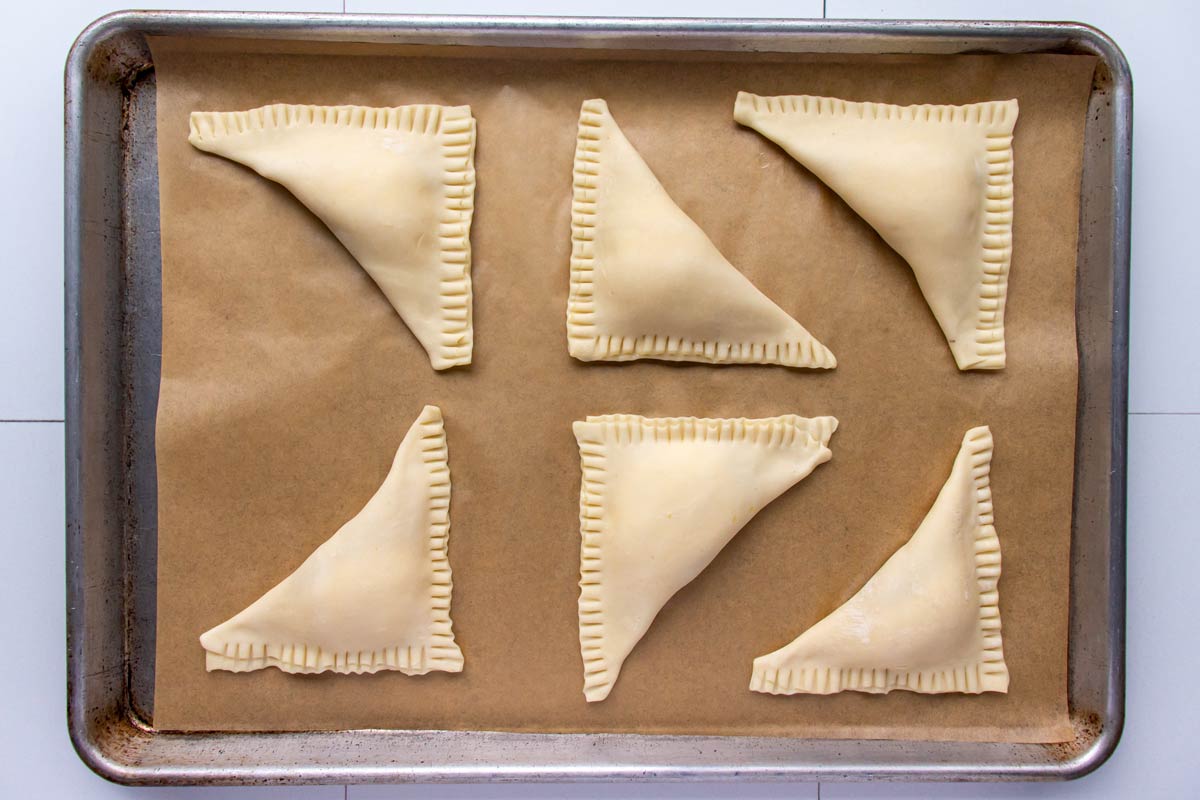 Brush the tops with egg wash, then bake until golden, about 25 to 35 minutes. Meanwhile, prepare a simple syrup glaze while the pastries are chilling/baking. Allow the glaze to cool before using.
Brush the glaze over the guava and cheese pastries the moment they emerge from the oven. This creates a beautiful sheen with a light sweetness without yielding a soggy exterior.
Please scroll to the bottom of the post for the full recipe (in a printable recipe card) including ingredient amounts and detailed instructions.
Expert tips
These pastelitos de guayaba y queso are best the day they are baked. Store leftover pastries wrapped in foil at room temperature (plastic wrap and plastic containers will further soften the pastry).
You can freshen up leftover guava and cheese pastries by reheating them in an oven or toaster oven for a few minutes until heated through. The dough will initially soften more, but as it cools back down it will re-crisp a bit.
Based on the dimensions of my preferred Trader Joe's brand puff pastry (approximately 9 ½ by 12 ½ inches) I find it easiest to cut into 6 squares, each measuring about 4 inches across.
If your store-bought puff pastry has different dimensions or is already a perfect square, you may cut it into 9 squares, but note that the dimensions of those squares may be smaller (yielding more total pastries) and you'll need a bit less filling in each.
Make sure the guava and cheese pastries aren't too full so you can easily fold them into triangles without the filling squeezing out.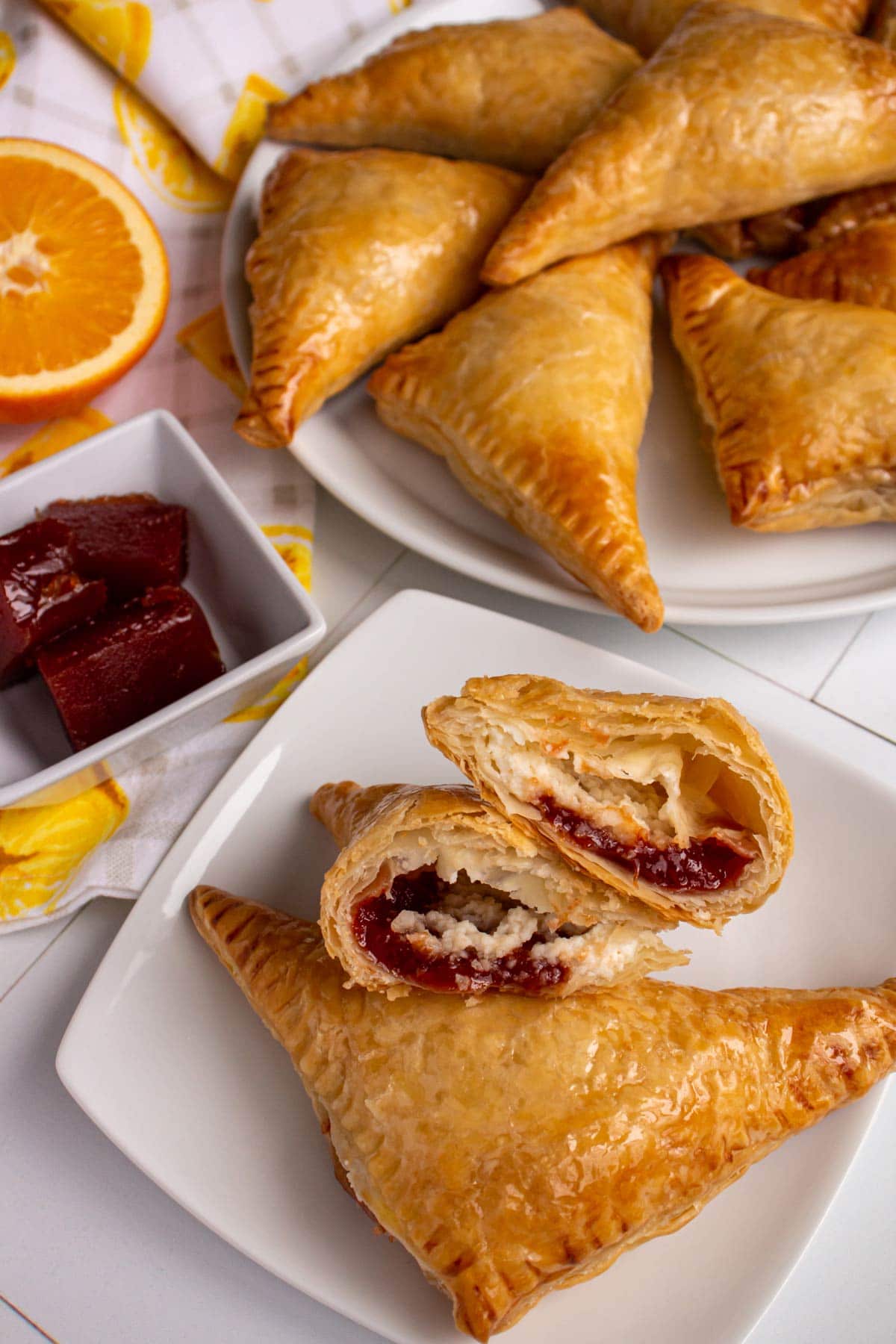 Other recipes you may like
Tried this recipe? Please leave a star ⭐️⭐️⭐️⭐️⭐️ rating in the recipe card below and/or a review in the comments section further down the page. You can also follow me on social media on Facebook, Instagram, and Pinterest!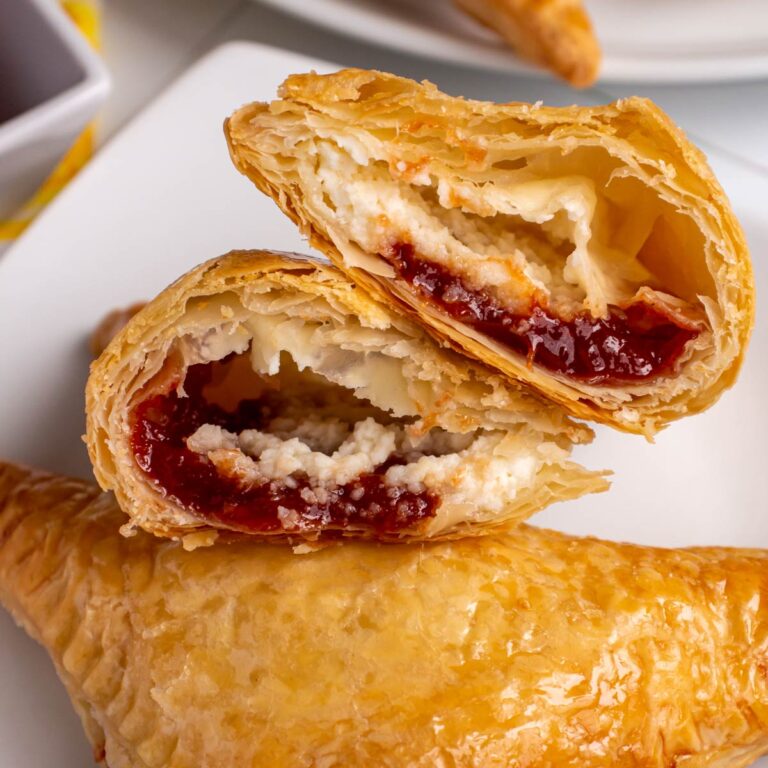 Pastelitos de Queso y Guayaba (Guava and Cheese Pastries)
A common Latino flavor combination, guava and cheese is the perfect filling for sweet turnovers or pastries. The balance of sweet-tart guava and creamy mild cheese is truly magical!
Print
Pin
Rate
Ingredients
2

sheets frozen puff pastry dough

thawed (from one 17.3-to18.3-ounce package)

1

large whole egg

lightly beaten with 1 tablespoon water
Cheese Filling:
8

ounces

cream cheese (or American Neufchâtel cheese)

at room temperature

1

tablespoon

granulated sugar

1

teaspoon

fresh lemon or lime juice

½

teaspoon

orange blossom water

(optional)
Guava Filling:
8

ounces

guava paste

cut into chunks

1

tablespoon

fresh orange or lime juice
Glaze:
¼

cup

granulated sugar

¼

cup

water
Instructions
In a food processor, combine the cream cheese, sugar, lemon juice, and orange blossom water fluffy and smooth. Transfer mixture to a bowl and clean the food processor to use it again.

In the same (clean) food processor, add the guava pasta and orange or lime juice and process until smooth.

Line 2 half sheet pans with parchment paper.

Unroll the first sheet of pastry on a lightly floured surface. If it's thicker than ⅛-inch thick, carefully roll it out to make it ⅛-inch thick. Using a small knife or pastry wheel, cut the dough to measure out 6 squares, 4-by-4-inches each.

Add a tablespoon of the guava mixture topped with a tablespoon of cream cheese filling, off center, to each square. Brush the egg wash around the filling, fold the pastry into a triangle, and press the edges to seal. Press the tines of a fork around the sealed edges to ensure the pastry is well-sealed. Repeat with the remaining dough and filling. Transfer the filled pastries to the prepared baking sheets and refrigerate until firm, 20 to 30 minutes.

While the pastries chill, preheat the oven to 400°F. Prepare the glaze by combining the sugar and water in a small saucepan. Simmer over medium heat until the sugar dissolves, about 5 minutes. Remove from the heat and cool.

Remove the chilled pastries from the refrigerator and brush the tops of the with egg wash, then bake until lightly golden, 25 to 35 minutes. Rotate the baking sheets halfway through baking time to ensure even browning.

Remove from the oven and immediately brush the pastries with the simple syrup (you likely won't use all of it). Allow the pastries to rest for 10 minutes on the baking sheet before transferring to a cooling rack.
Notes
These pastelitos de guayaba y queso are best the day they are baked. Store leftover pastries wrapped in foil at room temperature (plastic wrap and plastic containers will further soften the pastry).
You can freshen up leftover guava and cheese pastries by reheating them in an oven or toaster oven for a few minutes until heated through. The dough will initially soften more, but as it cools back down it will re-crisp a bit.
Depending on your brand of puff pastry you may either end up with a square or a rectangle. If you are able to roll it into a 12 inch square you could cut it into 9 smaller squares, but otherwise for a rectangle like the one from Trader Joe's, cut it into 6 squares each measuring about 4 inches across.
You can typically find guava paste in the Latin foods aisle at your supermarket, and it's also available online. It's shelf-stable and does not require refrigeration. Personally, I do not recommend the Goya brand of guava paste, as it unnecessarily contains artificial food coloring. My preferred brands are Iberia guava paste and Predilecta guava paste which are both all natural and dye-free.
Adapted from The Cuban Table
Nutrition
Serving:
1
pastry
|
Calories:
309
kcal
|
Carbohydrates:
37
g
|
Protein:
3
g
|
Fat:
17
g
|
Saturated Fat:
11
g
|
Cholesterol:
40
mg
|
Sodium:
310
mg
|
Potassium:
5
mg
|
Fiber:
1
g
|
Sugar:
17
g
*All nutritional information is based on third-party calculations and should be considered estimates. Actual nutritional content will vary with brands used, measuring methods, portion sizes and more.*